What is search visibility?
Search visibility is the estimated percentage of clicks a website gets from its organic rankings for one or more keywords. For example, if a keyword you rank for gets searched one hundred times, and you get five clicks, then your search visibility for that keyword is 5%.
How can you check and track search visibility?
You can track search visibility for one keyword or multiple keywords.
If you want to check visibility for a single keyword, type the keyword into the Keywords Explorer and go to the Traffic Share by Domains report. The "Share" column tells you your estimated search visibility for that keyword.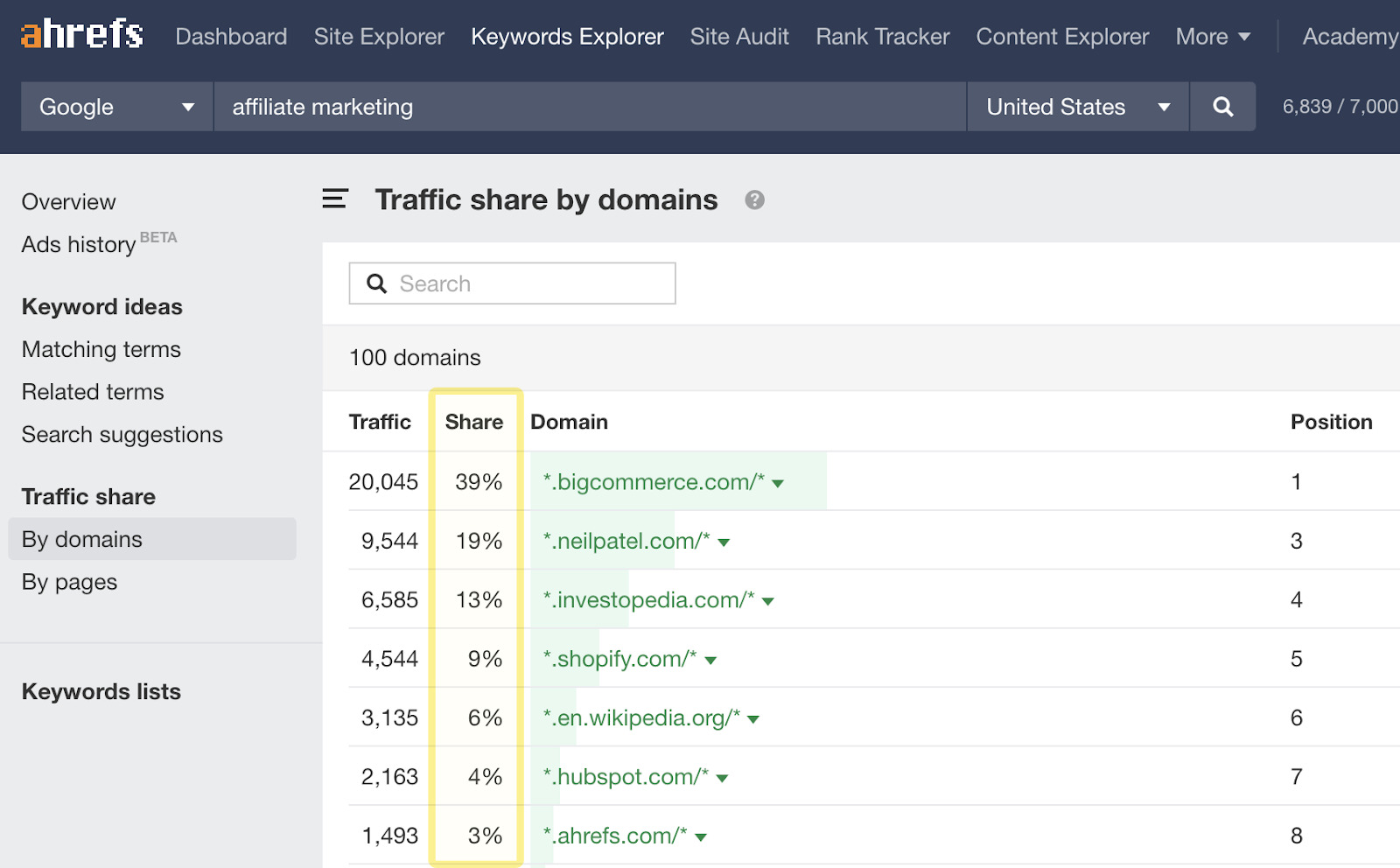 In our case, you can see we have a traffic share of 3% for the term "affiliate marketing."
To track search visibility for multiple keywords, you need to add them to a rank tracking tool like Ahrefs' Rank Tracker.
In Ahrefs Rank Tracker:
Set up a project
Click +Add keywords
Choose your country and language
Enter the keywords you want to track
Click "Add keywords"
Go to your Overview report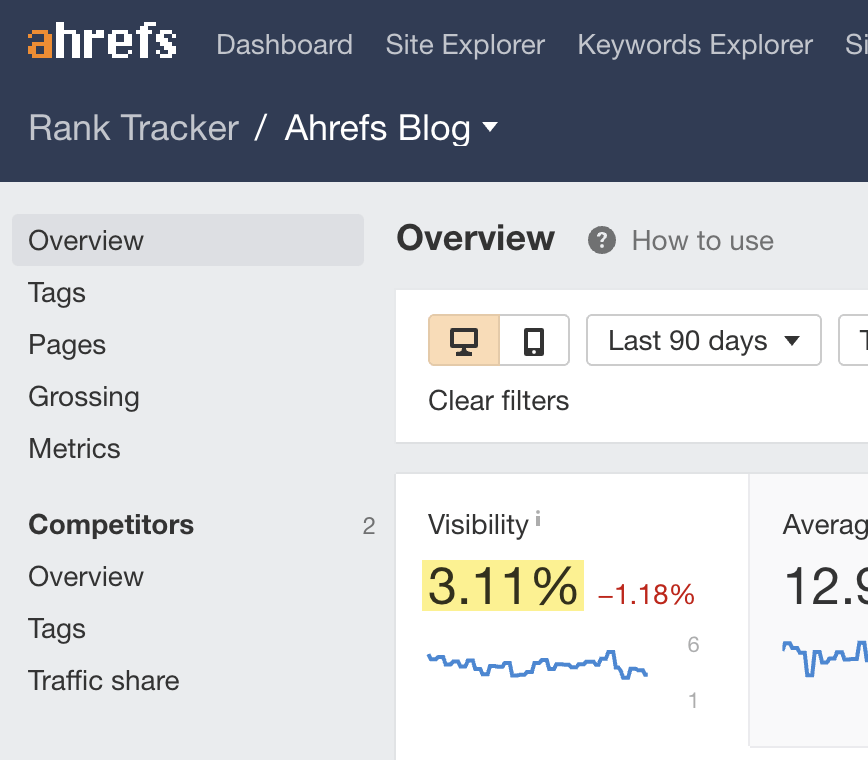 This report shows that the search visibility for our tracked keywords for the Ahrefs blog is 3.11%. In other words, 3.11% of all clicks for our tracked keywords land on Ahrefs.com.
This is just a snapshot in time, but Rank Tracker also tracks your search visibility trend, so you can see if your visibility is increasing or decreasing.
How is search visibility calculated?
Search visibility may be calculated slightly differently in different tools, but here's how it's determined in Ahrefs:
We pull the total number of clicks on search results for your tracked keywords.
We look at how many of those clicks go to your website.
We display the result as a percentage of all clicks.
Best practices for improving search visibility
Now that we know how search visibility is calculated, let's take a quick look at three ways to improve it.
1. Optimize for search intent
To optimize for search intent, you have to first understand the reason behind a search—in other words, what the searcher is looking for from a given query.
If your page doesn't align with search intent, then your chances of ranking are practically zero because Google's entire business model relies on ranking results that people actually want to see.
For example, if you search for a keyword like "steak marinade," you're going to see recipes for homemade marinade at the top, not e-commerce brands selling their commercial steak marinade. This is because of search intent—searchers are in "learning mode," not "buying mode."
If you wanted to improve your search visibility for this keyword, you'd stand the best chance of doing so with a recipe. If you tried to rank a page selling steak marinade, it'd be an uphill battle.
If you're unsure about the intent of a keyword you want to target, use the current top-ranking results as a proxy.
For example, if you only see blog posts ranking in the top 10, it's pretty clear that searchers are in learning mode. Whereas if you see only product pages, it's clear that searchers are in buying mode.
Learn more: The Complete Guide to Search Intent
2. Get more backlinks
Backlinks are one of Google's top three ranking factors, and we have also found them to correlate strongly with organic traffic.
There are lots of link building strategies and tactics, but a good one to start building links to existing content is a variation of the "Skyscraper Technique" (made famous by Backlinko's Brian Dean):
Find a similar but inferior page with lots of backlinks.
Ask anyone linking to the inferior content to link to you instead.
The simplest way to find relevant inferior pages is to look at the current top-ranking results for your target keyword and compare them to your page. What you're looking for are compelling and obvious ways in which they're not as good, such as:
Outdated or inaccurate information
Bad UX (to the point that it's hard to consume)
Vague or lacking in comprehensiveness
If you find a similar page with one or more of those qualities, plug it into Site Explorer and head to the Backlinks report to see who's linking to it and why.
For example, here's a post about "affiliate marketing statistics" with backlinks from several high-DR sites:
Assuming this post isn't up-to-date with the latest statistics, you could reach out to each site linking to this resource to see if they would rather link to your up-to-date resource.
Here's a rough outline of what to say in your outreach email or message:
You came across their guide to [whatever].
You noticed they linked to [inferior guide].
You noticed that this had a [compelling issue].
You just put together a similar guide without [compelling issue].
You just thought you'd let them know as they might want to replace the link.
This process can be time-consuming but, done well, can be more efficient than guest blogging and many other link-building strategies.
3. Build more internal links
Internal links are links from one page on your website to another page on your website. Like backlinks from external sites, internal links have the power to improve the search visibility of pages they link to.
But unlike backlinks, which rely on other people linking to you, internal links are totally under your control because they're part of your website.
There are a few ways to find relevant internal linking opportunities, but the easiest way is using the Link Opportunities report in Site Audit. Here's how:
Sign up for a free AWT account.
Verify your website and run a crawl in Site Audit.
Go to the Link Opportunities report.
Here, you'll see suggestions for internal links, including the source page, suggested anchor text, and target page.

If you want to build internal links to a particular page, you can just hit the advanced filter and add a rule specifying a target page:

FAQs
Can I get 100% search visibility?
No, this is impossible because even if you rank in the top spot for every keyword you're targeting, there will always be people who click on a different result in the SERPs (instead of yours or in addition to yours). This means your competitors' pages will get some search visibility too.
What search visibility should I aim for?
As high as possible because higher search visibility means more traffic for your website, and therefore more leads and sales.