Site Explorer (Legacy Reports)
How to use the Referring Domains report
Video for this tutorial is coming soon.
In this report, we show the unique websites pointing to any domain, URL, subdomain (e.g., blog.domain.com) or subfolder (e.g., domain.com/blog/). Use the drop-down to select your preferred mode.
Below are some actionable ways to use this report.
See the websites that link to your competitors
Enter a competitor's website to see all the referring domains linking to their site.
For example, if you were doing SEO for MailChimp, then you could look at the referring domains to activecampaign.com or convertkit.com.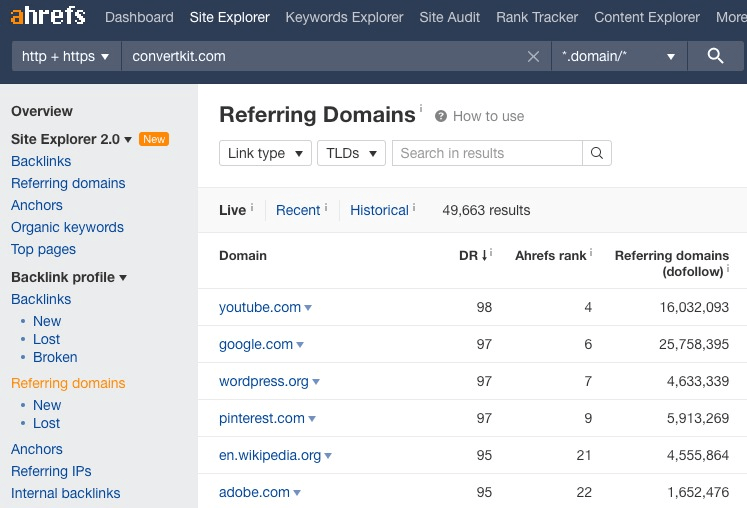 From here, eyeball the report to find relevant websites from which to get links by looking for:
Recognizable and well-known industry websites
Sites that seem to be about the same topic as yours (e.g., for Ahrefs, this might be theseoproject.org, authorityhacker.com, etc.)
Sites that are linking with "dofollow" links (hint: use the "dofollow" filter)
Sites with substantial organic traffic (hint: sort by the Organic traffic column from high to low)
NOTE. Ignore any obvious sites like Reddit, Vimeo, Google Plus, etc. when eyeballing traffic.
Found a site that looks promising? Hit the caret under the Links to target column to reveal all backlinks from that particular site pointing to the target.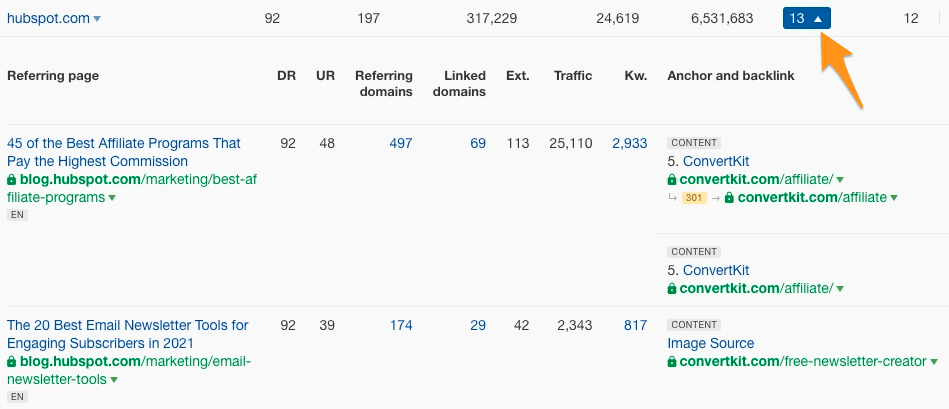 Looking at the context of each link can reveal ways you could also land a link from that site.
For example, perhaps you see mentions of multiple competitors in the anchor and surrounding text, but no mentions of you. This could be an excellent opportunity to reach out and introduce this person to your business.
Find your competitors' serial linkers
Serial linkers are those who continue to link to the same website time and time again.
By finding your competitors' serial linkers, you're effectively finding those who often link to the people and websites they like. Pursuing relationships with such people can often be mutually beneficial.
An easy way to find them is to look for referring domains with 10–50 links to the competing site.
Sort by the Links to target / dofollow column to make this easier.

Once again, the best tactic is to eyeball the report for sites that make sense (see criteria above).
From there, you can delve deeper by looking at the actual backlinks from each site. Hit the caret under the Links to target column to do this.
Generally speaking, the best prospects will be those who have linked:
From multiple pages or posts (see the referring page column)
In various contexts (see the anchor and backlink column)
On many occasions over a decent period of time (see the first seen column)
See all the backlinks you have from a specific website
Not only is the Referring domains report useful for checking competitors' backlinks, but it's also useful for seeing who's linked to your site.
Just enter your website and select the *.domain/* mode.
You will now see who links to you and how many times they've each done so.
If you want to know how many times a specific website has linked to you, search for the domain then look at the Links to target column.

This can be useful for checking if a link prospect has already linked to you.
If there are no results from your search, they have yet to do so.

Given the amount of time that things like guest posting can take (and the fact additional links from the same domain are thought to have diminishing returns), you may decide not to pursue additional links from those who've already linked to you.
Keep learning
Check out this video to learn how to do link building:
Or read some of the articles on the Ahrefs blog:
Next lesson
Anchors