Off-page SEO is anything you do outside your website to try to improve its search engine rankings. It's often used synonymously with
link building
, but it goes beyond that.
Why is it important?
Just as your home's value isn't based solely on bricks and mortar but also on outside factors, like the neighborhood it's in, the same is true of your website. Google looks at off-page factors like backlinks and brand mentions to decide what you should rank for and where.[1]
How does off-page differ from on-page SEO?
From an SEO standpoint, the most important difference comes down to control. You have full control over on-page SEO but not off-page SEO. You can make all the changes or optimizations you like to your pages, but you can only ever influence (not fully control) off-page factors.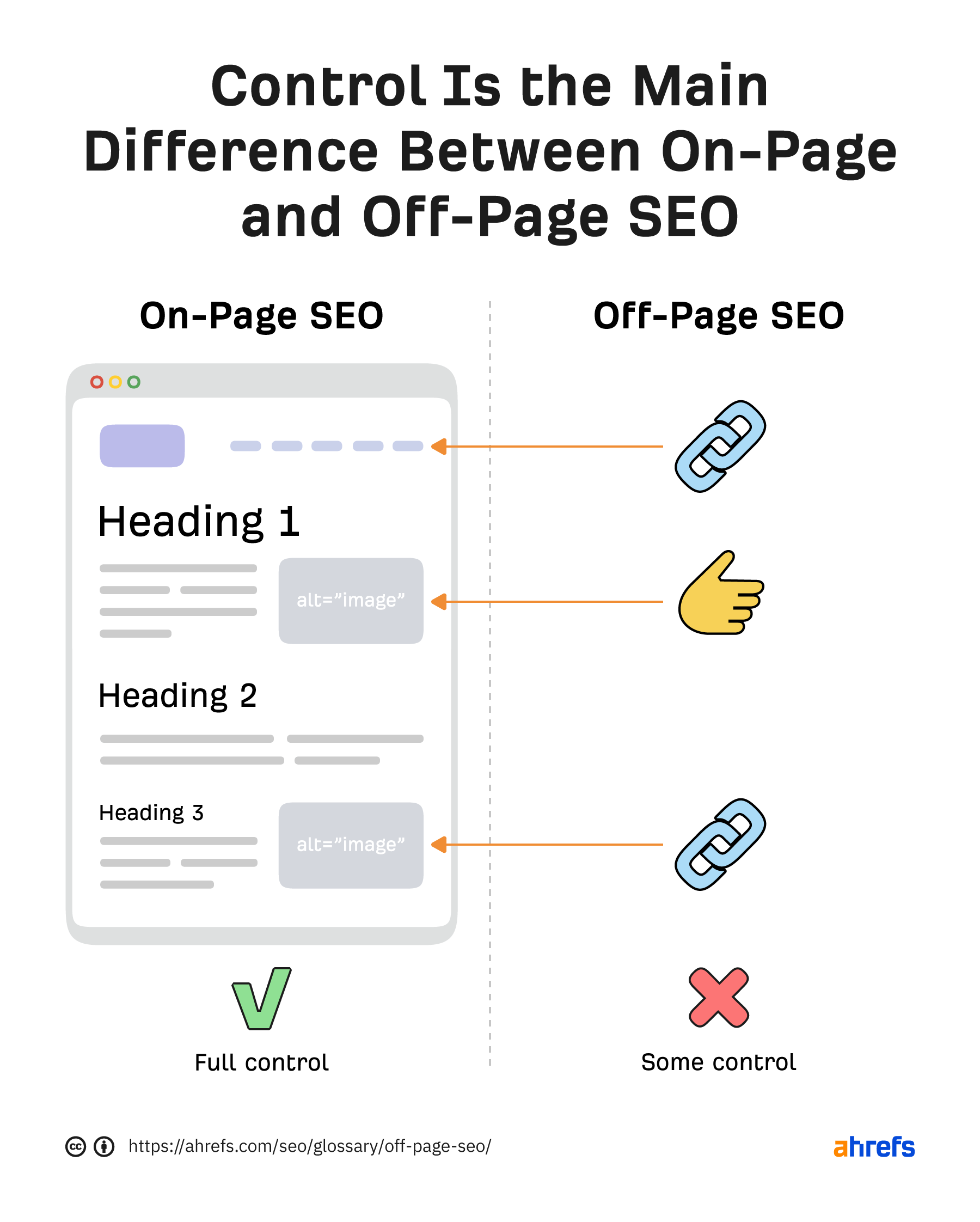 Both are important, as confirmed by the respondents to my Twitter poll.
Best practices
Let's look at a few examples of off-page SEO factors you can use to improve your rankings.
Get more backlinks
Backlinks are clickable links from one website to another, and they're one of Google's top ranking factors.[2]
However, not all links are created equal. Some will move the needle a lot, some a little, and some not at all. Links can even hurt rankings if Google sees them as link spam.[3]
If you're new to link building, we recommend starting with these three tactics:
For example, say you run an email marketing platform. You might start by entering Mailchimp's homepage in a competitive analysis tool like Ahrefs' Site Explorer and looking for replicable links in the Backlinks report.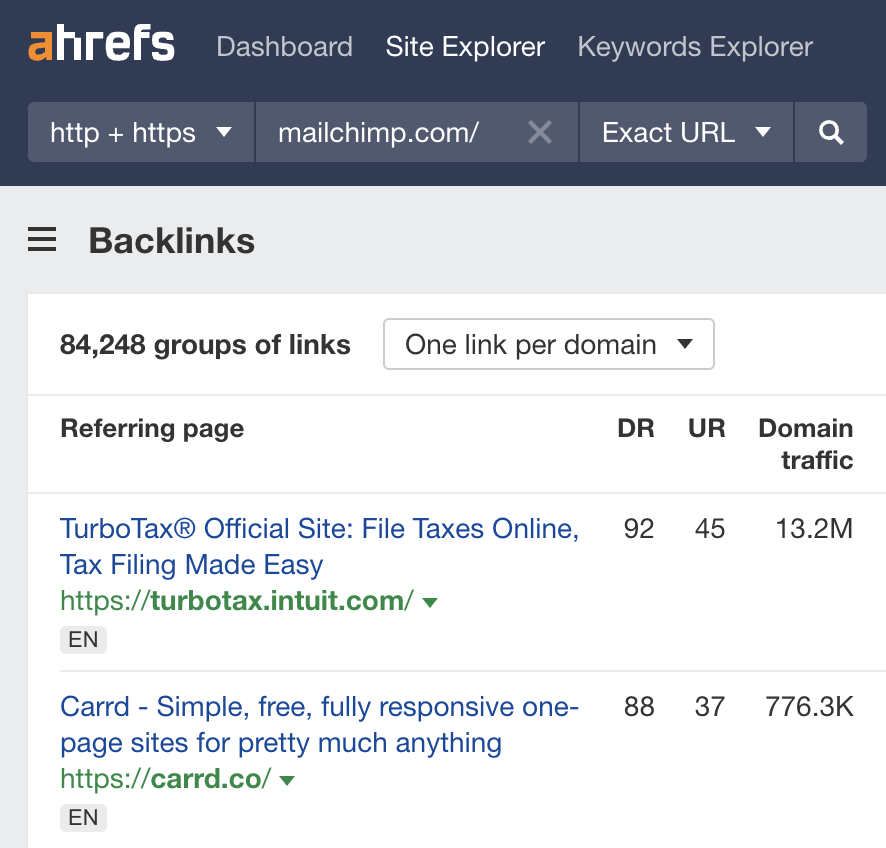 Just make sure to go after links that are both easy to replicate and high-quality.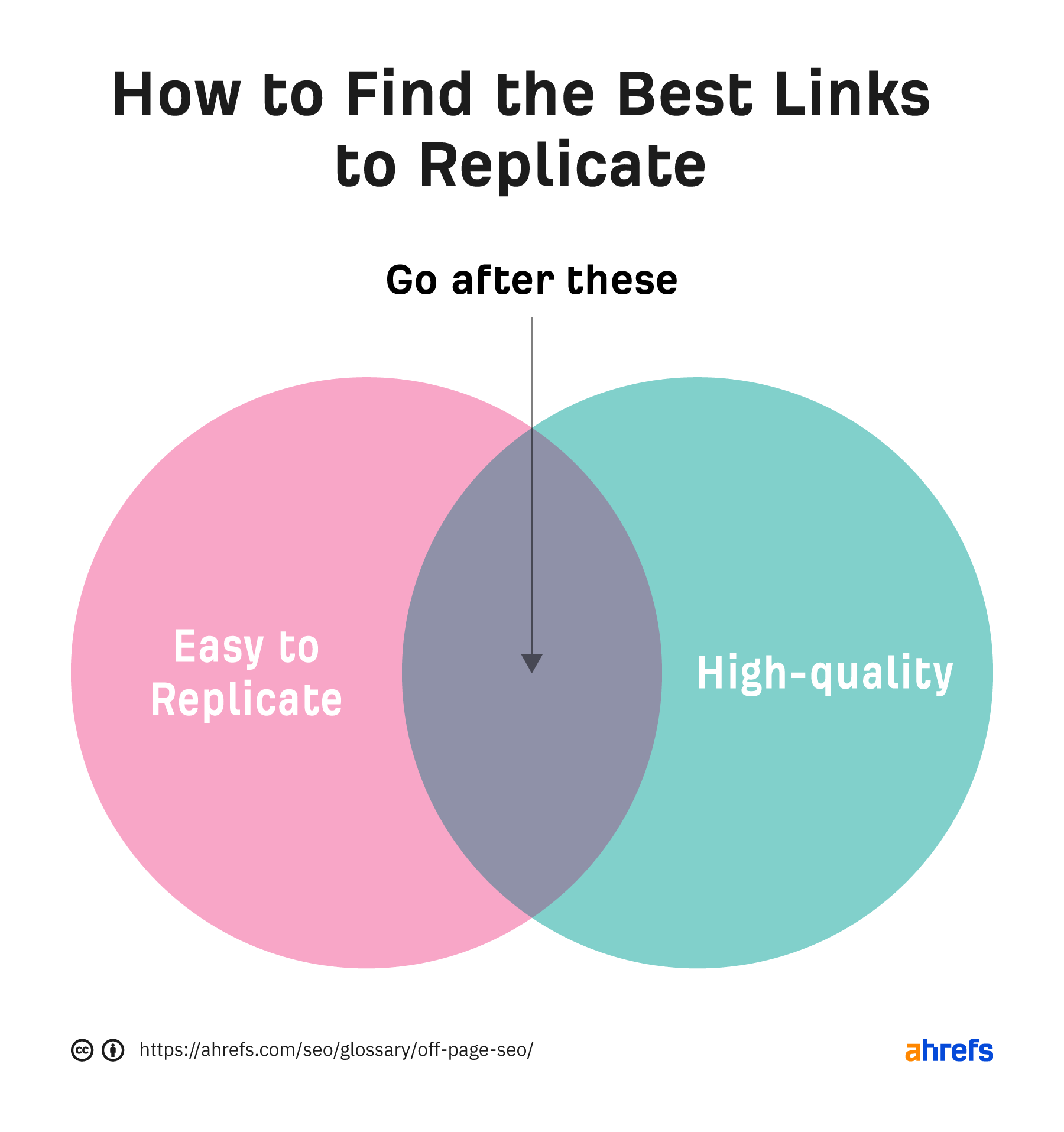 Here are three crucial things to check before pursuing a link:
Authority. Is the linking site trustworthy?
Relevance. Is the topic of the linking site and page similar to your content?
Placement. Is the link likely to be in a prominent position on the page?
Get a Google Business Profile
If you run a local business, like a convenience store or dental clinic, you need a Google Business Profile. This is because you can only show up for "map pack" results if you have one.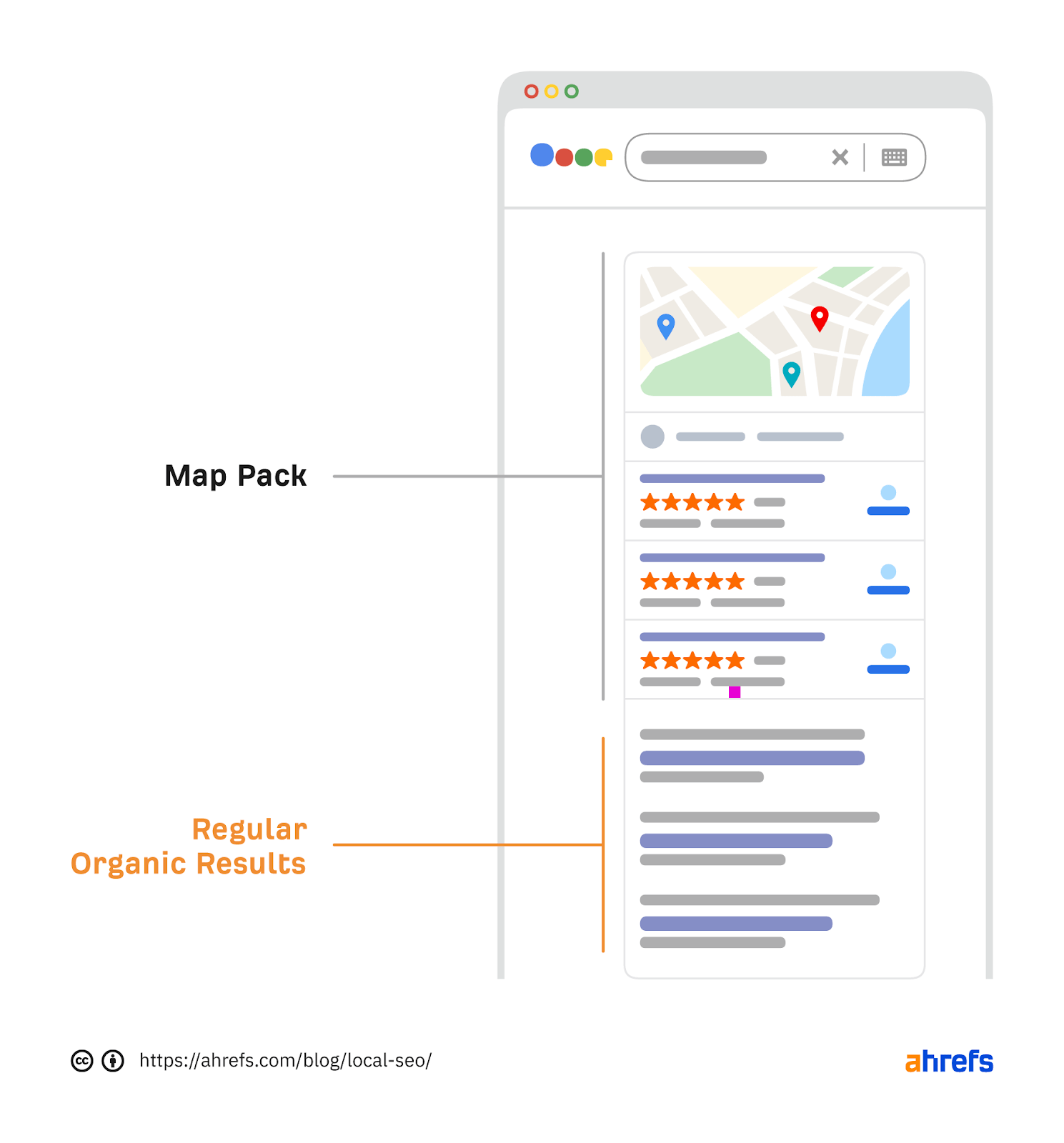 Luckily, it's completely free to create a Business Profile. Just head to google.com/business, sign up, and fill in your details.
Here's our advice for optimizing your profile:
Be as specific as you can with your business category
Add your business hours (inc. holiday hours)
Add your address (if you have a storefront)
Set your service area (if you visit or deliver to customers and clients)
Add your products/services
Add photos
Learn more: How to Optimize Your Google Business Listing
Ask for reviews
Reviews are a ranking factor for "map pack" results, and 17% of SEOs think they're the most important factor.[4]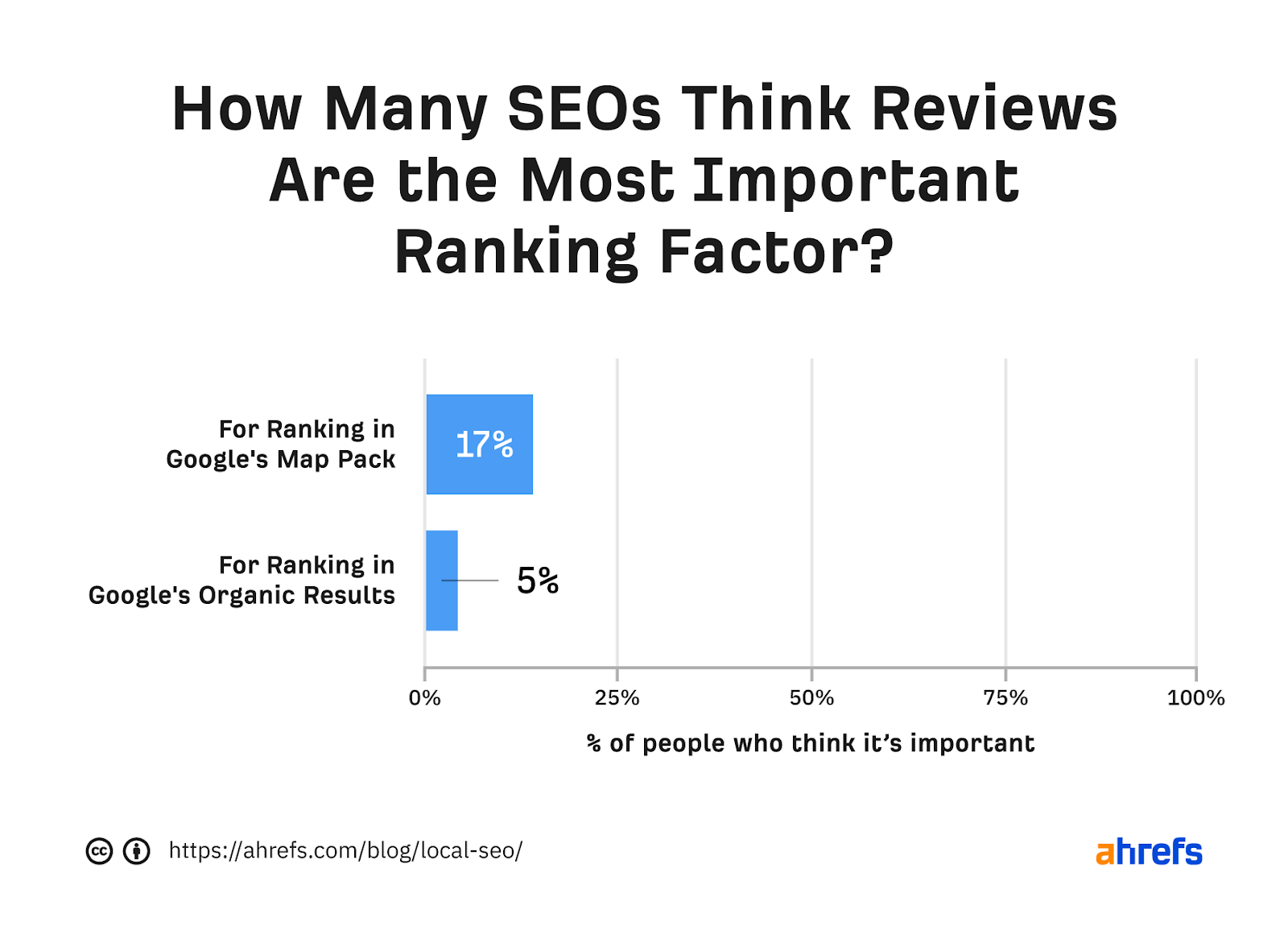 Their importance seems to be increasing over time, too.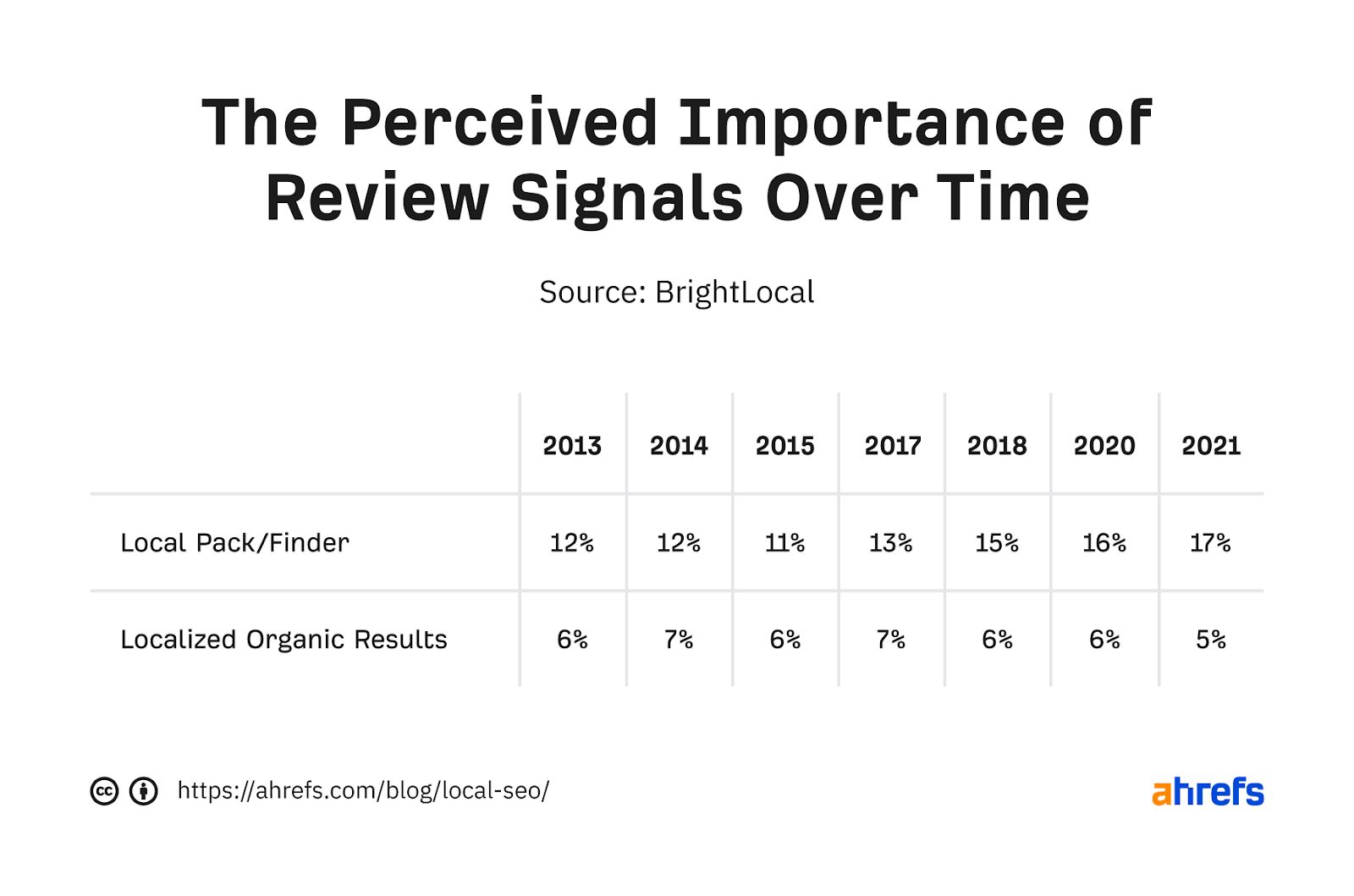 It's also likely that reviews across the web bear some importance for regular rankings. This is because they're one of the things Google tells Search Quality Raters to look for when evaluating a website's Expertise, Authority, and Trustworthiness (E-A-T).
Look for reviews, references, recommendations by experts, news articles, and other credible information created/written by individuals about the website.
Sidenote.
E-A-T is not a direct ranking factor. Learn more about what this means in
our E-A-T guide
.
Here's our advice for getting more reviews:
Ask customers to leave them
Prioritize getting reviews on your Google Business Profile
Build trust by responding to reviews
Don't offer or accept money in exchange for reviews (it's against Google's terms)
Don't discourage bad reviews or request good reviews (it's also against Google's terms)
Hire experts
Given that Google is looking for content that demonstrates expertise, hiring expert writers will likely increase your chances of ranking.
Here are a few reasons for this:
People are more likely to trust and link to content written by experts.
Google doesn't use authorship in their algorithms anymore, but they do have ways of identifying authors.[5] So they may rank content by experts higher.
In fact, a recent uptick in our blog rankings coincided with one of our authors, Patrick Stox, winning a knowledge panel. While causation doesn't always equal causation, our gut feeling is that these two things were related.
Just make sure to showcase the experts you hire as best you can.
Here's an excellent example of how to do this from Healthline:

If you're not sure where to start when it comes to hiring experts, read our guide to hiring freelance writers.
Get brand mentions
Google's Gary Illyes is on record saying that mentions help rankings.
Here are a few ways to get more brand mentions:
Get featured on podcasts
Get interviewed
Respond to journalist requests via HARO
For example, here's a brand mention of Ahrefs thanks to a podcast interview with our Head of Content, Joshua Hardwick:

However, while brand mentions may help SEO, making efforts solely to try to get more of them likely isn't the best use of your time. It makes more sense to do things with other marketing value (such as podcast interviews) and view the brand mentions as a nice bonus.
If you want to get even more juice out of your brand mentions, consider an unlinked mention lknk building campaign. This is where you reach out to websites that have already mentioned you and ask them to add a link to your website.
Learn more: A Simple Guide to Turning (Unlinked) Brand Mentions into Links
FAQs
Are social signals a ranking factor?
No. Google's Gary Illyes confirmed this in a 2016 interview.[5]
Are brand searches a ranking factor?
Even though branded searches often correlate with organic search traffic, there's no evidence to suggest that they're a direct ranking factor.
Related terms
References