Google My Business is a free tool that allows business owners to create, manage and optimize their Google Business Profile. It exists to help businesses attract new customers from search and maps.
Here are just a few tangible benefits to claiming and optimizing your Google Business Profile:
Improved rankings. Google shows Business Profiles in the results for local searches, and well-optimized profiles are more likely to show higher up on the list.
Improved visibility. Providing useful and accurate information helps Google show your Business Profile in the search results for more relevant local searches.
Here's how to optimize your Business Profile through Google My Business:
It's important to note that Google Business Profiles and Google My Business are two separate things:
Google Business Profile: A local listing with information about a business. Business Profiles show up in Google search on desktop and mobile, and in Google Maps.
Google My Business: A free tool for managing your Google Business Profile.
Before you can optimize anything, you first need to create or claim your Google Business Profile through Google My Business. To do that, click here, hit "Manage now," and sign in to your Google account.
If you've already claimed your Google Business Profile, you'll see a management dashboard.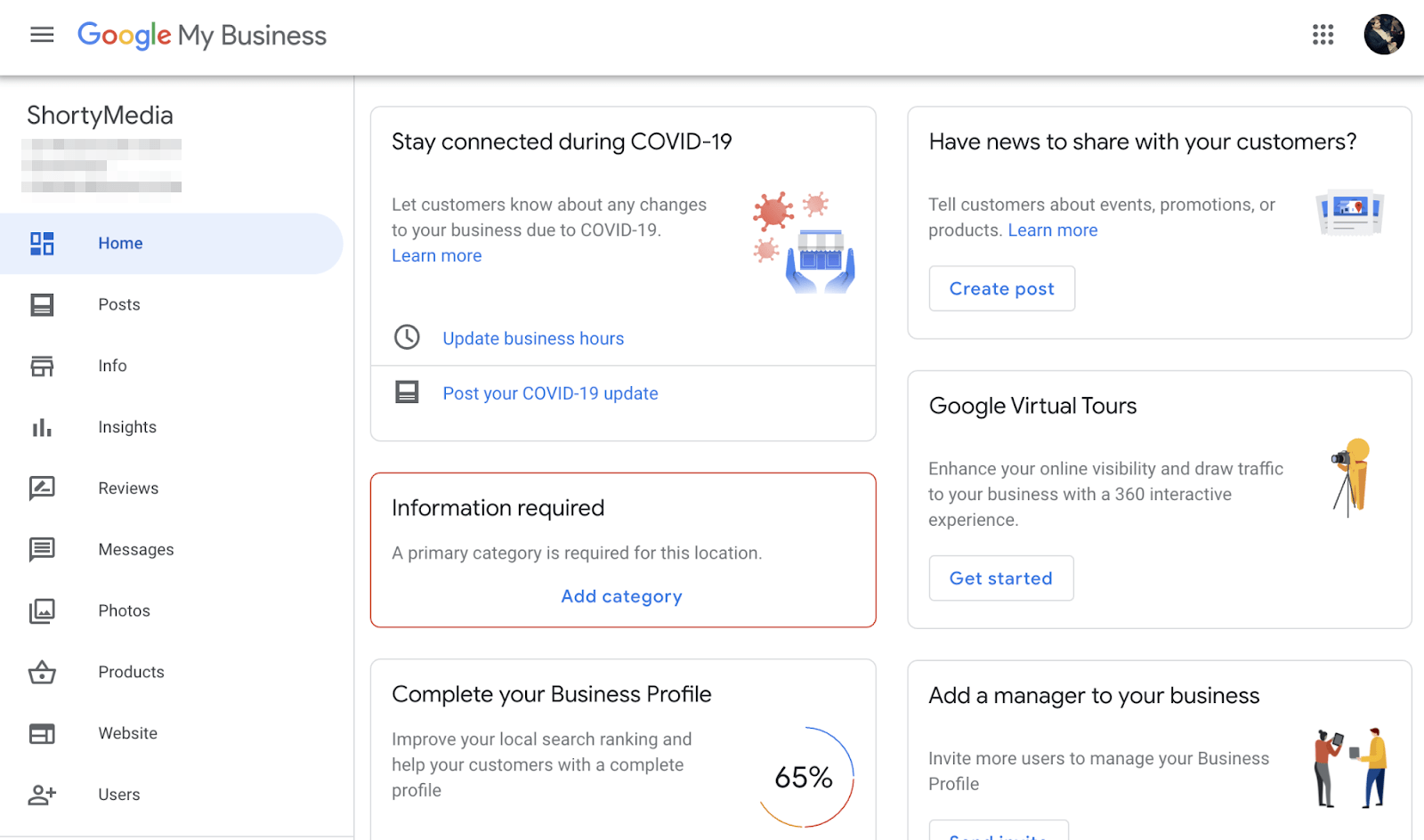 If not, you'll see an option to find and manage your listing. Type your business name in the search box. If it pops up in the dropdown, hit the business name and claim the profile. Otherwise, hit the option to create a new business with that name.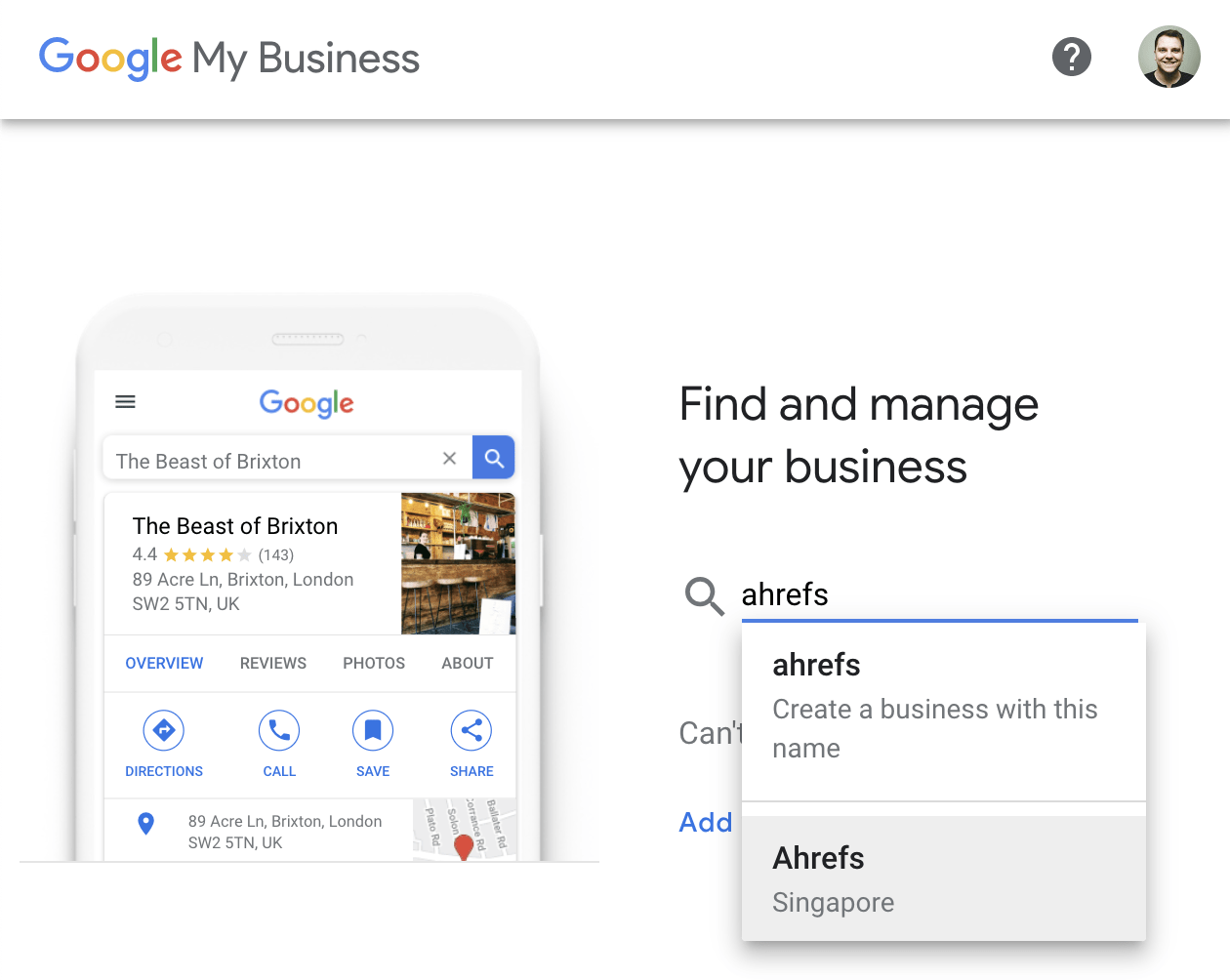 Just know that your business name on your Business Profile should actually be your business name, not an "optimized" version with a bunch of keywords.

Google states in their guidelines that if you do this, your profile could get suspended:
Your name should reflect your business' real-world name, as used consistently on your storefront, website, stationery, and as known to customers. […] Including unnecessary information in your business name is not permitted, and could result in your listing being suspended.
Categories describe what your business is, not what it does or sells. Always choose a primary category that best describes your business as a whole, not its products or services.
For most businesses, this is easy enough. If you're a plumber, choose "plumber." If you own a pizza restaurant, choose "pizza restaurant." But there are times when the best choice isn't as clear cut.
For example, let's say that you're a chartered accountant running an accountancy firm. You might wonder which of these categories to choose:
Accountant
Accounting Firm
Chartered accountant
The answer is that there's no definitive answer. All three are valid options. However, Google's advice is to be as specific as possible, so 'chartered accountant' is likely the best option here.
That might sound counterintuitive, but it gives you the best shot at appearing for the most searches. A chartered accountant is a relevant result whether people search specifically for a chartered accountant, or more broadly for an accountant. An accountant is only a relevant result for folks looking for an accountant.
You can see this play out in the SERPs.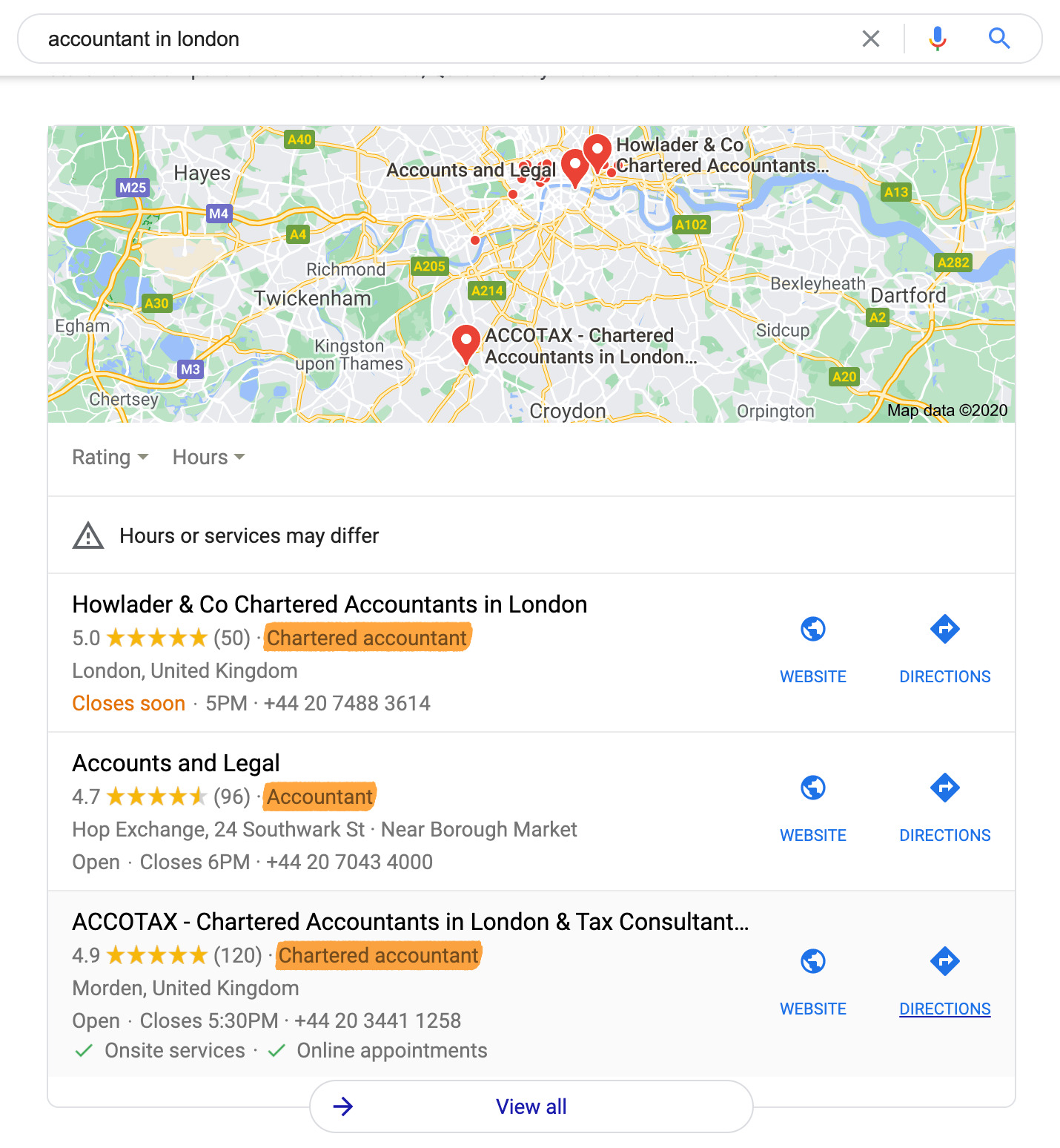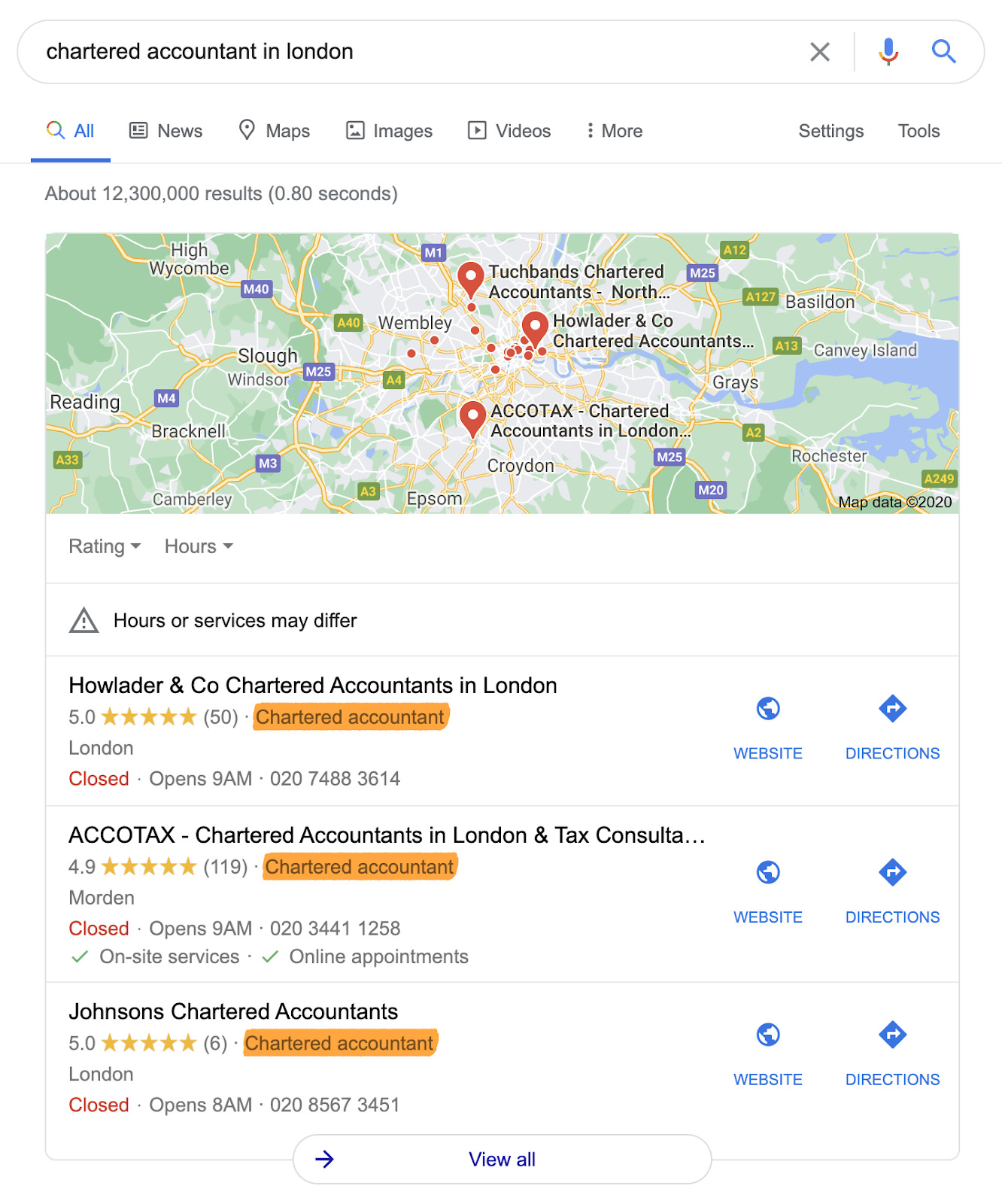 As for additional categories, only add them if you need to let potential customers know about products or services that don't fall under your primary category. For example, if your primary category is 'chartered accountant,' there's no need to add 'accountant' as an additional category because it's too similar. But if you offer bookkeeping or payroll services, those may be worth adding.
Google essentially divides businesses into three types.
Storefront businesses serve customers and clients at their business address only. Examples: hair salons, cafes, bars, stores, etc.
Service-area businesses visit or deliver to customers and clients, but don't serve from their business address. Examples: plumber, cleaning service, mobile hairdresser, etc.
Hybrid businesses serve customers and clients from their business address and also visit or deliver to them. Examples: a photographer that does on-location and studio shoots, or a restaurant that also offers a delivery service.
If you're a location business, set your address and leave the service area field empty. Do this under the Info tab.
If you're a service-area business, hit the option to set your service area. You can add up to twenty of these, but it's important to be accurate. Don't list every place that springs to mind in the hope of showing up for more searches. Google says that "the boundaries of your overall area shouldn't extend farther than about 2 hours of driving time from where your business is based," so usually one or two nearby towns or cities is plenty. Use ZIP/postal codes if you need to be more granular.
Finally, clear your address from the listing.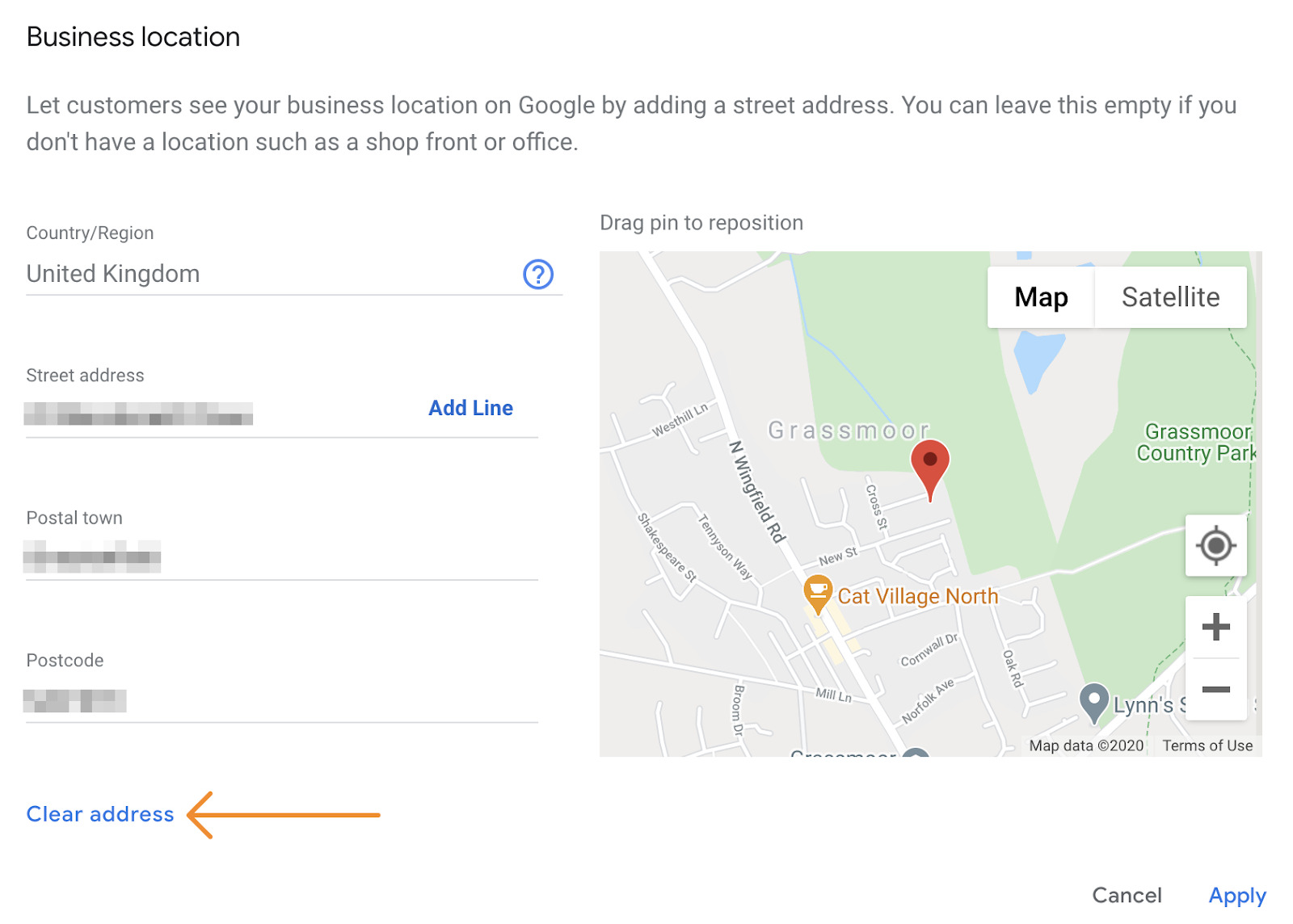 Note that this only hides your business location from searchers. Customers searching within your service area will still be able to find you.
Sidenote.
If you're a service-area business serving an entire state or country, it's worth noting that map packs, which contain Google Business Profiles, only show up for local searches. There's no logic in trying to optimize your Business Profile listing to show up everywhere. That's not what they're for. Ranking nationally or internationally is more a job for your actual website.
If you're a hybrid business, run through the same steps as service-area businesses, but don't clear your address. Customers wanting to visit your storefront or office still need this.
People need to know when you're open and closed, so everyone should add their opening hours. That probably sounds obvious, but there are tons of Business Profiles without this essential information.
To add your hours, go to Dashboard > Info > Add hours
Mark the days you're open, then add the times when you open and close. If you close and then reopen later in the day, as is often the case for restaurants with lunch and dinner services, click the "add hours" option to add another row. You can do this as many times as you need.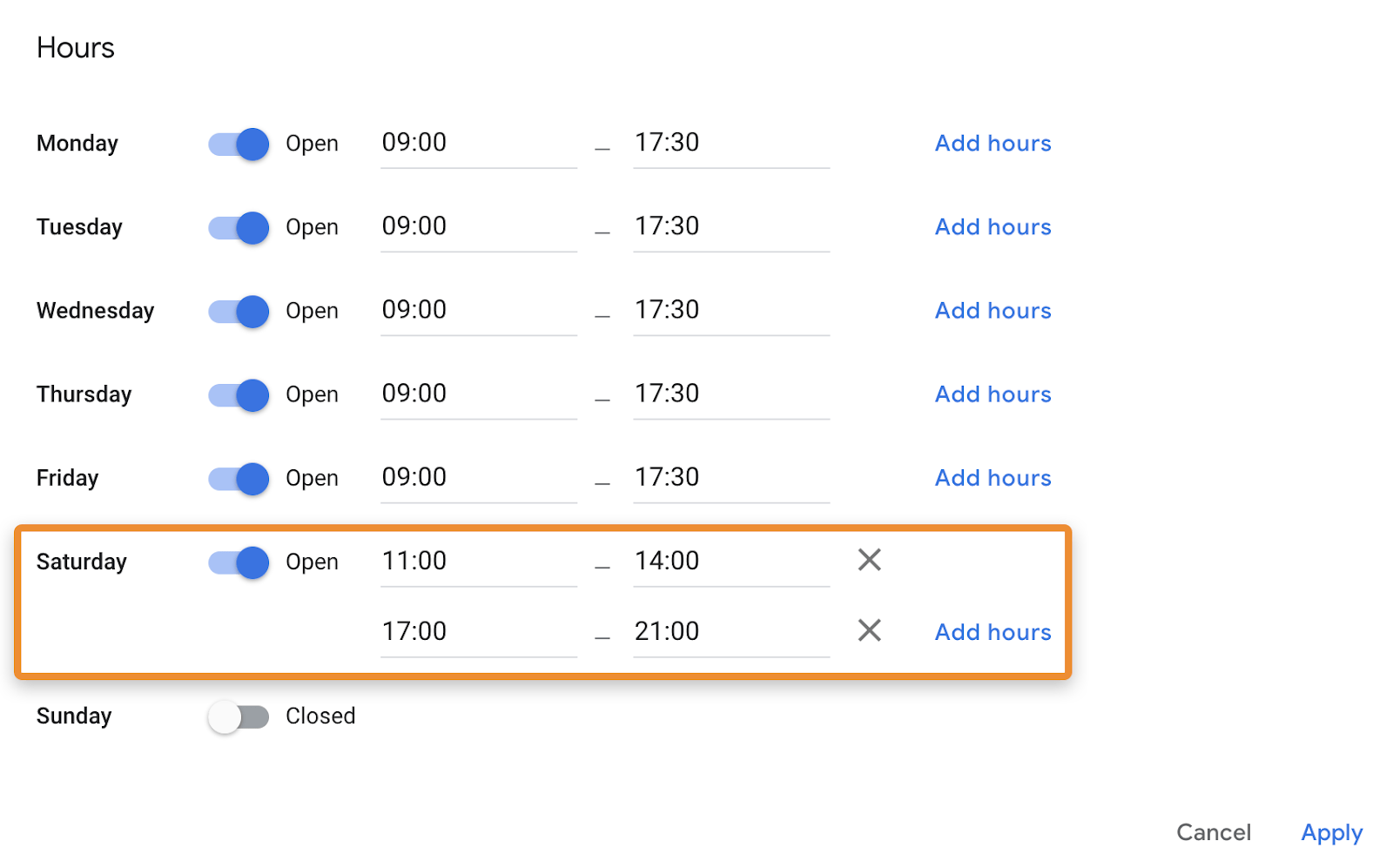 Nobody wants to spend time traveling to your business only to realize that you closed early for a public holiday upon arrival. It's frustrating and a surefire way to earn bad reviews that can negatively impact your local rankings.
Fix this issue before it becomes a problem by adding 'special hours.'
Just go to Dashboard > Info > Add special hours
Like with regular hours, you can add multiple opening and closing times for the same day with the "add hours" button. For example, perhaps you open for a few hours in the morning on Christmas Eve, then reopen in the evening. In that case, your special hours would look like this:

Even if your holiday hours are the same as your regular hours, you should still confirm them. If you don't, potential customers searching on public holidays might see a warning on your listing.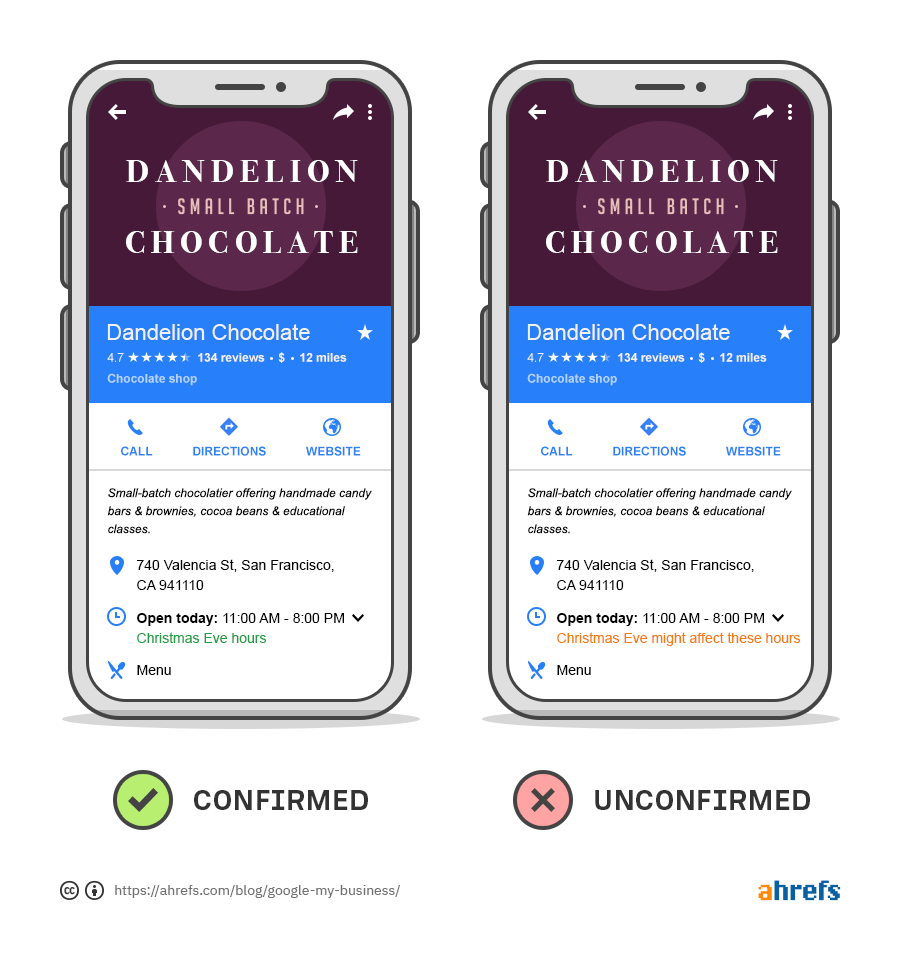 Most businesses will want to add both their website and phone number, which you can do on the "Info" tab.
You should only leave these blank if you don't have a website or don't want to be contacted by phone. At the very least, you need to add at least one of these to your Business Profile. Otherwise, there's no way for customers to contact you.
Google says businesses with photos receive 42% more requests for driving directions and 35% more website clicks than businesses without photos.
Anyone can add photos to a Google Business listing, including customers. But adding photos yourself helps ensure that your listing looks its best and stands out for the right reasons in search results.
Google has plenty of guidelines for business photos, but here are the basics:
Add your logo: The clearer, the better.
Add a cover photo: Choose something that showcases the personality of your business.
Add 3+ exterior photos. Take them from multiple angles throughout the day to help customers locate your business—anytime.
Add 3+ interior photos. Capture your business's decor and ambiance to lure customers in.
Add 3+ product photos. Showcase your most popular items.
Add 3+ "at work" photos. Show your team providing services to customers.
Add 3+ team photos. Humanize your business by showcasing the personalities of your team members and staff.
When it comes to photos, more is seemingly better. A study by BrightLocal found that businesses with more than 100 photos get 520% more calls, 2,717% more direction requests, and 1,065% more website clicks than the average business.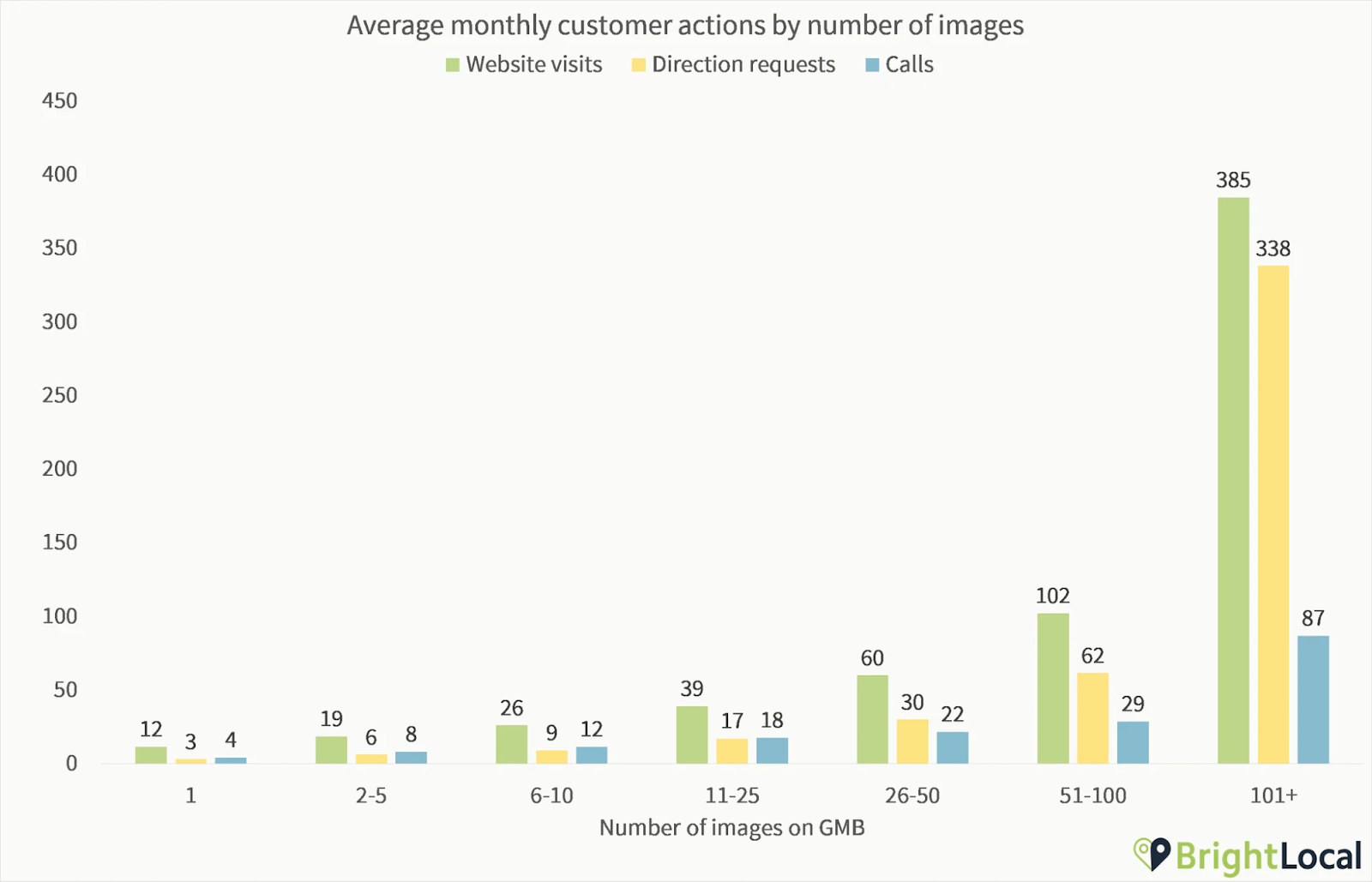 Of course, that doesn't mean that you need to add hundreds of photos right off the bat. Start with the guidelines above, and add more photos over time.
Just make sure to name them all appropriately—for example, bridesmaid-dress.jpg, not IMG_574921.png.
Recommended reading: Image SEO: 12 Actionable Tips for More Organic Traffic
If Google gives you the option to add products and services to your business listing, it's usually worth doing because it can help your business listing show up for even more relevant searches.
For example, this bridalwear business listed all the wedding dresses they offer as products: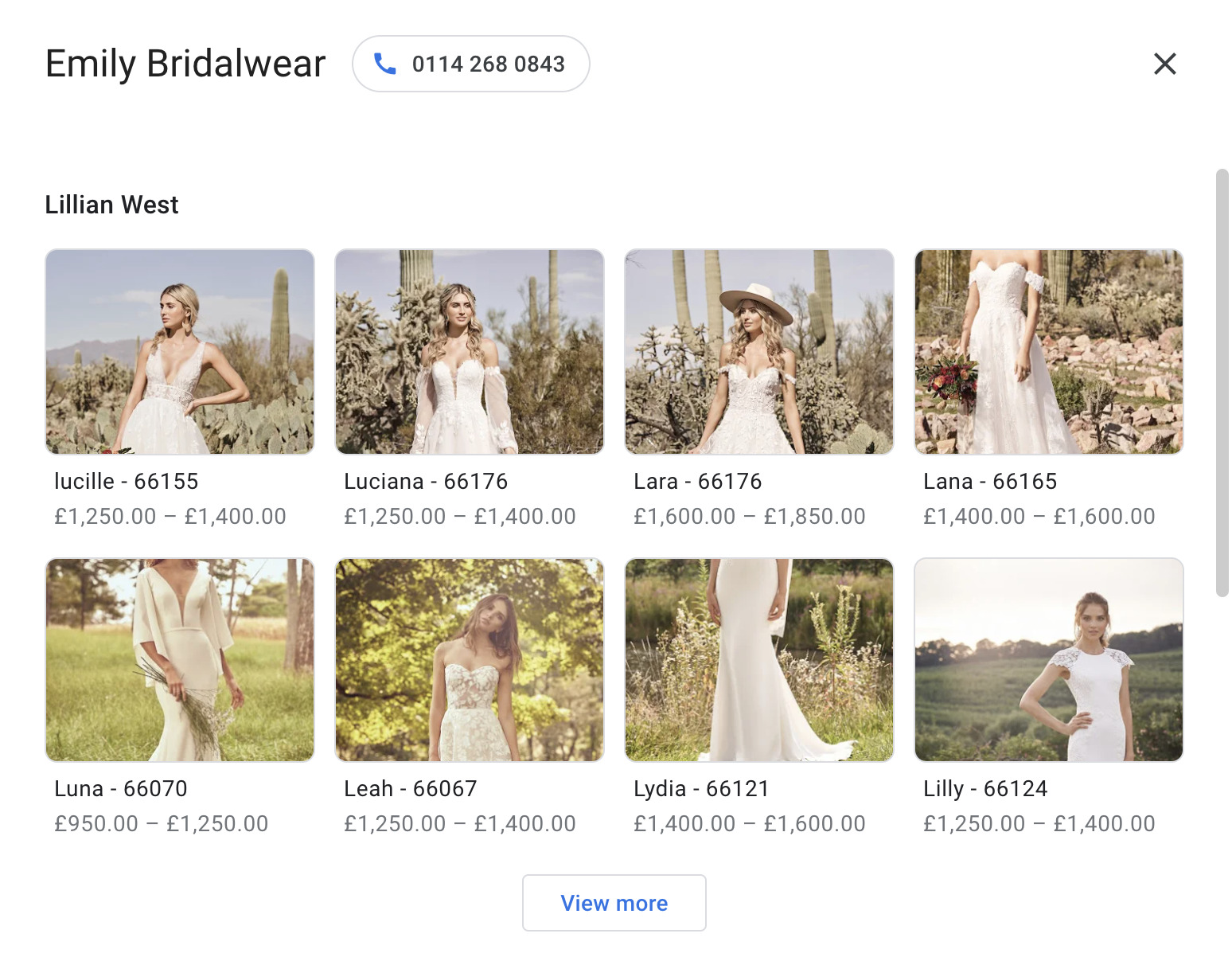 Seemingly, as a result, their listing shows up for related local queries for specific dresses and brands like "lillian west wedding dress sheffield":
Just make sure to add all relevant details to your products and services, including the name, price, category, description, and a link to the related product or service page on your website. Feel free to copy and paste the descriptions and details from your website to speed this process up. There's no harm in doing this, and it won't cause duplicate content issues.
According to BrightLocal's 2020 study, reviews are getting more important for local map-pack rankings. And Google themselves state that "high-quality, positive reviews from your customers can improve your business visibility and increase the likelihood that a shopper will visit your location."
Interestingly, Google also highlights reviews containing relevant keywords from the searcher's query in the results.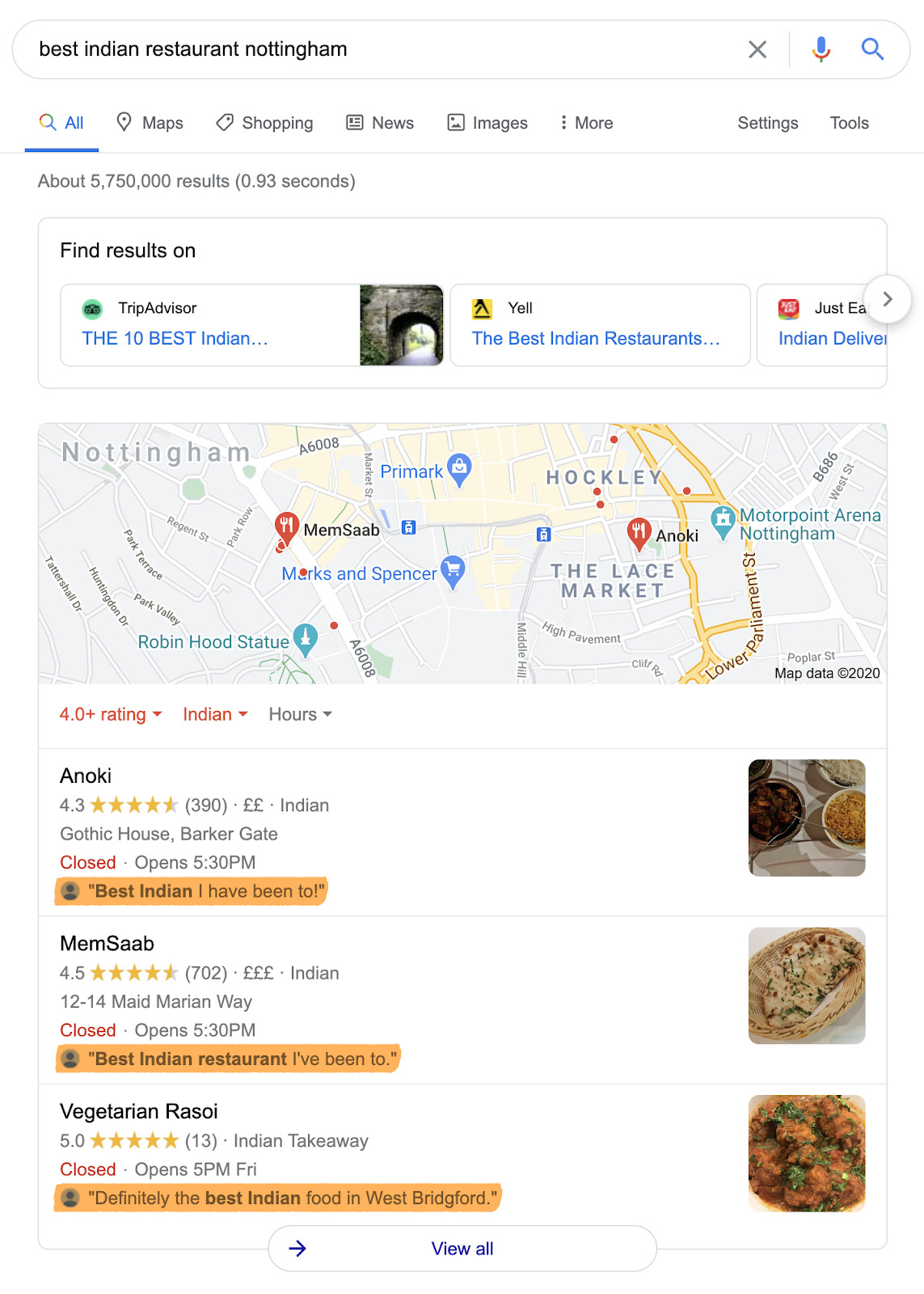 But how do you actually get reviews?
Here are a few ways:
Ask customers. If you interact face to face with customers and feel that they had a positive experience, ask them to leave a review.
Create and share a review link. Many customers don't know how to leave Google reviews. Google knows this, which is why they give all businesses the option to create a shareable review link. Find it in Google My Business > Home > Get more reviews.
Create "leave a review" cards. Have physical cards printed that thank customers for their business and prompt them to leave a review. Include your shortened review link or a QR code to make things easy.
Include your review link in your email signature. If you communicate with customers by email, this is a great passive way to earn more reviews.
Just know that it's against Google's terms to offer customers incentives in exchange for reviews, so stay clear of tactics like offering discounts or free stuff in return.
People might have questions about your business that your listing doesn't answer. That's why Google allows searchers to ask questions about businesses and get answers from business owners and the wider community.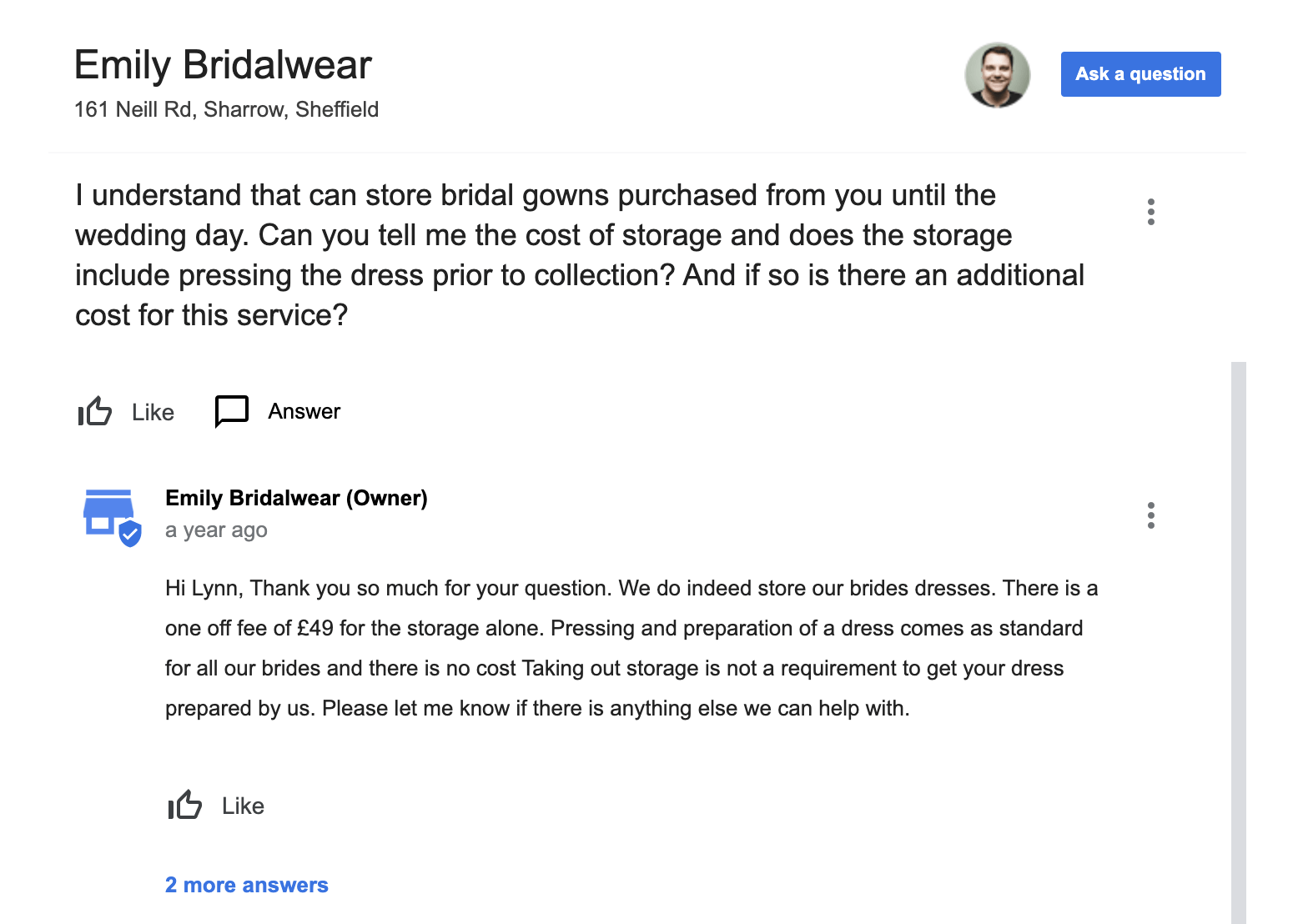 Many businesses don't keep on top of these questions, leaving it up to others to provide answers. That's rarely ideal and often results in customers seeing misleading or inaccurate information about your business.
For example, here's someone asking whether they need to book ahead at a local bar, only to get contradictory answers from the local community: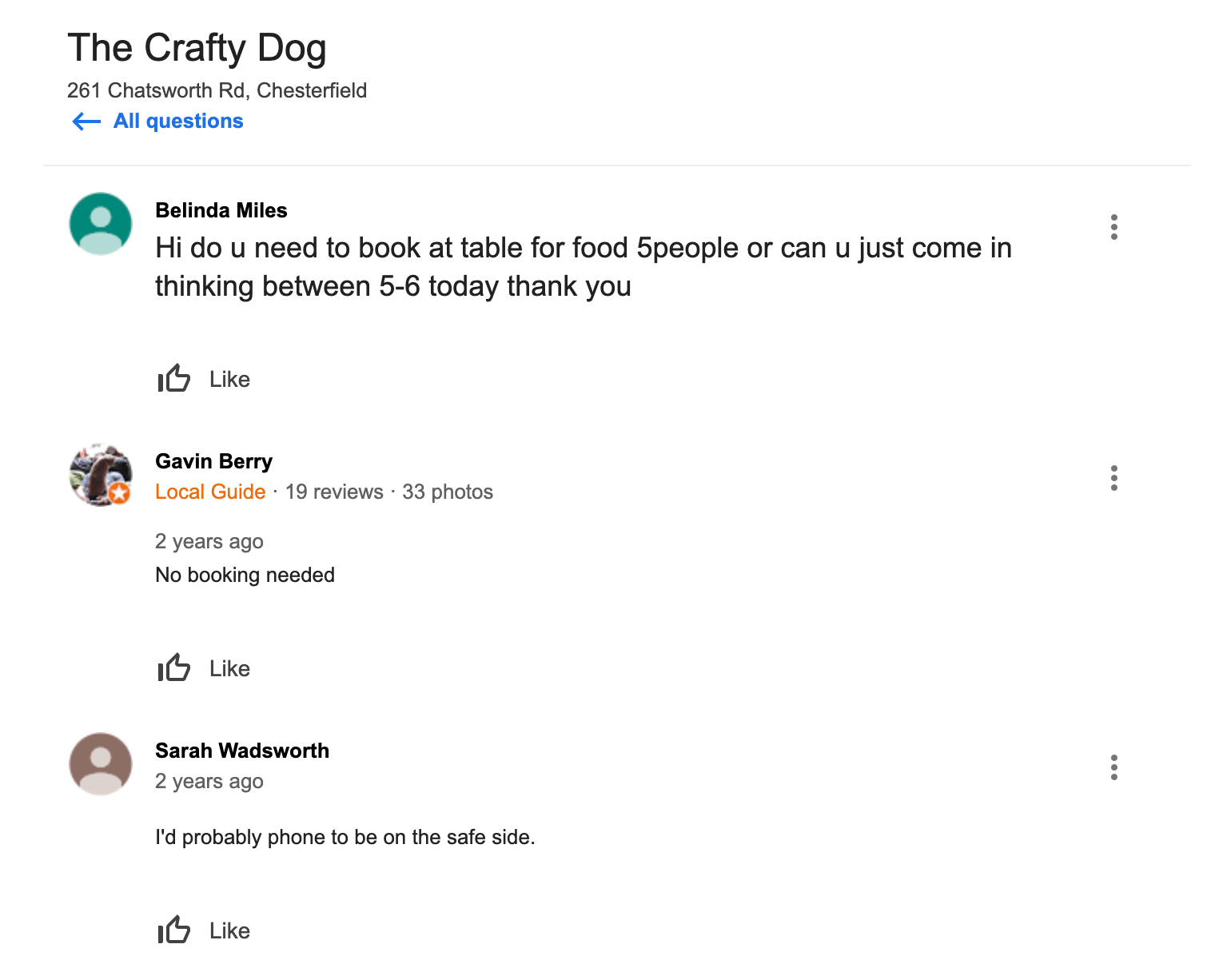 Only negatives can come from this. Contradictory answers will likely deter that person and others from visiting altogether, or leave them angry at getting turned away because they didn't book ahead. It's these people who will leave negative reviews and destroy your local SEO.
For that reason, we recommend taking a proactive approach with questions and answers, and there are two ways to do that:
Turn on questions and answers notifications. Get alerts whenever someone asks a question about your business, then answer immediately. Don't worry about getting lots of annoying notifications. Unless your business is super popular, questions are quite rare. Note that these alerts are enabled by default, but it's worth double-checking in the settings.
Provide answers to FAQs upfront. Most websites have an FAQ page with answers to common questions. You can ask and provide answers to these questions yourself on your Google listing. Just make sure you're signed in to the same Google account that you use for Google My Business so that answers are tagged as coming from the business owner.
Posts let you share updates, offers, and events related to your business. Think of them as status updates. They show up in a carousel near the bottom of your Google Business panel.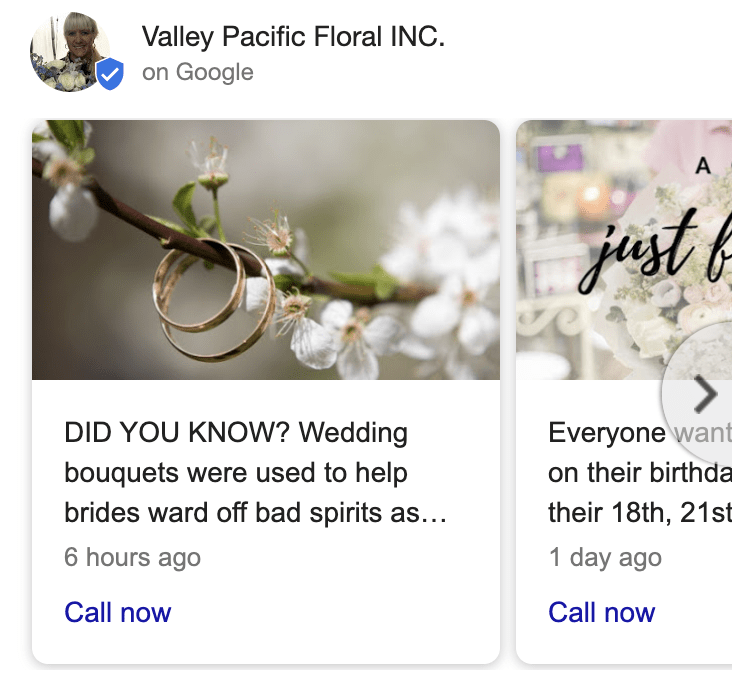 Google also occasionally showcases relevant posts in 'map pack' results.
For example, if we search for "woodburn oregon sympathy flowers," Valley Pacific Floral ranks in the map pack. And Google showcases one of their posts that mentions the term "sympathy flowers" from our search.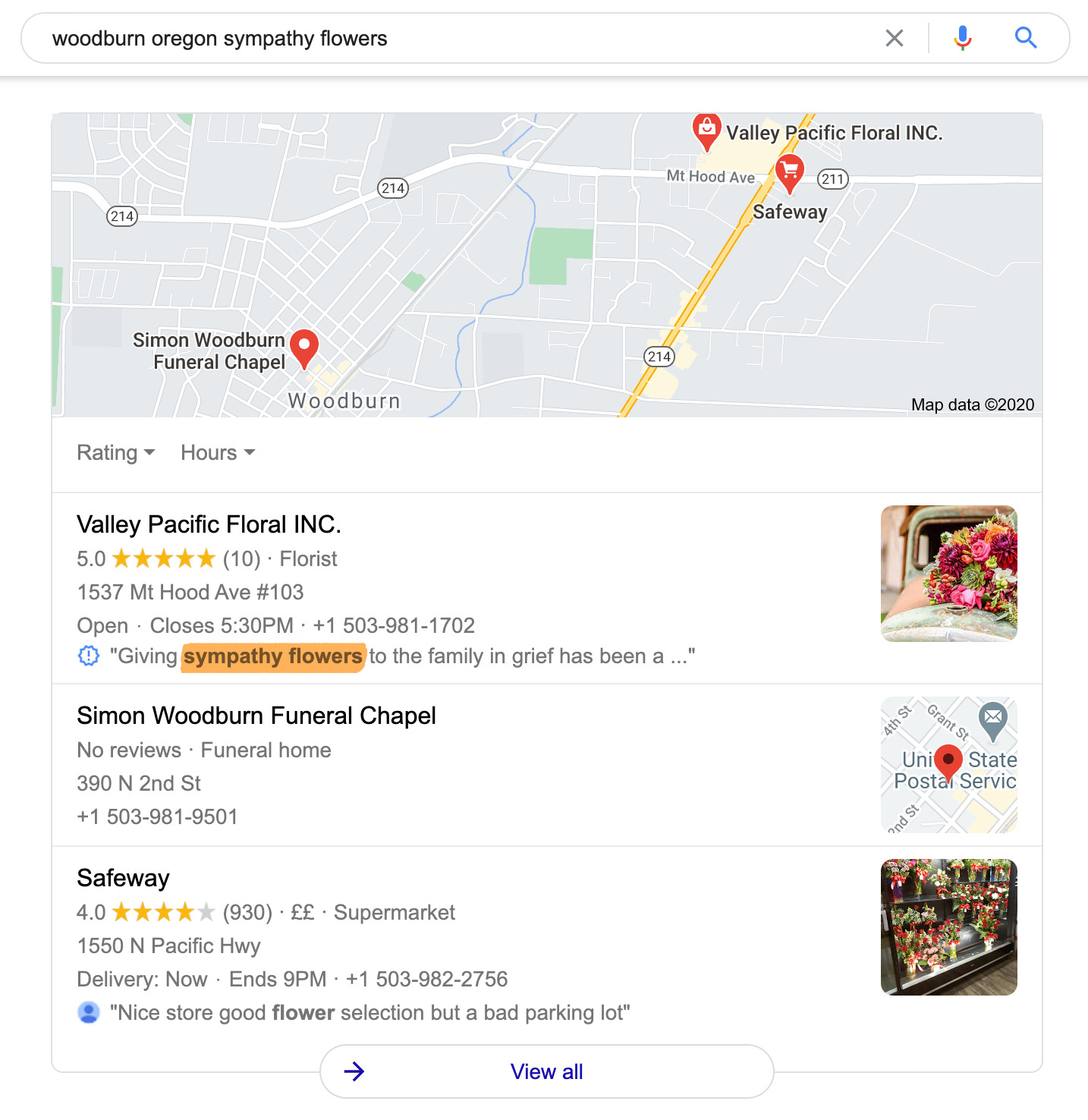 It's unclear whether this business ranks here because of that post or whether it would rank regardless. Either way, it helps the listing stand out in the SERPs and attract more attention from potential customers.
To create a post, go to the Posts tab and click the button to create your first post.
Here are a few tips for your posts:
Use good photos. Make sure they're clear, well-lit, and well-framed.
Inspire action with your headline. Make an effort to create compelling offers. Don't just say "Sale now on" when you could say "50% of everything all weekend."
Be precise. Avoid being vague like the plague. Don't say "It's Happy Hour!" when you could say "Happy Hour! 50% off all drinks from 5-6 PM every Saturday!"
Be timely. Don't wait until Valentine's Day to post about your candlelit dinner special. People have already made plans by then.
Don't just post for the sake of it. Many guides say that posts "send Google positive signals" and to "post as frequently as possible." We disagree. Don't post unless you have something meaningful to say.
Learn more about creating great business posts in this short guide from Google.
Enabling messaging adds a button to your Google Business listing so searchers can message you directly.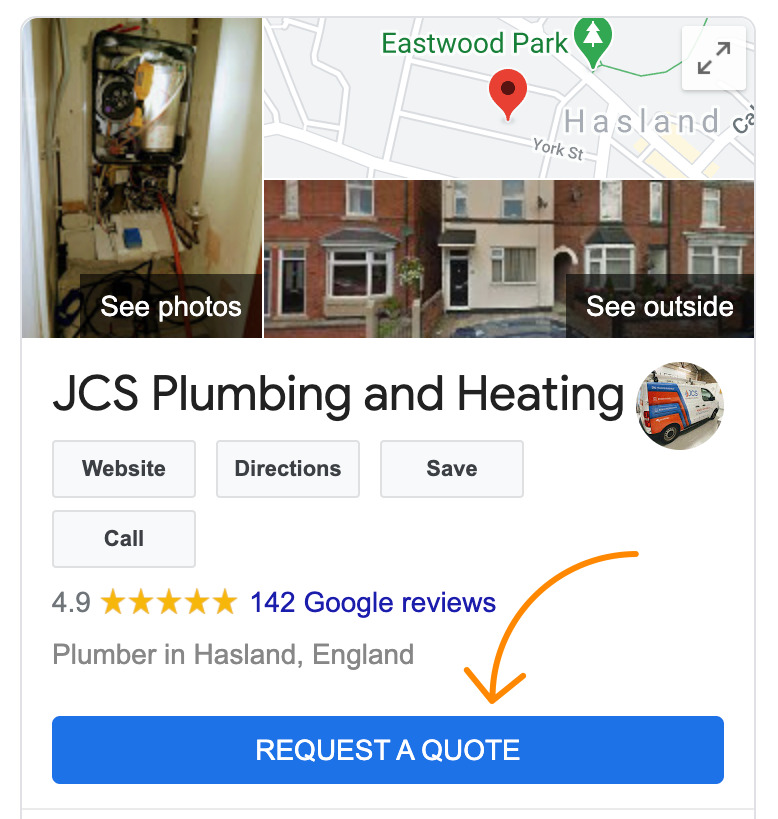 Google also shows the "Message" button in Google Maps.
To enable this feature, download the Google My Business app for iOS or Android. From there, log in to your Google account, go to the Customers tab, then the Messages tab, then hit the option to turn on messaging.
Sidenote.
Google doesn't use your phone number for this. Messages appear in the app, so it's safe to install the app on a non-business phone without privacy issues.
Most of the important options in Google My Business are now complete, but it's worth taking a minute to fill in anything that's left. This will vary slightly depending on the category you chose for your business.
For example, restaurants can list their menu items, hair salons can use a third-party provider to allow searchers to book appointments directly from their Business Profile, and so on.
Don't fret too much about "optimizing" the remaining fields. Just fill them in as accurately as you can, and you'll be good to go.
Have you ever noticed that Google sometimes shows Business Profiles in the search results when their website mentions what you're searching for?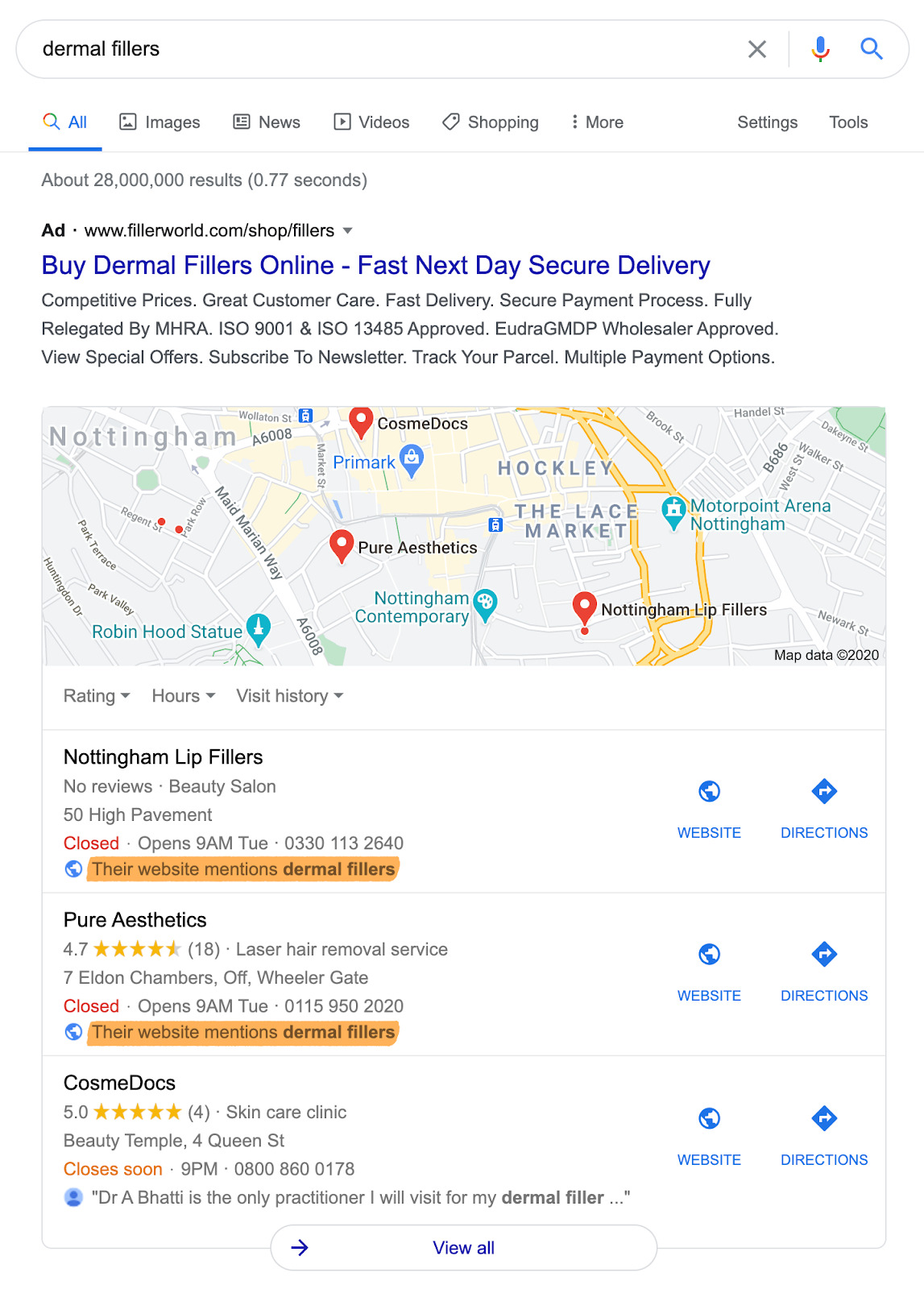 Nowhere on that business's profile is there any mention of dermal fillers. It appears because the phrase is on their actual website, which Google picks up.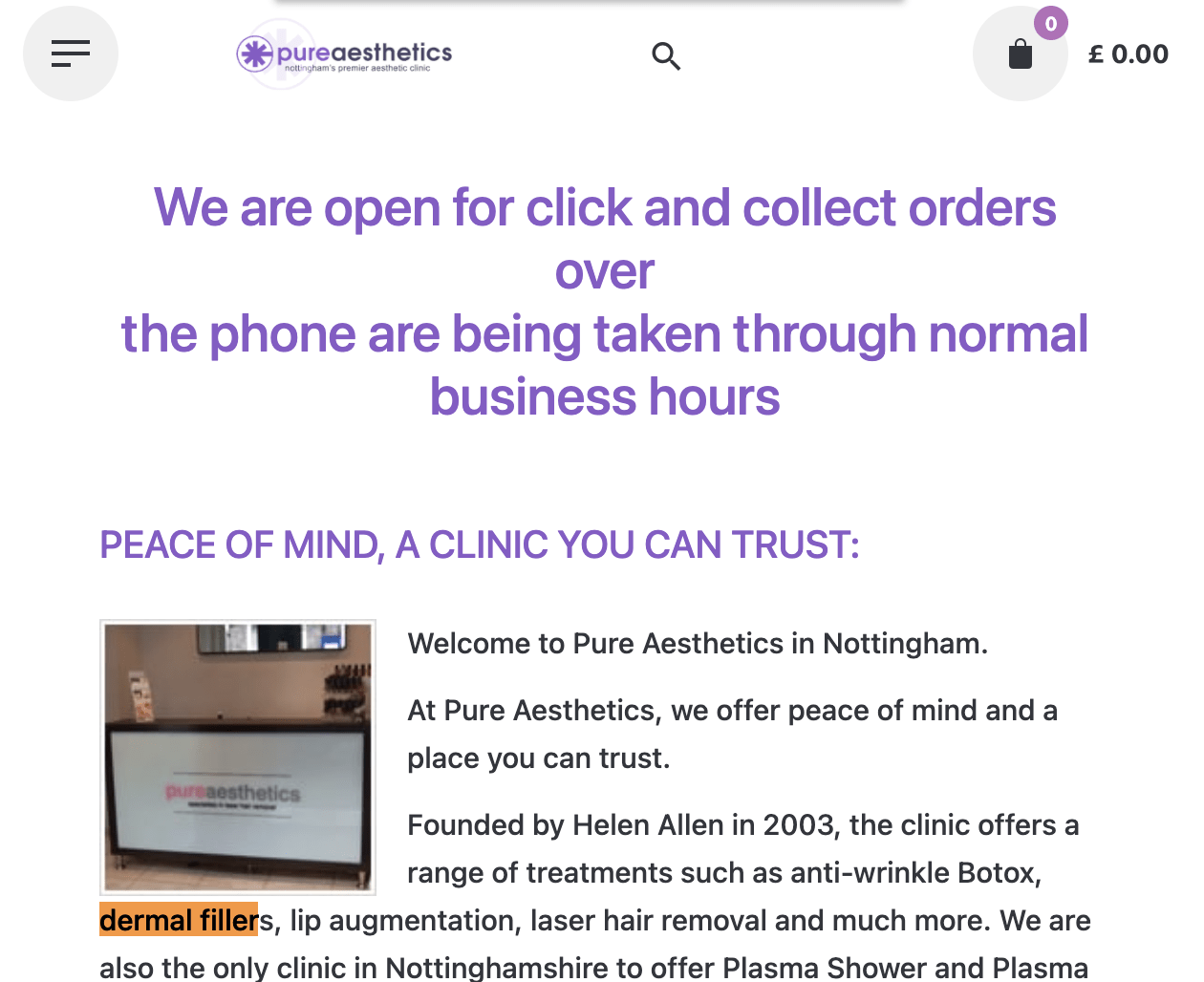 For this reason, it's worth mentioning the products and services that you sell on your website.
Of course, most websites already do this to an extent. If you sell bridesmaid dresses, then your site probably mentions that. However, it's easy to miss important products and services that local people might be searching for. To find these, enter the products and services that your website already mentions into a keyword research tool like Keywords Explorer, then check the Also rank for report. This shows other keywords that the top-ranking websites for your keywords also rank for.
For example, the website above already mentions products and services like dermal fillers, emervel fillers, juvederm fillers, radiesse fillers, and lip enhancements.
Let's paste those into Keywords Explorer and check the Also rank for report.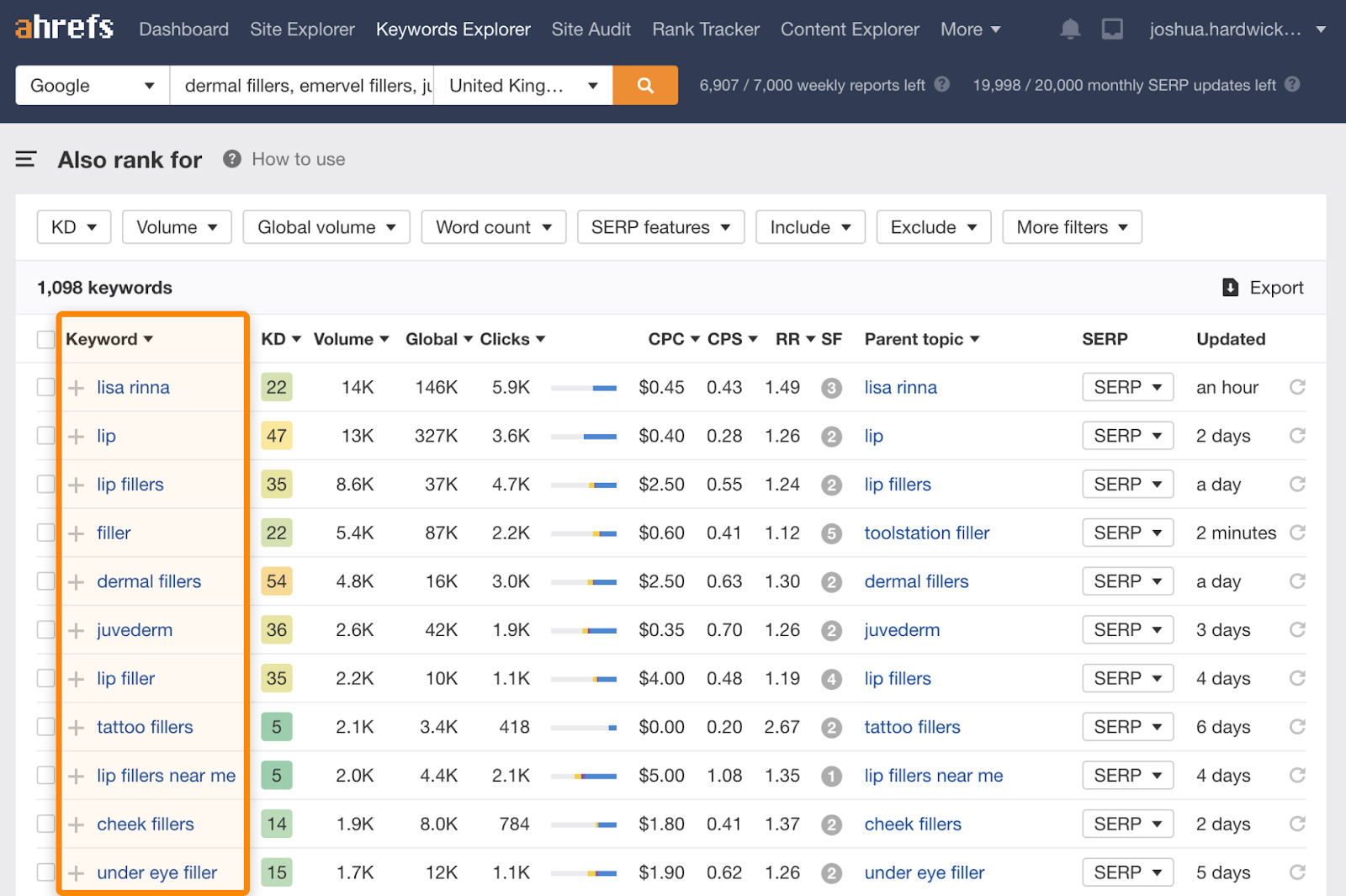 Here, we see products and services the website doesn't mention like cheek fillers, under eye filler, lip injections, and jawline filler. It's always possible the website fails to mention these services because they don't offer them, but given their other services, it's quite likely that they provide at least some. And if that's the case, they should probably add them to their website.
For example, let's assume that this business offers lip injections but forgot to talk about that on their website.
If we search for this keyword, we see a map pack in the search results.
This tells us the query has local intent. In other words, people who type this into Google are looking for local businesses that provide this service. Because of this, it might be worth the business mentioning that service somewhere on their website.
Now, it's important to note that this isn't about lazily "sprinkling keywords" into your website copy. That won't work. It will simply make your website look unprofessional. So make sure you add products and services to your website in a way that makes sense, like:
Reworking your homepage copy to mention more products and services (don't go crazy here, keep it natural and readable above all else).
Adding new pages for individual products or services.
Mentioning the additional products and services you offer on an FAQ page.
Final thoughts
Implementing most of the optimizations above should take no longer than half an hour. After that, you'll have a well-optimized Business Profile that doesn't fall victim to the common optimization mistakes many business owners make.
However, you should still review everything periodically to keep your profile accurate. (Once every few months should do the trick).
It's also important to realize that the purpose of your Google Business Profile is to show up for queries with local intent. In other words, queries where searchers are looking for businesses, products, and services in their local area. This is something that many business owners misunderstand. If you want people to find your business statewide, nationwide, or internationally, you'll need to invest in SEO beyond Google My Business. That means doing keyword research to find the right keywords, optimizing your pages with on-page SEO, and building links to outrank the competition.
Learn how to do that in our complete guide to local SEO.
Got questions about the optimizations above? Hit me up on Twitter.