Every keyword is its own 'game'. The front page of Google is the leaderboard, with each ranked page being one of the top 10 scores.
A solid keyword research process helps you skew the odds in your favor. It makes sure that you aren't trying to take on the major leagues with a team full of rookies.
It also makes sure you aren't pouring all your energy into something that is so easy to beat that it doesn't give you any reward.
Bad keyword research will have you typing 2,000 words of gold and relying on social distribution to run its two-day cycle before your page falls off the face of the internet. Failing to target the right keyword means that you might be getting irrelevant traffic or hardly any traffic at all.
Since joining Process Street as the first dedicated content writer, the SEO reigns have been passed to me. I haven't been able to rely on someone else to make sure my content ranks where it needs to rank, and neither should you.
If you understand the language your target market uses, and the terms they search for, and you're the one writing the content, there's no one better qualified to research keywords for that post.
So, how do you do it? In this post, I'm going to run through the steps one by one, then give you a FREE 19 step checklist you can run each time you write new content.
Just so you know, here's the data I ended up with when researching keywords for my email marketing case study: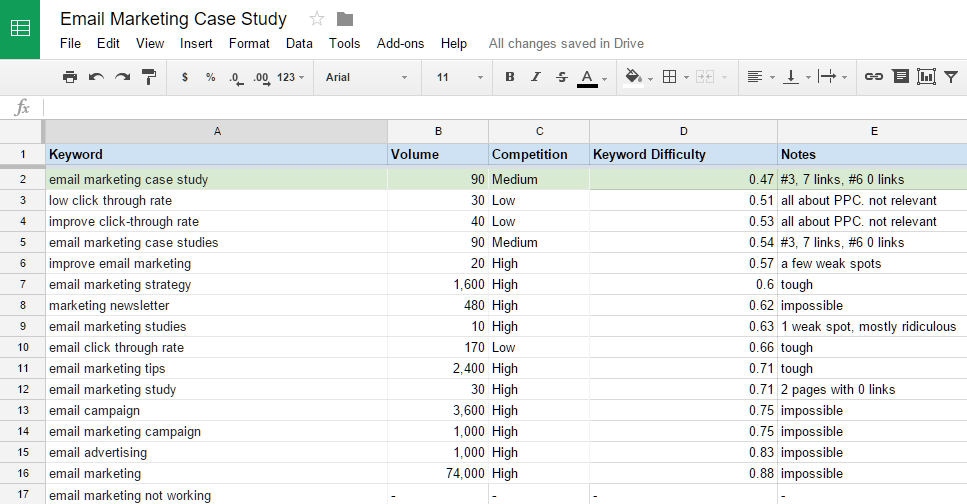 Let's get underway!
Set up a spreadsheet template
The first thing you're going to have to do is set up a template in Google Sheets that you can use every time you run the keyword research process.
First, sign in to Google Sheets and create a blank spreadsheet.

Name it, then fill the headers in to match my example, like this: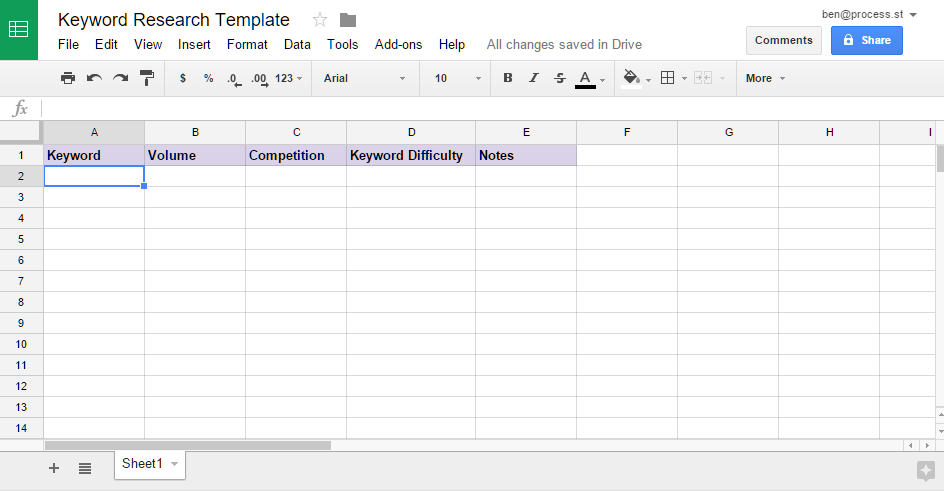 To make sure that you don't treat your header as data when sorting your results, you should freeze the top row.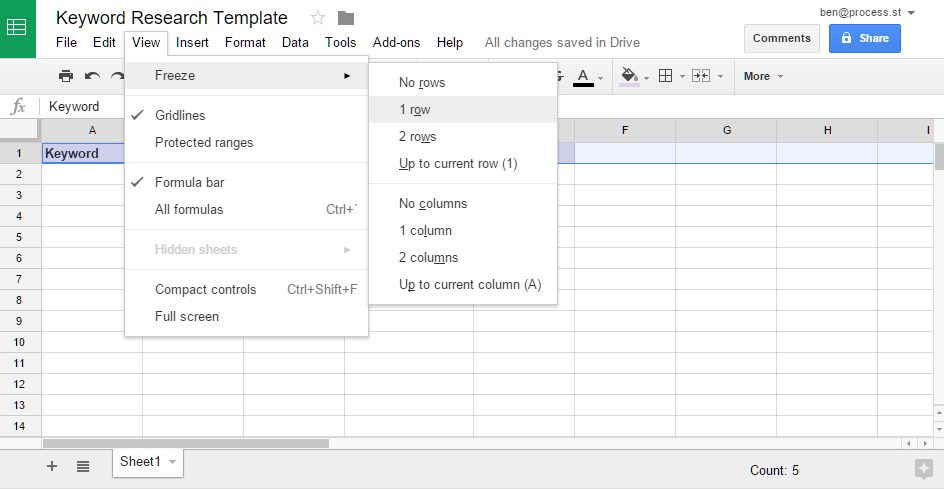 Now you've got your spreadsheet, make sure you keep the link handy so you can create a powerful recurring process document later on using this guide.
Whenever you research a fresh keyword, open up the link, create a copy of the template and name it the subject of your content, like this: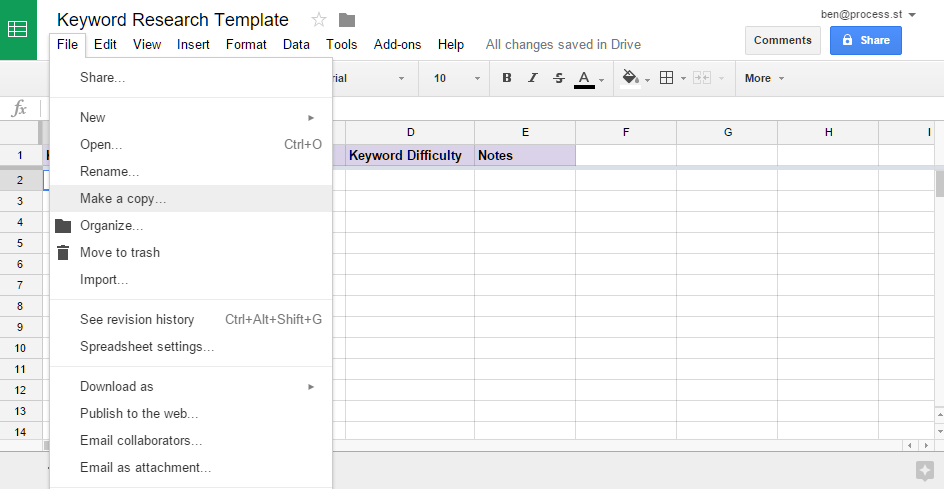 Now we've got our blank slate, it's time to populate it with keywords that are going to skew the SERP game in our favor.
Brainstorm for your ideal customer's search terms
Before getting any data on volume or competition, you're going to want to think of every possible way your topic might be searched for. At the risk of starting out like a dense sociology textbook from the '70s, I'll work through this with examples.
In fact, I'll kill two birds with one stone and do the keyword research for this very post and guide you through how I did it.
Write what the post is about
This post is about keyword research. That'll be my first (or 'seed') keyword. Put it in the sheet.
Get more specific
It's not about the history of keyword research, or keyword research for eCommerce on-page SEO, it's about the keyword research process. Put that in the sheet.
Google it
At the bottom on the page, you'll see Google's suggestions. They're fine, but not the last word on the best alternatives.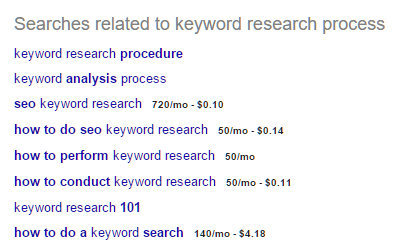 Sidenote.
The reason we can already see the volume and suggested bid is because I have
Keywords Everywhere
installed. Don't let the early insight sway you too much, because at this point we just want to get a list to narrow down later. Put them all in the sheet!
Use a list of synonyms
Keyword research takes you on tangents, exploring different paths before going back to the root term and rephrasing. For example, once I've decided to go down the 'keyword research' path, I'll look for a different way to say 'process'. To do this, I can pop on over to Thesaurus.com and search my term.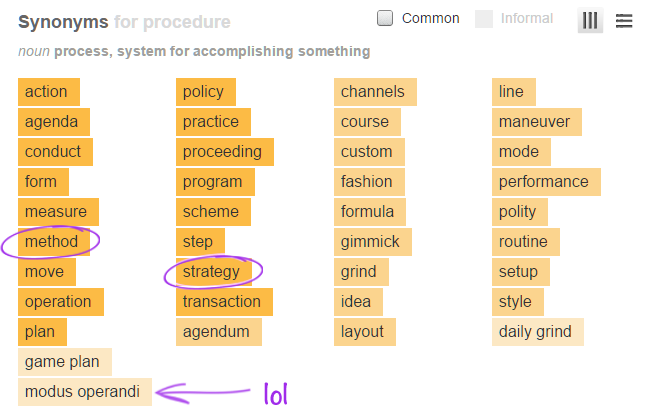 Some of these options are great while some would be ridiculous. When was the last time someone asked you about your keyword research modus operandi?
After checking this, I'll swap out the word process for 'method' and 'strategy' wherever it appears so far in my list, but keep the originals too. It also gave me some original ideas like 'checklist' and 'step-by-step'. This is what it looks like so far: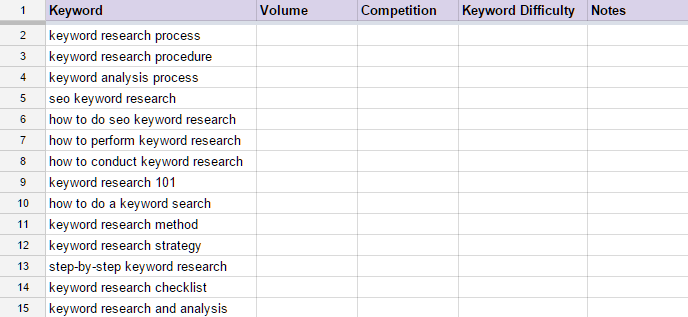 Some keywords are probably 0 volume and some are irrelevant, but that's the last thing we want to worry about for now. At the minute, we're just getting a list together that we can narrow down later.
Find a relevant Wikipedia article
As it happens, Wikipedia is a wealth of succinct, well-written content that explains concepts in terms people understand and search for. For example, the Wiki article on keyword research gives you some ideas as to what's important and the language the tribe interested in the field use to talk about it.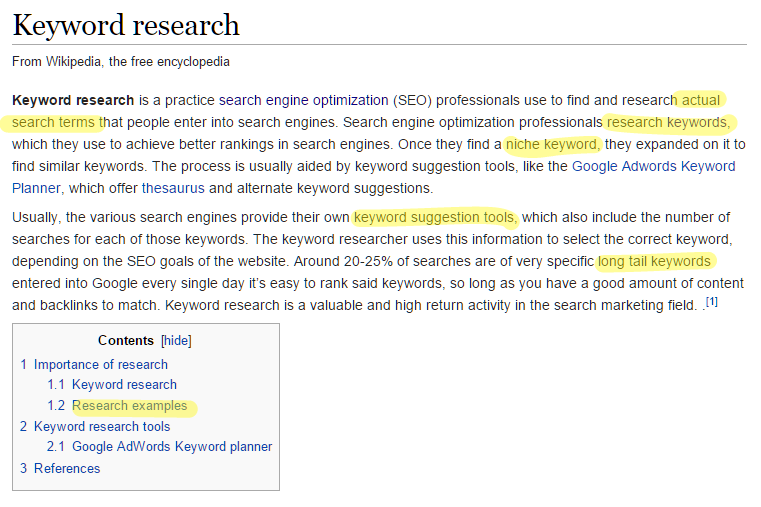 This gives me a bunch of new ideas to add to the sheet.
Once you've racked your steaming brain and done some real life reading with your real life eyes, it's time to hand the job over to a machine. Phew, you get to automate this for a little while!
Here's what you've got to do next.
Generate a huge list of suggestions from your most relevant keywords
UberSuggest is a valuable tool for keyword research. If used properly, it can give you some truly golden keywords. But with the wrong terms, you'll get a load of rubbish so niche you'd need to calculate its volume since the '90s to get a number above 10.
It works by scraping the autofill suggestions Google gives you when you type the first word of a phrase into the box.

(Love that last one.)
So, since its scope is limited with every extra word you input, the trick is to let UberSuggest take care of the specifics. Input the most relevant, most general, shortest keyword you have. For me, this means 'keyword research'.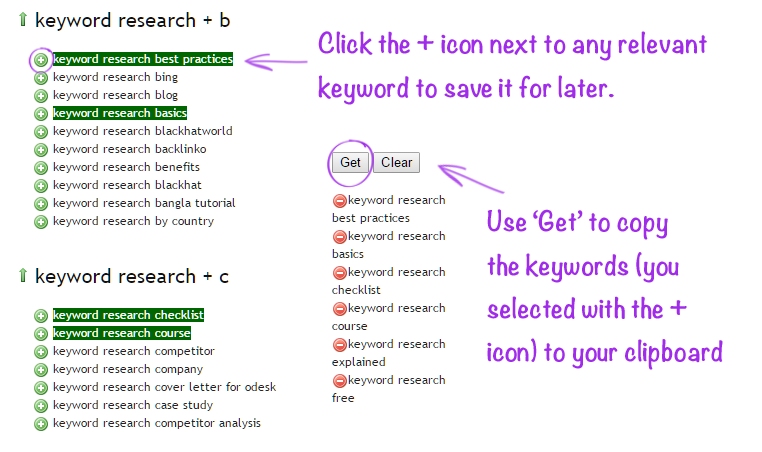 If you found another synonym that people are using when they talk about your topic, it's best to do more than 1 pass with UberSuggest. I think I found enough with this tool, so I'll click 'Get' and update my sheet.
Here's what it looks like now: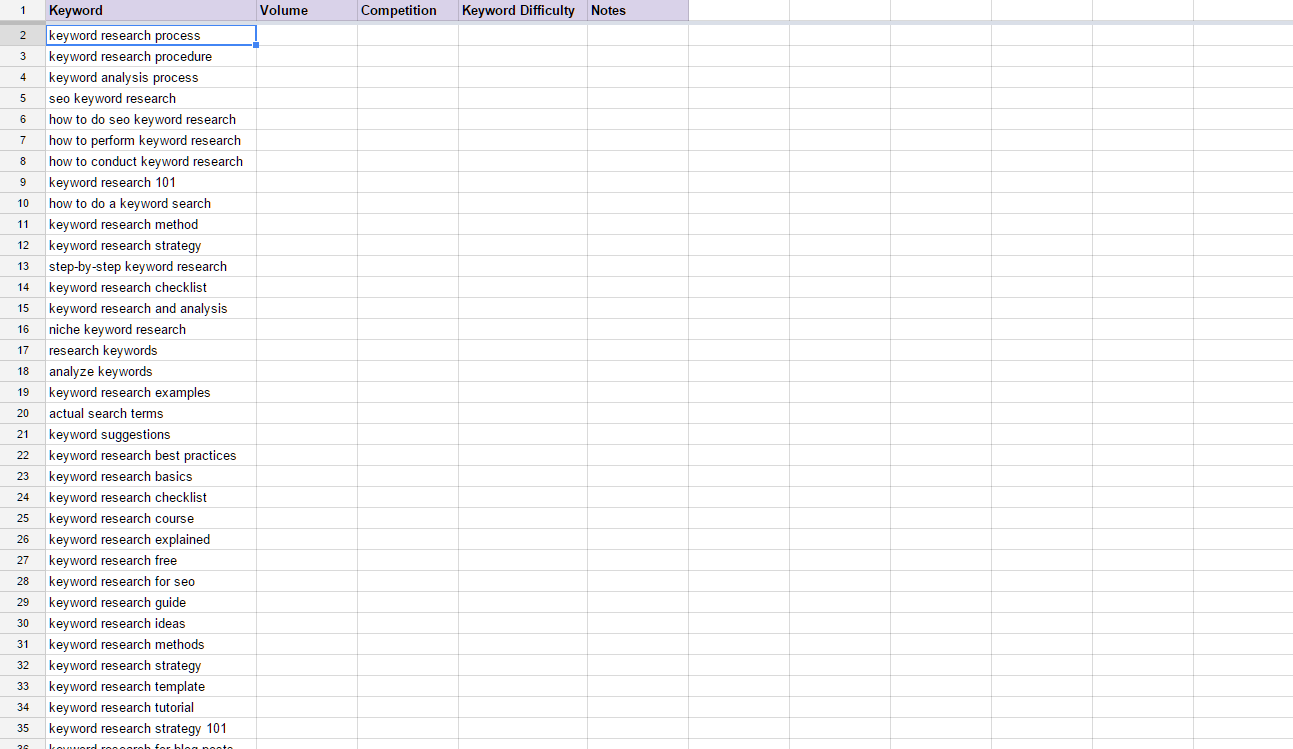 It's getting pretty long, as you can see. But we're not done yet. This is just the first overall pass which is a combination of what we can come up with through a bit of Googling and scraping suggestions.
The next section of the keyword research process involves looking at places on the web where people are talking about what you're writing.
Research how real people speak in their niche communities
Aside from the huge hubs your target niche hangs out (Inbound and GrowthHackers for marketing, for example), you can be sure that there is a group of people with questions that your content could answer on Quora.
The reason Quora is so important is because you get an insight into the exact words your audience uses when they want an answer you could provide them with. That makes it great for generating content ideas as well as keywords.
First, do a search for your term in the search bar.

If you're lucky, there will be a whole section of Quora devoted to your niche. This is full of hot questions waiting to be explained which were asked by the Quora community because they were not answered properly with a Google search.
For questions that definitely include your keyword, you'll want to stay away from the Topic section and go to the 'Search:' menu item at the bottom there.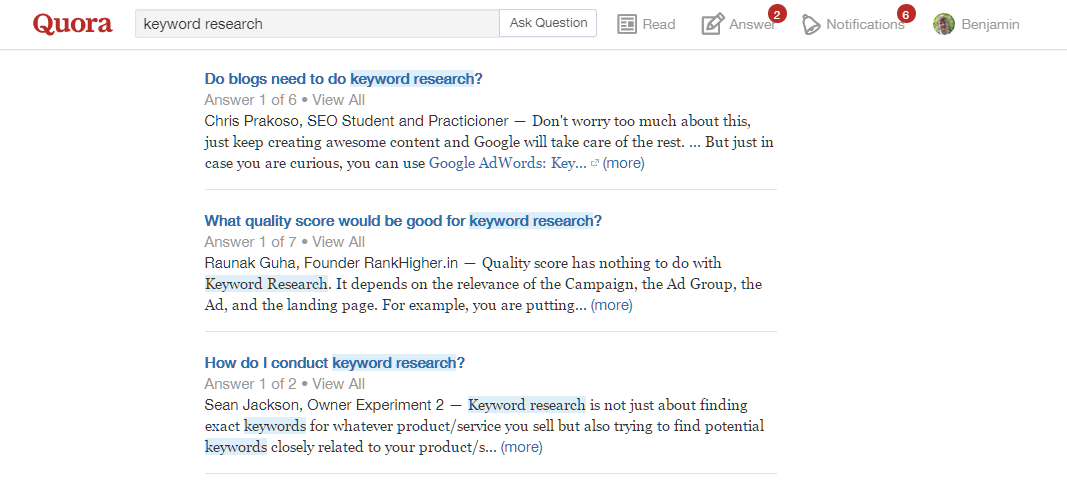 These 3 examples give me ideas for 2 new keywords: 'conduct keyword research' and 'keyword research for blogs'. I added them into the sheet.
Next, head over to BoardReader to search all the forums.
Use your basic keyword that worked for you in UberSuggest to generate more complex suggestions.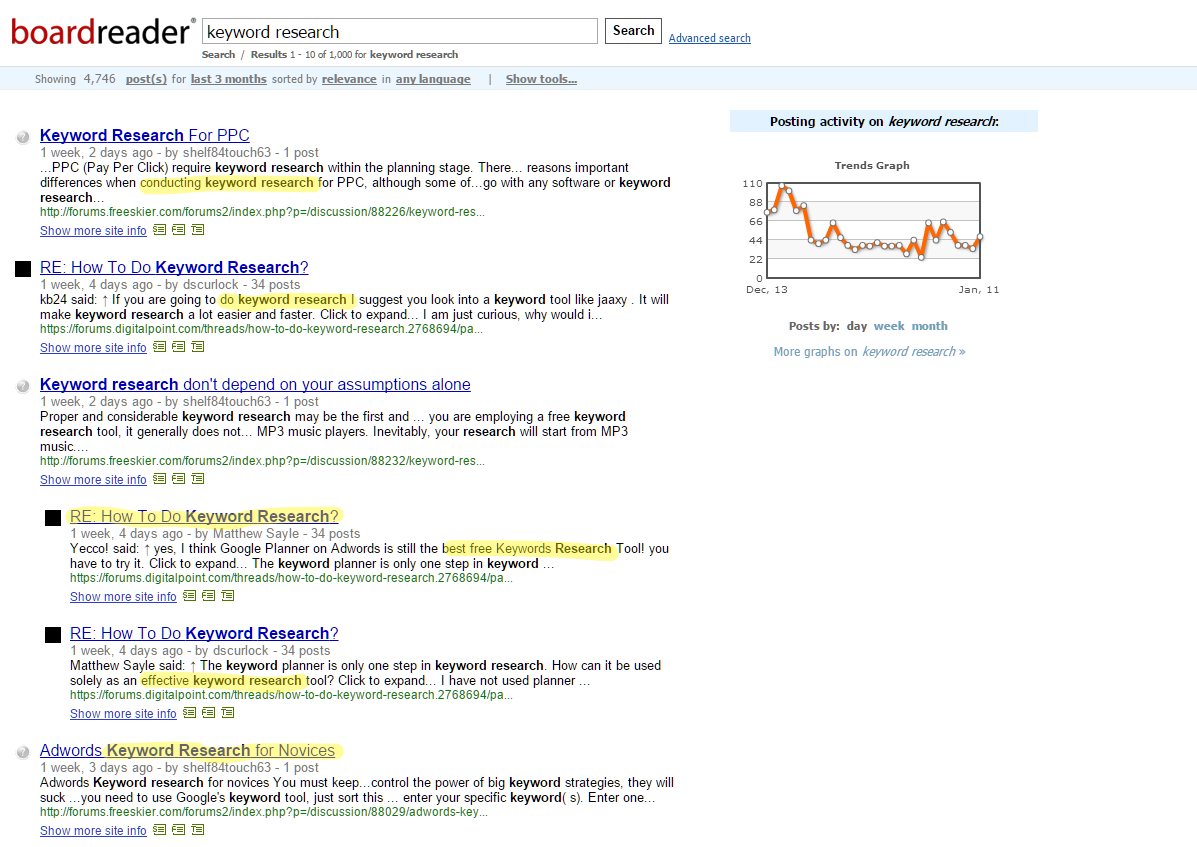 This gives us some real questions and effective titles that people actually ask (and therefore search). I added the keywords I highlighted to the sheet, some of which you'd never think of in a million years without using this method.
I'm not going to show my work in progress sheet again 'til the end, because it's so big now it takes up too much space. Hold on for that at the end of the post!
It's time to fire up the Keyword Planner and snoop on your competitors
One of the best hacks I ever heard from Brian Dean (a man of many hacks) was what he called the GKP hack. Here's how it works:
Find competing pages
Finding competing pages is easy, because they have a lot of visibility. Put your high-level keyword in Google and see what comes up.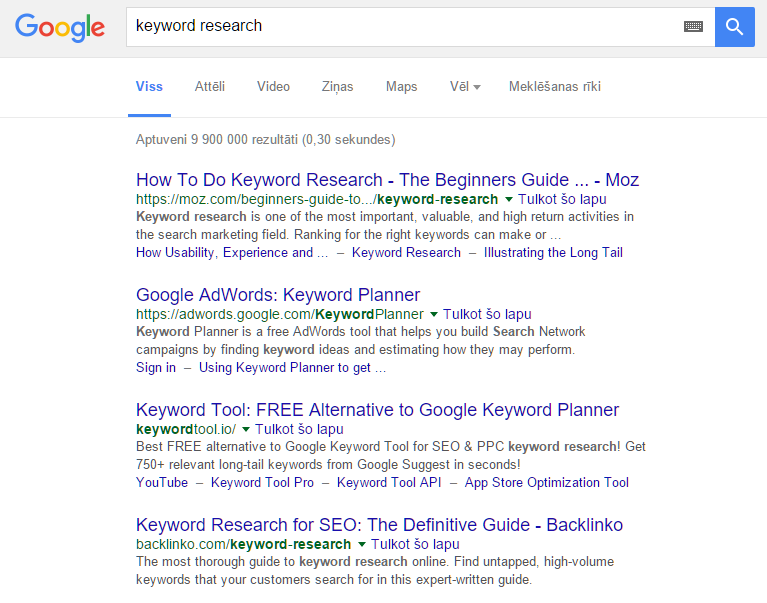 Now, go to the Google Keyword Planner.
Click on the 'Find new keywords and get search volume data' option, and paste a competing page into the 'Your landing page' field.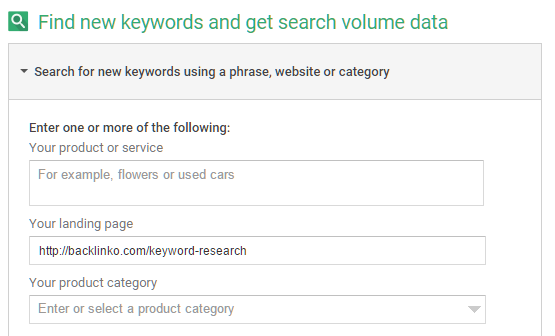 Here's what I got back when searching for which terms Brian Dean's guide ranks for: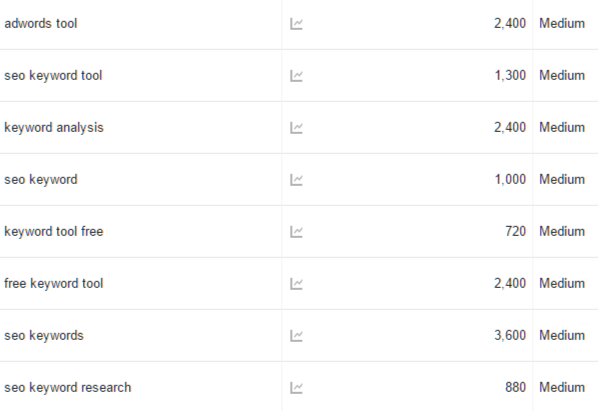 It's as simple as that. Go ahead and any new keywords to your sheet, repeat as much as you like/need/can be bothered with, and let's move on to the next step.
Sidenote.
Google no longer provide accurate search volumes to adwords accounts with "lower spend" (see later
Editor's note
), so we suggest you use the following process in Ahrefs to find competitor keywords.
Use Ahrefs Site Explorer to grab competitor's keywords
The Ahrefs Site Explorer offers a powerful way to get competitor information.
Using the same competitors you used in Google Keyword Planner, search the URL to get a list of keywords. Site Explorer is one of the best SEO tools I've used, and I'm always finding new uses for it! Check this out:
Site Explorer > Enter URL > Organic search > Organic keywords
Add any good fits to your sheet, and get onto the next step.
Use this 'lovely'
SEO

tool (in name and design) to generate long-tail keywords

One of the most unpleasantly titled tools I've come across is the surprisingly capable Keyword Shitter.

While it's capabilities are a lot like UberSuggest, making it no more useful up until this point in the process, when you have a list of keywords already, it can yield some awesome results.

Basically, you use your seed keyword (for example, 'keyword research') in the main box, then paste your list so far in the Positive Filter box.

Then you, er, click 'Shit keywords' and watch it generate many a weird and wonderful long-tail keyword.

These are the kinds of keywords I would have never thought of!

Add any that look good to your sheet and then we'll work with Ahrefs' Keywords Explorer before we start narrowing them down.
Use Ahrefs Keywords Explorer to generate a ton of relevant
SEO

keywords

Up until this point, we've mostly been thinking of the keywords ourselves and manually adding them to a sheet for analysis. What if there was a tool that could pretty much do all of that lot for you? Keywords Explorer is a great solution for finding related (not just exact or phrase match) keywords for any term.

It's as simple as typing a few of your existing keywords into the search bar.

Keywords Explorer > Enter keywords > Select country > Search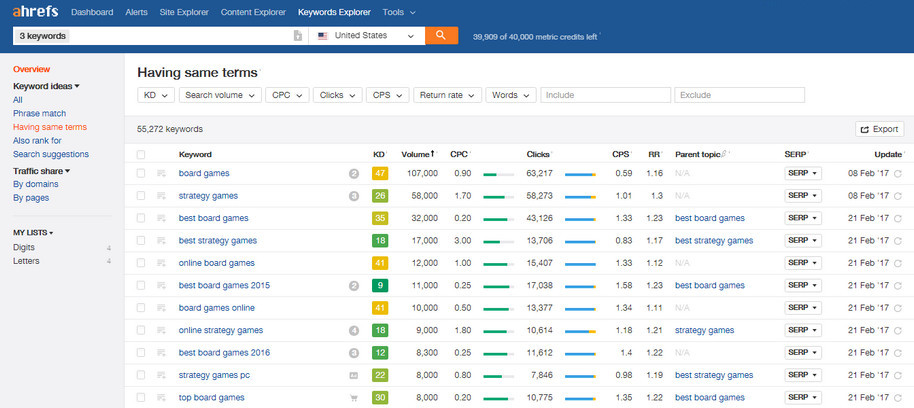 As you can see in the shot above, we've got a few picks with crazy high traffic and low difficulty.
Difficulty is a metric calculated by an algorithm that scans the first page of Google results and judges how hard it would be to outrank these pages. If the entire first page is held by old stalwarts like Wikipedia, .edu domains and sites with a high domain rating, then you're going to get back a high difficulty rating (90+). If it's populated by crap content from domains so harrowed by Google penalties they're barely indexed, it'll be low (~10).
The beauty of using keywords explorer at this point is that you can cut out all of the high difficulty results with one filter, leaving only the low hanging fruit:
Difficulty > From: '0′ To: '20'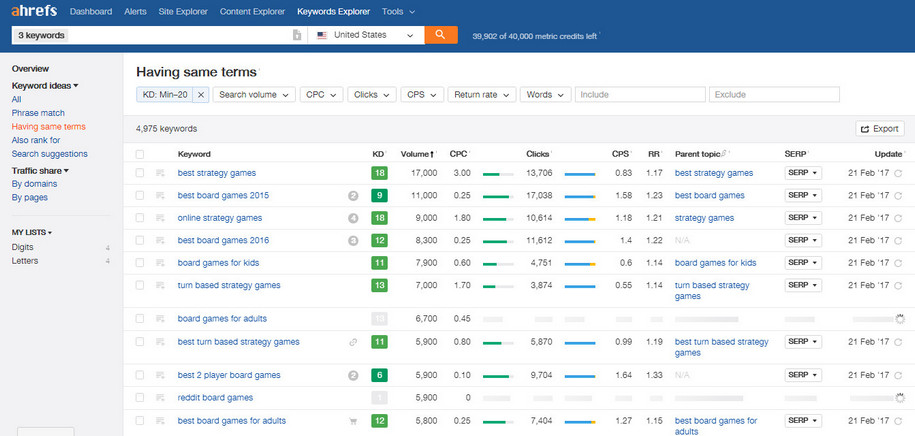 Here I've filtered the list to cut out anything higher than KD 20, and I'm starting to wish I'd started up an online board game store. Look at the volume:KD ratio on those!
Grab anything that takes your fancy, or just export the whole bunch and filter out the trash.
Focus your list down to only the best keywords
At this point in time, I have over 50 keywords in my sheet. It's from a lot of thought and a little bit of automatic generation.
The first thing to do is to remove duplicates. It happens. You might have accidentally got excited about the same keyword twice. For big lists, it's smart to check for duplicates to make sure you've got a focused, accurate list.
Since we're working inside Sheets, this is easily done with the Remove Duplicates addon. Install that, then follow these instructions: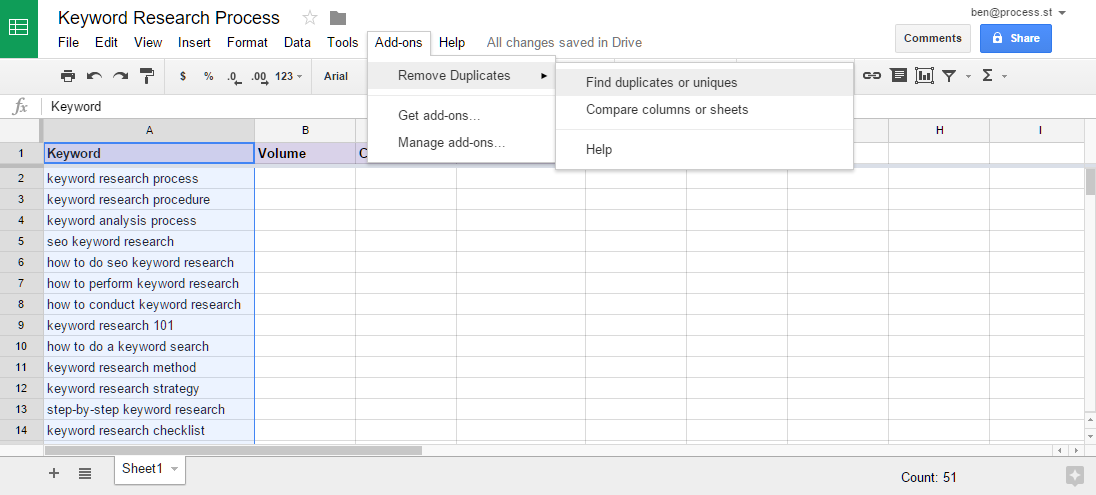 Steps 1–4 won't need changing, just 'Next' through it 'til you get to the last window.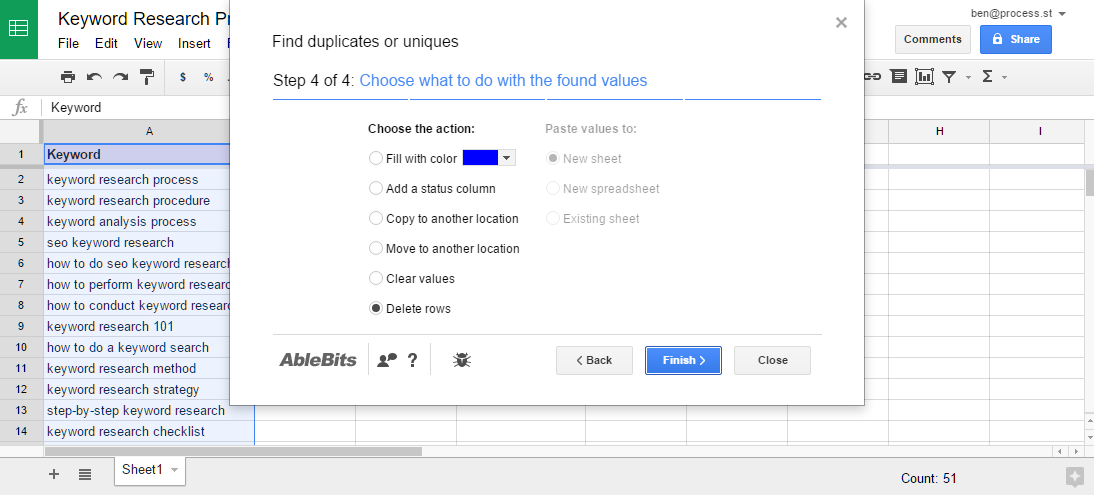 Make sure 'Delete rows' is selected and click Finish.
Paste your list into Google Keyword Planner (finally!)€"
The time has come. It's time to get search volume. That's because it's the fastest way to narrow down your keywords which nobody will search for.
Here's a .gif of me copying my keywords from Sheets to Google Keyword Planner then downloading the results as a spreadsheet.
Editor's note
Recent updates to Google Keyword Planner mean that accurate search volumes are no longer available for users with "lower monthly spend" on adwords.
Advertisers with lower monthly spend may see a limited data view in the Keyword Planner. For example, you may see values such as 0, 1–100, 100–1K, 1K-10K, 10K-100K, 100K-1M, 1M+ in the average monthly searches column. In addition, other advertisers may trigger the limited data view by reaching a limit on the number of searches for search volume data (specifically, requests to our API).
Google haven't specified what they define as "lower", but it seems that most Keyword Planner users will no longer be able to access accurate data.
So unless you have a particularly big adwords budget, then you're going to need to access keyword volume data from elsewhere.
Fortunately, you can get that data right here on Ahrefs.
Just paste your keywords into Keywords Explorer" and go to "Metrics".
Keywords Explorer > Enter keywords > Select country > Search > Metrics tab

Then click "Export" to pull the results into a spreadsheet.
Sidenote.
To help those struggling with Google's changes, we're currently working on a major update to Keywords Explorer and will soon have a larger database of keywords with accurate search volume numbers.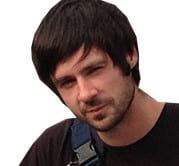 David McSweeney
Editor, Ahrefs Blog
Once you've got this spreadsheet, which will have a bunch of superfluous info in it, you want to take the good bits and paste them back over to your original sheet.
Delete everything apart from the Keyword, Volume and Competition columns, then paste it back. If there's no volume data, then don't bother. Those keywords aren't popular enough to be much help to you. Your slightly more fleshed-out sheet should look like this: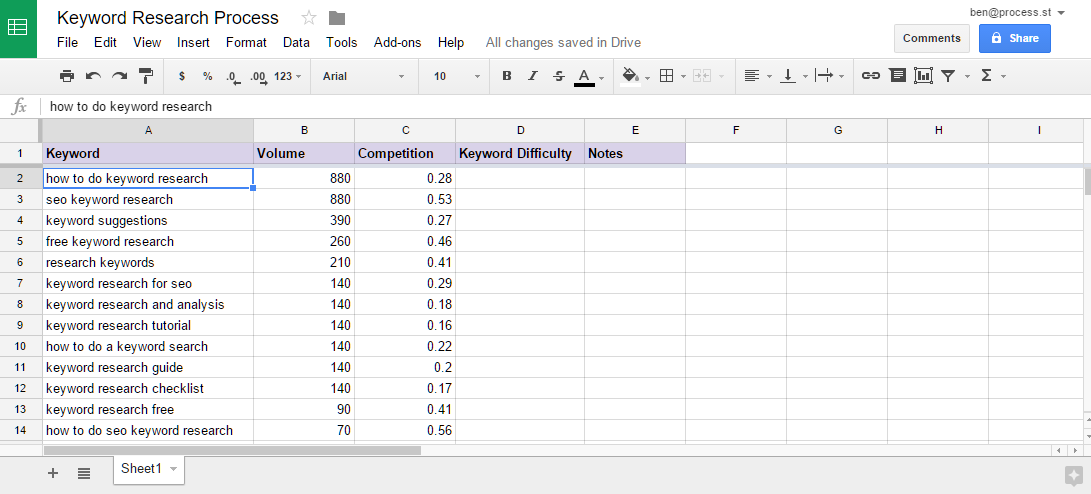 Remove the keywords which don't make sense
When you're writing your content, you want it to sound as natural as possible. That means you're going to avoid keywords like 'keyword research free' and 'guitar learn now cheap'.
If you grabbed everything you could see in UberSuggest, or dig a big export, then now's also the time to get rid of the crazy ones like 'keyword research 2013' and 'keyword research Microsoft'.
Editor's note
When there's a year in a keyword (like 'keyword research 2013'), instead of removing it, you could simply substitute in the current year. Just be sure to update your post and relaunch when the year is out.
Indeed, if you're in the final quarter of the year, you might want to consider including the following year as a keyword instead of the current.
Look at how the interest in 'keyword research 2015' dropped off after September last year: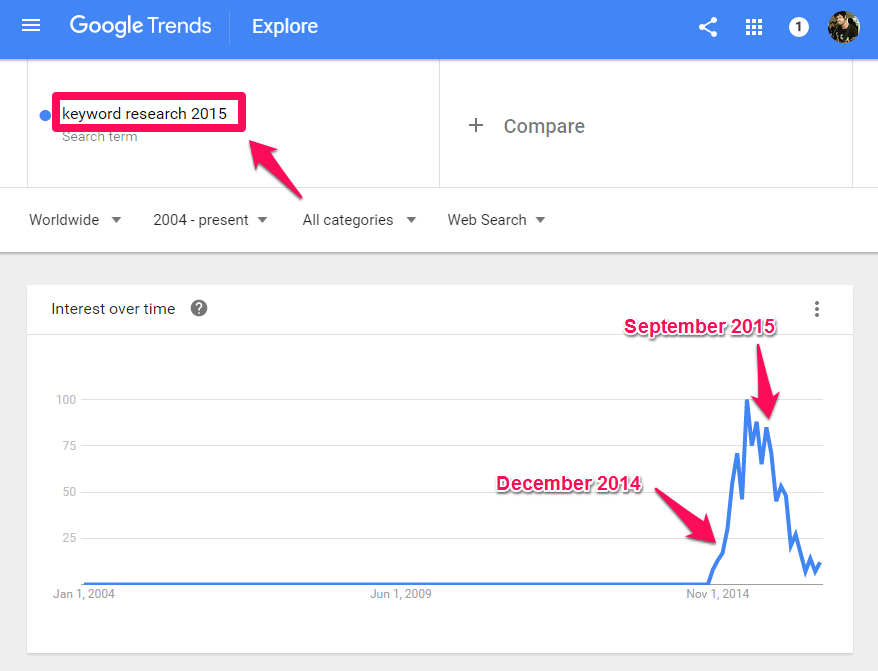 And as you can see, people began to search for the term in November/December 2014.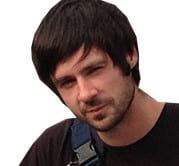 David McSweeney
Editor, Ahrefs Blog
Since my keyword research process includes some paid tools it wouldn't be 100% accurate to call it 'free keyword research', so I get rid of that, too. Since keywords are mostly about the way people express what they want, use your logic and you'll be fine for this bit.
Make a hard decision: which are the top picks?
Depending on the size of your list at this point, you might have trouble picking just 5 or even 10 keywords. In my case, I'm going to grab the top 5 by volume and analyze them to see if we have a winner.
Apply the following criteria to pick top keywords
Good keywords are:
Relevant. You need to accurately describe what you're writing about because a high bounce rate will kill your ranking, even if you do manage to get on the front page.
High (enough) volume. For niche and specific topics, like client onboarding, you'll be lucky to find a relevant keyword with more than 30 searches per month. If there are two similar keywords with drastically different volumes, however, the higher volume keyword is the obvious choice (provided it passes the rest of the criteria).
Low difficulty. Putting it simply, a keyword with low difficulty has pages and domains with low authority on the first page. If you target the same keyword with better content and get a few backlinks, you can take that slot and steal their traffic.
So once you've chosen a few keywords from your list which are high enough volume and relevant, it's time to see how difficult they would be to rank for.
If the first page is crammed full of super-high authority sites or pages with 1000s of backlinks, you're out of luck unless you're Wikipedia.
In my review of Ahrefs vs. Moz, the Keyword Difficulty tool was one of the only places Moz surpassed Ahrefs on quality of features, but that review is in dire need of an update because now the Ahrefs keywords explorer does difficulty.
To quickly get KD on a list of keywords you can paste them as a list into keywords explorer and go to "Metrics" tab:
Keywords Explorer > Enter keywords > Select country > Search > Metrics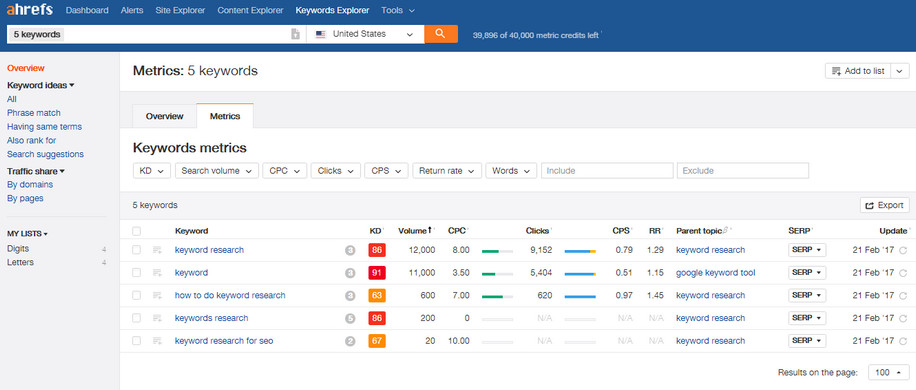 Some of these are ridiculous, and it'd be very tough to rank for them. Instead of taking the more broad, high volume keywords, I look further down the list to check some lower volume, more specific terms — perhaps ones with a better intent.
The best way to judge the searcher's intent of a keyword is to just Google it.
I was thinking of writing an article about customer support for enterprises, and thought I'd found an absolutely 🔥 keyword with 'enterprise customer service'

Googling it revealed it to be useless trash because the intent was people searching for the customer service contact at Enterprise car rental. Of course the difficulty is so low on that! I felt particularly silly. And the moral of the story is: Google a keyword before you target it!
Googling a keyword also gives you an extra layer of insight into the keyword difficulty metric. You can see why the keyword is hard or easy to rank for. Take, for example, the KD 6 keyword 'fun board games':
Neither of the top two results even optimize for the keyword they rank for. That's a sure signal to you that it's going to be a #1 ranking if you follow it up with the right SEO strategy. (That, and the fact that Popular Mechanics isn't exactly known as a stronghold of board game content.)
Once you find a relevant, in-demand keyword which has vulnerable pages in the top spots, you've found a winner. Highlight it in a lovely shade of green on your sheet to celebrate 🙂
The full 19 step keyword research process
Here's a quick recap of the full process:
Set up a spreadsheet template
Enter the page's topic into the spreadsheet
Google your first keywords
Substitute in syonyms
Get keywords from the Wikipedia article
Use UberSuggest to generate variations
Search in Quora
Search BoardReader
Reverse lookup with Google Keyword Planner
Reverse lookup with Ahrefs Site Explorer
Use Keyword Shitter to create long tail keywords
Use Ahrefs Keywords Explorer to generate large list of keywords
Remove duplicate keywords
Copy the remaining keywords into Google Keyword Planner
Remove the keywords that don't make sense
Filter by search volume
Remove irrelevant keywords
Remove high competition keywords (Ahrefs Keyword Difficulty score)
Remove low volume keywords (if there are better options)
Get this keyword research process as a reusable checklist
If you want a checklist version of this guide which you can use every time you research a keyword (and even print out, if you like), you can download it here. Just hit 'Give me this checklist', register and you're ready to start.
So, there you have it my keyword research process developed from Brian Dean's methods, a variety of exciting tools and my own experimentation.
How does your process look? Has this been helpful?
Let me know in the comments! 🙂