Resource page link building is nothing new, but it remains a popular link building tactic.
How popular? According to Aira's 2022 State of Link Building Report, 24% of SEOs use it:

Here are three reasons why:
It works.
It's scalable.
It's relatively easy.
In this guide, I'll explain how to build links from resource pages in three simple steps.
But first, let's make sure we're on the same page.
Resource page link building is where you get backlinks from webpages that curate and link out to useful industry resources.
Here's what a typical resource page looks like: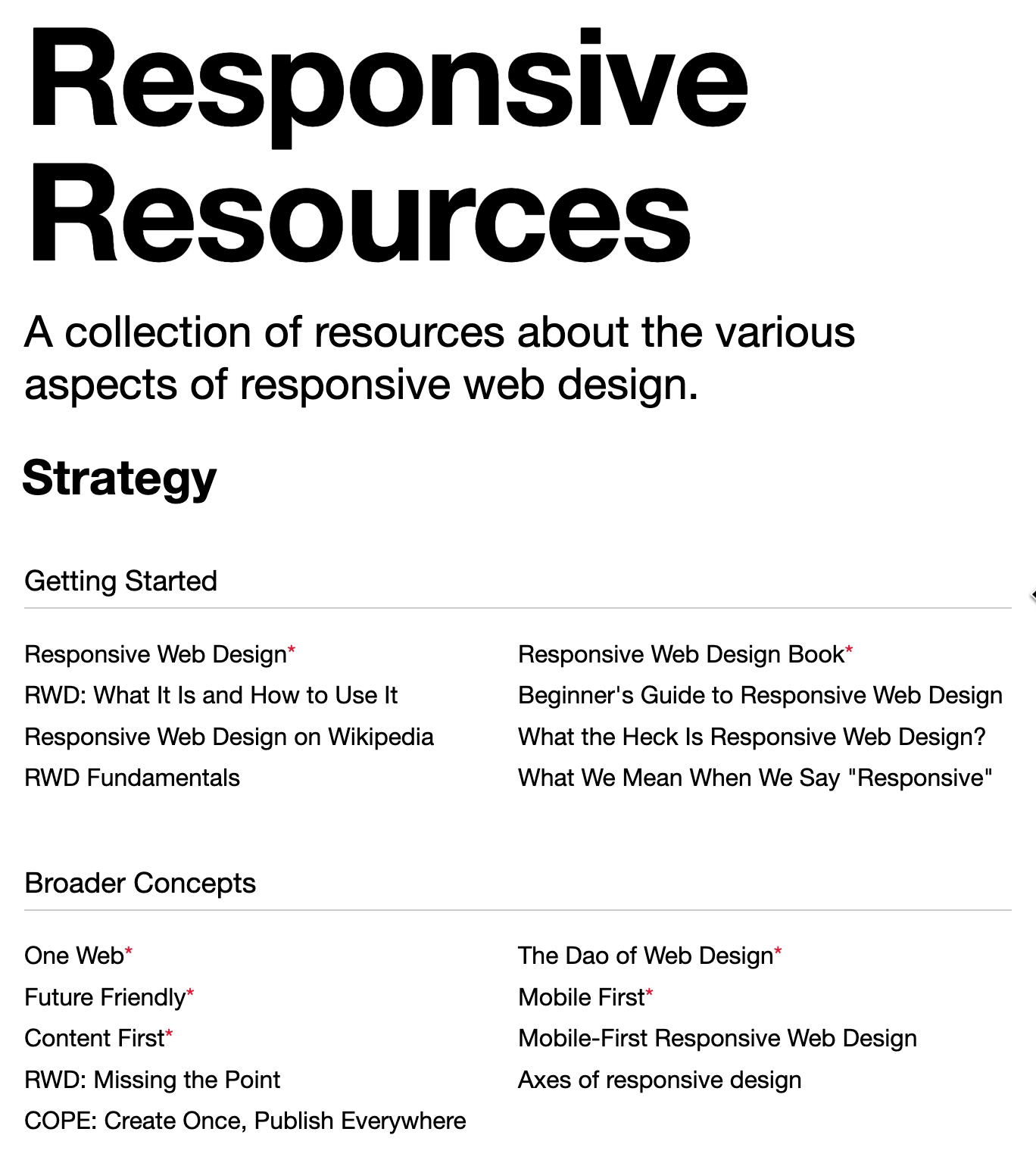 If you have a great design resource, you can reach out to the creator of that page and suggest it for inclusion.
Suggesting a useful resource to a resource page owner helps keep the page fresh and up to date. That's why many of their creators actually ask for submissions.

This means you don't have to do too much convincing to get useful resources added.
You'll first need a useful resource to pitch. This can be your homepage. But in most cases, it'll be an informational resource or interactive tool. If you don't have that, read our guide to creating link bait.
If you're good to go, follow this process:
Find relevant resource pages
Vet the pages
Reach out and suggest your resource
1. Find relevant resource pages
The easiest way to do this is with Google search operators.
To set yourself up for success, start by doing these three things:
Create a free Ahrefs Webmaster Tools account
Install Ahrefs' SEO Toolbar
Go here and set the number of Google search results per page to 100
Next, head back to Google and type a broad keyword related to your resource followed by this search operator: intitle:resources inurl:resources.html.
For example, if your resource is a keto diet calculator, you may search for this:

Next, click the SEO Toolbar icon in your browser and toggle "SERP tools" on, as well as "Results metrics" under the SERP settings.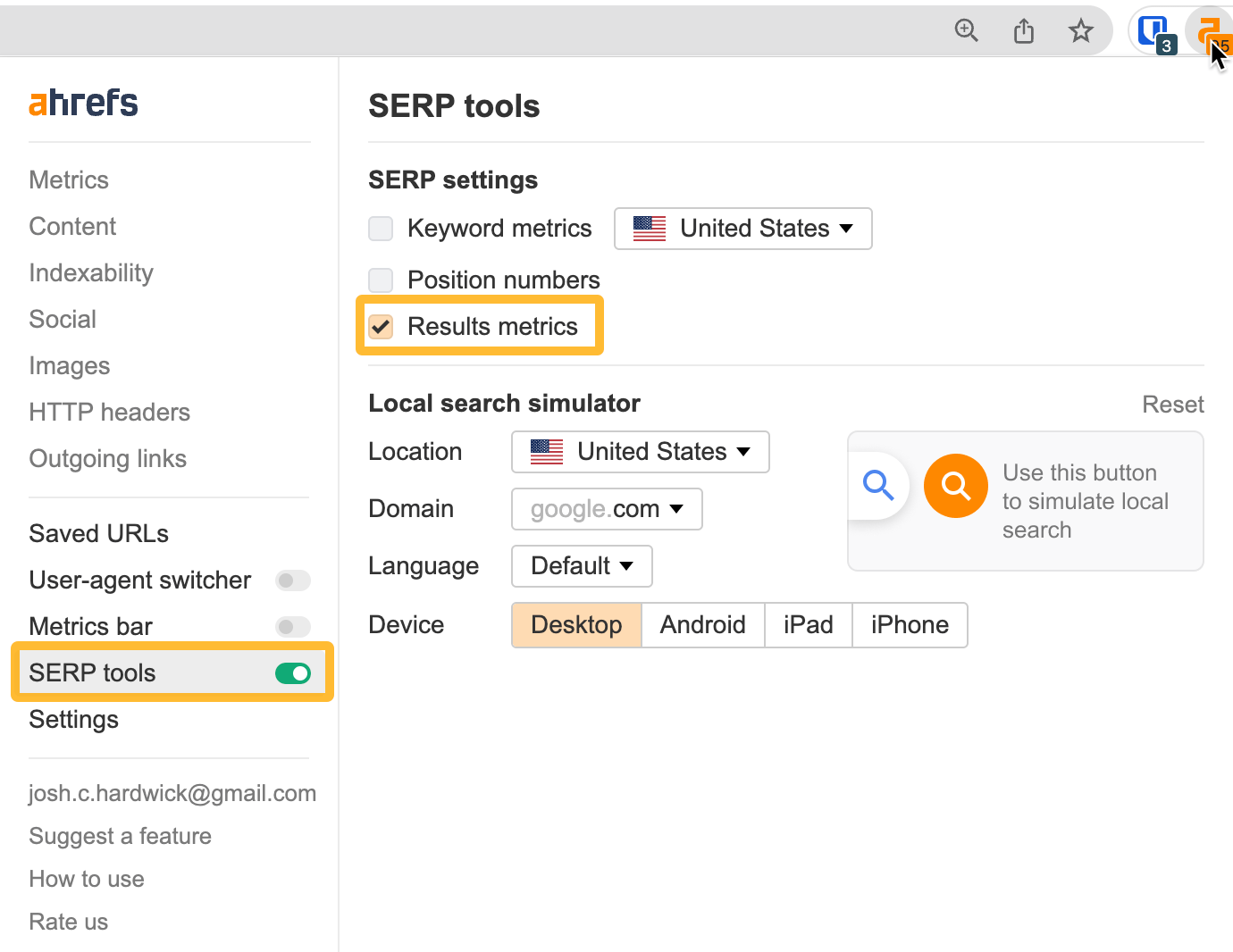 You should now see an Ahrefs overlay in the Google search results with an "Export CSV" button. Click this to export the results.

You can then repeat the process for other similar search operators to find more pages, such as:
fitness intitle:resources inurl:links.html
fitness intitle:links inurl: resources.html
fitness inurl:.com/resources
fitness inurl:resources intitle:resources
Sidenote.
Make sure to change the keyword to something relevant to your resource. It's also best to keep it quite broad, as you'll struggle to find relevant results if you go too niche.
If you want even more search operators, use this Google sheet. All you have to do is add up to 10 keywords in the highlighted cells, then head over to the "Results" tab where you'll have hundreds of search operators ready to go.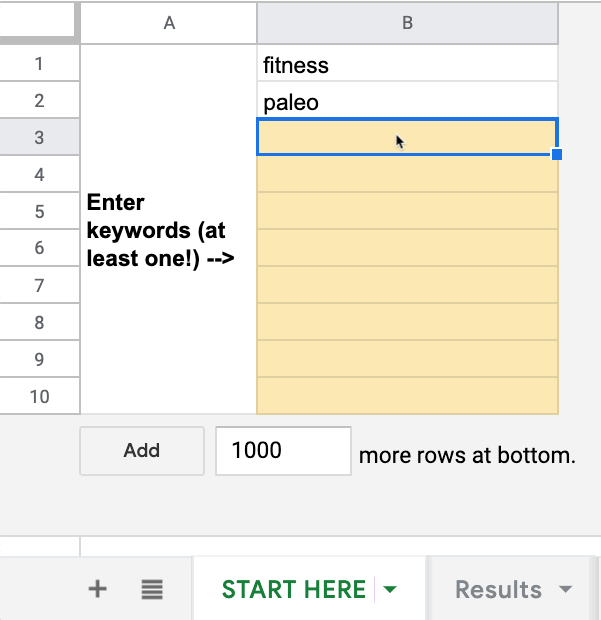 Finally, you can merge all the exported CSVs using this website.
Time-saving tip
If this process sounds like too much hard work, fill in the Google sheet with your keywords and send them to your virtual assistant along with these instructions:
Install Ahrefs' SEO Toolbar
Open this Google sheet: [insert link]
Click the first link "SERP link" in the tab labeled "Results"
Click the "Export CSV" button on the Ahrefs overlay in the search results
Repeat this for the other operators in the sheet
Use this website to merge the CSVs into one
Send the final "master" CSV file to me, and bill for your time 🙂
Or, if you prefer an automated solution, use a tool like ScrapeBox or Citation Labs Link Prospector. Just keep in mind that neither of these are free. You'll need proxies for ScrapeBox, and scrapes in Citation Labs cost $1–$5 a pop.
2. Vet the pages
Not all of the results you scraped from Google will be relevant, so you need to vet them before reaching out. This is a two-step process:
Filter and eliminate using metrics
Manually review the remaining pages
A. Filter and eliminate using metrics
You've probably got far too many pages on your list to realistically vet by hand, but luckily you can weed out most of the junk with SEO metrics.
Follow this flowchart to find the easiest way to get these metrics for you: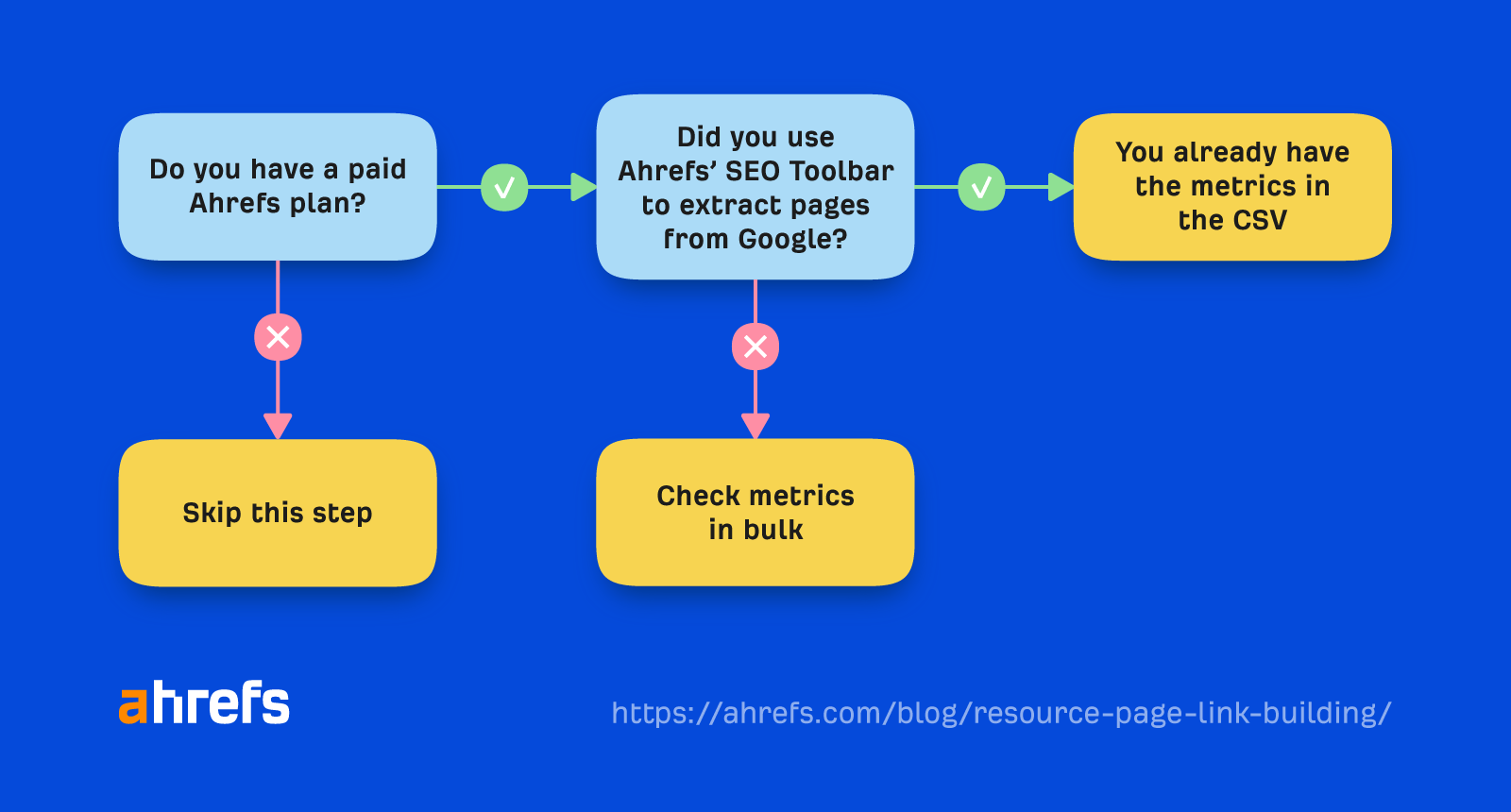 As the flowchart explains, if you have a paid Ahrefs plan and used our SEO Toolbar to extract Google's results, the metrics are already in your CSV.

If not, there are two options:
Once you've pulled the metrics, you can just filter the spreadsheet for prospects that match your requirements. If you're not sure where to start, here's my suggestion:
Domain Rating (DR) >= 10
Domain Search Traffic (ST): >= 5000
This should be enough to cut the list down by around 70%.
Sidenote.
You can also filter the URL column to remove pages from certain websites, like Twitter or Facebook.
B. Manually review the remaining pages
The easiest way to do this is to open the remaining URLs in batches of five to 10 and review the pages manually. You can use openallurls.com to make this easier.
This process is a bit subjective, but you're basically looking for pages that:
Link out to external resources.
Link to other topically related resources.
Look like someone cares about maintaining them.
But most importantly, you should look to identify the pages where the addition of your link will add value. Make an effort to do that, and your conversion rate will skyrocket.
For any prospects that don't meet your requirements, put an "x" in the URL/target column to signify that you don't need to pitch them.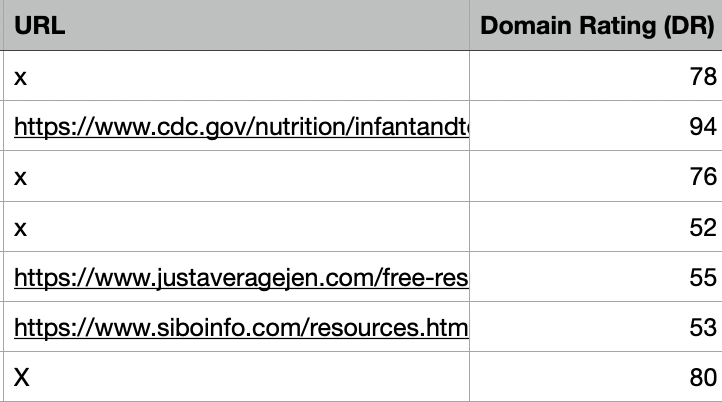 3. Reach out and suggest your resource
Lastly, you need to find the person responsible for maintaining each resource page and let them know your content exists.
That goes something like this:
Hey, [Name].
Just came across your list of resources here: [link].
We just created [x].
It might make a worthwhile addition to the page.
Sidenote.
I've purposely paraphrased this template to encourage you to add your own creative flair.
Here are a few tips to get the most from your efforts:
Tip 1. Respect their preferred contact method
Mail merges are your friend when it comes to doing email outreach at scale. But you shouldn't ignore the person's preferred contact method just to make your life easier.
If someone says you should submit resources using a contact form, respect their wishes.
Tip 2. Email the person responsible for the page
Emailing [email protected] is usually avoidable. It's what lazy marketers do when they can't be bothered to hunt down a real person's email address.
Don't be that marketer. Make an effort to figure out who's responsible for the page and contact them directly. Your conversion rate will thank you for it.
Tip 3. Tell them where the link should go
Links on resource pages are often divided into subgroups. Don't hesitate to tell the recipient where you think your resource should be placed. It's helpful.
Tip 4. Point out broken links on the page
Broken links on a resource page are yet another incentive for the site owner to edit them. And if they're doing that, they may as well add your resource while they're there.
Here's an easy (and free) way to check for dead links on a page:
Go to "Outgoing links" on Ahrefs' SEO Toolbar
Click "Check status"

You can then filter for broken links and export them.
It's then just a case of letting the site owner know about the dead links in your email.
Tip
If you're using Screaming Frog and want to make this process more efficient, just hit Bulk Export > Response codes > External Links > External Client Error (4xx) Inlinks.
You can then work some spreadsheet magic (VLOOKUP, QUERY) to pull this data into your master prospecting file. That makes it easy to templatize outreach emails using custom mail-merge fields in popular outreach tools like BuzzStream, Pitchbox, and Mailshake.
Tip 5. Don't pay
Buying links is against Google's guidelines. Plus, if someone is selling links on a resource page, chances are the page will be pretty useless and spammy.
Follow all of the instructions above, and it should be enough to land at least a handful of resource page links in most niches. But why stop there? There are plenty of other ways to find even more resource pages.
Here are three of them:
1. Search the backlink profiles of sites with known resource page links
Given that resource page link building is a common link building tactic, if a page has a link from one resource page, it probably has links from other resource pages.
Here's how to find those resource pages:
Crawl your vetted list of resource pages with Screaming Frog
Go to Bulk Export > Links > External Links
Open the CSV and copy all URLs in the "Destination" column
Paste them into this Google sheet
Go to the "Results" tab
You should now see a list of websites that have at least one resource page backlink: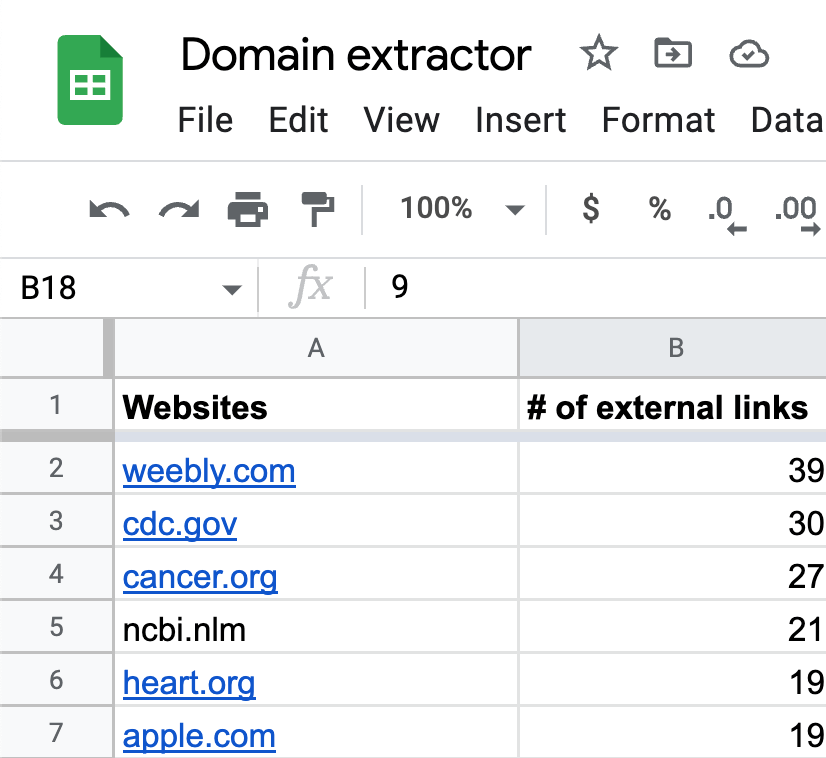 From here, you can simply paste any relevant domains into Ahrefs' Site Explorer, go to the Backlinks report, and search for "resources.htm" in the referring page URL.
For example, if we do this for eatright.org, we get 344 results: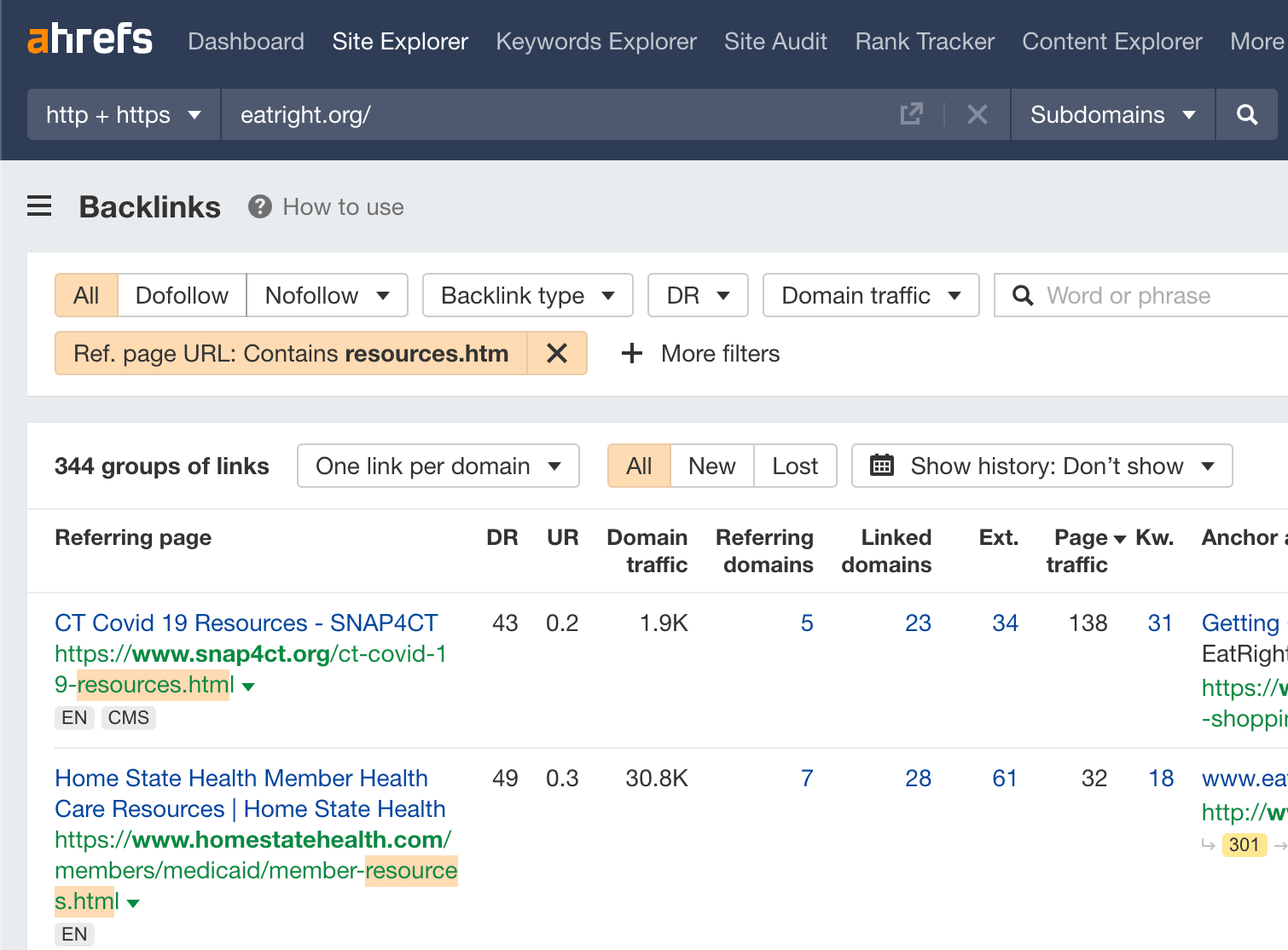 Here's just one example: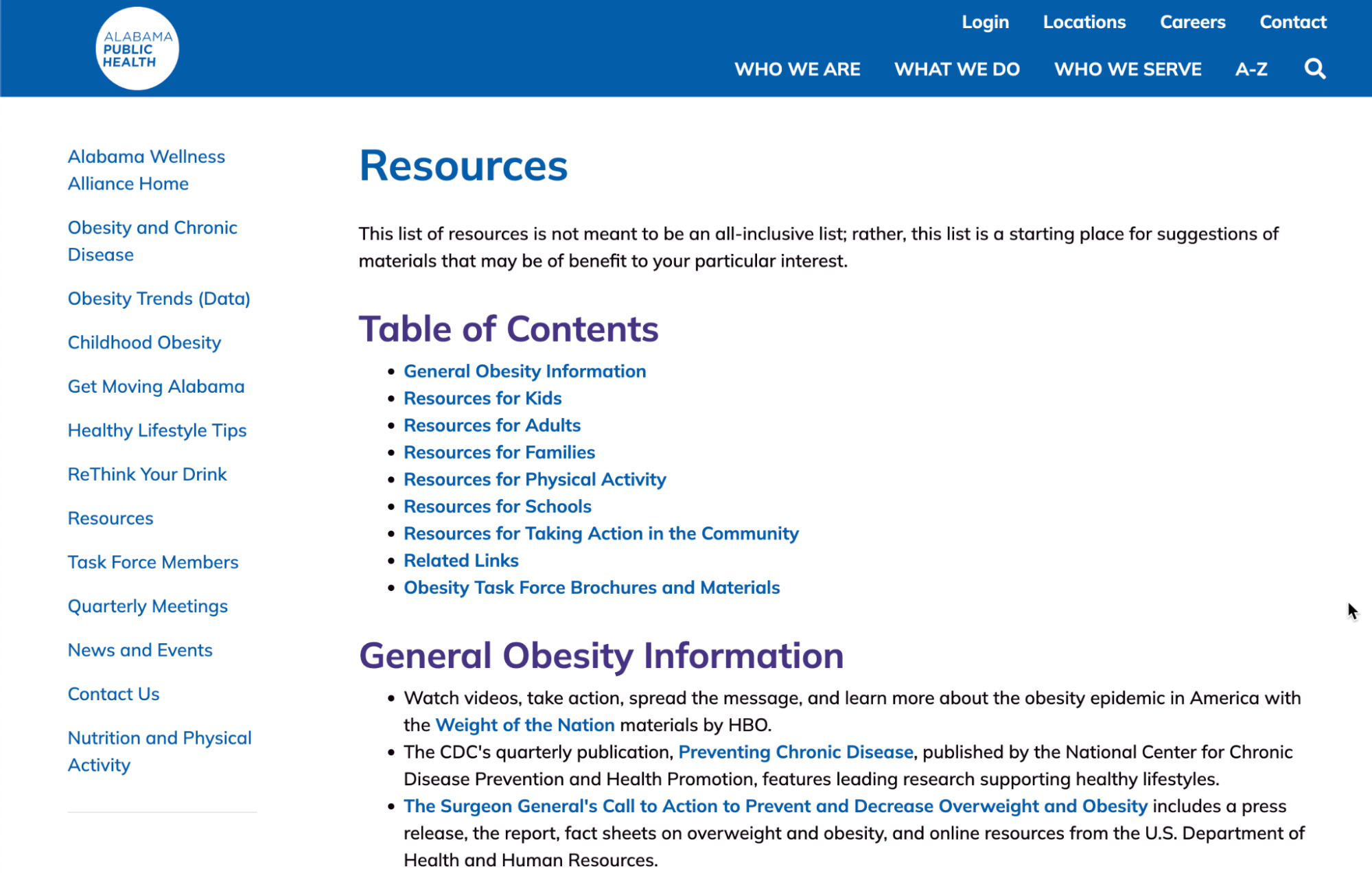 2. Search for listicle resource pages
Most "traditional" resource page search operators won't find listicles like this: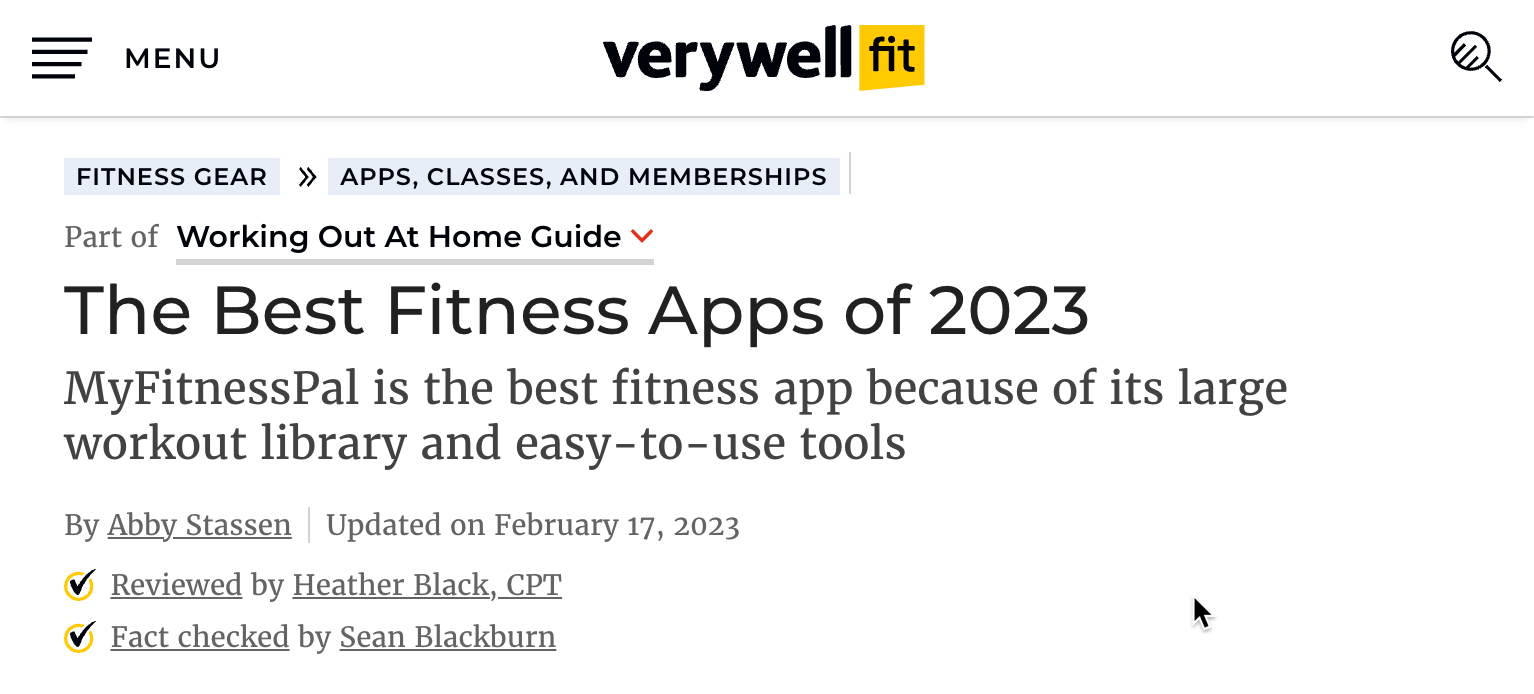 That's a shame because these are also "resource" pages in their own right, as they list and link useful resources.
To find these pages, just search Google for "best [thing]".
For example, if you run a gym in London, you could simply search for "best gyms in london":

You can then use Ahrefs' SEO Toolbar to extract these to a CSV file (along with SEO metrics, for paying customers).
If you're an Ahrefs user, you can speed up your search using Content Explorer. Just run an "In title" search and filter for pages that match your criteria (e.g., DR 30+).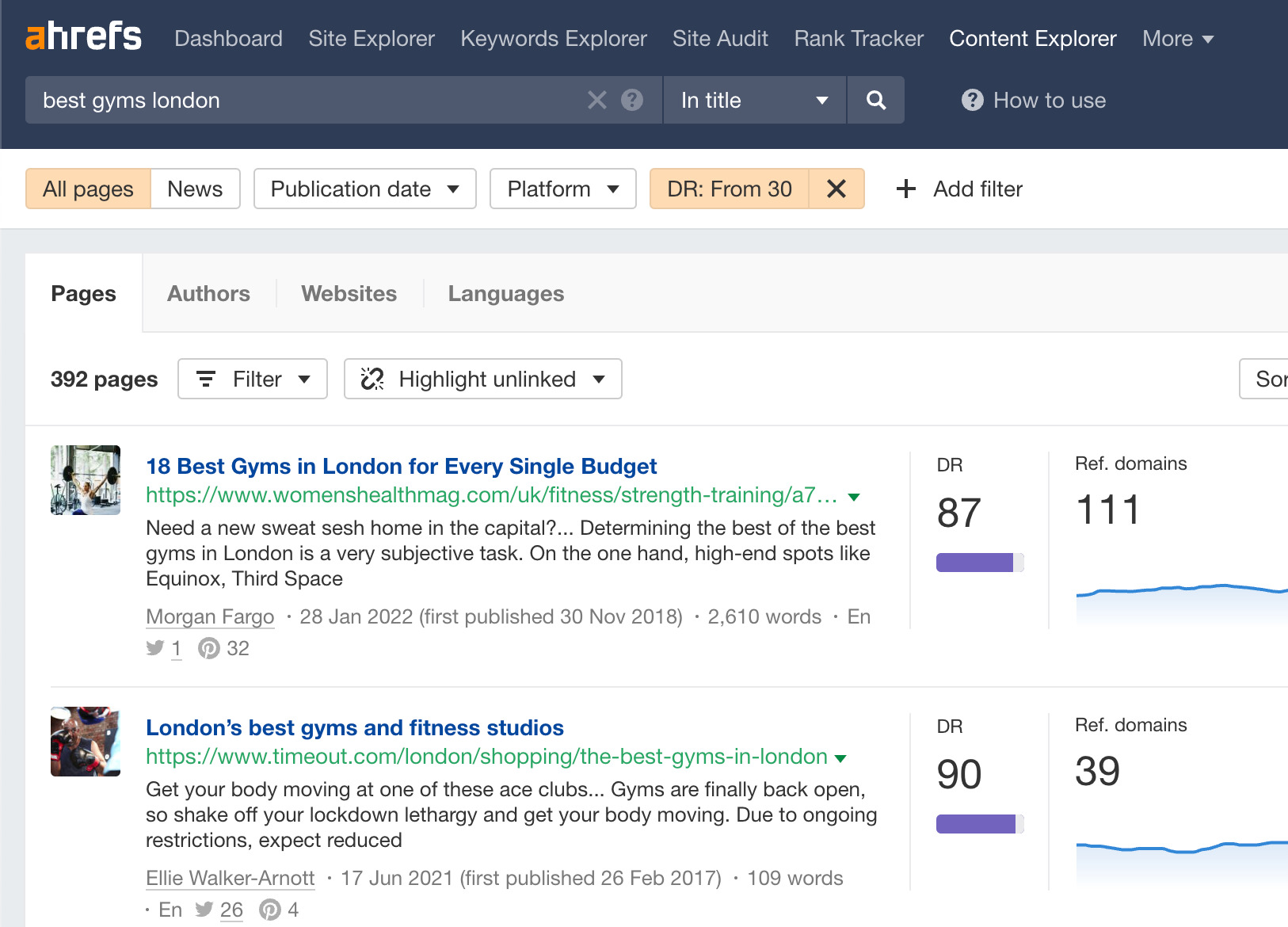 Or if you prefer, plug a competitor into Site Explorer, go to the Backlinks report, and search for referring pages with "best [thing]" in their titles.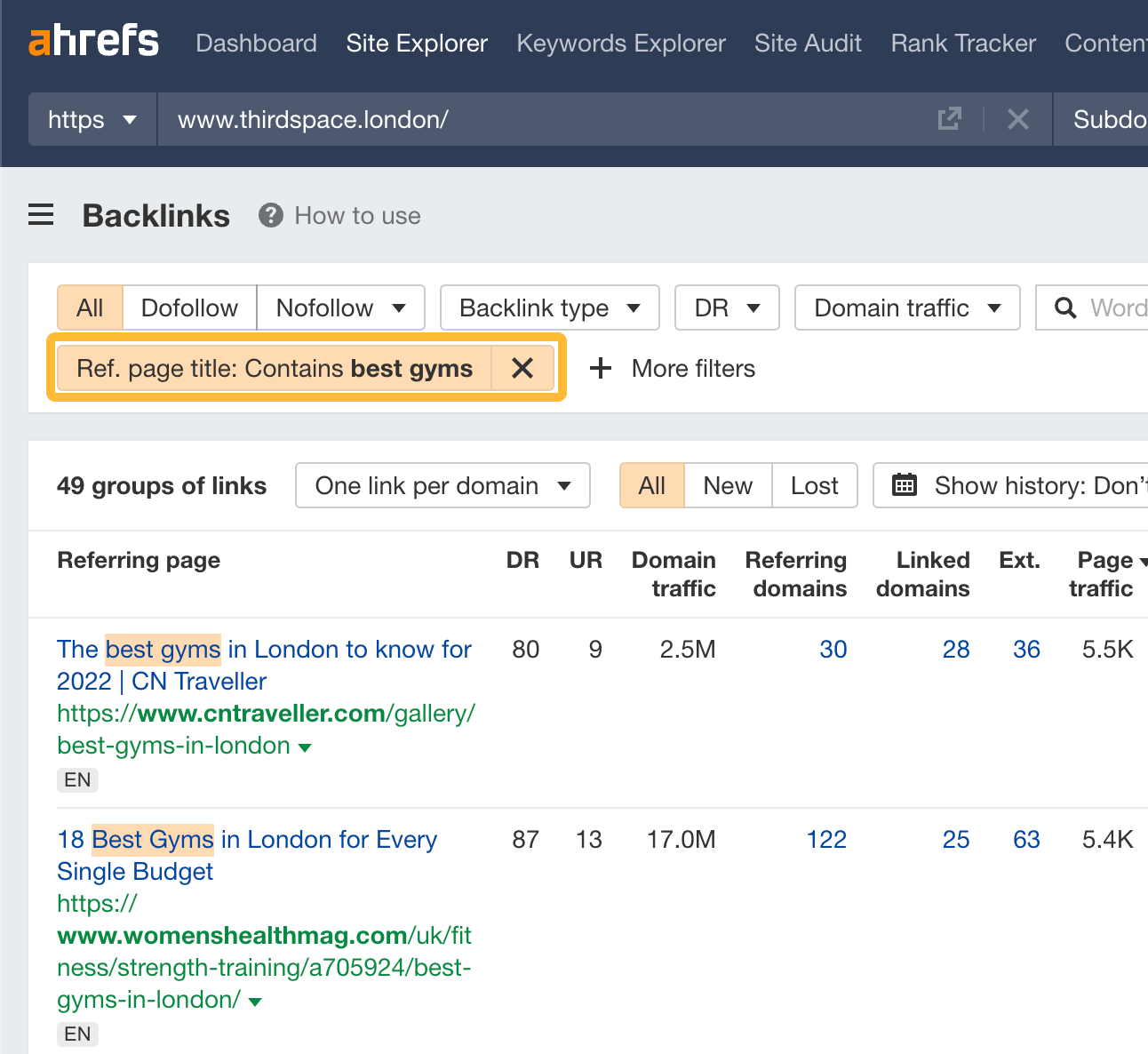 3. Search for pages with resource sections
Not all resource pages are pages dedicated solely to listing resources.
For example, many of our blog posts have "further reading" sections where we list and link to related resources from other websites:

Here are the search operators you can use to find these opportunities:
Keyword "further reading"
Keyword "more resources"
Keyword "other resources"
Keyword "favorite resources"
Keyword "favorite tools"
Then it's just a case of opening each search result, using CTRL/CMD+F to search for the footprint on the page, and checking that they link to external resources in the section (not just internal resources).
If the opportunity looks promising, find the site owner's email address and pitch your resource.
Here are the pros and cons of pitching these types of pages:
| Pros | Cons |
| --- | --- |
| Fewer people are doing it (less competitive). | Not as many of these pages around. |
| Links are often higher quality than "traditional" resource pages. | Their creators aren't looking for suggestions or feedback, which may mean lower conversion rate. |
If you can build a relationship with the site owner or at least help in some way before pitching, you can overcome some of the cons above.
Final thoughts
Resource page link building is about as straightforward as it gets. That's probably why so many SEO professionals continue to use this tactic—even in a world of skyscrapers and shotguns.
Want a quick recap of everything we covered? Watch this video:
Got questions? Give me a shout on Twitter.