If you belong to the world of online marketing, you'll know it can be a huge challenge to find someone's email address.
Why?
Because people are not always willing to reveal their email address on the web. They don't want to get another spammy email!
But here's the good news:
With a little digging, it's possible to find most people's email address.
How do I know?
Well, in the past 2 months I've sent more than 700 emails to different bloggers, SEO experts and inbound marketers. And I had to search for nearly every email address for my outreach.
I've tried loads of email discovery services and dozens of tips and tricks.
Most of them did not work at all. Some were not particularly effective. So I kept trying to improve the process.
And today I'm going to share my most effective, personally tested email discovery methods with you.
Let's get started.
1. Use An Email Discovery Service
I'll start with the simplest method of finding an email address:
Email discovery services.
There are a ton of them on the Web.
I always wondered how they work, so, naturally, I asked Google. The most clear-cut answer was given by François Grante, the founder of Hunter service, on Quora:
We search the website of the company the person is currently working for.
We search all the email addresses we have in our base using the same domain name (i.e. all email addresses with @company.com).
Depending on what we get, Email Hunter automatically finds the most likely email pattern used in the company. If we don't have enough data, we just return the few email addresses we found for the investigated company and let the user judge what can be used.

To give more accurate results, we also use SMTP checks to test the deliverability and score the quality of sources (pages where email addresses are displayed on the web).
That's actually how most email discovery services work. Some of them also have huge databases with tons of email addresses in them.
I could not try every single email discovery tool, but I played around with at least a dozen.
So which was the best?
The Most Effective Email Discovery Services
From those I tried, the most successful services were:
I've been using Hunter and Voila Norbert for quite a while. Both tools did an impressive job and saved me many hours of email search.
But about a month ago I got an email from Sagi Strauss. He offered to let me try out his own email discovery service called 'Find That Email'.
Now I'll be honest. I was pretty skeptical. I'd already tried out loads of tools by this point, and I wasn't sure that this would offer me anything new.
But…
I was wrong!
Find That Email could find an impressive 8–9 out of 10 email addresses I was searching for.
That was a result I was not able to reach with any other email discovery tool.
So I decided to run a short test.
I gathered 25 outreach opportunities directly from my working list and ran an email search for each of them in Hunter, Voila Norbert and Find That Email.
Here are the results of my test: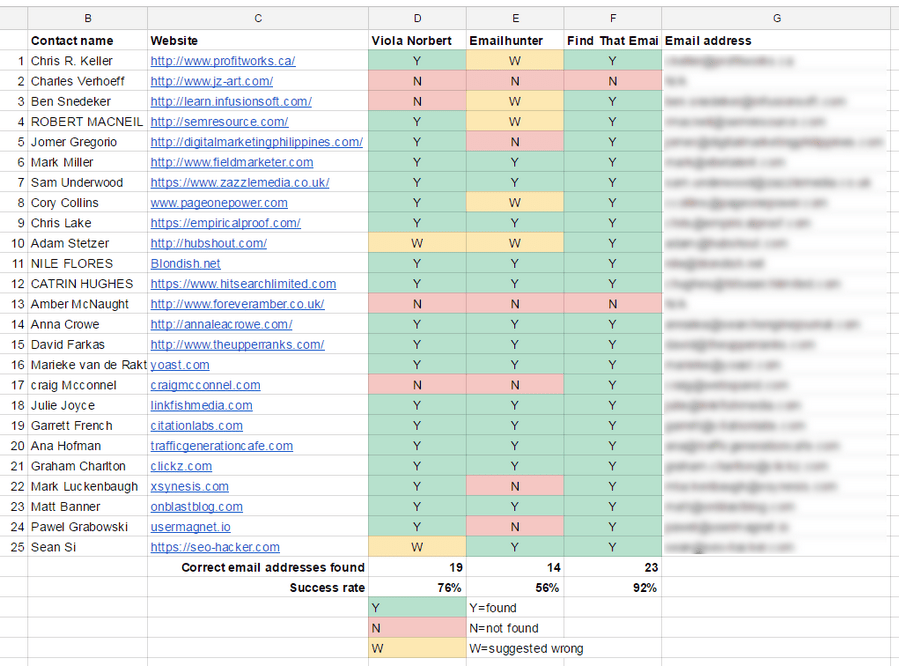 Sidenote.
To check if the email addresses suggested by these tools were correct I verified each result with Rapportive and Gmail. I was also able to send messages successfully to the verified addresses.
As you can see, Find That Email showed the best results in my test. It found 23 of 25 email addresses — a 92% success rate.
Hunter, Voila Norbert, no offence. This was just my own quick test. But even though the sample size is small, that's still a pretty big win!
As I saw the awesome work done for me by Find That Email, I asked Sagi if he could make their Chrome extension search for email addresses directly from Ahrefs Site Explorer. And he added that feature in no time.
Sidenote.
In defence of Hunter and Voila Norbert, I must say that they work much faster than Find That Email. Also the Hunter Chrome extension allows you to scan any website for an email address on it.
I should also mention that Hunter, Voila Norbert and Find That Email all provide an API, which allows integration with these services.
Using an email discovery service is a good solution for your email search. But it's not a perfect one.
Here's why:
Sometimes these tools are just not able to find an email address;
Although they offer some free trials, they all cost money. And quite often bootstrappers and solopreneurs may not be ready to invest.
Read on to learn how to find any email address for free (and what to do when email discovery tools fail).
2. Make Your Best Guess (And Check It)
I'll admit, this method of email discovery is not new. It's been on the Internet for years.
Besides, it's the cornerstone of many email discovery services.
The fact is, most email addresses are based on one of several formulas. If you know First Name, Last Name and Domain of your target, you can easily guess someone's email address.
And actually my own experience shows that more than 50% of professional email addresses are based on the simple name@domain.com formula.
Here are some other common formulas you can use to guess an email address: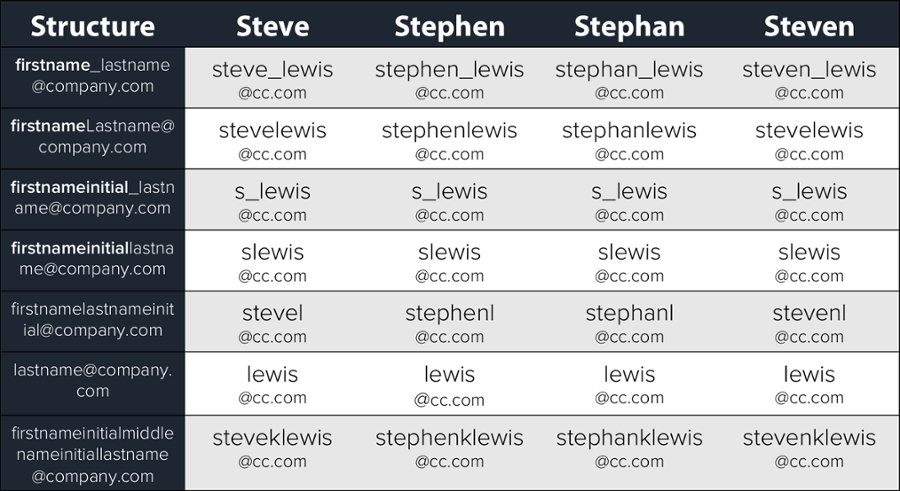 Sidenote.
The table above is taken from
this Hubspot post
. I think they covered most popular email address structures. But I will just add one more — firstname.lastname@company.com which I came across quite often.
However, picking out all the options manually can be time consuming, so here's a shortcut for you:
Email Permutator+ from Metric Sparrow. It can automatically create a list of possible email addresses. Just fill in the fields and let it do the job.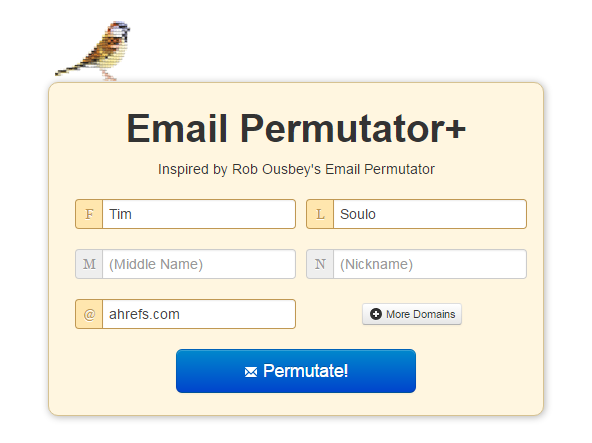 With this tool you will get a list of possible email addresses in seconds.
Now all you have to do is check if your guess is correct using Rapportive (a free add-on for Firefox and Chrome) and Gmail itself.
Just create a new message in Gmail, put the email address you want to check into the "To" field, and click elsewhere. Then move the cursor over the email address entered and observe.
Gmail will show you if the email address is associated with a Google+ account, while the Rapportive extension will reveal if this email address belongs to a LinkedIn profile.
Tip
If both Rapportive and Gmail remain silent, you can run another check by searching for exact matches of your best guess on Google to see if it was mentioned anywhere on the Web.
3. Search "@domainname.com" in a Search Engine
Now you might already be thinking that there's a problem with this tip.
And if so, you are (kind of) right!
Google uses the "@" symbol for social tags. And if you put "@ahrefs.com" (exact match search) in Google, you won't find any email addresses.
But don't forget that Google is not the only search engine!
I discovered this hack just a few weeks ago: you can use Bing search instead.
Use exact match search for "@domainname.com" and Bing will reveal email addresses related to this domain if they are publicly available.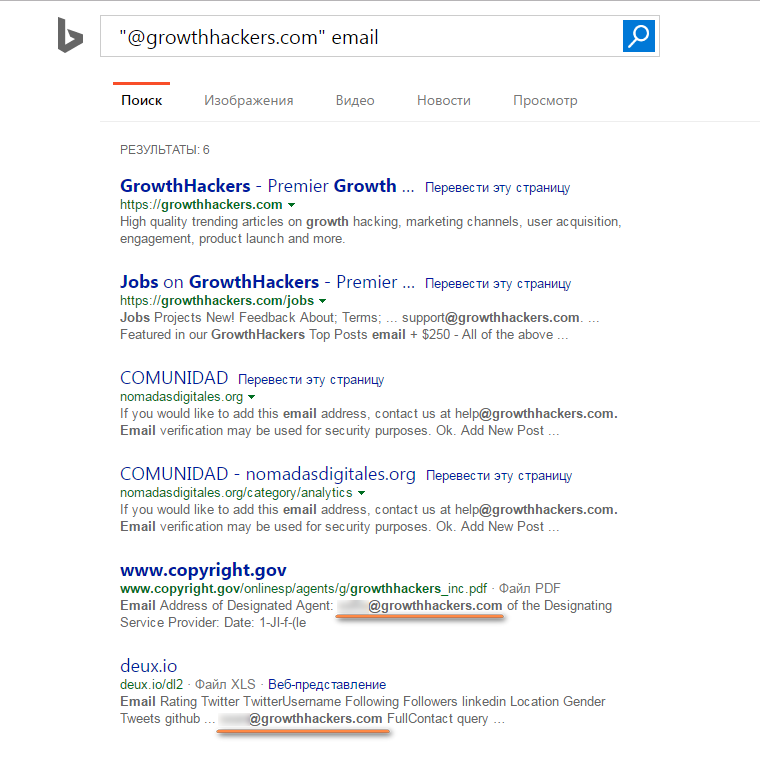 As you can see, this little known trick does work.
4. Check Your LinkedIn Connections
Did you know that a user's email address is always visible on LinkedIn for your direct connections?
Check one of your connection's profiles, and their email address will be there for you to grab in the 'Contact Info' section.
Sidenote.
Just in case you don't know, you can see differences between connections and those you are following on LinkedIn
here
.
You can also export all your LinkedIn connections to a single file on your computer.
Here's the official manual from LinkedIn:
Step 1: Go to your LinkedIn homepage and click on the tab 'Connections'
Step 2: Click to 'Settings' symbol in the top right corner of the page
Step 3: Click 'Export Linkedin Connections' in the right column on the page
Step 4: Choose 'Microsoft Outlook (.CSV file)' and click 'Export'
Step 5: Save the document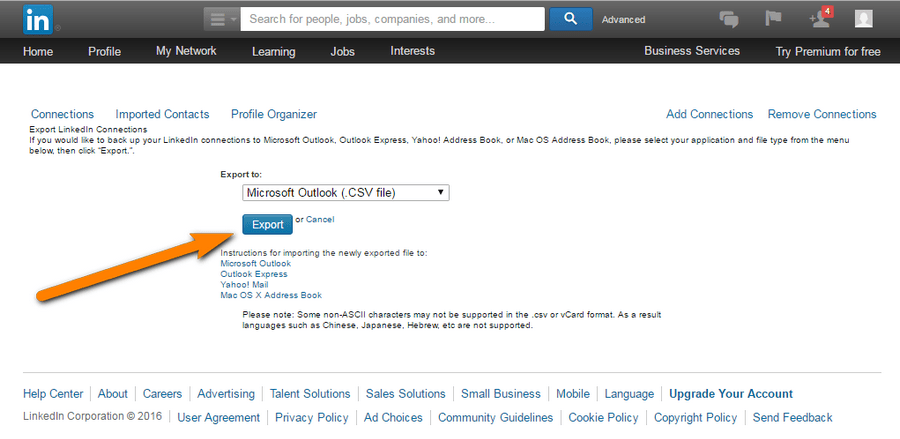 In the end you will get a CSV file. And your connections' email addresses will all be there.
That's really handy if you have a VA collecting email addresses for you. Just send the exported file over to your VA.
And here goes a warning message for everyone — don't blindly connect with everyone on LinkedIn. You risk leaking your personal email address into improper hands!
5. Reach Out For An Email Address On Twitter
I've seen plenty of contact pages where people say that the best way to reach them is to drop them a message on Twitter.
But generally the message you want to send is more than 140 characters long, so you'd prefer an email address.
If that's the case, don't hesitate to find that person on Twitter and ask for his or her email address.
Our head of marketing, Tim Soulo, does that quite often.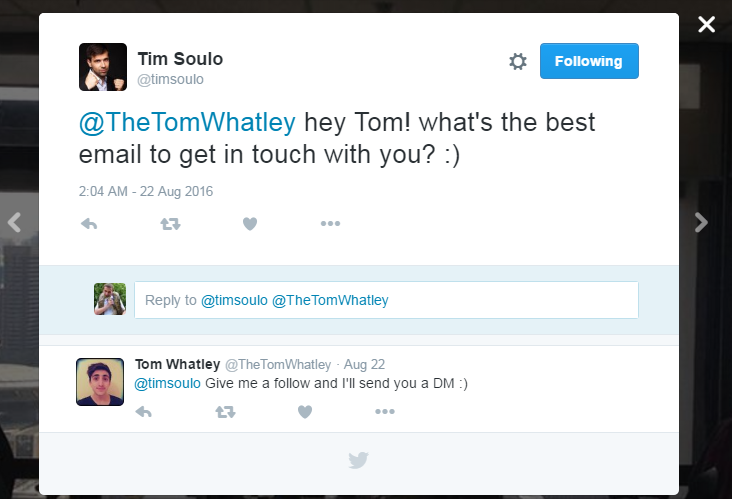 Trust me, most people will eagerly answer such message.
Just make sure you have a real Twitter profile that clearly states who you are.
6. Use Twitter Advanced Search
The method above is not the only way to get someone's email address using Twitter. I'd like to share another neat Twitter trick with you.
Quite often people share their email addresses in their tweets. But to hide them from bots, they replace "." and "@" symbols with "dot" and "at" words.
Have you already guessed your next step?
Go to Twitter Advanced Search and look for "at" and "dot" words in tweets from your target person. You can also include words like email, contact or reach into your search to narrow the results.
Let's see if this works for Kathryn Aragon, our chief educator here at Ahrefs.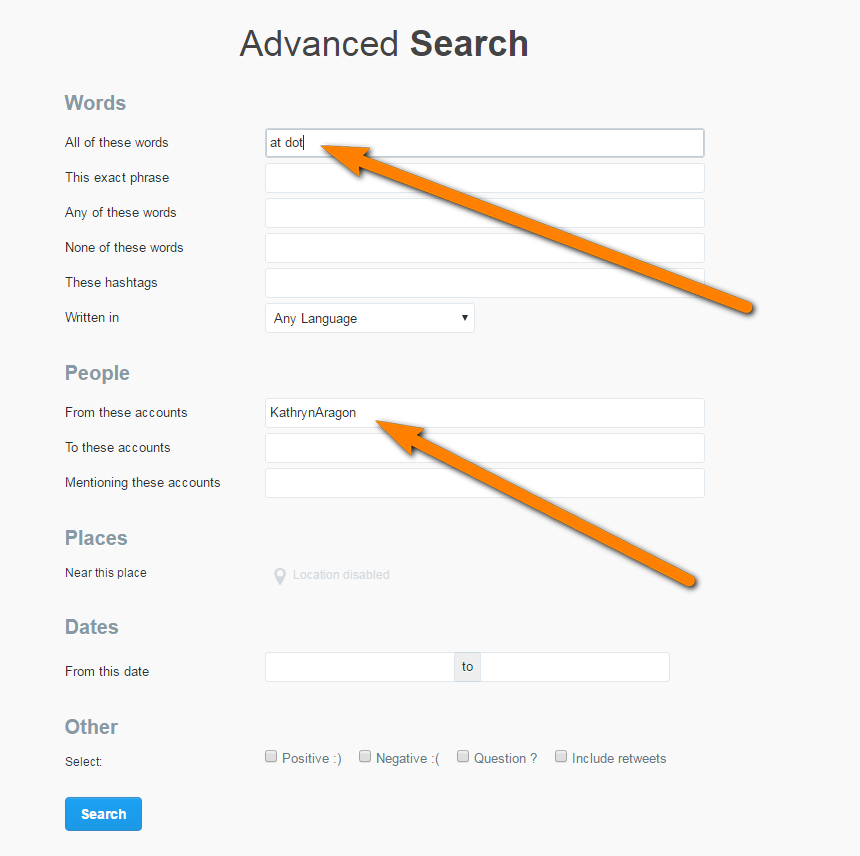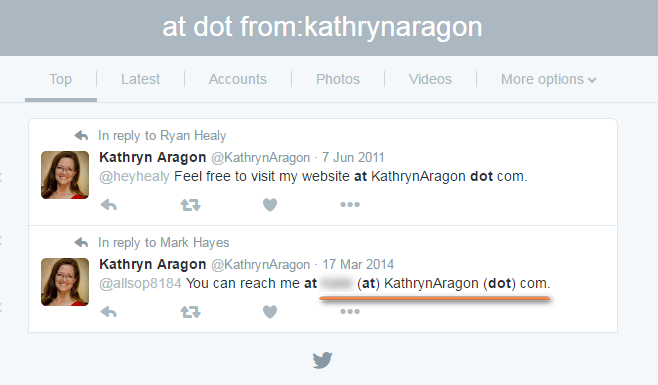 I had a dog, and his name was… BINGO!
7. Subscribe To Your Target's Email List
If a person you're targeting has a personal blog, you can subscribe to his or her email list via any opt-in form on the blog. Most newsletter emails will come from their personal email address.
Besides, it is an outstanding opportunity to start a conversation with a comment on one of the newsletter emails you will get. You can write a smart question that requires a quick answer or ask for an opinion.
Here is one of the very first email outreach messages I ever sent: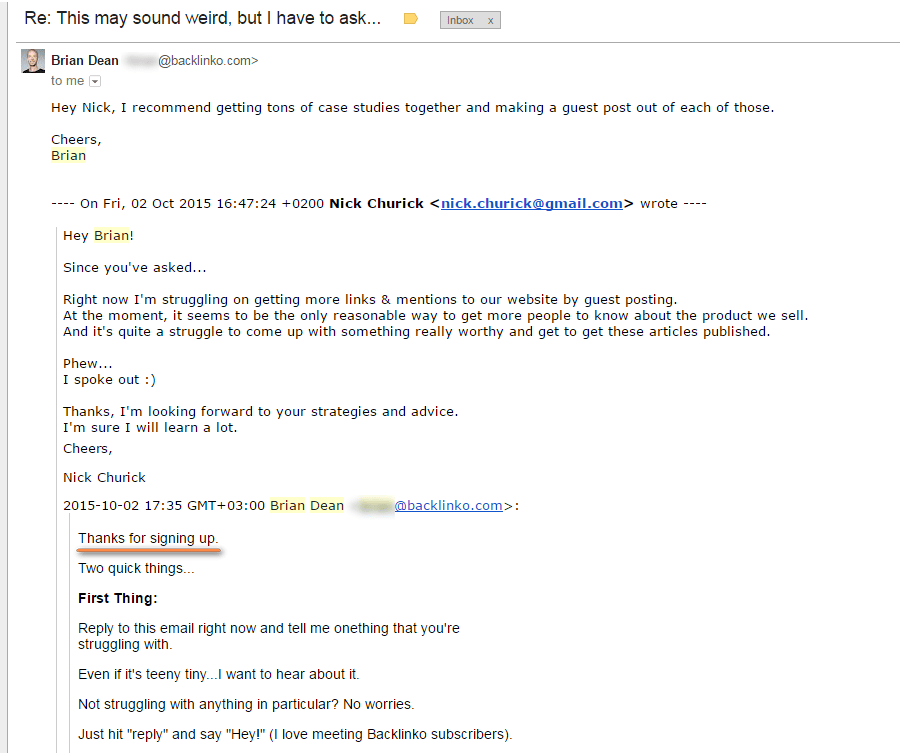 I signed up to Brian Dean's newsletter to find out his email address and replied to the first email I got.
Tip
Sometimes special email addresses like newsletter@domainname.com, news@domainname.com or similar are used in newsletters. But if you reply to these, an answer might come to you from the personal email address.
8. Use Website Contact Form or General Contact Email Address and Ask for Connection
Most big companies have either a contact form on their website for any inquiry, or a general email address in their contact information (e.g. info@domainname.com). Those addresses are mostly handled by support teams or by VAs.
Just shoot a simple message and ask them to connect you with the person you want to reach.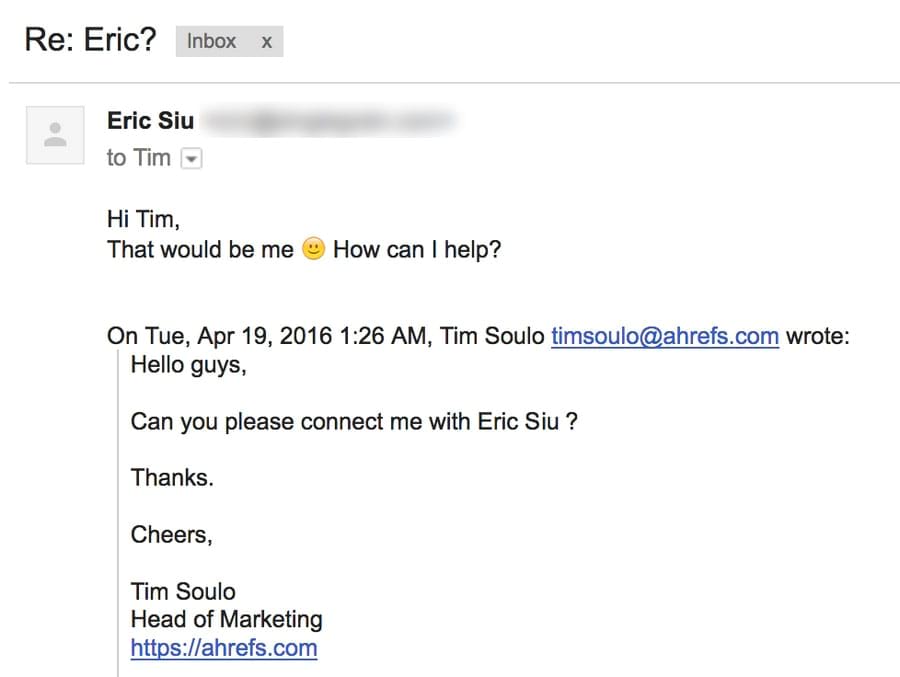 Tip
This mostly works if your email signature clearly explains who you are.
And if you're using a VA to collect email addresses for you, make sure that his or her signature mentions you as their boss 🙂
9. Check WHOIS Data to See the Owner of a Domain
This is my last resort in finding anyone's email address.
These days many domains have private registration details, which means you won't be able to find contact details for the domain owner easily.
Here's an example.
If you try to find the owner's contacts for searchenginejournal.com at who.is, this is what you get:


But sometimes you can still find the domain owner's contact email address in WHOIS data.
It works best for one-owner websites, who have little to no reason to hide contact information. But this information is available for some larger websites as well.
Here's the example for this very domain ahrefs.com


Did I miss anything?
And that's it! Plenty of actionable methods you can use to find any email address.
But finally, a request…
Use them wisely, I'm begging you! Don't make people you want to reach hate me for writing this article 🙂
And, of course, if you know any other ways to find someone's email address, then I'd love you to share them with me in the comments!