Are you looking for a list of essential link-building tools that will help you get results? You're in the right place.
I've been building links for nearly a decade, so I've run my fair share of link building campaigns. As a result, I've used a TON of link-building tools over the years.
What have I found? You only need a handful of tools. The rest are just distractions.
In this post, I'll list the tools you need, how they work, and how to use them to build AMAZING links.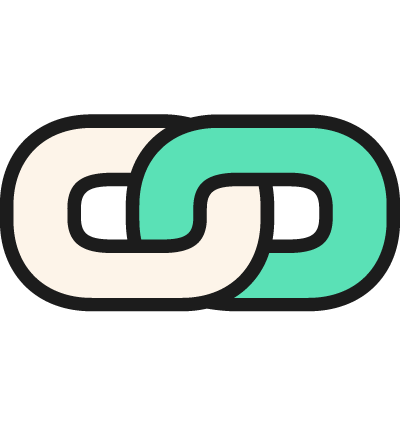 New to link building? Check out our
What can link building tools do for you?
Link building is a simple process.
No matter what technique you're using, the process always involves the following steps:
Choose a target page (e.g., homepage, blog post, service page, etc.);
Find relevant 'prospects' (i.e., people with some motivation to link to what you have);
Vet the prospects;
Find their contact details;
Reach out with a well‐crafted outreach email;
Follow-up, track, and manage your campaign efficiently (it's easy for things to get messy!)
Link building tools exist to make life easier in every step of this process.
Let's say you wanted to start a simple guest blogging campaign. You'd need to:
Find some topically-relevant sites that are likely to accept your guest post.
Vet them and make sure they're a good fit.
Find their contact details, and send them a well‐crafted, personable outreach email.
If you only plan to reach out to a few sites, this is easy to do manually. But that's not an efficient way to build links. You need to do things at scale*. This is where tools come in handy, as they save you time, effort, and money.
So without further ado, let's get to the tools.
Sidenote.
(*) FYI, scale ≠ spam. You should still always create top-notch content and personalize your outreach emails, even when doing things at scale.
Link prospecting tools help you to find link‐building opportunities and "linkable asset" ideas.
Running a guest blogging campaign? This means finding sites that blog about relevant topics, which are also likely to accept a guest post.
Running a broken link building campaign? Prospecting revolves around finding topically-relevant dead pages with backlinks pointing to them.
Struggling to come up with "link‐able" content ideas? Research your competitors to learn which of their pages have attracted the most links and why.
Here are five link‐prospecting tools that will actually help you.
Analyzing competitors is perhaps the best way to find link‐building opportunities.
You can do precisely that with Ahrefs' Site Explorer—an industry‐leading backlink checking tool.
If you don't yet have a page to which you wish to build links, start with the Best by Links report for a competing domain.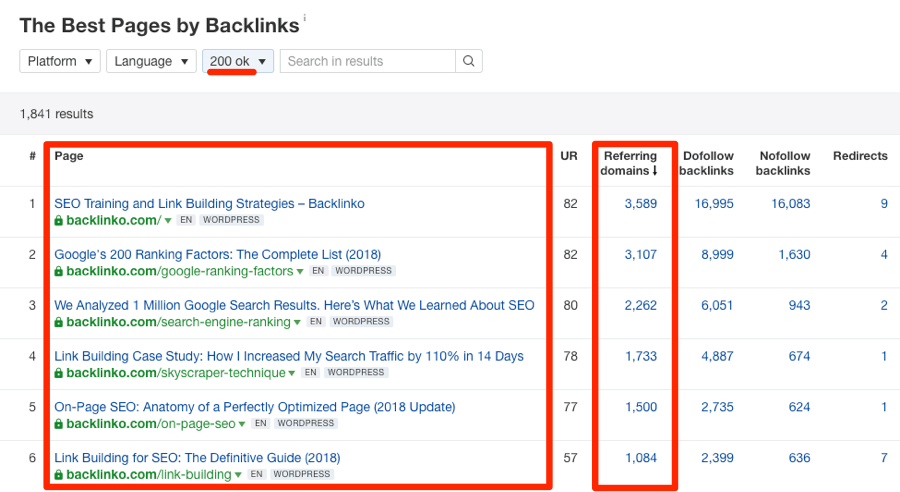 This is a fantastic report for coming up with "linkable asset" ideas.
You can also add a "404 not found" filter to uncover dead pages with backlinks.
This report alone can supply enough broken link building opportunities to keep you busy for months and earn you hundreds of quality links.
Do you already have a page to which you wish to build links in mind? Enter a competing page and check the Backlinks report. Here you will see every backlink pointing to the page.
Site Explorer > enter a competing web page (use the "prefix" mode) > Backlinks
Sidenote.
There are other backlink checkers on the market, but we won't be talking about those in this article. Reason being, we build our own tools, and we're understandably biased towards our "babies" 🙂
If someone links to a similar competing page, there might also be a reason for them to link to you. You just need to figure out what that reason is, then pursue the opportunity and replicate the link.
(Read this post to learn more about replicating competitors backlinks.)
Rinse and repeat this process for multiple competing pages.
If you're not sure what pages are competing with you, search for your target keyword in Ahrefs' Keywords Explorer and check the SERP Overview. This tells you how many links each of the top-ranking pages have.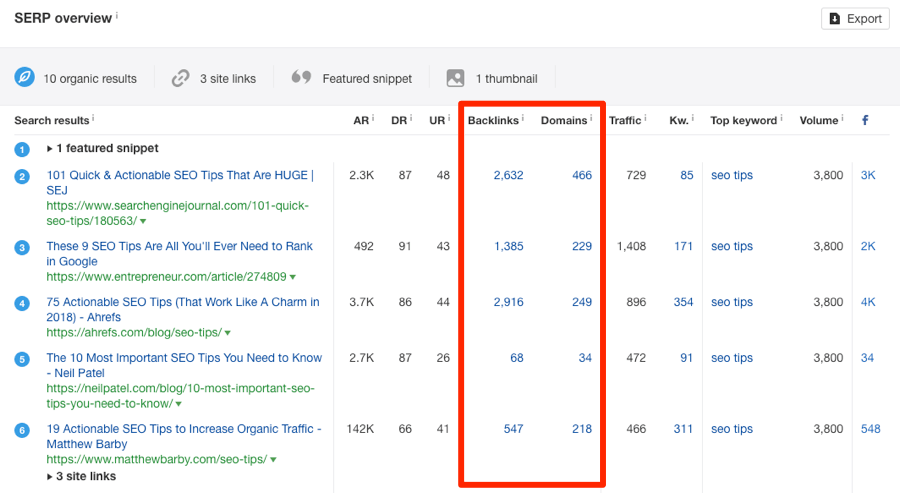 You can investigate these pages further to understand where their links are coming from and if they're easily replicable.
PRO TIP
If someone links to multiple competitors but not you, then you should try to get on their radar.
Such sites are likely to be good prospects because they've already linked to many competitors, meaning that there may be scope for them to link to you, too.
To find relevant sites, use Ahrefs' Link Intersect tool.
Paste in a few competing websites or web pages to see which sites link to all of them.
That's only a glimpse at what Ahrefs' Site Explorer can do. There are also tons of dedicated reports, which you can use to find specific link‐building opportunities.
Here are a few of our other articles which talk about how to use Site Explorer to execute specific link‐building tactics.
Did you know that there are a bunch of 'advanced' search operators you can use in Google?
Let me show you one.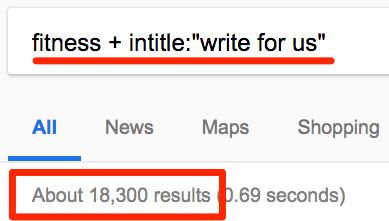 That is the intitle operator, which searches for web pages with specific words or phrases in their title tag. People commonly use this operator to find guest post opportunities in their niche by looking for web pages with "write for us" in the title.
You can see from the screenshot above that I was able to find over 5,000 potential prospects, in seconds, with just that one simple 'operator.'
But you can go WAY further than this. There are 42 advanced operators that you can mix 'n' match to find TONS of link‐building opportunities.
Want to find sites that are open to publishing infographics? Here you go:
How about "resource" pages where you can pitch your content for inclusion? You got it.
This is the tip of the iceberg. You can do tons of things with these advanced queries.
But how do you 'extract' these results from Google, and pull important SEO metrics for each URL for further vetting?
Enter: Scrapebox.
Scrapebox scrapes results from Google. Just load in your "footprints" (i.e., operators) and a bunch of queries. It will then perform all searches in Google and pull the results into a neat list.
Here it is in action:

pro tip
You will need proxies to do any serious Google scraping with ScrapeBox, which can be costly.
No time for messing around with proxies? Try Citation Labs Link Prospector. This does the same thing as Scrapebox. Create a report, load in your queries and operators, and set it to work scraping Google.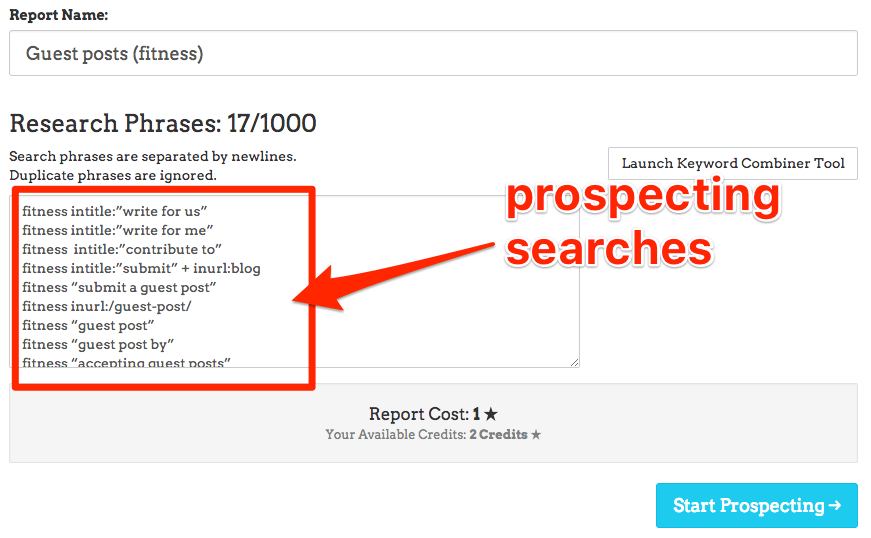 Furthermore, this tool is cloud-based, so it'll work for Mac users.
Content Explorer is a mini search engine in Ahrefs, powered by a database of almost ONE BILLION web pages. You can export all results with one click.
Result: It's like Google, but without the need for scraping.
But what exactly can Content Explorer be used for?
Finding relevant niche blogs to guest post for;
Finding relevant bloggers to reach out to;
Finding relevant mentions to turn into links;
Finding mentions of your competitors around the web;
Etc.
Just enter a query, and it'll kick back all the web pages containing that word or phrase.
Let's try it for "link building."
121,966 results. Pretty cool!
Sidenote.
Content Explorer also supports the use of advanced search operators similar to Google, such as "title," "inurl," "site," etc.
Do you need a list of unique websites rather than web pages? Just hit the "one article per domain" checkbox.

Here's what you could do with this list of unique websites that have published posts mentioning your target keyword:
Reach out and show the owners your relevant content (in the hope that they'll link to it);
Ask if you can write a guest article for them;
Show them your product/service (assuming it's somehow related to the topic at hand—e.g. a link building tool);
Offer them the opportunity to become affiliates,
Etc.
Got too many opportunities? Use the inbuilt filters to narrow things down.
Filter by:
Traffic—find pages that get consistent traffic from search engines;
Domain Rating (DR)—filter sites by their "backlink popularity;"
Number of referring domains—find web pages with few or many referring domains;
Number of words—restrict results to short or long articles;
Publish date—find recently-published web pages, or those published a long time ago;
Language—restrict results to web pages of a particular language;
Shares—helps find popular web pages that have lots of shares on social media.
There's even a nifty feature that lets you highlight all sites in the search results that have never linked to you before. If you're familiar with the concept of PageRank, the value in that feature should be clear.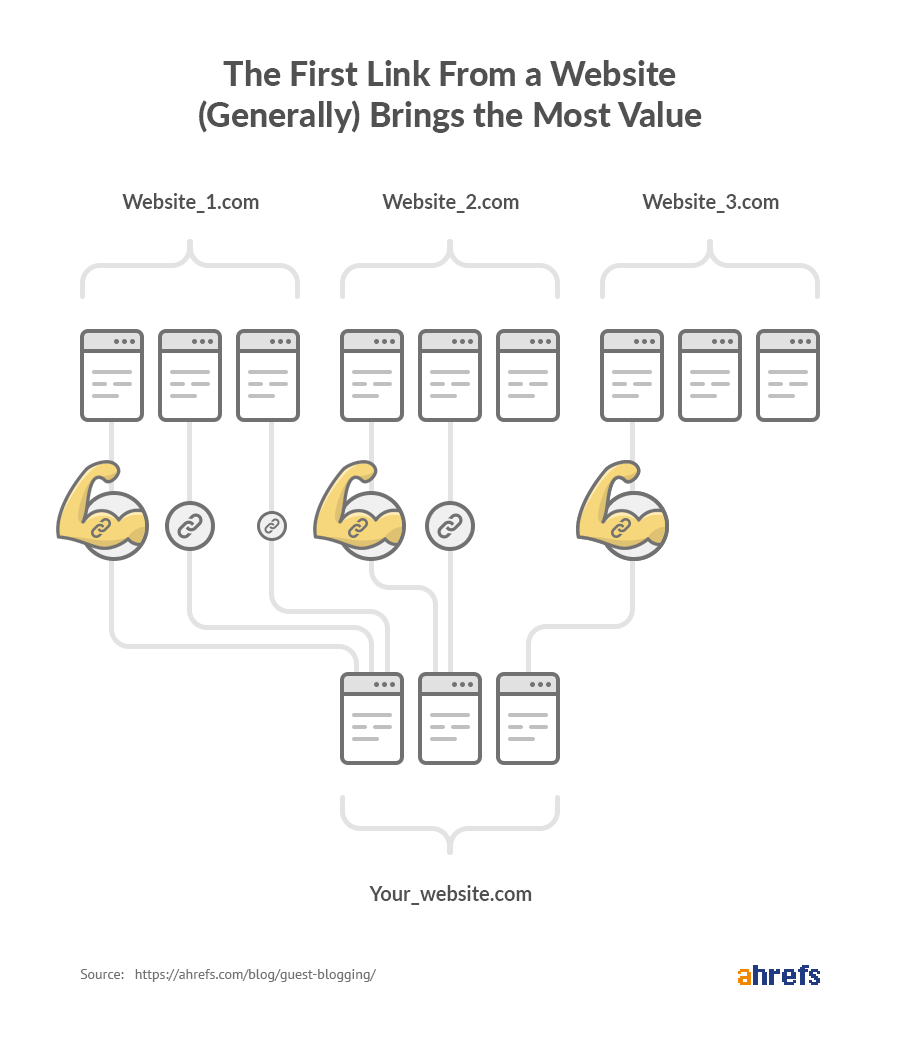 That same feature also comes in handy for discovering unlinked mentions, which you can then convert to links.
Here's Sam Oh with some more top Content Explorer hacks:
https://www.youtube.com/watch?v=NKurQTHDcDc
Q. Why bother scraping Google when you have one‐click exports from Content Explorer?

A. For some very narrow niches, there's a chance that you may run out of results in Content Explorer. Furthermore, as Google's crawler is more active than ours, you can find some unique opportunities that Ahrefs' crawlers weren't able to pick up.
Both of these tools monitor the web for new mentions of any word or phrase.
If I were to set up an alert for "peter falk" in Ahrefs Alerts, I might receive an email like this the following day: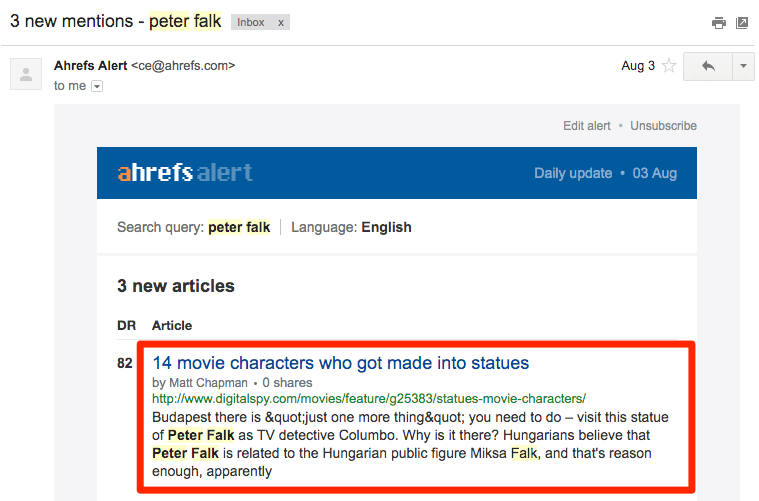 How is this useful for link prospecting? Here are a couple of ideas:
Monitor mentions of your brand name: Check for unlinked mentions, then convert them to linked mentions.
Monitor for mentions of your competitors: See where they're getting mentioned and why. Mentions often come with a link. If your competitors are getting linked-to from somewhere, then maybe you can too.
Monitor industry‐related keywords: Get alerted whenever people mention your target keywords online. Reach out and see if you can build a relationship with the person who mentioned them.
(See more alerts‐based link‐building tactics in this post.)
But what's the difference between Google Alerts and Ahrefs Alerts?
In short, Google Alerts is free, and Ahrefs Alerts isn't.
Which is better? We tested the same ten alerts in both tools for 7 days. Ahrefs Alerts found 2,376% more results than Google Alerts, on average. That's a BIG difference.
Sidenote.
It still pays to use both when the niche is very narrow. This will widen your pool of opportunities.
Furthermore, Ahrefs Alerts isn't limited to monitoring for web mentions. It can also monitor for new backlinks to any website or web page.
Here's an alert I set up for a competing URL:
Hopefully, you can see how this can be useful by now! 😉
Here are some more ways to find backlink opportunities with Ahrefs Alerts, in real‐time:
https://www.youtube.com/watch?v=oC7ruFris0A
HARO provides journalists with a robust database of sources for upcoming stories and daily opportunities for sources to secure valuable media coverage.
Here's how it works:
You get alerted daily about relevant questions and opportunities from journalists;
You provide them with the quote or answer they're looking for;
You get the credit if and when they use your solution in their article.
What's that got to do with link building, I hear you ask?
Journalists always link out to their sources when including relevant quotes or resources in their articles.
Here are the kinds of links you can get with HARO: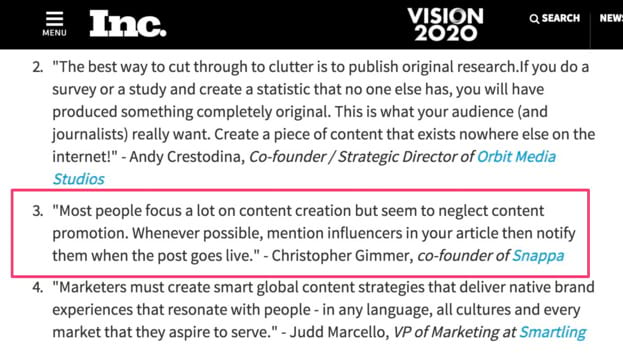 Note: This was a link that one of our contributors, Christopher Gimmer got using HARO. (Read the full case study here.)
You can sign up for both HARO and Muck Rack for free.
Prospects? Check.
You now need to vet them and prioritize them carefully. This will help you to decide how much effort you're willing to put into getting a link from each site.
I'll let you in on a secret: NOTHING trumps manual vetting. You should ALWAYS check sites manually before reaching out to them.
But that can be damn time‐consuming, especially if you have hundreds or thousands of prospects. What's the solution? Use tools to pull some SEO metrics for the initial vetting stage, then perform manual checks on the websites and web pages that pass your initial qualification.
Here are four "link-vetting" tools to help with this.
Do you want to pull Ahrefs' SEO metrics for up to 200 websites or web pages in one go? Paste them into Ahrefs' Batch Analysis tool, choose a mode, and hit "analyze."
Let's try it for a list of potential guest blogging opportunities. For this, we'll use the "domain" mode.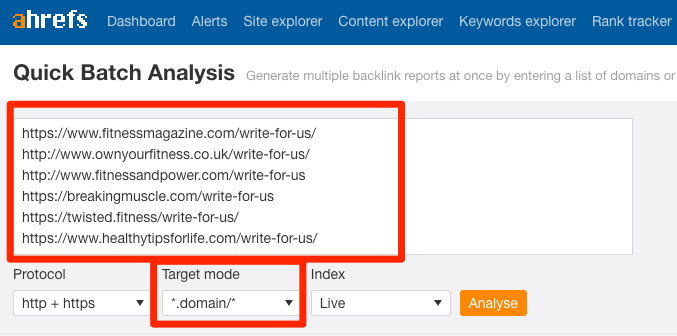 You can see that we pull a ton of data here, including the Domain Rating (DR), estimated organic search traffic, and the estimated number of keywords for which the site ranks.

These three metrics are particularly useful when vetting guest post opportunities. Why? Because getting published on "strong" sites with lots of traffic will result in more eyeballs on your content.
For that reason, I tend to sort the results by estimated traffic from high-to-low (see screenshot above) and take things from there.
I'll often "weed out" the sites that get little to no traffic, or only rank for only a handful of keywords.
But what if you want to analyze web pages instead?
You can do that, too. Choose the "URL" mode, and we'll pull in the page's URL Rating (UR), estimated organic search traffic, and the number of keywords for which it ranks.

Don't forget that you can export everything with one‐click!
Imagine being able to pull SEO metrics from a bunch of different tools, for thousands of URLs, at the push of a button. That would be cool, right?
Definitely. That's why URL Profiler is one of my all‐time favorite tools for link prospecting.
Here's what it looks like: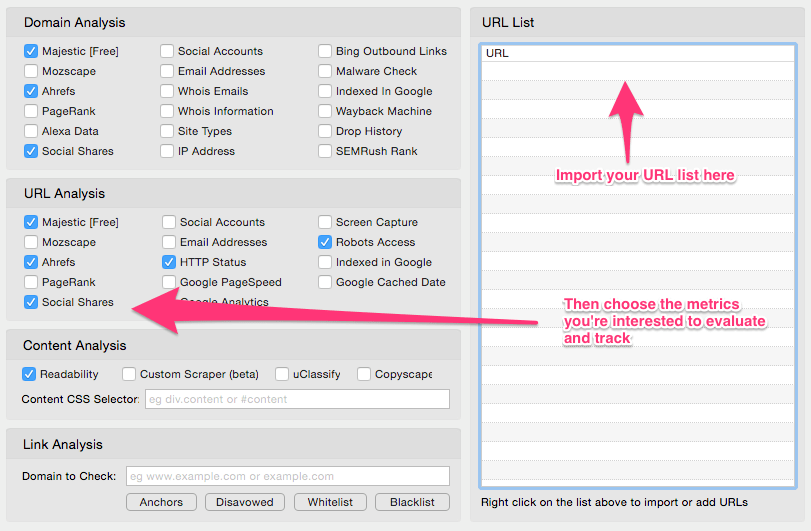 The way it works is simple: Paste in a bunch of URLs on the right, then tick the corresponding boxes on the left to pull the SEO metrics and data points you want.
You may have noticed already that it connects with your Ahrefs account.
Because URL Profiler is one of our application partners, you can use the "Integrations API rows" included on your account (up to 5 million) to pull Ahrefs' metrics for thousands of URLs at once.
You're not limited to pulling Ahrefs metrics, though. It integrates with many other tools (e.g., Moz, Majestic, Search Console, Google Analytics).
URL Profiler outputs all data as a CSV, so it's easy to manipulate, filter, and vet the prospects with a little spreadsheet magic.
Screaming Frog is useful for more than just discovering technical SEO issues.
Like URL Profiler, it integrates with Ahrefs (and other link indexes) to allow the bulk import of data. It connects to Google Search Console and Google Analytics too.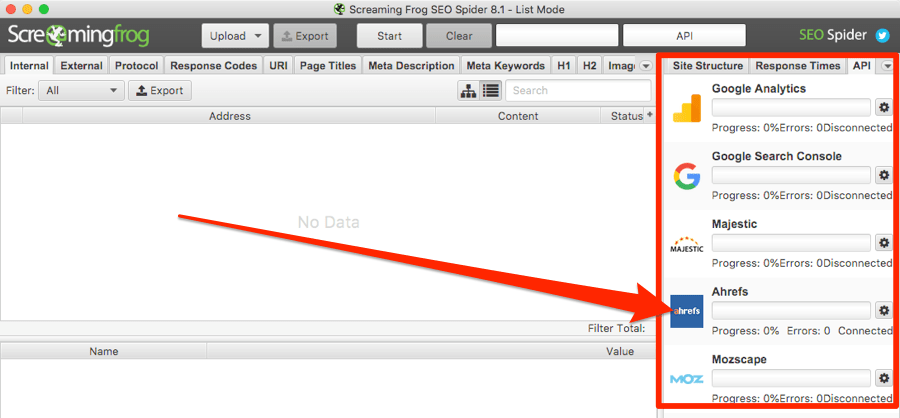 But it's WAY better than URL Profiler when it comes to pulling SEO metrics via the Ahrefs integration. Everything is so much more granular.
Want to pull referring c‐class IPs for a website? You got it.

How about the number of 'dofollow' (followed) AND 'nofollow' backlinks? Not a problem.
Still, pulling Ahrefs' metrics is only a fraction of the functionality in Screaming Frog. You can also run crawls to discover broken links, and much more.
It even has a custom search function which lets you search web pages in bulk for specific snippets of text or HTML.

You can use this in tandem with Ahrefs' Content Explorer to discover hundreds of unlinked mention opportunities, as demonstrated in this post.
Knowing how long a website has been around for, and who owns it, can be useful information when link prospecting.
How do you find this out? Check the whois record.
You can do this for individual URLs quite easily. Just Google "whois checker," and you'll find a bunch of free whois checking tools.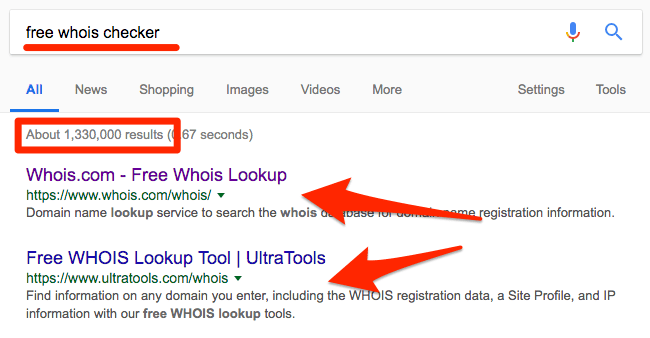 But what if you want to do this in bulk? Solution: Use the Whois Scraper addon in Scrapebox.

How can this be useful? For a start, it can help uncover PBNs. But, in all honesty, if that's all it takes to discover a PBN, then it's probably a pretty bad and obvious one anyway.
I find that it's more useful for weeding out super‐new sites.
That's not to say you shouldn't pursue links on such sites, but these are the sites that are most likely to be abandoned and neglected, in my experience.
Sidenote.
This is somewhat unrelated to link building, but if you want to see another super‐cool use for bulk whois checking, read this.
Got your prospects 'vetted' and ready to go? It's time to start outreach. Or is it?
Not quite. You first need to find the contact details of the folks you wish to contact.
For this, there are a bunch of tools you can use—Voila Norbert, Hunter.io, etc. They each have roughly the same functionality, so I'm not going to cover them here. See which were the best and worst tools in our full guide to finding email addresses.
Have you done that? Good. Now it's really is time to start outreach.
Here are three tools to help with that.
Buzzstream
Mailshake
Pitchbox
Sidenote.
Keep in mind that you only really need one of these tools. Which one you choose comes down to personal preference.
Buzzstream is our tool of choice for outreach. It's the one we use internally at Ahrefs because we find it most suitable for our use case.
Reason being, it combines a feature‐packed outreach tool with a CRM platform. This is useful for maintaining a relationship history for your prospects.
Here's what this looks like:
You can see every email exchange, tweet, and interaction with each prospect right when you need it (i.e., pre‐outreach).
Buzzstream also tracks email opens, clicks and replies, and handles follow‐ups automatically (as part of a sequence). Everything you'd expect from an industry‐leading outreach tool.
Furthermore, importing exports from Ahrefs' Site Explorer is super easy—there's a template for it.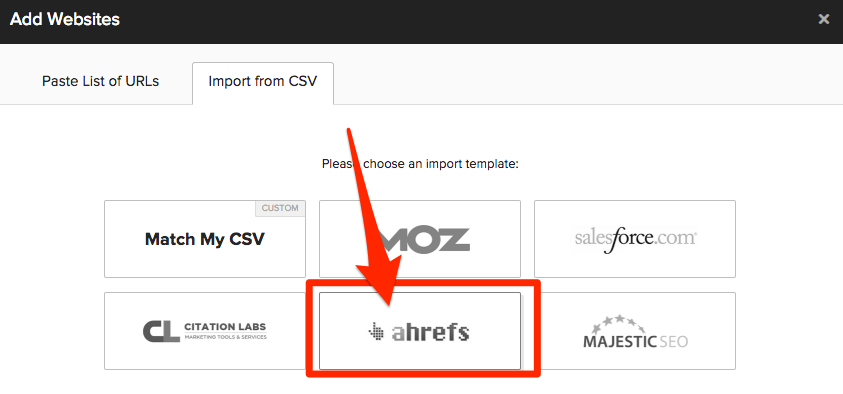 Also, don't forget to install their cool Chrome extension. It's called the Buzzstream Buzzmarker, and it makes it super-easy to add prospects to Buzzstream as you browse the web. (More on that later.)
Mailshake is the new kid on the block in the world of email outreach.
What's unique about this tool? Two words: user interface. It's beautiful, and extremely simple, making it the perfect tool for those who usually find such tools complicated and daunting.
To set up a campaign, you can either enter your prospects' email addresses manually or import from a spreadsheet.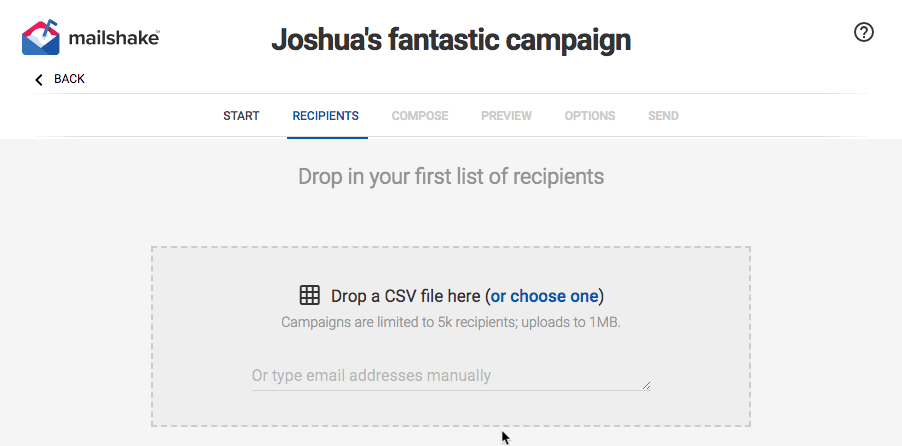 Importing from a spreadsheet is your best option because you can map your columns to merge fields.
Then it's just a case of customizing your emails on the fly, and hitting send. Mailshake will keep track of opens, clicks—all that good stuff.
If you want a low-cost, no-frills outreach tool that gets the job done, Mailshake is your best bet.
Pitchbox is yet another outreach tool that many SEOs swear by—especially agency owners.
Why agency owners? Because Pitchbox focusses quite heavily on automation. It's created in such a way that promotes the "set it and forget it" approach. This is perfect if you're dealing with lots of clients. Reporting is good, too.

There are pros and cons of this approach. The benefit is that you can set up an entire campaign in as little as a few hours, and leave it to drip out automatically over the coming weeks or months.
You do, however, sacrifice some level of personalization to achieve that.
Furthermore, the chance of making a fatal error increases exponentially as you automate things. For that reason, I'd say that this outreach platform is best‐suited to those with plenty of experience.
Before I wrap things up, I want to briefly mention a few Chrome extensions that I find super‐useful for link building.
I have all of these installed myself, and I use them regularly.
Are there other useful extensions? Of course. But Chrome can become pretty slow if you install too many of them, which is why I recommend installing no more than a handful.
Here are nine extensions I regularly use for link‐building purposes, and why they're so useful.
(FYI, you can see our full list of 26 useful Chrome extensions for SEO here.)
Ahrefs' SEO Toolbar: See Ahrefs' SEO metrics for every web page you visit—that includes Ahrefs Rank (AR), Domain Rating (DR), URL Rating (UR), # of backlinks, # of referring domains, estimated organic traffic, and more. It also integrates with the SERPs to show SEO metrics for all search results.
Recommended reading: The Resurrection of Ahrefs' SEO Toolbar
Buzzstream Buzzmarker: Add prospects to Buzzstream on the fly (no need to leave the website). You can also find contact information, make notes, and much more. If you're a Buzzstream user, this is a must‐have extension.
Linkminer: Broken link checker that integrates with Ahrefs and other similar tools. Allows you to check for broken links on any webpage instantly. Download all links to a CSV, and paste them into Ahrefs' Batch Analysis tool for deeper insights.
NoFollow: Simple extension that highlights any nofollowed links on the page. Useful for catching prospects that 'nofollow' their external links.
Sidenote.
You shouldn't exclude a prospect just because they nofollow their links. The link may still lead to exposure or send some referral traffic your way. Still, you may wish to assign a lower priority to such prospects.
Hunter.io: Instantly find email addresses associated with the website you're visiting. All users get one hundred free requests per month. Other similar extensions include FindThat.Email and Contact Out.
Recommended reading: 9 Actionable Ways To Find Anyone's Email Address
Scraper: Use XPath or jQuery to scrape data from any webpage. Useful for scraping prospects from lists, or from Google search results. Some knowledge of XPath is required.
Recommended reading: 6 Actionable Web Scraping Hacks for White Hat Marketers
Chris Ainsworth's SERP Scraper (+gInfinity): Simple tool for scraping Google search results. Combine it with gInfinity—which allows you to go beyond the one hundred result search result limit—to scrape hundreds of search results in one go.
Final thoughts
Link building tools make life easier. It's as simple as that.
Can you build links without any fancy pants tools? Yes, you can. Do I recommend it? Not at all. Doing so will only serve to deplete your most valuable asset—time. If not using link building tools means that it takes you twice as long as your competitors to build the same amount of links, well, you'll never beat them. They'll always be one step ahead.
Here's another crucial point: You NEED to stay organized.
While it's not technically a link‐building tool, I highly recommend using a project management system to keep track of things. Trello, Google Sheets, whatever works for you—just stay organized.
Speaking of organization, check out this video where Sam Oh lays out his process for link building at scale: