If you search for "link building tools" in Google, the first page of results will be littered with results like this:
"50 Experts Reveal 3 Favourite Link Building Tools";
"34+ of the Best SEO Link Building Tools & Software";
"21 Effective White Hat Link Building Tools For Your Toolbox"
I get it — people love to tweet/share mammoth list posts (this is probably why they exist in such abundance) but, personally, I see a few issues:
Most "tweeters" don't actually read said posts from start‐to‐finish before sharing—they share solely based on the seemingly high‐value title;
It's very difficult to give a decent comparison of 50+ tools in a single post—this often leads to "skimmable" content with no real meat/value;
Most authors won't have used all of the 50+ tools they're recommending (especially if they're paid writers)—this leads to vague, generic lists that do nothing to help you make decisions.
So, rather than writing yet another overwhelming—somewhat pointless—list of a bazillion link building tools, I'll instead be showing you:
The 3 "types" of link building tools;
A few of the best tools in each category (and why you need them);
How to actually use these tools to build links (instead of just wasting money on pointless subscriptions)
Let's get started!
The 3 Types of Link Building Tools
While the exact process will vary between individual link building tactics (e.g. guest posting, broken link building, "linkbait" etc.), most fall into one of the following two "buckets":
Built links: Links obtained using a manual, hands‐on process, often involving email outreach (i.e guest posting, sponsorships, blog commenting, posting in communities, etc.);
Earned links: Links that are earned as a result of "spreading the word". For example, letting your existing audience (e.g. email list, social following, email subscribers, etc.) know about new content may indirectly lead to links. This is also true for content promotion via ads (e.g. Facebook ads, Google AdWords, "sponsored posts", etc.). In essence, the more eyeballs you get on your content, the more likely it is to attract links.
Buying links and/or building PBNs would be a third "bucket", but we don't advocate these methods as they can be extremely risky. We, therefore, won't be covering them in this post.
Instead, we'll be focussing solely on link building tools that help with "manual" link building (i.e. those that help you to find, analyse, and leverage new link opportunities), as most link acquisition tactics fall into this "bucket".
We've divided the tools into three categories, which are:
Link Indexes: A link index will reveal the backlinks pointing to any domain/URL, along with some super‐useful information about said links (i.e. anchors, link attributes, etc.). It'd be very difficult to find and qualify link prospects without access to a link index;
Link Processing Tools: These tools don't maintain their own link index; their job is to enable the gathering, analysis and processing of data from multiple sources (including link indexes) at scale. They also help translate said data into actionable, useful information;
Outreach Tools: Most manual link building tactics rely heavily upon outreach; once you've gathered and processed your prospects, you'll need a tool that allows you to perform and manage outreach at scale.
Let's start by looking at link indexes.
Link Indexes
Ahrefs, Majestic and Moz are the three main players when it comes to link indexes; they each maintain their own index and have their own unique metrics, which are:
Majestic: Trust Flow (TF), Citation Flow (CF);
Sidenote.
Other link indexes (e.g. WebMeUp, SEMRush, etc.) do exist but the size of their indexes generally pale in comparison to the "big 3" mentioned above.
Ahrefs and Moz metrics are pretty similar. DR and DA show the strength of a domain's backlink profile, while UR and PA do the same for URL's. Both are on a 0–100 scale.
Majestic metrics work slightly differently (see here).
Moz's DA/PA metrics are the ones that people tend to be most familiar with, but this doesn't necessarily make them the best.
Right now, there's only been one study that compares Ahrefs' metrics to those from Moz and it was one performed by Moz.
It showed that Ahrefs metrics had a much higher correlation with Google rankings than their own metrics.
Here's how three comparable metrics from Ahrefs and Moz stack up against each other (according to the study):
Majestic wasn't a part of this study, so we can't be sure how they stack up against us.
However, we do know that Ahrefs has the largest index of live backlinks (we have the second best web crawler after Google!) with Majestic being very close in comparison. Moz, unfortunately, is lagging behind.
This study by Matthew Woodward found that Ahrefs index is vastly superior to Majestic's—however, this is a couple of years old now. Both ourselves and Majestic have advanced in their web crawling since then, so we will refrain from saying who has more data until we have a more up‐to‐date study.
But that's enough talk about link indexes/metrics; let's take a look at how they can actually be used.
How to use link indexes for building links
Let's assume that you're looking to build links to a health/fitness‐related site and you've identified greatist.com as a competitor.
If you pop the domain into Ahrefs Site Explorer (or whichever link index you're using) and select "backlinks" from the sidebar, it'll show you every link pointing to every page on that domain.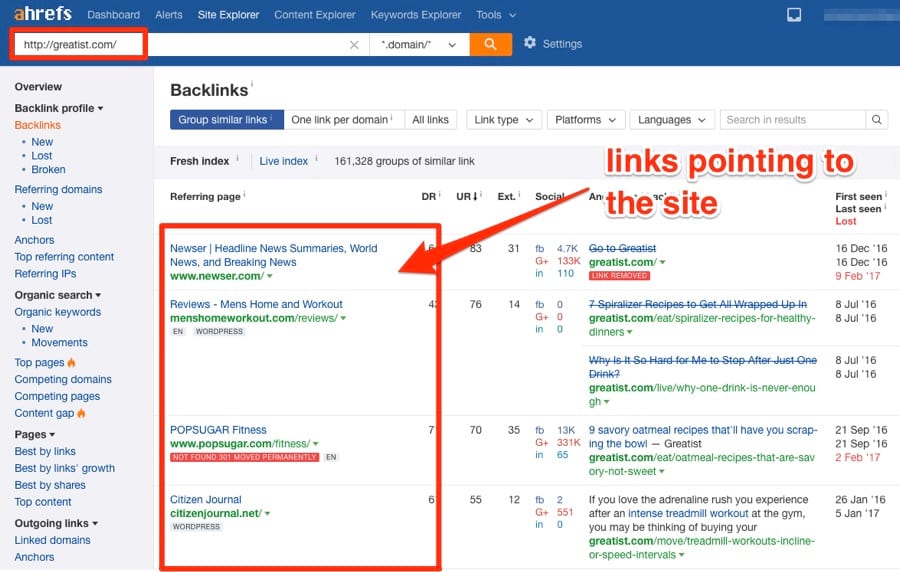 If a site is linking to a competitor, they may also be interested in linking to you. This means that instantly, you've got a list of prospects (160,000+, in this case); you could simply sift through these links and attempt to replicate them for your own site.
If you were looking solely for, say, guest post opportunities, you could use the inbuilt search to find backlinks containing the words "guest post"/"guest contribution"/etc.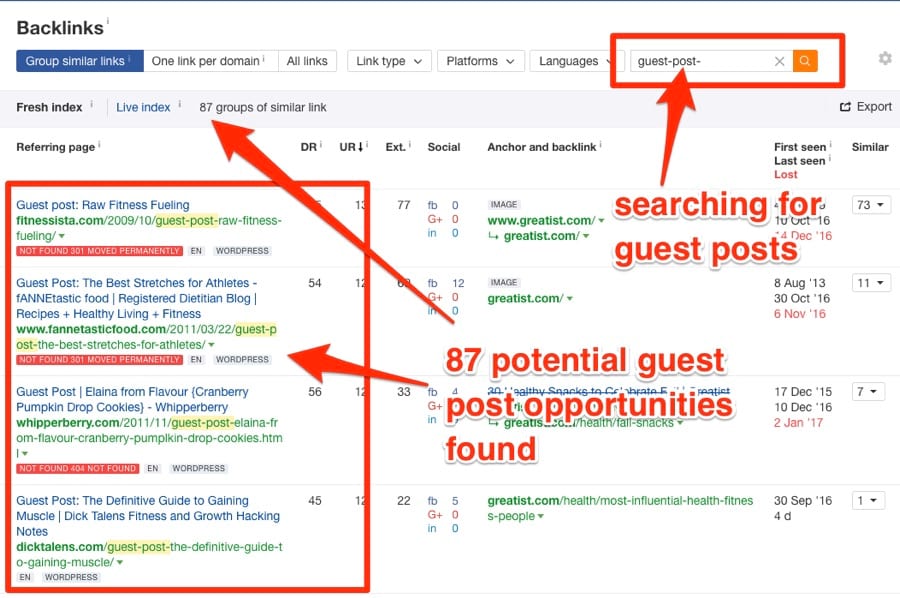 But this is still only scratching the surface; here are a few other ways to find link opportunities using nothing but Ahrefs Site Explorer (or Open Site Explorer, Majestic Fresh Index, etc.):
Find high DR (or DA, TF/CF, etc.) sites, build a relationship with them, then pursue any opportunities that come your way;
Uncover patterns that help your competitors get links at scale—maybe they run a lot of events that attract a ton of links, or host lots of "linkworthy" contests/giveaways, or perhaps their blog is attracting links like crazy. Look for patterns to implement in your own business;
Use the "best by links" report (on the sidebar) to see the most linked‐to pages on a competitor's domain then improve their content and steal their links;
Use Ahrefs' Broken Link Checker to find broken links pointing to your competitors then reach out to the linkers and suggest that they replace the broken link(s) with a link to your content (note: your content MUST be relevant when doing this!);
Use the "lost links" option on your own site to find recently lost links, then reach out and try to reclaim them.
Remember, the purpose of a "link index" is to help uncover information about competitors' backlink profiles. Because there are so many reports and metrics available, you can uncover a ton of actionable insights in no time.
I don't know any SEO worth his/her salt that isn't using one of the three aforementioned link indexes; this is the only way to figure out who you're up against and what you'll need to do in order to beat them in the SERPs.
Link Processing Tools
Link indexes are packed with features that allow for efficient filtering and processing of data but—while these tools provide almost everything most SEOs will ever need—they do have some limits, such as:
They can't help pull in data from third‐party APIs;
They can't help with scraping the web (something hardcore SEO's do a lot!)
While this isn't a problem for most in‐house SEO professionals (where the need for multiple data sources and/or web scraping capabilities is minuscule), those who work for agencies may require such features.
This is where "link processing tools" come in as they can scrape data and pull metrics from a variety of third‐party APIs at scale.
But there are hundreds of these "processing" tools (some of them get pretty granular/specific, too — e.g. this Chrome extension solely for checking HTTP status codes) so rather than listing every tool under the sun, here are the five that we believe cover the most ground:
URL Profiler is one such tool that is invaluable for many use cases but particularly for link prospecting and vetting.
Here's how to use it:
Paste in a list of URLs/domains you want to analyse;
Tick the checkboxes corresponding to whichever piece(s) of data you wish to pull in.
It'll then run through and grab all of your specified data (here's a list of data sources it integrates with) for each of the URLs/domains you entered.
Let's assume that you want to perform some outreach, but you only want to target websites that meet certain criteria, such as:
Ahrefs' Domain Rating (DR): 40+;
Majestic TrustFlow (TF): 20+;
SEMRush: 5,000+ monthly unique visitors;
You'll also want to extract any email addresses on the site for outreach purposes.
URL Profiler makes collecting all of that data and compiling it into a single Excel file as straightforward as checking four boxes and clicking "run".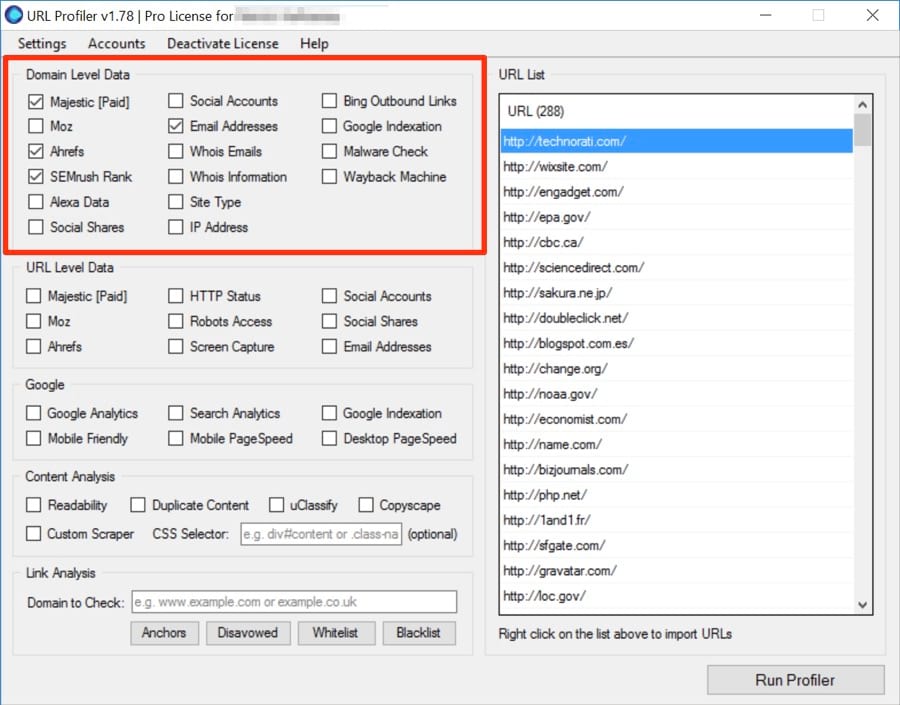 But, again, this is just scratching the surface; here are another 40 ways URL Profiler can be used.
Scrapebox is far from the prettiest or most user‐friendly tool out there but—if you're truly serious about link-building—it's a must‐have.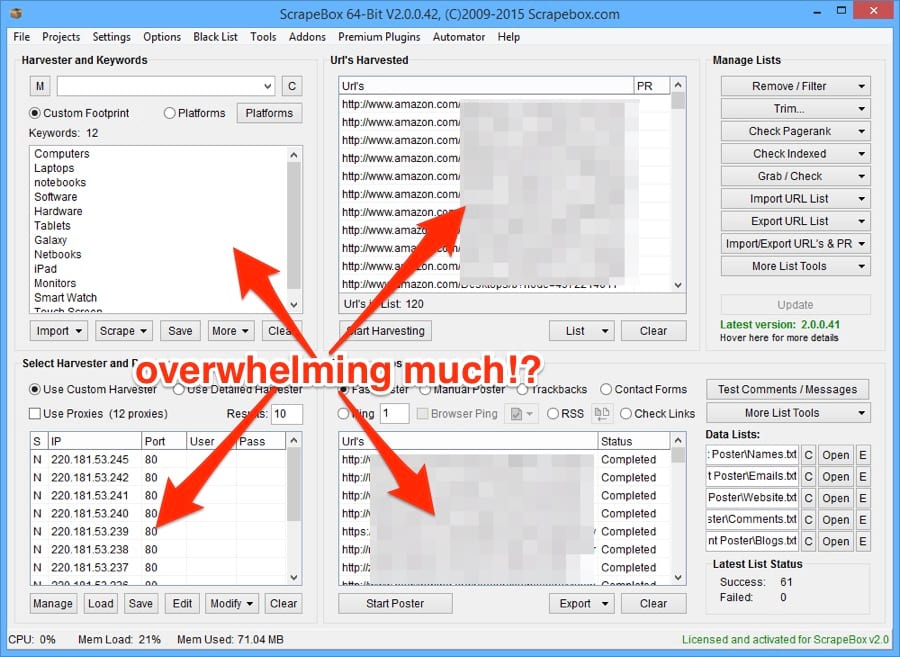 Sidenote.
If you're thinking "…but isn't Scrapebox a blackhat tool?", then think again. While it can certainly be used for shady stuff (e.g. mass/automated blog commenting), it all comes down to the way you use it.
Let's assume that you wanted to run a "broken link building" campaign; you could do 99% of the work without ever leaving Scrapebox. Here's how:
Import a bunch of search terms + operators and scrape the SERPs;
Check each of the scraped pages for broken links (using the Broken Links Checker addon);
Pull in DA/PA/etc. for each of the pages (using the Page Authority addon);
Bulk check the whois for every site (to find disguised PBNs, which you can then remove from the prospects list);
Scrape emails from the remaining sites on your list (ready for outreach).
Sidenote.
Check out
YouTube user "loopline"
for a ton of incredible video tutorials on how to use virtually every feature + addon in Scrapebox.
Link Research Tools — as the pluralisation of the name suggests — is actually a suite of tools rather than a single standalone tool.
If I was to run through everything it does (here's a full list of the included tools), I'd be here all day, so here are the three I personally find most useful:
Bulk URL Analyser: Pulls in a ridiculous number of metrics for up to 10,000 URLs at a time, including SEMRush stats, Google indexation status, social "votes", etc—basically it tells you everything you could ever want to know about a given URL with a few clicks;
SERP Research Tool: Perhaps the most powerful Google SERPs scraper around; cloud‐based, insanely granular, and can also pull in up to 20 different metrics for the scraped URLs;
Link Opportunities Review Tool: Reviews/evaluates the "risk level" of any given URL; super‐handy for ensuring your time isn't wasted contacting dodgy websites.
Let's assume you were looking for some top‐notch guest post opportunities.
SERP Research Tool will find all the prospects you're ever likely to need (it can scrape Google for "write for us" type queries with ease).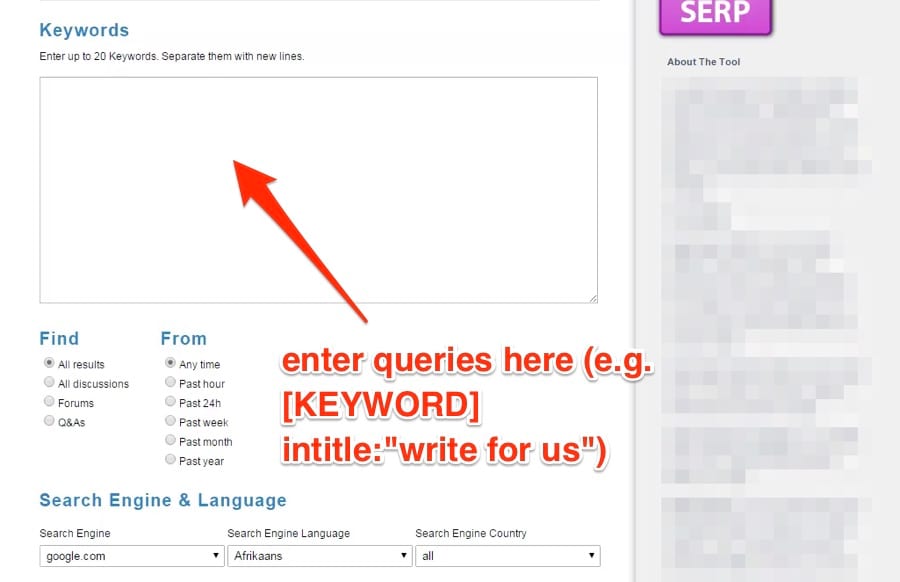 You can then refine/filter the list using the Bulk URL Analyser and Link Opportunities Review Tool before using the Contact Finder to pluck out email addresses and other contact information.
It's all about speed and efficiency here; you can go from zero to "ready to outreach" without ever using another tool.
Kerboo is a suite of link building tools primarily focussed on existing backlink analysis and monitoring.
But a couple of their main features are also super powerful when it comes to proactive link building, which are:
Backlink Analysis: Most of the demonstrations on the Kerboo website show this tool being used for checking/disavowing existing links, but this can also be used to quickly uncover high‐quality links—that you can then "steal"—on competitors sites.
Site Hunter: Allows you to perform powerful searches to quickly build lists of prospects; it'll also show you a ton of information for any site you wish (note: this is super‐useful for cutting down prospect lists, etc.)
I'd say the main selling point — and most powerful feature — is the sheer quantity of information it pulls into one place.
It pulls link data from Ahrefs, Majestic, and Google Search Console, along with hosting information (e.g. IP class, etc.), site type (blog, etc.), contact details, and much more (for any site).
Let's say that you wanted to analyse a competitor's links and steal their best ones.
If you paste their domain into the Backlink Analysis tool and import the links (from Ahrefs or Majestic), it'll pull in a ton of extra information about each of those links and allow you to vet them easily and quickly.
Any links you want to pursue can be added to the inbuilt CRM in seconds and Kerboo will also pull in super‐detailed contact information.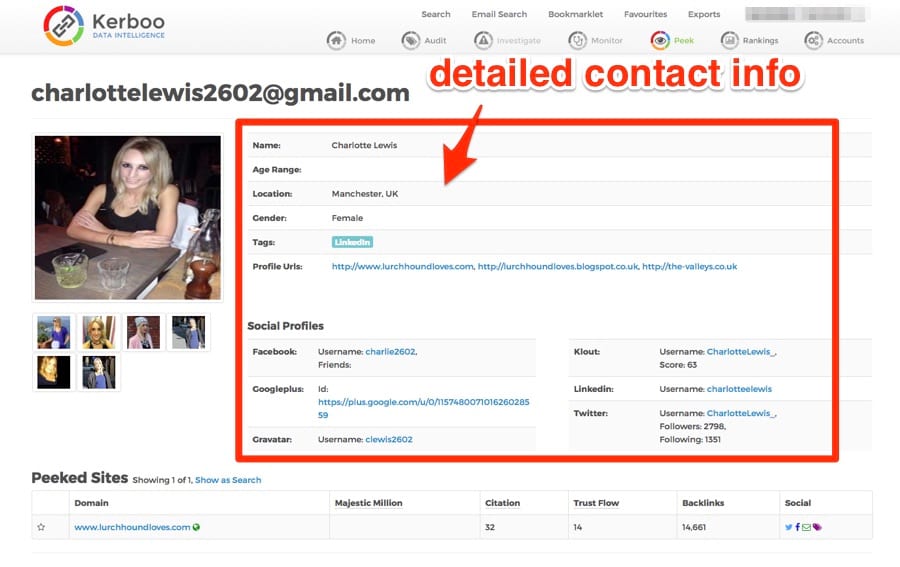 Most SEO's would be completely lost without spreadsheets.
But, while there's no denying that Excel as a standalone application is pretty much the most powerful SEO tool in history, there's a limit to what you can do with VLOOKUPS and INDEX/MATCH functions.
SeoTools for Excel adds a suite of custom SEO‐oriented functions to your spreadsheets; it can also pull in data from third‐party tools (including Ahrefs and other link indexes) using Connectors.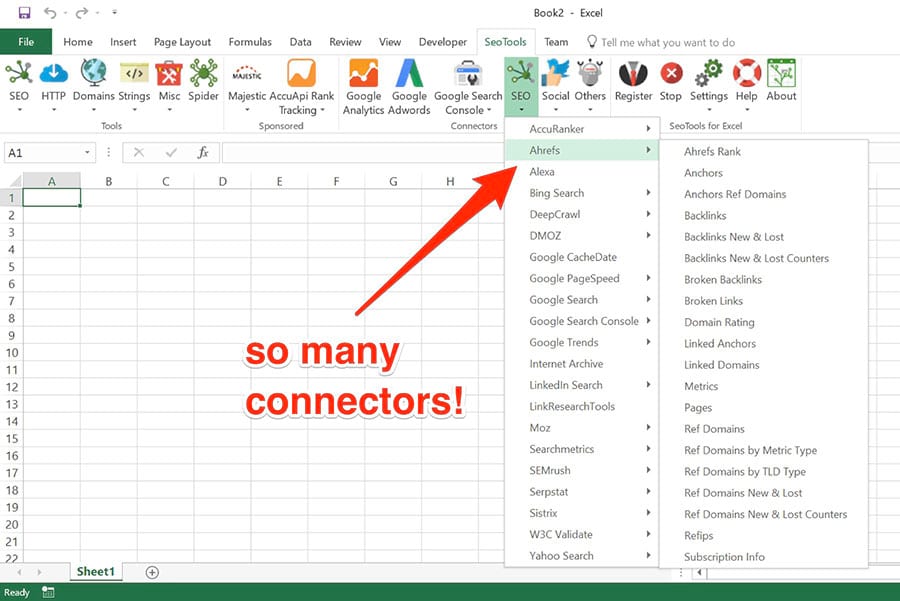 Let's say that you had a list of "resource" pages that you wanted to analyse.
With SeoTools for Excel, you could easily pull in metrics from every worthwhile link index (including Ahrefs), Alexa data, whois details, meta information (i.e. title tag, H‐tags, etc.), outbound link counts, and even if a particular word/phrase/link is found on the page.
Outreach Tools
I'm not going to go into the intricacies of outreach in this post (see here and here if you want to learn more about outreach) as we're focussed solely on tools here.
So, let's take a brief look at the three outreach tools most SEO's know as the "big 3":
Buzzstream (review): This is our tool of choice. It effectively combines a feature‐packed outreach tool with a CRM platform; this is useful for maintaining contact history for your prospects.
Pitchbox: This is a tool designed for SEO agencies and is arguably the most powerful of the three. It really shines when it comes to the automated follow‐up and scheduling capabilities; it allows you to do both at scale without sacrificing personalization.
NinjaOutreach: Automation is the name of the game with NinjaOutreach; it has automated follow‐ups, an inbuilt CRM, and some prospecting/processing capabilities, too.
I won't go into detail regarding the various features that these tools offer, but I do want to highlight one—often overlooked—feature in Buzzstream: custom fields.
Custom fields allow you to personalise outreach emails at scale with any information you like.
For example, if you wanted to include a unique introductory paragraph in each email (tailored for each prospect), you could simply create a "custom field" within the CRM, upload the tailored paragraph content, then insert this into each outreach email dynamically.

Sidenote.
Pitchbox and NinjaOutreach also have this feature.
You could also use a regular mail client (e.g. Gmail) but when you're doing things at scale, the features provided by a dedicated outreach tool (e.g. automatic follow‐ups, CRM, etc.) will make keeping track of things a whole lot simpler.
Here are a few other outreach tools you may wish to consider:
Conclusion
Link building isn't as difficult as most people make out and nor do you need a hundred different tools to build some high‐quality, needle‐moving links.
Why? Because the fundamental principles are the same for 99% of link building strategies—find prospects, vet them, make contact, and secure the link.
Sure, there's a certain level of nuance to successfully building links but link building tools aren't there to help you with this; their job is simply to make your life easier, not to provide you with the psychological skills required to successfully acquire links via outreach.