I saw quite a few statements that broken link building is dead. But is it? Or maybe most people just don't do it right?
Broken link building is supposed to be a fairly easy way to get quality links to your website:
you find a page with a broken link on it;
discover what used to be on the "dead" page;
check if you already have similar content or create a new piece;
reach out to the webmaster/editor to report a broken link and suggest your content as a "fix."
Nobody wants dead links on their websites. And you can reach out with one piece of relevant content to as many prospects as you can find. For link building, that sounds much more effective than, say, guest posting.
So why would people say that broken link building is no longer effective?
Here are just a few comments I saw on Reddit:


and

and finally

I went through quite a few broken link building guides (both articles and videos) to see what can possibly go wrong. And here's obviously the most challenging and time-consuming part of broken link building:
Loads of time is spent on finding relevant pages with broken links.
Here's the general process of finding broken link building opportunities recommended in nearly every guide:
1. Use Google search with advanced search operators to find pages listing relevant resources, websites, tools, products, etc., hoping they contain broken external links.
My recent interest is meditation, so I will use meditation and personal development topic for all the examples in this post. The searches I could use were:
meditation intitle:resources
meditation inurl:links
guides to meditation
meditation websites
meditation blogs intitle:list
etc.
A very detailed list of possible search queries can be found in The Broken Link Building Bible by MOZ.
2. Scrape search results
Then you have to save the pages from search results for further processing.
To automate this process, you can use Chrome extensions such as Linkclump or Link Clipper, which can export the list of URLs from SERPs into a .csv file.
This process will add quite a few duplicates to your list so you will have to remove them.
3. Extract all the external links from the pages on your list and check for 404s
Link Grabber Chrome extension can get you all the links from a page and Urlitor service will check the status of these links in bulk.

I think many of you don't know this trick, but Google Sheets can extract all the external links from a page with this formula:
=IMPORTXML("page url","//a[not(contains(@href, 'domain'))]/@href")
If you want a few more helpful spreadsheets formulas for SEOs, look here:
10 Google Sheets Formulas Every SEO Should Know
Alternatively, you can open the links scraped from Google's SERP one by one in Chrome browser and Broken Link Checker Chrome extension will point you to the broken links on a page (if any).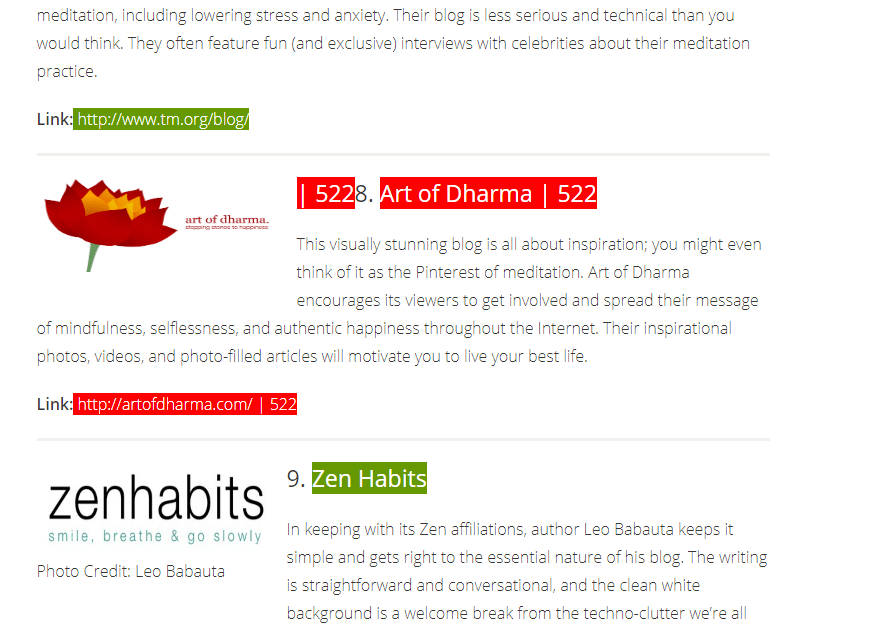 4. Review your list to see if there's anything worth a shot
The whole process described above won't bring you tons of opportunities. And you will narrow that list down having filtered out pages with low quality and low relevance.
No wonder many SEOs think this link building strategy is not effective.
One way to simplify this whole process is to get ScrapeBox tool which can handle items 1 to 3 from the process. But for a large number of "scrapes," you will need proxies.
So is there anything you can do to optimize the process of finding dead links?
You can change the whole approach!
Broken link building with Ahrefs
Instead of looking for the pages that might contain broken links, you can search for relevant dead pages that have quite a few backlinks. This approach is much more effective than looking for a broken link on one page.
Find the dead pages with lots of backlinks
Ahrefs' Broken Link Checker is your best assistant here. It has got more than 2 Trillion external backlinks in its database, including the broken ones.
First off, you have to come up with a list of your competitors' websites as well as top authoritative sites in your niche to analyze them in Ahrefs Site Explorer.
Here's my short list of websites and blogs that cover the topic of meditation:
If you're a regular user of Ahrefs toolset, you probably think that now I'm going to show you how to use the Broken Backlinks report? Well, not exactly 🙂
The best way to find broken link building opportunities lays in Pages -> Best by Links report in Site Explorer.
Let me demonstrate you this report for one of the websites on my list.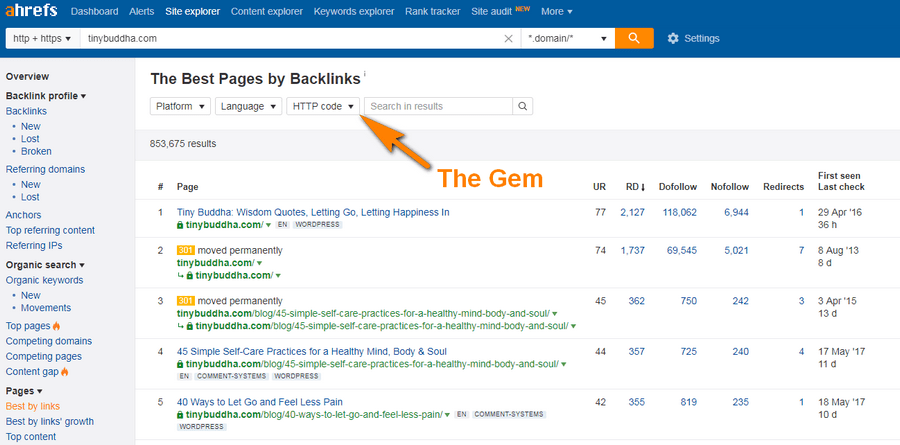 HTTP code filter is the gem. You can apply it to see the URLs on a website, which return a 404 (Not Found) HTTP response code and their backlinks.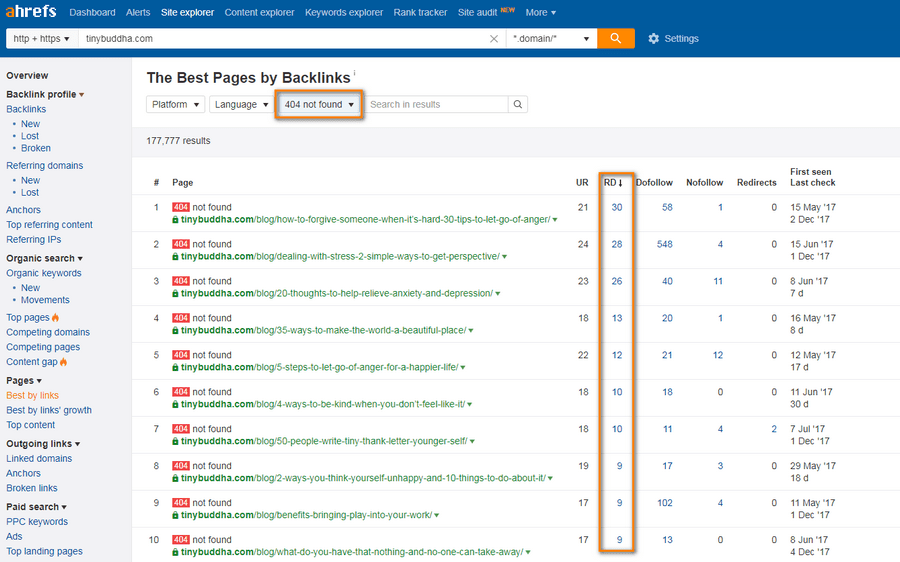 One of the pages that no longer exist on tinybuddha.com has still got 30 referring domains!
A click on the RD number will show you a list of websites that link to this page, sorted by their Domain Rating (with the strongest on top).
A quick check on Wayback Machine and I know that the URL used to point to the article about forgiveness.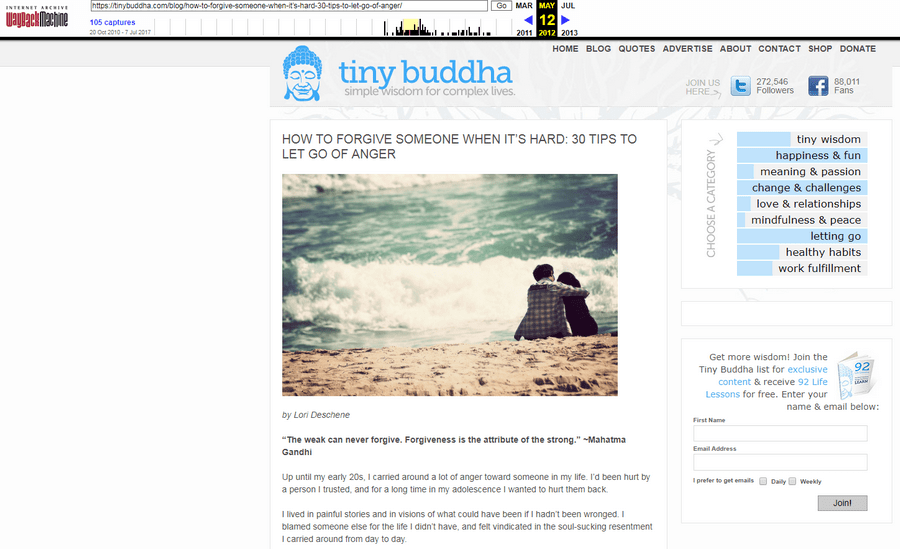 And even if there would be no data about it in Web Archive, I could still tell that from the anchor texts and surrounding texts that you can see in Ahrefs: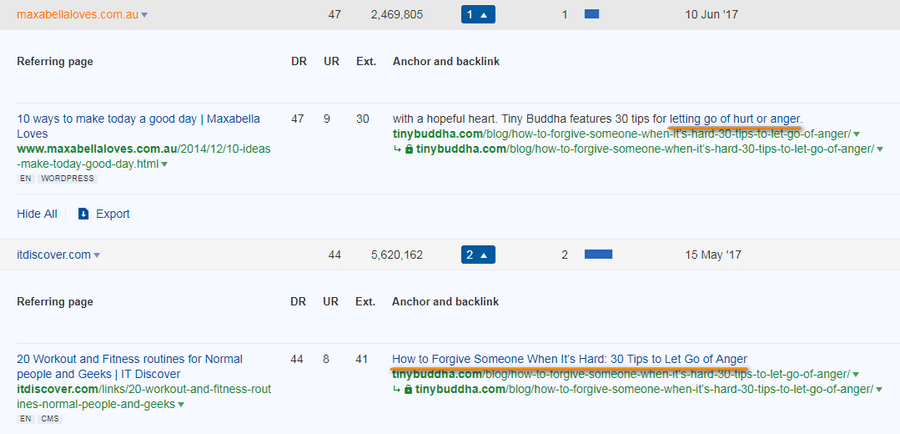 I could write an article on a similar topic and reach out to webmasters to warn them about a broken link on their website and suggest my own content as a fix.
Sure thing, not all of the 30 referring domains are worth reaching out to. I filtered out some forums and low-quality opportunities and in the end I had a list of 12 prospects.
Not bad. Considering I spent less than 10 minutes to find them. And that was only one article on one website! If you repeat this process for all the sites on your list and analyze all of their 404 pages, you will get dozens if not hundreds of opportunities for your broken link building campaign.
That was just one way Ahrefs can help you with finding broken link building opportunities. There's more!
Find the whole dead domains with lots of backlinks
In a very similar way, you can search for the domains in your niche that have expired, shut down, or moved and check their backlink profiles in Ahrefs Site Explorer.
A detailed process for the expired domains can be found here: This 'Inverted Broken Link Building' Strategy Will Make You Facepalm
As for the websites that changed names or moved, check out this guide from Brian Dean: How to Get High Quality Backlinks (Without Guest Posting)
To be consistent, I tried these methods to find some quality link building opportunities for the niche of meditation and personal development, and I failed. But it may quite work for your niche.
There's one more broken link building trick where Ahrefs will come in handy!
Find broken external links on the top websites in your niche
Zenhabits.net is a very reputable website in the niche I'm interested in (remember, we're still in the niche of meditation and personal development). And I desperately want it to link to my website.
Let us check its broken outgoing links in Ahrefs Site Explorer: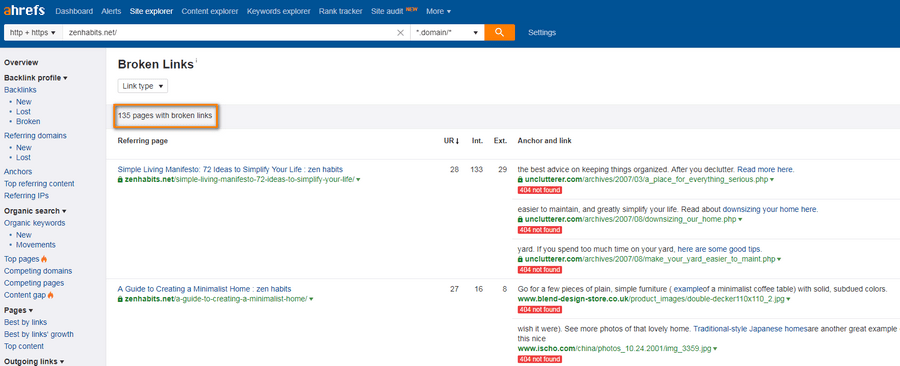 135 pages on this website have links to the external pages that are no longer available.
I did a quick check and here's a promising opportunity: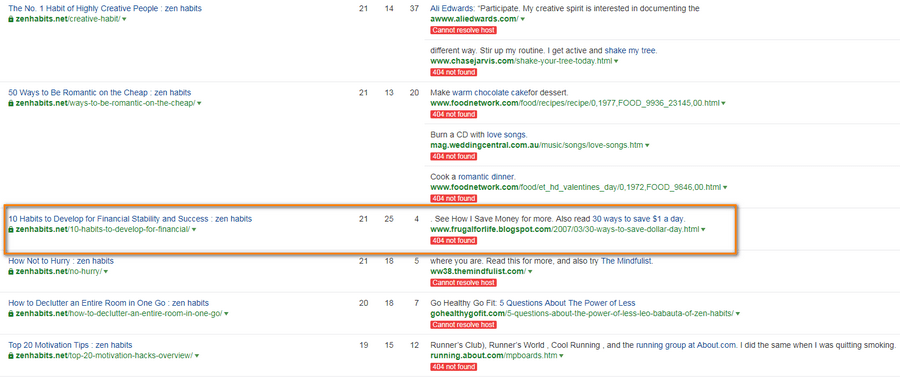 There's a broken link to some article listing 30 ways to save $1 per day.
I could write an article about that and suggest it as a fix to that broken link.
But I can squeeze even more from that single broken link I found!
I went ahead and analyzed the dead URL in Site Explorer. And guess what?

It had another 13 referring domains I could reach out to with my content!
This broken link building method is much more efficient than scanning a whole website with tools like Screaming Frog or Xenu's Link Sleuth in search of broken links.
Final words
What I have not covered in this post is your outreach.
I'm afraid I've got nothing new to add to these 2 blog posts from our head of marketing, Tom Soulo:
I Just Deleted Your Outreach Email Without Reading. And NO, I Don't Feel Sorry
How We Use Blogger Outreach To Promote Content And Build Links
Even though Ahrefs will help you easily find tons of opportunities, with poor content and spammy messages you won't go far in broken link building.
I'd love to hear your opinion. Is broken link building really dead or people do it wrong?
What's your recent experience? Let us have a discussion in the comments below!
Editor's note
This post is an update and a reframe of an article originally written for our blog by Sean Markey from
Visible HQ
.