Like a major city ten years after a zombie apocalypse, the internet is rotting away.
I'm not talking about the rise of clickbait (burn!), but something called Linkrot — the increasing number of old websites, that were at one time linked and active, but no longer exist.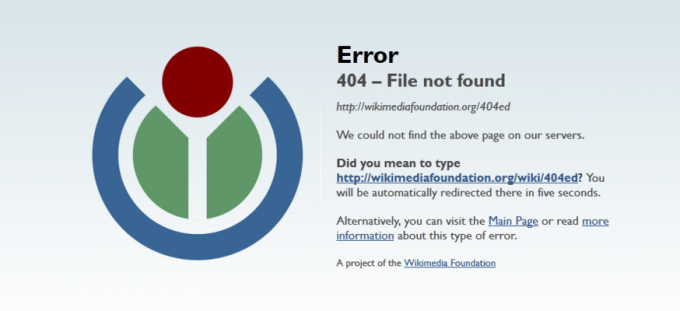 Linkrot leads to a user experience where once-helpful resources are no longer useful.
For the marketer in search of quality backlinks, this presents a straight-forward and powerful opportunity: broken link building.
Broken link building is a great technique, at home in any agency's SEO toolbox.
In this straightforward and actionable guide, I'll be using Ahrefs and a few other tools to help research and prospect for broken links.
What is Broken Link Building?
Broken link building is the process of identifying broken external links on websites, where the broken link is pointing to content similar to an article you've written. The goal is to get the broken link replaced with a link to your working page.
It's a win for all parties involved; the linking website gets to fix their page with very little effort, you get a high quality, relevant link, and readers get to avoid any dead ends while browsing.
Though the concept itself is simple, it can be time consuming to execute.
Let's walk through the steps involved.
Search Operators for Finding Broken Links
The first step in this process is finding relevant sites: sites you would LOVE to get a link from, and sites that would benefit from linking to your content.
The best course here is to start general and, as you see what sites come back in the search, make the searches more specific to refine the results.
You can tweak these search operators as needed for your specific niche, but here are some examples as a starting point:
"keyword" intitle:resources
"keyword" intitle:recommended
"keyword" intitle:resources intitle:submit <— this gives me results of sites looking to add sites to their resource page, so might be more receptive to BLB outreach
"keyword" inurl:.edu -.pdf <— for those sweet Edu links. Search excludes .pdf results (of which there were many), since those are a bad fit.
"keyword" inurl:.org -.pdf intitle:resources <— very specific search that yields a lot of appropriate pages.
A few search tips
Use a minus sign (-) to exclude certain results. For example:
"-.pdf" — eliminates results that are PDFs
"-site:wikipedia.org" — eliminates all results part of the wikipedia.org domain
"-word" — eliminates all results that contain the specific word you entered—great for when different concepts share the same word.
Specify where you want the keyword search. For example:
inurl: keyword <— returns results where the keyword is in the URL
intitle: keyword <— returns results where the keyword is in the title
intext: keyword <— returns results where the keyword is in the text
If you want to really dig in to search queries, check out this Point Blank SEO post
Once you find relevant sites, grab the page-specific URLs and paste them into a spreadsheet.
Tools for Finding Broken Links
Now that we have a list of potential websites, it's time to find out if they have any broken links.
There's no need to go through every URL and manually check each link on a page. There are tools you can use to speed this process up, but it does remain a relatively long process overall.
The best tool I've found for this is Domain Hunter Plus — a Chrome extension that will analyze all links on a page, show you the broken links, and whether the domain is available. It even has an option to export.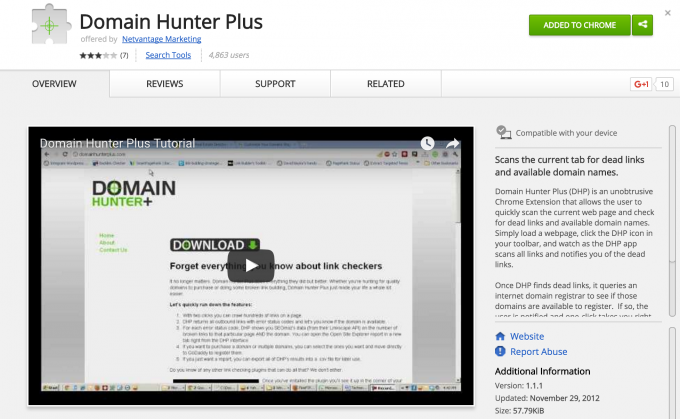 Here are other tools that may be useful if either a Chrome extension doesn't fit with your workflow, or if you need a more powerful feature-set:
Ahrefs Site Explorer — an effective tool for showing all 404'd outgoing links for a domain (watch a video of the process at the end of this tutorial).

Check My Links — another Chrome Extension
Screaming Frog — like Ahrefs, this tool does a lot more than just identify broken outgoing links.
Broken Link Builder — a web app (starts at $67/mo)
Xenu Link Sleuth — A powerful tool with a bit of a learning curve
Qualifying Pages
This is probably the most time-consuming part of the process but it's the part that will ensure you achieve a winning campaign. If you reach out to every broken link you find, regardless of whether or not it's a good fit, you'll end up wasting a lot of time.
Since it takes a certain amount of energy to get the right contact info and to craft the right kind of message (more on that below), you don't want to waste your team's time, and the time of everyone you're reaching out to.
Pages can be characterized as low quality for a number of reasons:
Too many outbound links (OBLs)
Lots of spammy backlinks
A hacked page with outgoing links to common spammy niches
A low word count and content that doesn't offer much value
Content that is barely related to your niche
Qualifying pages is subjective. The standards of one niche won't necessarily align with the definition of quality in another. Decide what a quality page looks like to you, in your niche, and don't target any pages that don't meet your standards.
Reaching Out to Prospects
Along with qualifying a page, actually reaching out to prospects is another time consuming activity. But, your previous research and analysis has led you to this final step. Get this right, and you'll find yourself with some very relevant, strong links.
Follow Best Practices for Outreach
I've written before about why outreach campaigns fail. It's not complicated, but to sum it up:
Offer value, don't waste anyone's time, and try to build a relationship.
Keep your email short and to the point. Don't be cagey about your motivation: you're hoping they'll replace the broken link with a link to your site.
This leads us to:
Have a Good Resource to Share
No one wants to link to a "resource" you slapped together in ten minutes. If you're trying to replace a list of 100 best free iOS apps for teachers with a list of seven you got from a quick Google search, you're not following best practices. You're wasting everyone's time in not offering something of value.
This is where the qualifying of prospects becomes important. Make sure the asset you're trying to build links to is:
relevant to the site you're reaching out to
a high-quality, valuable resource
AT LEAST as good as the piece of content you are trying to replace (you can plug the broken link into http://web.archive.org to see what the page used to be).
You should see a fairly high positive response rate if you're doing this right: after all you're offering something of value to the site owner you're contacting.
Still, be prepared for a negative response, or the complete lack of a response, no matter how targeted your research, or how perfect the email you compose. Some people are busy or don't care.
Outreach is a numbers game and no one bats a thousand, so don't get discouraged!
Example Research
Instead of only telling you how to research broken links, here's a quick example of what a campaign might look like:
Let's say I've got a free (with in-app purchases) iPad app for teachers that I'm trying to build links to. I have an article on my site about the best free iPad apps for educators.
Search for Relevant Web Pages
I look for relevant sites by starting with general search queries, such as:
"iOS apps for teachers" inurl:resources
Next I comb through the results and take note of common keyword phrases, which leads me to this query:
"resources for educators" intext:free ipad app -site:apple.com -.doc -.pdf -site:pinterest.com
After listing all the results in my spreadsheet, I run Domain Hunter Plus on each page, looking at the broken links.
For example, this page:
http://www.emergingedtech.com/free-productivity-resources-for-teachers
Most of the links that Domain Hunter Plus has identified are actually URLs that are still active, but for one reason or another — maybe some previous canonical mistakes, maybe the the domain forwards to another domain and the redirects are messed up — the domains are coming up as 404s, but aren't a good fit for us to replace with our link.
But there are two domains I'm very interested in:
Why? Because those two articles
a) don't exist online anymore, and
b) are very relevant to my site/the piece of content I've created
I therefore believe I stand a good chance of having this site replace at least one of the broken links with a link to my site.
I make note of the two broken links on that page, and move on to the next domain.
Outreach
Once I have a list of relevant pages with broken links my article could replace, I use a tool like EmailHunter.co to find the contact info of the site owner.
The Next step is to compose a simple email to the site owner. There are a lot of variables depending on the niche, but here's a template you can use as a starting point:
[Name],

I was doing some research on [topic] and came across your resource at [URL].

There is good information here, but I noticed your link to [site] returns an error (maybe the site is down, or the post has been removed). I've previously written a similar article to the one that's missing.

If you'd like, check it out and see if it makes sense to replace the broken link:

[link]

Either way, thanks for creating and sharing a great resource on [topic].

[Your Salutation]
It can be as simple as that. Keep track of which sites you reach out to in your spreadsheet. I recommend sending at least one follow-up email if you get no response. People are busy and you know from experience how an inbox can pile up, email forgotten.
Here's a template of what your follow up might look like:
[Name],

I'm following up to see if you got my email about some broken links I found on [site].

Let me know!

Your Salutation
That's it. Don't complicate it. If they saw your first email and meant to respond, this will give them a gentle reminder. If they genuinely missed your first email, they will be curious about broken links and may respond.
Keep it simple and be straight forward.
Try variations on these templates, or Google for some broken link building email templates. There are plenty out there.
Once you've done an outreach campaign for all the links you've found, here's a trick on how to easily find a bunch of other sites to reach out to.
Double Down on a Relevant Broken Link
Now that we've identified a page that is 404ing — one we have a good replacement article for — we can plug that domain into Ahrefs and see if other sites are linking to it:
Success!
There are 22 other domains linking to this page. Sort the results by Domain Rating to find the domains that are relevant, and would likey be receptive to linking to the *live* page vs. the dead one.
Rearrange the list of domains by Domain Rating (descending) and click on the "backlinks" button to see how each backlink exists in the article.
Here's an example of a bad fit:

Why is this a bad fit? Because it's a very specific (too specific!) page that is probably no longer in use (based on the context) and having a broken link changed here doesn't offer any value to the site/page owner.
Bummer. That would have been a good link to get!
Here's an example of a good fit:

Why? Because it's an active site (that has linked to the broken link several times) and there would be value to both the site owner and the site readers to have a link that works.
Of course, there's always a chance that a linking property is owned by the 404'd site — you never know! But this is a really good candidate to further research and put on the "to contact" list.
If you do this for every broken link you find, you exponentially increase the amount of possible links you can get.
Wrapping It Up
The Broken Link Building method is the cornerstone to a long-term, authority-building SEO campaign. There are quicker link building methods out there, but few that offer as much value to clients, readers, and other website owners.
Here's a quick recap on the process:
Start using general search operators and make them more specific as you analyze results.
Once you start finding promising sites, use tools to help you identify relevant broken links.
Qualify the pages you find with relevant broken links by looking at the quality of the page. You can characterize quality by considering the value of the overall content, the absence of spam, and the amount it relates to your niche.
Reach out to prospects using best practices, keeping emails short and direct; try to create value for the recipient; be up-front about what you're suggesting.
Finally, have a high-quality piece of content to share.
Hopefully this guide will help you launch a successful broken link building campaign. Happy hunting!
Watch the video below for a walk-through of the process you can use to find high quality broken link opportunities with Ahrefs Site Explorer.
https://www.youtube.com/watch?v=MJG4LKUGcrU