Organic search refers to the non-paid search results from a search engine. These results can't be bought or influenced by advertisers; they're the ones the search engine deems most relevant to the user's search query.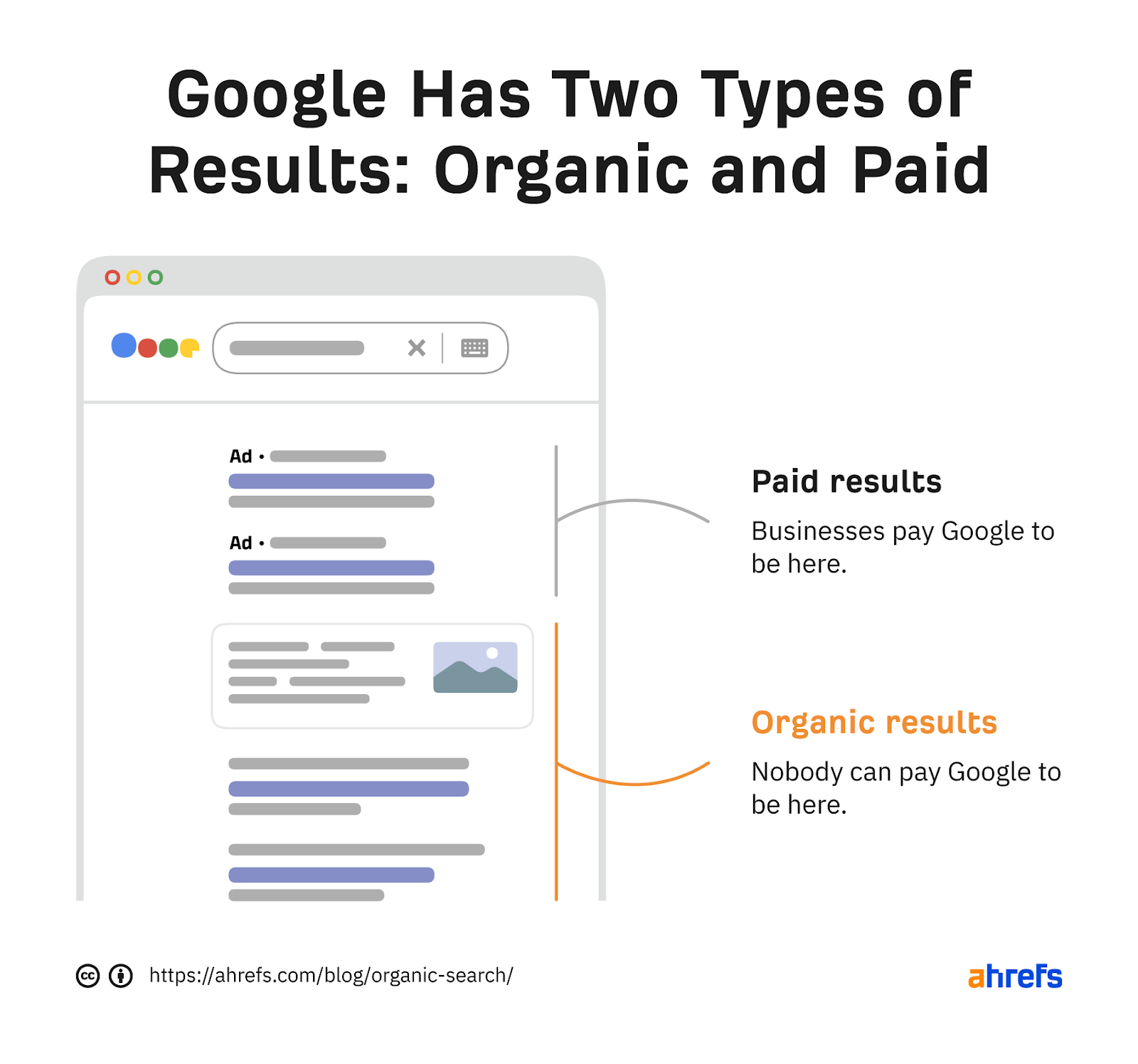 In this guide, we'll cover:
In Google, most organic search results look like this:

These are known as "blue link" results.
Many years ago, all of Google's organic search results looked this way. Now there's more variation and you'll see different 'types' of results popping up fairly frequently.
Let's take a look at just a few of them.
Featured snippets
Featured snippets are short snippets that briefly answer the searcher's question. They appear at or near the top of Google's organic search results and the snippet is pulled from one of the top-ranking results.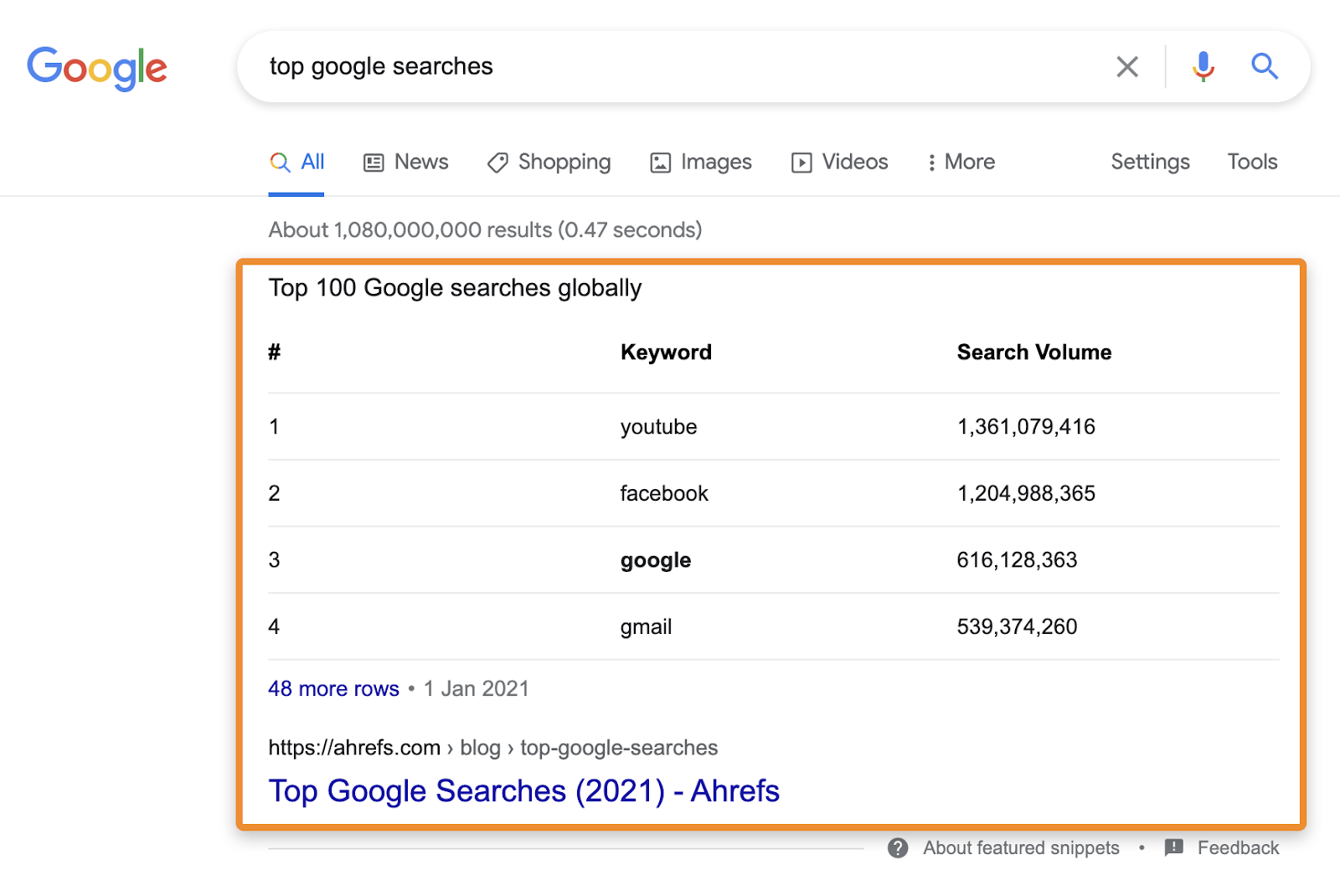 You can see all the featured snippets your website owns for free in Ahrefs Webmaster Tools (AWT).
Here's how:
Sign up for a free Ahrefs Webmaster Tools (AWT) account
Paste your website into Site Explorer
Go to the Organic Keywords 2.0 report
Click the "SERP features" filter
Filter for featured snippets "where target ranks"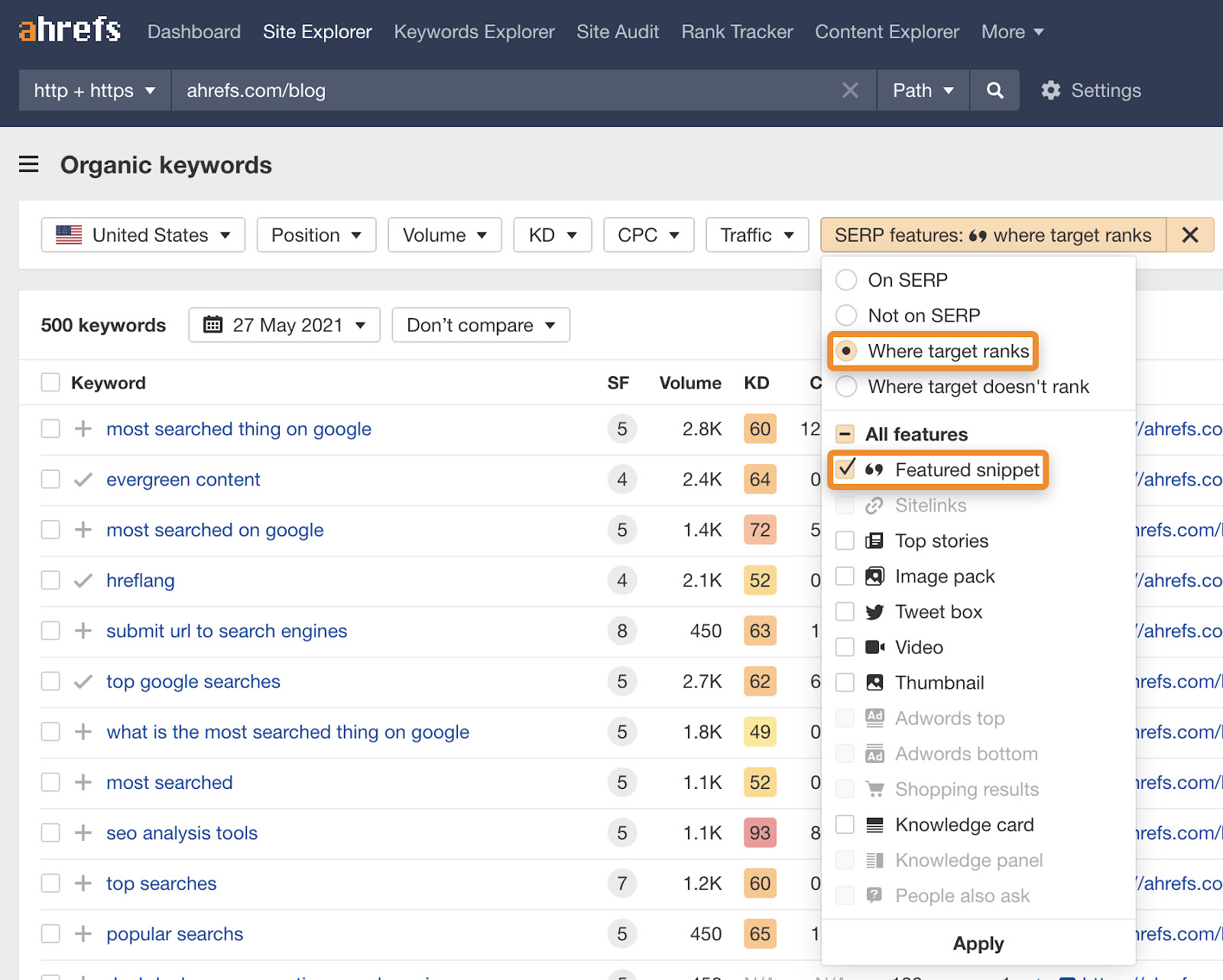 Video carousels
Video carousels feature videos related to the search query. The entire carousel takes up one organic position.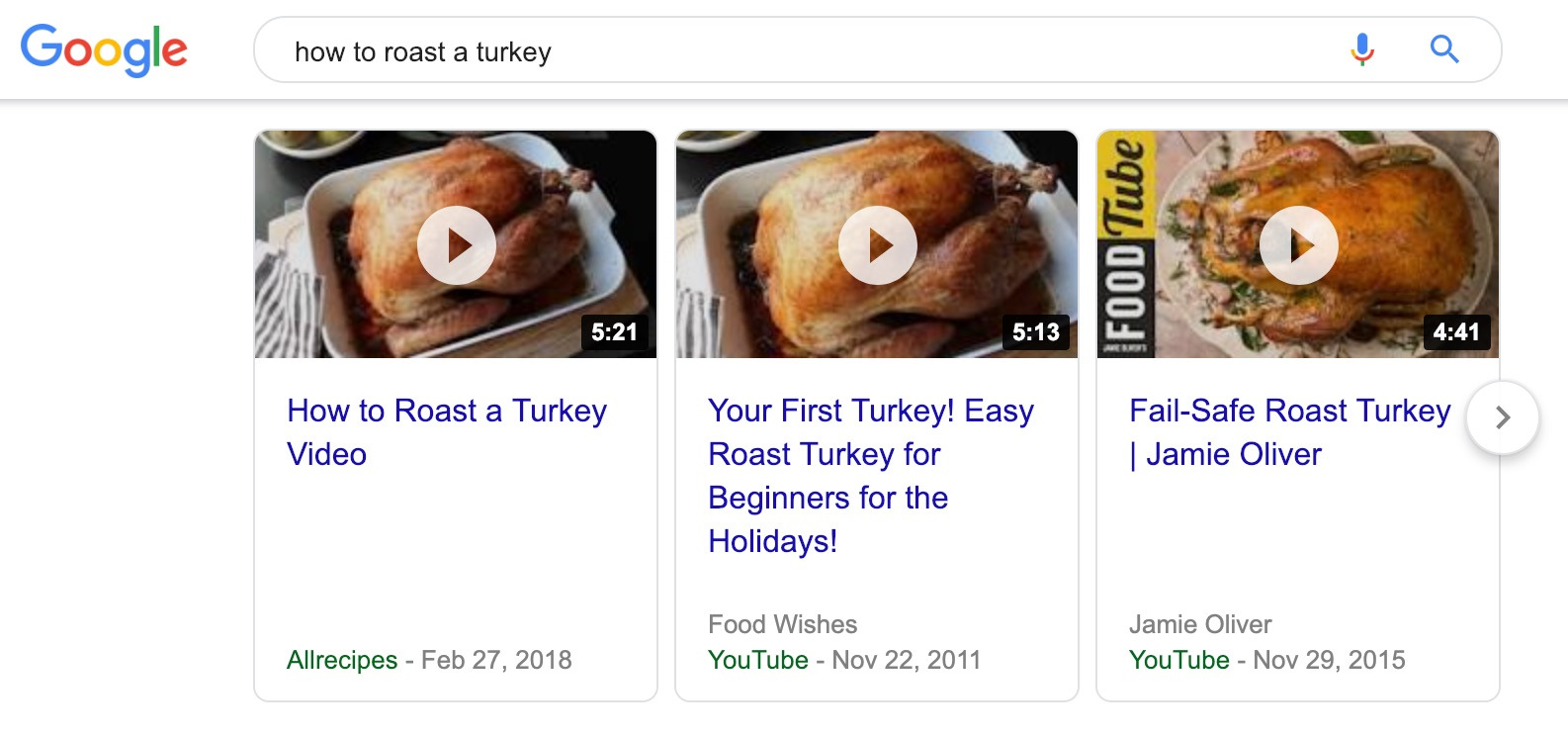 Top stories
Top stories boxes feature recently published content about a topic. These usually show up in the organic results for newsworthy topics.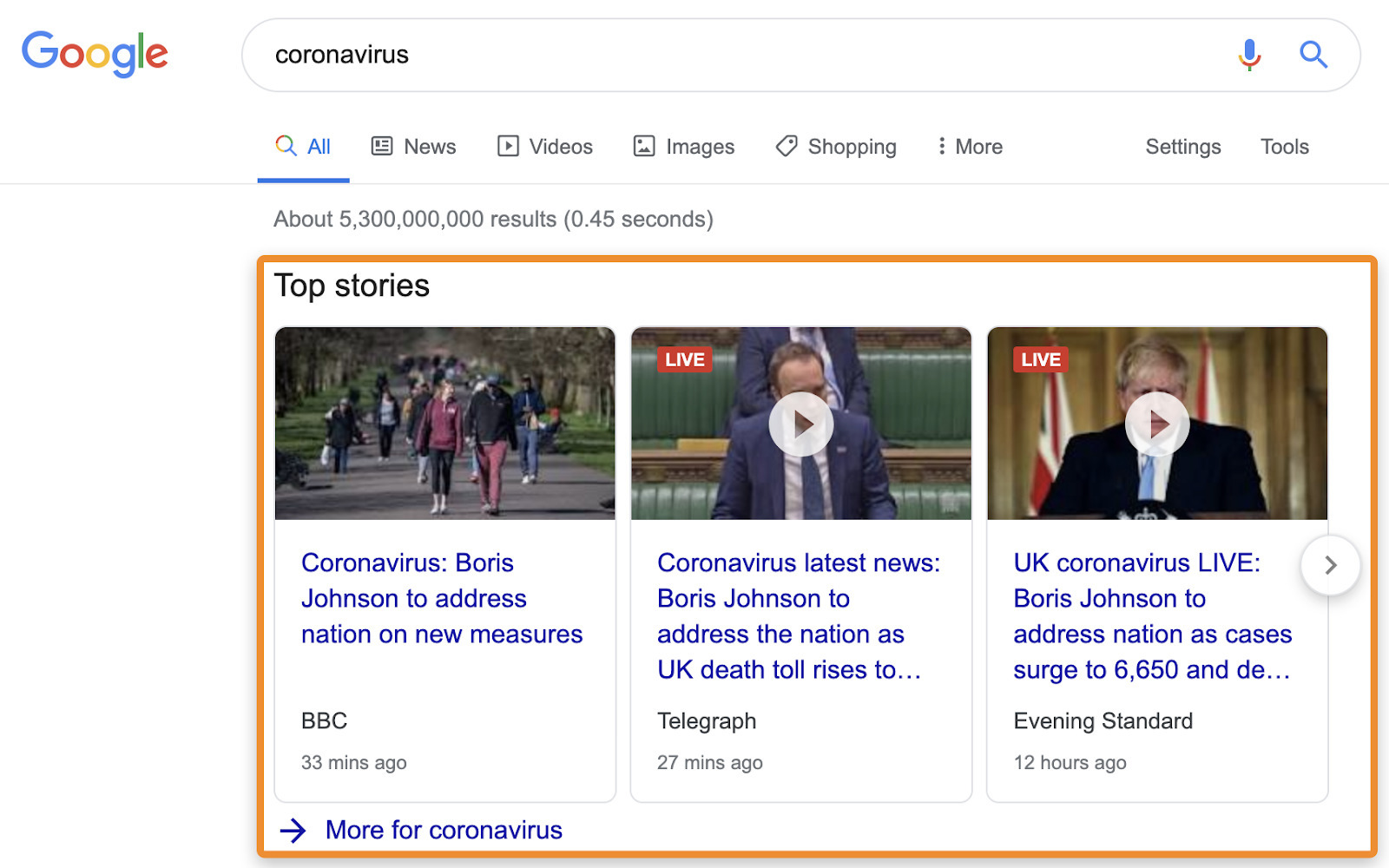 People also ask
People also ask (PAA) boxes show common questions that people also tend to search for. Each question is answered with a short excerpt pulled from a relevant page on the web.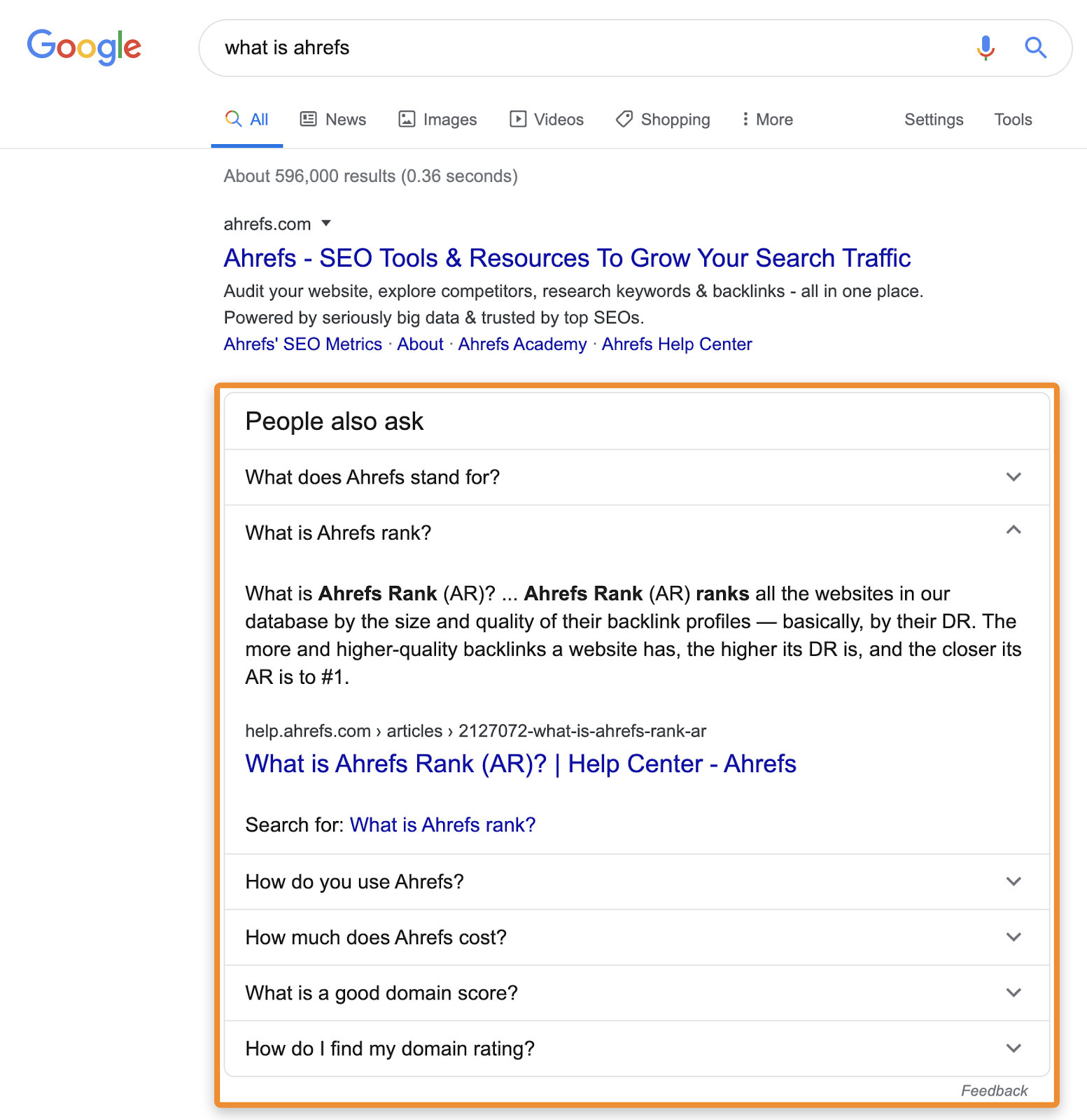 Recommended reading: What are SERPs? Search Engine Results Pages Explained
Ranking in organic search for relevant keywords drives 'free' traffic to your website.
For example, the Ahrefs Blog gets an estimated 355,000 visits from organic search each month:

If we had to pay Google for this traffic, it would cost us an estimated $946,000 per month:

Given that you have to create and produce content to rank in organic search results, the cost of traffic from organic search is never truly free. But, as is the case for us, it's often the most cost-effective way of driving high-quality targeted traffic to a website.
Organic search is also important for anyone publishing videos on YouTube, as Google often ranks YouTube videos in their video carousels and featured snippets.
In other words, ranking your videos in Google can often send plenty of views your way.
For example, this video showing how to make an apple turnover gets an estimated 6,600 monthly visits from Google according to Ahrefs' Content Explorer: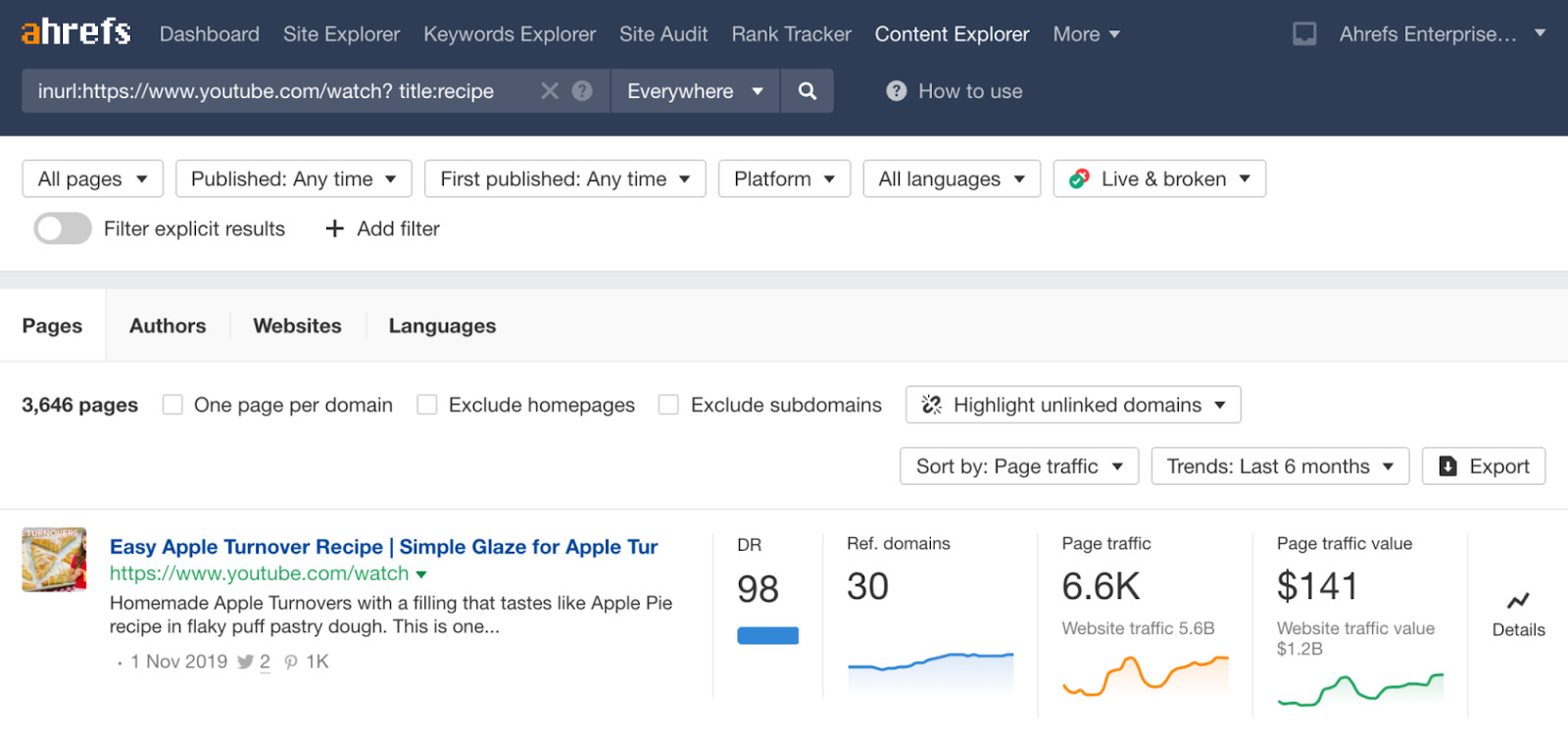 If you're curious where your website ranks in organic search for a particular keyword, try Ahrefs' free rank checker.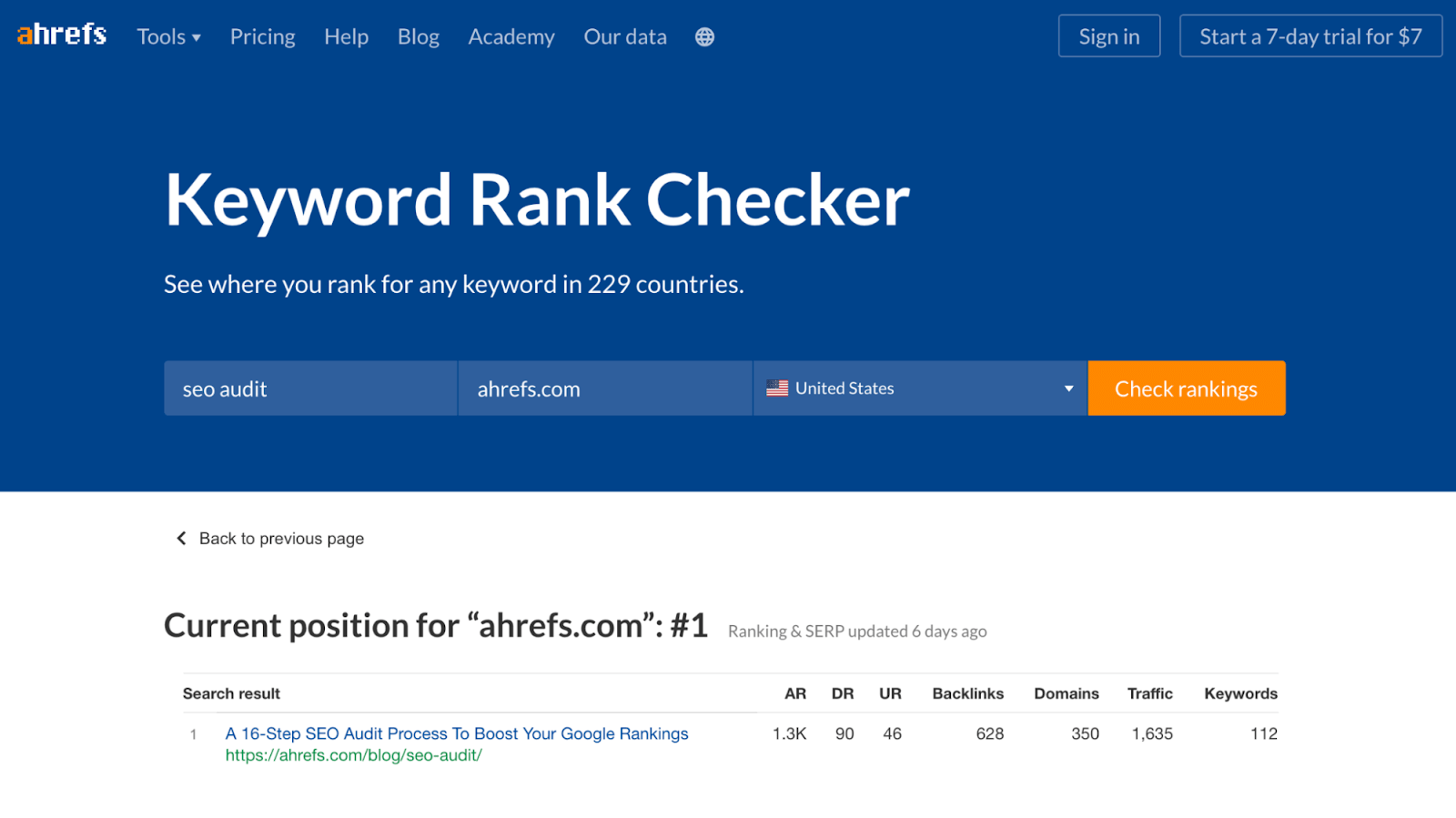 Alternatively, if you want to see all the keywords you rank for in the top 100 organic search results, try this:
Here you'll see all of the keywords from our database of 450+ million keywords, plus ranking positions and other keyword metrics.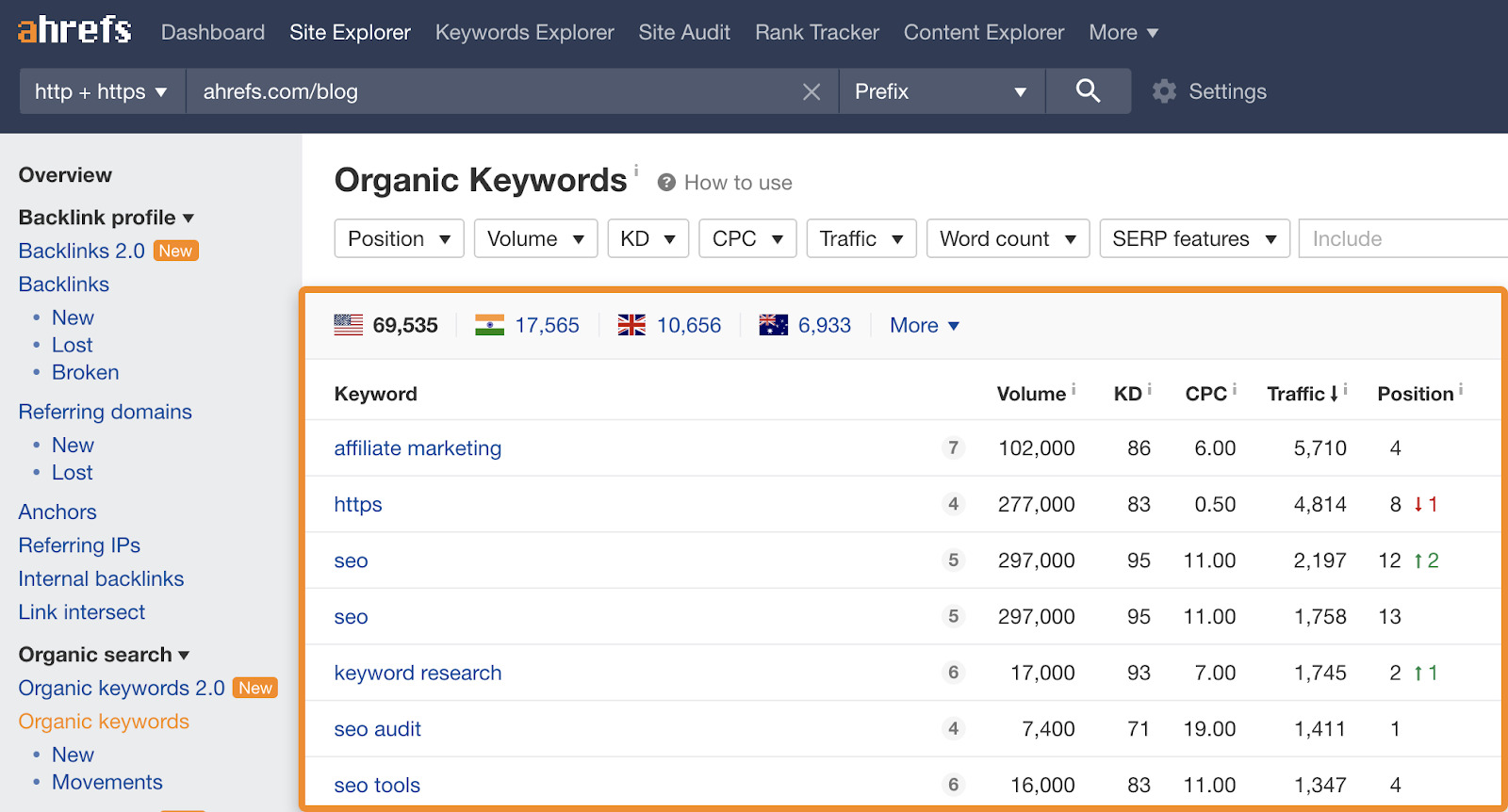 Sidenote.
You can also see keyword rankings in Google Search Console. However, unlike AWT, it limits you to 1,000 keywords and shows average ranking positions.
If you want to monitor your rankings for a particular keyword over time, just add it to a rank tracking tool like Ahrefs' Rank Tracker.
Ranking higher in organic search usually leads to more organic traffic to your website.
Nobody knows exactly how Google ranks web pages, but we do know some of the more important factors that play a role.
Here are just five of them:
Backlinks
Backlinks are an important known ranking factor.
Google's Search Quality Senior Strategist, Andrey Lipattsev, confirmed this during a webinar in 2016, and we found a clear correlation between backlinks and organic traffic in our independent study of over one billion webpages: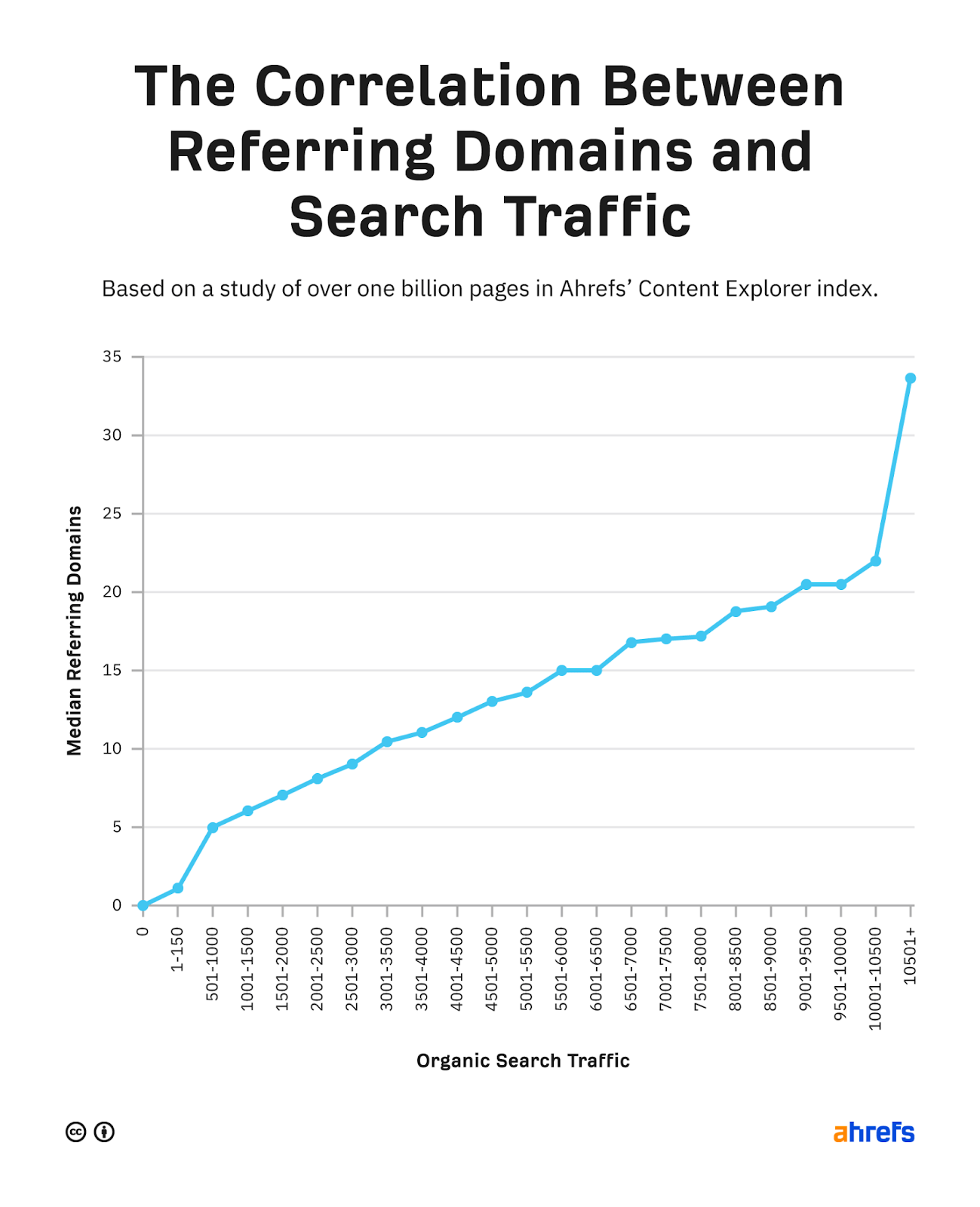 There are plenty of link building tactics you can use to get more backlinks, but arguably the best starting point is to analyze who's linking to competing top-ranking pages and why.
For example, let's say that you wanted to rank for "resume tips."
If you plug one of the top-ranking pages for this keyword into Ahrefs' Site Explorer and check the Backlinks report, you'll see quite a few backlinks from pages offering career advice.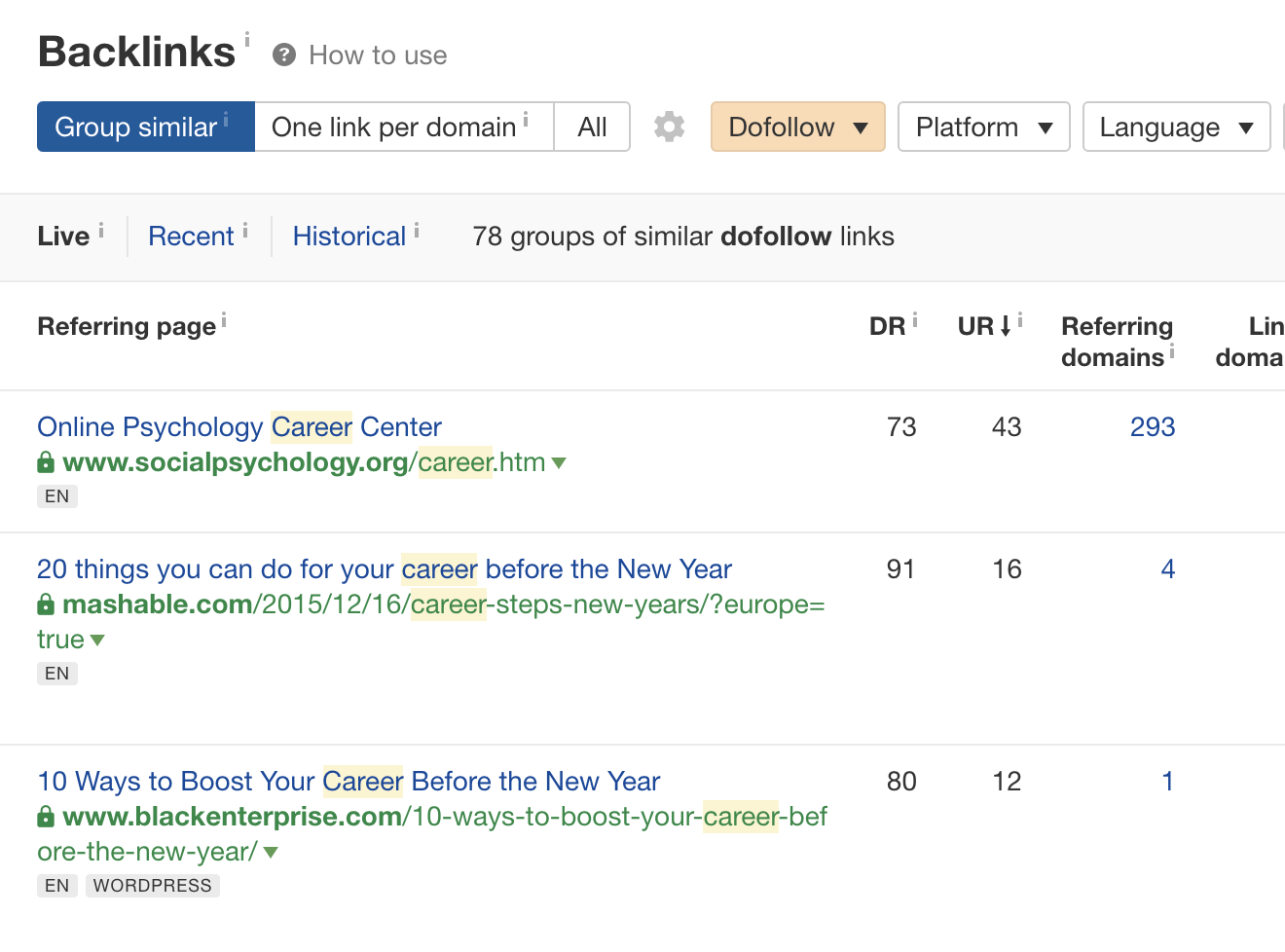 Given this fact, it might make sense to pitch your link to the authors of posts about career advice.
Recommended reading: Link Building for SEO: The Beginner's Guide
Relevance
Google has many ways of determining page relevance, with the most basic signal being whether your page contains "the same keywords as your search query."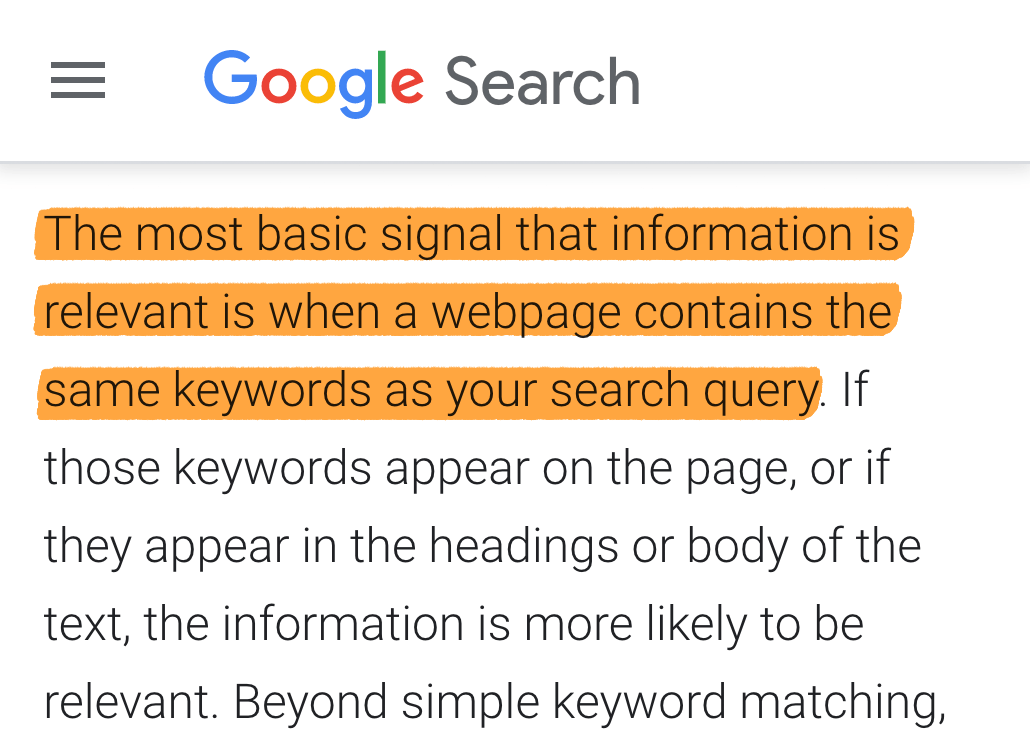 But including keywords won't help you rank higher in organic search unless your page aligns with search intent, which is the reason behind the search query.
For example, it's clear from the search results for "resume tips" that people are looking for a blog post in the listicle format.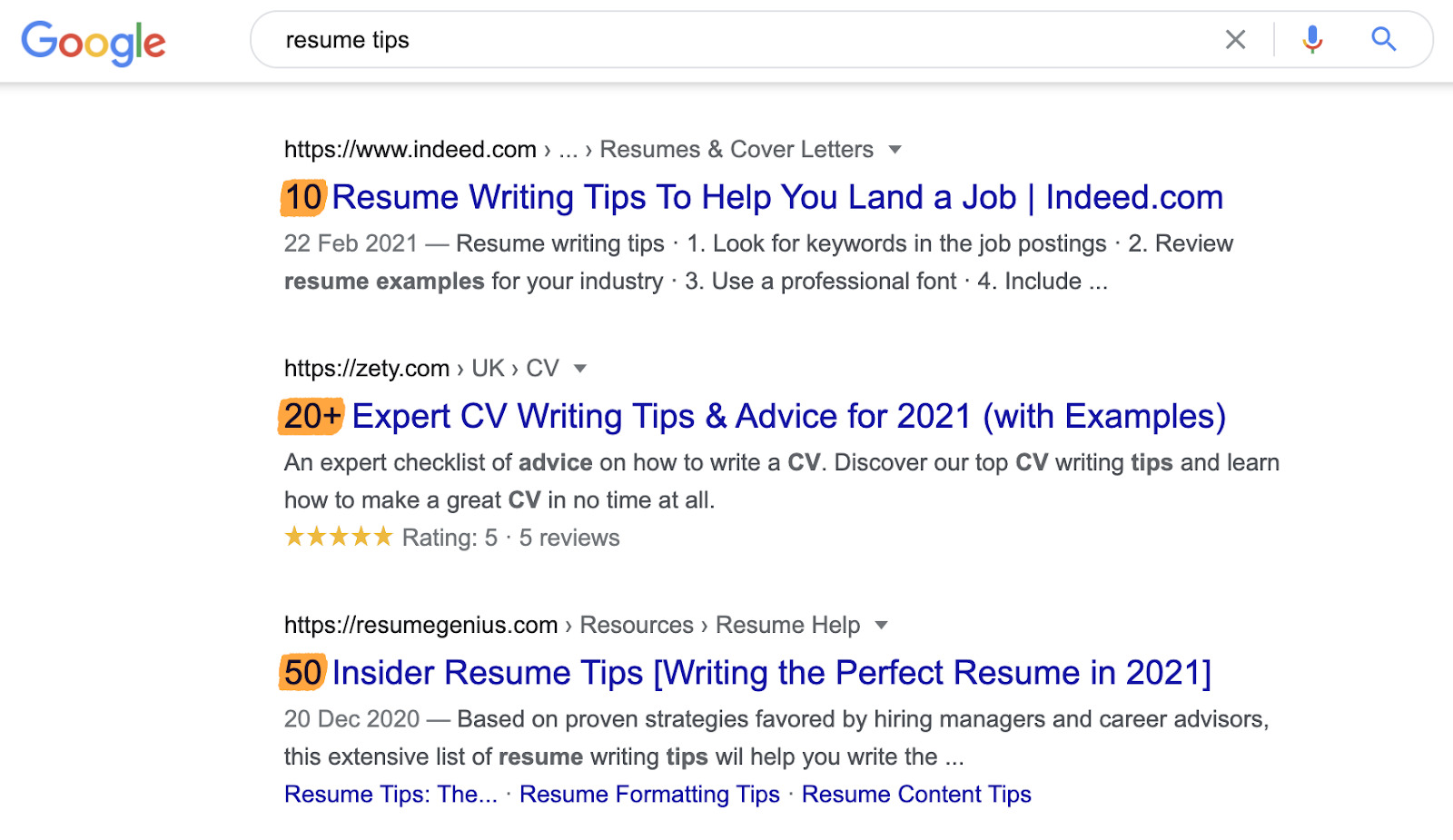 If you were to publish a page selling a book of resume tips, it almost certainly wouldn't rank in organic search for this keyword because it fails to align with search intent. Searchers are looking to learn, not buy.
The opposite is true for the keyword "resume builder" where searchers are looking for a tool, not a blog post.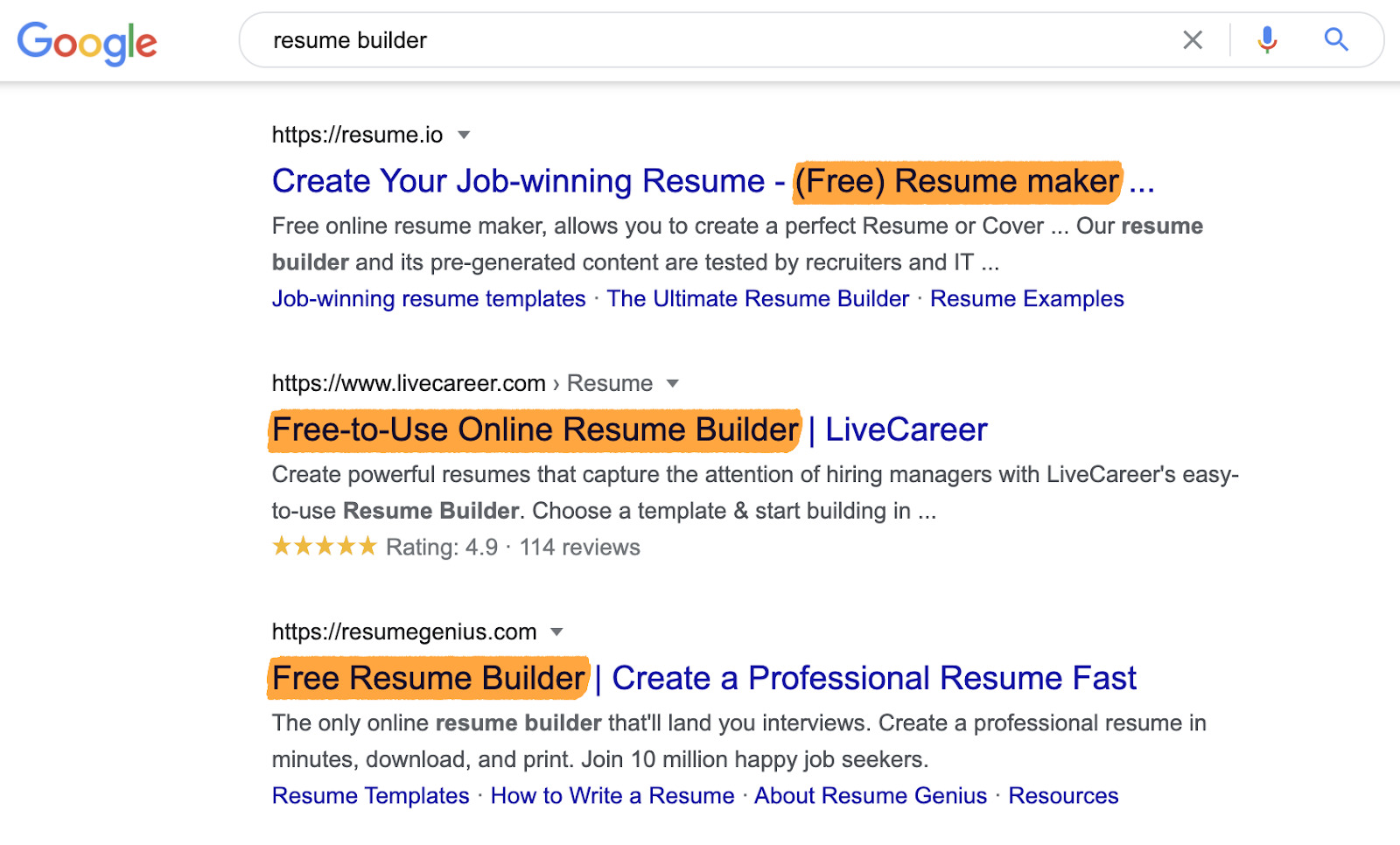 Recommended reading: What is Search Intent? A Complete Guide for Beginners
HTTPs
HTTPs encrypts all data sent between the user and your server to improve security. It's been a small Google ranking factor since 2014.
How do you know if your website uses HTTPs?
Just look at the browser bar. If there's a lock icon, the connection is secure:

If this isn't the case, it's worth fixing.
Recommended reading: What is HTTPS? Everything You Need to Know
Mobile-friendliness
Mobile-friendliness became a ranking factor for mobile results in 2015. Now, with Google's move to mobile-first indexing almost complete, it's also a ranking factor for most sites on desktop.
If you're curious how mobile-friendly your site is, check the "Mobile Usability" report in Google Search Console: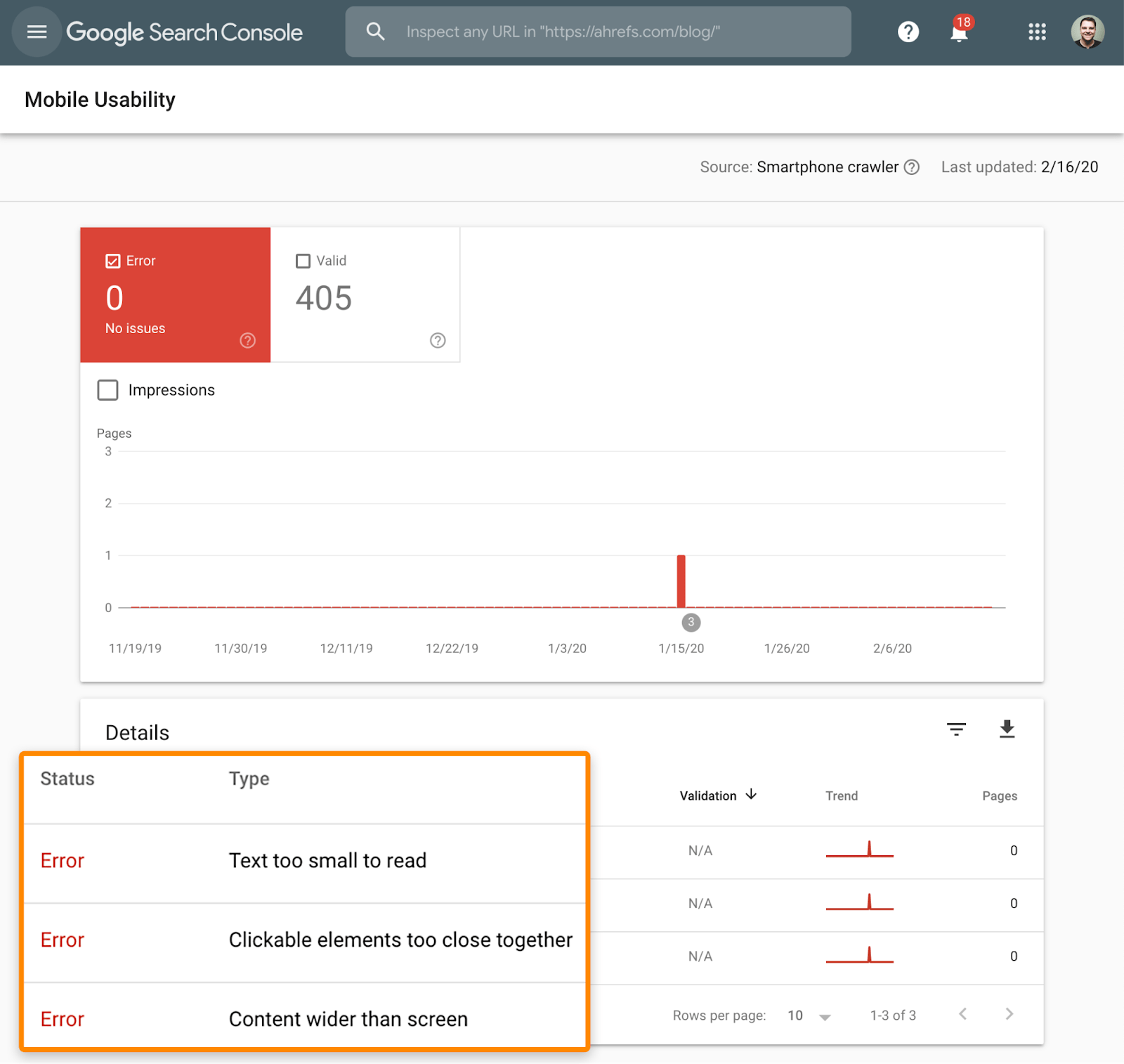 Recommended reading: Mobile-First Indexing: What You Need to Know
Freshness
Freshness is a notable ranking factor because it's a query-dependent signal. That means it matters more for some keywords than others—and this comes back to search intent.
Take a keyword like "best smartphone." All of the results were published recently.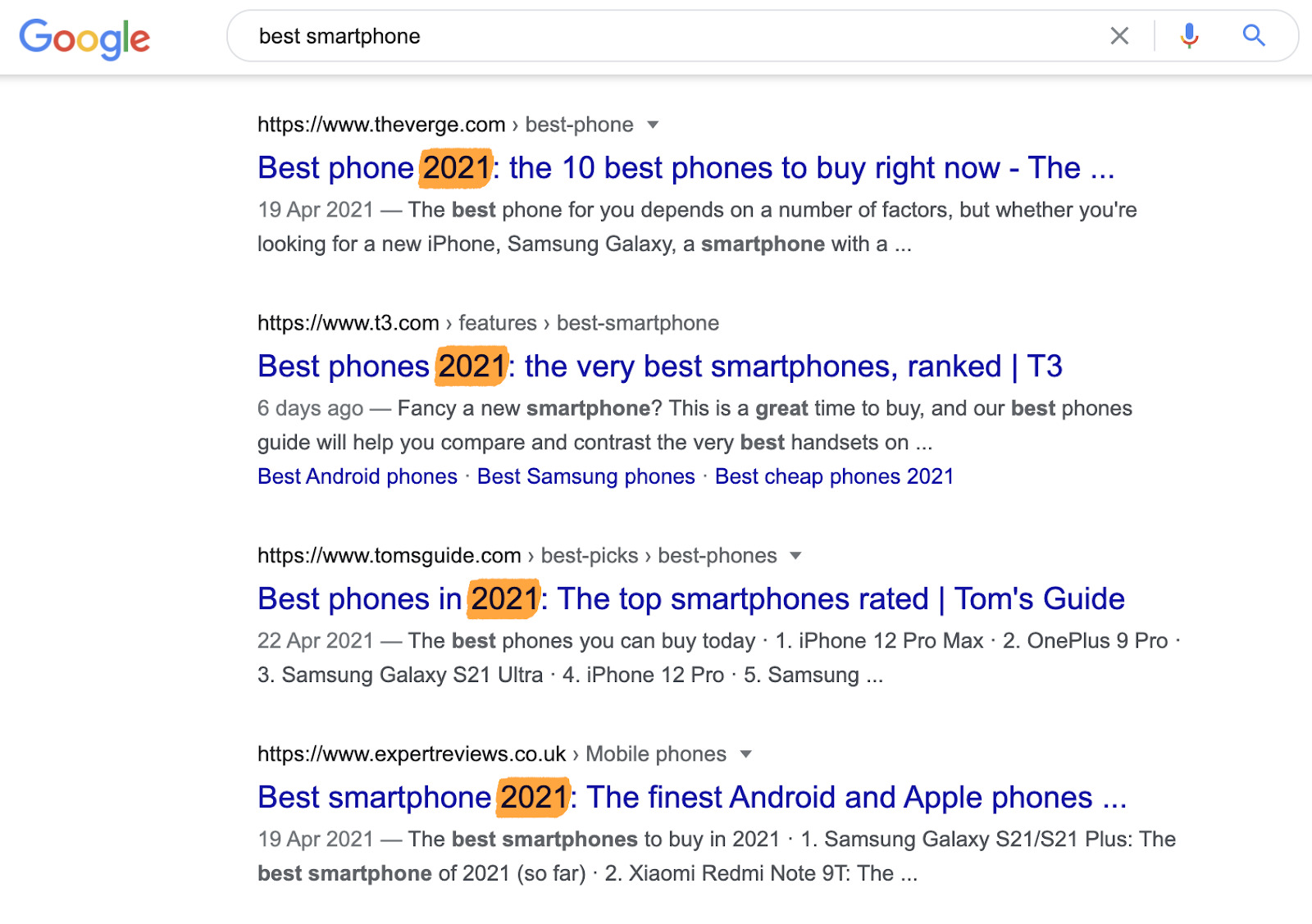 That's because freshness matters for this term. New smartphones are coming out all the time, so searchers are hardly likely to want to see a review of the iPhone 10 in 2021.
Now look at the results for a query like "how to tailor jeans":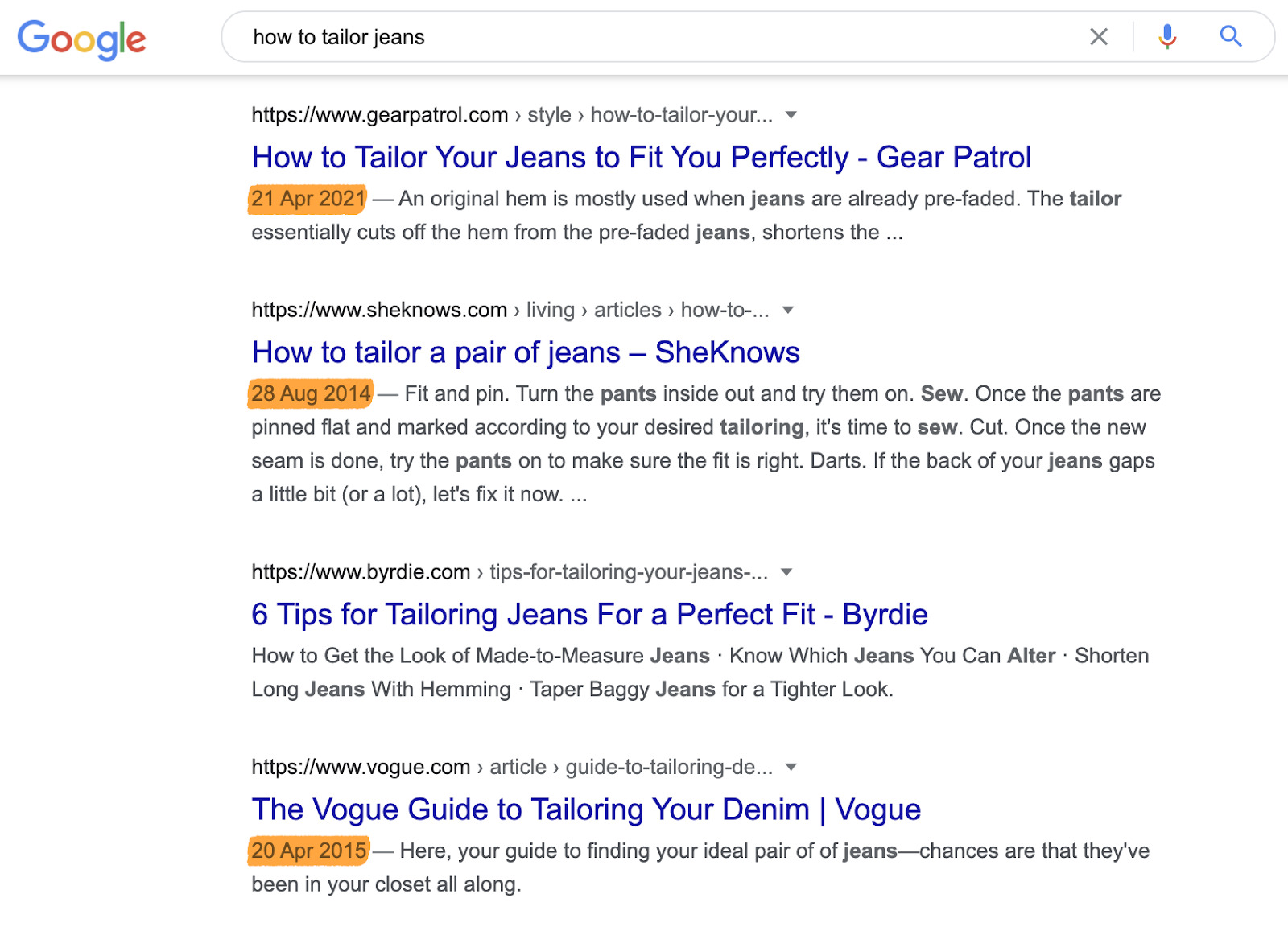 Despite some being published recently, some of the top organic search results were published in 2014. That's because the freshness of results doesn't really matter. The process for tailoring jeans is largely the same today as it was ten years ago.
Recommended reading: 10 Google Ranking Factors You Shouldn't Ignore
Ranking high in Google is the main part of the search traffic equation, but you can attract more clicks by crafting compelling title tags, meta descriptions, and URLs.
These are the three things that show up in Google's search results:

Sidenote.
Google doesn't always show a page's meta description. They
often
use other content from the page for the descriptive snippet in the SERP.
Let's look at a few best practices for each.
Title tag best practices
Keep it within 50-60 characters. Long title tags get truncated in the SERPs.
Write in sentence case or title case. Never upper case.
Include your keyword. But only when it makes sense.
Match search intent. Choose an angle that aligns with what searchers are looking for.
Include your content's USP. Tell searchers why your content is unique (e.g., "How to make an apple pie" → "How to make an apple pie in 20 minutes")
Don't clickbait. Be honest and don't oversell.
Recommended reading: How to Craft the Perfect SEO Title Tag
Meta description best practices
Expand on the title. Include details you didn't have room for in the title.
Match search intent. Keep it aligned with what searchers want.
Use active voice. Directly address the searcher.
Keep it within 120 characters. Meta descriptions truncate, too.
Include your keyword. But again, only if and where it makes sense.
Recommended reading: How to Write the Perfect Meta Description
URL best practices
Be descriptive. Give insight into what the page is about.
Make it evergreen. Remove unnecessary dates and numbers.
Avoid keyword repetition. It looks spammy.
Recommended reading: How to Create SEO-Friendly URLs
FAQs
If you've still got questions about organic search, hopefully you'll find the answer here.
What is organic search in Google Analytics?
Organic search is one of the traffic sources in Google Analytics. It represents the visitors that arrived on your site by clicking through to it from one of Google's organic search results. You can see a breakdown of all your traffic sources by navigating to Acquisition > All Traffic > Channels.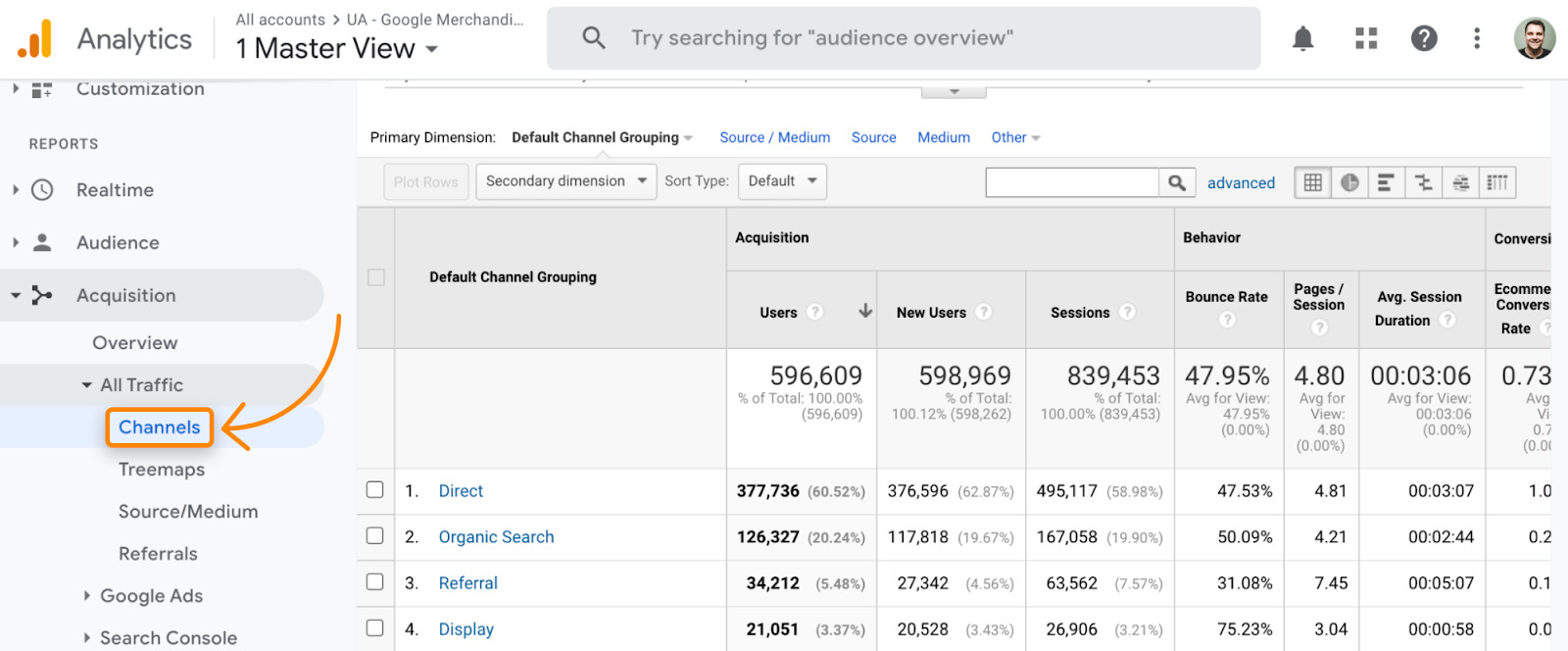 What is a good CTR for organic search?
There's no definitive answer to this question as many things affect CTR. For example, you'll typically see a much higher CTR for branded queries (i.e., when someone is searching for your brand) than for non-branded queries. You also tend to see lower CTRs for keywords with SERP features in the results. Our advice is not to worry too much about this unless your site gets lots of traffic.
How do you get extra links in organic search results?
These are called sitelinks. We have a full guide explaining how you can influence these.
Final thoughts
If you want more traffic to your website month after month, it pays to understand how to influence and rank higher in Google's organic search results. Here are a few resources to help:
Got questions? Ping me on Twitter.