You've probably heard that before. It's a common joke amongst SEOs because only 0.78% of people click results on the second page of Google.
Jokes aside, here's the reality:
If you rank on page two or beyond, you're practically invisible.
In this guide, you'll learn how to solve that in 7 easy steps and why ranking on the front page might not be the answer to your SEO woes.
https://www.youtube.com/watch?v=FUYAe5ROeP0
Before we get started…
These aren't requirements but to get the most out of this guide—and stand the best chance of ranking on the first page—your website should be:
Mobile-friendly;
Fast loading;
Easy to use (clear navigation, good UX, etc.);
Secure (i.e., HTTPS not HTTP);
Well-structured;
Free of other technical SEO issues.
Not only are some of these direct Google ranking factors, but the process below will be more challenging to execute if your website isn't up to standard.
Here is that process in a simple flowchart: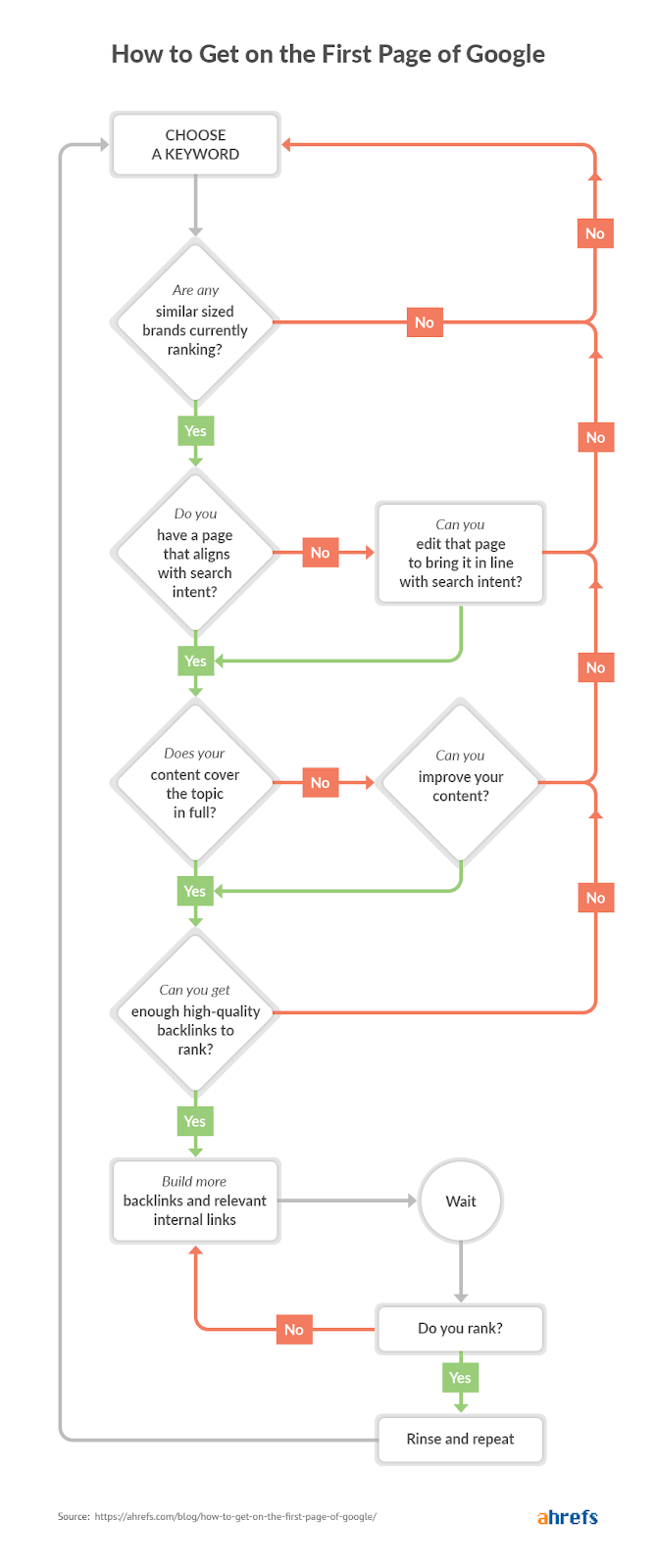 Ready to go? Let's get started.
Most of you have probably done this already but if you haven't, you need to choose a keyword that you want to rank for on the first page of Google.
Just as it'd be tough to start a successful variety store across the road from Walmart, it's hard to rank on the first page of Google when competition is fierce. So the next step is to understand the competitive landscape—starting with who you're up against.
To do that, search for your keyword and look at the first page of results.
If they're all from huge well-known brands and you're a startup that nobody's ever heard of, getting to the first page is going to be pretty tough—at least in the short-to-medium term.
For example, look at the search results for "dresses."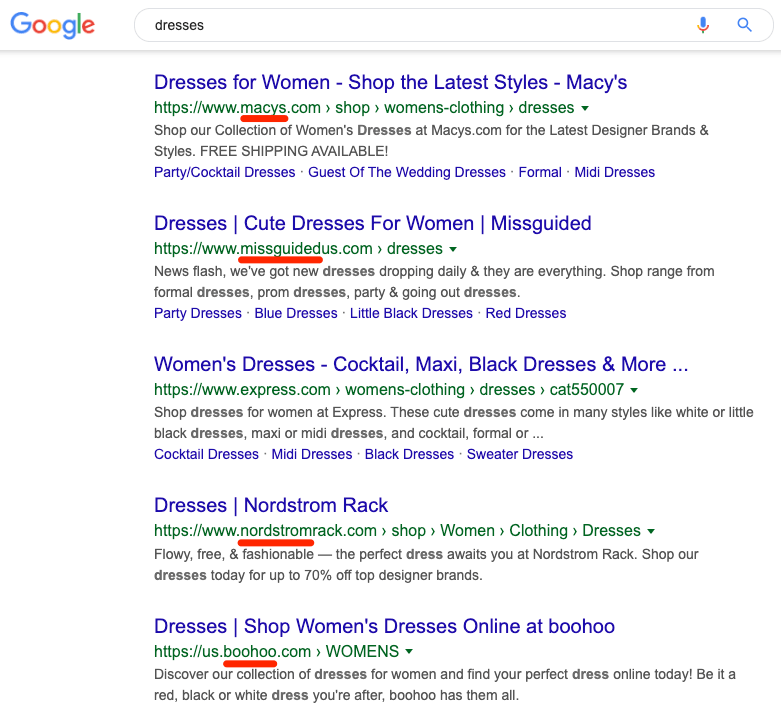 Every result is from a huge brand—Macy's, Nordstrom, Missguided, Boohoo, etc.
This is a clear sign that those looking to buy a new dress want to do so from a well-known, established brand. Ranking a page from newdressbrand.com amongst these results any time soon would be a tall order for even the smartest SEO.
If you're not sure who the big brands are in your industry, paste the keyword into Ahrefs' Keywords Explorer, scroll down to the SERP overview, and look at the Domain Rating (DR) column.
This shows the strength of the top-ranking websites on a scale from 0-100.
Crucially, not all big brands have high authority websites, but many do. For example, you can see that Missguided has the lowest DR of the bunch here at 70, but that's still super high.
You can check how they compare with your website using our free website authority checker.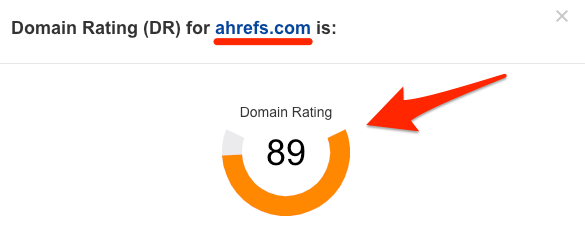 Generally speaking, the lower this number is compared to the current first page results, the more difficult it'll be to rank.
It's important to realize that Google ranks web pages, not websites.
For example, we rank on the first page for "where to get backlinks" and "where to buy backlinks" with two different pages.

Now, the page you want to rank on Google might be your homepage, but it doesn't have to be. It can be any page. Just make sure it aligns with search intent (i.e., is the type of content Google wants to rank for your target keyword).
How do you check this? Compare it to what's already ranking on the first page.
You'll have an easier time ranking if your page aligns with the three C's of search intent, which are:
Content-type;
Content format;
Content angle
Let's break these down.
Content-type
This is the most common "type" of content in search results. It'll usually be one of these:
Blog post;
Product page (a page about a single product);
Category page (a page showing multiple products);
Landing page (a page pitching a product or service)
You can get a sense of the dominant content type by looking at page titles and URLs.
For example, we can see that all the pages ranking for "how to make pancakes" are blog posts…
… whereas pages ranking for "buy MacBook Pro" are product pages: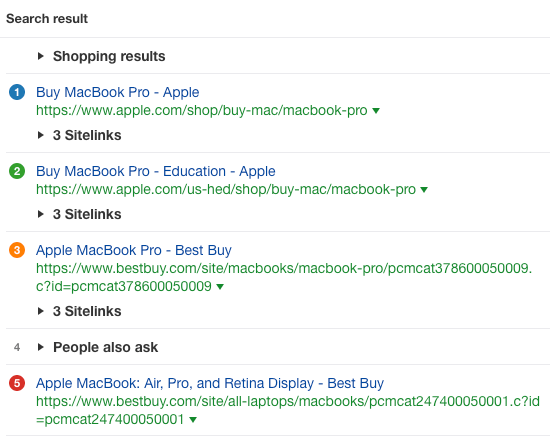 Content format
This is the dominant "format" amongst the top-ranking pages. It applies mainly to when you're trying to rank informational content. Common ones include:
"How-to" guides
Step-by-step tutorials
List posts
Opinion pieces
Reviews
Comparisons
Looking at pancake recipes again, we can see that "how to" is the prevalent content format…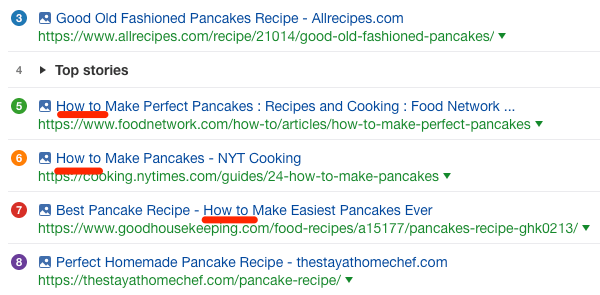 … whereas for "blogging tips," it's list-style posts: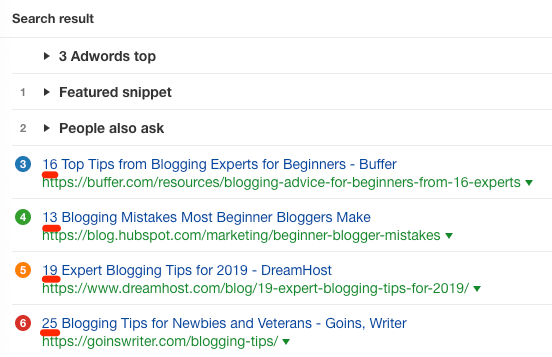 Content angle
This is the most common "angle" amongst the top-ranking pages. It's harder to quantify than type and format, but essentially, it's the dominant USP of the content on the first page.
For example, almost all the pages that rank for "blogging tips" are aimed at newbie bloggers.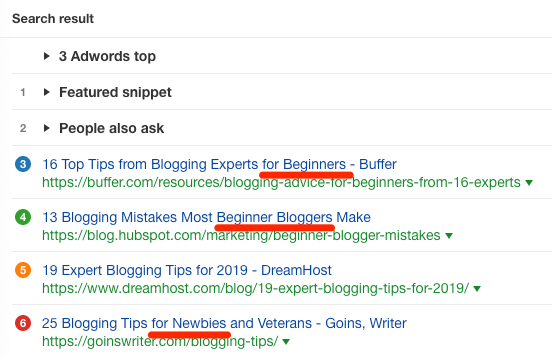 As a result, you'd struggle to rank a list of tips for increasing blog earnings from $5k to $10k a month here because that's not what beginners want to see.
Having content that aligns with search intent isn't enough. It also needs to be deserving of a place on the first page, where Google aims to show the most relevant, useful results.
How do you make sure your content fits the bill?
By covering all the things searchers want to know and expect to see.
For example, let's say that you want to rank for the term "best watch brands."
It's clear from analyzing search intent that you should write a list-style blog post that focuses heavily on luxury brands.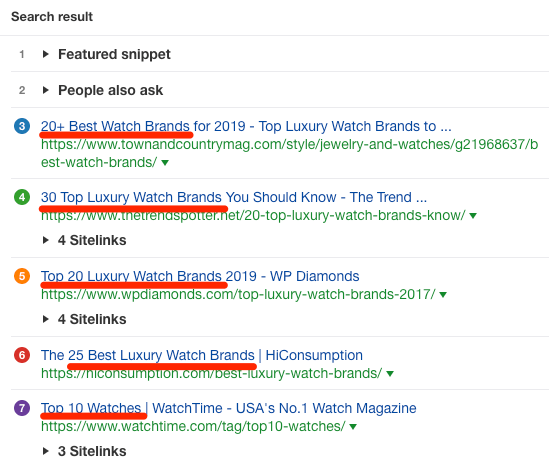 Perhaps you already have a post like this, but is it really up to scratch? Does it talk about all the watch brands and categories that searchers want to learn about?
The easy way to answer that question is to compare your page to the current top-ranking results.
For example, if you look at the top-ranking results for "best watch brands," you'll see that they all mention Rolex.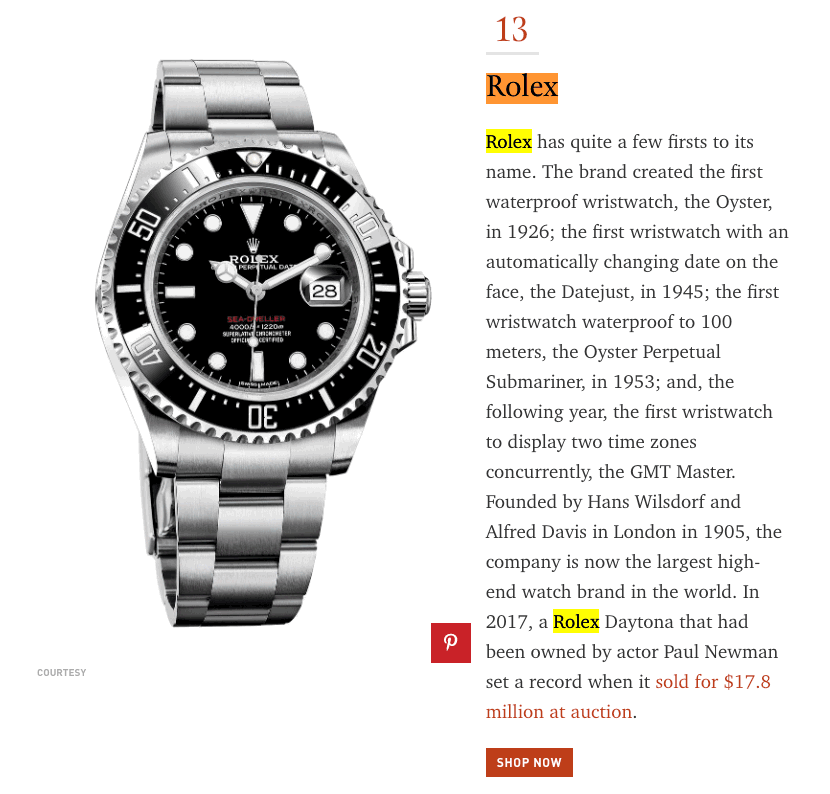 So that's one of the brands you'll want to mention—if you haven't done so already.
Now, that's an obvious example, but some other less obvious brands mentioned on the top-ranking pages include:
Tag Heuer;
Chopard;
Omega;
Cartier
By mentioning these, you not only give searchers what they want and expect to see but also potentially increase the relevance of your content in Google's eyes.
Taking this idea a step further, you can also do a Content Gap analysis at the page-level.
Just take a few top-ranking pages and paste them into Ahrefs' Content Gap tool.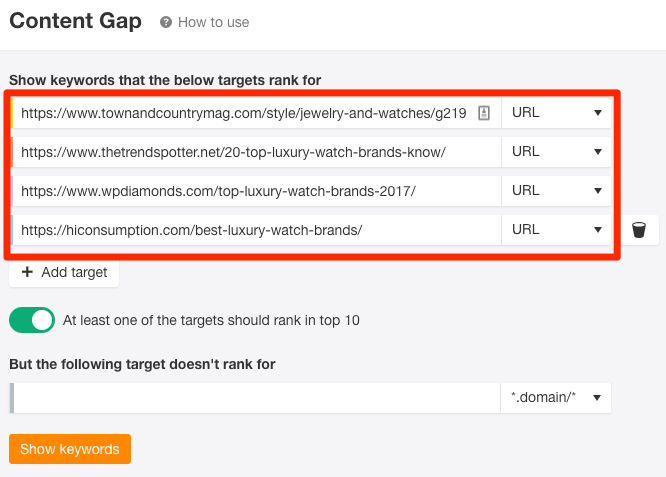 Hit "Show keywords," and you'll see the queries that one or more of those pages rank for.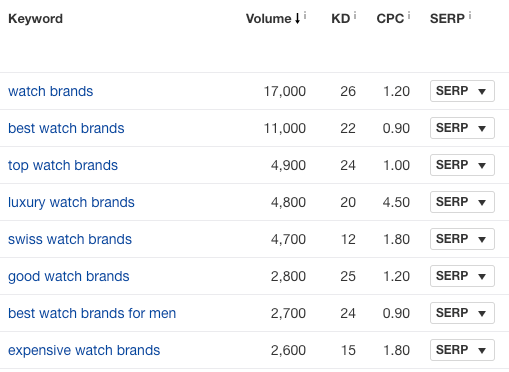 Again, don't view this as a list of keywords. Think of it as insight into what people want to see when they type this keyword into Google.
In this case, we see things like:
swiss watch brands;
luxury swiss watches;
mechanical watch brands;
french watch brands
So you'll want to make sure you're talking about these things in your post, and it may even make sense to use some as subheadings.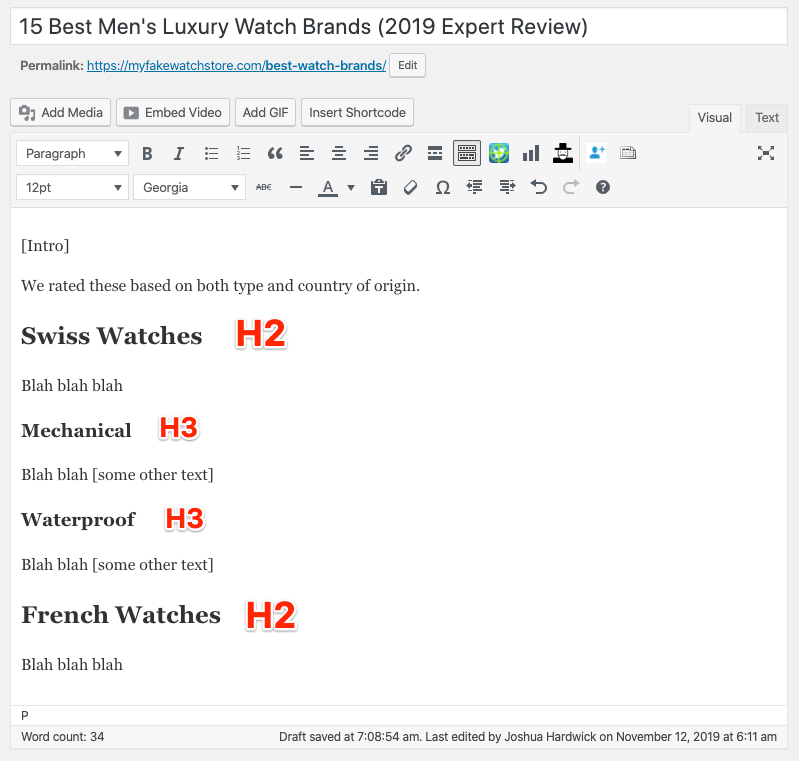 Backlinks are an important ranking factor. Not only has Google told us this, but pretty much every industry study has found a positive relationship between organic search traffic and backlinks.
This includes our study of almost one billion pages.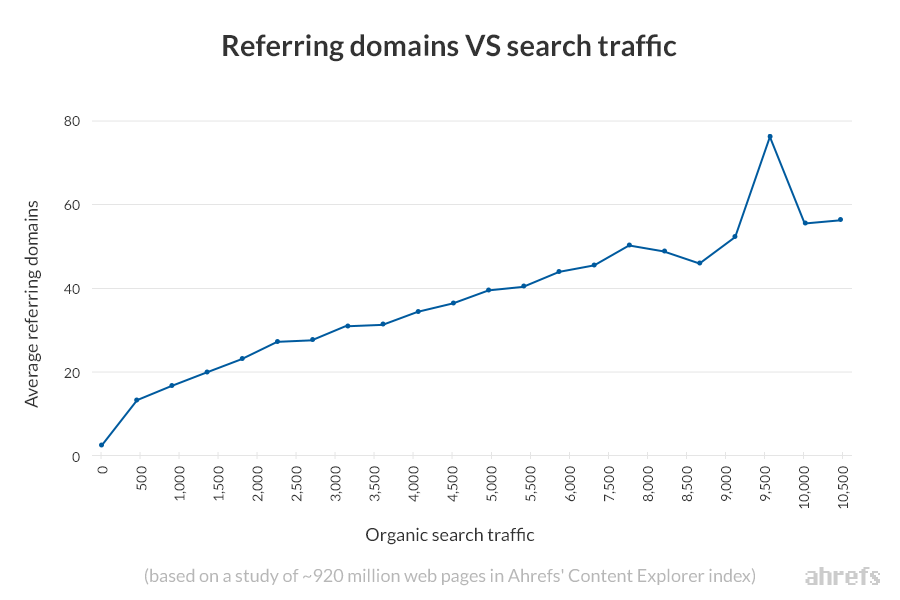 So the more high-quality backlinks you have, the higher your chances of ranking on the first page of Google.
The question is, how do you know how many backlinks you need?
Here's the truth:
There's no way to figure out a definitive number because not all backlinks are created equal. But we can get a rough estimate.
To do that, go to Ahrefs' Keywords Explorer, search for your target keyword, then look at the number in the sentence below the Keyword Difficulty score.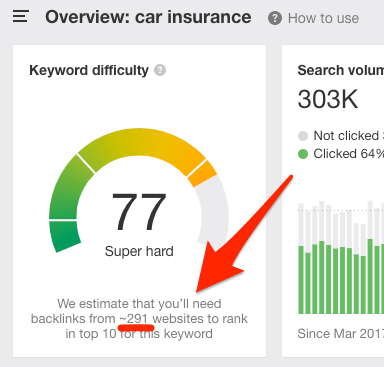 This is a super rough estimate, so take it with a very large pinch of salt.
To get a somewhat more accurate estimate, scroll down to the SERP overview and look at the range of referring domains to the current top-ranking pages.
If we look at the results for "car insurance," we see that the pages in the top 10 have between 154 and 1,228 referring domains (backlinks from unique websites).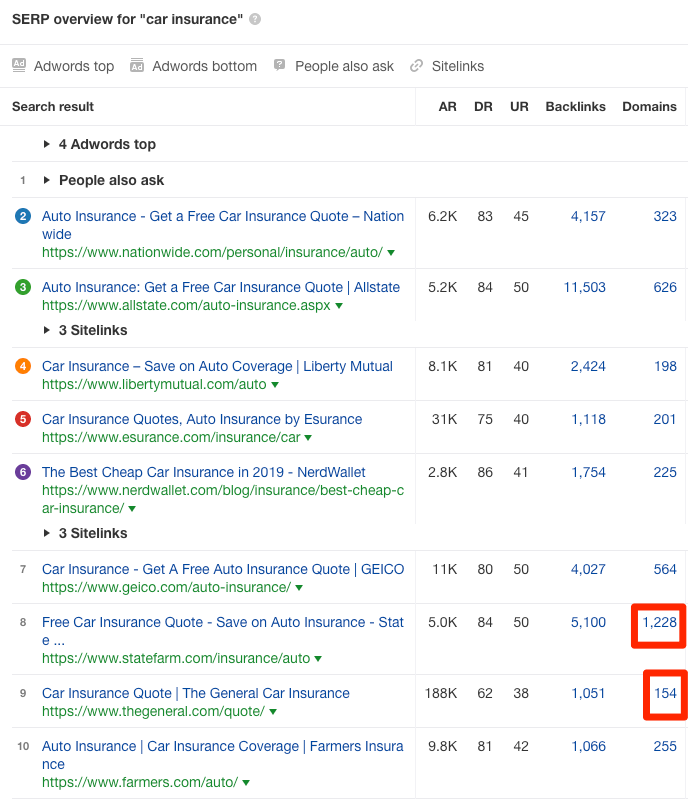 If we do the same for "cheap car insurance," the range is 24-434.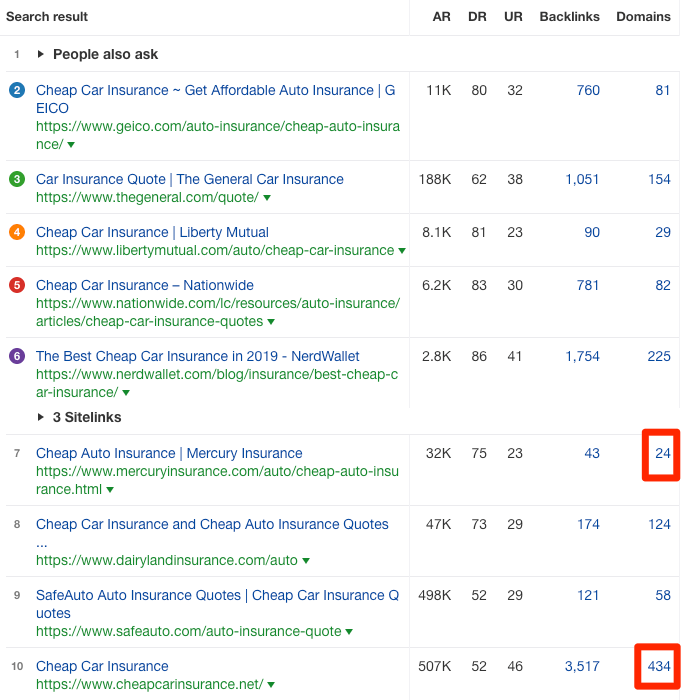 And for "very cheap car insurance no deposit," it's 2-52.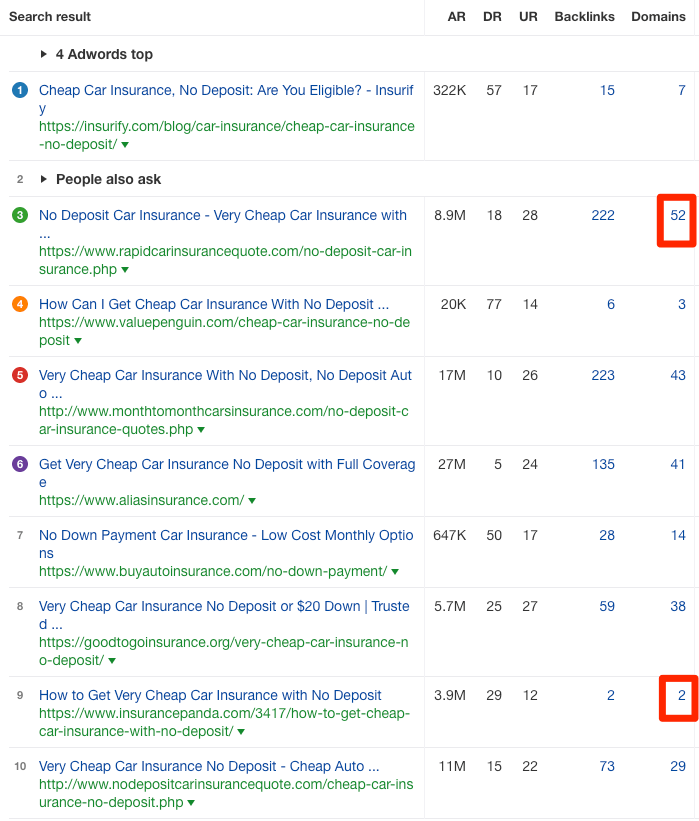 Therefore, you'll probably need fewer backlinks to rank on the first page for "cheap car insurance" than "car insurance." And even fewer to rank for "very cheap car insurance no deposit."
You can see how many backlinks your page already has using Ahrefs' free backlink checker.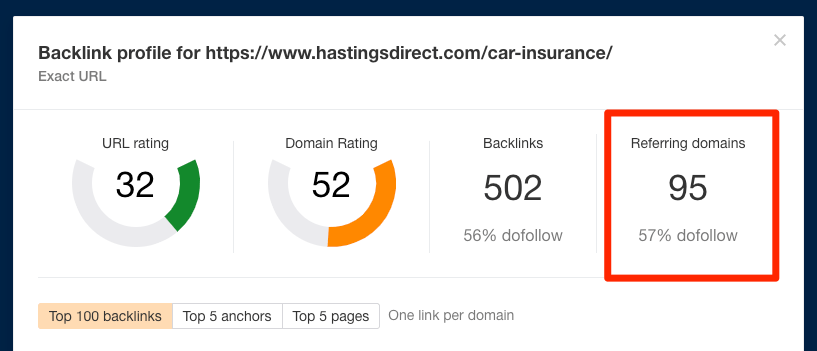 This should tell you roughly how much "catching up" you have to do.
That said, keep two things in mind:
These ranges are far from definitive because the quantity of links is only one part of the equation. Quality also matters. (To explore this in more depth, take a look at the Referring domains report for the current top-ranking pages to see what number of the websites that link to them are high quality.)
The achievability of these numbers depends on your link building skills and the amount of time and effort you're willing to put into ranking this page.
Backlinks help boost a page's "authority," and high-authority pages tend to rank higher than those with low authority.
This is a fact built into the way Google's algorithm works. It's also something we studied.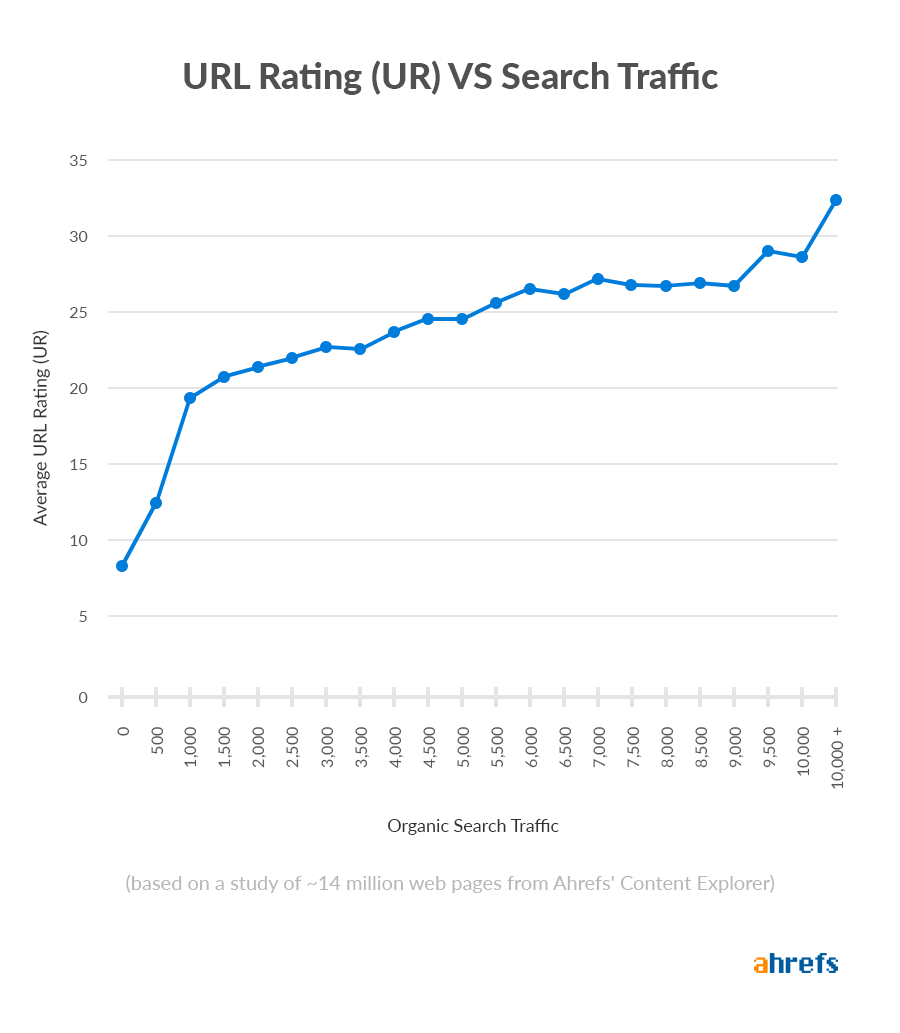 So, at this stage, you probably need to build more backlinks.
Here's a video to get you started:
https://www.youtube.com/watch?v=3sF-m5LKCf4&list=PLvJ_dXFSpd2tjUTuAHpHidz5e2hAedP_m
But there's also one other way to boost a page's authority: add relevant internal links.
The simplest way to do this is to search Google for site:yourwebsite.com "[target keyword]"
This finds all the pages on your site which mention that exact word or phrase.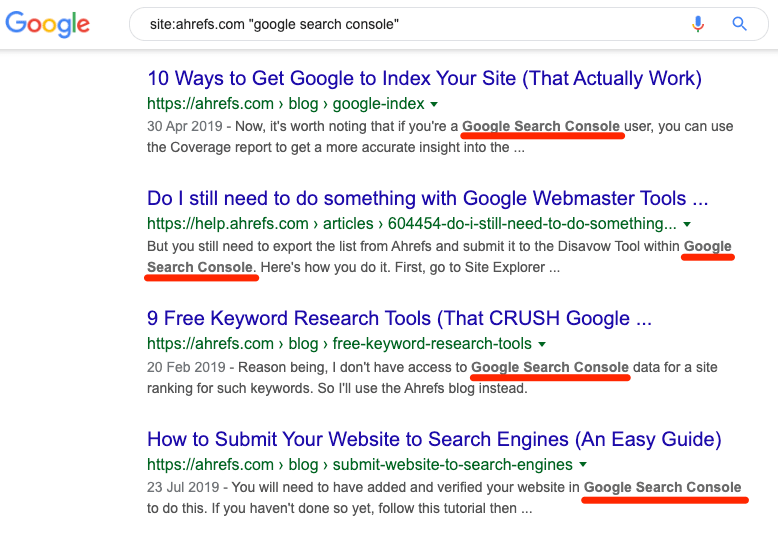 These are often good internal linking opportunities.
Unfortunately, it takes time to rank on the first page on Google.
How much time? It's difficult to say. However, when we studied two million keywords, we found that around 95% of top 10 rankings were over a year old.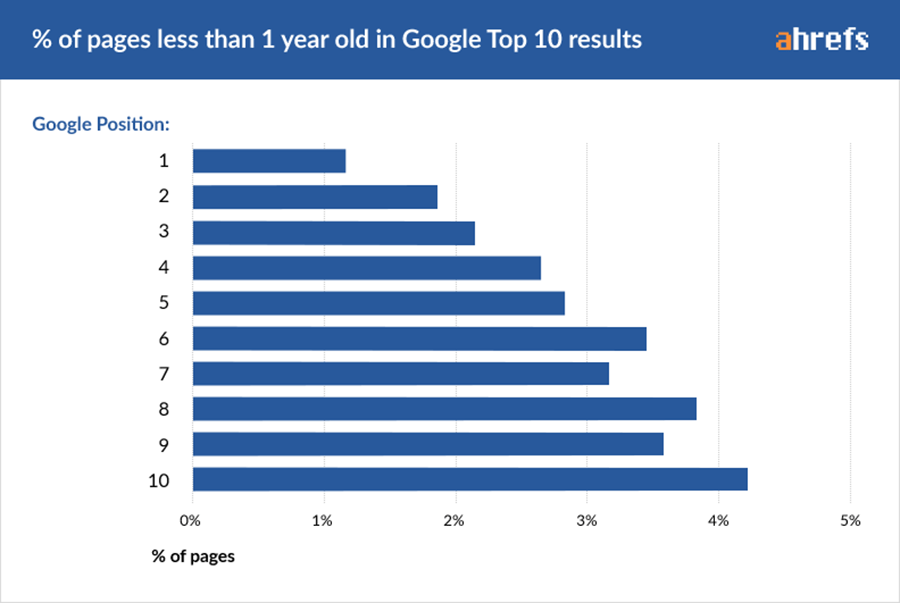 Before you panic, that doesn't mean it'll always take a year or longer to rank. If you create the right content and invest in SEO, it's often possible to hit the first page much faster—at least for some keywords.
Why ranking on the first page of Google isn't the answer
Look at this graph: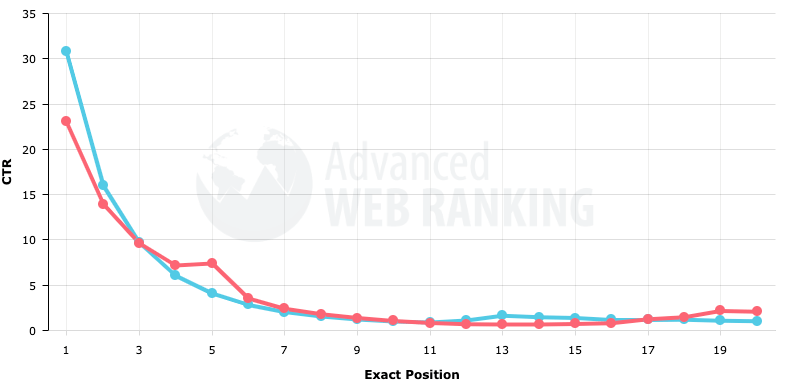 This shows the average clickthrough rate for the top Google search results. You can see that things drop off pretty quickly after the first few results.
You can also see that around 70% of first-page clicks go to the top 3 results.
Because of how extreme this disparity is, pages that rank in the bottom half of results only get a tiny percentage of the keyword's traffic.
To show how drastic the difference is between rankings, here's the average traffic to each result on the first page for a keyword with 10,000 monthly searches:
| Position | Traffic |
| --- | --- |
| 1 | 3,121 |
| 2 | 1,388 |
| 3 | 982 |
| 4 | 610 |
| 5 | 751 |
| 6 | 287 |
| 7 | 209 |
| 8 | 162 |
| 9 | 132 |
| 10 | 109 |
That's quite a difference.
So while ranking on the first page of Google is a good starting point, you'll need to rank high to get a significant amount of traffic.
Recommended reading: How to Rank Higher on Google (6 Easy Steps)
Final thoughts
Ranking on the first page of Google isn't an exact science. Nobody knows precisely how Google's algorithm works, so there's no formula for guaranteed rankings. (Don't let anyone tell you otherwise—not even us!)
That said, the process above is mainly based on correlations we've seen in our numerous large-scale studies. And studies and experience are all we have to inform our SEO strategy outside of blindly following Google's vague and often contradictory best practices.
Got questions? Leave a comment or ping me on Twitter.