The Google Sandbox refers to an alleged filter that prevents new websites from ranking in Google's top results. Think of it like a probation period—even if you do everything right, your site won't get decent rankings until it comes to an end.

The Google Sandbox has never been officially confirmed by Google. But many SEOs are confident in its existence, as they see sandbox-like effects when trying to rank new websites.
So what's the truth? Does the Google Sandbox exist in 2018? If so, how do you prevent Google from "sandboxing" your site?
To answer these questions, I reached out to a few SEO practitioners to learn what they think about Google sandbox in 2018, based on their experience with new websites.
Huge thanks to these guys:
Now let's get started.
Google Sandbox: A Brief History
Back in 2004, webmasters and SEO professionals noticed that their newly launched websites were not ranking well on Google for the first few months, despite their SEO efforts.
New websites were duly indexed by Google, but they did not rank even for relatively low-competition keywords and phrases. But they were ranking well on other search engines, such as Bing and Yahoo.
This "sandbox" effect lasted from a few weeks to several months.
Keeping in mind that Google wants to serve authoritative and high-quality content to its users and might not trust in brand new websites, that actually made sense.
Rand Fishkin, for example, believed that SEOmoz had been sandboxed for 9 months, despite its perfectly natural strong backlink profile.
SEOmoz is finally sandbox free for the first time since our move to this domain 9 months ago. We aren't alone, either. Many folks had sites escape, and I'm happy for all of them. It looks like our 12,000+ all-natural links (never link built for this site, just link-baited) finally paid off.
There was even a theory that the Google sandbox was pushing people to spend money on PPC.
In 2014 Google sandbox got another wave of interest when site owners and SEOs again saw that their new sites were not ranking as quickly as they used to, on a large scale. This was mostly discussed on black hat forums and could be the result of another anti-spam filter from Google.
Is There a Sandbox Period in 2018 and If so, How Long Does It Last?
Although I've personally met people boasting about high rankings for 1-month old websites, many SEOs believe there is something that prevents a brand new website from reaching the top search positions.
A lot of SEO experts even list it among the Google ranking factors.
Let's learn a few opinions from SEO experts. Here's what I asked them:
1. In your work, do you feel the impact of the Google Sandbox (or whatever looks similar to it) on new websites?
2. How long does it usually take to get out of the sandbox?
Let's go.

1. I never thought it was a specific "found a new site; let's suppress it until we know it's not a fly-by-night site" type filter. But yes, a new site, be it a start-up or a microsite for an established domain, struggles to get visibility until it proves its importance to Google.

2. If getting out of the sandbox means ranking on the first page, the answer depends on the time put into improving the signals vs the competitiveness of the existing sites. It could be days, months, or years. You get out what you put in. But if getting out of the sandbox means getting indexation, that shouldn't take more than a few days (unless something is wrong).
1. While I agree there's no Sandbox, there are certainly sandbox-like algorithms in place to make sure only quality and/or dedicated webmasters are given the SERP coverage they need.

2. I'm a believer in the "13 month rule" for new sites that aren't receiving a ton of mentions. For these sites, once the algos see that the site exists past 1 year (non-dedicated webmasters will not pay for hosting fees past 1 year), results tend to increase.
1. Yes absolutely. I completely believe that all new domains experience a "proving period" before they have a shot at organic visibility in Google's SERPS.

2. That's dependent on so many different factors. It definitely cannot be a "set it and forget it" approach. The more development one does (content, links, content, directories, Search Console, content, social signals, content, local directories, content, local citations, etc.) the better. As a general rule, I'll go out on a limb and say 4-6 weeks.
1. The way search works, new domains have a big disadvantage. They just don't have a Domain Rating high enough to compete for much of anything. They may get indexed and rank for the brand, but that's about it at first.

Just like a newborn baby isn't someone you take advice from, a new website isn't something that Google considers to be credible, even if there is no actual "sandbox" built into the algorithm.

2. New websites are easy to get indexed but hard to rank. We all need to set our expectations carefully.

Crawled: Set up Webmaster Tools and "Fetch" and you should be crawled within a few hours
Indexed: Search for your URL in Google and you should see yourself appear in the index within a day or two
Ranking for the Brand: Unless your brand name is common to lots of other business, you should see your site ranking for the branded keyphrase within a week or so
Ranking for ultra-low competition, long tail phrases: Especially if they are the titles and headers for a nice detailed page, this should start working within a month
Ranking for high-competition, high-volume phrases: If you work hard and work smart, you'll get there in just 3-5 short years. Never give up! It's worth it.
Why Does the Sandbox Theory Make Sense?
The answer is simple:
Holding back brand new websites from ranking could give Google more time to evaluate the website quality and fight spam.
A week-old website suddenly breaking into the SERPs for a competitive keyword, beating the pages that have been ranking there for years is suspicious, right?
Besides, we all know that backlinks are one of the most important ranking factors. And it is highly unlikely that pages on a new website will accrue strong backlink profiles within a few weeks.
In addition, many SEOs strongly believe that Google considers user behaviour in their ranking algorithms via click-through rates, dwell time, and other metrics, which they can potentially collect and analyze.
The latter gave birth to another common SEO theory known as the "honeymoon period."
It is observed that Google can rank new content higher in search results for a short period of time to understand if it satisfies the users' intent by looking at visitors' behaviour.
Here's a perfect example:
See that first spike of traffic? That might have been the "honeymoon period."
Does Google Deny the Existence of the Sandbox?
Of course, they do 🙂
we don't have a "sandbox". Don't worry about it @JohnMu

— Gary "鯨理" Illyes (@methode) June 16, 2016
no

— John ☆.o(≧▽≦)o.☆ (@JohnMu) April 12, 2017
But let's dig a bit deeper.
Here's John Mueller's answer to the question about the sandbox effect from a recent Webmaster Hangout, streamed on Feb 23, 2018.
With regards to sandbox, we don't really have this traditional sandbox that a lot of SEOs used to be talking about in the years past. We have a number of algorithms that might look similar, but these are essentially just algorithms trying to understand how the website fits in with the rest of the websites trying to rank for those queries. […] It's always kind of tricky in the beginning when we have a new website and we don't quite know where we should put it.
Listen to the full answer here, it is very insightful.
As for the importance of domain age for ranking, here is what Matt Cutts said back in 2010.
My answer is not to worry that much. The difference between a domain that's six months old versus one year old is really not that big at all. So as long as you've been around for a least a couple months, a few months, you should be able to make sure that you're able to show up in the search results.
That sounds like a sandbox to me. They just don't call it a "sandbox".
What stops a new website from ranking?
Expertise, Authoritativeness, and Trustworthiness (E-A-T) of a website is one of the most important quality characteristics for Google. On top of that, there are backlinks and numerous other factors. It is very unlikely that a new website is able to earn Google's trust within just a month or two.
Here is a list of factors that might be preventing a new website from ranking:
1. Lack of content
Google might not see enough pages on your website to understand its topical relevance. They might need more data to decide what to do with your website and what keyword bucket (topic) it belongs to.
2. Lack of user signals
As I already mentioned above, many SEOs are confident that CTR, bounce rate, and dwell time are among the ranking factors. Until Google processes more behavioral data for your website and compares it with other sites, it might postpone ranking it for popular keywords.
3. Lack of quality backlinks
Backlinks (along with content and RankBrain) are one of the top 3 ranking factors for Google. If your content has a weak backlink profile and your website is not yet strong enough to pass "link juice" via internal links, why would Google rank it over other the sites with strong backlinks?
Our own study of ranking factors showed a strong correlation between the number of referring domains and rankings.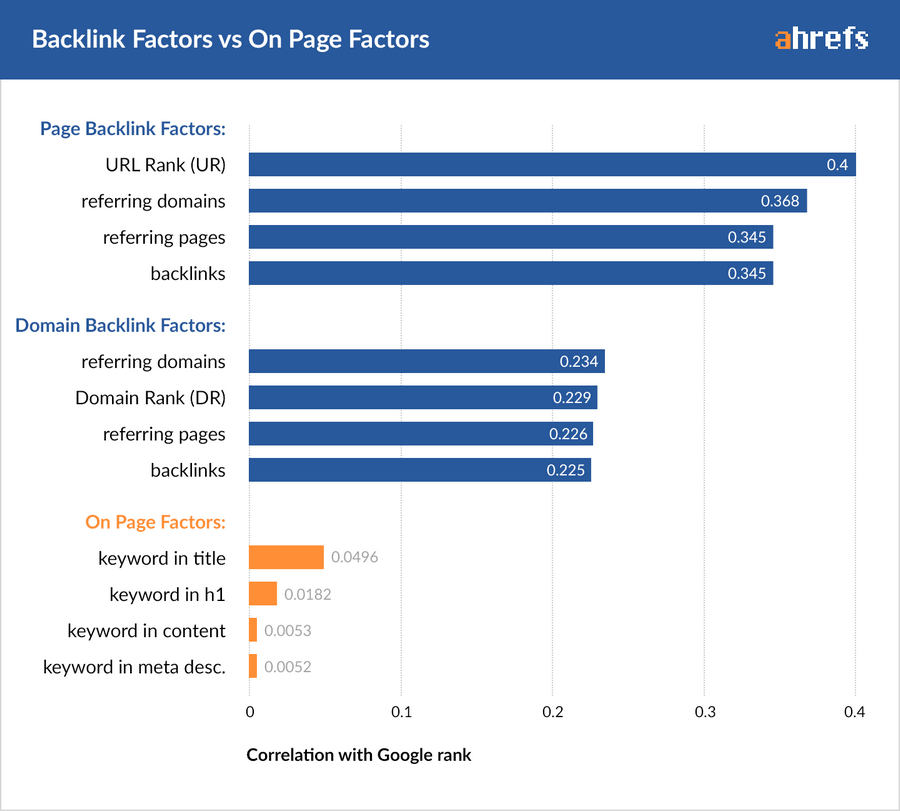 You can potentially build quite a few backlinks in just one month, but if they're not high-quality, Google will just ignore them.
Suspicious rapidly grown backlink profiles and anchor text over-optimization may get you a penalty.
4. Industry and competition
This was another question to the SEO experts:
Are things different across various niches, levels of competition, content types?
Absolutely. Google ranks different verticals and industries with different signals. It's not a "one-size-fits-all" type of ranking algorithm. This is by design.
These sandbox-like effects, however, are definitely different across various verticals. Medical and legal websites, for example, tend to require more time and quality backlinks to get SERP traction. This makes sense when you consider that the information on these websites has great power over searchers' lives; their content needs to be taken seriously.
Always, yes. And I would add geographies to this list. Here's how to understand niches and neighborhoods in search:

"Every keyphrase is a competition and every page is a competitor"

So some phrases are within a competitive set where there is much competition. It might be a tony little topic or set of phrases with far fewer relevant pages ("baby shrew health tips") …or in a very specific place ("exotic pet clinic in Wichita Kansas") …or a phrase which pulls up a completely different set of SERP features

You might rank almost immediately and for many years depending on these factors: narrower topics, smaller niches, businesses in that area, less content format, etc.
This was the only question where Eric Sachs had an opposite opinion to those of his colleagues. Eric did not observe any significant difference across various niches and competition levels. The sandbox was everywhere.
How Can You Avoid or Reduce the Sandbox Period?
And the final question to the experts was:
Can you avoid this "waiting period" with outstanding content and quality white-hat link-building?

Let's really have look at Sparktoro, shall we?
Here's the screenshot from Ahrefs Site Explorer showing its backlink profile:

And here's the number of organic keywords, and search traffic: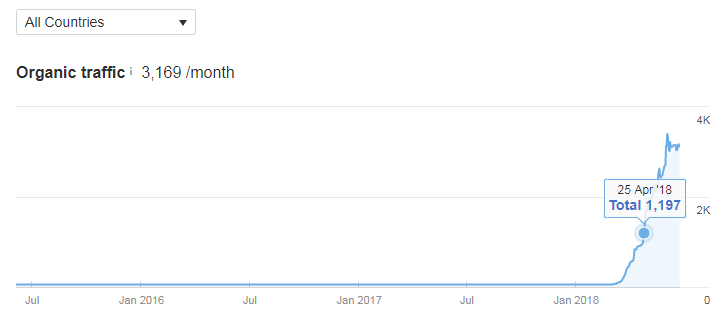 Looks really impressive!
But at a closer look, Sparktoro does not rank for any high-volume keywords in top 10 yet (excluding the brand keywords).
Finally, I know for a fact that it's possible to circumvent these sandbox effects. If a site goes even somewhat viral and is getting a few hundred to a few thousand daily unique visits, some social media mentions each day, and real backlinks, that site will immediately be taken seriously by Google's algorithms. I've seen this happen twice so far with brand new websites, eventually ranking #1 for their top keywords.
I don't believe you can completely avoid it but I do believe you CAN expedite the process (see my

previous answer

about the sandbox duration)
Absolutely.

In fact, launching a new brand and new website is an opportunity to do great PR and link building. Here are just a few things that can happen on "Launch Day" to trigger links, shares, subscribes and a better chance of ranking sooner…

Publish a set of articles on related blogs.
Interview a relevant influencer and make that the first post on your blog.
Ask friends with email marketing programs to add your site to the bottom of their emails that week in a "PS campaign"
Host an event and invite local influencers to come for short live social media videos.
Publish a new piece of original research on the new site, then reach out to podcasters to ask if they'd like to have you talk about it on their shows.
Create a pro bono donation for non-profits that starts accepting applications that day. Let the media know.

The final set of tips on our website launch checklist includes a few other ideas. There are a million little ways to turn the birth of your new website into a little bit of news, attention, links and traffic.
Wrapping it up, just do all the quality white-hat stuff we're advocating on our blog 😉
Over to You
This post has expert opinions from Bill Sebald, Edward Sturm, Eric Sachs, and Andy Crestodina. It highlights Google's take on the new websites. But what it is definitely missing is our readers' experience with new websites.
It would be so great if you could share your thoughts and experience with Google sandbox in the comments below!