Lead generation is the process of attracting, engaging and capturing the interest of your target market.
Getting more leads is important because it gives you the ability to nurture your relationship with potential customers and bring them closer to buying your product or service.
In this post, you'll learn 10 different lead generation tactics that you can use as part of your lead generation strategy.
Here are the lead generation tactics:
Sumo's article about how to write a newsletter gets an estimated ~1,000 monthly search visits:

Within the article, Sumo offers a free download:

Since Sumo sells an email capture tool, anyone who downloads this resource is a perfect lead for them.
This strategy is how you can turn your blog into a lead generation machine.
How to do it
First, make sure your articles rank high on Google for topics your target market is searching for. Then, include a bonus piece of content in exchange for their contact information.
a) Target topics with search traffic potential
You can't just write about any topic and hope that you'll rank. To get search traffic, you have to target topics with search traffic potential.
How do you find these topics?
Start by entering a few relevant keywords into Ahrefs' Keywords Explorer. For example, if you sell coffee machines online, you might enter terms like "coffee", "espresso" and "french press." Then, go to the Phrase match report and you'll see thousands of keywords to choose from.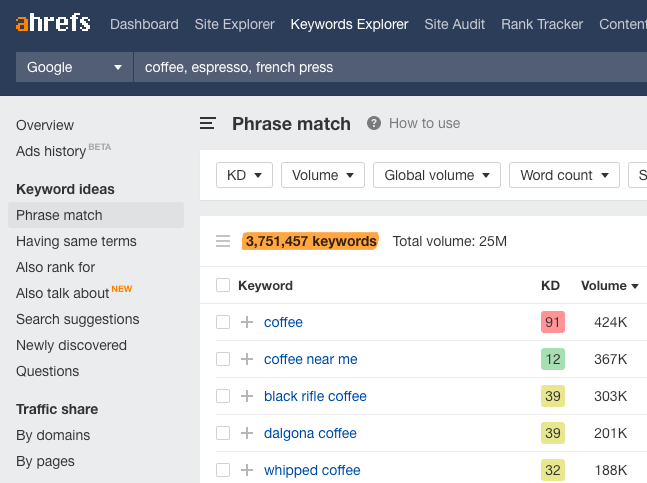 Look for keywords with both traffic and business potential. In other words, keywords with search volume that your target market are likely to be searching for.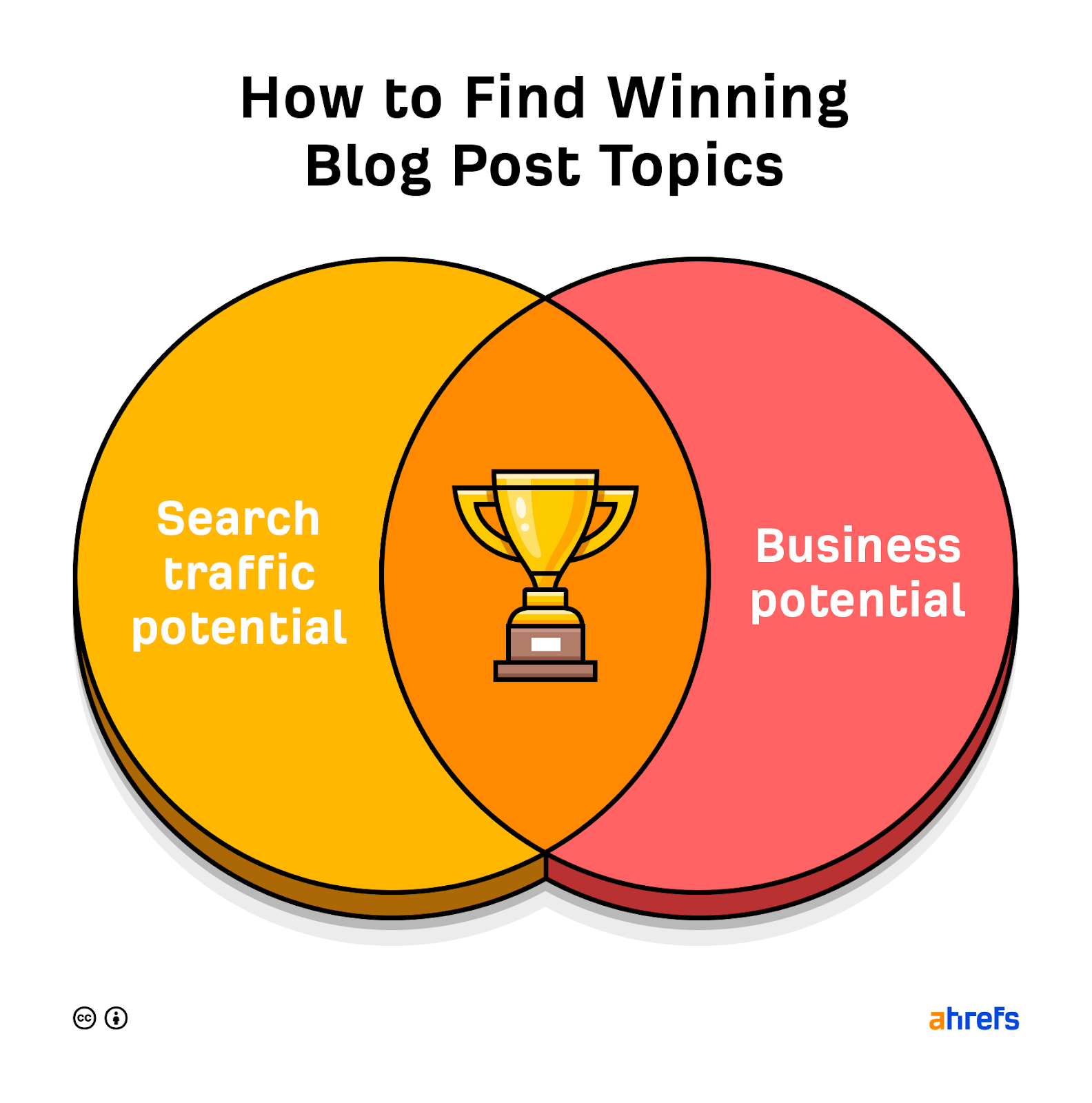 b) Create content that ranks
To rank at the top of Google, you'll need to create content that deserves to rank. Watch this video to learn how:
https://www.youtube.com/watch?v=8BdZ0dUu7VQ
c) Capture readers' interest with a content upgrade
Sumo captures leads by offering free downloads of bonus content. In the marketing world, we call this a 'content upgrade.' This can be a worksheet, template, checklist, and so on.
But note that you can't just attach any bonus content. Look carefully and you'll see that Sumo always offers a content upgrade that is relevant to the article the reader just consumed. In the "how to write a newsletter" post, Sumo offers a swipe file of newsletter ideas—perfectly suited.
Of course, you could give away something much simpler like a PDF version of the post—but this is rarely a compelling offer. Ideally you want to give away something so valuable that signing up is a no-brainer.
As my friend Nathan Collier writes: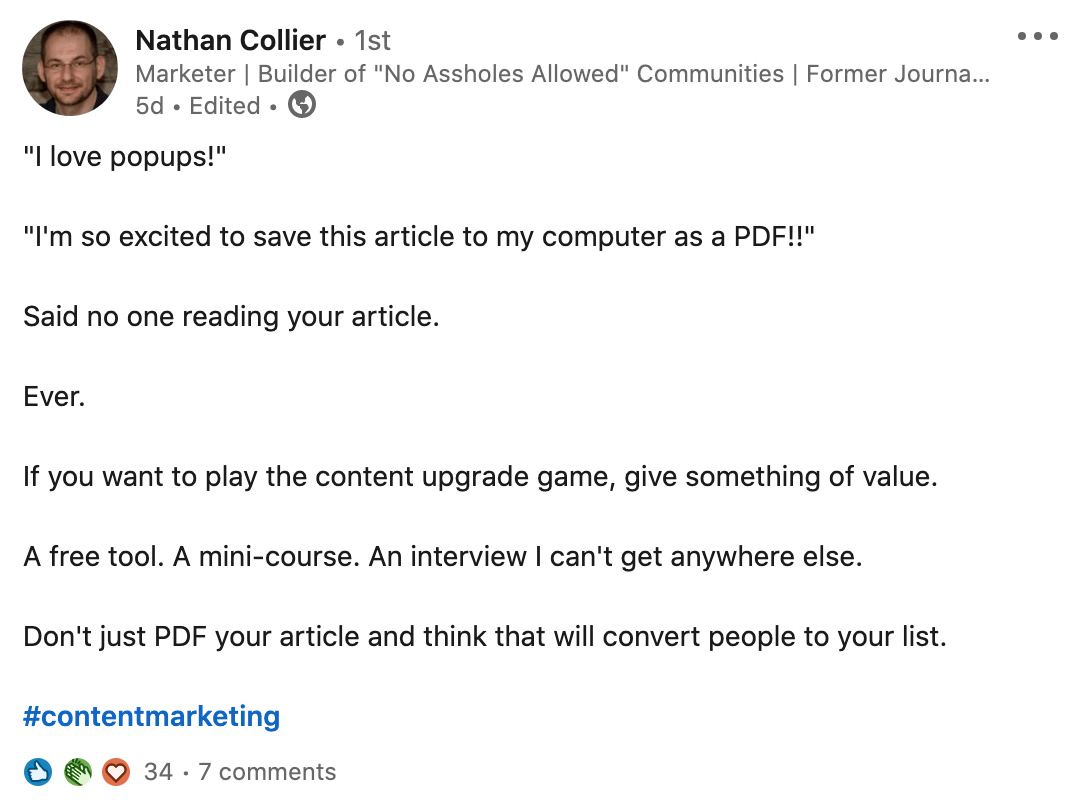 Guest blogging is where you write a blog post for another website.
If you're wondering why you should do this when you could publish the post on your own site, the answer is simple: you can piggyback off a big site's 'authority' to rank for competitive and high-volume topics that you'd struggle to rank for on your site. You can then turn that traffic into leads by linking to a content upgrade from the guest post.
For example, Sarah Cy wrote a guest post for SmartBlogger and linked back to her free checklist: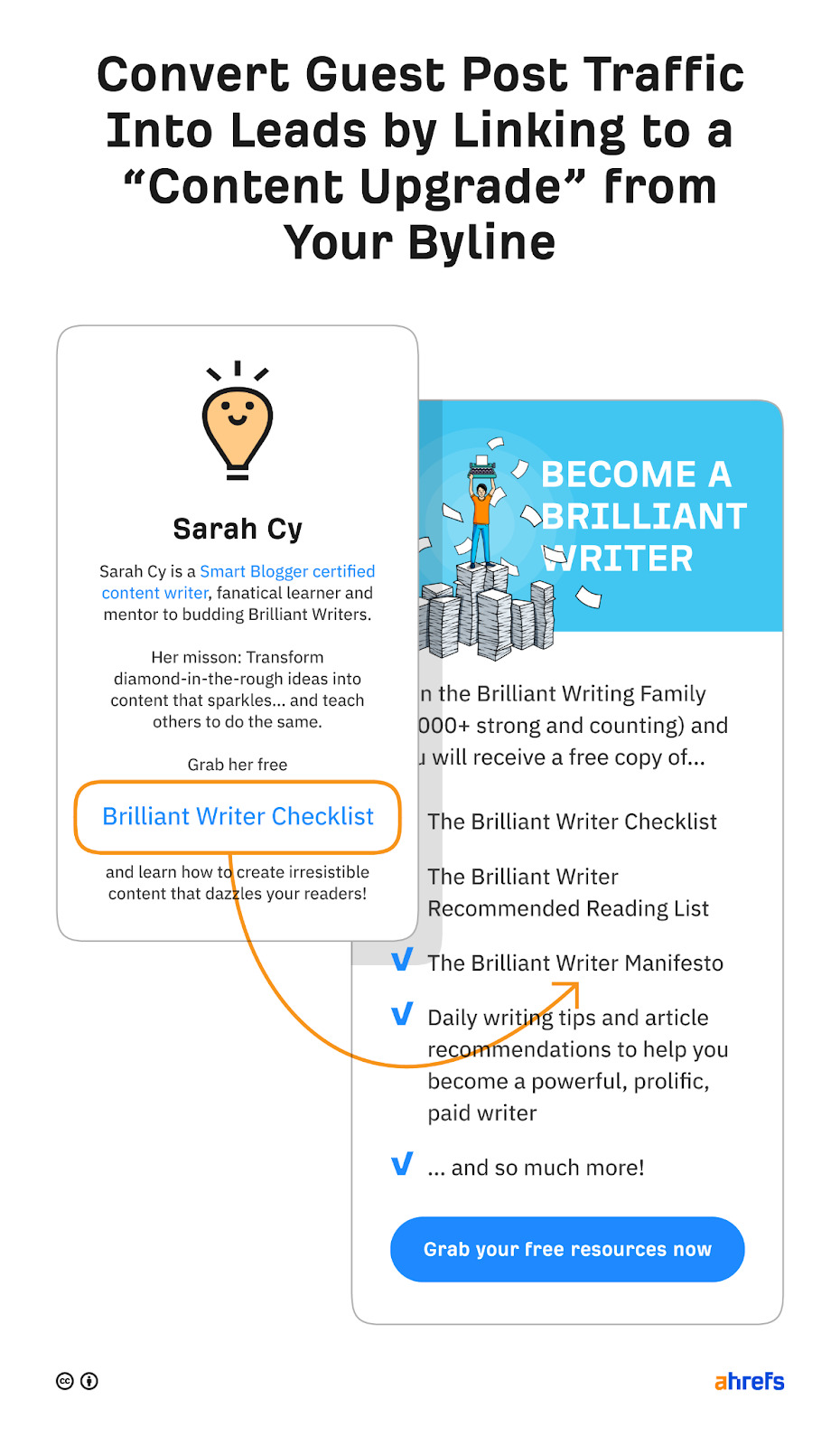 With the post generating an estimated ~3,100 monthly search visits, Sarah is almost certainly getting a decent number of leads each month.

How to do it
To get started, find authoritative sites you can write for. This should be relatively easy if you're familiar with your niche.
If not, go to Ahrefs' Content Explorer and enter a broad topic like "weight loss" or "dieting". Content Explorer is a mini search engine within Ahrefs. It's powered by our database of five billion pages and you can use it to find mentions of anything on the web.
Set your search to "in title". Add a "Domain Rating" filter to see only authoritative websites.
Go to the "Websites" tab.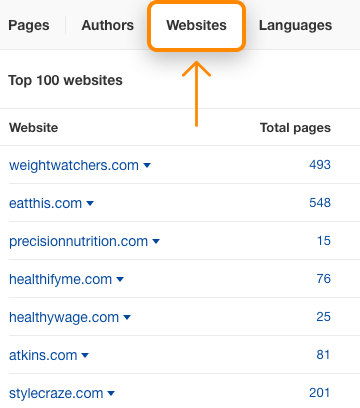 Look through the list and pick out the sites you wish to write for.
Next, you should find a topic to pitch that has search traffic potential. The quickest way to do this is to run a Content gap analysis. This will tell you which topics the site you're pitching isn't ranking for, but similar sites to them are.
Enter the other sites you've found in the "Websites" tab at the top section, and your target site at the bottom.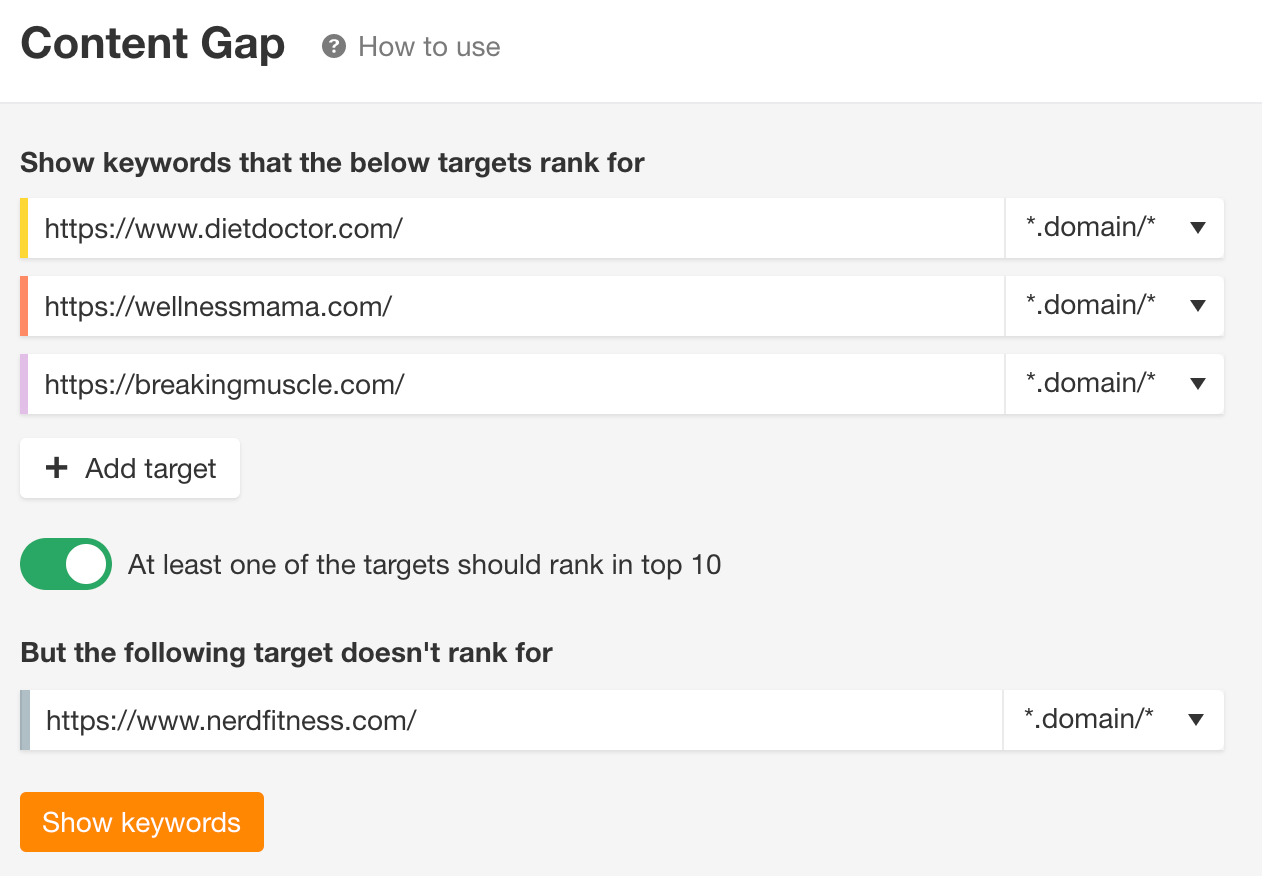 Hit 'Show keywords.'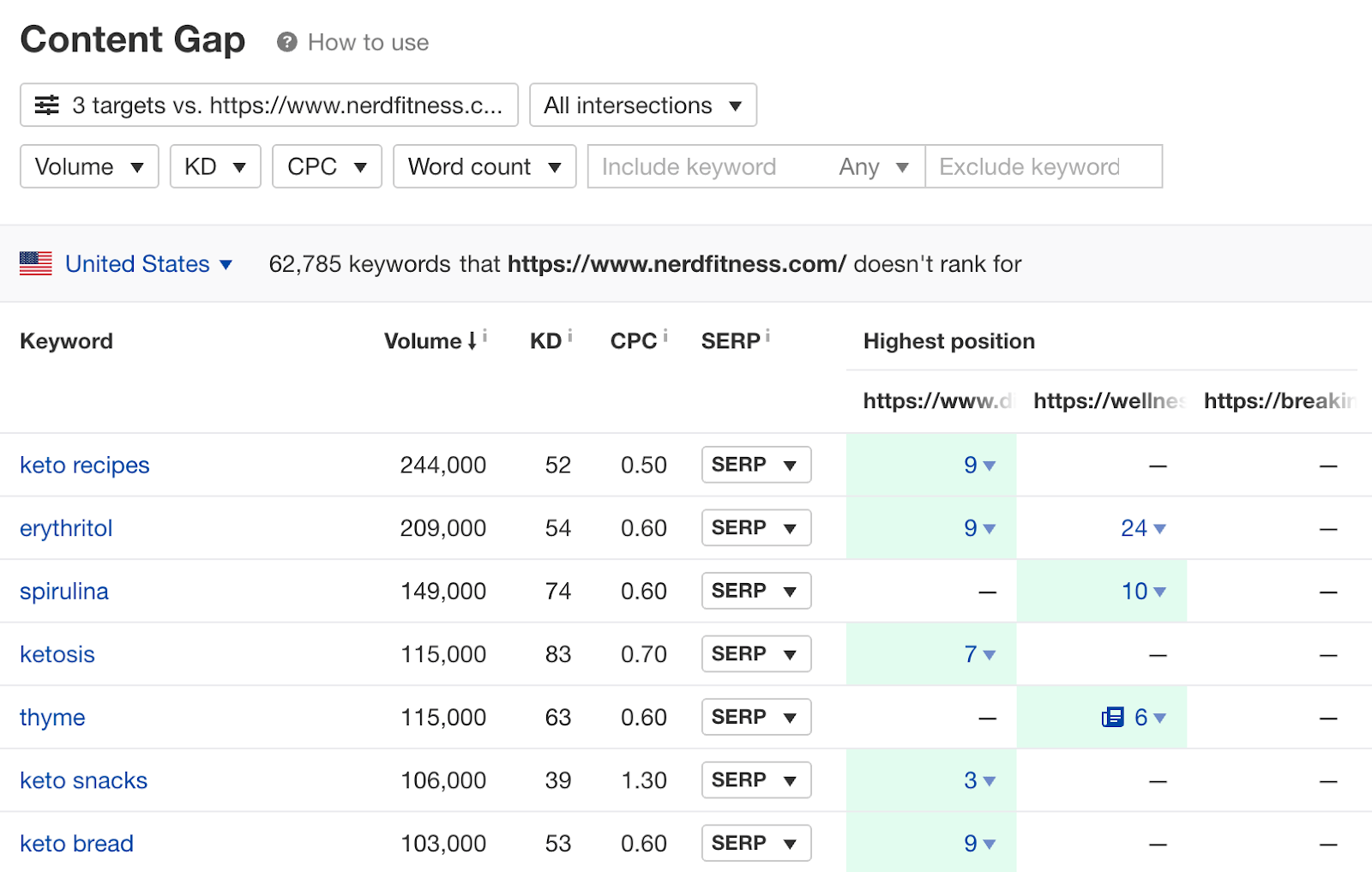 Look through the list and see if there are any suitable topics you can write about. Then, find the editor's email and pitch those topics to them. In your pitch, make sure to add that these are topics their similar sites are ranking for, but not them. They'll surely be interested.
Recommended reading: Guest Blogging for SEO: How to Build High-quality Links at Scale
Written content is not the only type of content you can create and rank to generate leads. You can create free tools too. This is especially powerful if you're a software-as-a-service (SaaS) company. Scale down the paid version of your tool and offer it for free. If someone is using it, you can be sure they're 100% great leads.
For example, at Ahrefs, we offer tons of free SEO tools: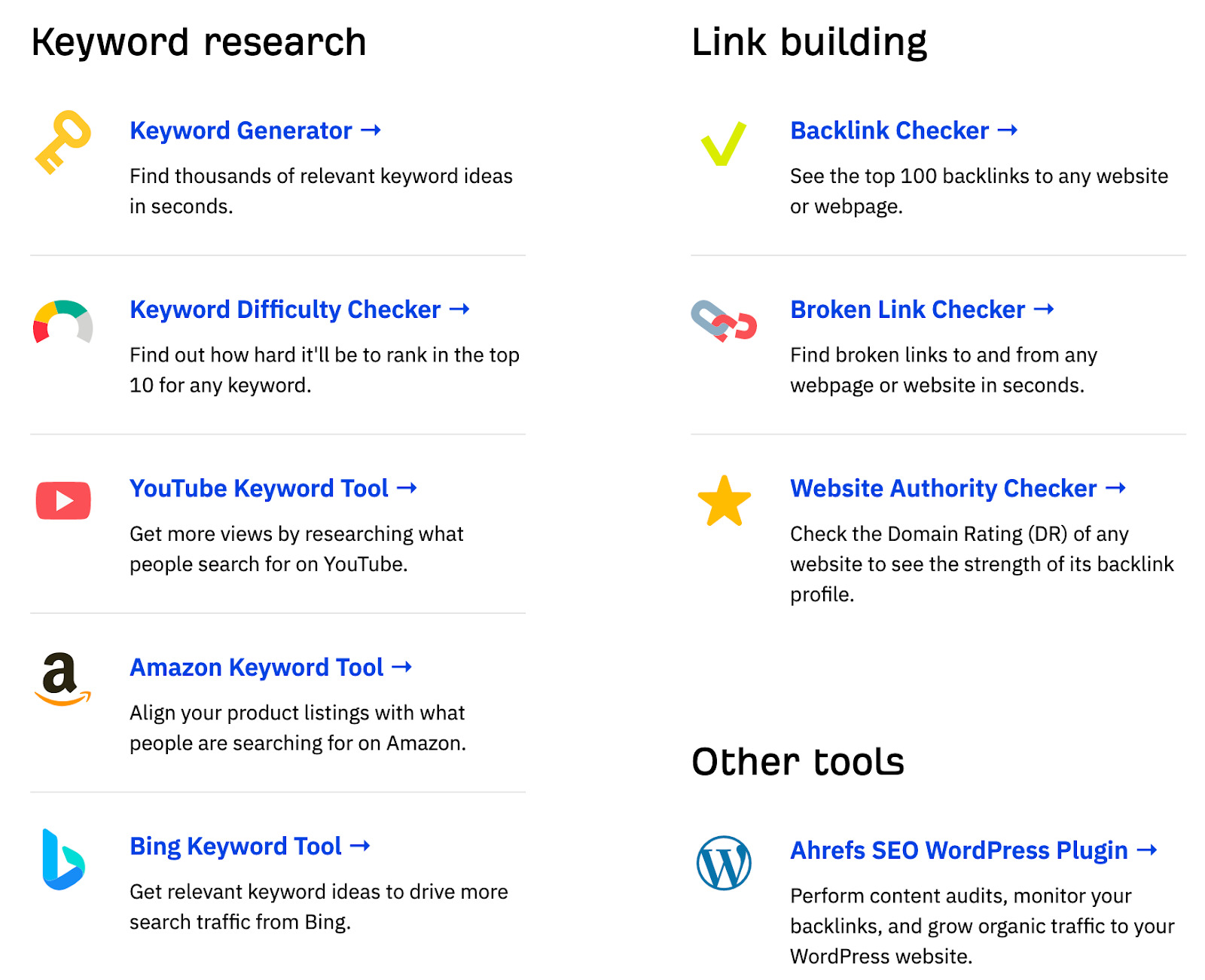 However, don't be discouraged if you don't sell software. You can create a tool where it solves a problem related to a service you provide or a product you sell. For example, Crunch provides accounting services and offers a free take-home pay calculator.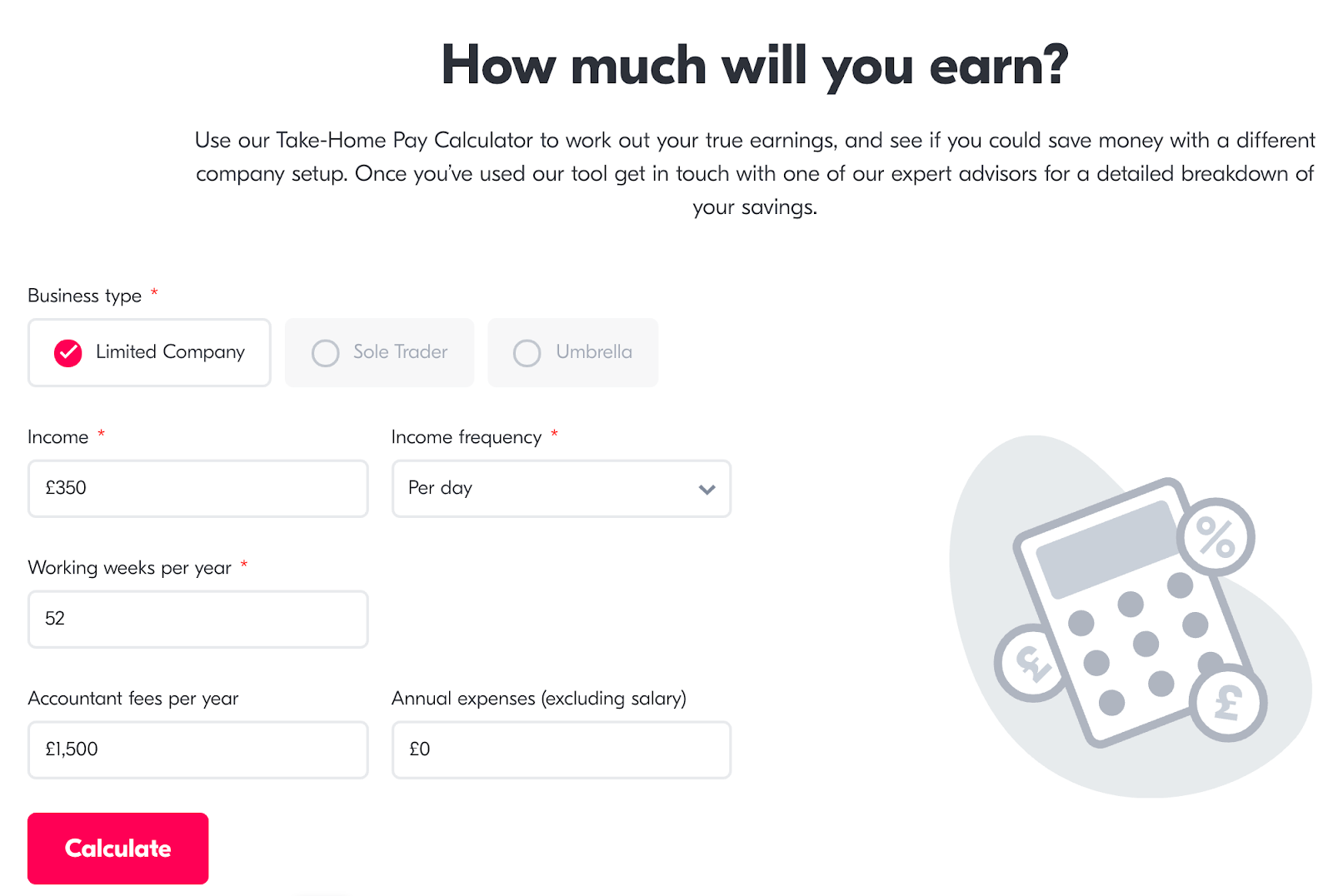 How to do it
Now, the "secret." None of the free tools we've created at Ahrefs are born out of thin air. They were created because they had search traffic potential. Sounds familiar? It's the exact same tactic as blogging for lead generation.
Which means, the next question is: how do you find these topics?
Start by entering a few relevant keywords into Ahrefs' Keywords Explorer. If you're a real estate agent, then these might be "mortgage", "rent," and "down payment."
Then, go to the Phrase match report and add words like calculator, tool, tools, and checker to the "Include" box.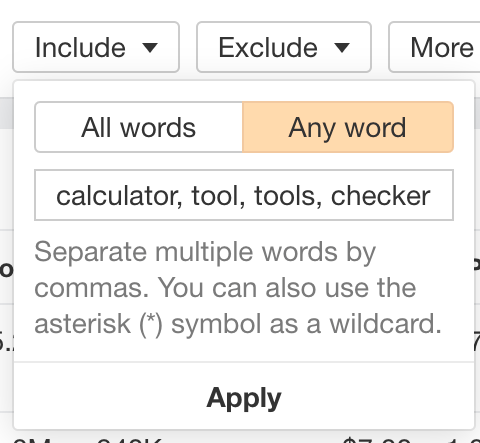 Hit "Any word" and click "Apply."
You should now see a list of relevant tools that people are searching for. Choose the most relevant one and create your tool.
While your free tool should be powerful enough to satisfy those who are using it, don't forget to add a call-to-action (CTA) to encourage those who want more to sign up. For example, here's how the CTA for our backlink checker looks: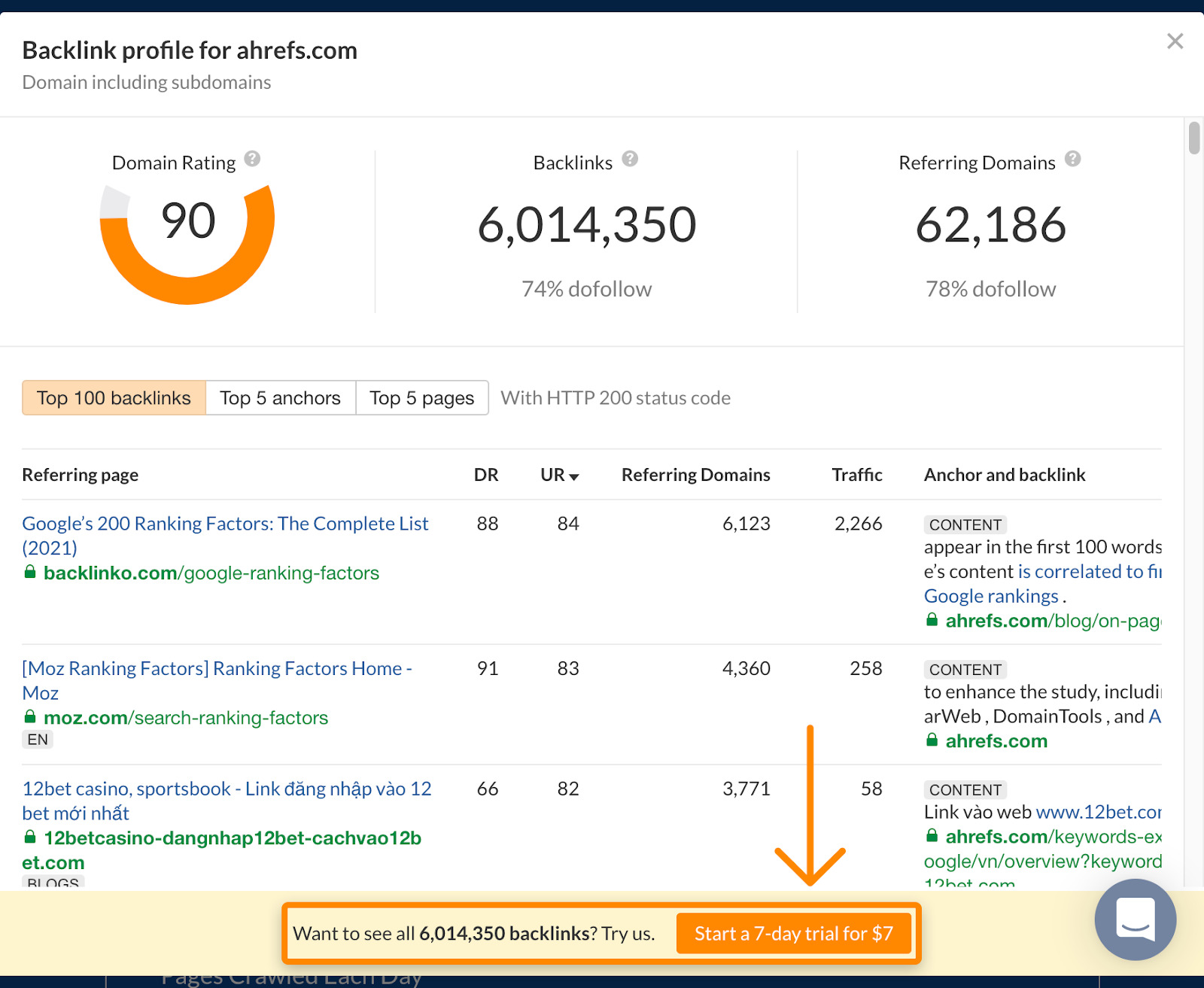 And here's how Crunch's take-home pay calculator CTA looks: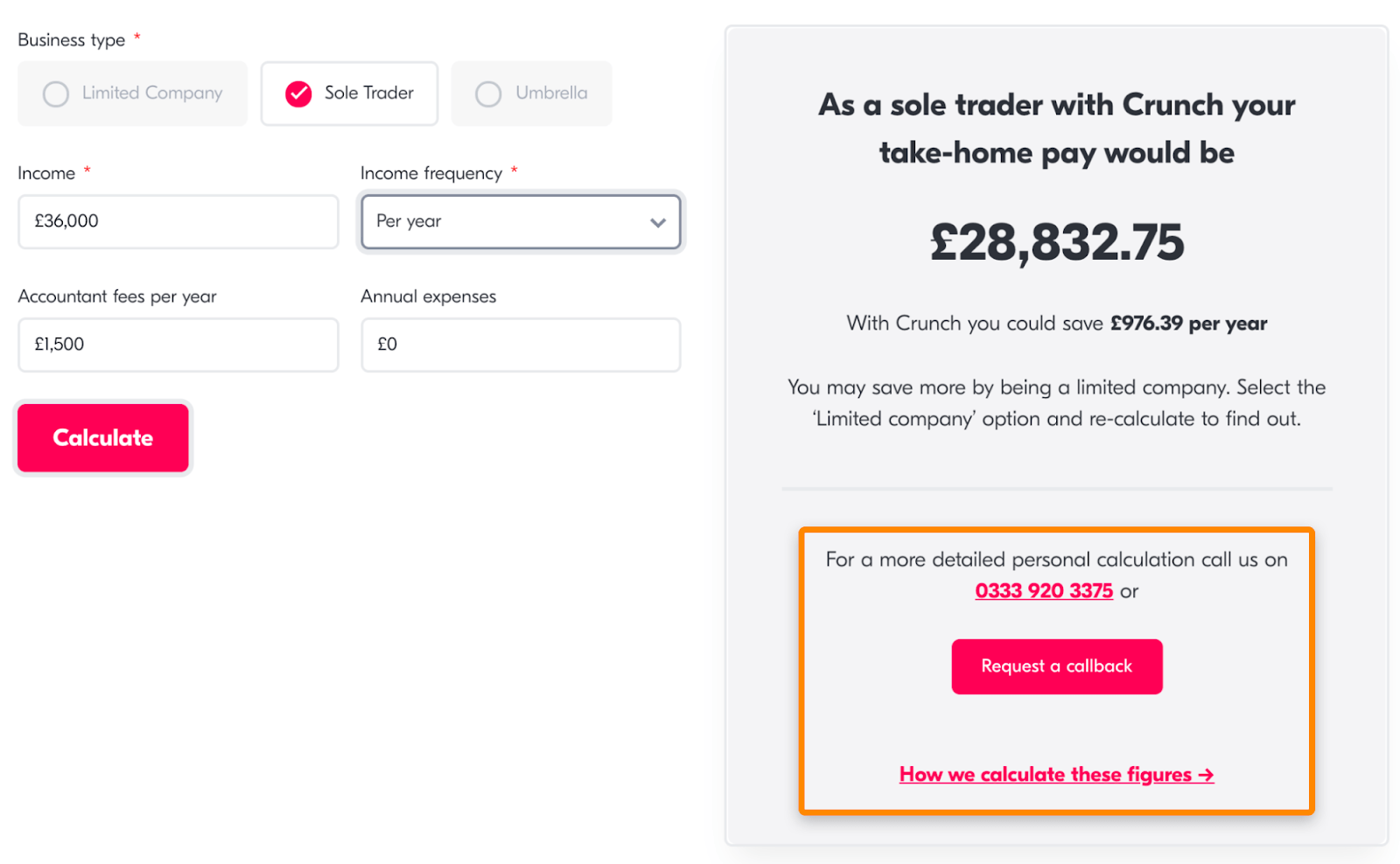 In 2018, we worked with Buffer, a social media scheduling tool, on a webinar called "How to Get Website Traffic With Evergreen Content and Social Media Marketing."
https://www.youtube.com/watch?v=xn2XCFqREbU
We aren't competitors. But both of us target the same audience: digital marketers.
There are plenty of businesses out there who have the audience you want. Find them and collaborate with them. Work with them to create valuable content for their audience. It can be a webinar, an eBook, a blog post, a YouTube video or even a course. In return, you get exposure to their audience and can drive traffic to your website.
For our partnership with Buffer, we decided we didn't have to create a specific offer, since our homepage was designed to explain our toolset and capture leads. Anyone who was interested in our product after the webinar could simply Google our brand and find us. But feel free to create your own landing page specifically for the collaboration if that's your strategy.
It doesn't always have to be another company either. You can work with influencers too. As long as they have the audience you're targeting, they can be a good match.
Are you already working with another brand on a webinar? Here's an idea: why not go the extra mile, work with more brands/influencers and create an entire event?
In the marketing world, these are known as virtual summits. I first heard of them in 2017. They were popular for a short while, but then died off. But now, with in-person conferences difficult to hold, virtual summits have surged in popularity again. Even our Chief Marketing Officer (CMO), Tim Soulo recently spoke in one:

The basic idea is to crowdsource expert content and turn it into a valuable resource for your target audience. Here's how it works:
Create a summit related to what you sell. For example, if you sell link building services, you can create a summit like "Outreach Virtual Summit".
Reach out to a bunch of influencers, interview them and record these interviews.
Set a date for your summit.
Get people to register and attend the summit.
Deliver the recorded interviews over a period of 3—5 days.
Anyone who signs up for your summit is obviously interested in your topic of choice. As such, they'll be great leads for your business.
Events like this may take more time to organize, but generating hundreds (or even thousands) of leads from a single event are not unheard of. It's definitely much easier to organize than physical events. Plus, with virtual conferencing tools like Zoom and Podia available today, creating an event like this should be a cinch.
While we have experience attending and speaking in virtual summits, we don't have experience organizing one. As such, I'd point you in the direction of great resources that'll teach you how to get one set up:
A few years ago, I worked at a startup where we were selling an unheard-of product: a massage jacket. We wanted to launch on Kickstarter and needed a list of leads that we could promote to …fast.
That's when we stumbled upon giveaways.
When done well, giveaways are a powerful lead generation tactic. But note the caveat: "when done well." The reason I say this is because I've seen many companies give away random prizes (like a Tesla car) in hope of getting as many leads as possible.
But as mentioned, the quality of leads is what matters. Giving away big, expensive prizes may generate lots of attention, but it also attracts freebie seekers. They're definitely not your ideal customers.
What you should do is to give away something your target audience wants. Most of the time, that's your product. At Ahrefs, we used to give away a free annual subscription whenever we sponsored podcasts.

Although we no longer do product giveaways, we still run giveaways for our swag. In fact, we gave away some recently, and that generated tons of interest:
Who wants this pretty box with some Ahrefs' swag and goodies?

😜

Just tell us which Ahrefs' feature is your favourite. We'll select 10 people at random and send them these swag boxes. 🙃 pic.twitter.com/5DQ32B6Qly

— Ahrefs (@ahrefs) April 7, 2021
What if you're a new company or have a product that no one knows about? Well, that was my exact situation. We couldn't give away our jacket because we were so new that we only had a prototype. In that case, follow tactic #4—partner with another company.
In my case, I worked together with a similar company and gave away their product as a prize.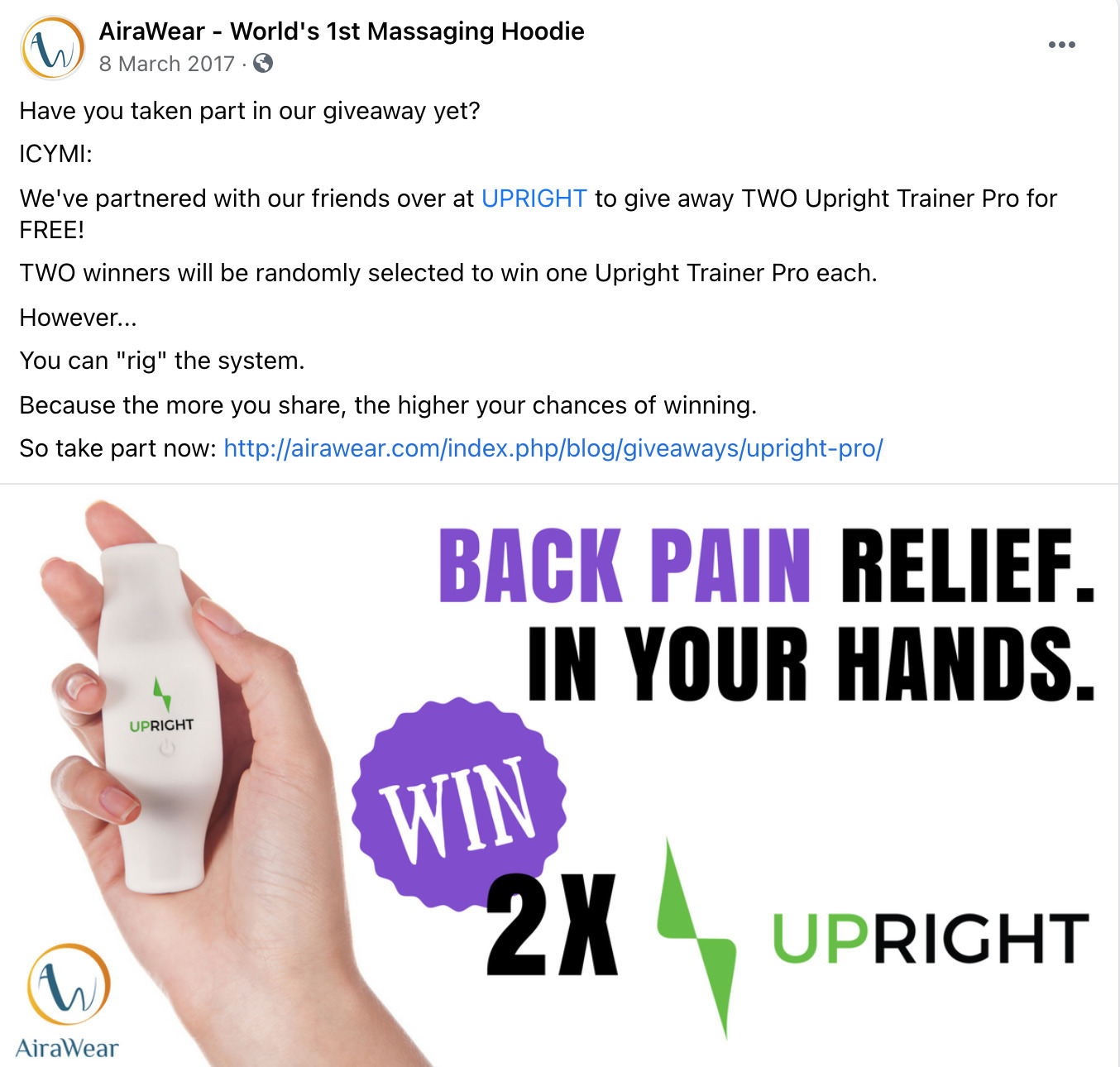 Once you've decided on something appropriate, setting up a giveaway is easy. Just use a free app like KingSumo and you're all set.
All that's left is to promote the giveaway. Marketing a giveaway campaign is similar to content promotion—sending it to your email list, posting it on your social media, sharing it on communities, working with influencers, and so on.
Follow this content promotion checklist for a list of things to do:
https://www.youtube.com/watch?v=PoVYweKH4ck
The Ahrefs homepage receives the most traffic out of all pages on our site.
It's likely the same for yours too. It makes sense—after all, your homepage is linked to from every other page. It's also the "face" of your website. A certain percentage of people who entered from another page will likely click through to your homepage and check it out.
If your goal is to generate more leads, then a potential idea is to convert your homepage into a lead collection magnet, like what you see on Gaps.com: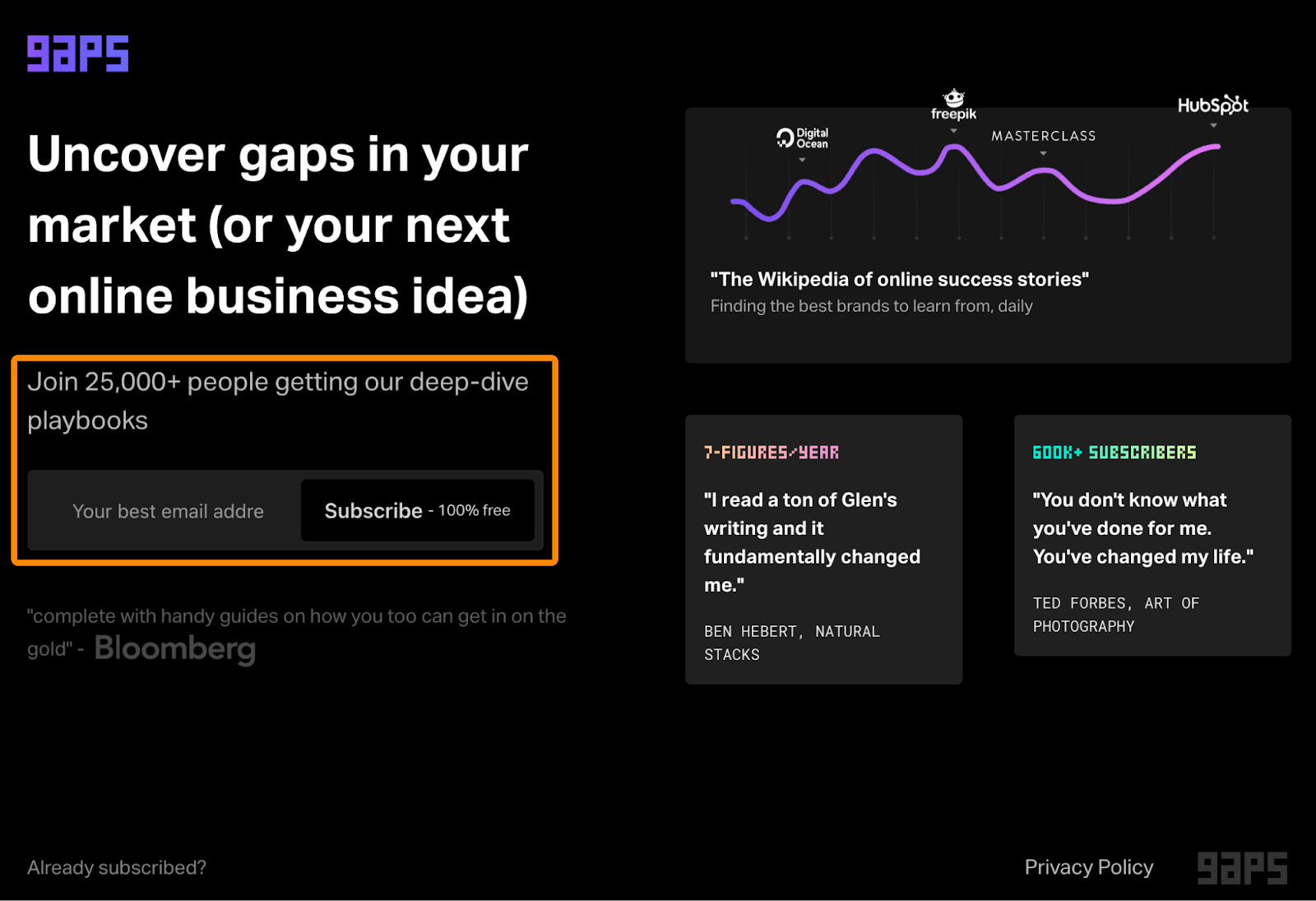 Or OkDork: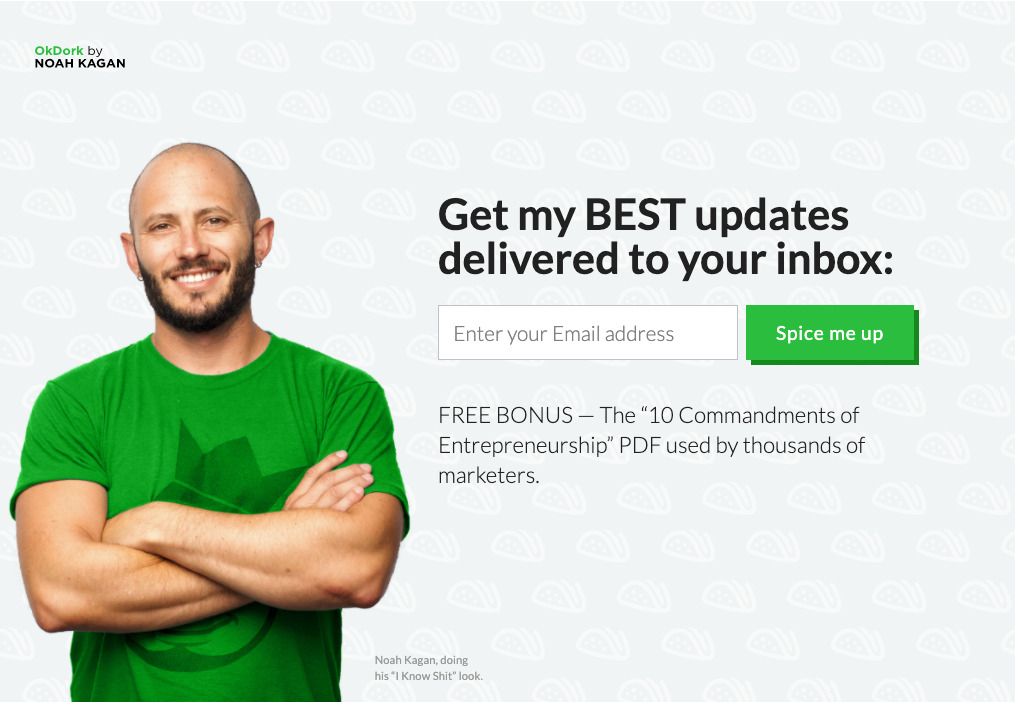 A caveat: don't just jump straight into this tactic because you've seen your favorite internet marketers do this. It depends on your strategy—it could be a good idea if you want more leads and sell via your email list. But if you're a SaaS company like us, then you might want to reserve your homepage for explaining your value proposition.
According to Nielsen, 92% of people trust recommendations from friends and family over any other type of advertising. This makes leads generated from word-of-mouth one of the highest quality leads you can get.
While satisfied customers may naturally recommend your product or service to their friends, most of them will need some prodding. This is where a referral program comes into play.
A referral program "nudges" these satisfied customers by providing them with incentives. It assumes that incentives are a good enough reason for them to tell their friends. And these incentives are offered to both the referrer and the referee.
So, the success of the referral program depends on the incentive itself. In general, there are two types of incentives you can give:
Cash incentives are straightforward. For every new customer someone refers, you give them and the person they referred $X in return. For example, in their early days, PayPal gave $20 to anyone opening an account, and another $20 for referring someone to open an account.
That grew them to over 100,000 customers in just one month.
For non-cash incentives, there are a variety you can choose from. You can give away discounts, store credit, your product, or more. The most famous example is Dropbox's referral program. They gamified the entire process by offering more storage space for each successful referral.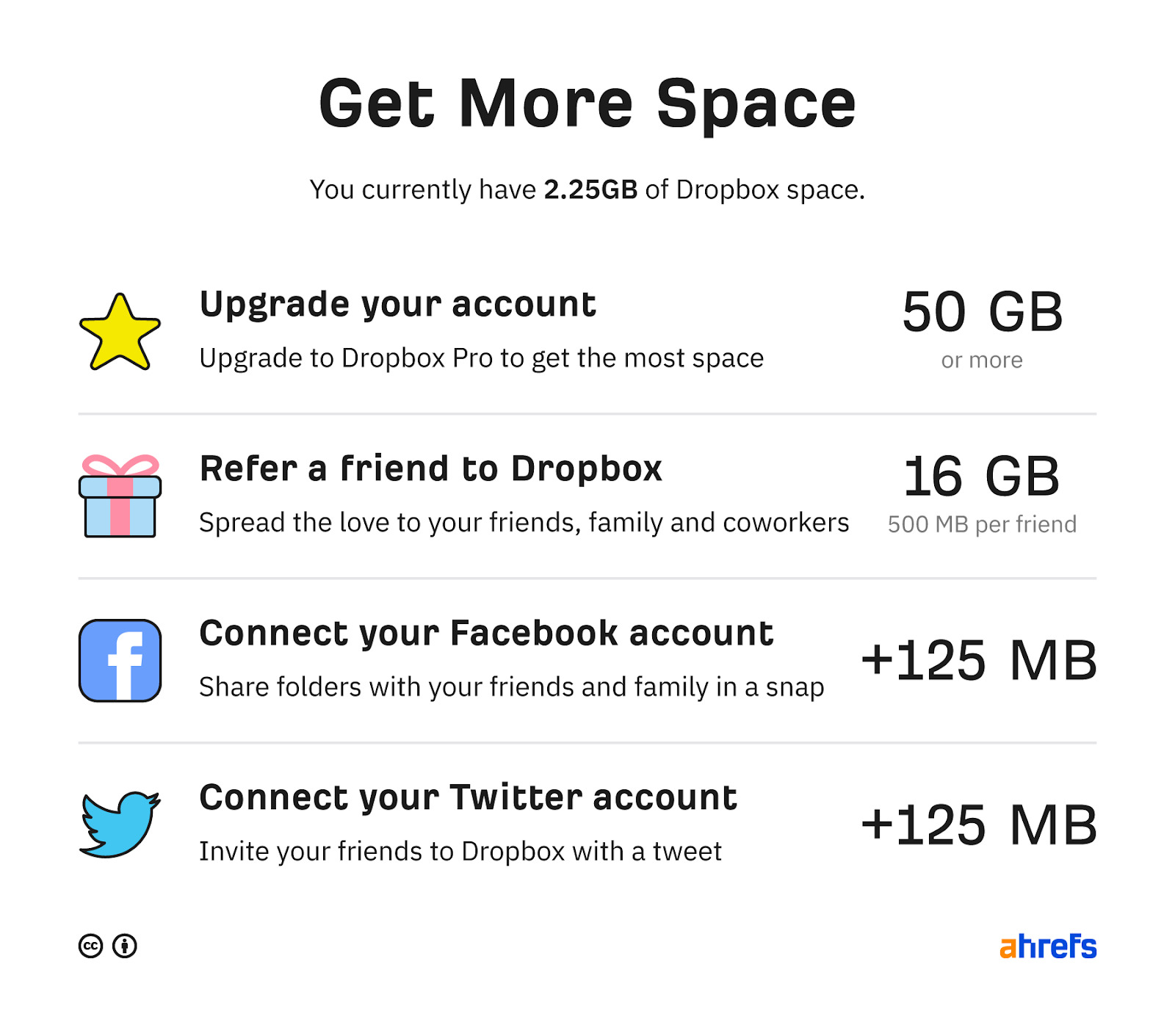 Between cash and non-cash incentives, which should you choose? Generally speaking, it depends on whether your customers make repeat purchases.
If they don't buy frequently (e.g. a mattress), then a cash reward might be more exciting to your customers. If they buy often (e.g. clothes), then perhaps you could give away store credits they can use for their next purchase.
Of course, this is just a general rule. You'll have to test it on your store to see which works better.
We've talked about written content and free tools. But there's another popular format we've yet to talk about. Videos.
YouTube is the second most popular search engine in the world. Every day, people watch over a billion hours of video on YouTube. There's a huge opportunity for you to generate leads via video.
How to do it
Here's how you can generate leads via YouTube.
a) Target video topics with search traffic potential
For video marketing, follow the same content marketing strategy you used for blogging and free tools—target video topics that have both search traffic and business potential.
To find these topics, enter a relevant keyword into Ahrefs' Keywords Explorer. Switch the search engine to "YouTube." For example, if you sell BBQ equipment, you might enter terms like "BBQ", "barbecue", and "barbeque". Go to the Phrase match report.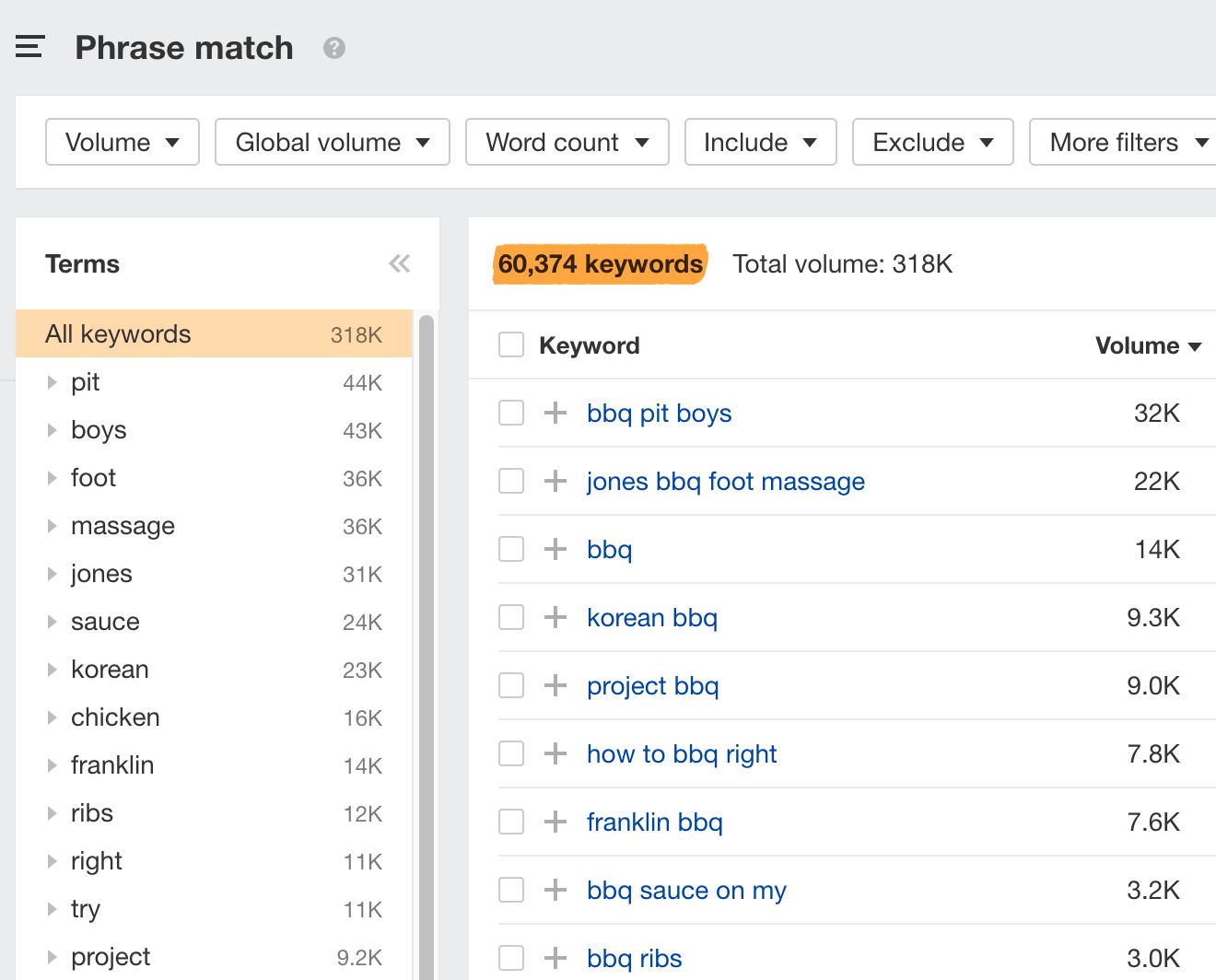 Look through the list and choose those that are relevant.
b) Create a video that deserves to rank
To rank on YouTube, watch times are important. Therefore, your video needs to be entertaining, informative and captures the attention of your audience. We recommend you script your videos so you can keep on video on-point. Then, edit them smartly for high engagement.
https://www.youtube.com/watch?v=j5EOWffq-gk
c) Capture leads
Generally speaking, the YouTube ecosystem is not friendly for lead generation. But that doesn't mean it's not possible. Here's how the popular basketball channel ILoveBasketballTV does it.
First, using YouTube's end screen features, add the link to your landing page/lead magnet at the end of your video: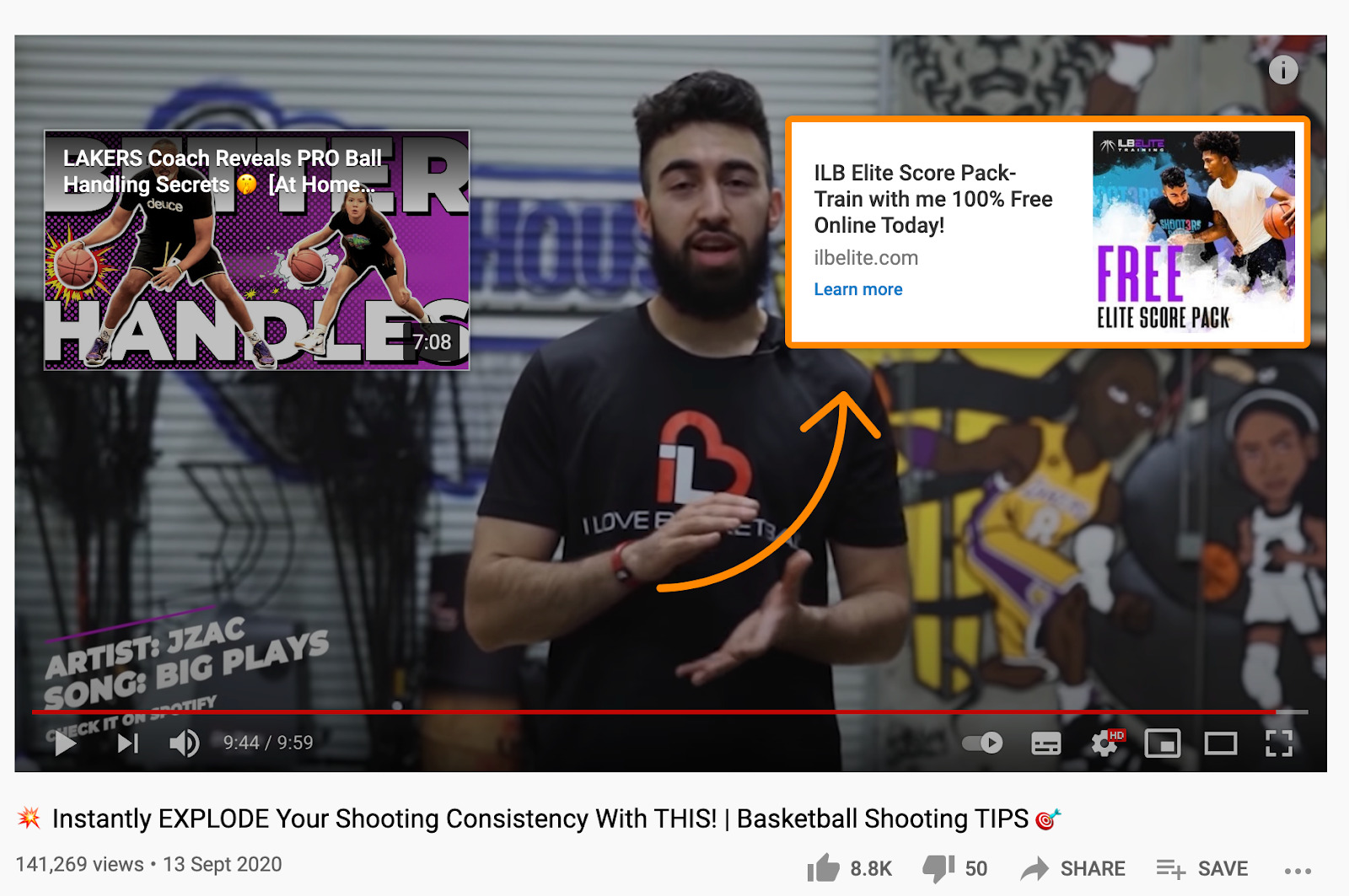 Next, add it to your description:
Lastly, write a comment linking to your landing page and pin it:

You've used one of the above tactics. It generated a certain number of leads. But naturally, not everyone who visited your site signed up. You might think that's the end—if they didn't sign up now, they're lost forever.
But that's not true. You can still try and get them back. How? Retargeting.
Retargeting is a form of online advertising that allows you to target visitors who have left your website. Basically, most ad platforms (Facebook, Google, etc.) will generate a JavaScript code (known as a pixel) that you can add to your website. Whenever a visitor visits your site, the pixel will drop an anonymous cookie in the visitor's browser.
When the visitor leaves your site, the cookie allows your ad platform to show them your ad.
Retargeting is not a tactic we use personally at Ahrefs. But many businesses do. You can use it too.
Retarget people who have visited certain pages and send them to a landing page with an offer to sign up. Make it enticing by giving them something beneficial in return—an eBook, a free course, etc.
But don't assume that the "carrot" you're offering is the "magic bullet" that works. Send your retargeted audience to different landing pages with different offers and see which performs the best.
Final thoughts
I hope you've walked away with a few actionable lead generation tactics you can test on your website.
Did I miss out on any cool lead generation tactics? If you have any to share, let me know on Twitter.