SaaS marketing is the process of building awareness, increasing interest, and acquiring more customers for a software-as-a-service (SaaS) product.
As a SaaS company ourselves, we're no strangers to the process. In fact, we'd like to think we're more than decent at it. Not only have we reached an eight-figure ARR, but marketers also frequently analyze our marketing strategy on Twitter:
IMO, @ahrefs is the GOAT 🐐 when it comes to product-led content marketing.

🧵Here are the 4 pillars to their success (from my perspective):

— Tyler Hakes (@TylerHakes) August 31, 2021
Now, you don't have to dissect our marketing to use for your own SaaS business because I'm going to share those tactics with you.
Here they are:
Like many other SaaS companies, we regularly create content on both our blog and YouTube channel. But in a crowded world, simply producing content isn't enough. It needs to be discovered.
The "discovery engine" behind our content is search engine optimization (SEO). This is how our blog gets ~300K monthly visitors from Google alone:

SEO-driven content marketing is the core of our marketing strategy. It drives both our business and other marketing channels.
Here's how we do it.
A. Find topics with search traffic potential
For a piece of content to get search traffic, it has to be about a topic that people are actively searching for on Google. Makes sense, right?
Here's how to find these topics:
Go to Ahrefs' Keywords Explorer
Enter a keyword related to your industry (e.g., "design")
Go to the Matching terms report
Toggle the Questions tab
You'll see tons of keyword ideas and their estimated monthly search volumes.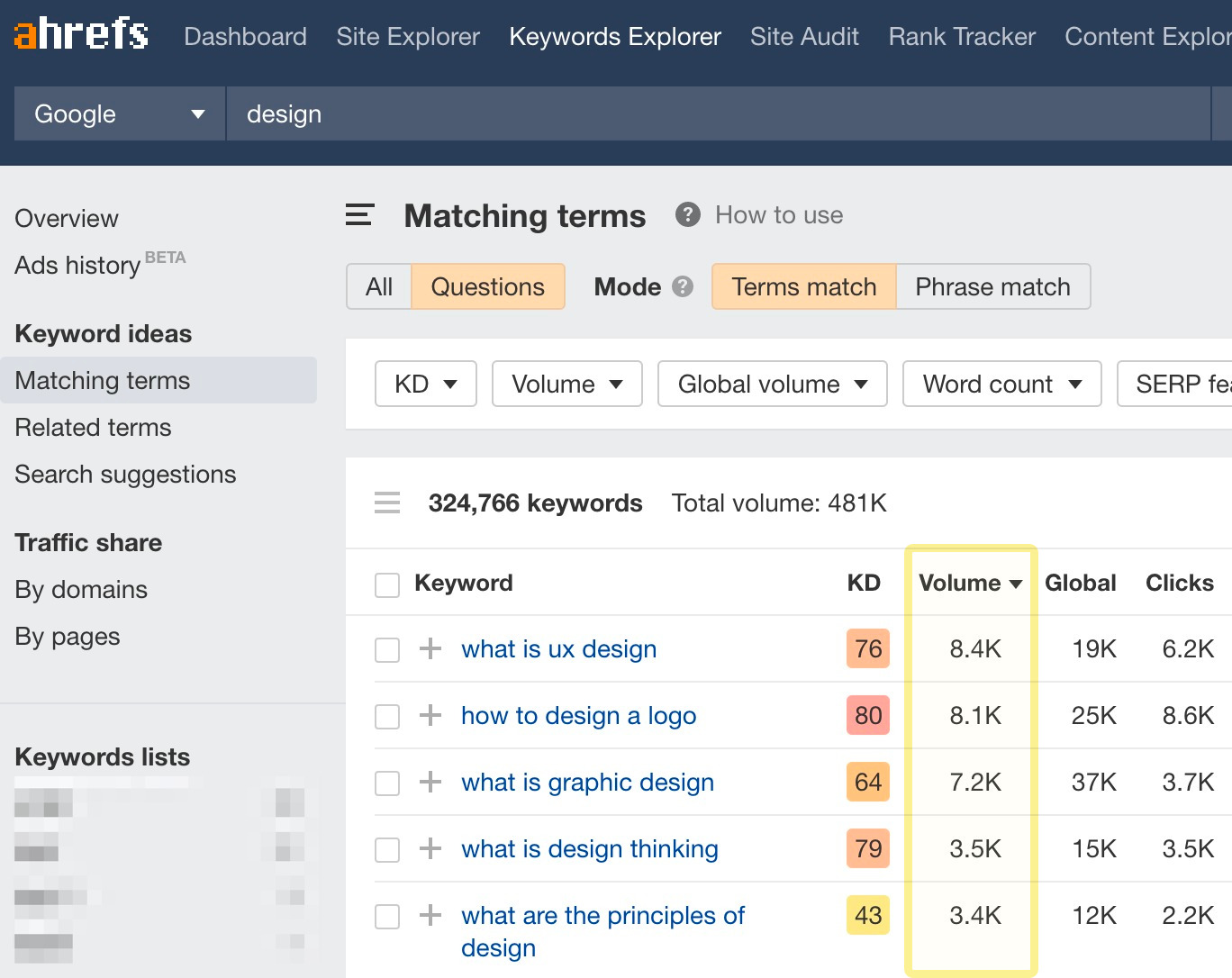 If you're looking for topics to rank for on YouTube, then simply change the search engine from Google to YouTube.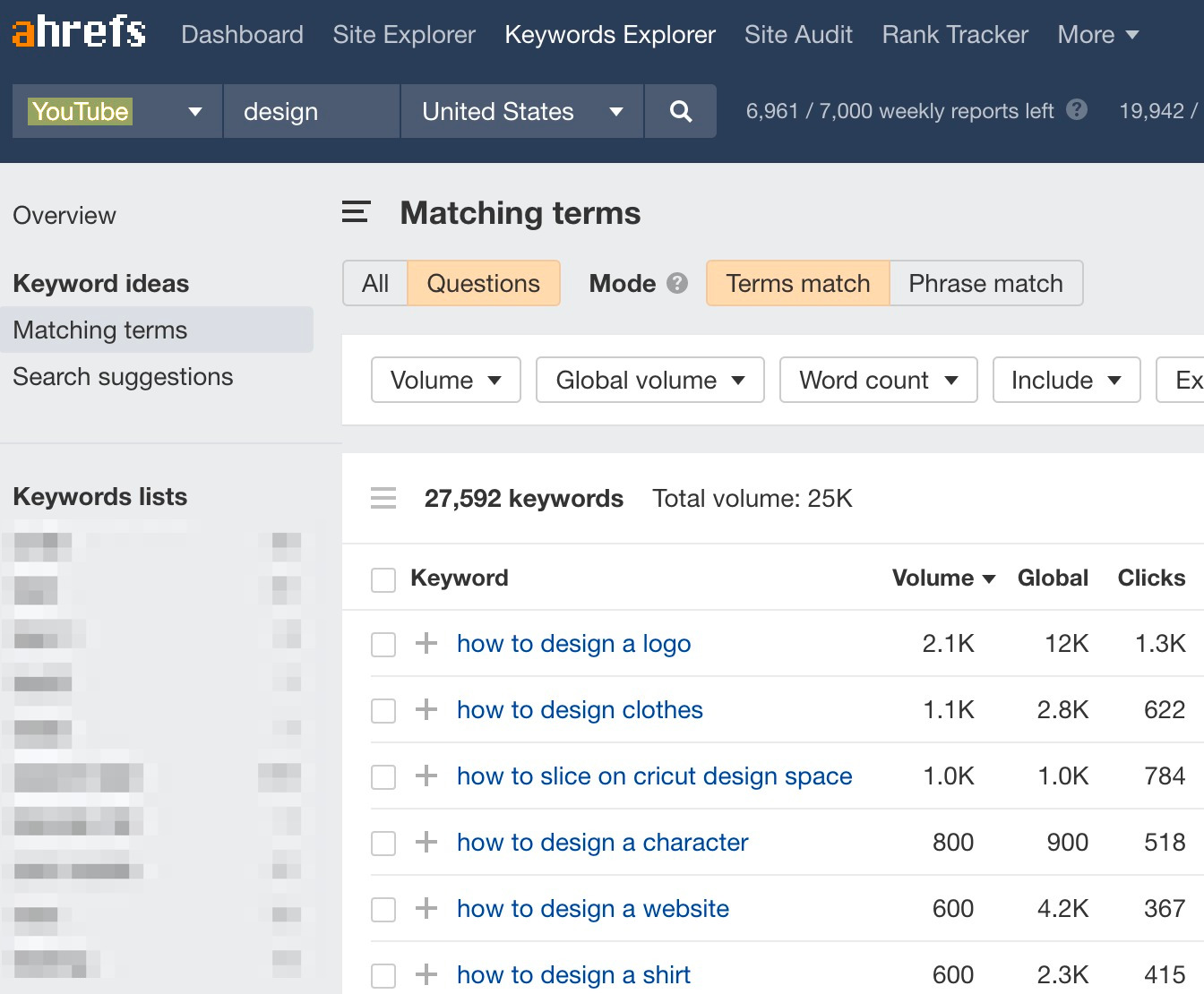 Look through these topics and note down those that are relevant to your SaaS.
Recommended reading: Keyword Research: The Beginner's Guide by Ahrefs
B. Focus on high "business potential" topics
One unique thing we do at Ahrefs is to pitch our product in every piece of content we create. We want you to learn how to solve a problem and know how our toolset helps to solve it too.
Unfortunately, many SaaS companies avoid doing this due to the fear of being too sales-y. But we'd like to think we straddle the line pretty well.
One key reason why we've managed to do this successfully is thanks to a score we've created called "business potential":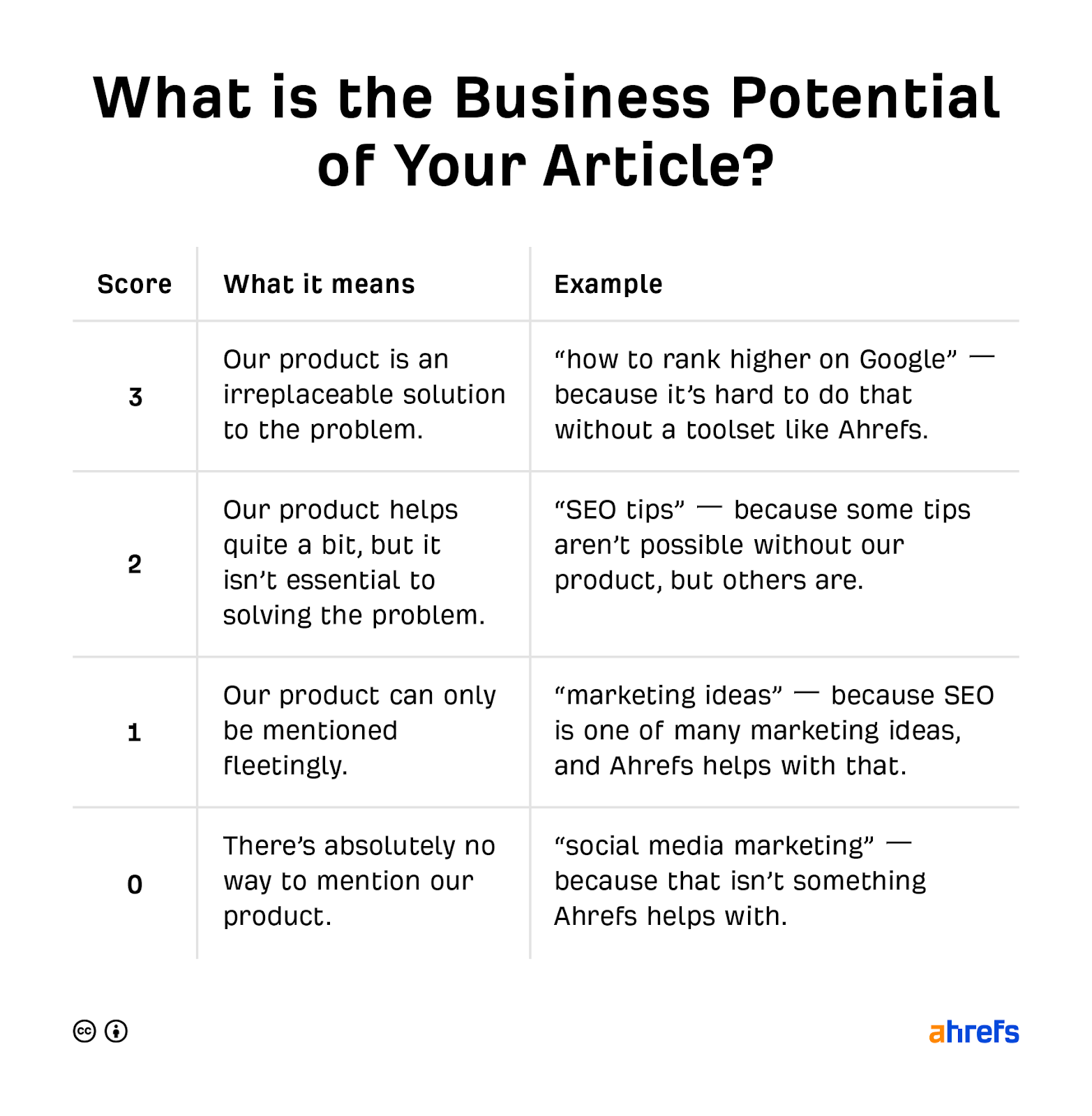 Writing about topics with a high "business potential" score allows us to promote our product naturally.
For example, the topic "link building" is a "3" in our books. That's because it's almost impossible to do link building well without a backlink research tool—something we offer. So, in our link building guide, we can naturally talk about our product:
We do this in our YouTube videos too.
C. Create content that ranks
To rank at the top of Google, you'll need to create content that deserves to rank. Watch this video to learn how. Or this video if you want to rank on YouTube.
Not every piece of content we create is designed to rank in Google. In fact, we have plenty of articles like this that get almost no organic traffic.

Why do we still create them?
These articles are mostly data studies, and there are three main reasons why we create them:
Thought leadership – These studies educate, inform, and enlighten people in our industry on how things are (or where they're heading). They lend numbers and credibility for what marketers want to do—convince their bosses to invest in SEO, show stakeholders where to direct resources, etc. This, in turn, makes us top of mind.
Show off our data – The core of our product is data. These studies help "flex" our data muscles.
Linkbait – These studies usually attract tons of links as other publications quote them.
Here's how you can do it:
A. Find an interesting topic
You can't just create any data study and expect publicity. It needs to be interesting—or at least interesting to people who may cite them (e.g., journalists).
One way to find interesting data is to find topics that people are already talking about subjectively and create objective data to address them.
For example, a popular question in the SEO industry is, "How long does it take to rank in Google?" And almost every blog post that tried to answer this question based the reply on subjective experience.

So, in 2017, we conducted a study using our data to answer the question. It remains one of our most popular data studies and has since generated a total of 3,200 backlinks from ~1,500 unique websites:

Another tactic is reconducting popular but outdated studies. Here's how you can find these studies:
Go to Ahrefs' Content Explorer
Enter a search term like [industry] + "study," [industry] + "survey," [industry] + "research," or [industry] + "data"
Set the filter to an "intitle" search
Set the Published filter to an older date range (e.g., 2010-2015)
Sort the results by referring domains
For example, doing this for the SEO industry surfaces a few studies we can recreate that already have thousands of links: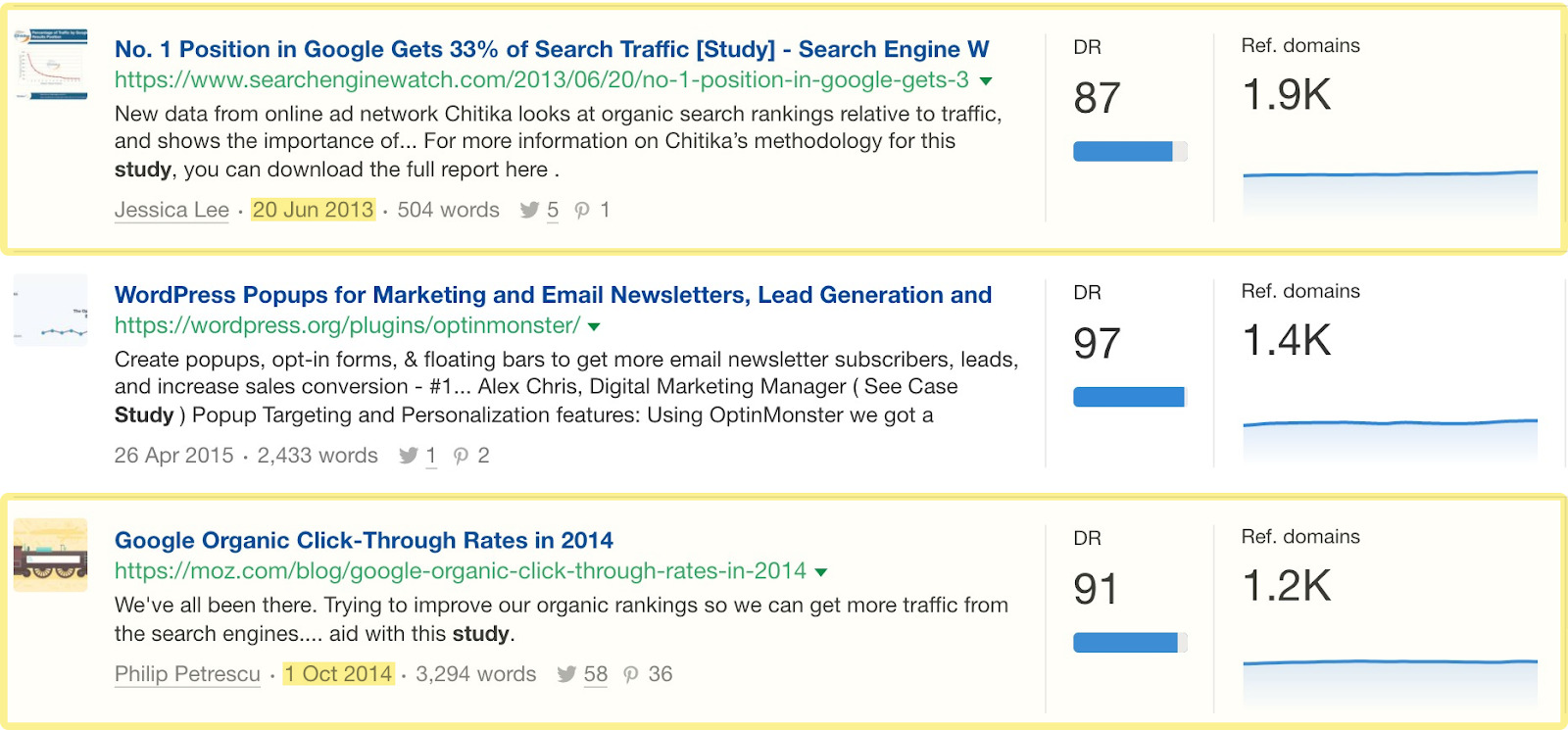 B. Promote your content to interested parties
The beauty of the two tactics above is that you already know who's writing about these topics. All that's left is to reach out and introduce your study to them. They may decide to link to your research or feature your research in an upcoming post.
Follow our complete guide to blogger outreach to learn how to do this.
At Ahrefs, we offer plenty of free SEO tools: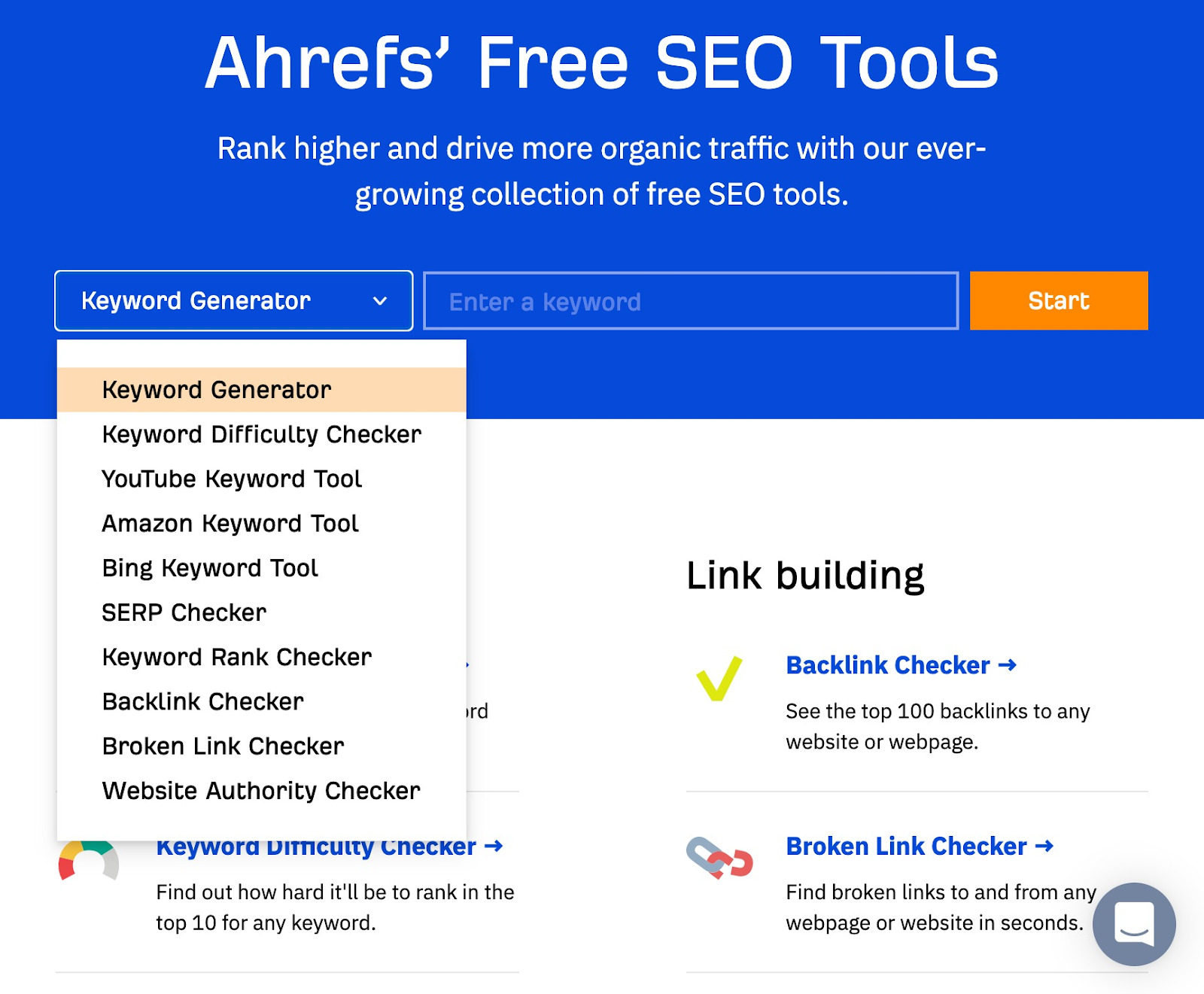 Together, they generate a combined 300K monthly organic visits: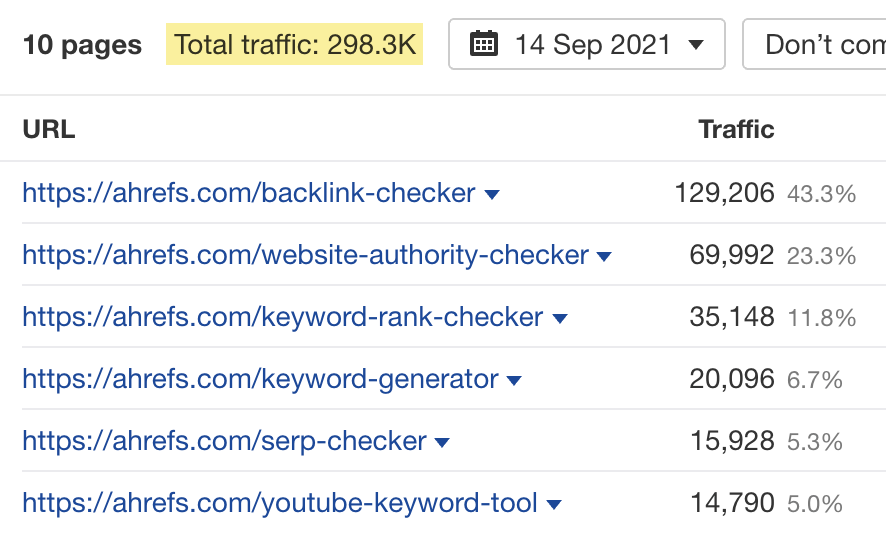 Not only are the users getting a taster of how our product works, but our brand is also top of mind. If they need an upgrade, Ahrefs is the first they'll turn to. (After all, they already know how it works!)
Not surprisingly, they generate tons of new sign-ups for us: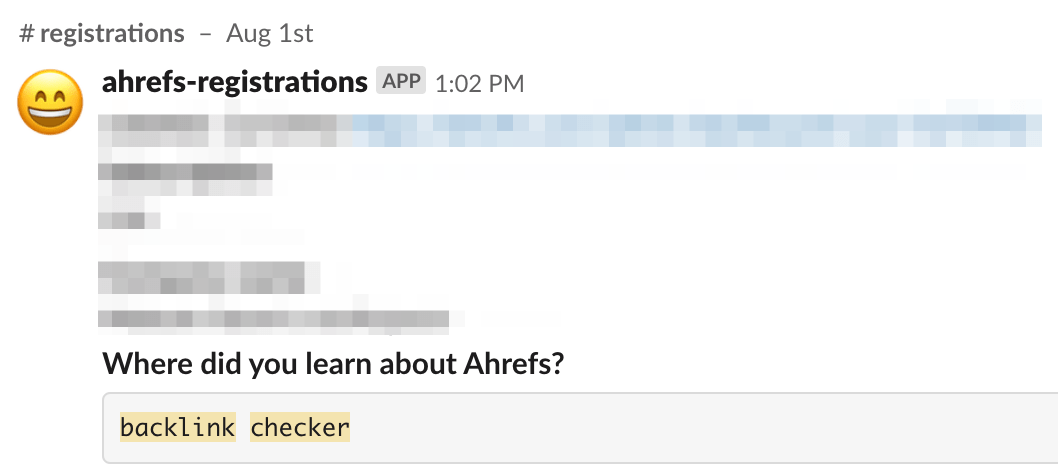 Here's how you can replicate it for your SaaS business:
A. Find relevant tools that people are searching for
Like content, tools need to be discovered. So the easiest way is to create something that already has search demand.
Here's how to do it:
Go to Keywords Explorer
Enter one or more keywords related to your niche
Go to the Matching terms report
Click the Include filter
Toggle Any word
Enter words like "calculator," "checker," or "tool" (separated by commas)
You should then see keywords that represent tools people are searching for: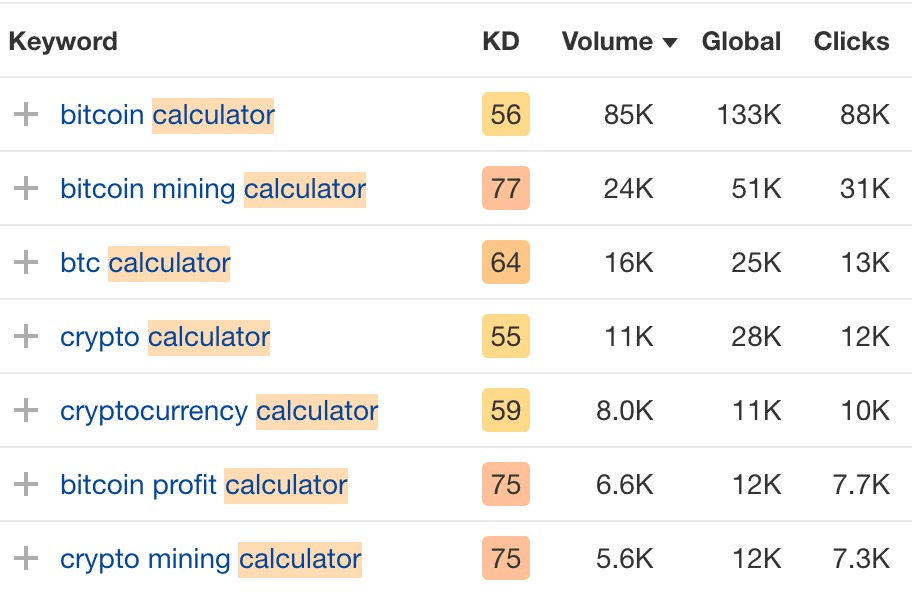 B. Create a free tool
Quite likely, all you need to do is to take one of your existing functionalities and create a limited version of it. This is exactly what we do for all of our free tools. For example, our free backlink checker is simply a limited version of Site Explorer's Backlinks report:

C. Build links
For your free tool to rank well, you'll have to acquire links to it. Learn how to do it in our beginner's guide to link building.
Ahrefs Insider is our customers-only Facebook group. At the time of writing, it has ~16,500 members:

In the group, we frequently post product updates, answer members' support-related questions, and give tips on how to better use our toolset. But that's not all we do. Members of the group are welcome to ask questions about SEO or give feedback on what they like/dislike about our product.
The result: We have an engaged community eager to share their knowledge, answer questions, and provide input on our toolset.
For all the industry talk about how marketers should talk and listen to customers, a community is your best bet. We only allow paying customers in the group, so all feedback is qualified and valuable.
Tim Soulo, our chief marketing officer (CMO), shares how we've built a community of ardent fans in this video:
https://www.youtube.com/watch?v=48C-KNdzDeU
If you're spending lots of resources creating content, it will be a waste just to publish and forget. Instead, make every piece go the extra mile. Turn it into multiple formats.
We do this all the time at Ahrefs. Here are a few examples:
Think of it as a pyramid. Start with one main version, then splinter it into smaller versions for other channels.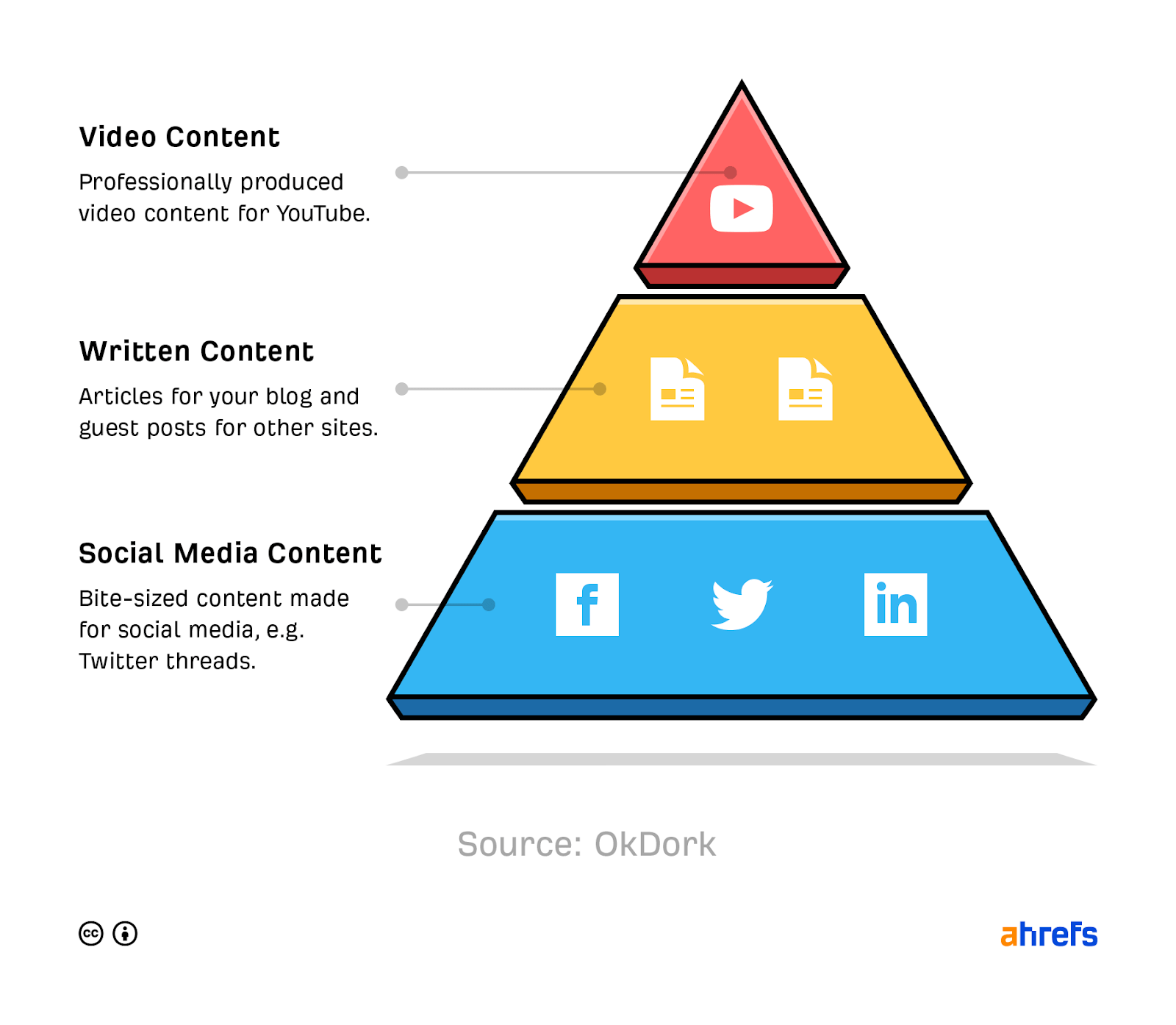 Podcasting has exploded in popularity. There are hundreds, if not thousands, of podcasts in any industry. And plenty need guests to come on and share their knowledge.
This presents a great opportunity for any SaaS business to promote itself and tap into the podcast's audience.
How do you find these opportunities? Here's what to do:
A. Find podcasts to appear on
The easiest way to find podcast opportunities is to search Google for "best [industry] podcasts."
Alternatively, you can find a prolific podcaster in your industry and look for podcasts where they've been a guest. Here's how to do it:
Look for someone in your industry who's been on many podcasts (e.g., Ahrefs' Patrick Stox)
Paste that person's domain into Site Explorer
Go to the Backlinks report
Filter for backlinks with their name in the Ref. page title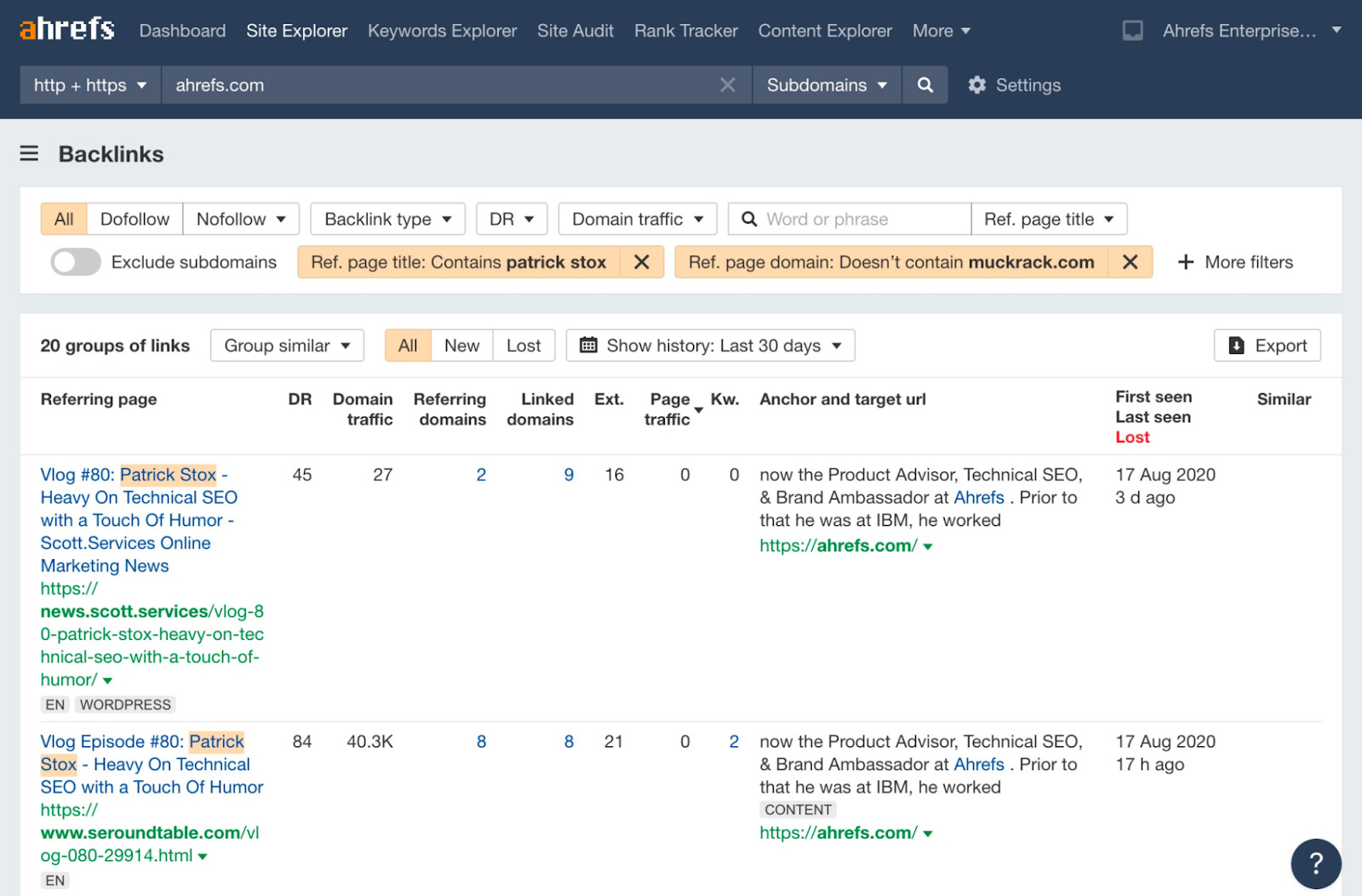 B. Reach out to the host of the podcast
Find the email address of the podcast host, then pitch yourself as a guest.
Paid advertising is relatively straightforward: pay a platform (Facebook, Twitter, etc.) and drive traffic to your website. Plenty of SaaS companies do this because it is direct, measurable, and easy to scale.
Likewise, we use paid ads at Ahrefs too. But with a twist. We use paid advertising to promote our content.
Why? Well, a few reasons:
Most people don't sign up for software after seeing an ad. That's just not how the buyer's journey works, and we're aware of that.
We pitch our product in all the content we produce (tactic #1). So each article basically acts as a sales page. Seen from that lens, we're actually driving traffic to an "educational sales page."
Content needs to be discovered in order for any next step to take place. If no one's reading your content, then they cannot be educated, link to you, or consume your "sales pitch."
That is not to say we don't use paid advertising to get sign-ups. We do. But we only use it for our free tools like Ahrefs Webmaster Tools. It's a much easier "sell" than trying to convince someone to buy software based on just the first impression.
Read our guide to PPC marketing if you want to learn more about using Google Ads to drive traffic and leads.
Every year, we speak at a number of conferences. And they get us sign-ups:

Events, like podcasts, are aplenty. You can always find one to share your expertise at. They don't have to be a 10K-person event; small, local meetups work well too.
If in-person events are not possible, you can always look out for virtual conferences and summits. In fact, Tim did one earlier in the year for the AdWorld online conference.
Wow!

I didn't expect to end up being the #1 trending speaker of the day at @AdWorldOfficial 😮

HUGE THANKS to everyone who supported my talk!
🙏🙏🙏🙏🙏🙏🙏 pic.twitter.com/QbOAxTNOCZ

— Tim Soulo (@timsoulo) May 4, 2021
Which tactics should you use?
Ahrefs is a SaaS. So is your business. But that doesn't mean you can simply "copy-paste" our tactics and achieve overnight success.
After all, your target customers, industry, pricing, etc., are all different from us.
So how do you decide which tactics you should use for your SaaS?
Assuming you already know who your target customers are (most important step!), I think you'll like this mental model from David Fallame, marketing director at On Deck:
In this metaphor, you need to know:
Which "animal" you're going after.
Which "hunting tool" you should use.
The first step is to identify your business model. What kind of customers ("animal") does your SaaS need?
Elephants – Worth hundreds of thousands of dollars per year
Antelopes – Worth tens of thousands of dollars per year
Rabbits – Worth thousands of dollars per year
Mice – Worth hundreds of dollars per year
Flies – Worth a few dollars per year
Next, identify the right "hunting tool," aka your acquisition strategy. There are three main types:
Spears – Require lots of direct human skill and involvement, like sales and business development. For SaaS businesses that target enterprise customers.
Nets – Pull in a large number of potential targets at once, like content marketing. For SaaS businesses that target small businesses.
Seeds – Your customer base grows on its own. Examples are word of mouth and virality. For SaaS businesses that target small businesses or consumers.
For us, our customer base is mainly between the $1K-$10K zone. That is why our content marketing strategy works wonders—it is the right tool for the right group.
Final thoughts
Working in SaaS means hearing the quote "good artists copy, great artists steal" often.
I'll admit: It's decent advice. After all, most art is simply a remix of what came before. But I think this advice is taken too far at times. For example, take a look at the homepages of many SaaS companies. They look nearly the same.
I guess there's a new trend in SaaS homepage design 😆 pic.twitter.com/5qhQOCVBi5

— Tim Soulo (@timsoulo) July 12, 2019
Marketing is about differentiating yourself from your competitors. But ironically, by copying each other, everyone ends up looking the same.
In my opinion, there is nothing wrong with copying or following best practices. But always add your own twist. This is how we've always done our marketing at Ahrefs. None of the tactics we've used are really "unique," but we've always tried to be different.
Just take a look at our homepage and our versus page. Or even our conference banner: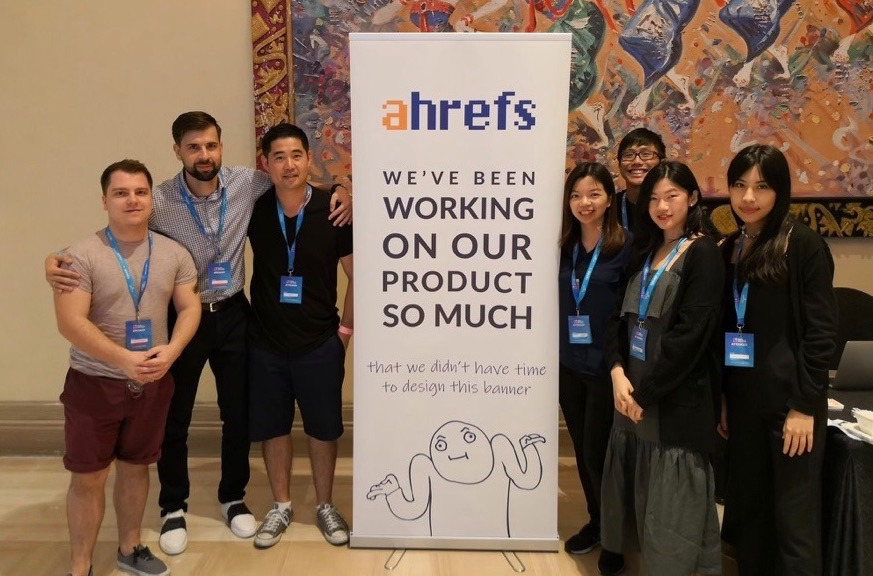 You may be inspired by the tactics we've executed. But remember: Don't copy wholesale.
Any questions or comments? Ping me on Twitter.