Content marketing helps you attract, engage, convert, and retain customers you may not reach otherwise. And it's never been more popular—if you're not doing it, chances are your competitors already are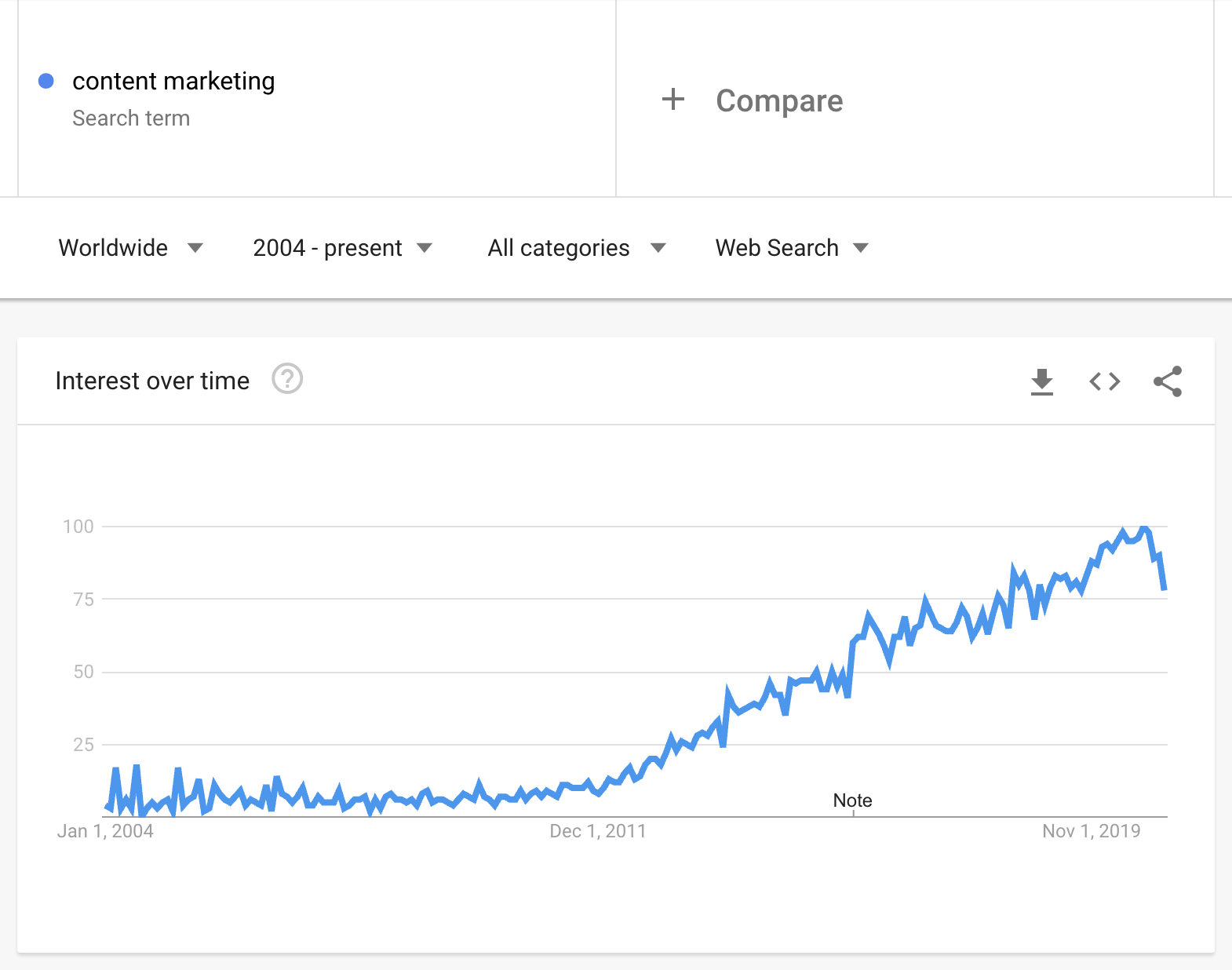 This guide helps you understand what content marketing is, how to explain its benefits to your marketing peers, and how to get started. We also included ideas and advice from 15 content marketing experts to give you the best head start for 2021 and beyond.
We cover:
Content marketing is the process of creating and distributing content to attract and retain customers, so you can increase revenue and ultimately grow your business.
At Ahrefs, our content marketing strategy is simple and effective: we create in-depth blog articles and YouTube videos that teach potential and existing customers how to solve problems and grow website traffic using our tools. We rely primarily on search engine optimization (SEO) to drive qualified traffic to the site, which is currently getting ~400,000 organic visits per month:

Blogging and YouTube work for Ahrefs, but there are many more content marketing formats you can use depending on your audience, resources, and objectives (more on this below).
Content marketing is an opportunity to attract, engage, convert, and retain customers. We know at least five compelling reasons to invest in it:
I'll go through each of these with an example of how Ahrefs does content marketing; you'll find more from different industries in the examples section below.
1. Content marketing helps you create awareness and attract potential customers
When people have a problem they want to solve or a desire they wish to fulfill, they won't consider your brand and products if they don't know you exist. Content marketing is a way to make sure they discover you.

For example, at Ahrefs, we help people get more traffic to their websites. But they are unlikely to search directly for "Ahrefs" in Google because they probably don't know our tool yet; they usually start their journey by googling something closer to their goal, like "drive website traffic." Using content marketing, we can show up for this search and form an initial mental connection between Ahrefs and the problem they want to solve.

2. Content marketing helps you engage your audience and build credibility
Just because someone is aware of your existence doesn't mean they will choose your brand or product. But showing up with engaging and trustworthy content the second, third, and fourth time they look for ideas or solutions will increase your chances.
Continuing from the previous example, let's say someone has learned about SEO and is now searching for something more specific, like "how to do keyword research." Because we wrote a post about this topic and rank near the top of Google, they end up finding us—again.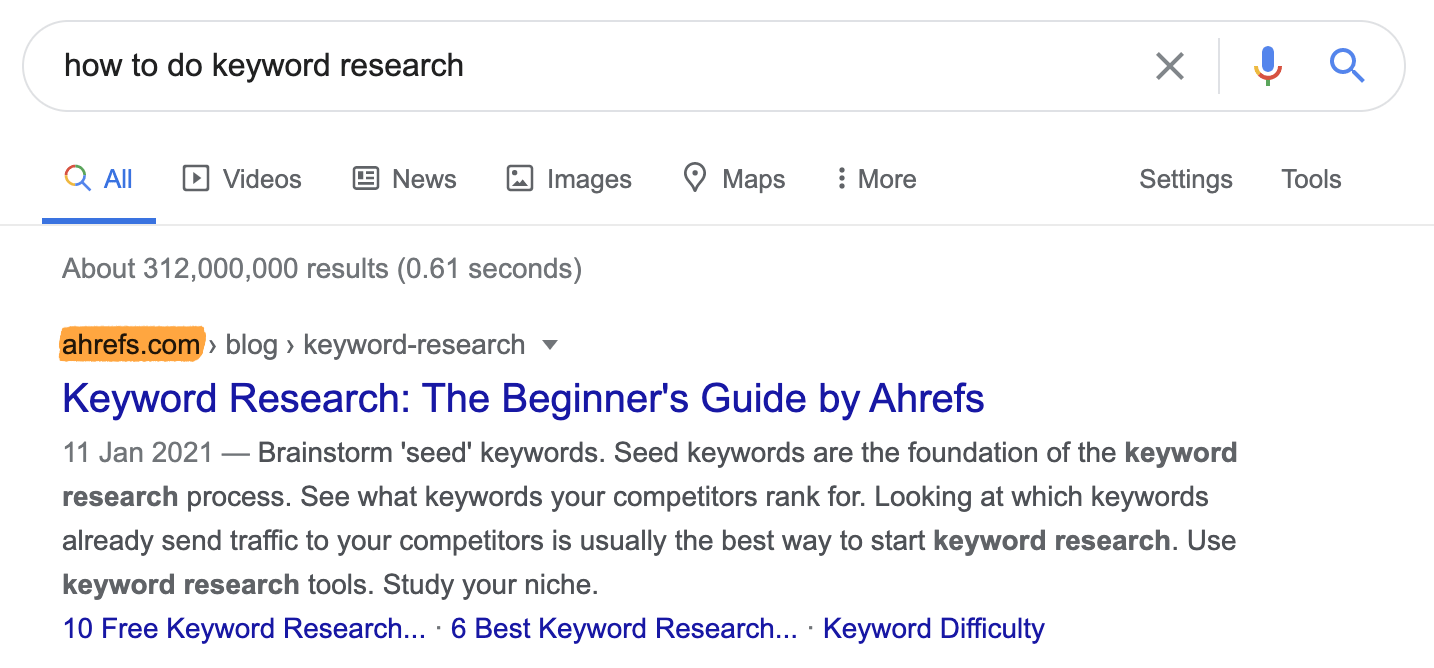 It's the same story on YouTube. We have a video about keyword research, so searchers can't help but run into our brand when searching for this topic.

If this person follows internal links or keeps searching, they will likely find our Keyword Generator Tool, which helps find thousand of keyword ideas for free while getting a taste of what Ahrefs can do (and yes: free tools are also good examples of content marketing).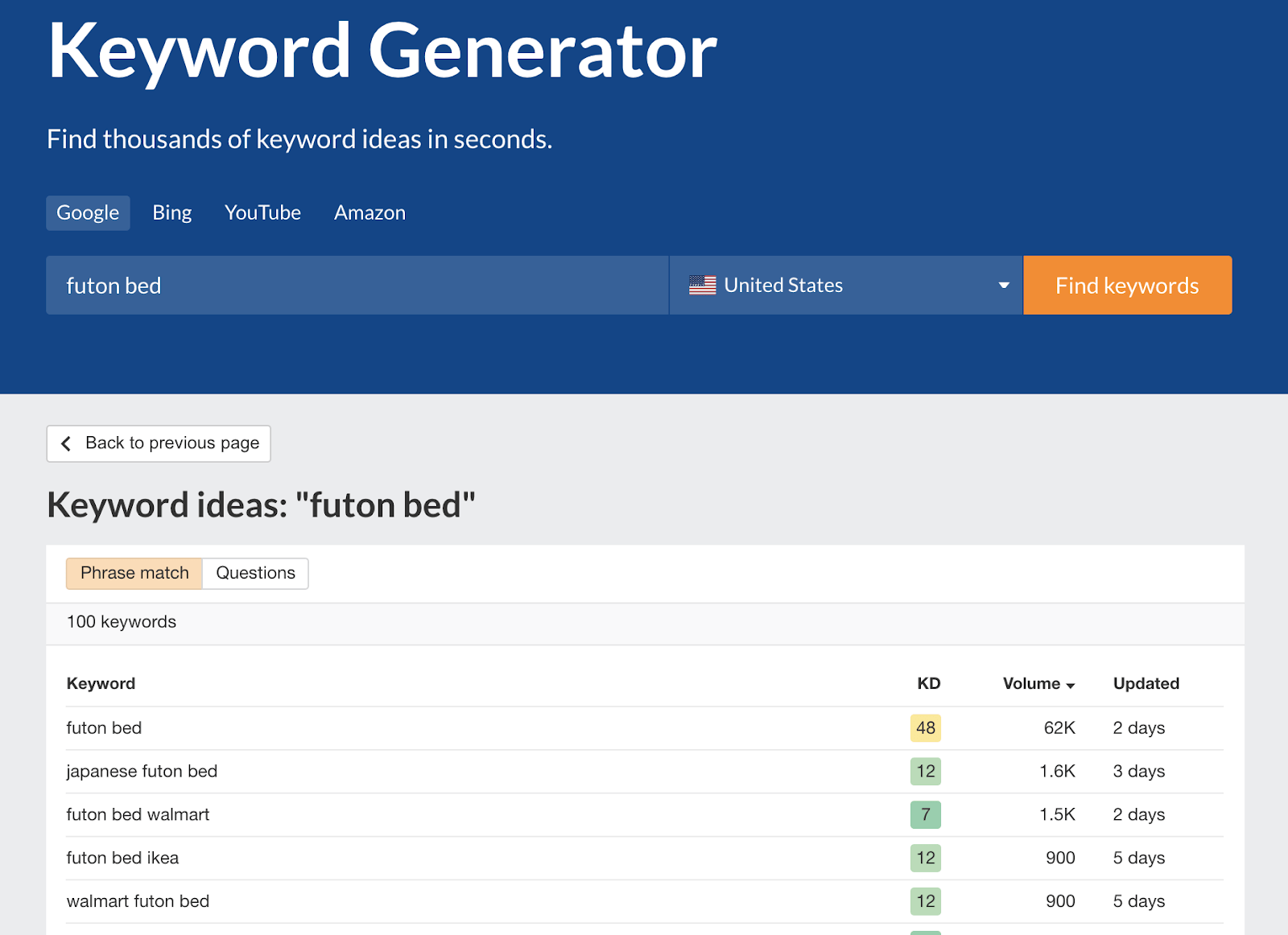 3. Content marketing helps you convert customers
Even when your potential customers know who you are and what you offer, they may still have a few objections before choosing you. This is where content marketing can give the final nudge to help people decide to become customers.
For example, Ahrefs is not the only SEO tool on the market, and our potential customers might want to know how we stack up against the competition before subscribing. We created content that addresses this need head-on, and people can find it by Googling our name versus a competitor (for example, "Ahrefs vs. Moz").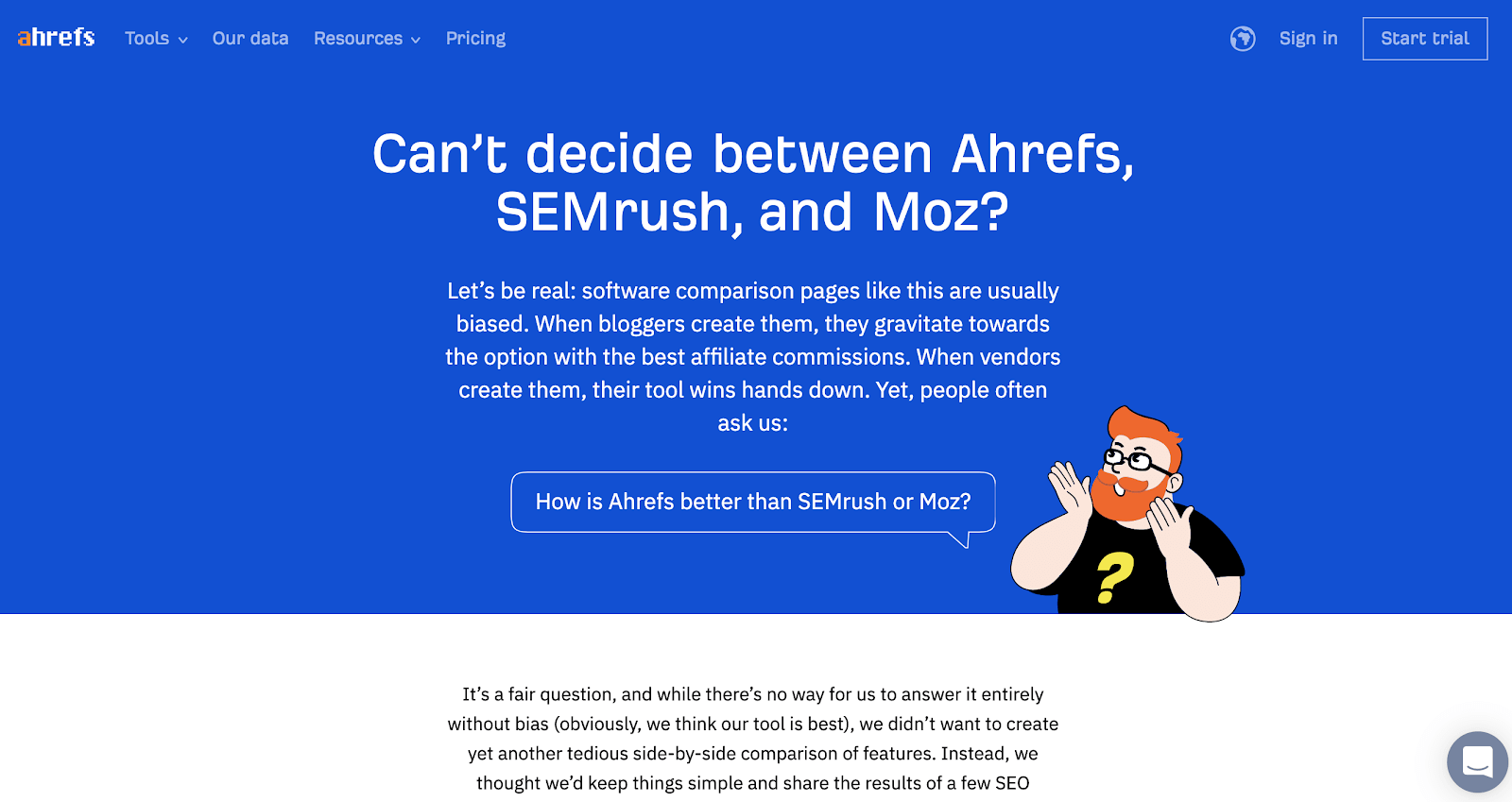 If we covered all questions and objections convincingly, and based on everything else they already know about us, the CTA towards our toolset should be the final nudge they need:

4. Content marketing helps you build loyalty and retention
The ultimate goal of content marketing is to increase sales and grow a business, so it's about more than just winning a sale: it also helps you keep your existing customers engaged and informed, which helps with retention and brand loyalty.
At Ahrefs, we don't create unique blog content for this step. Because we're always focusing on solving specific problems and upskilling our audience, our content works for potential and existing customers alike. But we have a dedicated help section that is more specific to our customers where we help them understand the data they're seeing in our tool and how it can benefit them. This is important for retention because if they don't understand the value we're providing, they're unlikely to keep paying us month after month.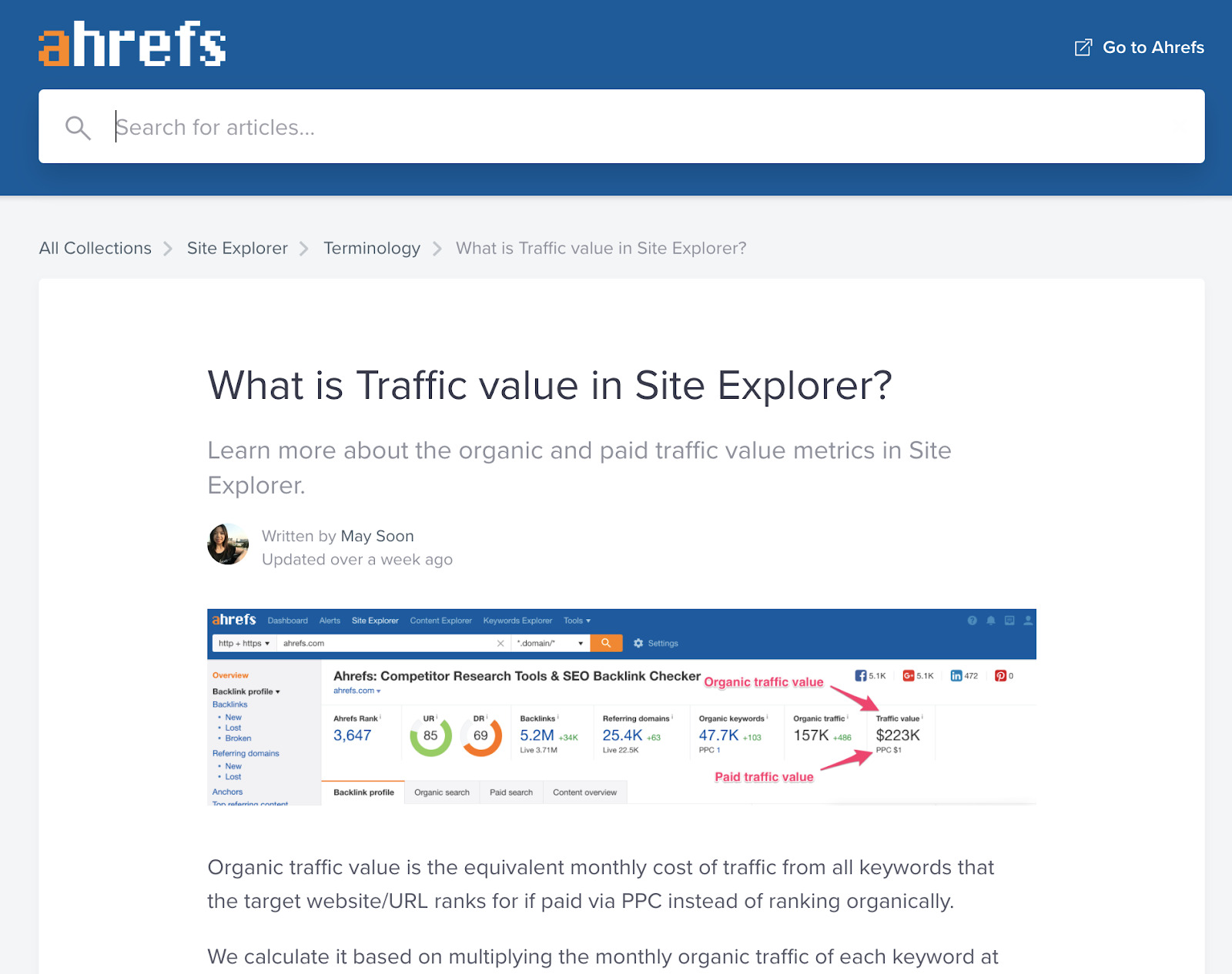 5. Content marketing has compounding returns (and it's cheap in the long-term)
Unlike channels like paid advertising that stop working as soon as you stop investing in them, content marketing has compounding returns on the initial investment.
Oversimplifying things a bit, if you're spending $1000 on ads today to bring 100 clicks to your blog, you'll need to spend another $1000 tomorrow to get the same result. But if you spend $1000 on creating an optimized piece of content, that same piece can continue to drive traffic to your site months and even years after it was first published.
In our case, this blog ranks for 170,000 organic keywords and brings an estimated 385,000 monthly visitors. If we were trying to get that same amount of traffic via paid ads, we'd be spending an estimated $992k per month—which is nowhere near the amount we spend on creating content.

Recommended reading: How to build a winning content marketing strategy in 9 steps
By now, you may be sold on the idea of content marketing—but it doesn't mean that your marketing leadership and/or stakeholders will be, too.
A few common objections tend to pop up in discussions about content marketing, and you'll have to navigate them to get buy-in for your projects:
1. Paid advertising attracts more traffic and customers, faster
Paid advertising is indeed a quick (if costly) way to generate traffic: as soon as you've paid to place an ad in front of people's eyes, and provided you've done your targeting correctly, traffic will start flowing.
However, in most cases, paid ads send people to pages that sit at the bottom of your marketing funnel and are designed for immediate conversion, such as landing or product pages. By sending traffic there, you might generate a sale, but only from people who are ready to buy—and you're missing out on everyone else.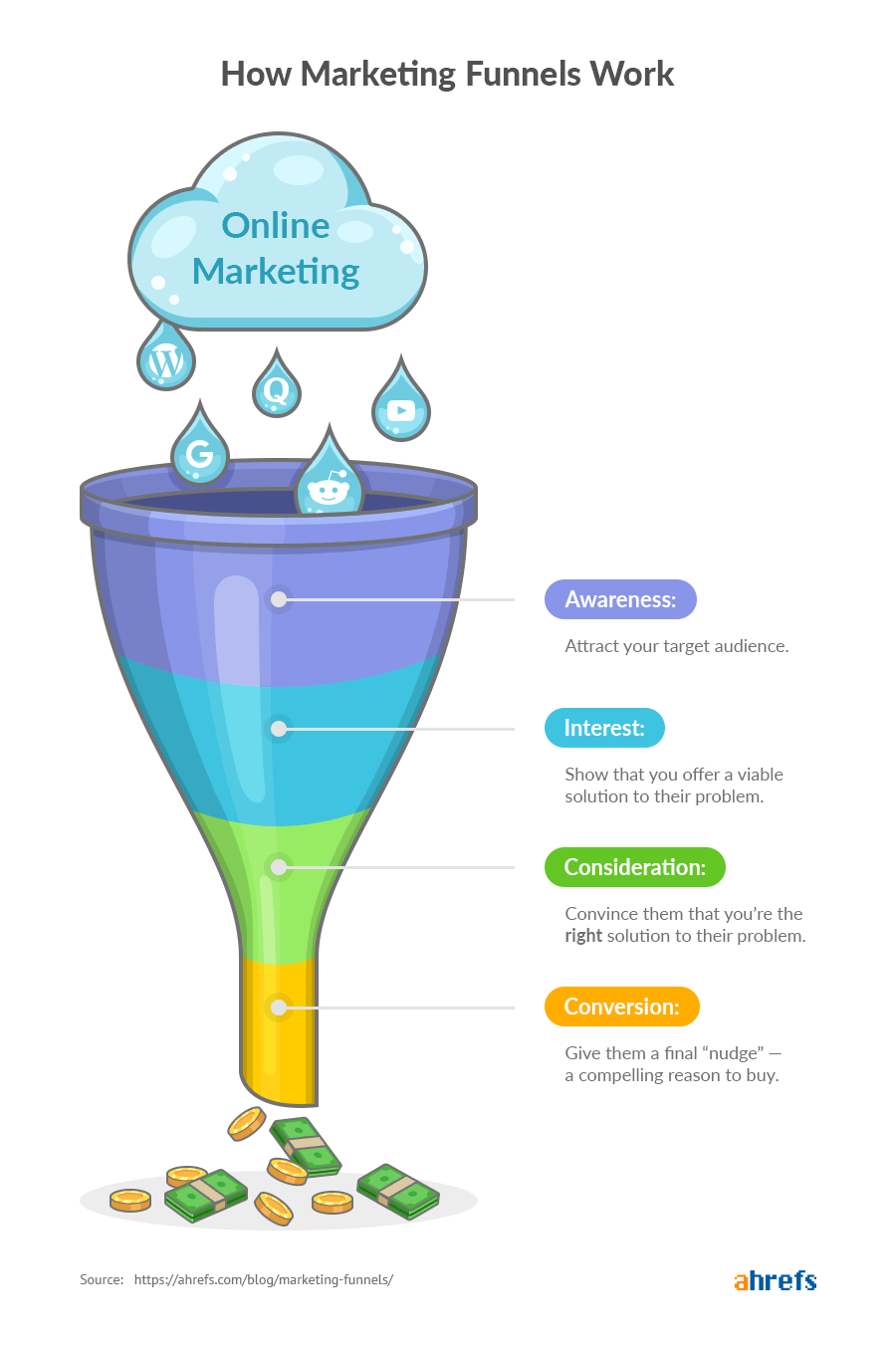 For example, if someone searches for "how to drive website traffic," they're likely in learning mode (and not in buying mode). While we could run paid ads for this keyword and send searchers to a dedicated landing page, we would probably be wasting money on people who are unlikely to convert because they're not ready to buy.

In contrast, content marketing helps us attract, engage, and convert customers throughout the entire funnel. And a happy byproduct of this process is that it builds brand awareness and trust, so when those people are ready to buy, our paid ads will probably be more effective.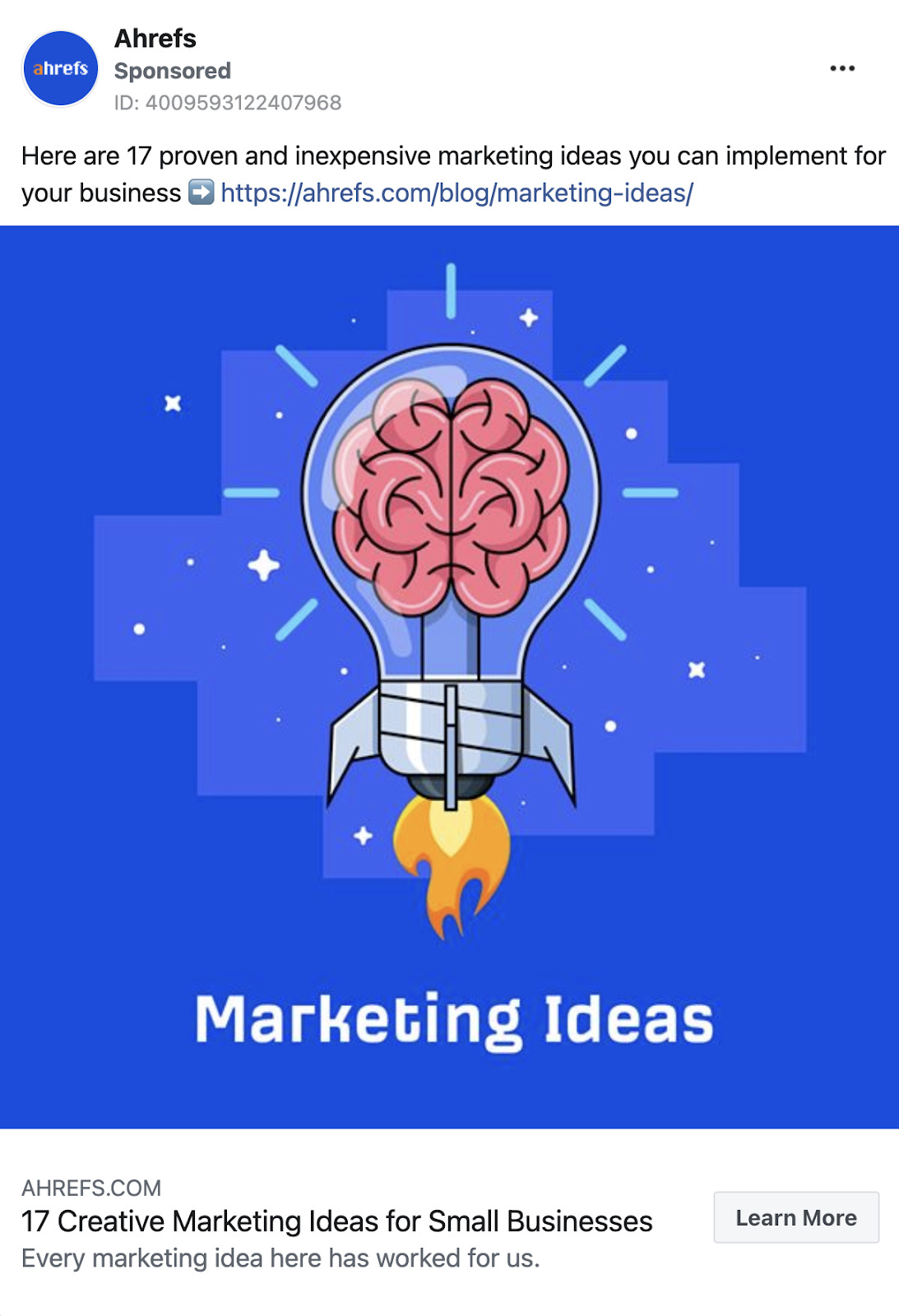 Instead of getting drawn into a battle of paid ads vs. content marketing, the smarter discussion is about how to use them both together to maximize both short- and long-term results.
2. It takes too long to see results
If you define 'results' only as sales or leads, then yes: content marketing can take longer to see results than more immediate channels like paid advertising (see objection 1).
But just because something takes longer than something else doesn't mean it's pointless. For example, it's quicker to drive around a mountain than to build a tunnel. But once you've built the tunnel, you can drive through in a fraction of the time, every time.
Content marketing is similar: it takes time to build but eventually becomes a source of consistent sales and leads. And once you have an established audience, content marketing can drive results comparatively faster than if you're starting from scratch.
3. The ROI is difficult to measure
The exact ROI of content marketing can indeed be difficult to measure; you'd have to build a very sophisticated attribution model to track the influence and impact of content across your entire funnel while also isolating each variable.
However, there are specific metrics you can track for each stage of your marketing funnel, and you can use them for a partial ROI calculation: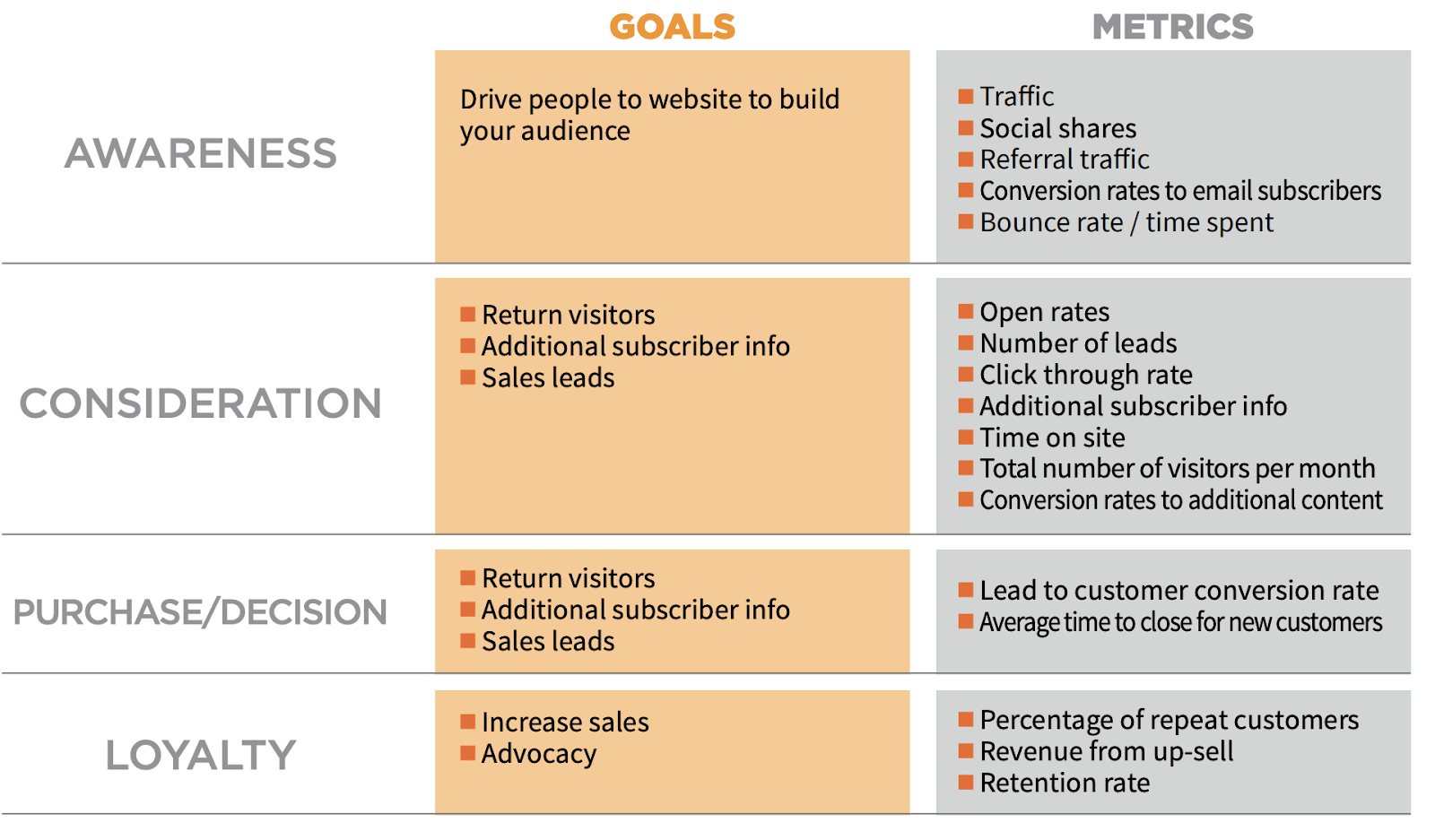 Likewise, estimating the ROI of SEO-led content marketing is not difficult. You can look at the traffic potential and value of the top-ranking results and calculate how much it will cost you to write, ship, and promote an article compared to how much qualified traffic it can drive over time.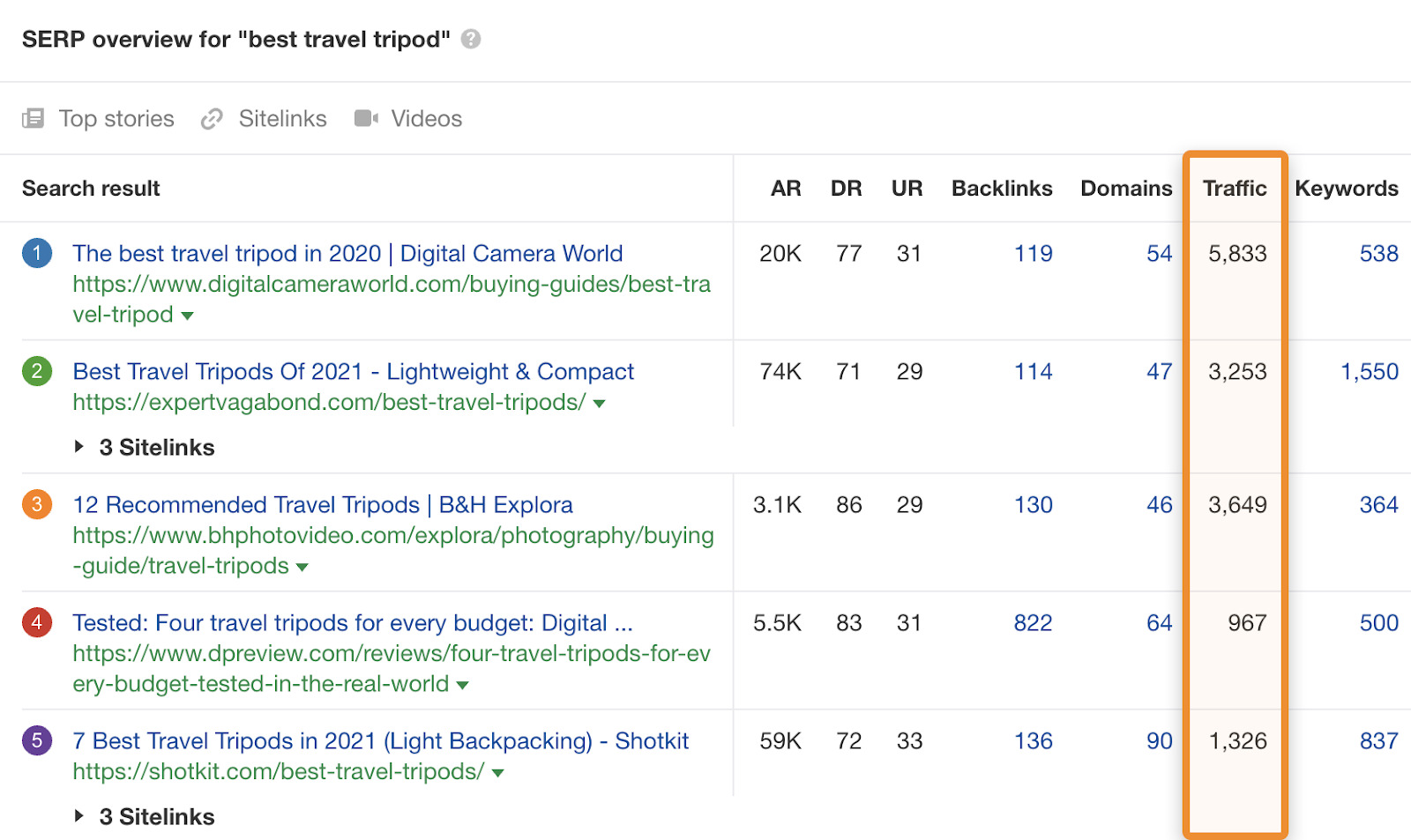 Recommended viewing: Our CMO Tim Soulo explains the value of content marketing
There are a lot of available content marketing types:
Blog posts
Podcasts
Video
Infographics
Free tools
Templates
Ebooks
Checklists
…the list goes on. And you might be tempted to try to do a bit of everything in the hopes of reaching more people. But we recommend that you take a more strategic approach: focus on two to three formats that are likely to have the most significant impact on your business.
For us, the blog is our longest-standing content format. We know that our audience of SEOs, marketers, and bloggers searches for the information they need on Google, so we make sure to create evergreen content that ranks and drives targeted traffic back to us. And because sometimes it's easier to explain something in a video, especially if you're trying to demonstrate how a tool works, we also create videos that we embed into our written pieces and publish on YouTube. https://www.youtube.com/watch?v=4XrtVkhOBfQ
If you know that your audience primarily uses Google to solve problems or find ideas, you could replicate our blogging success by using SEO to drive traffic to your content in 3 steps:
1. Find topics that are relevant to your business
Think about what people could type into Google to find you: this is your seed keyword. For example, if your business sells analog photography equipment, the starting point could simply be "35mm film".
Enter this keyword into Ahrefs' Keyword Explorer and look at the Questions report, which gives you content ideas phrased as questions. Note down any questions you can answer in a blog post.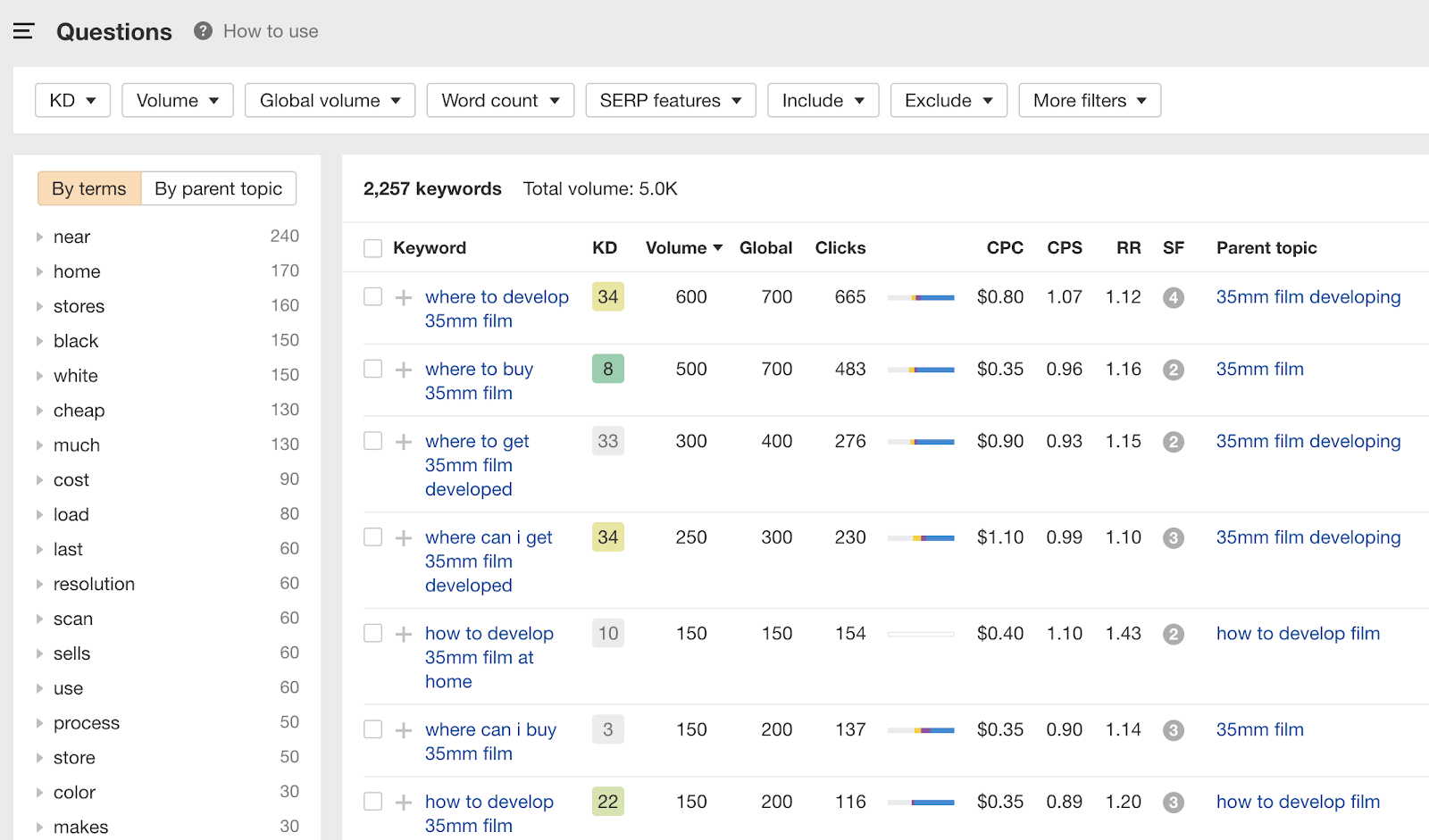 Recommended reading: How To Do Keyword Research for SEO
2. Create the right type of content
Once you choose a keyword, make sure that the content you create matches your searchers' expectations. This is known as search intent, and you can determine it by looking at the top-ranking results: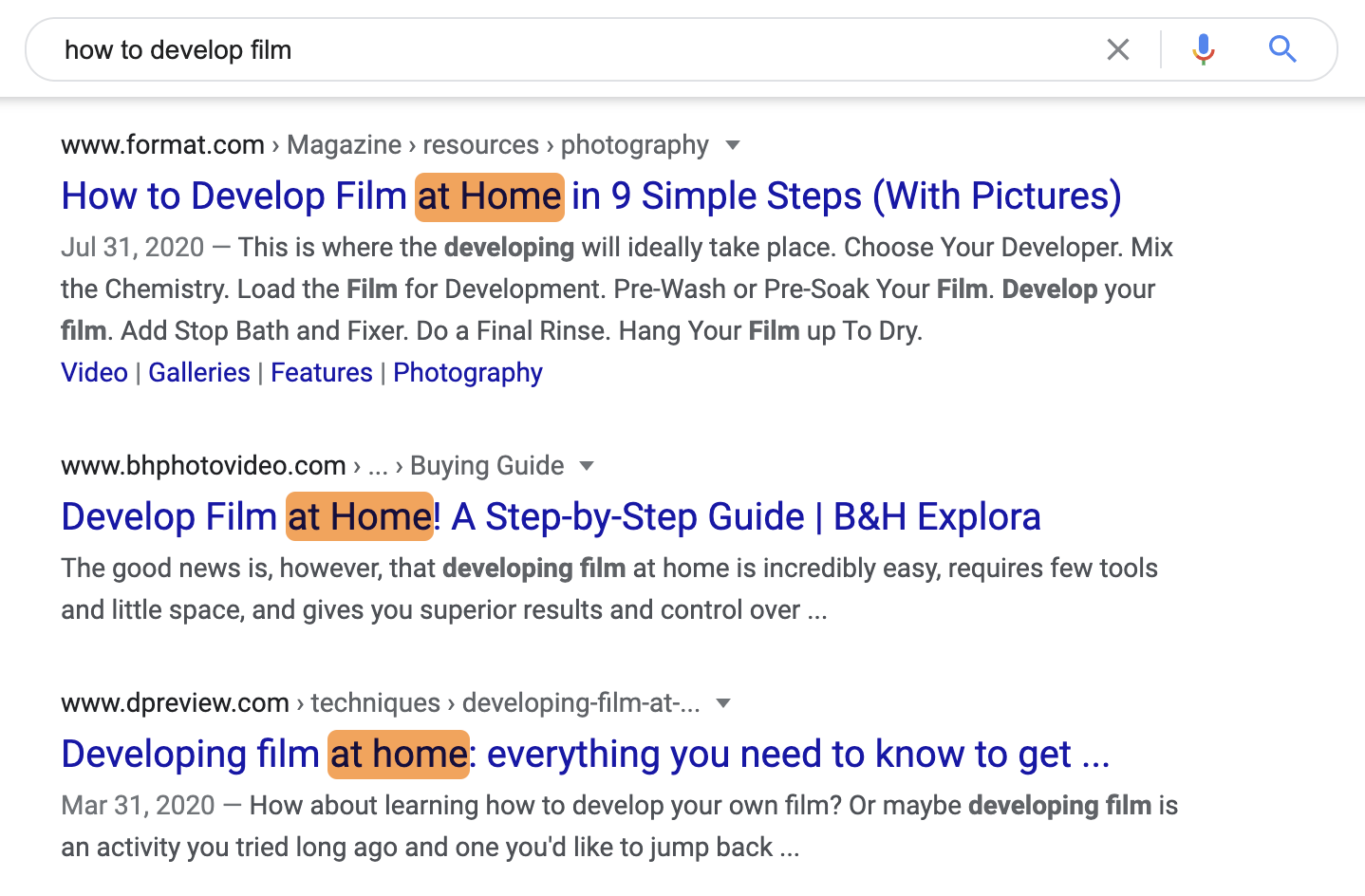 In this example, you'll notice that the results are step-by-step guides that include a specific 'at home' angle—which tells us that most searchers are likely amateur photographers, not professionals, so your content should take a similar angle.
Where relevant, you should showcase your product(s) naturally within the article. For example, in their article on developing film at home, B&H Photo Video takes you through a step-by-step process and links to relevant product pages throughout.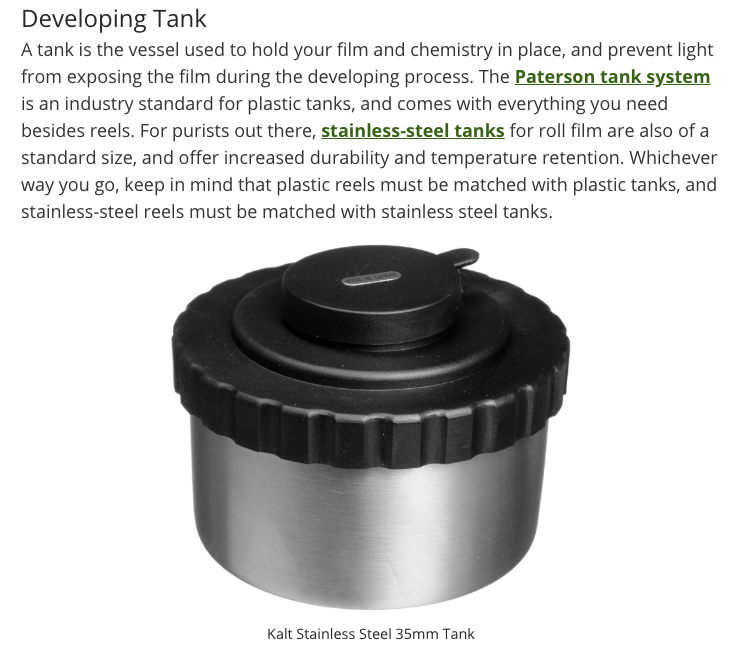 Editor's Note
Across almost all of our content, including this guide, we add screenshots taken from the Ahrefs dashboard, so you can see how to use our tools to achieve your goals.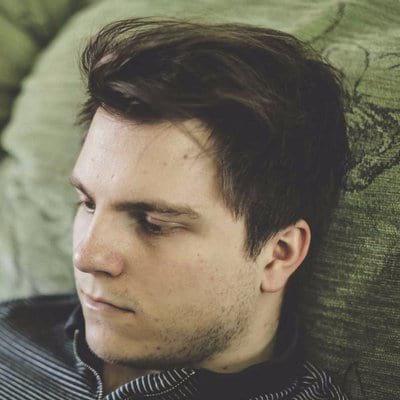 Joshua Hardwick
Head of Content
Recommended reading: What is SEO writing?
3. Promote your content
Once your content is live, you can send it to your audience, such as your email list and/or people who follow you on social media. In our case, we may also spend a few hundred dollars promoting the post using Facebook or Twitter Ads: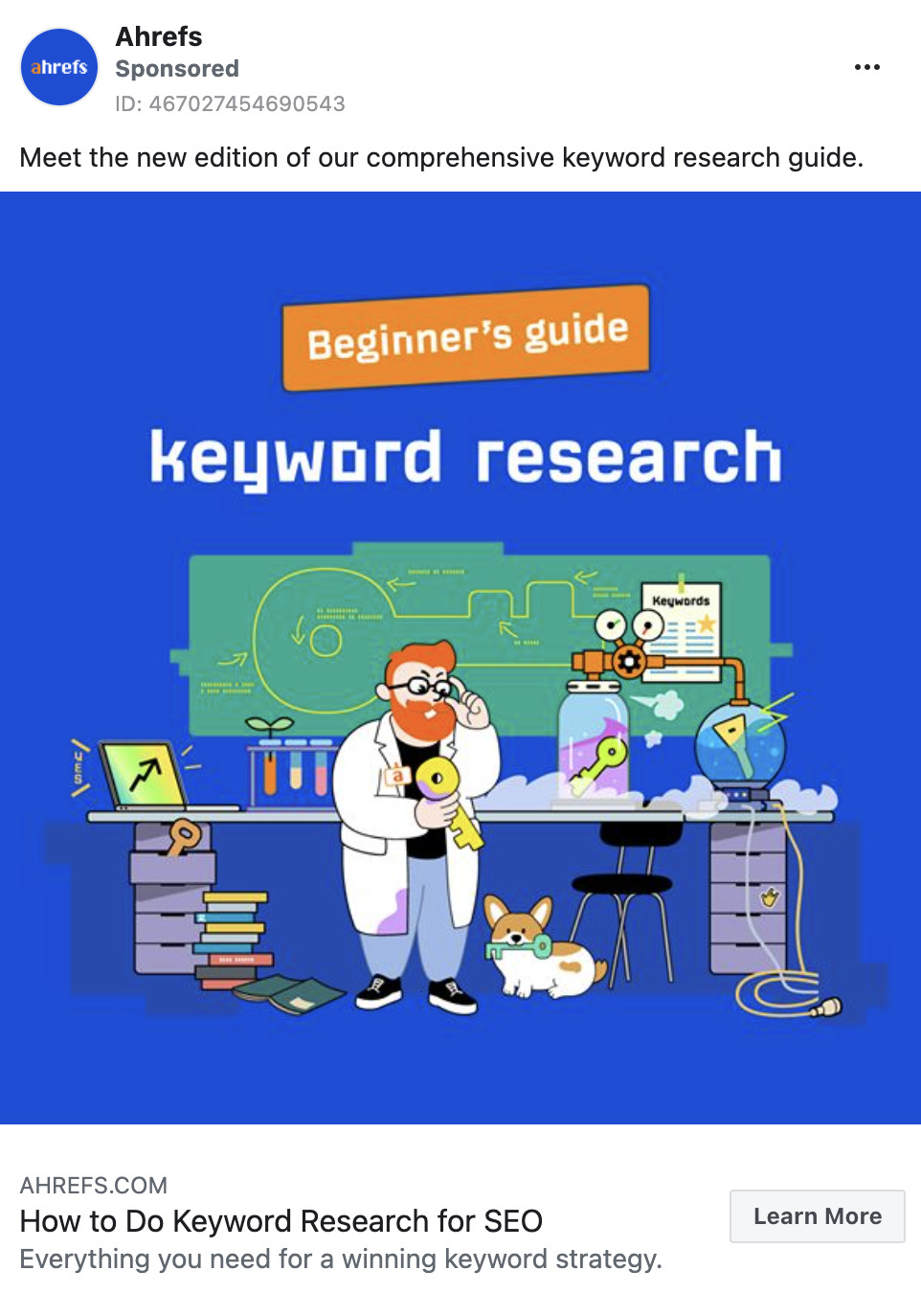 But these aren't the only ways to promote your content: go through this content promotion checklist to get more people to see it.
Blogging is a great way to create content that appeals to and attracts your target audience, but other formats can be equally successful—it all depends on your audience and how they look for and consume information. Here are five effective content marketing examples that are not about blogging:
1. Fix.com's YouTube videos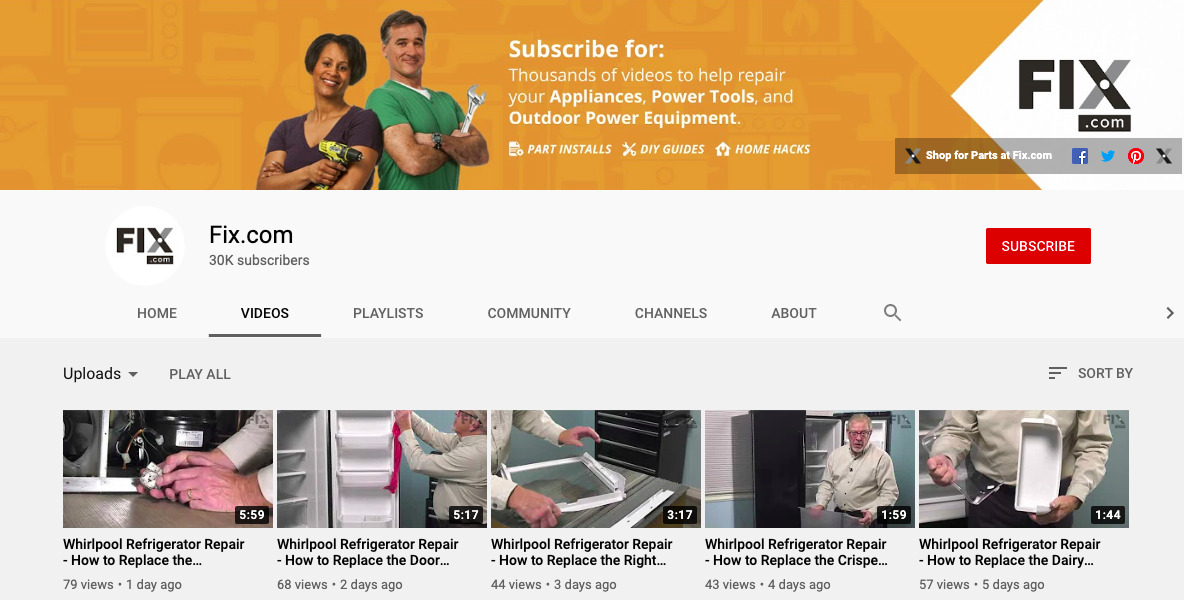 Quick stats → 30k YouTube subscribers, 16 million video views.
What they do → Fix.com is an appliance parts ecommerce site that uses how-to YouTube videos to educate potential and current customers. By providing helpful step-by-step videos, Fix.com establishes expertise, builds trust, and makes it easy for customers to find what they need.
Why it works → Many Google SERPs for how-to searches have videos as the top result, and Fix.com maximizes their chances of exposure by maintaining a YouTube presence.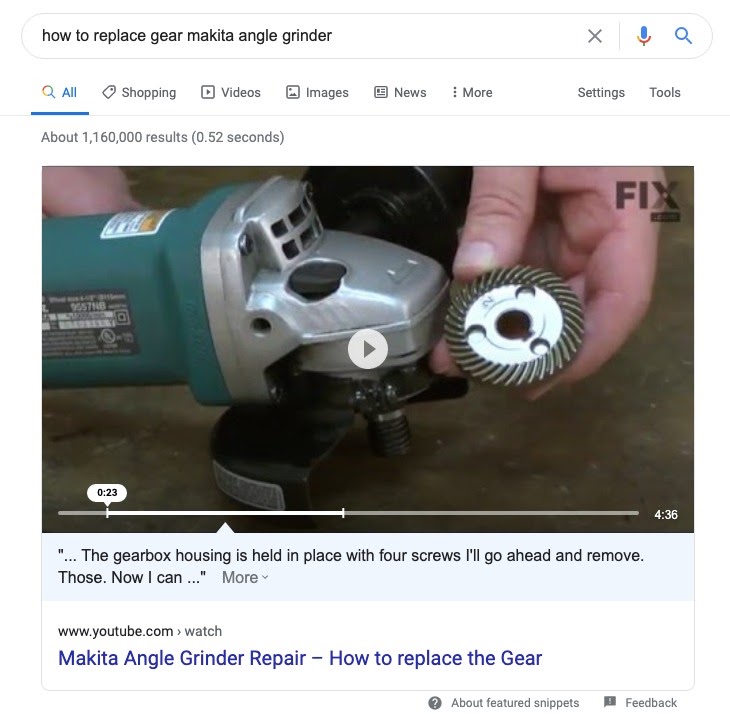 The videos and posts Fix.com creates are evergreen, so they keep driving traffic for years (which in turn makes this a very cost-effective content marketing strategy).
How you can do the same → Fix.com's approach works well if your product or service solves a specific problem (in this example, faulty appliances). Use keyword research to determine what your audience needs help with and create content in the format that best helps them achieve what they need.
2. Naturalicious' Facebook community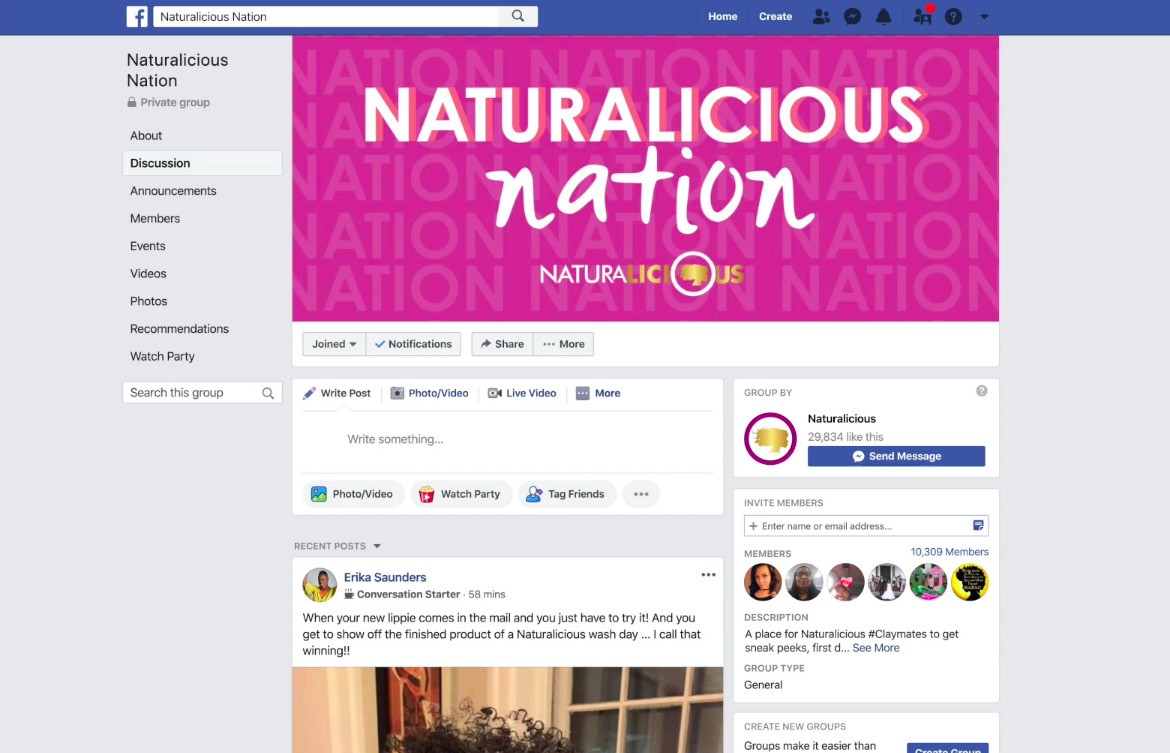 Quick stats → 11k Facebook group members.
What they do → Naturalicious, a natural and organic hair care company, runs a private Facebook community called 'The Nation,' led by founder and CEO Gwen Jimmere.
Why it works → With practical walkthroughs and live sessions, The Nation supports and empowers its customers to get the most out of Naturalicious' products. In addition, the group creates a sense of shared community as its members actively support and help each other by sharing beauty tips, advice, and encouragement.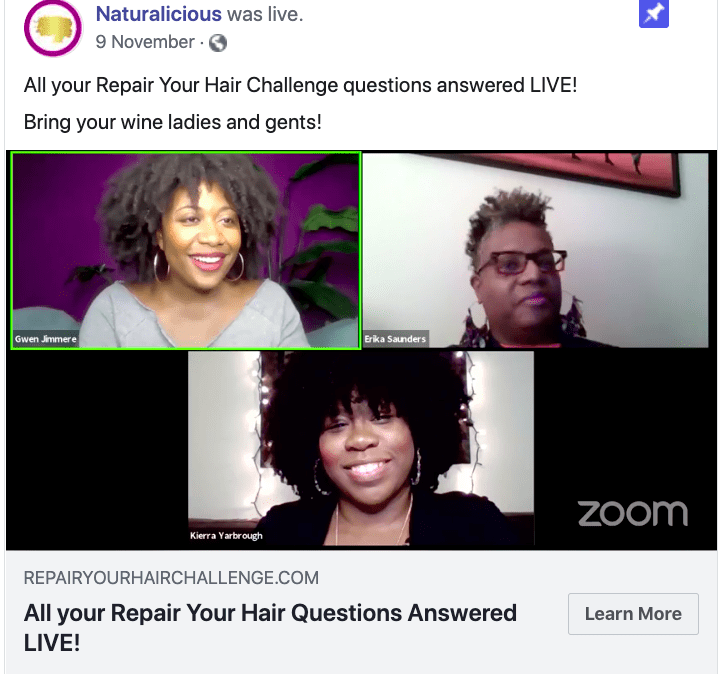 How you can do the same → Naturalicious' approach is ideal for companies with a specific target demographic (in this example, Black women and/or women with textured hair). By creating a community, you can have a two-way conversation with existing and potential customers, getting to hear about what matters most to them while associating your product or service with the community itself.
3. 15Five's podcast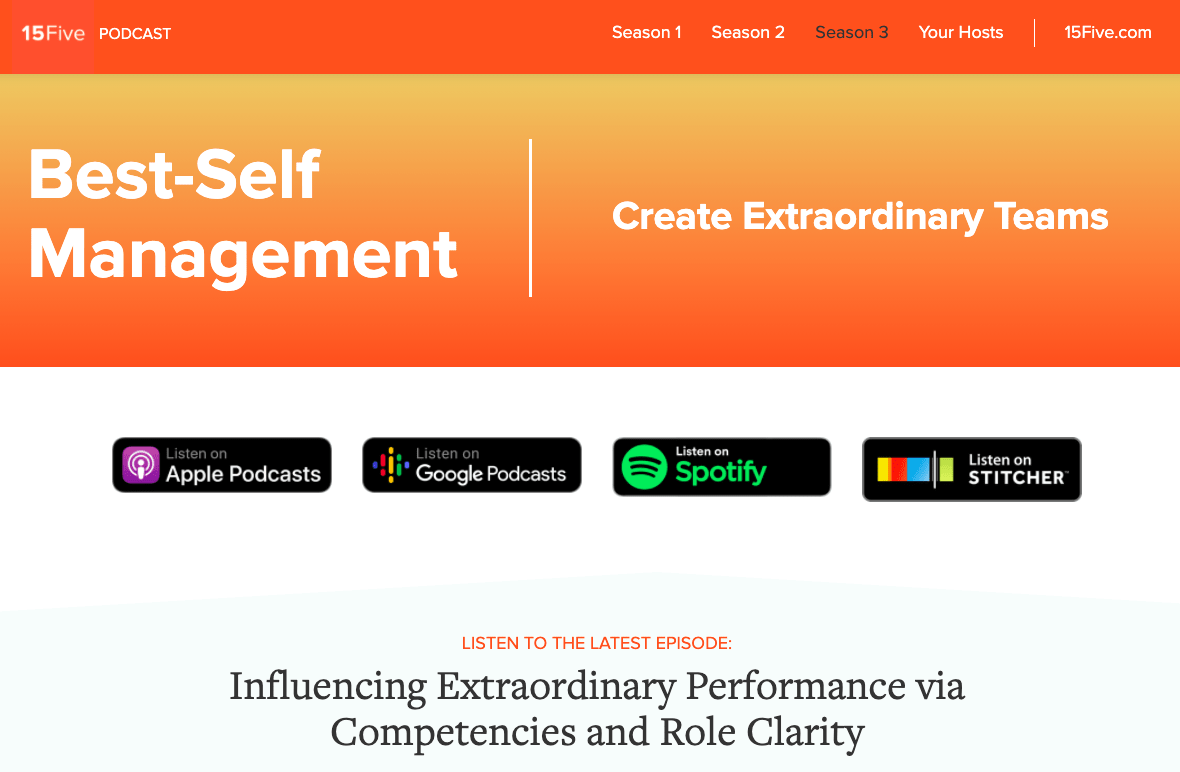 Quick stats → 220 backlinks, 165 organic keywords to the podcast landing page.
What they do → 15Five is an employee performance management platform that helps managers keep their teams happy and motivated. In their Best-Self Management podcast, 15Five co-founders interview top business and HR leaders to get insight and inspiration into building excellent company culture.
Why it works → The podcast focuses entirely on the job-to-be-done that the software solves: supporting employees and teams at work so they can give their best. Using an interview format, it outsources expertise and inspiration and creates brand associations between 15Five and the task of creating better, higher-performing teams.
Plus, the podcast landing page ranks on page 1 for "management podcast," making it easy for the company's target audience to find: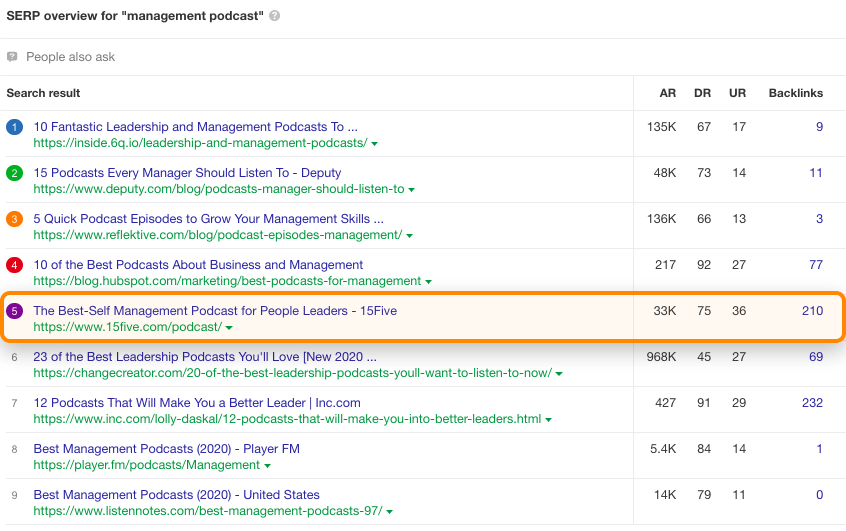 How you can do the same → 15Five's approach can work well if your target audience listens to podcasts and your business is connected to a specific lifestyle, hobby, ambition, or job-to-be-done. By inviting experts, you can position yourself and your brand as a curator of knowledge while also leveraging your guests' networks to amplify your work.
4. Mattel's virtual playroom and activity sheets

Quick stats → 21k backlinks, 4.8k Facebook shares.
What they do → In March 2020, toy manufacturer Mattel (known for its Barbie, Hot Wheels, and Fisher-Price brands) responded to COVID-19 by creating a virtual playroom with free games and downloadable PDF activity sheets for kids and families.
Why it works → With its free entertainment resource, Mattel attracted huge press coverage and backlinks that bring referral traffic. The activity sheets reinforce Mattel's brand as leaders in children's entertainment and help make their customers' (in this case, parents and carers) lives easier.
How you can do the same→ Create content that lets people experience some of your product for free. Our own webmaster tools is a similar example: it gives website owners free (but limited) access to two of our most popular tools: Site Explorer & Site Audit. It's not about giving everything away, but being there to help out—which can make a brand top-of-mind when potential customers want to make a purchase in the future.
5. Balsamiq's academy courses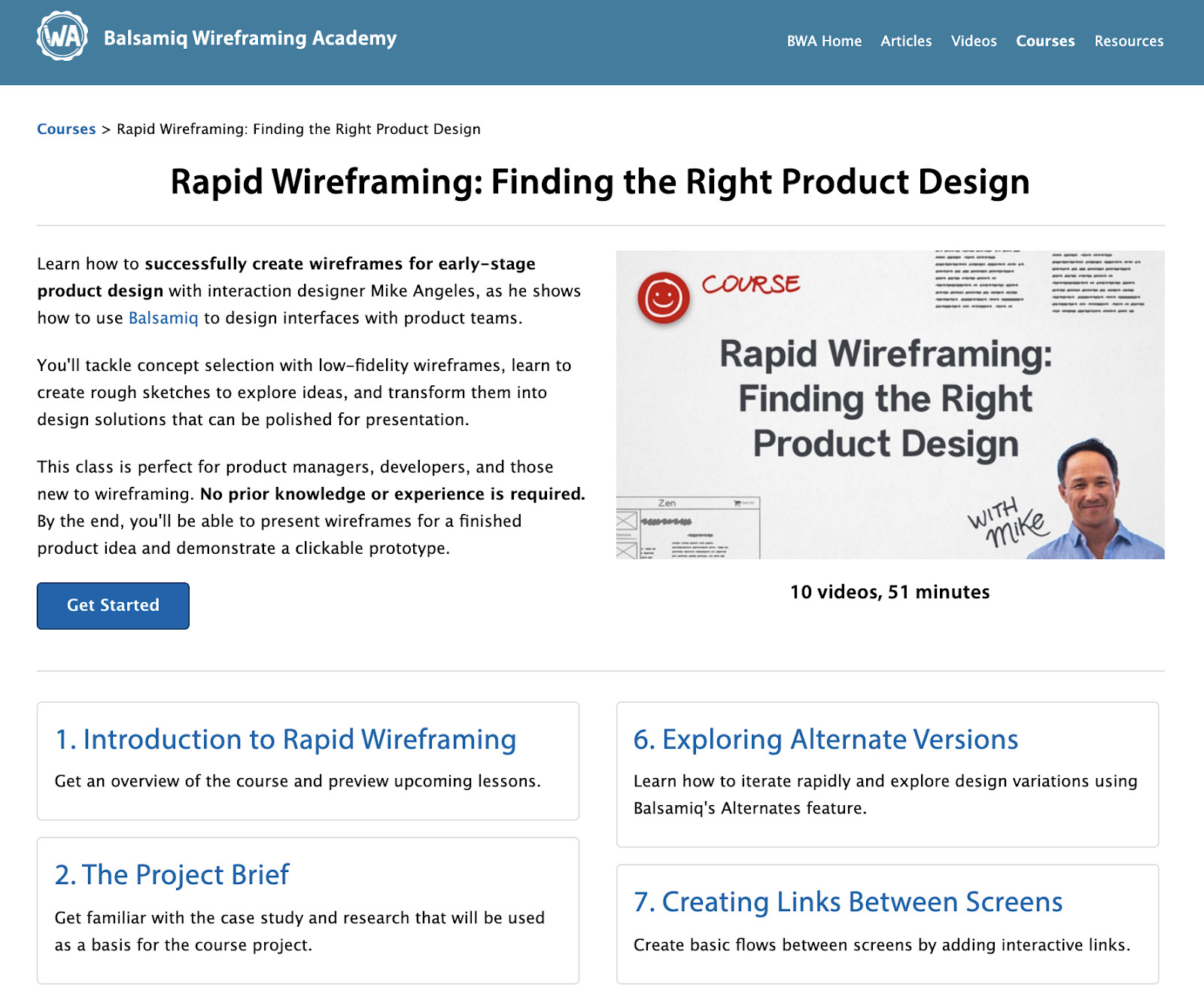 Quick stats → 8k organic keywords, 12k organic monthly traffic, $24.9k monthly traffic value.
What they do → Wireframing tool Balsamiq created an academy and learning center to educate and upskill potential and existing customers.
Why it works → The Balsamiq Wireframing Academy increases brand awareness through optimized learning resources that appear in the SERPs for searches such as "what is a wireframe?" and "content-first approach." These are typical searches from someone in a research phase, and Balsamiq is there to be a first point of contact for potential customers.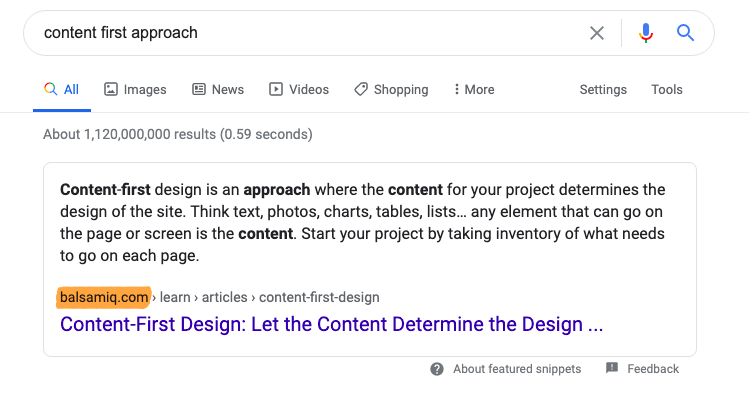 How you can do the same → Balsamiq's approach works great if your product is designed for experts or skilled users. By providing complete training programs, you help coach beginners learn the specific skills they need to get value from your product while also building expertise in the industry.We use a similar approach with the free courses in the Ahrefs Academy.
Recommended reading: 7 Inspiring Content Marketing Examples (And How to Replicate Them)
There is no single way to do content marketing, so we thought it'd be good to close this guide with a cross-section of people who put content marketing theory into practice daily.
We asked experts from different markets to answer this question: "Based on your experience, what's the ONE thing you recommend companies and marketers should do to deliver outstanding content marketing next year?" You'll find some of the tips naturally contradict each other—and that's what great about content marketing: you can follow completely opposite paths and still have success because it's all about what works for your audience.

Here are the practitioners who shared their advice:
Research and talk to your customers
Before working on any content, do user research with your existing customers/users or with potential customers. You'll get first-person knowledge about what your ideal customer profile (ICP) looks like and what problem your target audience believes your product or service solves.

When you start creating content, you can use the actual words and phrases your ICP used during the customer research. You can of course tweak them by doing some basic research on Ahrefs' Keywords Explorer and making sure the keywords have good volume or find if there are others you should include. Nothing beats talking to your customers to see what content would resonate with them the most!
Repurpose your content
Always be looking for creative ways to repurpose the content you already have. Remember: people are lazy. So the easier you can make it for them to consume your content, the better. Which means the way you package things matters. Do you have an opportunity to take the information from your best blog posts and turn them into a book? If you have a podcast, do you have a guide of the best episodes for new listeners? Don't leave it up to your audience to sort through your content. You're the expert – you should do the heavy lifting.
Focus your efforts on people who need you, but don't know it yet
Oftentimes, we content creators focus on producing content pieces with high search volume and neglect the keywords people are using to find products like ours.

Find keywords from your PPC team and by brainstorming all of the needs your product directly solves. At Preply, we offer private lessons with online tutors: so we have content about 'online English courses' that even mentions some of our competitors, because we're obviously not the only language learning platform out there. But Users want to feel confident that they're researching all of the options and making their own choices, and we're finding that this transparency brings more potential students onto our money pages.

Work smart rather than hard. Then you'll see the result of what 'outstanding' content should be measured by: new customers and direct business impact.
Test and iterate the formats that work best for your goals
The marketing world changes quickly and content needs to adapt accordingly. You don't grow the same way when you're going from 0 to 1 vs. when you're growing from a scale-up to a unicorn. Content needs to adapt to your business needs at the time and your strategy should be reviewed every few months.

In the beginning of this year, I was focusing on building traffic, working on SEO and top-of-funnel content. I achieved those targets, but I created a new problem: conversion. So now I'm bringing on a full-time editor to work on bottom-of-funnel content and improving our sales follow-up emails.

Another example: we thought we found our silver bullet, webinars, as they worked really well for lead generation. So we thought if we 2x them we'd get 2x the results. We did not. We got diminishing returns.

That's just a very long way to say: every time you hit your content milestone, you create new challenges and you'll need new content or strategies to solve them.
Appeal to your audience's core values
Building a trustworthy brand that connects with consumers will be more important than ever in 2021. 'Exposure' to your brand isn't enough — users want more than the solution to their problem. They want to engage with businesses that share common values with them. Brands that have built their trust. Brand affinity captures this new idea of building a brand by focusing on building 'advocates', rather than a passive audience.

To build brand affinity, we are exploring the idea of long-form, 'binge-worthy' content that will appeal to our niche audience's core values and establish those meaningful relationships. It's about building those 'super fans' that will then go on to become advocates and build out your community for you.
Lean into micro-form
Right now, we are getting primed to have short, to-the-point content in our lives. And content marketing is all about inspiring people and giving them value: so if our goal is to provide value to users when they need it and as quickly as possible, then we need to start thinking about micro-content. Less sometimes can be more.

Think about how that can apply to videos: YouTube is becoming a search engine now, and more people are used to searching for information there. So I'm thinking that every blog post should also be turned into bite-sized videos.
Don't jump straight into tactics
Content marketing tactics and format will vary, channels may come and go, but some things never change—and these are the ones you need to stay laser-focused on. Follow these 3 steps:

Start from a diagnosis phase, where you understand who you're talking to, what problems you're trying to solve for this audience through your content, and define the challenge or opportunity you face
Continue with a strategy phase, where you define the overall approach you will take with your audience
End with the specific tactics you will use to carry out your strategy. These are the ones that may look different in 2021 compared to 2015, like "we should focus on SEO and long-form pieces" or "we should do Instagram Stories"

Diagnosis precedes strategy precedes tactics. But too often we content marketers jump straight into the tactics (…because it's fun) at the expense of the previous two steps—and we may get lucky and hit temporary success, but this is not a reliable, repeatable way to build long-lasting impact with our content.
Optimize the content you already have
We don't need no net new content. If the forces that may be declare they need more blogs, more landing pages, and a steady "publishing cadence" so you can one-up your competition, RUN!

Two reasons why:

You don't respond immediately with a yes or a no confirming or shooting down this seemingly innocuous ask. Most leaders who speak from this angle are either under duress from other executives in the company that want to wage the traffic war, or they haven't yet uncovered the power of the long game that SEO is.
Data. You need data about your underperforming content or opportunities at striking distance. Lay out your game plan for lower-quality content that's raked in few page views, backlinks or engagement of any kind.

Once you've empathized with the former and are armed with the latter, it's easier to make a case for more optimization and not net new content. It's just as key to consistently prune and optimize your existing content as it is to chase shiny, new topics.
Take a holistic approach
Content briefs are a great resource to build high-ranking content and give your writers a place to start (no one likes a blank page). But in 2021, your owned audience is going to become even more important – which means you need to think beyond briefs. Think site-wide SEO including a strategic site-map, content that supports that site-map, and clear, non-intrusive ways to build a list and collect first-party data.

The end of the third-party cookie is coming, and those that invest now into strong SEO and content programs and practices (including list building) will be the best prepared for the reign of 1st party data that will fully take hold in 2022 when Google Chrome stops sending through third-party cookies.
Create product-focused content
Find a way to turn your product into actionable content. Not only do these pieces have the opportunity to open up a wide range of long-tail keywords, but they're also great conversion engines too.

For example, at Soapbox, a big value-add within our product is our massive agenda templates library. Luckily for us, those who are actively searching for agenda templates tend to be more likely to convert into free and paid users. So we created a search-focused agenda templates library, which allowed us to rank for a wide range of long-tail keywords while driving high-quality traffic to our website. We've since replicated that experience with another library.

In a nutshell, my advice is to identify the most valuable pieces of your product or service and deliver that experience through content.
Advice for content writers: act like a journalist
My advice is: act like a journalist. Because journalists try to source information from people who know a little more about the subject than they do, and often do experiments. Some would eat for a month in McDonald's just to write an article, and others would infiltrate criminal groups and live their lives. You don't need that level, but the point is that award-winning journalists who want to create work that helps and impresses don't just sit in their basement and read articles by other journalists and write the same ideas with different words. Don't act just like a person writing articles: be like a journalist who has to work to produce the story outside of just typing it on the keyboard.
Tell your story consistently
Companies must put money towards creative and have a strong omnichannel focus towards marketing. Manly Bands has an entire creative team behind the brand that help to tell our brand story seamlessly to each customer's journey, whether they see us on television, Facebook, Google or through email.
Build empathy for your audience
Writing with search intent in mind while naturally positioning your product or service as a solution is a balancing act.

Before you start writing an article, build empathy for your reader –– think through and research what they already know, what they need to know, and ultimately, the information you need to provide to help them solve their problem.

Use Google (or advanced SEO tools like Ahrefs!) to see what is currently ranking for your desired keyword and how it addresses the reader's question.
Use Twitter search to find discussions related to your search term and note the questions and concerns people have and the resources they share.
Use Reddit to uncover conversations related to your topic to gain an understanding of what a potential searcher really needs to know.

These strategies help content marketers go beyond skimming the surface when it comes to writing useful content that converts.
Create radically different content
There's more and more clutter online, you know that. Everyone is "creating content" nowadays. So, how do you make your content stand out?

Obsess over your minimum viable market. No, you're not marketing to everyone. Talk to your best customers; the ones you enjoy working with the most and who bring the highest profits.
Figure out their specific pains and challenges. Those should come up during your conversations. Go very specific. It's much easier to create the best content on the planet for a very specific question.
Engineer your uniqueness. Figure out what content is already there, make a list of all the things they're covering but also the typical format used, their tone-of-voice… That's your status quo.
Remove anything that goes against your company beliefs and purpose, anything that your customers don't like, anything that doesn't contribute to solving the very specific challenge you've picked.
Carefully add anything that goes against the status quo you've identified. Add anything that helps your minimum viable market reach their goals in a faster, simpler, easier way.
Take some risks. You can't make your content stand out without it. Zig when others are zagging. Not taking any risks is the riskiest option. If you don't, no one is going to notice your content.
Take risks
Take big risks. As trite as that sounds, there has NEVER been a better time to try something new. While in more normal years, it's easy enough to adapt the leading content playbooks to your business, there isn't a content marketer on the planet who can write "Launched a successful content initiative as the market emerged from a pandemic" on their resume.…yet.

There IS no playbook, so use that as permission to write one from scratch. Get creative about how you can inform, help, and delight your market as it cautiously approaches a return to normal. Your pitch that didn't have a chance ("it's too risky") a year ago today? Now's the time.
Keep learning
Want to keep learning about content marketing? We got you covered. Here are some of our favourite resources you can read & watch to keep the learning going: