The secret to building a blog that gets crazy backlinks, ranks for awesome keywords and makes you money on autopilot?
Actually, it's a strategy that requires a low amount of effort over time:
Evergreen content.
Content you write once, and have it ranking for years and years. Content that constantly brings in traffic and compounds in value.
Non‐Evergreen content falls off the face of the Earth as soon as the next shiny thing comes along, but by focusing on eternally relevant content that doesn't ride the wave of whatever's popular right now, you start to see growth like this:


That's what happened when Buffer stopped trying to generate buzz with sharable content, and switched to a sustainable content strategy that brought long‐term results.
You can do the exact same thing.
In fact, in this post, I'm going to show you what evergreen content is, how to create it, and how keeping your posts relevant can boost organic traffic by 486%.
What is Evergreen Content?
Evergreen content is content that doesn't go out of date. The core topic of evergreen content will be relevant to readers no matter what's going on in the current news cycle, or which season it is.
That doesn't mean you need to predict the future, and decide not to write a study about anchor text because you suspect it'll go out of style. It just means the main theme of the content needs to be something that people won't stop caring about soon.
The features of evergreen content:
Relevant, regardless of any external factors like news cycle or season
How‐tos, data‐based posts, case studies, origins/history, lists, tips, complete guides
Basic information (because it doesn't rely on techniques or tools that could become irrelevant)
Here are three of examples of evergreen content, and why they're going to stay relevant:
People will always need to take notes. Until some insanely advanced AI comes along and does the job, tasks like this will be performed by humans. Whether it's students, writers, or UX researchers interviewing users, almost every job requires some level of note‐taking skill. That's what makes this content evergreen. It's timeless, permanently valuable knowledge.
There are a few clues that this content is super‐evergreen straight away. For one, the title has 'always' in. That reassures the reader they're about to learn a timeless, powerful technique that they can learn once and apply forever.
And, it's true. List posts are consistently popular and amongst the most shared kinds of content.
Second, it was published over a decade ago. Not many posts published a decade ago are still ranking in Google top3, but a quick check in Site Explorer will show you this one is:


Case studies and data‐based posts are another form of evergreen content. By their nature, they talk about a topic that won't go out of style because it's hard facts, and facts you can use to inform your own strategy.
According to David Farkas writing for Search Engine Journal, posts with unique data and strategies pick up a ton of backlinks because when other sites want to share the data with their audience, they need to cite you.
No one wants to write a post that isn't backed up by research! That means an automatic link every time, from both smaller blogs and news outlets that want to publish the findings.
Why Your Content Strategy Should Center Around Evergreen Content
Chances are, your company has a blog, not a news room. You can't afford to rely on little bursts of exposure every time you publish something, or you'll be constantly churning out new content to keep your traffic from plummeting.
Unlike news, which gets picked up and shared for a couple of days before being overshadowed by the next big sensation, evergreen content is consistently useful, sharable, and linkable.
Check out the traffic data below for this Recode story from June 2016: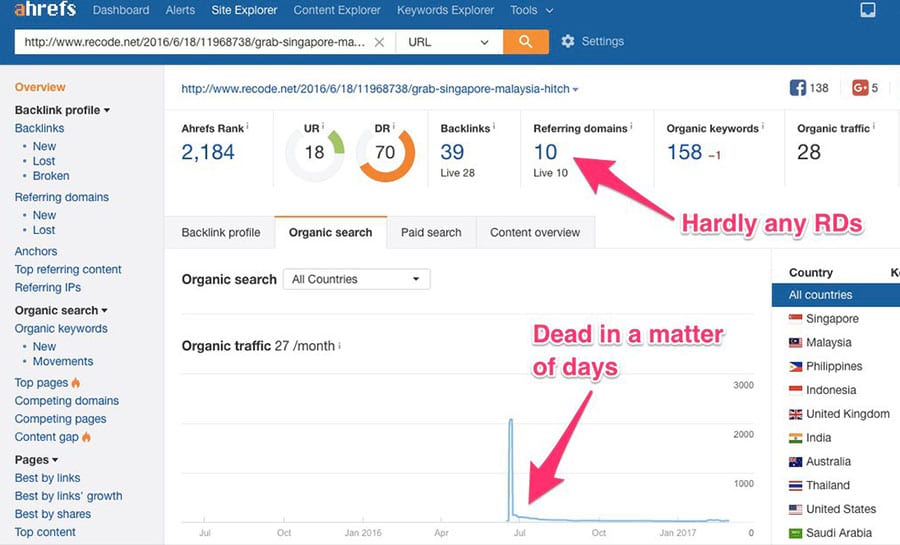 And now look at the same view for the first example of evergreen content I gave you, the Lifehacker post: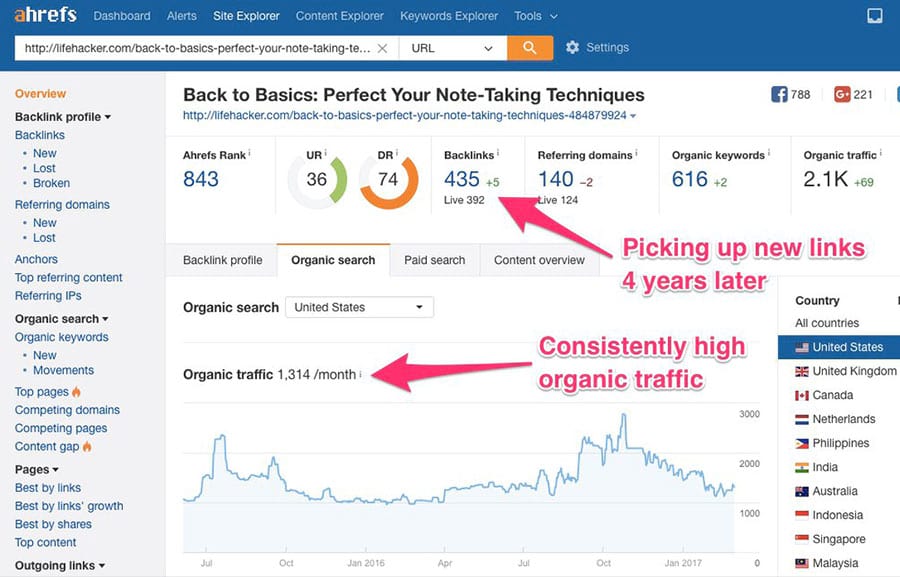 One's evergreen, one isn't.
One's getting constant exposure, the other would be lucky to get 1 view per day.
I can guarantee you this trend will be the same no matter where you look. It's simple: you create content that stays relevant, and that content keeps on bringing you organic traffic.
And, while non‐Evergreen content might generate a short‐term buzz and get a lot of shares because it's relevant, a study from BuzzSumo and Moz shows that links and shares have absolutely zero correlation: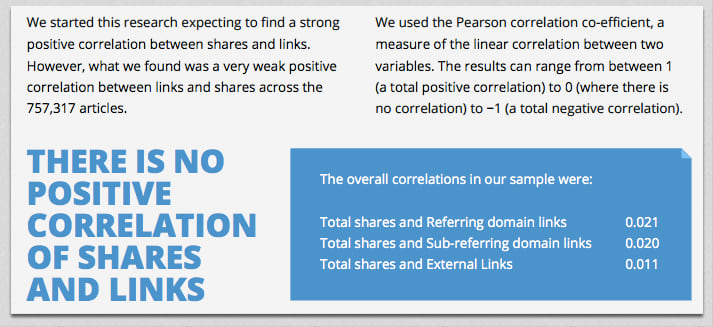 And that makes sense. Just because your "50 Christmas Tips" got a lot of circulation on Facebook for a couple of weeks doesn't mean anyone's going to bother linking out to it.
It's been proven consistently that evergreen content is what drives the biggest amount of traffic over time for the minimum amount of continued effort. You focus on creating something eternally useful and throwing links at it, and you'll be rewarded for years to come with organic search traffic you don't have to work harder for.
How to Create Evergreen Content
There are three elements to creating evergreen content:
Make sure there is search demand by doing keyword research and checking Google Trends
Make your content "basic" — advanced techniques change all the time
Keep your content up to date
Let's start with search demand and keyword research:
Make Sure People Still Search for the Topic
Creating evergreen content is as simple as staying away from topics that no one will care about in the foreseeable future, and focusing on keyword research.
We've got a huge guide to keyword research here, but the condensed version is that you first need to find out broad topics that your audience is interested in, then narrow those topics down into concrete keywords they'll type into Google.
Ahrefs' Keywords Explorer is the best tool on the market for keyword research. I use it daily, and I'm not saying that because I work here — I don't.
Got a product that would help teams run better meetings?
Put a few ideas into Keywords Explorer to find the terms you should ideally be ranking for: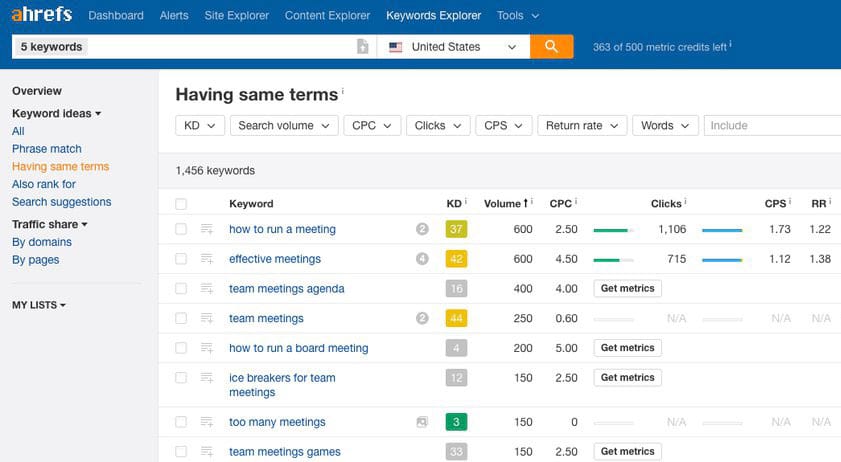 As I said earlier, make sure your content falls into one of these types:
How‐to: How to Run a Meeting That isn't a Useless Waste of Time
Tips: 13 Tips for Effective Meetings from Successful Startup CEOs
Resources: 50 Tools, Tips, and Resources to Help You Run Team Meetings
Case studies: How We Cut 80% of Our Team Meetings
Once you've got the keyword and the formula, the titles write themselves. But it's not just the title that matters, it's what's on the page.
It's not enough for content to be evergreen; it needs to be long, backed up with extensive research, and better than everything else ranking on page 1.
The way I do it is like this:
Open every post that ranks in a new tab
Copy all the URLs to my clipboard using this Chrome extension
Paste them into a new note in Evernote
Read all of the posts, extracting quotes and key points
Work the main takeaways into a structure (usually 'what', 'why', and 'how', including examples)
Fill the structure in using evidence from studies and quotes from the current ranking articles
With so many resources available, it's easy to combine all the existing popular content on the topic into one definitive 2000 words+ super post. Instead of looking at just one study or one viewpoint, you've got the final answer to the reader's question.
Another way to find popular content on any topic is with Ahrefs' Content Explorer.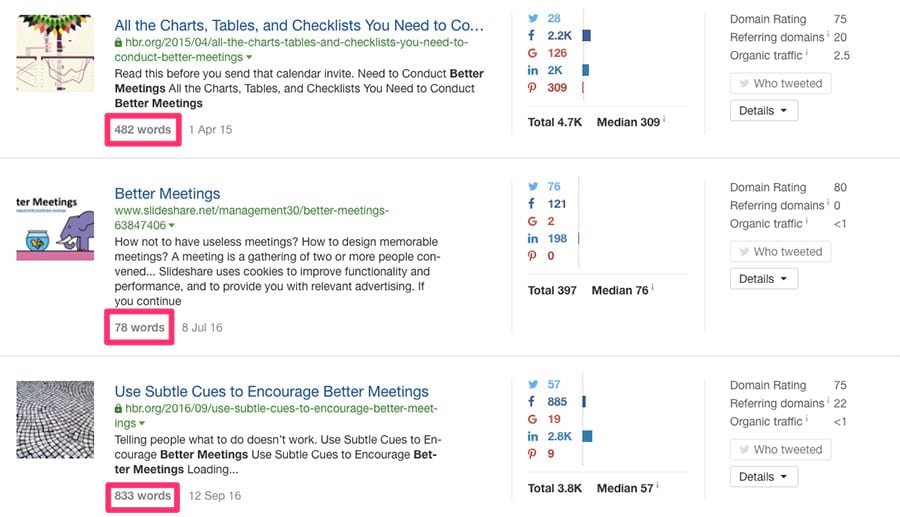 It's always an encouraging sign when the most popular content is thin, too.
Check Google Trends to see Search Volume Over Time
Even if you do target a keyword, and write a detailed, well‐researched post that deserves to rank, you might still not be creating organic content.
Especially if you decide to write about the U.S. presidential election, for example:

…Or about new years resolutions:


…Or about something like website templates, which have fallen out of favor thanks to the rise of WordPress and other, better tech:


A quick check on Google Trends will show you whether or not the topic you're writing about has any chance of staying popular, or if it's just today's hottest buzzword that will get forgotten about in the morning.
See, for example, the continued popularity of a topic like SEO:


It's as simple as that. Pick a proven topic that people are going to care about next year, and you're writing evergreen content.
Keep Your Content Simple
In every field, you have new advanced techniques popping up all the time. Remember shady link farms and scoping out high authority blog directories? These were advanced techniques that got a lot of coverage but Google caught on and slapped everyone using them with a big penalty. If you wrote a guide on that in the past, you can be sure it's not relevant any more.
Think about the things that'll never change: how to get up earlier, how to make a great cup of coffee, how to read more books.


If you find yourself drawn to something new, advanced and exciting, it's unlikely to be something as vital and consistently popular as any of those timeless topics.
And, along with simplicity comes specificity.
BlogTyrant recommends not going after a wide topic with your evergreen content because it's bound to have holes.
Using the example of a guide for boxer to throwing a punch, he recommends breaking the subject into super‐specific chunk that will reflect the actual questions readers will have, such as: "How to Guard Your Face While Throwing a Punch".
That's a simple topic. There are only so many ways you can guard your face, and that gives your content a narrow scope that you can realistically cover in 1 article.
However, when it comes to playing along with Google's rules, you sometimes have to convince them your content truly is evergreen.
In the next section, I'll show you the difference between evergreen and non‐evergreen content, in numbers, with my own data.
Keep Your Content Updated: A Case Study
When content gets old and outdated (e.g. is not evergreen any more), Google notices and drops it down the ranks. There's shinier, newer, more relevant content which Google believes will have more relevant and timely information.
Until it happened to me, I didn't realize how much of a hit your traffic takes. When a post that brings in a big chunk of your audience falls just 5 places down the ranks, the results are shocking.
The thing is, the post — Dropbox vs Google Drive — deserved to fall. It was written in 2014 and not keyword optimized in the slightest. Yet, as if by chance, it was ranking high for a selection of popular keywords, including #3 for 'dropbox vs google drive'. See this data with Site Explorer:


Before we had a real keyword research or on‐page optimization strategy in place, we'd write without any regard for SEO, and hope something sticks. In the harsh jungle of page 1, even if something sticks, it won't stay there forever unless it's updated.
For almost 2 years, our post wasn't updated, and here's what happened to it: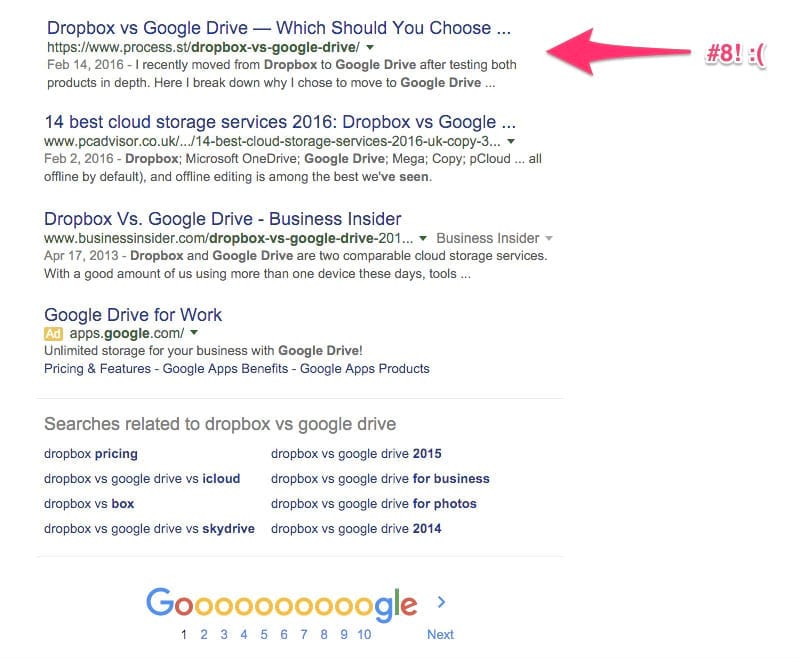 Sad isn't it?
If you think that's sad, check out the plummeting traffic:


Since that post was one of our great top‐of‐the‐funnel lead generation pieces, our overall traffic took a hard hit, too.
Fortunately, shortly after noticing the decline, something very handy landed in my inbox.
It was email #5 of Tim Soulo's 100k Blog Framework, which included advice on how to push your old articles to the top of Google. The steps Tim shared went like this:
Update your article with fresh information (rewrite sections that are out of date; fix broken links);
Make sure your On‐Page optimization is absolutely perfect;
Give your updated article a round of good old promotion (build some links to it).
And now I'm going to show you exactly how I applied that, and what happened as a result.
Step 1: Rewrite Tiny Sections Of The Article
First of all, I changed the title from 'Why I Moved from Dropbox to Google Drive' to include the keyword we wanted to claw back: 'Dropbox vs Google Drive: Which Should You Choose?'.
I made sure to include the keyword in the first section of the article.


I added a new paragraph of content (55 words), frankly only to get a deep link in there.
After correcting a few spelling errors and changing the slug from /why‐i‐moved‐from‐dropbox‐to‐google‐drive to /dropbox‐vs‐google‐drive, my extremely lazy content edits were complete.
Step 2: Change The Publishing Date And Bump It To The Top Of Your Blog
Changing the publishing date to the day you edit it is a way to show Google that it's an updated page, and make it visible to people who land on your /blog page.
In WordPress, change the date here: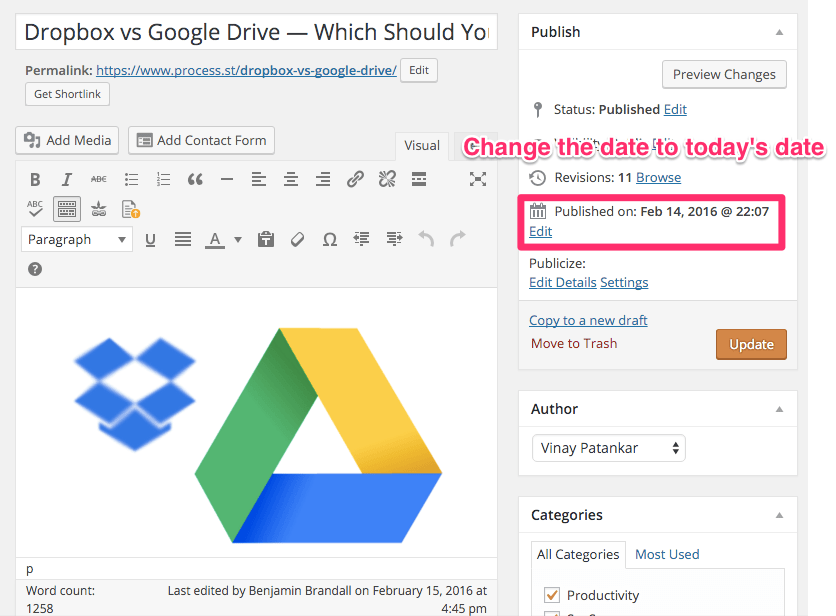 Step 3: Update Your SEO Metadata
Just like all of the other things that were out of date, the SEO metadata wasn't optimized at all. Using All in One SEO, I made sure that 'Dropbox vs Google Drive' was in the meta description and keywords box. Nothing complicated.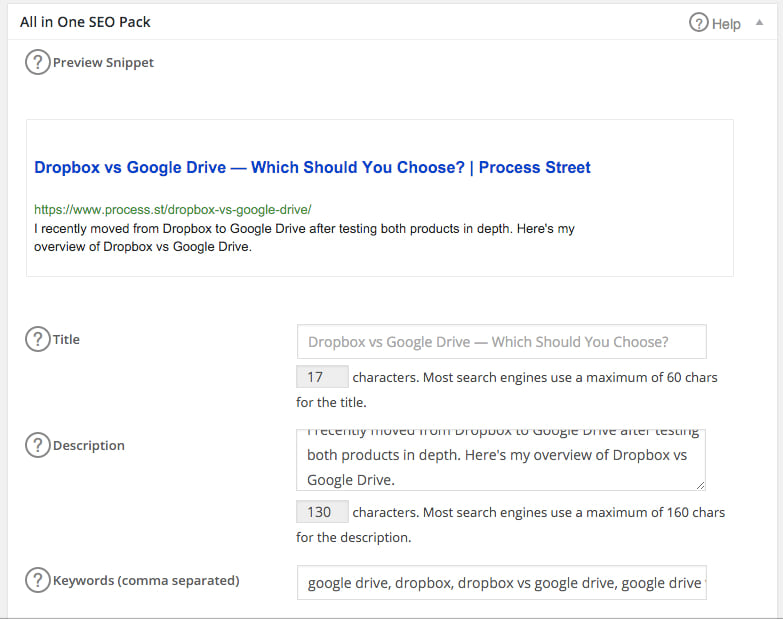 Step 4: Promote it like a new article
After making these optimizations — which took a grand total of 15 minutes at most — I added the post to our usual content promotion process, which you can steal here. (Bear in mind, it's pretty involved but works like a charm.)
We sent an email out to our blog list, posted it on Reddit, and shared it to our social media accounts with Buffer.
And, within just 4 days, the page climbed from #8 to #3 in Google for its target keyword and traffic to that page increased by 486%.


*explosion sound effect*
So, you have a ton of old pages, what do you do?
The best way to track rank dropping over time is by using the Ahrefs positions tracker. Checking your weekly digest email will show you which of your pages need more effort if they're going to keep bringing you in the same traffic.
Remember, there's new content being churned out all the time, and some of it is bound to be optimizing for the same keywords in the hope of dethroning you.
So, make sure to set up Ahrefs to check your pages for rank changes, and take a quick look at the weekly digest emails as they come in to make sure that your content isn't getting pushed into the dark underbelly of page 2.
If it is, take action with the steps above and your old, unoptimized content should revert back to being relevant again.
Here's what a drop from #3 to #8 can do to you:


So if you see a drop of even just a few positions, remember that it will exponentially reduce the traffic to that page. If that's one of the top 10 most trafficked pages on your site, it's cause for alarm.
Your Quick‐Action Checklist For Switching From Unoptimized To Evergreen Content
To sum things up, here's a quick checklist you should run through each time you get that worrying report telling you you're steadily becoming irrelevant:
Rewrite out‐of‐date paragraphs
Add links to your new content (so all the links aren't pointing to ancient sources)
Update the title to include the keyword
Update the slug to include the keyword
Include the keyword in the first 100 words
Mention it in at least one sub‐heading
Edit your metadata to include your target keyword
Change the publishing date to today
Bump it up onto the first page of your blog
Email it to your subscribers
Run your promotion process (post to Reddit, share to social media, etc.)
Keep a close eye on the rank over the next few days
(Grab a re‐usable copy of this checklist here)
There Is A Better Way…
Now that I've said all of this, I want to just add… this is not the best way to do it. Scrambling to claw a rank back when you've already lost traffic because of it isn't a situation anyone wants to be in.
To avoid losing traffic (even if you do re‐rank the post), updating old content to keep it evergreen should be part of your weekly routine, prioritizing the old content that's already performing well.
So, I hope you've found this guide useful, and that it helps if you find your high‐performing content fading into non‐existence.
Any questions or comments, just leave them below.
Editor's note
One of the unique things about Ahrefs blog is that we try to always practice what we preach.
So this very post is a perfect example of evergreen content.
We published Benjamin's original article almost exactly a year ago (you can see that at archive.org)
But it didn't end up bringing any consistent organic traffic, even though the topic is clearly relevant to these days.
So I reached out to Benjamin and asked if he would be willing to do a nice update/rewrite of his original article and include some extra juicy details, so that we could re‐publish and re‐promote it as a brand new piece.
And there, you have it!
Instead of publishing a new post on a new topic, we took an old "evergreen" post and did a major facelift.
Hope you enjoyed it.


Tim Soulo
Head of marketing, Ahrefs