Looking for a list of free SEO tools that will help you to work faster and smarter? Then look no further.
I asked the /r/bigSEO community to name their favourite free SEO tools.

And the response was INSANE.
I received more than 50 SEO tool suggestions, and it's now the 3rd most upvoted thread ever on /r/bigSEO.
In this post, I've consolidated the suggestions and split them into three categories:
15 well‐known free SEO tools;
38 lesser‐known free SEO tools;
19 "freemium" SEO tools
I've also included a few of my own favourite tools along with suggestions from our customers.
Let's get started!
Sidenote.
We also plan to keep this list evergreen so please, feel free to suggest any tools we've missed in the comments section 😀
15 Best Well‐known Free SEO Tools
Many of you will already be familiar with these tools.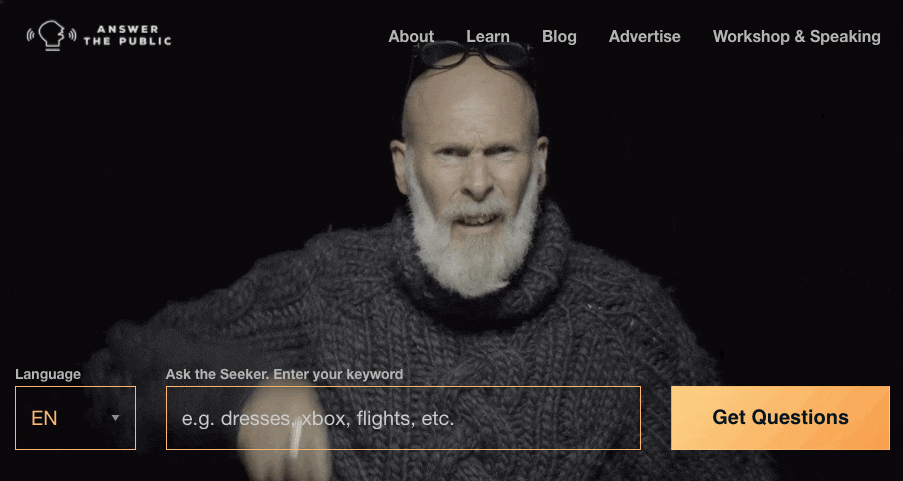 But, that doesn't mean they're any less‐deserving of a place on our list. They're still some of the best free tools out there.
And if you aren't familiar with any of them, give them a go.
They're definitely the staple tools that should be a part of every SEO's toolbox.
Here they are (in no particular order):
Answer the Public — Fetches Google Autocomplete queries in bulk and divides them into various lists. Very useful for uncovering the questions people are actually asking in Google.
UberSuggest — Finds hundreds of keyword ideas from a seed keyword. No sign‐up required and all keywords can be exported to a CSV file. The word cloud is a cool feature.
Note: Keyword.io and the Google Keyword Suggest Tool (by SEOChat.com) are very similar alternatives.
Soovle — Scrapes Google, Bing, Yahoo, Wikipedia, Amazon, YouTube, and Answers.com to generate hundreds of keyword ideas from a seed keyword. Very powerful tool, although the UI could do with some work.
Hemingway Editor — Improves the clarity of your writing by highlighting difficult to read sentences, "weak" words, and so forth. A must‐have tool for bloggers (I use it myself).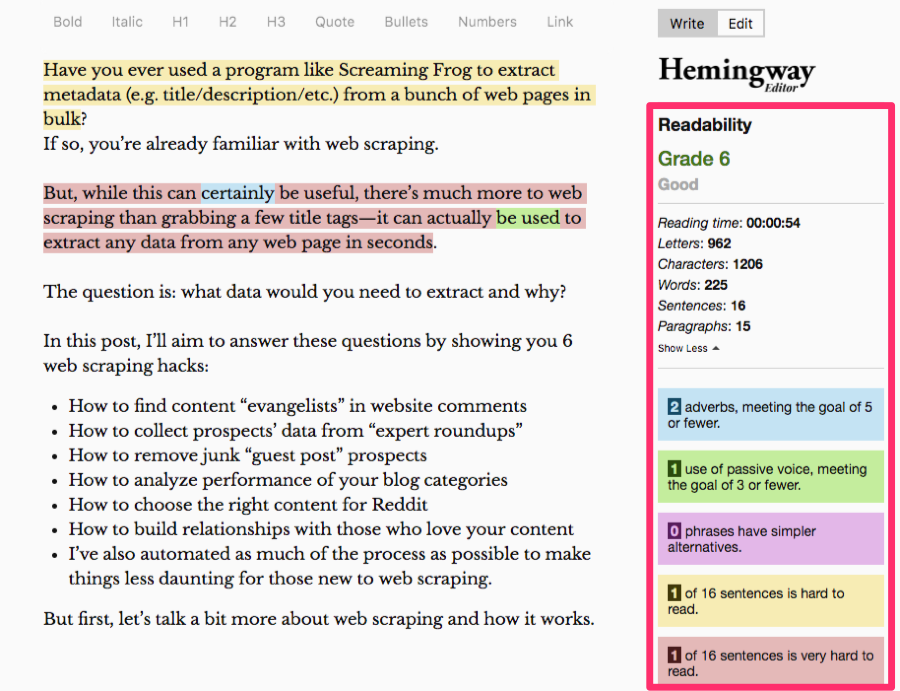 Chrome Developer Tools — Google Chrome's built‐in web page debugging tool. Use it to debug pagespeed issues, improve web page rendering performance, and more. From a technical SEO standpoint, it has endless uses.

Beam Us Up — SEO crawling software. Great free alternative to Screaming Frog. Integrates with Excel and Google Drive. Only available for Windows.
Google Keyword Planner / Trends / Webmaster Tools / Analytics / Sheets — Must‐use tools for all SEOs. Find and research keywords (Keyword Planner) and identify trends (Trends). Identify and fix website issues (Webmaster Tools). Analyse how many people are visiting your website, who they are, and where they come from (Analytics). Gather, process, and analyse all kinds of SEO‐related data (Sheets).
Recommended reading: 10 Google Sheets Formulas Every SEO Should Know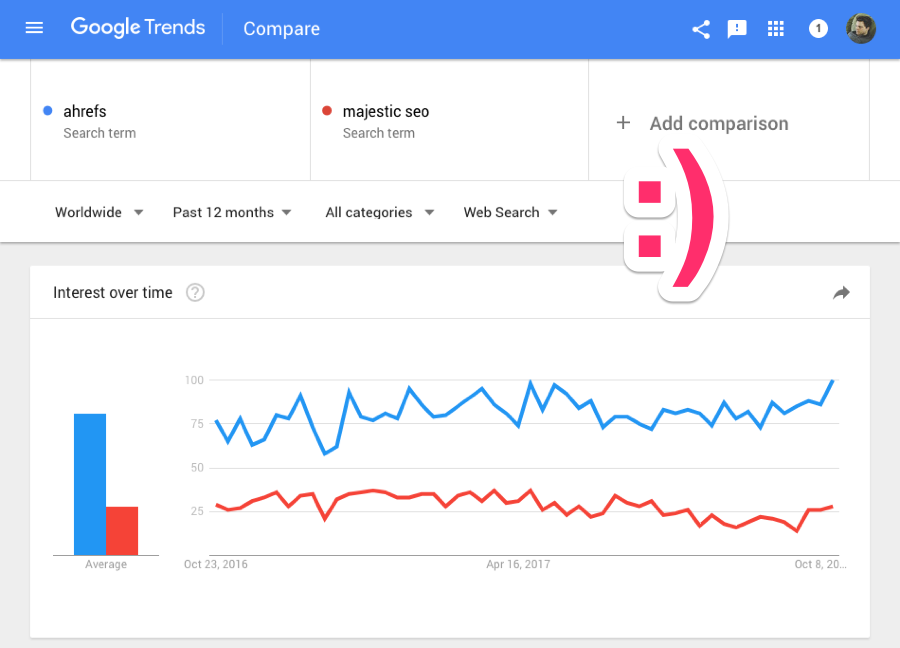 Bing Webmaster Tools — Bing's official suite of tools for webmasters. Very similar to Google Webmaster Tools. Add a sitemap, identify issues with web pages, etc.
Yandex Metrica — 100% free web analytics software. Includes heat maps, form analytics, session reply, and many other features you typically wouldn't see in a free tool.
30 Best Lesser‐known Free SEO Tools
Just because a tool is not popular does not mean that it isn't useful.
Many of the most helpful free SEO tools tend to fall under the radar.
For example, two of my all‐time favourite tools are gInfinity (Chrome extension) and Chris Ainsworth's SERPs extraction bookmarklet.
By combining these two free tools, you can extract multiple pages of the SERPs (with meta titles + descriptions) in seconds.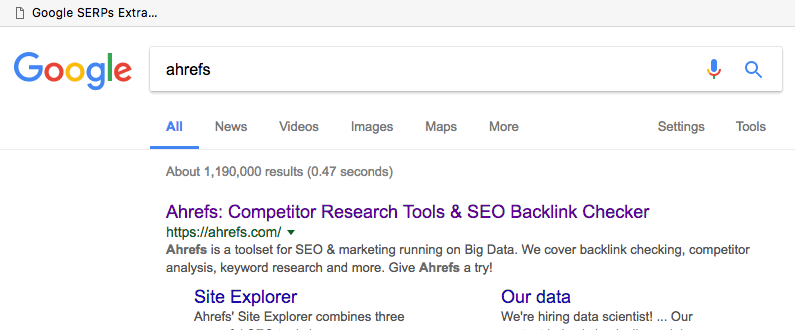 But these tools are hardly ever mentioned by other SEOs.
Here are another 30 of the best lesser‐known free SEO tools (in no particular order):
Keyword Mixer — Combine your existing keywords in different ways to try and find better alternatives. Also useful for removing duplicates from your keywords list.
Note: MergeWords does (almost) exactly the same job albeit with a cleaner UI. However, there is no option to de‐dupe the list.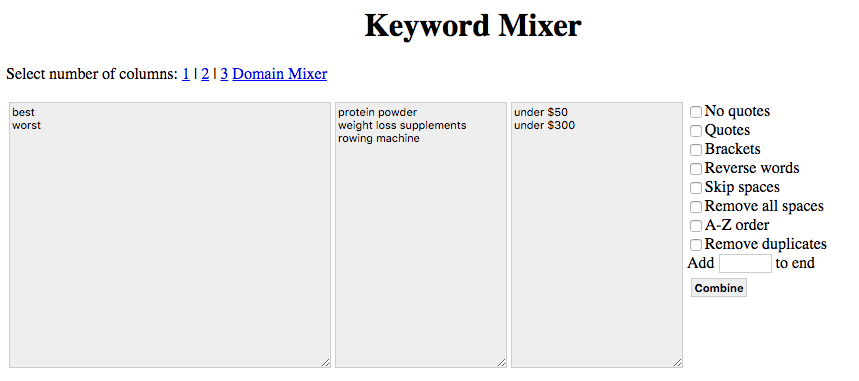 Keyword Shitter — Generates hundreds and thousands of keyword suggestions from your seed keyword(s). You can also download all keyword suggestions to a .txt file in one click (no sign‐up required).

LSIgraph.com — Latent Semantic Indexing (LSI) keywords generator. Enter a seed keyword, and it'll generate a list of LSI keywords (i.e. keywords and topics semantically related to your seed keyword). TextOptimizer is another very similar tool that does roughly the same job.

SERPs.com's Keyword Research Tool — Finds thousands of keywords in seconds. It also gives you the ability to filter said keywords and export them to a CSV file (no sign‐up required).
Note: Here's another similar tool from SEOBook.
Small SEO Tools Plagiarism Checker — Detects plagiarism by scanning billions of documents across the web. Useful for finding those who've stolen/copied your work without attribution.
Google SERP Snippet Optimization Tool — Identifies truncation issues with meta titles and descriptions. Also generates a live preview of how your web pages currently appear in Google search results (this tool by SEOMofo.com does the same).
Note: CoSchedule's Headline Analyzer also shows how your title tag looks in the SERPs, plus gives you advice on how to improve it and get more clicks.

Bulk Webpage Word Counter (by SEO Review Tools) — Does what it says on the tin; bulk checks word count for up to 10 URLs.
SEO Hero — Finds all concepts, entities and N-Gram's related to your topic or keyword. Or, in plain English, it uncovers "LSI Keywords" that you can add to your content to increase relevancy.
RankTank.org — Open source "DIY" SEO tools built in Google Sheets.
Recommended Reading: 10 Google Sheets Formulas Every SEO Should Know
iSearchFrom.com — Emulate a Google search using any location, device, or language. You can customise everything from SafeSearch settings to personalised search.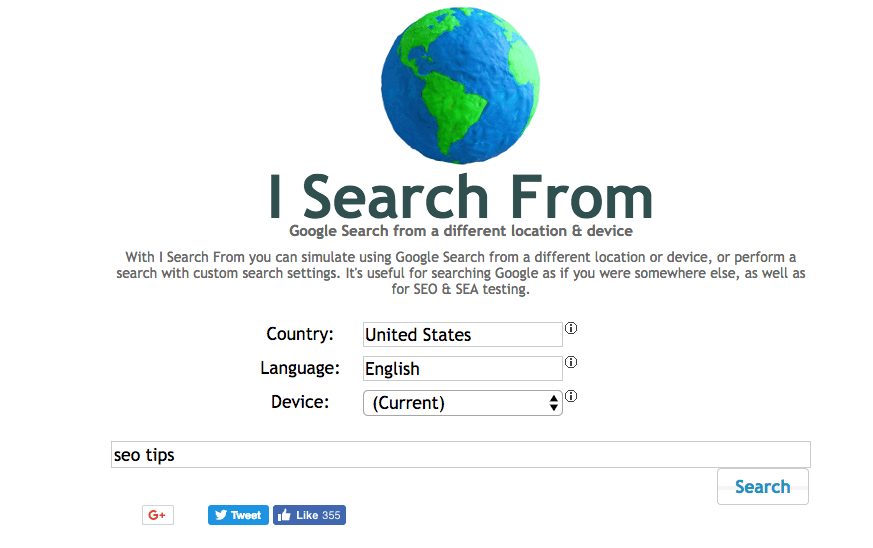 Delim.co — Convert a comma‐delimited list (i.e. CSV) in seconds. Not necessarily an SEO tool per se but definitely very useful for many SEO‐related tasks.
Drop My Link — Combines your keywords with advanced Google search operators to uncover link building opportunities. Very useful for finding guest post opportunities, link/resource pages, link roundups, etc.
Keyworddit — Extracts the most frequently used keywords and phrases from any subreddit. It also gives the monthly search volume for each keyword.

What does my site cost? — Tells you how much it costs someone to visit your website on mobile networks around the world. Very insightful for people used to unlimited 50mbps+ 4G web browsing (like me!)
Keep‐alive Validation SEO Tool — Checks if a website (or list of websites) supports a persistent connection. Those that do are generally faster to load than those that don't.
Am I Responsive? — Checks website responsiveness by showing you how it looks on desktop, laptop, tablet, and mobile.

HEADMasterSEO — Simple bulk status code (e.g. 200, 301, 404, etc.) and redirect checker. Also checks response time, response headers, and HTTP header fields (X‐Robots‐Tag, Link, Vary). Includes filtering and a bunch of other advanced features.
SERPLab — Free Google rankings checker. Updates up to 50 keywords once every 24 hours (server permitting).
Varvy — Checks whether a web page is following Google's guidelines. If your website falls short, it tells you what needs fixing.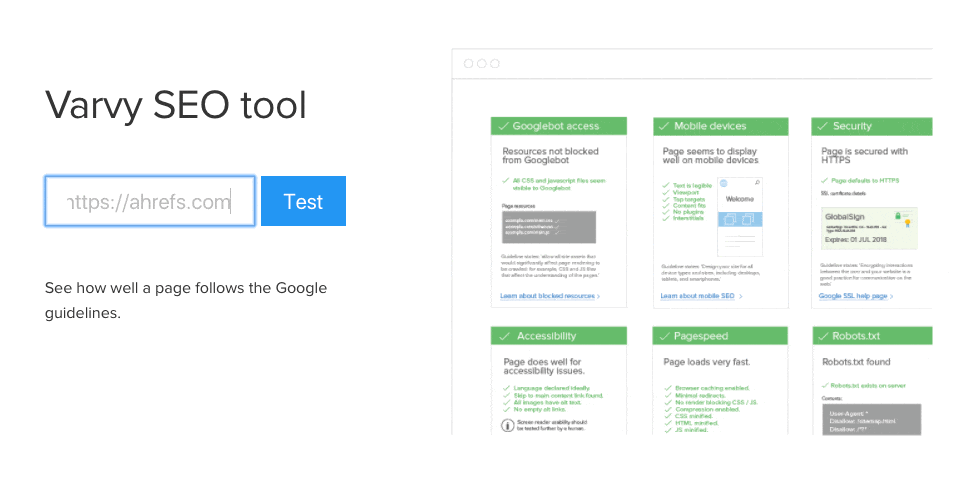 JSON‐LD Schema Generator — JSON‐LD schema markup generator. It currently supports six markup types including: product, local business, event, and organization.
KnowEm Social Media Optimizer — Analyses your web page to see if it's well‐optimised for social sharing. It checks for markup from Facebook, Google+, Twitter, and LinkedIn.
Where Goes? — Shows you the entire path of meta‐refreshes and redirects for any URL. Very useful for diagnosing link issues (e.g. complex redirect chains).
Google Business Review Link Generator — Generates a direct link to your Google Business listing. You can choose between a link to all current Google reviews, or to a pre‐filled 5‐star review box.
Search & Extract Twitter Users+ "Find Influencers in Any Niche" — Find influencers who've shared any piece of content on Twitter in the last 7 days. Also useful for finding influencers who've shared content from a particular domain. Or about a particular topic.
Note: Here's another neat tool that analyses the last 2K tweets for any Twitter account to see who influences that person.
19 Best "Freemium" SEO Tools
Most of the "big" SEO tools have a "freemium" package.
Some offer a limited free/low‐cost trial (e.g. Ahrefs). Others simply give limited access forever (e.g. Moz's OSE).
And when we say limited, it's often very limited.

Recommended reading: Free Backlink Checkers Compared: What's the Best Choice When on a Budget?
Sidenote.
Here at Ahrefs, we offer a
7‐day trial for $7
. If you choose not to continue your subscription after the trial, we'll downgrade you to one of our free accounts.
Because there are tons of "freemium" tools, we tried to only mention "one of a kind" tools to avoid duplication.
I guarantee that every SEO professional will be using at least 3–4 tools from this section. Some tasks simply cannot be done without them.
Here are the best "freemium" SEO tools (again, in no particular order):
Ahrefs — Industry‐leading all‐in‐one SEO tool. Use Site Explorer to check backlinks, Keywords Explorer for keyword research, and Content Explorer for content research. We also have a Rank Tracker and many other tools. The full list of tools and features here.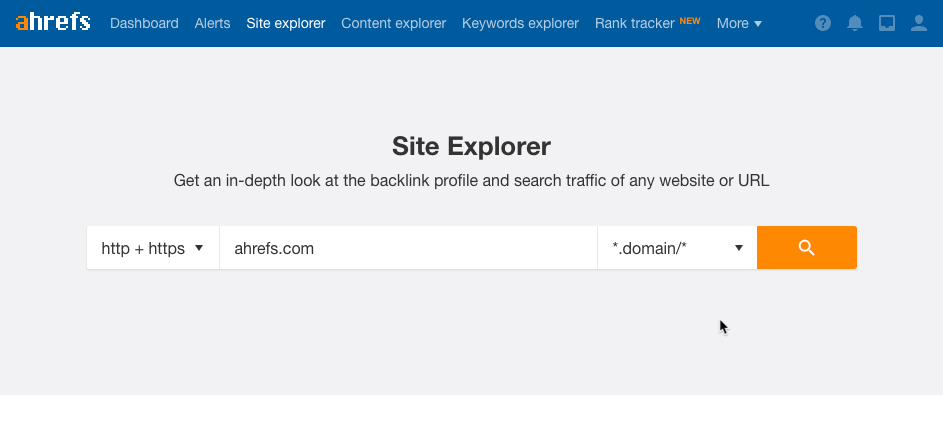 SimilarWeb — Estimated traffic metrics for (almost) any website. It also tells you where that traffic comes from (e.g. organic, paid, etc) and even lists top referring domains. Very powerful for competitive research.
Recommended reading:Competitor Analysis Tools (And a Sample Website Analysis With Only 2 Tools)
Readable — Analyses the "readability" of your content and helps you "cut the noise". It checks various readability scores (e.g. Flesch‐Kincaid, Gunning Fog, etc.), text composition, and more.
PublicWWW — Searches the web for pages using source code‐based footprints. Useful for finding your competitors affiliates, websites with the same Google Analytics code, and more.
Screaming Frog — Industry‐leading web crawling software. Available for Windows and Mac. Free for up to 500 webpages (with limited functionality).

Keywordtool.io — Scrapes Google Autosuggest to generate 750 keyword suggestions from one seed keyword. It can also generate keyword suggestions for YouTube, Bing, Amazon, and more.
KWFinder — Finds long‐tail keywords with low difficulty from a seed keyword. Also displays search volume, Cost‐Per‐Click (CPC), and keyword difficulty.
SERPWatcher — Rank tracking tool with a few unique metrics (e.g. "dominance index"). It also shows estimated visits and ranking distribution charts, amongst other things.
Kraken.io — Optimizes website images to improve website loading speeds. It also helps to save storage space and bandwidth.
Buzzsumo — Finds the most linked‐to and shared content in any niche, along with your competitors best‐performing content. If you have content already, it can uncover influencers who may amplify said content.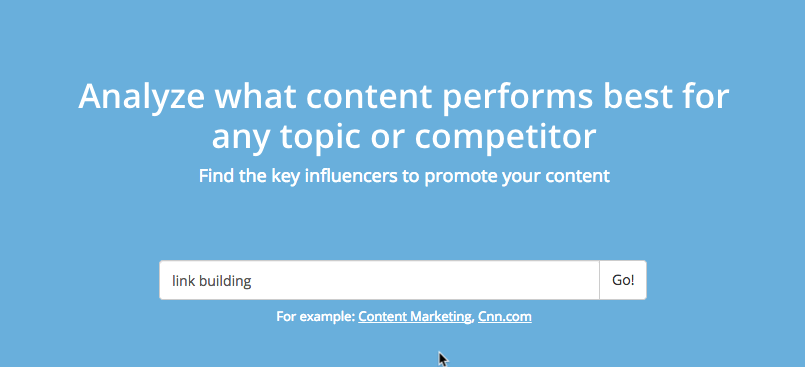 Grammarly — Enhances your writing by uncovering spelling and grammatical errors. It also offers suggestions for improvements. Browser‐based app, but also integrates with Microsoft Office.
GTMetrix — Industry‐leading tool for analysing the loading speed of your website. It also gives actionable recommendations on how to make your website faster.
Mondovo — A suite of SEO tools covering everything from keyword research to rank tracking. It also generates various SEO reports.
SEO Site Checkup — Analyse various on‐page/technical SEO issues, monitor rankings, analyse competitors, create custom white‐label reports, and more.
Copyscape — Industry‐leading tool for uncovering plagiarised content.
Hunter.io — Finds email addresses related to any domain in seconds. It can also uncover email addresses for specific people who work for specific organizations. All you need is a name and a domain.
Recommended reading: Note: 9 Actionable Ways To Find Anyone's Email Address (8 of them are FREE)
Yoast SEO — Perhaps the only SEO plugin you'll ever need for WordPress‐based websites. Allows you to optimize meta tags and content, generate instant sitemaps, and much more.
Whitespark Local Citation Finder — Finds the websites and directories where you should list your business. It also examines your competitors and monitors citation growth. A must‐have for anyone involved in local SEO.
URL Profiler — Content and backlink auditing tool. Integrates with Ahrefs, Google Search Console, Google Analytics and most other big SEO tools. It's also useful for web scraping.
Final Thoughts
I'd like to thank everyone who contributed to the discussion on /r/bigSEO for helping us to put this list together.
I learned about a few cool new SEO tools myself!
We aim to keep this list evergreen and regularly updated. So if you feel we've missed any great free SEO tools when putting this list together, you can suggest them for inclusion here.