I've been in the content marketing game for over a decade (including 5+ years as Head of Content at Ahrefs). During that time, I've tried more than my fair share of content marketing tools.
Here are my recommendations for the ultimate content marketing stack:
Let's take a closer look at these tools and why I love them so much.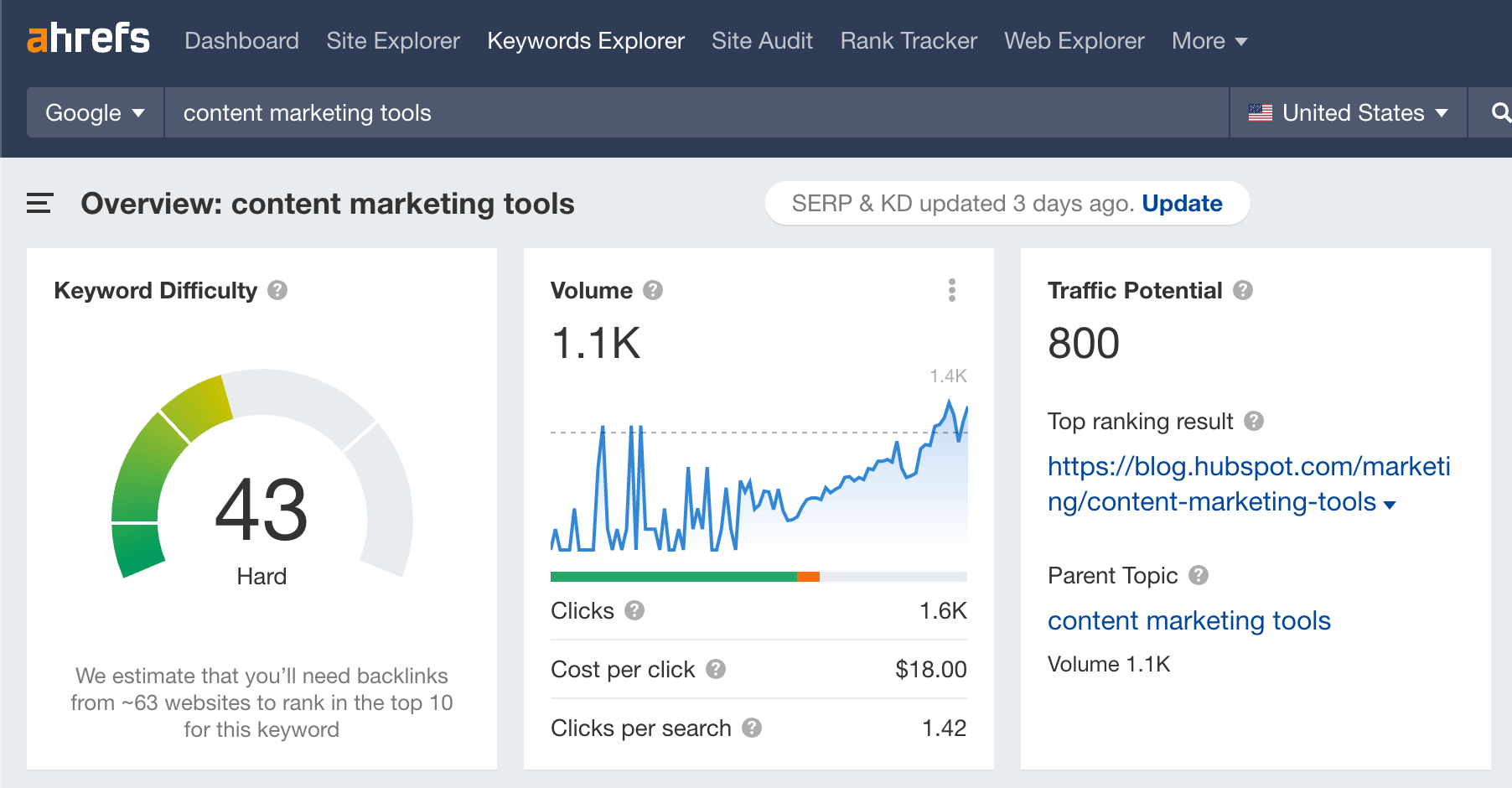 What it does: Helps you rank your content higher in Google.
Why I love it: Doing SEO without Ahrefs is… a struggle. It helps with keyword research, link building, technical SEO—everything you need to do to rank your content higher on Google and get more traffic. And no, I'm not just singing its praises because I work for the company. I used Ahrefs for years before taking on my role here. In fact, I only joined the company because I loved the tool so much, and it was an offer I couldn't turn down.
Price: $99+ per month (free tools available).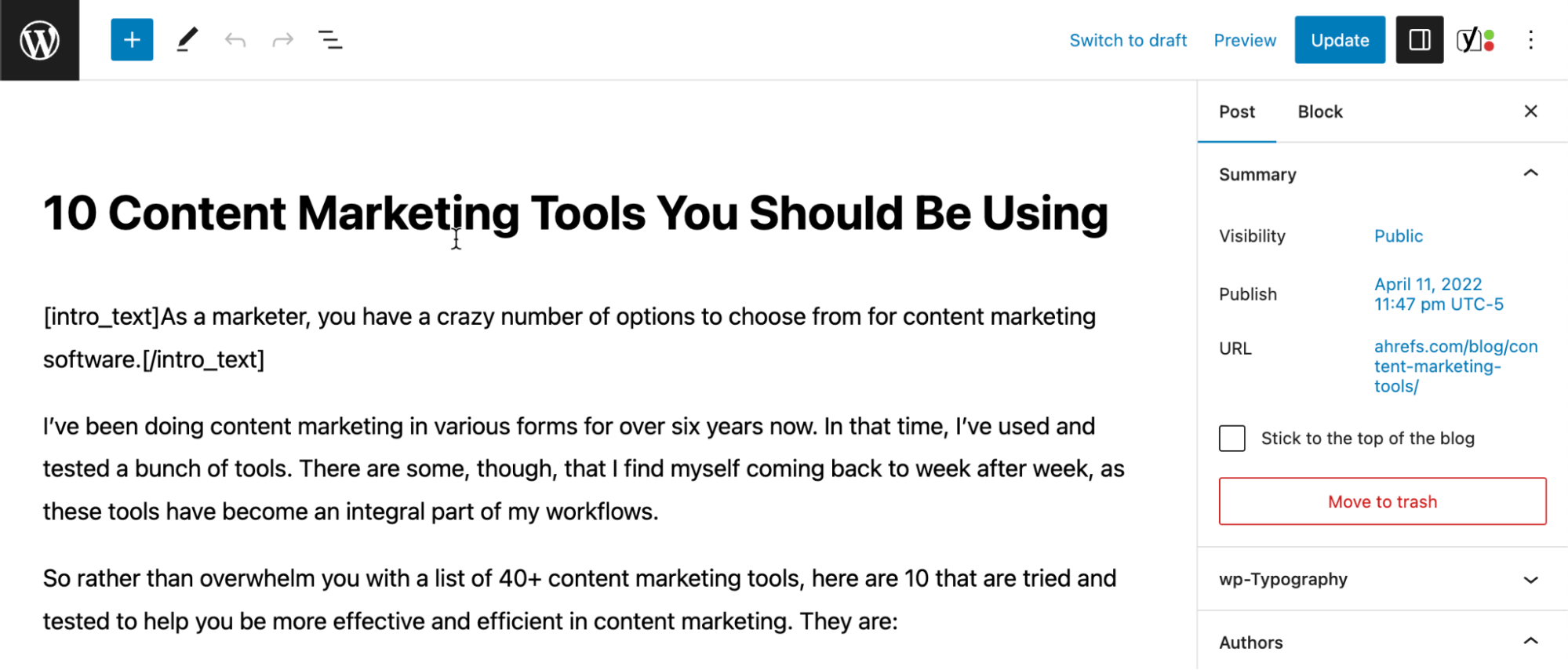 What it does: Makes it easy to build and manage a website or blog.
Why I love it: It's easy to use and SEO-friendly out of the box. Is it perfect? No. But it doesn't really matter because there are thousands of plugins you can use to extend its functionality. For example, plugins like Yoast, WP Rocket, and our very own free SEO plugin all extend the CMS's SEO capabilities in a few clicks.
Price: Free.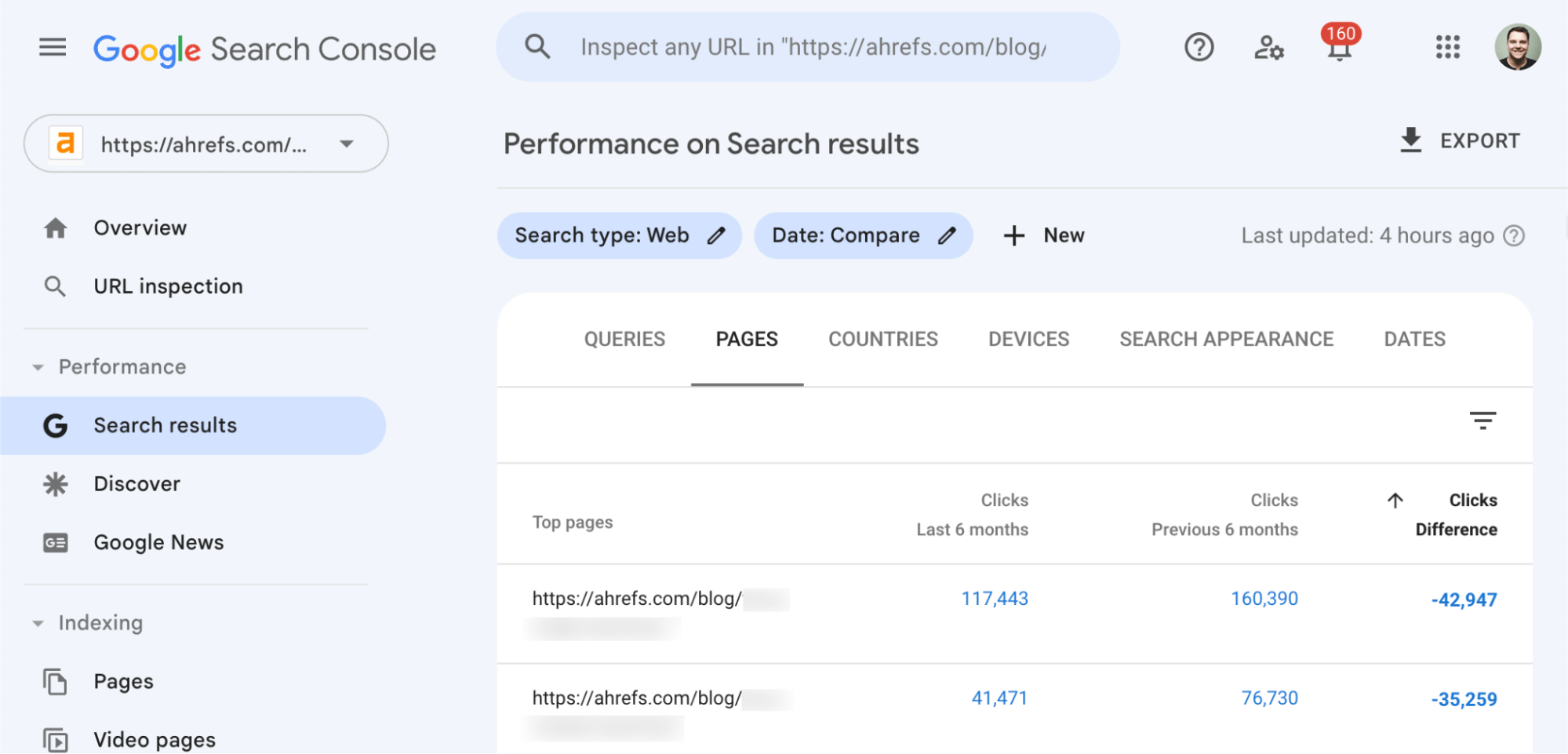 What it does: Helps you measure and improve your content's performance in organic search.
Why I love it: There's no easier way to find content in need of a refresh. Just go to the Performance report, compare the last six months to the previous six, click "Pages," then sort the table by "Clicks difference" from low to high. It'll show you which content lost the most traffic during that period so you can consider them for a content refresh.
Price: Free.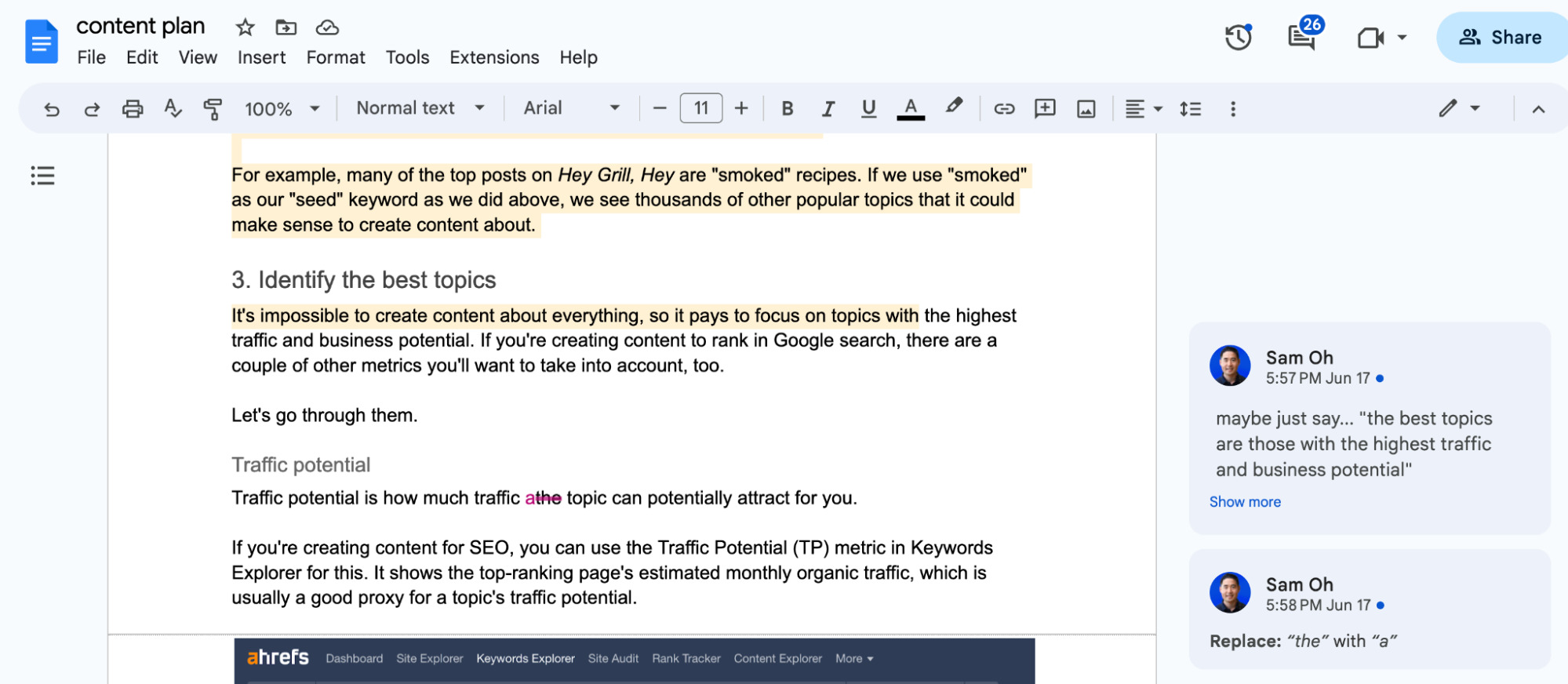 What it does: Helps you to create and edit content collaboratively.
Why I love it: It autosaves after every keystroke (no more lost drafts to Word's crashes), lives in the browser (nothing to install), and is built around collaboration (comments, easy sharing). Given how our team is scattered across the globe, I don't think we'd be anywhere near as productive without it.
Price: Free.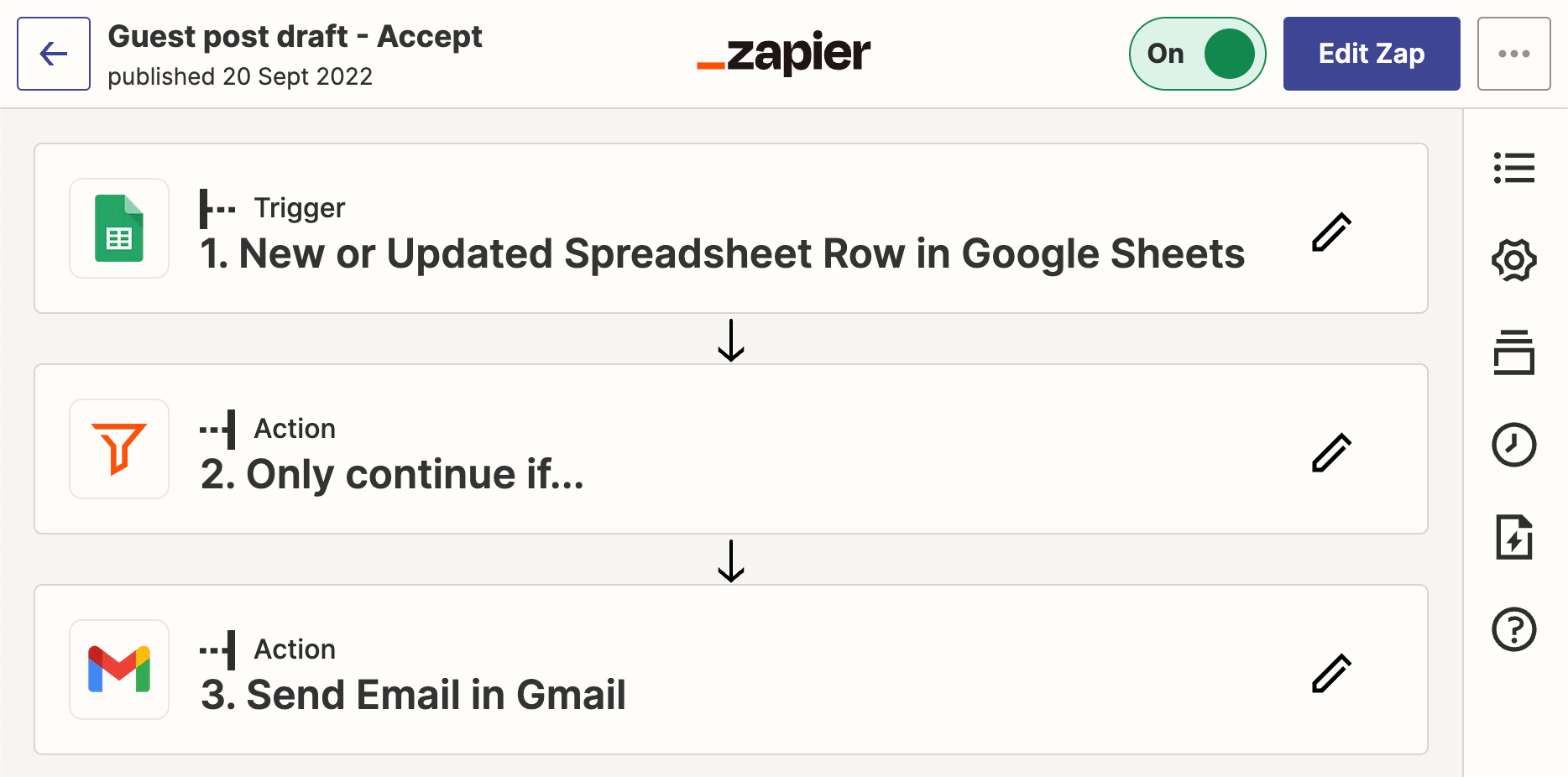 What it does: Connects apps together to automate workflows.
Why I love it: It frees you from boring and repetitive work. For example, I recently used it to automate responses to guest post pitches. After pulling them all into a Google Sheet, I used Zapier to automatically send approval or rejection emails based on what I selected from a dropdown in Google Sheets. This meant I could manage our entire guest posting program (currently paused) from a single spreadsheet. No need to dip in and out of Gmail.
Price: Free plan available; paid plans from $19.99/month.

What it does: Helps you improve your writing.
Why I love it: Grammarly doesn't just fix basic grammar mistakes. It suggests ways to improve clarity in your writing and communicate more efficiently. If you have a tendency to rant and compose unnecessarily wordy sentences like me, this is a game-changer. It also works directly with Google Docs if you install the free browser plugin.
Price: Free plan available, paid plans from $12/month.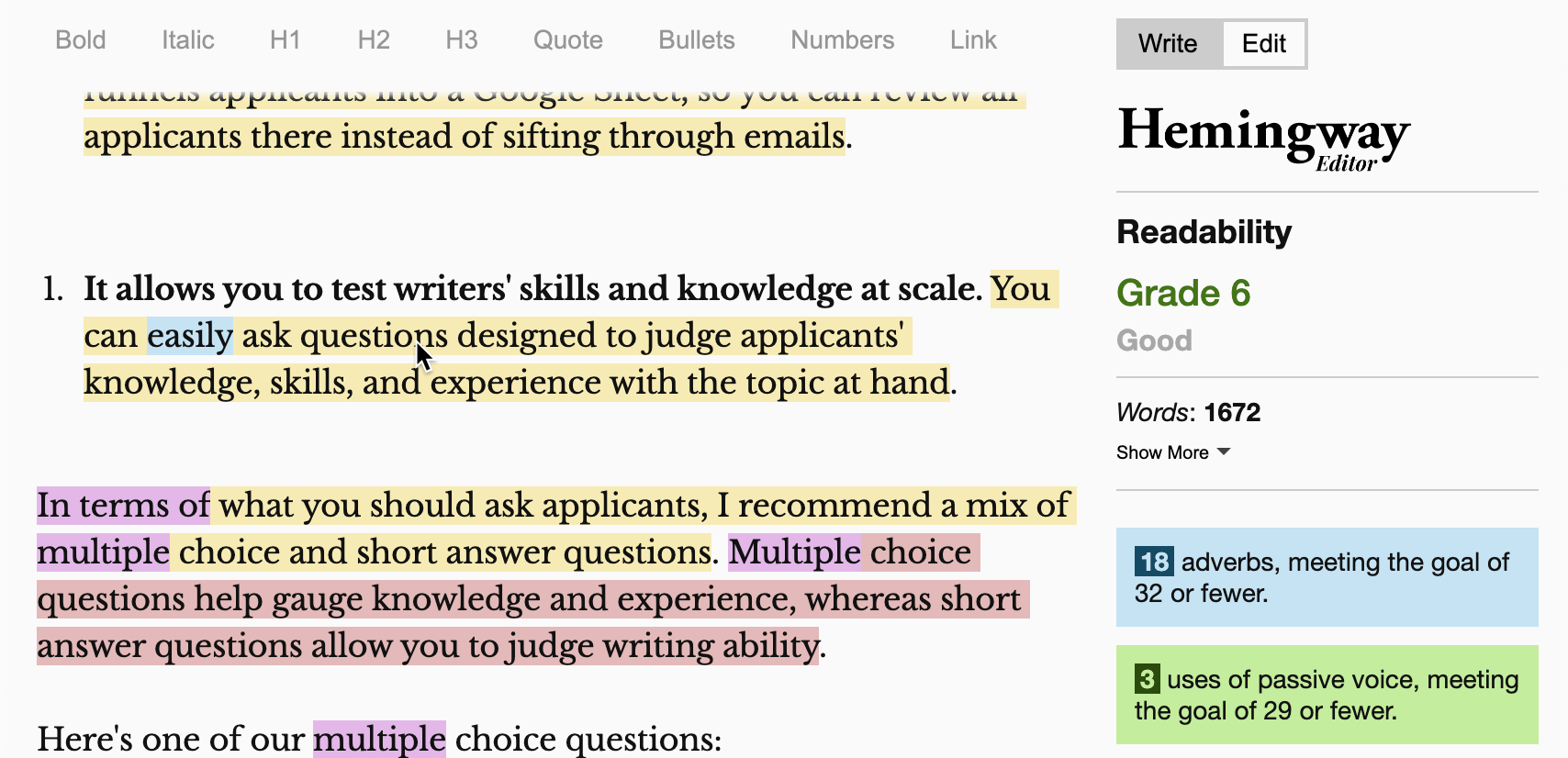 What it does: Helps improve your content's readability.
Why I love it: My job is to teach people how to do complex things, so I'm always trying to avoid jargon and wordiness in my writing. Hemingway helps by highlighting hard-to-read sentences and phrases with simpler alternatives. Just remember to take its suggestions with a pinch of salt and not obsess over them. The game isn't to get a "perfect" score. It's to improve the overall readability of your writing.
Price: Free to use in browser; desktop app for $19.99.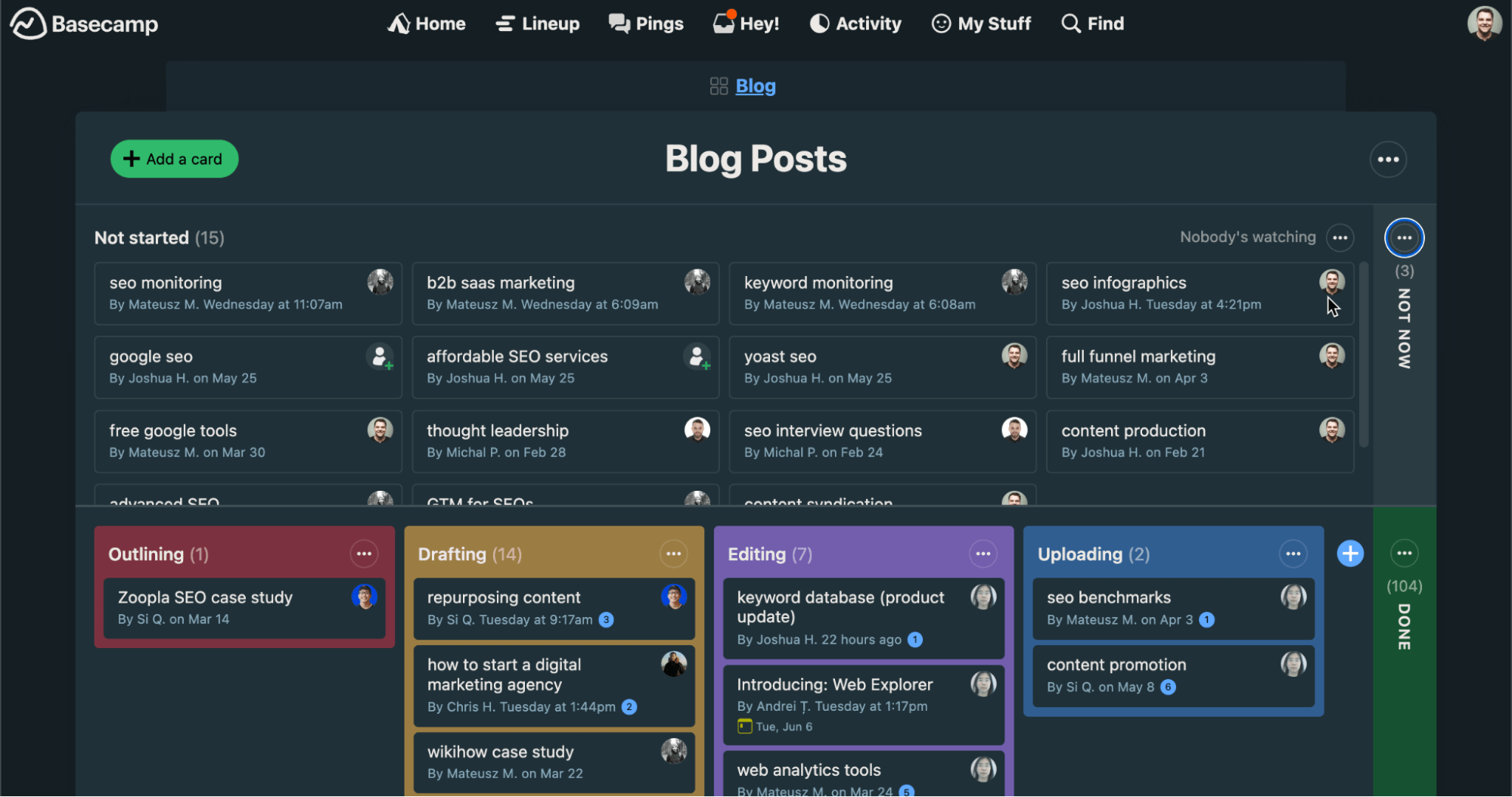 What it does: Helps you manage and collaborate on content projects.
Why I love it: It's just way simpler and less convoluted than most other project management tools. For example, there isn't even an option to add custom fields to kanban boards. This felt like a big negative when I first started using it, but I've since realized that the lack of features like this actually helps to streamline things. It encourages you to create simpler, less complicated workflows.
Price: $15 per user, per month.

What it does: Helps you communicate with your content team in real time.
Why I love it: Google Docs has its limitations. Sometimes, you just need to discuss an issue in real time. Slack is perfect for this. I don't think our blog posts or videos would be half as good as they are today if Sam Oh (who runs our YouTube channel) and I weren't frequently discussing feedback on each other's drafts. If we were using email for this, we'd be waiting three hours between replies.
Price: Free plan available; paid plans from $7.25 per user, per month.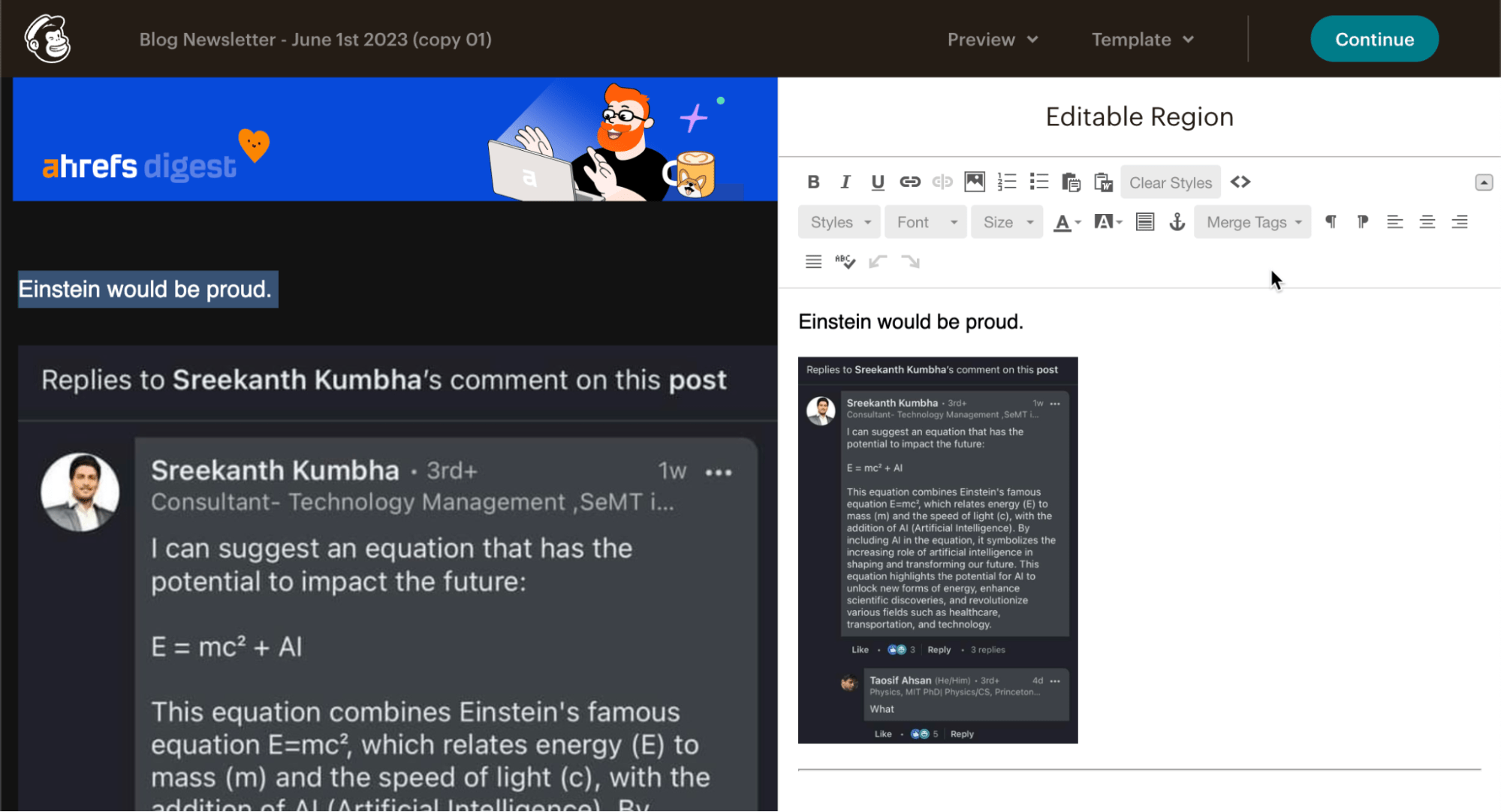 What it does: Distributes content to email subscribers.
Why I (kind of) love it: It's easy to use and free to send up to 1,000 emails per month to up to 500 contacts. Is it the best? I honestly couldn't say. ConvertKit has a free plan that lets you manage up to 1,000 subscribers, so that may be better for some people? I'm choosing Mailchimp because I've used it forever, and it gets the job done.
Price: Free for up to 500 subscribers, then from $13/month thereafter.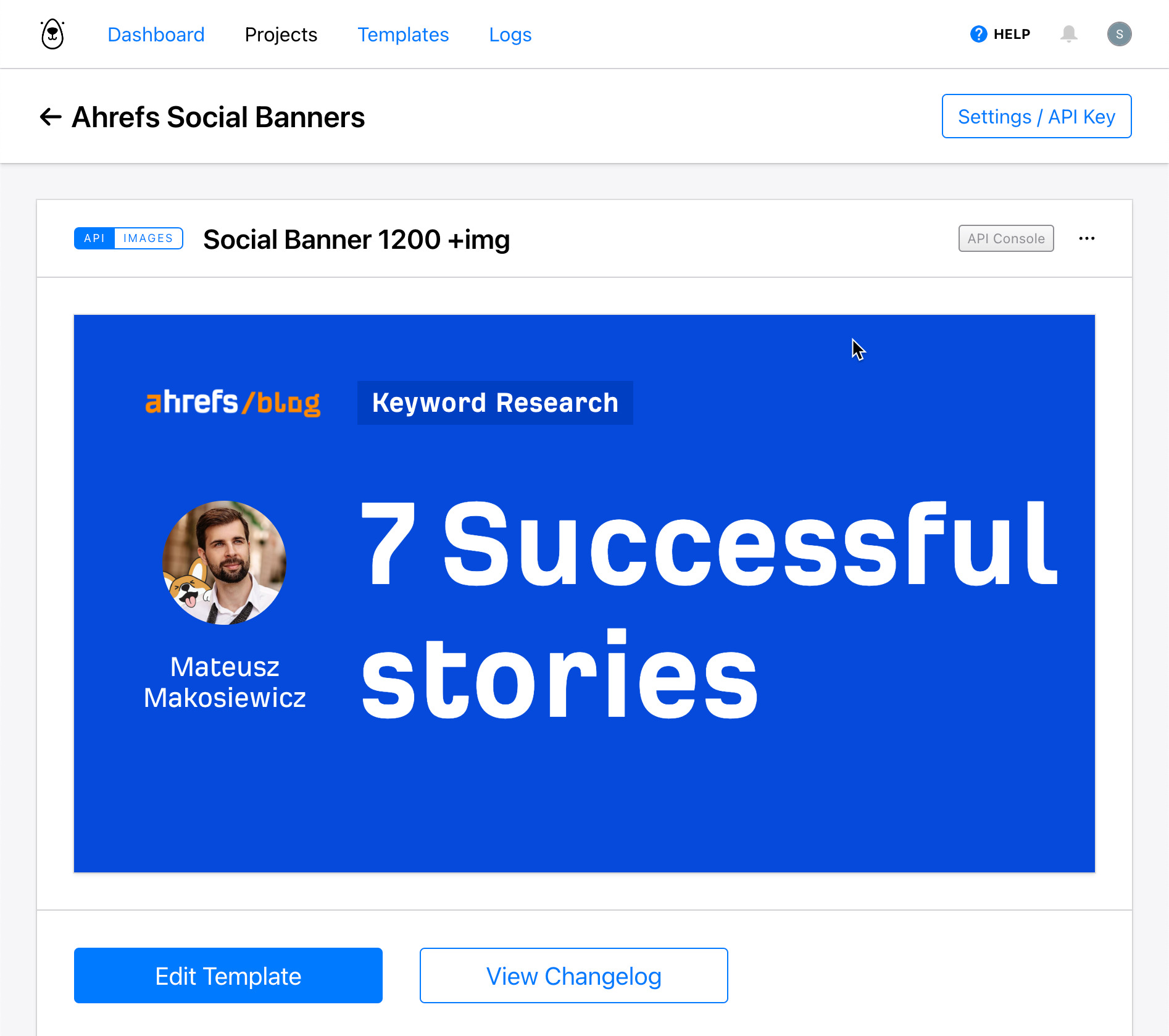 What it does: Automates the creation of social media visuals.
Why I love it: Everyone always raves about Canva for social media images, but this is still a manual process—which isn't ideal. Bannerbear makes life much easier by auto-generating social media visuals from a template. It also integrates with WordPress. We've been using it for about six months now, and it's helped to streamline our content production workflow massively.
Price: From $49/month.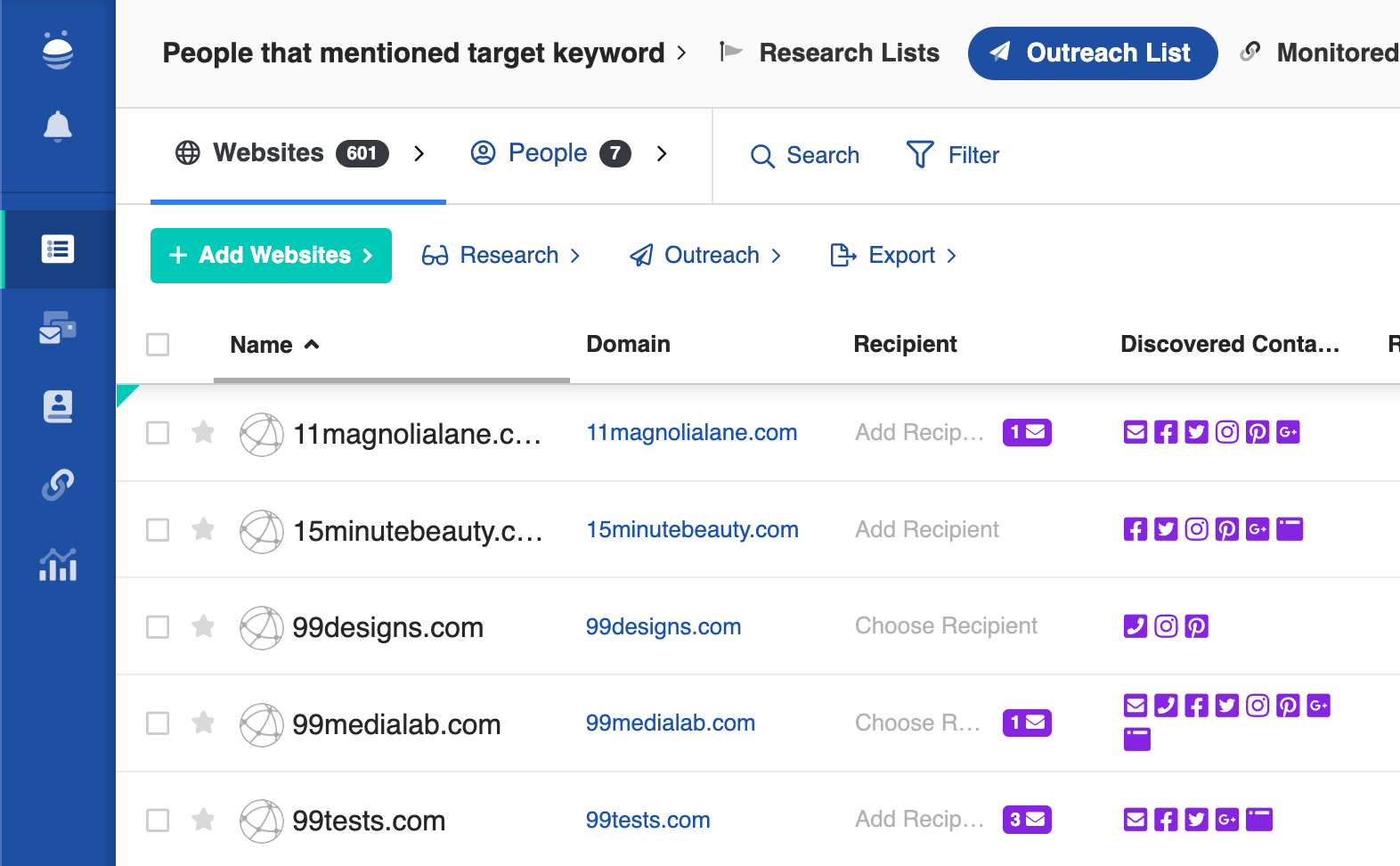 What it does: Helps you promote content via email outreach.
Why I love it: BuzzStream encourages a relationship-based approach to content promotion instead of the "spray and pray" one that many other similar tools seem to have. It's essentially an outreach tool and CRM combined. Don't worry, though. It still has all the usual features that make life easier like automated follow-ups and reminders.
Price: From $24/month.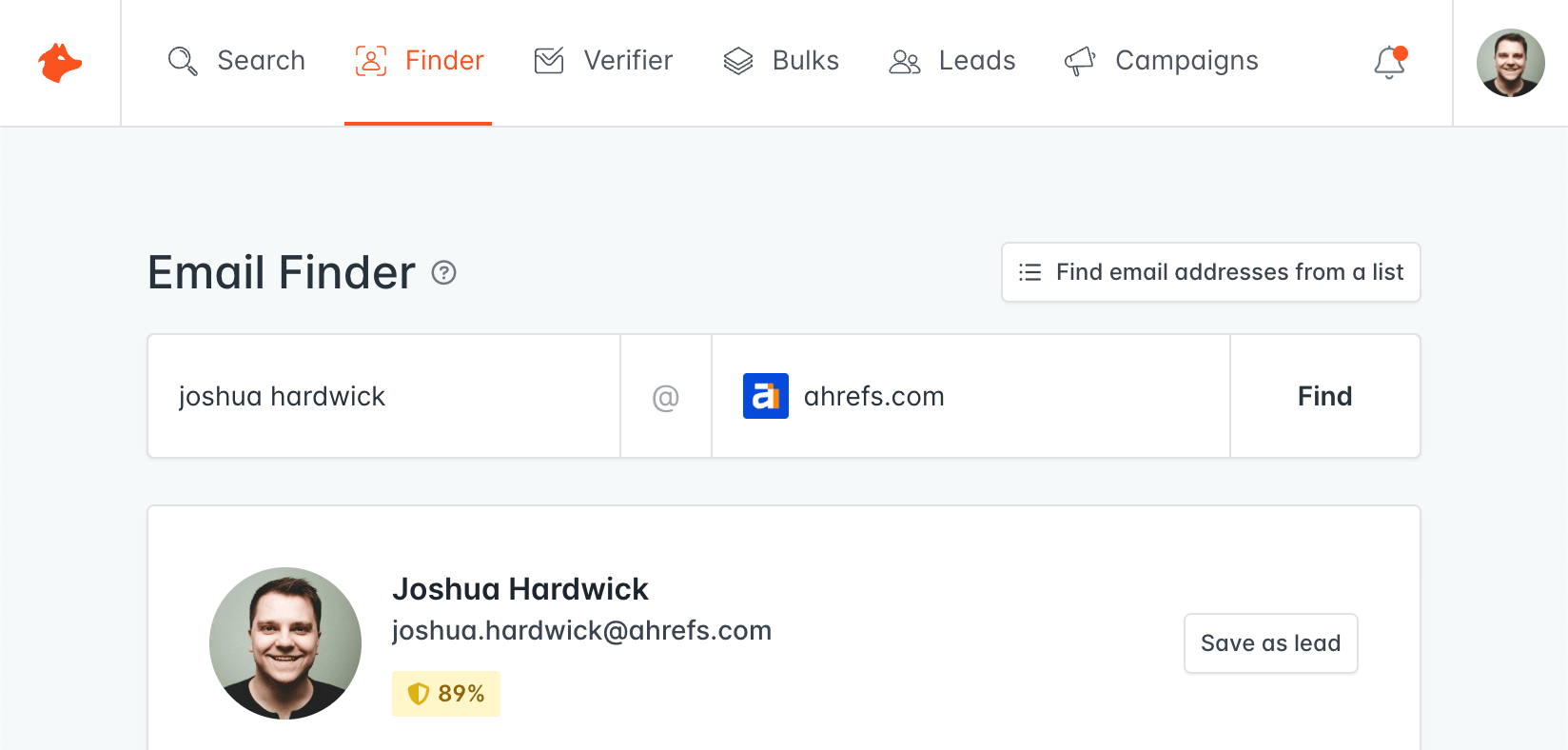 What it does: Finds email addresses.
Why I love it: The free Google Sheets add-on makes it super easy to bulk-check email addresses. You just need columns for the person's first name, last name, and the website they work for. There's also an API and Zapier integration for building it into your workflows. This is something we did when we promoted our list of SEO statistics a few years ago. (Read more about that in our link building case study.)
Price: Free plan available; paid plans from $49/month.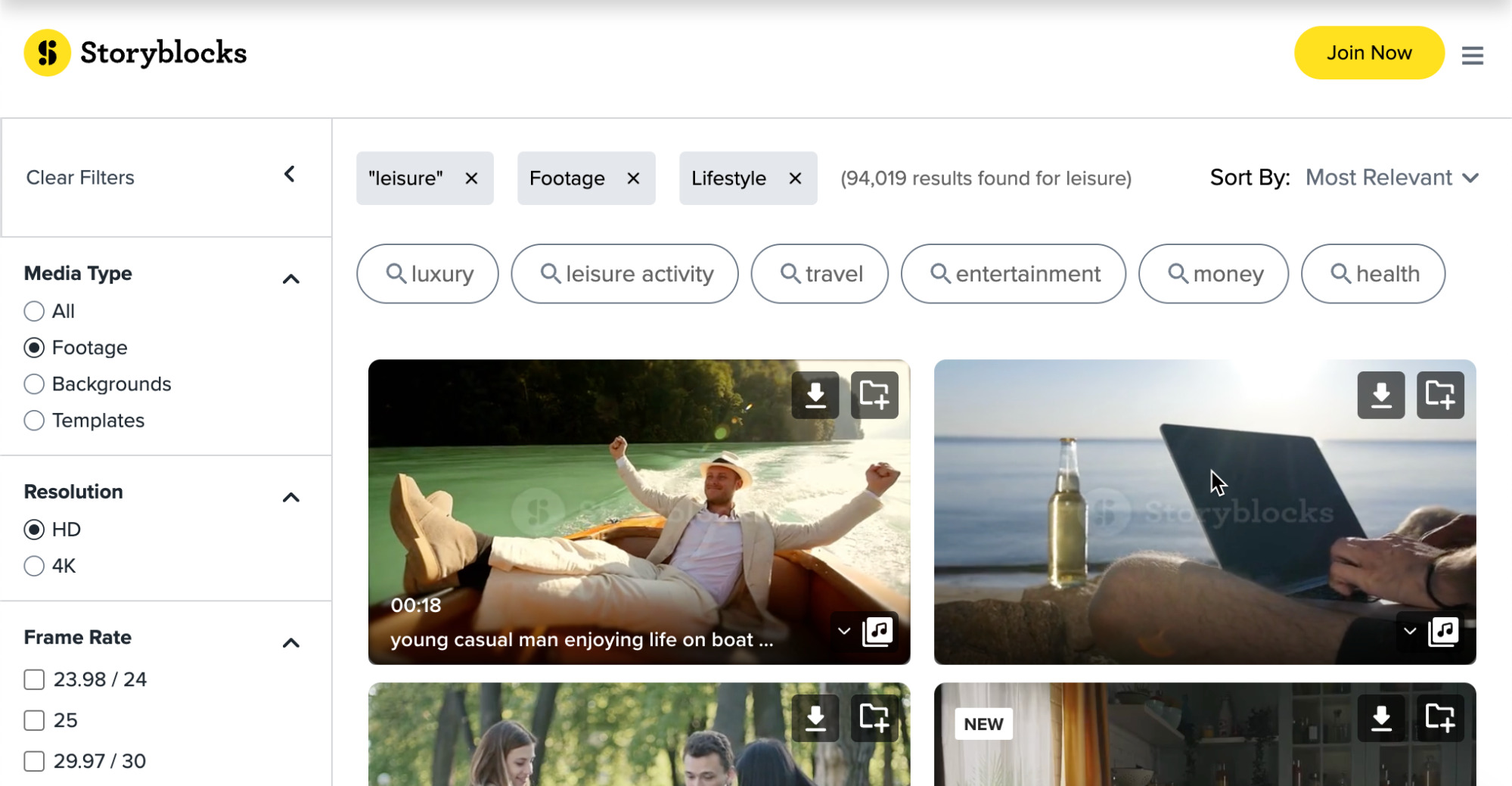 What it does: Gives you access to unlimited stock images, videos, and audio.
Why I George (kind of) loves it: Video isn't my jam, so I asked my colleague George Dolgikh (who works on our YouTube channel) why he loves this one. He said it's good to have footage, music, and SFX all in one place and that it has a decent library of content. He prefers Shutterstock for photos, though, describing Storyblocks' offering as "average."
Price: From $15/month.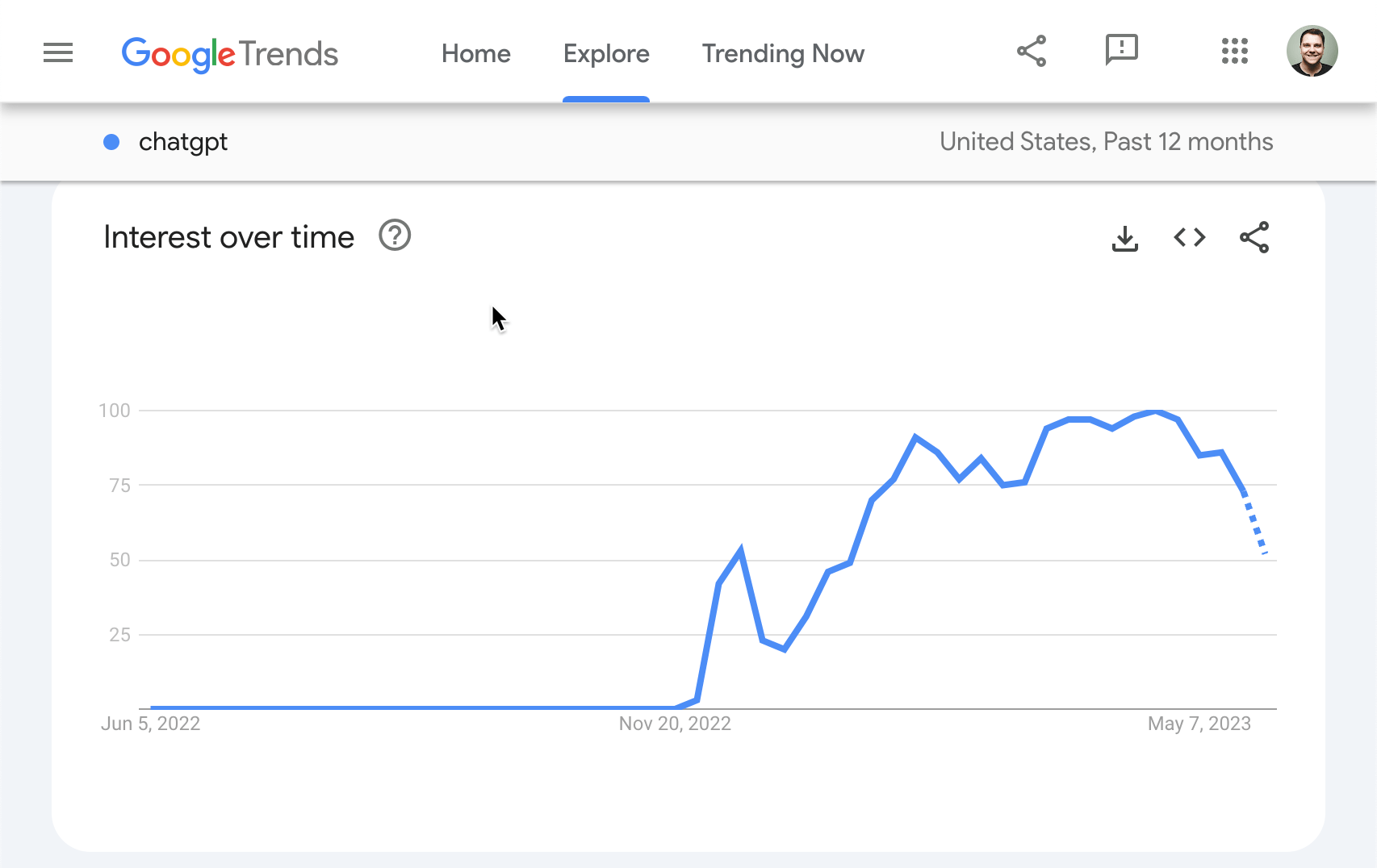 What it does: Shows Google search trends over time.
Why I love it: The data goes back to 2004, so it's easy to see whether there's growing or waning interest in a topic. You can also use it to find related breakout and rising topics. For example, search for "ai," and you'll see a bunch of breakout topics related to ChatGPT. You can then create content about these topics before your competitors.
Price: Free.

What it does: Helps you schedule social media posts.
Why I love it: Buffer basically manages social media for you. It also tells you what types of content generate the most engagement so you can post more of that in the future. I only use it for Twitter, but it integrates with pretty much every social network there is (including Mastodon).
Price: Free plan available (enough for most people); paid plans from $5/month.

What it does: Uploads Google Docs to WordPress in one click.
Why I love it: Getting content from Google Docs to WordPress is a total nightmare. If you copy and paste it, it adds a bunch of rogue code and formatting that you have to delete manually. Even worse, it doesn't upload pasted images to WordPress (they just remain on Google's servers—which isn't ideal). Wordable solves all of these problems. It can even add alt text to images for you.
Price: Free plan available (five exports per month); paid plans from $50/month.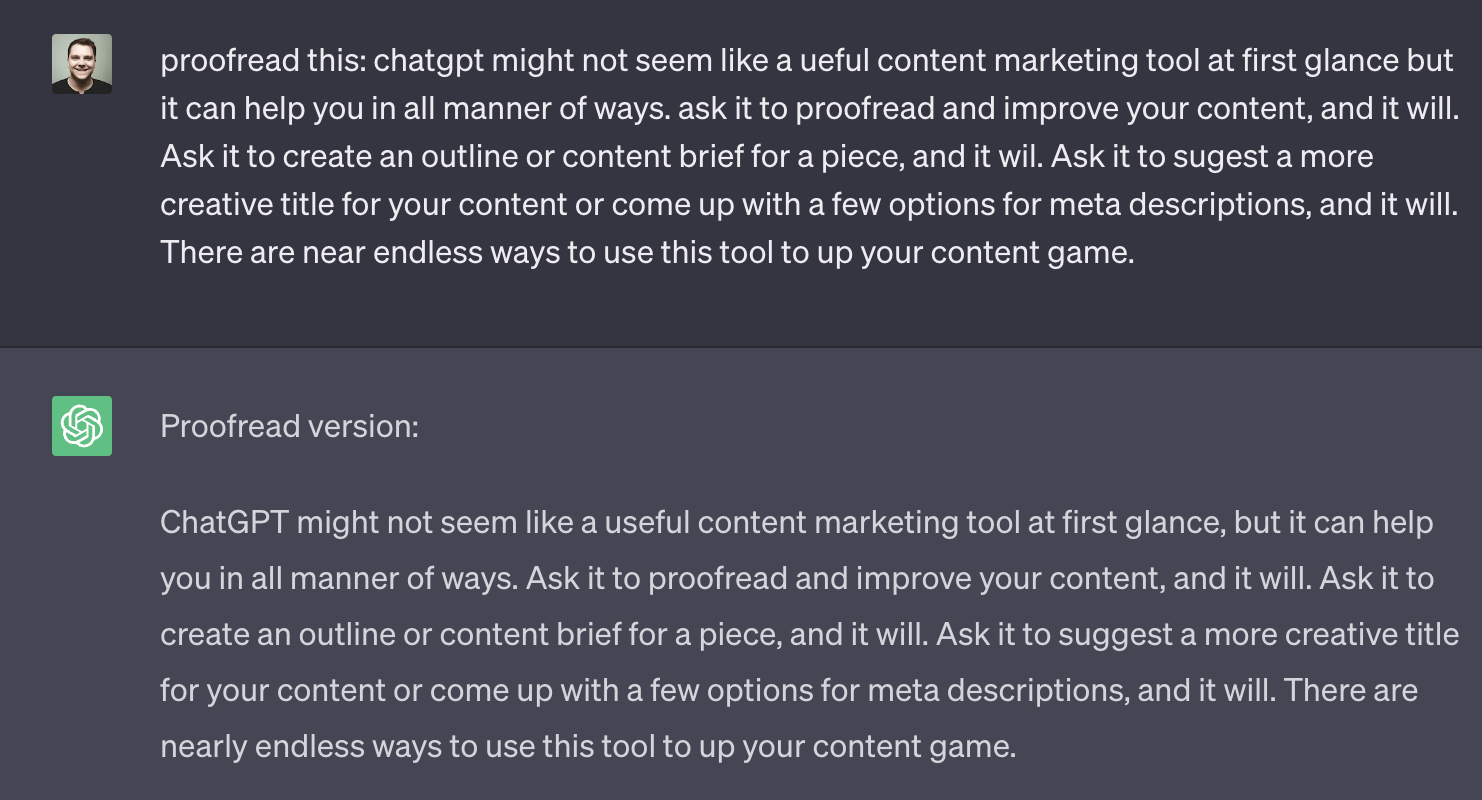 What it does: Helps you create outlines and proofread content.
Why I love it: ChatGPT may not seem like a useful content marketing tool at first glance, but it can help you in many ways. Ask it to proofread and improve your content, and it will. Ask it to create an outline or content brief for a piece, and it will. Ask it to suggest a more creative title for your content or come up with a few options for meta descriptions, and it will. There are near-endless ways to use this tool to up your content game.
Price: Free for limited access; paid plan (ChatGPT Plus) for $20/month.
What it does: Captures screenshots and screen recordings.
Why I love it: Pretty much everything we publish is packed with screenshots, so we've tested a bunch of screenshot apps over the years. Snagit came out on top for us because it has tons of annotation options, themes (we use them to keep annotation styles consistent across our team), and screen recording functionality (I use this to share "live" feedback on outlines and drafts). I can't speak for other members of our team, but I use this every single day.
Price: From $62.99.
Keep learning
Check out these posts for more tools to help with content creation and writing: