Don't have a huge marketing budget? Can't afford to hire an SEO agency? Don't worry. It's possible to get started with SEO yourself.
Two years ago, I was working for a startup trying to market an invention: a massage jacket.
Being a startup, we didn't have a large marketing budget. But, that wasn't the worst part. The worst part was that no-one in the company was knowledgeable about marketing and SEO.
I had just graduated with a degree in psychology and had read a couple of marketing books in my spare time. In their eyes, I was the most "qualified."
So, they put me in charge of the marketing strategy.
Knowing nothing and having no marketing dollars, I started reading a couple of SEO blogs. I then tried to implement some of the strategies they were talking about, and eventually managed to rank the site for a couple of keywords related to our product.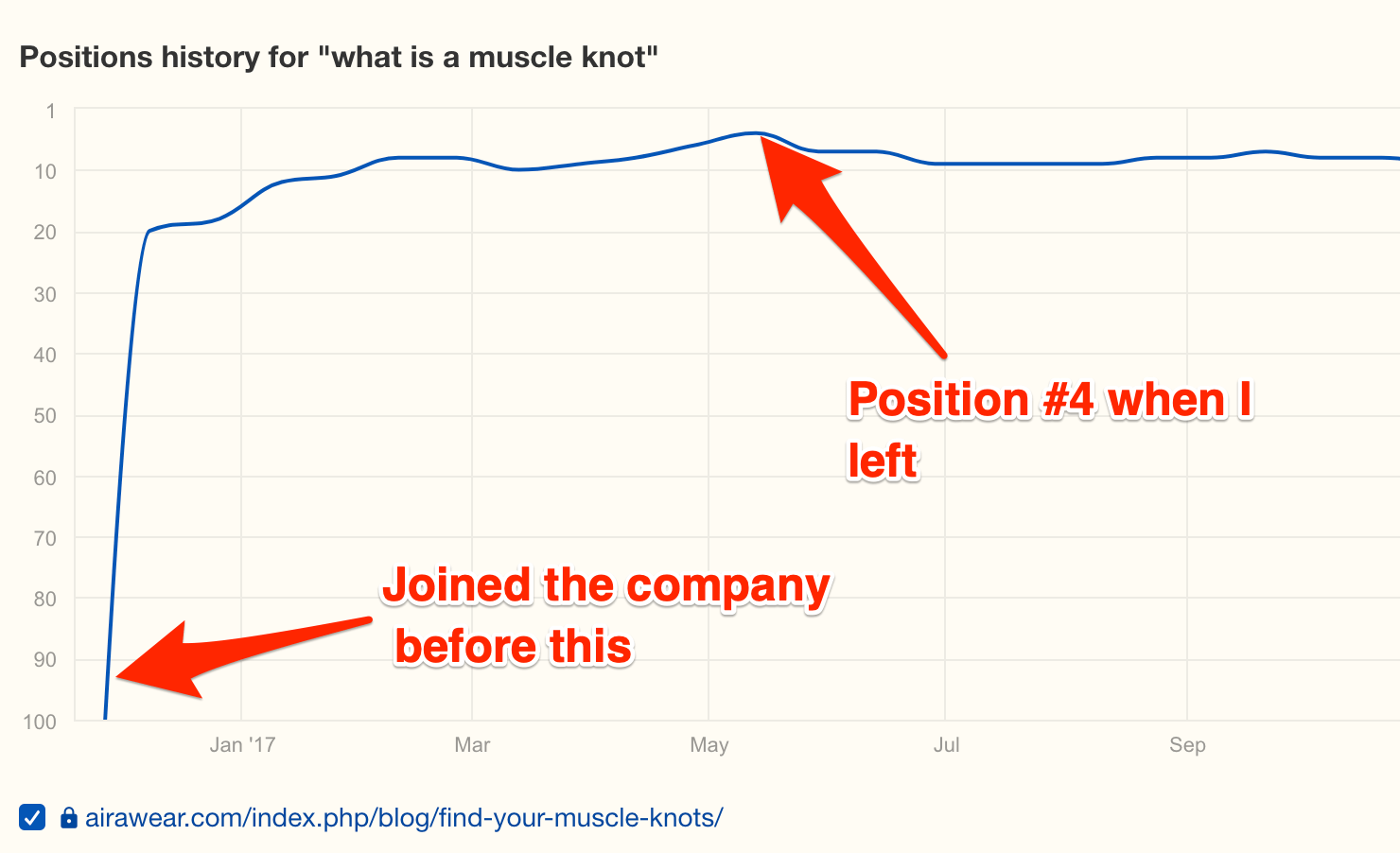 Sidenote.
Due to some business challenges, the company no longer exists.
Now, I'm not telling you this story to impress you. I'm telling you this story to impress upon you that with the right guidance, anyone can do SEO.
You just need the right strategy.
After all, SEO is pretty straightforward. It's about:
Understanding what your target customers are searching for;
Creating content around those topics (blog posts, product pages, etc.);
Taking care of the "technical" stuff to push these pages higher in the search engines (this includes link building!)
And in this guide, you will learn 4 ways to doing your own SEO:
Do keyword research
Create pages that are optimized for search
Fix your website's technical issues
Build links
Let's get started.
1. Do keyword research
Most SEO campaigns begin with keyword research. Essentially, keyword research is an SEO activity that involves finding the most popular words or phrases your target customers use when searching for what you do.
Once you know what these words or phrases are, you can start creating content (or pages) to rank for them.
The process usually goes something like this:
Find a bunch of seed keywords;
Enter them into a keyword research tool to generate more ideas;
Evaluate and prioritize them.
Here's how to get started.
1.1. Brainstorm seed keywords
Seed keywords are the foundation of your keyword research. You'll need them to generate more keyword ideas.
Coming up with an initial seed keyword list is relatively easy. Just grab a pen and paper and start brainstorming using these two questions:
How would people search for you if they want to find your website (or a website similar to yours)?
How would people describe your product or service?
If I were to create a seed keyword list for AiraWear, I may include these few keywords:
Back pain relief;
DIY massage;
Self-massage;
Shoulder pain relief.
PRO TIP
You can also generate your initial seed keyword list by looking at the keywords you're already ranking for.
You can do this in Google Search Console (here's a guide that shows you how to set it up) or using the Organic keywords report in Ahrefs Site Explorer.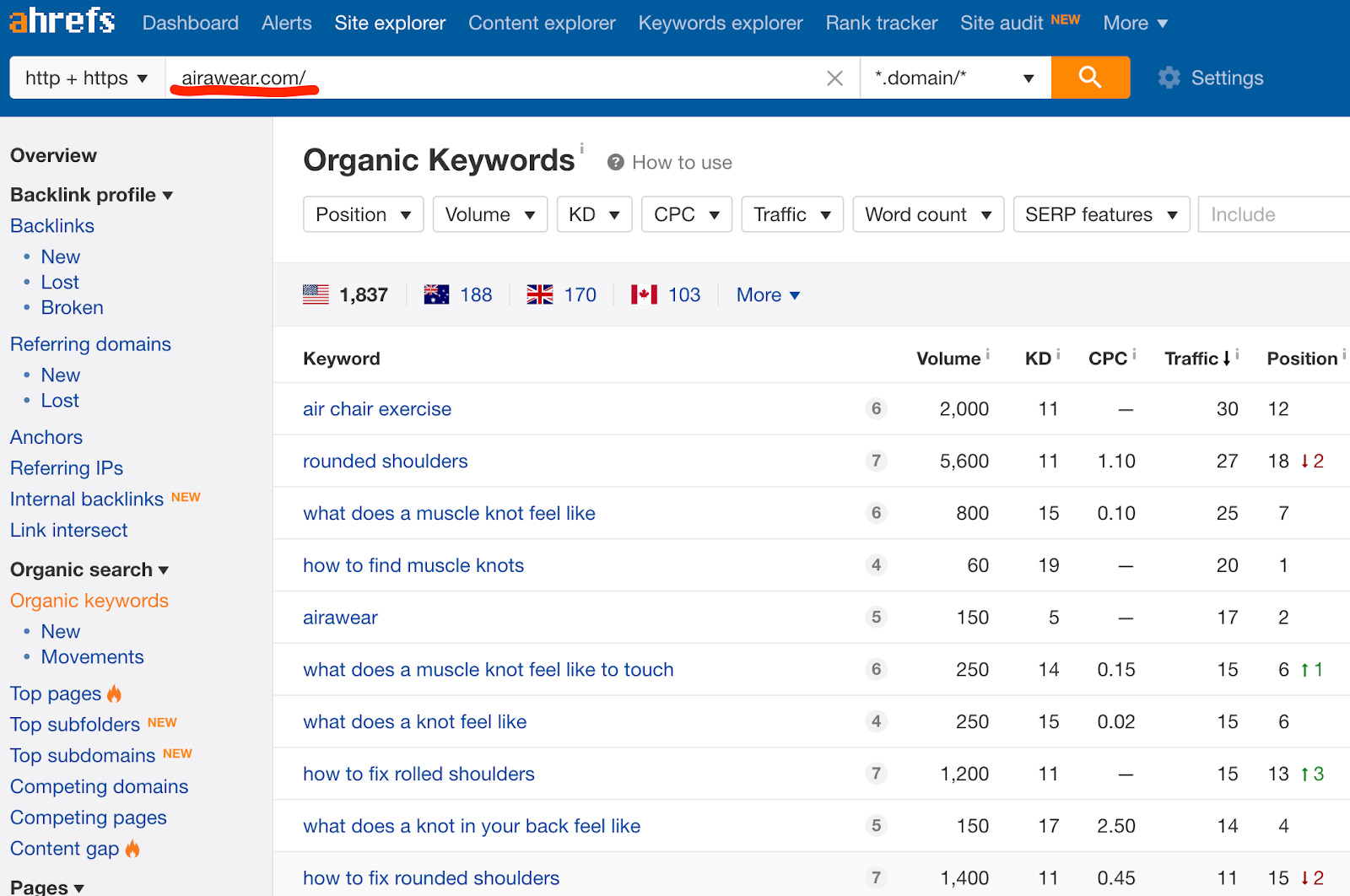 1.2. Get more keyword ideas
With your seed keyword list done, you can expand your list and generate even more keyword ideas.
All you have to do is to plug these keywords into your keyword tool of choice. For example, I could take a seed keyword—"back pain"—and enter it into AnswerThePublic, a free keyword research tool.
AnswerThePublic will generate a bunch of keyword ideas based on questions, prepositions, comparisons, alphabeticals and related searches.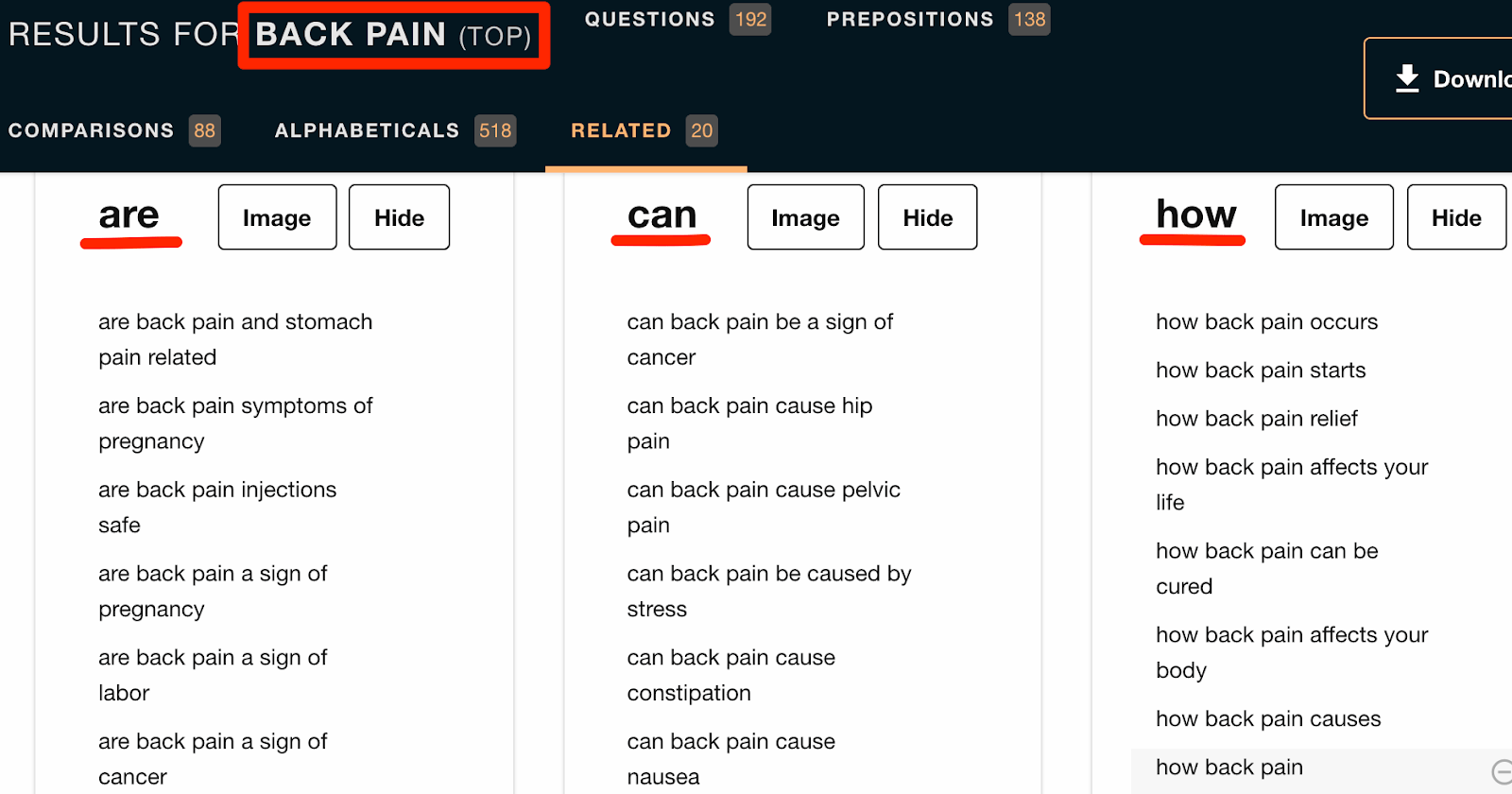 This will give you more than enough ideas to get started.
AnswerThePublic is just one of the many free keyword tools around, so take your pick.
If you want to see a much larger set of keyword ideas (together with important SEO metrics), you can use a tool like Ahrefs' Keywords Explorer. Enter one or a few of the seed keywords from your list, and Keywords Explorer will generate thousands of ideas for you.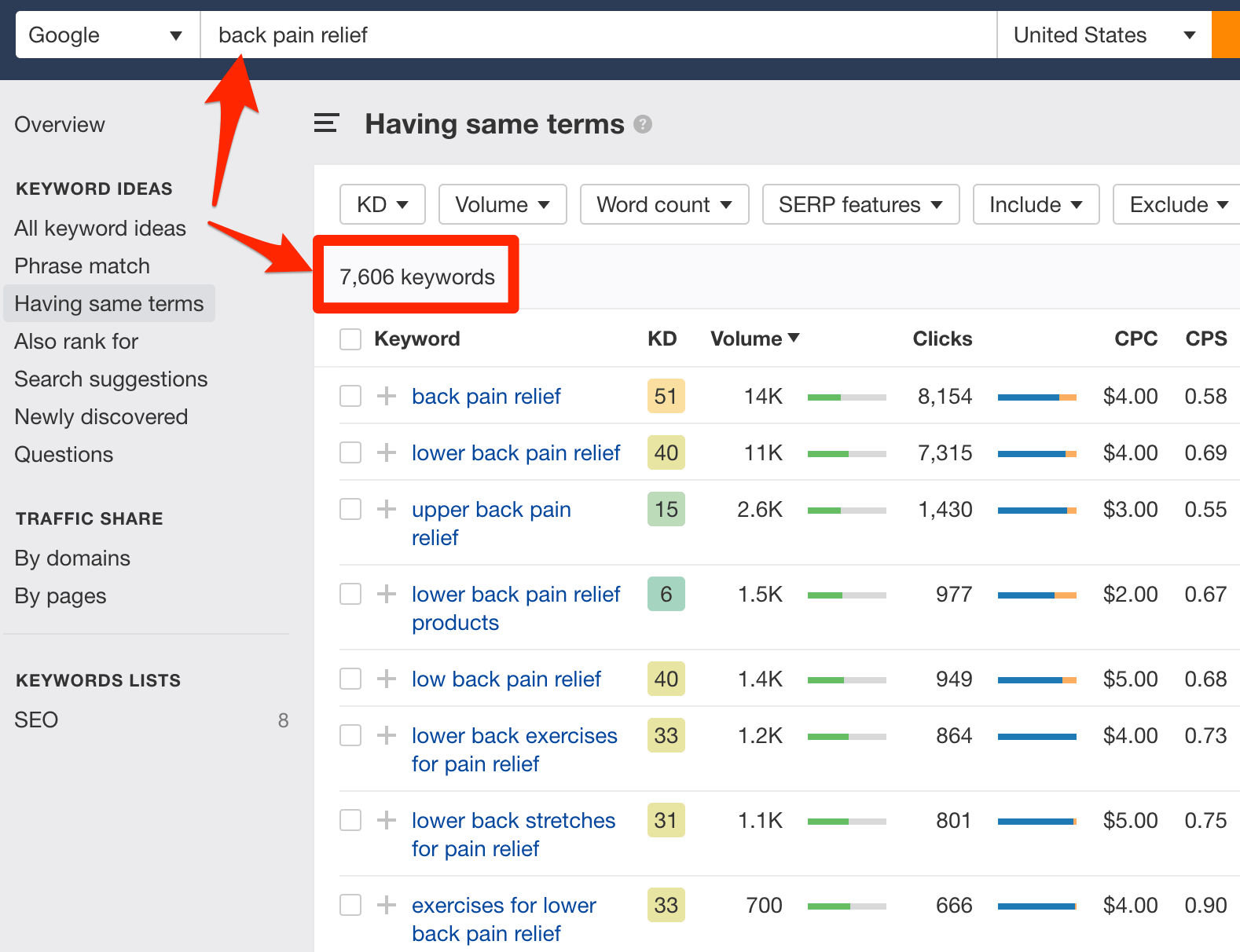 1.3. Filtering the keyword list
Having 8,000 keyword ideas is awesome. But it is impossible to target all of them. After all, you have limited time, budget and resources.
It's better to focus your efforts on the keywords that are likely to drive more targeted traffic.
How? You can focus on two main metrics:
Search volume — the overall search demand for this keyword, or how many times this keyword is searched for in Google, each month, in a specific country (or globally);
Keyword difficulty — the ranking difficulty of a keyword, represented as a numerical value between zero and a hundred.
NOTE. Each keyword research tool calculates Keyword Difficulty in a different way. The Keyword Difficulty (KD) score we have at Ahrefs is based on the backlink profiles of the top 10 ranking pages for a given keyword. The more quality backlinks they have, the harder it is to outrank them.
Ideally, you want to go for keywords that could potentially send you tons of traffic, but are not competitive.
Translation: you're looking for keywords that have high search volume and low Keyword Difficulty.
With tools like Ahrefs' Keywords Explorer, finding these keywords is easy. Just use the search volume and Keyword Difficulty filters.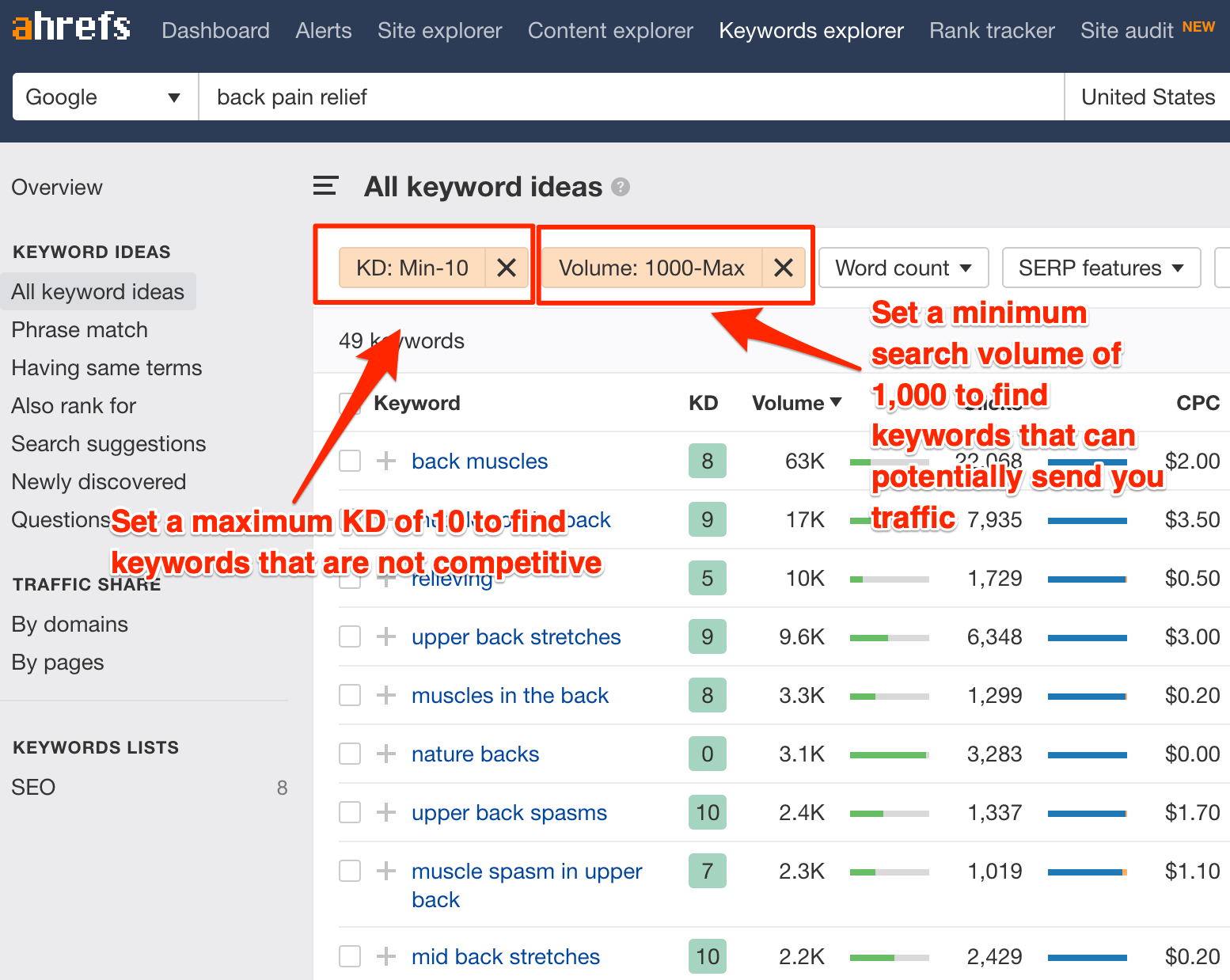 This reduces the list to a much more manageable list of keyword ideas you can work with. Make sure you do a manual review to check if the keywords are relevant to your business. (In the above example, the keywords "relieving" and "back muscles" seem too broad to target!)
If you want a larger pool of ideas, feel free to play around with the filters until you get a list you're satisfied with.
You can learn more about keyword research in our keyword research guide.
2. Create pages that are optimized for search
Once you're done looking for the keywords you wish to target, you'll need to create pages that can rank for these keywords.
These pages can come in a variety of forms. Depending on your target keyword, it could be your homepage, a landing page, a product page or a blog post.
You'll also need to ensure that these pages are optimized for search. This is known as on-page SEO. On-page SEO is the process of optimizing a website's on-page elements (such as the content, structure, code, etc.) to help it rank higher in Google.
Most people think that boils down to the number of times they mention their keyword on the page. That is wrong.
Keyword stuffing—the practice of unnaturally shoehorning keywords where they don't belong for SEO purposes—died well over a decade ago. Nowadays, Google can understand synonyms and semantically-related words.
Want proof? Here's the #1 result for "best break dance songs":

Do you know how many times this page mentions the keyword "best break dance songs"? Zero. Yet Google still understands that this is a relevant search result.
Ready to create content that ranks? Follow the tips below.
2.1. Create content that matches search intent
Google wants its users to be happy. To them, that means finding out what the searcher is looking for (also known as search intent), and then offering the best possible results.
Translation: if you want to rank in Google, you have to create content that matches search intent.
Thankfully, it's not as difficult as it seems. Since Google already works to serve the most relevant content for each query, we can take advantage of that.
Just look at the current top-ranking pages to figure out what people want to see.
For example, if I look at the SERP Overview for "back pain relief", this is what I see: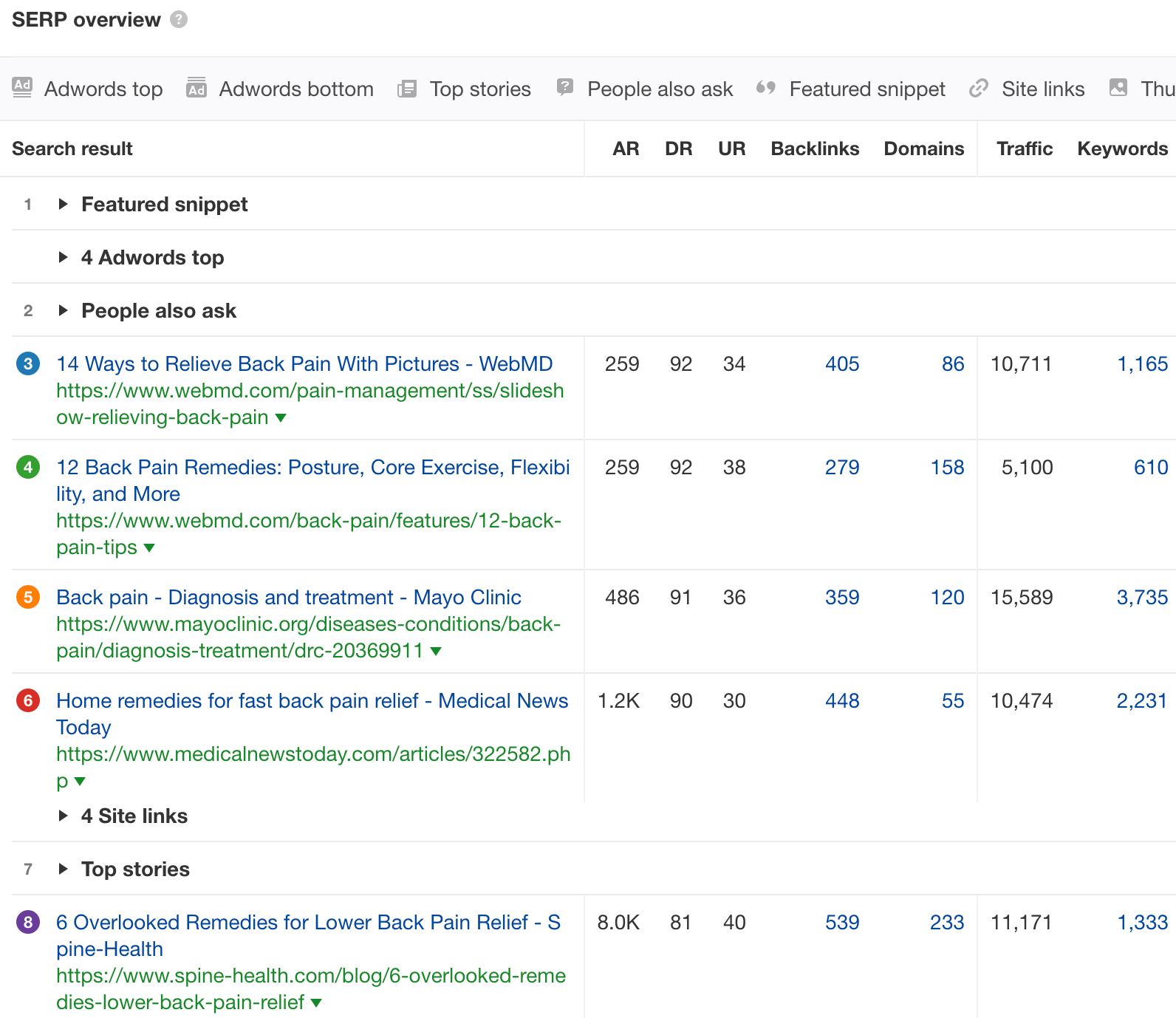 NOTE. You can also do a Google search for your target keyword. However, results will be automatically localized to your country.
Looks like most of the top-ranking results are blog posts. They are also mostly listicles on how to remedy and relieve back pain.
That means: if I were to target this keyword, I'd stand the best chance of ranking with a list-based blog post sharing various tips and solutions on how to relieve back pain.
2.2. Make sure your content is simple and easy to read
Most SEOs believe that Google looks at user signals (dwell time, time on page, etc.) to influence rankings.
If your copy is difficult to read or understand, users will hit the back button faster than you can say "ciao user signals!"
Don't just think about SEO. Be it a landing page, product page or a blog post, the copy on these pages is supposed to persuade. If it's convoluted and complex, not only is it bad for SEO, it's going to be bad for business.
How do you convince someone to join your email list or buy your product if your copy can't even be understood?
Keep your copy nice and simple. Use these tips:
Avoid big words. Don't say erroneous when you could say wrong. Always use simple language.
Use formatting like bolding, italics and lists to break up chunks of copy.
Include multimedia, like images, videos, and GIFs to illustrate your points and break up walls of text.
Use tools like Hemingway to simplify your content.
Learn more about creating great content with our step-by-step for writing a blog post.
2.3. Create irresistible title tags and meta descriptions
Getting to page 1 is only half the battle won. The other half is convincing the searcher to click on your page over the other results. How can you do this?
Write title tags and descriptions that compel the searcher to click.
More clicks = more traffic! (And more traffic usually means more sales.)
Plus, there is evidence that a higher click-through-rate (CTR) can have a positive effect on rankings.
Here are a few tips for writing compelling meta titles and descriptions:
Keep them short: Google starts truncating both title tags and meta descriptions after a certain length. Use this SERP simulator to check that you're within the boundaries.
Use "power" words: Awesome. Powerful. Proven. Etc. These are all words that evoke an emotional response from readers. See more power words here.
Include your target keyword: Not an absolute requirement. Sometimes it doesn't make sense to do this. In general, however, this is another good way to show the user that your page is the most relevant result for their search.
To learn more about writing the perfect title tag, check out our 4-step process.
2.4. Use descriptive URLs
A descriptive URL tells you what to expect from a web page.
Here's an example: https://ahrefs.com/blog/local-seo/
It doesn't take a genius to work out that this page is about local SEO—it's immediately apparent from the URL alone. This makes the result more clickable. That's because users are almost certainly more likely to click on a result that demonstrates what they should expect from the page in no uncertain terms.
There's one other reason why it makes logical sense to do this: backlinks that use the naked URL as the anchor text will include your target keyword.
2.5. Add internal links
Internal links connect pages on your site to each other. For example, this is an internal link to our long-tail keywords guide.
Why are they important?
Internal links help to transfer PageRank and boost the "authority" of specific pages on your website. Not only that, but Google also looks at internal link anchor text to help further their understanding of the page.
It doesn't have to be exact to be useful though 🙂

— 🍌 John 🍌 (@JohnMu) October 19, 2017
Sidenote.
You can check your website's Domain Rating with
our free tool
.
Unfortunately, most sites neglect this. They focus on creating new pages but forget to link them together.
Don't make the same mistake. Here's a quick way to get started:
You have a page to which you want to link. It has a target keyword.
Now, go to Google. Enter site:yourdomain.com + "keyword". This search operator will show you the indexed pages on your site that mention the target term. For example, if I wanted to add internal links to our "WordPress SEO" post, this is what I would search for: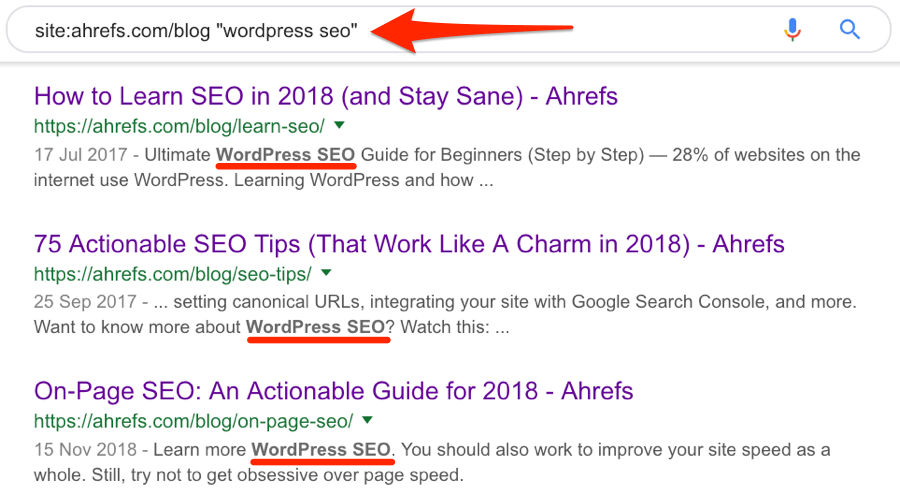 Next, quickly run through these pages and find those where it makes sense for you to add internal links.
If you have access to the Ahrefs' SEO Toolbar, you can download all of these pages from the SERP.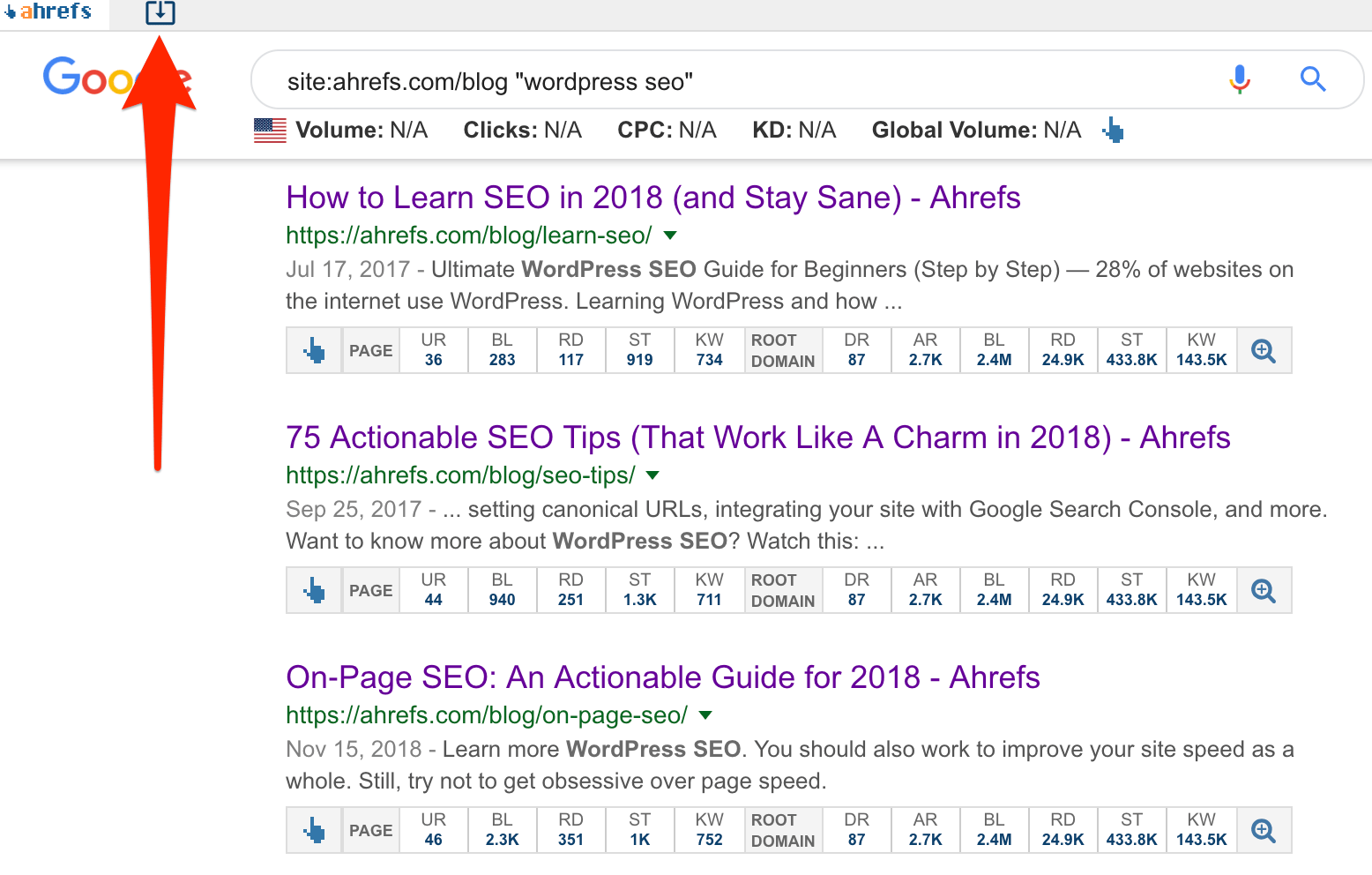 Then, in the CSV file, you quickly easily sort them by organic traffic or URL Rating (UR) to find the most powerful pages from which to add internal links.
To learn more about how to use internal links for SEO, read our guide.
3. Fix your website's technical issues
The fastest way to identify all the technical issues with your site is to run a crawl with Site Audit. Once the crawl is done, it will point out all the URLs on your site facing any issues.
All you need to do is to find which URLs have errors, and follow the recommendations given (all issues are filterable by their respective priority):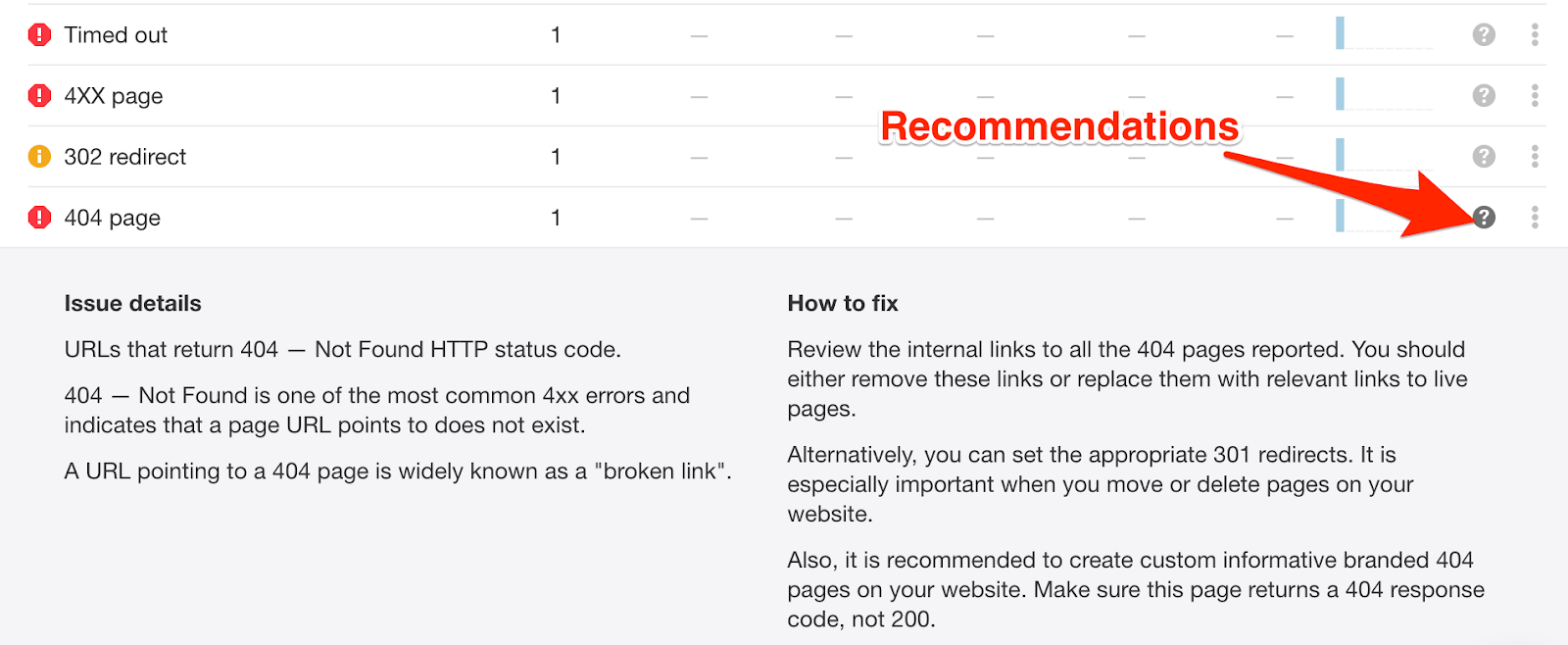 Not an Ahrefs user? Fret not.
Below, I cover two of the most common technical SEO issues faced by small business owners.
3.1. Make your site secure by using HTTPS
See this little lock here?

The site is secure through the use of the HTTPS protocol. This means that the website is encrypted: only your computer and web server can see the data transmitted from your browser.
Technical jargon aside, why should you care?
Security is essential. Google said so. In 2014, Google announced that HTTPS is a ranking factor.
While there is only a slight ranking boost, you should still make sure that you are using HTTPS sitewide.
To learn how to set up HTTPS properly, read this guide.
3.2. Make sure your site loads fast
Don't you hate it when you're trying to access a website, and it takes forever to load? So do your customers.
If you want to create a smooth visitor experience, you need to make sure your site loads fast.
Plus, there's an extra incentive for you too. As of 2010, Google has said that page speed is a ranking factor. This is especially important now that Google has rolled out mobile-first indexing.
Site Audit should have pointed out to you which pages are slow:

But if you didn't run a crawl, you can also use Google's PageSpeed Insights tool to check your speed (it's free!).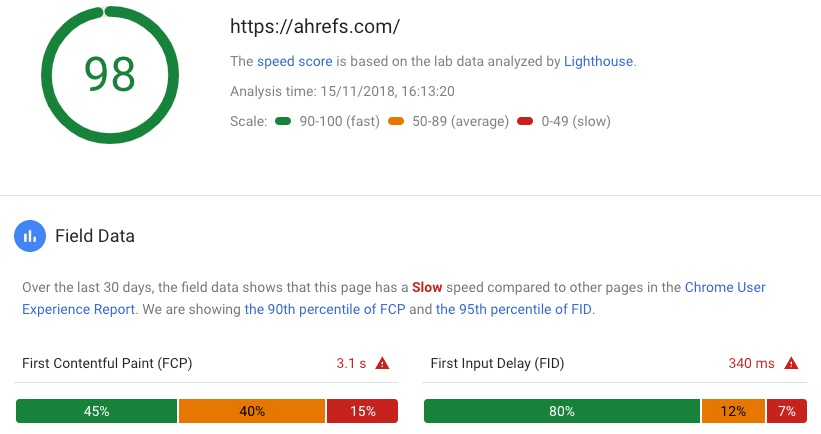 However, with Google PageSpeed Insights, you'll have to check the speed of each page individually. It's not a big deal if you have a small site, but it can still be pretty time-consuming.
Here are some tips on how to improve page speed:
Choose the right hosting. The hosting you use (shared vs. dedicated server) matters for your site speed. Here's a guide that compares the effectiveness of different WordPress hosts.
Reduce image sizes. If you're using WordPress, you can install a plugin called ShortPixel. ShortPixel will automatically compress your uploaded images without compromising their quality. Learn more about this in our full guide to image SEO.
Enable browser caching. When you enable browser caching, your visitors can store the elements of your page onto their hard drive. This in turns allows them to load your page without sending another HTTP request to your server when they next visit (i.e., faster loading!). With WordPress, you can use a plugin called W3 Total Cache to enable caching easily.
Check out this guide on more tips on how to speed up your website.
4. Build some links
Links are important. They're one of Google's top 3 ranking factors.
This is the reason why a big part of SEO is about link building. It's all about using creative strategies to get other sites to add a link back to yours.
There are plenty of proven link building tactics you can use to get more backlinks to your site.
Here are two of them.
4.1. Community site link building
Community sites are places where your target audience hangs out to discuss topics, trade tips and ask for help. These are places like forums, Reddit, Quora, Facebook groups and so on.
However, take note that the links you build here are usually nofollowed. But, that's not necessarily a bad thing. Promoting on these sites increases exposure. More eyeballs can indirectly lead to more links.
You can do the same for other sites like Quora as well.
Participate in the community, befriend others, deliver value and you'll get a chance to promote your website.
Editor's Note
Do you want to know the best questions to answer on Quora? It's the ones that are already ranking in search engines and getting traffic. To find these, go to:
Site Explorer > enter quora.com > Top pages > Filter by keywords related to your niche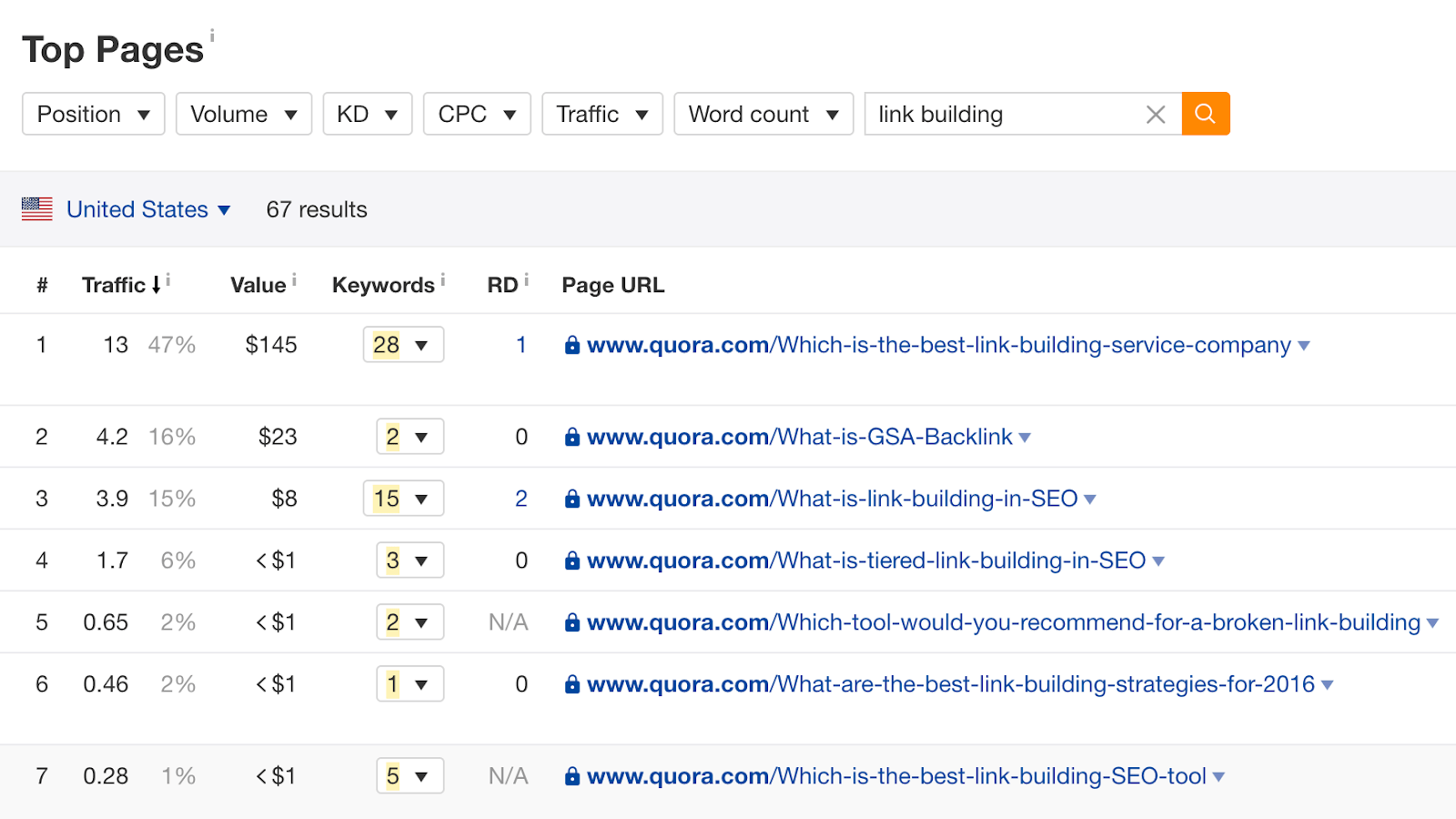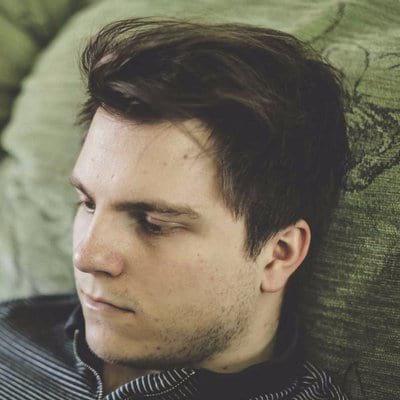 Joshua Hardwick
Head of Content
4.2. Replicate your competitors' backlinks
If your competitors have more links than you, don't worry! You can replicate them. You merely have to find out who's linking to them (but not you) and find a way to replicate those links.
After all, if they're linking to your competitors, chances are they will link to you too.
The quickest way to get started is to use a tool called Link Intersect. With Link Intersect, you can see who's linking to multiple competitors but not you.
In this example, I've added some of our competitors into Link Intersect: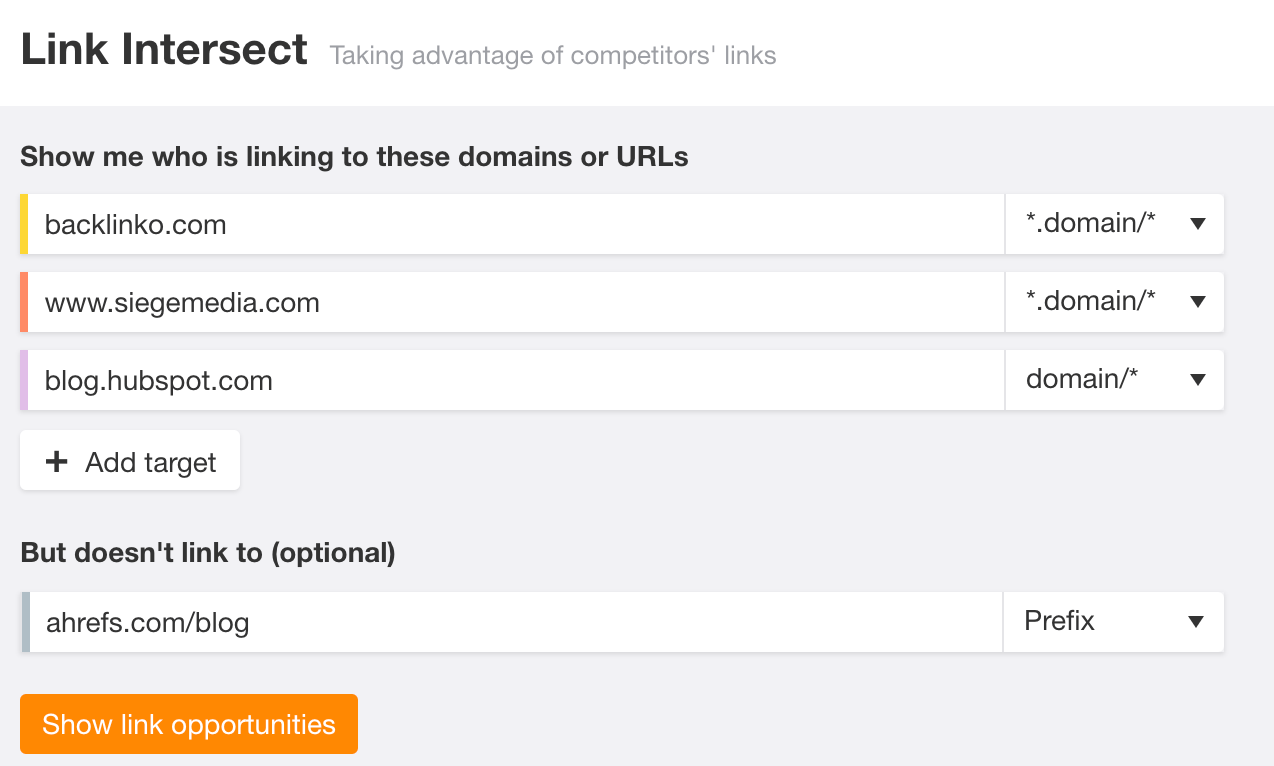 Clicking "Show link opportunities" will point out an entire list of opportunities I could potentially pursue:

All that's left to do is to analyze the results and find out the reason why they linked to your competitors but not you. Then, reach out and secure the link for yourself!
Read our full guide to replicating your competitors' backlinks to learn more ways to do this.
These two strategies are merely the tip of the iceberg when it comes to link building. If you're looking for more tactics, here's the full list of link building strategies you can implement.
Final thoughts
This simple DIY SEO guide covers the fundamentals of SEO.
You can follow this guide over and over again to optimize your site and start ranking for meaningful and relevant keywords.
More success in the search engines = more traffic, and potentially sales.
A nice byproduct of having more revenue coming into your business is that you'll have more money to invest in SEO. You may even consider hiring an agency or consultant to take things to the next level.
Or, if you prefer to continue down the DIY route, you can learn about more tactics and strategies on our blog, YouTube channel, and Academy. Or you can watch this video.
https://www.youtube.com/watch?v=Q3voFGCpws0