Follow this 16-step SEO audit process to nail your site's SEO and boost your search traffic.
The little things are important in SEO.
But so are the big things.
And sometimes we can spend so much time sweating the small stuff, that we completely fail to see the 800 pound gorilla that's stomping all over our google rankings.
Fortunately, running an SEO audit on your site can uncover those gorillas and give you a ton of ideas for boosting your search traffic.
Here's how to do it.
Tools Required For The SEO Audit Process
Here are the tools I will be using during the audit process.
Google Analytics
Google Search Console
Beam Us Up (or Screaming Frog)
Not all of them are essential. But they will help to make the process easier.
Editor's note
For this walk-through, I'll be auditing 2 sites.
In steps 1–8 I will be looking at Simple Life Insure — a life insurance broker from California.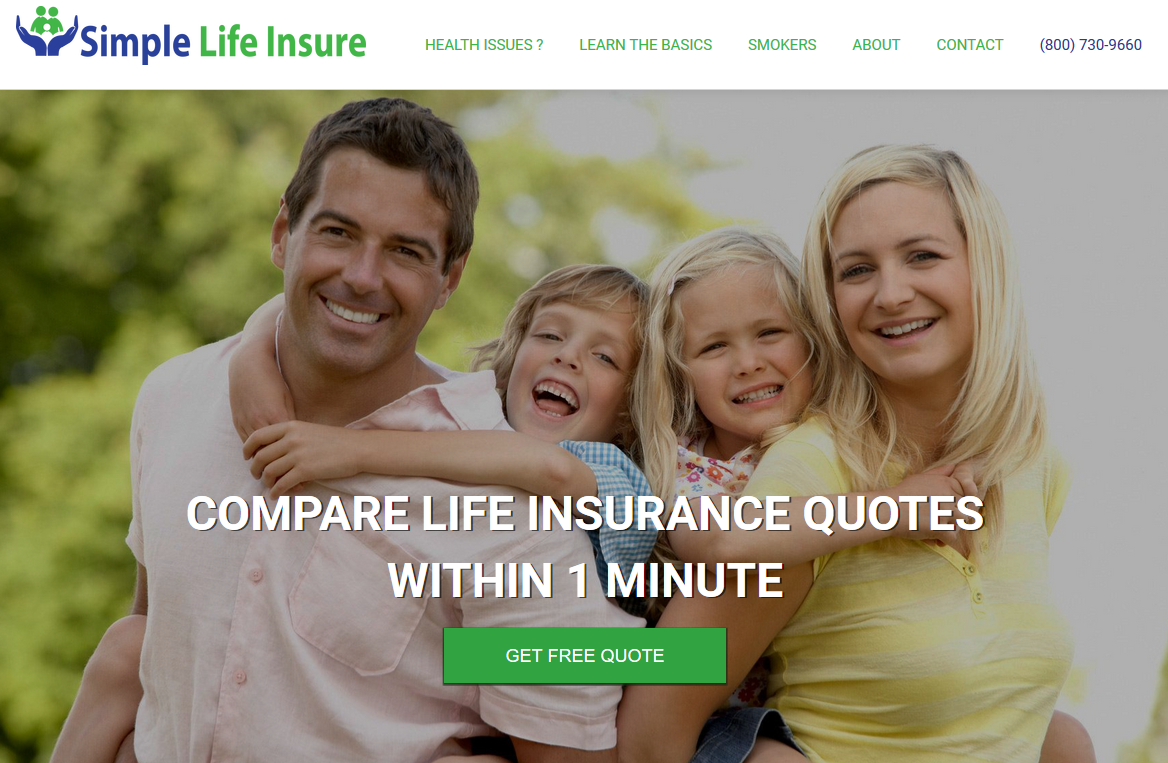 I will introduce the second site before step 9.
Let's get started!
Step 1: Start A Website Crawl
In a moment we're going to be running through a number of manual checks on the website.
But first we'll start a website crawl running in the background.
An SEO crawler will spider the site in the same way as Google and give us some useful information on structure and current SEO setup.
I'm going to use Beam Us Up for the crawl (FREE), but you could also use Screaming Frog's SEO Site Auditor (£99 per year).
If you are using Beam Us Up, just enter your site's address in the URL field and hit 'Start'.

The crawler will start working away in the background while we continue with the audit.
Sidenote.
We're currently working on major updates to our Domain Health and Crawl Report tools. We expect to relaunch the tools later this year, which will allow you to view a full crawl report from within your Ahrefs account.
Step 2: Check That Only 1 Version Of The Site Is Browseable
Consider all the ways someone could type your website address into a browser (or link to it).
For example:
http://yourdomain.com
http://www.yourdomain.com
https://yourdomain.com
https://www.yourdomain.com
Only one of these should be accessible in a browser. The others should be 301 redirected to the canonical version.
In Simple Life Insure's case, there's a problem.
You can browse the site at both http://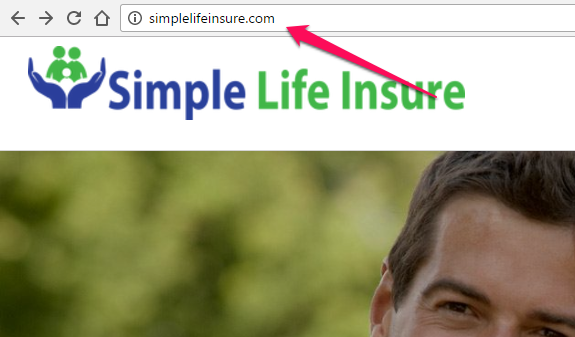 and https://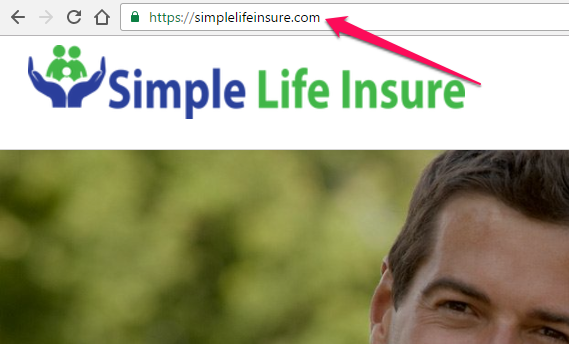 So that's something that needs to be fixed as a priority.
Recommendation
We would recommend you use https:// (either www or non www) as there is a slight rankings boost for SSL enabled sites. Plus, it also keeps your site secure and increases trust.
You can get a free SSL certificate for your site from Let's Encrypt.
Either way, make sure that your site is only accessible through one URL.
All other versions should be 301 redirected.
Step 3: Manually Check Home Page SEO
Let's start by looking at a few on-page fundamentals.
We'll go to the site's home page in a browser and right click to view the source.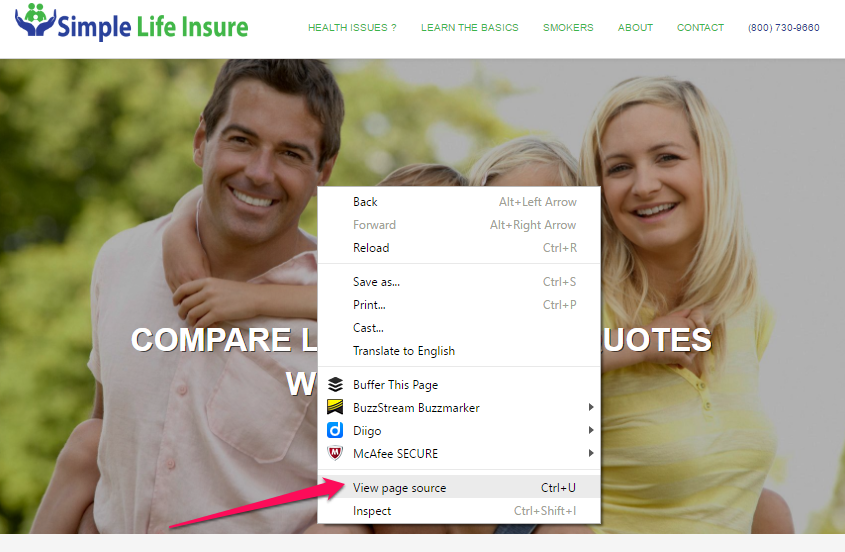 We're just going to have a quick check on some basic on-page SEO here. To make things easy we'll ask a few questions:
Does the page contain a well crafted, clickable title. Does it conform to SEO best practices?
Is there a custom meta description? Is it optimised for maximising click-throughs?
Is there one instance of the H1 tag? Does it conform to SEO best practices?
Are subheaders (H2, H3 etc) properly used and conforming to SEO best practices?
Let's find out the answers.
Check The Home Page Title Tag
The title tag remains the single most important on-page ranking factor in 2016.
In his excellent title tag best practice guide, Shaun Anderson of Hobo Web explains
The Page Title Tag (or more accurately the HTML Title Element) is still, however, arguably the most important on-page seo factor to address on any web page. Keywords in page titles can HELPyour pages rank higher in Google results pages (SERPS). The page title is also often used by Google as the title of a search snippet link in search engine results pages. Keywords in page titles often end up as links to your web page.
Let's take a look at the current title tag.
<title>Affordable low cost life insurance + instant quotes online | SimpleLifeInsure.com</title>
There are a couple of issues here:
Generally for home page I prefer to see brand first.
The title tag is too long and will truncate in search
Here's how the page is currently displayed in search.

Sure enough we can see that it's truncating. And actually Google have flipped the title round themselves.
Recommended Changes
Rewrite the title to put the brand first.
Keep the title to around 55 characters in length to avoid truncation.
Target 1 high volume keyword in our strapline.
We can check search volume for the keyword "low cost life insurance" in Ahrefs Keywords Explorer.

Not bad.
But turns out there's actually more volume for "affordable life insurance".

And since "affordable" and "low cost" basically mean the same thing, I would probably go for:
<title>SimpleLifeInsure.com: Instant affordable life insurance quotes</title>
Now, I know I said "target 1 high volume keyword".
But I flipped "instant" to the start of the strapline so we could also get the exact keyword "life insurance quotes" in there.
That keyword has some mad volume…

So we might as well throw it in!
Recommendation
While 55 characters is a good rule of thumb for title length, it's actually pixels that matter, rather than characters.
You currently get around 512px to play with, although Google are tweaking this a bit at the moment (for example mobile results may display more).
While it's easy to figure out how many characters your titles are, working out pixel width is a bit more of a challenge.
Fortunately there's a cool free tool that will do the work for you.
Just enter your title tag, hit "Yo, Get Pixel Width" and you'll get a preview of your title along with a pixel count.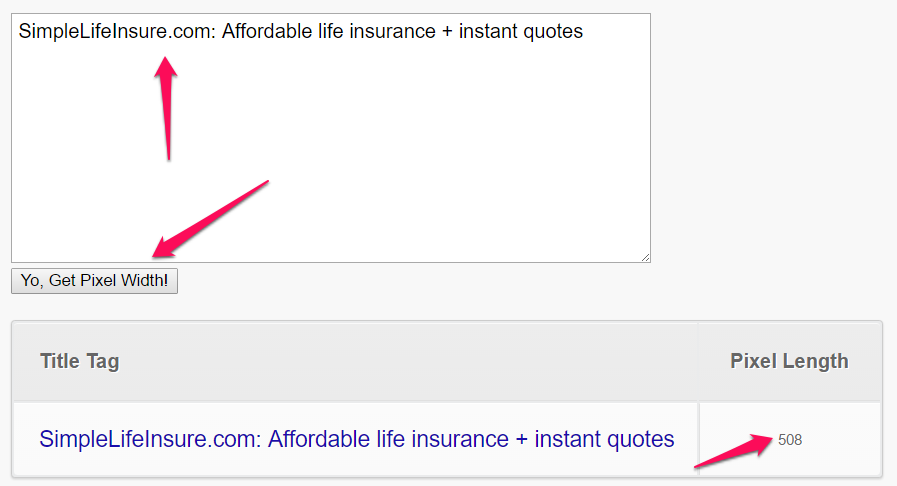 Sweet!
Check The Home Page Meta Description
The meta description doesn't directly influence your ranking.
But a well written meta description can help to get you more clicks.
And since it's generally accepted that Google is using click-through rate as a ranking signal, you'll want to make sure your home page's meta description is:
a) well written
b) super enticing
Think of it as your advert in the search results.
Ramesh Ranjan puts it well in this article for Hubspot:
The meta description is one of your last hopes on search engine results pages (SERPs) to attract a searcher to come to your site. This is something that digital marketers constantly neglect to focus on — perhaps because they think it just doesn't matter anymore. But if you're not putting effort into your meta descriptions, you could be missing out on good website traffic that can bring in lots of new leads and customers.
A good meta description should communicate key USPs for the product or service you are offering.
For example, an e-commerce site could include points like 'FREE delivery', 'No quibble returns', 'Cheapest prices' etc.
Here's the current meta description for Simple Life Insure's home page.

I think that does a pretty good job.
So no change required.
Check The Home Page Header Tags
The H1 tag is still an important on-page ranking factor.
We want to make sure that every page on the site has a unique, descriptive, H1 tag.
For the home page, you will generally want to:
communicate the site's main purpose
include 1 or 2 high level keywords in the process
Here is the current H1 tag:
<h1>Compare Life Insurance Quotes Within 1 Minute</h1>
It's pretty good.
But I would recommend adding in the word "affordable". That way we're hitting the keyword "affordable life insurance" in both the title and H1 tag.
<h1>Compare Affordable Life Insurance Quotes within 1 Minute</h1>
All thing being equal, including that exact phrase in there could help to improve rankings for the keyword.
Check Subheaders (H2, H3 etc)
Subheaders should be used in a logical way to break up each page's content. They also provide us with a good opportunity to target secondary keywords/phrases.
Try to avoid using generic phrases ("more information", "details" etc) in subheaders. Instead these phrases should be wrapped in a div and styled with CSS.
Simple Life Insure's home page makes good use of subheaders and does not require amendment.
Step 4: Analyse The Crawl Report
Once your crawl report is complete you'll get a list of on-site issues.
Our crawl of Simple Life Insure found a number of issues that require our attention.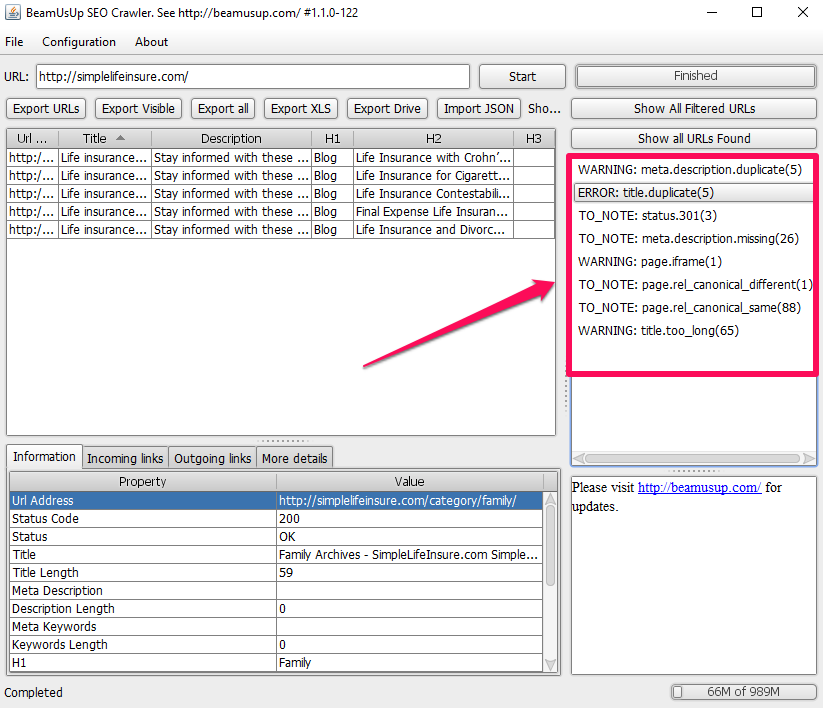 We'll want to go through and fix them to make sure our on-site SEO is up to scratch.
The duplicate title tags issue issue above is common on WordPress sites. Basically, it's caused by the blog archive pages (i.e. blog/page/2/ etc) all being:
a) indexable
b) having exactly the same title
We can either append "- Page X" to our titles, or just add the noindex, follow tag to everything except page 1.
Personally I prefer the second option. It's easy to do in YOAST.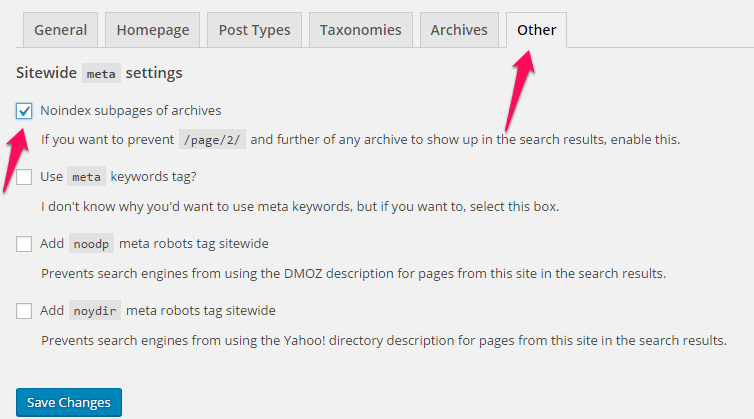 Step 5: Check Content Is Unique
Google HATES duplicate content.
Too much of it and your site can get crushed by Panda.
Content duplicated across multiple pages on your site is bad. But when it's duplicated on other websites it's even worse.
You can easily find potential duplicate content issues across the web with a premium Copyscape account. For $10 you can check up to 200 URLs using their batch tool.
Here's the process.
Grab the URLs from your crawl report and paste them into the batch tool.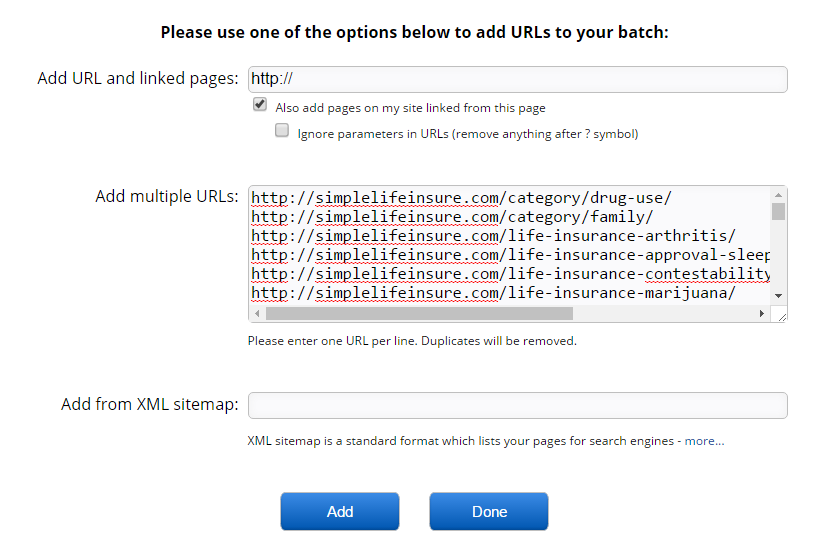 Click add and the tool will verify the number of URLs you entered. It will also give an approximate time for the batch scan to complete.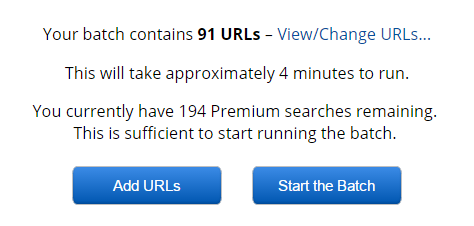 When it's done you'll get a list of all scanned URLs showing the number of duplicate content matches and a colour coded "Risk" score.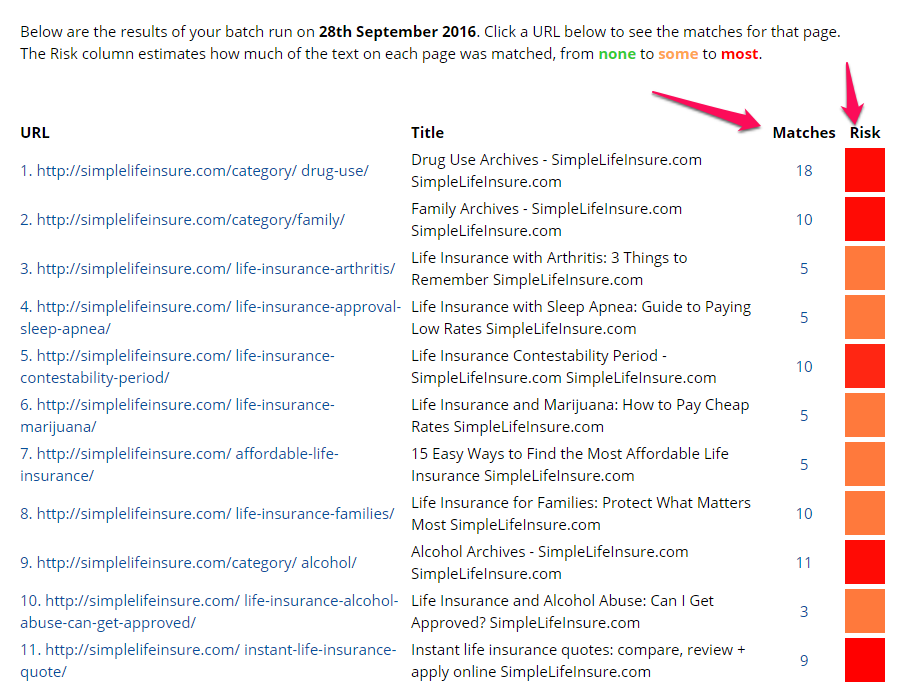 You can click an individual URL to see the matches.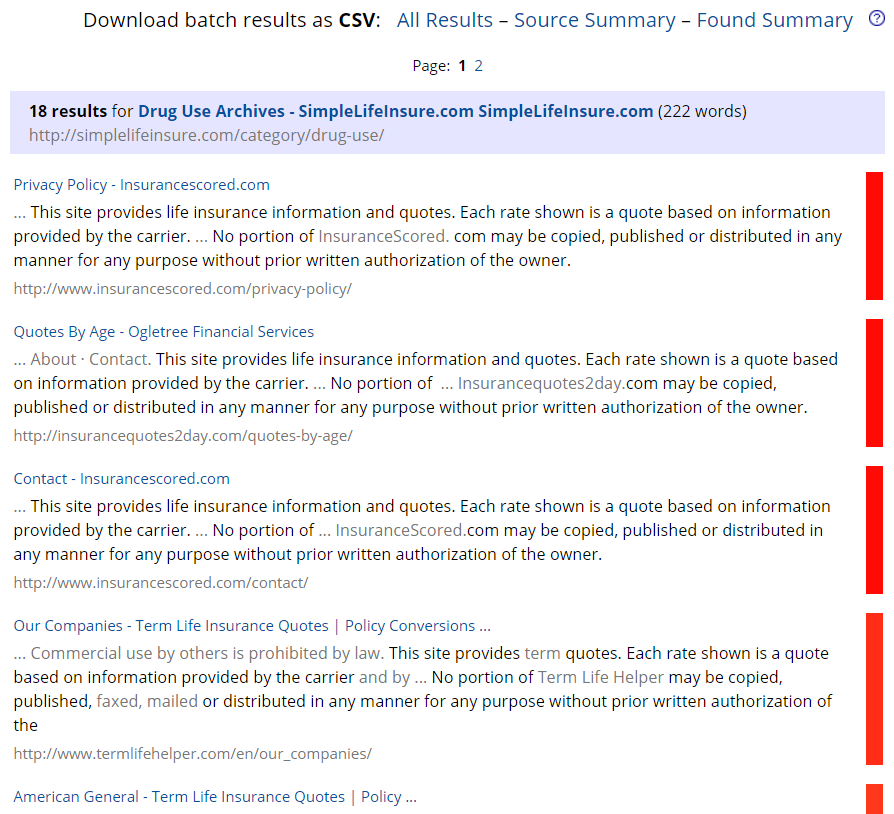 Looks like in this case the issue is simply the text disclaimer in the footer of the site.

That shouldn't be a problem on most pages.
But it might be on category pages where there is very little unique content.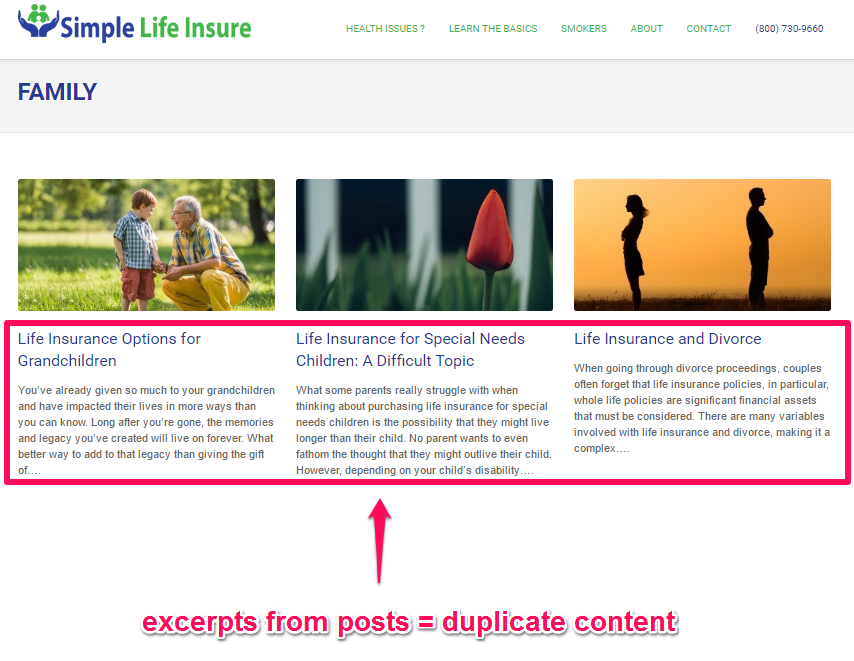 Recommendation
There are a couple of solutions.
Firstly, the text disclaimer could be replaced with an image.
That certainly gets rid of the duplicate content problem. But it doesn't address the issue of the category pages having very little unique content of their own. They might still get flagged by Panda (or at least struggle to rank).
So, the better solution would be to beef up the category pages by adding a unique introduction. Doing that will increase the unique content on the page, mitigating the boilerplate text.
And as a bonus, it may help to boost the rankings of the category pages themselves.
Step 6: Run Some Tests On Google
We'll now head over to Google to run some searches.
Search For Brand
First of all, we'll do a search for the site's brand.
Unless a site is very new (or the brand is a very generic phrase), I would expect to see it rank at position 1.
If not then this is a strong indication of deeper problems, such as heavy algorithmic or manual penalties.
Simple Life Insure actually rank at position 2: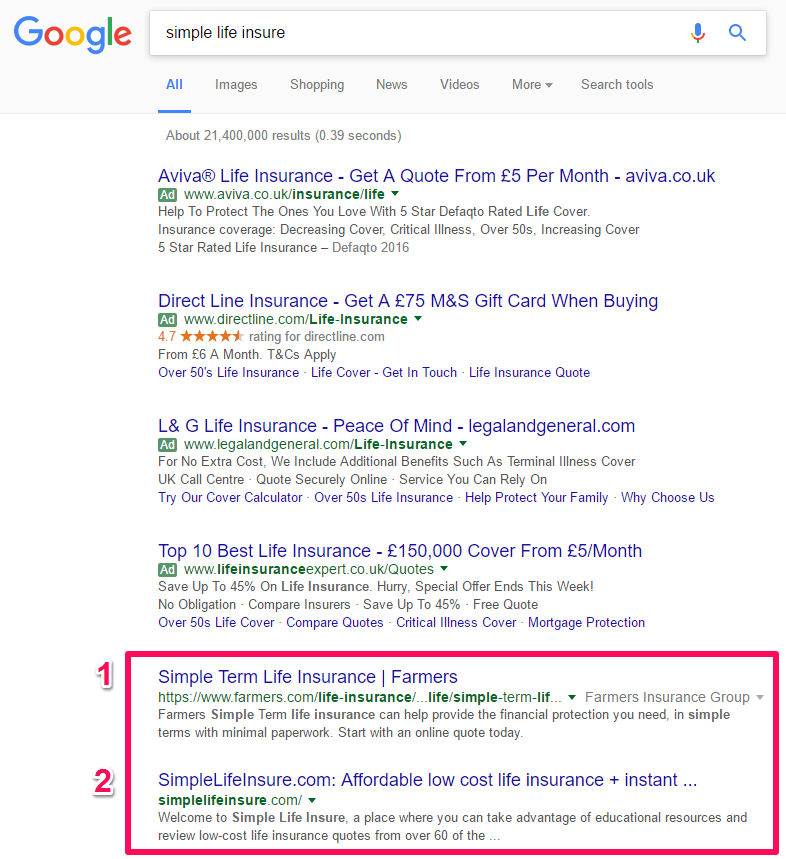 The site is relatively new, so it's probably not anything to be overly concerned about.
But it does indicate to me that Google might not completely trust the brand yet.
How To Increase The Site's Trust
To increase the site's trust I would recommend:
Building some strong, branded links
Building some citations on business directories
Making sure the site has a Google Business listing
Ensuring the site has a presence on all the major social networks
Perform A Search Using The "site:" Operator
Next we'll perform a search using the site: operator, which will show us how many pages Google currently has indexed for the domain.
This can be a good early indicator of indexing issues.
The format for the search is "site:yourdomain.com" without the quotes.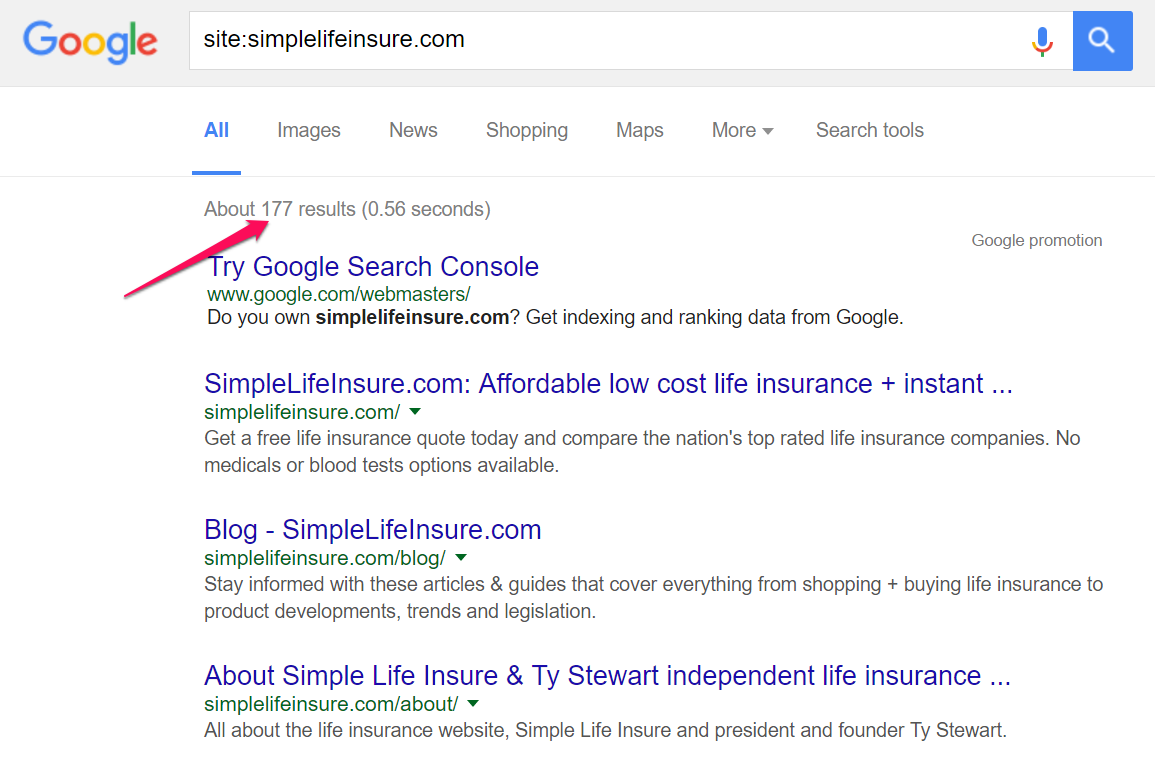 We can see that there are currently 177 pages included in the index for this domain.
That seems a little high considering our crawl only discovered 92 URLs.
If we scroll down we can see there are quite a few "junk" pages that we'll want to get rid of.
For example, there are lots of tag pages indexed: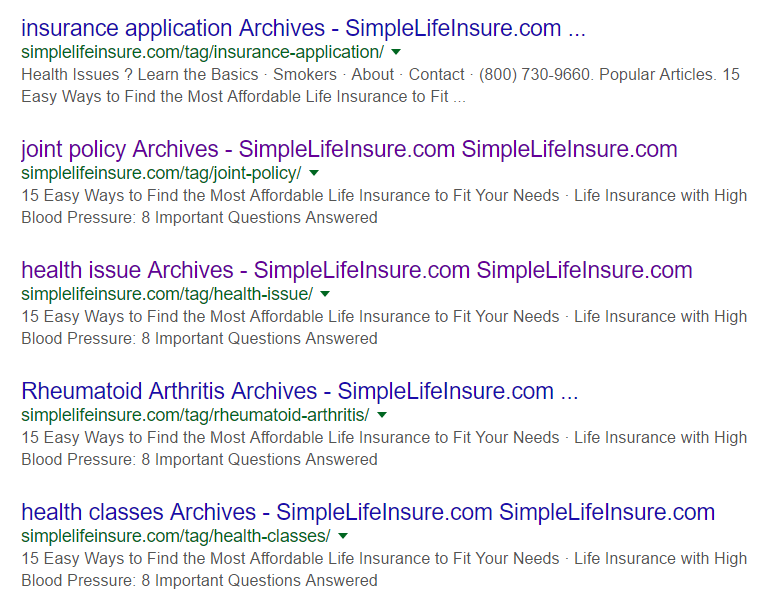 These have no content on them and should be removed from the index.
Again, we can easily manage that through YOAST by adding noindex,follow to all tag pages with one click.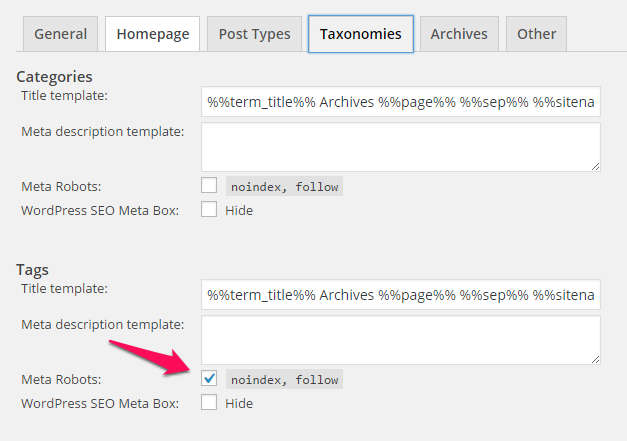 It's well worth scrolling through to find other thin/low quality pages to remove from Google's index.
Editor's note
For the next part of the audit process we will switch sites to
ToyUniverse.com.au
— a toy retailer from Australia.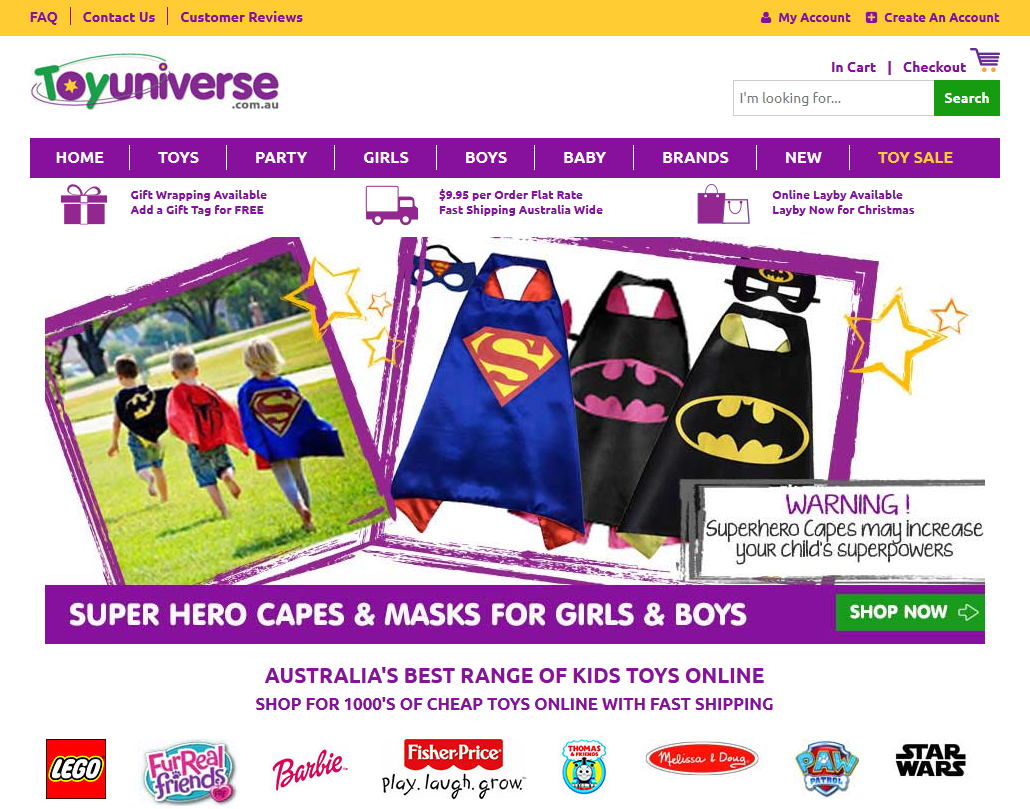 For traffic illustration we will be looking at data from last year.
Step 7: Analyse Search Traffic
Clearly the aim of any SEO audit is to identify ways to increase a website's traffic. So it makes sense to take a look at how the site is currently performing.
We'll run a few reports in Google Analytics to give us a quick overview.
First we'll look at the site's current search traffic.
The data for August 2015 shows an average of around 250 visitors a day from search.
Acquisition > Overview > Organic Search

From the same report, we can click on "Landing Page" to discover which pages are currently bringing in the most search traffic.
A broad spread of landing pages (in this case there are 1,265) would suggest the site is in reasonable health.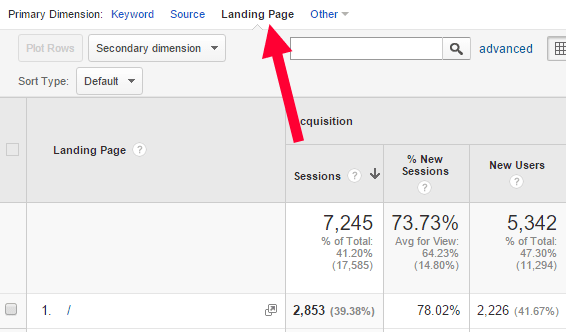 Finally, we will set a wide range (I'm going to go back to July 2013) and view traffic by week. We're looking for any noticeable spikes, or dips in traffic.

In this case we can see some big spikes at the end of each year, followed by drops in January. I suspect that's down to the seasonal nature of the product as generally traffic has been pretty stagnant over the period.
Of course, in other cases, a drop in traffic may be indicative of a Google penalty. That's something we will take a closer look at shortly.
Step 8: Gather Data From Google Search Console
Google Search Console (formerly Webmaster Tools) will give us some useful data for our SEO audit.
Look For Crawl Errors
First off, we'll take a look to see if Google is reporting any issues with crawling the site (Crawl > Crawl Errors).
We can see that Google is reporting a number of 404 (not found) errors, and several 403 (access denied) errors.

On closer inspection, it appears that these 404s are thrown by old products which have been removed from the site.
In this case I would recommend that expired products are 301 redirected to either a similar product, or a parent category.
This will preserve any link equity that the pages may have acquired (from both external and internal links), which would be lost with the 404.
The pages returning 403 errors may require a little deeper digging to find out how Google is finding them.
Check For HTML Improvements
We can take a look at the HTML Improvements report (Search Appearance >HTML Improvements) to get a quick overview of any on-page issues Google has found when indexing the site.
In this case Google is reporting several issues, including duplicate title tags and duplicate meta descriptions.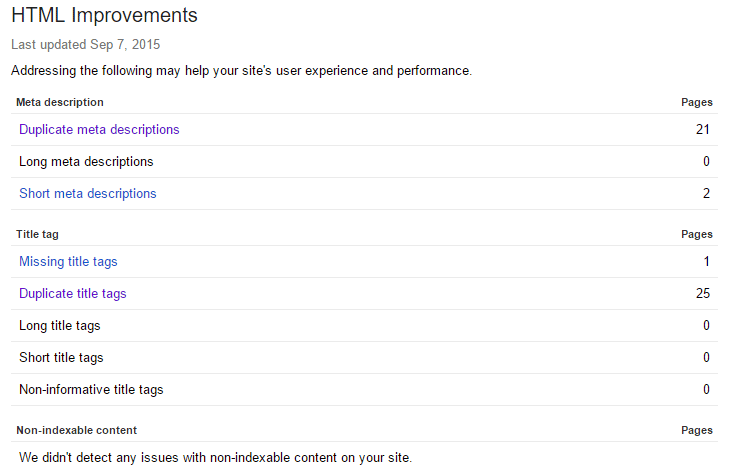 We should have already picked up on most of those in our own crawl of the site. But it's worth double checking to be sure.
Editor's note
For steps 9, 10, 11 and 15 you will require an Ahrefs account. If you don't have one yet, you can
take a 7-day trial for $7
.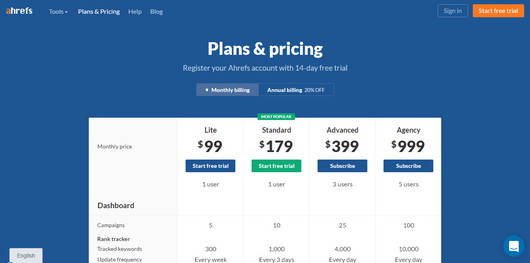 Step 9: Check The "Curve"
The overview report in Ahrefs Site Explorer gives us some useful information on the general direction of travel for the site. We can get some quick visual feedback on whether our SEO efforts are having a positive impact on rankings and traffic.
We'll start by entering the domain into Site Explorer and clicking 'Explore'.
Site Explorer > Enter domain > Explore

This will take us to the overview report for the domain.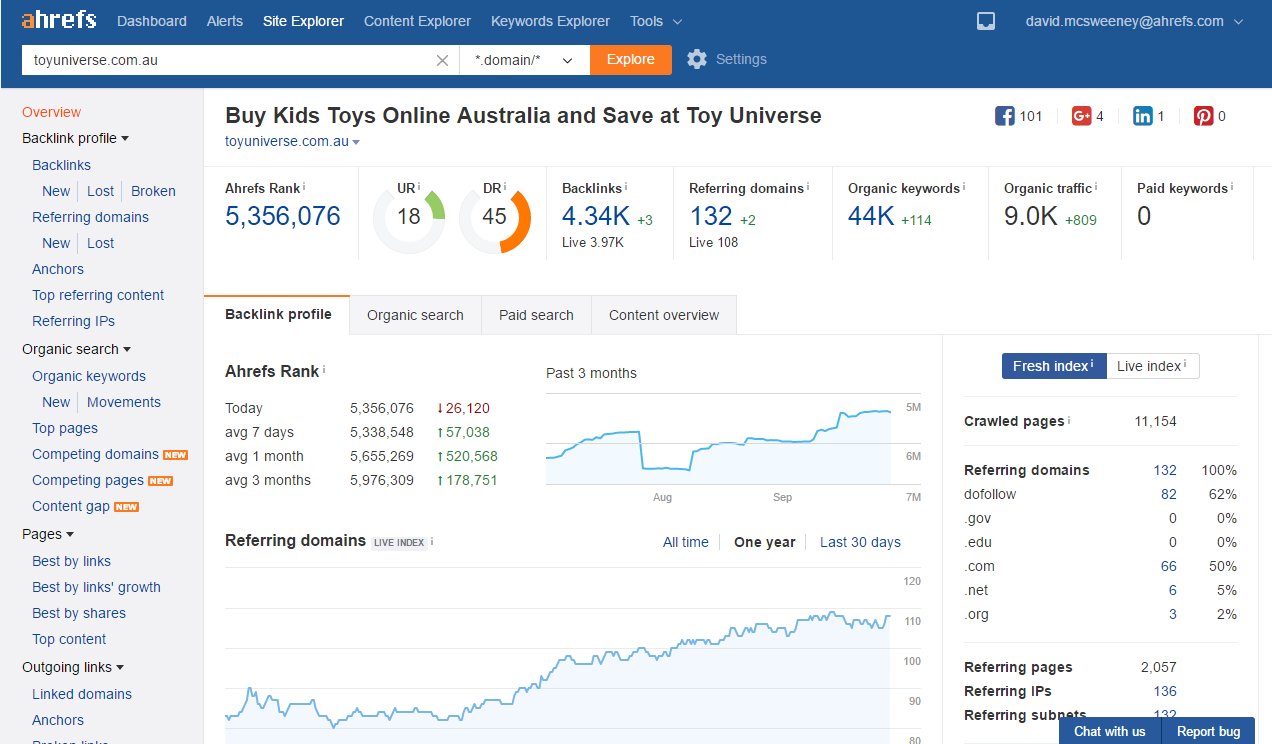 The number of referring domains pointing to the website has been steadily increasing, which is good to see.
Next we'll click on the "Organic Search" tab and take a look at keywords and estimated traffic.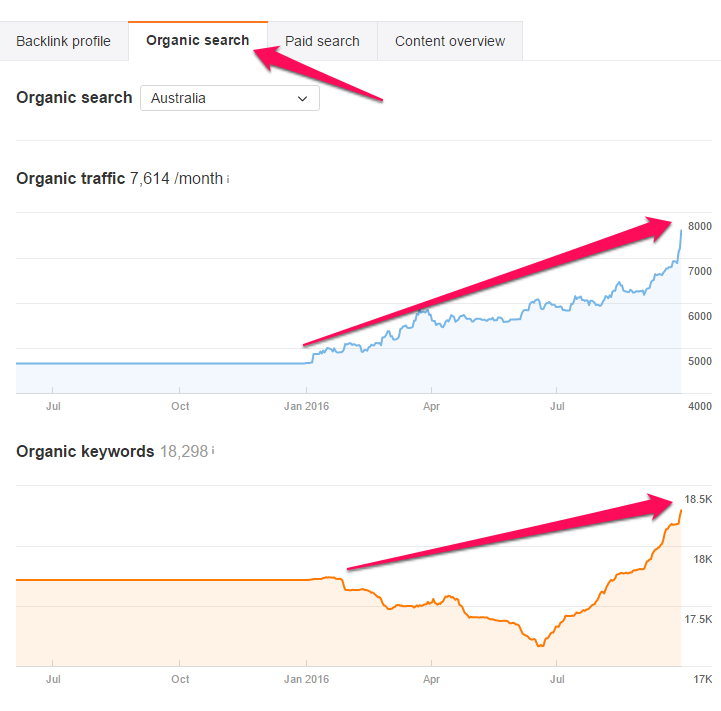 We can see that there has been an increase in both. Although there does appear to have been a dip in rankings between April and July this year, which has now recovered.
Tip
These reports are particularly useful for newer sites, where improvements in rankings may not yet have resulted in increased traffic.
If we can see that keywords and traffic are moving steadily upwards we can assume that continuing our SEO efforts will soon yield positive results.
Step 10: Find Pages Ranking in Positions 5–10 for High Volume Keywords
Ranking at position 5 for a high volume keywords sounds pretty good.
Until you look at the difference moving up just a couple of positions could make to your traffic.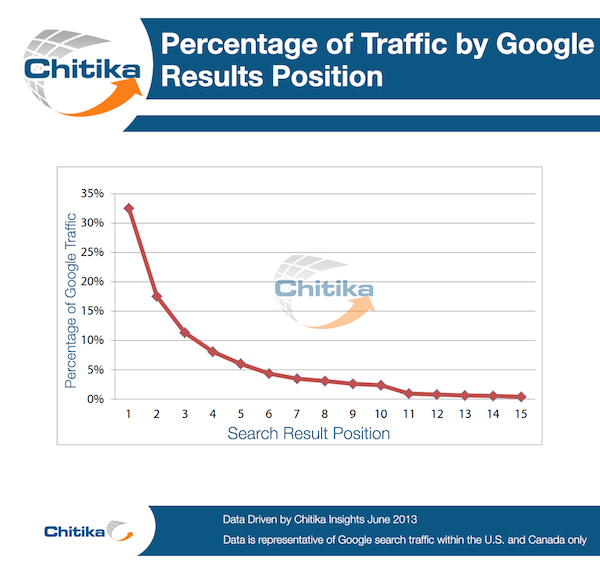 The good news is, that if you are already ranking reasonably well, a little proactive SEO should be enough to push you into the top spots.
What we want to look for is high volume keywords where we rank in positions 5–10. It's easy to do with Ahrefs Site Explorer.
We can simply run the organic keywords report and set the position and volume filters accordingly.
Site Explorer > Enter domain > Explore > Organic Keywords > Position (from: 5 to: 10) > Volume (min: 1,000 max: blank)
We'll then get a list of keywords (and content) we can focus on for some quick wins.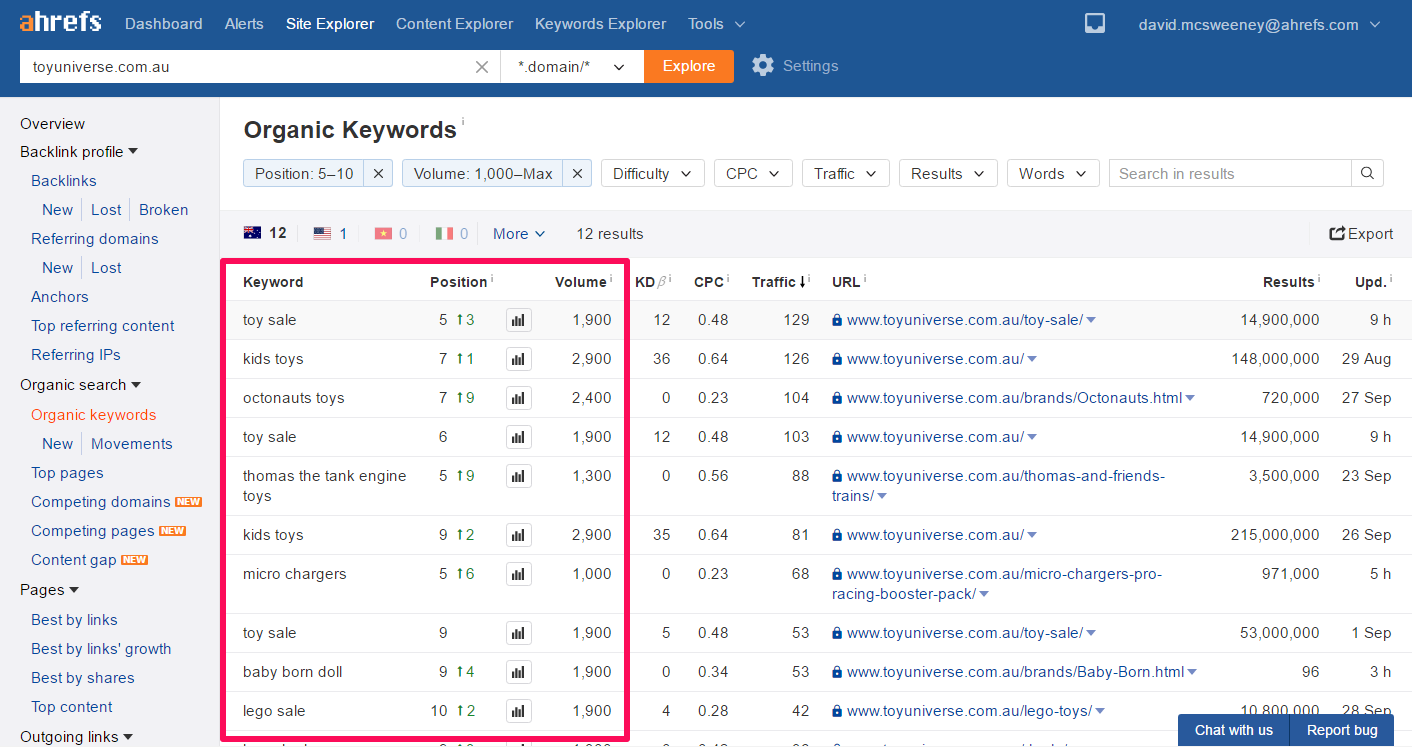 So how do we boost these pages and push them into the top spots?
There are a few options:
Add some more internal links to the pages
Build some fresh backlinks to the pages
Update and relaunch the content
Make sure on-page is optimised for the exact keyword
Sneaky Tip
Want to build some fresh backlinks to the page in seconds?
Just find a page on your site that's not bringing in much traffic (but has accumulated a few inbound links) and 301 redirect it to the page you want to boost.
It's a little naughty…
But it works.
Step 11: Analyse Backlink Profile
We'll be conducting a quick, manual audit on the site's link profile to look for any obvious issues.
Ahrefs makes this super easy for us!
Step 1: Anchor Text Distribution
We'll go back to the overview report for the domain and scroll down to the "Anchors Cloud". This gives us a quick, easy to digest visual of the site's anchor text distribution.

In this case we can see that naked URLs and brand links make up over one third of the site's link profile.
We can also see other anchors which include the Toy Universe brand name.
This is good news from an SEO perspective as branded links help to build trust.
If you were to see a large number of keyword anchors in here, then that is something you may have to take a closer look at.
But we're all good in this case 🙂
Step 2: Broken Backlinks and Some Quick Wins
Next, we'll take a look at the 'Broken Backlinks' report under 'Inbound Links', which can often be the source of some quick wins.
This will show us links to pages on our site that are currently returning a 404 error – effectively losing the link equity.
Site Explorer > Enter domain > Explore > Backlink profile > Backlinks > Broken
In this case the report has found 3 broken links.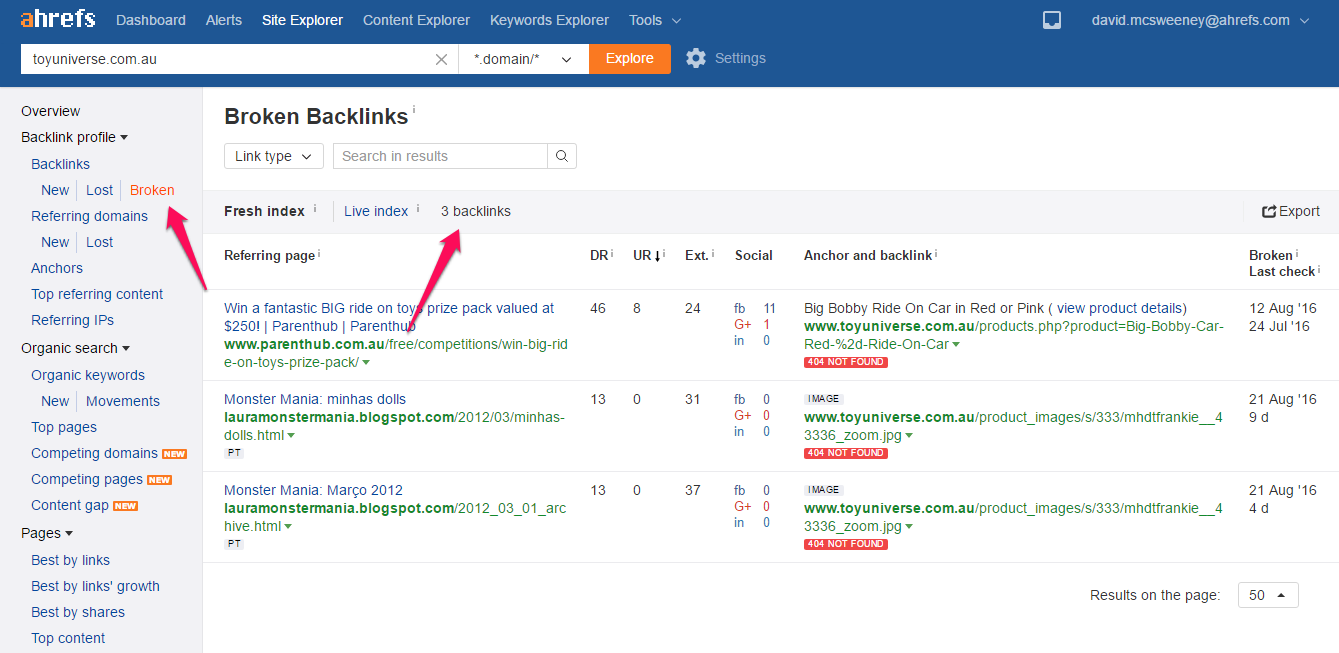 We can easily fix them (and get back the link juice) by creating 301 redirects for the old expired URLs, to relevant, related pages.
Step 3: Quick Link Audit/Sniff Test
Finally, we will have a quick run through the site's referring domains, to see if anything sticks out as suspicious, or low quality.
We'll click on "DR" to reverse the order of the report and put the lowest quality links at the top.
Site Explorer > Enter domain > Explore > Backlink profile > Referring domains > Sort by DR (lowest first)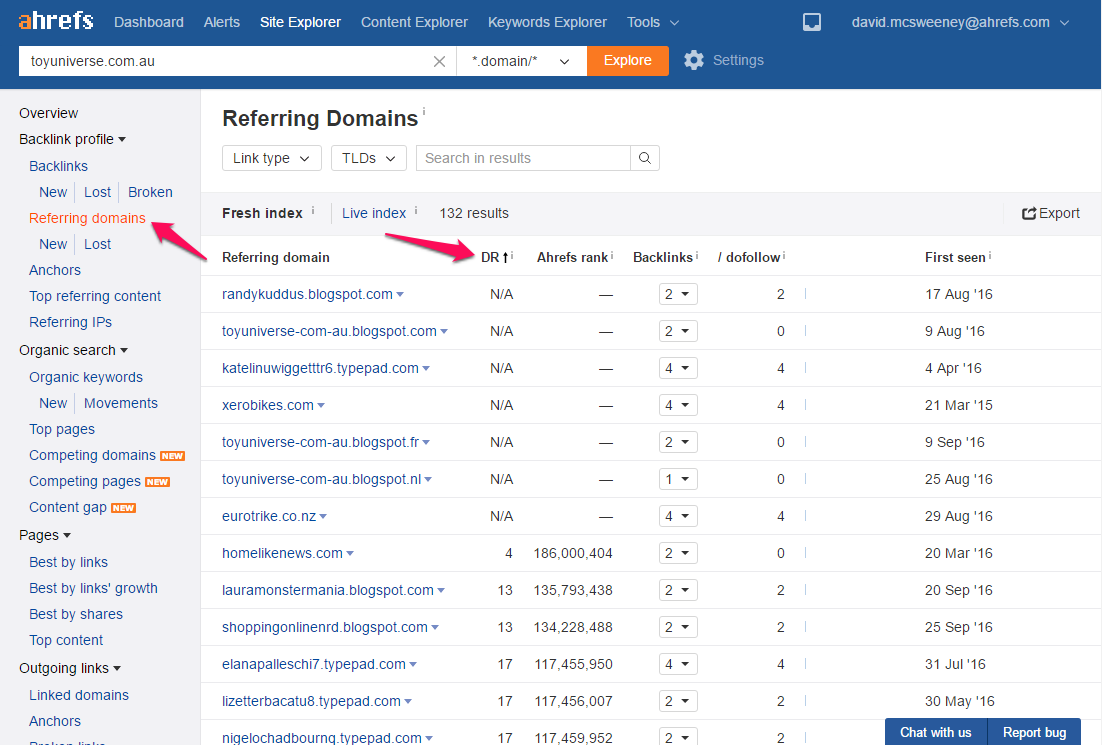 Over time you will develop a sixth sense for spotting low quality links.
If anything looks suspicious you can simply click on the number under the "Backlinks" column, then click-through to the linking URL to take a look.

You can spend time going through this in more detail when you conduct a full audit.
But for now, look for anything that looks low quality, or purposely manipulative.
Also look out for obvious signs of 'SEOing' (it's a word ok!). For example lots of directory links, or links from multiple forum profiles.
Check out our guide to finding bad links for more on what to look out for.
In this case, the link profile looks relatively clean, so we can move on to the next stage of our SEO audit.
Step 12: Identify Any Penalties
Editor's note
Both Panda and Penguin are now baked into Google's algorithm and influence rankings on a "real-time" basis.
However the following method is still useful for finding historical penalties which may continue to impact your rankings.
I mentioned earlier that we would take a closer look at drops in traffic that may be indicative of Google penalties.
Fortunately for this task there is a great (FREE) tool called "Panguin" that will do most of the hard work for us.
Here's how you can use the Panguin tool to quickly identify drops in traffic that align with Google's algorithmic updates.
Step 1: Log Into Analytics
Load up the Panguin tool (here) and log in to your Google Analytics account.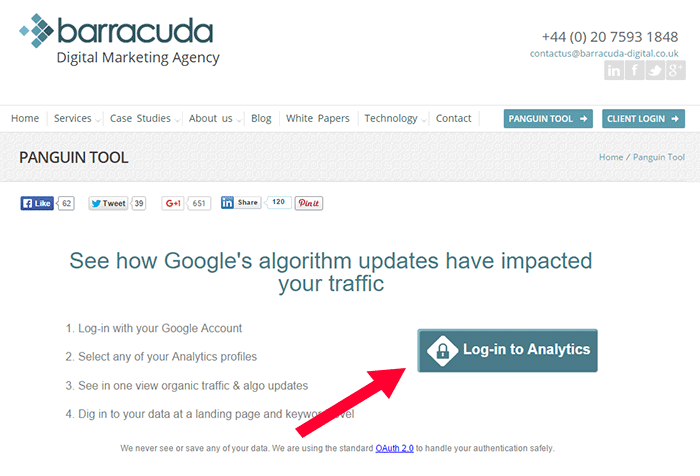 Step 2: Select Your Site
Once logged in to your Analytics account, select the site you wish to review from the left hand menu.

This should be the same as your list of sites in Google Analytics.
Step 3: Identify Penalties
Once selected, you will be presented with a chart showing your organic traffic. The chart will be overlayed with various colour coded lines which align with Google updates.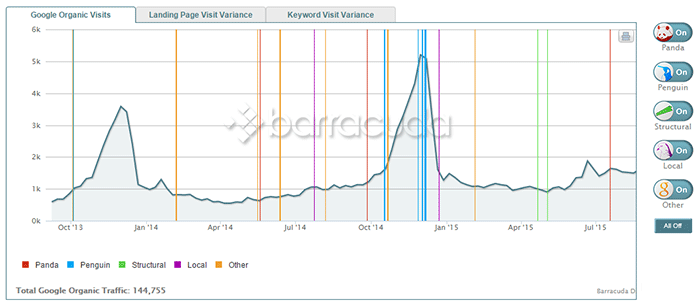 You can turn the various updates (Panda, Penguin etc) on or off, by toggling the buttons on the right hand side.
In the image below I have turned off all algorithmic updates with the exception of Penguin.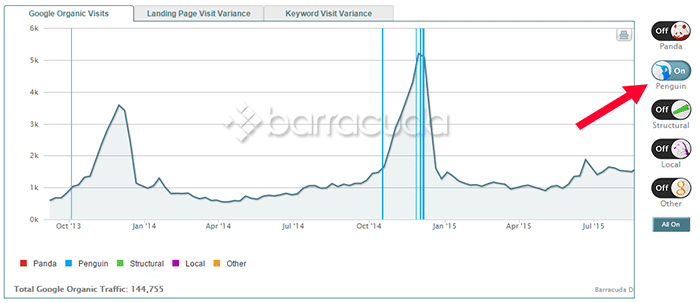 We can see that the Penguin updates in December 2014 align with the traffic drop, however, I suspect this is merely coincidence and that this fall is just due to the seasonal drop off.
What to look for
Traffic drops aligning with algorithmic updates.
Step 13: Check Out Site Speed
It has long been confirmed that site speed is one of Google's many ranking factors (although there is an interesting study here which suggests crawl speed may actually be more important than page load speed).
Certainly a fast loading site provides a better user experience than a slow loading site.
So it's always good practice to ensure that your website is optimised to load as quickly as possible.
You could probably spend days tweaking your website and server. But a good starting point for identifying major issues is Google's PageSpeed Insights Tool.
Just enter your URL in the free tool, hit "Analyse" and Google will return a speed 'score' for your site (out of 100) for both mobile and desktop. They will also give you a list of other areas they think you can improve.

In our case, the site gets a score of 57/100 for mobile and 71/100 for desktop. Not the worst I've seen, but definite room for improvement!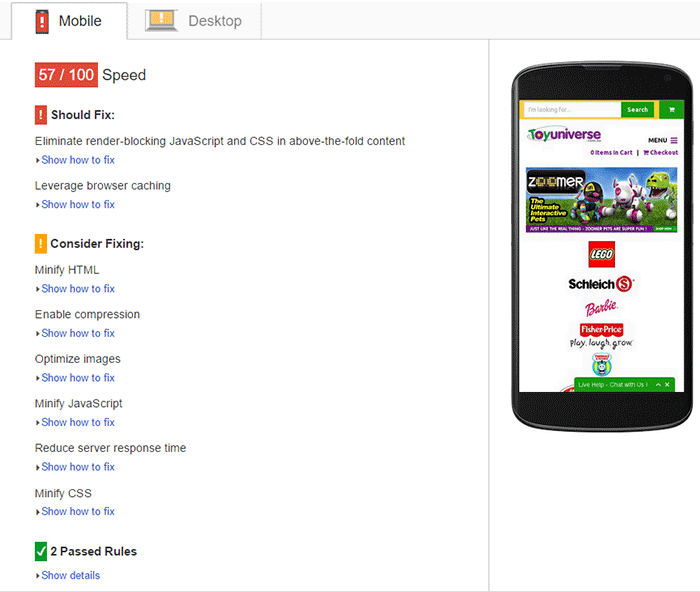 For more on the importance of site speed to SEO, and some great tips on how to optimise your site, check out this guide by Albert Costill for Search Engine Journal.
Sidenote.
You should also check that the site is mobile ready, preferably with a responsive design.
Step 14: Test Structured Data
The next step in our audit process will be to test any structured data that the site may contain and ensure it is properly formed.
Why is Structured Data important?
Proper use of structured data can increase visibility in the search results and lead to improvement in click-through rate.
It looks like this:
Examples of content that may benefit from the inclusion of structured data include:
Reviews
Product information
Events
Although, you can mark up most types of content to a certain degree (just don't spam!).
Additionally, the correct use of structured data allows Google to better understand your content. Nathan Yerian puts it well here.
Structured data allows search engines to not only crawl your site, but to truly understand it. Yes, even search engines can have a tough time deciphering web page content. Some elements that seem perfectly obvious to us humans are meaningless to web crawlers.
We can use Google's Structured Data Testing Tool to test existing structured data.
Simply paste in the URL you wish to test and hit "Fetch & Validate".

Google will evaluate the structured data for the page and return any errors. In this case we can see there are several errors which will need to be investigated and fixed.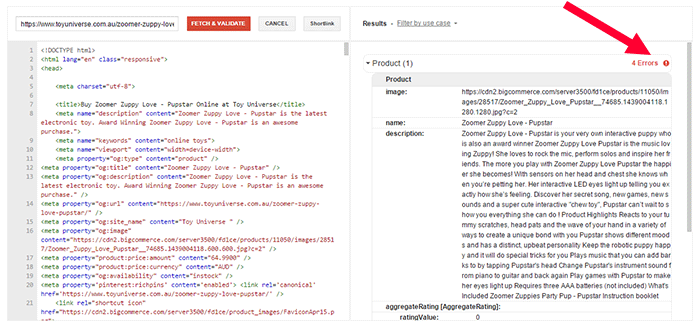 Step 15: Find "Content Gaps"
What's a content gap?
It's a keyword that your competitors currently rank for… and you don't!
Needless to say, that's something you'll want to rectify.
There's a simple report you can run in Ahrefs Site Explorer to find content gaps. We've cunningly called it "Content gap".
But first you'll want to figure out who your closest competitors are in search. To do that, run the "Competing Domains" report.
Site Explorer > Enter domain > Explore > Organic search > Competing domains
The report will show sites where we found a big overlap in keyword rankings with your domain.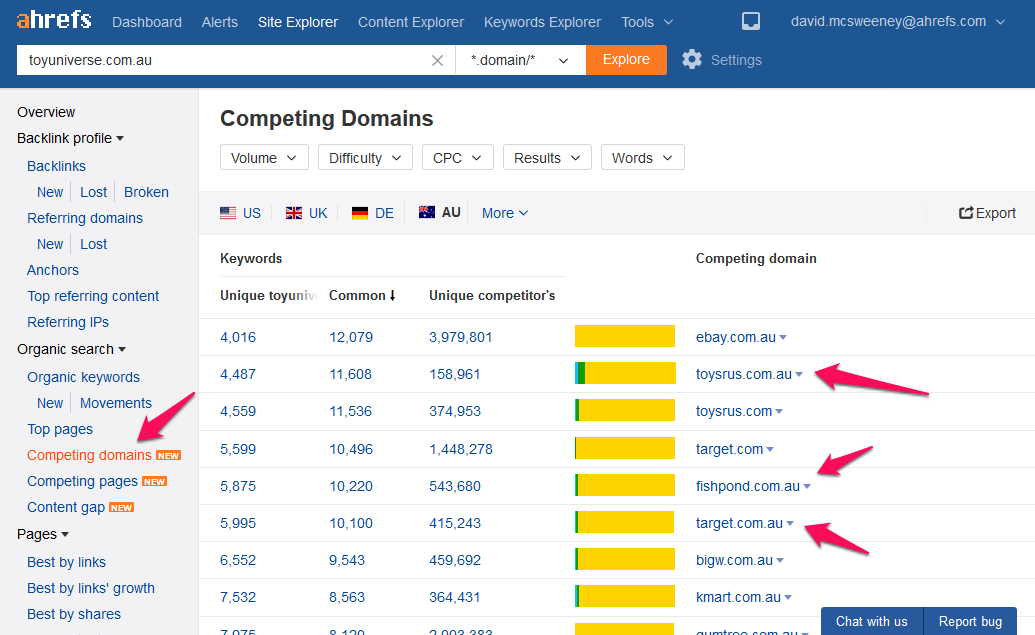 Ignore any marketplace type sites like Ebay or Amazon. Above I have selected 3 domains that I consider to be close competitors of Toy Universe.
Now I'll head over to the Content Gap report and enter those 3 competitors.
Site Explorer > Enter domain > Explore > Organic search > Content gap > Enter competitors > Show keywords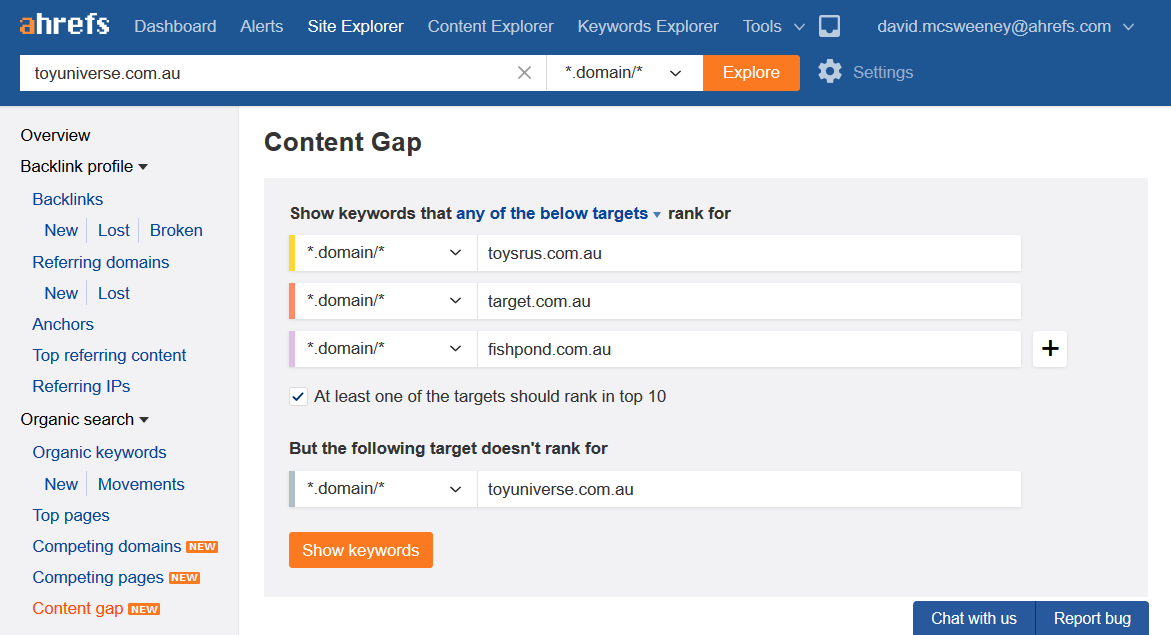 I've set the volume filter to show keywords with maximum search volume of 20,000. That way we'll filter out branded searches and other keywords that it won't be worth our while targeting.
We can see that there are a number of keywords with high volume that we can target with content. If you're running an Ecommerce store, this can also give you a good idea on new products to stock.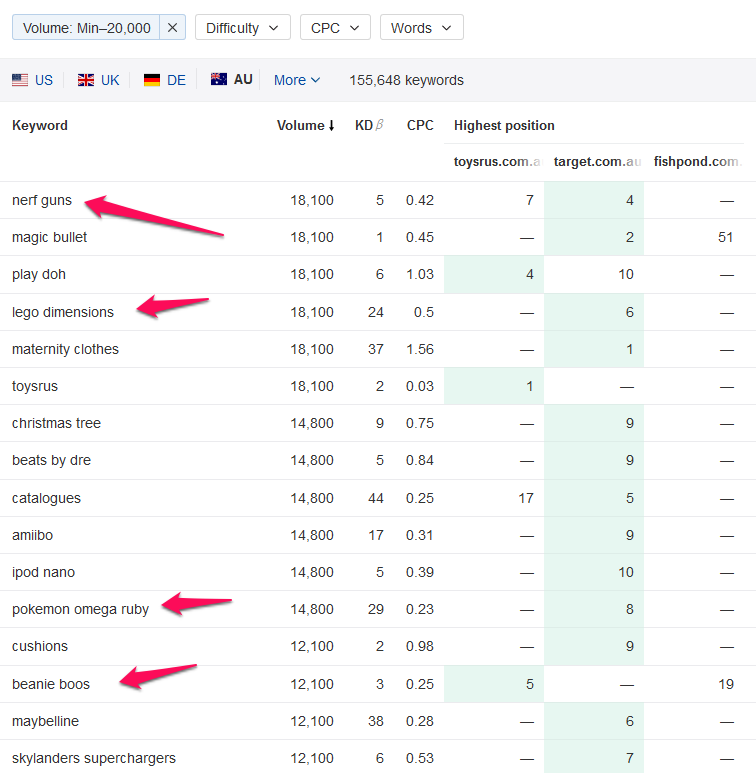 Step 16: Conduct a Full Content Audit
The final step in our audit process might sound a little unintuitive. That's because it will often involve deleting a load of pages from your site.
So how will that help to increase search traffic?
The short answer is that lots of low quality (or underperforming) pages can drag your whole site down.
Last year we deleted over 200 low performing posts from the Ahrefs blog and quickly saw a nice increase in our search traffic.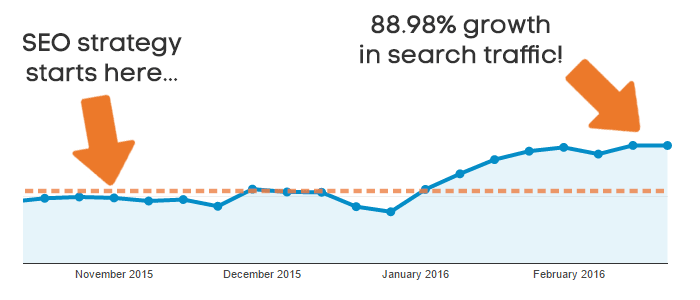 You can read the full strategy in this post, but here it is in a nutshell.
Find low quality pages on your site which are not currently bringing in any search traffic
If they can be improved then update them and relaunch
Otherwise, delete them from your site and 301 redirect the URL to a relevant page
A word of warning however:
Be very careful when taking a knife to your site.
Your first choice should be to improve the content and relaunch.
But if something is very low quality and simply not worth the hassle of updating, then go ahead and delete it. Just be sure to set up a 301 redirect to a relevant page so you don't lose any link equity.
Pro Tip
Another thing to look out for is multiple pieces of content targeting the same keyword. That's known as "keyword cannibalisation".
Ideally only one page on your site should target each keyword.
A good tactic is to combine multiple posts targeting the same keyword into one, super authoritative post. We recently combined 3 posts into one to create our definitive guide to anchor text.
And… You're Done!
Our SEO audit is complete!
By following these steps you should have uncovered a number of changes you can make to your site to improve your rankings.
A full forensic SEO audit is a much lengthier process (taking anything from a few hours to a few days, depending on the size of the site). But this process is a great way to kick start any new SEO campaign and get a feel for how a site is currently set up.
If we wanted to continue digging, we could now go back to the crawler which we started at the beginning of this process, and take a more detailed look at the site's structure, internal linking, other on-page factors etc.
We may also return to Ahrefs at this point to more thoroughly investigate the site's link profile and look for additional keyword opportunities.
But, in this case, we'll leave that for another day…
Consider that 800lb gorilla well and truly banished!
Over To You
If you have any questions about the audit process, or have any tips you would like to share, then please leave a comment below.