In the last three years, we've published:
Of course, I'm far from the only person responsible for this output. But I think it's safe to say that our team knows a thing or two about successfully creating and scaling content.
In this guide, you'll learn how to do the same for your business, step by step.
But first, let's make sure we're on the same page…
Content creation is the process of finding topics to attract your target audience, then planning, creating, and publishing content about those topics.
Content is important because it's an effective mechanism for pulling people into and down your marketing funnel. If you're unfamiliar with the concept of a marketing funnel, it's a visual representation of the process of attracting and retaining customers.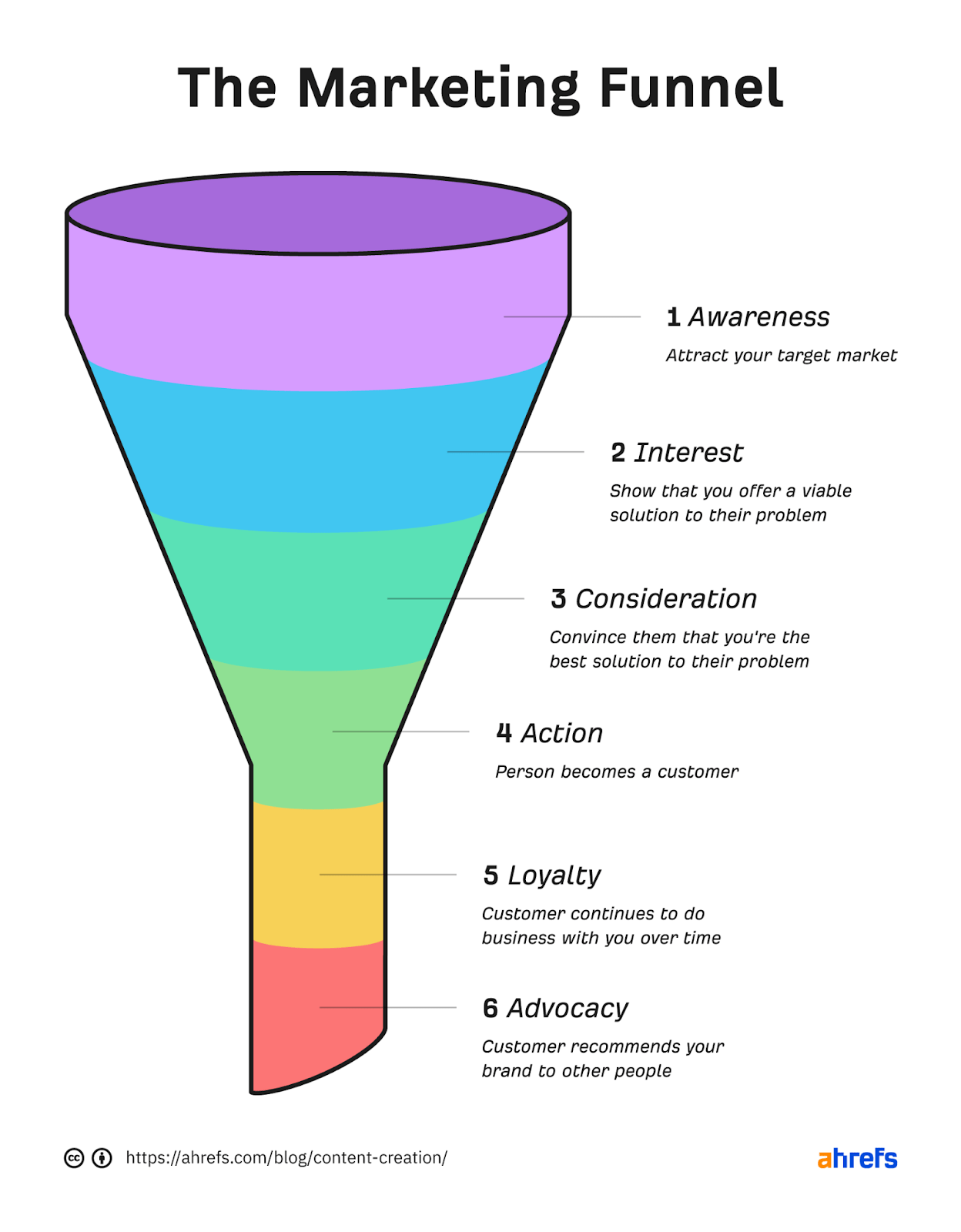 Here's how it works:
People first become aware of your brand. Their interest and desire then builds until they consider buying what you're selling. Eventually, they take action and become customers. If your product or service impresses them, they'll become loyal customers and potentially even advocates of your brand.
But here's the thing:
Not everyone who becomes aware of your brand will desire your product. Not everyone who desires your product will consider buying. Not everyone who considers buying will buy, and not everyone who buys will become a loyal brand advocate.
That's why the marketing funnel is funnel-shaped; people fall out of the process at every stage.
What does this have to do with content?
Content doesn't only have the power to pull people into your marketing funnel but also to increase the efficiency of your funnel.
For example, our keyword research guide ranks high in Google for "keyword research" and receives an estimated 5.6K search visits per month. This attracts our target audience and improves brand awareness:

But that's not the only thing this guide does. It also creates interest and desire for our product by showing readers how to solve their problem using Ahrefs.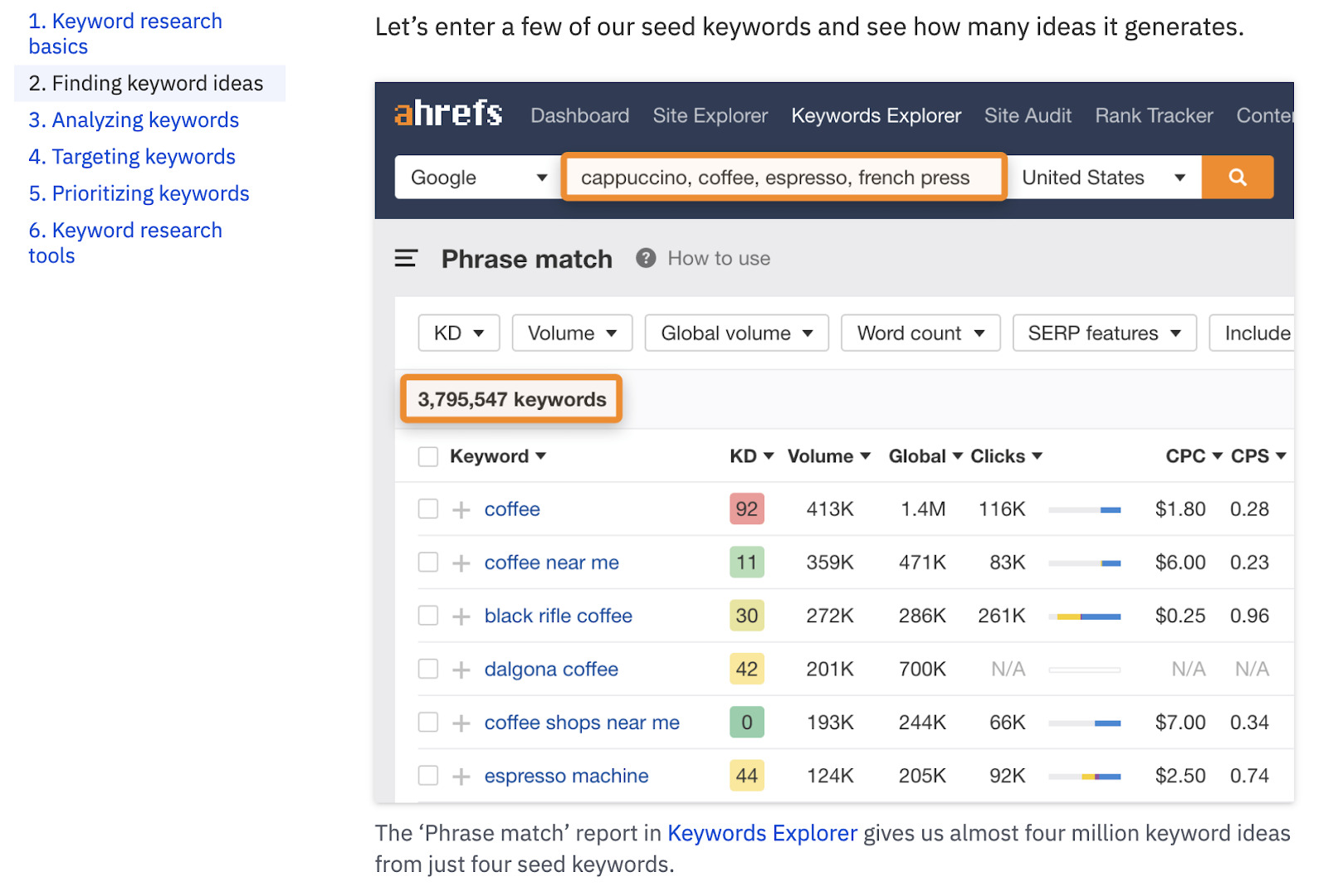 Of course, most readers won't consider buying our product and taking action after reading this one post. That's why we have hundreds of blog posts. We build interest and desire through repeated exposure to our product and brand.
For readers that hit the consideration stage of our funnel, content like our "Ahrefs vs." page promotes action by showing how our product compares favorably to the competition.
For those that become customers, our blog posts, courses, and dedicated help section promote loyalty and advocacy by teaching them how to get the most out of our product.
The process of creating content is roughly the same for every channel, and we'll go through this below. But first, it's important to understand that you shouldn't dive into content creation without first creating a solid content strategy.
Your content strategy keeps you on track and ensures that there's a clear purpose behind each piece of content you create.
Here's how to create content in three steps:
1. Find proven topics
There's no point in creating content for the sake of creating content. Whatever you're planning to create, you need to make sure it's something that will appeal to your target audience.
How you do that depends on the channel you're creating content for.
If you're creating content for your website or YouTube…
… you'll want to do keyword research to find the topics people are searching for.
You can publish content about other topics, but you'll struggle to get eyeballs on it unless you already have a lot of traffic or subscribers, are willing to pay for ads, or have a proven distribution channel like a large email list.
The way you research topics is roughly the same for both channels:
a) Brainstorm topics
Grab a notepad and think about broad topics your target audience might be searching for. If you sell coffee machines, you might jot down things like "coffee," "espresso," and "french press."
b) Use a keyword research tool to expand on your ideas
Plug your brainstormed topics into a keyword research tool like Keywords Explorer, choose Google or YouTube as your search engine, and go to the Matching terms report.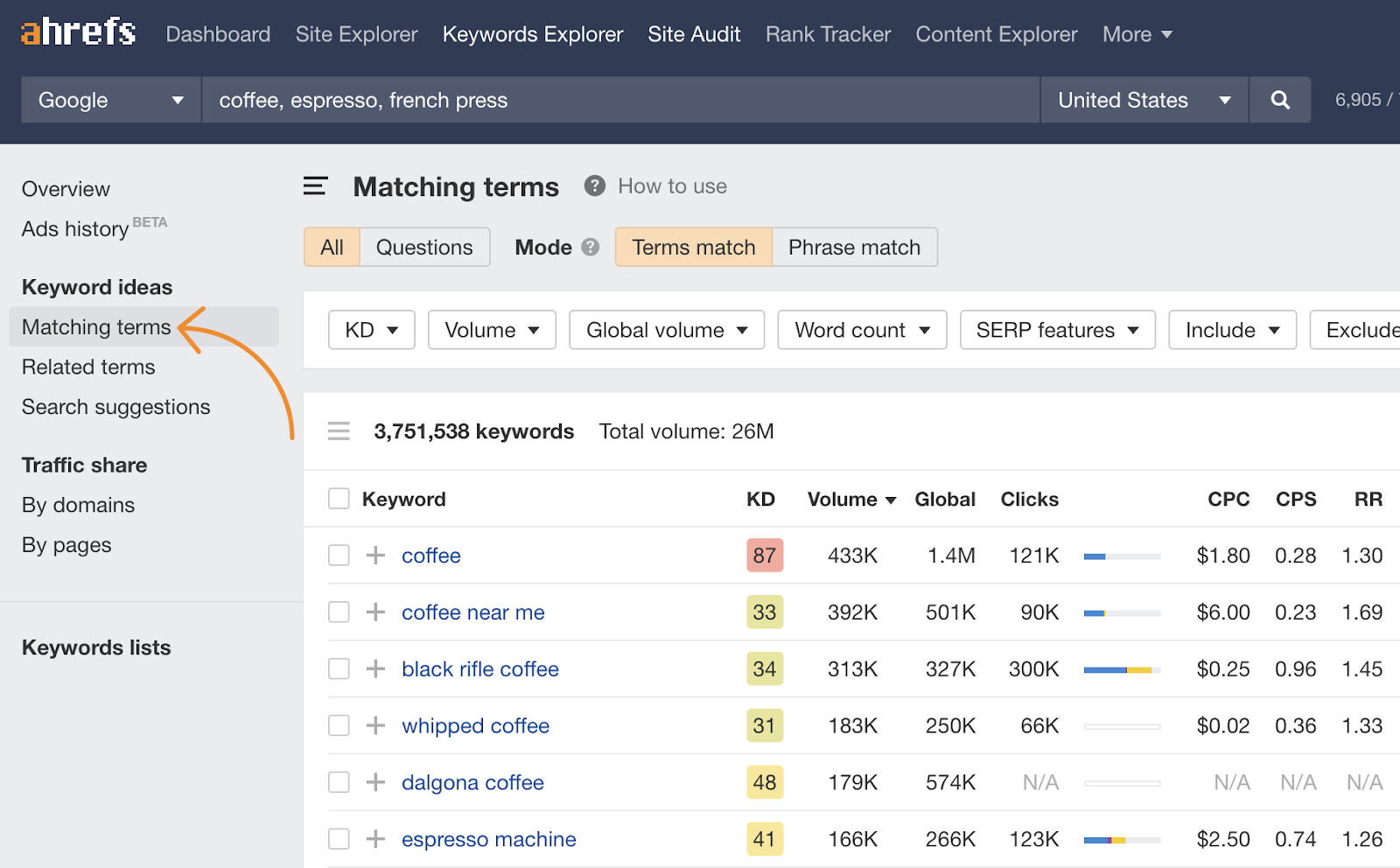 Look through the keywords and add any promising topics for content to a keyword ideas list.
For example, "best coffee maker" and "how to make whipped coffee" are promising content ideas for our online coffee store. They're things our target audience is likely to be searching for and have search volume, so we'll add them to a keyword list.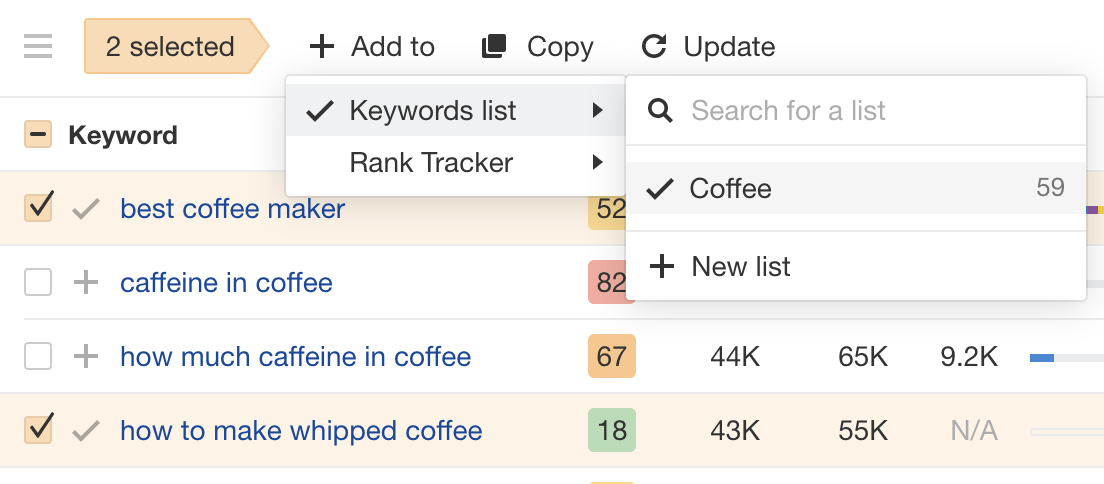 Keep doing this until you have 30-50 potential content ideas.
PRO TIP
If you're looking for content ideas for a new website, it's often worth filtering for keywords with low Keyword Difficulty (KD) scores. Generally speaking, these will be easier to rank for. To do this, set the KD filter to a low maximum, like 10.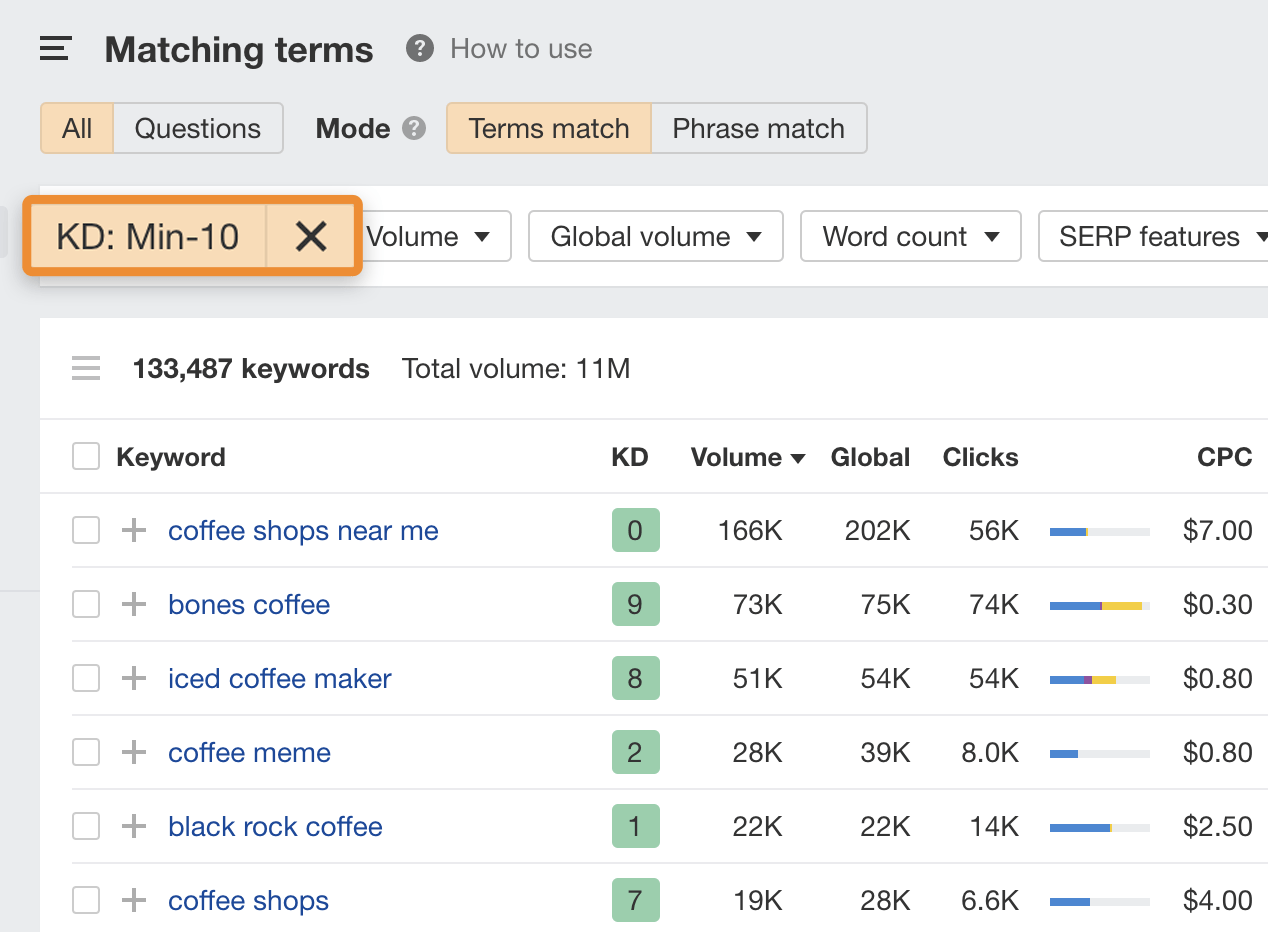 c) Check competitors
People have a tendency to use the same 'seed' keywords in keyword research tools, which means you often end up seeing the same keyword ideas as everyone else. This isn't necessarily a bad thing, but it does keep you in 'the box.'
For that reason, it's also worth looking at what your competitors are creating content about.
If you're looking for content ideas for your website, you first need to identify your competitors. The easiest way to do this is to head to your keyword list in Keywords Explorer, then go to the Traffic Share by Domains report to see which websites get the most traffic from those keywords.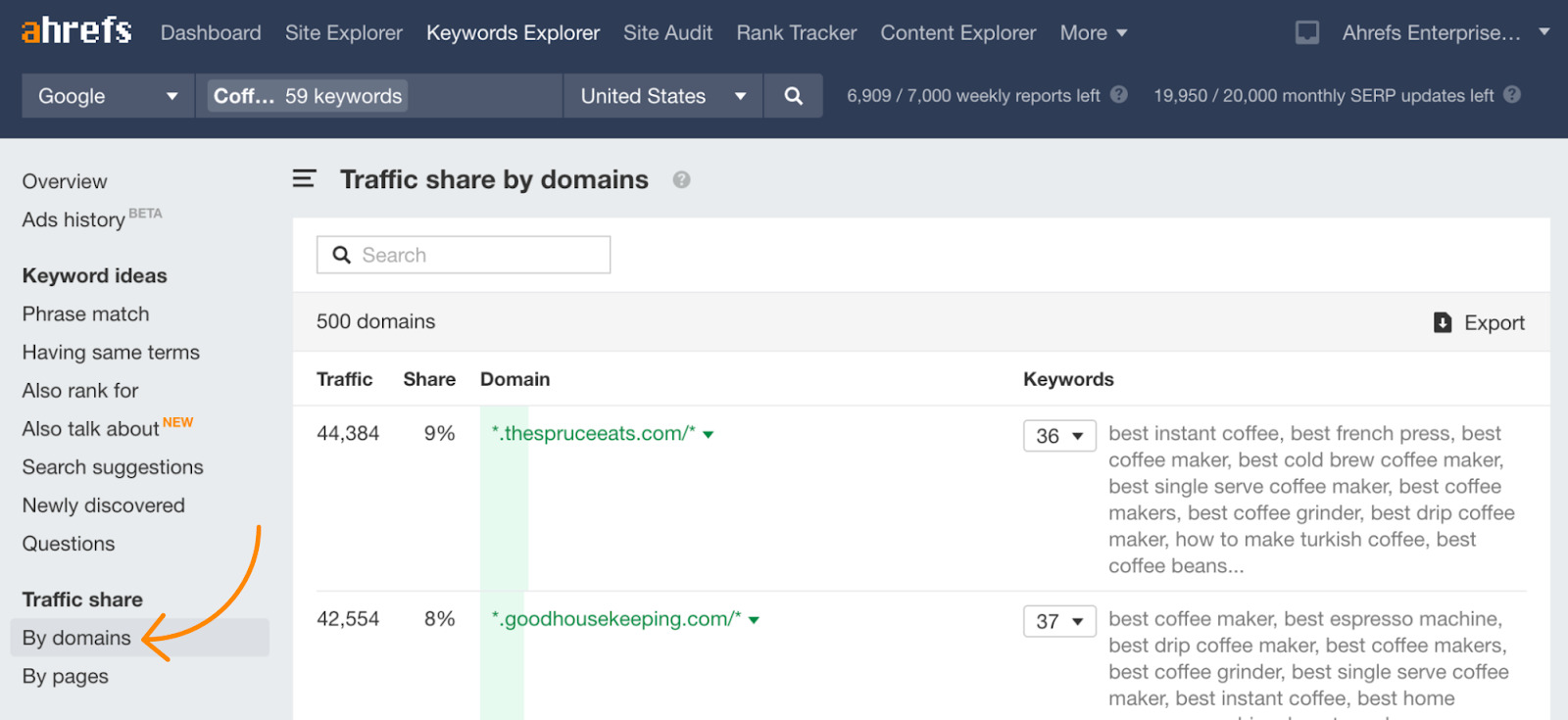 Look for websites that seem focused on your topic, then hit the caret and go to the Top Pages report to see which of their pages attract the most estimated search traffic.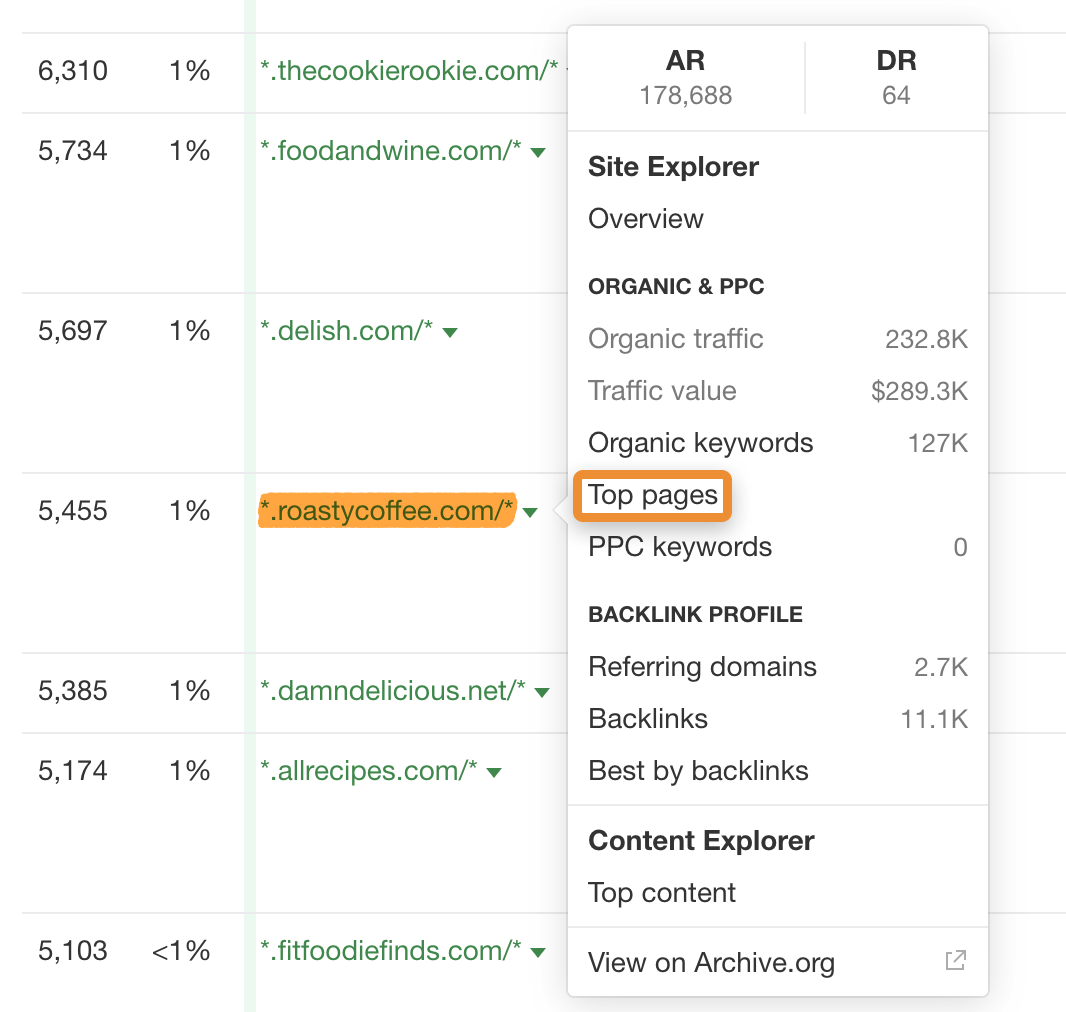 In our case, we see some good content ideas with search traffic potential that we couldn't have otherwise found, such as:
keurig troubleshooting
nespresso reusable pods
how to descale a keurig
how to steam milk
nespresso vs keurig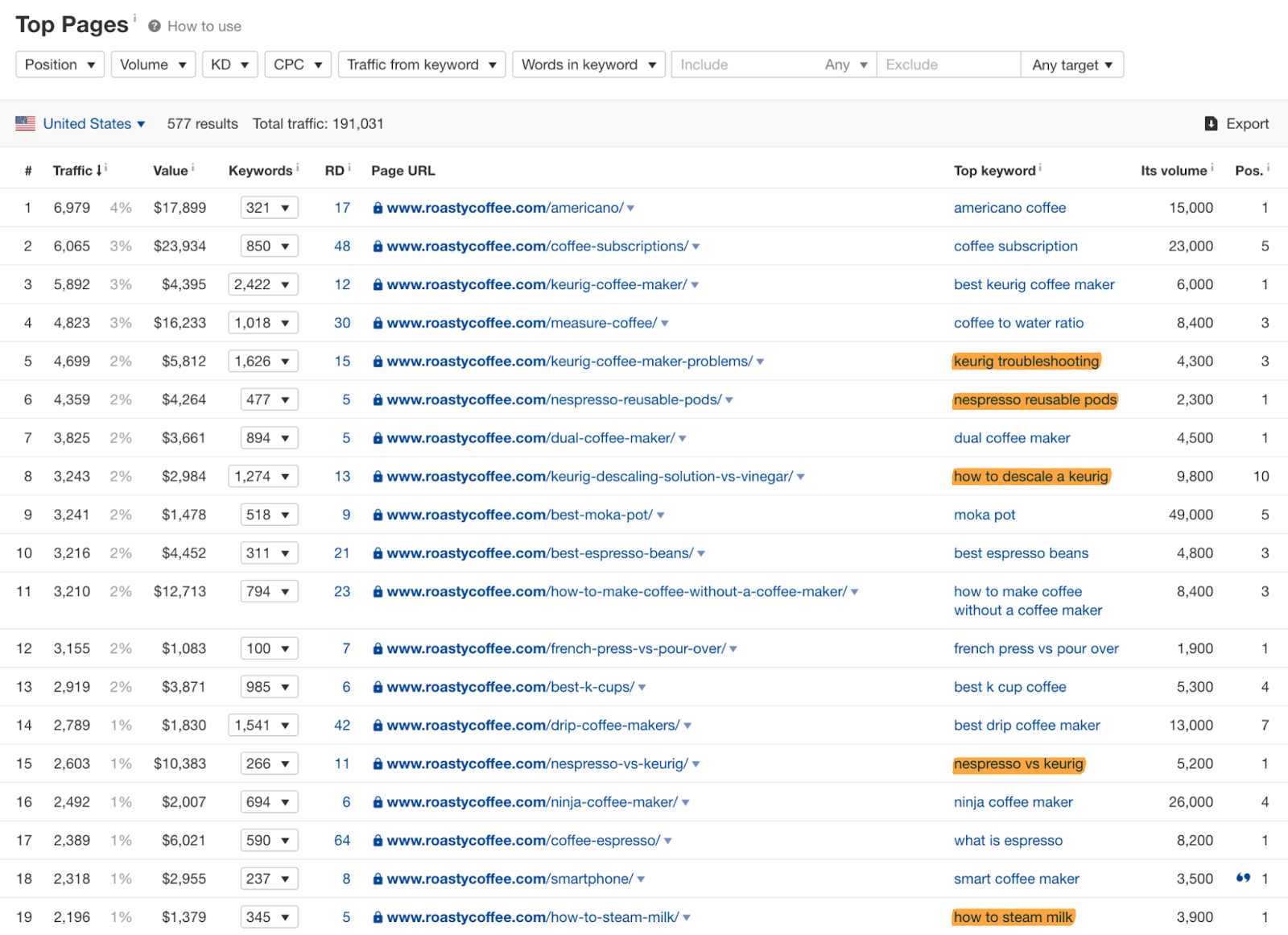 If you want even more ideas, repeat this process for more competitors. Just go to the Competing Domains report in Site Explorer, look for relevant sites, hit the caret to check estimated search traffic, then plug the site into Site Explorer and check the Top Pages report.
If you're looking for content ideas for YouTube, you first need to find competing channels. Do this by searching YouTube for a topic you've already found. For example, if we search for "how to make coffee in a cafetiere," we see a few coffee-related channels.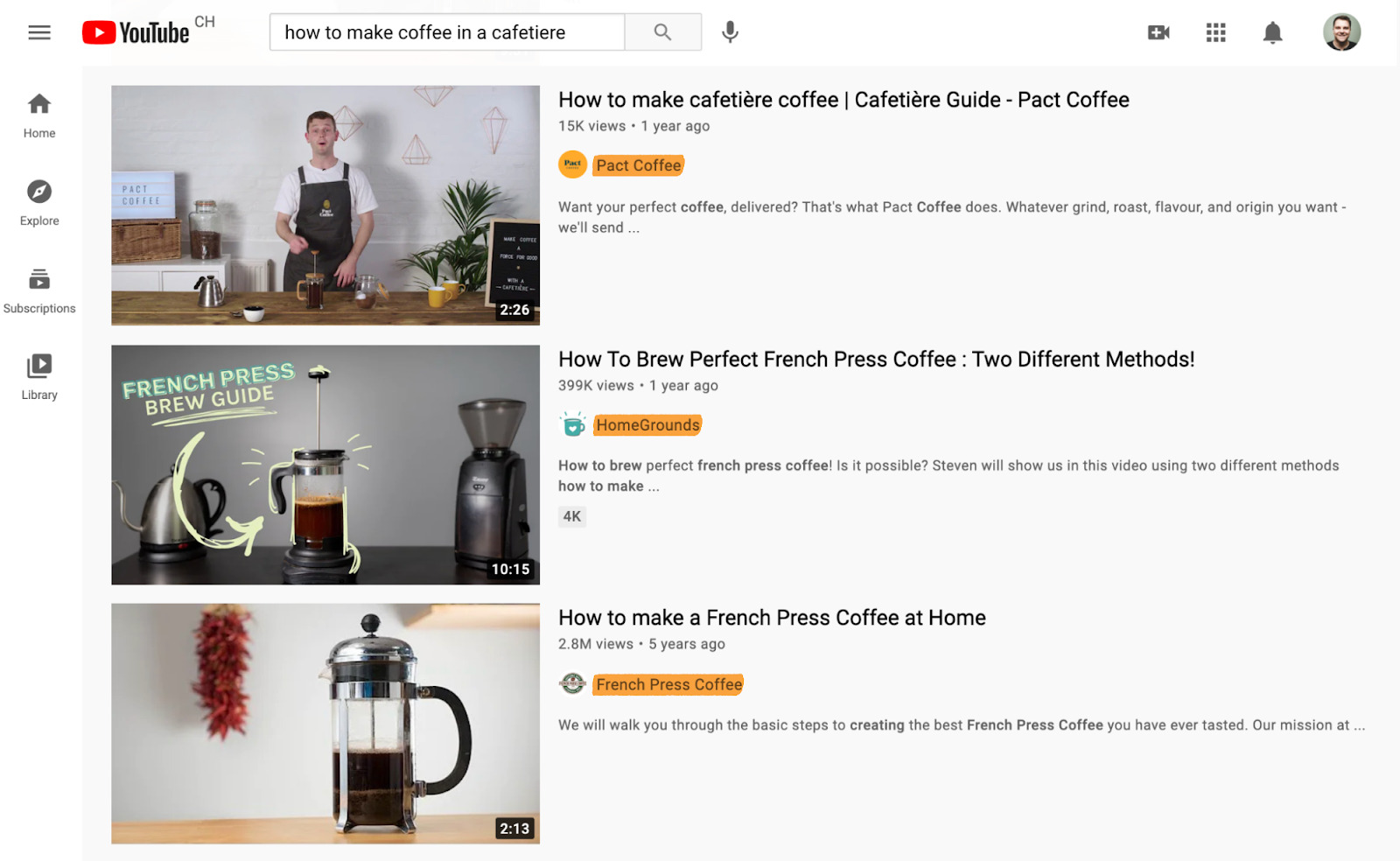 Next, look through their videos for topics you might have missed.
In our case, we see videos related to:
moka pot
Aeropress
DIY whipped cream
baratza encore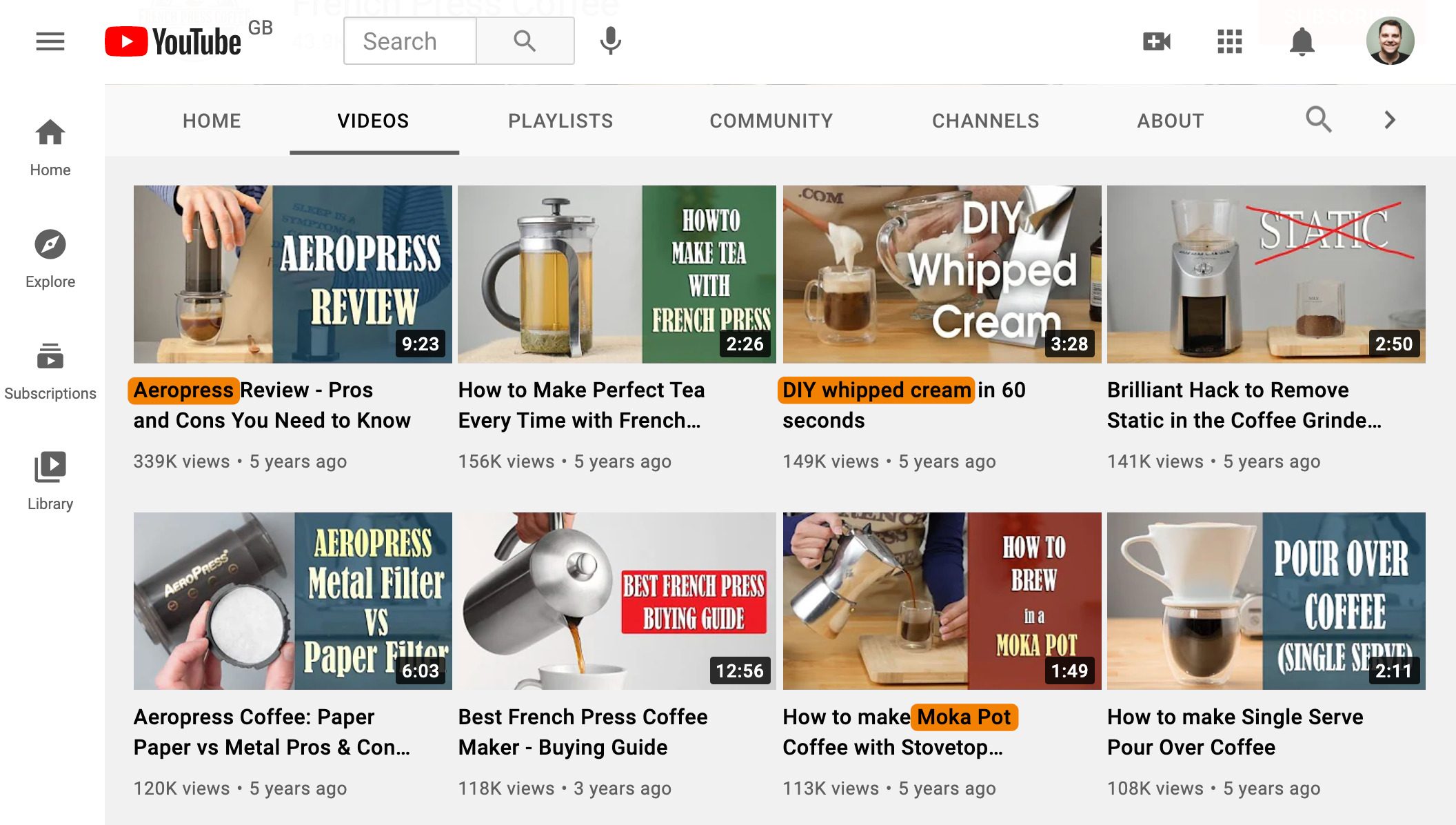 Now we can use these as 'seed' keywords in a YouTube keyword research tool to find even more topics people are searching for.

If you're creating content for other channels like social media or email…
… that's a different ball game. People on these platforms have already subscribed to your content, so you don't necessarily need to publish stuff they're searching for. You just need to publish stuff they'll find interesting.
Sidenote.
This is also kind of true for YouTube as you'll often attract video views from the "suggested" recommendations in the sidebar.
Here's are a few ways to do that:
Check your analytics. Most email marketing tools tell you which emails got the most engagement in terms of opens and clicks, and most social media platforms tell you which are your best-forming posts. Use this data to better understand your audience.
Check customer feedback. Look for common queries in customer support tickets.
Check internal site searches. Look at what your visitors are searching for on your site using Google Analytics.
Ask or survey your customers. Nobody knows what kind of content your customers want to see better than your customers.
You can also use keyword research to find ideas even if you're not creating content for a search-focused channel. After all, if lots of people are searching for something, it's clear that lots of people are interested in it. Such topics will often do well on non-search-focused channels like social media and email too.
2. Pick a content type and format
Assuming that you've picked a topic from your list of ideas, the next step is to decide on the type and format of content you're going to create.
Content type
If you're creating content for YouTube, the content type is already decided for you: video. It's the same story for email and social media: you'll be writing some kind of email or social media post.
But if you're creating content for your website, you have a few different options, including:
Blog post
Product page
Landing page
Interactive tool
Wiki/help article
The best content type for the job will depend on the topic and purpose of your content.
For example, if we wanted to share some SEO tips, a blog post would be the best content type because its purpose is to increase brand awareness and educate potential customers. It wouldn't make sense as a landing page or interactive tool, and there's no point hiding it away in a wiki that's intended for customers.
If we wanted to create content about how Ahrefs compares to the competition, a landing page is arguably the best format. The purpose of this content isn't really to increase brand awareness; it's to nurture interest and entice the purchase.
If we wanted to create content explaining how to use an individual feature in Ahrefs, we'd likely create a wiki article because the content's purpose is to retain customers and brand loyalty.
If the most appropriate type of content isn't immediately obvious to you from the keyword, open an incognito window, search for your keyword and look for the dominant type of content in the SERP.
If we do this for "SEO tips," we can tell from the titles, URLs, and descriptions that the results are all blog posts: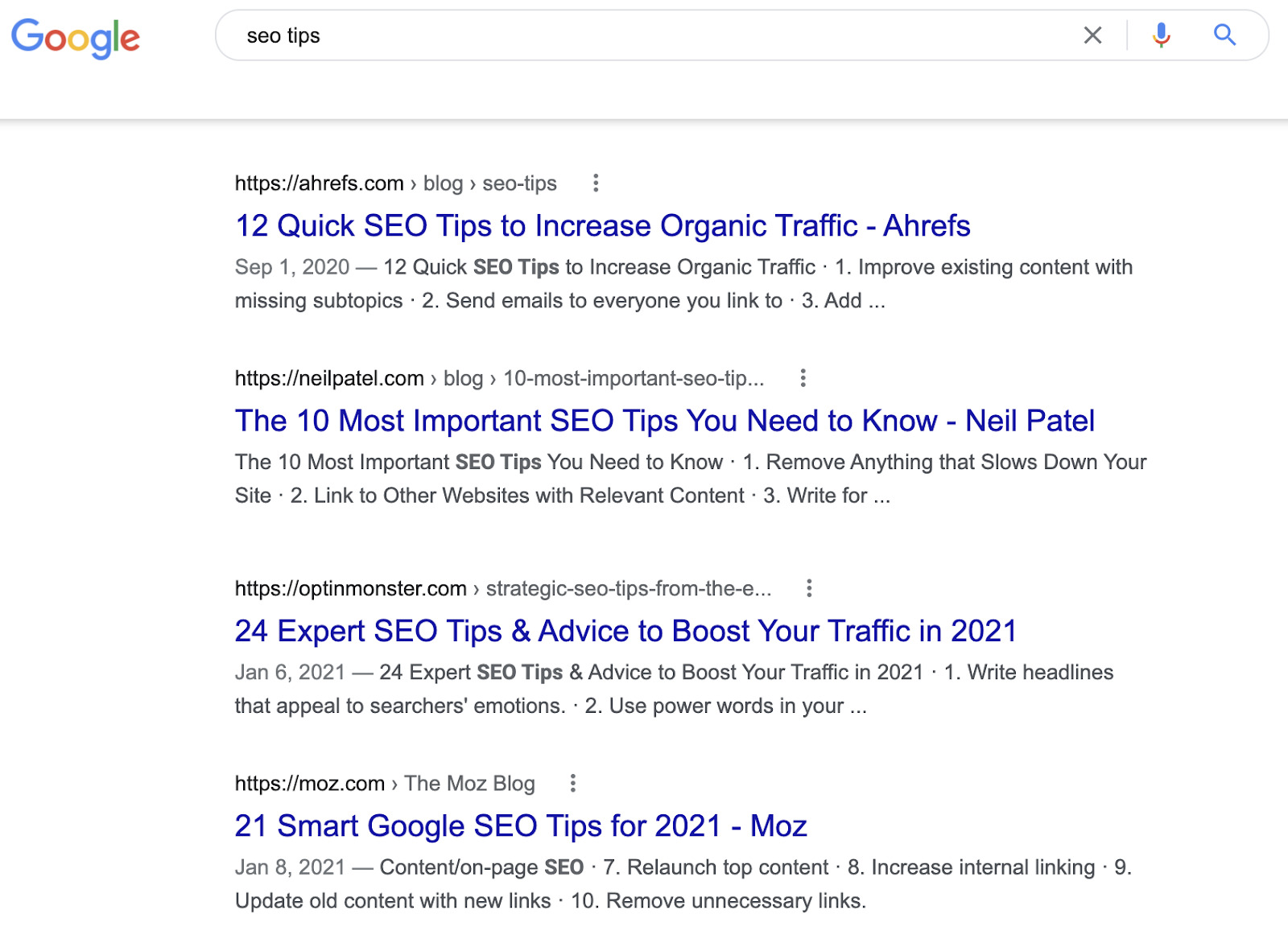 If we do this for "keyword rank tracker," the results are mostly landing pages with interactive tools: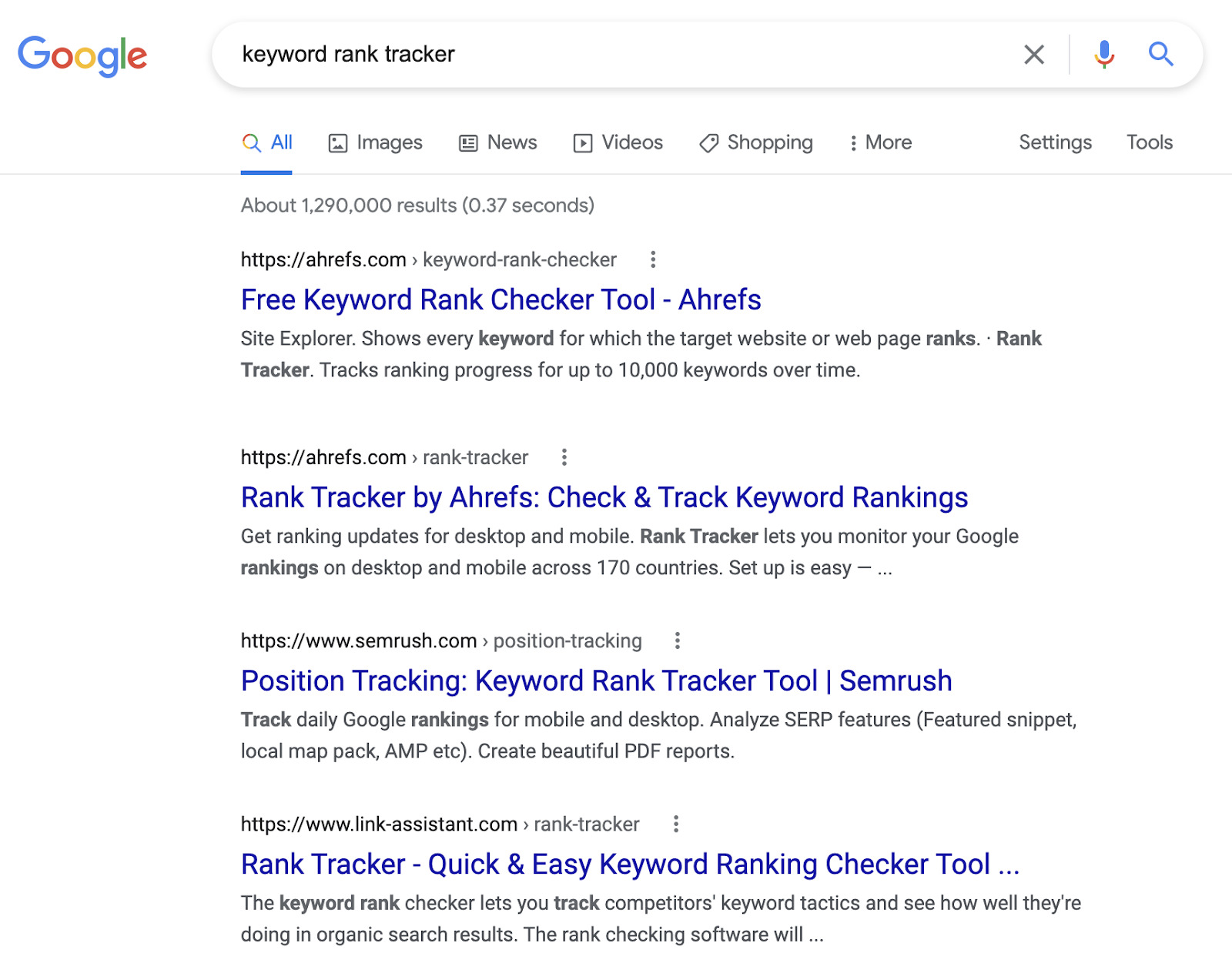 PRO TIP
Use Ahrefs SEO Toolbar to simulate a search in the country and language that you're targeting for free.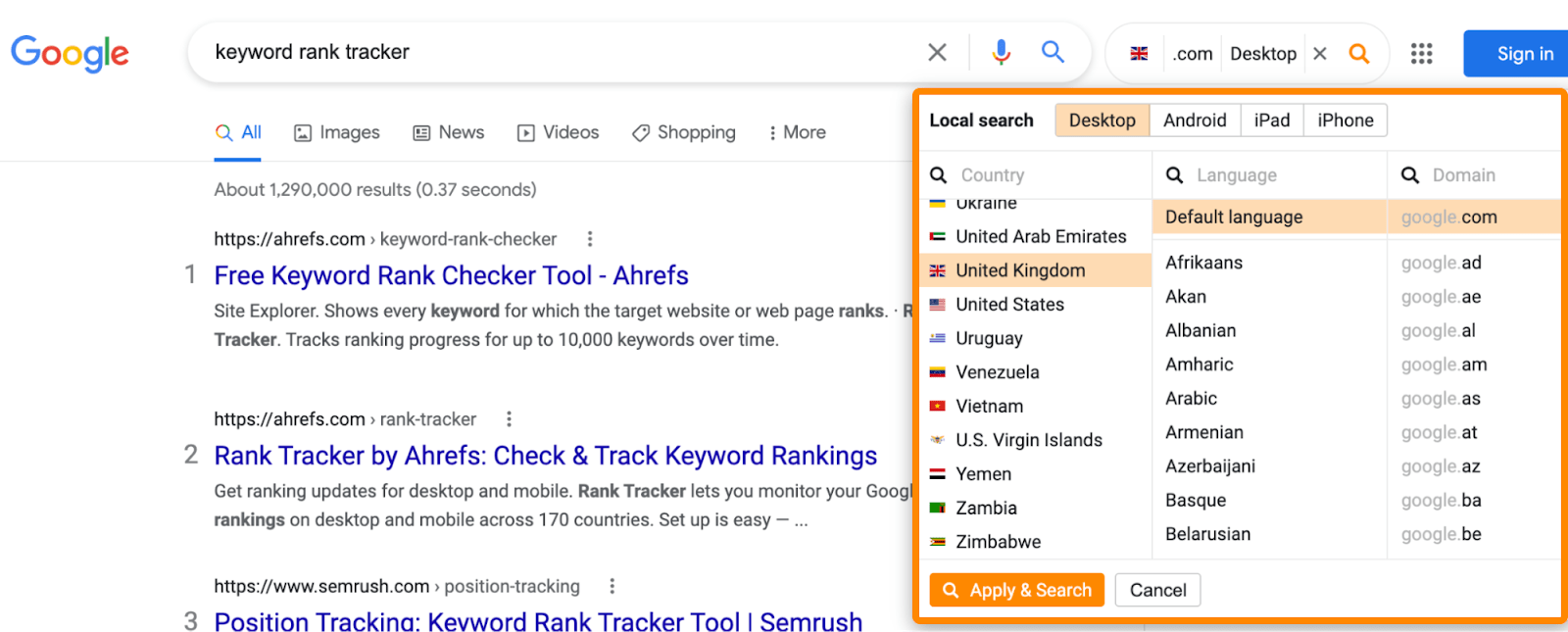 Content format
Even if your chosen channel limits the type of content you can create, you usually have a few options when it comes to content format, including:
How-to
Tutorial
Guide
News/update
Brand story
Poll
Review
If you're creating content for social media or email, there's no hard and fast rule for the best content format. Just choose the one that seems most appropriate for the topic.
If you're creating content for your website or YouTube, the search results can help you to understand what format might work best.
For example, if we search Google for "guest blogging", we see that all of the top-ranking blog posts are guides: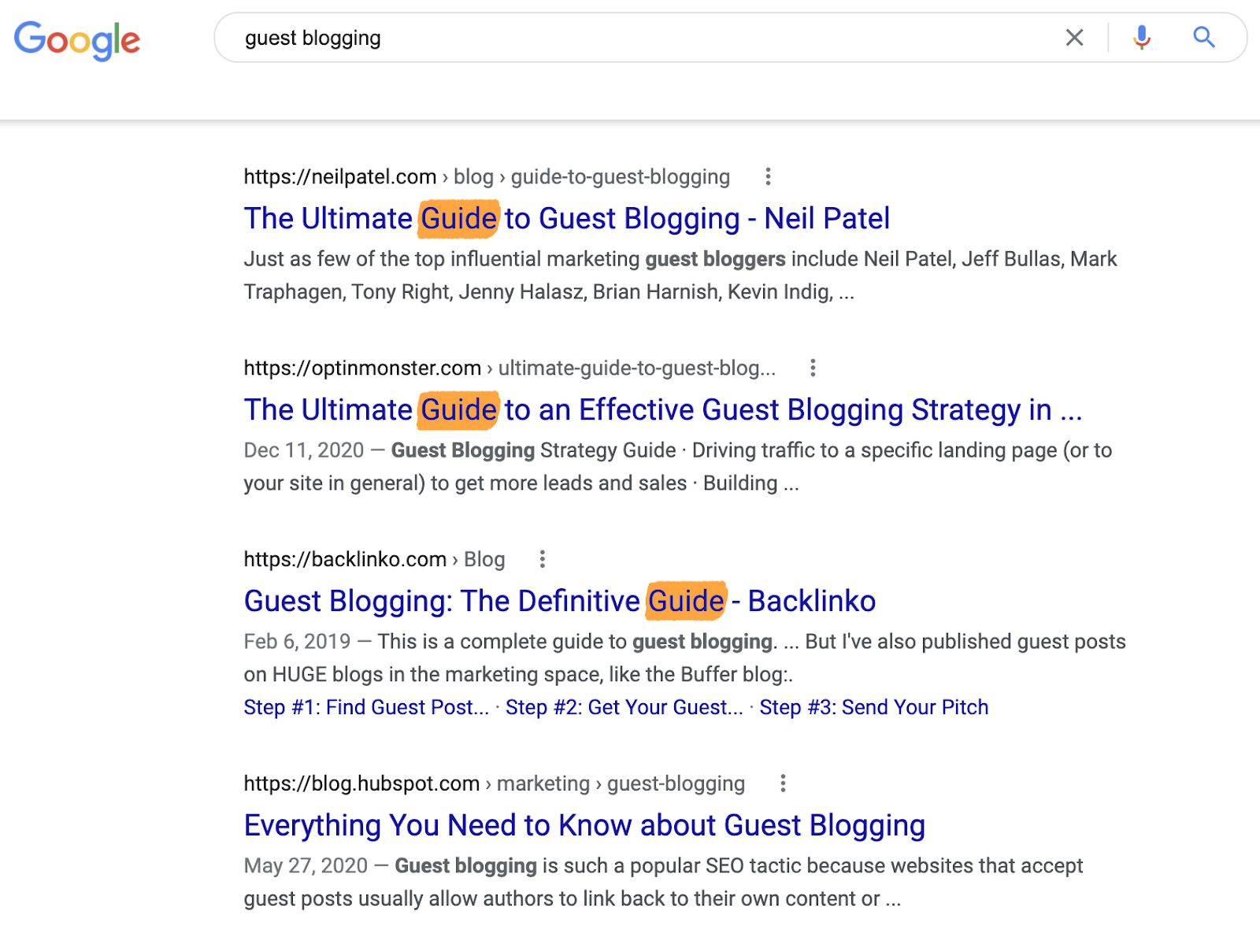 If we do the same thing in YouTube, they're all how-tos and listicles: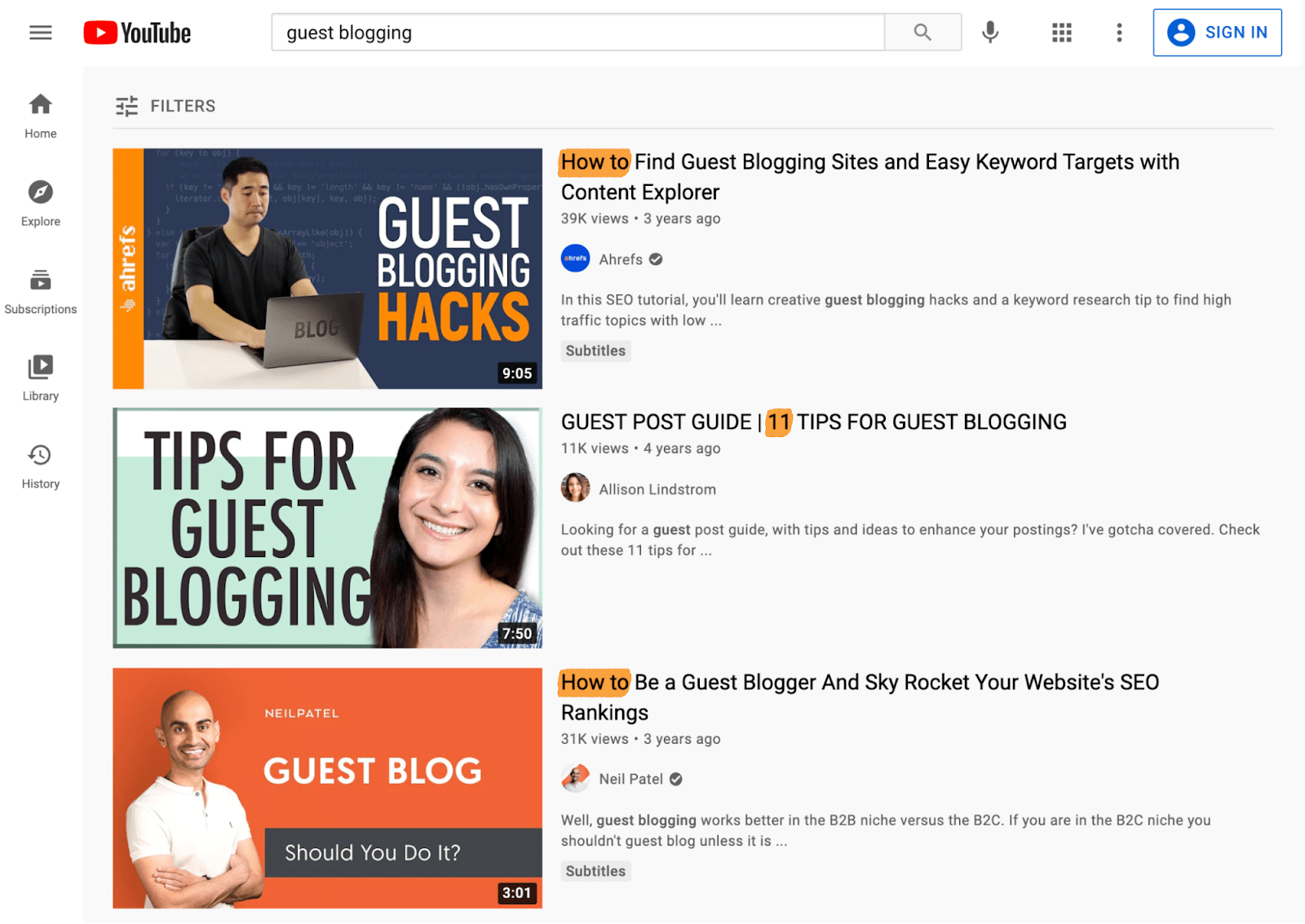 3. Plan, create and publish
The process for creating your content is essentially the same regardless of its intended channel, type, and format.
Plan
Create
Publish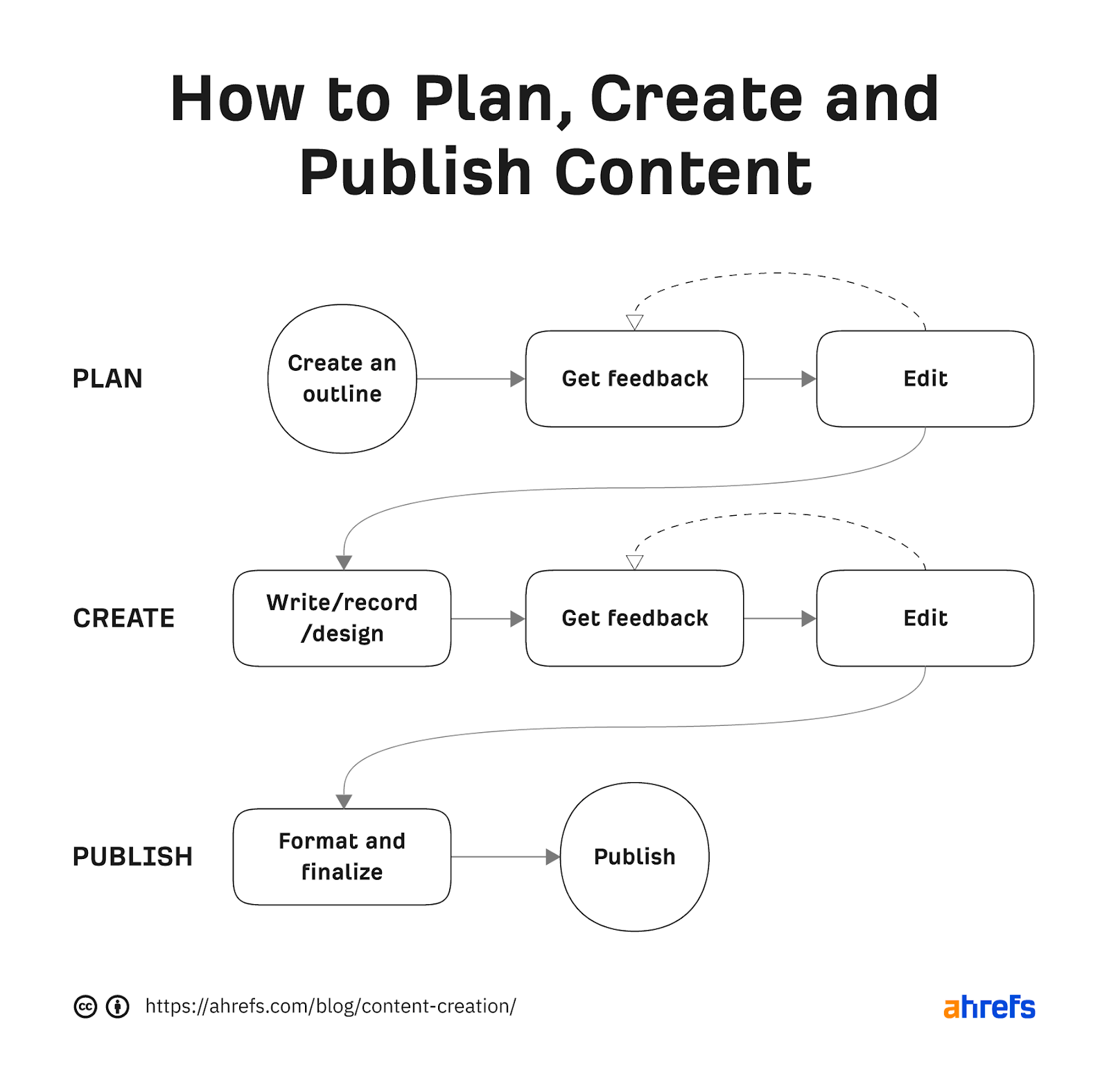 Let's take a deeper look at each part of the process:
Planning
Planning starts with creating an outline. If you're creating short posts for social media, this might not strictly be necessary. But it's undoubtedly the best approach for more complex types of content like blog posts and videos.
This is how we start nearly every post and video we publish.
For example, here's my outline for this very article:
How did I decide what to include?
As the purpose of this post is to rank in organic search, my starting point was to analyze relevant top-ranking pages for common subtopics.
To do this, I plugged a few top-ranking guides into Ahrefs' Content Gap tool and set the number of intersections to the maximum to see the keywords that all of these pages ranked for. This revealed a couple of pretty obvious subtopics to include: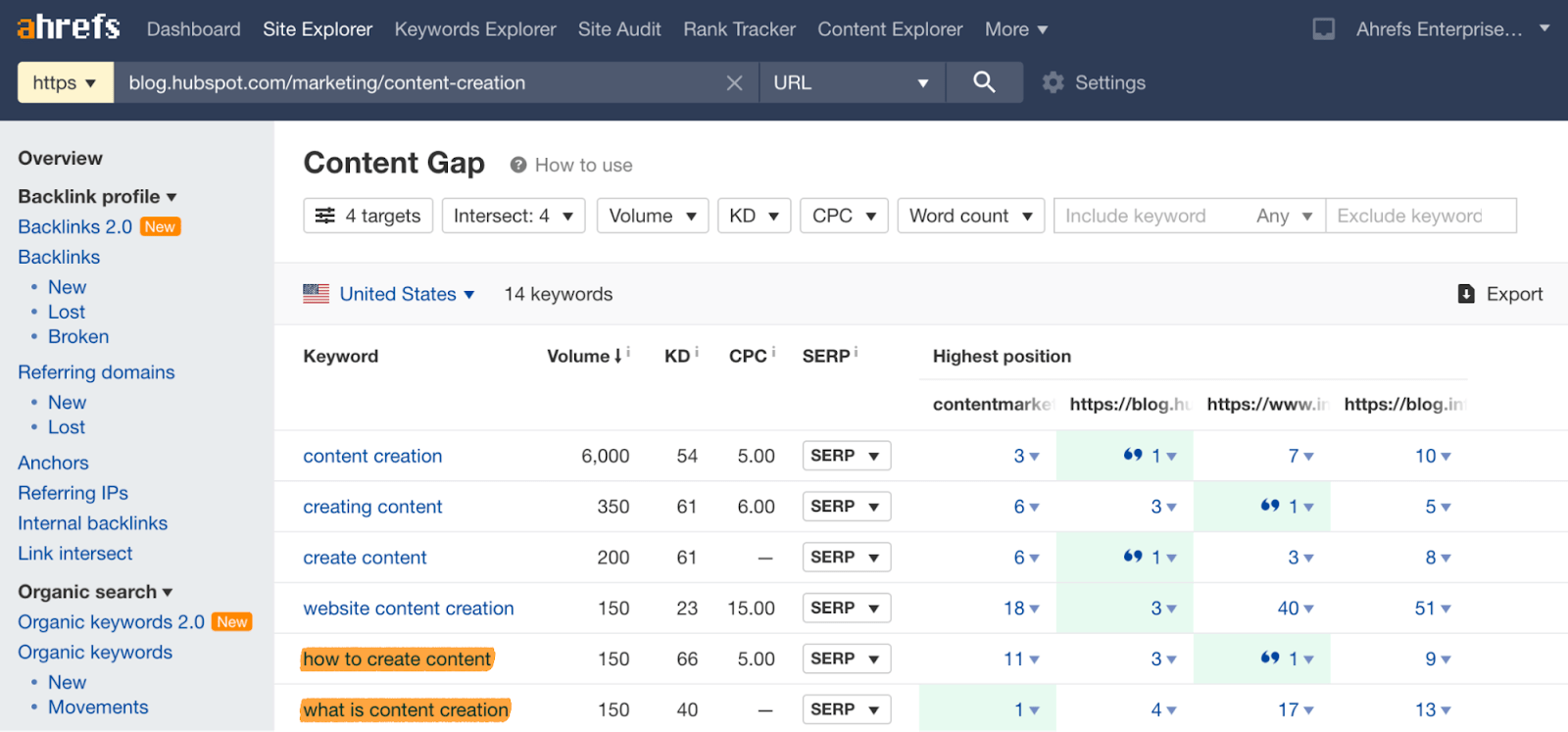 I also used Ahrefs SEO Toolbar's free on-page SEO report to check the subheadings in top-ranking posts for common subtopics. This revealed that most of the posts talked about why content is important, so I added that to my outline.
However, I didn't only take inspiration from top-ranking posts. I also added a section on scaling content (see below). None of the top-ranking posts talk about this, but I know from experience that many content creators face this problem. I also felt I could share some valuable insights to differentiate our post from everything else out there.
Remember, there's rarely much point in creating a carbon copy of the content that's already out there. If you want people to remember your content, you need to go the extra mile.
Creating
With your outline nailed, it's time to put your head down and flesh out your content.
We've shared tips and processes for doing this efficiently in a bunch of posts, but here are a few tips to get you started:
Just write. It's easy to procrastinate and stare at a blank page for hours. I've done it a million times. Combat this by forcing yourself to write without editing. Even if you think what you're writing is dumb, don't stop. Just keep writing.
Use a proven intro formula. Your introduction is arguably the most important part of your content but also the hardest. Combat this by using a proven introduction formula like the PAS formula.
Use the inverted pyramid method. Most people bury important information under 'nice to know' fluff. Don't do this. Make it your mission to put the 'need to know' before the 'nice to know.' Everyone consuming your content will thank you.
Check out the resources below if you want to learn more:
Once you've got your draft together, I would strongly encourage you to ask a colleague or friend for feedback. We do this with all of our content. I give Sam feedback on his video scripts, he gives feedback on my blog posts, and I give feedback to our other writers.
Here's an example from this very post:

Don't get me wrong, this can sometimes be a bit soul-destroying, but it will almost certainly lead to better content.
Publish
Finally—the easy part. Format, finalize, and upload your content for your chosen channel, and you're off to the races. That said, there are often more moving parts to this process than you might imagine, which brings me neatly onto…
Everything above is enough to get your content creation efforts off the ground. But there's only so much you can do on your own. If you truly want to scale your content efforts, you'll need to involve other people and systemize your processes.
In this section, we'll cover five ways to do that based on our experience:
Put someone in charge of each channel
Creating and managing content for every marketing channel on your own is an impossible task. You need to delegate that responsibility.
That's how we do things at Ahrefs. We create content for two main channels: the blog and YouTube. I'm in charge of the blog, and Sam's in charge of YouTube.
Here's are a few key responsibilities for each channel coordinator:
Plan and coordinating content. What gets published and when? Which tasks need to be completed before we can go live with the content?
Hire content creators. Scaling content means hiring more content creators. These might be bloggers, scriptwriters, or something else. Either way, someone has to find and vet these people. (By the way, we're hiring)
Create content and style guidelines. Everyone needs to be on the same page if you're going to scale and maintain a consistent brand voice. Content guidelines help with this. (We're still working on ours.)
Of course, it's possible to put one person in charge of multiple channels, but it's rarely efficient. If you spread people too thin, they'll just produce lots of mediocre content for many channels instead of exceptional content for one channel.
Break the content creation process down into bite-sized tasks
There are lots of moving parts when creating content. You can't just hammer out a blog post and have it ready for publishing. You need images, formatting, editing, and probably a bunch of other things too.
Just as it's inefficient for one person to take the reins of multiple channels, it's inefficient for one person to do all this stuff.
How can you solve this?
Break the process down into smaller tasks and assign each one to the best person for the job.
Here's what our content creation process looks like for the blog: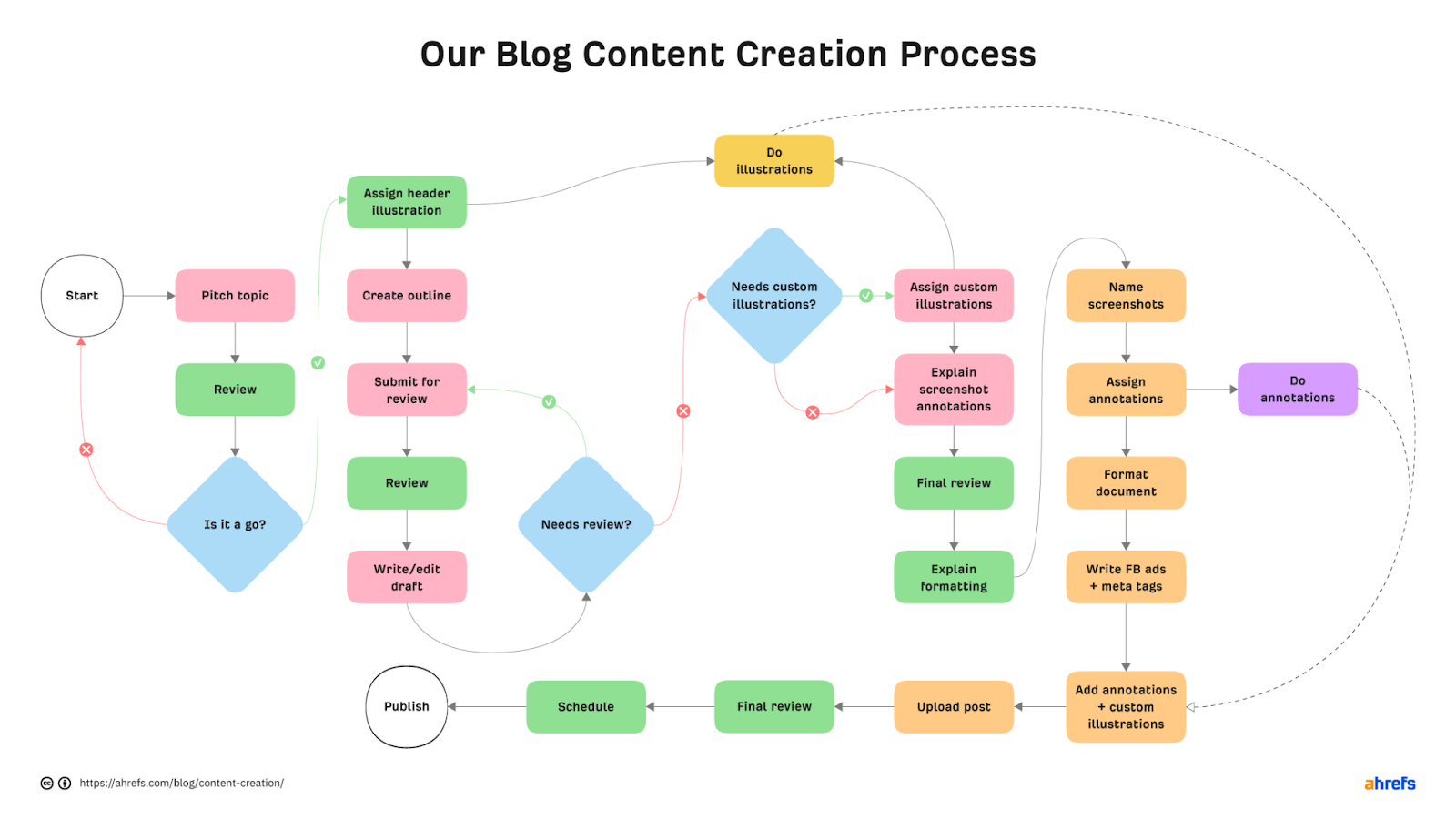 Each color represents a different person on our team.
Create SOPs
SOPs (Standard Operating Procedures) are documents explaining how to do specific tasks within your organization. You should create them for as many of the bite-sized tasks from the previous step as possible.
For example, here's our image naming SOP for blog posts:
It's nothing special, but having everything documented like this allows us to delegate each part of the content creation process more effectively. It also makes life easier when onboarding new employees, as our collection of SOPs effectively serves as a training library.
We have SOPs for our video creation process, although Sam created these as he's in charge of that channel.
Hire knowledgeable writers
Single-handedly creating every piece of content is virtually impossible, so you'll need to hire writers if you want to scale. But this is arguably where many people make a crucial mistake because they look for writers over subject matter experts.
While it's true that you need to hire good writers, they're unlikely to create any truly valuable content without first-hand knowledge and experience.
This is why we never explicitly advertise for writers; we look for "educators":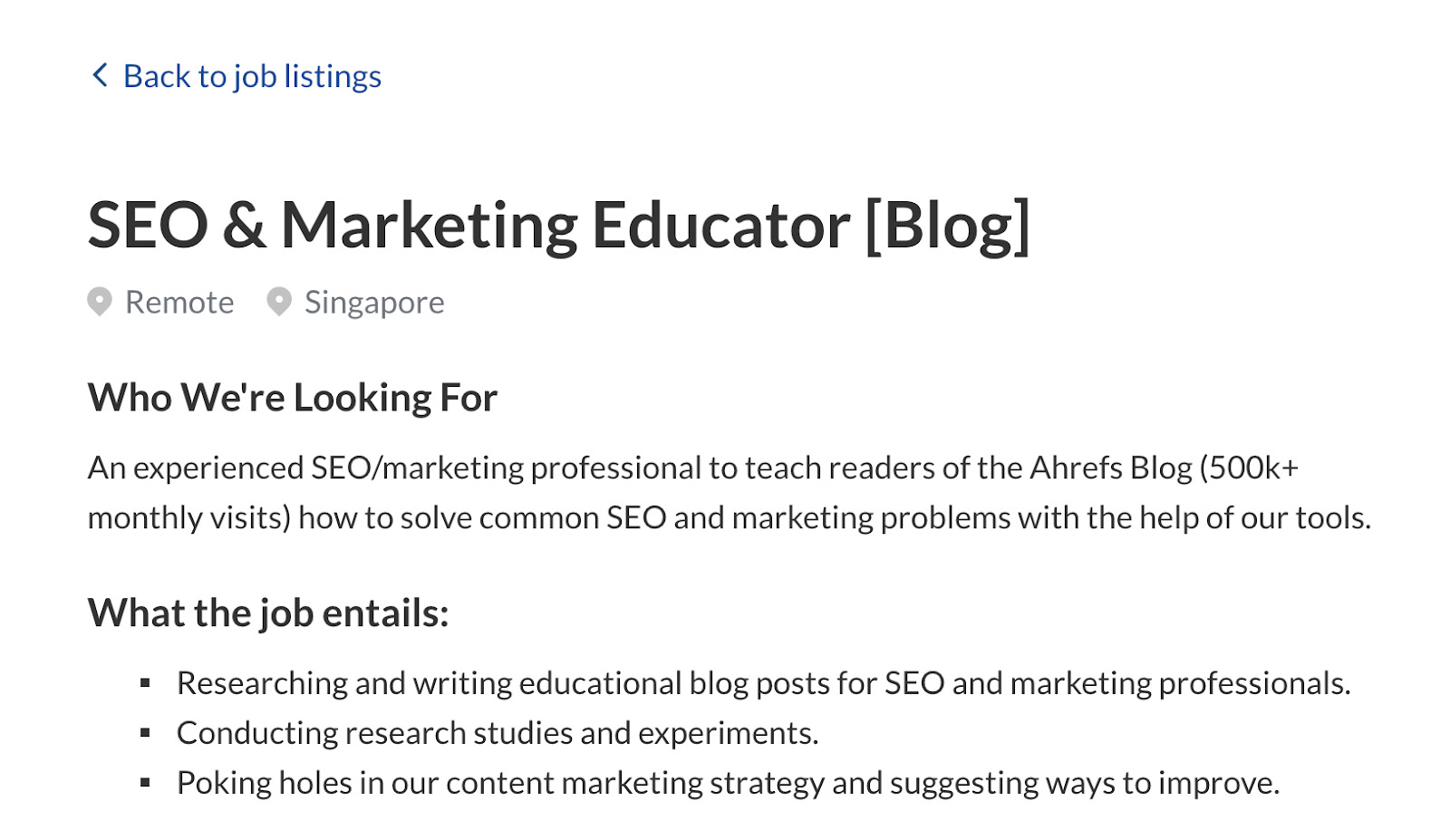 Our thinking is that it's easier to teach someone how to write better than it is to teach them how to do SEO. We also want our employees to share their own unique insights and experiences, so hiring writers just doesn't cut it for us.
However, not everyone does things this way. Plenty of brands have success scaling their content using more of a top-down approach. This is where a content strategist plans each piece, creates an outline, and sends it to a writer to turn into a fully-fledged piece.
The best approach isn't set in stone, it depends on many things like the complexity of your topics, brand voice, and logistics.
Use a content calendar
Consistency is the name of the game with content creation, so it's key to plan ahead and keep track of everything in one place.
This is where an editorial calendar comes in handy.
Here's what ours looks like for the blog: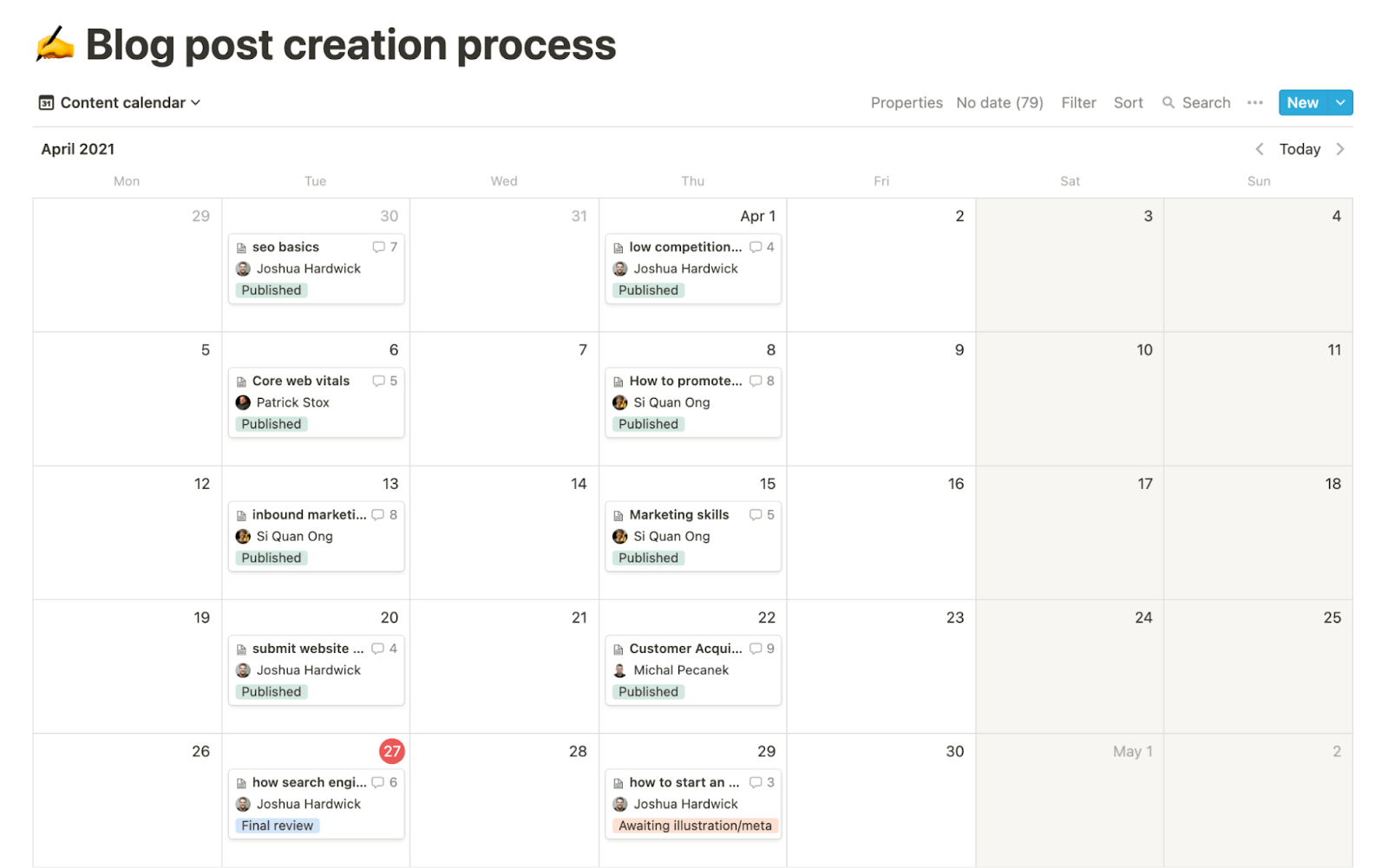 Everyone is different, but we typically plan content 1-2 months ahead.
Your content calendar should also list key details for each content piece. Here are a few of the things we track:
Status
Assignee
Stage assignee
Keyword
Publish date
We also have a similar but separate content calendar for our YouTube channel.
Recommended reading: How to Create a Content Calendar That Works For You
Repurpose content for multiple channels
Creating content is a time-consuming process, so it makes sense to get as much mileage as you can out of each piece by repurposing for other channels.
For example, we repurposed our blog post about long-tail keywords for YouTube:
https://www.youtube.com/watch?v=a6sqyOh0Njc
We also used created tweets from some of the key points in the post:
Long-tail keywords are terms with low search volumes. They get their name because of where they end up on the search demand curve.

Despite what many people think, it has nothing to do with how long a keyword is, how specific it is, or how well it's likely to convert. pic.twitter.com/ARPPwT6Zed

— Ahrefs (@ahrefs) March 23, 2021
Keep in mind that when we talk about repurposing content, we're not saying to republish the same piece verbatim on other channels. If you compare our post and video on long-tail keywords, you'll notice that they're far from identical. That's because what works well in one format won't always work well in another, so you should always repurpose rather than republish.
Final thoughts
Successfully scaling the production of high-quality content can have a hugely positive impact on your business. We're living proof of that, as are many other businesses that took a similar approach to content like Buffer and Wise.
But remember: don't fall into the trap of creating content without a solid content strategy. That's a surefire way to waste time, money, and resources.
Got questions? Ping me on Twitter.