A content calendar (or "editorial calendar") is a system used by content and marketing practitioners to organize, manage and schedule content production. On a macro level, a content calendar gives a top-level overview of everything that will be published over a specific timeframe.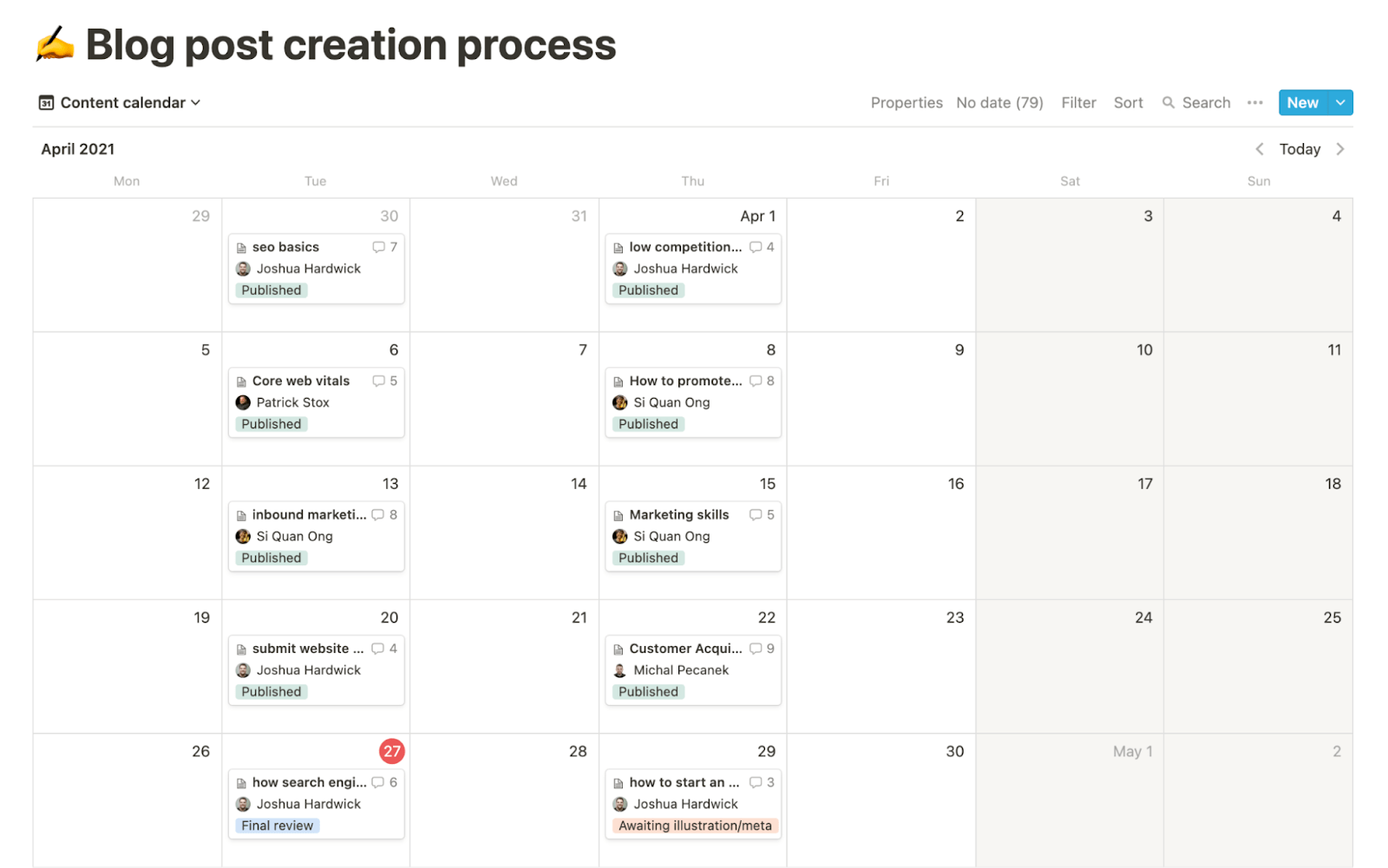 On a micro level, each calendar entry also lists information about an individual content piece, such as:
Topic
Author
Contributors
Status
Due date
Format
Channel
Like this: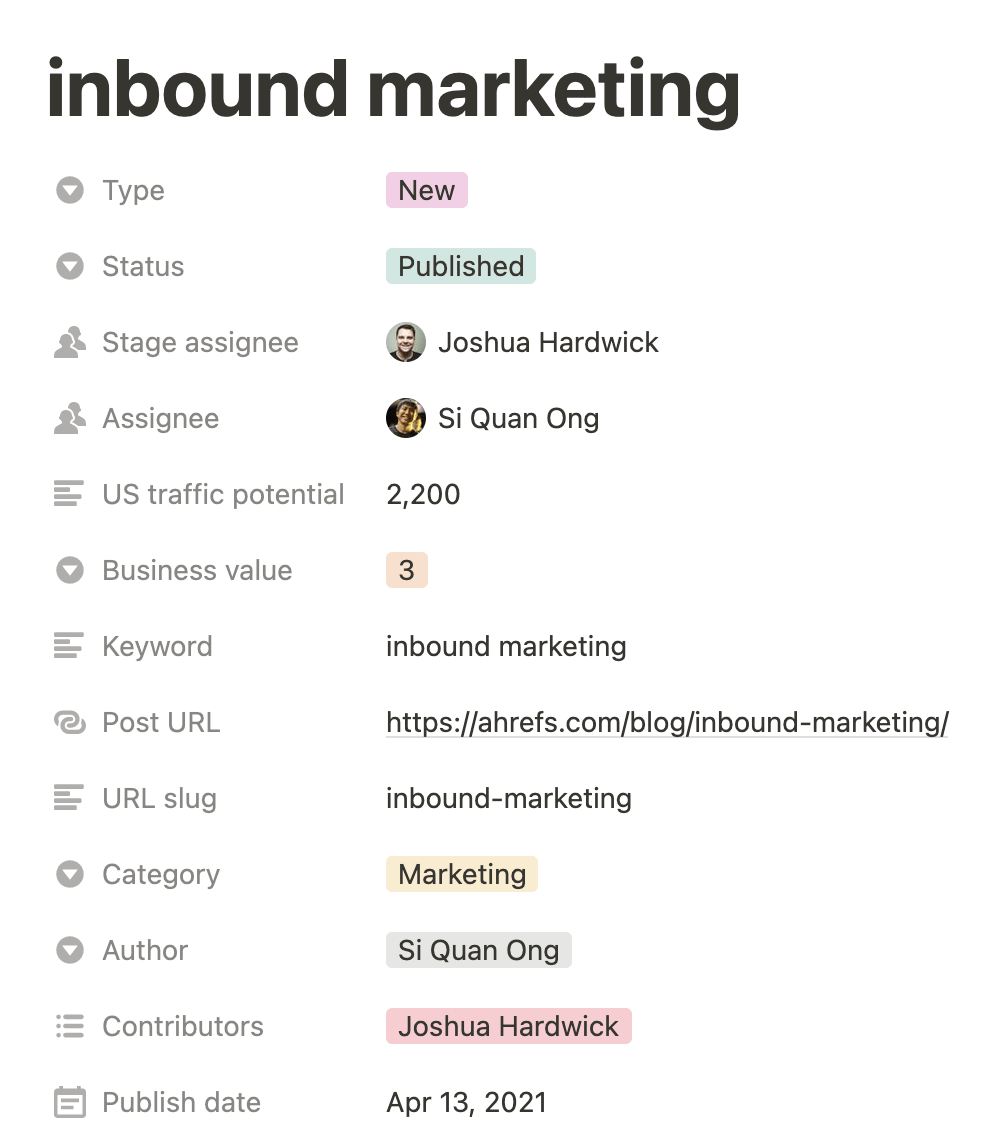 Unlike an ideas backlog, which lists all content opportunities and ideas, a content calendar usually includes only pieces that are already planned and/or being worked on.
Here's what we'll cover in this guide:
A content calendar is a crucial tool for anyone involved in content production, whether you're a one-person operation or part of a large team. It helps you:
1. Plan your work
The most practical reason to have a content calendar is that it helps plan content production weeks and months in advance. A calendar ensures that what you're planning is doable given the time and resources you have available; it also allows you to foresee and account for ad-hoc content initiatives (for example, if your company is about to launch a new product), so you can organize work ahead of time.
2. Align teams and contributors
There are a lot of moving parts involved in content creation, and a content calendar keeps everyone on the same page. You might need to work with an illustrator for a blog post, tell your social media team to promote new content, and manage submissions from freelancers and guest authors: a content calendar helps you break down each piece into its individual components and assign them to specific people with clear due dates.

For example, for each blog post we publish, we need to assign and keep track of the following:
header illustration
custom images (e.g, graphs)
screenshot annotations
We do that on our content calendar:
3. Make your content process repeatable
A good content calendar isn't just about dates on a page: it's a system for creating a repeatable process. Once you've planned out the steps required to publish a specific piece of content, you can simply repeat them with every new piece instead of having to start from scratch; this not only saves you time, but makes it easier to estimate how long each task might take and make sure no step is skipped.
4. Manage content in one place
Because it stores all available information about each content piece in your pipeline, a calendar works as a single source of truth for your team. Aside from saving everybody time (e.g., you can direct your teammates to the calendar and avoid unnecessary emails or status update meetings), a calendar makes sure information is accessible at all times and doesn't just exist in a few people's heads. Plus, stakeholders like your boss or manager can quickly look at the calendar to see what you're working towards.
A content calendar is extremely useful for organizing your content marketing efforts, but a perfectly organized content calendar does not, by itself, guarantee that your content efforts will be successful. Before jumping into creating one, you need to invest some time clarifying exactly what kind of content will serve your goals in the first place.
Here's the process:
If you have your content marketing strategy nailed, skip straight to point 2; if not, keep reading.
1. Review your content strategy to identify priorities
What you put in your content calendar depends entirely on your content marketing strategy, which is a plan for consistently creating high-quality content designed to turn strangers into customers.
For example, the content strategy at Ahrefs is to publish educational content about the topics our target customers are searching for, rank in Google and YouTube, and grow organic traffic month after month. As a result, we don't just fill our content calendar with random keyword ideas, but follow a few specific steps first.
We use Ahrefs' Keywords Explorer to do keyword research and identify topics we'd like to cover:

We research the traffic potential of the topic in Keywords Explorer:

We prioritize topics based on their 'business potential.' We assign them a score from 0 to 3 depending on how easy it would be to talk about Ahrefs in a given piece:

We add the topics that will drive our keyword-driven, product-led strategy forward to a spreadsheet. It's only when someone starts actively working on a piece that we also add it to our calendar.
Your approach may be different, but the point remains: the most effective way to fill and maintain your content calendar is to have a clear strategy first and understand how each piece you create fits into it.
2. Set up your calendar
There are plenty of tools you can use to create your calendar, from basic spreadsheets to specialized content management software (and you'll see some examples below)—but the tool you choose is less important than deciding what information you want to put in it.
At its most basic, a content calendar only needs two fields: a title and a due date. You can add as many additional fields as you need to get each piece shipped. We have 19, including content type, category, and main keyword: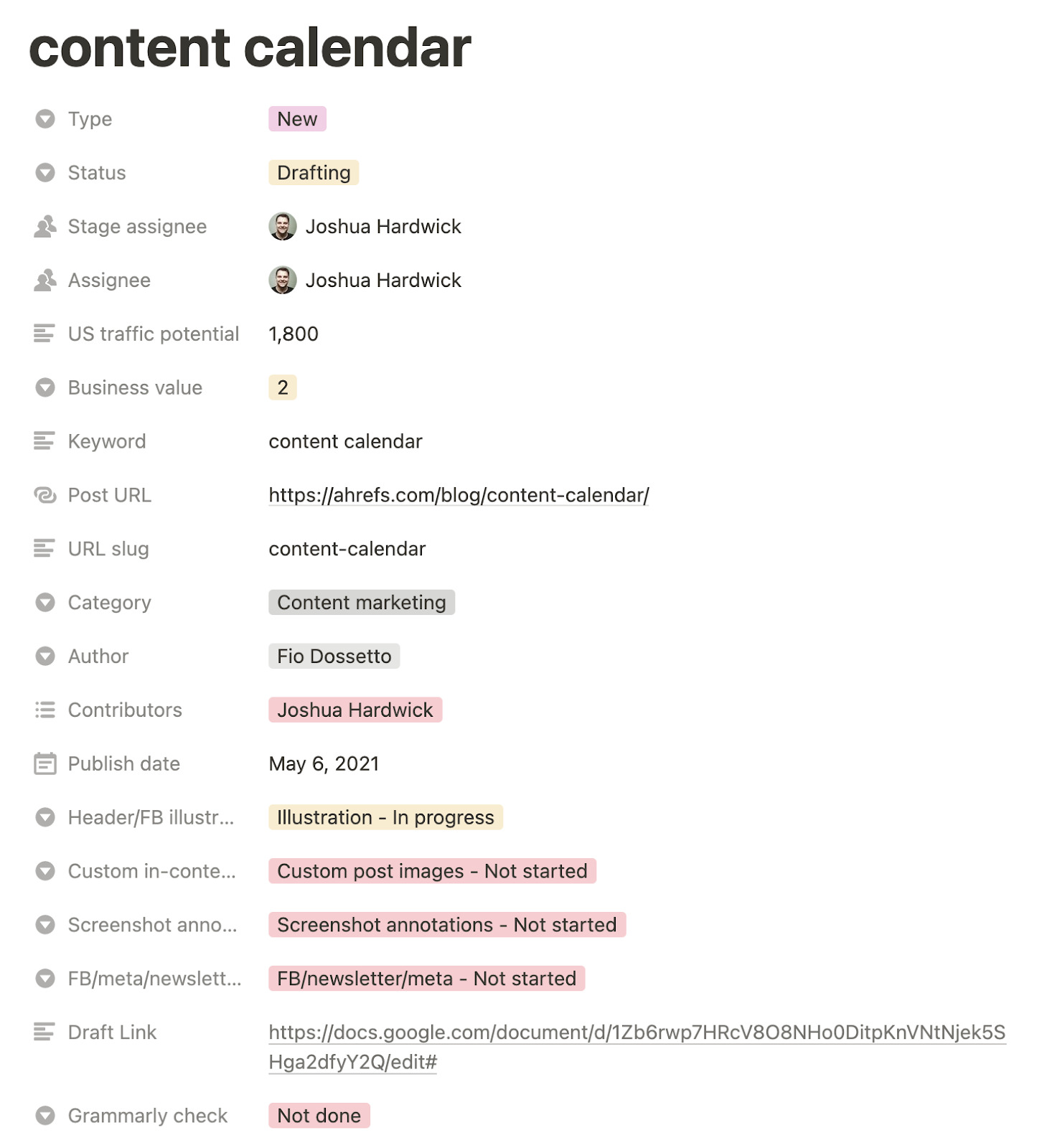 There's no rule about what your calendar should and should not include: focus on the information you and others on the team need the most for content production. Here are some ideas to get you thinking:
Stage of the funnel your piece belongs to
User persona you are writing for
Author and contributors
Goal
Status
3. Add content to the calendar
Once you have a structure in place, the next step is populating the calendar with your upcoming pieces, making sure that the cadence is aligned with your strategy: a social media-focused approach might require you to publish multiple times per day, whereas long-form educational content might happen just twice a month.
The goal is to have a comprehensive at-a-glance understanding of everything you and your team will be working on, so you should include:
All formats you are responsible for. For example, if you are working on both blog posts and newsletters, adding both formats helps you see task overlap and plan for capacity
Both new and old pieces. For example, if you are going to refresh or optimize existing content pieces, adding them to the calendar makes sure you are accounting for the time and resources it will take to get the job done
If you're publishing several types of content, you may find it useful to colour-code entries to make your calendar easier to scan.
4. Add relevant subtasks
Each piece you add to your calendar requires different steps (and maybe multiple people) to get completed, so it's useful to break down each entry into the individual tasks you'll need to complete.
To map out the steps, think of a content piece you've already published and list everything that happened prior to publication; then, use this information to plan all upcoming pieces.
For example, in my previous role at Hotjar, I normally followed the same 7 steps to publish a newsletter; for every newsletter issue I planned in my calendar, I simply duplicated the list of subtasks and assigned each to a specific team member with a due date: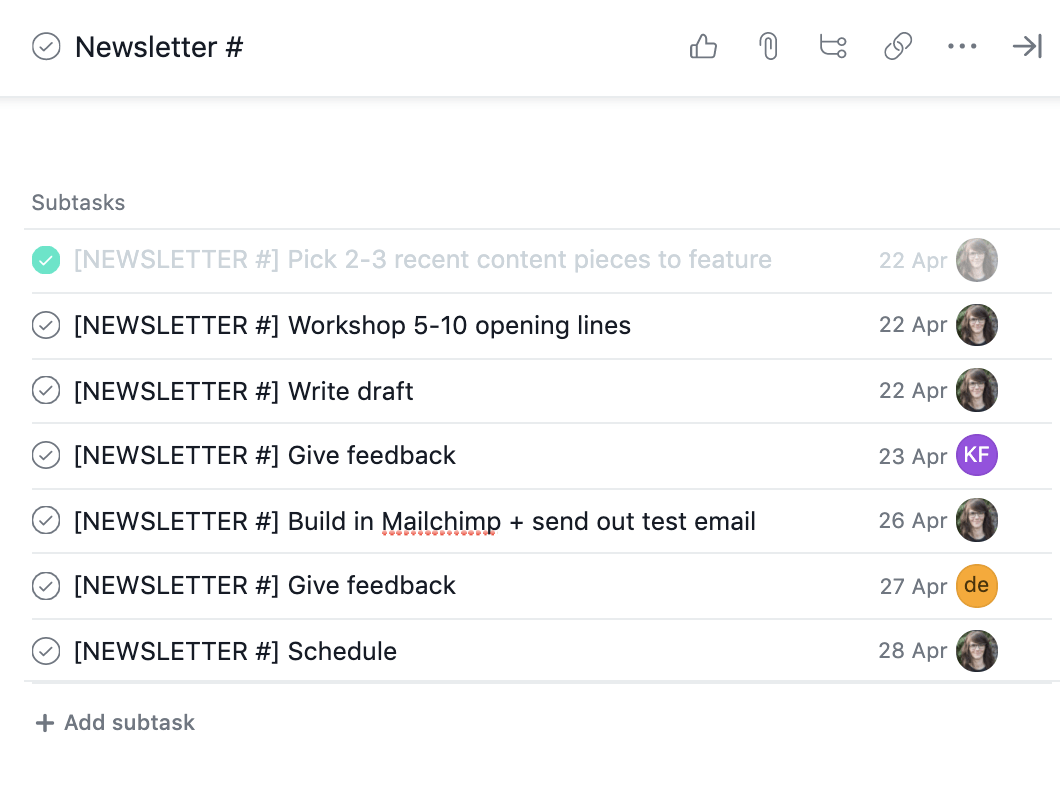 A basic calendar tool, like a spreadsheet, may not have enough space to list all of this information in one place, while specialized software (in my example, Asana) is designed to help you drill down into each individual sub-task. If you choose to keep your calendar simple, you can always list subtasks somewhere else and refer to them when needed.
Your content calendar should be unique to you and the environment you're working in, so you'll get the best results by building yours from scratch to suit your specific needs. That said, it's useful to get inspired by what other content pros are doing—so we asked a few marketers to share with us their calendars, which range from super-functional to very complex.
1. A functional spreadsheet for a team of one

This is the content calendar Hiba Amin at HyperContext uses for her content team of one. It's a simple and functional spreadsheet that covers eight main fields including publication date, title, content type, funnel stage, and audience/persona. You could use a variation on this calendar if you wanted to keep yours nice and straightforward while still having a clear overview of what's happening throughout the quarter.
2. A colour-coded social media calendar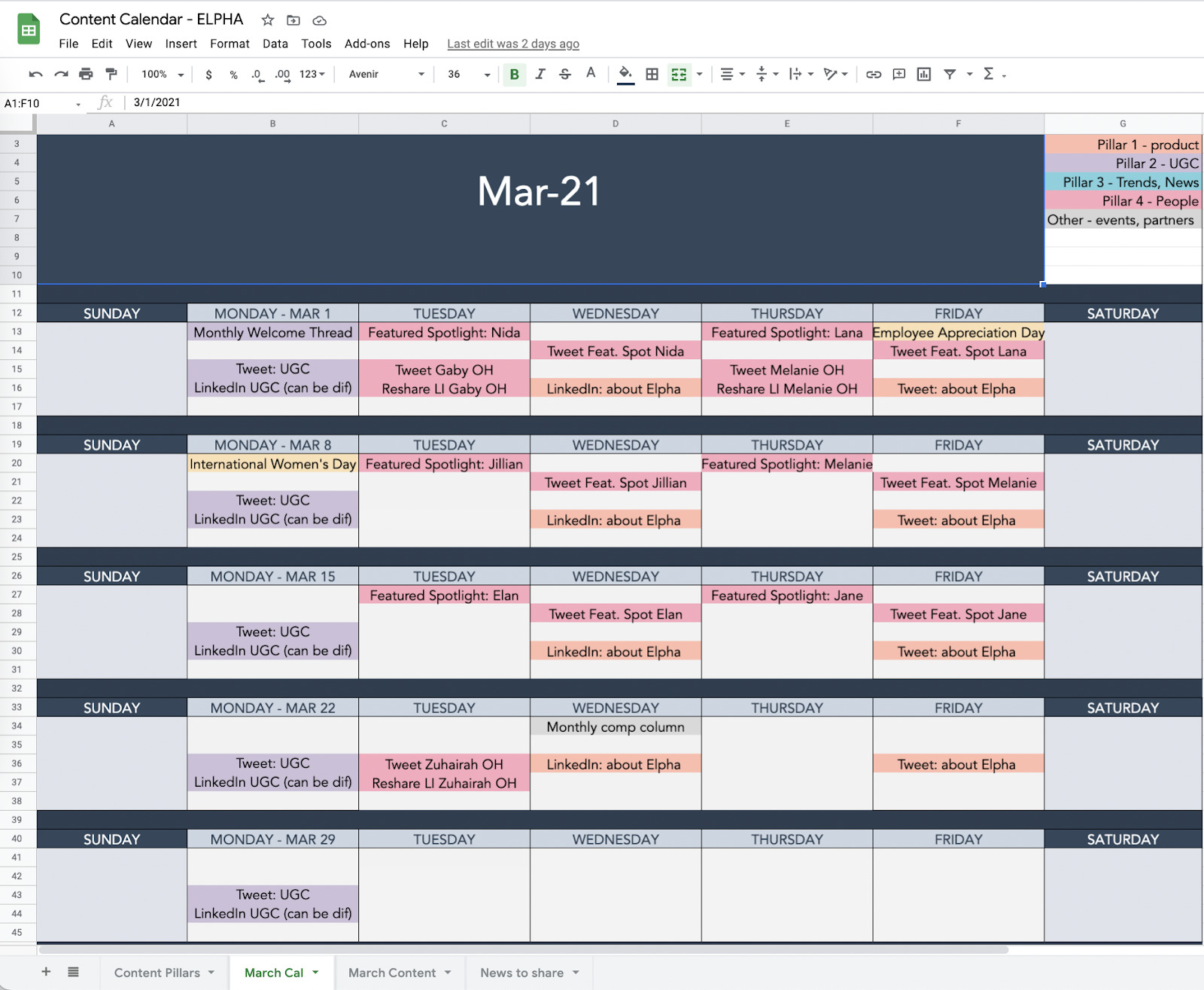 Lani Assaf uses this spreadsheet at Elpha to keep track of social media activity and additional content. The calendar uses a colour-coded system so every piece of content falls into one of four categories (listed as 'pillars' in the top right corner) and the team can see social media distribution at a glance. The calendar also accounts for holidays and important dates, e.g., Employee Appreciation Day on Friday March 5th.
3. A Kanban-style calendar in Trello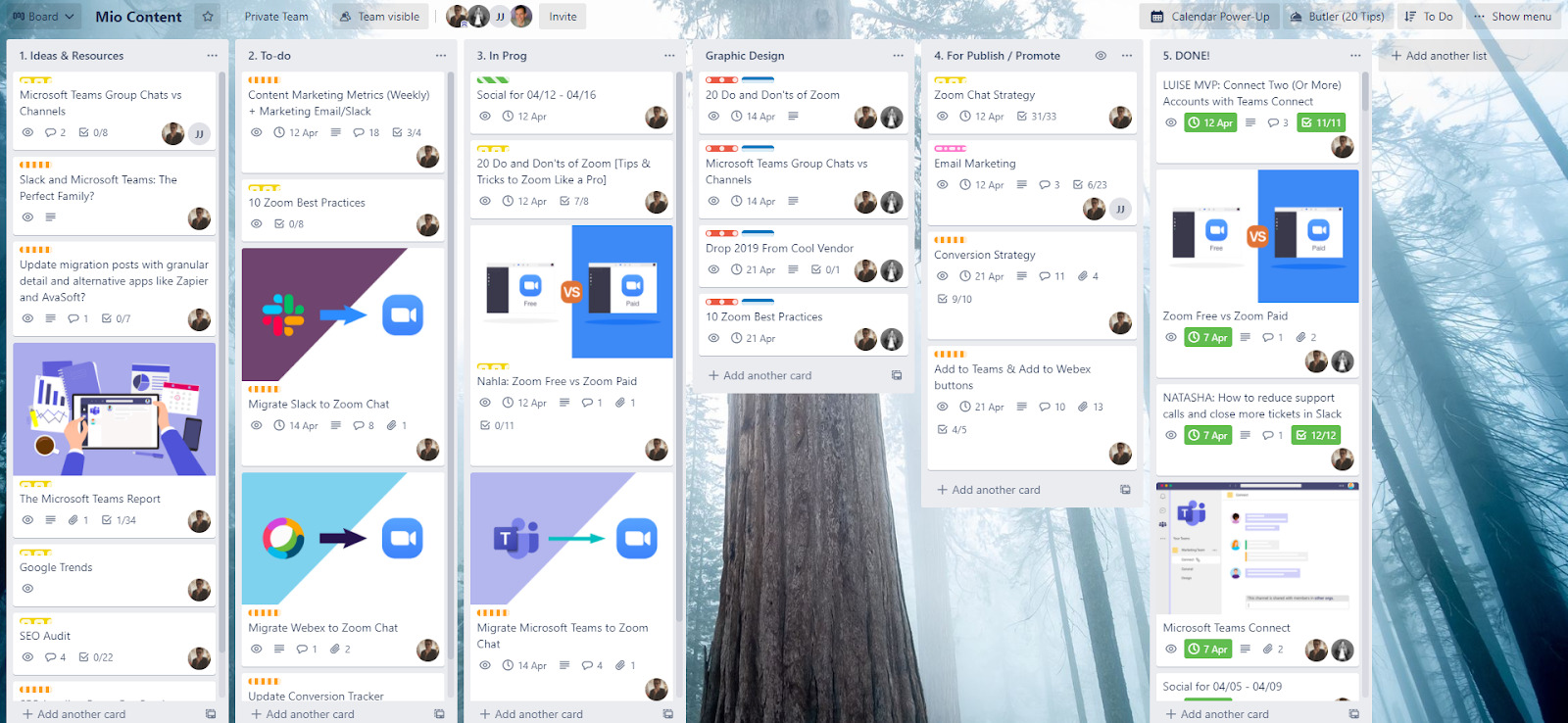 This Trello board is what Dom Kent at Mio checks multiple times a day to make sure all upcoming content pieces stay on track. With a Kanban-style calendar, each card represents a content piece and it gets moved across the board until it reaches the rightmost 'Done' column. This simple system works well if you're part of a small team and need visual clarity on each stage of the process; there's also room to accommodate unplanned content ideas (see column #1 on the left).
4. A Kanban-style calendar in Todoist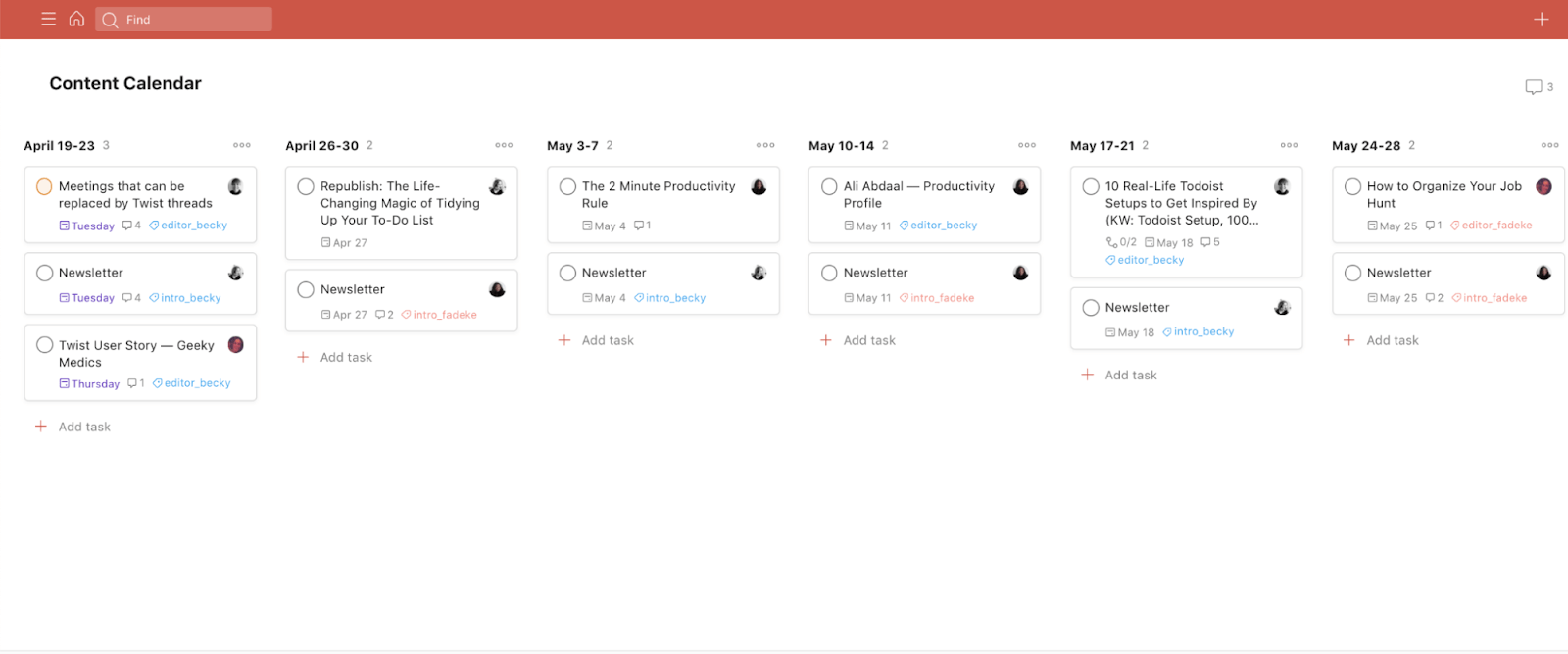 Fadeke Adegbuyi at Doist also uses a Kanban board in Todoist to break down her team's calendar into weekly sprints. Everyone on the team has access to the board and can see the blog posts and newsletters in the posting pipeline; they often use comments on an individual card to provide helpful resources or inspiration to the writer assigned to a piece. You could use a similar board-like approach if you wanted to have an overview of what is happening on any given week and check that everyone is on track.
5. An Asana calendar with tags and comments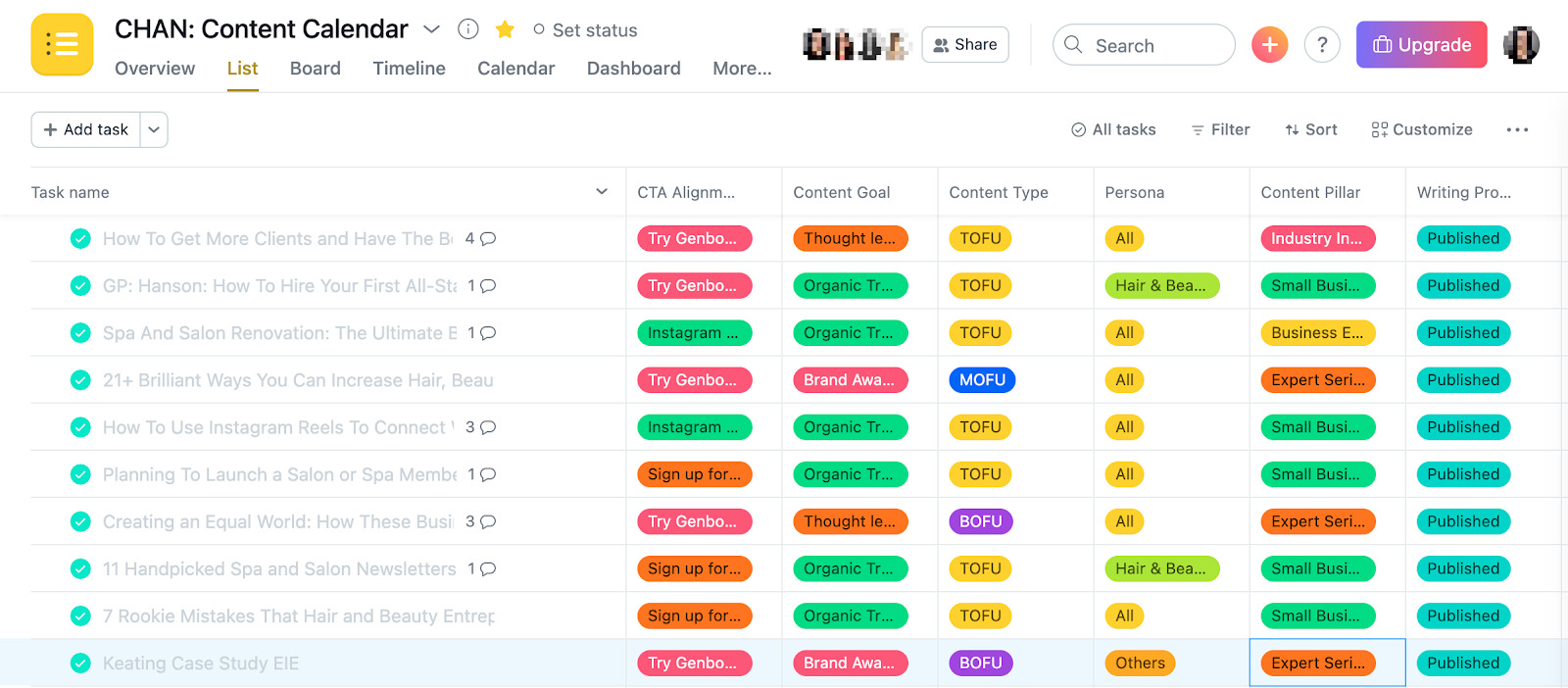 This Asana content calendar allows Taru Bhargava at Genbook to use colour-coded tags on every content piece and have threaded conversations with her team about each calendar entry. Taru plans content at least six weeks in advance to make sure the team can keep its twice-a-week publication cadence, and reviews and updates the calendar every week to check on the progress of individual pieces. You could use a similar format if you're publishing frequently and need to keep track of multiple pieces, and contributors, in one place.
6. A multi-tab marketing calendar
This multi-tab content calendar is what Justin Dunham uses at Ercule to keep track of all content activities in his marketing team, including events and webinars. The overview "Calendar Output" on the left is auto-populated based on what's added to the other tabs in the spreadsheet. If you manage a complex marketing machine with multiple assets being created at all times, you can download this template of Justin's calendar and play around with it.
I've been working with content calendars for a while now, and here are three things I learned through trial and error that I wish I had known sooner:
1. Iterate your calendar
The first version of the content calendar you create is unlikely to be the one you use forever. As your team grows and/or your content needs change, you may find yourself outgrowing your current system and maybe even needing to move to a different tool.
Bear this in mind and don't aim for perfection from the start: start from something functional that can help you for the next 2-3 months, and keep tweaking and improving as you go.
2. Always have a buffer
When you're working with multiple people, things will go wrong, delays will occur—and you should always plan for that. Identify any potential bottlenecks and issues and account for them: for example, anticipate that external contributors might be late with their submissions and plan in extra time to account for unforeseen delays.
3. Quantity ≠ quality
While it's tempting (and easy) to over-fill your calendar and feel good about being busy, shipping a lot of content is not necessarily the most efficient way to reach your goals. This is particularly relevant if SEO is part of your content strategy, as Ahrefs CMO Tim Soulo shows in this video debunking the "publish more often" myth.
Now, over to you!
Now you are ready to build and iterate your own content calendar. Did we miss out on anything important about calendars? Let us know on Twitter.