In the past four years, we've grown the
Ahrefs blog
from ~5,000 to ~418,000 monthly search visits.
How did we do it?
Essentially, we found a way to create content that ranks in Google by blending good SEO fundamentals with sound copywriting principles.
Now, we cannot solely attribute all of our growth to our copywriting. But it is part of the explanation.
In today's post, I'll share some SEO copywriting tips we've implemented in our content creation process.
Before that, some basics.
New to on-page SEO? Check out our
What is SEO copywriting?
SEO copywriting is the process of creating online content that ranks high in Google, drives qualified traffic, engages readers, and ultimately convinces them to take action.
After all, content that gets tons of traffic from Google but never contributes to your business objectives is useless. The same goes for content that converts like crazy but never gets any traffic.
How, then, do you create content that achieves these goals?
Here are some tips:
At 50,000 monthly searches in the US, the term "basketball shoes" looks like a good keyword to write a blog post about—if you owned a basketball blog.

But you'd be mistaken.
Why? Take a look at the search results for "basketball shoes":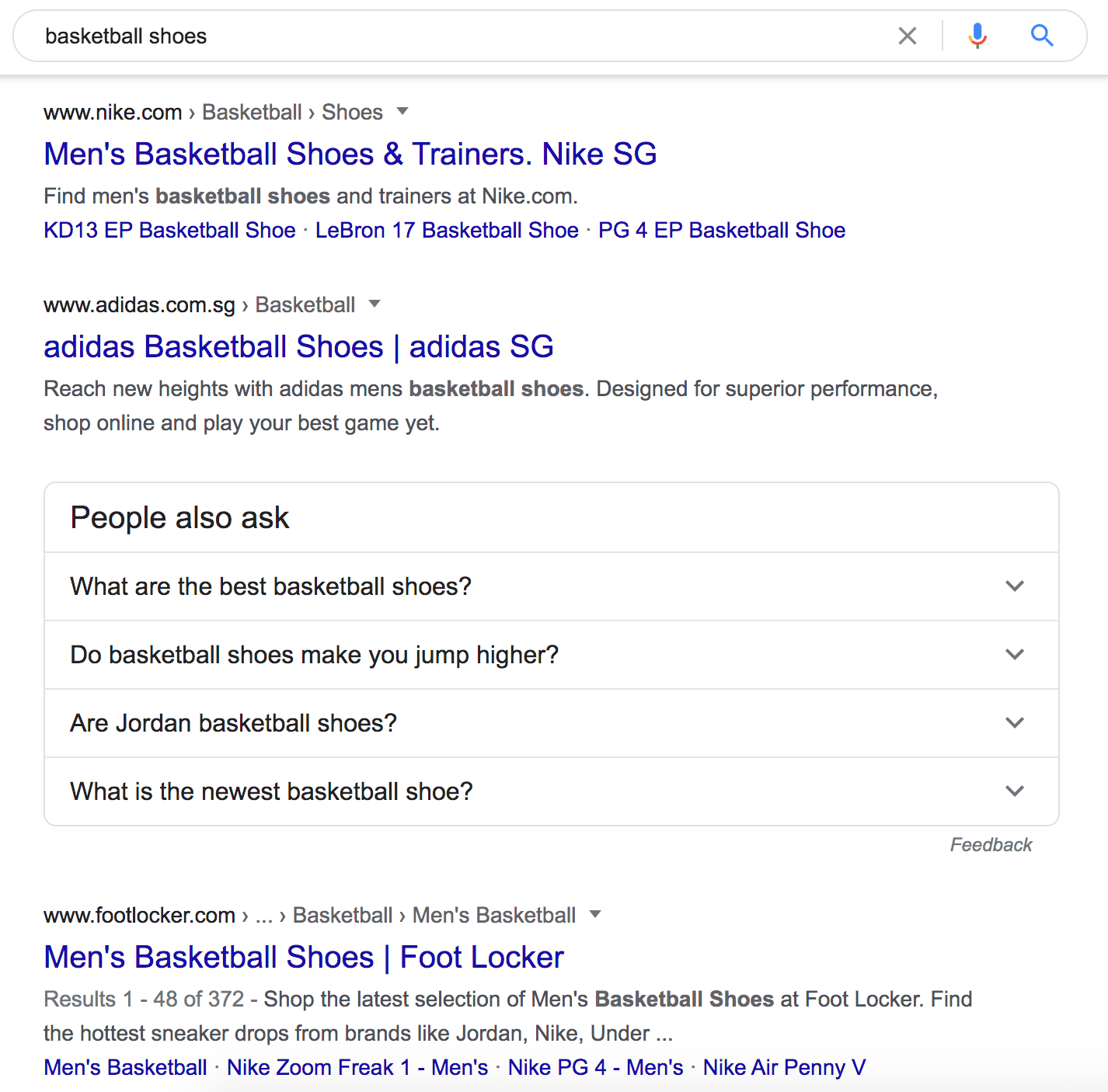 You can see that all of the top-ranking pages are ecommerce category pages.
These come from retailers and list the relevant products they have for sale.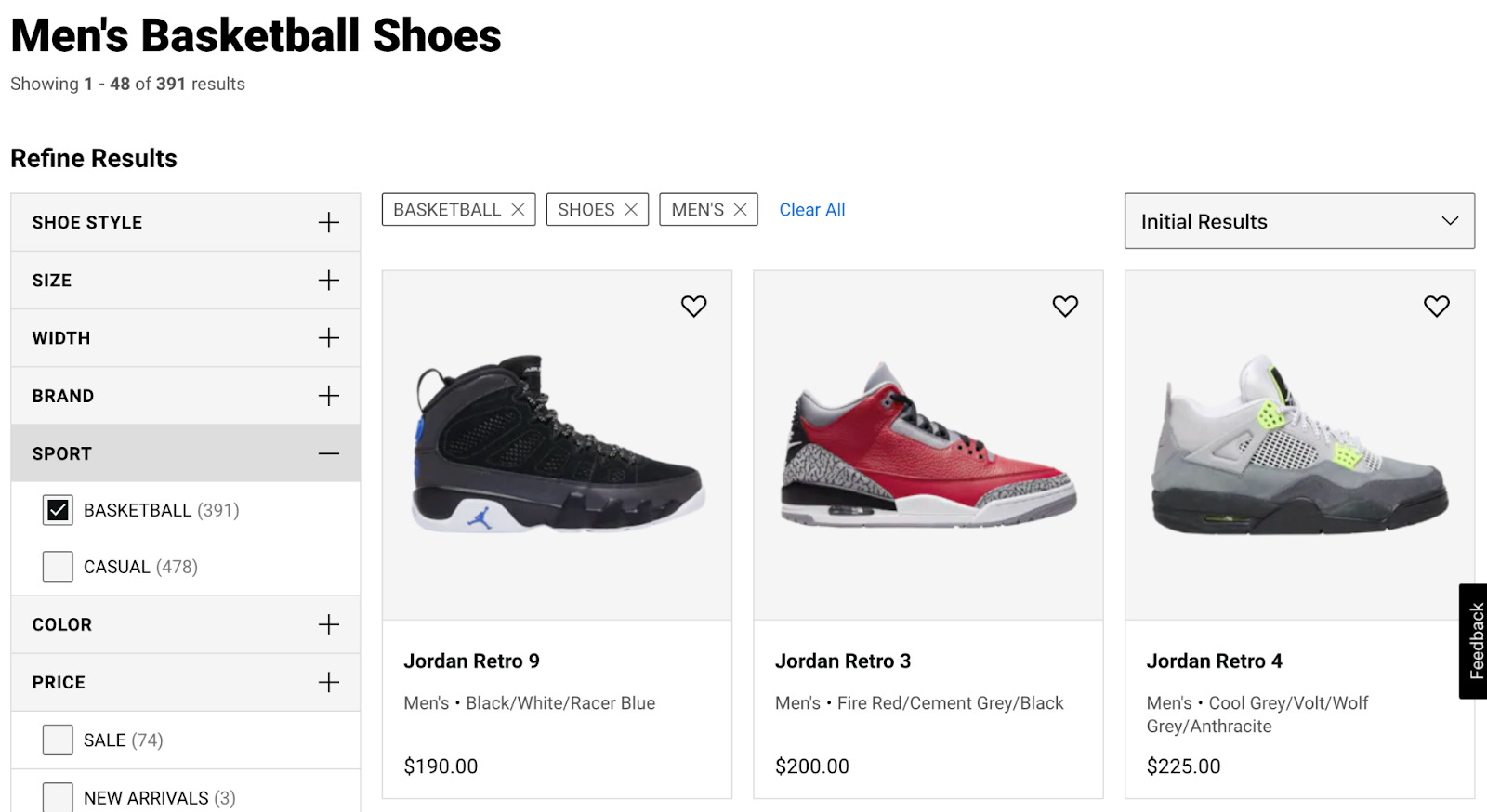 Google isn't going to rank blog posts for this query because it knows that searchers are in buying mode, not learning mode.
And this is the first lesson of SEO copywriting: create the right kind of content for the keyword you're targeting. Fail to do that, and ranking will be an uphill battle.
This concept is known as search intent.
Understanding search intent can be pretty straightforward. Just look at the search results to figure out the 3 Cs of search intent.
Content type
Content types almost always fall into one of five buckets: blog posts, product, category, landing pages or videos.
For example, the search results for "wireless headphones" are all ecommerce category pages, whereas for "best wireless headphones," they're mostly blog posts.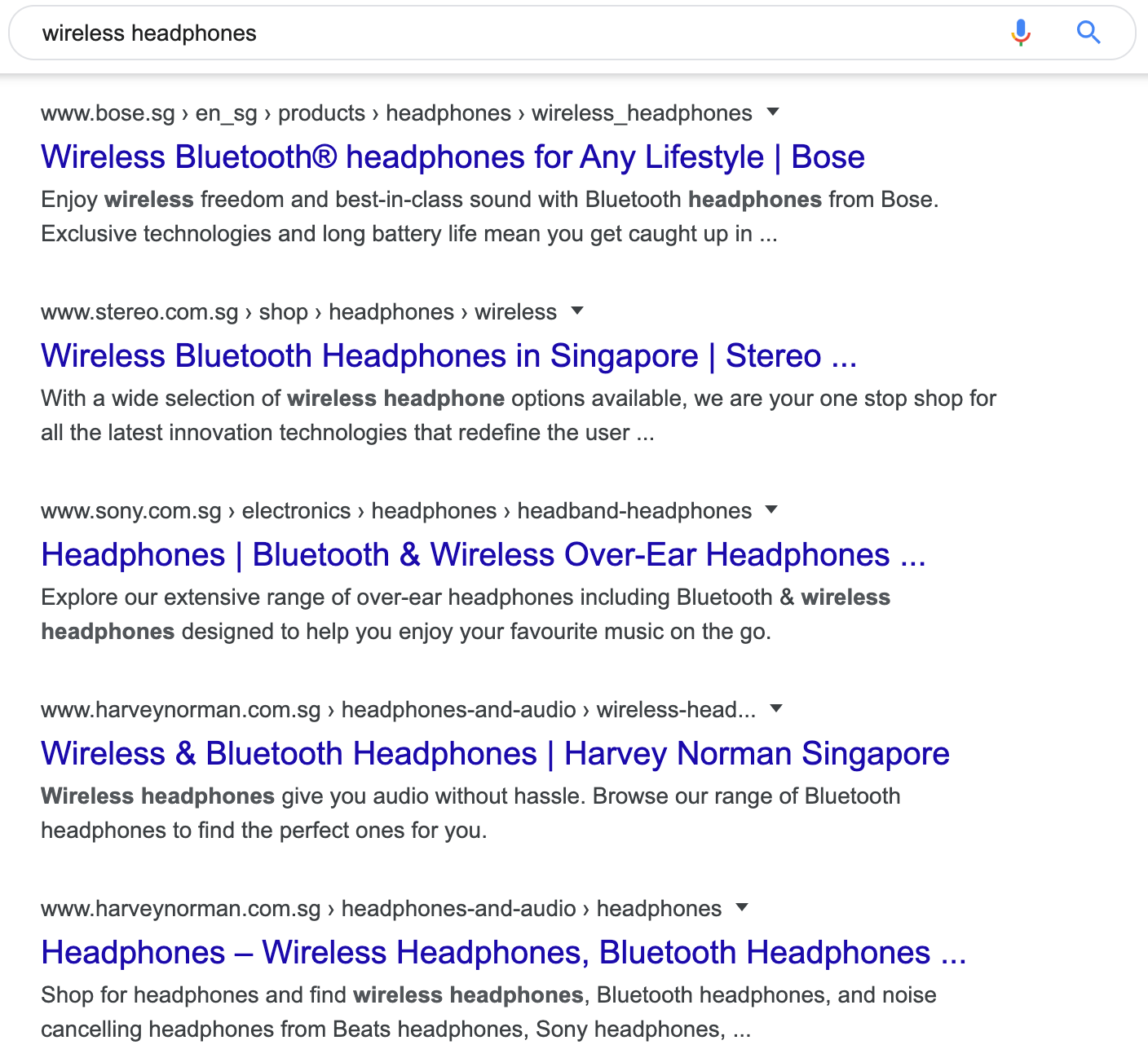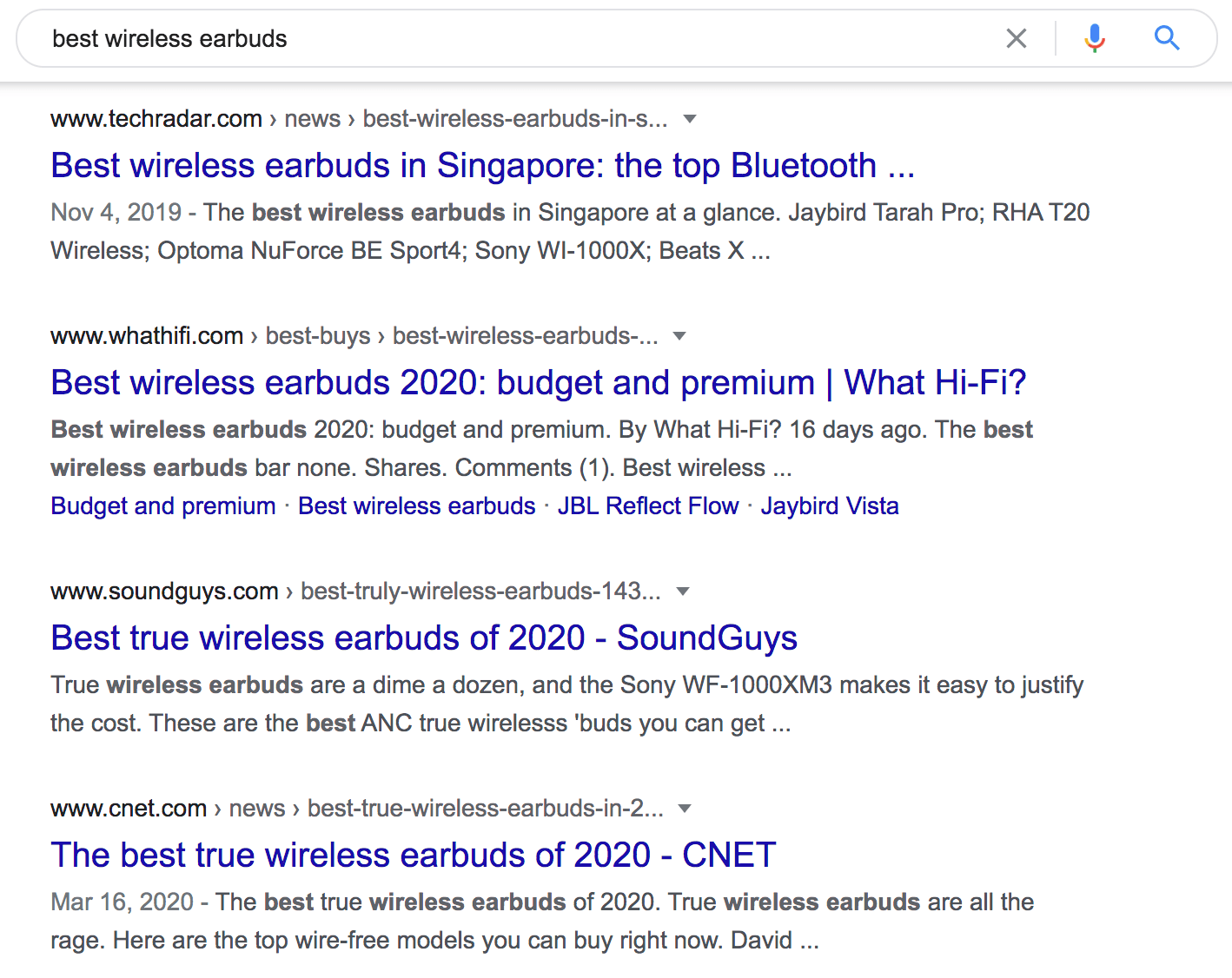 Content format
Content format applies mostly to informational content. Examples formats include how-tos, listicles, news articles, opinion pieces, and reviews.
For example, when you Google "date ideas," you'll see that they're all lists: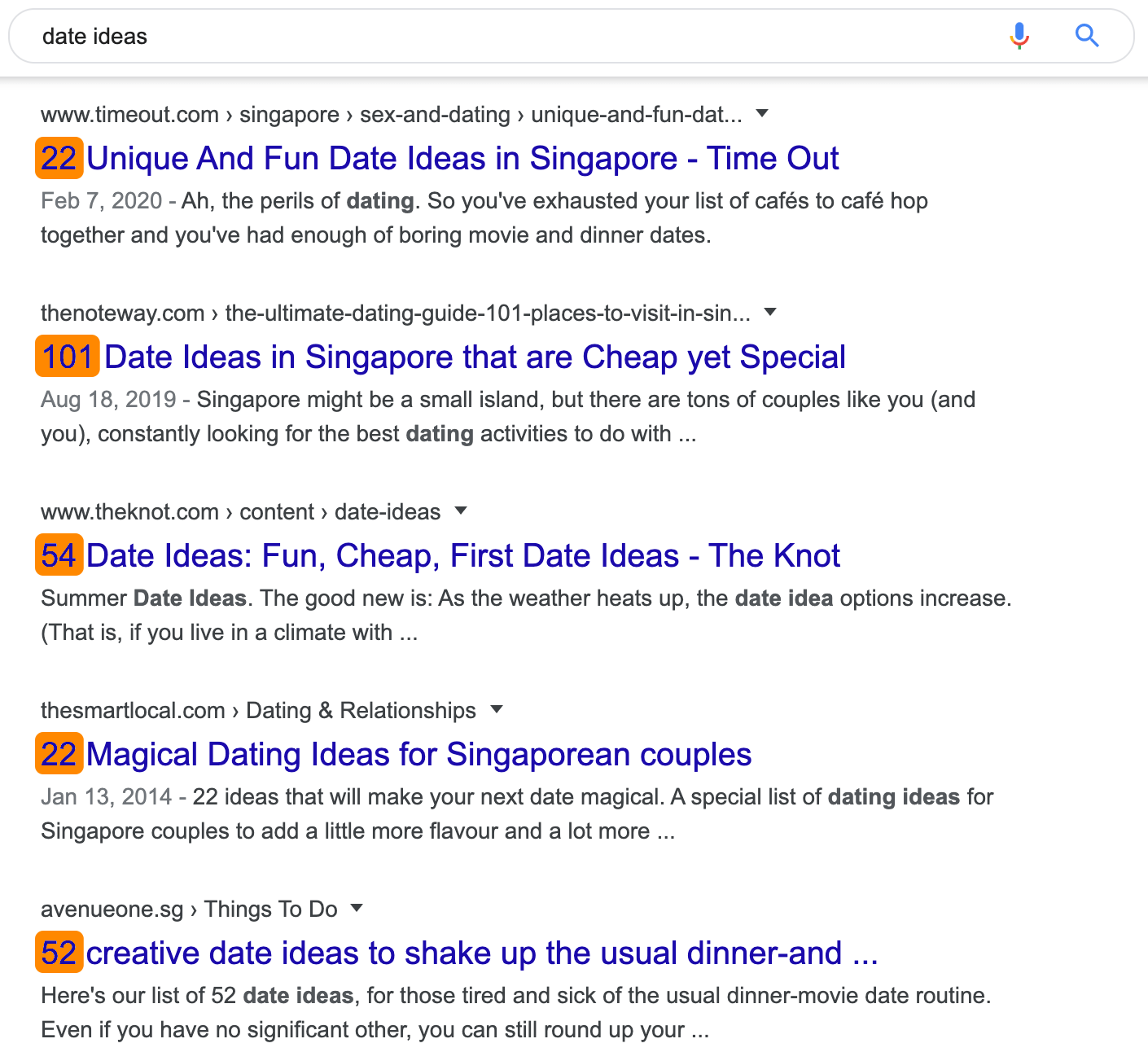 Content angle
Content angle is the main selling point of the content. There's usually a dominant angle in the search results.
For example, the top results for "how to play chess" are targeted at beginners: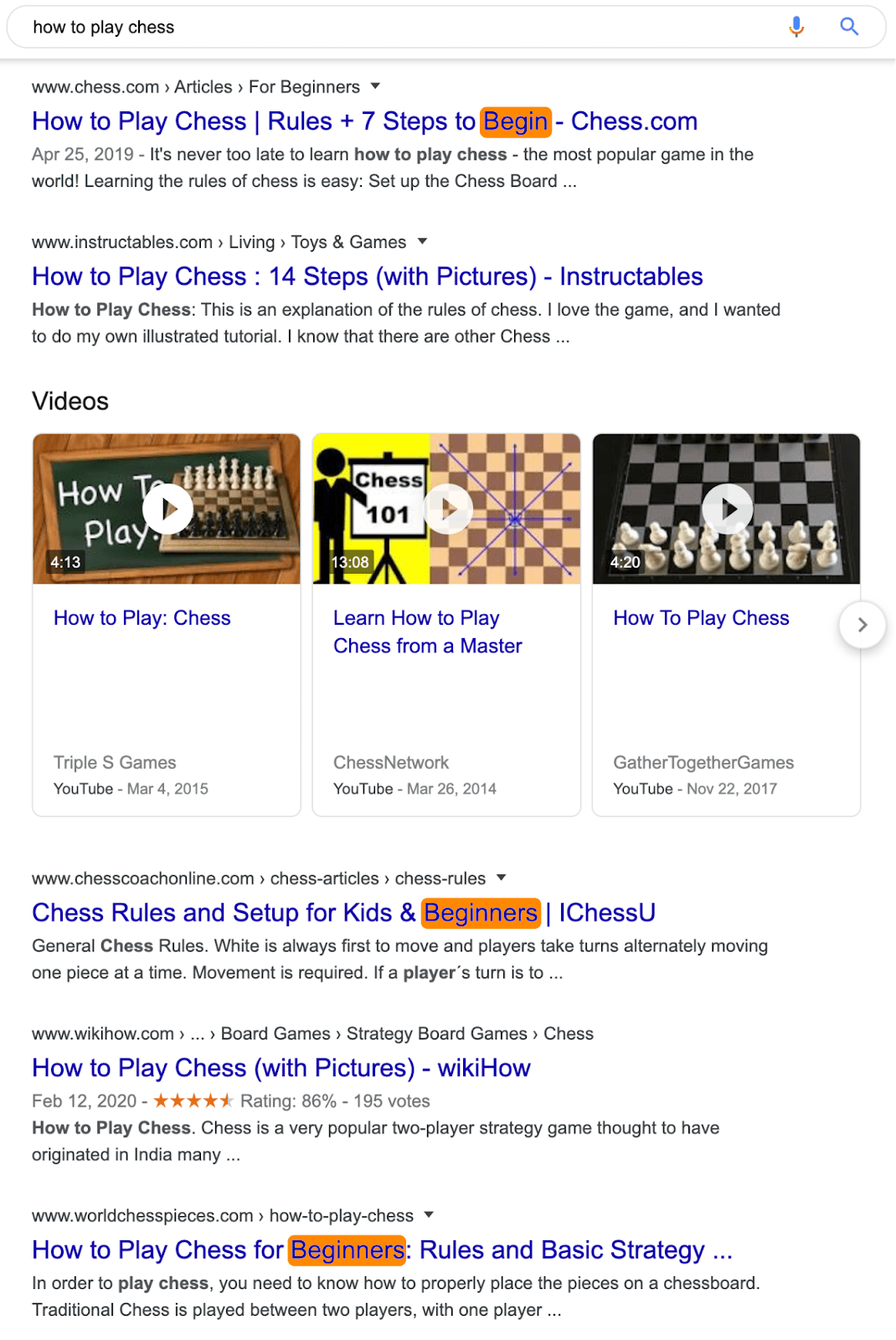 Recommended reading: Search Intent: The Overlooked 'Ranking Factor' You Should Be Optimizing For
Google wants to rank the most relevant, useful result on the first page. So, your post should show that it deserves a place there.
How do you do this?
By covering all the things searchers want to know and expect to see.
For example, let's say you want to rank for "best wireless earbuds."
It's clear from looking at the Search Engine Results Pages (SERPs) that the post should be a listicle. But what products, features, and subtopics should it mention?
The easiest way to figure this out is to look for commonalities between the top-ranking results.
For example, if you look at the top results for "best wireless earbuds," you'll see that—as expected—they all mention Apple's AirPods Pro.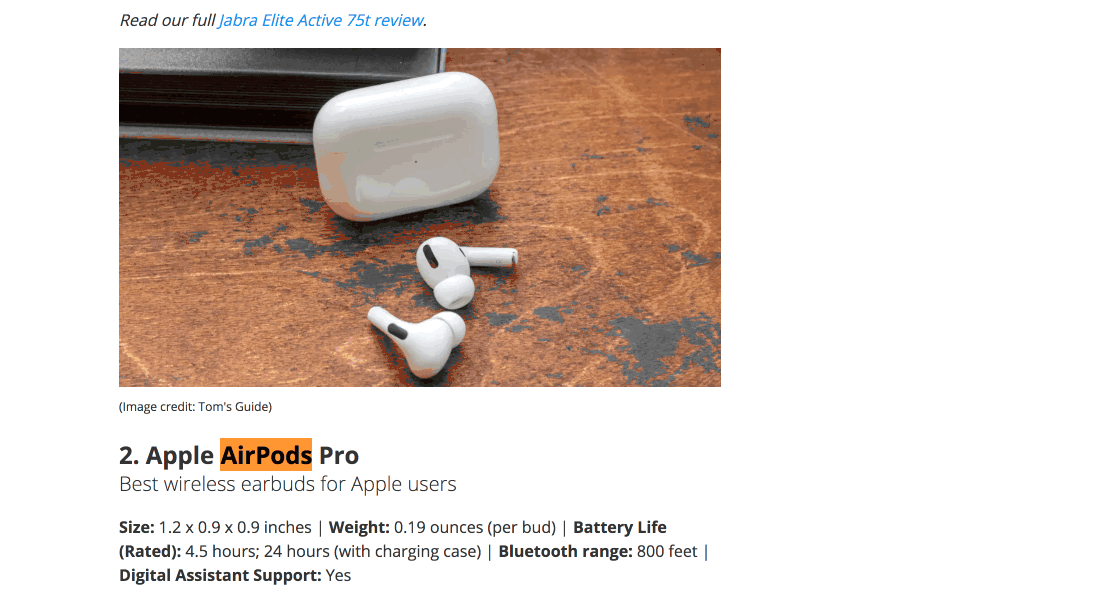 So, that's definitely a product you need to mention in your post.
You'll also want to mention other products like:
Jabra Elite Active 75t;
Samsung Galaxy Buds Plus;
Beats Powerbeats Pro.
This improves your content's utility for searchers, and potentially its relevance in Google's eyes.
If you want to take this idea further, run a content gap analysis to see the queries that the top-ranking pages also rank for. To do this, just paste a few top-ranking URLs into Ahrefs' Content Gap tool: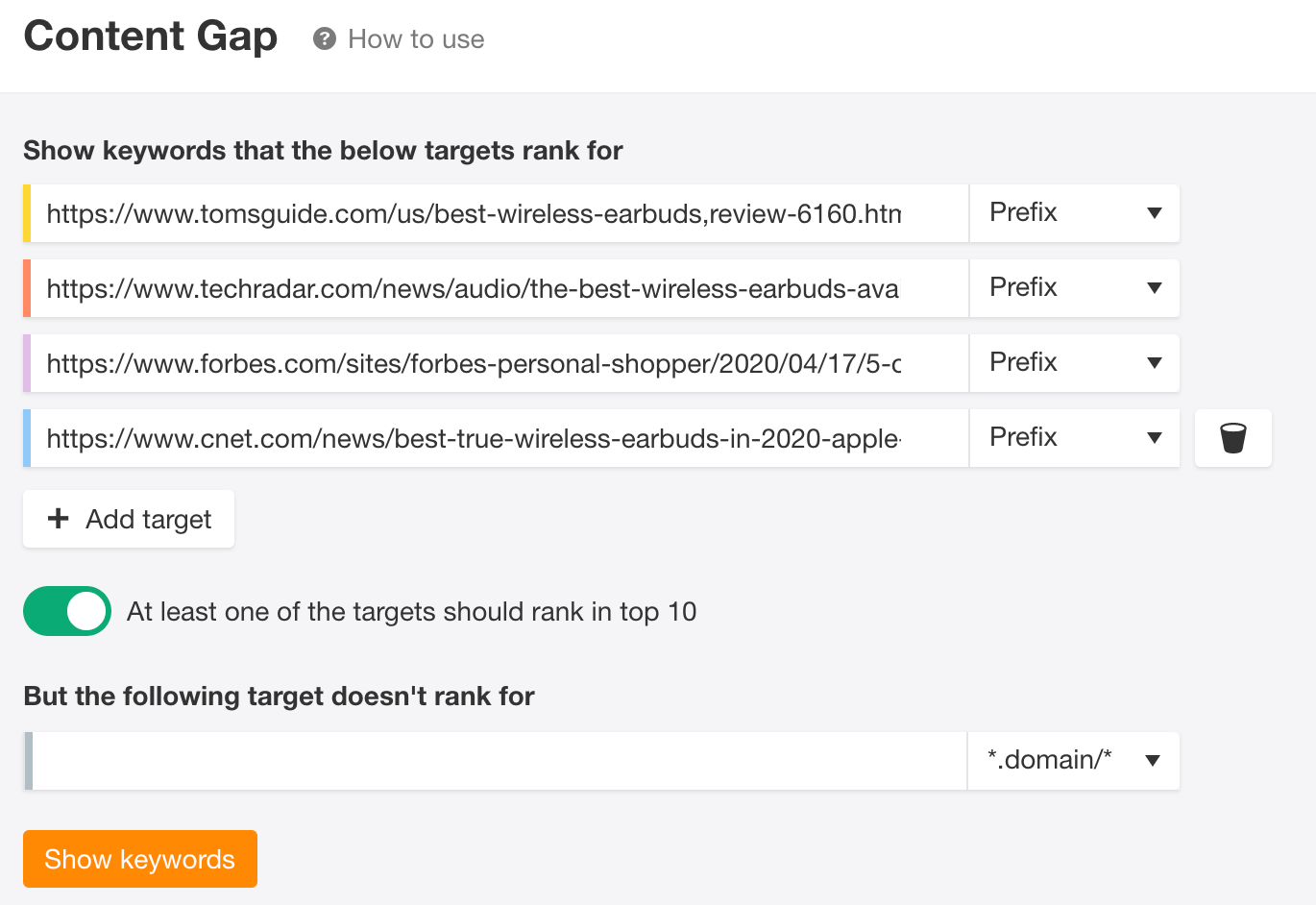 Then hit "Show keywords."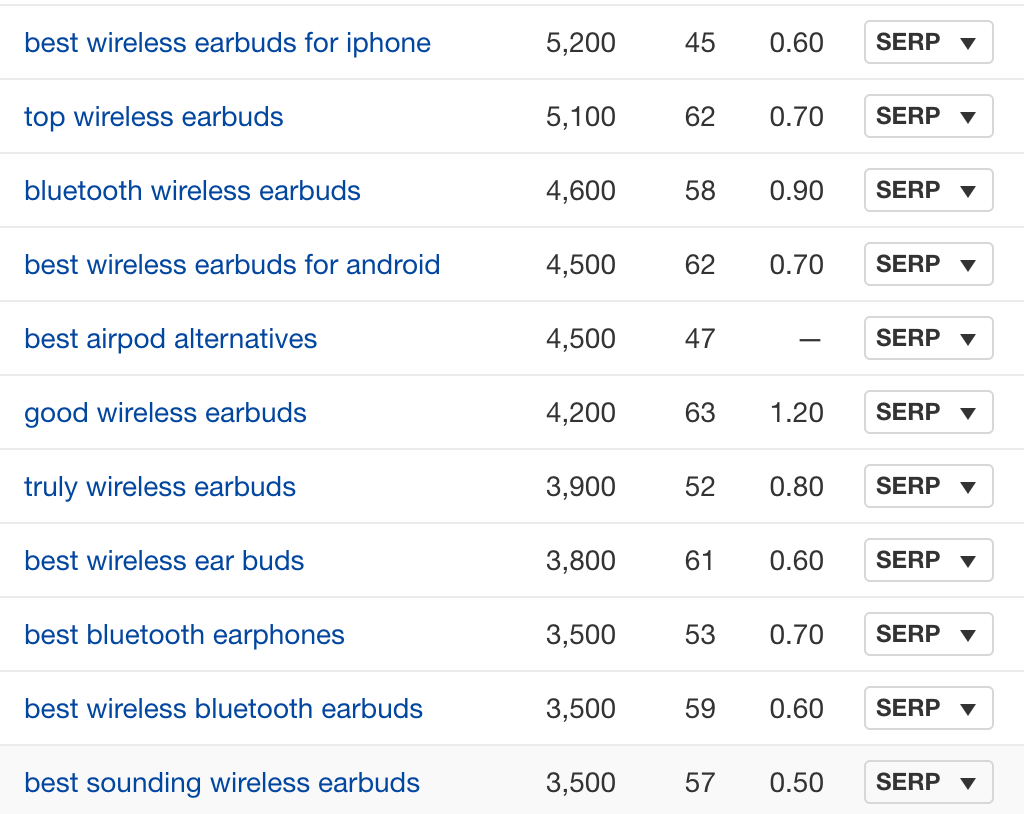 Use this to gain insight into what people want to know when they search for this query.
In this case, we see things like:
best wireless earbuds for iphone;
best wireless earbuds for android;
best airpod alternatives;
best sounding wireless earbuds
You could even use these ideas to create an outline for your new post.
Google says links are one of their top three ranking factors. That's probably why there's a clear correlation between links and organic traffic.
So, when creating content, you should try to understand why people are linking to the pages you wish to beat—and then apply those insights to your post.
For example, in this post, we're targeting the keyword, "SEO copywriting."
If we look at the SERP overview in Keywords Explorer, we see that competition is fierce. On average, the top ten results have backlinks from 198 websites.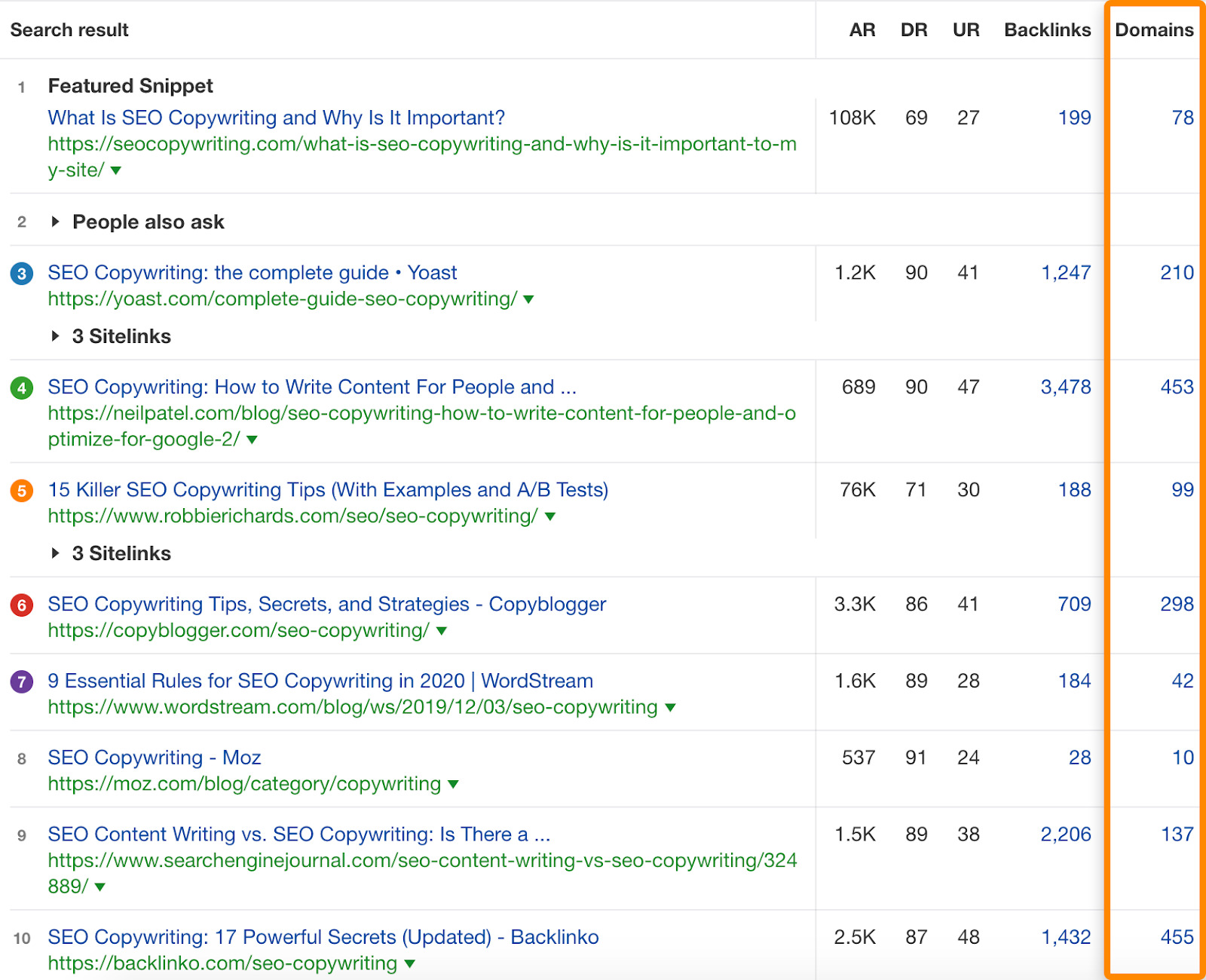 But why are so many people linking to these pages anyway?
To find out, let's take one of these URLs, paste it into Site Explorer, and check the "Anchors" report. This shows the most common words people use when linking to the page.
Right away, we see that lots of people are linking to this post because of two concepts it introduces: "bucket brigades" and the "APP intro formula."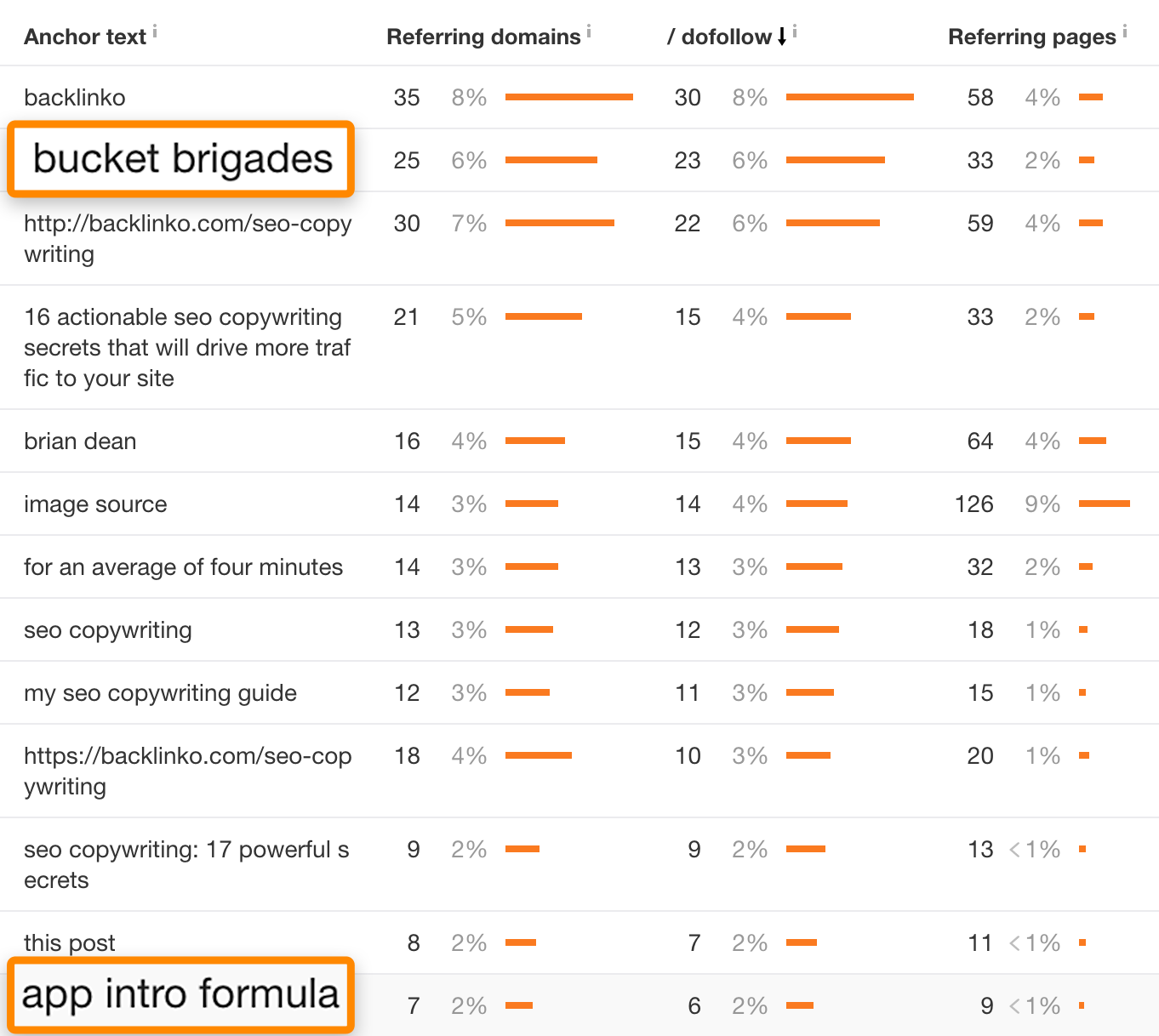 Now, the goal isn't to copy these ideas into your post. It's to look deeper and analyze why.
So, in this example, Brian was the first person to introduce these ideas to the SEO niche. Therefore, to apply this insight to our post, we'll need to share unique tips of our own (which you're reading in this post!)
If you see that people are linking to a page because of a unique statistic, then you might want to consider running a study or doing a survey.
Tim Soulo, our Chief Marketing Officer (CMO), once told me:
Nobody likes to read. They just want the information. If they could download it to their brain, they would.
Reading is a transaction. Your readers are trading their time for your words, hoping that it will—in some way—improve their lives, give them new knowledge or entertain them.
If there's any point they feel like it's too burdensome to read, they'll hit the back button.
As famous copywriter Bond Halbert says, "good writing creates effortless reading."
And this starts with how the content is designed.
Make your posts comfortable to read by following the ASMR formula:
Annotations. Adding notes, sidenotes and other elements like blockquotes and call-out boxes help break up the monotony of the post;
Short sentences and paragraphs. Long sentences are hard to follow. Find instances where you used transitional words like "and," "because," and "that." Break them up into shorter statements.
Multimedia like videos, images and GIFs. Including these can help illustrate your points without having to add extra words.
Read your copy out loud to pinpoint areas where your content doesn't flow smoothly.
Most people will decide whether your post is what they're looking for based on the quality of your intro. A good intro will keep them reading, and a lousy intro will send them straight back to the search results.
To write a kick-ass intro, you can use the Problem-Agitate-Solve (PAS) formula.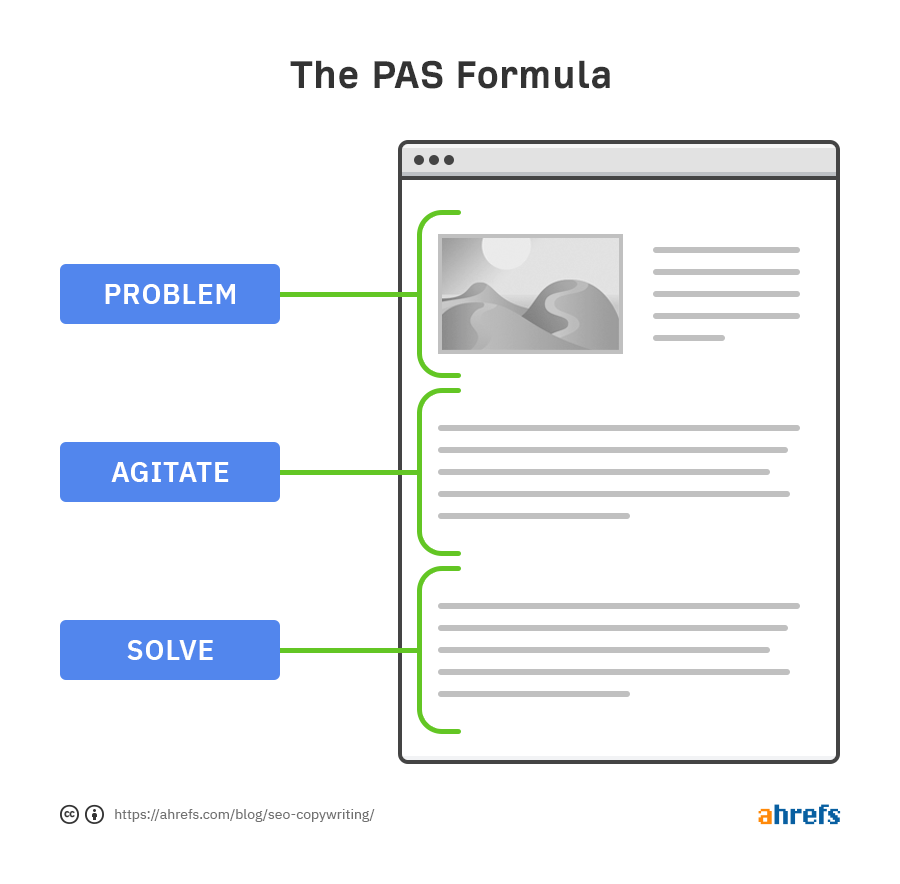 First, you identify a problem: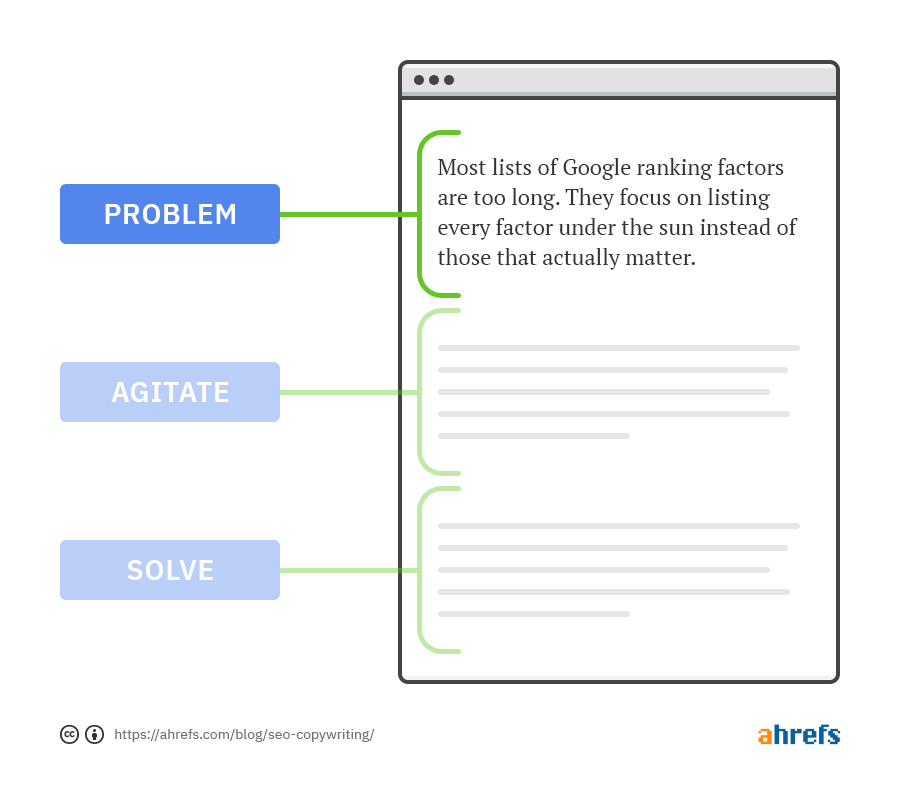 Next, you agitate that problem by digging into their pain: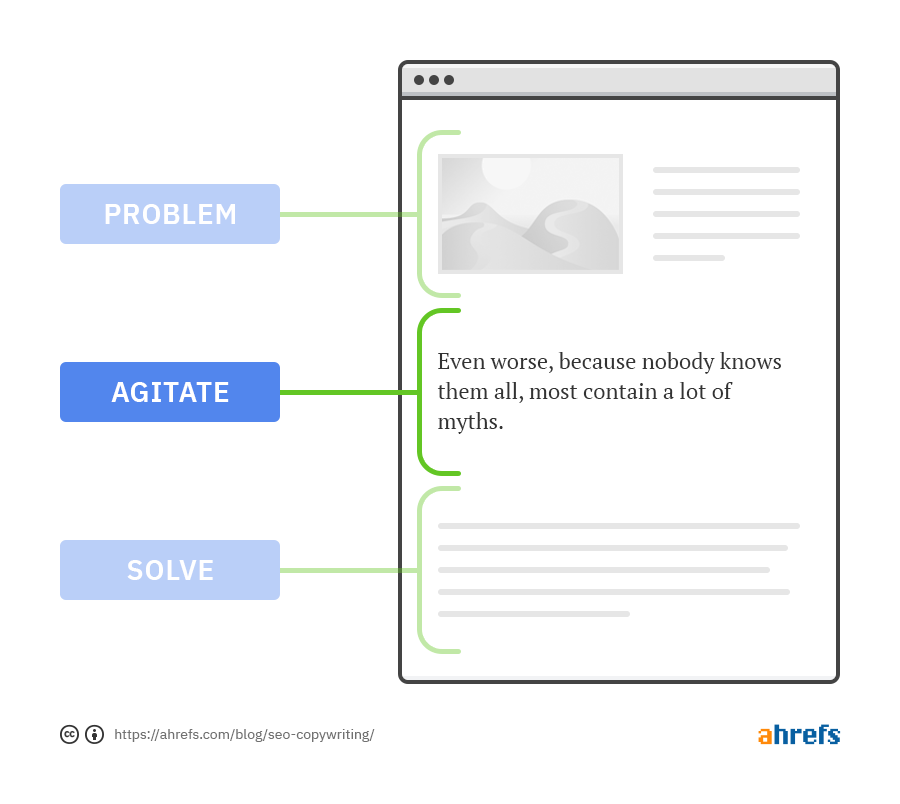 Finally, you promise a solution: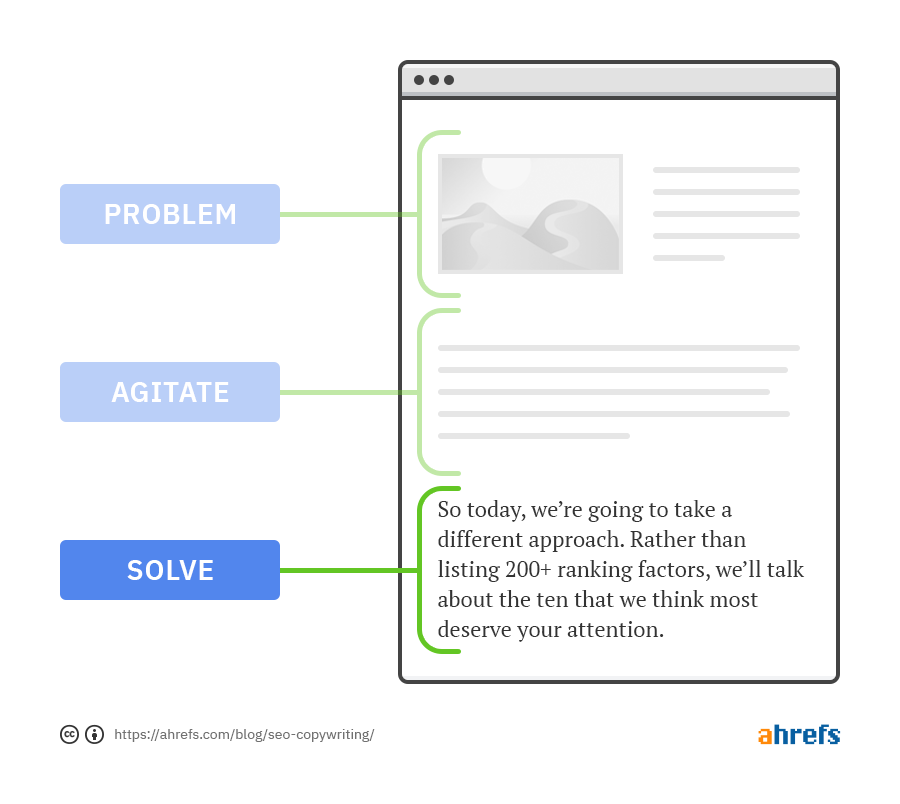 Piece of cake.
Looking for more formulas? Check out this post.
A reader's time is precious.
Consciously or subconsciously, they're always checking to see if a piece of content is fulfilling its promise. If it says it has the answer to their question, then they'll keep an eye out to see if it's true. If it's not, they'll leave.
And this is why you should add a table of contents.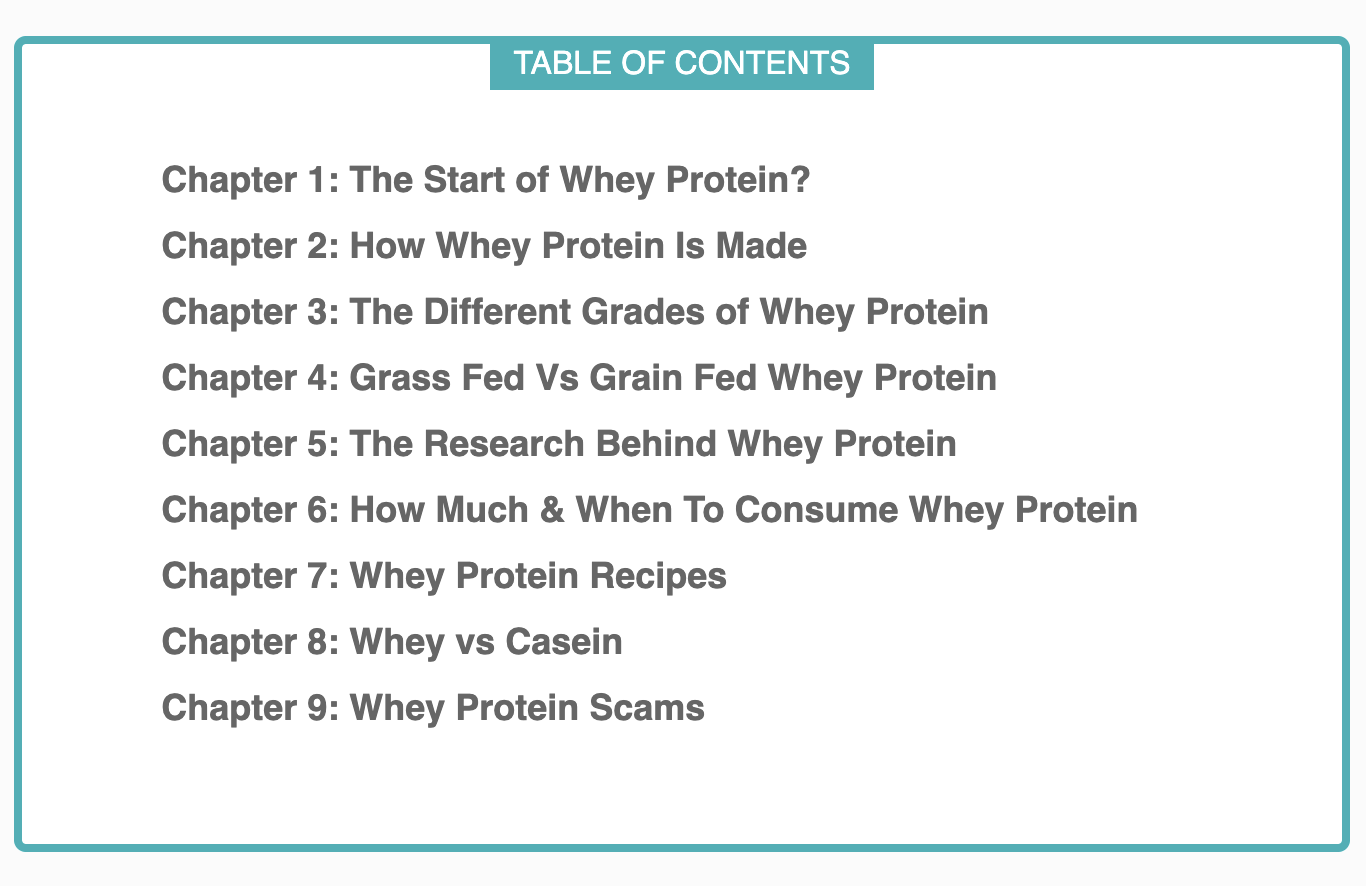 This allows your readers to immediately understand if your post is likely to answer the question they have. And if it does, they can easily navigate to that section.
Once they've started reading, they might be sucked into your copy and start reading the rest naturally.
At Ahrefs, we keep our table of contents descriptive without over-selling: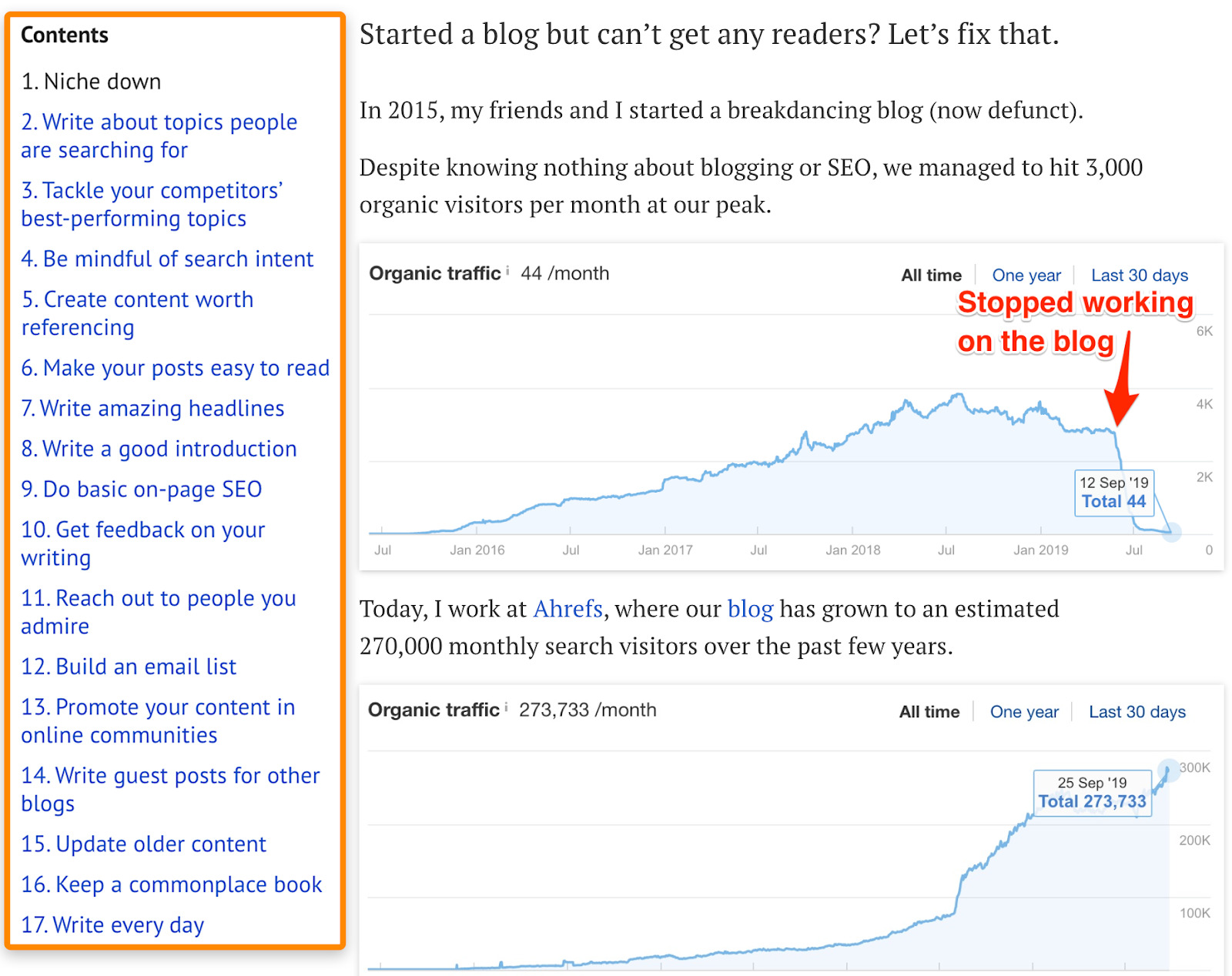 An additional benefit of a Table of Contents is that it creates anchors on the page, which Google sometimes shows in the SERPs:
This can potentially lead to more clicks.
Ranking #1 is pointless if nobody clicks through to your page.
This is the reason why you need to write a compelling title tag. Its job is to entice the click.
How do you improve your title tags?
Use these three "hacks":
A. Add "power words"
Remarkable. Captivating. Noteworthy.
These are power words: words that trigger a positive or negative emotional response.
Sprinkling one or two of these into your title tags can make it more compelling.
For example, by adding a power word, you can turn a simple title tag like this:

Into this:

Much better, isn't it?
If you're looking for a list of power words to choose from, here's a great list.
B. Add parentheses
You can use parentheses to strengthen your title tag by adding an "icing on the cake."
For example, it would be even more compelling if your article on "benefits of running" were scientifically backed:

C. Add the year in your title
Some queries want fresh results.
For example, if you're targeting a keyword like "best wireless earbuds," searchers will want to see results that are updated this year.
To communicate freshness, add the year in your title, like this:
Recommended reading: How to Craft the Perfect SEO Title Tag (Our 4‑Step Process)
Pro Tip
To get more traffic without writing new content, find the pages on your site that are ranking on the first page in Google and improve their title tags.
You can find these pages using Google Search Console (GSC) or Ahrefs' Site Explorer.
For GSC, read this guide. For Site Explorer, enter your domain and go to the Organic keywords report to see all the keywords you rank for, then filter for pages ranking in positions #2 - #5.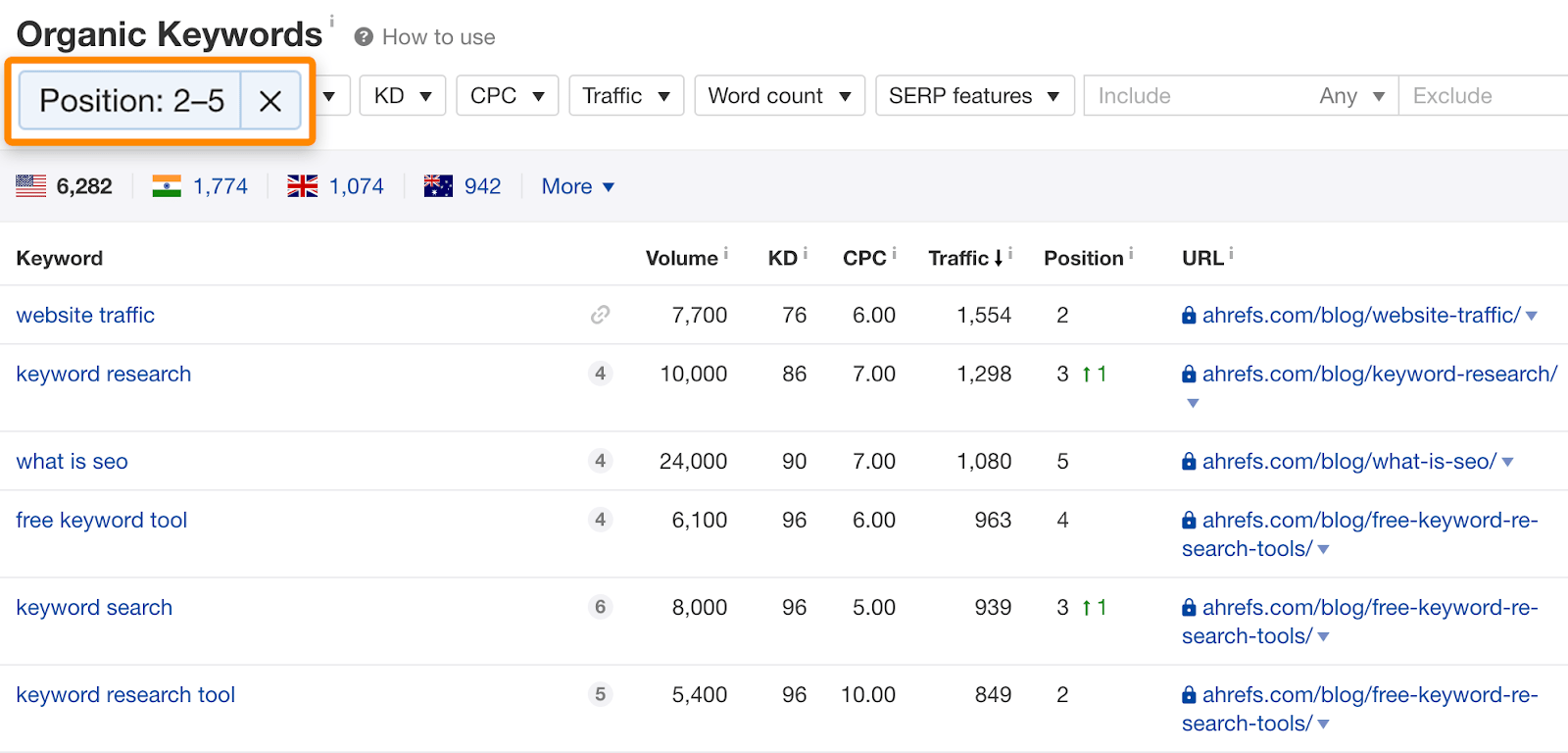 Then, use one of the "hacks" above to improve your title tags.
50% of the US population read below an 8th-grade reading level.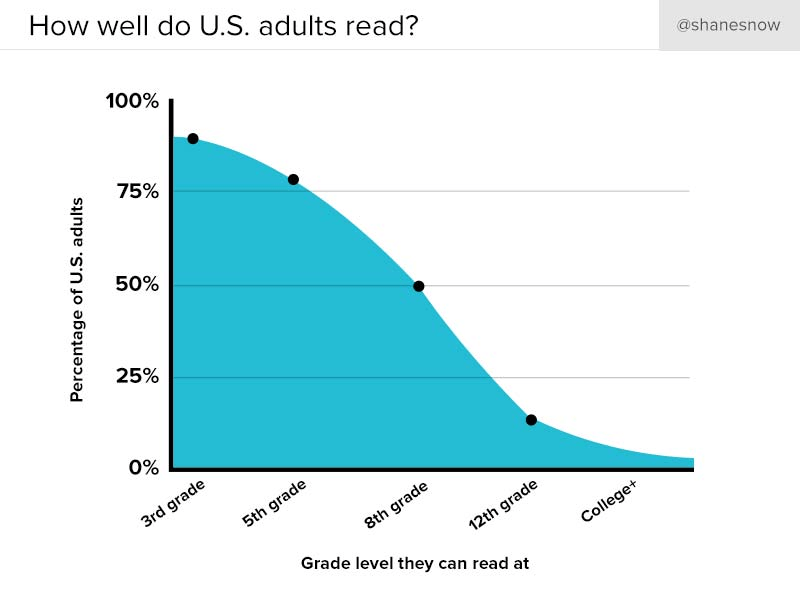 Translation: if you're using complicated language in your articles, you might be driving away half of your readership. That means they won't be sharing your page, linking to it, or converting.
Instead, follow what the American novelist Ernest Hemingway was famous for: simple words and sentences, uncomplicated syntax, and tight prose.
To simplify your copy, you can use Hemingway, a tool inspired by the writer himself: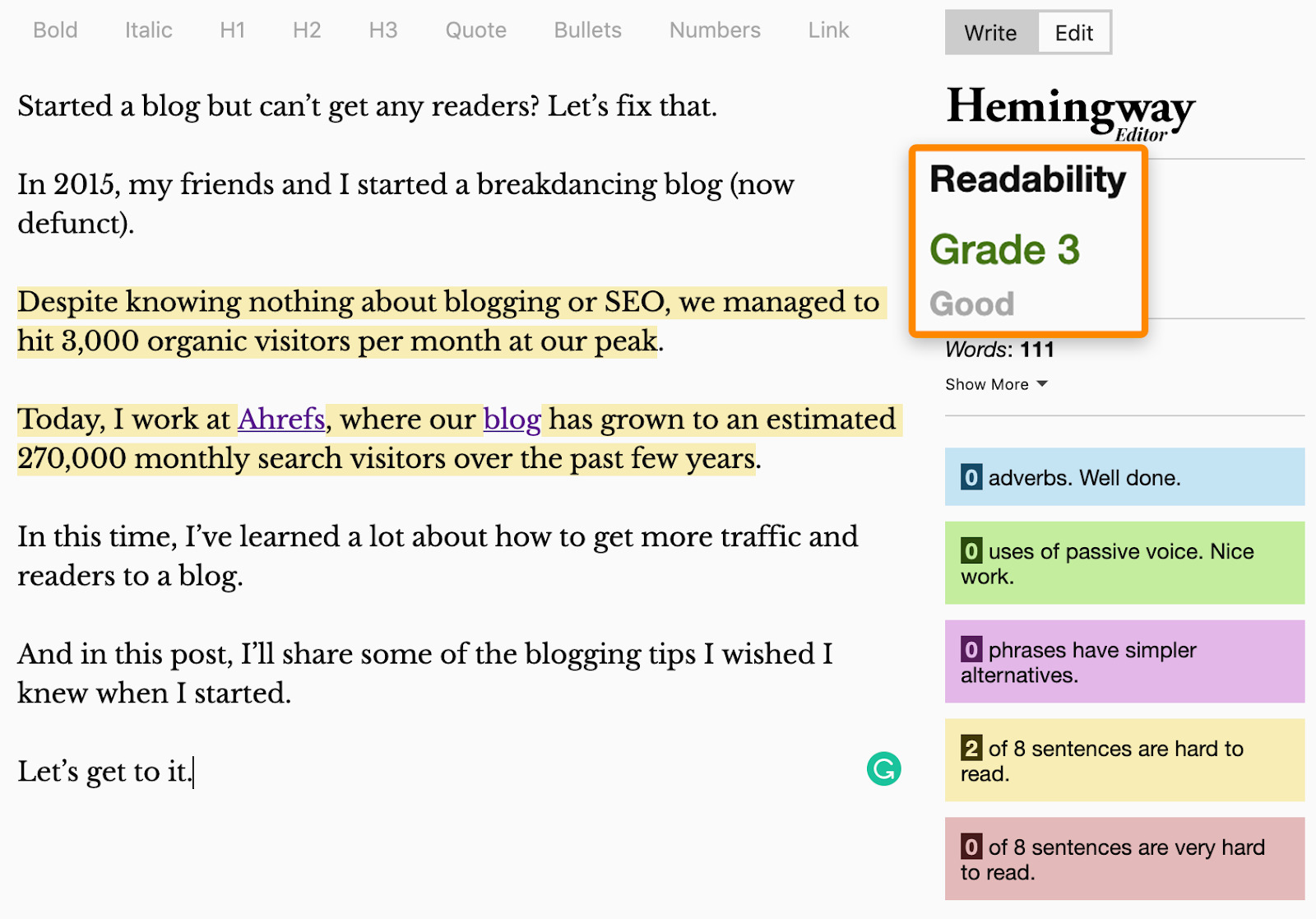 Remember: your goal is to communicate with your reader, not impress them with your extensive vocabulary.
Most pages seem to bury important information.
Just look at this list of the best non-stick pans: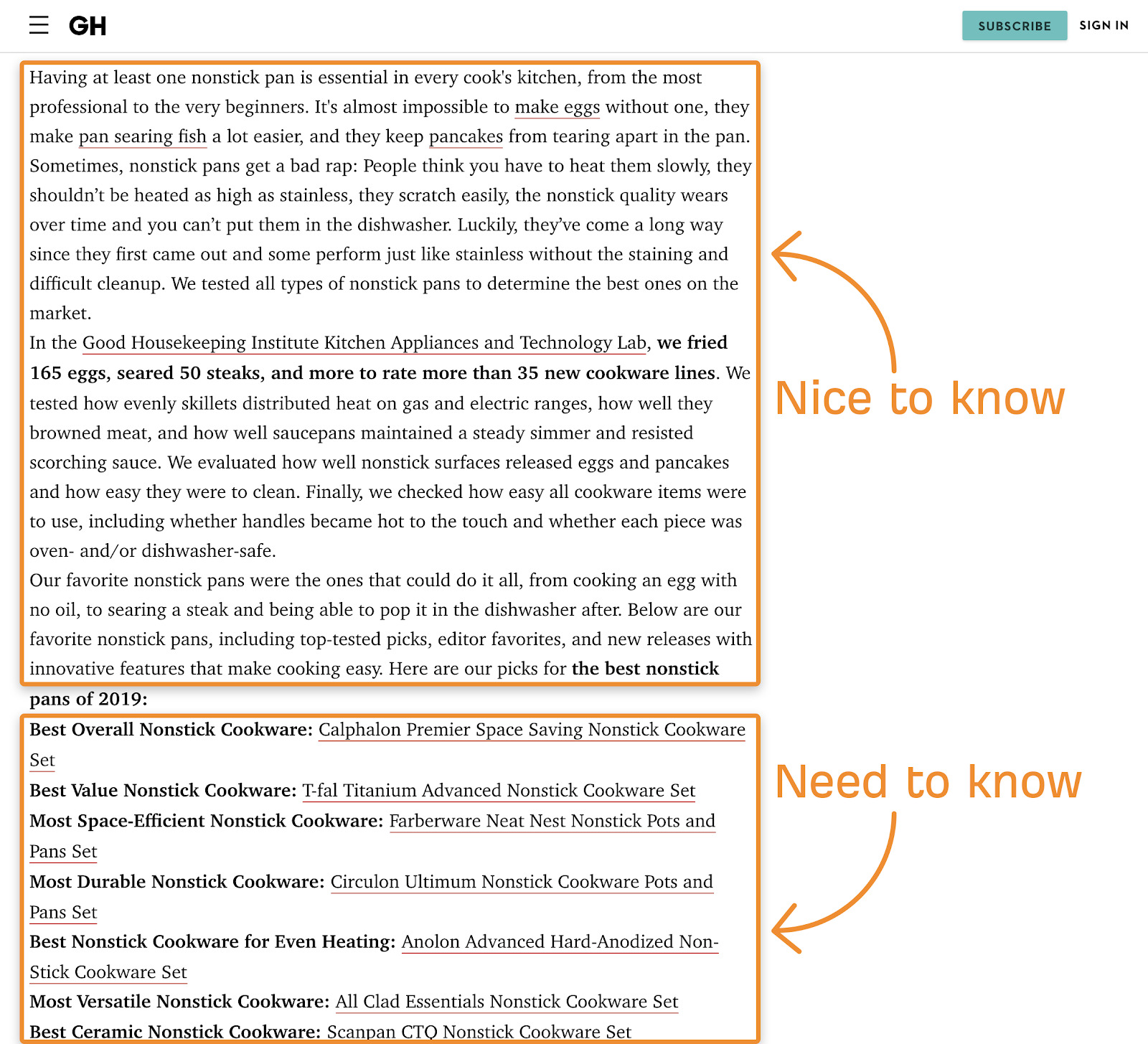 There's 289 words of "nice to know" background information before getting to what everyone came for: the answer to the question.
Now look at The Wirecutter's post about the same thing: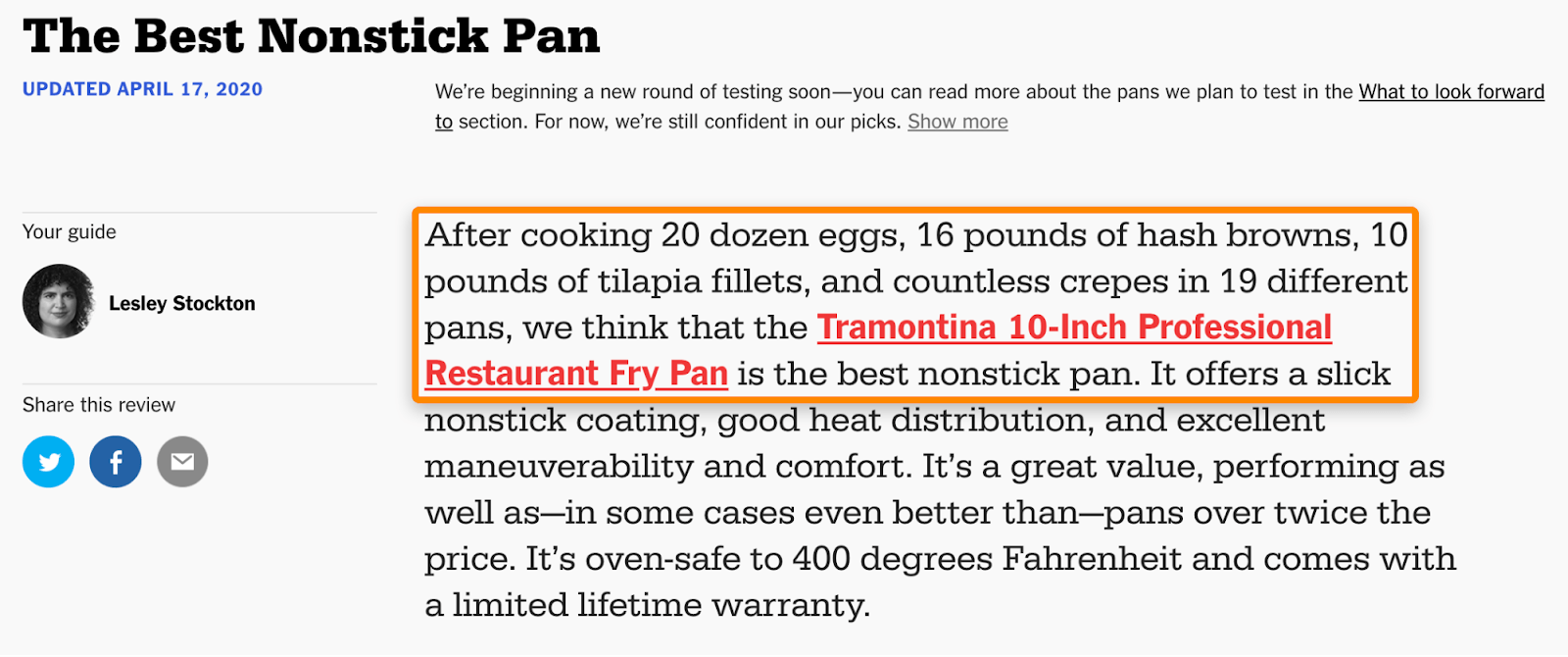 This time, the answer is right there in the first paragraph—just 32 words into the post.
For the impatient reader, this is perfect. They get what they want right away. For the rest who prefer context or more details, there's plenty more to read.
This format is known as the inverted pyramid. It's a journalism technique where you give people the essential information before the non-essential.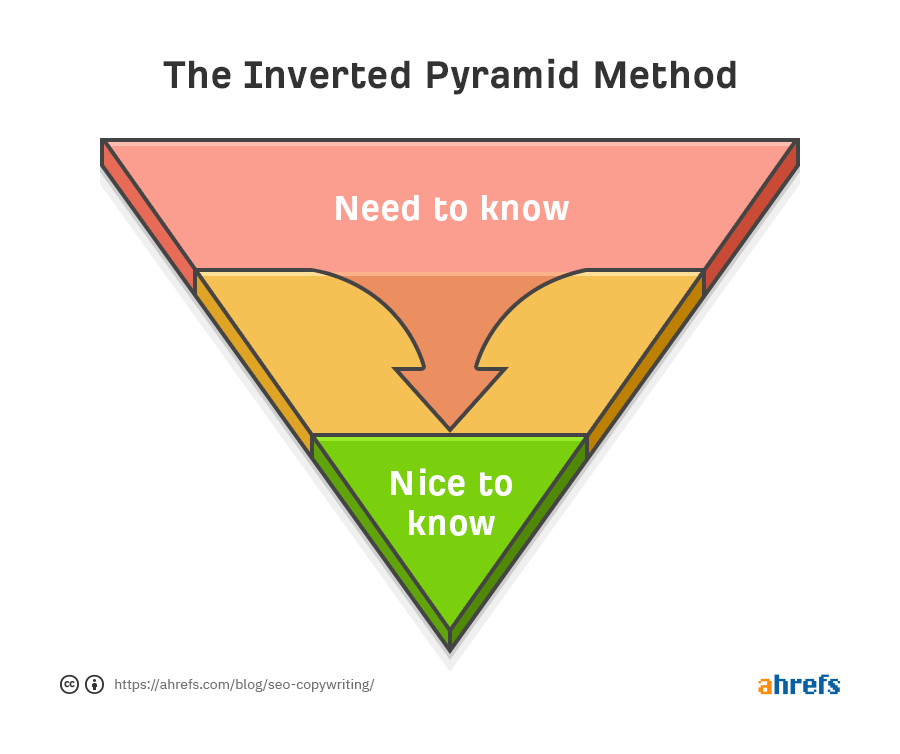 From an SEO perspective, giving readers the information they're looking for without them having to work for it may help to reduce pogo-sticking (bouncing back and forth between pages in the SERPs) and improve dwell time.
How do you apply this?
Basically, in your introduction, you should answer the main question you're targeting. For example, in our post on "what are SERPs?", we went directly into the definition of a SERP: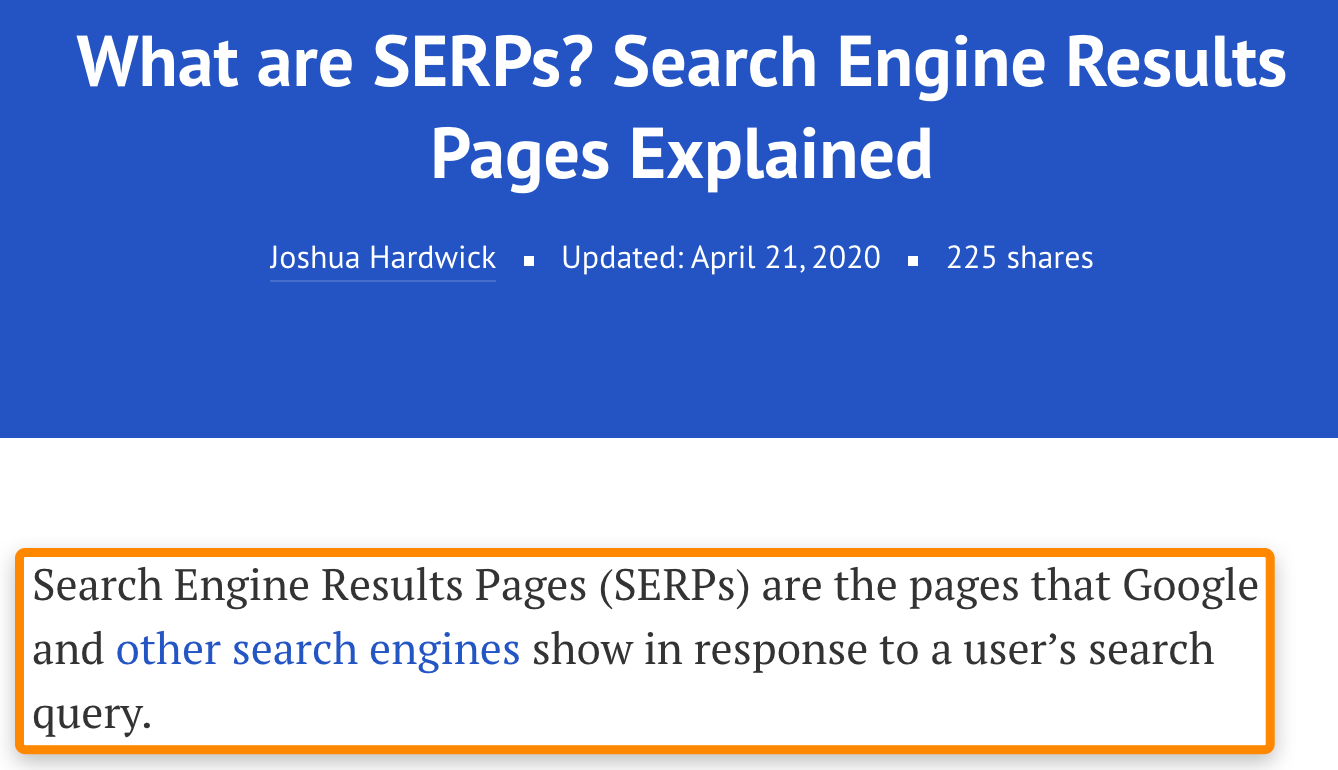 Then, in the rest of the article, you can fill in the details while also answering related questions.
Ever watched the first episode of a TV series, and before you know it, you've binge-watched the whole thing?
For years now, TV producers and scriptwriters have used a method to get you hooked onto their shows. This technique is called "open loops" (also known as cliffhangers.)
Basically, they'll set up a plot element in an earlier episode to make you curious. Then, they'll intentionally not resolve it until some time later. This could be several episodes later, or the first episode of the next season.
Here's an example. [By the way, spoiler alert!]
In the TV show Sherlock, Moriarty's schemes successfully ruin Sherlock Holmes' reputation. And that drive Sherlock to commit suicide.
As the audience, you're taken by surprise. Isn't Sherlock the titular character? How can he die? Incidentally, the episode ends. So does the season.
This leaves you wanting. You'll crave the sweet release—the closure to the loop. You'll wait desperately for the new episode, and you'll watch it immediately when it's finally released (which, by the way, was two years later.)
Smart, huh?
Now, you can apply this technique to your own content too. For example, in our post on content hubs, Josh says that Zapier's post about remote work was strategically built to attract more traffic, link, and authority.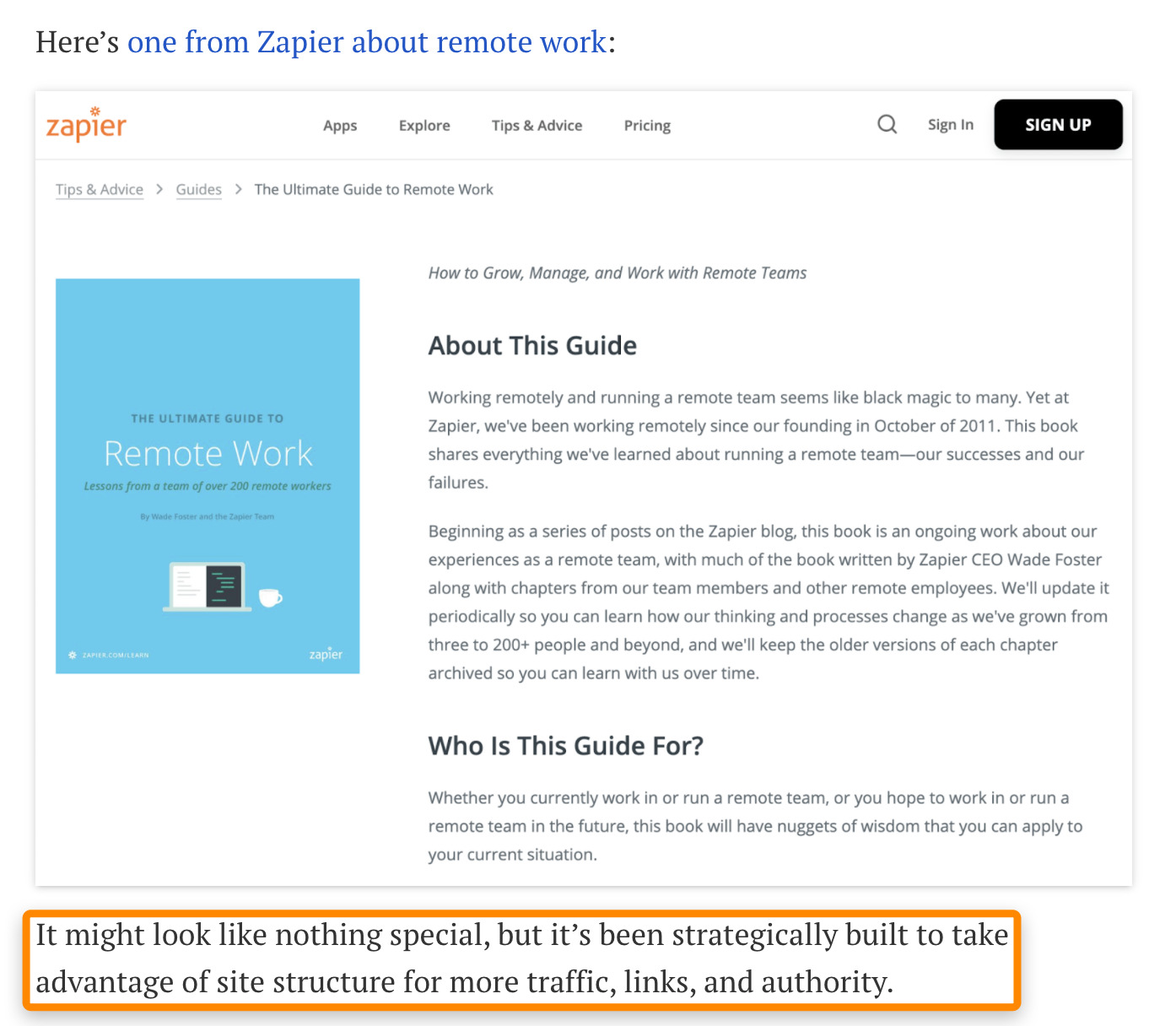 But he doesn't tell you why or how. You have to keep reading to find out.
Of course, Josh eventually explains the benefits and how to create one:

Remember: you must always close the loop. Otherwise, this destroys the trust your readers place in you.
Sidenote.
Let me close the loop for you. It turns out: Sherlock faked his death.
To persuade your audience and to compel them to read, you need to show you understand them. You need to show you're one of them. You need to "speak their language."
For example, if you're writing a blog post targeted at b-boys and b-girls, you'll need to understand the term "breakdance" is a misnomer. In fact, within the community, it is designated as an insult.
The correct term would be "breaking" or "b-boying/b-girling."
And if you're not using those terms, it would be apparent to the reader you're not in tune with the niche—which will turn them off.
Plus, there is an SEO benefit too.
Because of 'phrase-based indexing' and 'co-occurrence', you may even improve the rankings for your primary keyword. Basically, this is the idea that Google can better identify the topical relevance of content through the co-occurrence of words and phrases (e.g., a page that mentions Apple, Face ID, and phone is clearly about the iPhone).
How, then, do you understand your audience's "language"?
If you're familiar with the niche, you shouldn't have a problem. If not, you'll have to browse the communities where your target audience hangs out.
These could be places like:
Facebook groups;
Reddit;
Slack communities;
Quora;
Blogs;
Forums;
Etc.
Take some time and go through the community. Find out the exact terms they're using. In the process, look at the topics they're discussing. They could make good blog post ideas.
For example, if I were to start a snooker blog, I would head over to r/snooker.
With just a few minutes of scrolling, I can already see terms I would need to learn like potting, break, century, maximum break, and so on. I also learned some player names like Ronnie O'Sullivan, John Higgins, Stephen Hendry, Jimmy White, etc.
I even discovered a potential topic I could cover: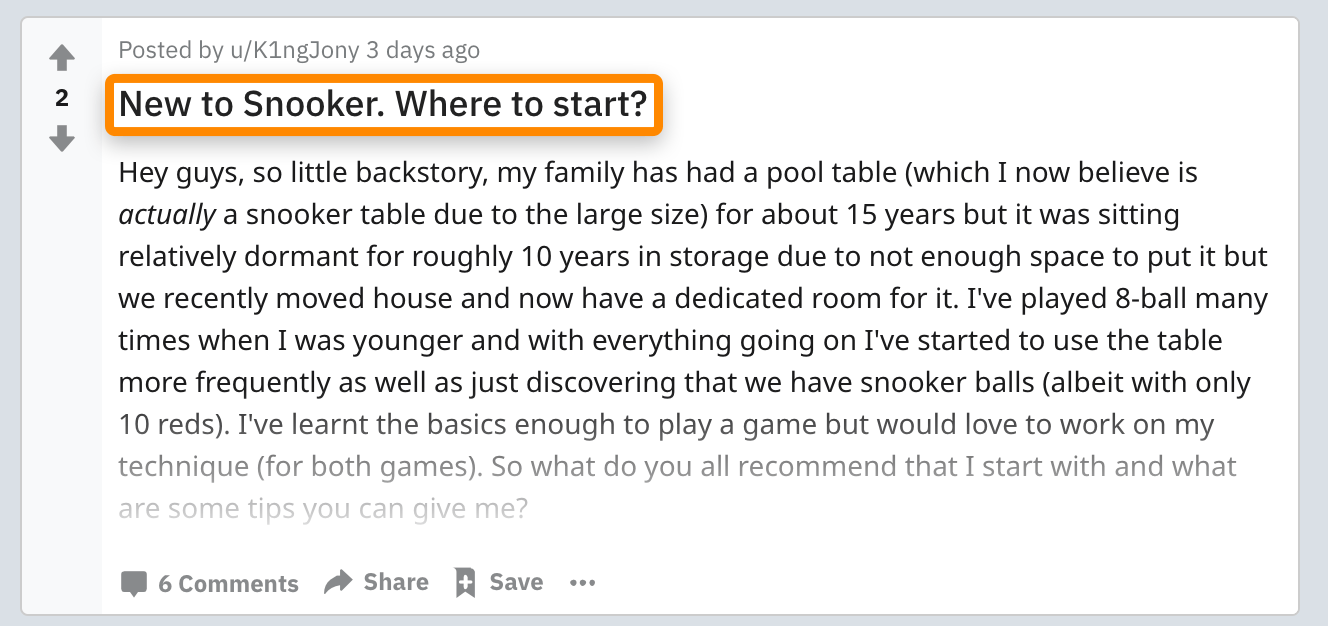 Pretty good for a few minutes of work.
If you want your readers to take the next step, you have to tell them. As the saying goes, "if you don't ask, you don't get."
In marketing, this translates to adding call-to-actions (CTAs) in your content.
But that doesn't mean every call-to-action should lead to "buy my product." Not every reader is ready to buy.
It depends where they're at in the buyer's journey.
Here's an example to illustrate:
Imagine you sell VPN subscriptions. You created an article about "what is a VPN". It's ranking well on Google and gets a ton of search traffic.
But since this is a beginner-level topic, your readers probably won't convert there and then. After all, they've only learned what a VPN is. They aren't ready to put cash down for something they've just learned about.
So, rather than trying to convert them into a customer, pull them into the next stage of your marketing funnel.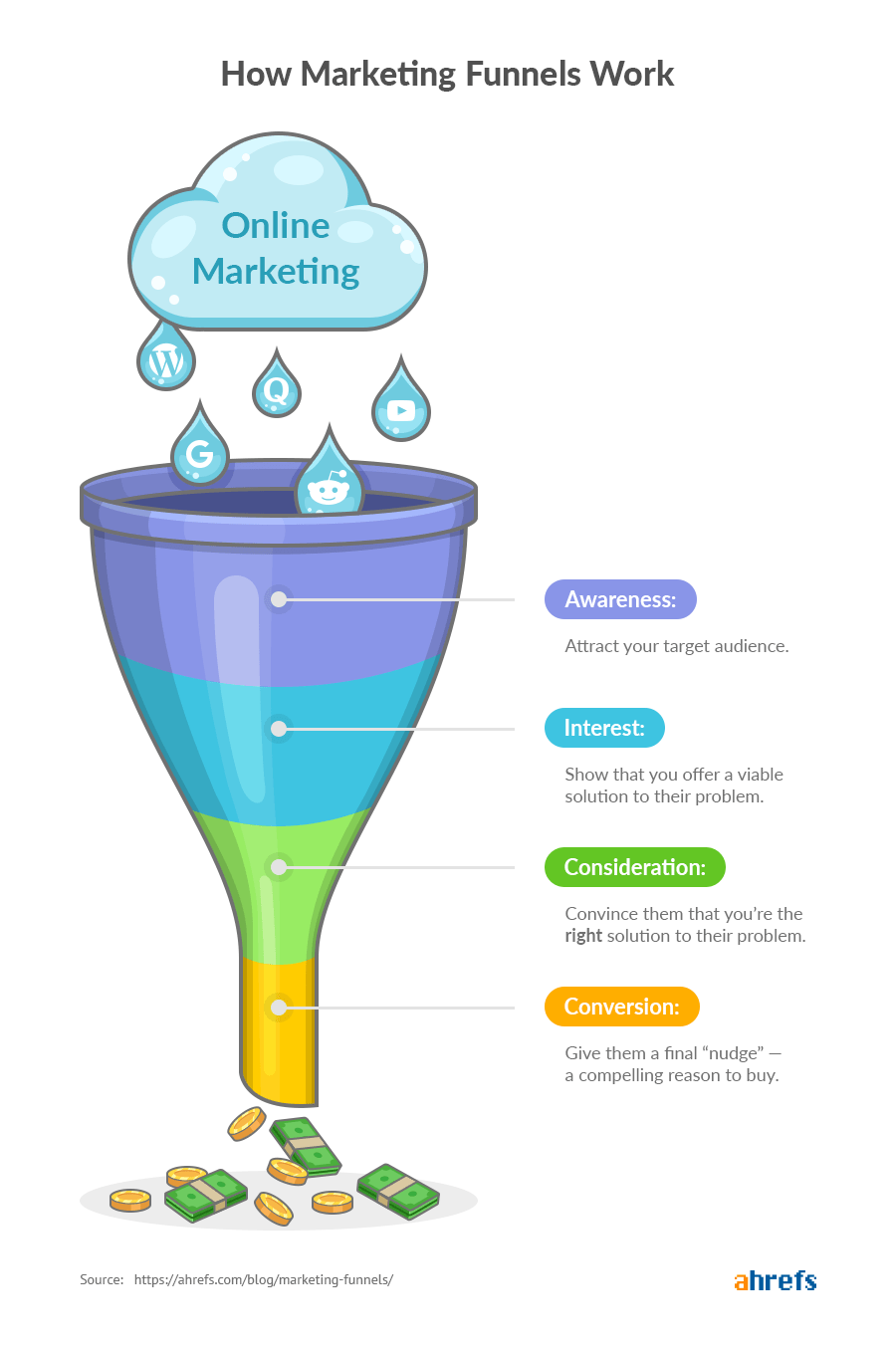 For example, in your "what is a VPN" article, you might explain how a VPN works. At this point, your reader might be wondering if they need one themselves. So, if you had an article on "10 Reasons Why Everyone Needs a VPN", you could internally link to it instead.
That way, your readers would be one step closer to converting.
This is good from a copywriting standpoint because you're potentially improving conversions and the ROI of your content. It's useful from an SEO standpoint because it increases pageviews, reduces bounces, and may send positive engagement signals to Google.
Key takeaway: always match the right call-to-action to the right stage in your customers' journey.
Final thoughts
SEO is not only about ranking in Google. It's about driving more traffic, engagement, and increasing your bottom line.
That's why copywriting is important—nobody is going to read a garbage piece of content, no matter how higher it ranks.
Got any questions? Holla at me on Twitter.