Most lists of SEO tips are overwhelming. They give generic advice like 'write better content' and 'improve user experience,' and bombard you with hundreds of tips.
If you've read this post in the past, you'll know this is a mistake we've made before.
Before republishing, it listed over 200 mediocre SEO tips.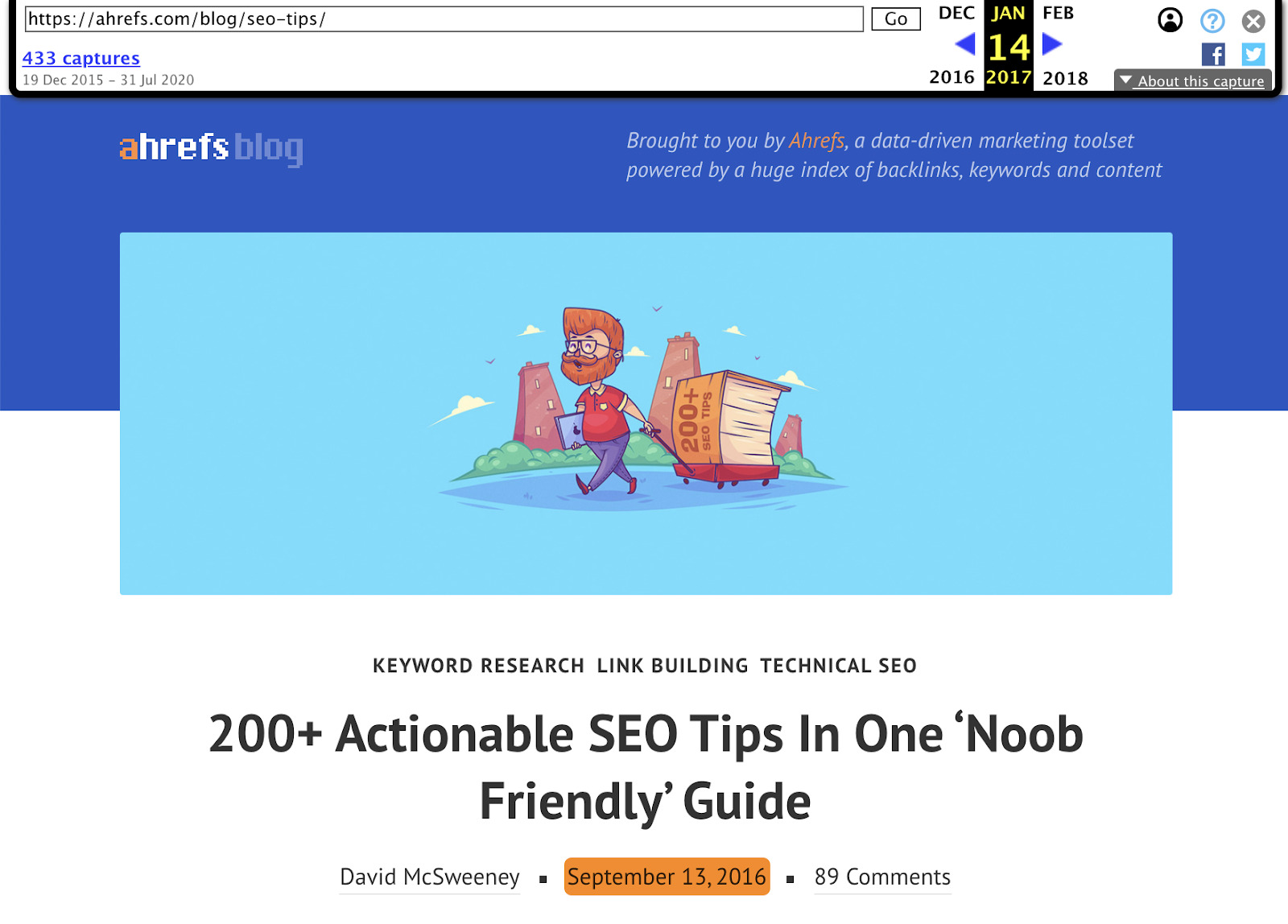 So we decided to rewrite the post and focus only on the most actionable tips that you can do in 15 minutes or less.
Here are the SEO tips:
https://www.youtube.com/watch?v=73lj6m6Xulc&feature=emb_title
Most first drafts aren't perfect. You'll almost certainly miss important points, which can hinder your page's ability to rank in search engines.
So here's what you can do:
Plug the URLs of the two or three top-ranking pages for your primary target keyword in Ahrefs' Content Gap tool. Then plug your page's URL at the bottom. Hit "Show keywords" and you'll see the keywords that one or more of the top-ranking pages rank for, but you don't.
Let's do that for our post about structured data.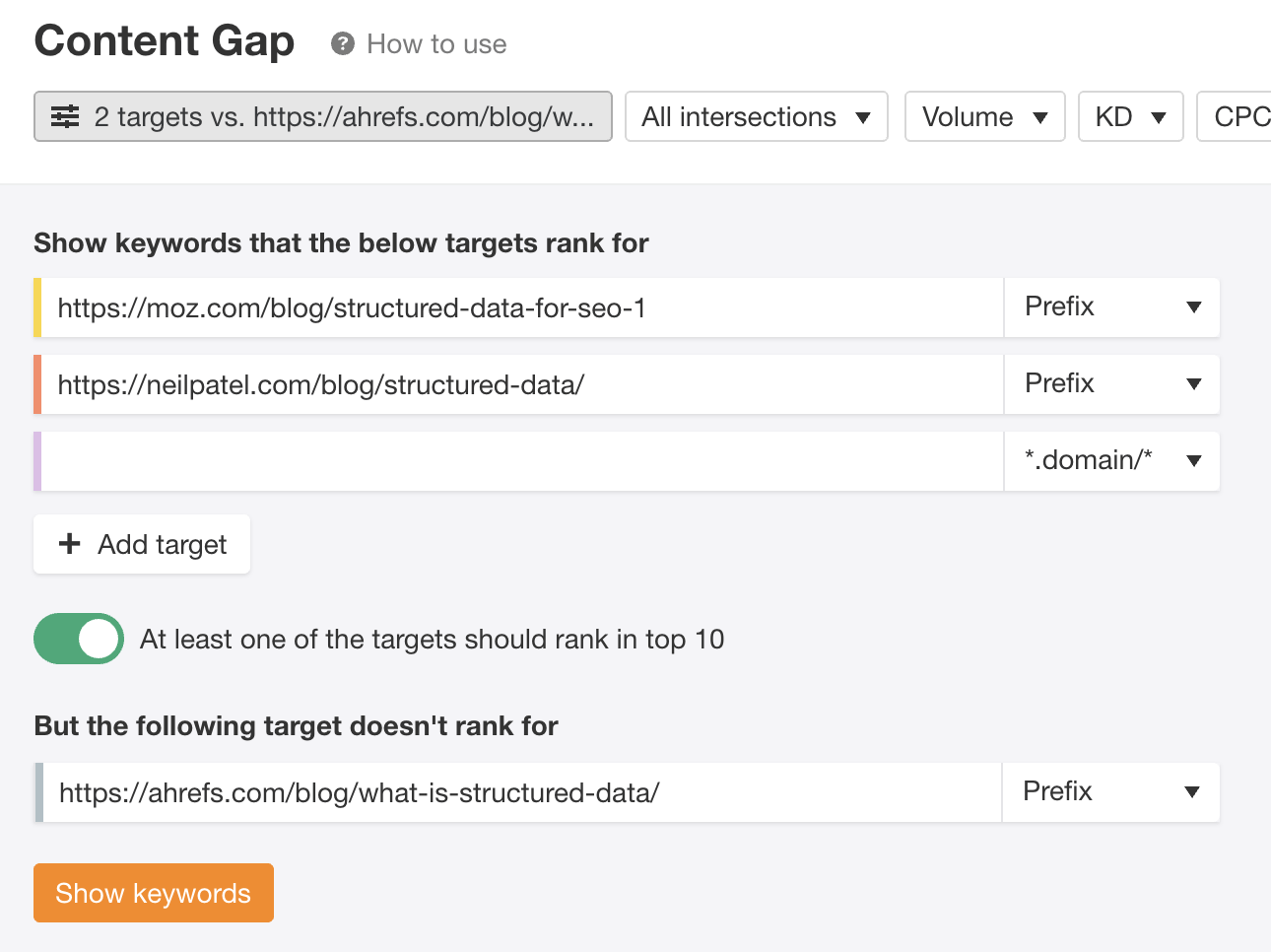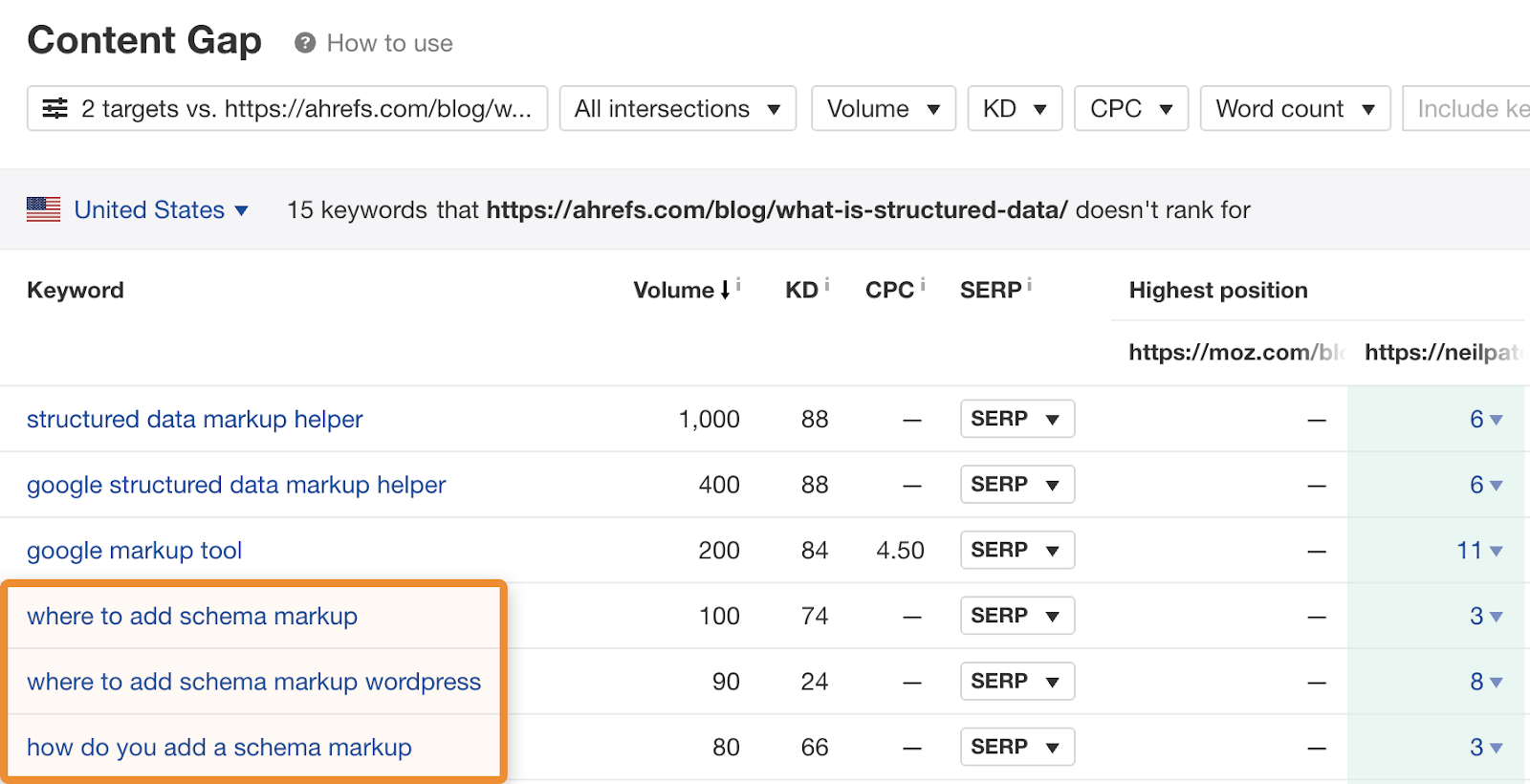 It looks like one of the other top-ranking pages ranks for searches related to how and where to add schema markup.
But we don't rank for those keywords because we didn't cover the subtopics in our post.
If we were to rectify that issue by covering the topic in the post, it's likely that we could also rank for those keywords. Even better, doing this may help improve our main keyword ranking because Google will see the page as more complete.
Backlinks are an important ranking factor, but link building can be a chore. You have to find prospects, vet them, find their emails, and then somehow convince them to link to you.
If that sounds daunting, an easier way to get started is to send emails to everyone you link to.
For example, we recommend a bunch of link building tools in this post.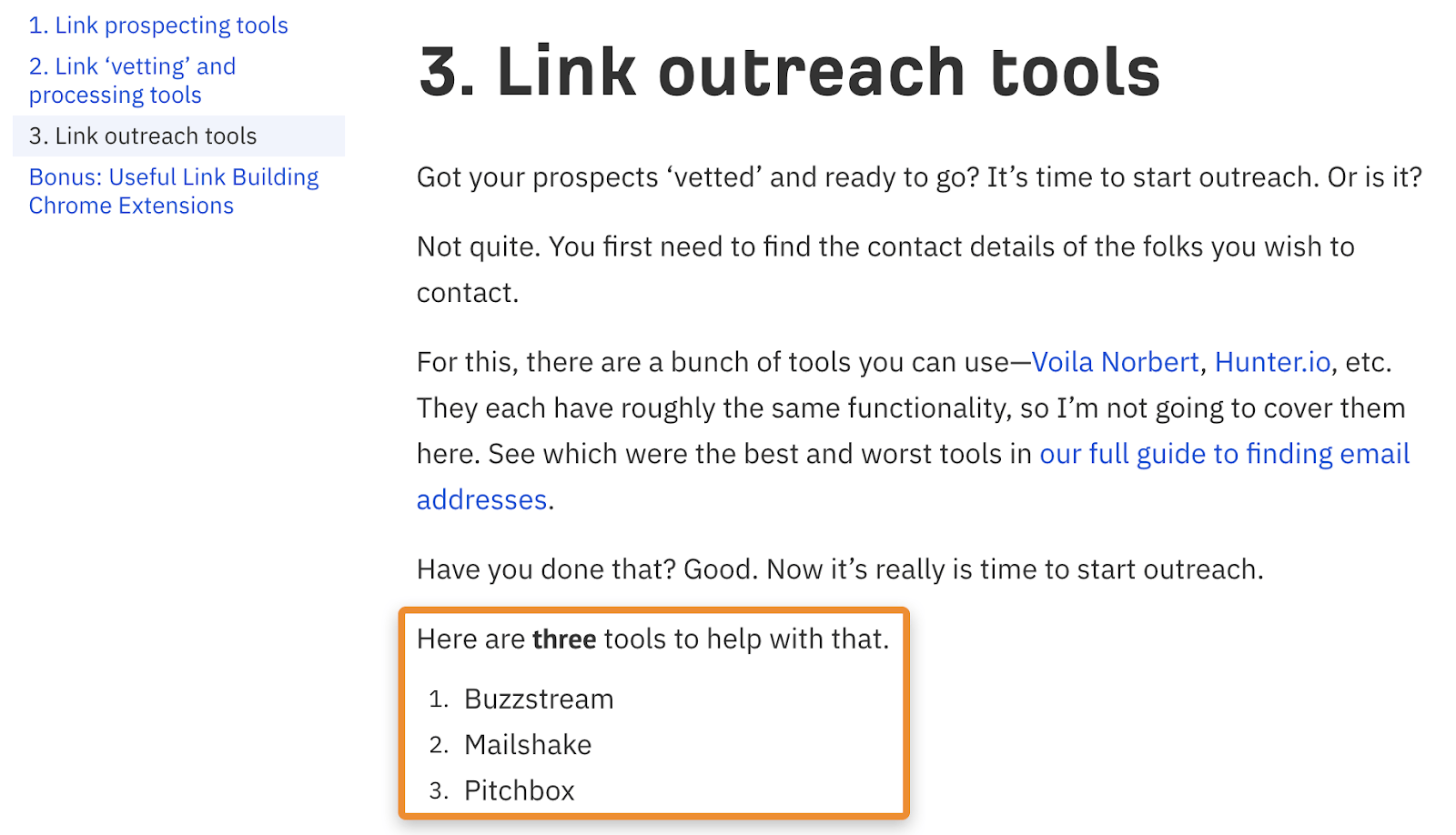 It would be easy enough to reach out to their founders or marketing managers and let them know about the recommendation.
Here's what that might look like for Buzzstream:
Hey [Name],

Long time Buzzstream user and superfan of your tool. Just wanted to let you know that I recommended y'all in our latest post about link building tools. Hope it sends some well-deserved customers your way.

Cheers,
Josh
Note that you shouldn't ask for a link in this email. That's not the point of this tip. The point is to make contact and start a conversion. If your content is unique and well-written, you'll often receive compliments. That naturally leads to shares and sometimes link opportunities like guest posts and other collaborations.
Internal links are backlinks from one page on your website to another. They help visitors navigate from page to page, distribute 'link authority' throughout your site, and Google also uses their anchor text to understand context.
Most links do provide a bit of additional context through their anchor text. At least they should, right‽

— 🍌 John 🍌 (@JohnMu) November 23, 2017
The problem is that whenever you publish a new page, it'll have few or no internal links. So if you want your page to stand the best chance of ranking, it makes sense to add some.
To find relevant opportunities, search Google for site:yourwebsite.com "keyword".
For example, if we wanted to add internal links to a newly-published post about SEO best practices, we'd search for something like site:ahrefs.com/blog "seo best practices".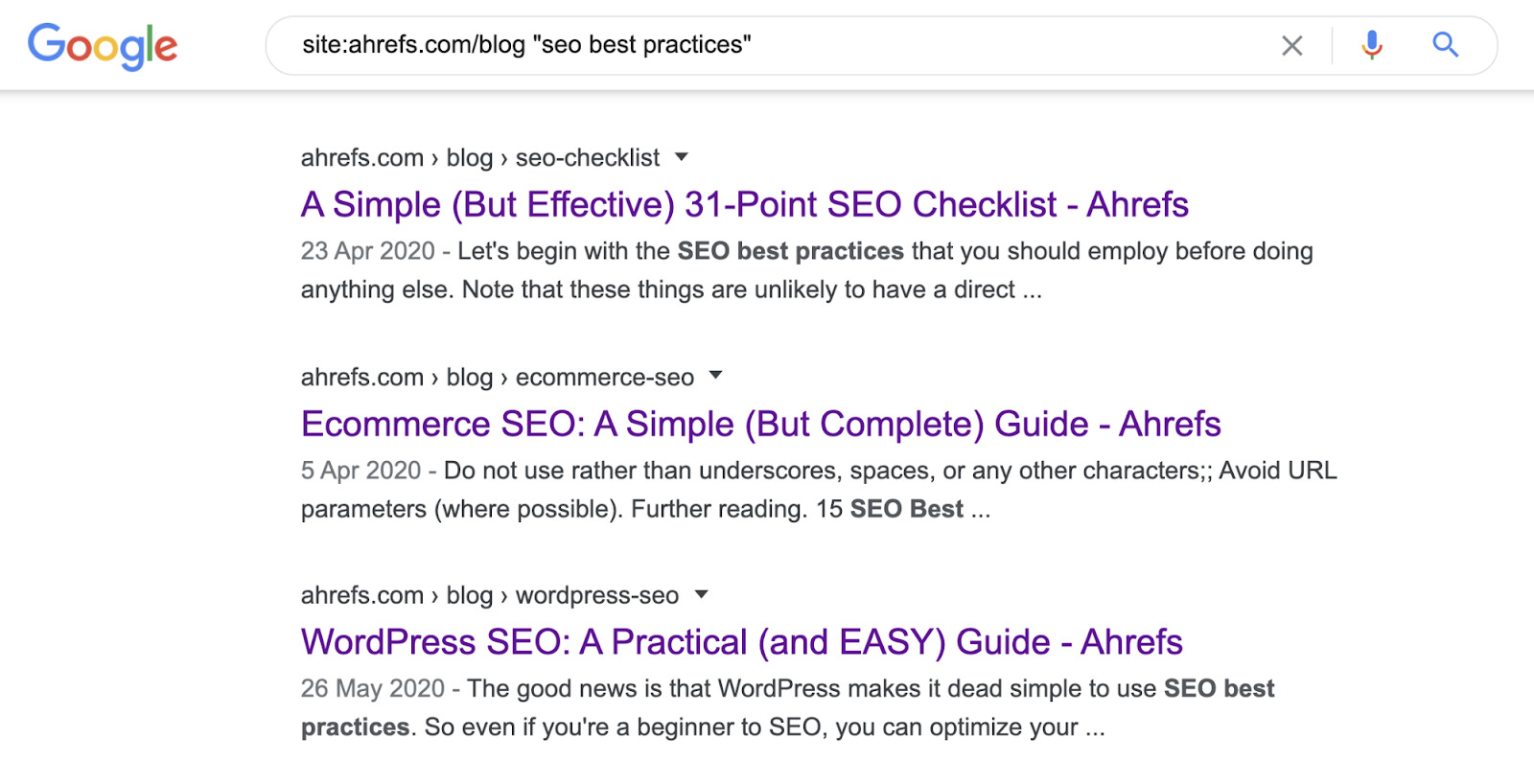 Every result here is a page on our site containing the phrase "SEO best practices."
If there are a lot of relevant results, install Ahrefs' SEO toolbar. This will overlay SEO metrics in the search results. You can then eyeball the URL Rating of each page to prioritize adding internal links from the highest authority pages.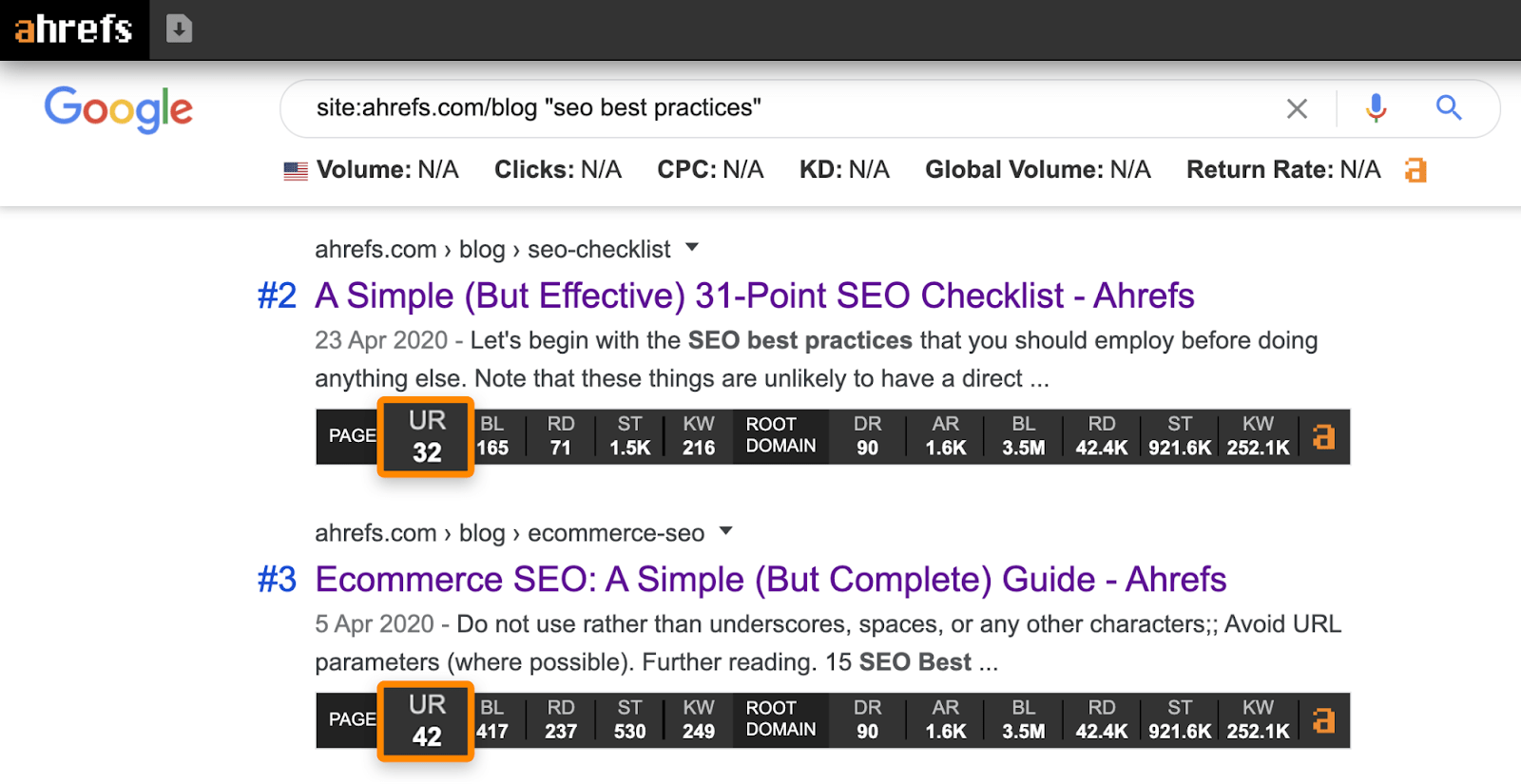 Here's a good internal link opportunity in our post about why SEO is important:

Content audits involve analyzing all pages on your website to see whether they should be kept as is, updated, consolidated, or deleted.
Following our last content audit on the Ahrefs blog, we deleted 48 blog posts.
Did our traffic decrease? Nope. It increased by 7.57%.
If your site runs on WordPress, the easiest way to conduct a content audit is with Ahrefs' free WordPress plugin. Install it, follow the instructions, and it'll give suggested actions for all your posts and pages.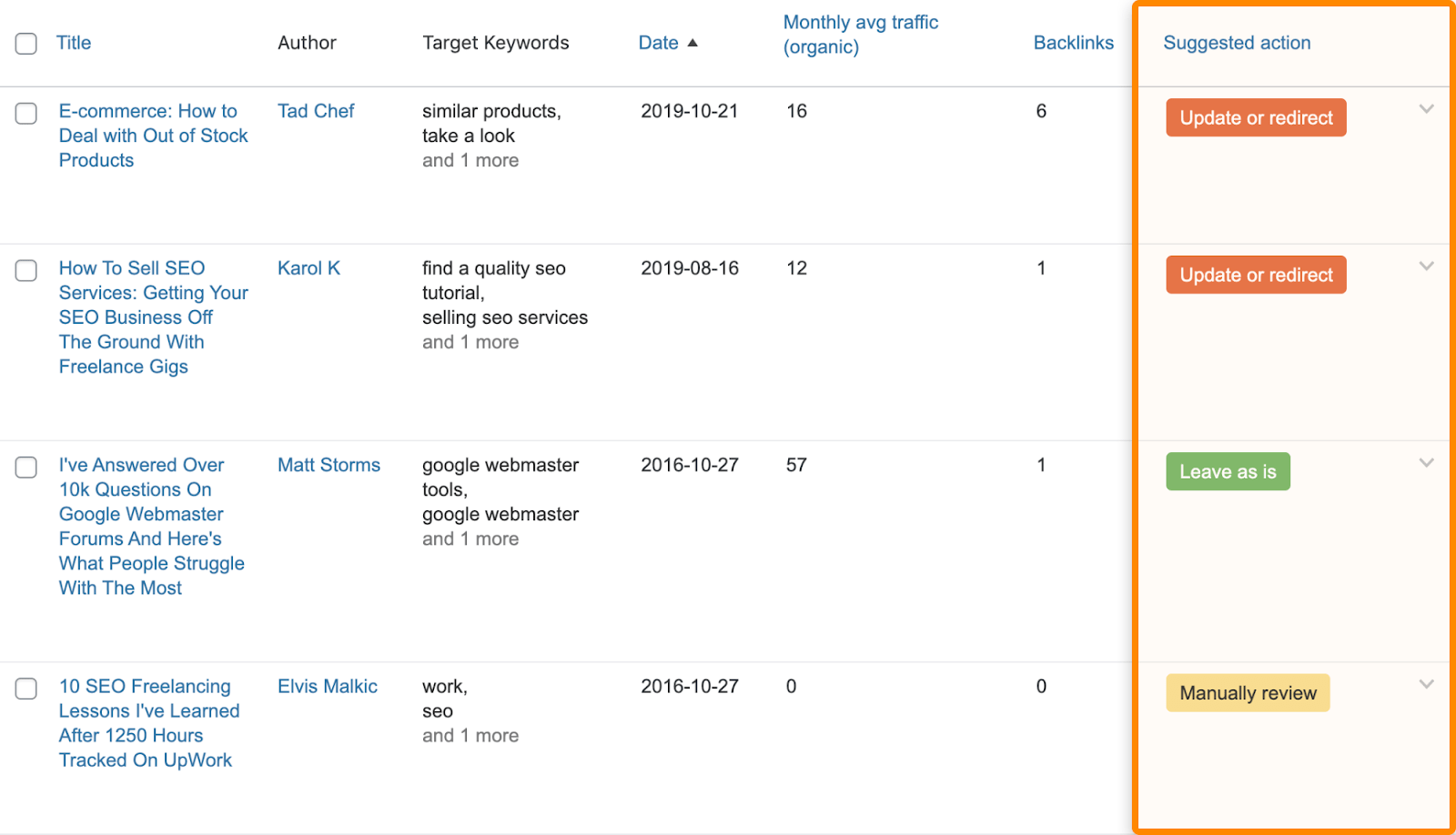 IMPORTANT. These are suggestions, not instructions. You should assess each page individually and never delete those that are important for your business—even if they have little or no SEO value.
If you're not using WordPress, use the instructions and Google Sheets template in this post to do the same thing.
People enjoy different content formats based on their personal preferences. Some like videos where others prefer to read. So an easy way to reach a wider audience is to repurpose blog posts as videos.
For example, last year, we published a blog post about ranking higher on Google, which we later repurposed as a video.
https://www.youtube.com/watch?v=Rm1MbJneLSI&feature=emb_title
How do you figure out which blog posts are best for repurposing?
If the post gets lots of organic traffic already, then it's a good candidate for repurposing. Why? Because you can then embed the video in your blog post to appeal to more visitors.
You should also consider repurposing posts about topics that people are searching for on YouTube.
For example, if we check the keyword "local SEO" in Ahrefs' Keywords Explorer and switch the search engine to YouTube, we see that it gets an estimated 500 monthly searches in the US.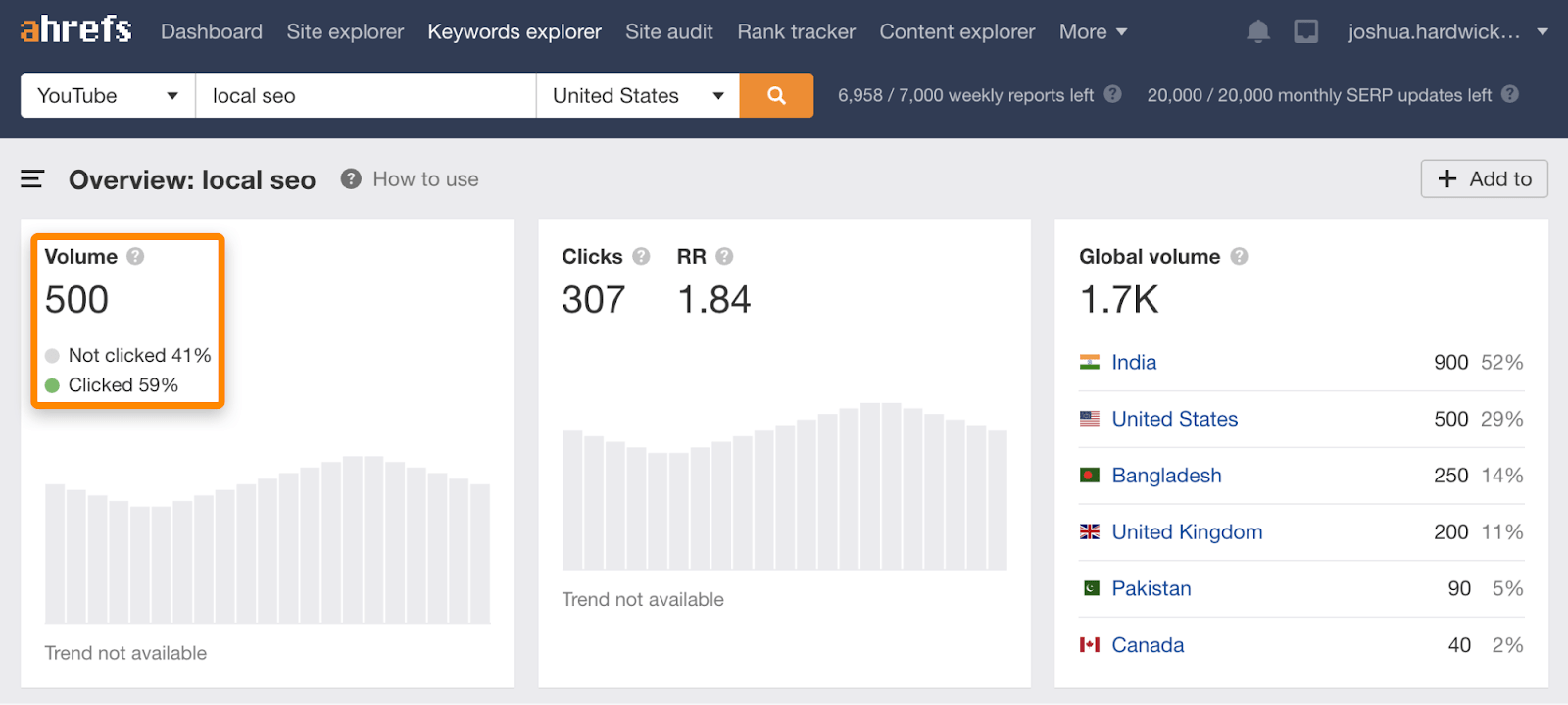 That's why we repurposed our post about local SEO as a video.
Repurposing blog posts into videos can also help you claim multiple spots in Google's search results thanks to the video carousel.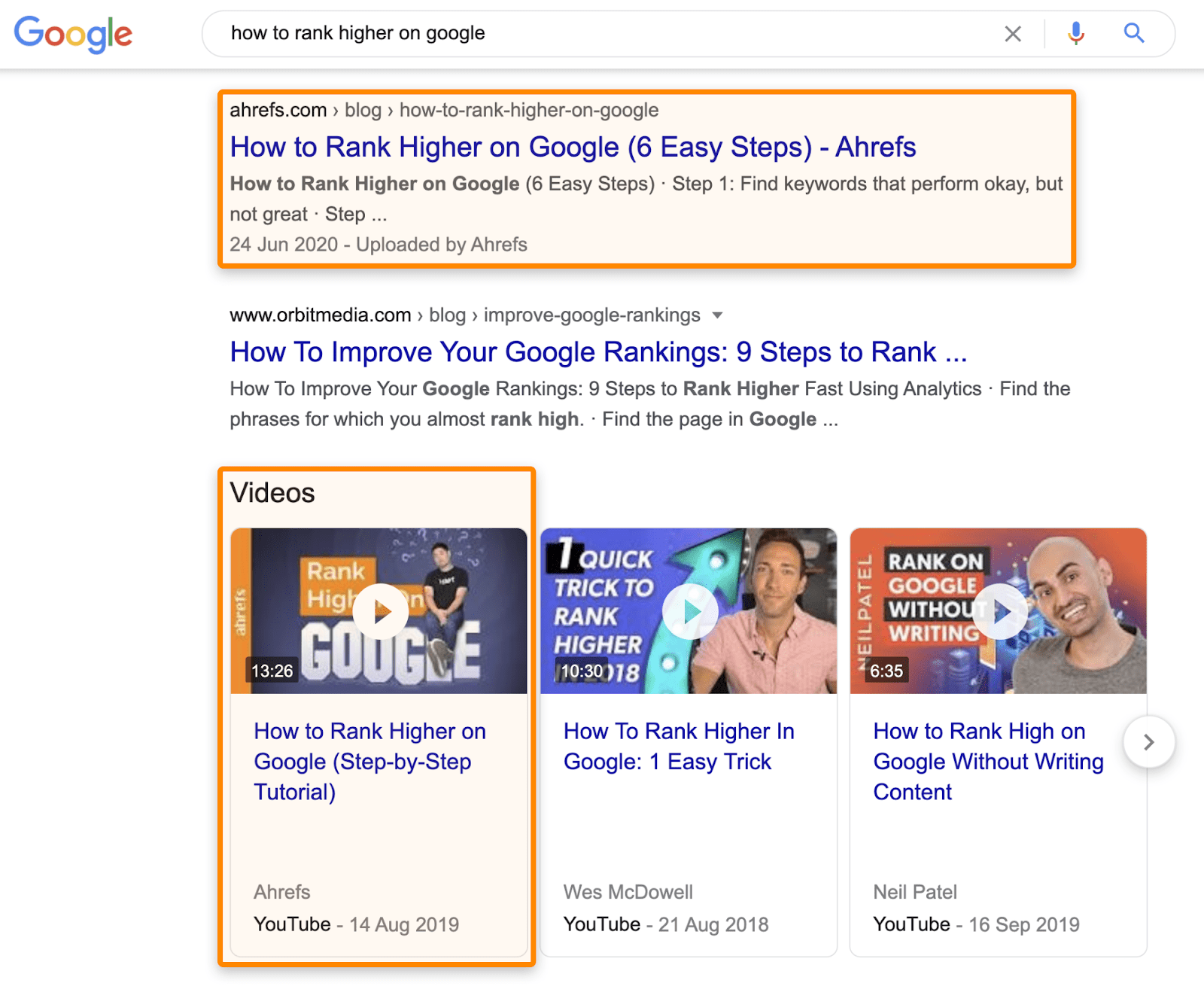 HARO is a service that connects journalists to sources. It's free to sign up and when you do, you'll receive daily emails with requests from journalists.
For example, here's Bankrate (DR 89) looking for a banking expert to answer a few questions about no-penalty CDs: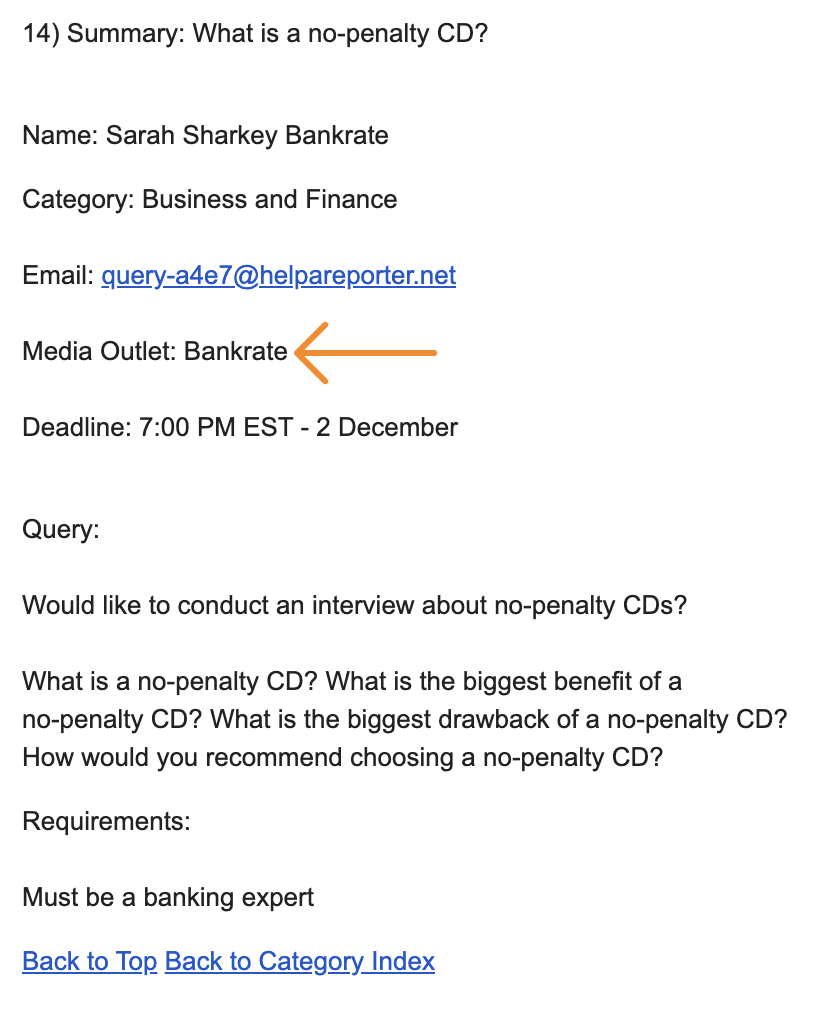 Upon receiving this email, all you'd need to do is check that you met the requirements and reply to the email. If they use your answer in their post, they'll usually credit you with a backlink.
The problem with HARO is that they send three emails a day. Given that most of the requests won't be relevant to you, that can be overwhelming.
Luckily, this issue is easily solved with Gmail filters.
Here's what to do:
Once you've signed up for HARO and subscribed to the topics that interest you, head over to your Gmail and hit the caret in the search bar. In the "From" field, enter [email protected], enter "[HARO]" in the "Subject" field, and then enter the keyword or keywords you want to monitor in the "Has the words" field.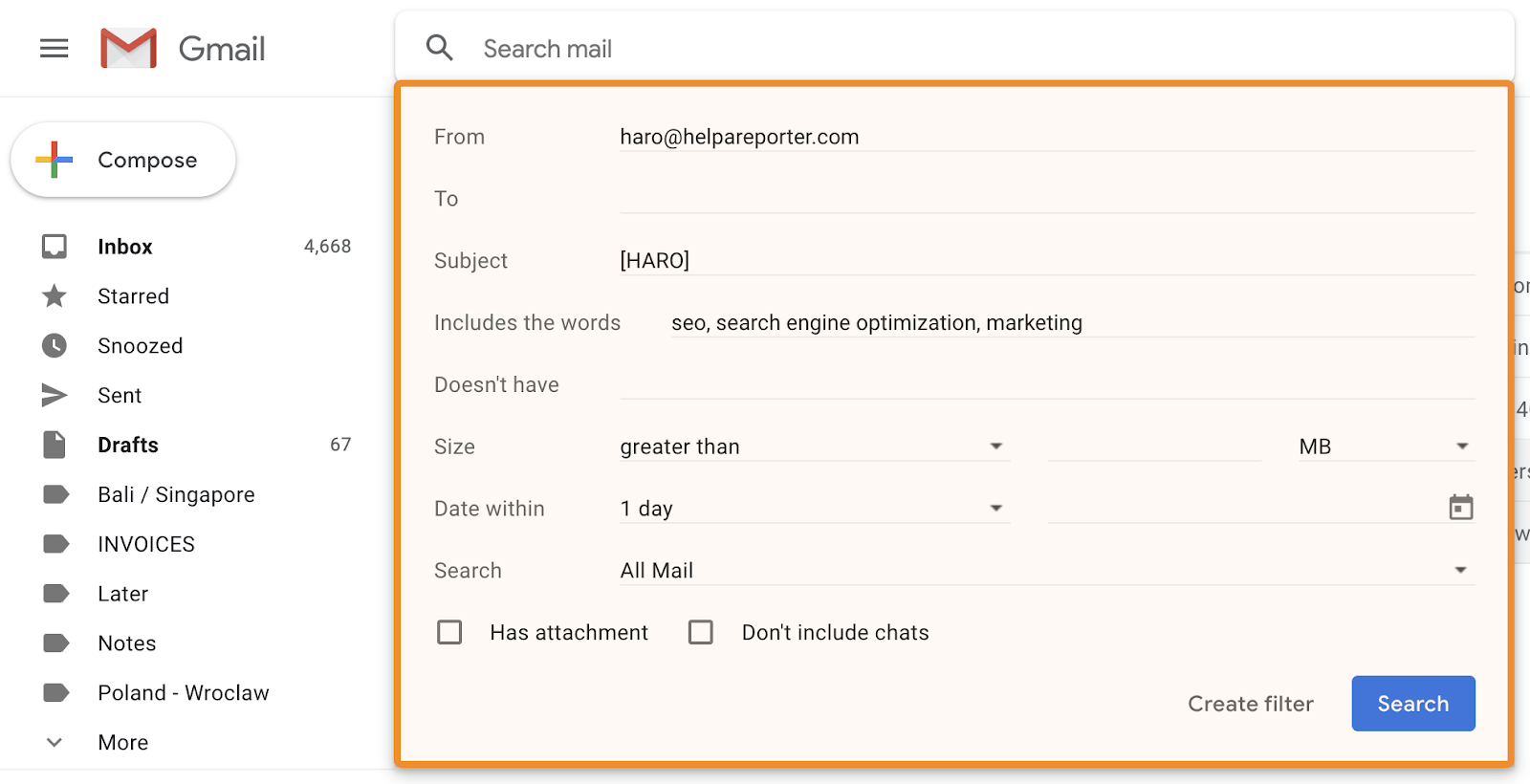 Next, hit search and check a few results to make sure they're relevant. If they are, hit the caret and click "Create filter."
You'll then have options to mark it as important, apply labels, or forward it to another team member to take care of.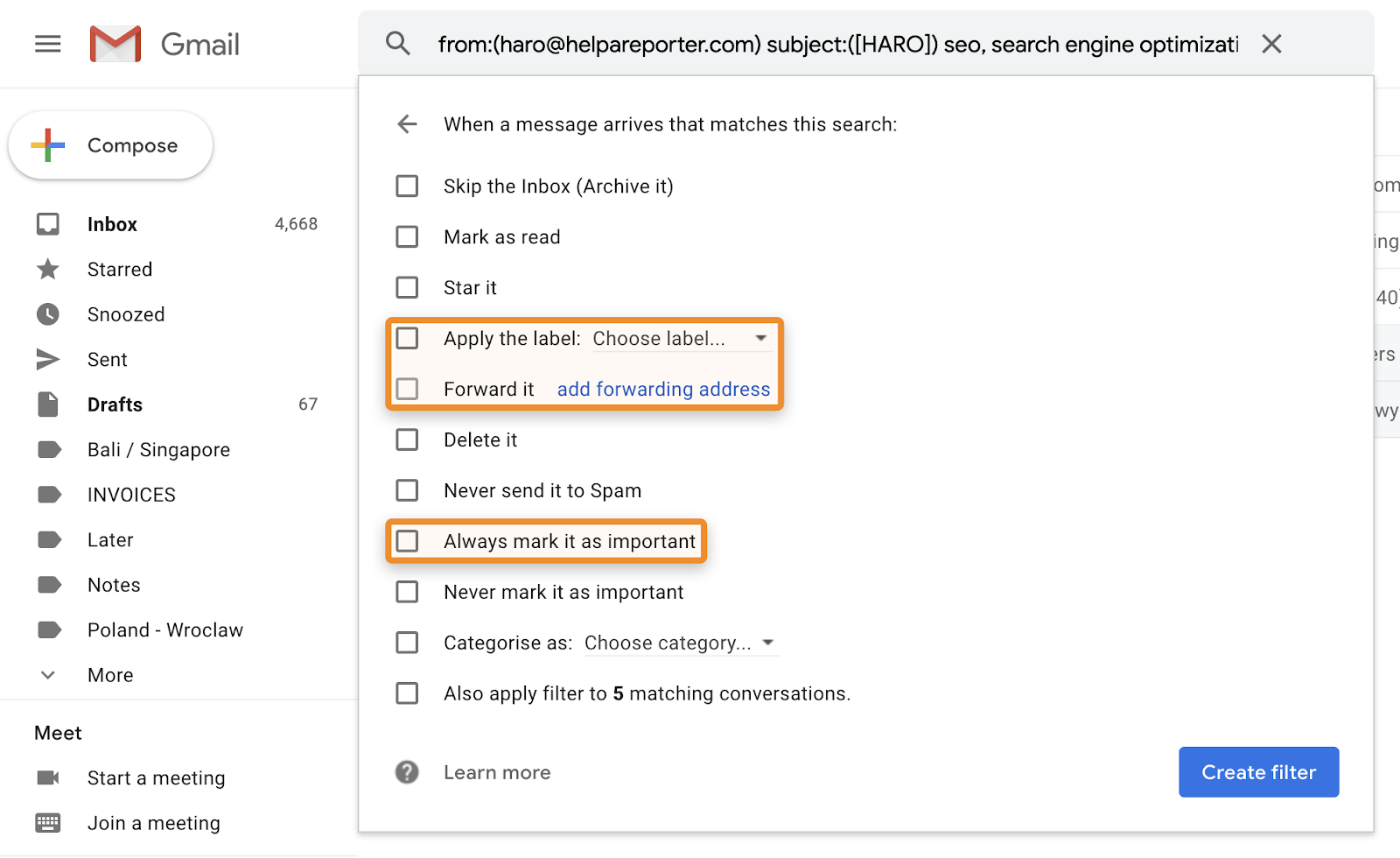 If you're not yet ranking number one for your target keyword, then it might be because competitors have more high-quality backlinks. You can get a sense of whether this is the case with Ahrefs' free SERP checker.
If the pages that outrank you have more websites linking to them (referring domains), that might be holding you back.

One way to begin fixing this is to monitor people linking to less deserving content, then try to get those people to link to you instead.
How? First, open a few top-ranking pages with backlinks and look for inaccurate, outdated, misleading, or missing information (that your content covers). You're essentially looking for areas where your page trumps theirs.
For example, Moz's list of Google search operators has tons of links, but it misses tons of operators like define:, cache:, and site:.

Armed with this information, the next step is to create a new backlinks alert in Ahrefs' Alerts. Just paste in your competitors URL, then set the Scope to "New backlinks" and the alert frequency to daily or weekly.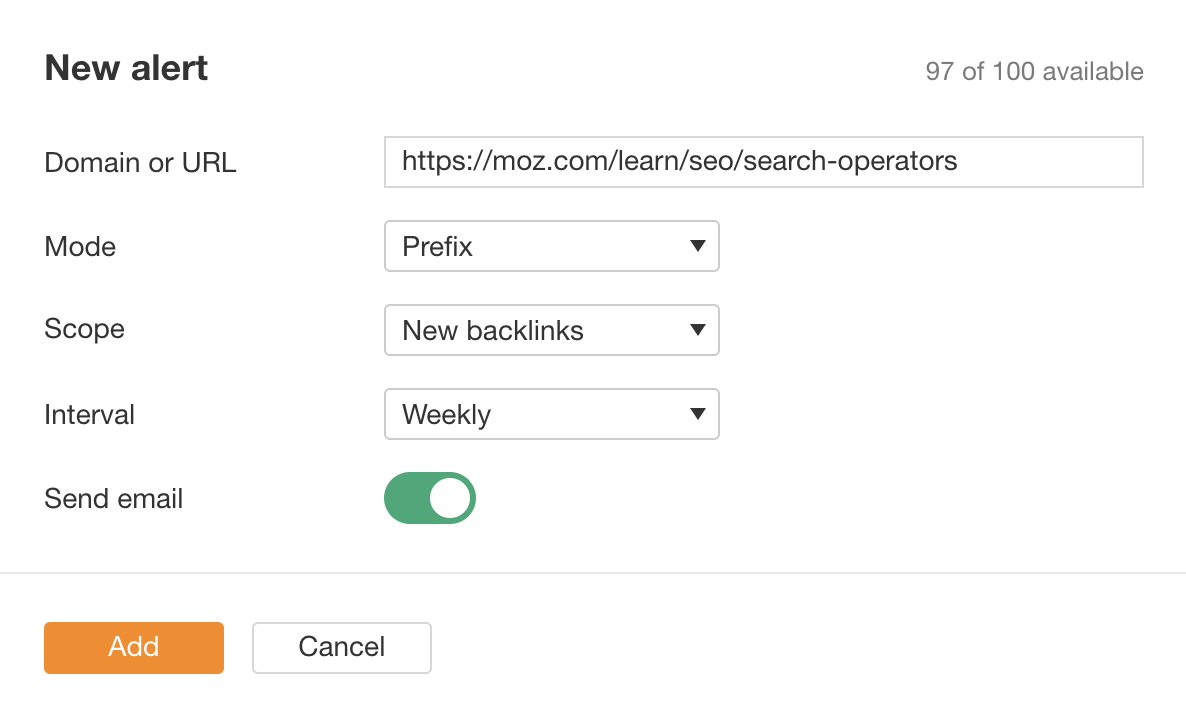 Look through each alert email for links that you deserve more than your competitor.
For example, this page recently linked to Moz's list of operators when talking about the site: operator, even though Moz doesn't list that operator on their page: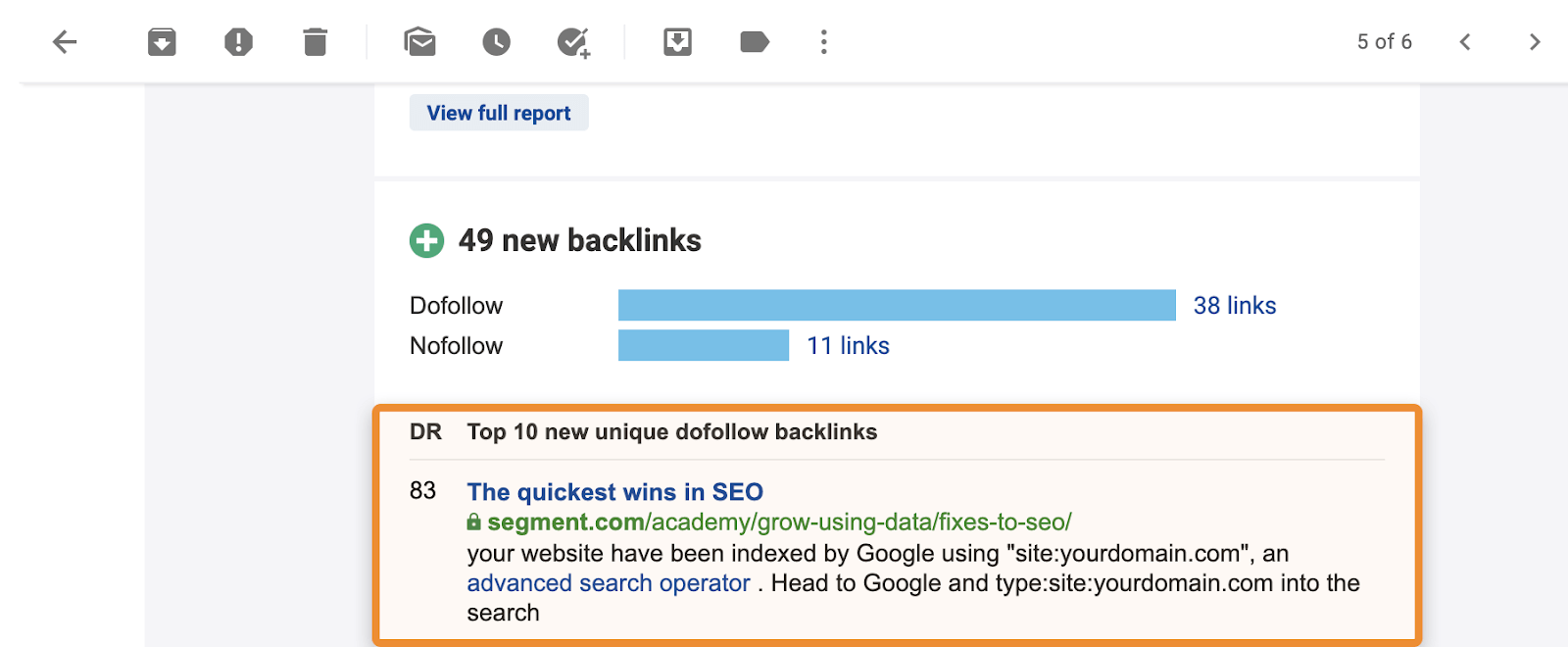 Because it would make more sense for them to reference our page, it'd be worth reaching out to see if they'd consider changing the link.
Backlinks to dead pages are effectively wasted. They're not helping the page rank because it no longer exists, and they're probably not helping other pages rank much either.
How do you know if you have broken backlinks?
Filter for 404 pages in the Best by Links report in Ahrefs' Site Explorer.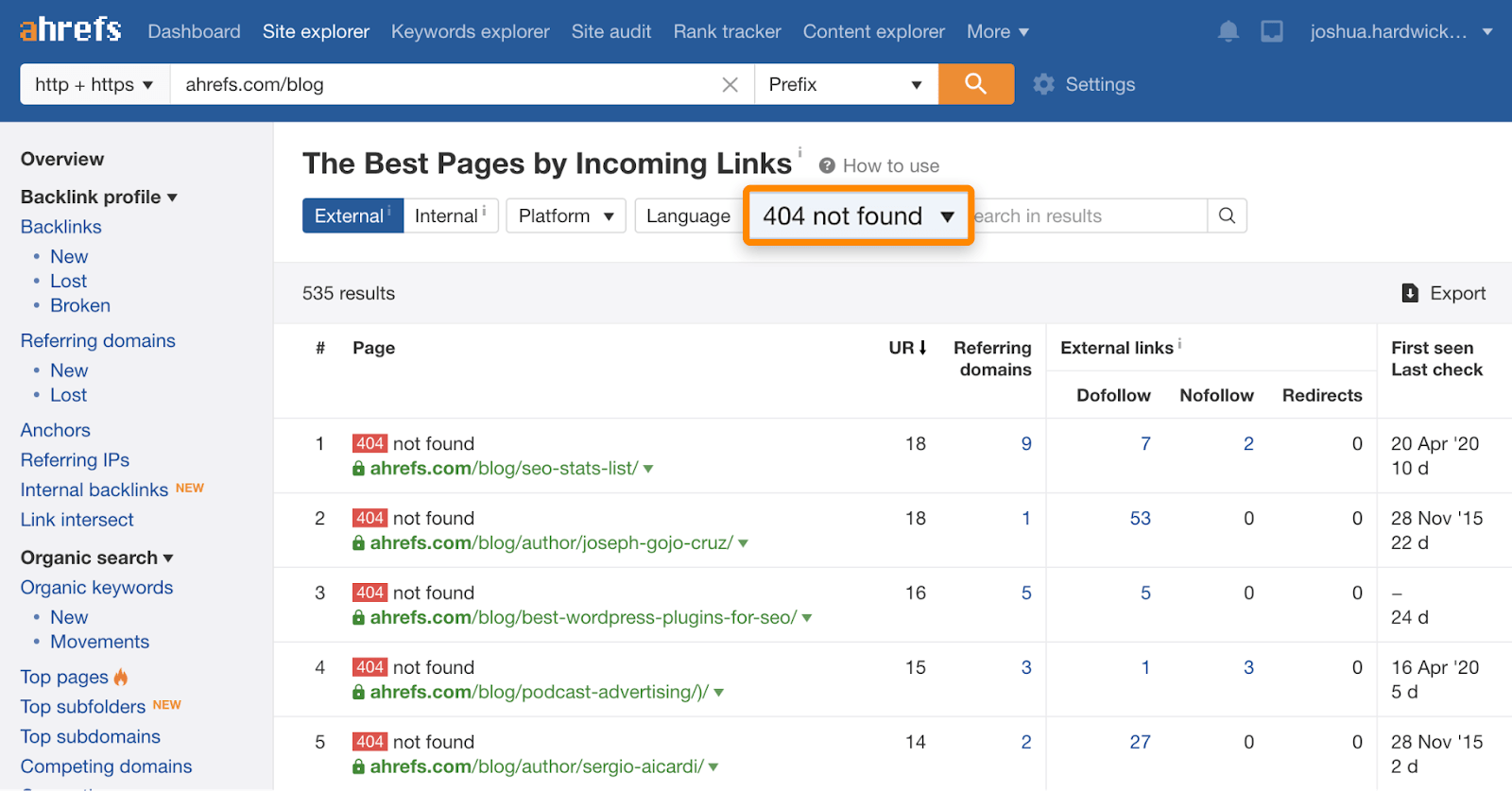 If there are any pages with referring domains, then those backlinks are broken.
There are three ways to fix these:
Reinstate: If the dead page was deleted by mistake, put it back. All of the backlinks will then point to a working page.
Redirect: If the dead page exists at a new URL, redirect the old URL to the new one. If the old page no longer exists, but you have a similar page on your site, redirect the old URL there. Read this to learn how to do redirects.
Request a link change: If someone made a mistake when linking to your page (e.g., they added a space to the end of the URL), then it's worth reaching out to let them know.
Just know that it's only worth fixing these issues if the dead pages have high-quality backlinks. If not, it's usually fine to leave them as 404's.
You can check the quality of a page's backlinks in the Backlinks report.
For example, this dead URL has a couple of backlinks:
But if we look at the actual backlinks, we see that they're junk and not worth worrying about: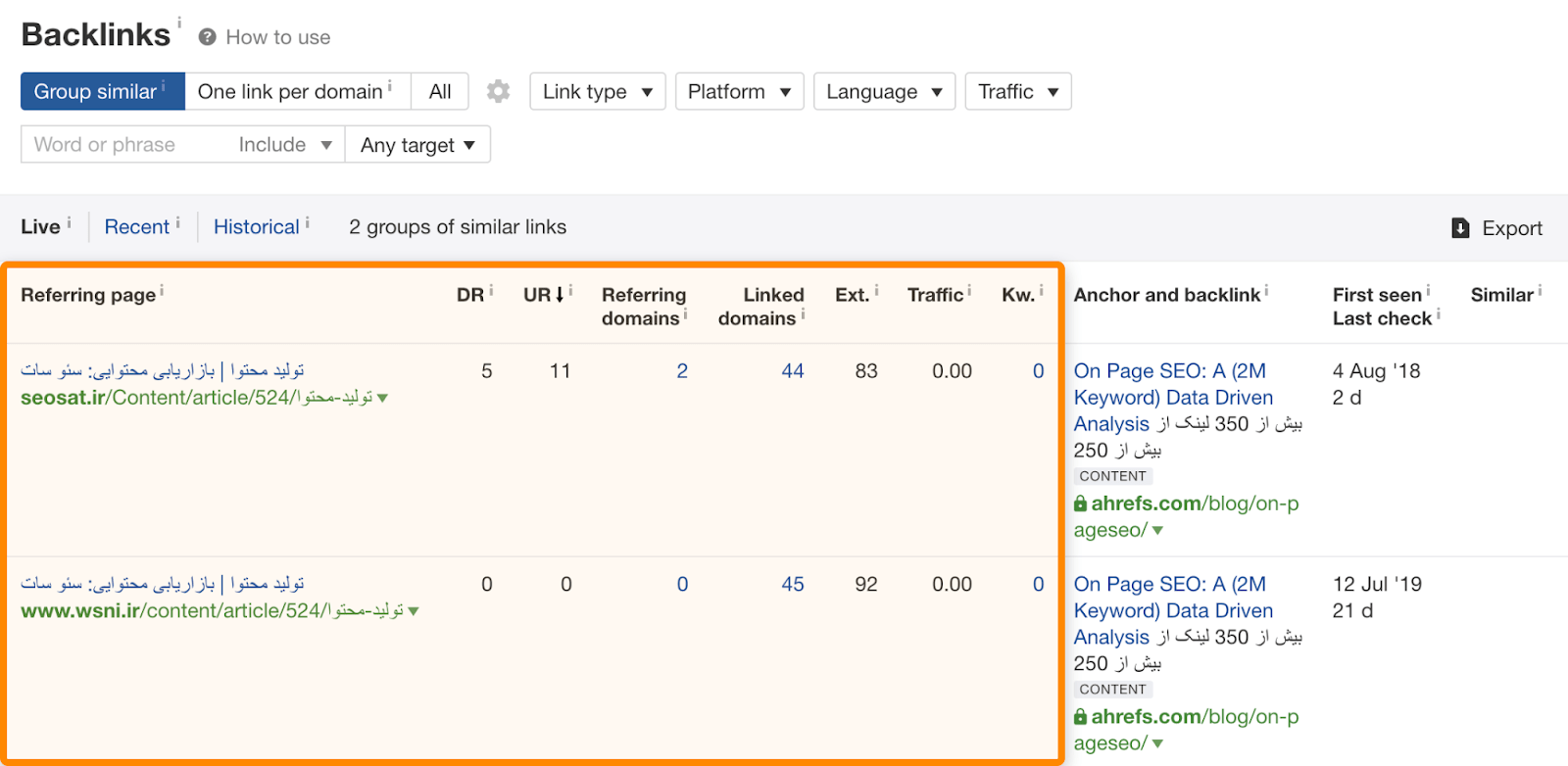 On the other hand, this dead URL has a few high-quality backlinks, so it's worth redirecting:

If you have custom illustrations or infographics on your site, it's highly likely that others will use them in their content.
For example, here's a graph from our post about long-tail keywords on another blog: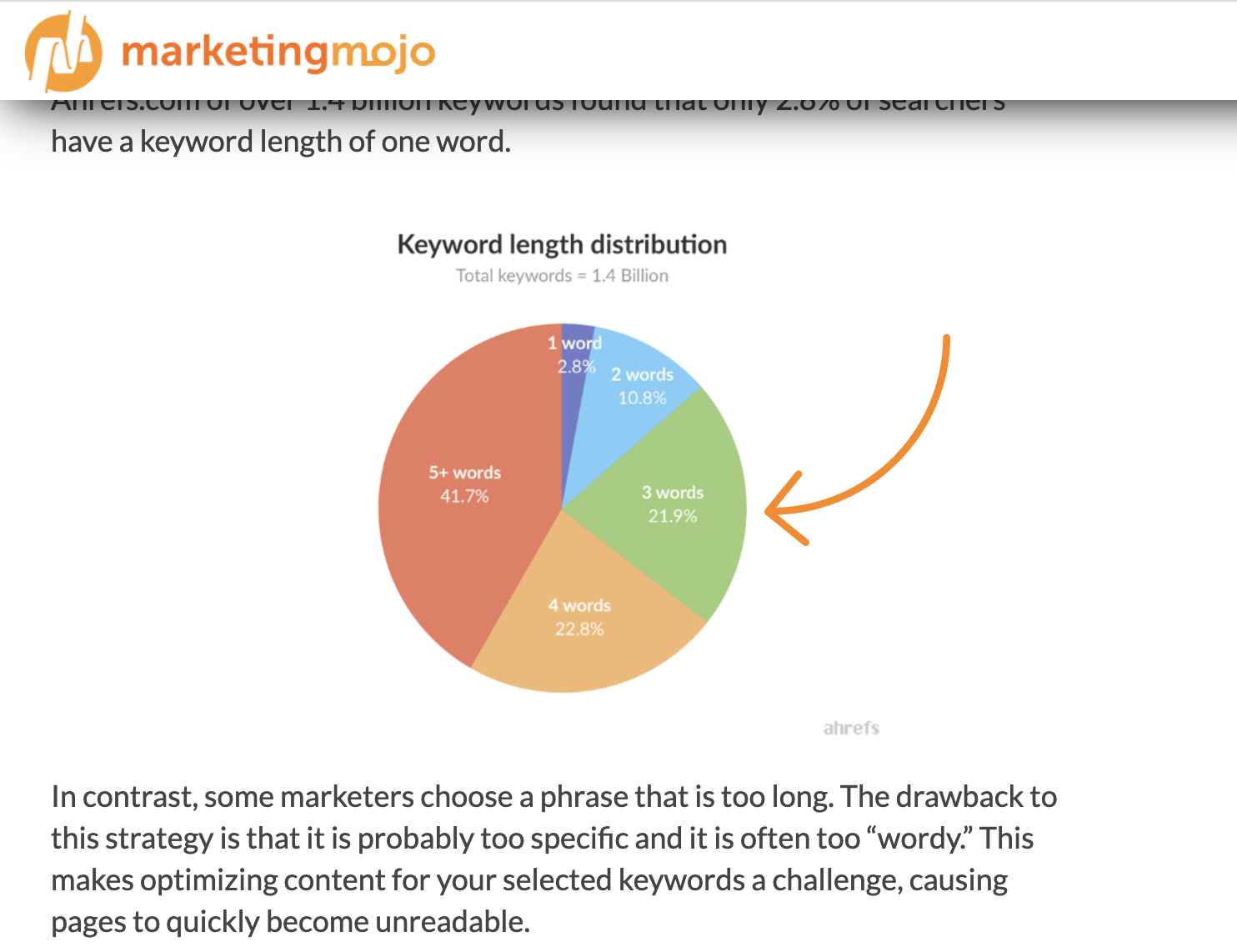 Most of the time, people link back to the source of the image when using your images, but not always. And that's the case here. If we check the source code for that page, there's no link back to ahrefs.com.

Another common issue is people linking directly to the image instead of the page it came from.
For example, if we check the source code for another page where that illustration shows up, they're linking to the PNG file.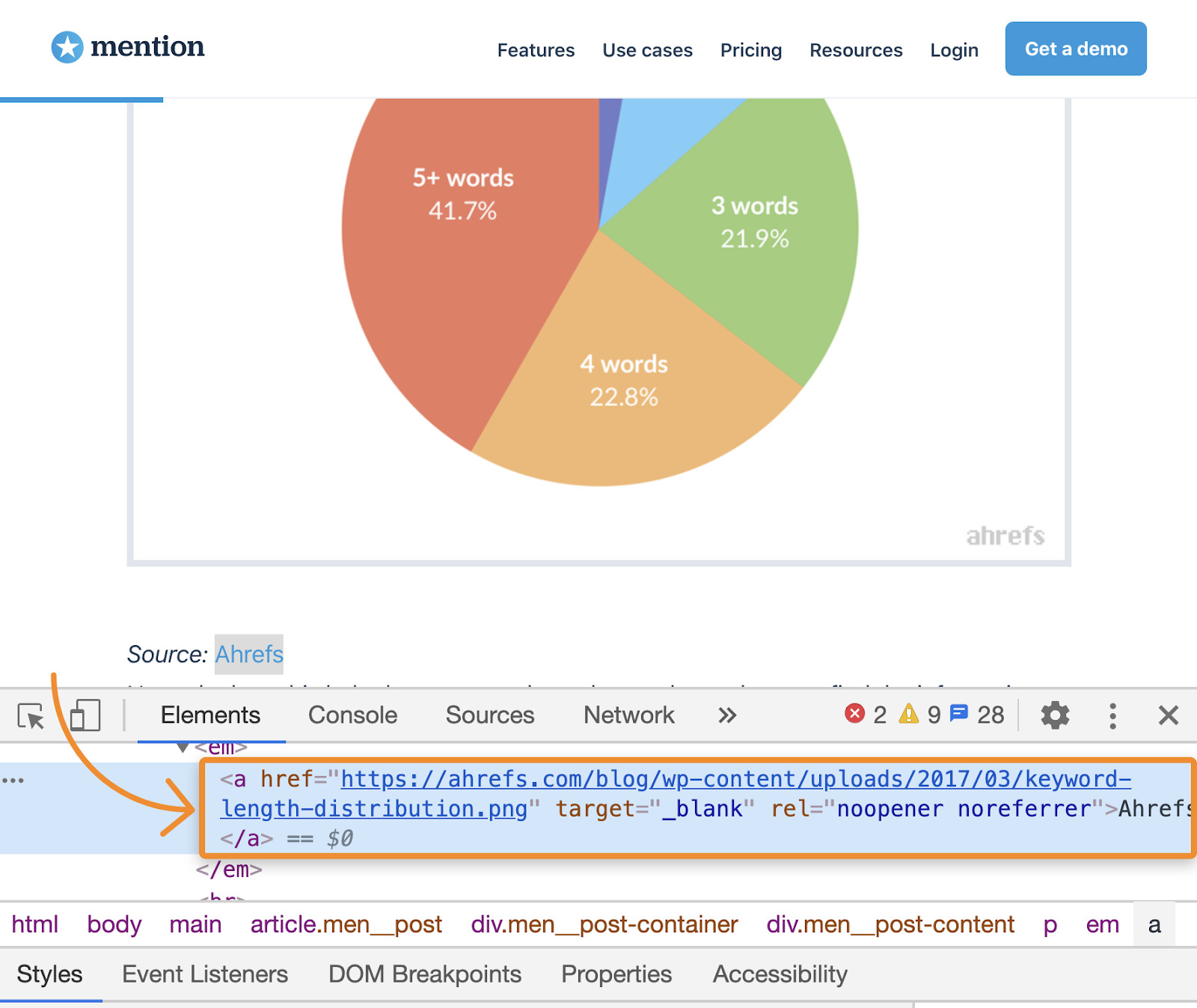 Neither of these situations is ideal. If you spot people doing this, it's worth reaching out and kindly asking them to add or fix the source link.
But how do you find people using your images without proper attribution in the first place?
One way is to right-click on an image on your site, then hit "Search Google for Image."

Check the results to see if they've linked back to you. If not, reach out.
Here's another way:
Paste your website into Ahrefs' Site Explorer, go to the Backlinks report, then search for links with .png or .jpg in the backlink URLs.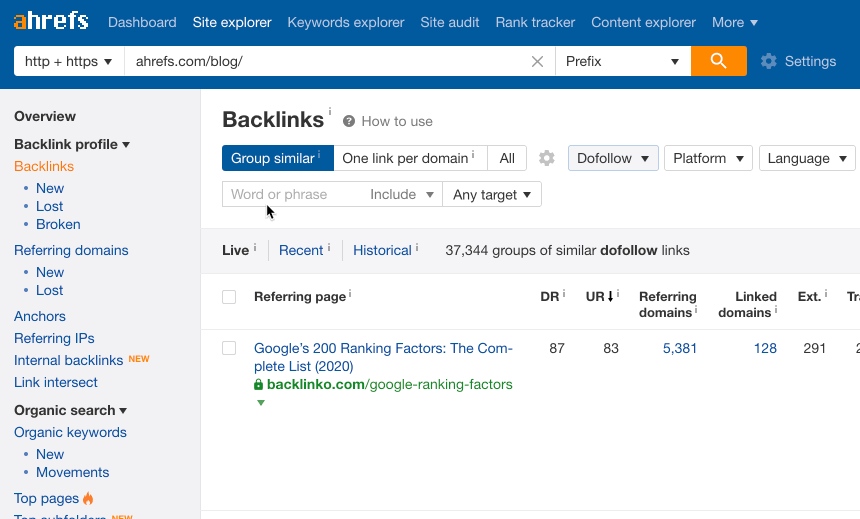 If we do this for the Ahrefs blog, we see hundreds of sites linking directly to images.

Sidenote.
Site Explorer only finds instances where people link to the image files instead of pages. It won't find sites that have used your images without linking back to your site at all. You'll have to use Google for that.
Caching helps speed up your website for visitors, and there are a couple of reasons why that matters:
First, page speed is a ranking factor on both mobile and desktop.
Second, the probability of a visitor bouncing increases as page load time goes up.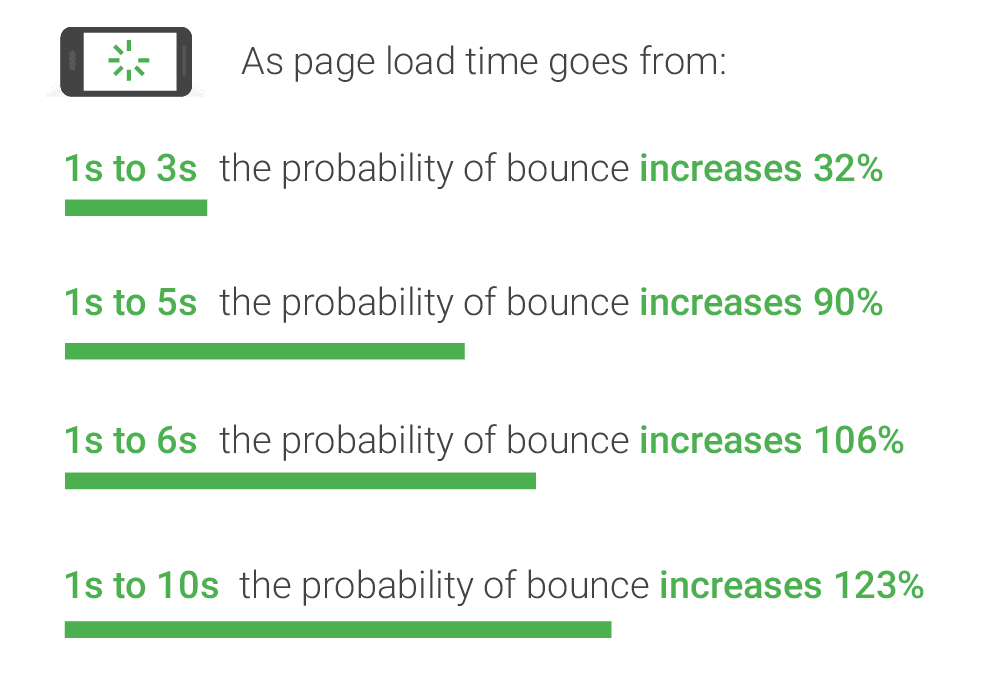 Although many factors affect pagespeed, installing a caching plugin is a quick and easy win that takes all of two minutes.
To do it in WordPress, log in to your backend, then go to:
Plugins > Add new > search for "WP Super Cache" > Install > Activate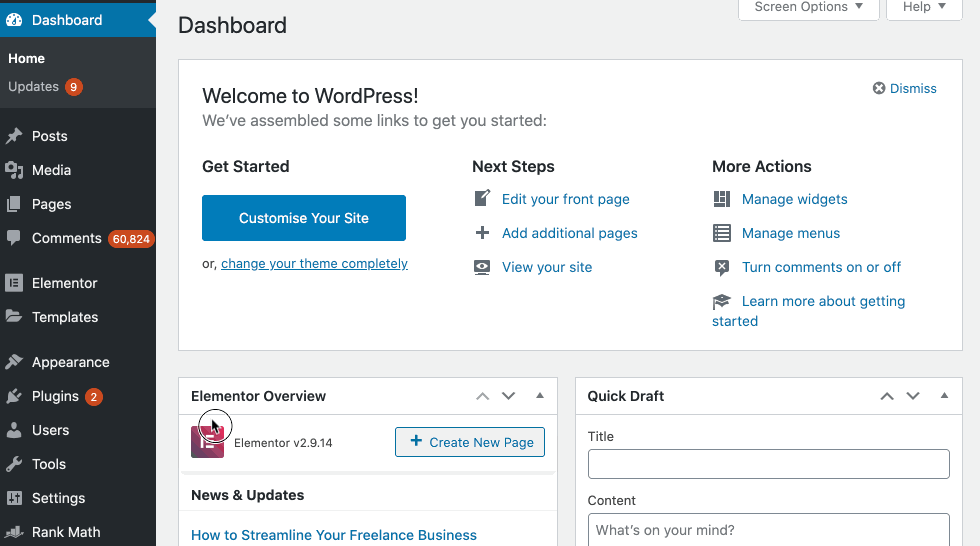 Finally, go to the settings page for the plugin and make sure caching is on.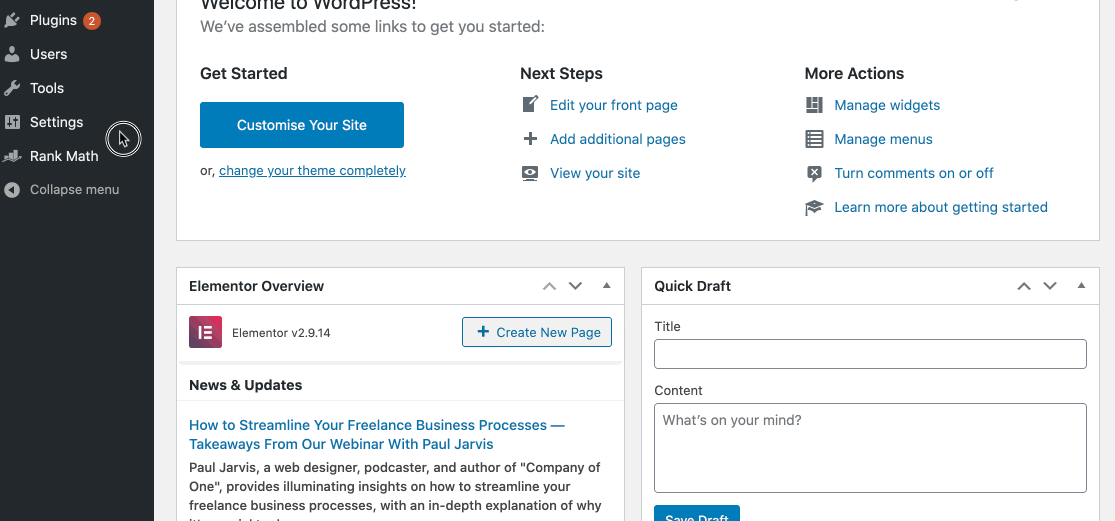 Most searches for definitions show a featured snippet like this: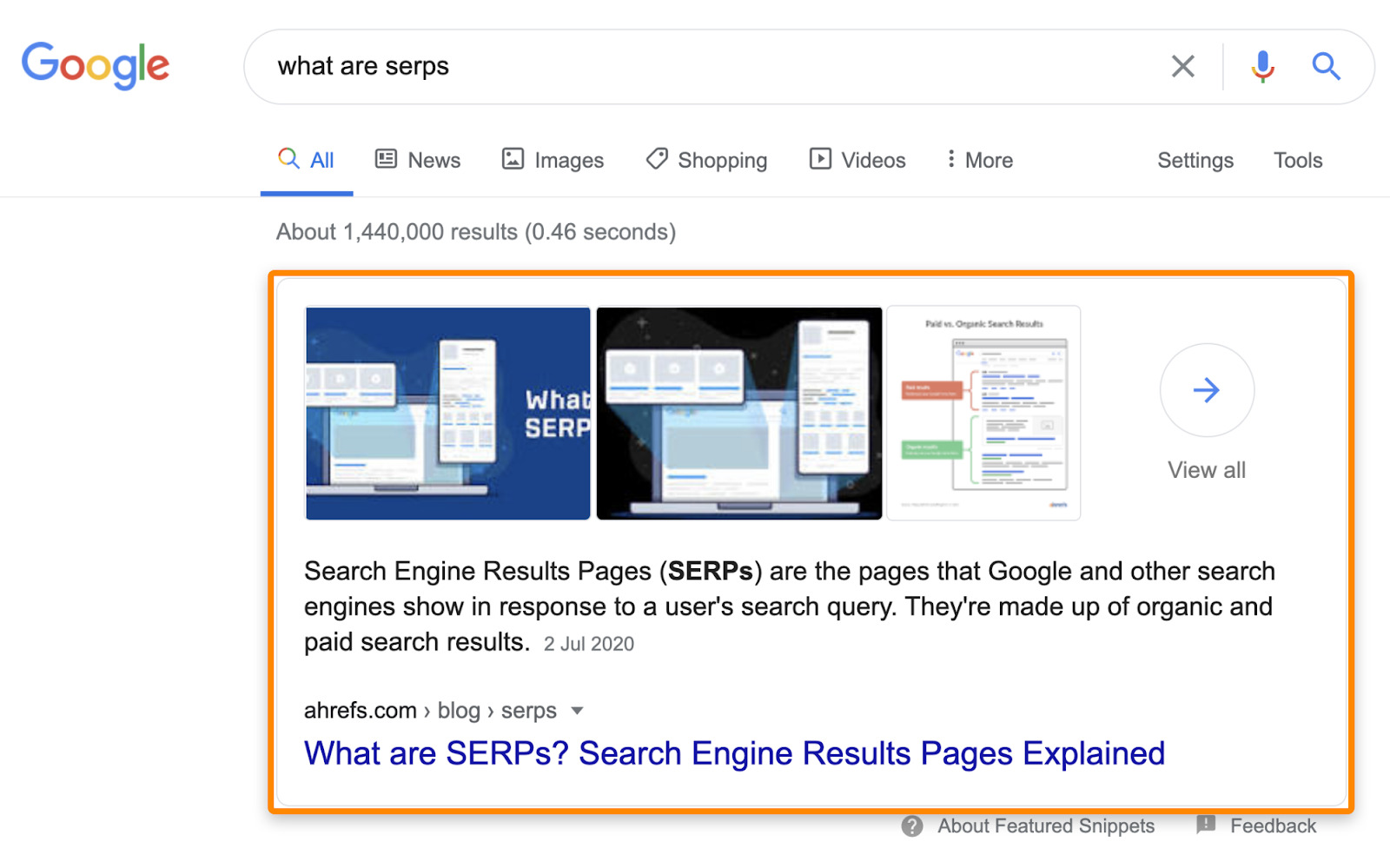 Google pulls this information from one of the top-ranking pages. In this case, it comes from our blog post about SERPs.
But here's the thing: If we didn't have a definition on our page, there's no way we could appear in the snippet. Google knows searchers are looking for a definition, so it's going to pull from a page with that information.
So here's what you can do:
Enter your domain into Ahrefs' Site Explorer, go to the Organic Keywords report, then filter for top 10 rankings with featured snippets.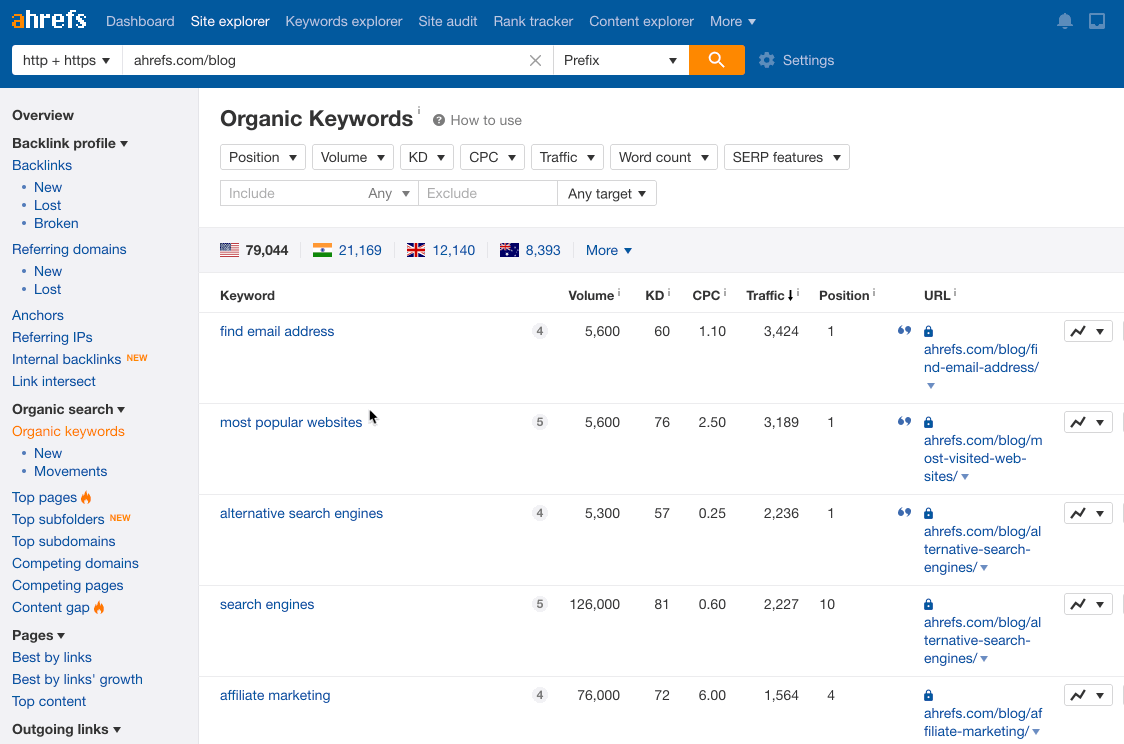 Next, filter for "what is" and "what are" keywords using the Include filter.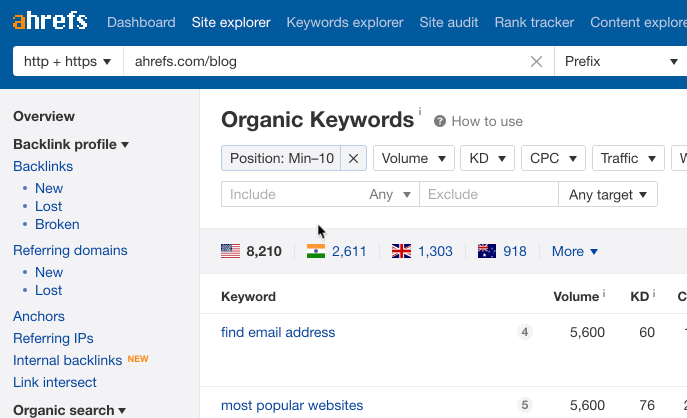 Look through the results and make sure there's a relevant definition on each page.
For example, we rank in position nine for "what is guest blogging"…

… but there's no way we could own the snippet because there's no definition on the page: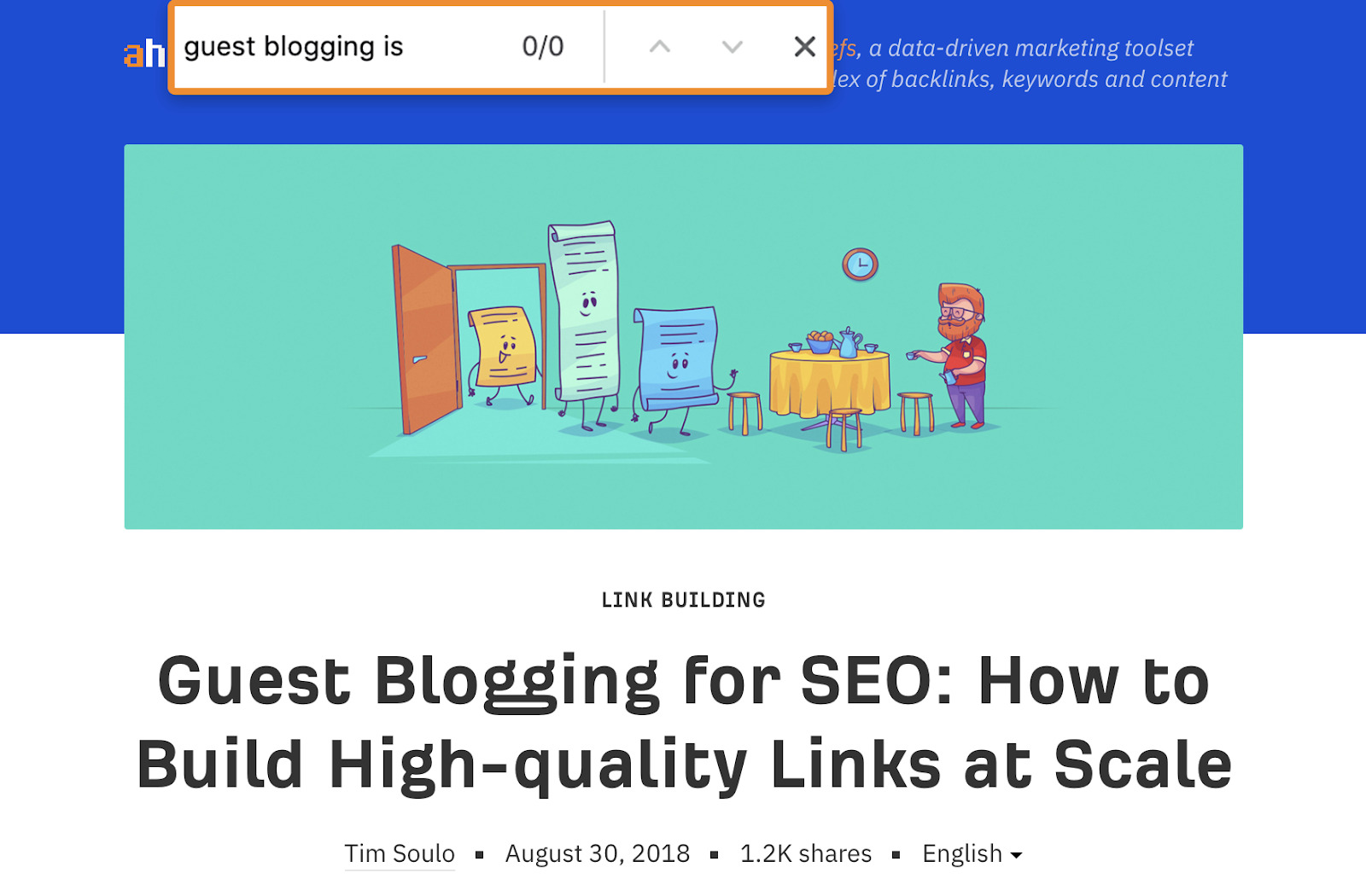 By adding a clear definition to that post, there's a chance we could rank in the featured snippet and get more traffic.
Recommended reading: How to Optimize for Google's Featured Snippets in 2020
Have you ever noticed that there's a "Videos" tab in Google search?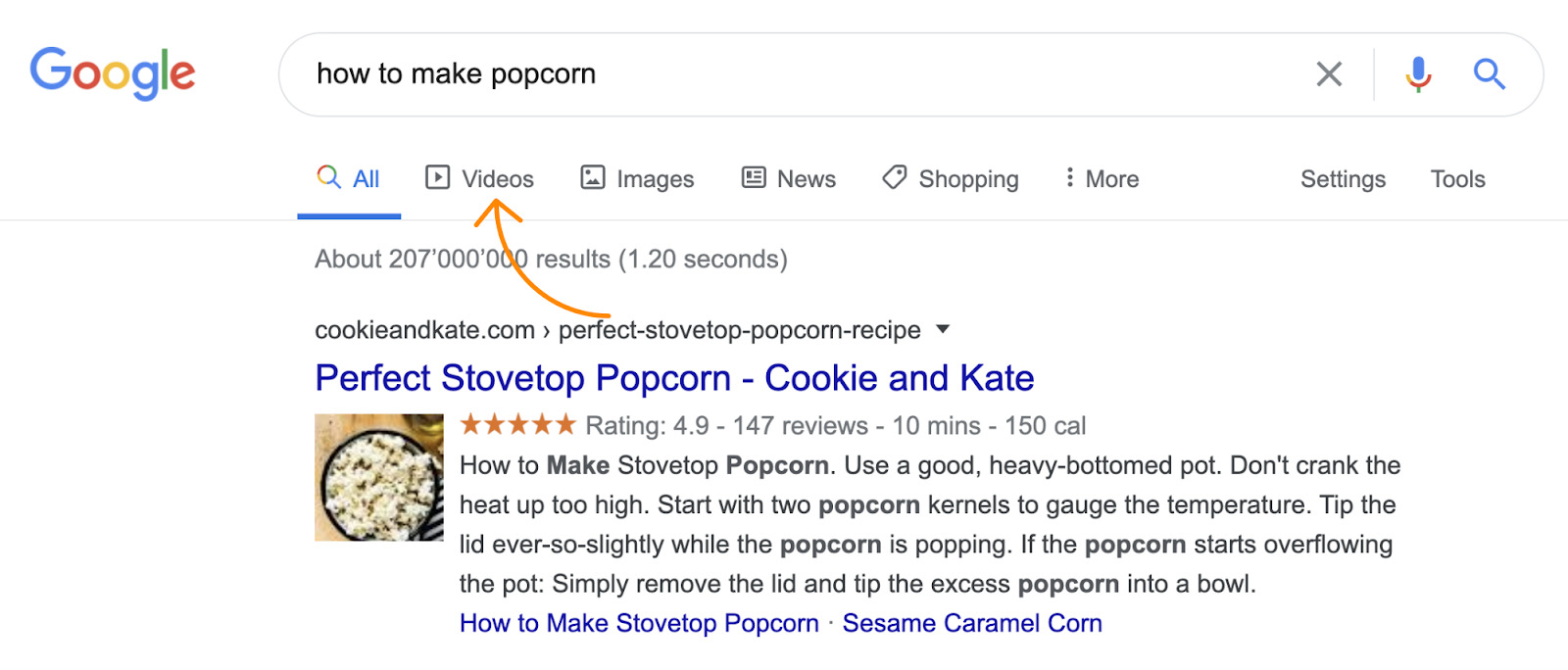 The interesting thing about this tab is that it doesn't just show YouTube videos. It also shows pages from the web results with relevant video embeds.
For example, take a look at the Videos tab for "affiliate marketing":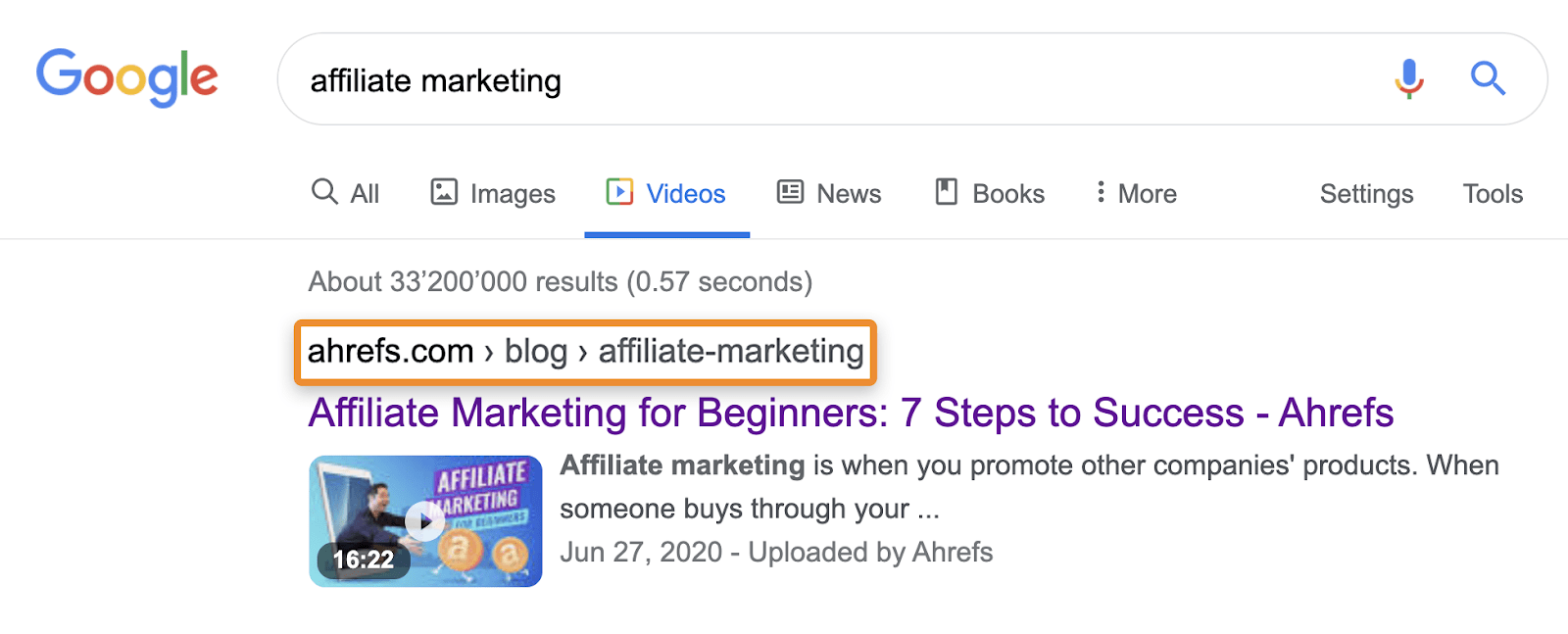 The top result is this video, which we uploaded to YouTube:
https://www.youtube.com/watch?v=W‑nbsnXtSZI&feature=emb_title
But the result doesn't take you to a YouTube video. It takes you to our post about affiliate marketing, where we embedded that video.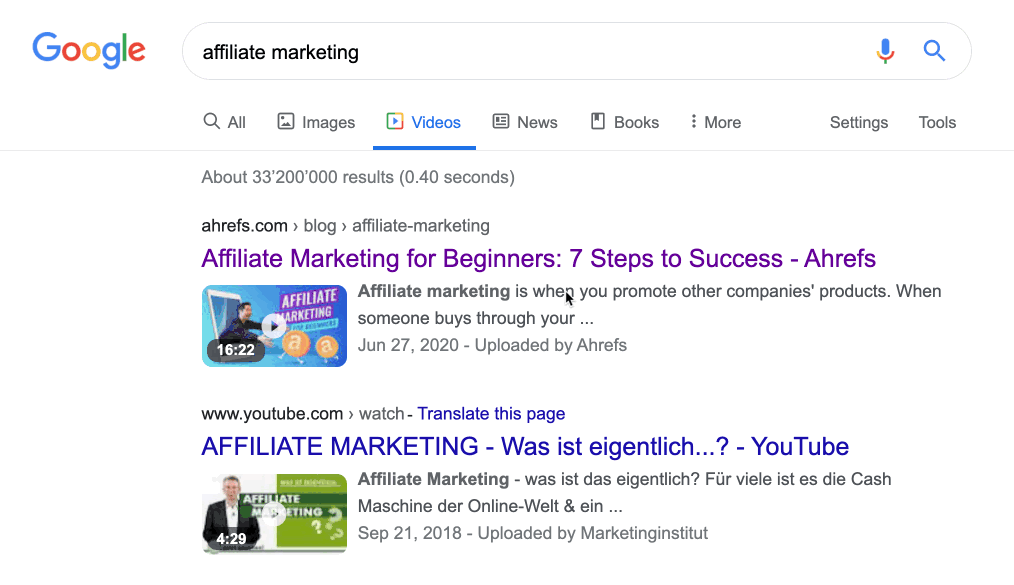 If we check the data in Google Search Console, we see that our video embeds are responsible for sending almost 46,000 visits our way over the past three months.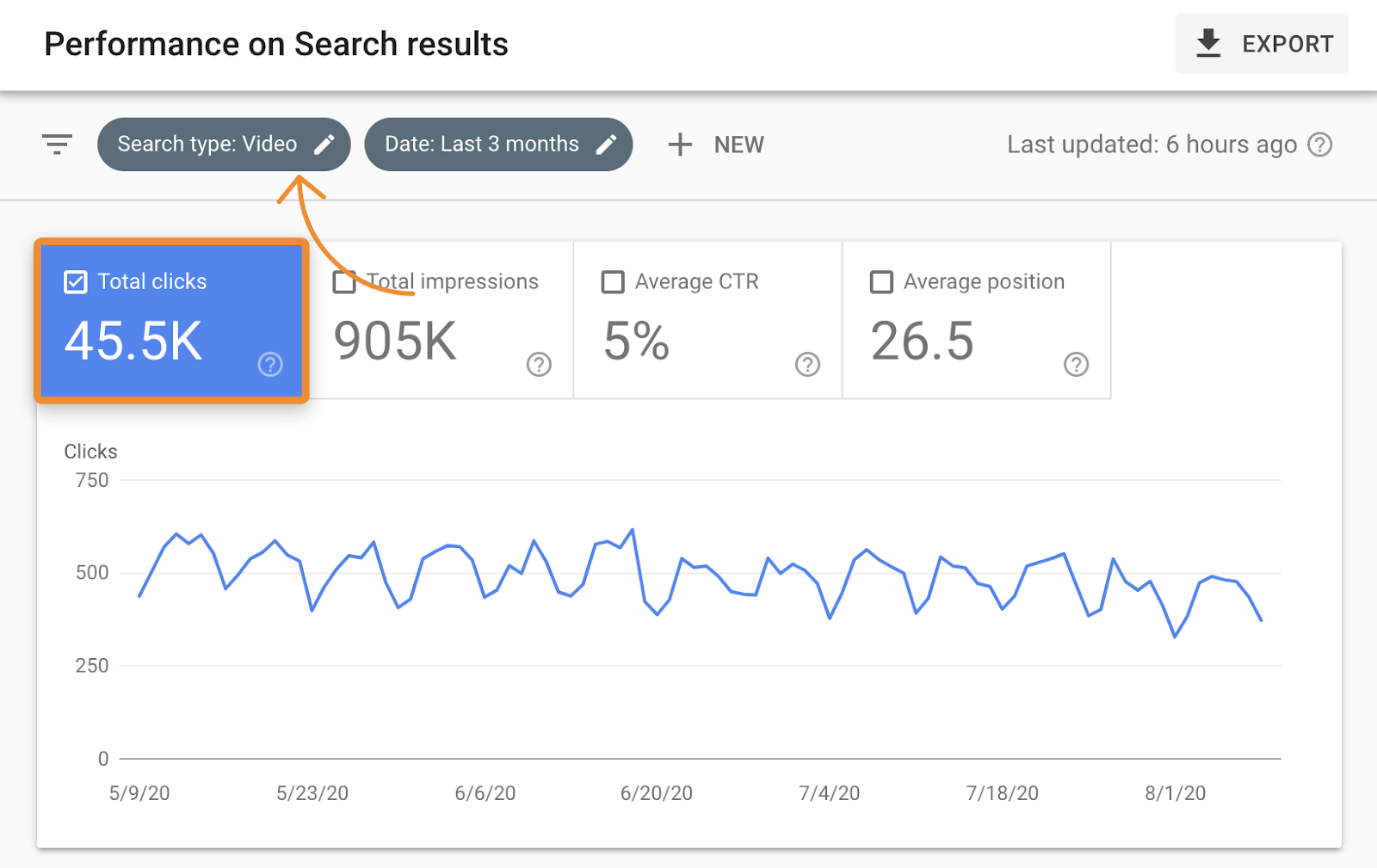 Admittedly, that's a small percentage of our organic search traffic (roughly 2%), but we're certainly not complaining about the extra 15,000 visits a month for such little effort.
Plus, if your site's in a highly visual niche like recipes, you'll probably see an even bigger boost.
Final thoughts
None of these tips should take more than 15 minutes. You could implement them all in three hours. That's not long at all, considering the impact they should have.
Is there more you can do to boost traffic? Absolutely. Read this for more ideas.
Got questions above the tips above? Ping me on Twitter.