SEO is a long-term game.
But that doesn't mean there aren't any low-hanging opportunities to improve your SEO. There are—and many of them don't require you to create new content.
In today's post, I'll run through nine of them.
The ratio of clicks on your link via Google is known as the click-through rate (CTR). One of the main factors that affect the CTR is your title tag.
Makes sense—after all, the title tag's goal is to entice the searcher to click through to the page.
So if you can craft an attractive title tag that compels the searcher to choose your page over the rest, you've done your job.
Here's how to get started:
Enter your domain into Ahrefs' Site Explorer
Go to the Organic keywords report
Set the Position filter to 2–5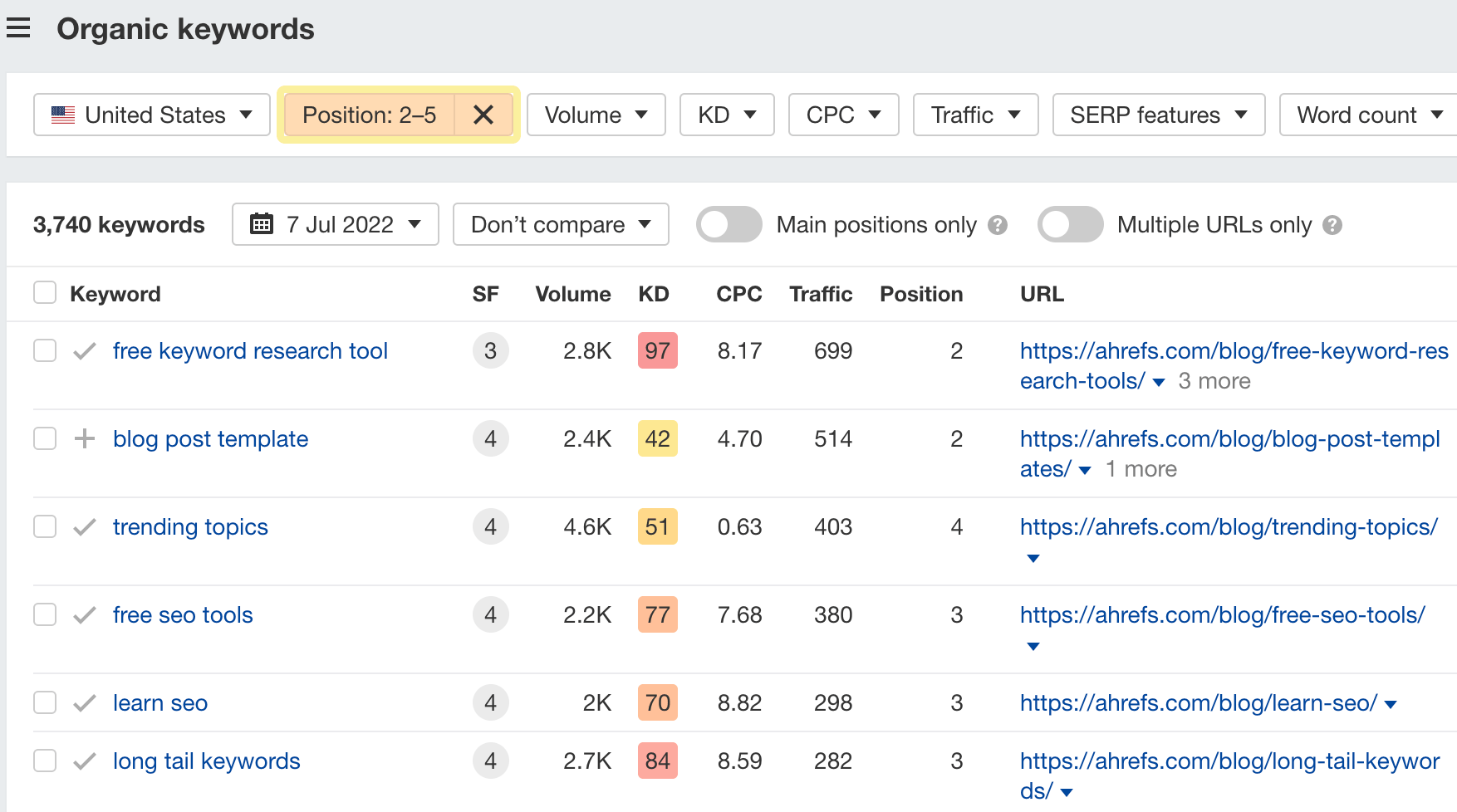 Sidenote.
Why positions #2–#5? If a page is already ranking high enough and, therefore,
actually
seen by searchers, a compelling title tag can make the difference between searchers clicking your page vs. the others.
Use these tips to improve your title tags and make them more enticing:
Add power words – Power words like noteworthy, remarkable, etc., tap into people's emotions and, therefore, make your title more irresistible. A word of caution: too many power words will render your title ineffective. So pick the most relevant ones.
Add parentheses – Brackets help break up your titles and improve readability.
Use curiosity – Entice someone to satisfy their curiosity by clicking through and reading your content. (Here's a good guide on how to do that.) But don't overdo it and delve into clickbait.
Every quarter, each writer on the Ahrefs blog team performs a content audit on their own content. In one such audit, I discovered that the organic traffic to our post on blogging tips was declining.
So I updated it. And traffic shot up.

Refreshing content is a core part of our content strategy. We regularly update or rewrite content that isn't ranking or sending us any search traffic.
The easiest way to find content worth updating is to install our free WordPress SEO plugin and run a content audit. The audit will tell you which articles to update.
When you have the list of articles, analyze the current top-ranking pages to see what they're doing better than you so you know what to update.
Recommended reading: Republishing Content: How to Update Old Blog Posts for SEO
According to our study, the average #1 ranking page will also rank for ~1,000 other relevant keywords.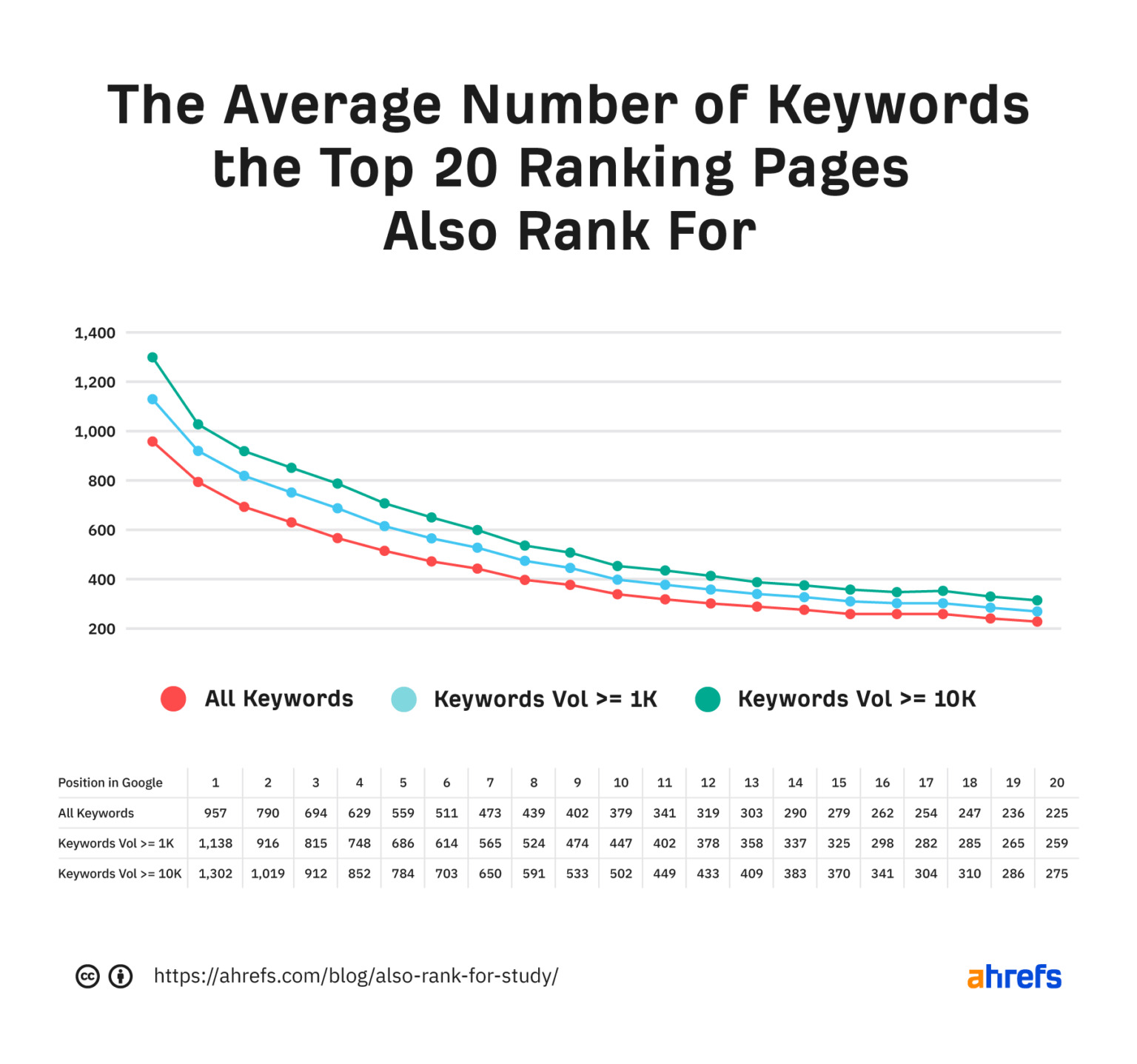 Many of them will simply be the same query phrased differently. But some of them will be important subtopics you should cover in your content.
Meaning if you can cover these "content gaps," you can potentially rank higher for your target keyword and get more search traffic.
Here's how to find these "content gaps":
Enter your domain into Ahrefs' Site Explorer
Go to the Content Gap tool
In the top section, enter a few competing pages
In the bottom section, enter the URL of the page you want to fill content gaps for
Hit Show keywords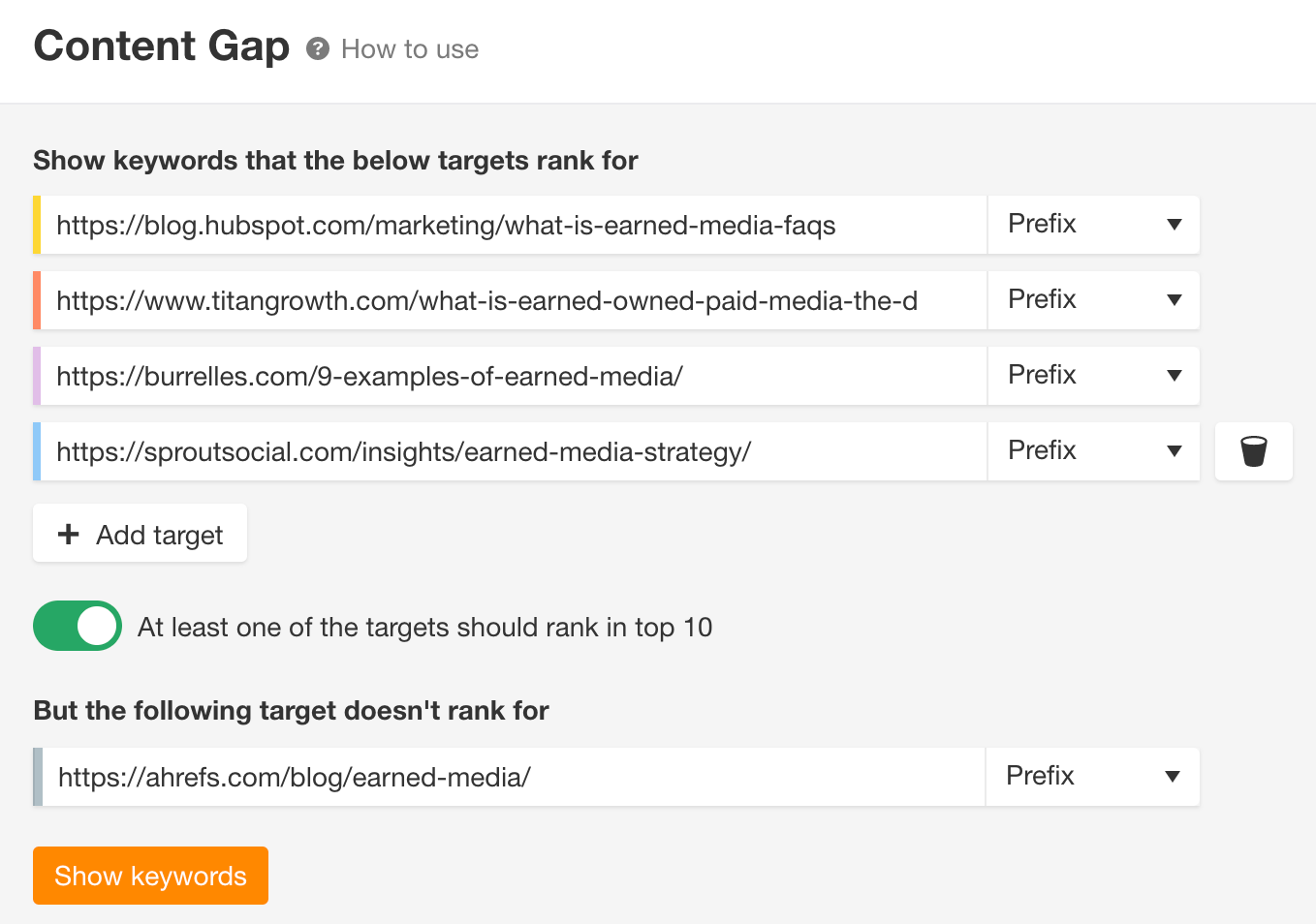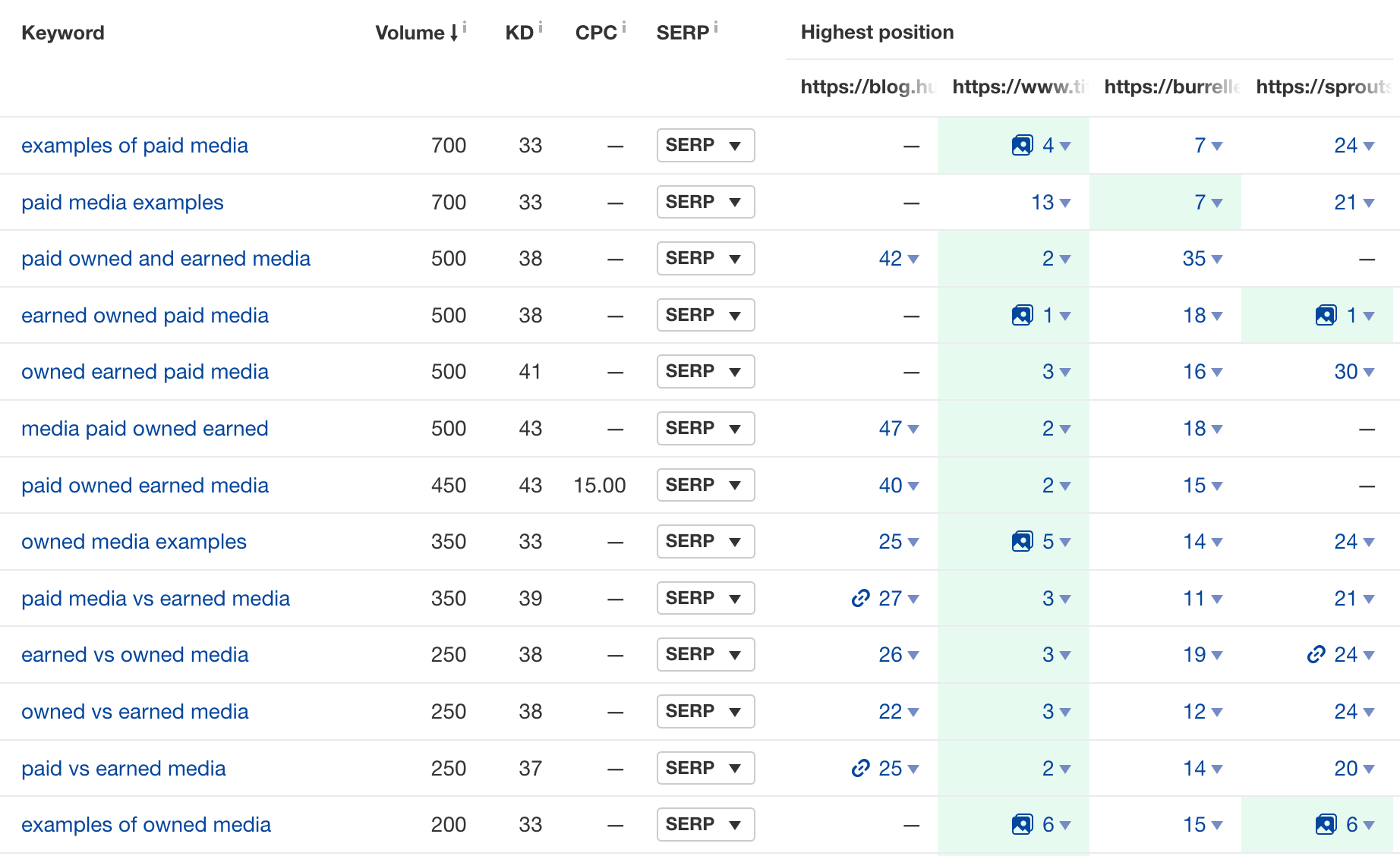 Look through the results to see if there are any subtopics you can cover. For example, if we wanted to update our post on earned media, we might consider including subtopics like "owned media examples" and "paid media examples."
Internal links are links from one page on the same domain to another. When used strategically, they can help boost the performance of pages in search engines.
Why? Because:
Here's how to do it. First, make a list of the pages that make you money. These are likely your product, services, category, or landing pages.
Next, sign up for Ahrefs Webmaster Tools (AWT) and run a crawl using Ahrefs' Site Audit. When the crawl is done, go to the Link opportunities report.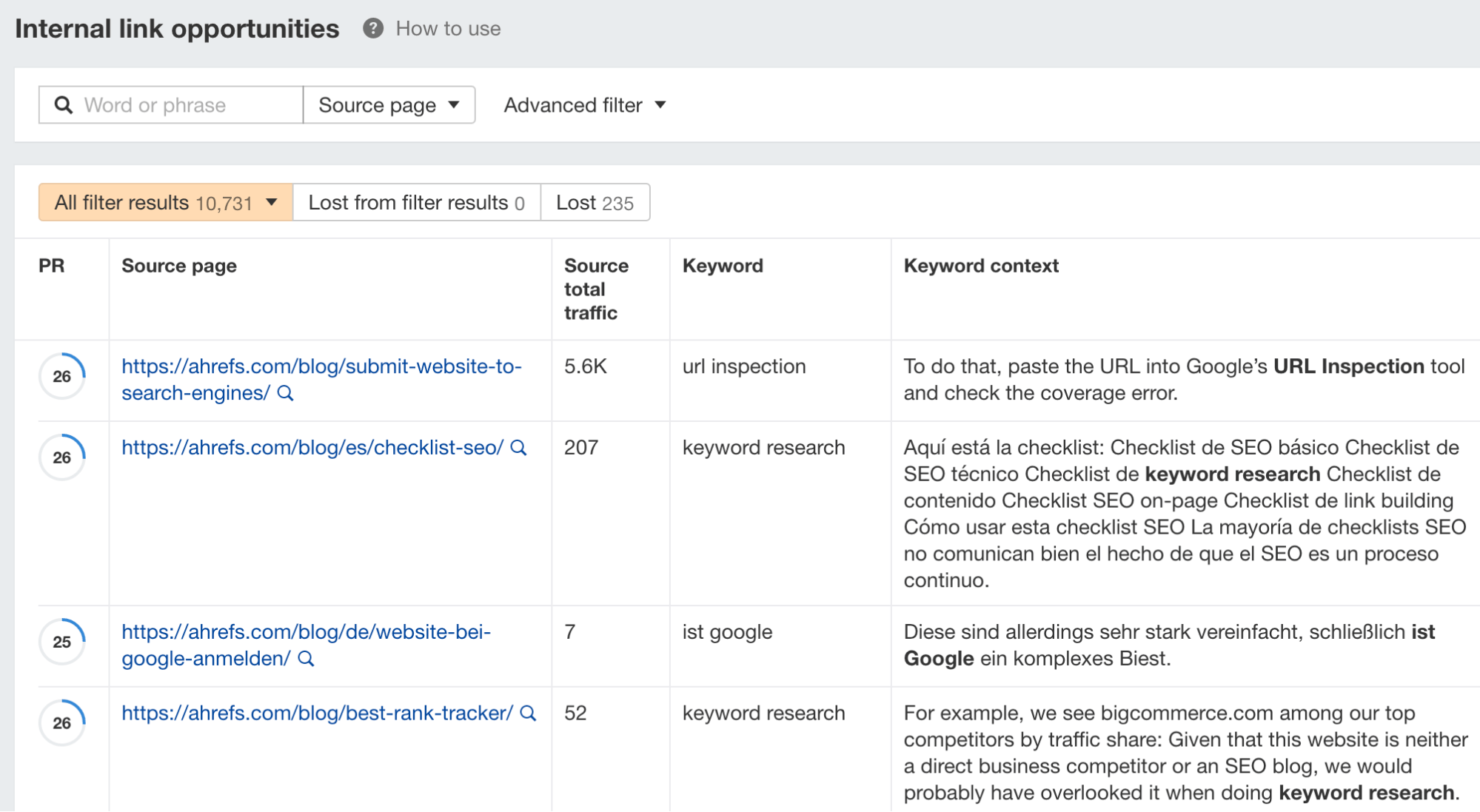 This report shows you relevant internal link opportunities on your site. Search for your money pages by setting the filter to Target page.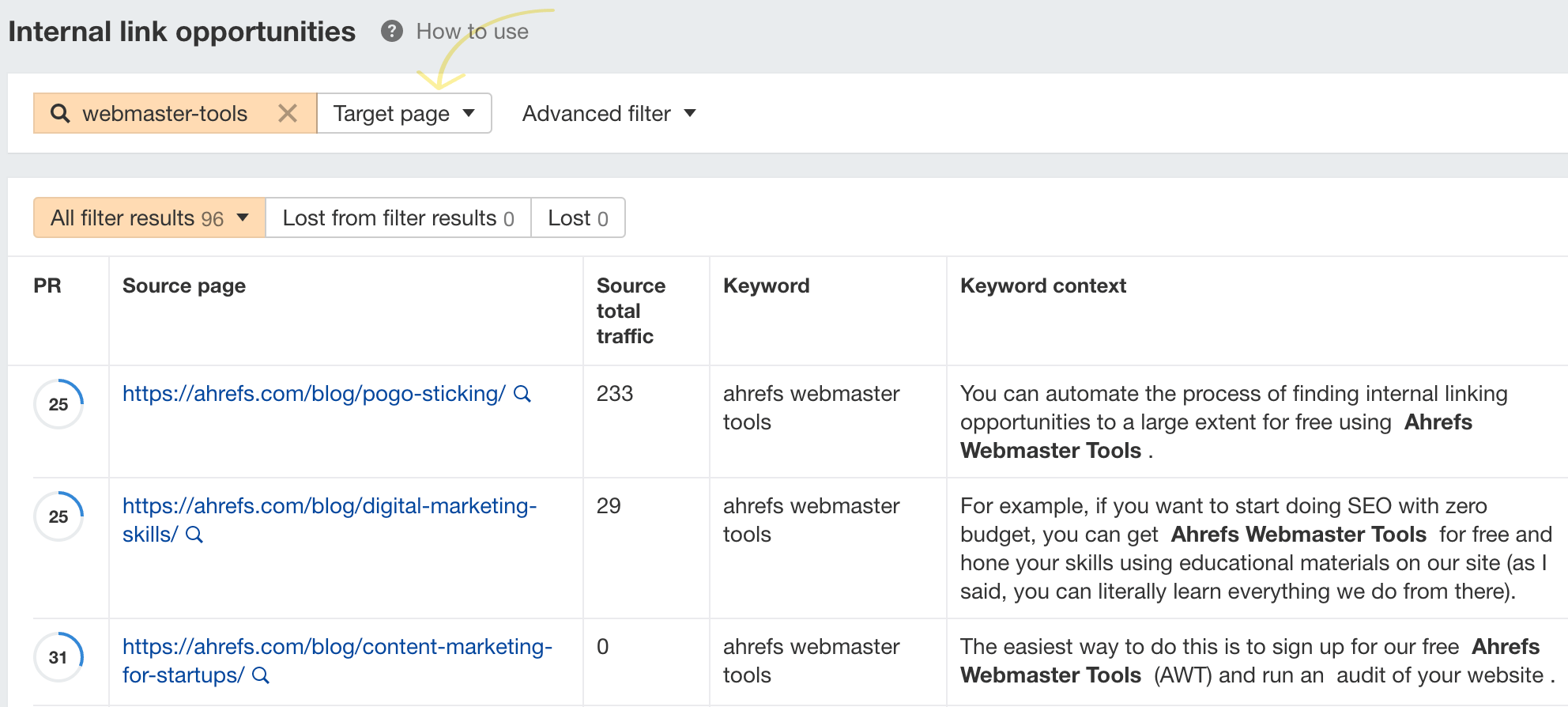 Look through the recommended suggestions. Where relevant, add your internal links.
Recommended reading: Internal Links for SEO: An Actionable Guide
Broken backlinks are broken inbound links from other websites. These usually occur because:
You deleted or moved a page that has backlinks.
The linking site made a mistake when linking to you.
This isn't ideal.
Think about it: If you have broken pages that many sites are linking to, not only are you losing potential referral traffic, but you're also losing the "link equity" from those links.
Therefore, you should fix this.
Here's how:
Enter your domain into Ahrefs' Site Explorer
Go to the Best by links report
Set the HTTP code filter to 404 not found
Sort the results by Referring domains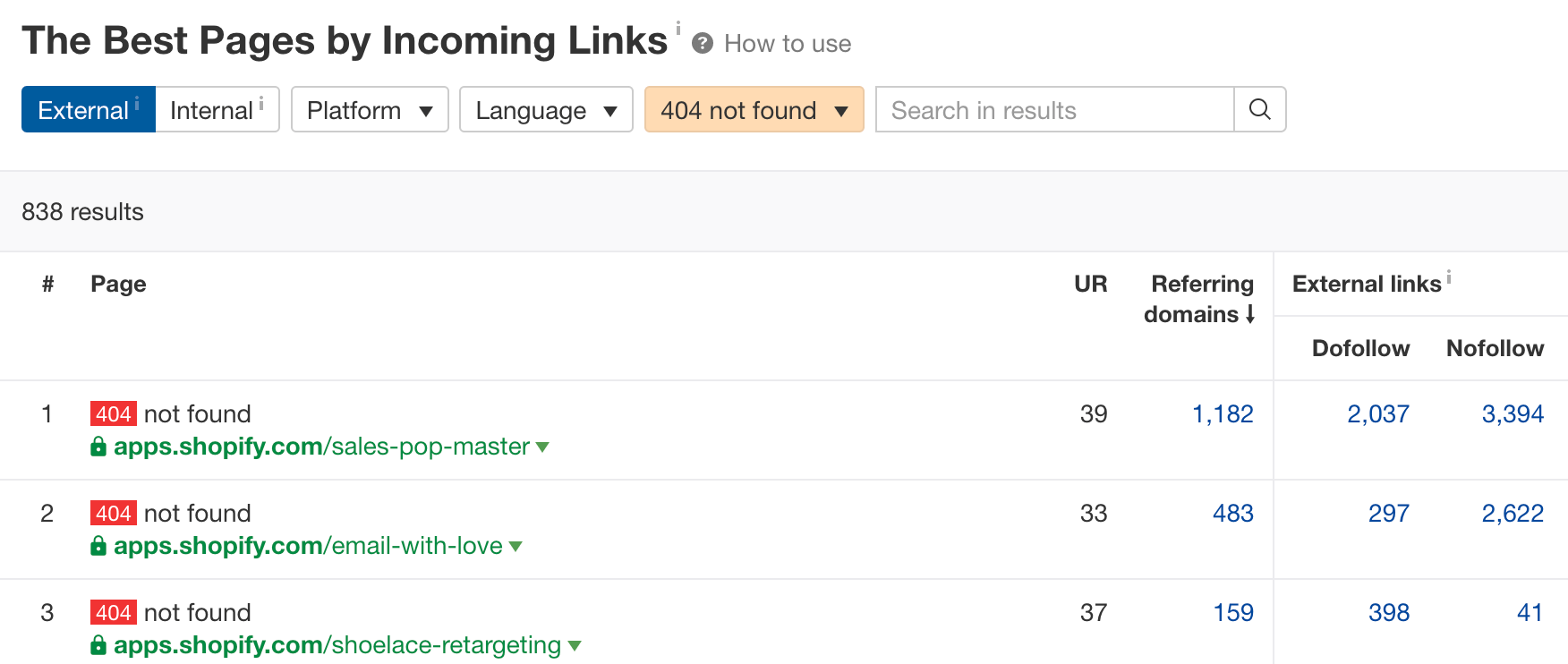 This shows you the broken pages on your site with the most links.
From here, you can redirect these pages to other relevant pages on your site. Or if they're still relevant or you made a mistake, consider restoring these pages.
Recommended reading: How to Find and Fix Broken Links (To Reclaim Valuable "Link Juice")
This is a featured snippet:
It's when Google shows a full or partial answer to a query directly in the search results. Here's the best part: You can often jump ahead of everyone else by grabbing the featured snippet.
How do you win the snippet?
As far as we know, you'd have to be already ranking on the first page to "qualify" for the snippet. So we'd want to find those keywords with decent monthly search volumes where you're ranking in the top 10. You'd also want to make sure those queries are currently showing featured snippets.
Here's how to find them:
Enter your domain into Ahrefs' Site Explorer
Go to the Organic keywords report
Set the Position filter to 1–10
Use the SERP features filter to filter for keywords that trigger featured snippets "Where target doesn't rank"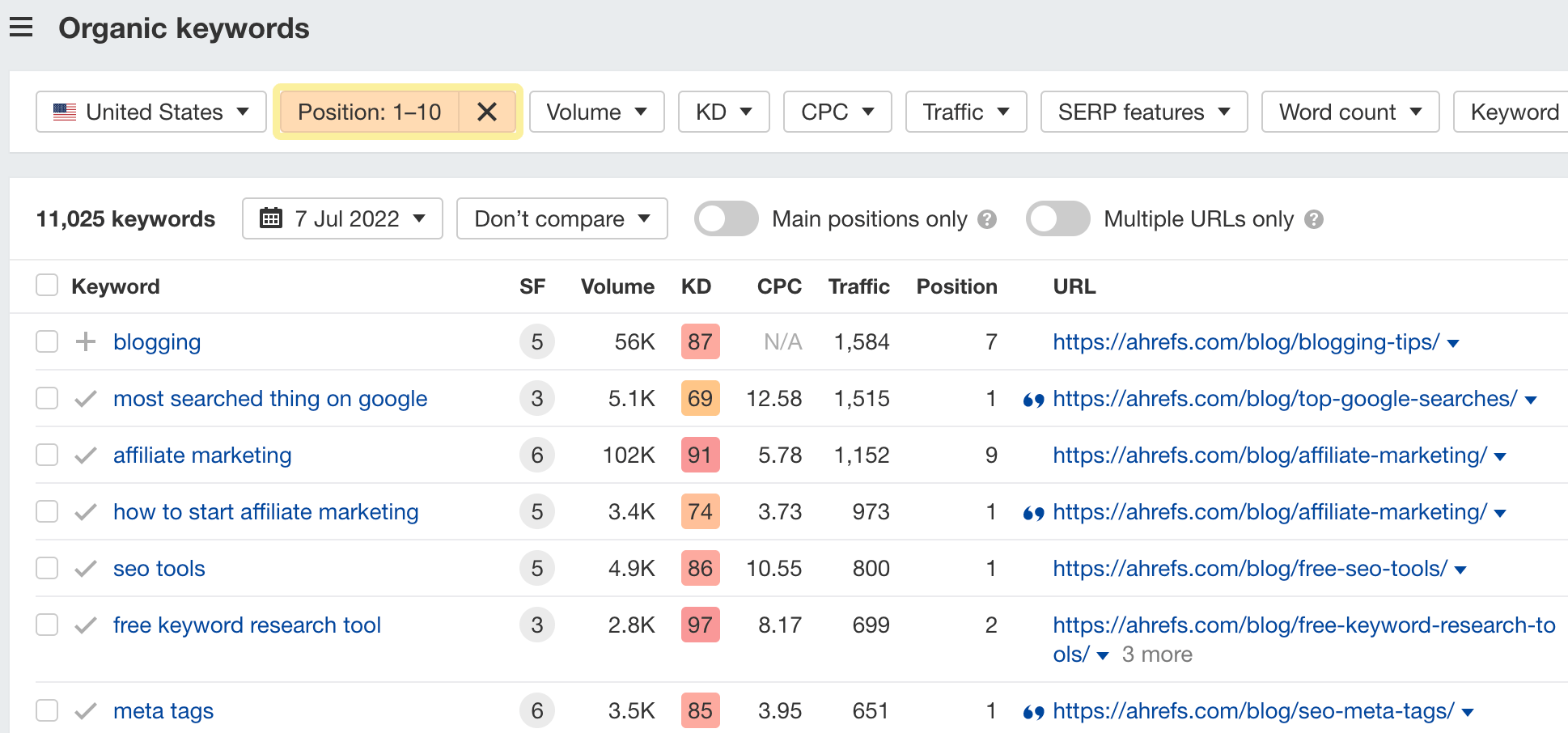 Look through the list to see if there are opportunities where you can grab the snippet.
For example, we currently rank #2 for "google operators":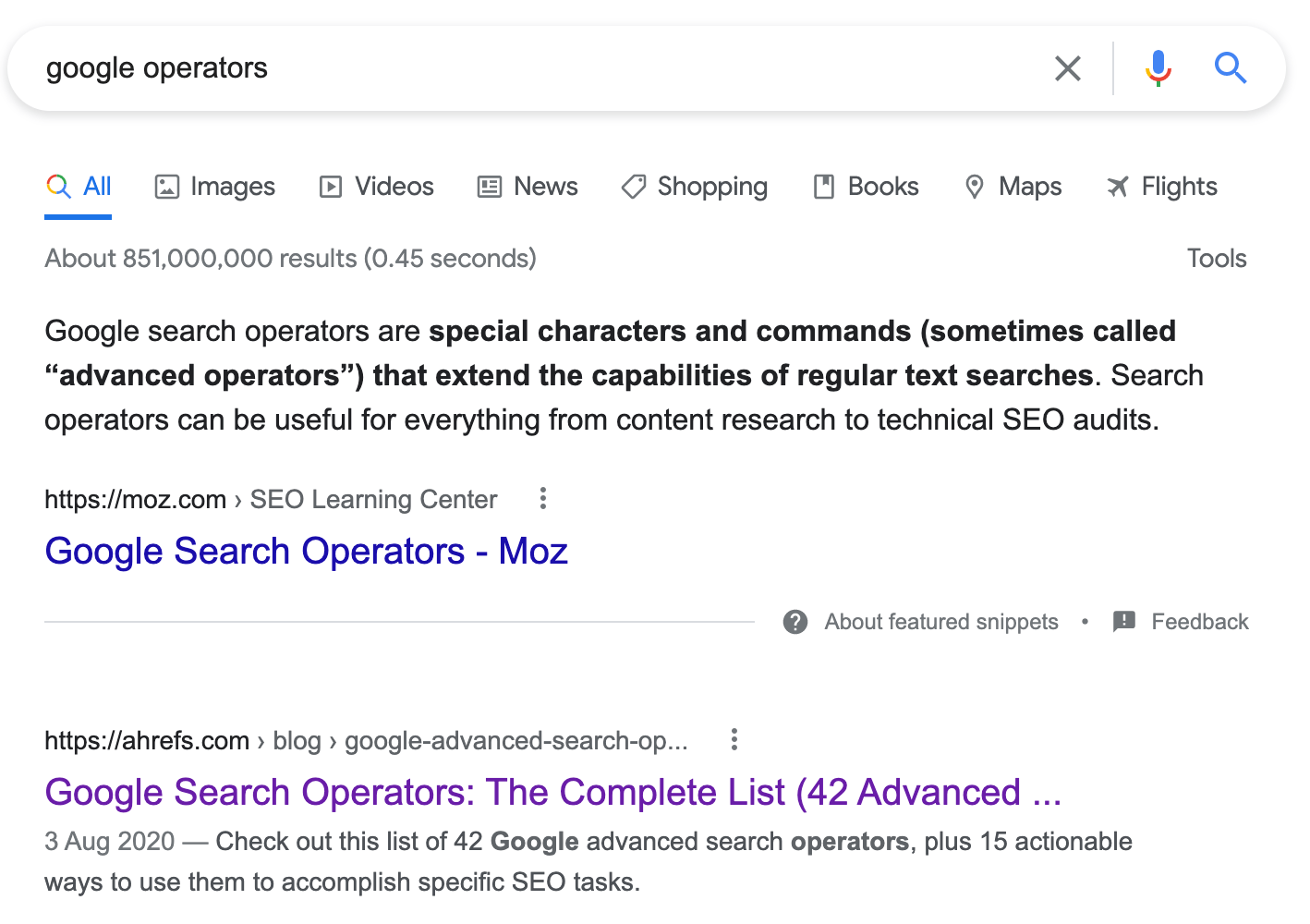 Looks like the snippet is featuring a definition, which we didn't include on our page. So we can potentially add a definition and, hopefully, win the snippet for ourselves.
Recommended reading: How to Optimize for Google's Featured Snippets
Ever Googled something, clicked on a result, and found an outdated, abysmal piece of content that did nothing to answer your question?
It's frustrating as a searcher, but it's an opportunity for SEOs.
If these poor-quality pages can get tons of high-quality links and rank on Google, so can you. You just need to have something better and then get these people who are linking to the low-quality content to link to you instead.
But first, you need to find these "inferior" pieces of content. Here's how:
Enter a relevant keyword into Ahrefs' Content Explorer
Set the Publication date filter to "Published once" and >3 years ago (to find outdated content)
Set the Referring domains filter to >50 (to find pages with links)
Set the Words filter to <1,000 words (to find "less-thorough" content)
Check the One page per domain, Exclude homepages, and Exclude subdomains filters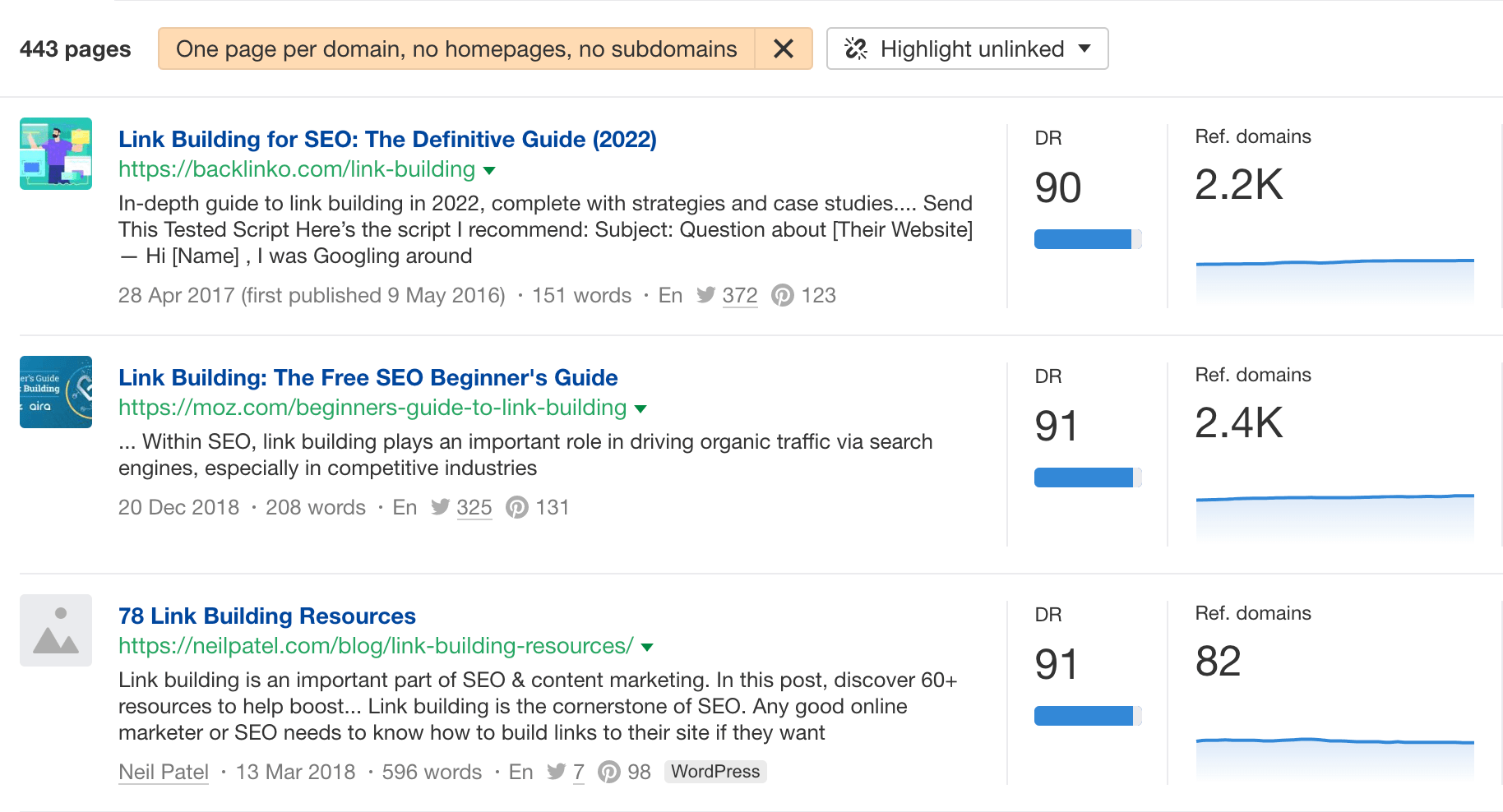 Check these results for outdated or potentially misleading information. For example, there are still 511 websites linking to this outdated page on the best link building tools in 2019:

Some tools on the page no longer exist or have changed. If you find a relevant page like this, click on the "Referring domains" tab to see who's linking to this page: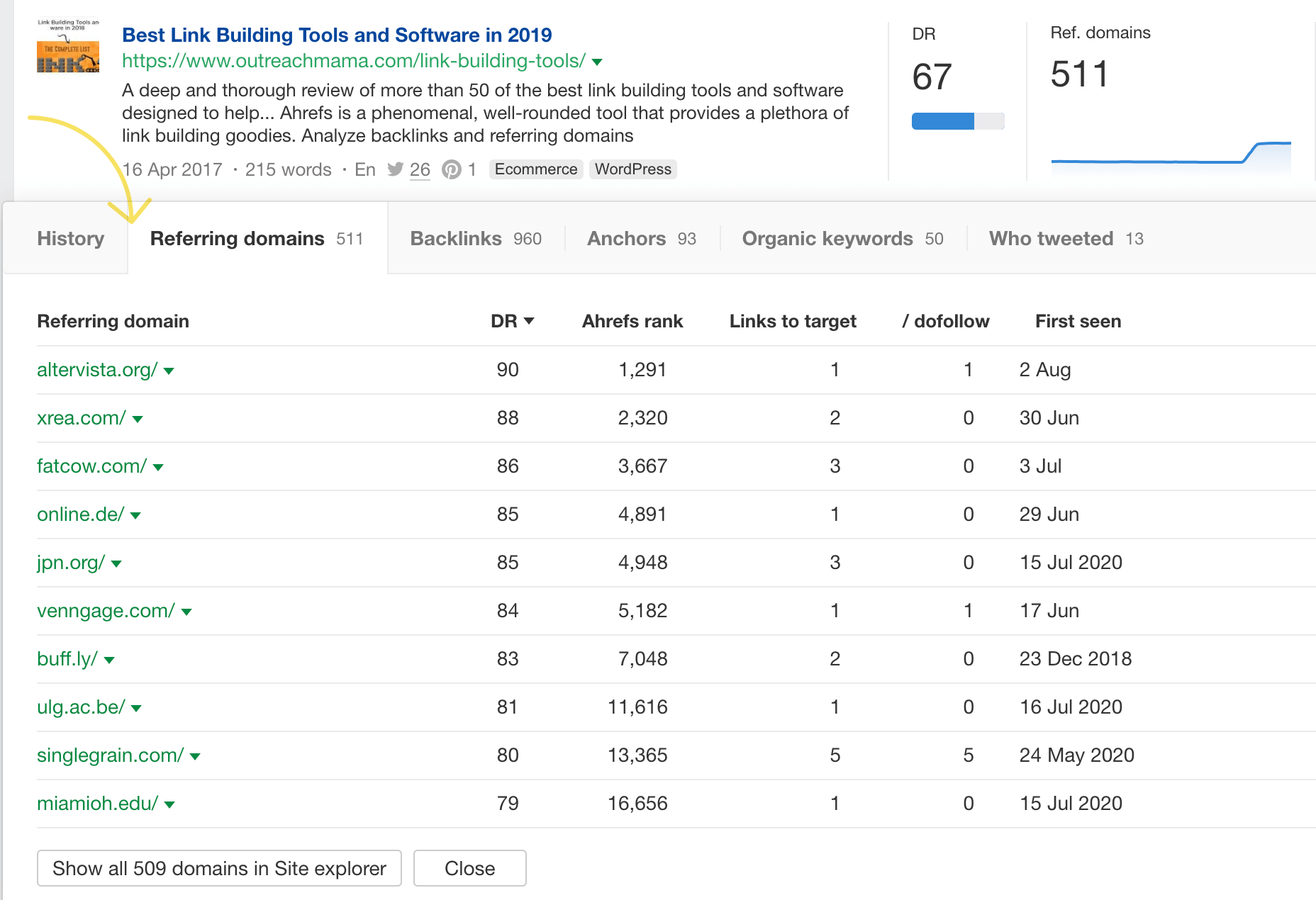 These are people you can potentially reach out to. Find their email addresses and pitch your up-to-date article as a replacement.
Recommended watching: How to Get Backlinks by "Stealing" From Low-Quality Pages
People naturally have tons of questions when they begin researching a topic. While you may have answered some of them in your article, you've probably also missed out on many of them.

By not answering all of these questions in your post, you may be missing out on long-tail traffic. The thing is you don't want to squeeze in these questions unnaturally in your content and disrupt the flow.
A solution to this is to add an FAQ section at the end of your article.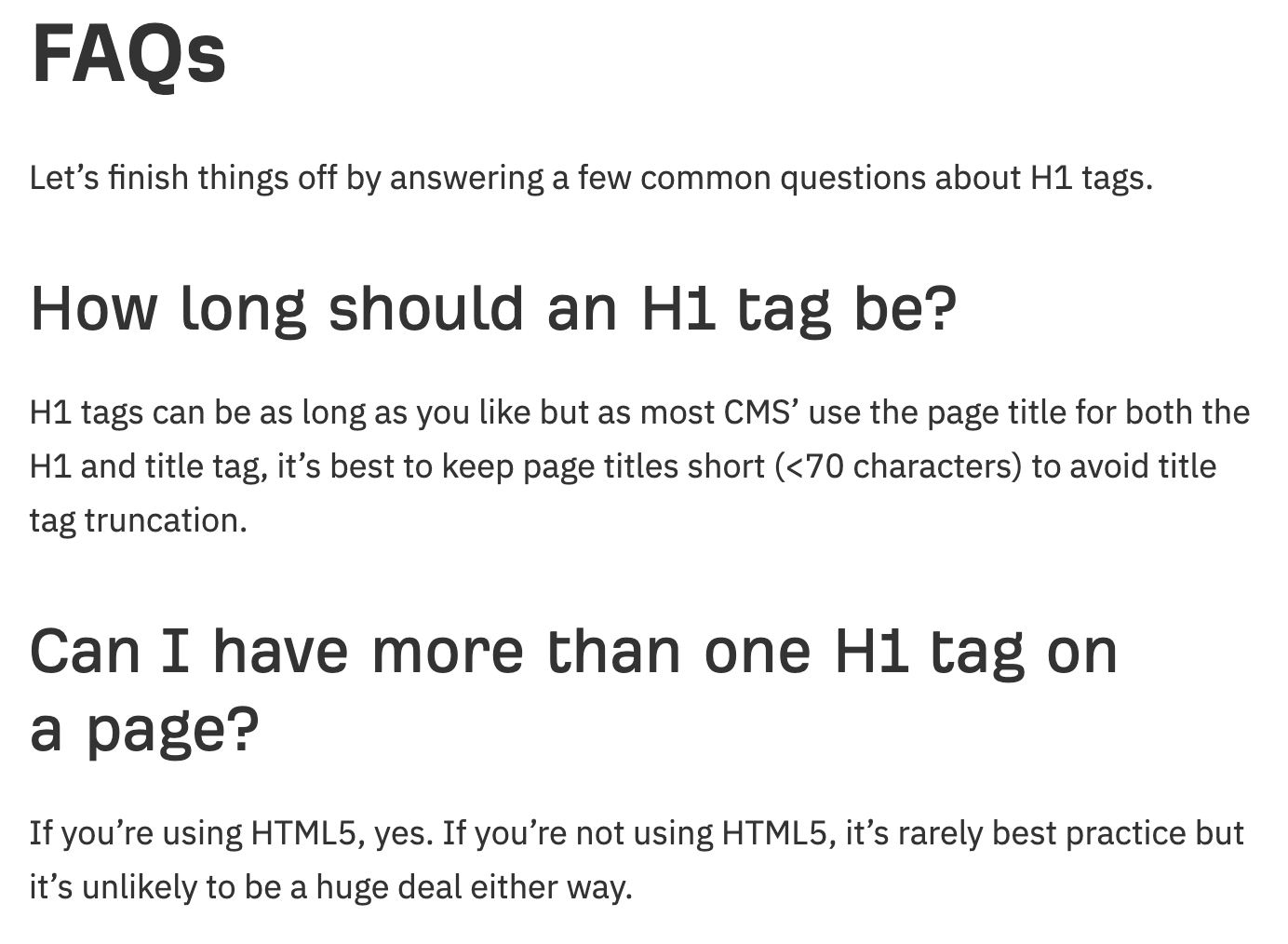 Because we answered a common question related to H1 tags—the length—we now rank on Google when people are searching for this answer:

Unlinked mentions are online mentions of your brand or product that don't link back to your site. For example, this page mentions us but doesn't link back:

Here's how to find unlinked mentions for your brand:
Search for your brand or product name in quotes in Ahrefs' Content Explorer
Click Highlight unlinked and enter your domain
Filter for One page per domain
Click Export and toggle the option for Only pages with highlighted domains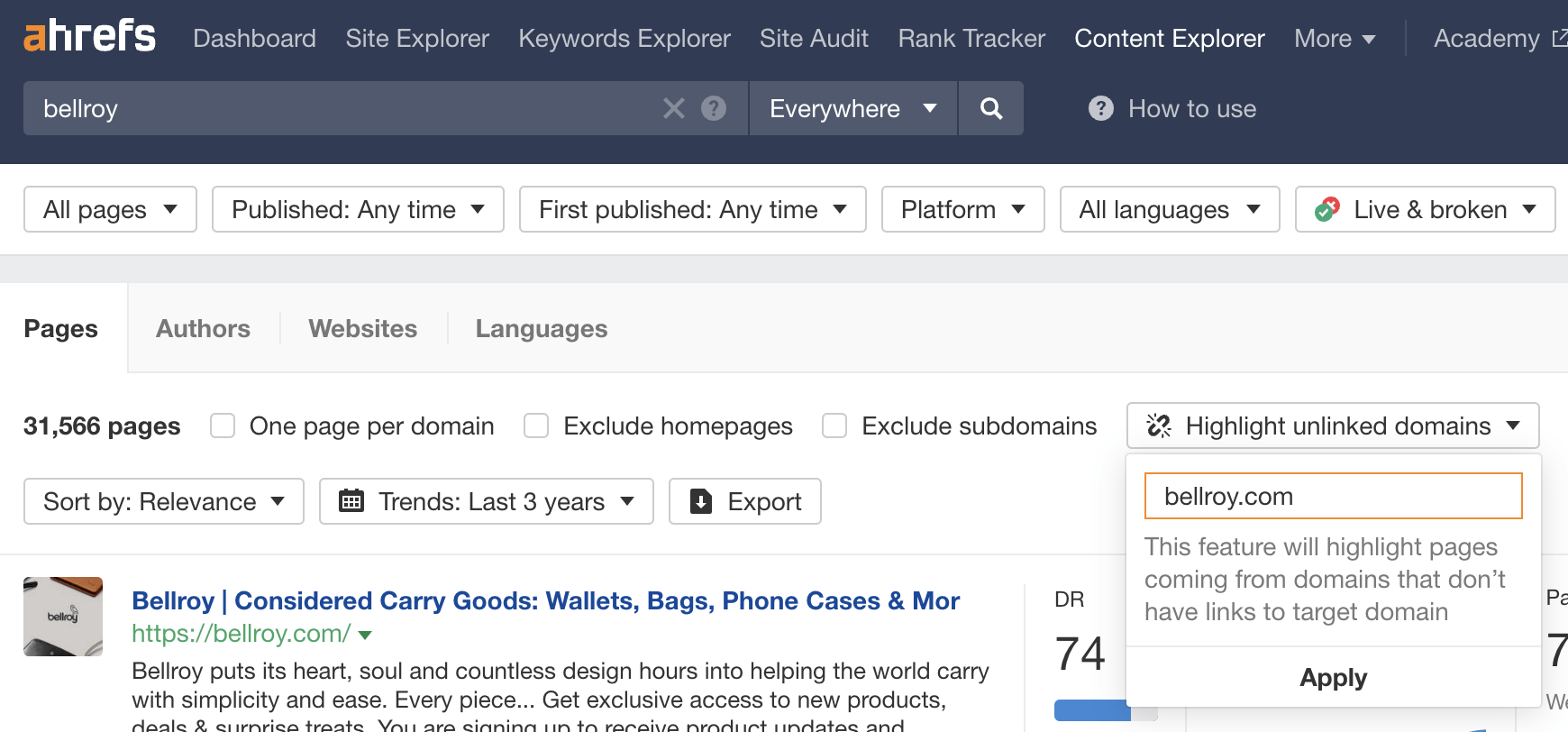 In this example, there are thousands of pages to look through, so it may be worth filtering the export by Domain Rating (DR) or website traffic to exclude "low-value" opportunities.
Here's an example for Bellroy:

Reaching out to "claim" an unlinked mention isn't just about asking them to make the link "clickable." The request itself is generic and only benefits yourself. So like all good email outreach pitches, your request should be mutually beneficial.
In this case, an employee from Bellroy can suggest adding a link to its materials page instead of its homepage. This is because the article itself talks a lot about Bellroy's materials, and a link to Bellroy's materials page can actually help supplement the content.
Recommended reading: A Simple Guide to Turning (Unlinked) Brand Mentions Into Links
Final thoughts
These tactics have the potential to boost your rankings in search engines. But don't expect your rankings to jump overnight.
Our research suggests that only 5.7% of all newly published pages reach the first page of Google within a year. That's no surprise. SEO is a long-term game.
So while it makes sense to implement these "low-hanging fruit" tactics, they're no replacement for a long-term SEO strategy.
Have questions or comments? Let me know on Twitter.