Are your pages not ranking where you want them to be? Let's fix that.
SEO is a long-term game. You need a solid strategy, the willingness to execute and above all, patience.
But that doesn't mean there aren't any low-hanging opportunities to improve SEO. There are plenty, many of which are immediately actionable and don't require you to create new content.
In today's post, I'll run through 9 of them.
1. Improve the CTR of your top-ranking pages
The title tag is the HTML element used to specify the title of a webpage.
Here's how it looks like when you do a Google search:

Why is this important?
The title tag acts as the headline of an article. Its job is to entice the searcher to click through to the page.
The ratio of people who end up clicking your link (or any link) is called the clickthrough rate (CTR).
Now, Gary Illyes of Google has explicitly said that CTR is not a ranking factor. But, many SEOs still believe that CTR plays a part in your rankings.
Either way, it doesn't matter. The purpose of ranking #1 is to get visitors to your page. If you can write a title tag that persuades people to choose your page over the others, you've won.
Here's how to get started.
Enter your domain into Site Explorer, and go to the Organic keywords report. This report shows all the keywords your site is ranking for.
Filter for pages ranking in positions #1 - #5.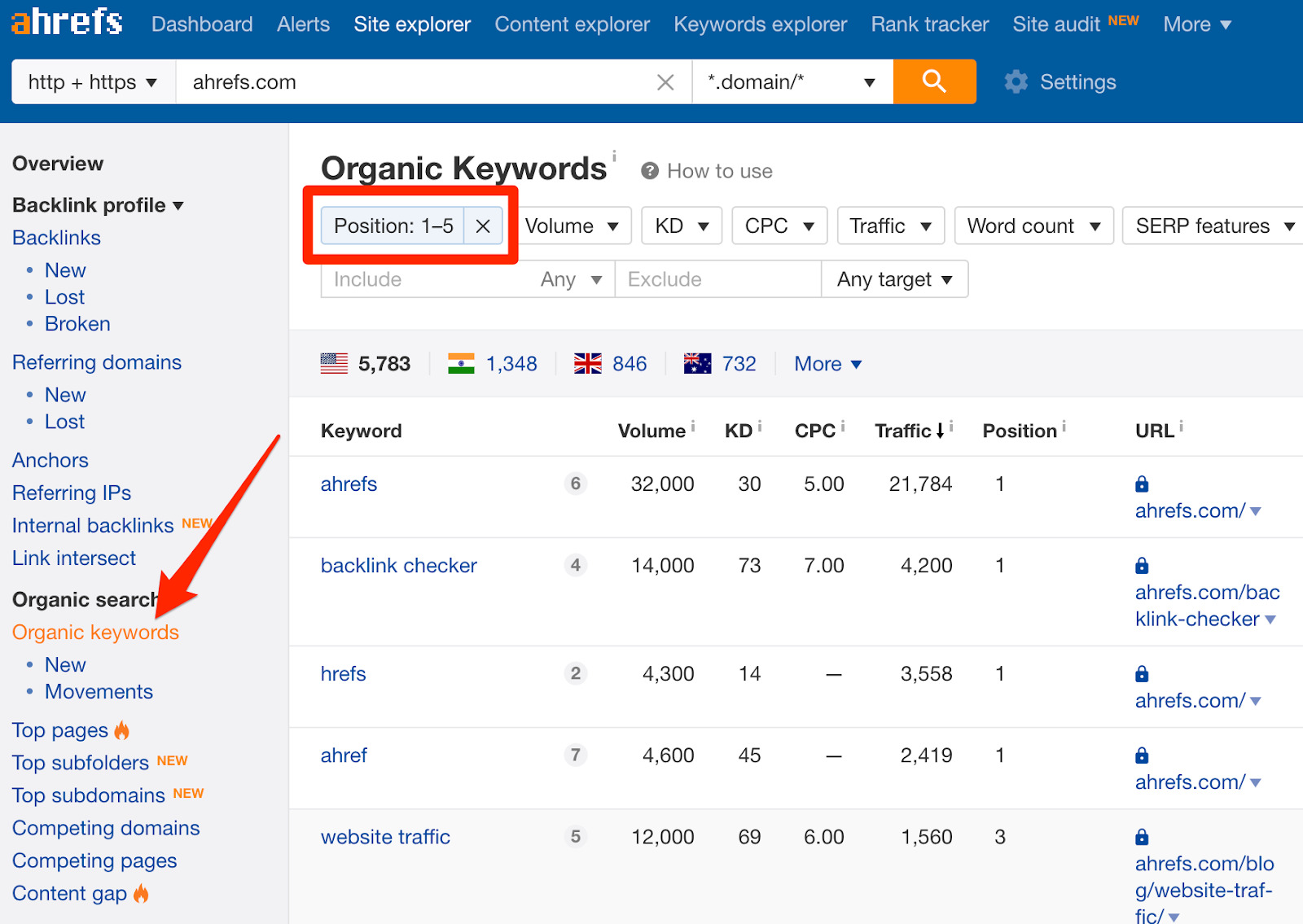 Why positions #1 - #5?
Simply put: no one goes to Page 2 of Google to look for information. Thus, there is no point in optimizing the title tags of pages nobody is clicking.
Plus, the ROI is better if you improve a poor title on a high-ranking page (since people will actually see and read it!)
Use these tips to improve your title tags and make it more enticing:
Add power words to your title. Power words tap into people's emotions and make your title more compelling. A word of caution: too many power words will render it ineffective. So, pick and choose the most relevant.
Add brackets/parentheses. Brackets help break up your titles and improve readability.
Use curiosity. Curiosity is a powerful copywriting technique. Entice someone to satisfy their curiosity by clicking through and reading your content. (Here's a good guide on how to do that.) But, don't overdo it and delve into clickbait, or worse, dishonesty!
Avoid title tag truncation. Google starts cutting off title tags in the SERPs after around 50-60 characters. Keep your title tags short and sweet. You can also test your title tag with a tool like SERPSim.
To learn more about improving your title tags, read our guide on how to craft the perfect SEO title tag.
2. Optimize the page speed of important pages
Ever click through to a page that took ages to load?
If you're anything like me, you probably clicked the back button and tried your luck elsewhere.
In 2010, Google said page speed is a ranking factor. With mobile-first indexing, page speed has become even more important.
So yes, if you haven't gotten the memo by now, slow pages are bad for business and SEO.
To check your speed, you can use Google's PageSpeed Insights tool (it's free!)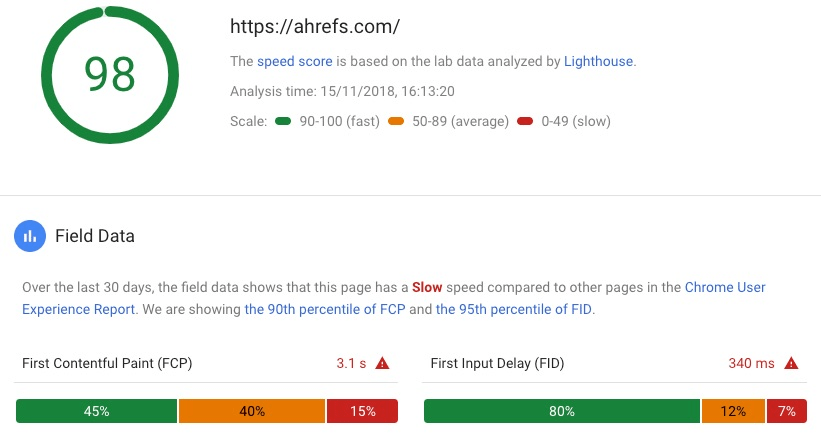 The issue with PageSpeed Insights is: you have to check the speed of each page individually.
Since this can be quite tedious, I would recommend you prioritize the pages that get the most search traffic. After all, these are the pages that stand to benefit most from any optimization efforts. (e.g., a 5% traffic boost to a page receiving 10K visits a month gets you 500 more visits!)
You can find these pages via Google Analytics.
Alternatively, use the Top pages report in Site Explorer to see which pages on your site are receiving the most search traffic.
Site Explorer > enter your domain > Top pages
Prefer to analyze all pages at once? Crawl your site with Ahrefs' Site Audit. This will tell you which pages are slow:
Here are some tips on how to improve page speed:
Reduce your image sizes. Are you a WordPress user? You can install a plugin called ShortPixel which will automatically compress your uploaded images without compromising their quality. Read more in our guide to image SEO.
Enable browser caching. Use a plugin like W3 Total Cache to enable caching easily. This allows your users to load your page without sending another HTTP request to your server on their second visit (i.e., faster loading!)
Recommended reading: How to Improve Page Speed from Start to Finish (Advanced Guide)
3. Refresh content with diminishing traffic
During a content audit we performed last year, we saw that organic traffic to one of our posts—a list of the top 100 Google searches—was decreasing.
This page targeted a good keyword ("top Google searches") with 3,600 monthly searches in the US.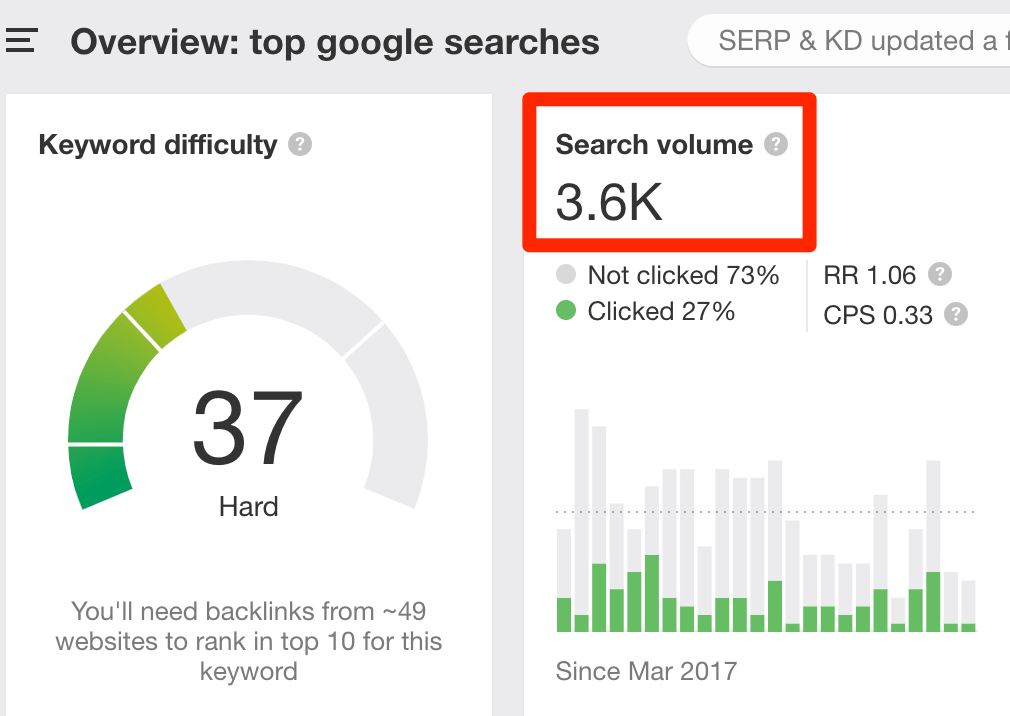 So we decided to update the content.
Here's the result of our efforts:

Fun fact: this isn't a one-off.
We recently updated our article on outsourcing and it went from ranking for nothing to ranking #1 for its target keyword: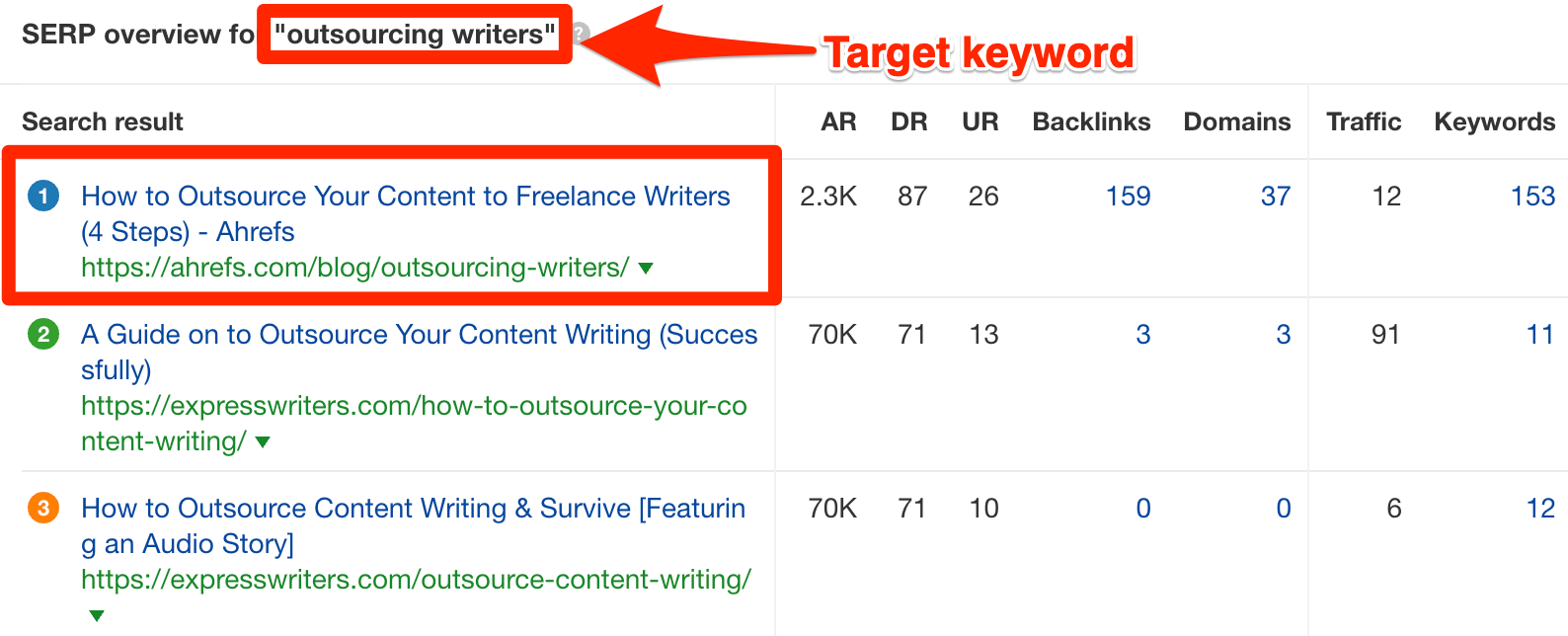 This is now part of our core strategy at Ahrefs. We regularly update or rewrite content that isn't ranking or sending us any search traffic.
I absolutely love how @ahrefs new Content Explorer tool exposes how much our team works on updating/republishing our old content VS publishing new stuff 😇 💪

Do you know any other blogs that are so committed to keeping their content fresh & awesome? 🙂 pic.twitter.com/SIGbEQpWW9

— Tim Soulo (@timsoulo) March 27, 2019
With Content Explorer, you can see how much of our content has been republished in the last 12 months. (Hint: it's roughly 15% of our posts!)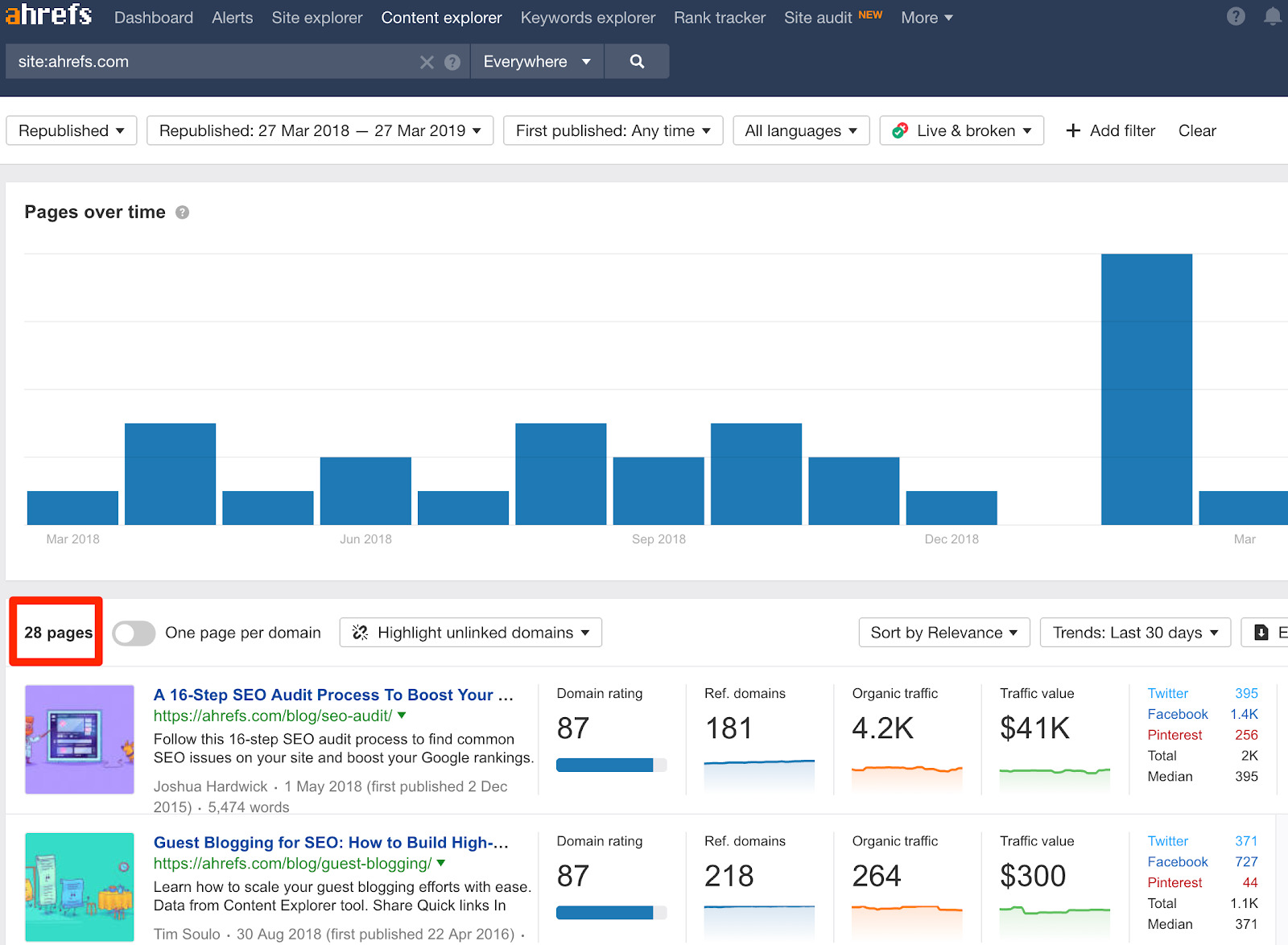 You can do the same too.
Find the pages with diminishing traffic by looking into your Google Analytics. Alternatively, paste each of your pages into Ahrefs' Site Explorer and analyze them (start with your important pages first!).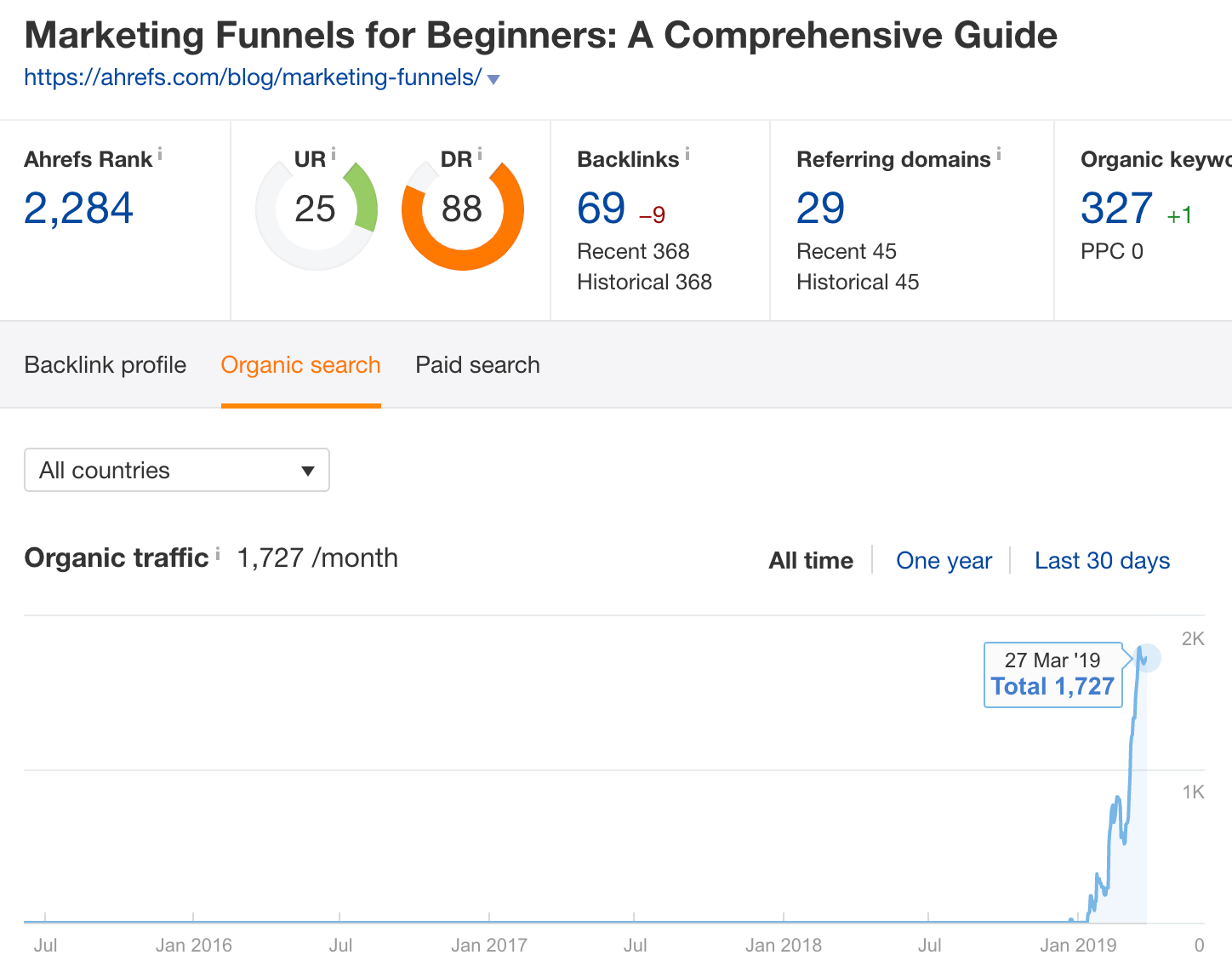 Updating doesn't always mean rewriting the entire piece. It depends on your target keyword and its competition.
Most of the time, all you need to do is refresh the outdated sections.
You can learn how to do this in this video:
https://www.youtube.com/watch?v=9HWna4hK47c
4. Fill content gaps in existing content
People search for the same thing in many different ways. Google understands that and ranks a nearly-identical set of results for many keywords.
According to our study, an average #1 ranking page will also rank well for about 1,000 other relevant keywords.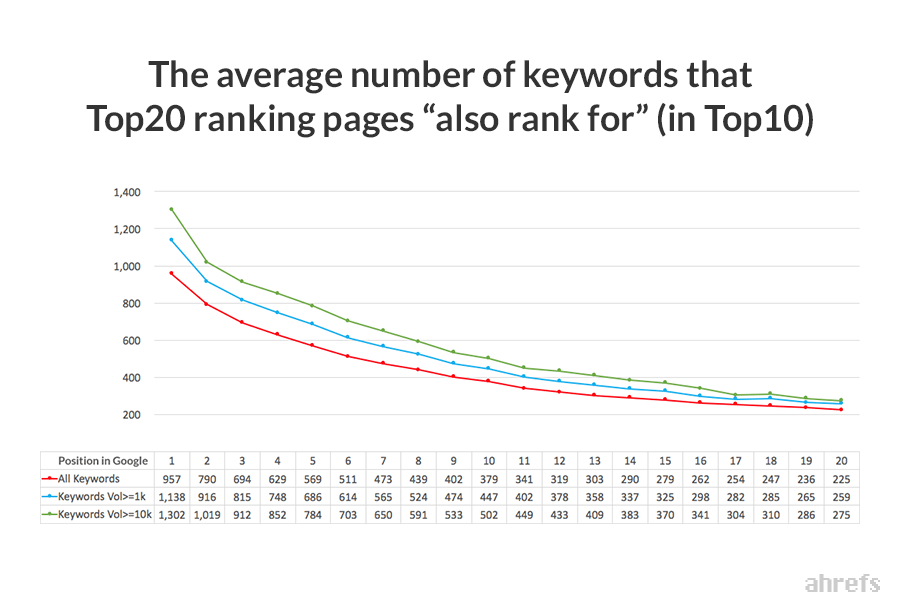 And here's how many keywords one of our posts ranks for:

Translation: cover one topic in great detail (i.e., include all the subtopics under that one umbrella topic), and rank for tons of long-tail terms.
The result? More traffic to your target page.
Plus, because of 'phrase-based indexing' and 'co-occurrence', you may even improve the rankings for your primary keyword.
NOTE. This is essentially the idea that Google can better identify the topical relevance of content through the co-occurrence of words and phrases.
Learn more about how that works in our guide to on-page SEO.
One of the best ways to find relevant subtopics for your posts is to look at what else the top-ranking pages for your target keyword also rank for. For this, you can use Ahrefs' Content Gap tool.
Simply enter a few of top-ranking pages, set to prefix mode, and leave the "Doesn't rank for" box blank.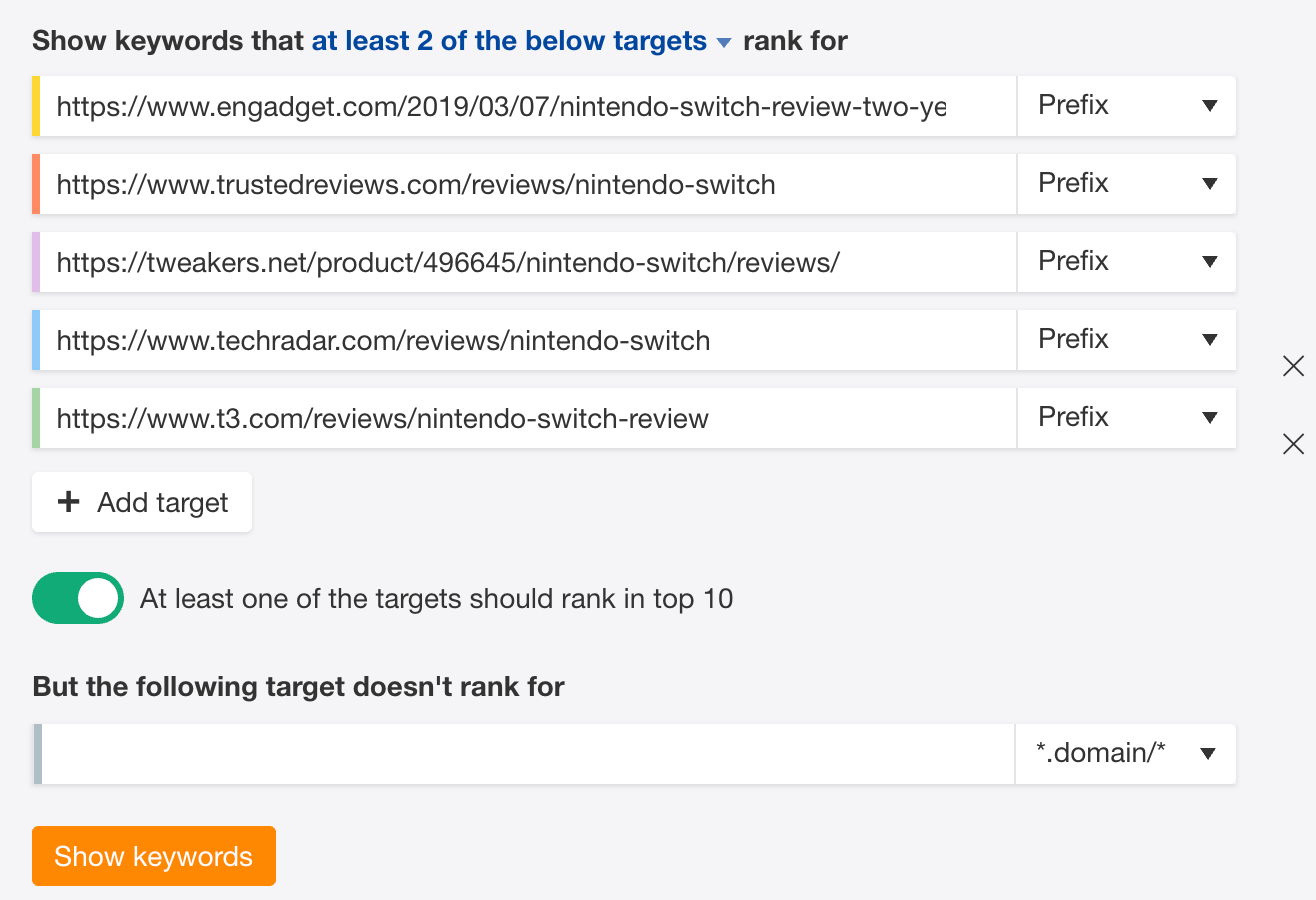 Hit "Show keywords."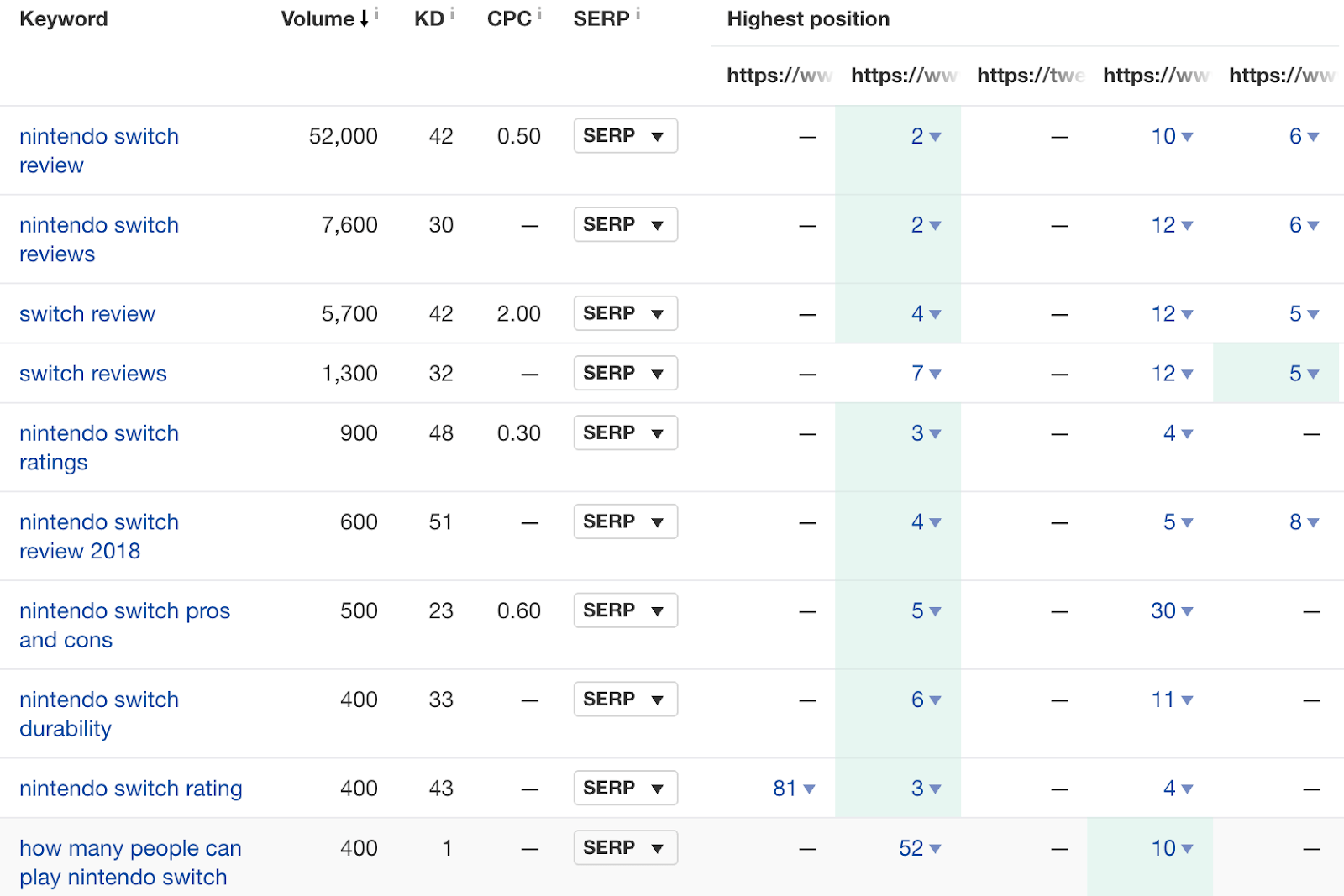 In the screenshot above, Content Gap tells us which keywords the top-ranking pages for "nintendo switch review" also rank for. As I scroll through the list, I see things like:
nintendo switch durability
nintendo switch number of players
nintendo switch screen quality
nintendo switch build quality
As you're updating and refreshing the content, you might want to include these subtopics. Of course, if you're a fan of the Switch, some of these may be obvious. But there are almost always some things you may never have thought of mentioning.
5. Replicate backlinks from outdated, low-quality pages
Does this experience sound familiar to you?
You:
Searched for a term in Google;
Clicked through to the #1 result;
Found an abysmal piece of content that did not answer your query.
You wondered to yourself, "how in the world is this ranking #1?"
Well, there's good news. These kinds of results are opportunities.
Think about it: if these poor pieces of content can get tons of high-quality links and rank in Google, so can you.
You just need to have something better. And if you regularly refresh your content, chances are: you already have something better.
All you have to do is to find these inferior pieces of content (that have lots of links) and get the people linking to them to link to you instead.
Sam Oh describes this process in detail in this video:
https://www.youtube.com/watch?v=wPjPjNK-bDM
Here's how you do it:
First, enter your target keyword into Ahrefs' Content Explorer. To find outdated, low-quality pages, you'll have to set some filters.
Referring domains filter to 50 and above (to find pages with links);
Date filter to >3 years ago (to find outdated content);
Word count filter to <1,000 words (to find less-thorough, and presumably, "lower-quality" articles)
Check these results for outdated or potentially misleading information.
Here's one:

If you find a relevant page like this, click the caret and head to the Backlinks report for that page. These are your prospects. Now all you need to do is find their email addresses and pitch your up-to-date article as a replacement.
Hey, I found your post: http://post1
It links to this: http://post2
Great post, but some of the information is outdated. In particular […]
I just wrote this: http://post3
It's a more up‐to‐date guide about ______
CTA: Might be worth swapping out the link?
Sidenote.
The email above is a suggestion only. Don't copy it word for word. That's lazy. You should always personalize your templates on a per-campaign basis.
6. Boost pages with internal links
Internal links are links from one page on the same domain to another.
When used strategically, internal links can help boost the performance of pages in the search engines.
Why? Because internal links aid the flow of PageRank around your site. Generally speaking, the more internal links a page has, the higher its PageRank. And PageRank is a confirmed Google ranking factor.
DYK that after 18 years we're still using PageRank (and 100s of other signals) in ranking?

Wanna know how it works?https://t.co/CfOlxGauGF pic.twitter.com/3YJeNbXLml

— Gary "鯨理" Illyes (@methode) February 9, 2017
Here's a simplified view of how it works: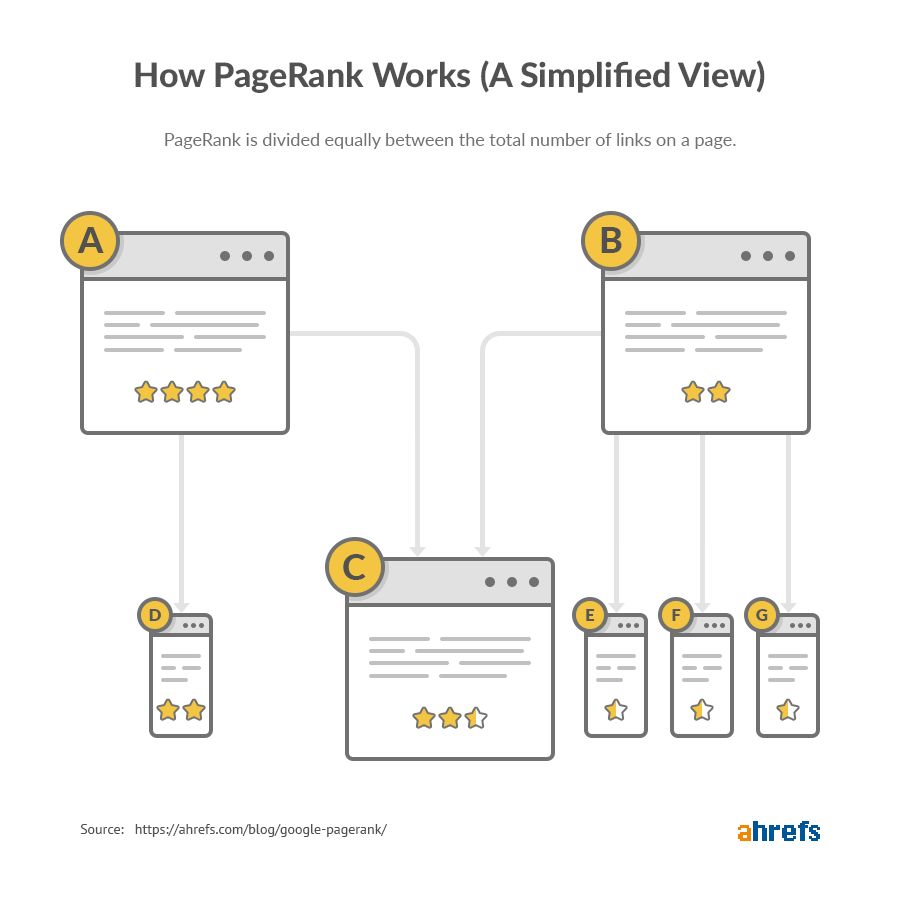 So, if you can add some internal links from relevant, high-authority pages to the pages that need a boost, then that may help boost their performance in organic search.
Here's how to do it:
First, you need a list of pages that need a boost. In this case, I'd recommend finding pages that are ranking in positions #2 - #5 for their target keywords.
Pages ranking in these positions are ideal because they are already close to the top, and a few powerful internal links can potentially make a difference in their rankings.
To find these pages, use the Top pages report in Site Explorer.
Site Explorer > Enter your domain > Top pages > Filter for positions #2 - #5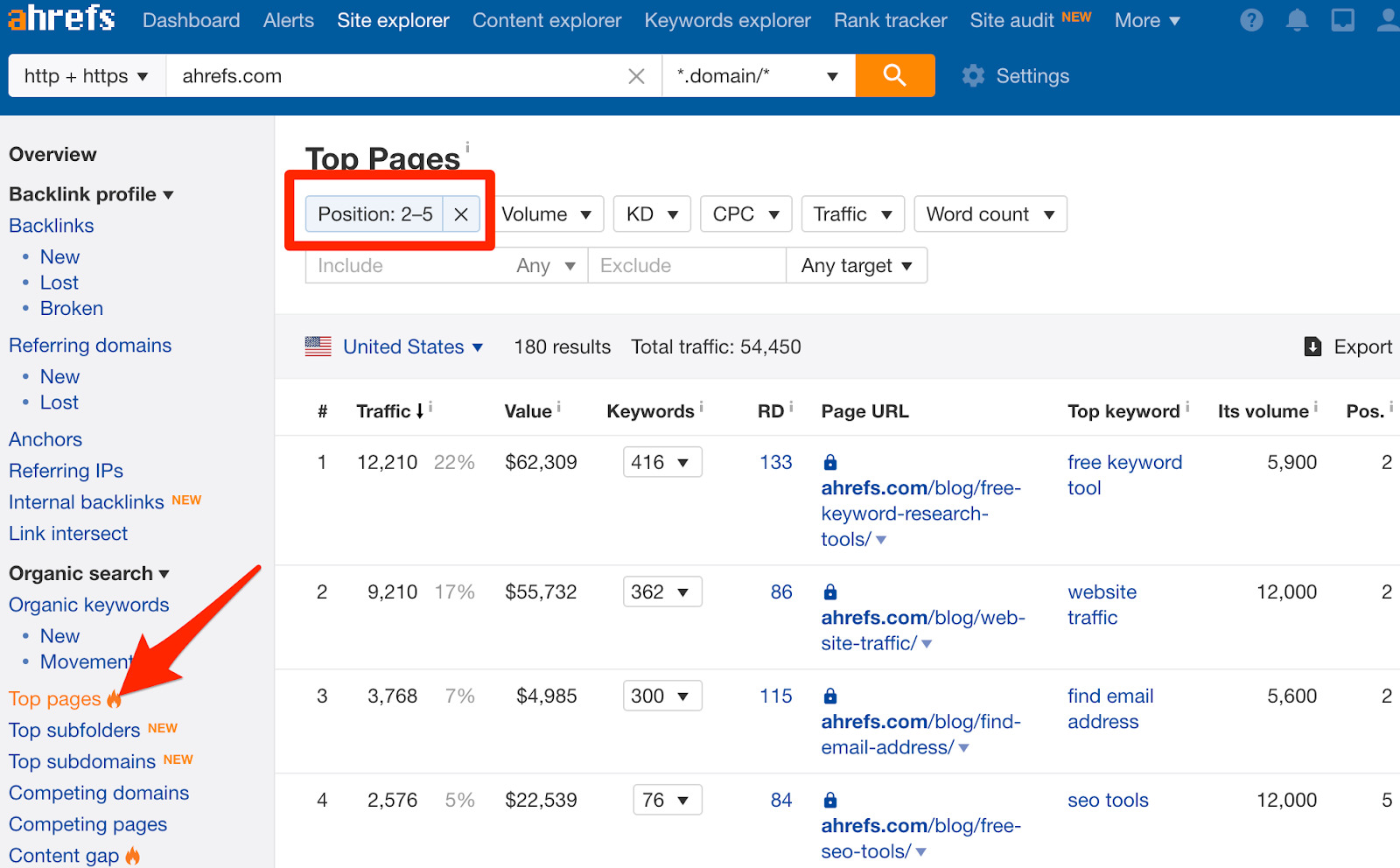 Note down these pages.
The easiest way to get started with adding internal links is to use this search operator:
site:yourdomain.com "keyword or phrase related to page"
Next, you need to find relevant contextual internal linking opportunities. The easiest way to do this is with the site: Google search operator.
For example, if I wanted to add internal links to our on-page SEO guide, I'll search for this in Google: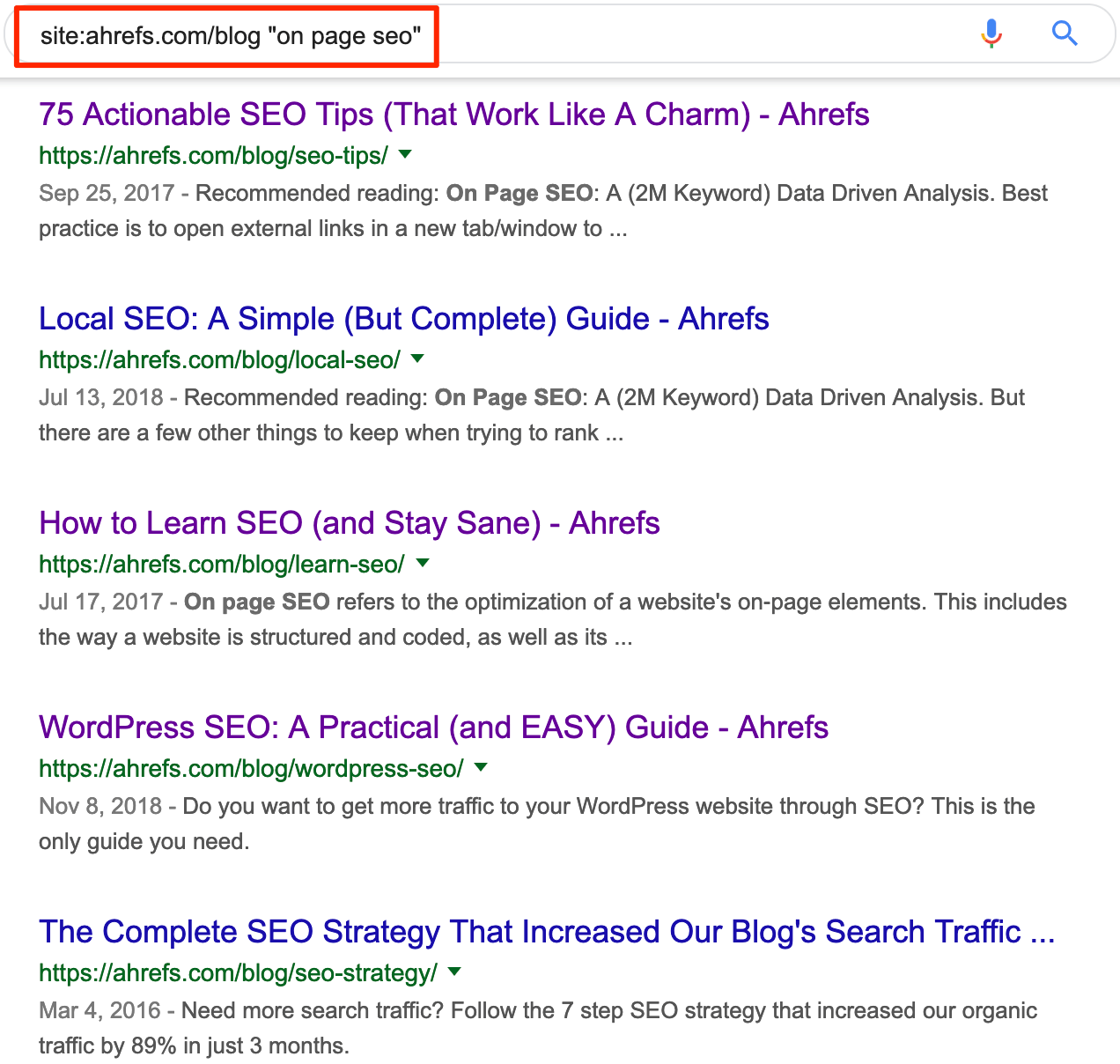 Then, I'll go through each of these pages and add internal links to the target page with relevant anchor text.
Another option is to add internal links from your "power pages," which are those with the most backlinks (and thus authority).
You can find these pages by going to the Best by links report in Ahrefs' Site Explorer.
Site Explorer > enter your domain > Best by links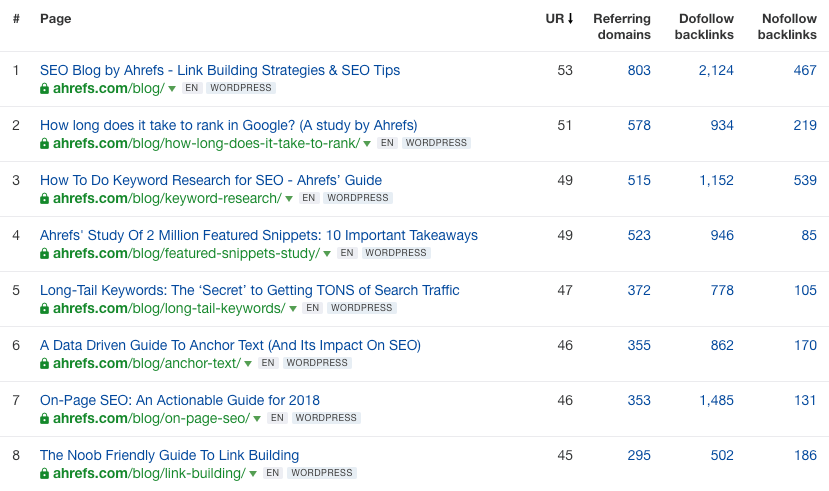 Run through this list and find relevant pages and posts from which to add internal links.
7. Fix broken backlinks coming to your site
Broken backlinks are broken inbound links from other websites.
These usually occur because:
You deleted or moved a page that has backlinks;
The linking site made a mistake when linking to you.
This isn't ideal.
Think about it: if you have broken pages that many sites are linking to, not only are you losing potential referral traffic, you're also losing the "link equity" from those links.
Therefore, you should fix this.
How? Enter: Ahrefs Site Explorer.
Plug your domain into Site Explorer, and go to the Best by links report. Add a "404 not found" filter to find all the pages on your site that are broken. Sort the results by their Referring domains.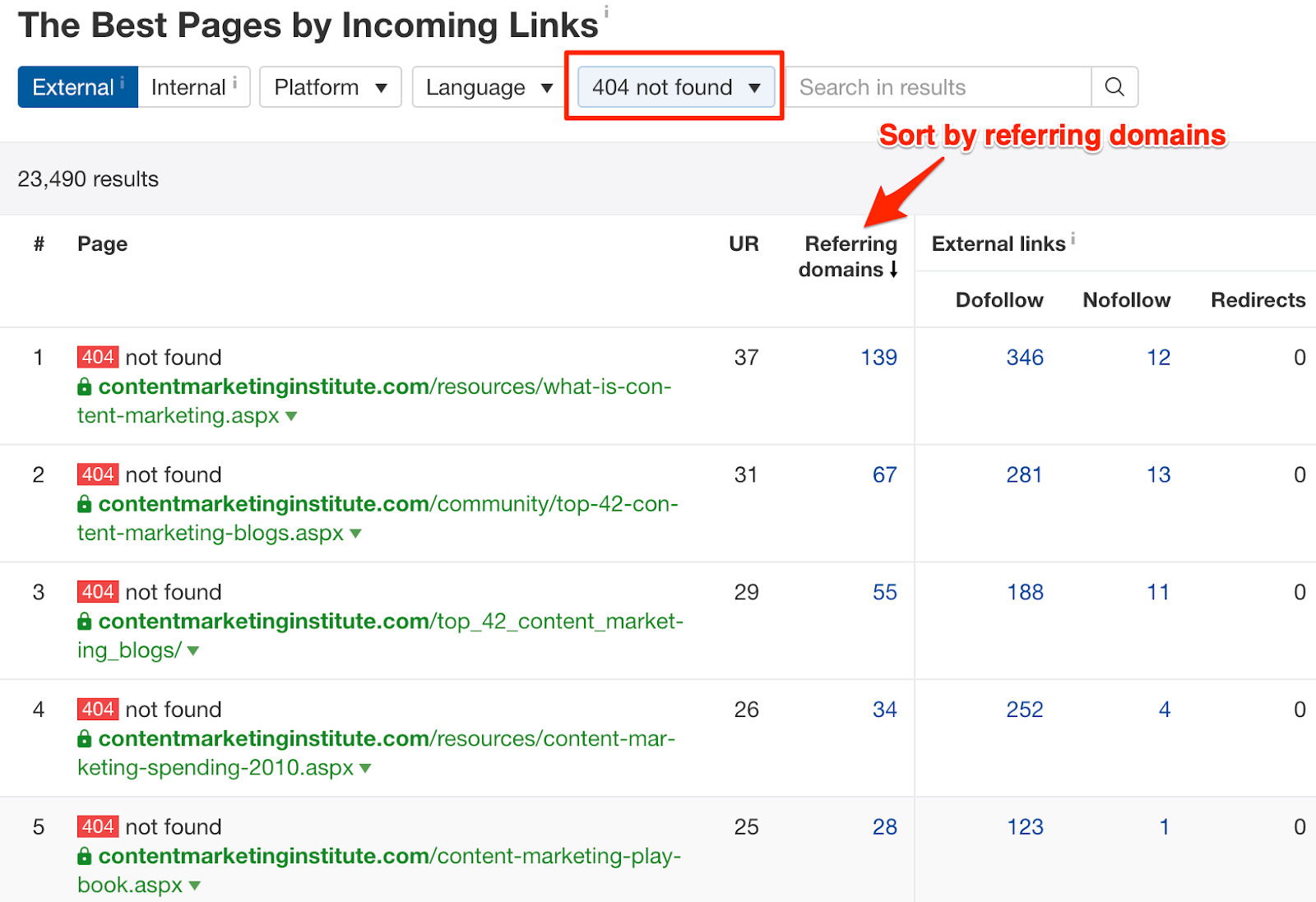 This shows you the broken pages on your site with the most links.
From here, you can fix this issue in a few ways:
Redirect the broken page to the new location. You may have changed the URL of a page and forgotten to redirect it. In which case, find the new page location and implement a 301 redirect.
Redirect the broken page to another relevant page on your site. Find a similar page on your site and redirect this 404 page to that page instead.
Restore the page. Made a mistake in killing the page? Restore it.
Recreate the page at the broken URL. Use the Wayback Machine to find out what the broken page used to be and replace or recreate it.
Or if the issue is that multiple people made a mistake when linking to your website (e.g., adding an extra "/"), then reach out to the site owner and request a fix!
Recommended reading: How to Find and Fix Broken Links (to Reclaim Valuable "Link Juice")
8. Go after featured snippets
This is a featured snippet: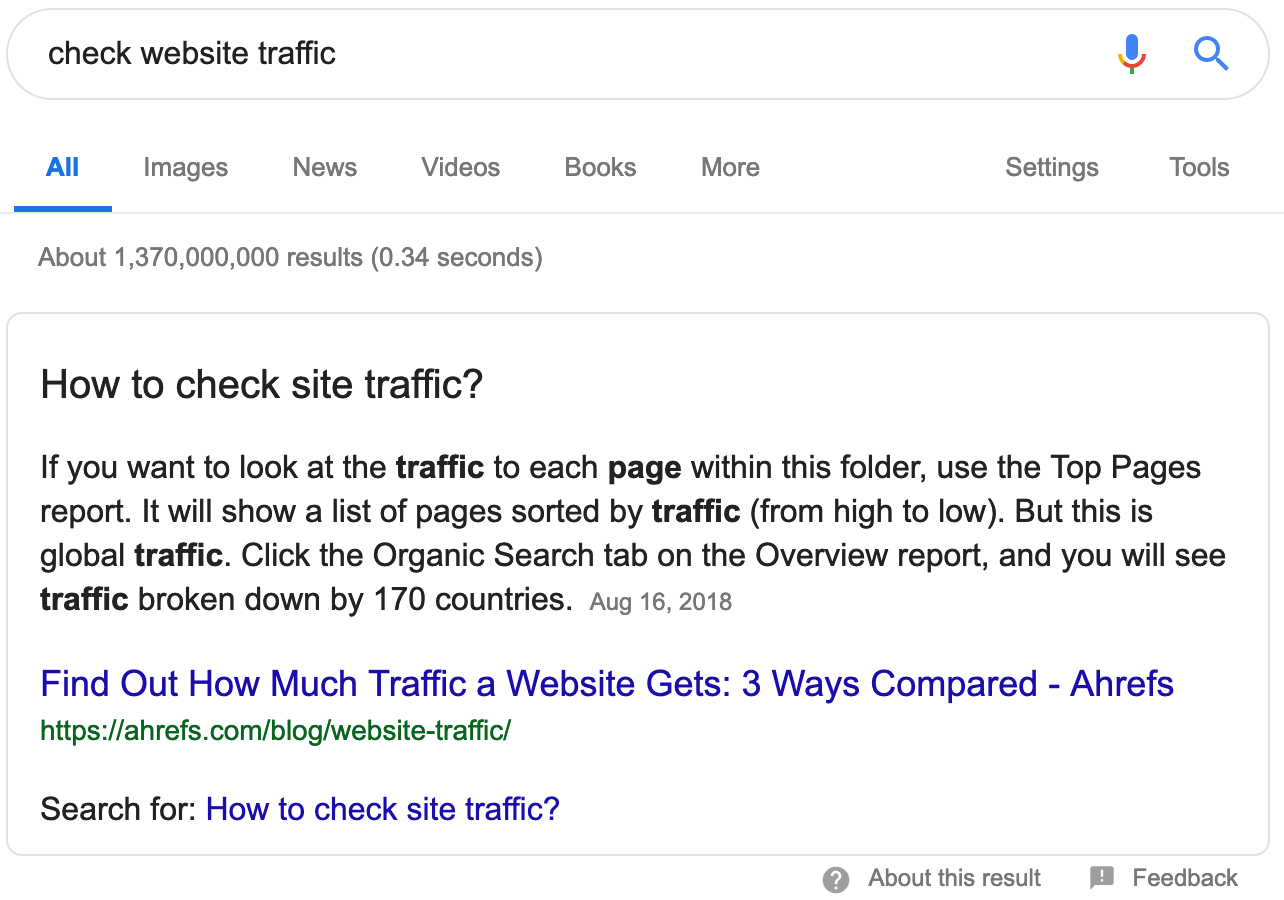 Basically, it's when Google shows a full or partial answer to a query directly in the search results.
According to our study, featured snippets get ~8.6% of clicks on average, while the page that ranks below (aka position #1) will get ~19.6% of clicks.
If there are no featured snippets, the #1 ranking result will get 26% of all clicks.
So, it turns out that the featured snippet is stealing clicks away from the #1 ranking result.
The question is: how do you win the snippet?
According to our study, only pages that rank on the first page of Google are in with a chance of winning the snippet. But, you don't need to rank #1 to be featured.
And therein lies the opportunity.
Chances are: you already have a few pieces of content ranking on the first page for queries with featured snippets. The next thing to do is to optimize these pages to grab it.
To do that, enter your domain into Site Explorer and go to the Organic keywords report. Filter for queries for which you rank in the top 10, and that show snippets in the search results.
Site Explorer -> Enter domain -> Organic Keywords -> Top 10 filter -> SERP Features -> Featured Snippets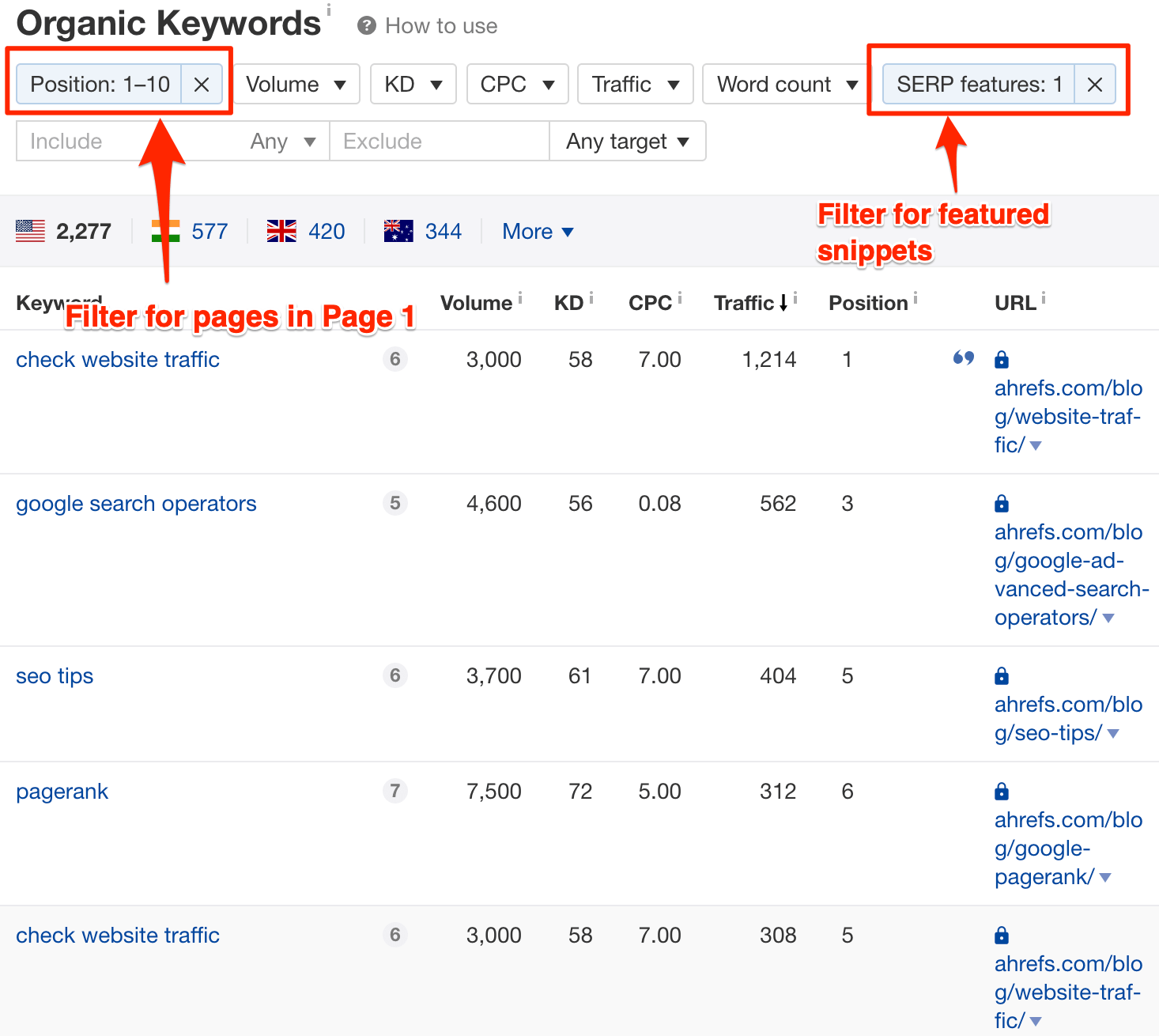 Run through the list to find the snippets you don't own. Analyze the competing site and try to figure out why they own the snippet and you don't.
Here are some potential issues and solutions:
Your content doesn't adhere to the format searchers want to see. If the ranking page has a numbered list, and you don't, that's likely a reason why you don't yet own the snippet.
You have structured markup issues. Google relies on appropriate HTML markup to help understand what your content is about and structured. If you don't have the appropriate markup, Google may find it difficult to identify your content and feature it on a featured snippet.
IMPORTANT. Not all featured snippets come from pages with structured markup.
Recommended reading: How to Optimize for Google's Featured Snippets in 2020
One more thing…
So far, I've shared a bunch of tactics you can use to improve rankings without having to create new content.
But what happens after you've implemented all of the above? What do you do next?
You create more content. Then, you optimize those pages for improved rankings. Rinse, and repeat.
So, let's kickstart that process by finding low-hanging content ideas that are easy to rank for.
To do that, go to Ahrefs' Content Explorer, enter a broad niche-relevant keyword, then apply two filters:
Referring domains between < 5
Organic traffic filter = 1,000+
The result? Pages that get tons of search traffic while having few or no backlinks.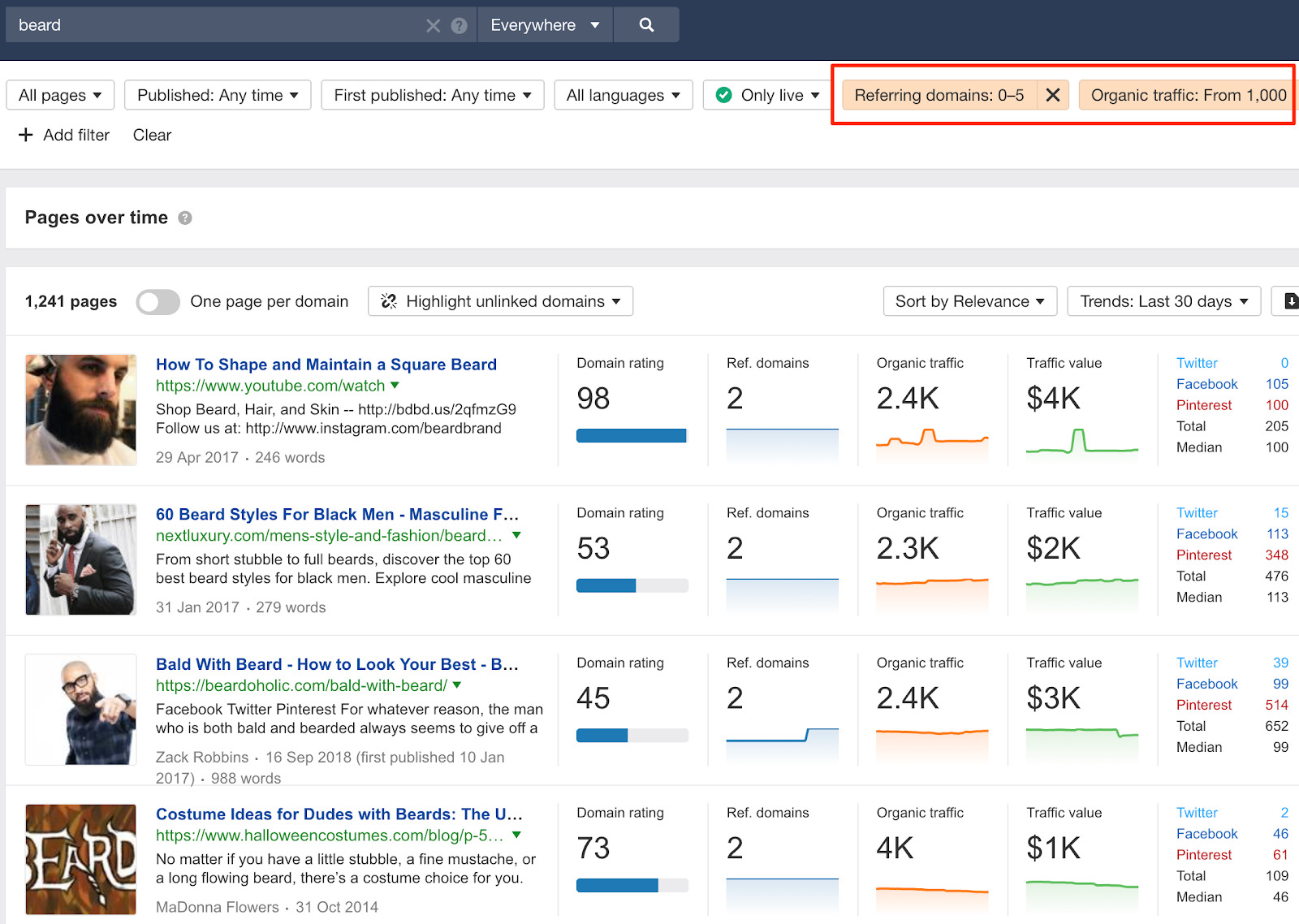 Scroll through the pages and start looking out for content ideas you can target.
In this simple example, if I owned a "beardsman shop" (aka a shop that sells beards-related products), I could easily create content about "how to maintain a square beard" and "beard styles for black men."
Final thoughts
All these tactics have the potential to boost your rankings in the search engines.
But don't expect your rankings to jump overnight.
Our research suggests that only 5.7% of all newly published pages reach the first page of Google within a year. That's no surprise. SEO is a long-term game.
So while it makes sense to focus on these low-hanging tactics, they're no replacement for a long-term SEO strategy.
Lacking a strategy? Here's what's working in SEO today: