SEO podcasts are great for those who need fresh insights into the latest search engine optimization, marketing, and link building trends. Yet don't have the time to read.
I enjoy reading! There are times I could spend the whole night with a book, swallowing it page by page 'til morning do us part! Today I read mostly marketing articles and books to keep up with times. But there are so many books and so little time. So I often listen to audiobooks and podcasts. If you are the kind of person who prefers listening to reading, you may turn out to be an avid podcast fan.
The recent Edison research shows that podcast listening grows year by year. And now, over 40% of the US citizens have listened to a podcast at one point or another. The same study shows that around 27% of podcast consumers subscribe to podcasts to get the information on a regular basis and listen to podcasts via their smartphones mostly.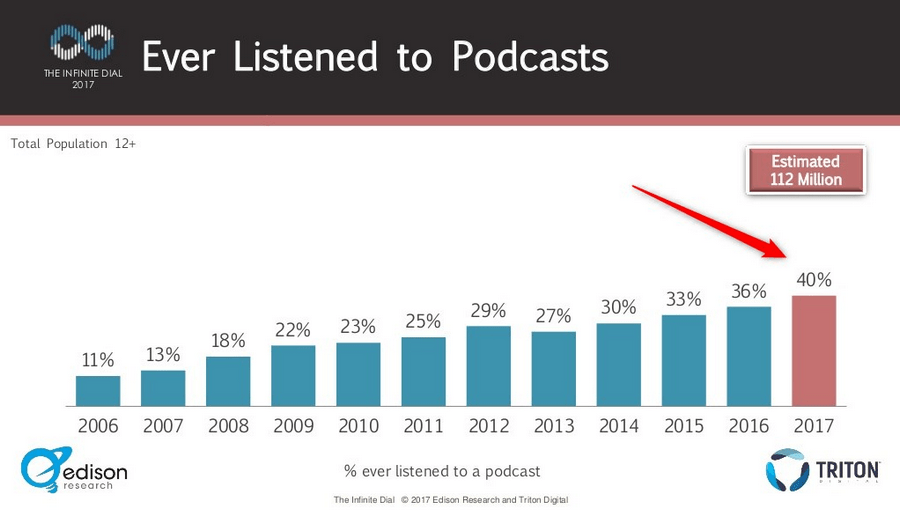 When you type 'SEO podcast' into Google, you get a ton of various podcasts and curated lists that include regular podcast series' as well as stand-alone podcasts on SEO, digital marketing, PPC and other topics. You may get confused by the number of podcasts and their diversity. So I've done the job for you and selected the most catchy and attention-worthy podcasts that came into my view.
Why I chose these podcasts
As with the Facebook SEO groups post, I followed the most obvious criteria to select the podcasts. Those are:
SEO-related (a few popular digital & content marketing podcasts with a decent number of SEO episodes were included, too);
Regularly-updated (I didn't add the closed podcasts or sets of podcasts that aren't updated with new info);
Appraised by the SEO community (some podcasts were recommended by our Facebook group members).
And again, I've reached out to the show-runners and asked them to share some behind-the-scenes insights. Obviously, I couldn't listen to all episodes of each podcast and can't actually "recommend" them in a way a true fan would do. So this is rather a "give-them-a-try" post, not a strongly-recommended list.
Most of these podcasts can be found on iTunes, Soundcloud or other sources. This makes it easier for everyone to choose their favorite way of listening (online or downloading to their devices). So, make yourself comfortable and read about the most valuable SEO podcasts handpicked for you.
Poll: What is your favorite one?
Is your favorite podcast on the list? I thought it would be great to learn what podcasts are most popular among Ahrefs Blog readers. So let's check out your preferences: vote for the podcast you love listening to below.

Loading …
Authority Hacker podcast
Host(s): Gael Breton and Mark Webster
Topics: SEO, marketing, content marketing
Website: Authority Hacker
Listen on Soundcloud, iTunes, and Stitcher.
The Authority Hacker podcast was created to discuss the stuff that wasn't a good fit for the blog post format. Gael Breton and Mark Webster wanted to recreate that casual atmosphere at conferences where you can just relax and enjoy the conversation.
The hosts avoid doing promo interviews where guests are trying to sell their services to the audience. During the show, the hosts discuss topics to which the community showed great interest. They also give their own point of view on the most challenging SEO questions, as they have personal experience running online business website and blogs.
The hosts also gather questions from listeners and regularly answer them. The Authority Hacker podcast counts over 100 episodes now. Here is one of the New Year episodes with Mark & Gael's SEO predictions for 2018:
Search Engine Nerds
Host(s): Brent Csutoras and Loren Baker
Topics: SEO, paid search, social media, entrepreneurship, content marketing
Website: Search Engine Nerds
Listen on iTunes and Stitcher.
Search Engine Nerds podcast from Search Engine Journal was initially called Marketing Nerds. The hosts changed the title as they wished to focus primarily on SEO topics and attract an audience of SEO professionals. The podcast was created as a way to deliver high-quality insights from the top SEO experts to the community.
Brent Csutoras and Loren Baker are the usual hosts of Search Engine Nerds. They invite individuals who wish to share their expertise and strategies concerning the top issues impacting SEOs day-to-day. There are no AMA sessions but the hosts do run occasional contests and giveaways…as long as it fits their audience.
Search Engine Nerds are deeply into the topics that are current and cutting edge. The hosts' research experts and topics they wish to discuss to provide the information that listeners can appreciate and use correctly. Thus, the episodes featured Gary Illyes from Google, talking about the mobile-first index, and Christi Olson from Bing, talking about the future of voice search.
Marketing Speak
Host(s): Stephan Spencer
Topics: SEO, paid search, entrepreneurship, marketing
Website: Marketing Speak
Listen on iTunes and Stitcher.
Being a renowned SEO and IM expert, author and speaker, Stephan Spencer launched the Marketing Speak podcast to share the best SEO advice and tips in a format convenient for the audience. He claims to hand-pick all the guests for the shows: authors, speakers, tool providers, true experts, and specialists.
The host encourages his listeners to leave their questions and ask for help with their issues via 'voicemails' on his website. This makes the show vivid and genuine. The guests also may offer their own gifts to the podcast listeners, like discounts or giveaways of their services.e
These podcasts are created with care and include a lot of additional stuff to make them even more useful. Thus, every episode comes with a full transcript, show notes with timestamps. It also includes a checklist for implementing what was taught in the episode. Check out the episode where the marketing legend Jay Abraham is interviewing Stephan about SEO.
MozPod
Host(s): Brian Childs
Topics: SEO, marketing
Website: MozPod
Listen on iTunes and Stitcher.
Like the most of us, Brian Childs, the MozPod host, often felt overwhelmed by the amount of information he needed to digest. All those articles to read and videos to watch! So he came out with the idea of creating a podcast that people could listen to whilst driving to/from work. It's the best time when one can consume information in an easy-to-digest form. Thus the MozPod appeared.
During each podcast episode, Brian interviews marketing and SEO experts asking them 'simple dumb questions that people are often afraid to ask.' It's usually the kind of info a small marketing agency owner would like to know: what this or that term means, how does this or that thing actually work, etc.
MozPod guests are experts in their field. Listeners can be sure they get the freshest and the most up-to-date data firsthand. Thus, one of the latest episodes featured J.P. Cummins, a Blockchain and BitCoin expert, who shared the basics of blockchain technology and how it may affect SEO. Other "experts" that have been featured on the podcast include Britney Mueller, Carl Schmidt, Ross Hudgens and others. Here's the episode that discusses Blockchain technology:
Experts On The Wire
Host(s): Dan Shure
Topics: SEO, digital marketing
Website: Experts On The Wire.
Listen on iTunes and Stitcher.
Before getting into the SEO world, Dan Shure produced local TV shows in high school and performed on stage as a musician. So he knows how to make a good show. With the help of Anthony Pensabene, one of Dan's then employees, and his wife Sarah, Dan launched his first podcast. In February 2016, the pilot episode with the first guest — Marie Haynes — aired. 'Experts On The Wire' counts over 85 episodes at the moment.
Dan is proud to run the 100% self-produced podcast where he does all the audio editing, music, etc. His wife creates the timestamps for the show notes. Dan has been involved in SEO for over ten years now, so he isn't afraid of challenging tasks. Many of the questions he asks during the show are taken from Twitter, but the entire talk is rather spontaneous. Dan also runs occasional contests which are announced at the beginning of the show.
Dan claims to appreciate every single listener, comment, and review from the audience, trying to engage with everyone! I guess this is the thing that best characterizes the 'Experts On The Wire' host. Try out the episode where Paula Keller French shares her 8‑year SEO experience:
Search Talk Live
Host(s): Robert O'Haver
Topics: SEO, SEM, digital marketing
Website: Search Talk Live
Listen on iTunes, Spreaker, and Stitcher.
The 'Search Talk Live' host, Robert O'Haver, has been in the industry since 2001. He felt that people often lack reliable information on White Hat SEO. To help users get the best advice on SEO, Robert tried many channels — from YouTube videos to Google Hangouts. So, when Robert got the opportunity to try a podcast, he jumped right on it. The show is now approaching its 100th episode and only gets more popular. Its loyal audience consists of people who wish to avoid SEO industry pitfalls and follow its best practices.
The weekly episodes welcome industry experts including Google staff every week. They share their knowledge on all aspects of digital marketing, SEO, social media & content marketing, conversion optimization, Paid Ads, etc.
The Search Talk Live airs every Thursday, and the recorded episodes are available to listen and download from many sources like iTunes, Play Store, Youtube, SoundCloud, iHeartRadio, Speaker, and others. The owners do not run any giveaways or contests, but they reward the guest of the most popular episode of the year. Listen to the episode where Cyrus Shepard discusses split testing for SEO:
Listen to "Cyrus Shepard Discusses SEO Experimentation/Split Testing and Setting up Clients for Success" on Spreaker.
The Recipe for SEO Success
Host(s): Kate Toon
Topics: SEO, social media, content marketing
Website: The Recipe for SEO Success
Listen on iTunes and Stitcher.
The host of Recipe for SEO Success, Kate Toon, started the podcast series to support her online courses. Her main audience is small businesses, e‑commerce stores owners, bloggers, marketing managers, and freelancers rather than existing SEO experts. As Kate claims, she wished to create a podcast that presented accessible info to her audience, 'with zero waffle and no jargon.' Her tips and advice are straightforward, easy-to-understand and quick to put into practice…even for non-experts.
Most episodes consist of short but helpful tips and recommendations on SEO, content marketing, website building, etc. Kate also invites SEO-experts for interviews from time to time. Rand Fishkin, Barry Schwartz, John Mueller, and Bill Slawski have all been guests in the past. One of the coolest things about 'The Recipe for Success' podcast is that the episodes are always labeled as Newbie or Techie to show the level of difficulty and help users to choose the right level for them.
Kate hopes to break down the perception of SEO as a hard-to-understand discipline that only experts can manage. She plans to show her listeners that SEO is really fun, interesting, challenging and exciting. Check out this Q&A session with Google's John Muller:
Unknown Secrets of Internet Marketing
Host(s): Chris Burres and Matt Bertram
Topics: SEO, PPC, social media, content marketing, CRO
Website: SEO Podcast, Unknown Secrets of Internet Marketing
Listen on iTunes, Soundcloud, and Podomatic.
The eWebResults show, "SEO Podcast, Unknown Secrets of Internet Marketing" has been on the internet since 2009. It receives over 9,000 downloads every week from over 100 countries. The eWebResults podcast was intentionally created to serve their internal training courses. But then podcast hosts, Chris Burres and Matt Bertram, realized there was a need for a good SEO podcast that provided valuable content in an entertaining format.
The hosts review new articles that appear during the week and select the most relevant and easy-to-perceive content to share, with their own comments and insights. They dig out the latest issues and always try to come up with one specific and actionable tip at the end of each podcast episode.
The podcast is usually broadcasted to Facebook, and the hosts try to answer questions submitted by the Facebook community during the live session. They also run contests to increase their social interactions and plan to drive more from it in 2018. Check out this episode where Chris and Matt discuss the search powers of YouTube and other 'search engines':
SEO 101 Podcast
Host(s): Ross Dunn and John Carcutt
Topics: SEO, paid search
Website: SEO 101
Listen on iTunes, Soundcloud, Stitcher, and iHeartRadio.
The SEO 101 podcast first appeared in 2009 on WebMasterRadio.FM with the Stepforth CEO Ross Dunn and his colleague Jennifer Evans-Cairo as the hosts. After a break, Webmaster Radio decided to bring it back to life, and Ross was chosen as a co-host along with John Carcutt. And it seems to have been a perfect choice.
Ross and John have both been into SEO industry for over 20 years which makes them fantastic hosts. They bring to the show a nice mix of unique takeaways about SEO and a good sense of humor. Each of the hosts has his own area of expertise: Ross is focused on small and medium businesses while John is mostly into the enterprise and large companies.
The amazing SEO 101 community on Facebook helps the hosts with creating such cool shows. Currently, it counts over 9,000 users who post questions that will be further discussed during the live show. In recent years, Ross and John have interviewed many renowned guests and SEO industry leaders like John Mueller from Google, Loren Baker, Dr. Pete Meyers, Jennifer Laycock, Richard Zwicky and many others. They bring an additional level of authority, depth, and perspective to the show so that we can expect more wonderful guests in 2018. Learn more about Local SEO myths with this episode:
SEOBits Podcast
Host(s): Rebecca Gill
Topics: SEO, digital marketing, social media
Website: SEOBits
Listen on iTunes and Stitcher.
This podcast is one of the newest shows related to SEO and contains only 23 episodes at the moment. Rebecca Gill, the host of the podcast, has been into SEO and marketing for 15 years already. The show runs once a week to provide website owners, bloggers, and freelancers with the basics of SEO in a digestible manner. Each episode is around 15 minutes long and covers one topic from the SEO field. No algorithm changes or advanced SEO techniques, just actionable advice that anyone can learn from and execute without external help.
Rebecca focuses on keeping the atmosphere of the podcasts light and airy. She rarely invites guests or interviews experts. But when she does, she makes sure that they can cover topics in a way that ordinary users with a low level of technical knowledge can understand. Rebecca believes that if people know why they need a particular action, it's easier for them to understand how to do it and then implement this activity on their own website or blog. Check out this episode of SEO for blogging:
HumanProofDesigns podcast
Host(s): Dom Wells
Topics: SEO, digital marketing
Website: Human Proof Designs
Listen on iTunes and Stitcher.
The podcast series is hosted by Dom Wells, the HumanProofDesigns founder. Initially, they created the podcast to boost the existing relationships they had with their audience. The hosts were already aware of some SEO issues that people had trouble with. So they included discussions about them in the first pre-recorded episodes.
The main focus of the HumanProofDesigns podcast is affiliate marketing and SEO. The host claims the podcast series just became one more way of educating people about the business models they can use to monetize their own websites.
Dom Wells claims that SEO podcasts provide a great opportunity to "meet" various individuals from the SEO community. Each of these individuals share tips, stories, and values with the audience. The topics range from niche selection to SEO tactics. Some episodes also feature case studies and interviews. Their 30th episode was an AMA session. The hosts asked their listeners to send them the questions prior to the show and chose 30 of them to answer during the episode. Check out this episode about Chiang Mai Conference with Ahrefs' Tim Soulo:
Webcology
Host(s): Jim Hedger and Dave Davies
Topics: SEO, digital marketing
Website: Webcology
Listen on iTunes and Stitcher.
Jim Hedger and Dave Davies have been hosting this show for ten years already. Webcology has appeared as a replacement to the Alternative show that focused on other search engines besides Google. Jim and Dave chose the title 'Webcology' because it gave them the scope to share everything web-related rather than focusing solely on search engine optimization or paid advertising.
Webcology is a series of weekly live-to-podcast shows. It makes the atmosphere at the show extraordinarily vivid and genuine. Each episode of the show includes talks about tips and tricks in search, PPC, social media. The hosts also sometimes discuss how the web works or the politics and ethics of related work.
Dave and Jim present the topics with a good dash of humor and make fun of practically everything — e.g., the infamous Mozilla v. Verizon court case. They invite various experts to the show and appear at various conferences as speakers, too. They also do live shows from the conferences from time to time. Check out this episode about Mobile-first indexing:
Listen to "Artificial Intelligence and The Truth About Mobile-First Indexing" on Spreaker.
Bonus: Technical SEO Podcast
Host(s): Dan Taylor and Adam Gent
Topics: tech SEO, link building
Website: TechSEOPodcast
This podcast is brand new. The first episode of the Technical SEO Podcast aired a couple of days ago, just as we were about to publish this post. But we thought it was so cool that decided to add it to the list. Dan Taylor and Adam Gent created the show to provide a voice for technical SEO. In their own words, they wanted to create something new in this niche; something without fluff that wasn't aimed solely at "reaching the biggest possible audience".
Their first episode features Moz's Principle Search Scientist, Russ Jones, who talks about backlinks and off-page SEO in a modern SEO world. At Ahrefs, we respect Ross a lot and believe that he made a great first guest.
Technical #SEO Podcast Ep. 1 Ft. Russ Jones of @Moz — Talking backlinks and offsite in a modern SEO World 🎧 > https://t.co/7tdZB9lTkt

— Dan Taylor (@TaylorDanRW) February 14, 2018
Future episodes will feature many more great SEO minds including Jono Alderson of YOAST, Dawn Anderson of Move It Marketing, IBM's Patrick Stox and Netflix' Laura Lippay. Each host will share practical tips, insights, and methods to bring great SEO knowledge to the forefront.
Final Thoughts
Before you start subscribing and listening to the shows you liked the sound of, you should consider your level of SEO experience. If one show seems too technical or overwhelming to you at this moment, try another one. You can always return to it later as you gain more SEO knowledge and experience.
The style of the host(s) and their charisma add significantly to the overall impression you get from the show. And it's an important variable you should take into account when choosing the show to listen to. Of course, it's impossible to listen regularly to all of the podcasts mentioned above. But I hope this list helps you to make the right choice and find some excellent shows to which to subscribe.
Btw, what would you say if Ahrefs launched its own podcast? Would you subscribe and listen to it on a regular basis? Let's cast another vote:

Loading …