Marketing job boards are aplenty, but which ones are worth your time?
To answer this question, we asked Twitter for some recommendations, added those we've personally used into the mix, and spent some time poking around each of them.
Here's what made the cut in our round-up of the best marketing job boards to hire or be hired:
Who it's for: Remote marketers
Website: https://heymarketers.com/
Cost per job listing: $99 for 30 days
Hey Marketers focuses exclusively on permanent remote marketing roles—and we can vouch for its reliance, given we've listed jobs here ourselves.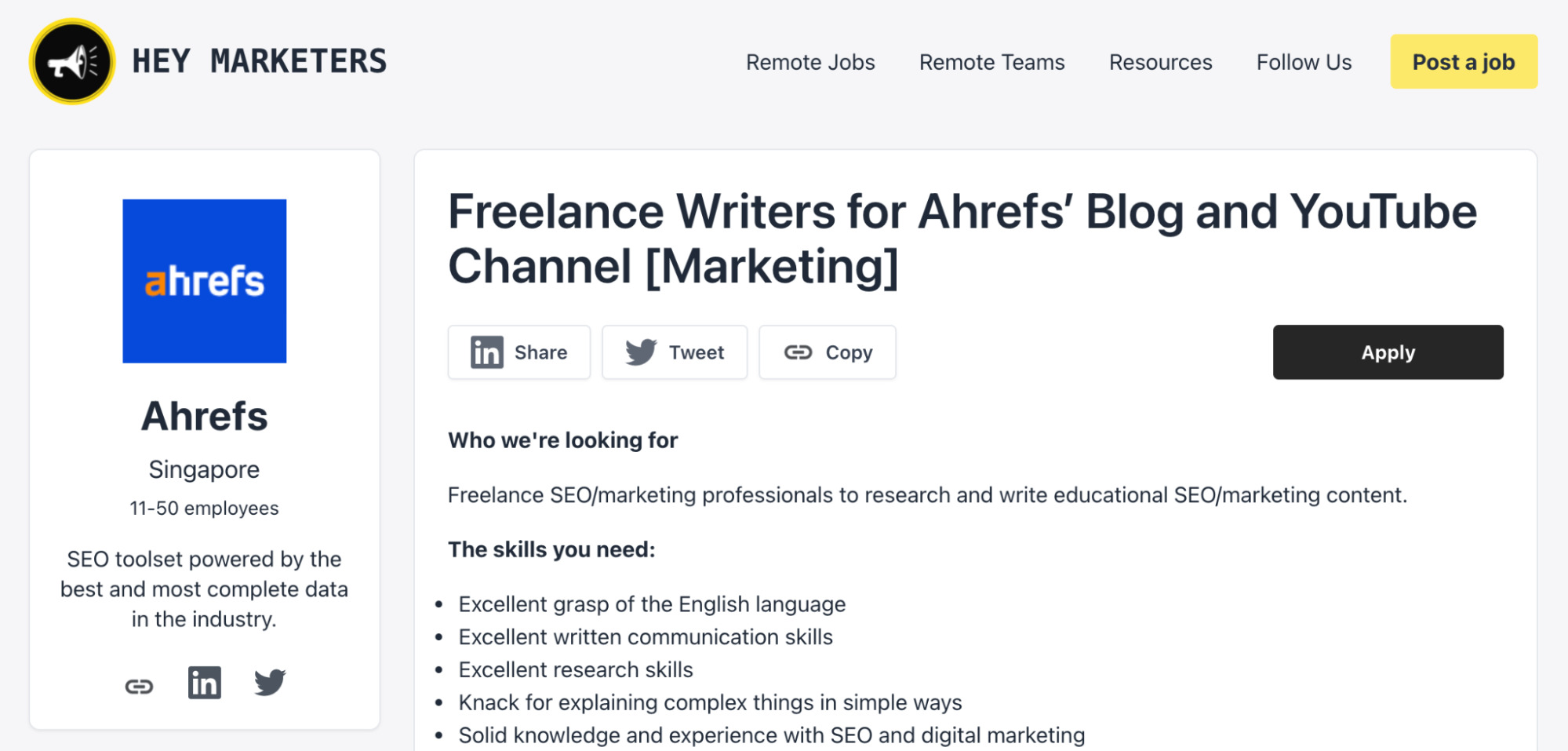 On the last count, we estimated there to be over 1,300 open jobs on the platform. Within the marketing category, you'll find roles spanning digital marketing, content strategy, campaigns management, as well as copywriting.
Perhaps the biggest plus point of the site is the caliber of listings, many of which come from established and rising tech companies like HubSpot, Skillshare, MailChimp, Zoom, Clubhouse, and of course, Ahrefs.
Listing a job on Hey Marketers is a fuss-free process. Share the URL to an existing job posting along with your email, make your payment, and the space is yours for 30 days—subject to the moderator's approval, of course. There's no need to create a new posting, since all information will be pulled from your provided link.
Who it's for: B2B marketers
Website: https://dgmgjobs.com/
Cost of listing a job (for hirers): $50 for 30 days (regular); $150 for 30 days (featured)
DGMG Jobs features a mixture of full-time and remote roles for B2B marketers of all experience levels. The brain behind it is Dave Gerhardt, the seasoned marketer behind the Dave Gerhardt Marketing Group (DGMG)—which brings together an online university, a paid Facebook community, and podcast series.
At the time of writing, there were over 50 open roles from mostly US-based companies (including Shopify and Bain & Company!) spanning product marketing, demand generation, and customer relationship management marketing.
We'd also recommend following Gerhardt's Twitter for frequent updates on DGMG Jobs.
Job hunting this weekend? Find a new marketing role via my job board DGMG Jobs.

There were 10 new featured jobs posted last week alone and 70+ open roles from the last 30 days.

View them all (and recruiters can post jobs too) at https://t.co/wfLpl5K0iW pic.twitter.com/t9mU8bWmgI

— Dave Gerhardt (@davegerhardt) September 4, 2021
What we find most interesting is that the job board began as a scrappy, weekly compilation of manual listings in Google Docs—one that Gerhardt saw an opportunity in, and relaunched as DGMG Jobs.
Listing a job can be done in four easy steps: select your plan (regular or promoted), create your listing, pay for it, and choose whether to boost it for an extra $100. Should you do so, it will be highlighted on the homepage for 30 days and receive shoutouts on DGMG's social media accounts, in their newsletter, and on the Facebook community.
Who it's for: Remote marketers and and tech professionals
Website: https://remotive.io/remote-jobs
Cost per job listing: From $398 per month
When founder Rodolphe Dutel—a former hire at Buffer.com and Google—took on a full-time, remote role, he sought to simplify the job-hunting process by creating Remotive. While it isn't a marketing-focused job board, you're able to filter your searches by 15 functions, including marketing, product, sales, design, and software development.
Each job posting indicates upfront the preferred locations of candidates, with an option to hide US-only jobs—saving you the inconvenience of having to click a listing for more details. We do wish there were a filter to search by location, though.
In addition to the jobs board, there's a paid Slack community where you can stay updated on the latest trends.

For those looking to create a job listing, simply fill out your company and job description details, then make the payment. There are also options to boost your ad (from $49 per listing)—which may be a good idea if you urgently need a role filled across multiple categories, considering there were almost 2,000 listings on the last check.
Plus, if it's being used by the likes of Y Combinator, Gitbook, and Square, then surely they must be doing something right.
Who it's for: Remote marketers
Website: https://www.dynamitejobs.com/
Cost per job listing: $99 for 30 days
Founded in 2017, Dynamite Jobs focuses on fully remote roles, with a whole lot of filters to narrow down your options, including salary range, timezone, experience, industry, and category.
Posting a job is fairly simple: Set up an account with basic details, including your company name and email address, then go ahead with your first job listing. As a hirer, you're also able to access Dynamite Jobs' database of over 30,000 candidates and invite them to apply for open roles.
Plus, if you create an optional user profile, you've a chance of having your job listing featured in the weekly newsletter highlighting the top 10 job picks of the week.
Who it's for: Marketers or anyone looking to join a startup
Website: https://angel.co/jobs
Cost per job listing: Free
AngelList is a US-based site dedicated to tech startups looking to raise funding from angel investors and job seekers interested in working for these startups. This area of focus is what makes the jobs board so unique—and enough to attract listings from the likes of established players like Twitch, Stripe, and Spotify.
Interestingly, it's the only board on our list that requires hirers to indicate salary and equity ranges upfront. It also allows jobs seekers to filter for companies by investment stage (seed stage, series A, etc.) and whether they can sponsor a visa.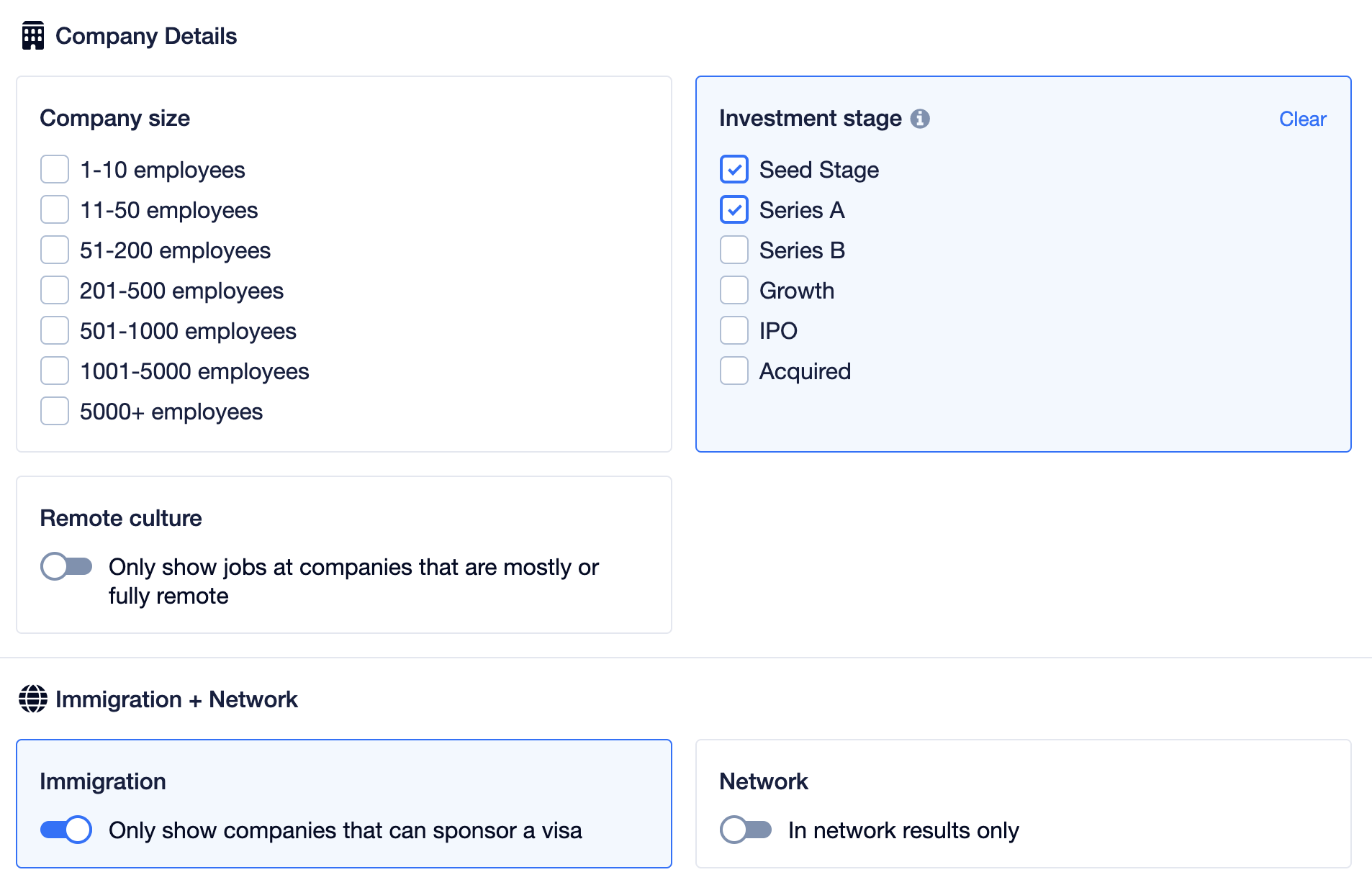 To apply for some of the ~130,000 jobs listed, you'll first have to set up your profile with your current job description and resume. It's a bit of a deterrent for users who may just be browsing or passing through, but it's arguably worth it to access the board.
Keep in mind that competition is particularly tight on AngelList; over two million candidates have registered accounts with the site.
Who it's for: Remote marketers
Website: https://weworkremotely.com/
Cost per job listing: $299/month
We Work Remotely (WWR) claims to be home to the world's largest remote work community. While we can't vouch for this, the job board has been used by tech giants including Basecamp, Amazon, Google, and InVision.
Job seekers can narrow searches by title, keyword, location, company, or job category. When we searched by sales and marketing, results spanned the categories of content marketing, performance marketing, social media, email outreach, and SEO.
You've also the option of subscribing to job notifications that will appear in your browser. For more timely alerts, though, we'd recommend joining the Slack community that's home to almost 9,000 members. Two channels worthy of mention are #12-wwr-new-jobs and #13-resume-review, although the former isn't sorted by category.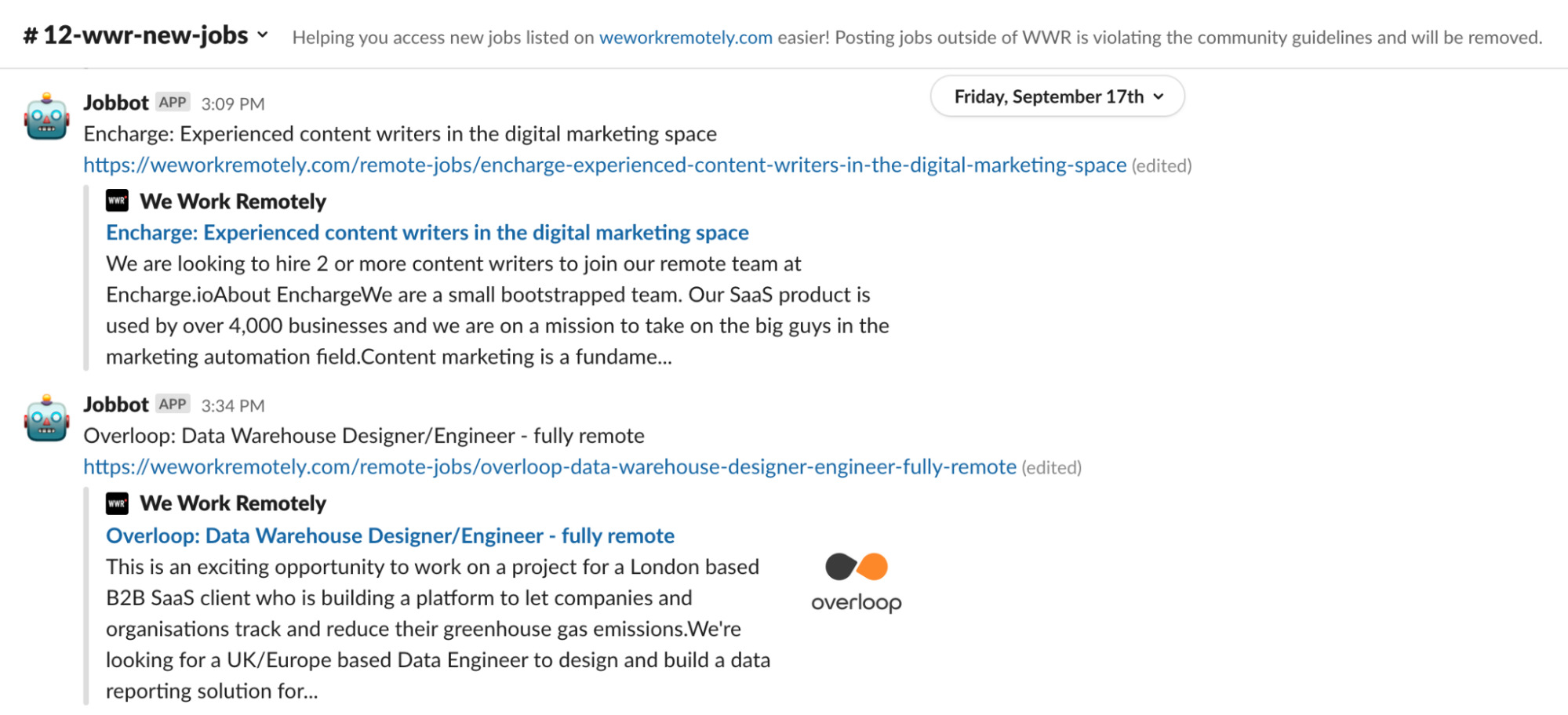 For hirers, listing a job is a simple three-step process: Fill out the job and company descriptions, preview your listing, then make your payment.
Who it's for: Remote marketers and anyone in tech
Website: https://jobspresso.co/remote-marketing-jobs/
Cost per job listing: From $299 for 90 days
Over 100,000 remote workers use Jobspresso—and to further underscore its credibility, the website's also been featured on Inc., Forbes, and Business Insider. While most jobs on the platform are remote ones, many listings indicate candidates' preferred locations; usually in the US or Canada.
At last check, we found over 300 marketing jobs, with roles spanning digital marketing, performance marketing, and community management. Daily job updates are also posted on Twitter, although these aren't categorized—so you'll have to look with a keen eye.
On the job-posting front, we like that Jobspresso encourages hirers first to consider whether their company's culture supports the ability for its employees to work remotely. There's even a money-back guarantee within 30 days of your first job posting, should you not be satisfied with the services rendered. That's a major plus for us.
Who it's for: Growth marketers (remote and on-site)
Website: https://www.demandcurve.com/jobs
Cost per job listing: $199 for 30 days
We recently featured this Y Combinator-backed company in our round-up of the best online marketing communities, but Demand Curve is also worth a stop for its job board. Created specifically for growth marketers, you'll find listings from tech companies including SimilarWeb, Ahrefs (yes, us!), and many others. Roles span digital marketing, growth, PPC and SEO, and UX writing.
There are a considerable number of filters to narrow your search: job title, function, company location, company size, and more. If you're doing more of a casual look-see than actually job-hunting, consider joining Demand Curve's free, private Slack group whose #jobs channel is updated daily.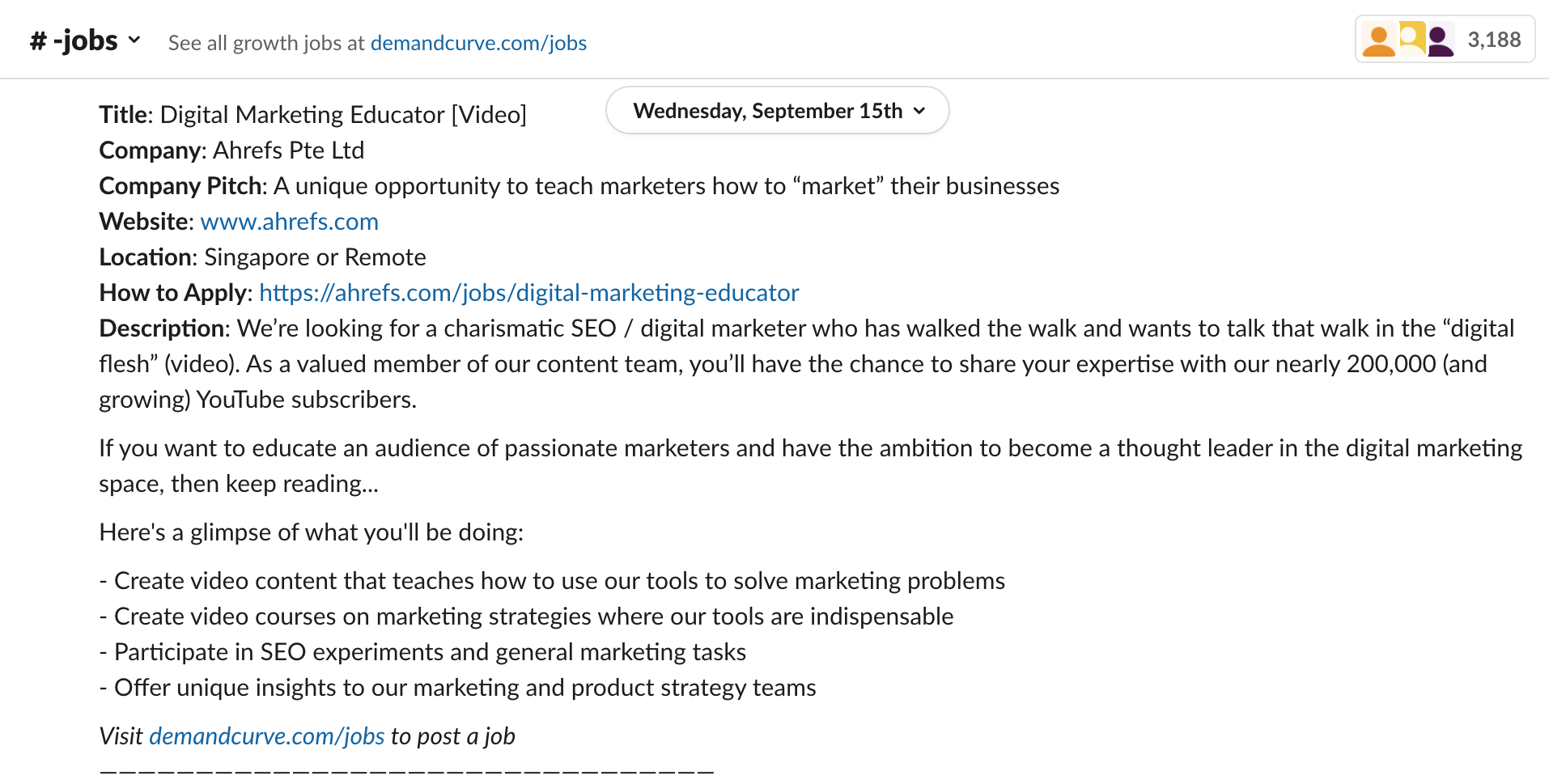 From a hirers' standpoint, we found adding job listings to be a pain-free experience that takes no more than ten minutes. Simply create your listing, make the payment, and your post will be added to the top of the job board and sent out via the weekly jobs newsletter for as long as it remains active. What we also like is the ability to cancel your subscription or swap a published job listing with another role during the paid period—simply email them with your request.
Who it's for: Remote marketers, copywriters, and SEO specialists
Website: https://remoters.net/jobs/
Cost per job listing: Free
With over 10k followers on Twitter and some 70k users on its platform, Remoters has built a following by focusing on connecting remote workers with jobs across categories, including SEO, content and copywriting, and digital and product marketing.
The 'job skills' filter is an easy favorite—you can sort for jobs based on specific skills, such as project management and content strategy. There's even a checkbox for Ahrefs specifically, although we recommend you start by browsing a job category. From the overview page, you're able to glean the expected skills required for a role, salary range, and application deadline.
These are small but nice touches that make a world of difference to candidates.
As a hirer, posting a job is free, just like on AngelList and LinkedIn (which gets an honorable mention below). However, it takes up to 48 hours to review submissions, and publication is not guaranteed. As a vote of confidence in Remoters' favor, however, the platform's been used by the likes of Shopify, HubSpot, and Forbes.
Who it's for: Remote copywriters, bloggers, and SEO writers
Website: https://problogger.com/jobs/
Cost per job listing: From $75 for 15 days (standard); $150 for 15 days (featured)
ProBlogger's job board is another we can personally vouch for, with one member of our team (Sam, whom you may recognize from Ahrefs' YouTube channel) having used it for over six years. In our most recent job posting, we received over 280 quality applications, which might have had to do with the fact that every job listing is shared to its over 220k followers on Twitter.
NEW BLOGGER JOB: Long-term Freelance Writers Wanted for a Home Improvement Website https://t.co/i1VkUkPTLg #Writers #Bloggers #Job #Jobs #Hiring

— Darren Rowse (@problogger) September 19, 2021
It's also an excellent platform for both generalists and specialists. For instance, we found posts calling for writers who specialize in niches such as tech, fintech, and personal finance, as well as posts calling for content writers to work on a broader range of lifestyle topics, from health and beauty to ecommerce product listings.

To post a job listing on Problogger, set up your profile with some basic information (company name, location, and an email address), then go ahead and create your first post. It's a seamless process that typically takes us under five minutes.
Bonus: Honorable mentions
The following also made the shortlist. While useful, these honorable mentions either aren't official job boards, are limited by location, or aren't marketing-specific enough.
We'd be remiss not to include LinkedIn in this round-up. The platform has job openings from virtually every company you could think of and is one of the rare few (alongside AngelList) that offers free job postings.
If you've already got a job listing on another site, you're able to link it directly by sharing the URL, just like with Hey Marketer.
This job board comprises mainly internships or junior roles across marketing and PR, design and UX, and client services. It's an excellent starting point for fresh graduates, although all roles are Singapore-based.
Final thoughts
Besides looking at job boards to kickstart or further your domain of specialty, consider acquiring the skills that Ahrefs' own Si Quan did to thrive in his marketing career.
For job hirers, remember that there's a technique to crafting a solid job description. We've got just the template you need for the role of an SEO specialist—and its framework is versatile enough to be adapted for all kinds of job listings. And don't forget: You aren't just looking to hire. You're looking to entice talent to join your company while being transparent about the expectations and requirements of the role.
Got questions? Ping me on Twitter.