If you want to level up your marketing game, your best bet is to read the blogs the pros are learning from.
So, instead of compiling a list of my favorite blogs, I decided to do something different:
I listed some of the smartest marketers in the industry;
I reached out and asked them to recommend their three favorite marketing blogs;
I compiled their recommendations in a list.
I'll share the blogs in a moment. But first, a quick poll.
What's your favorite marketing blog? [Poll]
Got a favorite marketing blog? Let us know.
Don't see your favorite marketing blog? Suggest it here.
Now, let's move on to the results!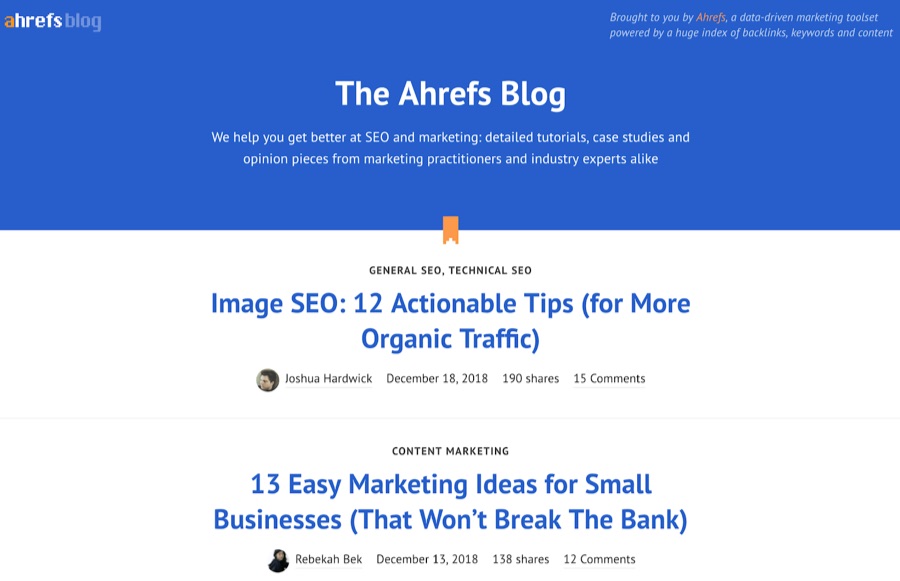 Founder: Dmitry Gerasimenko
Blog Type: Multi-author
Ahrefs Rank: 2,758
Domain Rating (DR): 87
Estimated monthly organic search traffic: 220,559
Number of votes: 14
I love how you guys use a lot of your own data to create really insightful and helpful content. The Ahrefs blog is also the perfect example of how to be effective with content marketing — nearly every post covers an interesting SEO topic that your tool can help with, and directly shows people how to use your tool to solve those problems. Genius.

I know it seems weird that our blog is #1 on the list we've put together, but trust me, I didn't rig this result. Like Emil, plenty of marketers we reached out to love our blog and voted for it.
For those who are unfamiliar, we typically publish 1–2 posts per week on SEO and marketing, and focus on quality over quantity.
We also have access to some seriously big data, from which we regularly derive and publish studies. Here's an example of one: 91% of Content Gets No Traffic From Google. And How to Be in the Other 9%.
Our favorite post: 12 Actionable SEO Tips to Increase Organic Traffic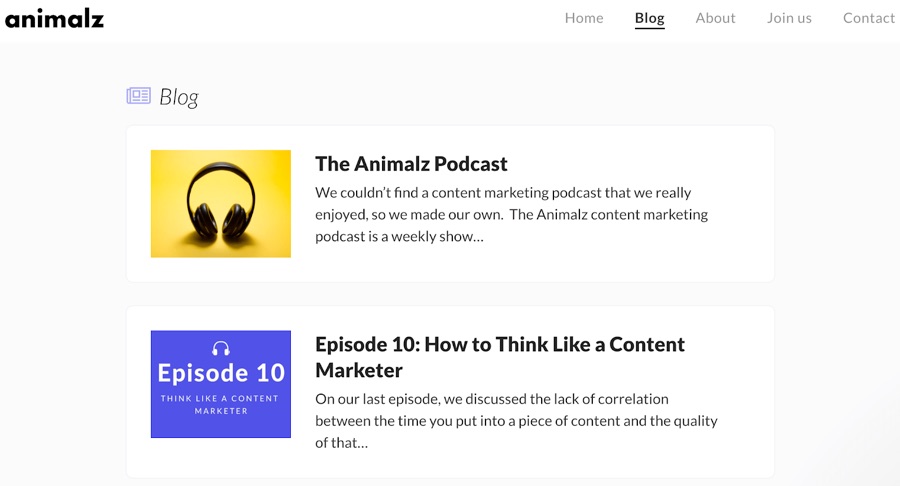 Founder: Walter Chen
Blog Type: Multi-author
Ahrefs Rank: 833,492
Domain Rating (DR): 47
Estimated monthly organic search traffic: 157
Number of votes: 8
Smart stuff for content marketers.
Founded in 2015 by Walter Chen, ex-CEO of iDoneThis, Animalz is a content marketing agency based in New York.
The blog is mostly run by well-known content marketer Jimmy Daly, who writes about SaaS marketing (strategy and tactics) as well as writing tips.
One thing's for sure—you can count on Jimmy to deliver tips based on real-life experience. Every post on this blog is unique, insight-driven and born from working with real clients.
Our favorite post: 5 Mental Models for Content Marketers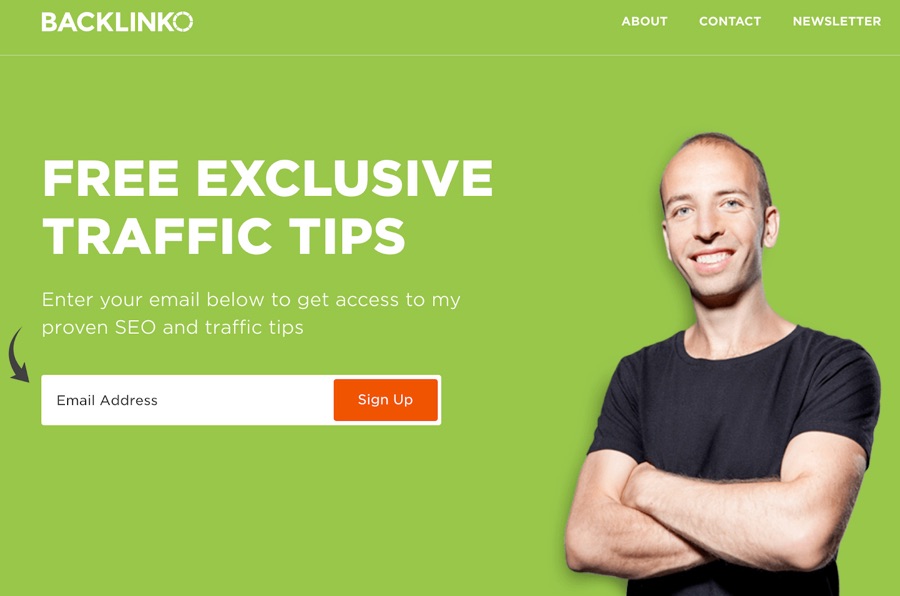 Founder: Brian Dean
Blog Type: Single-author
Ahrefs Rank: 4,053
Domain Rating (DR): 86
Estimated monthly organic search traffic: 154,463
Number of votes: 8
High-quality articles with embedded case studies that are kept up-to-date.
Inc. magazine calls Brian Dean one of the world's most sought-after SEO experts. Entrepreneur magazine calls him a "SEO genius." He deserves the accolade.
Brian rarely publishes, but when he does, it is always epic. Brian is all about quality, and every single post is well-written, well-designed and full of actionable marketing and SEO tips.
I've learned a lot from Brian over the years. Back when I was starting out, the Skyscraper Technique was one of the first posts I read—and executed on.
Our favorite post: Link Building Strategies: The Complete List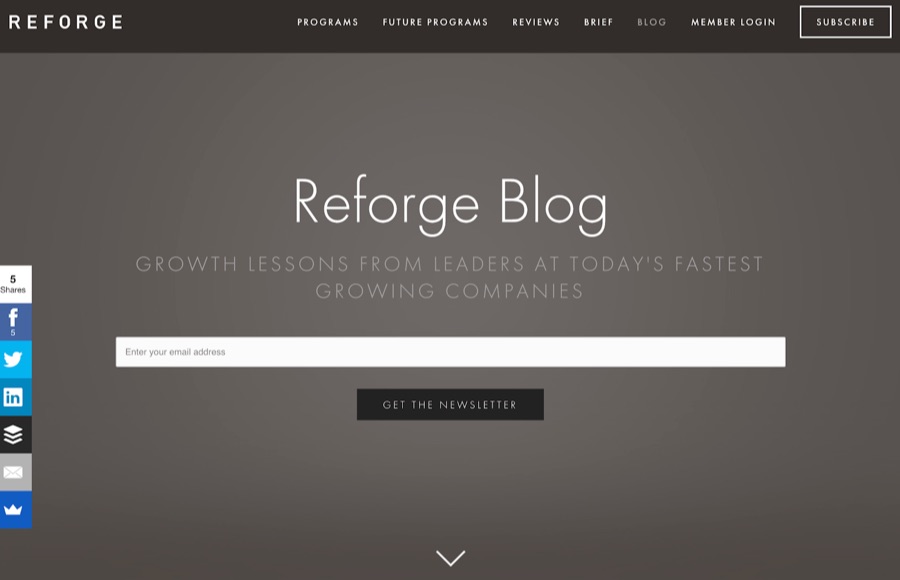 Founder: Brian Balfour
Blog Type: Multi-author
Ahrefs Rank: 325,912
Domain Rating (DR): 57
Estimated monthly organic search traffic: 481
Number of votes: 7
Super-thorough articles on growth, backed by data and examples.

Started by HubSpot's ex-Head of Growth Brian Balfour, Reforge is a training company that teaches experienced product and marketing professionals about growth marketing, modeling, and experimentation.
Brian has a vast network, and the Reforge blog is chock full of actionable insights from the marketers behind successful tech companies like Pinterest and Uber.
Our favorite post: The Growth Experiment Management System that Tripled Our Testing Velocity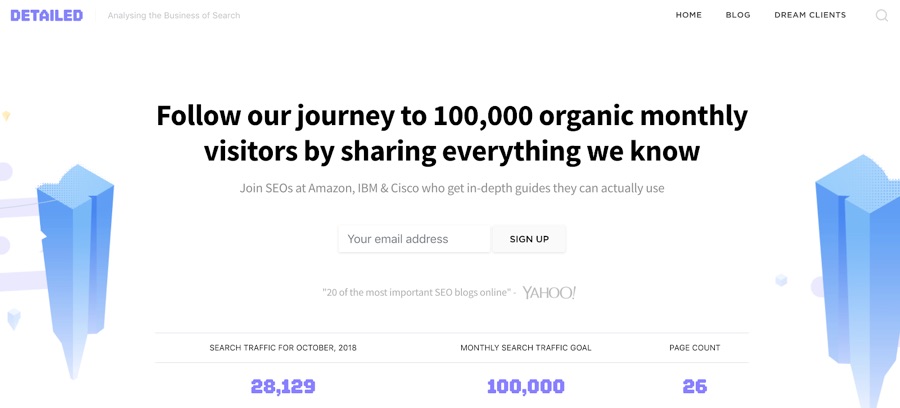 Founder: Glen Allsopp
Blog Type: Single-author
Ahrefs Rank: 234, 673 / 249,183
Domain Rating (DR): 61 / 60
Estimated monthly organic search traffic: 8,710 / 22,669
Number of votes: 6
In his posts, Glen often reveals how something really works as opposed to how it is officially "supposed to" work. As a result, he sometimes veers into grey hat tactics. But I don't say that in a bad way. The real world is complex, and most people are doing some form of grey hat anyway.

Glen rarely blogs, but when he does, it (almost) always gets the SEO world talking.
When you read the Gaps/Detailed blog, don't expect to see anything rehashed. Glen only writes about ideas and tactics from his years of experience and testing.
I've learned plenty from Glen. And I know the rest of the Ahrefs team has too.
NOTE: We grouped these two blogs because they have the same author (Glen), and their content is pretty similar.
Our favorite post: 13 Advanced Link Building Strategies You (Probably) Haven't Used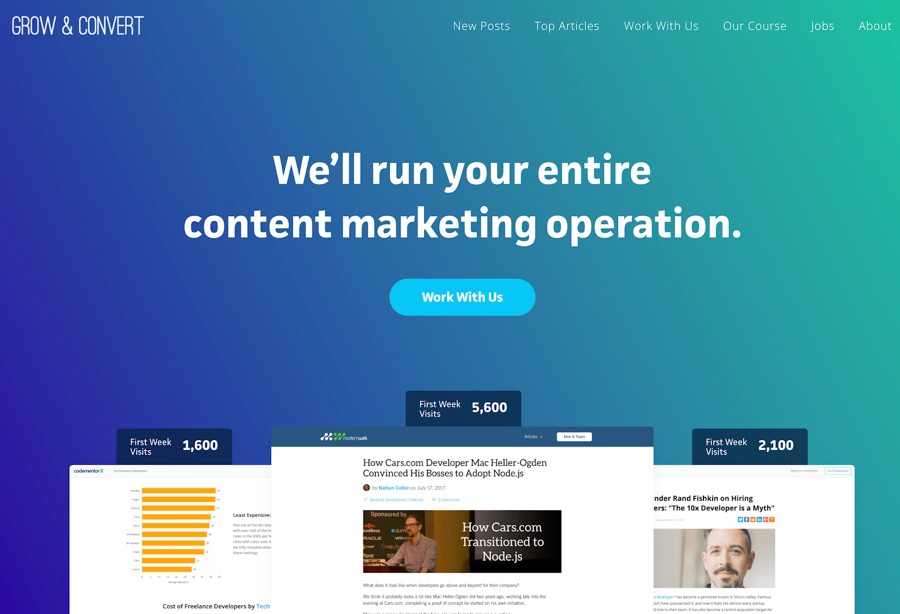 Founders: Benji Hyam, Devesh Khanal
Blog Type: Single-author (w/ rare guest posts)
Ahrefs Rank: 217,115
Domain Rating (DR): 62
Estimated monthly organic search traffic: 1,710
Number of votes: 5
They have no affiliation with anyone, and so can voice their opinions — this helps them create interesting content. As a result, the quality shines through.

Started in 2015, Benji and Devesh took the content marketing world by storm when they announced they were going to try to get 40,000 unique visitors in 6 months.
While they did not manage to hit their target in the end, their process and transparency inspired plenty of marketers and turned them into thought leaders in the content marketing world.
They've since pivoted Grow & Convert from a blog to a fully-fledged content marketing agency.
Fun fact: I once wrote a guest post for Grow & Convert about Reddit marketing, and it was the first guest post they accepted after 1.5 years. (It was even voted #2 on GrowthHackers' posts of the year!)
Pretty cool that we got the #2 post of 2017 in the @GrowthHackers newsletter. Our only guest post of the year. Thanks to @skueong for writing this one!

Check it out here: https://t.co/4rklE2DKgt pic.twitter.com/iwUYcfpiCL

— Benji Hyam (@benjihyam) January 2, 2018
Our favorite post: How We Do Influencer Outreach and Get a 60% Response Rate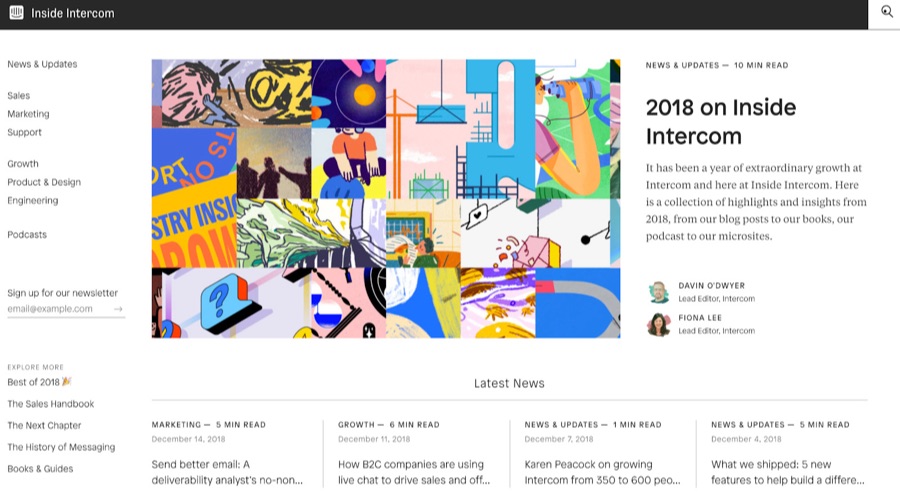 Founders: Eoghan McCabe, Des Traynor, Ciaran Lee, David Barrett
Blog Type: Multi-author
Ahrefs Rank: 1,554
Domain Rating (DR): 90
Estimated monthly organic search traffic: 10,251
Number of votes: 4

Intercom is a customer messaging platform. It's one of the marketing tools we use. It powers our live chat, in-app messaging and Help Center.
The Intercom blog is also hugely popular. Mostly focusing on unique, opinion-based content, it's managed by a team of writers and editors. It covers a broad array of topics, ranging from sales and marketing to product, design, and engineering.
As a result, some of their blog posts have accumulated thousands of shares.
Our favorite post: People leave managers, not companies.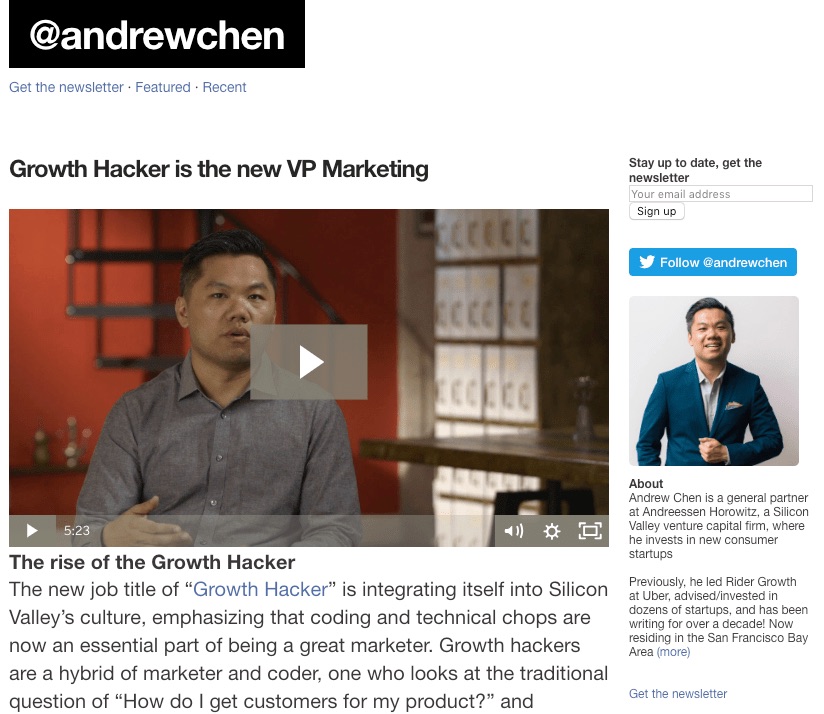 Founder: Andrew Chen
Blog Type: Single-author
Ahrefs Rank: 26,290
Domain Rating (DR): 76
Estimated monthly organic search traffic: 5,979
Number of votes: 3
I like Andrew's blog since he has one of the very few marketing blogs where you learn something new, instead of just a new way to do something you're already familiar with (new backlinking strategy, new CRO hack, etc.). He has essays like "

the law of shitty clickthroughs

," "

the power user curve

," and "

the next feature fallacy

" that make you think about your growth and marketing on a higher level than you normally will when reading a blog. Plus, he's one of the few marketing bloggers who has actually worked on a huge company like Uber.
One of the most popular thought leaders in Silicon Valley, Andrew Chen is an investor at Andreessen Horowitz and has previously led growth at Uber.
Andrew's essays are well-loved. His newsletter is read by some of the best in growth marketing.
One of his posts—Growth Hacker is the new VP Marketing—actually inspired the revolution of "growth hacking" in Silicon Valley, and has led to the creation of growth teams in almost every tech company today.
Our favorite post: There are only a few ways to scale user growth, and here's the list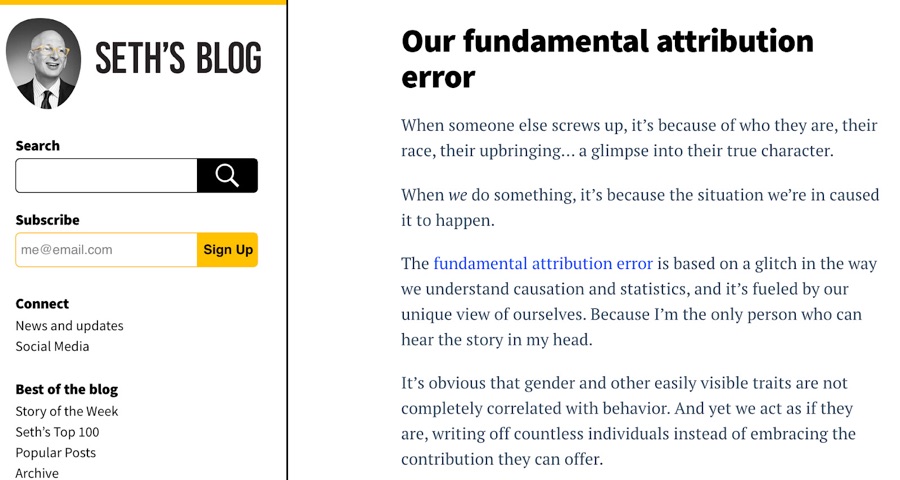 Founder: Seth Godin
Blog Type: Single-author
Ahrefs Rank: 4,963
Domain Rating (DR): 85
Estimated monthly organic search traffic: 26,528
Number of votes: 3
Encourages, inspires, and implores me to be a better marketer. He writes a blog every day that pushes the status quo of what it means to be a marketer and to do marketing. He was the first to say "permission marketing" which basically became inbound marketing. He encourages you to be

better at your craft

and

focus on what truly matters

.
Seth needs no introduction.
Perhaps the most forward-thinking marketer thinker around, Seth is the author of 18 bestselling books, now available in 35 different languages. Seth is the undisputed king of the pithy blog posts—thousands of people read and share them every day.
I started out in marketing reading some of his books. His ideas and concepts have impacted me quite a bit, especially the ones on being remarkable (or a "Purple Cow").
Our favorite post: How to be remarkable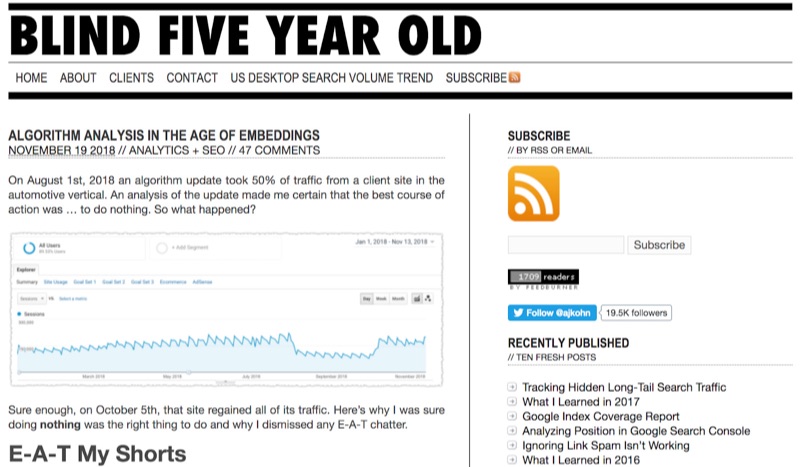 Founder: AJ Kohn
Blog Type: Single-author
Ahrefs Rank: 90,677
Domain Rating (DR): 71
Estimated monthly organic search traffic: 485
Number of votes: 3
Blind Five Year old is run by AJ Kohn, one of the great SEO minds in the industry. AJ has some of the best takes on technical SEO, and I feel like I am getting a sneak peek at the future when I read his content. We were lucky enough to convince AJ to consult for us while I was running SEO at Airbnb, and he's one of the few people I follow religiously when it comes to SEO.

I wished AJ blogged more.
He averages around one post every 3–4 months—sporadic, to say the least.
But, good things deserve the wait. AJ runs a search marketing firm where he is deep in the trenches actually doing SEO and figuring things out. And when he finally emerges with insights, everyone listens.
Our favorite post: Algorithm Analysis in the Age of Embeddings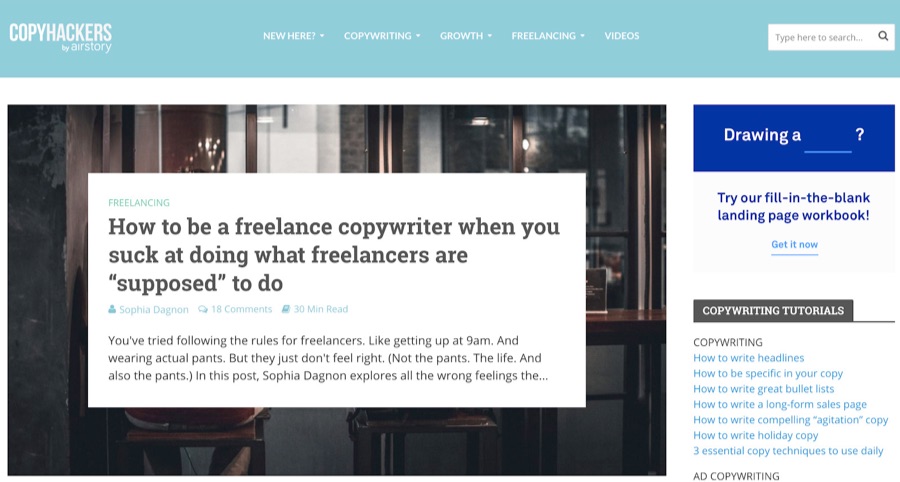 Founder: Joanna Wiebe
Blog Type: Multi-author
Ahrefs Rank: 23,941
Domain Rating (DR): 77
Estimated monthly organic search traffic: 5,502
Number of votes: 3
I chose Copy Hackers because it's one of the few marketing blogs that treats words as building blocks for deliberate design. Copy is just as core to internet businesses as pixels and code but as an element, is more often glossed over or undervalued. I go back to content strategist Nicole Fenton's concept of "

words as material

" a lot, where you "use language to solve problems". Copy Hackers is a great resource for those looking to solve sales and marketing problems with copywriting, and it's just one of the few sites that hasn't fallen out of my mental rolodex.
Copywriting is a fundamental skill for internet marketers. From Facebook ads to homepages, everything requires good copy to interest, entice and convert.
That's why I am glad to see CopyHackers, one of the best copywriting blogs around, make it onto the list.
Joanna, the owner of CopyHackers, has been helping people to optimize their copy since 2004. Besides publishing epic blog posts around copywriting techniques and client management, Joanna has also worked with SaaS companies like Wistia to improve their onboarding emails (and documented the process along the way!)
If you want to improve your copywriting, CopyHackers is worth a follow.
Our favorite post: The Ultimate Guide to No-Pain Copywriting (or, Every Copywriting Formula Ever)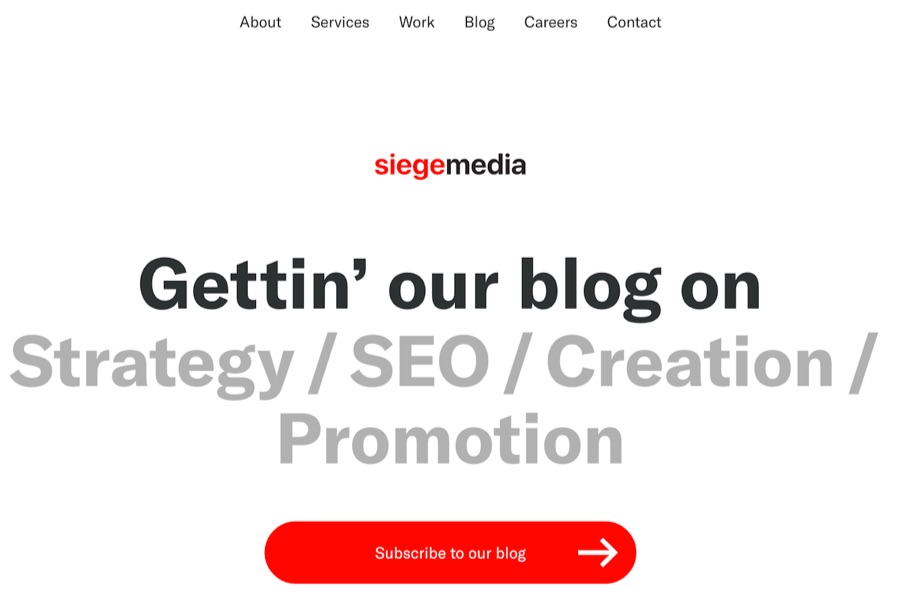 Founder: Ross Hudgens
Blog Type: Multi-author
Ahrefs Rank: 58,263
Domain Rating (DR): 73
Estimated monthly organic search traffic: 27,091
Number of votes: 3
I like the Siege Media blog primarily because the content is well planned out and isn't afraid to go against the grain. For example, their

interview with Joel Klettke

goes against the grain of Yoast. I also loved

their article

on specific examples of why HubSpot's pillar/cluster content model may not be right for you!
Siege Media is a content marketing agency specializing in SEO. Its founder, Ross Hudgens is an outspoken SEO thought leader and is well-respected in the industry.
Not only do they have top-notch content on their blog, but Siege Media have also recently invested in a video production studio, and have been creating high-quality videos for their YouTube channel. They've interviewed plenty of SEO experts, ranging from Brian Dean to Kevin Indig.
Our favorite post: SEO Content Strategy: How to Build a 250K+ Visit Process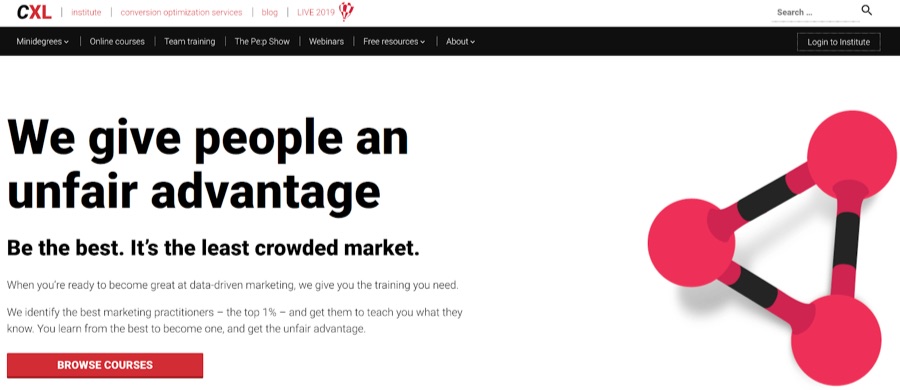 Founder: Peep Laja
Blog Type: Multi-author
Ahrefs Rank: 6,639
Domain Rating (DR): 83
Estimated monthly organic search traffic: 44,237
Number of votes: 3

The mission at ConversionXL, according to founder Peep Laja, is to "democratize elite know-how."
Have they succeeded? I would say—yes. Chock full of tips and research studies on conversion rate optimization (CRO), one can get a university's worth of knowledge just by studying ConversionXL's archives.
While they have since moved on from pure CRO content, ConversionXL remains one of the top blogs to learn from and follow.
Our favorite post: Pricing Experiments You Might Not Know, But Can Learn From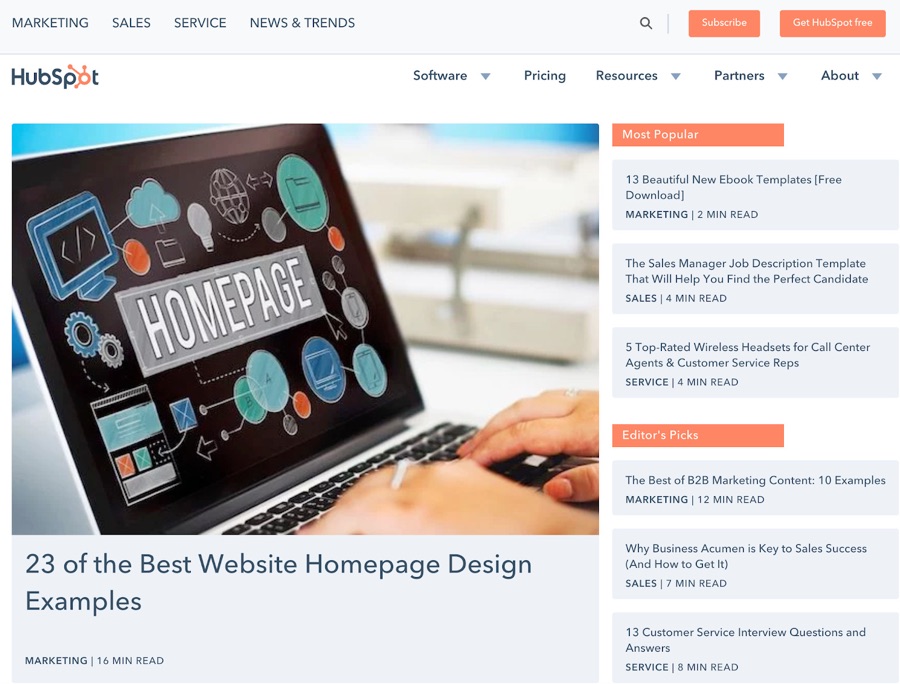 Founders: Dharmesh Shah, Brian Halligan
Blog Type: Multi-author
Ahrefs Rank: 286
Domain Rating (DR): 92
Estimated monthly organic search traffic: 4,579,517
Number of votes: 3
In my opinion, Hubspot is a goldmine of best-practices, learning resources, and industry trends for anyone working in marketing. They are really good at making their content useful and actionable. At the same time, they have mastered repurposing content into various formats and approaching a single topic from every possible angle. Let's take, "buyer personas" as an example. Not only do they have several blog posts on the topic. But they also have it as part of their Academy—there's a free tool around the topic, downloadable templates, and video promoting their Make My Persona tool.
Enter any marketing-related query into Google, and chances are you'll click on the Hubspot blog. Receiving an estimated 4.8 million visitors a month, HubSpot is the champion of inbound marketing.
In fact, they are the originators of the term "inbound," with founders Brian Halligan and Dharmesh Shah publishing the book on that topic.
Our favorite post: This Strategy Helped the HubSpot blog Break a Year-Long Traffic Plateau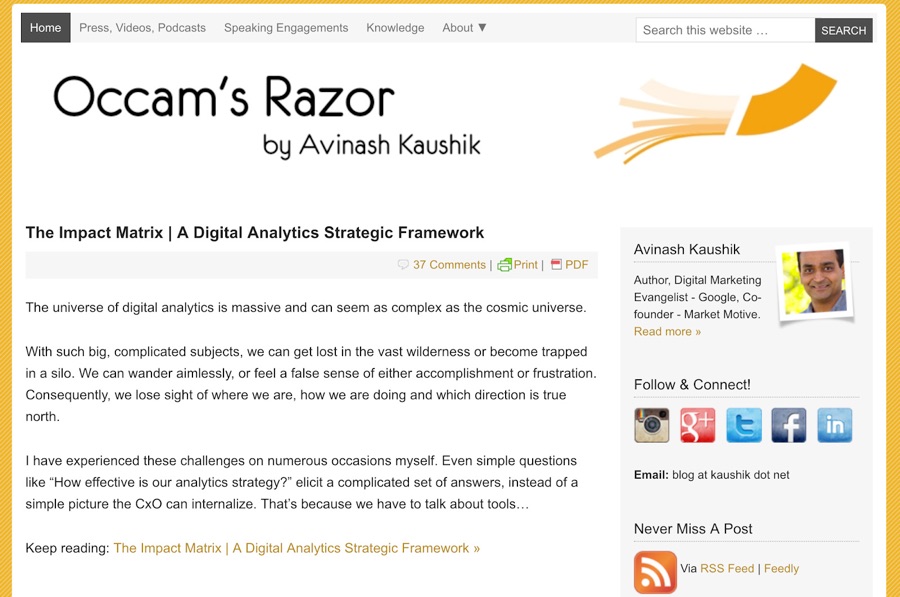 Founder: Avinash Kaushik
Blog Type:
Ahrefs Rank: 13,902
Domain Rating (DR): 79
Estimated monthly organic search traffic: 8,337
Number of votes: 2
You can read "10 ten tips" articles about marketing tactics until you're blue in the face, but if you're not properly tracking and reviewing the performance of your marketing efforts, you won't be able to build a smart, informed plan for what to do next. Occam's Razor is the best analytics blog I've found; whether you're a data nerd or someone who has nightmares about the Google Analytics dashboard (or both), you'll learn things that will help you get a better handle on your numbers.
Occam's Razor is a philosophical principle stating that the simplest solution tends to be the correct one. It is also the name of the blog run by Avinash Kaushik, the co-founder of Market Motive and Digital Marketing Evangelist at Google.
Predominantly a blog about growth and analytics, Avinash's blog aims to convey one clear message:
Simplify your thinking.
Our favorite post: Great Storytelling With Data: Visualize Simply and Focus Obsessively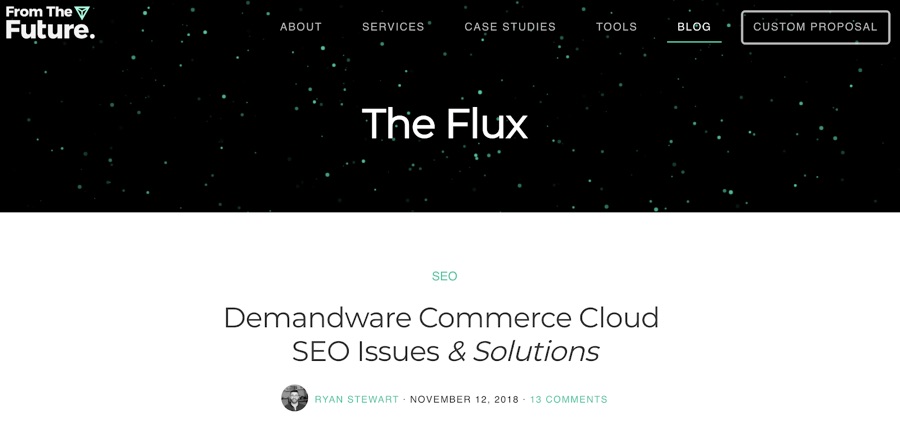 Founder: Nick Eubanks
Blog Type: Multi-author
Ahrefs Rank: 333,702
Domain Rating (DR): 57
Estimated monthly organic search traffic: 639
Number of votes: 2
Nick Eubanks, Ryan Stewart, and the rest of their team are some of the most technical people in the space. Instead of hiding behind vague theories, they share process. It's rare for such a technical agency that knows what they are doing to be so transparent. The FTF blog is also making really good use of video. Screenshots are great, but there's nothing like an interactive tutorial to watch on Youtube for a complex process. Check out this post on

How To Calculate Your Total Addressable Market Online

— the video is a great example of one of their well-made tutorials that breaks down a complex SEO process.
Popularly known as the keyword research guy, Nick Eubanks founded FTF, a technical SEO agency based in Philadelphia.
Last year, he acquired WEBRIS and joined forces with another popular marketer, Ryan Stewart. They now each run and blog for FTF. (What a duo!)
This is definitely a blog worth following.
Our favorite post: SEO Case Study — 313% More Organic Traffic with REAL Examples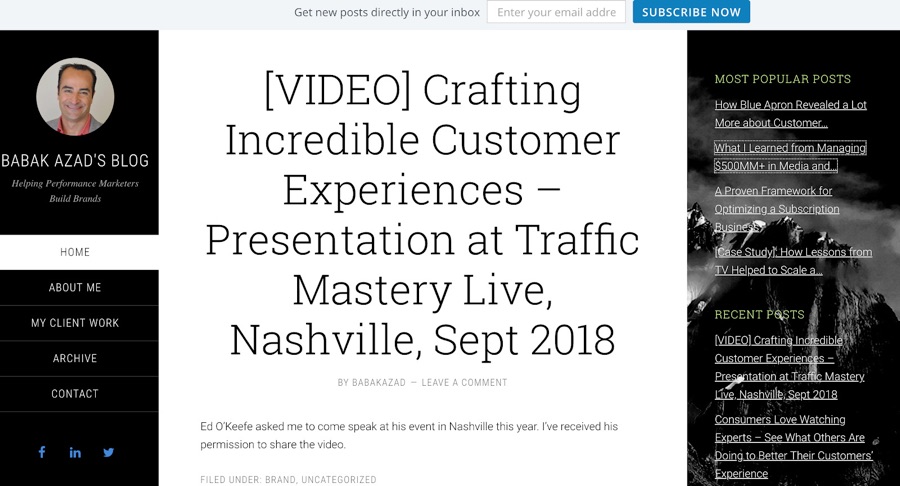 Founder: Babak Azad
Blog Type: Single-author
Ahrefs Rank: 7,537,019
Domain Rating (DR): 22
Estimated monthly organic search traffic: 40
Number of votes: 2
"Experience matters. Too often you'll see a headline that says "how I increased my conversion rate 40%"… and it turns out they went from 10 to 14 converts.

Babak has been around for a long time. He's thoughtful. He's not trying to impress you with clickbait headlines. And most importantly, he brings in both the strategic and combines it with the tactical."
I'll be honest with you. Before writing this post, I'd never heard of Babak Azad.
But, when two smart marketers simultaneously introduce him as someone to follow, that's when I knew I had to take a look. And his resume? Perfect.
He was previously SVP of Media & Customer Acquisition at Beachbody (I love P90X!), and has acquired over 10 million customers and ran over half a billion dollars in media.
His blog is a culmination of all his experience during his tenure, and he shares some interesting tips and insights from all he's learned. The only negative? His blog is a bit ugly and not particularly user-friendly.
Our favorite post: What I Learned from Managing $500MM+ in Media and Acquiring over 10MM Customers
Over to you
These 17 blogs were chosen because they had two or more votes. In reality, a few other blogs that were recommended but did not receive enough votes. If you're interested, here's the full list of nominations.
Here's some food for thought. When I first started working on this post, I was worried that no one was following blogs anymore.
After all, it reflected in my own habits. I still read blog posts. But I no longer followed blogs.
Some of the replies I received confirmed this "phenomenon" too.

I'll pass this time. I've honestly not been spending any time on other blogs this year.
To be honest, I've really cut back on the amount of content I digest so I don't really follow any blogs apart from Ahrefs. Instead, I subscribe to Hiten Shah's Product Habits email list (formerly SaaS weekly) where he curates the best content of the week. I also subscribe to the Growth Hackers email list which also curates the top posts of the week.

So between those two email lists, I feel like I'm seeing most of the best posts.
Like Christopher, I mostly discover new content to read via email newsletters or Twitter. I no longer wait with bated breath for the latest post on my favorite blogs.
What about you? Do you still follow blogs, or is subscribing to them a thing of the past?
Also, if you haven't already done so, click here to vote for your three favorite marketing blogs in our poll. Don't see your favorite blog? Suggest it here.