How do you tell the difference between a good SEO consultant and a bad one?
Look at their SEO reports.
Bad SEO Reports: Bloated with loads of pointless data, (or not enough data) and little/no useful advice for a client. It's basically just a data dump.
Good SEO Reports: Summarises key data, provides commentary on any fluctuations and provides actionable insights. It not only shows a client what work has been done, it explains why.
From the quick export to the detailed 100-page monstrosity, there is no definitive SEO report. And no matter the length and depth of your report, they take a while to create.
So it's time to answer a question:
Do you want to create good SEO reports or just okay-ish ones?
What is an SEO report?
SEO reports give an overview of how a website is performing in search engines.
Their focus is typically on domain metrics, organic traffic, and rankings. But they also highlight any work done by the SEO agency or freelancer.
Good SEO is based on planning and actually doing the work day in, day out. An SEO report is the analysis of this planning and work combo, in order to see the effects produced.
It goes without saying really: without analysing your work, how do you know it's working?
But an SEO report isn't just for your benefit, primarily it's for your clients.
Without the client being sat next to you while you work, they are going to have no way of knowing what you are doing.
Usually, the report is the only way they will be able to see the work you are doing (or the effects of it at least). So an easy to digest report allows clients to vet your work and justify why they keep paying you.
An effective SEO report conveys three things:
Progress: Not only is this the knowledge you are giving the client (why they hired you), the report should also show progress. E.g. How much you have grown their site that month? And how have you moved the needle since the last report?
Insights: Your knowledge of things that apply directly to your client, specifically: highlighting issues and areas that still need work over the upcoming months.
Recommendations: What you would recommend the client do to reach their goals?
Your client wants to see how their money is being spent. They want to understand the work being done on their site. And they want to track progress.
Get ready for acronym overload:
Basically, they want to see the ROI of SEO.
In short, a client wants proof that paying for SEO is bringing in a positive return on investment for their company.
Which leads on nicely to…
What do clients want to see in an SEO report?
This is really dependent on the client, which feels like a non-answer. But different clients will want to see different things.
However, there are some things all clients will want to see and know:
SEO Health: Overview of technical problems and errors that may affect SEO visibility.
Backlink Health: See the type of backlinks pointing at the client's site.
Ranking Progress: See how rankings have changed and to keep tabs on any potential drop-offs.
Organic traffic progress: Quickly understand organic traffic and see what pages are driving traffic.
Sales/ Leads: Show clients tangible ROI gained from SEO.
Pulling together this data is only a means to an end.
An SEO report isn't just a data dump. It's all about helping a client to make sense of this data.
Don't try and play smart and overwhelm clients with graphs and numbers.
Plot twist: Clients are people too.
Most people would rather cancel a service that they find hard to understand. Your job (and by extension the SEO report's job) is to help clients make sense of things.
Any SEO worth their salt needs to be looking for trends and exploring why and how metrics correlate with one another. And this needs to be communicated to the client in an easy to read and informative report.
How long does it take to create this?
You can easily spend hours upon hours exporting data, cleaning it up, copy and pasting it, downloading graphs and so on.
But is this the best use of your time? Is this the best way to spend your client's money?
Creating an aesthetically pleasing report can convey marketing capability and help the client understand what you are actually doing.
But remember:
Don't get sidetracked making really fancy reports. There's a fine line between presentable and indulgent.
A report that's all style and no substance is only going to help you for so long.
That's where report templates come in.
So how do I make an SEO report?
There are three things that go into making an SEO report that a client really wants to see. An effective client SEO report needs to:
Pull data;
Explain it;
Make further recommendations
Just like you, clients are busy spinning plates and wearing lots of hats (figuratively, not literally).
A clear marketing report goes a long way in helping them see impactful highlights (without reading an overly long report).
Steal our SEO report template
Our reporting template is by no means the best out there, nor is it a one-size-fits-all solution.
But it is a great starting point to create your first SEO report. Or to maybe just provide some structure to an existing report.
To get started creating SEO reports your clients will actually want to read, you are going to need a few tools to work with and to modify our template:
Skitch (or a similar app for taking screenshots)
First things first, click here to make a copy of the SEO report template.
Editor's Note
To do this, hit
File
>
Make a copy…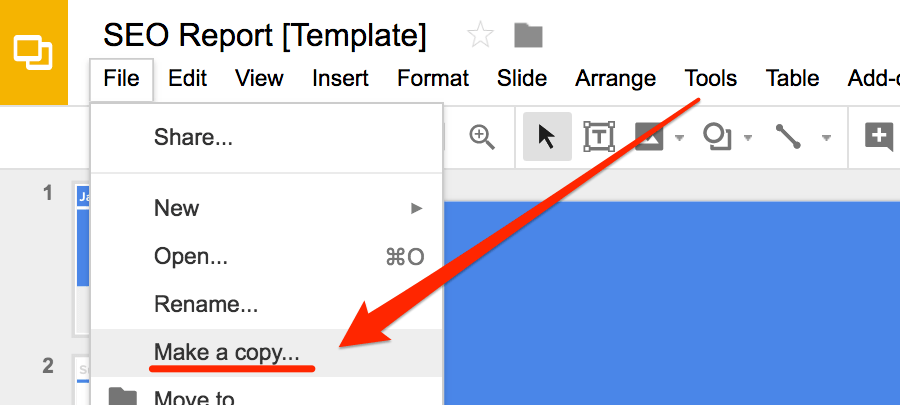 Give the template a name, choose where you want to save it (on your Drive), then hit OK.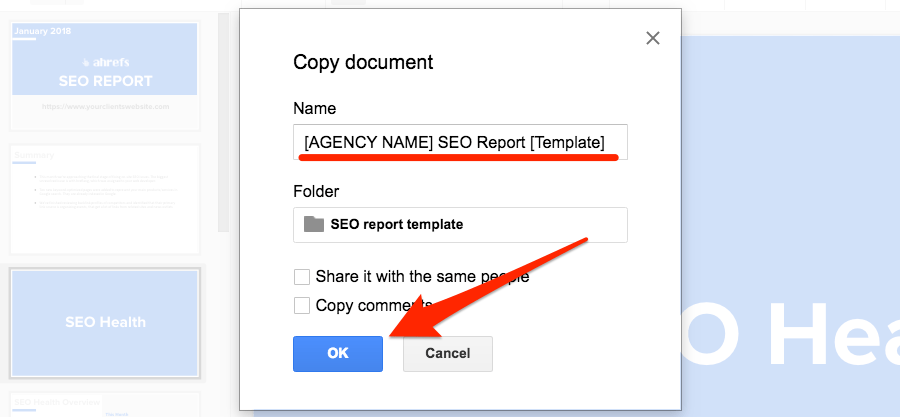 You will now have a fully-editable copy of the file on your Google Drive.
Please do not request edit access to the original document. We cannot grant this permission as it will destroy the original template for everyone else.
Plus, it sends me annoying email notifications. So please don't do it! 🙂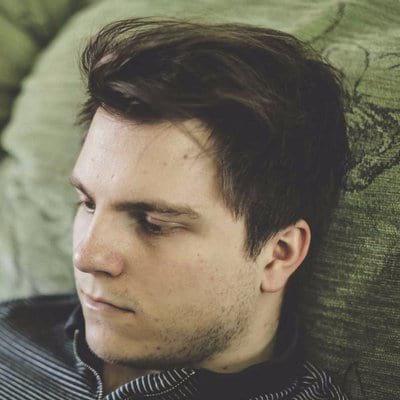 Joshua Hardwick
Head of Content
Be sure to change the colour scheme to either match your branding or your clients. Likewise, you can also add your own logo and your clients URL.
Sidenote.
If you need to get to grips with using Google Slides before getting started, check out the guides in the
Google Learning Center
.
Other than the time it will save you, the main advantage of using this template is its flexibility.
You can tailor the slides to suit your client's needs, as well as your service offerings.
Focused on local SEO? Tailor the organic traffic slides to specific locations to highlight what geographical locations are bringing in the most traffic.
Focused on producing high-quality content? Drill down to the content pages that generate the most backlinks.
The point is, these templates are here to save you time. Tailor them to your needs and off you go.
Just because it's a template, doesn't mean it has to be a boring copy and paste job. (although granted, there is some copy and pasting involved here)
Ready to build your SEO Report? Let's get started.
1. Title Card
The first slide is the easiest part of the report to create.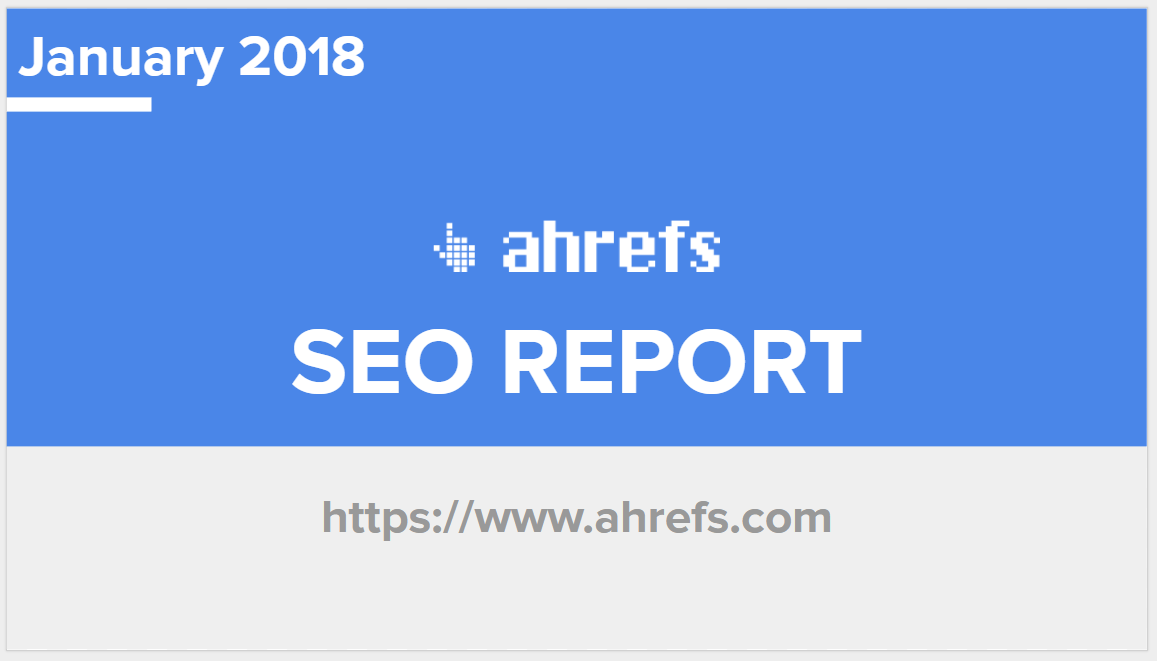 Add in the date/month of the report, your own logo, as well as your client's website URL and you are good to go.
Make sure to change the date to the reporting month. It's surprising how easily this can be overlooked!
Once you've finished the title slide, it's time to move on to the actual SEO reporting.
2. Summary
A summary page works as an effective intro page to your report. You can summarise key items in the marketing campaign for the month, or maybe highlight significant wins.
It can be as simple as a quick blurb using concise natural language (without being condescending). Or it can be a detailed summary of all the online marketing work you have done that month.
This effort can go a long way. Especially in companies where reports get passed around between departments.
A good summary provides context to your client and turns your SEO report into a story.
What type of things can you include?
Big and small tasks completed during that reporting period;
Items that are being actioned or that require attention;
A brief summary of increases (or decreases) in organic traffic;
Any upcoming meetings, tasks, etc.
3. SEO Health Overview
This is where you'll give a snapshot of the website's health; an overview of technical problems and errors that may affect SEO visibility.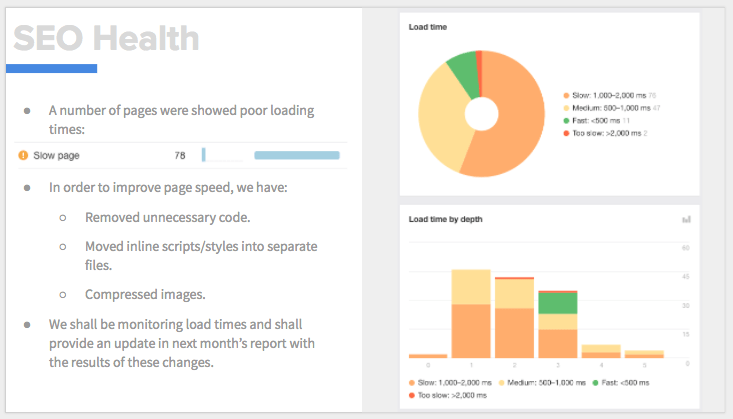 To get this data:
Go to the Ahrefs Site Audit tool.
Run your clients site through the tool.
On the overview page, you'll be able to grab a screenshot of the health score, URLs crawled and page types.

Copy this into the slide under the 'This month' heading.
What's useful about the audit tool is you can schedule it to run. It would be a good idea to run this monthly so you have new stats each month to compare it to.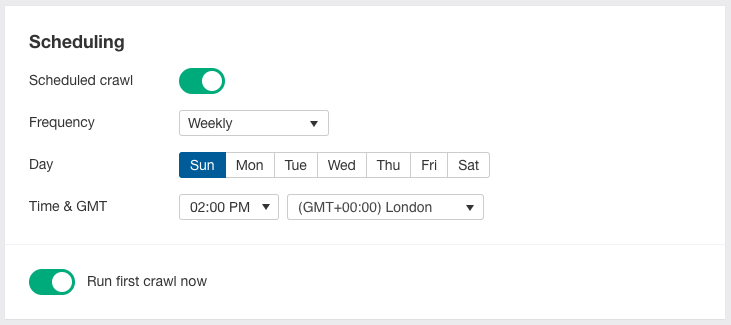 Sidenote.
If you have only just started using the audit tool and have no previous data to reference, don't worry. Just delete the 'Last month' box for now. In future, to get data from previous crawl reports go to
Site Audit
> Project > All crawls.
In the text box provided on the slide, you can give some insights into what's gone up or down, and why this might be the case.
What type of things can you include in your report? Well here are some of the most common SEO issues:
Duplicate content & low word counts
Go to Reports > Content quality. This will show you duplicate content clusters and word counts of pages on your client's site: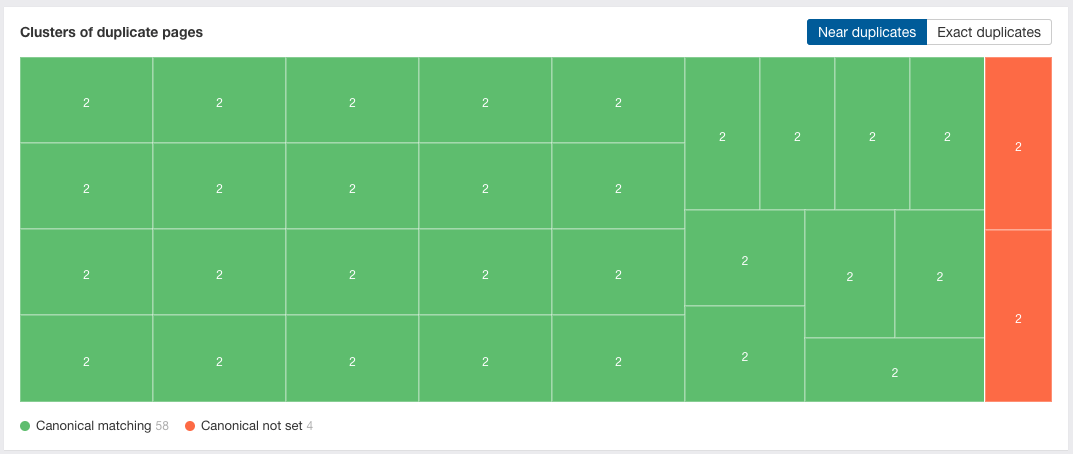 Having duplicate content on a site is a no-no. Aside from being of no use to visitors (and therefore search engines), you'll have pages competing with each other in the SERPs.
This will negatively affect rankings because search engine crawlers won't know what pages to serve up.
As for word count, while there is no minimum word count for a page, Google does rank more in-depth content higher. Therefore it's safe to say that low word counts are not going to rank as well.

Missing alt tags & broken images
Go to Resources > Images to see missing alt tags:
Although search engines are pretty advanced, when it comes to images they still need a little help. This is where alt tags come in to help them understand what the images are about via text descriptions.

Site Audit will visualize missing alt tags, image sizes and load times which can then be added to your report.
HTML issues
Specifically, these issues are most commonly to do with title tags, H1 tags and meta descriptions. Go to Internal > HTML tags for a sweet graph that visualizes all of these:

Broken links
Go to Reports > Outgoing links and you'll be able to see if your site has too many on page links, temporary redirects & Broken internal and external links.
Broken links are inevitable. As a website grows, links get changed (without being redirected) and you get 404 pages. It happens. And it becomes a big problem when you've got hundreds of 404 pages.
A user landing on a 404 page is not getting the information they wanted, which can result in loss of traffic.
They also waste your crawl budget. If a search engine crawler visits your site and sees a mountain of broken links, there's a chance your working pages won't get crawled and indexed.
Identify broken links in the Site Audit tool and fix them. Make a note of how many you fixed and add this to the report to let your client know.
4. URLs Crawled
This slide goes into more detail about the SEO health of the site; focusing on the health score and number of URLs crawled.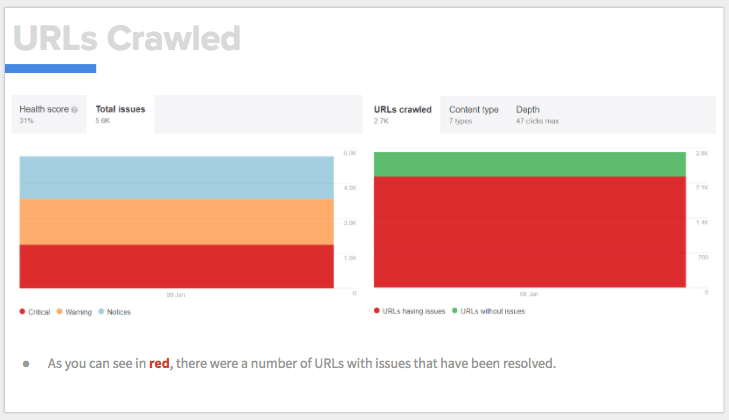 The website might have a lot more or a lot fewer pages by the time you recrawl it, which will affect the total number of issues.
So it would make sense to show your client not only the difference between the current and previous month but also the full progress since you took over their website, relative to the number of existing pages of their website.
To find these graphs, go to Project history in Site Audit. At the top, you'll see graphs for URLs crawled and a breakdown of the health score.
5. SEO Health
Depending on your comments on the previous slides, this is here to enable you to go into more detail about aspects of SEO Health.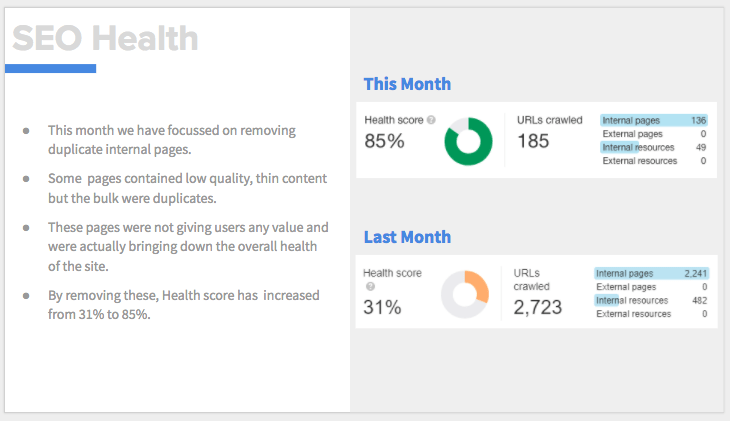 Here you can mention further specific SEO health tasks that have been completed for that month. And then provide the relevant graph.
To the left of the Site Audit tool, under reports, you'll be able to generate different reports on technical aspects of performance, such:
HTML tags: Title lengths, duplicates, missing meta descriptions;
Content: Word counts and duplicate content;
Links: Link types, incoming and outgoing;
Performance: Page speed — how fast is your website loading?
6. Backlink Profile Overview
Next up is the backlink profile: showing the client the type of backlinks pointing at their site and the organic traffic they are driving.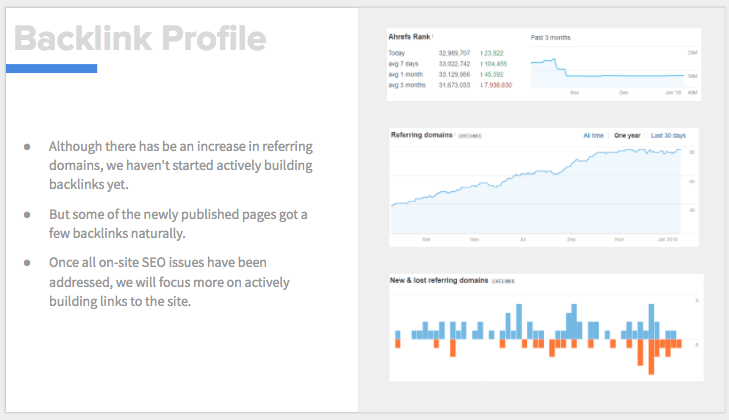 One of the biggest challenges of SEO is link building. The backlink overview section is a chance to communicate with clients this importance.
This slide will show the backlink health in more detail, like new & lost domains.
Go to Site Explorer.
Take a screenshot of the backlink profile (Ahrefs rank, referring domains, new & lost) and paste it into the slide.
Depending on what you are focussing in on backlinks-wise, you can choose to show new and lost domains or the anchors cloud. Both of these are found in the Backlink profile overview.
7. Backlink Profile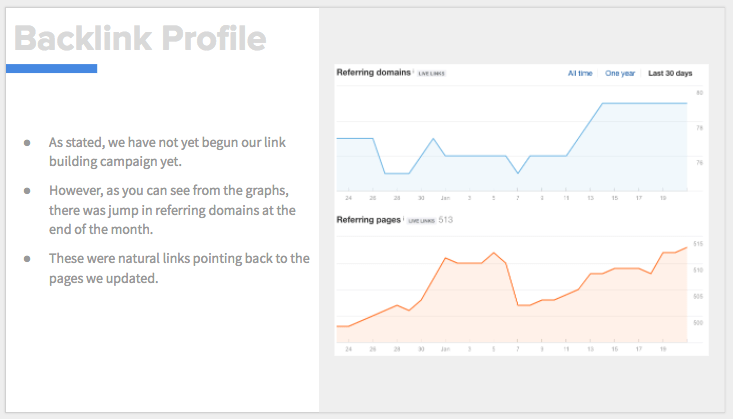 This slide is designed to allow you to go into further detail about your link building work done during the month.
It can include:
The number of backlinks you earned for the client;
The quality of the links you gained;
Top Anchor Texts;
Number of any links were lost;
How much traffic your new links are bringing in
Ahrefs overview report displays useful visual information about how the site is performing. A quick glance at the graphs shows whether SEO is driving the site in the right direction.
To get these graphs, go to Site Explorer and enter domain then explore.
This will show the overview report for the domain. You'll see the graphs on the backlink profile tab. Take screenshots of the referring domains and pages and add into the slide.
8. Organic Search
One of the things about SEO most clients want to know is: "is it working and where is my traffic coming from?"
You can use Ahrefs' Site Explorer to quickly understand organic traffic and see what pages are driving traffic.
Let's start with traffic and keywords:
Ahrefs' tracks millions of keywords (hello big data), and so whenever a client's website is seen in the top 100 for any of those millions of keywords being tracked, the keyword graph will go up.
How does this help clients know their SEO is working?
Even if traffic isn't going up yet, the mere fact that more of their keywords are entering the top 100 means that your SEO has started working. It's like Rank Tracker on steroids.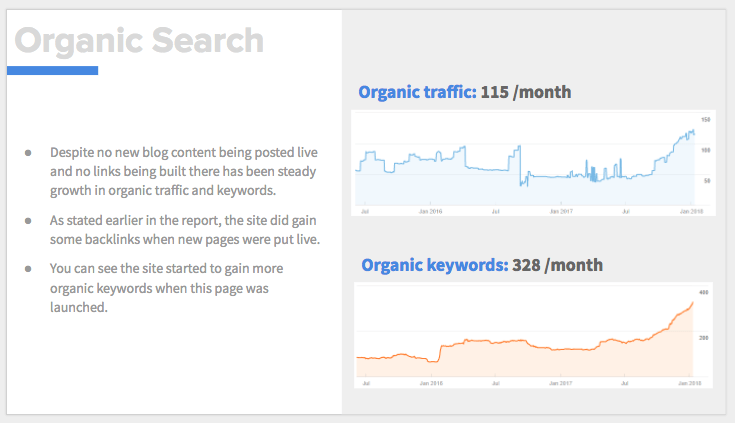 Clients want to see how traffic has changed since you began doing SEO.
In Site Explorer, go to the organic search tab.
Copy the two graphs showing traffic and keywords.
Don't forget to manually type in the traffic and keywords per month figures. Sorry, no copy and pasting here! But you don't want your clients to miss the great results you got them.
Tip: View Traffic by Country
Did you know Ahrefs allows you to view organic traffic by country, too?
This may be useful for clients that aren't US-based, as you can show them that their traffic is coming from their target market/country they're from.
To the right of the organic traffic graph is a list of countries, click one or select from the drop-down:

What you are looking for here is sudden peaks to indicate things working well (such as a blog post going viral) or drop-offs to indicate that something has stopped working.
Be sure to communicate this to your client in the bullet points provided.
9. Organic Positions
Not only is it useful to show clients the organic traffic you are driving to their website, but also how this is distributed across the keywords. Ahrefs' position distribution history graphs do this nicely: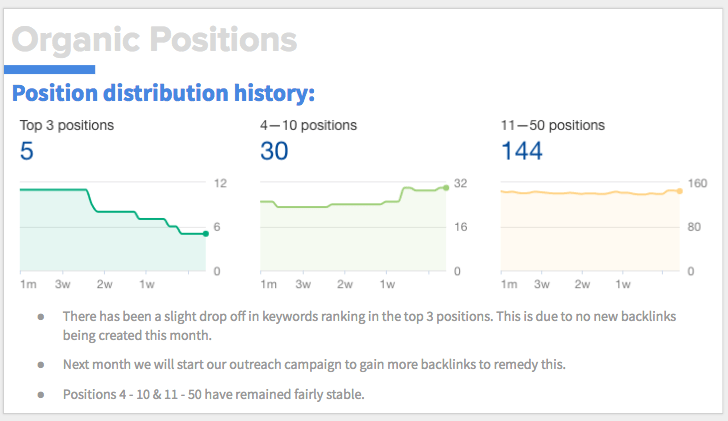 To get to it, while on the Organic search tab of Site Explorer, just scroll down and you'll find it below the keywords graph.
These graphs show the spread of organic rankings across the website pages. They give a rounded view of how the organic keywords are performing across the site by showing:
The top 3 positions;
Positions 4 ‑10;
Positions 11–50
10. Organic Keywords
You can't really have an SEO report without mentioning rankings. Not only are they an essential part of search visibility, they are a good indicator of whether your online marketing strategy is working.
On the next slides, you'll be able to showcase organic rankings, how these rankings have changed and keep tabs on any potential drop-offs.
More specifically, you can show clients the keywords that bring in the most traffic, but at this moment might be different from those that they actually wish to rank for.
By keeping them in the loop about the best performing keywords and pages, you will help your clients better understand what kind of search traffic their website gets.
Leading on from the organic traffic analysis, this slide is made up of 2 screenshots from the organic search tab in Site Explorer.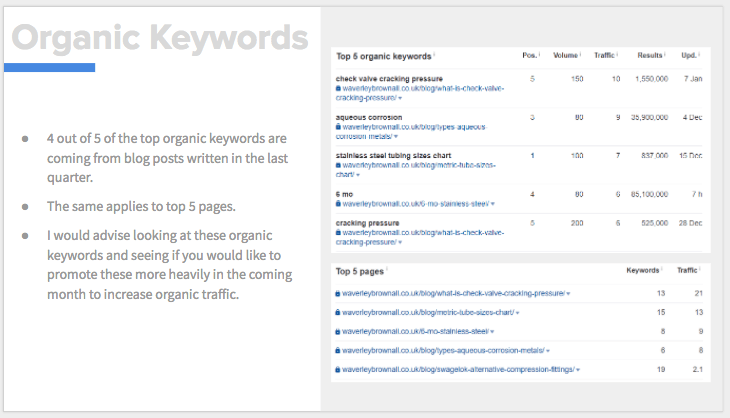 Before we report on the keyword rankings you are tracking, you'll want to identify search terms that are bringing in traffic using Ahrefs' organic keyword tool.
Ranking number 1 for a keyword that brings in zero traffic is pretty pointless and a perfect example of a vanity metric.
To get your top organic keywords, on the Site Explorer overview, go to the organic search tab. Then scroll down and you'll see your top 5 organic keywords. These are the keywords that bring the most organic traffic to your site.
Screenshot them and add them to the slide.
11. Ranking Visibility
It wouldn't be an SEO report if we didn't mention rankings now, would it?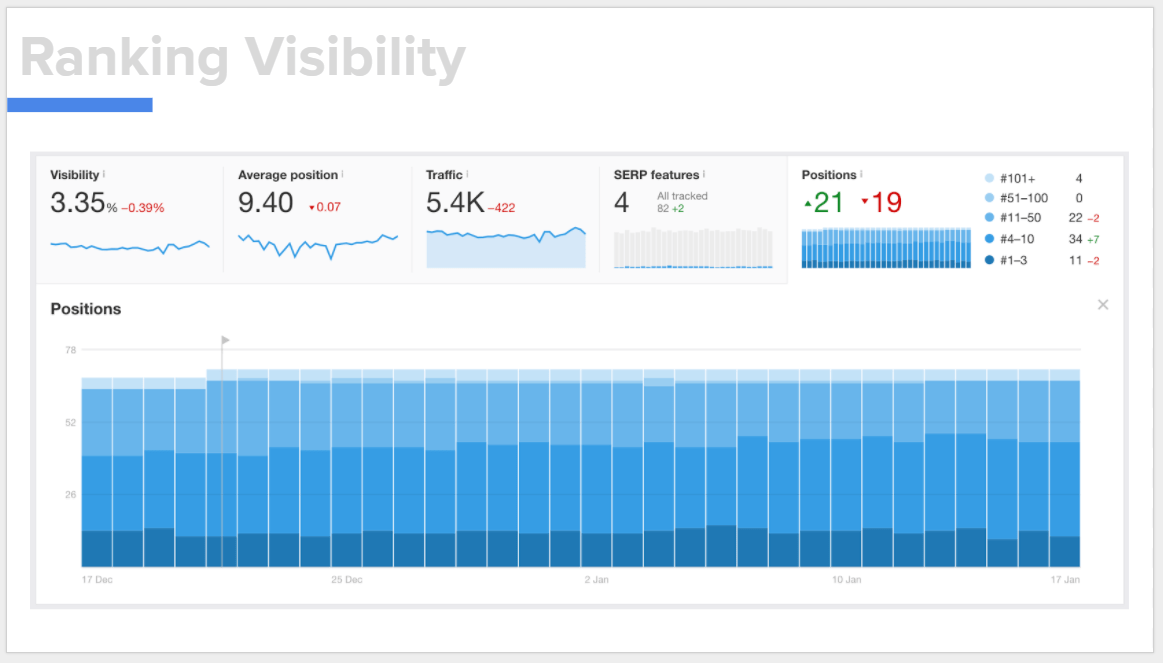 Go to the Rank Tracker tool and select your client. Take a screenshot of the overview widget and add to the slide.
As a good overview of your client's most important keywords, you can show them performance over time. Clicking on the positions widget shows how many keywords are in Top 3, 4–10, 11–50, etc.
In the top left, you can toggle between desktop and mobile views. But for even more SERP data, you can click on the widgets and toggle for a more detailed view.
You can get small graphs showing trends of Visibility, Avg. Position and Traffic (for these specific keywords).
These graphs give a quick overview of your keywords you are tracking. Specifically:
Visibility: the percentage of all clicks for the tracked keywords that go to your client's website.
Average position: self-explanatory really, but the average ranking position across all keywords from 1 to 100.
Traffic: this is Ahrefs estimation of organic traffic going to a URL (calculation based on search volume and website position).
SERP features: how many SERP features (featured snippet, image pack, video etc) are present for the tracked keywords.
Positions: the number of keywords that have seen an increase or decrease in position.
12. Ranking Insights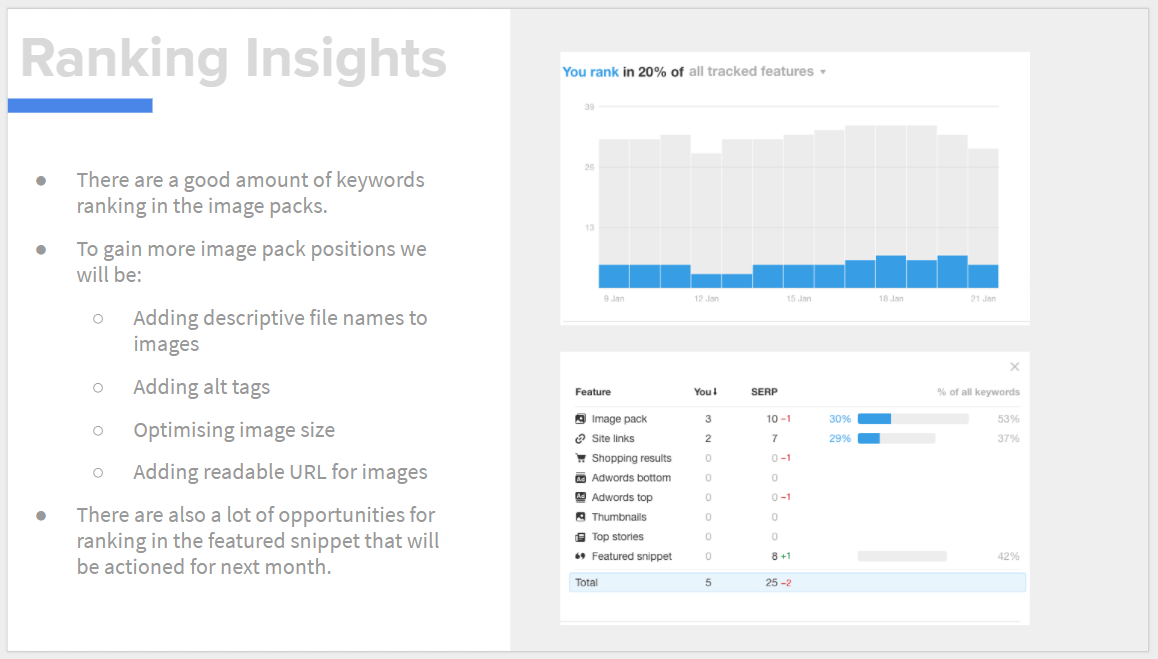 This slide shows your client what is happening in the search results for their keywords in terms of SERP features. The ones that they can own, and the ones that they cannot own.
You can click on any feature to put the focus there. For instance, on the screenshot above you can see that there are a ton of Featured Snippet opportunities among the tracked keywords, but the client's website is hardly ranking in any.
Not only can you show your client SERP features they are missing, but you can also show the features they are appearing in. This shows them that the SEO is working.
It's useful to show these graphs to your client because they show how people are engaging with their website. And therefore give you evidence to back up your suggestions
For example, say you notice an increase in keywords appearing in the Image pack:

You can then suggest to your client that they produce more content featuring high-quality images and prioritise image optimization.
Tip: Keyword Quick Wins
With Ahrefs, you can really drill down into your client's keywords
Using Ahrefs' filters, you can run an organic keyword report to show keywords ranking at position 5 for high volume keywords.
Here's how:
Site Explorer > Enter domain > Organic Search > Organic Keywords
From here, you'll want to apply some filters.
Position from: 5 to 10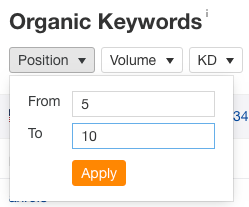 Volume from: 1,000+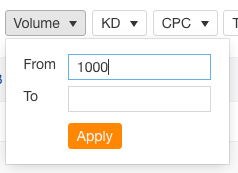 And hit apply.
This will generate a list of keywords that can be classed as 'quick wins'. I.e. keywords that are ranking fairly well, but can be pushed up the rankings with a little SEO.

You know the drill: add more internal links, new backlinks or more content to boost these pages.
Maybe you could add the results of optimising for these quick wins in next months report.
13. Ranking Progress
Whether you agree with tracking keyword rankings or not, they do help convey search visibility to a client.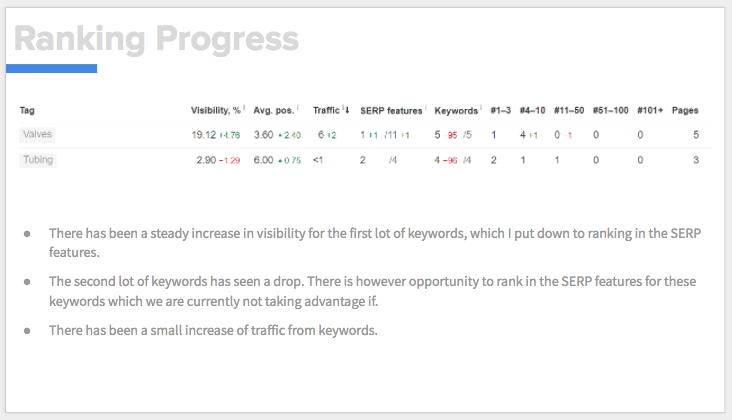 By using tags in Rank Tracker, you'll be able to show your clients keyword rankings without boring them with pages and pages of rankings.
The Tags feature allows you to label keywords so you can group them. For example, if your client was a car garage, you could use tags to group together their different offerings.
Winter tyres, budget tyres, run flat tyres etc could be tagged under Tyres.
Car diagnostics, MOT testing, exhaust repairs etc could be tagged under Servicing.
If you are only tracking a handful of keywords, you could include them all in the report. On the other hand, if you are tracking hundreds of keywords you could filter out only 10–20 of the most crucial keywords that a customer cares about the most.
However you decide to show your client rankings, the good thing about them is: even if your traffic is not going up, rankings can tell you if the website is moving in the right or wrong direction.
What do you want to show clients?
Total number of ranking keywords
Amount of organic traffic generated by those keywords
What URL is ranking for these terms
14. Next Month
After sending your client all this data and graphs, you need to give them a plan of what you will be working on next month to continue improving SEO or fixing things that are holding the website back.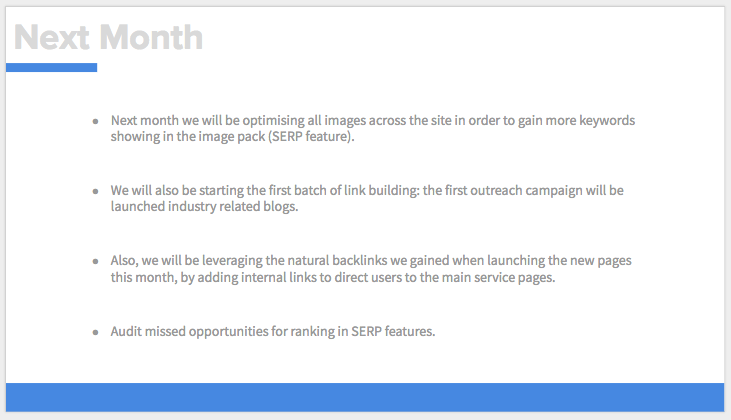 A quick to-do list that lays out your actions for next month will suffice.
This has two benefits:
It lets your client know what is on your plate for the next month.
It reinforces the idea that they should continue paying you to do good work.
Feel free to modify our sample SEO report
So there you have it. A fully customisable SEO reporting template to give to your clients. Check out our sample report below:
Download the sample SEO report.
The best way to think of this report is as a base to build upon. You can customise it however you please, adding data from Google Analytics (e.g. for sales/leads) and other sources to really tailor it to your client.
By utilising our reporting template (that you can use for every client), you'll automate a lot of your workflow and save yourself hours per month.
Just think of all those meta descriptions you can re-write now!
It might not be your favourite part of SEO, but putting together reports for clients can be a useful exercise for both yourself and clients.
A clean and well-written report lets your clients see the hard work you are doing and hopefully helps to demystify your SEO work.
Feel free to edit and tweak the template to suit yours and your client's needs. If you think we've missed anything, let us know in the comments below.