In this guide, I'm going to show how to get $1,000+ per month SEO clients by sending a few personalized video pitches a day.
Here's everything you need:
An email address;
A basic microphone (your built-in laptop mic/webcam will do);
Some screen recording software (you can get this for free—keep reading);
Ahrefs (or a similar tool, but preferably Ahrefs!)
And here's what the process entails: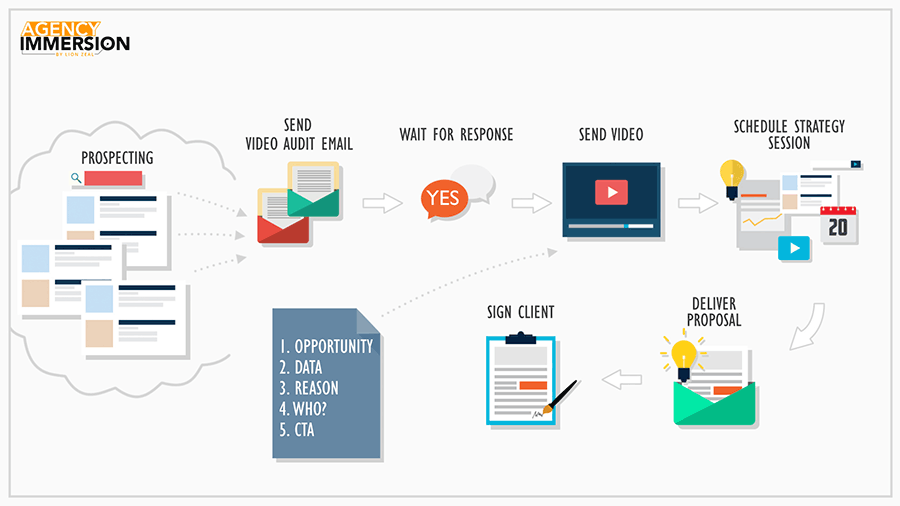 This is the exact process I used to scale my SEO agency (LionZeal) to thousands of dollars per month in revenue.
In this post, I'll be walking you through how to replicate this process (and my success) step-by-step.
But first, let me tackle a question I get asked all the time.
Why do most people struggle to find $1K/month SEO clients?
Not only do I use this process myself; I've also taught it to a LOT of people.
It has worked for everyone I've taught. But sometimes, people are somewhat skeptical in the beginning.
They ask questions like:
"Daryl, I've done 'cold-emailing' before and I struggle to get any SEO clients (or even leads)…let alone $1K/month clients! What's different about what you do?"
I get it…finding $1K+/month SEO clients isn't easy.
Or at least that's what I thought…then I tried this process and realized how wrong I was.
So, what's so unique about the way I do things?
Honestly, nothing. It's just that I've ironed out the creases that exist in almost everyone else's processes.
Let me explain:
Almost EVERYONE fails to attract SEO clients via cold-emailing due to an issue in one of the following steps of their process:
Prospecting;
Pitching;
Following-up;
Closing
Not finding the right prospects? (i.e., those with the funds to actually pay you). You fail.
Not pitching convincingly? You fail.
Not following-up with non-repliers? …You get the idea.
The truth is, very few people have a process for scaling all the above in an efficient, non-spammy manner.
That's what's unique about my process; it allows you to scale every part of the process without spamming 50K+ people.
Here's how to do it, step-by-step:
Step 1. Finding Prospects (That Can Afford to Pay You)
As much as I love the Glengarry Glen Ross scene;
"The leads are weak? F***ing leads are weak? You're weak."
https://www.youtube.com/watch?v=mikCQoDG2Ls
I do believe the leads can be weak.
Here's how to make sure you're going after the right people:
1. Choose a niche (where people can afford to pay AT LEAST $1K/month for SEO services)
Let's say your goal is to acquire $1,000+ per month clients, which should be an absolute minimum because, below that, there's little chance you can provide much value.
Can a one-man plumbing company afford to pay you $1,000 per month?
Probably not, especially considering that the average salary for a self-employed plumber is $55,000 (2014 statistic).
This would mean that they're spending almost 25% of their salary on SEO alone, which isn't realistic.
How about a shop that sells phone covers?
Again, probably not.
I mean, if we assume that the average phone cover sells for $10. And the retailer has a 50% margin. They'd have to sell an extra 200 phone covers per month just to break even on their SEO spend.
So who CAN afford your services?
In short, it's businesses that have either:
A high customer LTV (lifetime value);
High-ticket products/services.
(Or both.)
And make sure they have decent profit margins, too.
There's no point working with industries that make single-digit percentage margins on their sales—you'll struggle to ever generate a ROI for them.
Sidenote.
This is why Amazon affiliate site owners can rarely afford to pay $1K+/month for SEO. It will
never
pay off for them. Their margins are in single-digit percentages, which usually equates to a few pence on most sales.
Here are a few examples of industries that fit the bill:
Dentistry;
Law;
Life coaching;
B2B services (often low-ticket purchases, but high LTV);
Etc.
But still, you shouldn't target everyone in your chosen niche—target the segments that make the most money.
For example, in the plumbing industry, there are:
Self-employed plumbers (i.e., one man bands);
Employed plumbers (these are never going to be your market);
Startup plumbing companies (i.e., recently founded companies with little/no revenue);
Small, local plumbing companies;
Large, well-established (and often national) plumbing companies.
Like I said earlier, one man bands are out of the question.
But I'd also stay clear of startups. Most of these don't yet have a proven business model. And this means they'll likely blame you for all of their marketing woes.
I can't tell you precisely who to target, but once you've got a niche in mind, I highly recommend doing some preliminary research.
Which services make these companies the most money?
Which service makes the most money per minute/hour? (This can often be a lower end service that is easier to deliver and more profitable for a business.)
What services do they offer? Are there different names which they use?
2. Find businesses to contact
This is the simplest, yet most time-consuming part of the process.
All you have to think about is where you can find the businesses you've chosen to target.
The first, most obvious choice is Google. Search for dental implant companies in different cities.
Everyone who's not ranking well is a potential prospect.
Tip: Use Ahrefs' Content Explorer to Find Leads
Enter a keyword related to your target industry into Content Explorer.

Filter to show only "one article per domain."

Filter for sites that have a Domain Rating (DR) between 0-10. This will drastically reduce the number of potential prospects.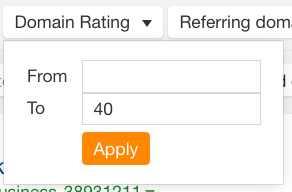 Export.
Then, run them through Ahrefs' Batch Analysis tool (200 at a time) to see how much traffic they get.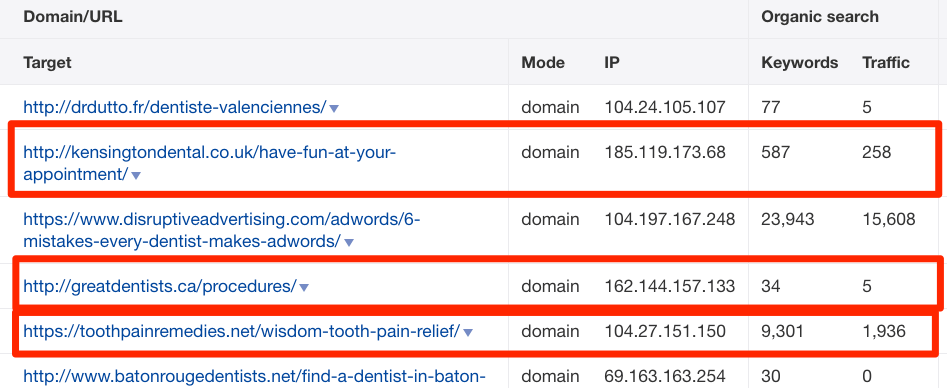 And there you have it, a list of relevant websites with metrics.
All you have to do it go through the list manually and cherry-pick the best prospects.
There's also:
Industry associations;
Business directories
How about Adwords? If they're spending money on Adwords and not ranking organically, there's a lot of opportunity for them.
What's more, you also know for sure that they're willing to invest in marketing.
Tip: Use Ahrefs to See if a Business is Bidding on Keywords (on AdWords)
Want to know if a website is paying for AdWords ads?
Paste their domain into Site Explorer. Then go to Paid search > PPC keywords.
This will show you the keywords they're bidding on, along with the CPC of those keywords.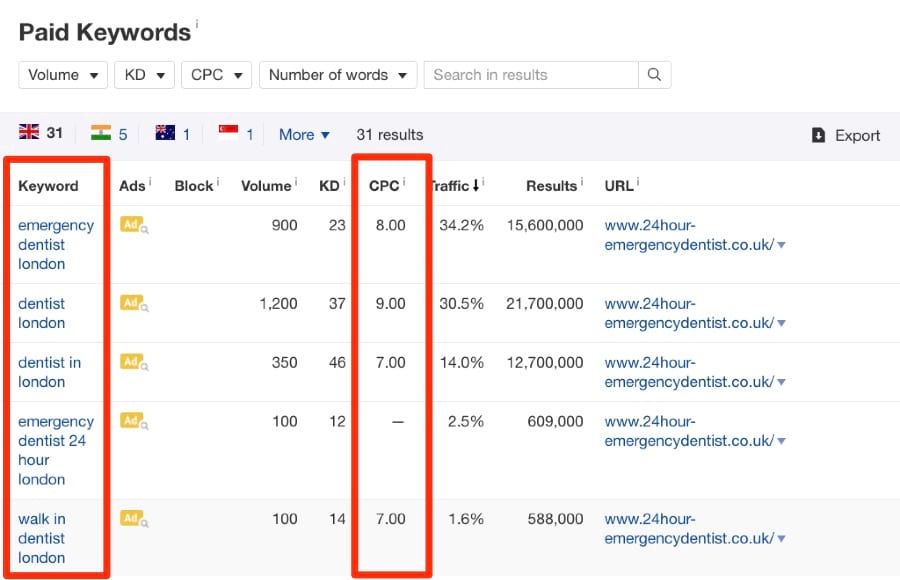 Where else do businesses advertise in your niche?
TV? Radio?
Magazines?
Amazon Home Services? Thumbtack?
This is where your research comes into play.
Your aim should be to end this section with a spreadsheet packed with leads.
Sidenote.
If you don't have this, don't continue. You NEED a list of highly-targeted prospects before proceeding to the next section.
Now let's get to the fun part…
Step 2. "Pitching" Your SEO Services (the RIGHT way)
Repeat after me:
I will NEVER write "greetings of the glorious day" in an email.
Look, every person reading this has probably received spam emails from SEO agencies before.
Please don't do that.
But for simplicity's sake, I'd like to share a simple email template with you to explain this better:
Hi, Ricky,

I came across your website today when searching for "Roofing in London," and noticed that you don't show up in the maps section and are #33 in the organic listings.

That's a lot of calls you're missing out on.

So I made a video showing you why your top 3 competitors are out-ranking you:

www.supremeoroofing.com
londonroofingspecialist.co.uk
www.roofcarelondon.co.uk

Are you the right person to send this video?

If you are, please reply to this email, and I'll send it over. Otherwise, just let me know.

Cheers,

Your Name
Here's my advice for writing emails like this:
1. ALWAYS personalize
First things first, always make an effort to find the owners name when emailing them.
Never just write "Hey,"
But that's only the start of the personalization process.
You'll notice in the email above that I also included the following:
"Roofing in London";
"don't show up in the maps section";
"#33 in the organic listings";
And the top 3 competitors' list
This data is personalized for each prospect (after all, nobody else can be #33 in organic search…only this guy!). If you can personalize that even further, then please do that.
But, there's more…
2. ALWAYS focus on what client REALLY wants
Do you want a drill? Or do you want a hole? Or maybe you would like to mount your TV on the wall?
Businesses do not care about rankings. Nor backlinks.
Corporate companies may care more about charts and graphs to show their bosses, but the type of businesses we're targeting care about money.
They want to increase their bottom line.
So I'm not going to tell them how amazing my on-page SEO ability is, or how great I am at building backlinks. I want to focus on what they care about:
Getting their phone ringing.
Another essential element is this:
3. NEVER send a sales pitch
This email is not intended to sell your services.
It's purpose is to pluck out the interested prospects. That's it.
We're not asking them to get on the phone with us or to buy anything from us. All they need to do is respond saying "yes, send me the video."
And here's the smart part:
As only a small minority will actually request the video, we can save ourselves the effort and record it AFTER they've asked for it.
So here's what happens…
Ricky gets the email. He's curious, so he sends back a message like this:
I am.
Simple.
So, we record the video, add it to a custom page on our site, and send it over.
Sidenote.
Again, just to reiterate, we only record a video once we receive a positive reply. There's no point wasting time recording videos for people who don't want them.
Here's a sample of how it can look:
https://www.youtube.com/watch?v=UyEkfaEjmLI
Notice I'm keeping it simple here.
Here's the opportunity/problem;
Here's the data explaining why this is great;
Here's the reason you're losing out;
Here's who I am;
Here's what to do next.
As for creating the video, here's what I used:
Then I upload that to Vimeo or YouTube and add it to a landing page like example.com/their-company-name/.
Below the video, there'll be an option to schedule time into my calendar for a call, which personally, I use ScheduleOnce for: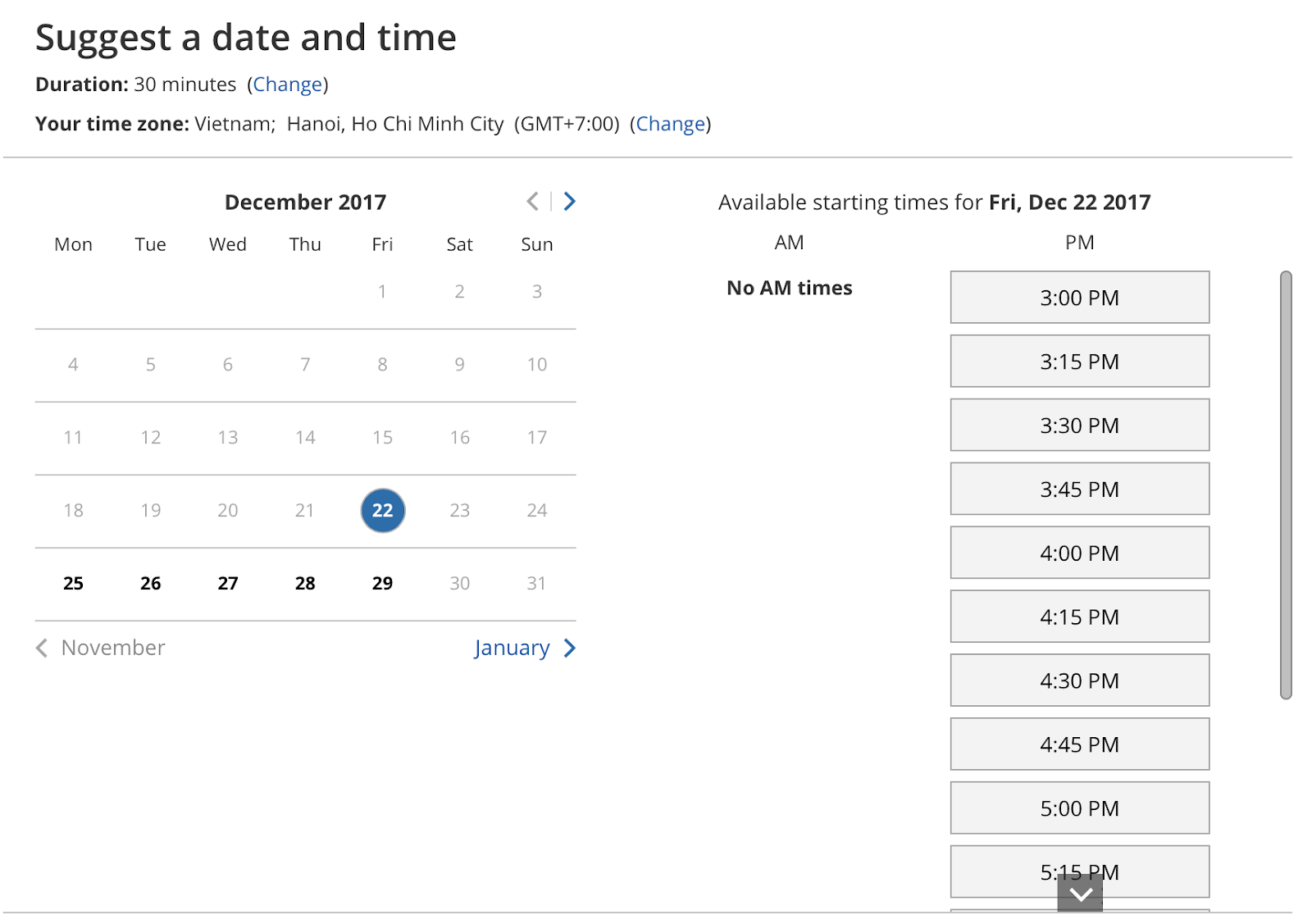 And that's it. Send that over to them and see if you get a response.
Step 3. Following-up (with both HOT and COLD leads)
The sad truth is many people won't respond to your cold emails. That's why persistence was the third item mentioned at the beginning of this article.
If you don't follow up, you're throwing away opportunities.
There are 2 points at which you should follow up:
After the first email;
After sending the video.
If you don't receive responses to any of these emails, please don't give up.
I regularly forget to respond to emails. Ask Tim, who I forgot to email back after inviting me to write this guest post.
There are numerous ways to follow up.
My advice? Keep it simple. And don't try to be fancy.
A lot of the time, you'll find that people have merely missed or forgot to respond to your email.
Send them something simple like:
"Hey Ricky, have you had a chance to look at this yet?"
And then summarise the email again below that.
Super simple, that's your bread and butter follow up for getting more responses.
You'll want to automate this though to save you some time.
How to Automate Your Follow up
There are a number of tools that will plug directly into Gmail allowing you to follow up with your prospects automatically.
Here's how it works:
You create a CSV or Google sheet with all the people you want to contact and their details for personalizing the email.
Next, you'll import these into your tool of choice.
4 popular choices are:
And within these tools, you'll set an initial message and as many follow-ups as you'd like to go out, at set intervals, e.g., three days after, six days after, and ten days after.
If they don't respond, these follow-ups will send automatically. If they do reply, the follow-up sequence gets stopped so you can manually respond without it interfering.
This will allow you to be significantly more efficient. And with tools like Mailshake (shown below), it doesn't prevent you from highly personalizing each email.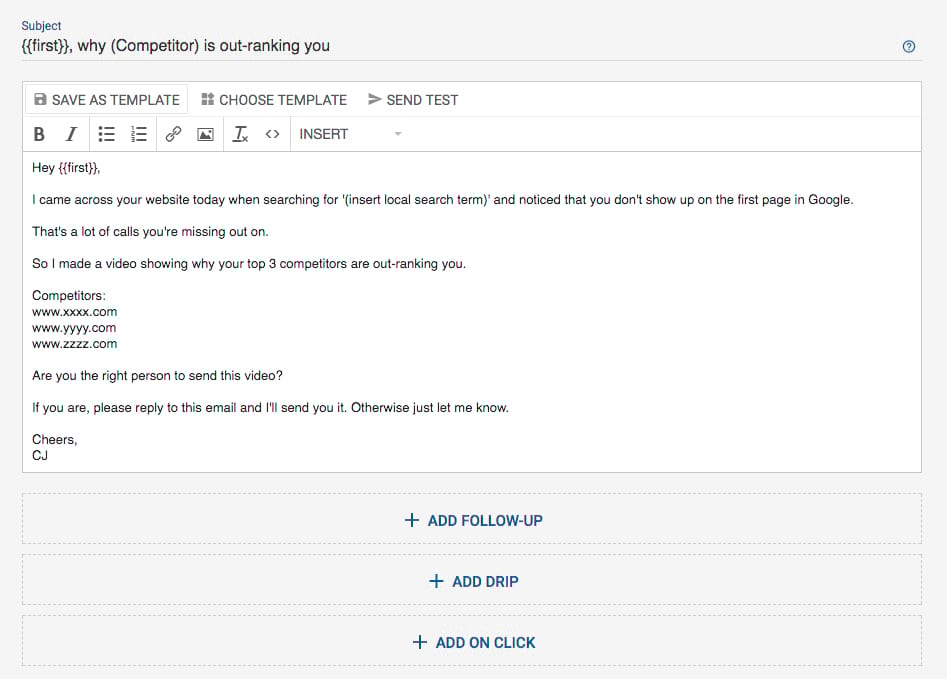 Step 4. Converting SEO leads into paying SEO clients
Now if you're sending these emails out daily and persisting with the follow-up, sooner or later, someone's going to take you up on your offer and schedule a call.
But how do you then turn such SEO leads into clients?
I've got a simple two-step process that I'll break down for you:
Qualification;
Delivering a proposal.
Here's a breakdown of each part of the process:
1. Qualify Your Leads
The purpose of the first call is to qualify them as a potential client.
That's it.
For the prospect, I call this a strategy session. I'll share some ideas with them and run them through Ahrefs data to pique their interest, etc.
But ultimately, my goal is to learn more about how I can help them, and qualify them to see if they're a good fit for my services.
It's a standard consultative sales approach.
I'll ask questions like:
How many new clients can you take on per month?
What is your average client worth to you over a lifetime?
What would your ideal result be from working together over the next 12 months?
And walk them through a process of understanding their struggles, then figuring out their goals:

So if someone had a bad knee, for example, I don't just want to say, "well hey, this will fix it."
They don't know me. They don't like me (nor necessarily dislike me). And they sure as heck don't trust me.
I'm going to build all that up by asking great questions and figuring out what they want.
Why are they speaking to me about their bad knee now? Why not two months ago when it started? What's changed now?
How is that impacting their life today? What aren't they able to do? What does it feel like to walk on it? Run on it?
What is the first thing they would do if their leg was normal again? What would their life be like 12 months from now if they could fix it today?
Notice I'm not trying to sell the drill here. I'm talking about the hole, why they need it, what their plans for it are, etc.
Once I've gone through all that, while also asking questions and learning about their business, I'll make a decision:
Are they a good fit for my services or not?
If they are, great:
"Would you like me to map out a plan for what you need to do to achieve 'xyz' goal?"
Sell them what they want.
Do they want to expand into a new area? You can say, "Great, let me put together a plan for how to do that and we can discuss it on Thursday."
Do they want to hire additional people to free up their personal time? Or get more consistent sales?
Figure out what it is they want, and if you can deliver it with your services, "sell" them that. Not page one rankings.
Just remember when I say "sell", I'm talking about a free plan (aka proposal).
If not, refer them to someone that can. Or give them some free advice and let them go.
2. Deliver a CUSTOM proposal
It's a big mistake to talk to someone once, create a proposal, and email it to them.
We've worked so hard to get them comfortable with speaking to us over the phone, let's not backtrack on that.
For the proposal, I deliver it using a service like join.me and a phone. Or you can use Skype if you're based abroad like me.
And all I'll do is create a standardized presentation, similar to a webinar, where I walk them through step-by-step on what they need to do, and then offer to do it for them.
I'll introduce them to on-page factors and compare their on-page to their competitors. I'll show them their backlinks, their competitors' backlinks, and walk them through the importance of links.
I want them to see that there's a strategy, a science, behind what we do.
If I can walk through said strategy in this level of detail, then it's clear that I know what I'm talking about.
So I'll spend maybe 30-40 minutes walking them through this presentation.
Then we get to the packages.
3. Close the lead (over the phone)
After showing them the package and price I'm recommending to them, I use a soft, simple close.
Something like:
"When would you like to get started?"
You don't have to be pushy for this to work. I started out shy and awkward, and accidentally stumbled into this method because it was the only process I could get to work for me.
Now Do it All Over Again
Whether or not you close this client on this call, the process just repeats over and over.
Follow up again with them. Schedule in another call for when they're ready. Keep in touch by email and SMS.
Continue emailing other businesses with the video audit offer. I recommend doing this every day.
And just keep repeating it.
This process won't work if you give up after ten emails. Nor a hundred.
It's slow, time-consuming, but if you master it, you'll have the ability to acquire clients on demand. No waiting around for magic to happen.
And once you have clients, you can use our SEO contract template to onboard them quickly.