Looking for a list of free SEO-related Chrome extensions that will help you work faster and smarter? Then look no further.
This is not a random list of extensions. We've tested all of these tools and found them worthy of your attention. We also use a lot of them in our everyday work here at Ahrefs.
The list contains 26 extensions, so we split them into categories for your convenience.
Let's start at the top.
https://www.youtube.com/watch?v=9JOSAqmbrtc
Use these extensions to improve your webpages.
This extension looks for SEO issues on the page, tells you how many there are, and lets you investigate further. The check covers meta tags, canonicals, indexability, Open Graph tags, structured data, hreflangs, page speed, and more.
It also has a built-in Audit module that uses Google's Pagespeed Insights API.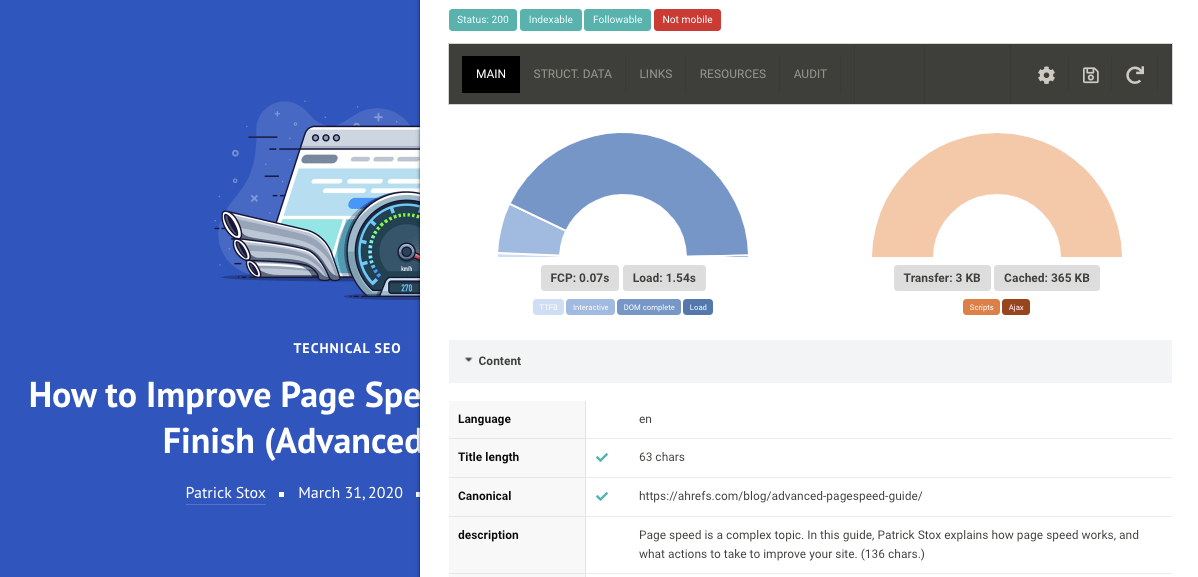 Other similar extensions: META SEO inspector, SEO META in 1 CLICK, Ahrefs SEO Toolbar
Despite its name, this tool has nothing to do with incoming links. It analyzes the outgoing links on a page. Like many other link checkers, it highlights all broken links red and live links green. It can also export all links on a page to a CSV or XLSX file along with their anchor text, HTTP status, and "rel" attribute for further analysis.
Unlike many other broken link checkers, this one allows you to increase the time delay between link requests for slower page analysis. This prevents many false positives caused by server protection.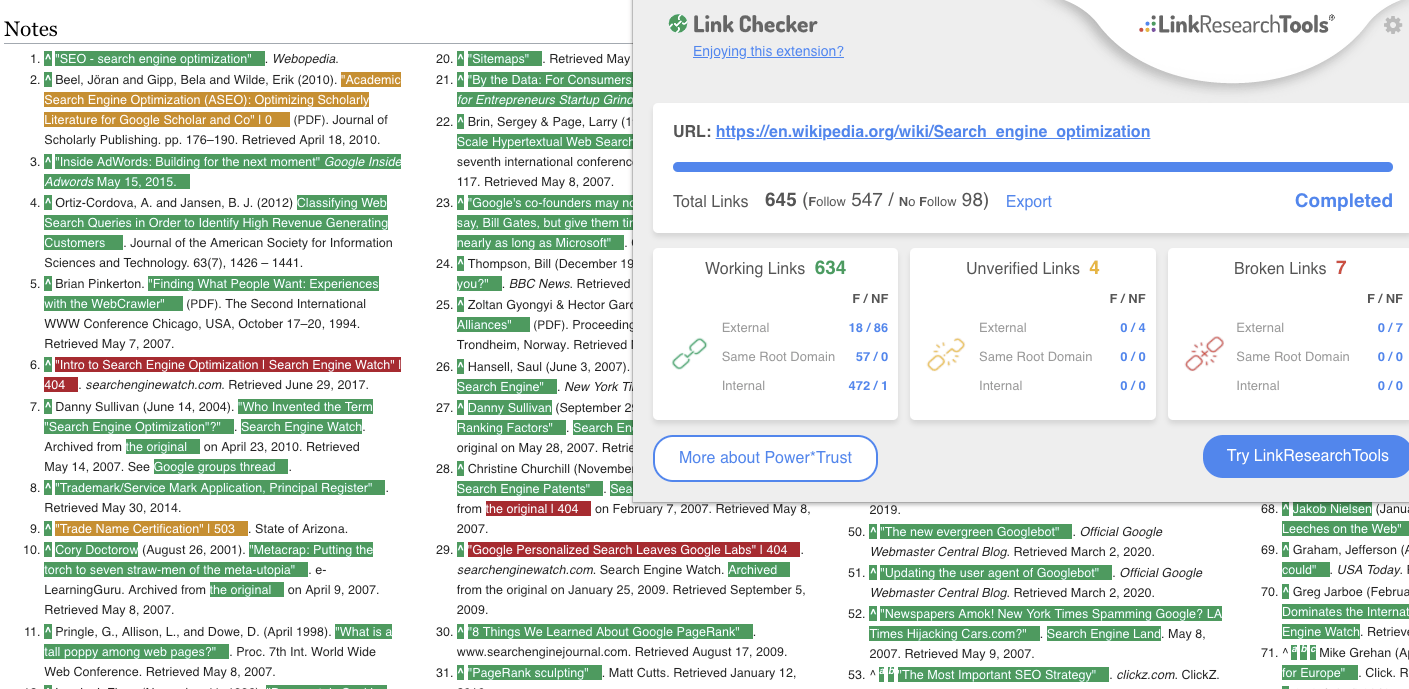 Although lots of extensions show hreflang data, this one is more advanced. It crawls the URL's hreflang tags to check if they have return links.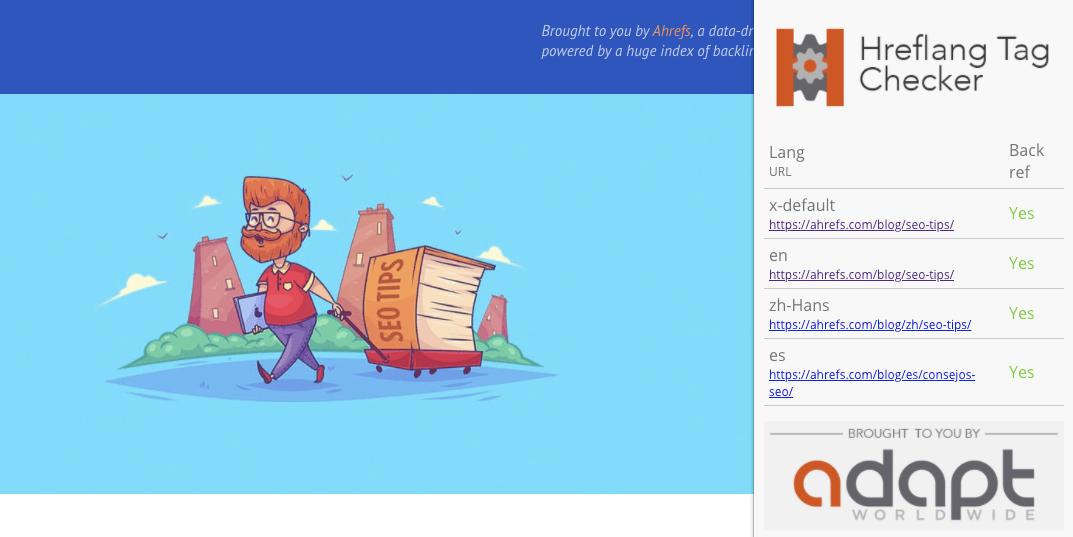 Use these extensions to find and research keywords.
Generates thousands of keyword ideas from a seed keyword by scraping autocomplete suggestions from Google, Youtube, Bing, Yahoo, Amazon, and eBay. If you've ever used Keyword Sheeter, you'll already be familiar with the concept. All data can be exported to CSV.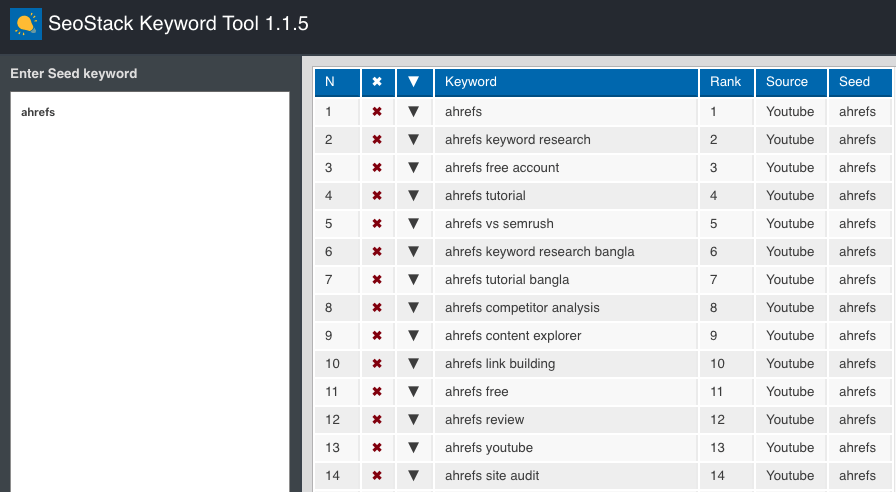 TextOptimizer describes itself as a writing assistant tool. It analyzes search results for relevant terms and extracts "intent tables" to suggest other words that you can use in your copy "to better match search engines' expectations."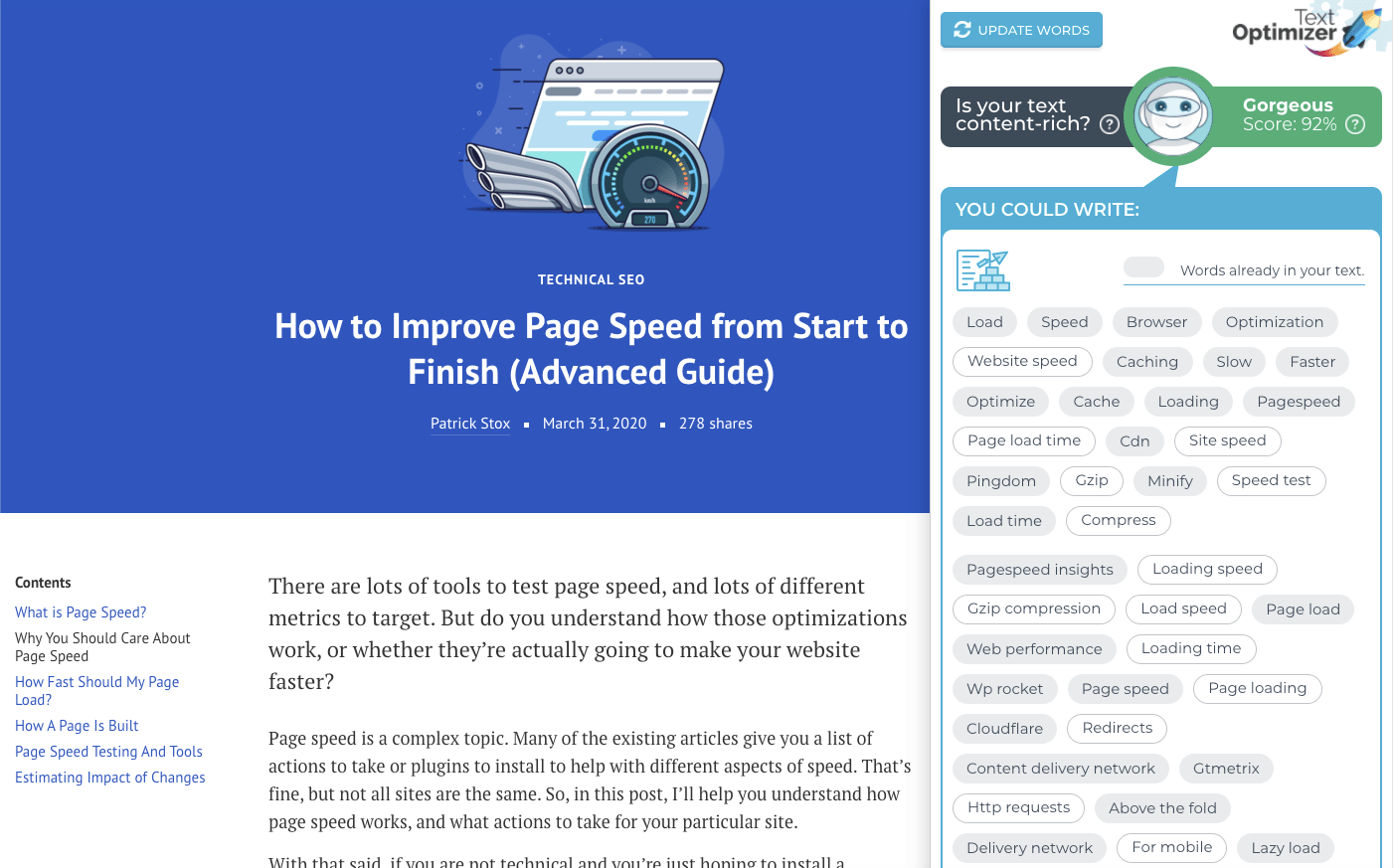 Keyword research and SERP analysis tool. It gives away an insane amount of data for a free tool: domain-level traffic estimations in the search results, keyword volumes (both local and global), keyword suggestions, and domain-level backlink counts.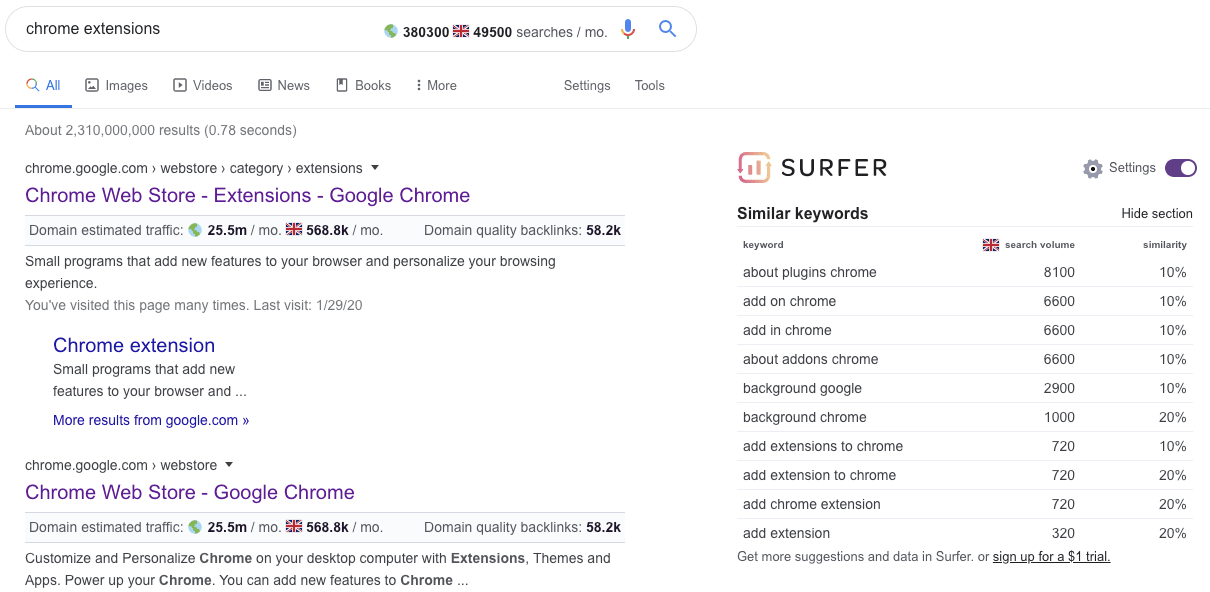 Other similar extensions: WMS Everywhere
Use these extensions to monitor rankings in the SERPs.
Emulates Google searches from any location and checks if a particular URL ranks in the top 100 results. Very useful for seeing how rankings vary for a query in different parts of the world.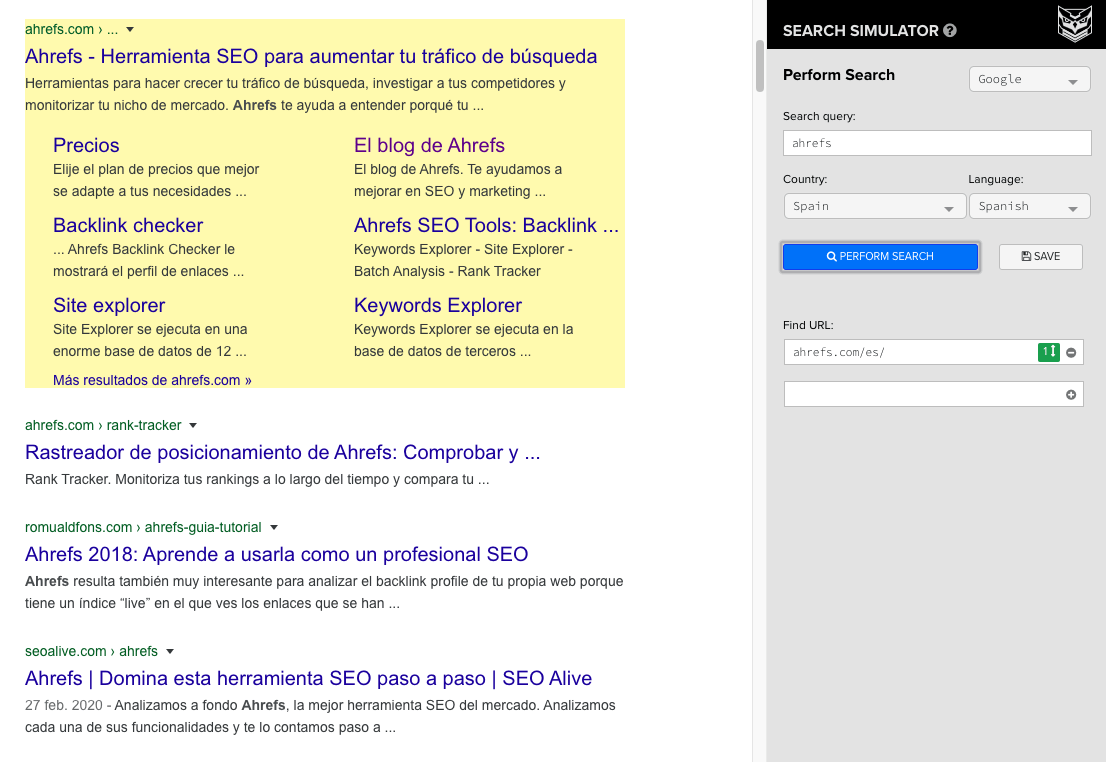 Tracks your Google, Bing, and Yahoo searches. Then, if you perform the same search again over time, it shows ranking movements directly in the SERPs.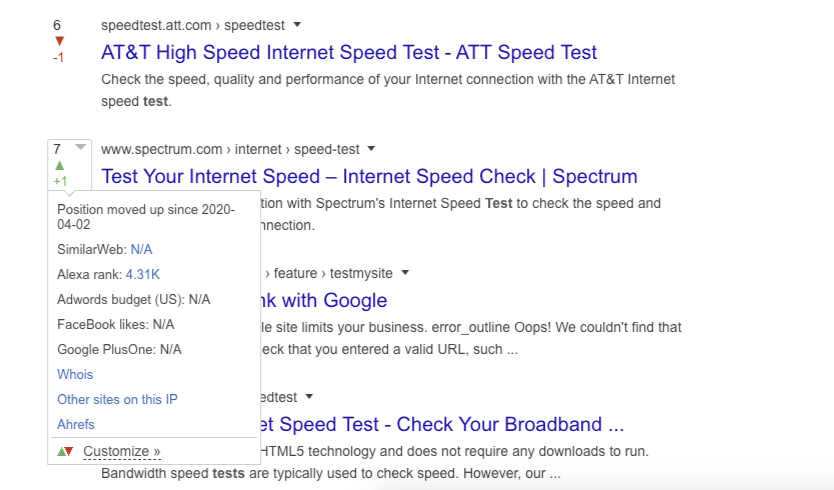 Use these extensions to improve your site from a technical standpoint.
Uncovers all URLs in a redirect chain, including 301's, 302's and JavaScript redirects. Very useful for finding (and regaining) lost "link juice," amongst other things.
Other similar extensions: Redirect Path, Ahrefs SEO Toolbar
Audits your page and suggests improvements related to performance, accessibility, developer best practices, and of course, SEO.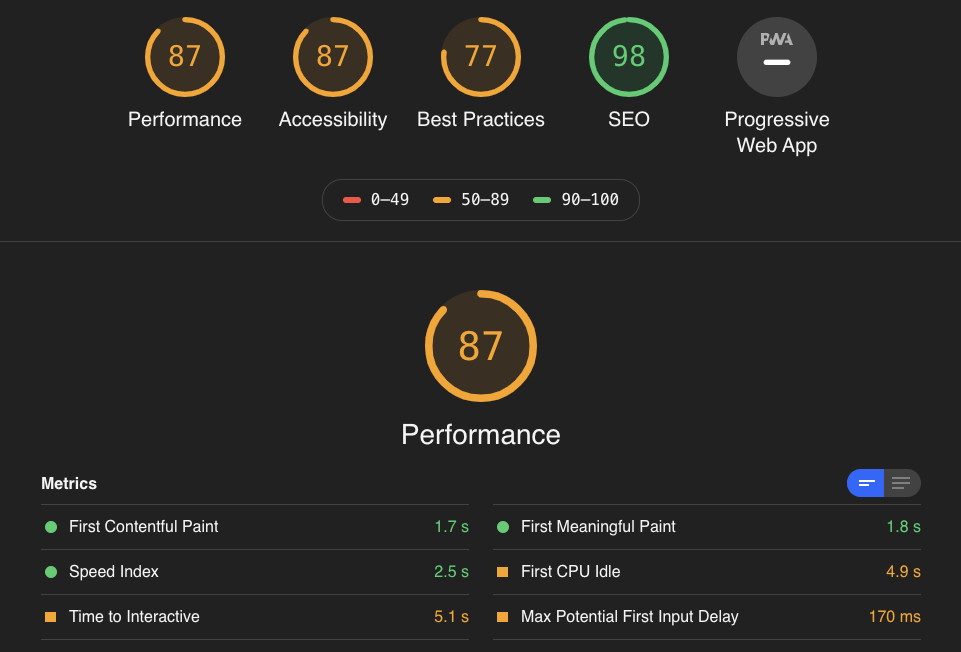 Checks if a page has an AMP version (Accelerated Mobile Page). The tool then runs the AMP validator to see if the page passes or fails.
Unveils the structured metadata present on any web page. It currently supports Microdata, RDF/XML, RDFa, JSON-LD, Turtle, and POSH.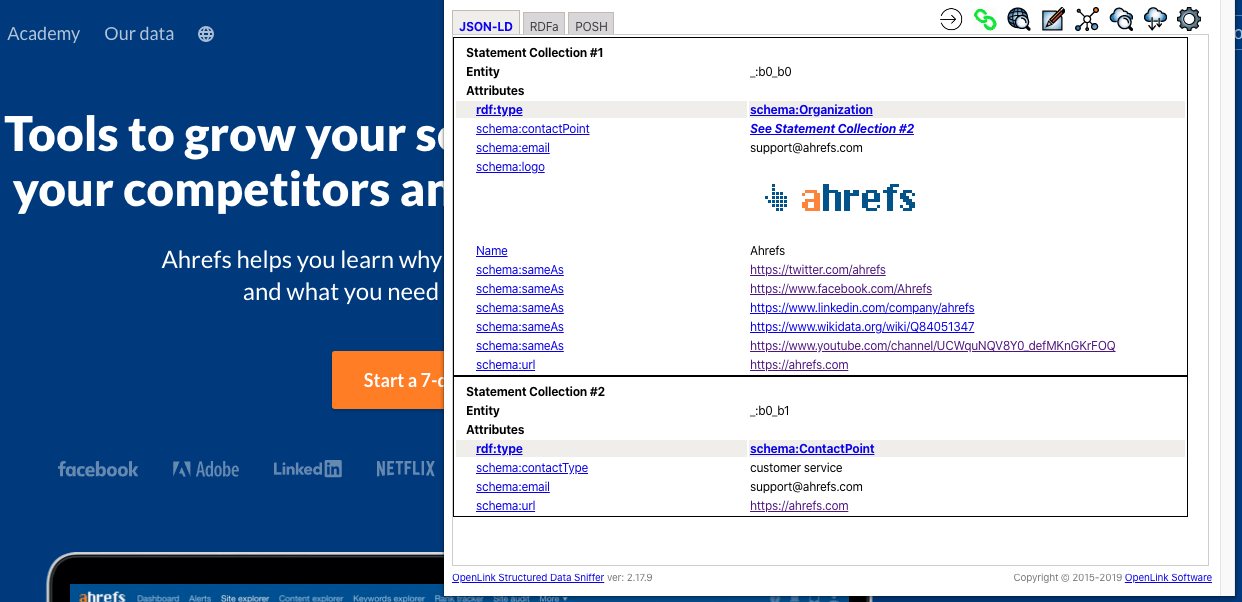 Other similar extensions: Structured Data Testing Tool
Mimics user-agents to check that your website displays correctly in different browsers and OS'.
Provides pre-formatted links (for the current URL) to a bunch of popular SEO tools. A very underrated tool that reduces the need for mundane copy/pasting.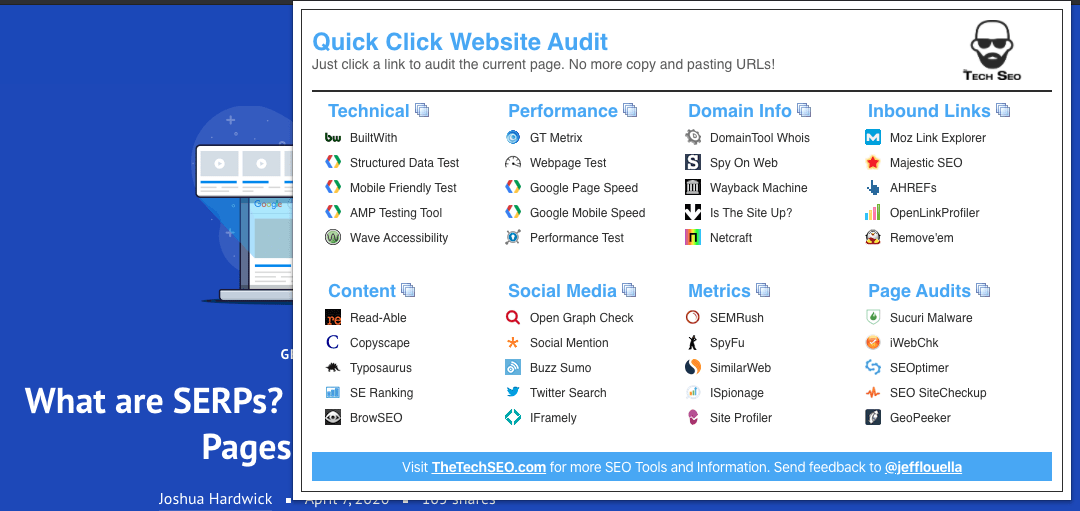 A must-have tool for those who work with JavaScript-powered websites. It compares the raw page code and its rendered version. As an SEO, you can check, for example, if JavaScript overwrites meta tags.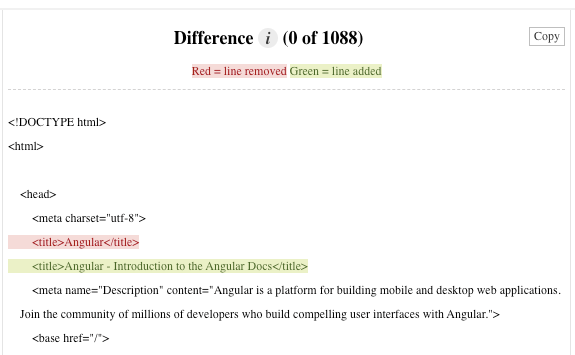 Use these extensions for better link prospecting, research, and management.
Open multiple links on the page (in new tabs or new windows) or copy them to your clipboard. Saves a lot of time, especially when link prospecting.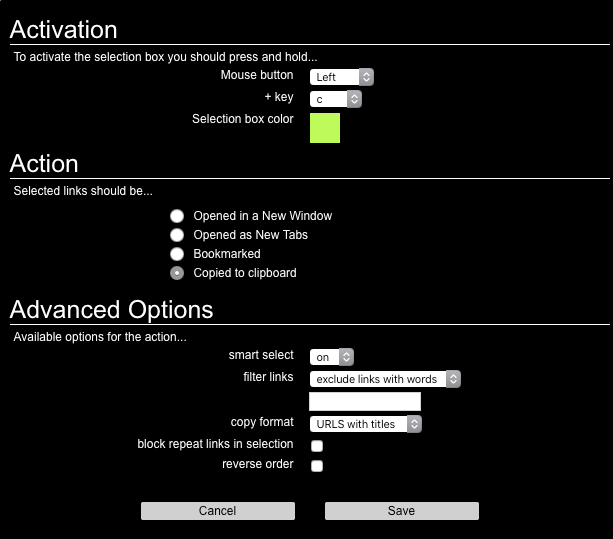 A lightweight extension that highlights nofollowed links on a page. Super useful for link prospecting.
Check estimated traffic, traffic sources, keyword rankings, and other key stats for any website. Very useful for evaluating link opportunities.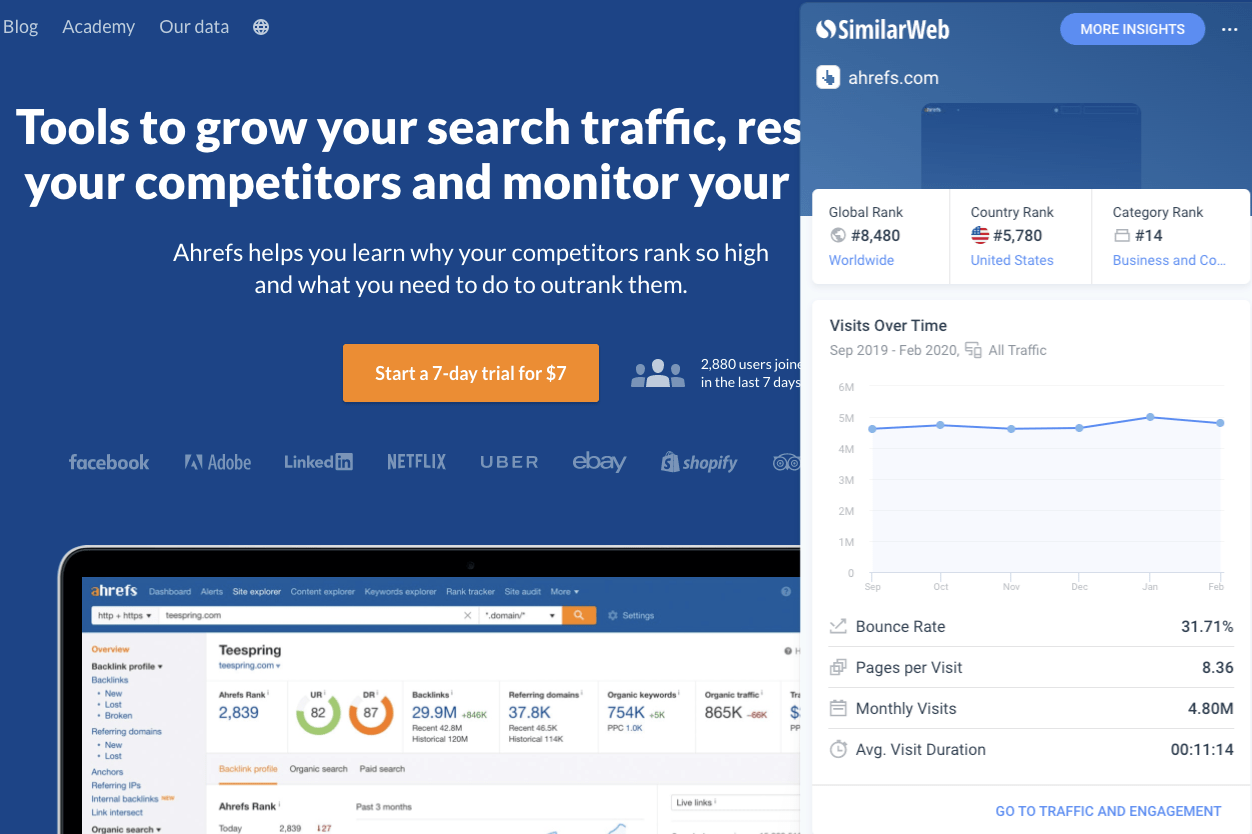 Recommended reading: Find Out How Much Traffic a Website Gets: 3 Ways Compared
19. Hunter (Freemium)
Finds email addresses associated with the website that you're visiting. You get 50 free credits per month. There's also a Google sheets add-on for fast bulk checking.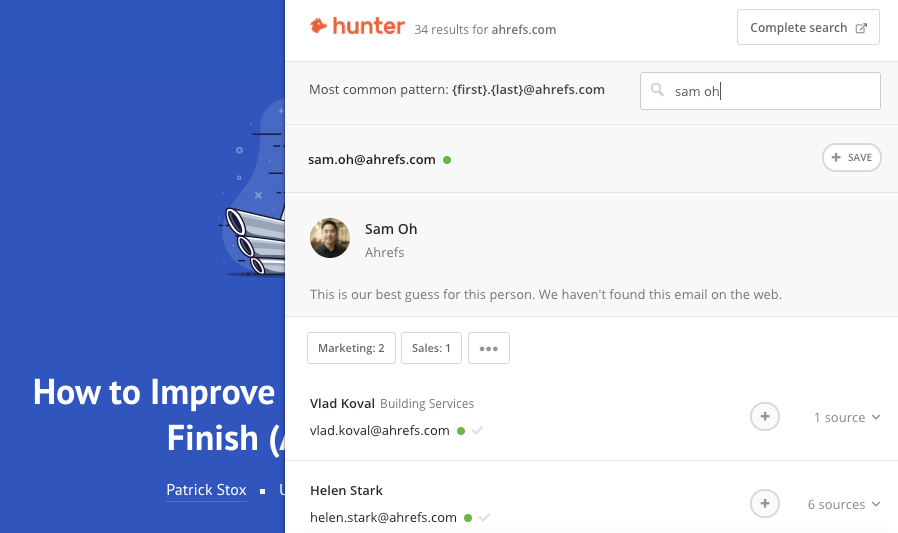 Other similar extensions: Clearbit Connect, Name2Email
Recommended reading: 8 Actionable Ways To Find Anyone's Email Address
A customer relationship manager for Gmail. Create mail merges, track emails, log interactions with leads/customers/prospects, and more. Perfect for organizing outreach campaigns.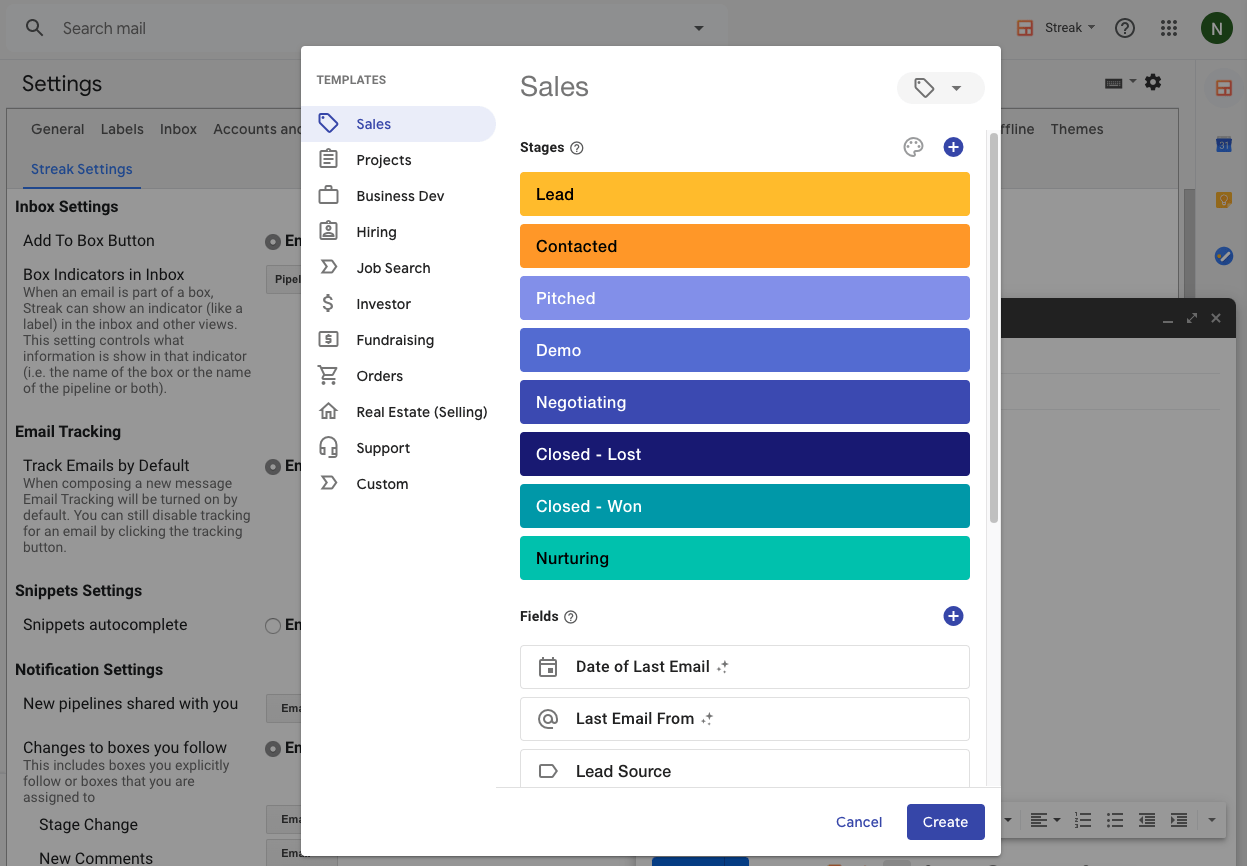 Use these extensions for a variety of SEO tasks.
Our Chrome Extension. It features an on-page SEO report, redirect tracer, broken link checker, and nofollowed link highlighter. Ahrefs users also get page, domain, and keyword metrics for visited URLs and search results.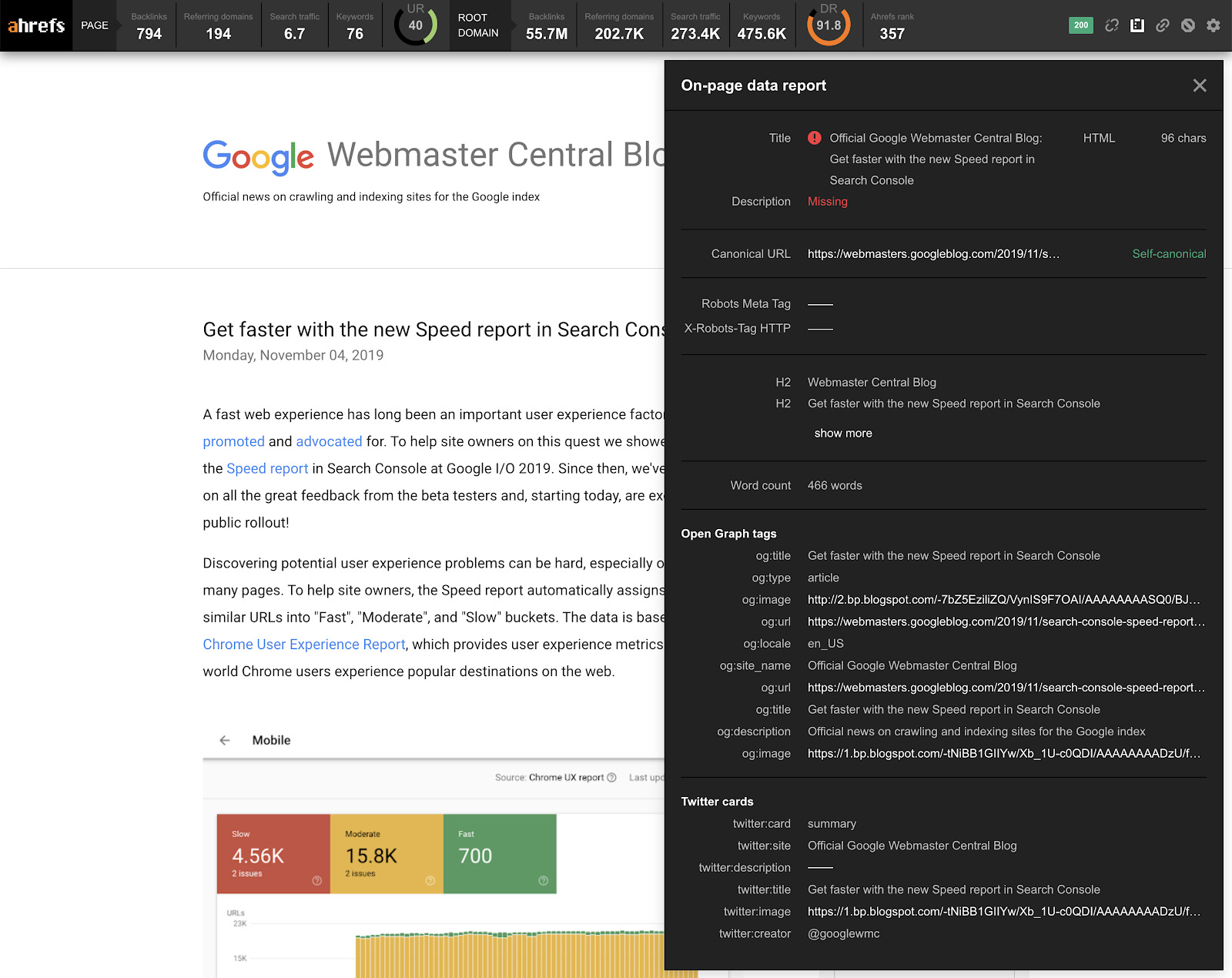 Check Moz metrics such as Domain Authority, Page Authority, and Spam Score for any web page. You can also perform custom searches, check on-page issues, extract Google SERPs, and more.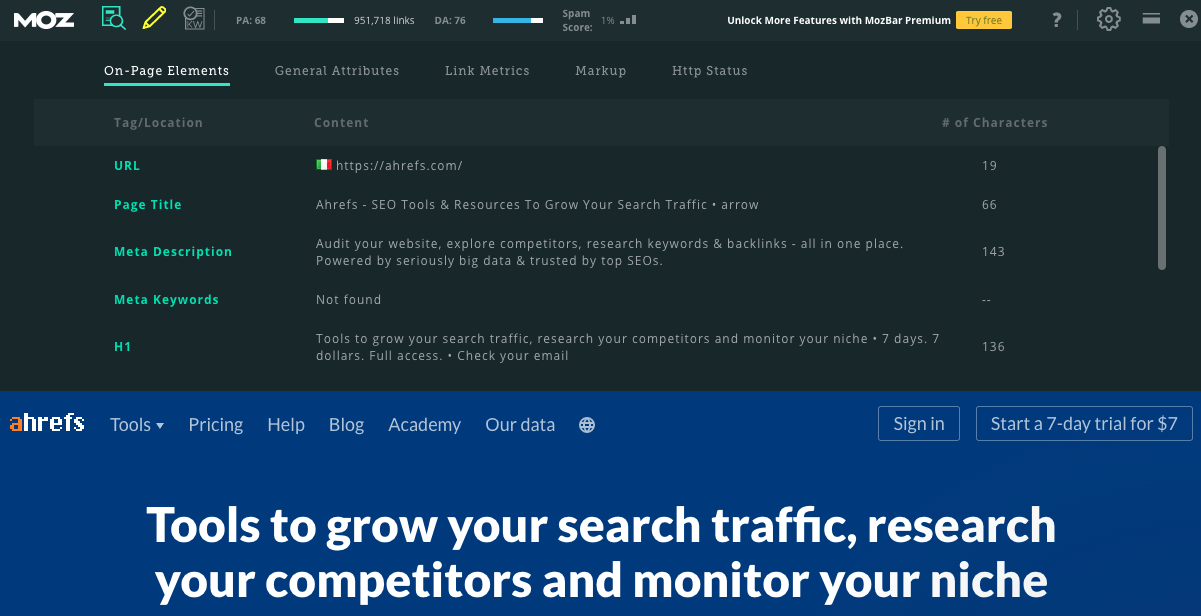 On-page SEO analyzer, broken link checker, SERP previewer, and a Google location simulator—all in one tool. But here's one exclusive feature that can save you a lot of time: compare Google SERPs for two different countries.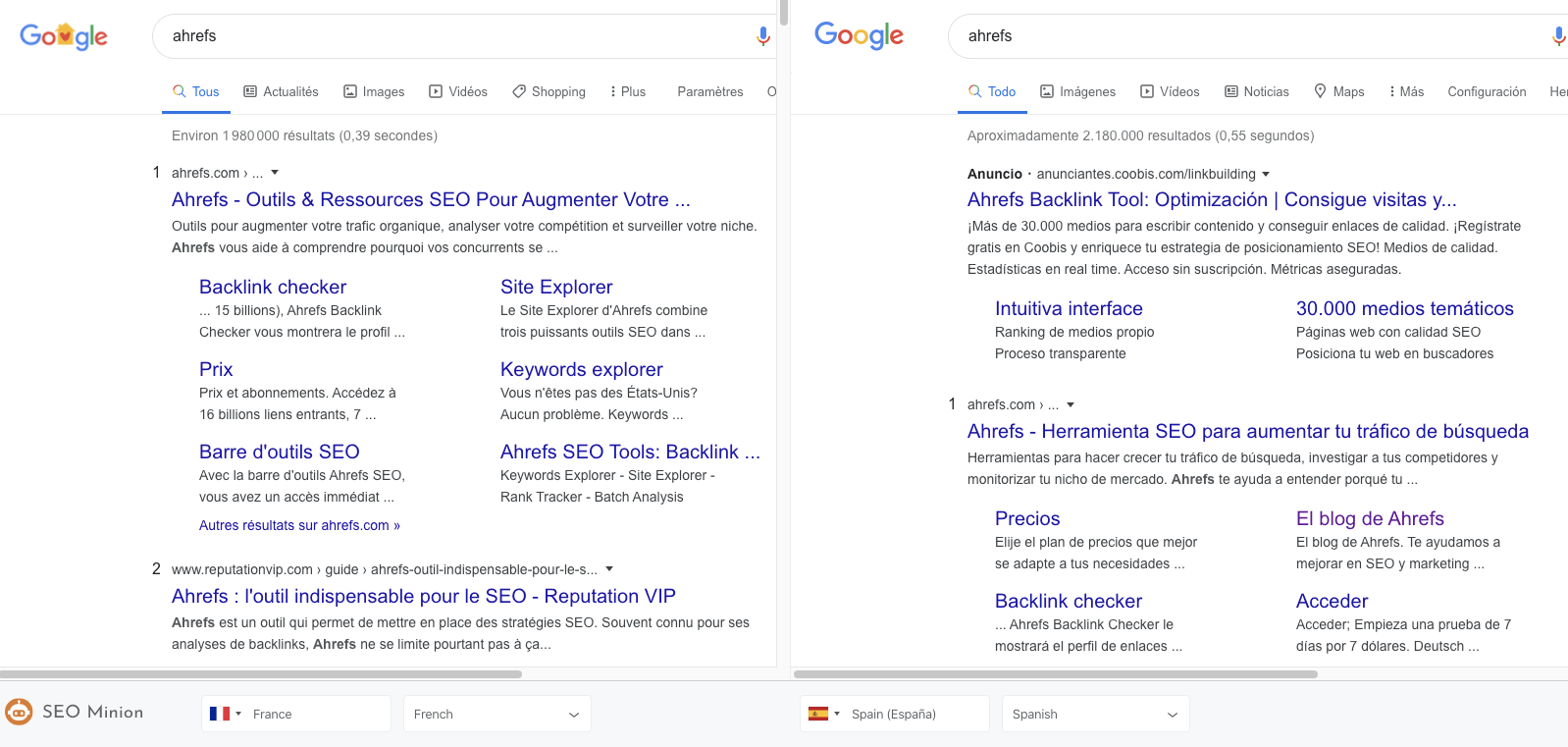 Use these extensions for other random SEO tasks that don't fall into the categories above.
Audit and debug issues with website analytics and marketing tags (e.g., Google Analytics, Tag Manager, etc.) on your website. It also checks variables and on-click events.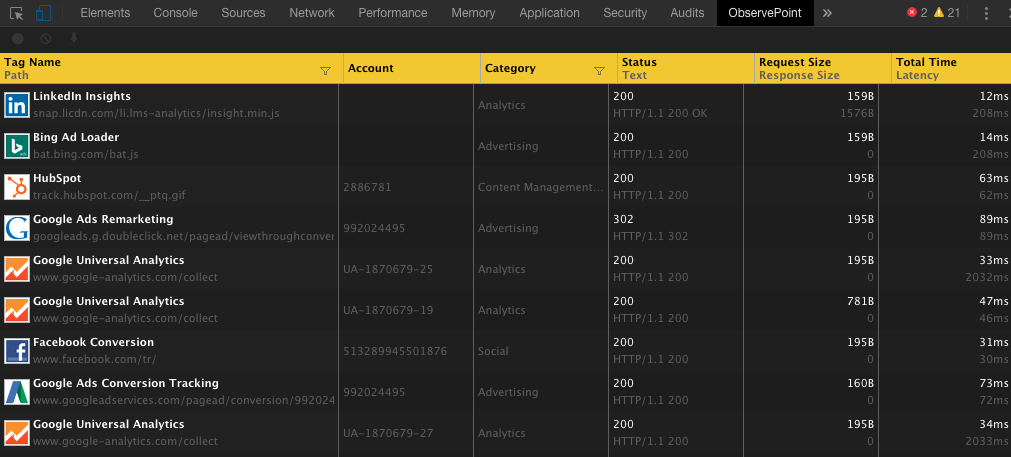 Other similar extensions: Event Tracking Tracker, Tag Assistant (by Google)
Creates infinite scrolling Google search results. Just scroll to the bottom of the page, and the next page of results is automatically added. Combine this with Chris Ainsworth SERPs extraction bookmarklet to easily scrape search results in bulk.
Scrape data from any web page using XPath or jQuery. Integrate with Google Sheets for one-click export to a spreadsheet. Or you can copy to clipboard and paste into Excel.
Other similar extensions: Data Scraper — Easy Web Scraping, XPather
Final thoughts
There are quite a few Chrome extensions that bring the features of online SEO tools and services right into your browser. I hope that this post helped you to find an extension or two that will have a significant impact on your productivity and will save you lots of time.
Just keep in mind that using too many browser extensions may slow down your computer. So, choose them wisely.
If you use a lot of extensions, you can always create multiple user profiles for different tasks. Then, you can install different extensions on each profile and switch between them as needed.
You can also use One Click Extensions Manager to keep your extensions neat and orderly.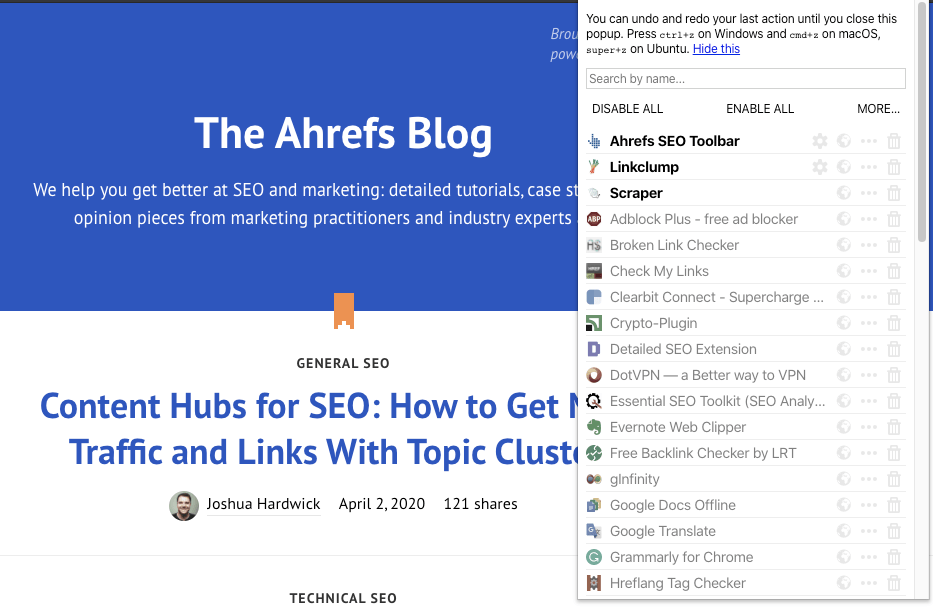 Got questions? Ping me on Twitter.