Looking to get your WordPress SEO off on the right foot, but feel overwhelmed by the number of SEO plugins available? Keep reading.
Run a search for "SEO" in the WordPress plugins directory, and you'll get 49 pages of results.
There are 20 plugins per page, so that's 980 plugins! #overwhelming
Now, I'll level with you: there's no such thing as a definitive list of the best SEO plugins for WordPress. These things are subjective.
For that reason, the ones below are merely those I've had good experiences with over the years, and some that we now use on the Ahrefs blog (which gets ~240k monthly visits from Google).
Let's kick things off with the one you've probably heard of already.
New to SEO? Check out our
https://www.youtube.com/watch?v=cFI_jRVOQZk
Yoast SEO is one of the most popular WordPress SEO plugins, with more than five million active installations to date.
It's also the "main" SEO plugin we use on the Ahrefs Blog.
What can you do with it? Lots of things.
Create an XML sitemap
Verify your site in Webmaster Tools (Google, Bing, Baidu, Yandex, etc.)
Exclude ("noindex") certain types of content from being indexed in search engine results (e.g., categories, tags, media pages)
Create title and meta description templates
Optimize your AMP pages. (You'll need Glue for Yoast and AMP for that.)
But that's all sitewide stuff. What about at the page-level?
Yoast adds a meta SEO box to all posts and pages. Here, you can set custom title tags, meta descriptions, Open Graph Tags, canonicals, and meta robots tags.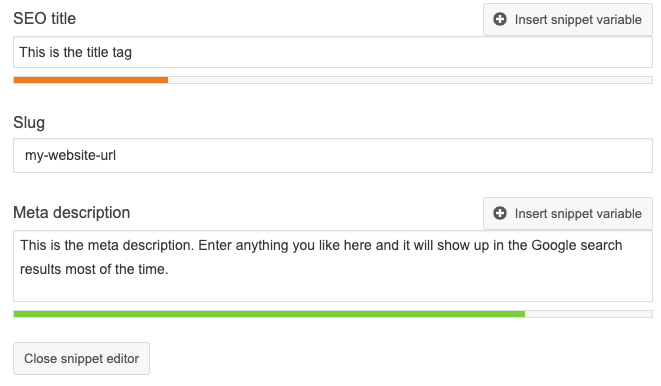 Sidenote.
It adds self-referencing canonicals by default, which is good SEO practice.
There's also a feature that shows how well the page is "optimized" for your target keyword.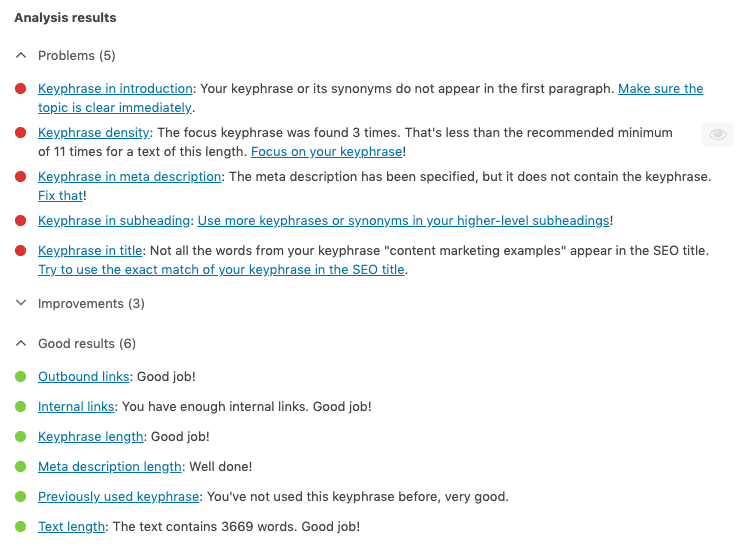 However, we don't recommend paying much attention to this.
The functionality is very basic and looks at things like the placement of exact-match keywords in titles, subheadings, and the content itself. None of these things are major ranking factors, and aiming for a perfect score will often make your content worse.
The Readability analysis is slightly more useful, as this tells you how easy or difficult your content is to read (Flesch Reading Ease score). It also grades your sentence lengths, subheading distribution—that kind of thing.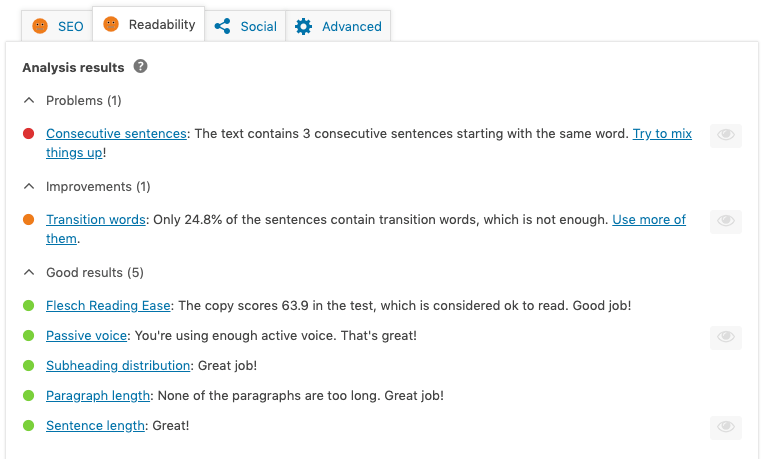 Bottomline? Installing Yoast SEO is a good starting point for most WordPress site owners.
The All in One SEO Pack has a lot of the same functionalities as Yoast SEO. It's just a little more customizable and has a few extra features.
For example, you can use it to:
Edit your robots.txt file via a user-friendly interface*
Edit your .htaccess file without FTP*
Block "bad bots," including referral spam*
Add sitelinks search box markup
Autogenerate meta descriptions
Sidenote.
All features marked with (*) require a free addon.
It also has support for AMP, meaning that it integrates with the official AMP WordPress plugin out of the box.
Rank Math is perhaps the most powerful WordPress SEO plugin on the market.
It pulls off the rare feat of being feature-packed and user-friendly. There's even a setup wizard that guides you through the installation process, and it has the nicest UI of the bunch.
So what does it have that Yoast and the other competitors don't have?
Google Search Console integration
Redirection (301, 302, 307, 410, 451)
Rich snippets markup (14 types).
Card previews for Facebook and Twitter
It also has a 404 error monitor, which looks for visitors hitting 404 (dead) pages and then lets you know the URLs and number of times they've been hit.

You can then eliminate these issues by redirecting or reinstating the dead page or removing internal links to the 404. Rank Math even tells you the referer so you can see where the link was clicked.
If you're looking to migrate to RankMath, you can import your existing settings from Yoast or All in One SEO Pack.
The SEO Framework is yet another strong alternative to Yoast and the All in One SEO Pack.
Functionality-wise, it doesn't have much that the others don't have, although it is more lightweight.
Google recommends breaking long pieces of content into logical sections with associated on-page anchors.
Ensure that long, multi-topic pages on your site are well-structured and broken into distinct logical sections. Second, ensure that each section has an associated anchor with a descriptive name (i.e., not just "Section 2.1"), and that your page includes a "table of contents" which links to the individual anchors.
That's what this plugin does—it adds a table of contents to your posts and pages to make them easier to navigate.
Here's what it looks like in action: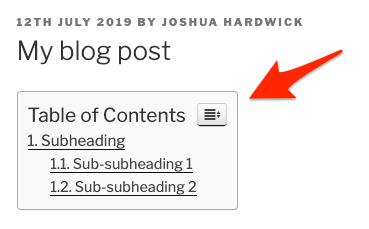 Because a table of contents makes long pages less daunting, it can have a positive knock-on effect on SEO and improve things like time on page, bounce rate, and dwell time.
It can also help you win jump links in the SERP, which may increase your CTR.

As for the plugin itself, it's super customizable.
You can choose precisely where it gets inserted, the types of headers (H2, H3, etc.) to be included in the anchors, and also whether it appears on all pages or just some.
The Broken Link Checker looks for broken links on your website—both internal and external.
If it finds any, it tells you the HTTP status code (e.g., 404, 410), anchor text and source of the link. That makes it easy to find and fix.

Because the plugin runs in the background all the time, it can continuously check for broken links and alert you by email should any pop-up.
But perhaps the best feature is that you can fix links in a couple of clicks, and in bulk.
For example, here's a broken link that the plugin found on my website. If I click "unlink," then the dead link will be removed from the post.

Perhaps even more useful is the fact that it suggests replacement links, and you can swap out the dead link for a working one in one click—without ever having to dig into the post itself.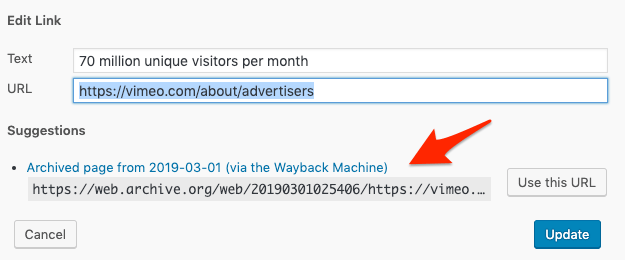 It also tells you about 301 redirects, and there's also an option to fix those in bulk by replacing the redirect link with the final destination URL.

So, what's the downside?
Unfortunately, the plugin can slow down your website and use a lot of bandwidth. It's not something that we would recommend running if you have super cheap or slow hosting. In fact, one user reported losing around 20% of his traffic when running the plugin—presumably because it has a negative effect on site speed for other users.
So your best bet is to run it every now and again and then deactivate in between.
do you want to find broken links on your site without so much strain on your web server?
Crawl your website with a third-party tool like Ahrefs Site Audit.
This looks for broken links on your website, plus over 100 other technical and on-site issues.
Shortpixel compresses and optimizes the images on your website.
Because images are usually the slowest files to load when someone visits your site, image optimization can have a noticeably positive effect on page speed—which is a ranking factor as of 2010.
It's super easy to use. Just install, choose your settings, and then it will automatically optimize and serve any images you upload in the future.
Compression options available are lossy, glossy, and lossless, and it supports Retina 2x images.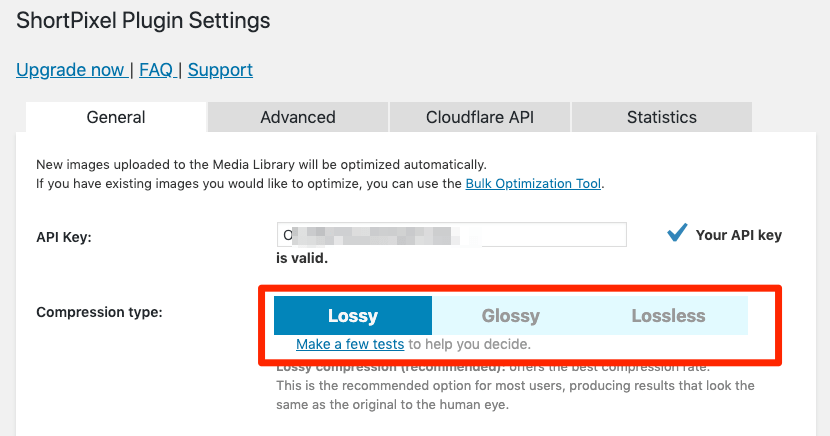 It works with JPG, PNG, GIF, PDF documents. There's an option to convert to WebP, although that seems a bit hit and miss currently.
For existing images, there's a bulk image optimizer. Run that, and it'll optimize all images already on your site in line with your settings.

Shortpixel gives you 100 free credits per month.
EWWW Image Optimizer is your best bet if you're looking for a completely free alternative.
A3 Lazy Load is a simple plugin for enabling lazy-loading of images.
Enable this, and images outside the viewport (visible area on the screen) won't get loaded until they become visible upon scrolling. This improves page speed, which, to reiterate, is a ranking factor.
For the most part, it works out of the box. Just install and activate.
If you want to exclude certain pages from lazy-loading images, that's possible in the settings.
You can also exclude certain types of images from lazy-loading.
For example, images in Gravatars.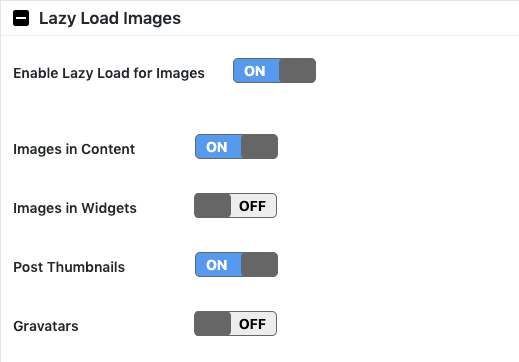 Hreflang is an HTML attribute used to specify the language and geographical targeting of a webpage. If you have multiple versions of the same page in different languages, you can use the hreflang tag to tell search engines like Google about these variations. This helps them to serve the right version to their users.
Hreflang Tags Lite is super easy to use. Install it, then use the dropdown to add translated URLs to any page or post.

As you can see, you can also use it to set x-default tags.
Of course, this isn't the most efficient way to add hreflang tags if you have a large site. But it works fine for smaller sites with a small amount of translated content.
That's why we use it on the Ahrefs Blog.
For example, here are the settings on our full guide to WordPress SEO, which we've also translated to German and Spanish:

Sidenote.
For some reason, this plugin has some low reviews. But we use it on the Ahrefs blog, and it works just fine.
Looking for something a little more robust for larger sites? Try Polylang.
Redirection is a simple plugin for implementing 301 redirects.
Using it is super simple. Enter the source URL and target URL, then hit "add redirect."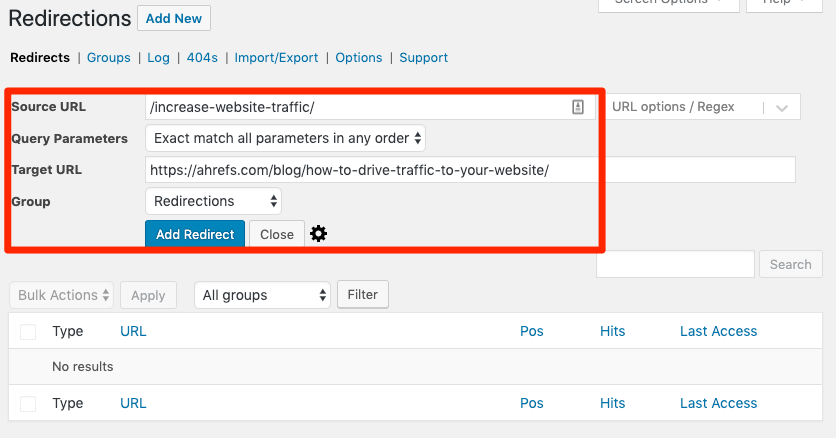 There's also support for other 3XX redirects…

…as well as 4XX status codes:

For more advanced users, there's the option to use regex matching for redirects, ignore trailing slashes, ignore URL parameters, and so forth.
Best of all, it's 100% free. There's no premium version.
Caching is critical if you want your website to load as fast as possible.
What is caching? Here's the best explanation I've found:
Normally, each time a browser requests a web page, the server has to do a bunch of complex (and time-consuming) calculations. It retrieves the latest posts, generates the header and footer, finds your site's sidebar widgets, and so on. However, in many cases, the result of all these calculations will be exactly the same. Wouldn't it be great, then, if we could simply make the server remember the final result, instead of processing each request separately? This's exactly what caching does!
What WP Super Cache does, then, is create static HTML versions of all the dynamic content on your website. It then serves those pages to visitors instead of the slower-loading dynamic versions.
The end result is the same, but web pages are served faster. It's a win-win.
For most users, enabling the basic caching functionality is enough.
It's that simple.
For more technical users, there are some advanced settings to play around with (e.g., disabling caching for visitors who have a cookie set.)
An important thing to note when using a caching plugin like this is that you should clear the cache whenever you make a change on your site. Otherwise, it won't show up for visitors right away.
Autoptimize minifies, compresses, and caches scripts and styles (i.e., CSS, Javascript, HTML, etc.).
Long story short, it helps speed up your website.
It also integrates with Shortpixel to optimize and convert images to WebP format, which are then cached and served from Shortpixel's global CDN to make things even faster. (This is entirely optional. Just select the checkbox in the settings to enable).
There's also lazy-loading functionality built-in, and an option to optimize how Google Fonts are loaded.

HTTPS is a ranking factor, so it's crucial that you have SSL in 2019.
LetsEncrypt offers SSL certificates for free, and a lot of hosts support this initiative. But installing an SSL certificate isn't all you need to do. You also need to permanently redirect the HTTP version of your site to the HTTPS version.
Really Simple SSL makes this, well… simple. Just install, and check the box in the settings.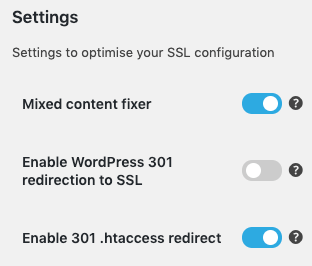 It can also help fix mixed content (i.e., when both secure and unsecure content is loaded over SSL) on your site, which is a common problem when making the switch. Once again, all you have to do is check a box.
IMPORTANT
Really Simple SSL does a good job of solving most issues that arise when moving from HTTP to HTTPs.
But it isn't always perfect.
For that reason, it's worth using a tool like Ahrefs Site Audit to check your site for any remaining SSL-related issues, even after installing and configuring this plugin.
https://www.youtube.com/watch?v=LjinWqfGyVE
Doing this will uncover issues like:
HTTPS to HTTP redirects
HTTP to HTTPS canonicals
Internal links to HTTP pages
Anti-spam filters spam comments without requiring a captcha.
Spam comments don't usually cause big SEO issues as long as the links in your comments section are nofollowed. But Google states that comment spam is still harmful in several ways and that they might remove or demote pages overrun with user-generated spam to protect the quality of their search results.
That means spammy comments can still negatively affect your SEO even if they're nofollowed.
Luckily, the Anti-spam plugin makes avoiding spammy comments easy.
Just install it, and you're off.
It's easy enough to "nofollow" links in WordPress if you know HTML. Just add a rel="nofollow" tag in the code/text editor.
But not everyone uses the code editor. Many prefer the visual editor.
This plugin solves the problem by adding a "nofollow" checkbox to the WordPress UI.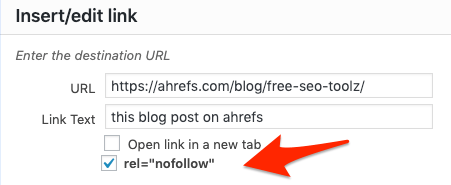 Check this to make any link nofollow.
Best SEO tips for WordPress
If ranking high in Google were as easy as installing a few SEO plugins, then everyone with a WordPress website would be swimming in traffic.
Unfortunately, that's not the reality.
We recently studied 3.2 million WordPress sites and found that the majority get no organic traffic.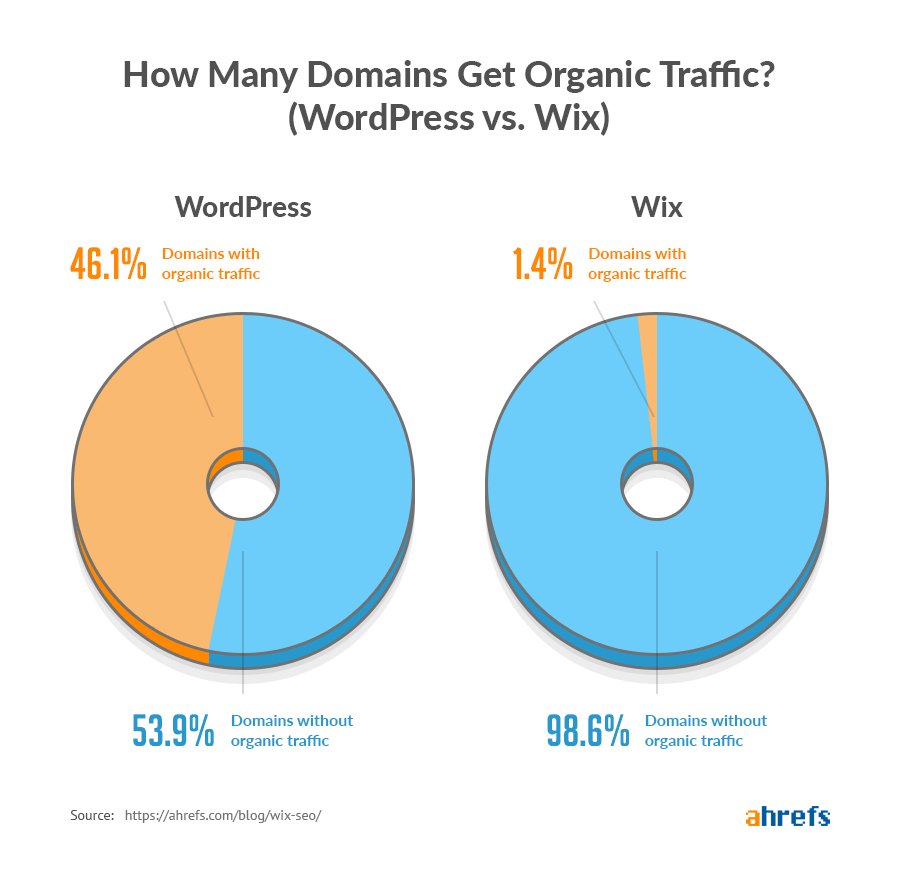 Don't want to be part of that statistic?
Follow these three simple SEO tips:
1. Do keyword research, always
Writing blog posts takes time—a lot of time.
Each post we publish on the Ahrefs Blog takes us between 15-20 hours to write.
How do we make sure that time isn't wasted? By writing only about topics that we know people are searching for.
How do we do that? By doing keyword research.
https://www.youtube.com/watch?v=x5IJ0APR0EQ
There's no one size fits all approach to doing that, but a good starting point is to type a handful of relevant words and phrases into a keyword research tool like Ahrefs Keywords Explorer.
For example, if you had a fitness blog, you might enter words and phrases like:
build muscle
lose weight
weight loss
From there, head to the "Questions" report to see the questions people are asking, along with their monthly search volumes.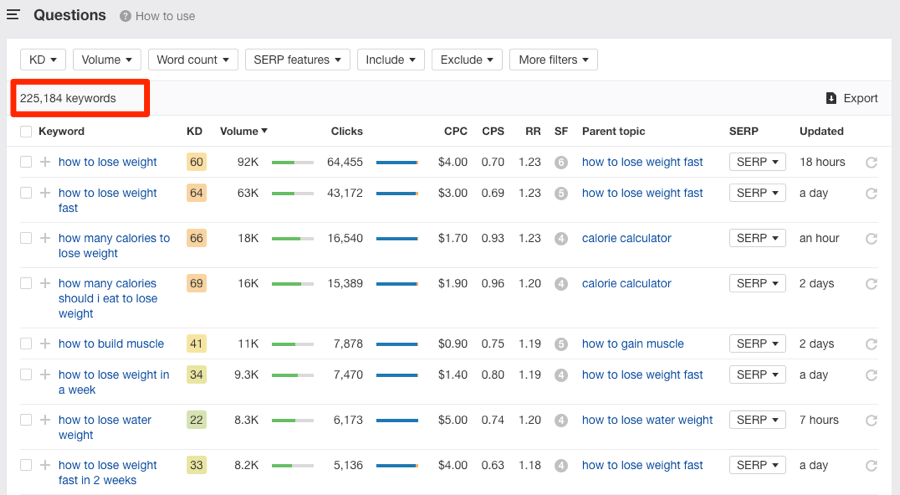 If your site is new and doesn't have much "authority" yet, use the Keyword Difficulty (KD) filter to find some low-competition topics that should be easier to rank for.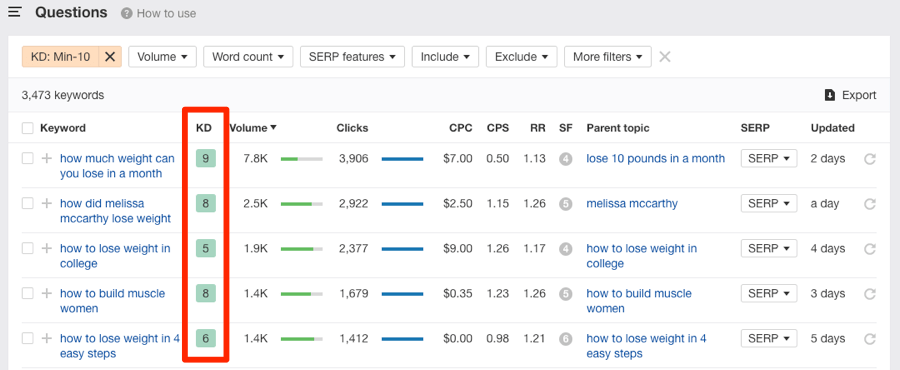 Found a topic that you want to write about? Follow our on-page SEO guide to give you the best chance of ranking.
2. Don't sleep on link building
Links are an important ranking factor.
How do we know? Because Google is based on something called PageRank, which is effectively a way to use backlinks to rank pages on the web.
Furthermore, we studied almost one billion web pages and found a clear correlation between links from unique websites (referring domains) and organic traffic.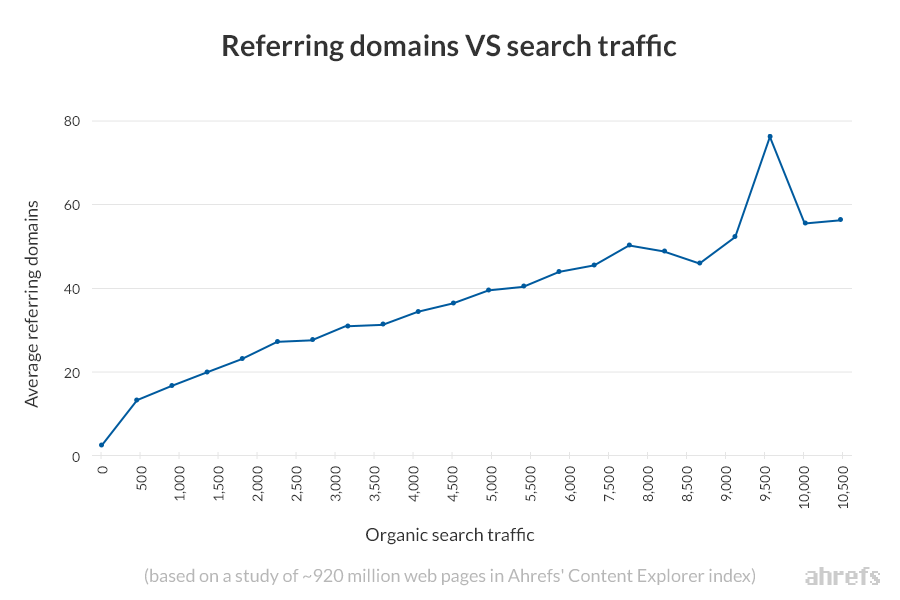 But how do you get more high-quality backlinks to your WordPress website?
Start with this video:
https://www.youtube.com/watch?v=C5ddo63kHHI
Or read some of the blog posts below.
3. Use internal links to your advantage
Internal links are links from one page on the same domain to another.
Google uses them to discover new content, and they also aid the flow of PageRank around your site. That's important because, as mentioned above, PageRank is the foundation of Google search.
That's probably why Google says this:
The number of internal links pointing to a page is a signal to search engines about the relative importance of that page.
Unfortunately, Google discontinued public PageRank scores in 2016, so there's no way to see the PageRank of the pages on your site.
But there are similar metrics around, such as Ahrefs' URL Rating (UR)—a metric that shows the backlink "authority" of a web page on a hundred-point scale.
To see a web page's URL Rating, paste the URL into Ahrefs Site Explorer.

According to our study of ~14 million web pages, there's a clear correlation between a page's URL Rating (UR) and organic search traffic.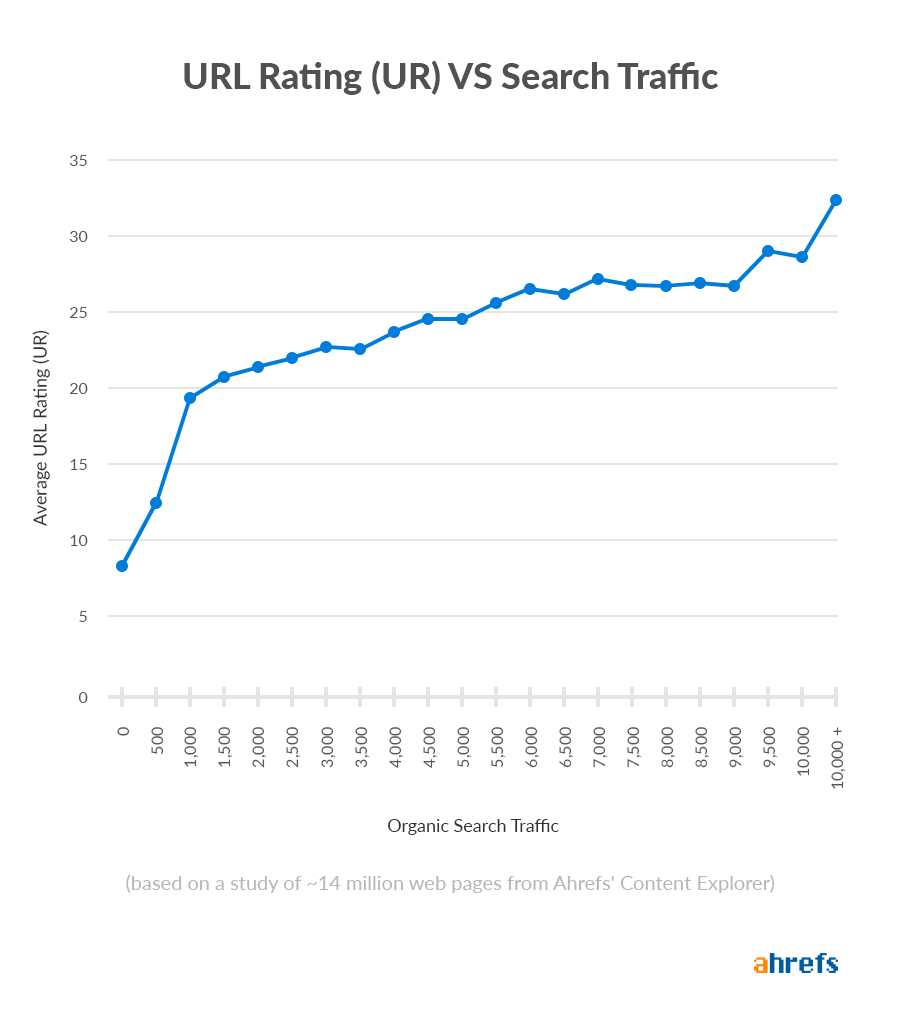 There are two ways to increase the UR of a page:
Build backlinks to it
Internally link to it from authoritative pages
Learn the best way to do that in our guide to internal linking for SEO.
Final thoughts
WordPress SEO is no different from any other kind of SEO.
For that reason, plugins will only get you so far. Sure, they make managing some technical and on-page aspects of your SEO easier, but that's not the be-all and end-all of SEO.
New to WordPress SEO? Start here.
Got an SEO plugin to recommend that we missed? Let me know in the comments or on Twitter.