Content marketing has become the name of the game in the world of online marketing, and the numbers back it up:
Content marketing is a diverse, complex channel that works beautifully for both massive corporations and bootstrapped startups alike. And while it works for everyone, it also works differently for everyone.
As we'll see today, brilliant content marketing strategies are as diverse as they are successful. What works for any given business is a direct result of that business' target audience, that audience's needs, and the way that audience engages with the web.
We'll look at a number of successful campaigns from 2015, analyze why they worked, and discuss how you can apply their insights to your own business.
1. Bernie Is Selling Steak & People Are Buying
Whether you love Bernie Sanders or hate his guts, you have to admire the job his marketing team has done.
In addition to voter support, which ultimately has yet to be measured, the key metric for running a political campaign is fundraising, and with an astounding $73 million raised in 2015, it's safe to say that Bernie's campaign has been knocking it out of the park.
What makes this such an intriguing case study is that Bernie has opted to do something via his campaign that no presidential candidate has ever done before: educate and inform on key policy points via an extensive, coordinated content marketing campaign.
He's everywhere:
Youtube
Twitter
Facebook
Instagram
Website
Email
And he's doing something else few politicians dare to try. He's selling the steak.
The classic sales line says to "sell the sizzle, not the steak." This means that instead of focusing on "the meat" of what you're offering, you focus on the flashiest elements or the most glamorous benefits.
In politics, the "sizzle" tends to look like catchy one‐liners that are ultimately meaningless, out‐of‐context statistics that sound good, and targeted attacks on your opponents. None of these things have anything to do with whether or not a candidate will be successful in office, but since the masses tend to respond to sizzle, politicians focus on the sizzle.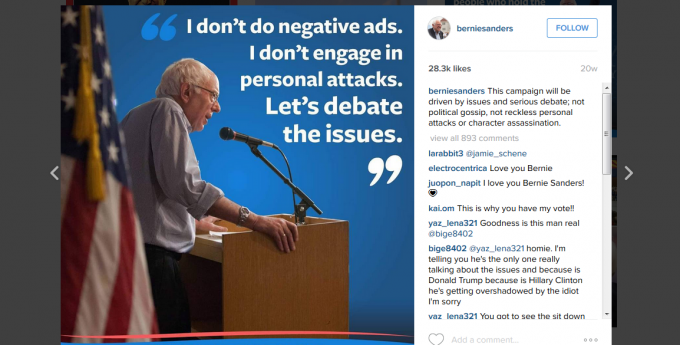 But in true content marketing form, Bernie's campaign has skipped the sizzle and focused on the actual policy issues at hand. It starts with his website, where he has been collecting emails since the beginning.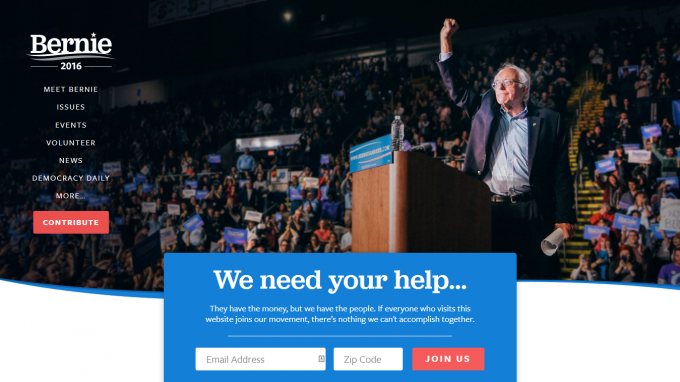 Bernie has an extensive "Issues" section on his website, which was advertised throughout 2015. This section breaks down his policies into 22 points, with a full page breakdown for every point, including key statistics, easy‐to‐understand graphics, and a reasonably comprehensive synopsis of Bernie's stance on the issue.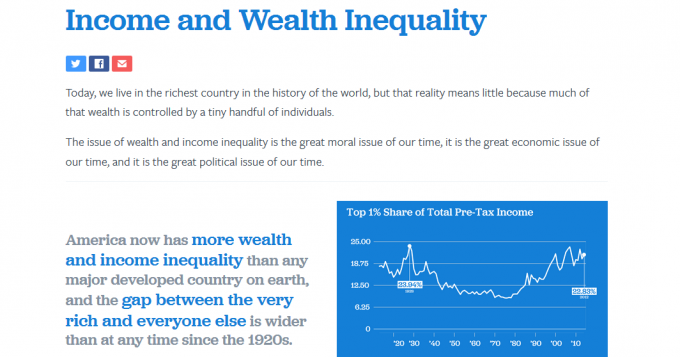 These pages are complemented by a video campaign, including several animated graphic explainer videos where Bernie breaks down commonly misunderstood issues and gives his take.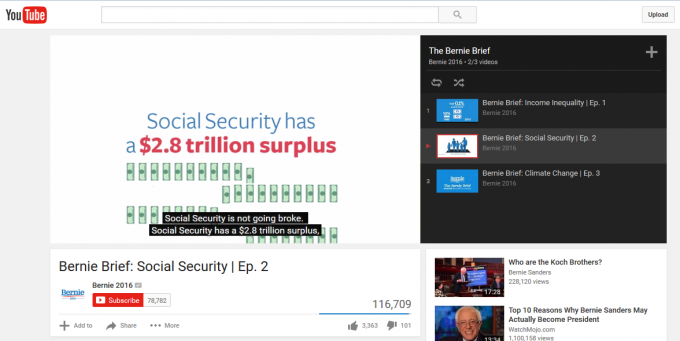 All of this content is continuously distributed via the campaign Twitter account and a highly targeted email marketing campaign with a rigorous A/B testing system.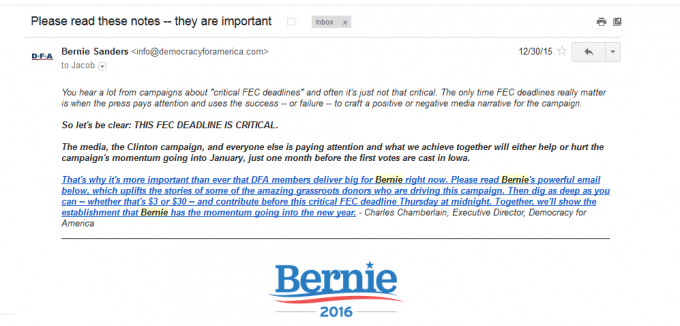 It's truly impressive how many angles Bernie's team is firing from, and it's no surprise they have been so successful in their fundraising.
Why It Works
The crux of Bernie's success is that he is delivering desirable content in ways his audience is used to engaging with.
His primary target is the millennial generation, and since this demographic is used to learning via blog posts, Youtube videos and Twitter links, those are exactly the types of media he is using to distribute his message.
Furthermore, he is using a time‐proven content strategy of using education and exposition to build trust with his audience. Instead of simply asking for money, he is providing value to people who are interested in better understanding key policy issues.
How To Apply It To Your Business
The single biggest takeaway you should get from Bernie's campaign is that content marketing works great when your content meets the expectations of your audience. So you just need to find what content they're consuming and enjoying, and emulate it on your website.
You can easily find the most popular content on any given topic with Ahrefs Content Explorer. Use it with any relevant keyword or key phrase and discover the most shared and the most 'linked‐to' content around any topic.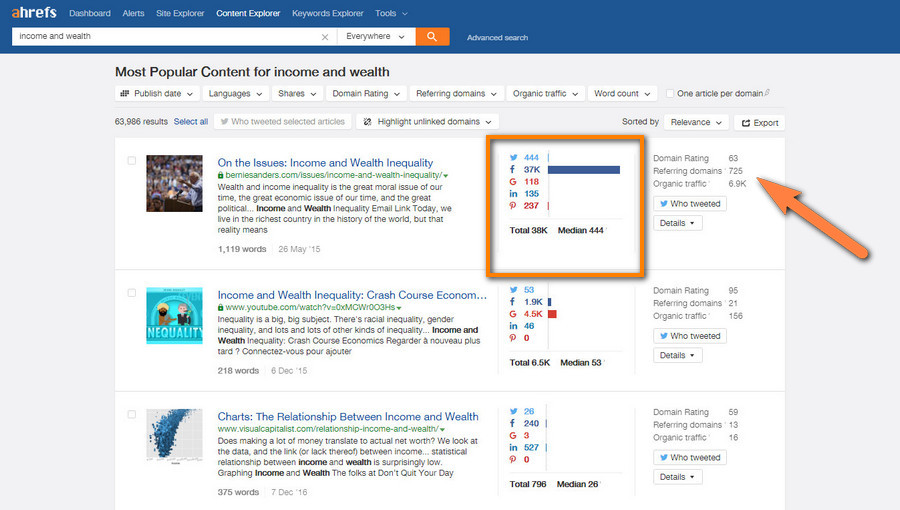 Obviously, people won't share or link to content they don't find worthy. With Content Explorer you can find tons of ideas for you new content and don't hesitate over your choice.
Another tactic is to find a good website, that covers the topics you're aiming at, and spy on it a bit to discover its top content.
Simply analyse such website in Site Explorer and go to 'Top Content', 'Best By Shares' or 'Best By Links' section to discover the top performing content.

As an additional takeaway, remember that people always want to learn. Regardless of your product or service, if you can incorporate learning into your content campaign, you will see improved results every single time.
2. GetResponse Skips Straight To The Influencers
For our second example, we'll look at email service provider GetResponse. To begin with, GetResponse does a lot of the basics right.
Marketing blog with a new post every day.
Well‐promoted free trial for new signups.
A variety of lead magnet email courses.
Like I said… the basics. But what is most impressive about GetResponse's content marketing is the way they've managed to leverage the influencers who use their service.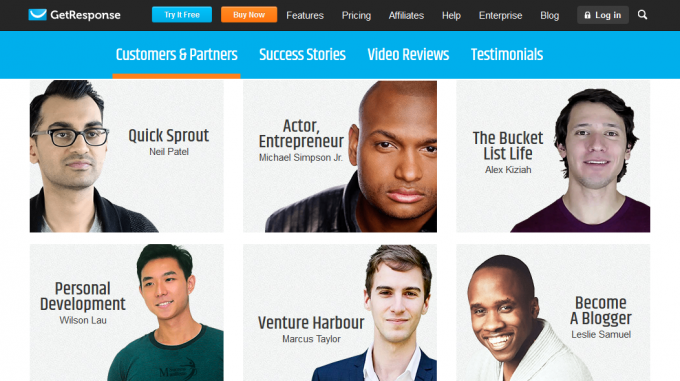 Influencer marketing is one of the best ways to "growth hack" a business quickly to the next level of traction or profitability. By leveraging people with existing, relevant audiences, you can quickly place your brand in front of potential leads and ramp up your customer base.
GetReponse features a full‐length, custom‐designed "case study" page detailing how the service has benefited each of the influencers pictured above. These pages are story‐based, revolving around a narrative from each influencer, highlighting the difficulties before GetResponse, and the benefits since becoming a customer.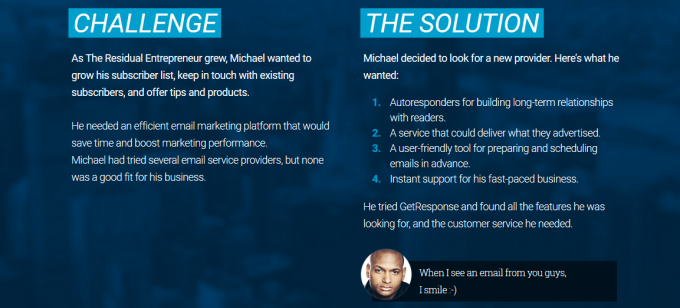 Excerpts from these influencer stories are pasted all over GetResponse's website and content campaigns, from the homepage:


To sidebar and social media advertisements. They even have accompanying Youtube videos with these influencers explaining how they have utilized GetResponse to boost revenue.
By focusing on influencer content marketing, they've been able to spike their social followings into 6 figure counts and become one of the biggest email service providers in the world.
Why It Works
Having a high profile client isn't a guarantee of success. They key is relevance. Is the way an influencer engages with your business directly transferable to your target audience.
In GetResponse's case, the influencers highlighted are perfectly matched to the target audience. These individuals run blogs on marketing, blogging, small businesses, and other pursuits that require an email service provider to effectively perform.
The pitch is simple. You follow this influencer. This influencer successfully users our service to accomplish what you also seek to accomplish. Therefore, you should also use our service.
How To Apply It To Your Business
Nearly all businesses have the potential to take advantage of influencer‐based content marketing. The key is identifying a number of potential fits, and then going after those connections.
Although Ahrefs is mostly known as an SEO toolset, it can help you here as well.
Have you noticed a fancy "Who tweeted" button in Content Explorer next to every search result? As you click it, you will see a list of Twitter accounts who tweeted this very piece of popular content, automatically sorted by the number of followers.
Here's a quick example: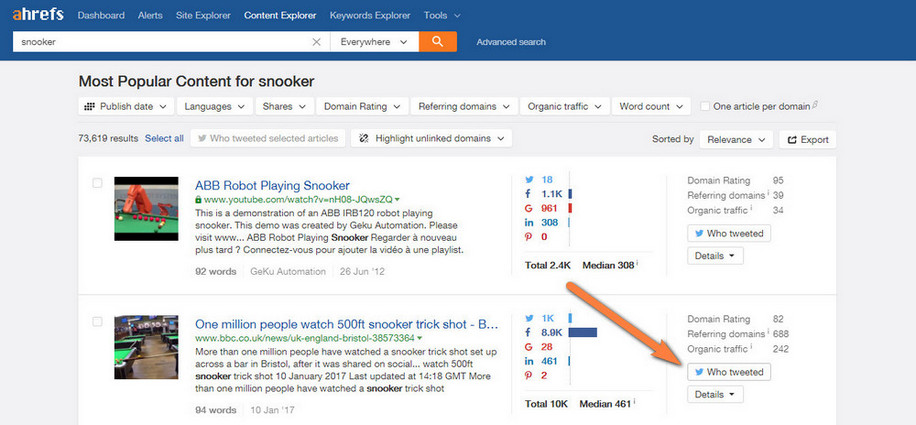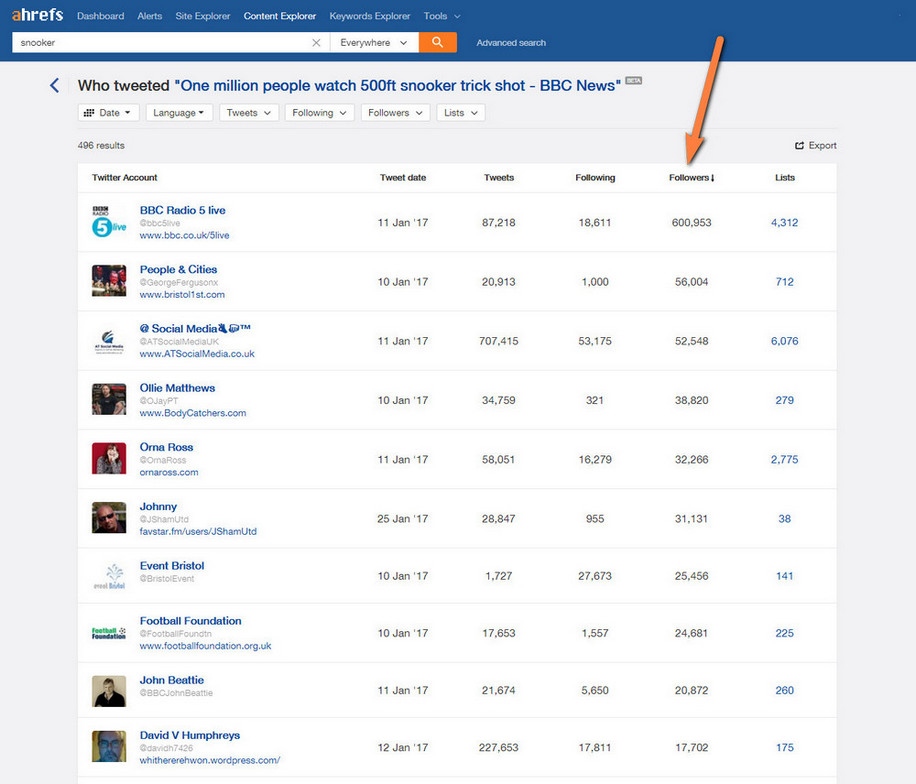 If you've got a piece of similar (preferably better) content, you can reach out with it to these people. Chances are high they're going to enjoy it and share it with their huge audience.
"Who tweeted" feature is still at Beta stage at Ahrefs and we're working hard to improve it.
In addition you can analyse the backlink profile of a piece of popular content and discover influencers' websites, that link to it. Just sort the list of backlinks in Site Explorer by Domain Rating. Influencers tend to have stronger websites, right?
To keep track of new mentions and backlinks you can use our Alerts tool.
Here's a good plan to apply influencer marketing strategy:
Identify 5–10 relevant influencers in your market.
Feature an influencer in your content and promote to your audience.
Contact the influencer, let them know they've been highlighted, and offer free access to your product/service.
Repeat for each influencer.
If you have a compelling product or service that solves a real problem (which will be necessary in order to get influencer attention), you will hear back from one or two out of every 10 influencers you contact.
Once they are happy with your product/service, it's simply a matter of making their relationship with you profitable for them. This could look like an affiliate arrangement or free lifetime access in exchange for a video testimonial or the type of stuff we see with GetResponse.
3. HubSpot Publishes More Content Than Everyone Else Combined
As I mentioned before, the beauty of content marketing is that it can work for small businesses using lower‐cost strategies and it can also work really well for bigger companies looking to spend a lot of money.
In this example, we'll be looking at how HubSpot dominates the content marketing game by throwing a TON of time and money at it.
For starters, HubSpot doesn't have "a" blog; it has multiple blogs. Seven to be exact.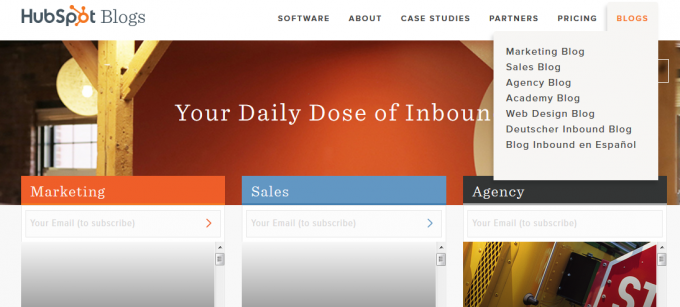 That's a lot of blogs. But we're just getting started. When I checked the marketing blog for the last 3 days, there were 5, 4, and 6 posts.
7 blogs posting around 5 articles per day. That's 35 total articles published per day!
Who does that!? HubSpot… that's who. And their social media accounts are working overtime too. Here's a rough estimate of what I found when I looked across their various channels.
35 blog posts per day
25 tweets/retweets per day
3 Facebook posts per day
1 email sent out every day
10 Instagram posts per week
22 Youtube videos per month
2,400 total Pinterest pins
And this flood of content has resulted in a massive audience.
300k email subscribers (after deleting 250k inactives)
928k Facebook fans
654k Twitter followers
28k Pinterest followers
20,000 Youtube subscribers
Surprise, surprise… TONS of content makes a difference. If you're posting thousands of articles per year, you are going to get some traction.
But what separates HubSpot isn't just the amount of content they generate — it's how they funnel the users that content attracts.
Why It Works
HubSpot proves that "more" can in fact equal "better", but much of their success deals with how they interact with the traffic they receive. In addition to well‐segmented lists, HubSpot offers a wide variety of lead magnets, designed to target users across a variety of key marketing topics.
And by "wide variety" I mean literally hundreds of in‐depth, well‐made, authoritative guides, templates, series, calendars, ebooks, etc.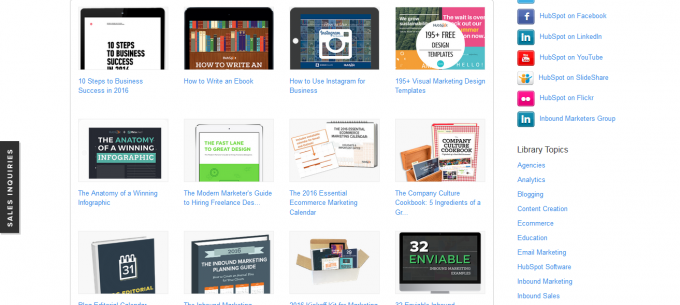 One of these numerous lead magnets is matched to every new blog post, providing a high‐conversion rate for new visitors and existing subscribers alike. Matching quality lead magnets to each blog post is a great way to see increased returns on your content marketing efforts.
How To Apply It To Your Business
The ideal scenario is to create a unique lead magnet for every new post you publish, but there a few hangups to this approach:
You probably don't have the time or resources to create a new email series, ebook, or other in‐depth lead magnet.
Low‐investment lead magnets like checklists don't always convert as well as a less targeted ebook or other in‐depth resource.
The answer here can be taken directly out of HubSpot's playbook. Instead of trying to create a new lead magnet for each post or a single lead magnet for your entire site, break your content marketing into a number of key topics or niches and then create a compelling lead magnet for each of these topics.
For example, I can break down the topics from my personal blog into writing, freelancing, and inbound marketing. Instead of trying to create a single lead magnet for everyone who visits, it would make sense for me to create 3 separate lead magnets for each segment and then pitch the appropriate lead magnet for each new blog post I write.
You may notice that this only makes sense if the services I'm offering appeal to all of those categories, which is just my own subtle way of reminding you to make sure every blog post your write increases your business' ROI.
And the quickest way to create a lead magnet is to turn a piece of your existing good content into an e‐book. Then you can offer it as a bonus to your newly published content.
Analyze your website with Ahrefs Site Explorer (choose "Best by links" or "Top content" sections) to find your top performing content and then use Beacon service to convert it to a fancy‐looking PDF.
4. Backlinko Makes Every Post Count
Using the exact opposite strategy we just looked at with HubSpot, Brian Dean has opted to post just once per month on his SEO blog Backlinko.
Seriously, if you aren't already familiar with Backlinko, the site publishes one article per month and gets over 100k views per month. 1 article. 100k views. That's a fantastic bang for the buck.
At this moment, his latest article has 2,138 shares via Twitter alone and 670 comments. Compare that with an article posted by HubSpot on the same day, which only had 8 comments (HubSpot doesn't display share data). If comments are any indicator, Backlinko is getting more traffic from a single post than HubSpot gets with a 2‐day run of 70 posts.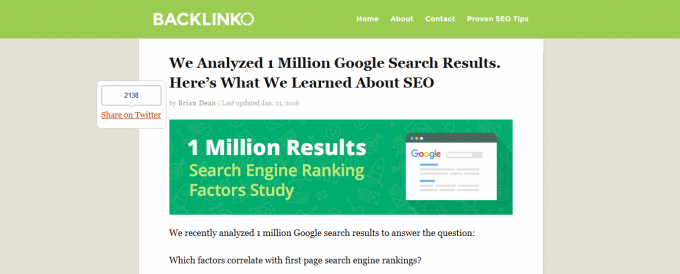 Brian's content is continuously some of the most shared marketing advice on the web, and the Backlinko domain has in excess of 230,000 backlinks — astounding for what started as a 1‐man operation just a few years ago.
You might think some of this success must come from Brian's sure‐to‐be‐massive social accounts and yet his Twitter account has less than 30k followers.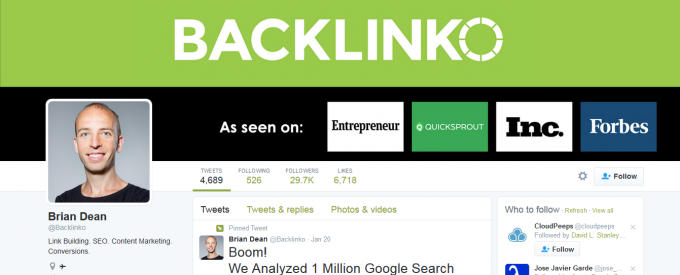 Look at Brian's Pinterest account and you'll see only 198 followers. But look at pins pointing to Backlinko and its an endless wall of content.


How on Earth does Brian do it?
Why It Works
Why is Backlinko able to have so much success with so few blog posts? The answer is three‐fold.
Highly valuable, shareable, & linkable content
Optimized SEO targeting and backlink building
20/80 promo ratio
First, Brian doesn't waste time with forgettable posts. Every post he publishes is the type people want to read and share. He targets influencers specifically with his topic, writing the types of posts they'll want to share with their audience. He also writes the type of in‐depth resources high‐value websites will want to link to.
Second, he targets each post around a high‐value key phrase he believes he can rank for. By incorporating these key phrases into shareable, linkable content, he is accomplishing a number of key content marketing objectives with "the same stone. Brian uses Ahrefs to help him analyze backlinks and identify key backlink opportunities.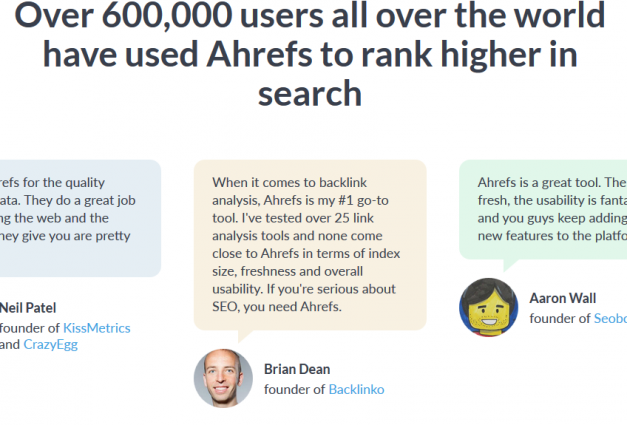 Third, Brian's content rule is that for every post he writes, 80% of the total time investment goes to promotion. In other words, for every 20 minutes he spends writing a post, 80 minutes are spent promoting it. This is why he can only write one article per month and it's also why he only needs to write one article per month.
How To Apply It To Your Business
There is a fantastic chance you are severely under‐promoting your content. But there's also a good chance you aren't creating high quality content in the first place.
When creating content, do each the following things:
Target a key phrase in your SEO strategy
Create highly shareable headlines
Create resources that people will want to link to
The hardest part for most people seems to be that initial step. How do you target the right keyphrase?
Not so long ago Ahrefs has launched a brand new Keywords Explorer v. 2.0. It is meant to help you find the right keywords to target, considering search volumes, traffic potential and keyword difficulty. And numerous filters for keyword suggestions make it extremely easy to discover tons of new keyword opportunities.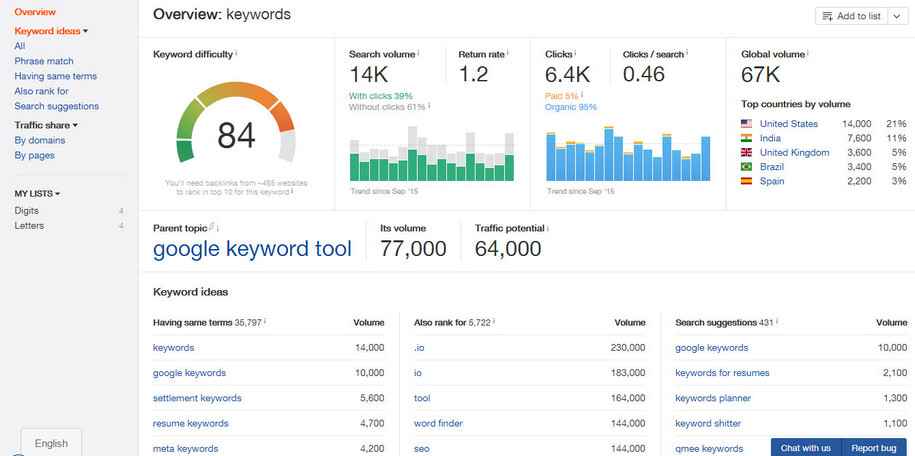 If you don't know where to start your keyword research, your competitors can show you the right direction. Simply analyse a good website in your niche or its top pages in Site Explorer and go to Organic Keywords section to uncover keywords that bring them most traffic.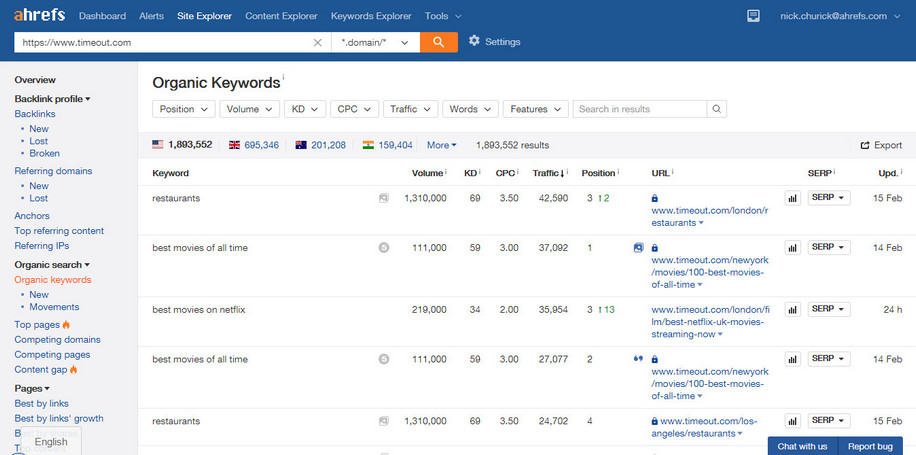 With these keywords discovered you can go to Keywords Explorer to get even more ideas for juicy keywords or implement the strategy of long‐tail keywords.
And just another pro tip:
Use Ahrefs Content Gap tool to reveal the keyword opportunities you're missing. Content gap tool will show you what keywords that one or several of your competitors rank for, but you don't yet.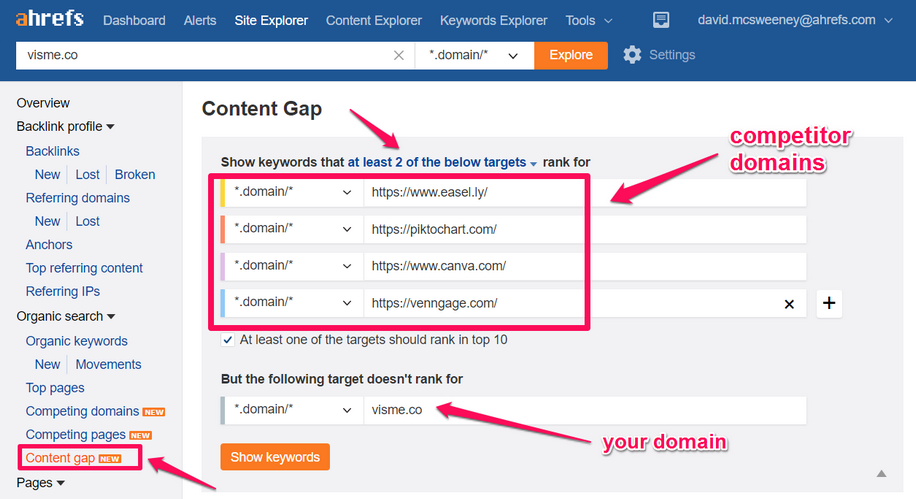 And then again, take these newly discovered keywords to Keywords Explorer for analysis and suggestions.
Once the content is ready, the key is promotion and link building.
And for link building you can use Ahrefs at its full!
Discover backlinks of your competitors with Site Explorer and reach out to authors and webmasters
Track new backlinks and mentions of your competitors and react immediately
Use Link Intersect tool to find out who links to your competitors but does not link to you.
Use broken link building tactic
As for content promotion, the key is to be EVERYWHERE. First, target the social platforms and forums that hold the highest concentration of your target audience. Next, target every other platform you can think of. Finally, research new platforms you've never heard of and promote on those.
On a less time‐consuming note, think of a few influencers who might be interested in your content and mention them in your posts. Then let them know about it.
5. GoPro Captivates & Compels With Stunning Visuals
When I say "content marketing", your mind probably thinks of written content first, but video has become a major player in the way online users consume media.
And when I say "major player" I mean MAJOR PLAYER. In 2015, time spent consuming online video content broke even with time spent on traditional television for consumers age 16–45. Every year, the value of online video content grows, and GoPro has been taking advantage of this trend.
GoPro is already in prime position to take advantage of online video, since its products are video‐creating cameras. But they've distinguished themselves in a crowded market by becoming THE brand for capturing action sport footage.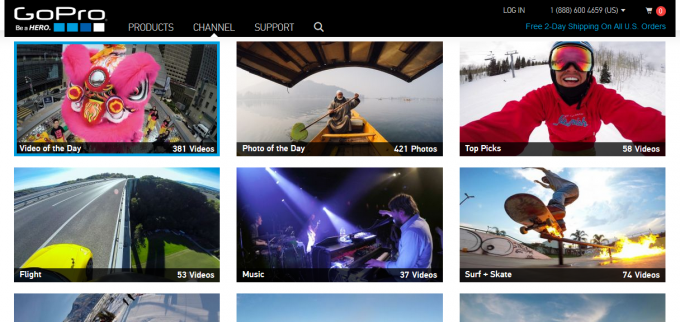 GoPro video footage is everywhere, and the company has partnered with some high‐end producers and action proteges to produce a series of truly stunning videos that highlight the fun, action, and adventure their target audience is looking for.
But more importantly, GoPro is getting tons of free marketing from the customers themselves. By promoting customer uploads and targeting an audience looking to record their exploits, the company sees thousands upon thousands of users upload branded content every month. These uploads are then constantly edited and compiled by other users into "People are Awesome" videos and non‐sponsored "GoPro Compilations" like the one below.
The company has multiple millions of followers across all social media platforms and recorded $1.6 Billion in revenue in 2015, a 16% growth from 2014 despite a weaker 3rd quarter showing than expected. They are doing something very very right.
Why It Works
One of the quickest ways to grow a business is to get your customers working for you, and while a referral system is typically the best way to do that, GoPro has achieved remarkable success by getting it's customers to upload videos of their exploits captured via the company's products.
While much of GoPro's success comes from being first‐to‐market with a durable, portable, mounted camera, by encouraging customers to participate with awards, promotions and a string of viral videos, they've been able to leverage their initial success into continued growth.
GoPro understands WHY its customers are buying their product. It's not about the experience. They don't need a camera for that. It's about sharing that experience with the world.
And thanks to GoPro's campaigns, users know that any epic video they record could be republished by GoPro or catch viral fame all on it's own. Accordingly, they are always sure to mention how they recorded their exploits and will often submit videos directly to the company.
How To Apply It To Your Business
The best takeaway we can derive from GoPro's success is a two‐way content marketing approach. What types of content is your audience producing and how can you incorporate that into your campaigns?
This isn't hard to do, but it does take some creativity. If you are selling anything related to cooking; run recipe awards, video tutorial contests or give away free items to people who post great videos using your product. If you are in the service business, create incentives for customers to give you video testimonials, reviews or product demonstrations.
Some businesses will find it easy to incentivize. Others will need to be more creative.
And again Ahrefs can come in handy.
Use Ahrefs Alerts to track who's mentioning your name or your brand and links to your content and start a dialogue immediately.
You won't even have to open your Ahrefs dashboard. New results will land in your inbox.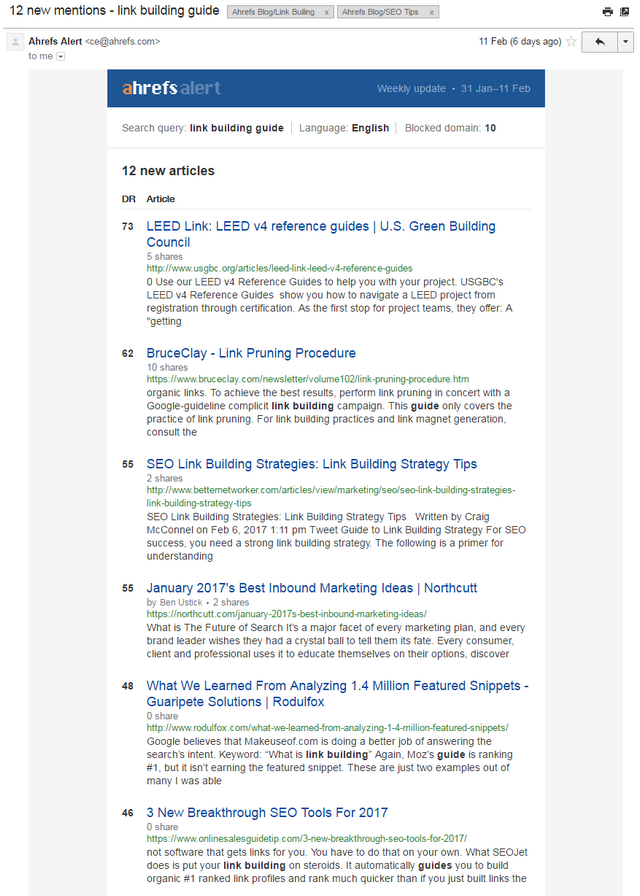 6. Beats By Dre Proves Branding Still Works
Okay, I'm a year behind on this one. Beats by Dre sold to Apple for $3 Billion in 2014, but I want to highlight it because it's a powerful example of what is possible with branding.
In some ways, branding has kind of died. Not strictly, of course, but the idea that you can simply create an image around a company that sells effectively is no longer as prevalent as it was in the television golden era.
Nowadays, customer trust and a compelling value proposition tend to go further with most audiences.
But Beats By Dre proves branding is still relevant. They managed to sell essentially a set of $30 quality headphones for $300 based purely on image.
How?
Selling the trendy, big money, fashion‐first lifestyle: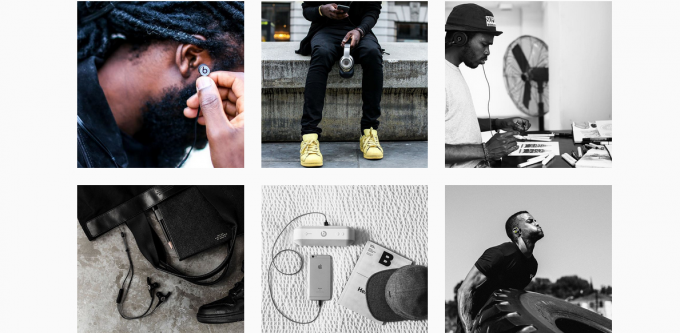 Expensive looking design and packaging:
And lots and lots of celebrities: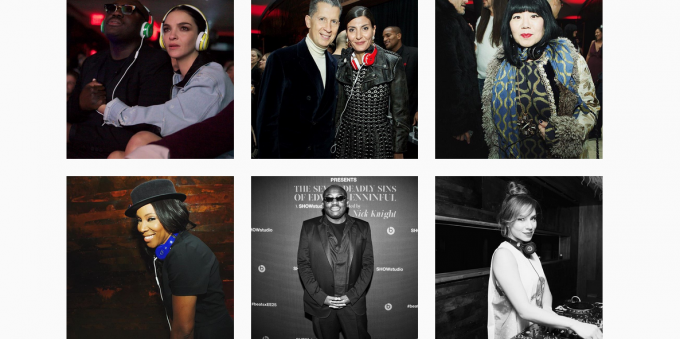 Okay, so if you can pay tons of famous people to advertise your product, you'll succeed right? Well, the interesting thing here is that Beats by Dre didn't pay many celebrities at the beginning stages. They simply gave them away and many wore them on their own.
Why? I'll tell you.
Why It Worked
Beats by Dre identified a massive, untapped market. After the rise of the iPod, they realized there was a HUGE demographic of avid music listeners that weren't particularly interested in nor knowledgeable of sound quality.
While this demographic wasn't particularly interested in the technicalities of their headphones, they were extremely fashion conscious and willing to spend major money for items that increased their look. This segment was already spending $300 on branded shoes, so why not give them $300 headphones to buy as well?
The key was to associate the brand with the image of success and swag, and that's where the celebrities came in. There were no fashion‐focused headphones when Beats by Dre entered the market, so by creating custom sets for various celebrities, they were providing a service to celebrities looking to make a fashion‐statement.
A few sightings later, and the brand was on a roll.
How To Apply It To Your Business
The key takeaway here is that Beats by Dre identified a use for a product that no one was thinking about. Headphone manufacturers weren't thinking about headphones as fashion accessories. These were strictly tools for listening to music.
If you can identify a high‐margin, alternative use for a commodity, you can change the game.
Spend some time thinking about your products and your target audience. Where can you create a new angle? Where can you come at it from a different direction? Where can you highlight a desirable benefit no one usually associates with that product?
Conclusion
Content marketing will only increase in value as time continues. Whoever commands attention has the power to make money.
The best content marketing campaigns are always a mixture of proven methods and innovation. Never settle for simply copying someone else. Get the core pieces set up according to best practices and then innovate.
Identify how you can resonate uniquely with your unique audience and then deliver.