There's only so much time in a day, and you want to be sure you're spending your content efforts wisely.
Here are 11 powerful content marketing ideas you can start today:
Guest posting is when you write a post for another blog.
You've probably heard of this tactic already, as it's far from new. But with so many people doing it these days, it's kind of lost its effectiveness—unless you really make an effort.
That's where 10X guest blogging comes in.
10X guest blogging is where you write a guest post that's at least 10 times better than the current top-ranking post about the topic.
Here's an example of what we'd consider to be a 10X guest post by Ryan Stewart: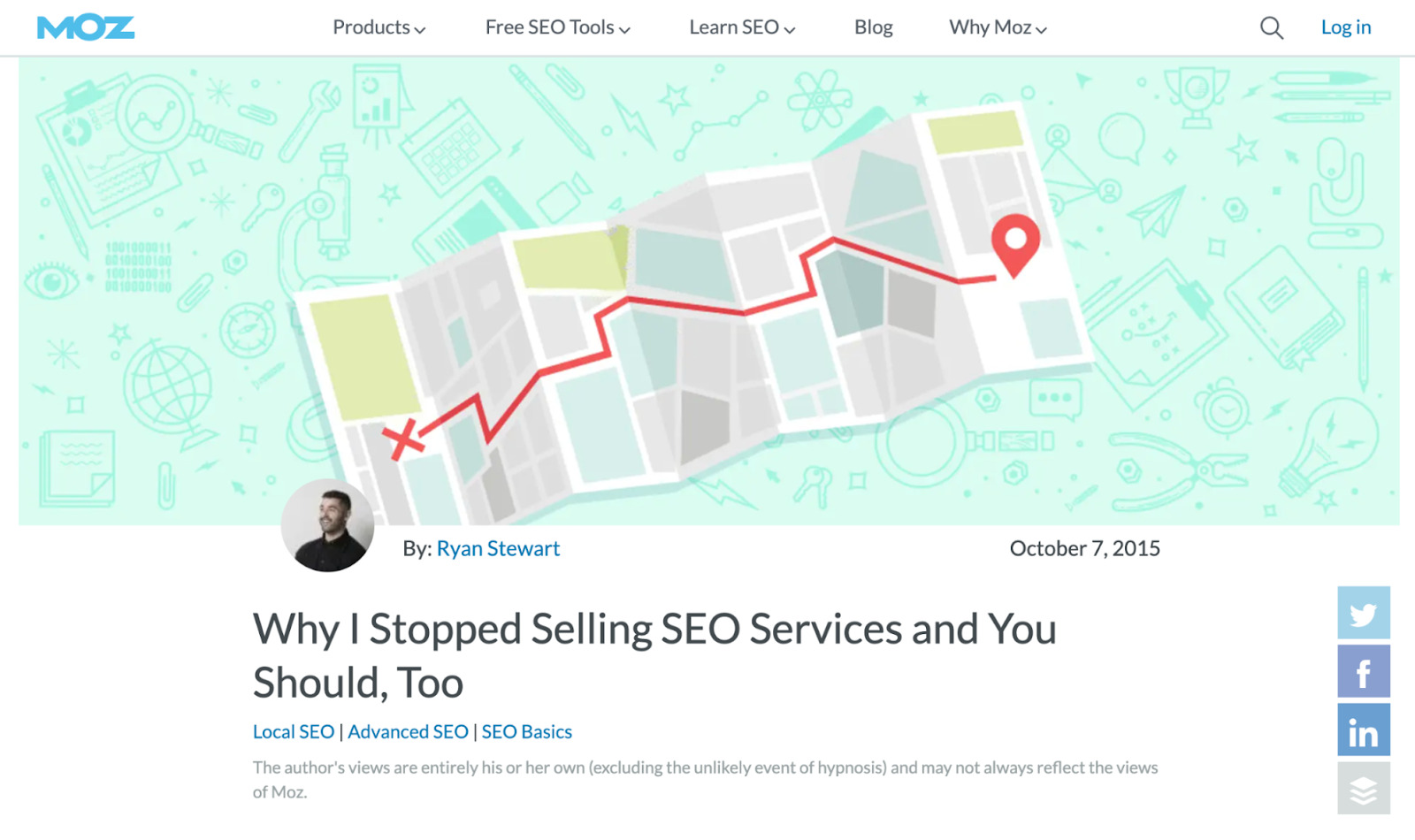 In this post, rather than rehashing general information about selling SEO services like most other posts on the topic, Ryan offers a contrarian viewpoint based on personal experience.
Common benefits of writing a 10X guest post include:
Exposure – People are unlikely to share a post with the same information they've read a thousand times, but they are likely to share something "10X" that offers new ideas.
Links – People rarely link to mediocre content, so your 10X guest post will likely attract more links than a "normal" guest post. That's good for your SEO and the site where it's published.
Rankings – Your guest post may end up ranking for its target keyword and send a constant stream of leads or customers your way.
Ryan's post achieved all of these benefits.
It got tons of shares:

Tons of backlinks:

And until recently, it ranked high on the first page of Google for "SEO services":
If you fancy giving 10X guest blogging a shot, here's a simple way to find sites to write for:
Go to Content Explorer
Enter a similar topic to the one you want to write about
Switch the search mode to In title
Hit search
Filter for results from websites with 10K+ organic visits per month
Check the Websites tab
For example, if you wanted to write a 10X guest post about keyword research, you could search for a similar topic like "link building." The idea is that these websites will probably be interested in a guest post about a similar topic to one they've already covered.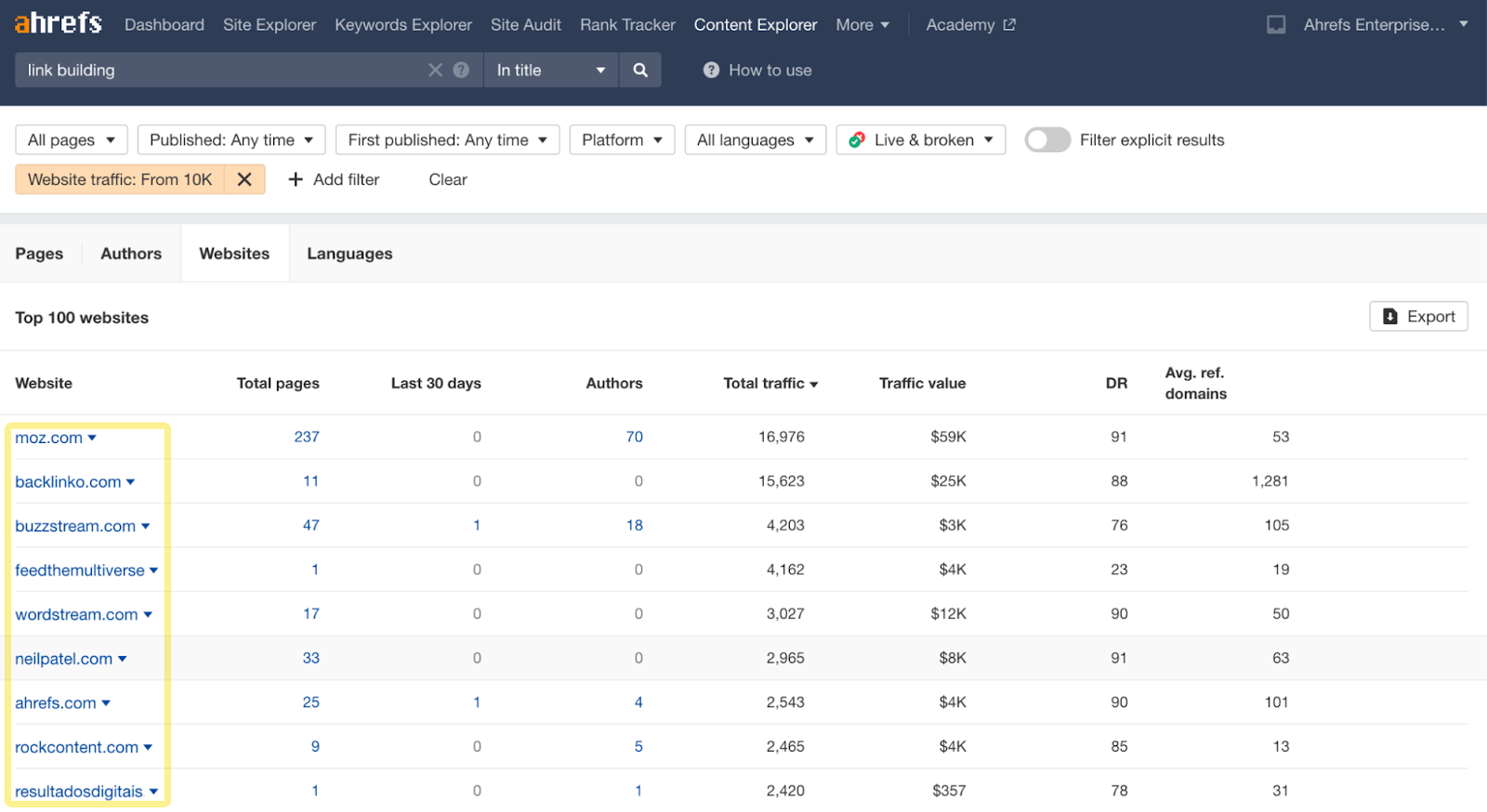 Recommended reading: Guest Blogging for SEO: How to Build High-quality Links at Scale
A tweetstorm is a rapid succession of tweets about a topic that's usually written as a thread.
Here's one from our CMO, Tim Soulo:
Let's talk about the "ROI of Content Marketing."

Far too often us marketers get challenged with this question by our boss (or our client):

- How do I know that my investment in content will guarantee a positive return? …& how can I *MEASURE* it?

[Read more..]— Tim Soulo (@timsoulo) March 23, 2021
Look through popular tweetstorms, and you'll notice they're either key takeaways of existing content or expert insights that create a buzz in the community.
So why should you include tweetstorms in your content marketing?
First, they're insanely easy to create. Draft your thoughts, break them down into chunks, and tweet away.
Secondly, and perhaps more importantly, popular tweetstorms can lead to serious exposure and generate a lot of buzz. This can lead to more followers, customers—all that good stuff.
Here's a simple way to create a tweetstorm that's likely to resonate with your audience:
Go to Content Explorer
Enter site:yourwebsite.com
Sort the results by Twitter shares
You'll now see which of your content already has the most shares on Twitter: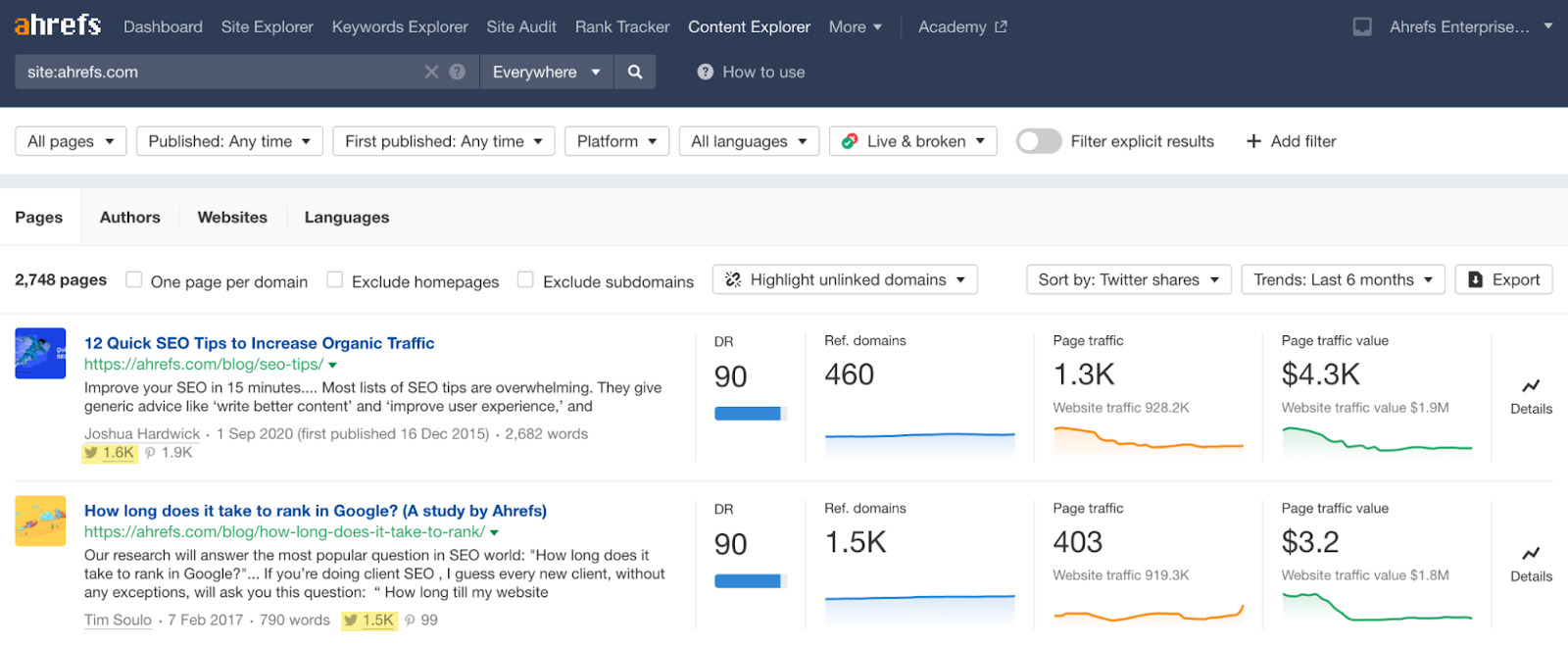 All you need to do is distill the key takeaways from these pieces and repurpose them as a tweetstorm.
Recommended reading: How to Write a Tweetstorm by Animalz
Email newsletters have a reputation for being boring. Blame it on marketers who treat this channel as a megaphone for self-serving content.
When you promote content that no one wants to read, you run the risk of people unsubscribing. And yes, this includes your customers.
Low email open rates can signal churn is around the corner. Coupled with 15.8% of people unsubscribing because of irrelevant content, it's fair to say that we need to go beyond promoting our company achievements when using newsletters to nurture leads and retain customers.
How can you do this?
Segment your email subscribers based on their behavior and background (e.g., what they read, where they come from, etc.). You can do this automatically in most email marketing software.
Here's an email HubSpot sends to its academy students: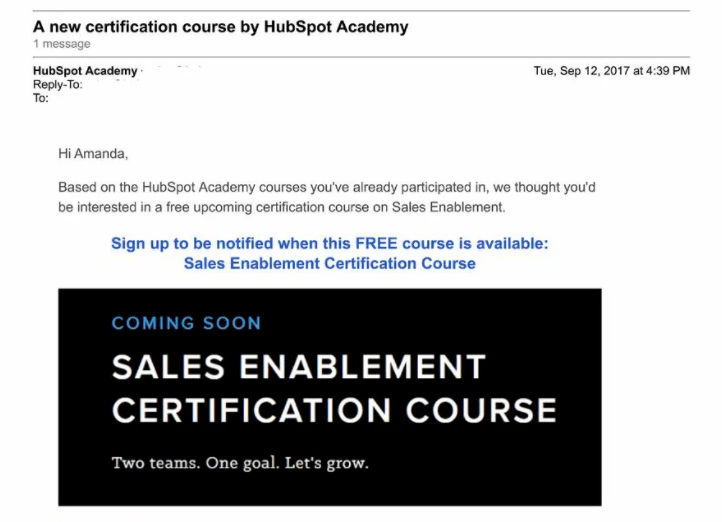 Do you notice how it's personalized to the subscriber's course history?
That's the kind of personalization you want to create in your email newsletters.
If you want to make your content marketing more interactive and potentially improve its cost-effectiveness, try webinars. 80% of marketers say that these online events lower their cost-per-lead.
And while you're at it, invite guests as speakers or co-hosts to boost your webinar distribution.
Wynter, a go-to market research platform, hosts a monthly virtual event series with top professionals in their fields.
Here's a tweet from founder Peep Laja. Note how he tagged his fellow guests to get the word out about their upcoming sessions.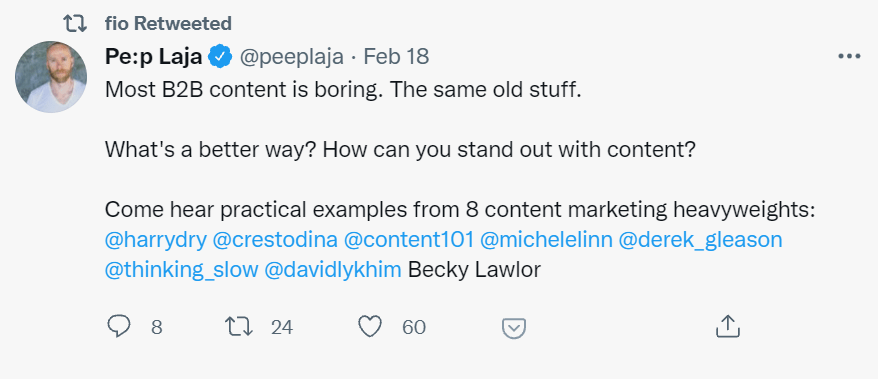 The likes and retweets from his guests and other Twitter users further amplified the reach.
When we read massive how-to guides, we often get stuck on what to do next.
This is where checklists, templates, and tools come in handy. They guide your readers to take the next step and stay on top of their action plan.
There are several pros and cons to gating and un-gating these freebies. Gate them, and you can build your email list and segment your subscribers. Un-gate them, and you potentially boost your engagement and organic SEO results.
How do you know what checklists, templates, and tools to create in the first place?
Look for what people are searching for:
Go to Keywords Explorer
Enter two to three "seed" keywords related to your industry
Hit search
Go to the Matching Terms report
Click the Include filter, add words like "calculator," "tool," and "template," then toggle "Any word"
You'll then see relevant freebies that people are searching for.
For example, if you sell accounting software, you'll likely enter "seed" keywords like "tax" and "dividend." This will reveal keywords like "tax calculator," "irs tax tool," and many others that get thousands of monthly searches: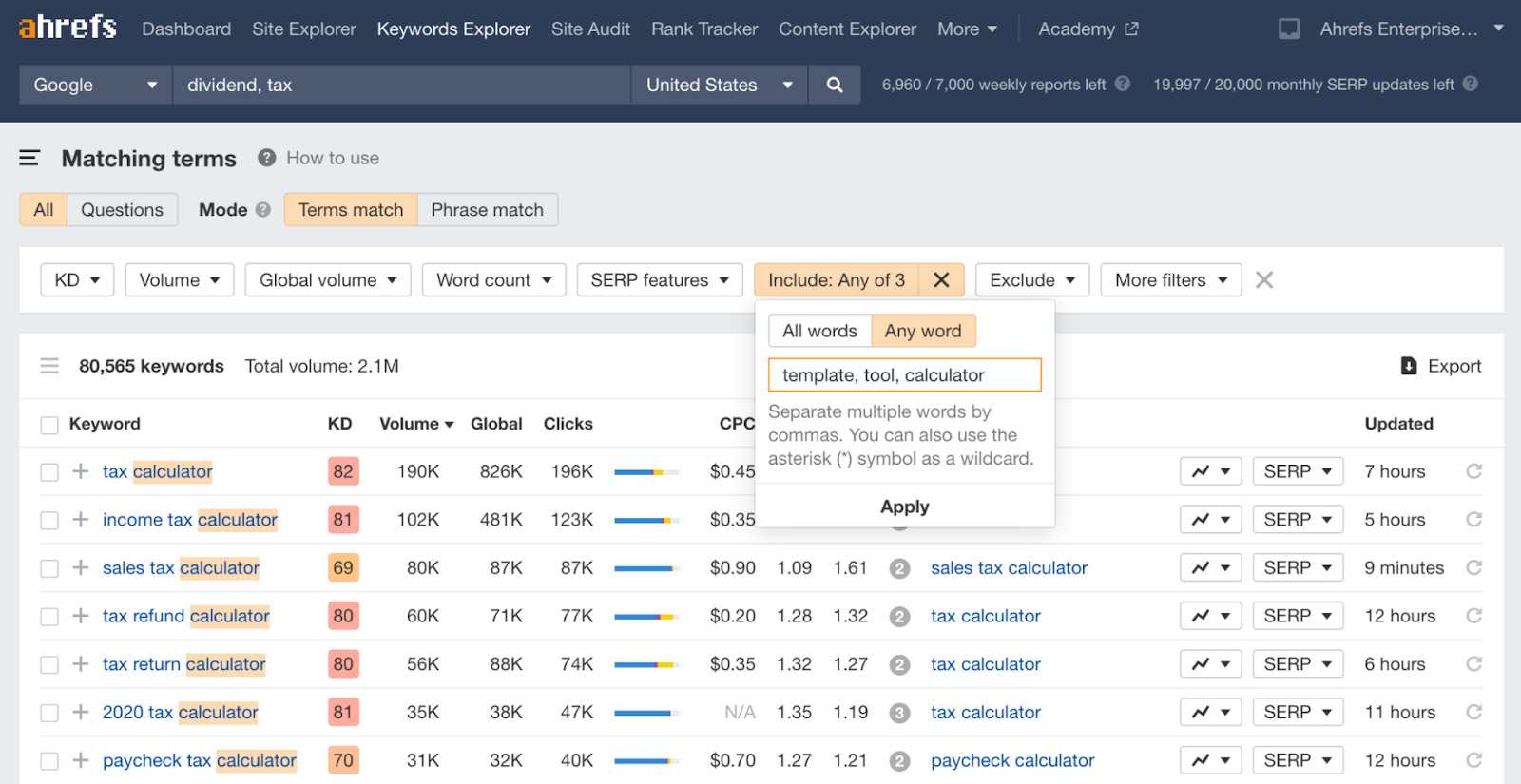 Imagine telling your target market how to create the product or service you offer step by step for free. You'd surely be out of business within a week, right?
Nope! That's because most people won't be willing to make that effort to do the work themselves.
Instead, they'll probably just hire the company that clearly knows what it's doing—you.
For example, 99designs has a detailed guide explaining how to design a logo:
This guide ranks #1 for "how to design a logo" and gets an estimated 39.9K monthly visits from organic search, according to Site Explorer:

But while those thousands of readers could follow the guide to a tee and design an eye-catching logo, it would take a lot of time and effort. Most will probably just hire someone to do it for them.
99designs knows this, so it pitches its service at the end of the post:

To replicate this for your business, write a blog post teaching potential customers how to do what your business does. Then optimize that post to rank high in Google.
Recommended reading: How to Rank Higher on Google (6 Easy Steps)
Journalists and bloggers (such as myself) are constantly on the hunt for statistics to back up claims in the articles they write. And when they find a relevant statistic from a credible source, they usually mention and link to the brand.
For example, TechCrunch mentions, quotes, and links to our original research on featured snippets in this post:

In fact, this study has over 7K backlinks from 1.64K unique websites (referring domains), according to Site Explorer:

Not only do these backlinks likely help to boost our SEO performance, but they also show that thousands of websites are mentioning our brand—all thanks to our original research.
Now, you're probably wondering, "Is it possible to publish original research with a modest budget?"
The answer is yes, and here are a few cost-effective options for sourcing unique data:
Survey your email subscribers
Poll your audience on Twitter
Poll active communities (e.g., subreddits or Facebook groups)
Collaborate with a non-competing company that shares your target audience
If sourcing and publishing original research still seem out of reach, try curating statistics as we did with our list of SEO statistics. You'll experience many of the same benefits as publishing original research.
Recommended reading: Link Building Case Study: How We Built Backlinks With a 'Stats' Page (And Ranked #1)
79% of people say user-generated content (UGC) highly impacts their purchasing decisions, so you should definitely consider incorporating it into your content marketing strategy.
Here are a few ways to do that:
Share users' photos on social media
Share case studies with your email list
Share success stories with leads
Share company or product reviews on your website
You'll find one example of UGC on our "vs" page where we share the results of popular industry polls: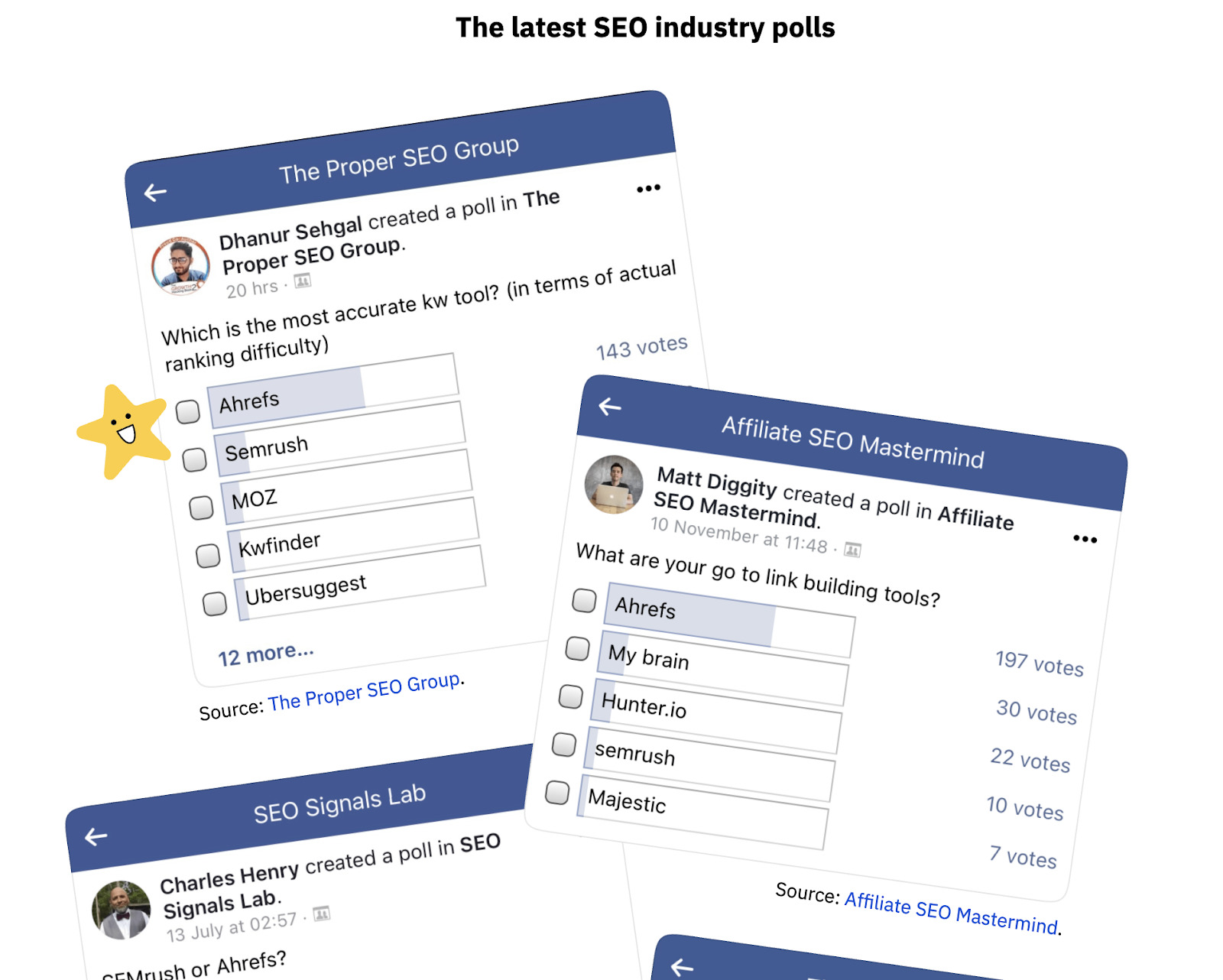 As Ahrefs came out on top in all of these polls, this UGC acts as social proof and increases potential customers' confidence in a key stage of the buyers' journey.
However, this isn't the only way you can use UGC.
For example, Buffer used UGC to grow its Instagram account by almost 400% in a year.
Recommended reading: How User Generated Content (UGC) Grew Our Instagram Account by 400% in One Year
Email lists need to be nurtured. One way to do this is with an email course—a series of bite-sized educational emails sent over a few days or weeks.
Here's an example from Outfunnel: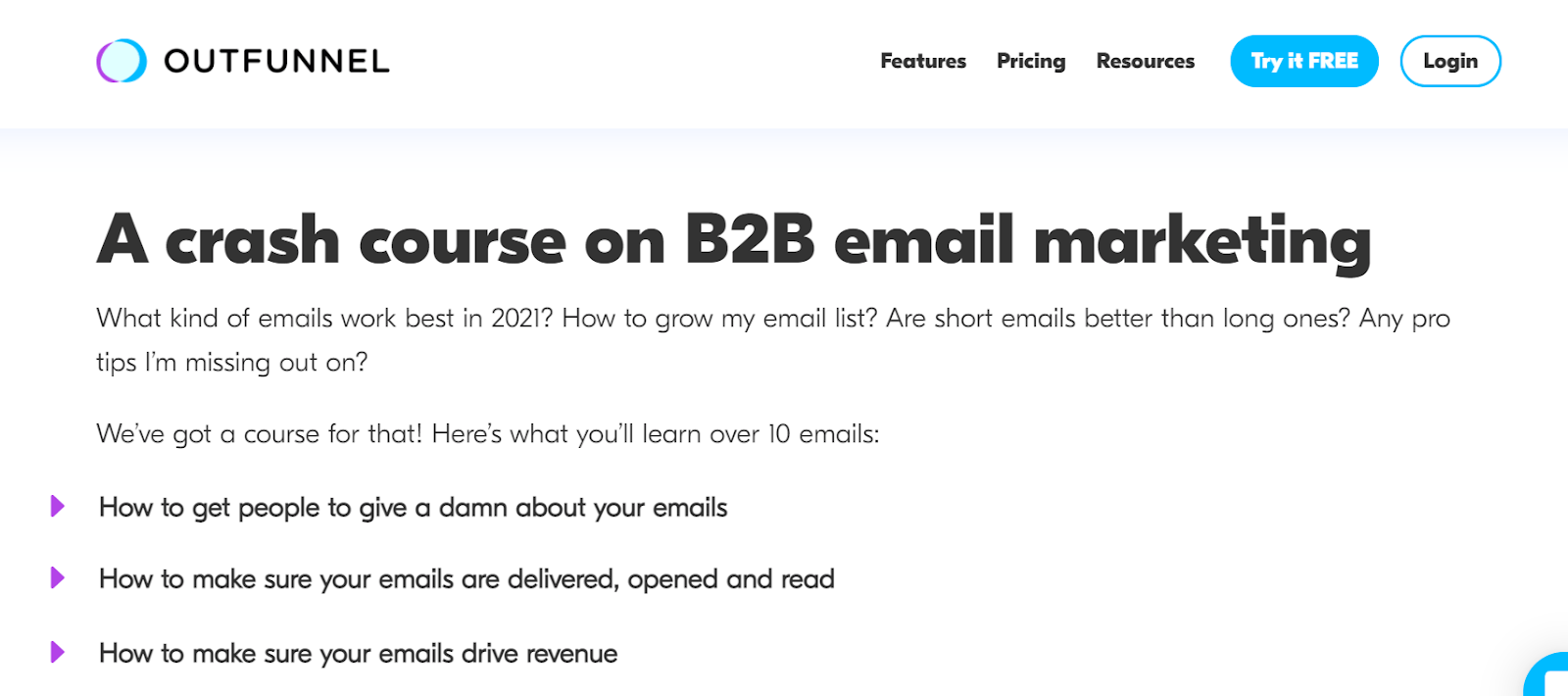 In this 10-day email course, co-founder and CEO Andrus Purde shares his best tips on B2B email marketing, from setting goals to improving deliverability.
Toward the end of the email course, Andrus directs subscribers to sign up for a consultation call and his monthly email newsletter.
What Andrus is doing here is nurturing potential leads by delivering value upfront. Rather than asking folks to buy from him the second they subscribe, he delivers value and proves his expertise in a free email course.
You can replicate this approach for virtually any product or service in any industry:
If you're an accountant, create an email course teaching the newly self-employed how to do taxes theirself.
If you're a gardener, create an email course teaching local homeowners how to look after their gardens.
If you're an SEO professional, create an email course teaching business owners how to rank their website higher in Google.
The possibilities are endless.
A comparison page compares your product or service to those of your competitors.
Here's an example from us comparing Ahrefs to two other well-known tools: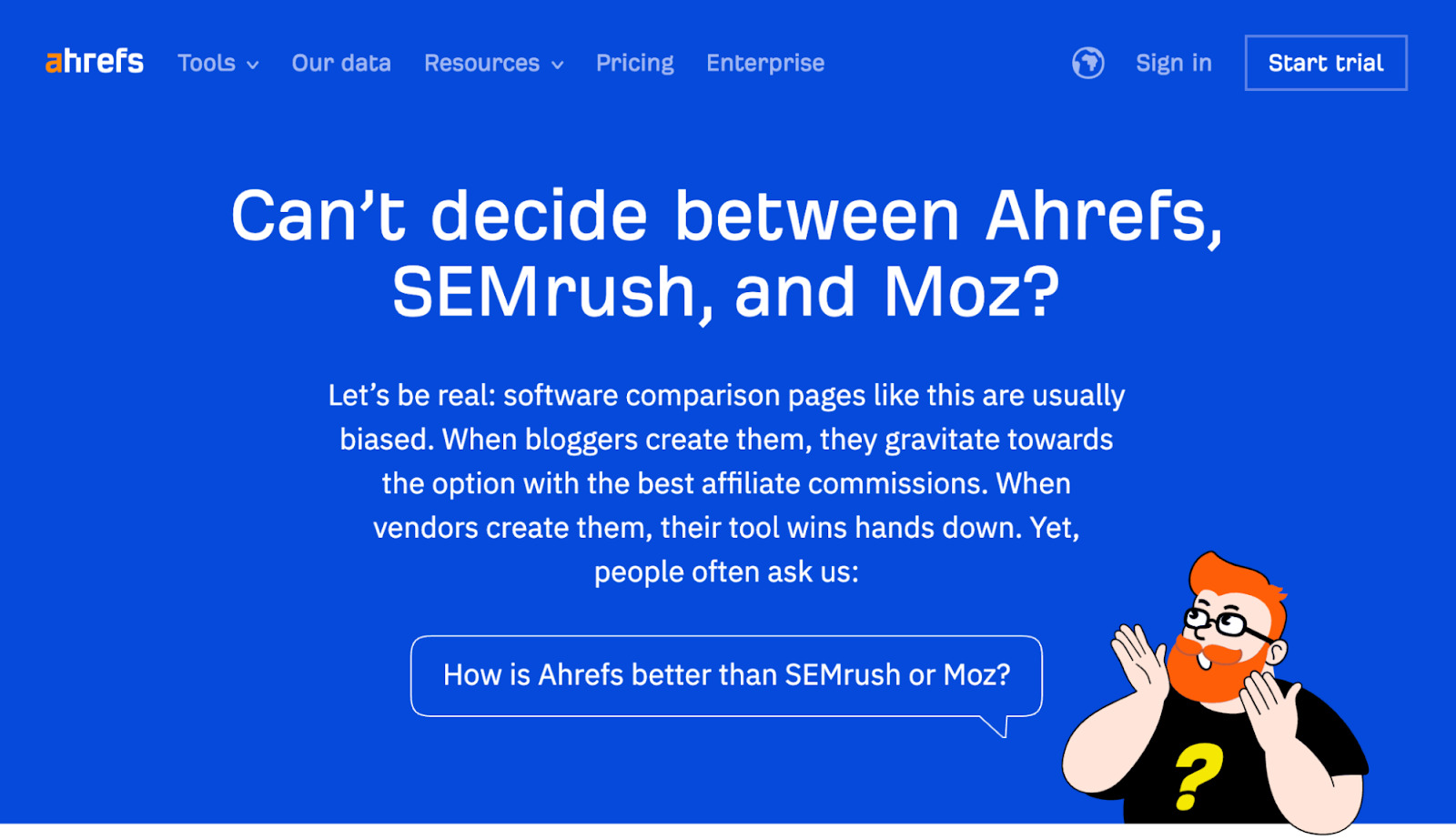 Comparison pages are super valuable because the people searching for them are ready to buy. They're just not sure whether to buy your product or service or your competitors'. So a well-put-together comparison page can swing them in your direction and win the sale.
How do you know which competitors searchers are comparing you to?
Use a keyword research tool:
Enter your brand into Keywords Explorer
Go to the Matching Terms report
Add "vs" to the Include filter
For example, if we do this for Ahrefs, we can see there are two main competitors that searchers are comparing us to: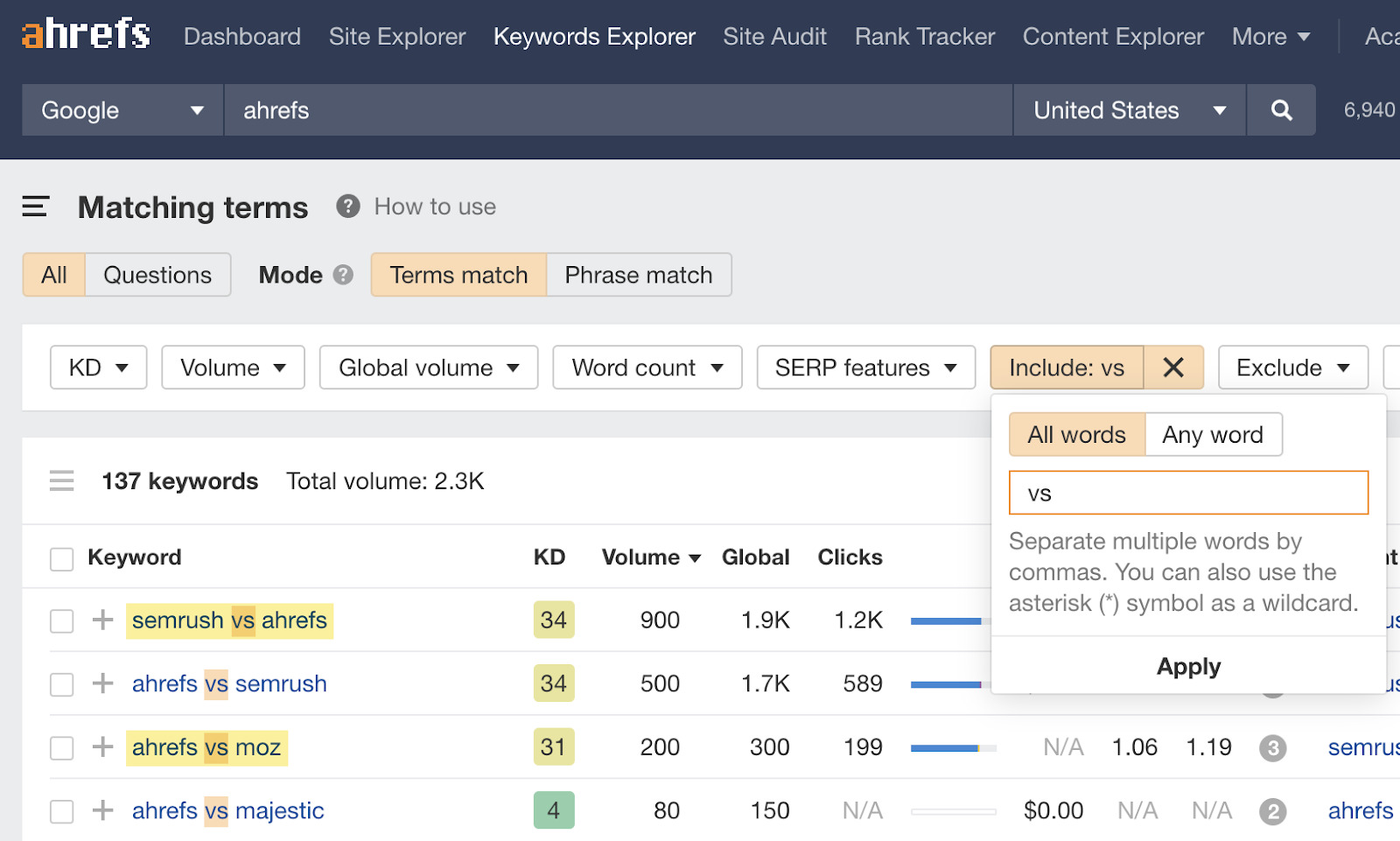 These are the competitors we created our "vs" page around.
Just like a product, content isn't something that's one and done.
You should further amplify your content's reach to attract more prospective customers.
Your target audience likely prefers a mix of mediums. While some favor blog posts, others might gravitate toward short videos. So research what your customers like and repurpose your content into their favorite formats.
Grab the key takeaways from a long-form guide and turn them into Instagram posts.
Turn a white paper into a five-day email course or a podcast episode.
Just acquired your highest number of leads from a 20-minute webinar? Then expand and repurpose it into an ebook.
Here at Ahrefs, we repurposed our low-competition keywords guide…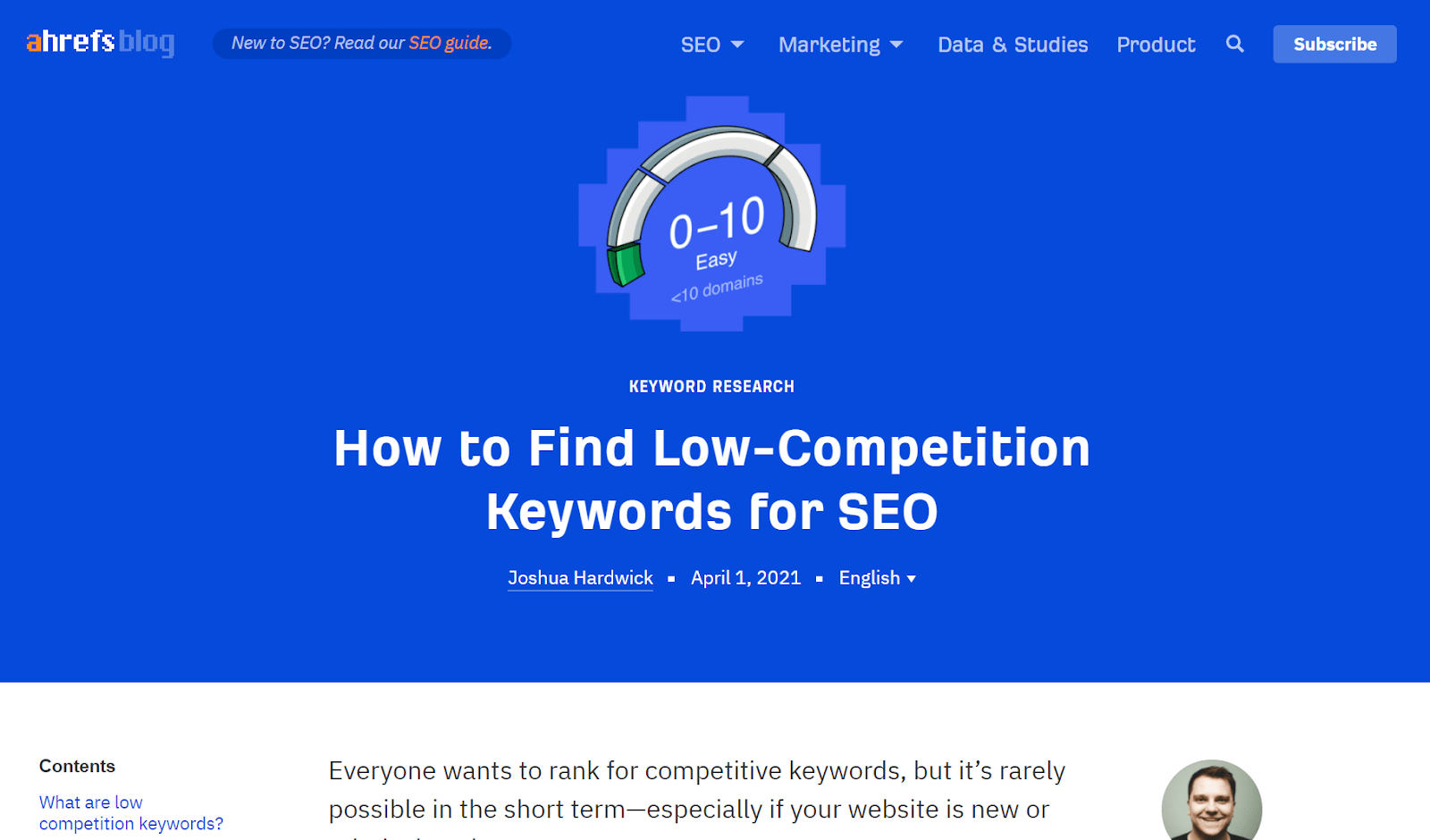 … into a YouTube video.
Recommended reading: The Complete Guide to Content Repurposing
Final thoughts
Whether you want to attract leads without building an audience from scratch or amplify your existing content to reach more prospective customers, these 11 ideas will help you ladder up to your goals.
Which of these ideas are you most excited to try today? Share it with me on Twitter.