Many business owners hate writing. This goes for both small businesses and enterprise-level corporations. Many Fortune 500 CEOs have their autobiographies and business "how to" books ghostwritten or, at the very least, co-authored.
The same goes for marketers. Not every marketer is a natural copywriter.
And that's okay. We all have natural skills and talents. Some of the best marketers, link builders and business people I know aren't natural writers.
But you have to create great content to build links, right?
If you dread writing, that statement might induce a mild amount of panic. You might think that you can't compete if you're not a good writer.
That's not necessarily true.
In my experience as a link builder, building links requires, at least, one linkable asset — but linkable assets need not be word-heavy "ultimate guides" or heavily-researched reports.
You can build great links without writing more than a few words at a time.
Think about some of the most popular websites on the internet:
All thrive on aggregating content from other people. With Reddit and Facebook, users make content or post links to content they like. Before BuzzFeed made in-depth journalism pieces and videos, they often scraped noteworthy content from Reddit.
BuzzFeed's famous listicles are often just popular photos, taken from other websites and social media profiles, and put into a specific order with a unifying theme. Your '31 Cats Who Hate Mondays' or '25 Gifs that Explain Your Feelings When The Office Runs Out of Coffee' or whatever else.
And they're hugely popular.
You can do the same basic thing by building a useful resource page tailored to your target audience's likes, wants, and needs.
As long as it's helpful to your audience, you can build a resource page with confidence, knowing it will serve as a viable linkable asset.
I'll have a few other ideas for content-lite linkable assets at the end of this post, but I believe resource pages are the most universally practical and doable.
Let's get started.
Resource Pages
To create a successful resource page, you just have to do two things:
Link to content your audience will appreciate and find useful
One-up any resource pages your competitors have built
You can one-up your competition by creating a similar, but more comprehensive resource page than what they've already built. You can also one-up them by thinking outside of the box and doing something new.
We'll look at both methods.
In either case, think of it as making the perfect mixtape for your audience. You want to include their favorite hits, but you also want to include some obscure tracks they'd never hear otherwise.
Make your audience feel like they're finding buried treasure.
The Basics
For this article, let's say you own a shoe repair store. You want to pool together a big resource page for DIY shoe repair. You know your customers can do light repairs at home, but they'll need your services for more complex work.
I'd start with a basic Google search for "shoe repair how to."
Then, I'd execute a more "long tail" search to find better, more varied content. Try typing simple questions into Google. You'll be surprised at what you might find.
You can also use an app like BuzzSumo to find popular shoe repair related content. Here's a simple search for 'shoe repair':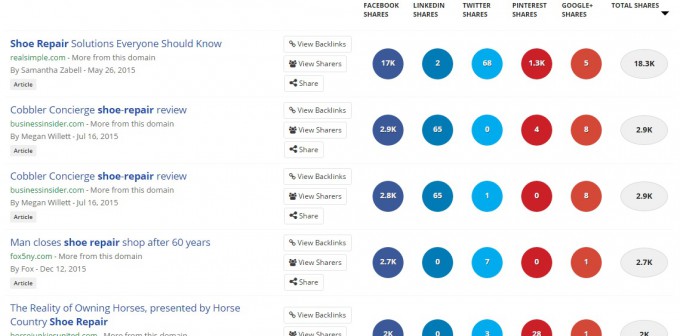 The search returned a few popular shoe repair resources, and you're bound to find more by testing different search variables.
Remember, though, you need a paid BuzzSumo account to access their full suite of analytics and their full list of results. Still, it's a great starting point.
You could also use Ahrefs. If you're not already a subscriber, you can start with a free trial account.
Here's the top part of search results for 'shoe repair' in Ahrefs Content Explorer:
We're already seeing some great stuff. If you were building a shoe repair resource page, you'd want '8 Secrets From Shoe Repair Shops.' Or how about a story about the knighthood for the cobbler who fostered 90 children?
Ahrefs Content Explorer will show you how many shares each piece of content has, how many sites link to the content page, and an estimate of organic search traffic it gets. It's a great way to sort out quality content from the mediocre stuff.
You can dig as deep as you need to with Ahrefs and Google, and find better resources than any of your competitors.
Editor's note
From the day this article was originally published, Ahrefs Content Explorer has evolved greatly!
Today it is able to pick new content much faster and show you way more search results.
Besides, it got some very helpful features to make your content research more productive and focused.

Now you can apply the following filters to your searches:
Publish date,
Number of shares,
Language,
Domain Rating,
Number of Referring Domains,
Organic Traffic volume, and even
Word Count
Besides, we've added the "Who tweeted" feature so that you could easily find people who are likely to enjoy your upcoming content on a similar topic.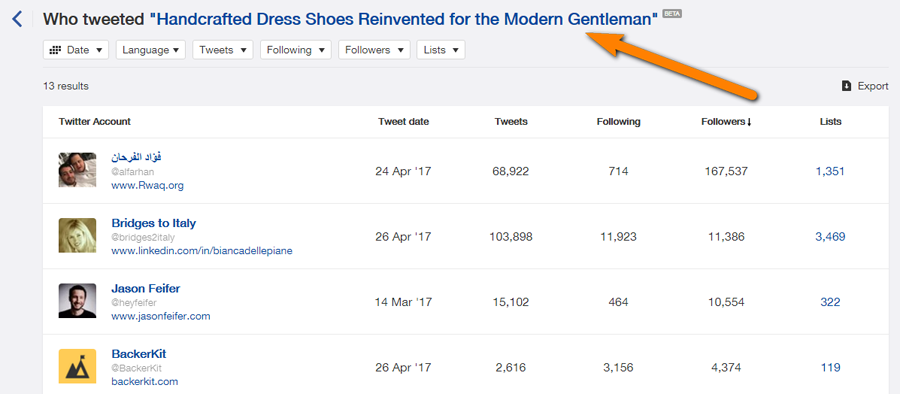 Plus, you can instantly get a list of organic keywords this content ranks for, along with their key metrics! That's an incredible opportunity for the keyword research.
Check out this video lesson (which is a part of our Ahrefs Academy course), about content research and finding link-building opportunities with Ahrefs Content Explorer.
But, what if you want to go off the beaten path?
Thinking Outside the Box
A shoe repair resource page might be useful, but it might not be memorable.
To capture your audience's attention, and make something webmasters are more likely to link to, you might think outside the box.
If you run a shoe repair shop, your customers are interested in wearing a nice pair of shoes. They're concerned about fashion, and they probably appreciate both new trends and a classic pair of shoes.
You can work with that.
If you primarily repaired men's shoes, you could create a big resource page dedicated to popular celebrity shoes.
What kind of shoes does Justin Timberlake wear when he performs at awards shows? Your resource page could answer those questions, and earn quite a few links in doing so.
Here's what Ahrefs Content Explorer turns up: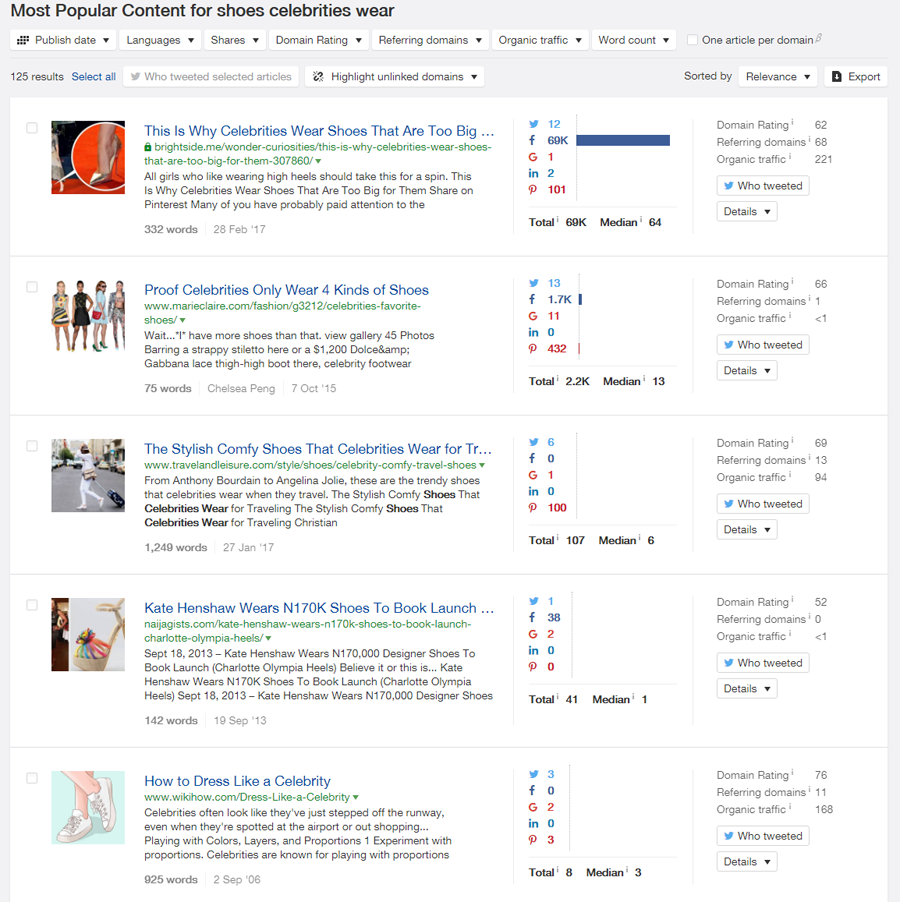 Those first two pieces of content would be perfect for your resource page. And the 'shoes celebrities wear for traveling' would likely hold a few gems, too.
As you get further into your resource page, you could use alternate sources to find information.
Take Twitter, for example.
I typed "@jtimberlake shoes" into the search bar and then clicked on the 'photos' tab.
I found this: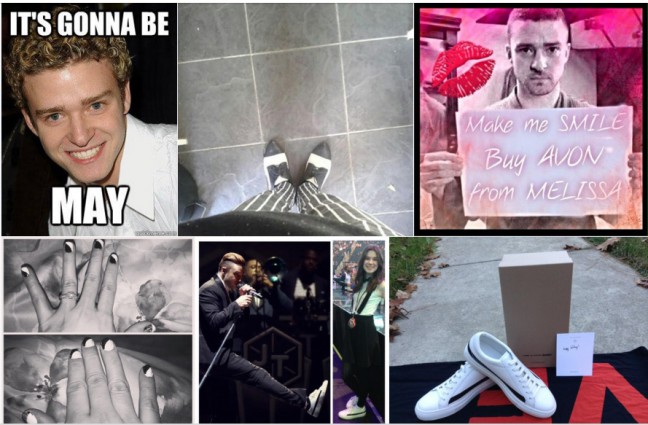 When I clicked the photo on the bottom right, a Twitter user informed me those shoes are Eric Schedin sneakers.
A quick Google search for "Eric Schedin Justin Timberlake":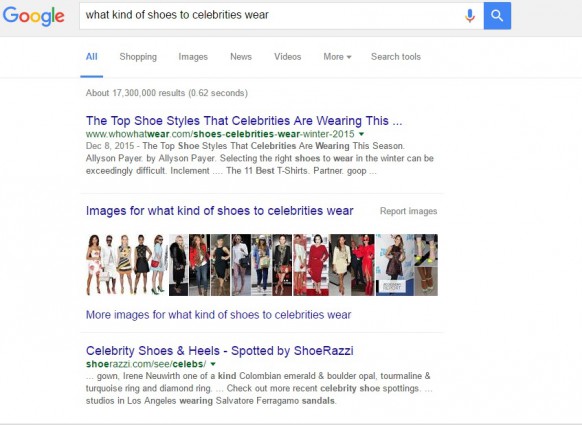 I found this page, which tells me exactly what the shoes are. It's a perfect piece of content for that resource page.
That search also helped me find ShoeRazzi, which would be an excellent resource, as well.
Building a resource page, whether it's by the numbers or outside the box, just takes a little bit of search ingenuity.
Use Google, Ahrefs, BuzzSumo, and Twitter.
Resource pages are living documents, and you can always add more as you go along. The more you add, the better the page becomes– and you don't have to do it all at once.
A Personal Touch
To make a good resource page, there is one thing you have to do.
And, sorry — but it requires a tiny bit of writing.
To separate your resource page from the herd, write a brief description of each link. It need not be anything fancy. Two to three sentences will always be enough. Talk about why you chose it and tell the user exactly how it will benefit them.
Writing these small descriptions serves several purposes:
It helps search engines decipher what your page is about
It gives your page a real word count
It helps the user decide which links to click
It lets the user know you've put real thought into your resource page, meaning it's not just a random collection of links
Here's a good example of exactly what I'm talking about in the saltwater aquarium industry.
You could make something look a little nicer than that, but it gets the job done. It explains why each link is there, and it's a suitably useful aquarium resource page– and it is decidedly not fancy.
Building Links
Once you've built a robust resource page, it's time to build links.
This is Inception-like, but you'll want to add your resource page to other resource pages.
You might find bloggers to link to it in their regular content, as well, but you'll have your best luck building resource links.
Luckily, Christopher Gimmer over at Snappa just created an excellent guide for building links on resource pages. In that guide, he details all the search operators and techniques you'll need to find comprehensive resources in your industry.
You might even be able to perform a few of those searches to find additions to your own resource page.
Think outside the box when you're looking for resource pages. If you create a simple a shoe repair resource page, another simple shoe repair resource page might not want to link to you.
A DIY fashion resource page would be glad to have you, however.
Think along those lines.
A Few More Ideas
Resource pages aren't the only way to build links without writing a ton of content. As promised, here are three more ways to create linkable assets without typing up thousands of words.
Infographics
So much has already been said about infographics. I honestly wouldn't know where to begin.
And, chances are, neither would you. You might be intimidated by infographics, but there are several free (or cheap) tools available on the web to help you create them in a couple hours.
Infographics are oversaturated in some markets, but they still work.
Here are my rules for infographics:
Find compelling research
Use multiple sources
Always cite every source, every time. Link to them if you can; if not, list the full URL in a 'resources' section– give credit where credit is due
If infographics interest you, start by reading this article at HubSpot.
Then, when you're ready to create your infographic, use one of these free (or cheap) tools:
Visual Guides
Visual guides function a lot like how-to posts but rely on photos instead of written content.
Think of sites like eHow and WikiHow. They're hugely popular, they rank well, and, at the best of times, they're actually useful.
You don't have to be a professional photographer to make a visual guide. Just photograph yourself or an employee working, document each step of the process, and embed the photos into a post on your website.
Let the photos speak more than any words on the page. Keep it both simple and useful.
Let's go back to shoe repair again. You could easily create a step-by-step guide to repairing penny loafers.
Here's your competition at eHow: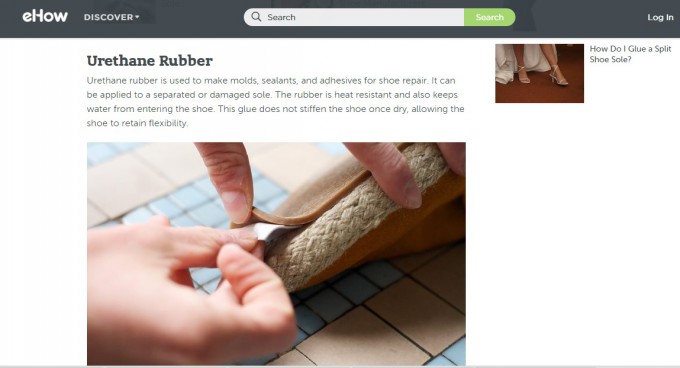 Most photos in that article, I kid you not, are photos of a person holding different types of superglue. If you were really in the shoe repair field, you could blow that out of the water with an hour's work and almost no writing.
You can also embed videos from YouTube into your visual guide as "further references." Find your favorite video tutorials and embed them at the end of your post. It creates a better experience for the user, and you're helping to place good content in front of new eyes.
Simple Tools
Finally, you can host a simple web-based tool. Think of all the mortgage calculators and business-specific Google maps you see around the web.
You have a few options here. You can build it yourself, you can try to find a cheap programmer, or you can hire an experienced programmer.
If you want to do it yourself, you must search for tools and resources on a case-by-case basis.
If you wanted to build a type of calculator, like something that tells you how long your shoelaces might last, or how often you need to polish certain brands of shoes, you could try these sites:
To hire a programmer, you can check your local college. You might find a computer science major who's willing to work for cheap.
If you need a more in-depth tool created, you can find professionals on sites like guru.com.
If you wanted to build a tool that could analyze any photo and identify the shoes of the people in the picture, you'd expect to spend a bunch of money on a professional programmer. It would be a huge hit, but it wouldn't be cheap.
If you just wanted to build a program that texts existing customers when they're due for a shoe shine, you could get away with hiring someone less experienced.
For tools, make sure you're creating something your audience will use.
Take a survey of your existing customers if necessary– just make sure what you're putting time or money into won't be neglected by your user base.
To build relevant, effective links, you need at least one linkable asset. Thankfully, you don't have to be a great writer to succeed with this.
As long as you create something useful, and put real thought behind it, you can succeed, even in small niches and competitive industries. You just need to look at it the right way and approach the work from the correct angle.
If you build something useful and contact the right webmasters, you'll barely have to write a word.