In this tutorial we show you how to identify bad links in your link profile and remove or disavow them to recover from Google penalties.
Darling…

Yes, dear?

We, need to talk about link building.

Oh? (worried)

I haven't been a great SEO to you for some time. I've… I've been building links in all sorts of grubby places, laying down my anchor text in the shadiest neighbourhoods on the web. I just… I just couldn't get enough.

How long has this been going on?

Since about 1999…
There is a lot of conflicting information about link building.
And all that conflicting information can make it difficult to figure out what types of links you should be building to your site — or even if you should be building links at all.
Google's 'webmaster guidelines' isn't much help.
The first paragraph of their page on link schemes states:
'Any links intended to manipulate PageRank or a site's ranking in Google search results may be considered part of a link scheme and a violation of Google's Webmaster Guidelines. This includes any behavior that manipulates links to your site or outgoing links from your site.'
Talk about ambiguous.
After all, isn't the purpose of any link building campaign to improve a site's ranking?
So let me start with 2 clear statements.
You should

definitely

be building links to your site;
Certain types of links can

definitely

hurt your rankings.
I will be covering lots of ways you should be building links to your site over the coming weeks (see my post on viral link building, or sign up to the Ahrefs newsletter for a FREE white hat link building ebook to start), but it is the second of these statements that I am going to focus on today.
The types of high risk link building that can and will hurt your rankings.
I'm also going to cover how you can use Ahrefs to examine your link profile for potentially harmful links, and finish by taking a look at an interesting real world example of a site which has previously been penalised by Google for manipulative link building
We'll get started by answering a question…
How Will Low Quality Link Building Hurt Your Site?
Google penalties my friend!
There are 2 main ways you can be penalised by Google for low quality links.
Type 1: Manual Link Spam Penalty
This is when someone from Google's webspam team has reviewed your link profile and applied a manual penalty.
The review could have been triggered by:
a spam report from a competitor
something in your link profile (detected algorithmically) which has triggered a manual review
the fact you are in a competitive niche which Google actively monitors
just plain old bad luck!
How Will You Know You've Been Hit With A Manual Penalty?
If you have received a manual penalty, you will generally receive a notification in Google Search Console (formerly webmaster tools) that looks like this (image from KissMetrics).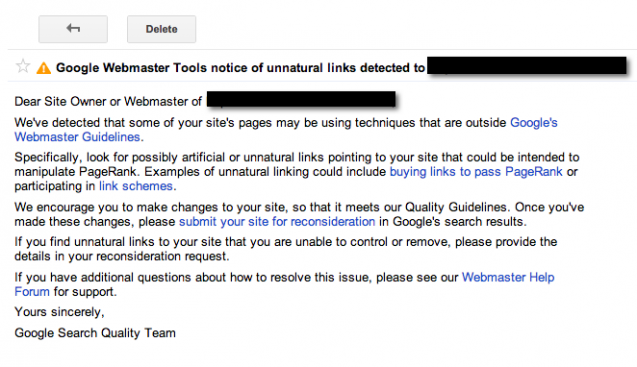 Note: There is a chance that you may receive this warning and not have been penalised (yet), but if so a manual penalty will definitely be in the post!
Type 2: Algorithmic Link Spam Penalty (generally Penguin)
An algorithmic penalty is a penalty which is applied automatically by Google based on your link profile — no human review is required.
Most algorithmic link spam penalties are triggered by Google's Penguin filter.
How Will You Know You've Been Hit With A Manual Penalty?
With an algorithmic penalty you will not normally receive a notification from Google that your site has been hit.
But don't worry, if you are hit, it should probably be pretty obvious…
You'll notice your organic traffic going like this.

Ouch! (ok, maybe you should worry)
See my post on how to conduct a quick SEO audit for a quick way of analysing whether you have been hit by an algorithmic link spam penalty, or this post by Karol K for a more detailed solution.
Whether manual or algorithmic, a Google penalty will lead to a significant drop in your organic traffic (bad news), and in some cases could lead to you being completely de-indexed (mega bad news).
Now let's take a look at specific types of link building that can get you into trouble.
10 Link Building Tactics To Avoid In 2015
Here are some link building techniques that are definitely going to land you in hot water with Google.
1. Links From Spun Content/Splogs
Article spinning has long been a favourite tactic of the black hatter.
The process goes…
Write one article
Use software to spin the article into tens, or hundreds of other articles (which will normally read as total gibberish)
Post those spun articles on article directories or splogs (spam blogs) with a link (or links) back to your site.
Incredibly, there are still a number of respected internet marketing blogs who advocate this as a solid link building tactic — even pointing readers to vendors who will automate the whole process.
But believe me, going down this route will kill your site.
2. Comment Spam
Comment spam is another black hat link building tactic that has been around for a long time, and one that can be easily automated using software such as scrapebox (a useful tool btw, which can be used for more ethical purposes).
If you run a wordpress blog, you're probably used to seeing lots of comments like this in the spam section (assuming you're using akismet to catch them!).

Cool story bro.
But no link for you today.
Comment spam blasts rely on the fact that
Many sites allow comments to be posted without moderation
Others just simply let spam comments slip through the net
And that happens a lot…
As you can see, this leaves a huge footprint for Penguin to pick up on.
And to bash your site with.
Note: Commenting on a select number of authority sites in your niche can very much be part of a white hat strategy, but the comments should be manual and relevant. Good comments will also drive traffic!
3. Forum Spam
There are 2 ways to spam forums (if you are so inclined).
Firstly, you can simply create multiple profiles and put your link in there.
Secondly, you can place links in actual forum posts (either in the signature or in the body of the post).
Again, there is software that will do all that for you, or you can use a well known link building service (a guys name beginning with P) that's been around for a long time.
But, if you want to avoid a penalty…
…then don't!
Note: Forum marketing can be part of a white hat promotional/link building strategy. Sign up for the Ahrefs mailing list to get the lowdown on how to do it right!
4. Obvious Paid Links That Pass PageRank
Firstly, not all paid links are bad, and Google doesn't have a problem with paid links per se.
Google's issue is with paid links that are non editorial (see below) and designed to pass PageRank, giving them the potential to influence rankings.
This is a battle they have been fighting since the mid 2000s, when they clamped down on link buying/selling networks such as 'Text Link Ads'.
To comply with Google's guidelines, any links you buy should include the rel="nofollow" attribute.
Now clearly it is difficult for Google to identify all paid links, but there are certain obvious red flags that you want to avoid
Dofollow sitewide anchor text links
Dofollow links from unrelated sites/content
Dofollow links from pages that have obvious footprints such as "sponsored post"
Note: I used the term 'non editorial', as certain links (such as those from premium directories), may be DoFollow (and paid), but in that case the fee is technically for an editorial review.
In theory the link could be refused by the directory and the fee non-refundable.
Oh, and before you say anything I am aware that "Dofollow" isn't actually a thing and links are followed by default, but it seems to be the accepted term these days!
5. Low Quality Directories
And talking of directories…
If you think that using something like this will help your site rank, then think again.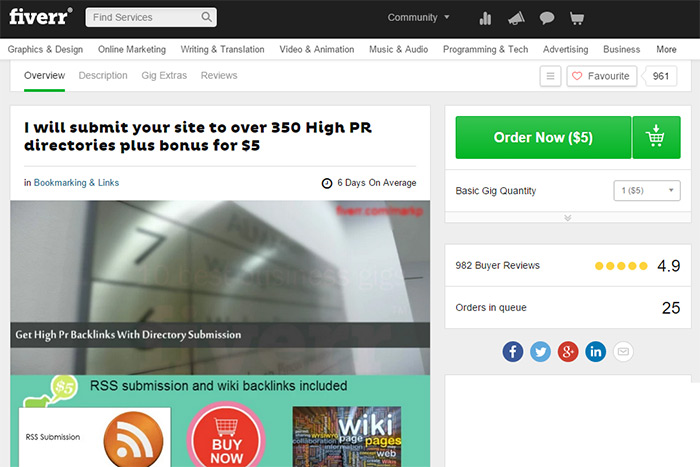 This kind of low quality, bulk directory submission hasn't worked as an SEO tactic for at least 10 years, and these days is likely to get your site penalised.
There are a few high quality directories left that may be worth the submission fee (BOTW for example), and if you can find a niche specific (and picky) directory then that's also worth looking at.
But as an effective, scaleable link building method, directory submission is done.
6. Links From Bad Neighbourhoods/Hacked Sites
Unless you happen to be in that industry (I hear it's very profitable), then links from p*rn sites aren't going to do you much good.
Other bad neighbourhoods include obvious content/link farm sites (which exist solely for the purpose of linking out).
And if you are building links on hacked sites (SAPE network links are particularly bad for this)…
not only are you likely to be penalised, you are probably breaking the law.
7. Links From Lots Of Foreign Language Sites
If your site is in the UK, Google would generally expect to see a good percentage of your links coming from other UK sites, and certainly the bulk of your links from sites that are written in English.
A high percentage of low quality foreign language sites (look for .cn and .ru in particular) linking to you is a big red flag.
Of course, if the foreign language site linking to you is high quality, then that should probably be fine.
8. Scaled Guest Posting
Guest posting remains a highly effective way to get your site in front of a new audience and build some high quality, authority boosting links in the process.
But only when done correctly.
The days of scaled guest posting, with little regard for either content quality, or the quality of the linking site are over, and Google went after this tactic in a big way early last year — completely de-indexing a high profile guest blogging community.
If you are guest posting on authority sites in your niche, with primarily branded anchor links, then it's all good.
If on the other hand you are going for quantity (and exact anchor text), then you will more than likely be penalised.
Karol K (@carlosinho) wrote a nice post on the topic here on Ahrefs a couple of weeks back in which he stressed the importance of building a relationship with the host blog/blogger when guest posting.
"In fact, it's really quite simple. The closer your relationship is with the blogger, the more you'll be able to do in terms of linking. Once someone trusts you, they will have no problem linking to your pages with whatever anchor text you wish."

Karol K, karol.cc
He's right, and you probably noticed that because of that, he just picked up a nice little editorial link too 🙂
Note: You may already know that the guest blogging community in question was MyBlogGuest, a cool site by Ann Smarty (@seosmarty) that totally didn't deserve the hit (in my opinion). Ann soon bounced back though, and if you haven't checked it out, go visit her latest project MyBlogU — there's some awesome stuff going on over there!
9. Private Blog Networks (PBNs)
There are many SEOs who will disagree with me here, but I would say that using PBNs to build links to your site is certainly a high risk strategy (at best).
There was a big panic in the SEO space last year when Google took targeted action against PBNs and many well established sites lost their rankings overnight.
It is clear that Google is on a mission to detect, penalise, and shut down PBNs and I suspect that as they get better at sniffing them out, this will all be baked into the algorithm.
Notwithstanding the risks, Perrin from Niche Pursuits (who before they were hit in the PBN update had been big advocates of the method) made a great point on their podcast a couple of weeks back.
"We talk to a lot of people still building PBN links, and they know there is a risk. They do it because its PERCEIVED to be easier, cheaper, and overcomes the barrier of having to interact with real human beings.

However, the business case for outreach is that it actually is much easier and cheaper than everything that goes into building out a real PBN.

Overall, the amount of time and money needed to build a real PBN is not easier than genuine outreach. And the links that you get from outreach are obviously "real", there's no risk here with Google."

Perrin Carrell, nichepursuits.com
Since refocusing on white hat link building he has come to realise that it was actually more expensive (both in time and money) to build out links on a PBN than to pick up the equivalent number of links through outreach.
Welcome to the light side of the force Perrin 🙂
10. Excessive/Non Niche Relevant Reciprocal Link Building
Reciprocal link building happens naturally on the web on the time — after all it makes sense that you would talk about other sites in your niche and they would talk about you.
Linking out is also a great way to pick up the attention of other sites in your niche, and if they return the favour by linking back in the future, then that's definitely going to help your site.
But if you are going round contacting hundreds of site and asking to exchange links (particularly on stand alone, non niche relevant 'links' pages), then that's eventually going to cause you some harm.
Note: There's nothing wrong with links pages per se, provided they are on topic and relevant. In fact, links pages can be prime targets for broken link building (a great white hat strategy) in which you will generally be looking to pick up a one way link.
So, quality, niche specific and selective links pages good.
Non niche specific free for alls bad.
In fact a good question to ask yourself is
'is this links page here for users or just to swap links?'
If it's the former, it's all good, the later, then avoid it.
Before moving on to how to use Ahrefs to audit your link profile, let's quickly touch on outgoing links.
When To Be Careful Of Outgoing Links
I'm going to keep this part brief, but before I run through some of the types of outgoing links to be wary of (or avoid completely) I want to make 2 points.
Don't be afraid to link out (if the link is deserved) and don't add nofollow to all your outbound links.
I'm seeing this more and more and it's a damaging trend which again is caused by confusion over what is safe when it comes to links.
If someone deserves a link, then link to them.
After all, links were the web's original path to discovery and around for many many years before Google came along and turned them into a commodity.
And notwithstanding that, linking out is a big part of SEO, as well placed outbound links can get you on the radar of larger sites + build your topical authority. What's not to like?
So, having got that off my chest, here are some quick rules of thumb for outgoing links..
Don't link to bad neighbourhoods (spam, warez etc)
Moderate and remove any obvious spam from user generated content and apply nofollow to any outgoing links (forums, comments etc)
Don't link to low quality content/sites (I don't mean metrics here, I mean your human brain opinion on the site's quality)
If you are selling links, you should add the nofollow attribute to the links
Add the nofollow attribute to any affiliate links (they are paid links after all)
Don't hide outbound links (tiny fonts, white text on white, pushed off page etc)
Periodically review and clean up broken outbound links (you can easily find these by running Outgoing Links > Broken Links in Ahrefs Site Explorer)
We've covered a lot of different types of link above (both incoming and outgoing), so you might want to download and save our 'what are bad links' infographic as a quick reference.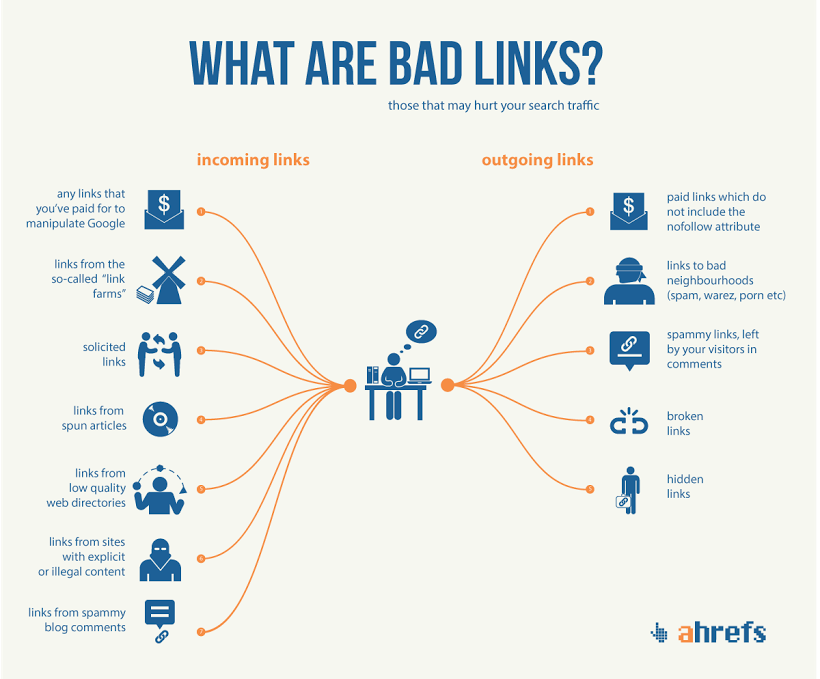 Now, on to auditing your site's link profile with Ahrefs…
Using Ahrefs To Find Bad Links

NOTE: Enjoyed the video? Please subscribe to Ahrefs YouTube channel.
For this link audit, I am going to take a look at the domain sourceconsulting[dot]com (I will explain why shortly).
Here is the process!
First, we'll add the domain we wish to audit to our Ahrefs dashboard. This will allow us to use the built in disavow tool.

Next we'll run the referring domains report from the inbound links menu. You can also use the links report, but I prefer to work in referring domains.
Note: You might want to audit DoFollow domains only (you can do this by clicking the filter above the report), but to be thorough we will go through all linking domains (both NoFollow and DoFollow).
I like to order the report by DR (Domain Rating) to put the most powerful links at the top.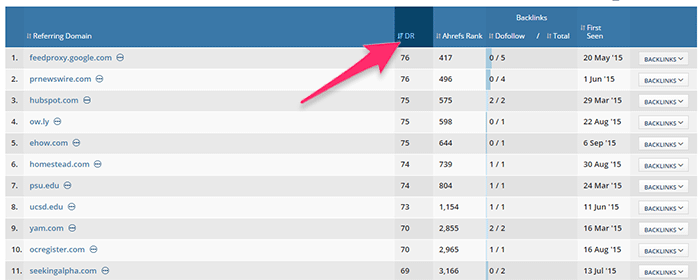 We'll start working our way down the list and when we see something we don't recognise, click on 'Backlinks' to view the individual links from that particular domain.

This one looks a bit fishy — suspiciously optimised anchor text and some Japanese characters. We can hover over the domain's row and select 'Disavow Domain' which will add the domain to our disavow file.
Note: We are not necessarily going to try and remove this link, or disavow it, but we will use the disavow tool to collect a list of suspicious links for closer inspection (you could add the domains to a spreadsheet if you prefer).

We can continue through the list, checking suspicious looking domains. In this case the link is from a Japanese site (.jp) and the 'Posted by fed ex rate negotiation' would suggest that this is definitely going to be one we want to get rid of. Again, we'll add it to our disavow file and keep reviewing links.

We soon find another link from a Japanese site with suspicious anchor text. There is a clear pattern here and you can see how easy this would be for Penguin to pick up on.

I should point out that in amongst all these Japanese, anchor text rich links, there are some great links from educational resource pages and articles.

So it's not all bad. But it's certainly not all good and as we continue down the list we start to discover a number of links that appear to be from forum profiles (many of which are in the gaming niche).

We will continue with the audit until we have added all the suspicious domains to our disavow file.
We can then click the 'Disavowed Links' button to download a list of the suspicious domains.

From the pop up window we will click 'Download'.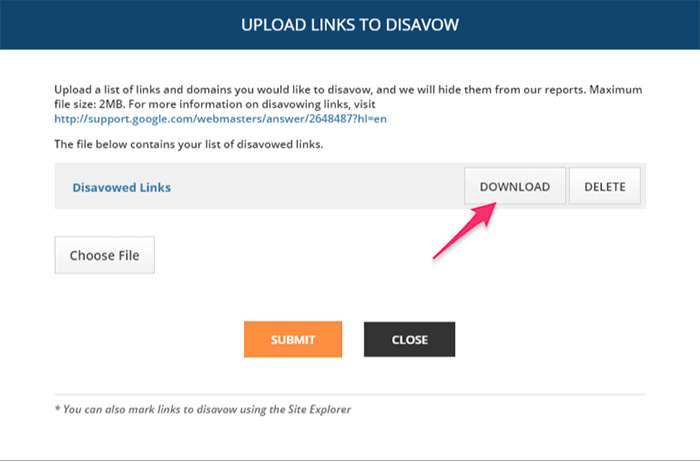 Which will create a text file of the links we wish to take a closer look at.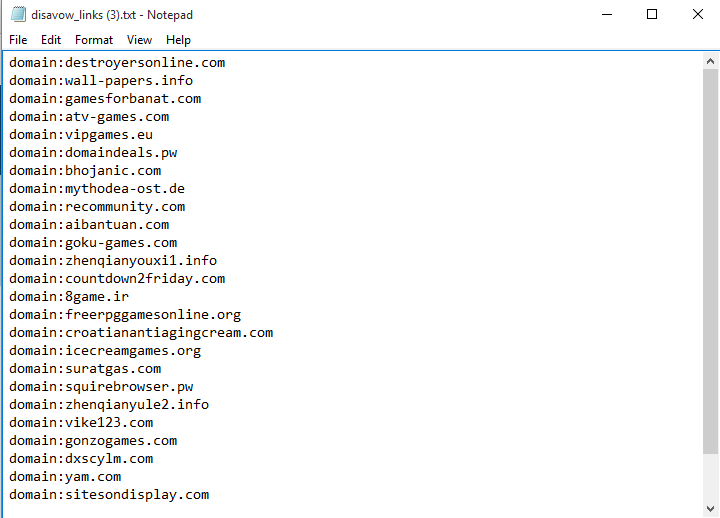 We can work our way through this list, inspecting the sites where necessary, and decide which links we are going to need to take action on.
Under normal circumstances, we would now reach out to as many of these low quality linking sites as possible to ask them to remove the link, before finally preparing a disavow file to upload to Google (process here) containing the domains/links we have been unable to remove.
However in this case we will be doing something a little different.
Google Penalties: You Can Run, But You Can't Hide
I chose the domain sourceconsulting[dot]com for a specific reason.
In my last post on how to conduct a 15 minute SEO audit, I introduced the first site in our series of SEO case studies — toyuniverse.com.au.
Today I'm going to introduce the second site (of four), lojistic.com, a specialist parcel and freight auditing service supplier from California.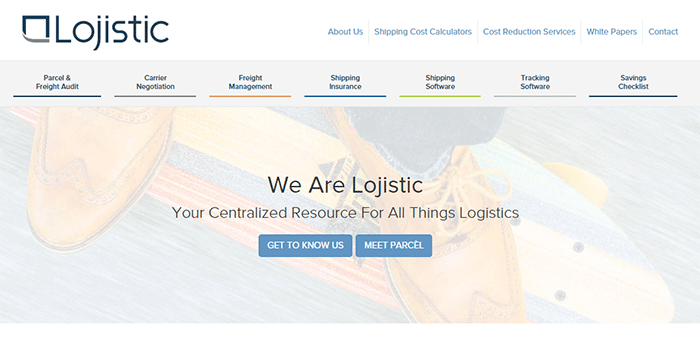 So what is the connection to Source Consulting?
Well, they are in fact, the same company.
Source Consulting rebranded as Lojistic earlier this year and their old domain (sourceconsulting[dot]com) was 301 redirected to the new one (lojistic.com).
Under normal circumstances this would have been best SEO practice, with the 301 redirect passing the authority and link juice from the old site to the new one.
However…
We have already seen from the audit that there are a number of issues with the old domain's link profile.
And in fact, the old domain had previously been penalised by Google (both manually and algorithmically).
Which presents us with a problem and an opportunity.
The Problem
Those dodgy links that pointed to the old site are now pointing to the new site (via the 301s), potentially harming its rankings and passing any penalties onto the new domain.
The Opportunity
We can ditch all the bad links in one go and keep the good ones!
So How Do We Do It?
Well, in simple terms, it's going to be a big exercise in outreach.
But we're going to flip the normal, post link audit outreach process on its head.
We're not going to reach out to the low quality linking sites and ask them to remove links. In fact, we're not going to reach out to them at all.
Instead, we are going to reach out to the high quality linking sites and ask them if they would be kind enough to update their link to point directly to the new site.
It might take a couple of follow ups, but the success rate should be pretty high — after all we are not asking for anything new, just that the existing link be updated to point to the right place.
What Next?
Once we are satisfied that a good percentage of the strong links have been updated (I will be looking for at least 90%) and after a suitable period of time has passed for the linking pages to be re-cached (at least 30 days) it will be time to cut ties with the old site.
The 301 redirect will be removed, and instead we will place a static "We Have Moved" page on the old domain with a nofollow link to the new site.
The nofollow is important as it will stop any of the negative signals being passed from the old domain to the new.
Et voila! We have rid ourselves of the bad links.
Of course in the interim period we will also be busy building fresh links to the new site!
Over To You…
An essential part of modern SEO is actively monitoring your link profile and checking for low quality/suspicious links.
Even if you are sure you haven't built any yourself, there's nothing to stop a competitor paying a shady company to launch a negative SEO attack against your site.
It's not nice, but it happens.
If you haven't checked your link profile recently, you should make it a business priority to audit your links using your Ahrefs account asap (if you don't have one you can sign up here!) and deal with any issues you find.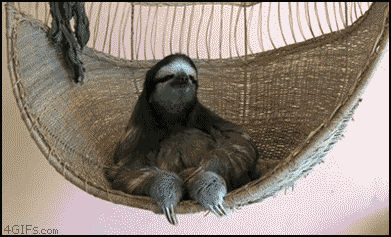 So…
Any questions or comments? Any dodgy link building methods I've missed? Do you love PBNs and think I'm talking nonsense? Does comment spam rock your world? Your feedback is always welcome, so please leave a comment below and I'll be happy to help in any way I can (or indeed take your abuse).
I'll be back next week to introduce the third site in our case study series 🙂
Darling…
Yes?
I want to change. I want to be a better SEO. I want to be the white hat link builder that you deserve. Can you ever love me again?
(uncomfortable) Erm… Look… I'm a search engine… just upload a disavow file, don't do it again and we'll be fine… And please stop calling me darling.