Most SEOs don't care how many backlinks they get from each website. They only care about the number of unique websites (referring domains) linking to them.
Do you ever reach out to websites that already link to you to get more links? Vote and comment with why you do or don't.

— Michal Pecanek (@michalpecanek) May 12, 2020
There are likely a couple of reasons for this.
First, most large-scale studies show a strong correlation between organic traffic and the number of backlinks from unique websites (referring domains).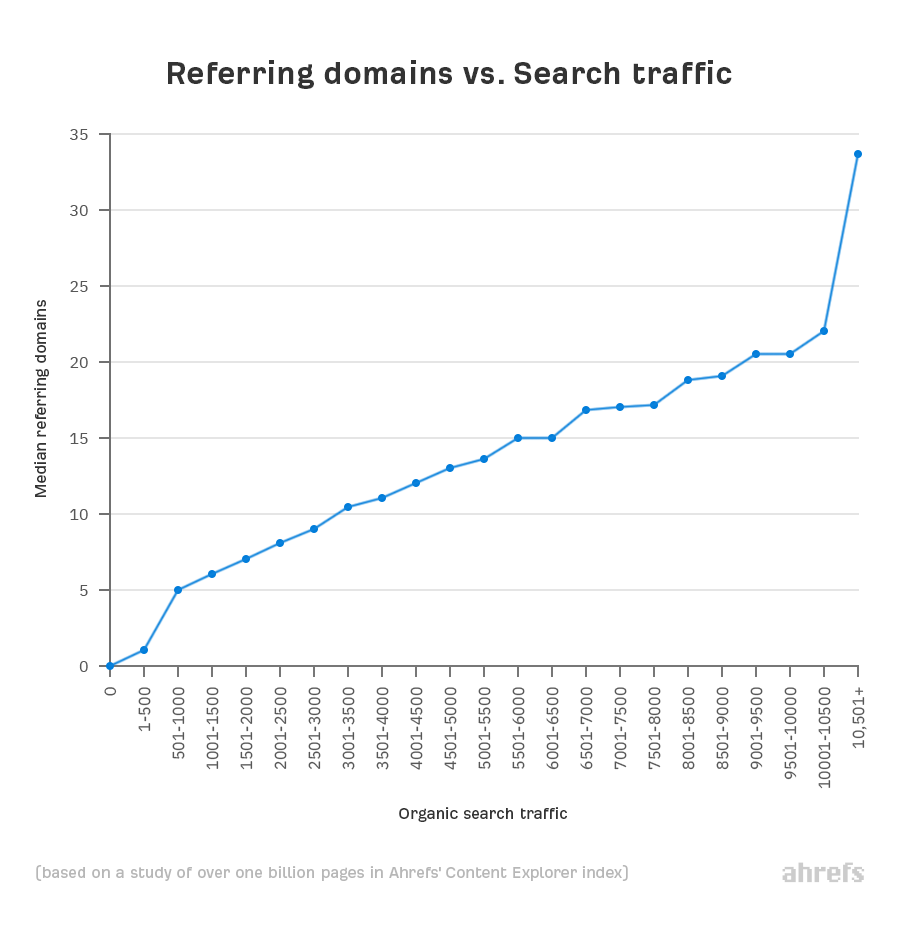 Second, some worry that having too many backlinks from the same website is unnatural.
It doesn't seem like this is the case, though.
We ran a small study and found that 79.23% of referring domains link to the same website multiple times.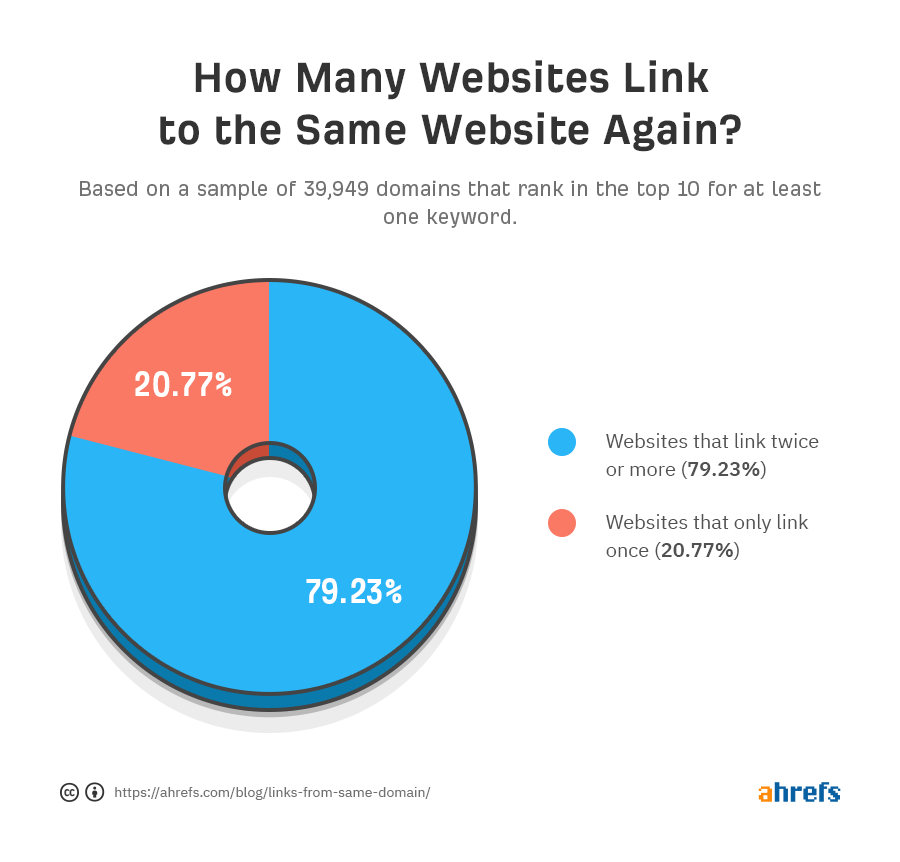 And most websites link 2-5 times.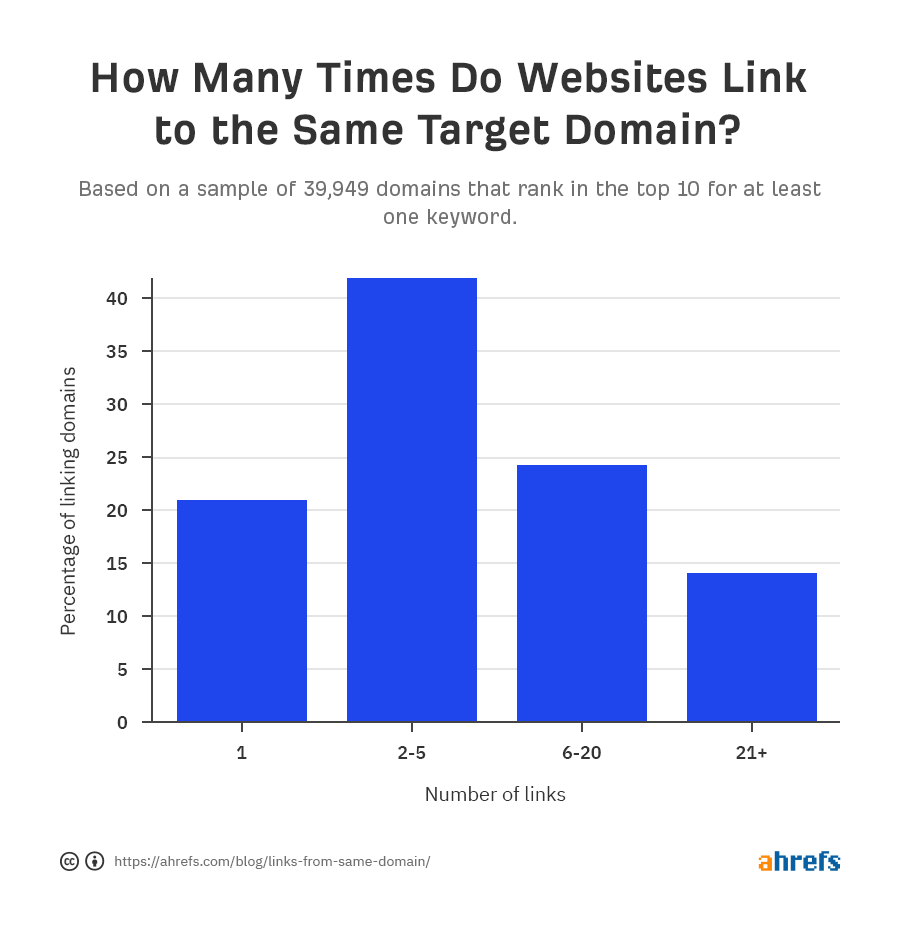 In other words, it's completely natural to have multiple links from the same website.
But what compelling reasons are there to build multiple links from each domain?
Here are four of them:
Every webpage has a certain amount of "authority" called PageRank (PR). This flows to other pages via internal and external links.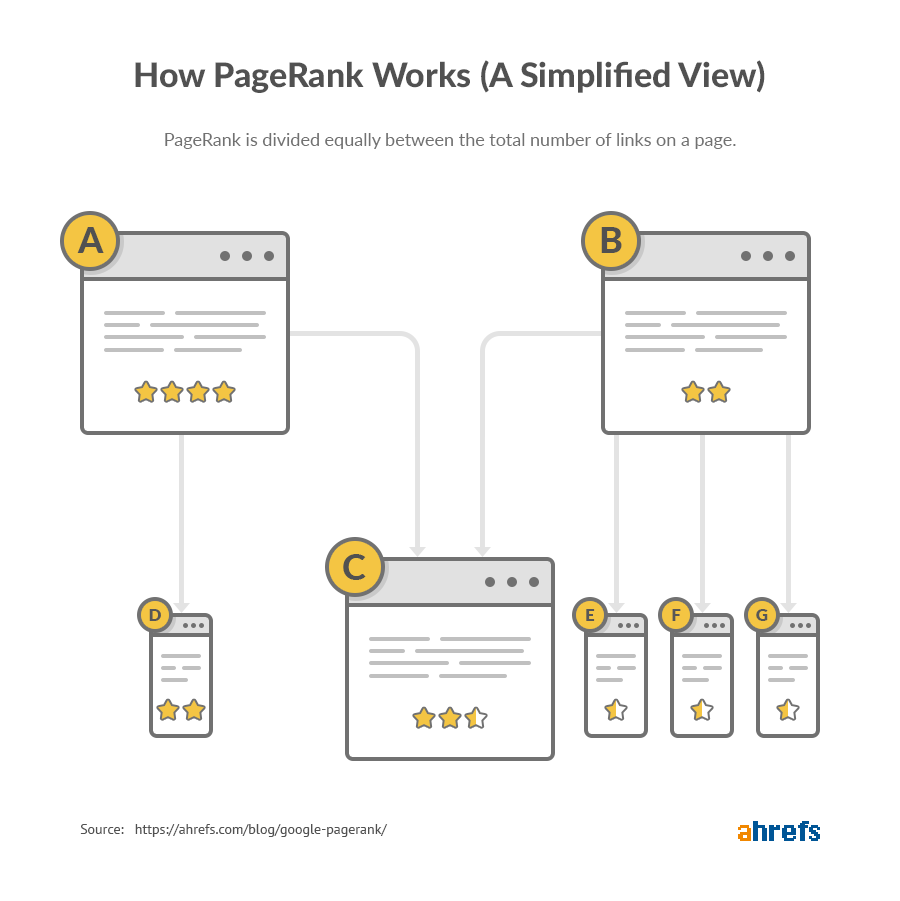 PageRank is the foundation of Google's ranking algorithm, and it's still a ranking signal today.
DYK that after 18 years we're still using PageRank (and 100s of other signals) in ranking?

Wanna know how it works?https://t.co/CfOlxGauGF pic.twitter.com/3YJeNbXLml

— Gary 鯨理/경리 Illyes (@methode) February 9, 2017
Because PR flows from page to page, getting links from multiple pages on the same website increases their 'authority.'
Although we'd love to crunch some numbers to estimate the importance of PR today, that isn't possible. Google discontinued public PR scores in 2016. However, we did find a clear correlation between organic traffic and our page-level authority metric, URL Rating.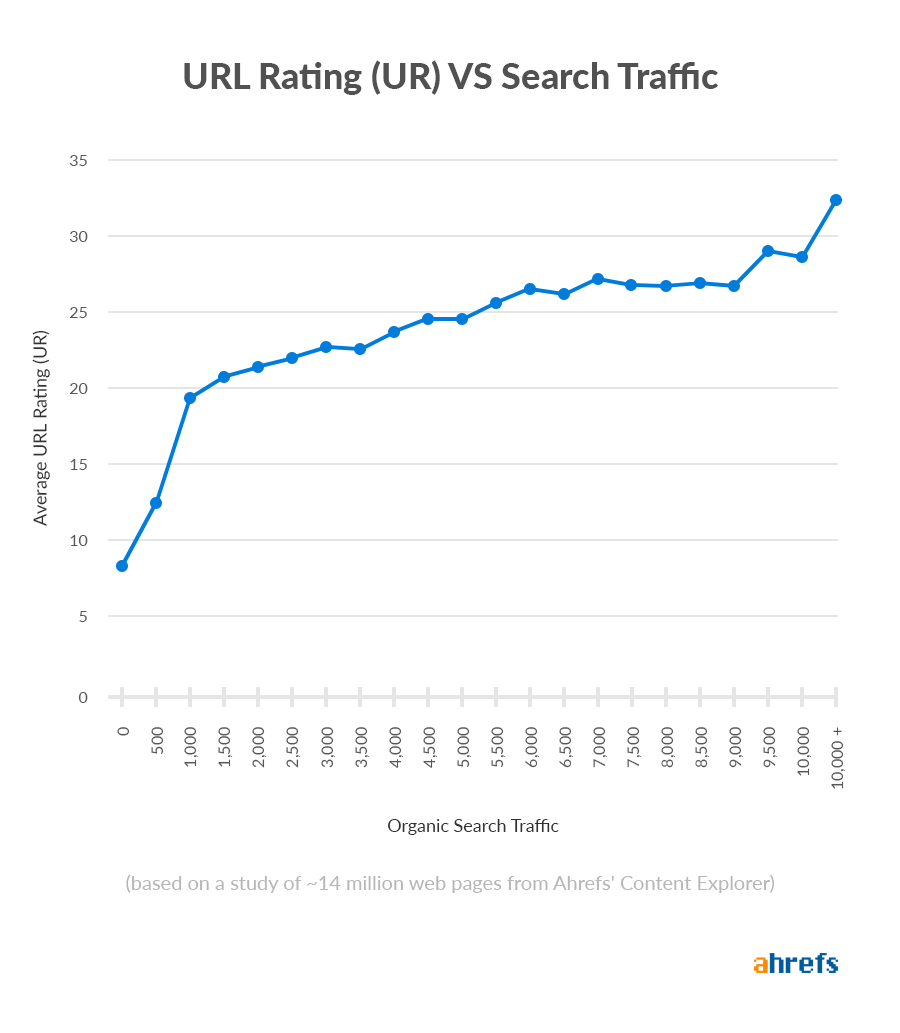 Remember the graph we shared earlier?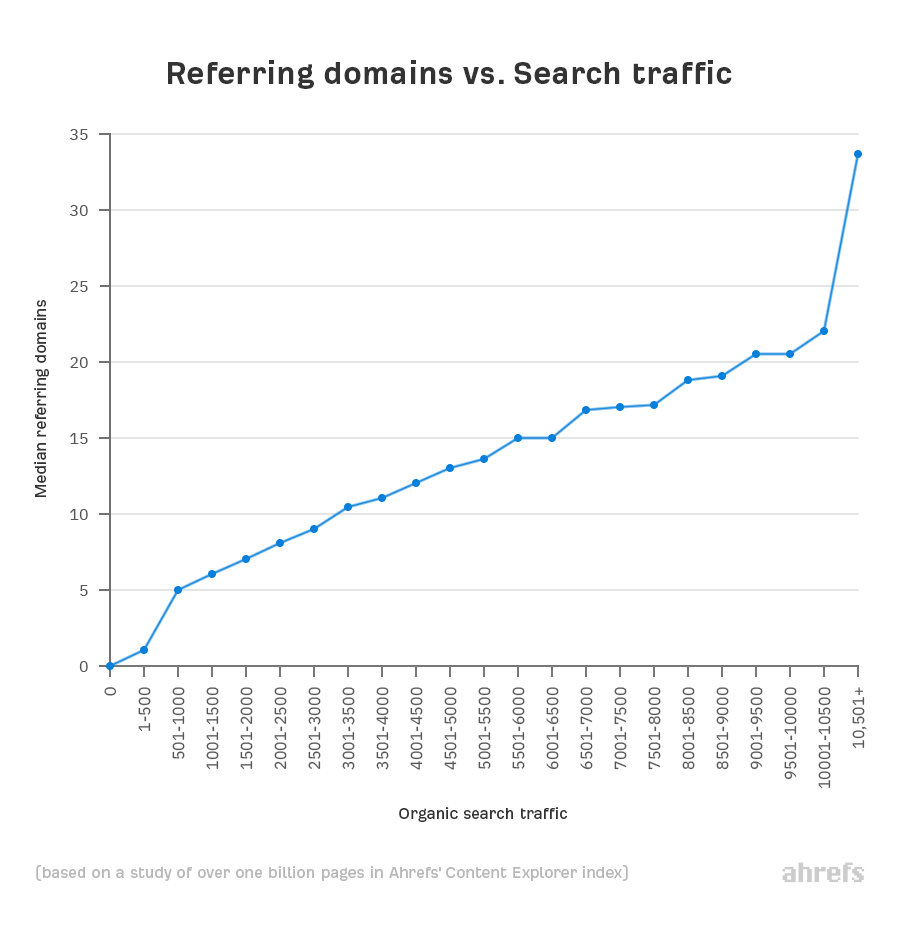 It shows the correlation between organic traffic and the number of referring domains at the page level—not the domain level.
That's important because it suggests that to increase organic traffic, you should focus on building links to the pages that you want to rank in Google.
But here's the thing: people don't always link to the pages that you want to rank.
For example, here's a website that links to one of our studies and nothing else:
Our data studies are fantastic link magnets, but they rarely drive organic traffic. Sure, we can take advantage of the links they drive by distributing some of that "authority" to important pages via internal links. But it's always better to get links directly to the pages you want to rank.
For that reason, if we were running a link building campaign for a new piece of content, it would still make sense to pitch this website.
Backlinks from high-traffic pages can drive referral traffic to your website. Not only can this have a positive impact on your business by driving conversions, but also your SEO. That's because more eyeballs on your content can lead to even more links.
Just look at the referring domains graph of our featured snippets study:
It's attracted over 1,200 referring domains in the 36 months since publishing. That's 34 RDs per month, on average. However, the page gets almost no organic traffic. That means those linkers must have discovered our page through other means—most likely from other linking pages that get traffic.
This isn't hard to believe. If we look at the pages that link to our study, quite a few of them get lots of organic traffic: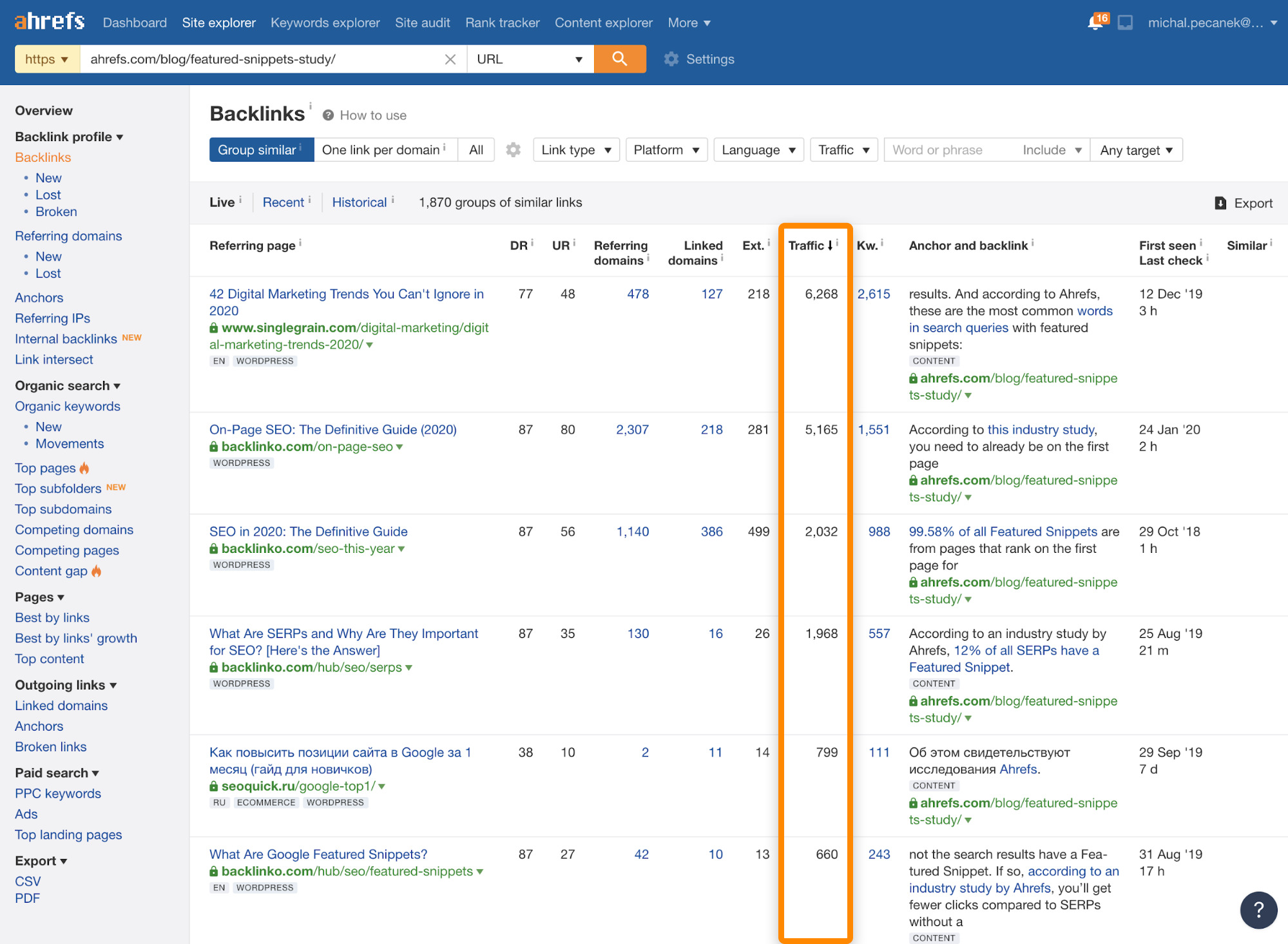 If you take a closer look, you'll see that four of six referring pages with the most organic traffic are on backlinko.com. This shows how links from one domain to even a single page can simultaneously send PageRank, referral traffic, and links your way.
The moral of the story is this:
If there's an opportunity to get a link from a high traffic page, it doesn't matter if you already have a link from that website. It's worth pursuing, even if just for the referral traffic.
TIP
If you use Google Analytics, you can see which sites are sending you the most (valuable) referral traffic. Just go to Acquisition > All Traffic > Referral, then sort the table by conversions or users.
You can then plug the top-performing referral sources into Ahrefs' Site Explorer and check the Top Pages report. This shows their top pages by estimated organic traffic.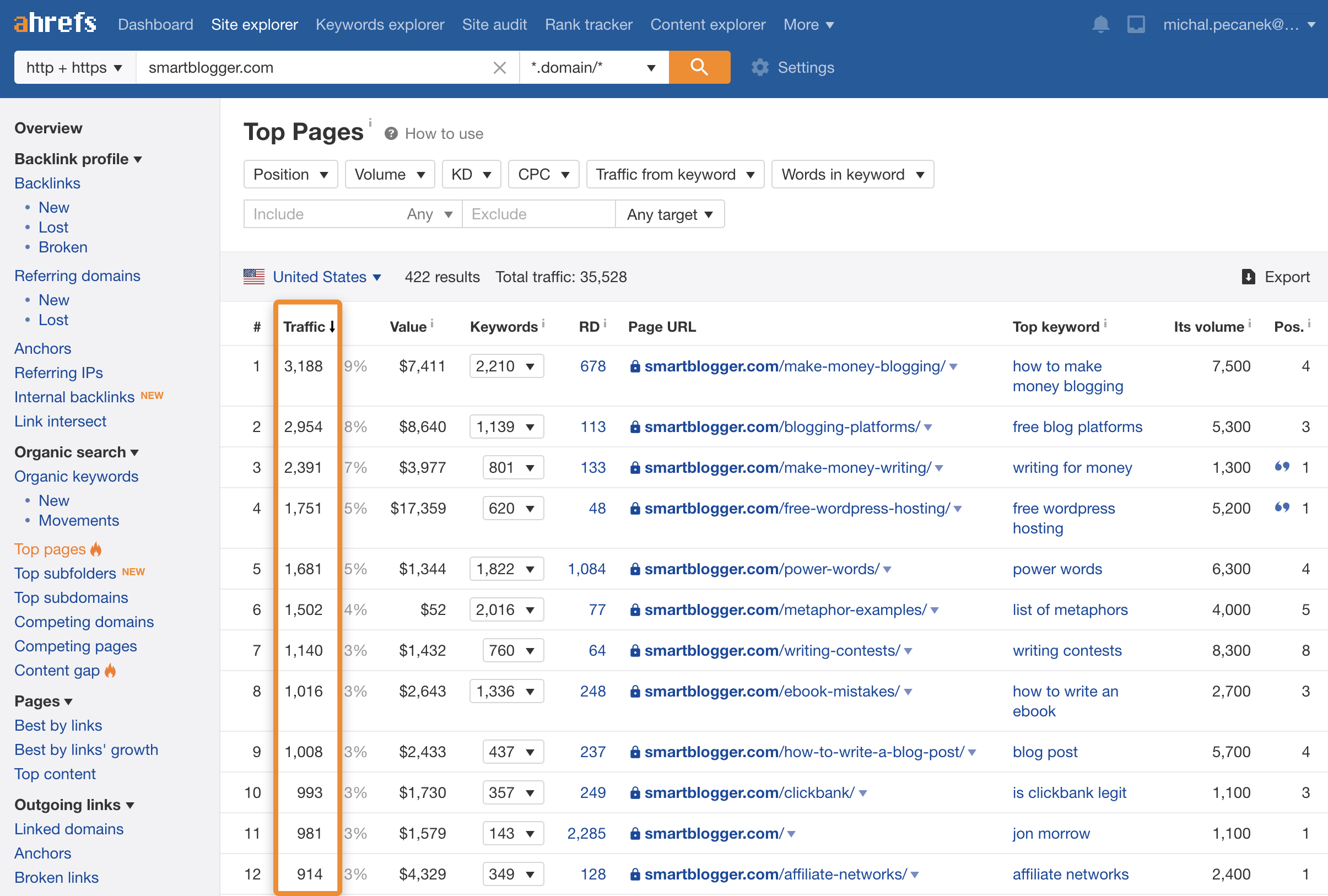 From here, eyeball the report for pages where it might make sense to pitch a contextual link.
For example, if we look at the Top pages report for smartblogger.com, we see a lot of traffic to a post about making money from blogging. And if we look at the post itself, we see that it mentions the importance of SEO and also recommends a rival SEO blog.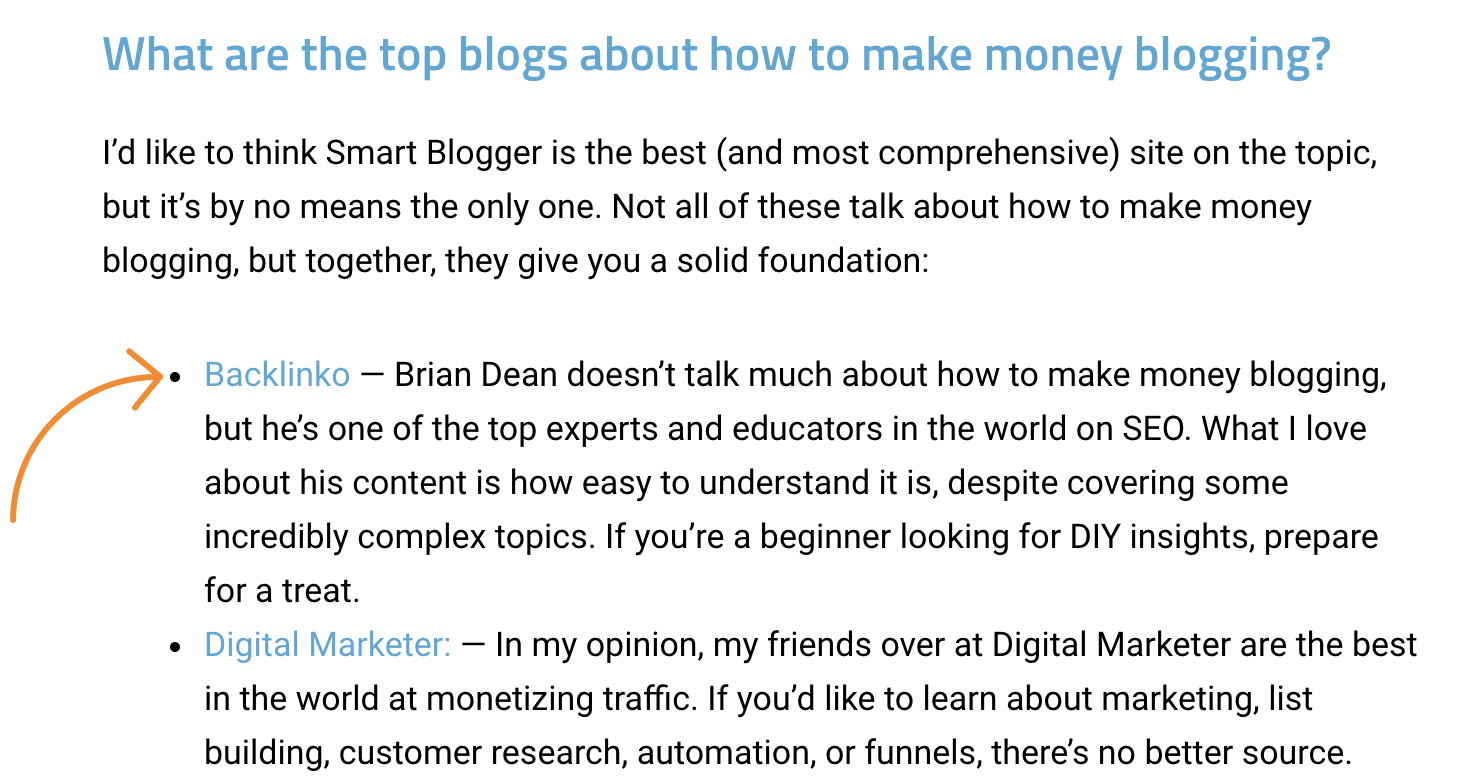 This looks like a great opportunity to pitch a contextual link from a high-traffic page.
Getting links from people who've linked to you before is usually easier than doing "cold outreach."
But how do you find these people?
Go to the Backlinks report in Ahrefs' Site Explorer, set the "One link per domain" grouping option, and apply the "dofollow" filter. From there, eyeball the "Links" column to find websites that have linked to you multiple times already.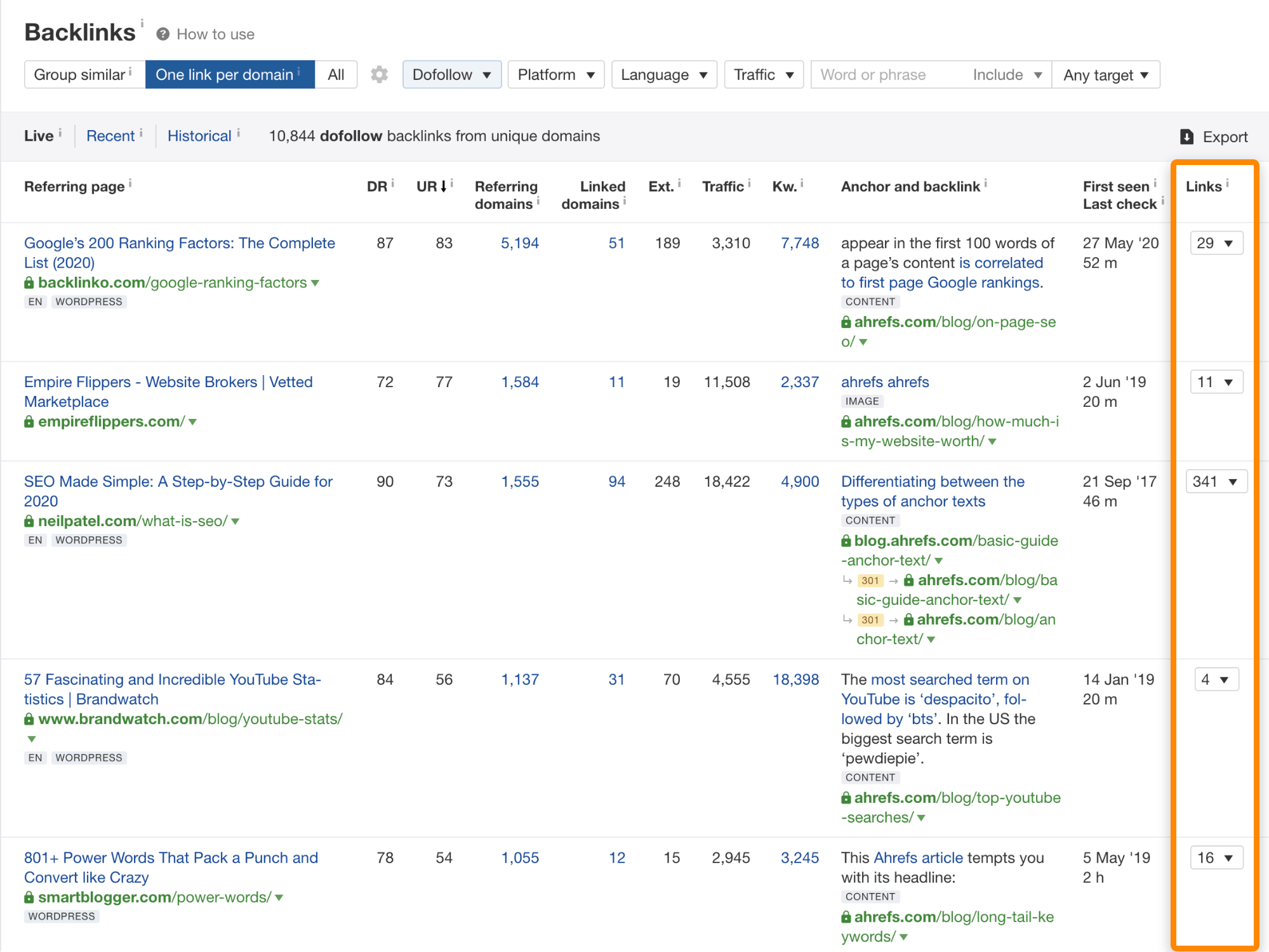 For example, we have ten links from gotchseo.com to various blog posts.

It's clear from this that Nathan—the guy behind gotchseo.com—is a fan of our content. So if we publish anything that might interest him in the future, we can reach out and share it.
If he enjoys it and finds it valuable, he might choose to link to it.
If not, we can always look for a contextual link opportunity on his site. And if there is one, pitch the link. To find relevant opportunities, we can use the site: search operator paired with a word or phrase that describes our post.

Just remember that it's probably not the best idea to send serial linkers the same outreach email as everyone else. They're already fans of your work and have linked to you plenty of times already, so don't insult them with a generic pitch.
tip
If you're a fan of spreadsheets, I'd also recommend exporting the list of your referring domains and matching it against your list of link prospects. You can immediately create notes about the context of their previous links and use them in your pitch.
Final thoughts
I'm sure you wouldn't miss an opportunity to be featured on a page that gets tons of traffic—even if the site already links to you. But I wanted to address this topic because, as with all things SEO, there are misconceptions floating around.
And ultimately, I wanted to nudge you into rethinking your approach to link building. After all, it's probably the most creative and difficult part of SEO.
Got any questions or comments? Ping me on Twitter.