Every business wants to be featured in top industry listicles. This gets you more backlinks and visibility from websites that rank well for keywords like "best X tools" or "top products for X."
The problem is that listicle outreach is quite complicated. You need to identify the right listicles, as well as the right prospects to pitch your business to. Your cold email should provide value and be persuasive. Also, the success of your outreach depends a lot on the negotiation tactics you use.
When I worked for Hunter, listicle outreach was the link building tactic that brought us the best results. For example, in our last campaign, we achieved these results in less than three months with only one person involved in the process:
96 new links from 54 domains
33 new mentions in product listicles
17 upgraded positions in other listicles
In this guide, I'll explain how to use this technique to get dozens of links and mentions for your website in no time. I'll also share some tips on improving your chances of success.
The first step in the listicle outreach process is to define your targets.
There are three key types of listicles that work well for this tactic. You can pick the one that works the best for you or target many categories at the same time (there are no strict rules):
Best options – Lists of products, services, or businesses united by a single topic. It can be a list of best SEO tools, top software for recruiters, etc.
Alternative options – Lists of comparisons focused on a specific industry, topic, or problem. Aura's listicle on top LifeLock competitors is a great example.
Guides that include lists – People often include lists in guides. For example, Ahrefs' guide to finding email addresses includes tips on email lookup. One of the tips is to use email lookup services and the author, Nick Churick, shares a list of the best tools he tested.
Once you've chosen a category (or many), brainstorm keywords and topics you can use to find listicles where your product or service will fit. Then combine them with so-called modifiers (the words commonly used in listicles).
I noticed these modifiers are present in the titles of most listicles: best, top, review, list, tools, free.

Here are a few examples of queries that could work:
Best options listicles: best email finder, best seo tools, top restaurants in new york, etc.
Alternative options listicles: best hunter alternatives, best ahrefs alternatives, etc.
Next, search for these terms in Google and use Ahrefs' SEO Toolbar to export the results. Repeat the process for the other keywords from your list and then merge all CSVs into one.

If you like, you can speed this process up using Ahrefs' Keywords Explorer. Just enter your keywords, hit "Export," and choose the option to "Include SERPs."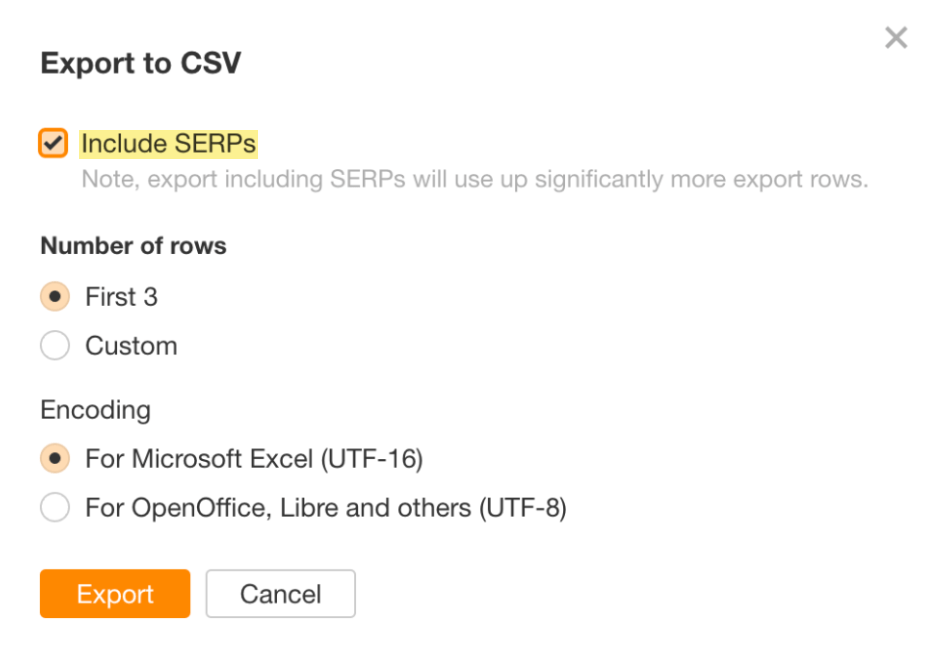 At this stage, you may have hundreds or even thousands of pages in your main CSV. So you need to clean the list so you can focus on pitching to the most relevant and valuable listicles.
You can start with basic cleaning: remove duplicates in bulk and delete all the websites with low DR. In mine, I always remove all the websites with DR 30 and lower.
As the export files from Ahrefs include this data, it's easy enough to do in Excel or Google Sheets.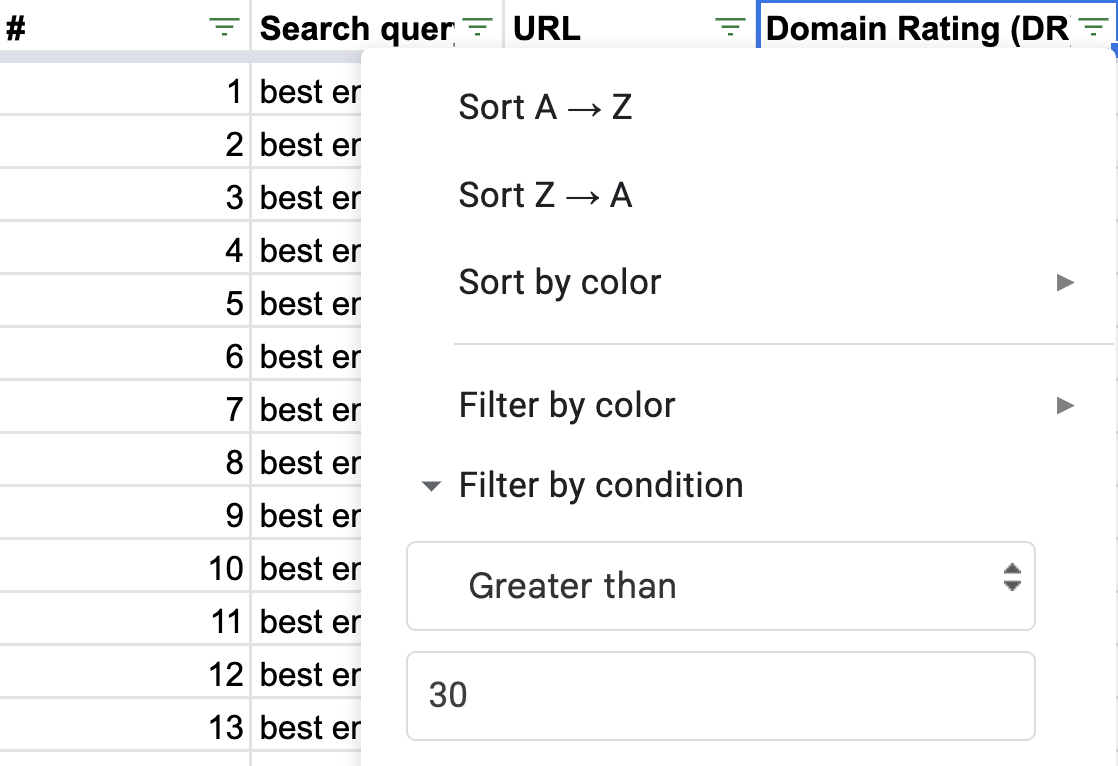 After that, manually check what's left: remove pages that are not listicles and also remove listicles that don't fit your requirements. Optionally, you can delete listicles with low traffic (again, the exports from Ahrefs include this data).
Once you clean the list, it's time to do segmentation. I suggest adding the following tags to your CSV to segment prospects:
Listicles where your product or service isn't mentioned.
Your business is mentioned, but without a link.
You've got a mention, but it's below your competitors.
Here's what my file looks like after the segmentation:

Editor's Note
If you want to speed up and automate this process, consider segmenting during the prospecting stage with Google search operators.
For example, adding "product name" to your search will find listicles that mention your product already. And adding -"product name" will find those that don't mention your product.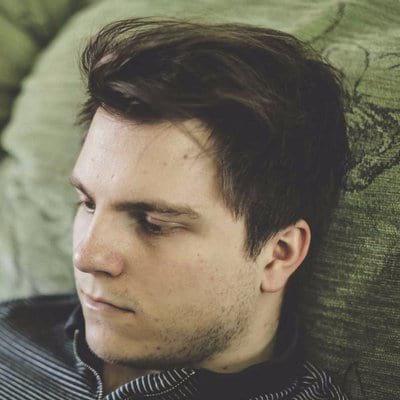 Joshua Hardwick
Head of Content
Now it's time to find the decision-makers behind the URLs you collected. It's essential to dedicate enough time to this part of the process since the success of the campaign depends on the people you contact. The formula "contact the right people, with the right offer, at the right time" still works. And "people" play a significant role here.
After sending hundreds of listicle outreach emails, I noticed I got the best response rates from blog editors and content managers. Often, these were the writers who created a specific listicle. So make these positions your key target.
To start, find the full names of your prospects on LinkedIn and add them to your document.
For example, if I were reaching out to Ahrefs, I'd probably reach out to its head of content, Joshua Hardwick.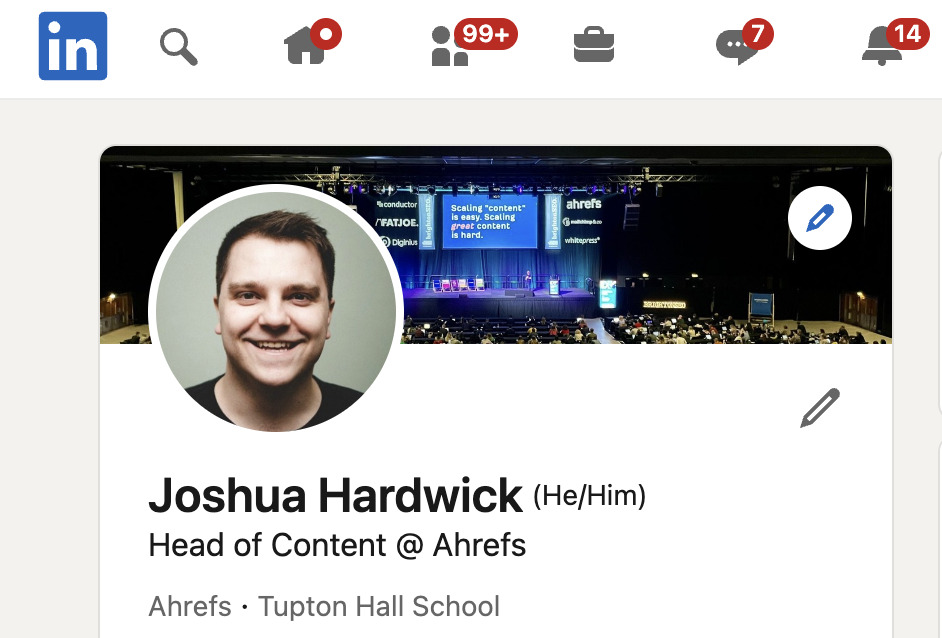 After this, if you use Google Sheets, you can use Hunter for Google Sheets to automate the email lookup process. All you have to do is feed it the columns with the first and last names, domains, and company names of your prospects, and it'll do the rest.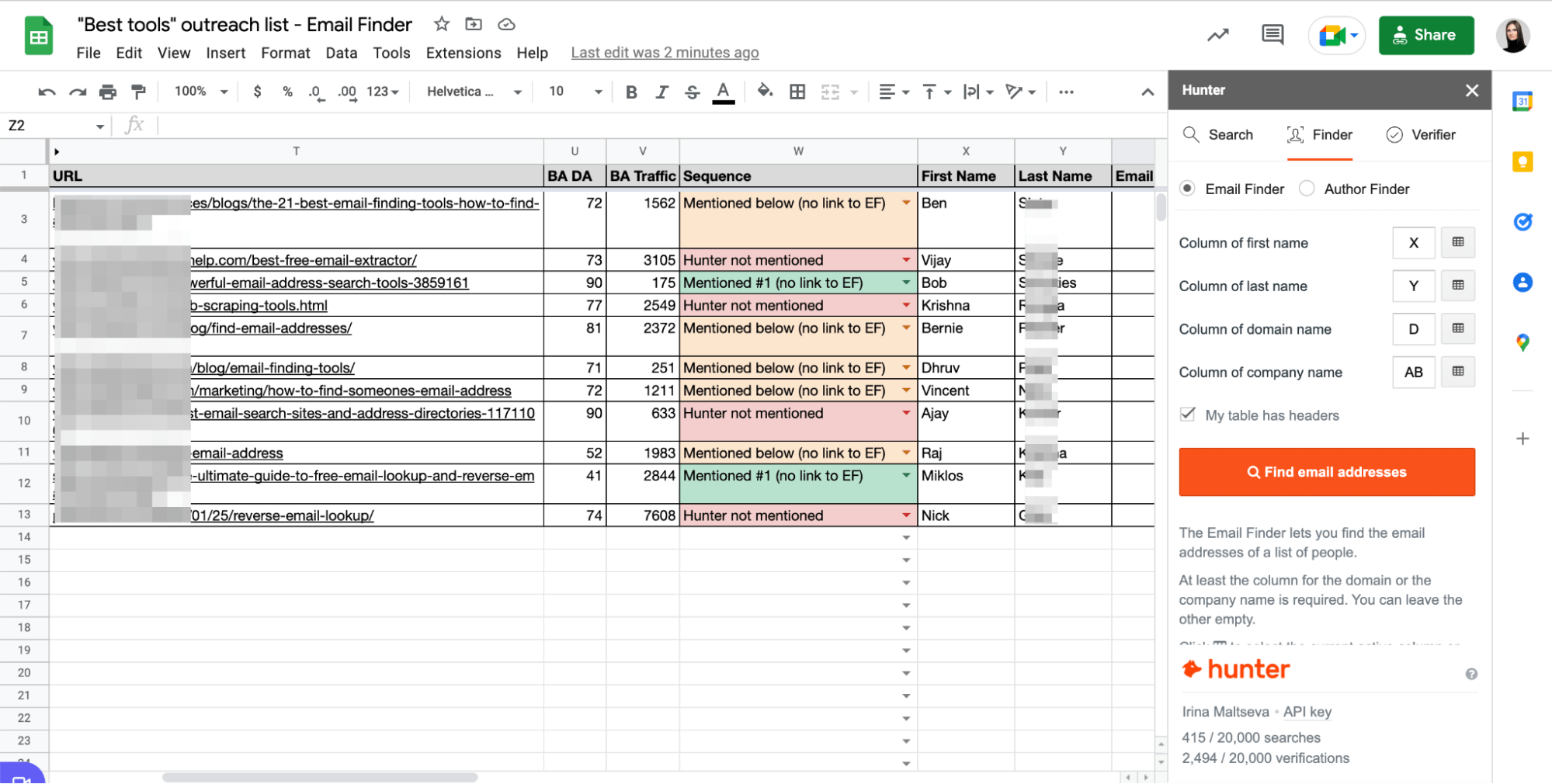 If you don't use Google Sheets, you can use Bulk Email Finder for email lookup. You'll need to upload a CSV into the app, and then you'll be able to export the result.
Recommendation
To simplify the process and find the email addresses of only the authors of the listicles, you can use
Author Finder
in the same add-on or in the app. All you need to find the email address of the listicle author is the URL of the listicle.
Let me guess: You want a mention in the listicle, more visibility from your prospect's audience and, on top of that, a backlink.
Remember, asking for a lot without giving anything in return decreases your chances of getting anything.
Before writing something like "Hey! I have a great tool to add to your listicle. Can you give me a mention with a backlink?" think about what's in it for them.
You should bring value. No value = no pitch. These are the rules of the listicle outreach game.
Let me show you two pitch examples and what I mean by providing value.
Example #1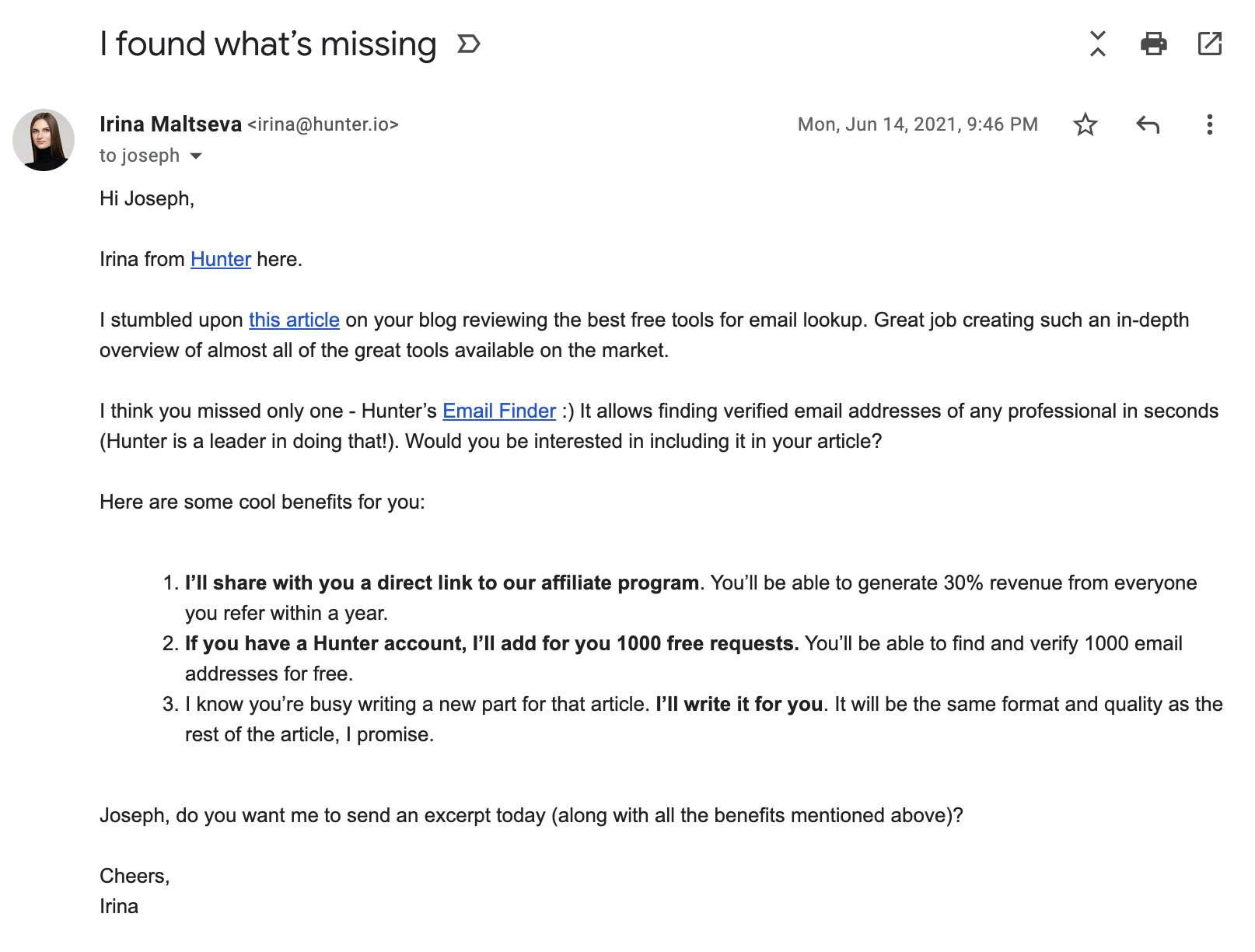 This is one of the templates that helped me generate dozens of mentions. What's the secret?
Instead of focusing on how fantastic my tool was and describing all the features in detail, I focused on the value. In simple words—what the blog editor would get after featuring my product.
I included three critical benefits in my pitch:
If the editor accepted my offer, they would automatically become part of our affiliate program and get recurring revenue from this mention.
I offered bloggers a generous pack of Hunter's free requests that they could use for their cold outreach campaigns.
I offered to help provide information for the listicle. (It's a fact that many bloggers are busy and often have established content update schedules. If you don't want to wait a year for the next update, offer to help.)
Example #2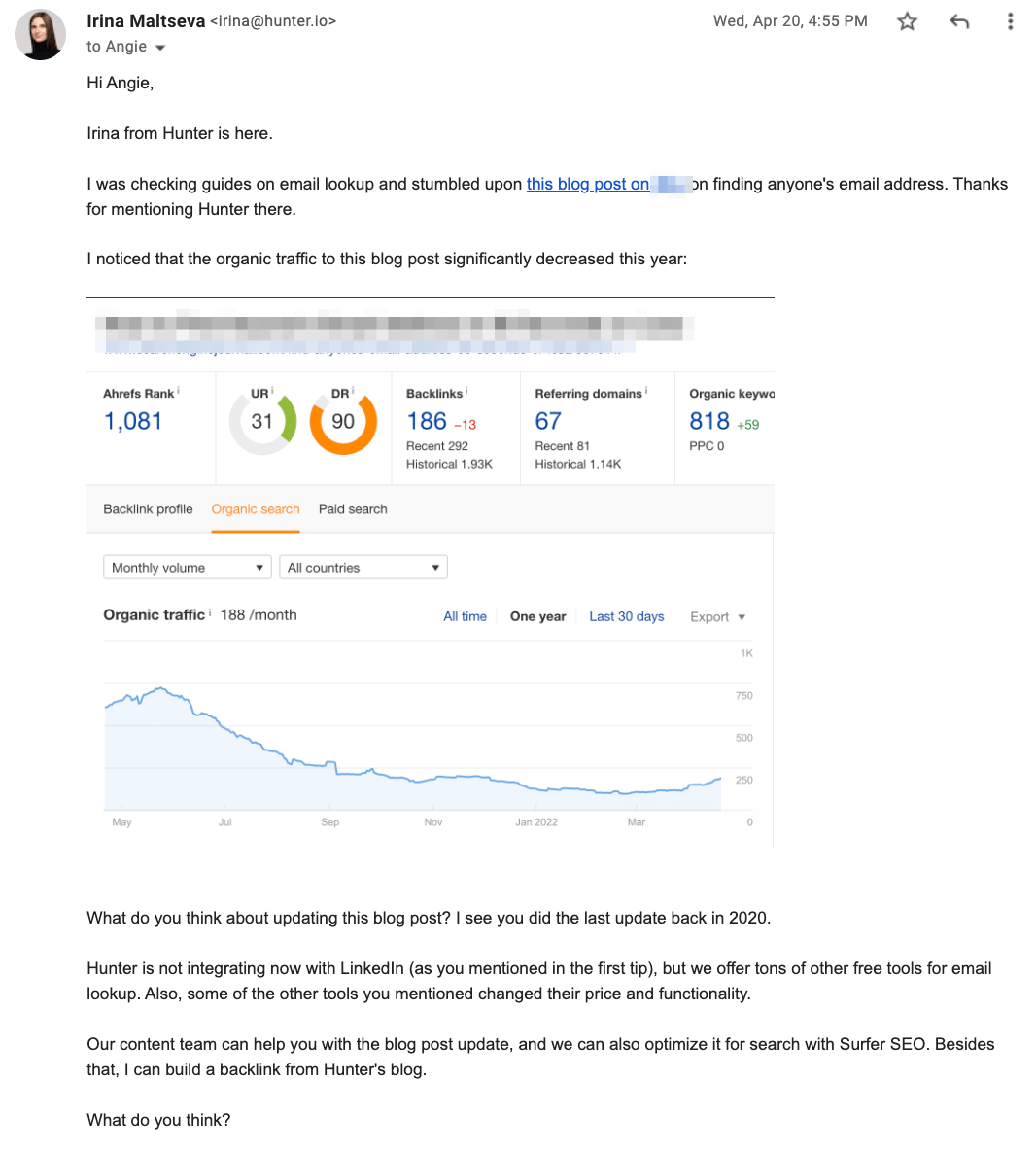 I sent this template to the blog editor, whose site published an in-depth guide on email lookup. They mentioned our tool without a backlink. Also, the information in that article was a bit outdated.
In this pitch, my key message was focused on helping to update the guide, as the organic traffic had dropped lately. I confirmed my point with a screenshot from Ahrefs.
The value of the offer was to help them get better rankings.
I recommend spending quite a lot of time personalizing your emails on a high level instead of doing generic outreach. The more effort you invest in the email copy, the better results you can achieve.
For this campaign, we used two different approaches:
Fully manual and personalized – Sometimes, it took up to 30 minutes to write an email. Yes, it's time consuming, but I found the response rate to be incredibly high (more than 50%).
Automated with a personal touch – We automated some of the email batches with Hunter Campaigns, a free tool for cold outreach automation. When segmenting prospects, you'll notice many similarities between listicles. You can personalize copy at scale with custom attributes and icebreakers for such campaigns.

Also, don't forget to send follow-ups. They help to increase the response rate.
Keep your follow-ups short and straight to the point. Don't send more than two follow-ups to one prospect. This will prevent you from looking desperate and annoying.
You can schedule reminders to send follow-ups in X days directly in your Gmail or set up automated follow-ups with a tool for outreach automation.
In a perfect world, you send your cold pitch and immediately receive, "Sounds great, I just updated my article!"
In the real world, things work differently. When cold emailing for link building, guest posts, or listicle placements, remember that you often will be asked to provide an equal value or even more in return.
Some website editors may even ask for payment:
I don't recommend paying for listicle placements for a few reasons:
If the editor accepts submission only for the payment, they don't care about the quality of the products listed. All they care about is quick money.
If your product is already listed and you want to add a backlink, it may be risky. Google explicitly warns that it considers buying links a link scheme. If you're going to stick to Google's guidelines 100%, you shouldn't buy links.
Often, websites ask for the payment repeatedly. This means that they can feature your product or service in a listicle for a limited time. If you want to extend the placement, you need to continue paying.
Negotiations are one of the most complex parts of listicle outreach. You invested tons of time into research, prospecting, and sequence preparation. But one wrong word or a lack of flexibility in negotiations can cost you a prospect.
Here are a few tips that helped me close the most difficult negotiations (for example HubSpot, which has pretty high editorial standards):
Be flexible – Don't say no right away; always try to find a middle ground.
Provide fast responses – You have a high chance of getting featured in the listicles if you respond to your prospects right away or at least on the same day. Don't wait too long.
Do something for them – Help spread the word about the updated article, share advice in your area of expertise, provide a backlink from your upcoming guest post, etc.
Always follow up – People are busy, and they can forget about you—it's OK. If they showed interest in your offer, don't hesitate to remind them about yourself.
Final thoughts
Listicle outreach isn't hard.
Given the number of tips in the article, it may seem like it. But once you get the hang of things, everything usually fits into place.
I'm not saying you can do it with no effort. You still have to do a lot of work to collect high-quality prospects, find decision-makers, prepare a valuable outreach sequence, etc. But it's not the impossible task that many think it is.
If your campaign goes well, you can make it evergreen by monitoring for new listicles with Ahrefs Alerts. Here's an example alert that monitors for new listicles with "best email finder" in their titles on DR 30+ websites with 1,000+ monthly search visits: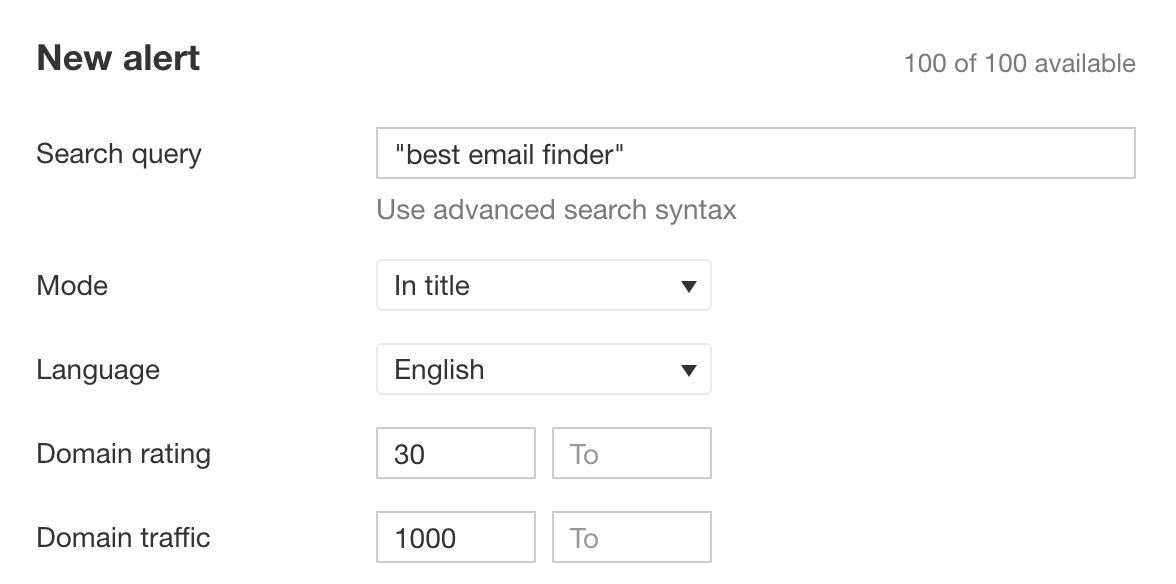 Got questions? Ping me on LinkedIn.