I'm sure you don't need me to tell you that analyzing the link profiles of your competitors is one of the best ways to find backlink opportunities for your website.
It just is.
The traditional methods of backlink analysis involve either:
Analysing a list of referring domains/links for an entire site to gain an insight into their overall strategy
Analysing links that point to a specific piece of content on a competitor's site and looking for link opportunities for your own similar content
There's nothing wrong with either of these tactics — quite the opposite — and they should definitely be part of your own link building strategy.
But, wouldn't it be cool if you could reverse engineer what your competitors are doing to specifically promote each piece of content they create?
And more specifically, uncover recurring link sources that will link out to their content again and again?
Well, it is cool… and the good news is you can do it!
Here's how.
A Neat Little Intersect Tool Hack
We're going to use Ahrefs' Link Intersect tool for this process.
Normally what we'd do with the Intersect tool is use it to find websites that are pointing to several competitors, but are not currently linking to our own site — like this.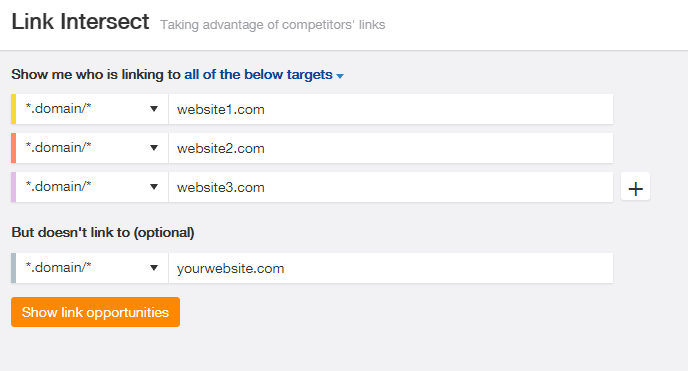 It's a nifty little tool. You can analyse up to 10 competitors at once to look for 'hubs' — that is sites that are linking to several of your competitors. It is pretty obvious that if a website links to several competitors of yours, it must be easier to get a backlink for you.
This is a GREAT tactic and can uncover a lot of hot link opportunities, but it's NOT what we're going to be doing today.
Instead we're going to use the Intersect tool to find sites that are linking to multiple pages on the same domain.
I'll explain just how useful this data is in a moment, but first, here's the full process.
How To Find Recurring Links With Ahrefs Intersect Tool
For the purposes of this tutorial, we'll use the Intersect tool to look for sites that link to multiple posts on Brian Dean's awesome Backlinko.
We'll also be using Ahrefs Site Explorer to find the most popular posts on the domain.
Here's what we do:
Step 1: Enter a competitor's domain into Ahrefs Site Explorer and set "HTTP+HTTPs" and *.domain/* modes for the maximum coverage. Then hit 'Search'.

Step 2: From the "Pages" sction select "Best by links" report.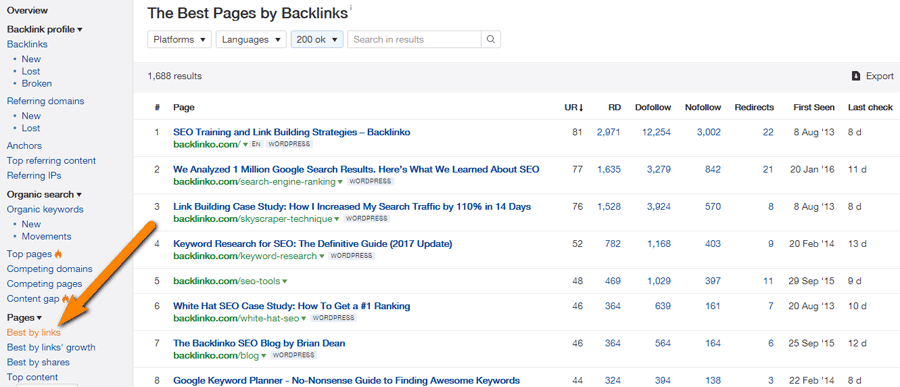 Step 3: Order the report by the number referring domains. This will put the content with maximum unique websites linking to it on top.
Step 4: Copy the top ten results into Microsoft's greatest ever product — notepad! We're looking for links to content, so we'll ignore the front page and grab the URLs for the top ten posts.
So that you don't have to mess up with copying, you can easily export the results.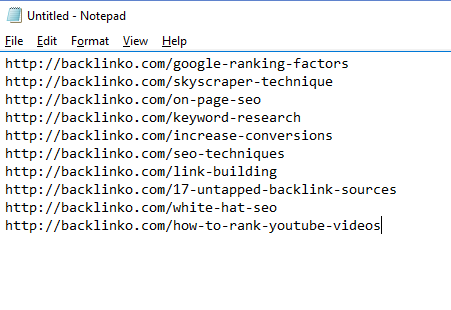 Step 4: Now let's go to "Link Intersect" tool.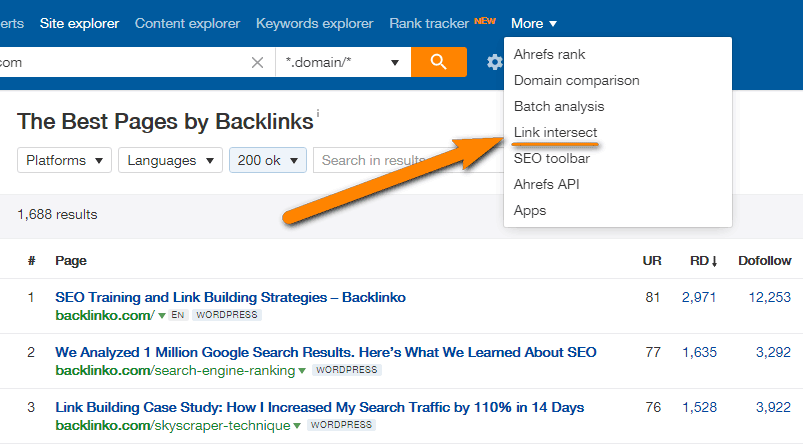 Step 5: Add each of the URLs you collected. By default there will be 3 boxes for you to enter URLs so just click the + button to add more.
Select 'URL' from the drop down list beside each of the boxes and select 'Any of the below targets' from the drop down list above the URLs.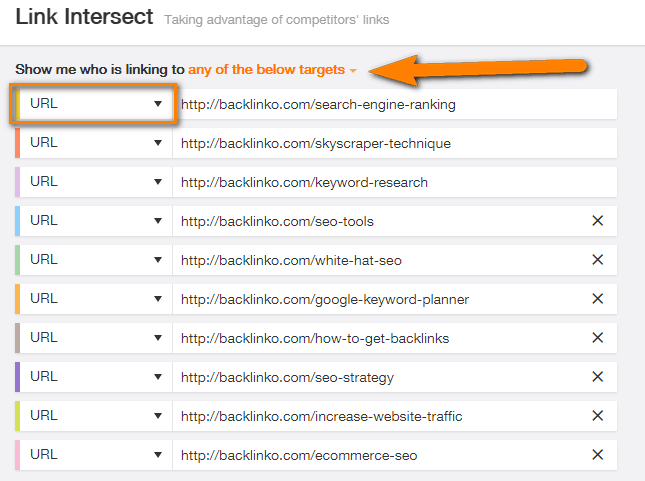 Step 6: Leave the 'But doesn't link to' box empty and hit 'Show Link Opportunities'

Step 7: Ahrefs will generate a report showing sites which point to multiple URLs from our list — with the sites pointing to the most URLs at the top. In the report below we can see that there are a number of sites which are linking to all of the URLs we collected.

Step 8: Clicking on the arrows beside the link numbers will show actual URLs pointing to the content.

Step 9: You can click to open each URL in a new window/tab to analyse.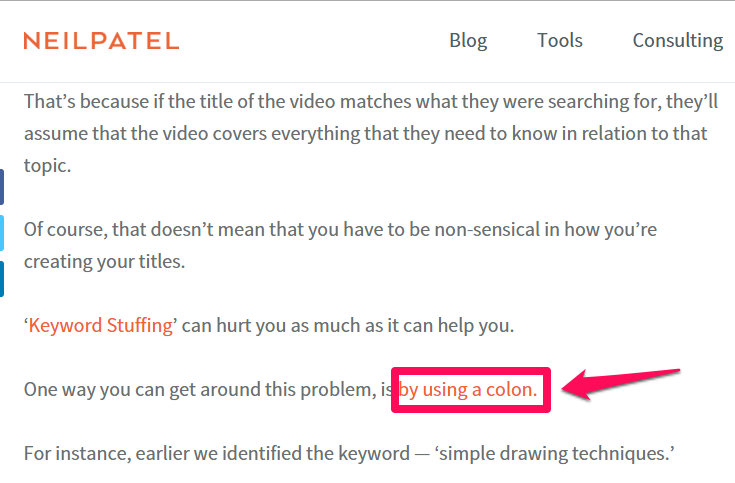 Step 10 (optional): You might want to export the report out into a spreadsheet (just click the export button), although personally I prefer to work directly in Ahrefs when analysing this type of data.
So now as we have the data, let's see what it tells us!
Analysing The Data
I'm going to keep this general as this is a tactic that can work in any niche (not just marketing), however, since we used Backlinko for the tutorial here are a couple of quick takeaways from Brian's recurring links:
There Are A Number Of Links We Can Easily Replicate
We can easily replicate 5 of the top 10 recurring links we discovered in our analysis (# of URLs linked to in brackets):
Scoop.it (10) — We can obviously add our own content to our own curated pages + we could also suggest our content to other scoop.it users. Look for pages which cover your topic and use the 'suggest' feature (but don't spam!).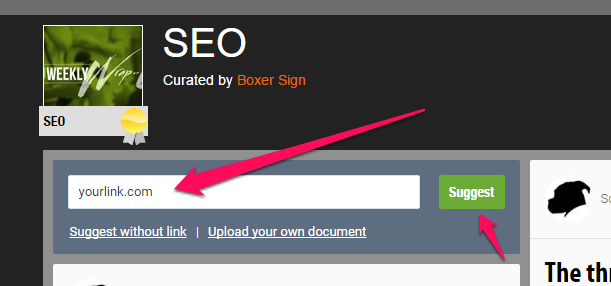 Warriorforum.com (10) — Again, as long as you are not spamming, your content is genuinely helpful, and you are active on the forum, you should have no problem dropping occassional links to your content here.
Diigo (10) — A social bookmarking site that we can easily add our links to.
Reddit (9) — As before, we can easily replicate these links, but Reddit marketing is not straight forward, and spammers/link droppers are easily weeded out/banned by the community.
To get an indication of what subs might be receptive to your content you can quickly see all links from a particular domain by using the following url format:
reddit.com/domain/yourcompetitor.com
For example, here are all the reddit links pointing to Backlinko.
Look for shares that generated a decent number of upvotes: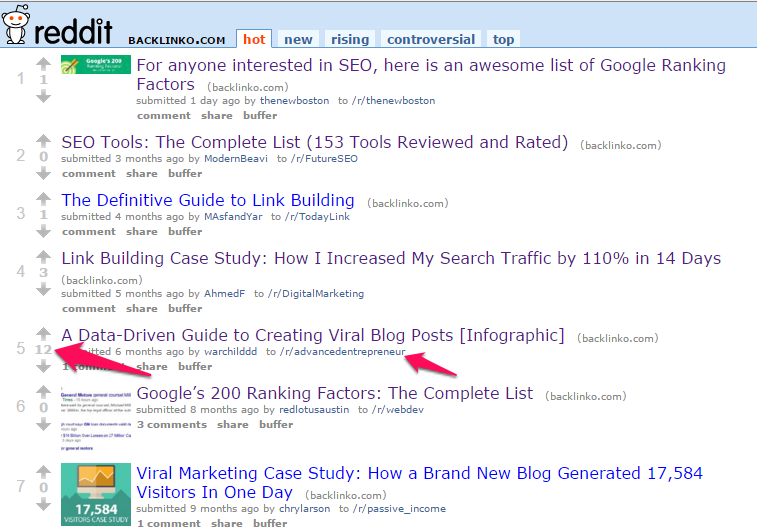 Tip: Once a link has 2 or more upvotes it will turn from nofollow to dofollow.
If we continue down the list we can find lots of other similar opportunities to easily add our links — for example pinboard.in.
Note: While these links can easily be replicated by setting up our own accounts, it would be better if the content was shared naturally from multiple accounts as all links coming from one profile leaves an obvious link building footprint. I should also point out that I'm not saying these are links that you should necessarily be building every time you create content, or that they will help your rankings — just that they are easy to replicate.
It Pays To Be Connected
I'm not sure if they have a current tie-up, but you may have noticed that Brian put together the video tutorials for Neil Patel's Quick Sprout University course (well worth checking out).
And we can see that neilpatel.com links to all 10 of Backlinko's top 10 posts.
Just saying 😉
Growth Tip:
Why not form a loose partnership with several other bloggers who are currently at a similar level to you and help each other out by regularly sharing/linking to each others content?
But note that Google does not approve excessive link exchanging.

Now, let's move on to some more general points to look out for when analysing a competitor's recurring links.
Finding Backlink Opportunities With Competitor's Recurring Links
Here are some ideas…
1. Quick Wins
I have already covered this in the analysis of Backlinko's recurring links above, but for most sites you will tend to find some quick wins where it will be easy enough to drop in your own links.
As well as bookmarking style/social voting sites, look out for high quality RSS feed sites/aggregators such as alltop.com.
These are simple to suggest your site to and if your content is high quality you will have a good chance of being accepted.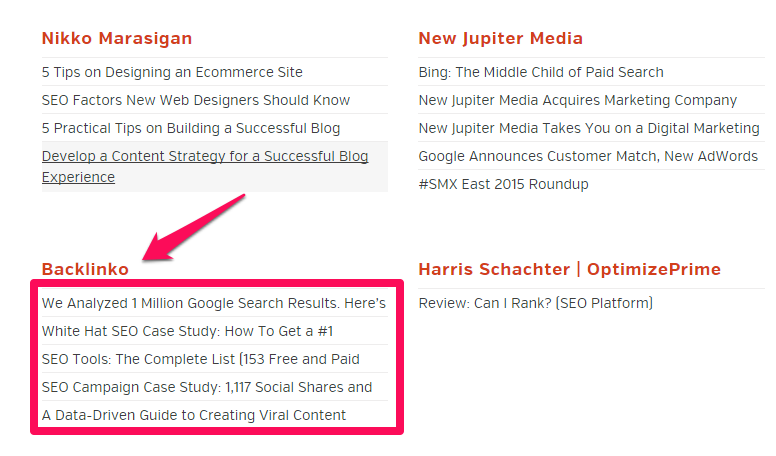 Links from content aggregators are generally dofollow and can bring in a nice burst of traffic to new content.
2. Repurposed Content
Repurposing is a great way to squeeze out extra value from your content and pick up some nice backlinks along the way.
For example, a blog post could be repurposed into:
A video
A slideshare presentation
An infographic
A podcast/audio file
When analysing recurring backlink sources, you will often find ways in which competitors are repurposing their content (and where the are sharing), which you can replicate in your own online marketing strategy.
If we run an Intersect report to look at the recurring backlinks for KissMetrics, we can see that most of their top posts have been shared as infographics on visual.ly — an easy link to replicate.

3. Regular Linkers
The best way to gain white hat links to your site is to build real relationships with other bloggers/influencers in your niche.
The problem is that as marketers we only have a limited amount of time, so obviously we can't spend our days networking with every single blogger out there. If we did we wouldn't have any time to get actual work done!
So doesn't it make sense to look for sites that are regularly linking to your competitors and focus your efforts on building relationships with them?
We can see that they already regularly link out to similar content, so if we can get to know them, there is a good chance they will share/link to our content in the future.
In Brian Dean's case, we can see that nichehacks.com has linked to 7 of Backlinko's top 10 posts, so Stuart Walker might be someone it is worth getting to know (hint: he is!).

One of the best ways to start the process of building a relationship with an influencer is to regularly share their content, and make sure they are aware you have shared it — it's the law of reciprocity in action.
The easiest way to do this is to prepare a custom tweet when you share their posts — something like:

This way it will stick out among all the auto-generated tweets and they will quickly get to know your name.
Blogger outreach is another option. But you should be careful with it. Don't reach out if you have nothing valuable to offer or if you don't know how to do it right.
4. Syndicated Content
If you notice that a competitor is regularly syndicating their content on sites like:
Then that's something you might want to try out too.
Here is an excellent guide to effective content syndication by Danny Wong for Shareaholic.
5. Other Opportunities
Specific tactics/opportunities will vary from niche to niche, but you'll be sure to find loads of other ideas for your campaigns by following this simple strategy.
So…
Why Not Try It Out?
As you can see, analysing a competitor's recurring backlinks will quickly give you a feel for their regular content promotion strategy, and an invaluable insight into their 'inner circle' of sharers/linkers.
By repeating this process with 3 or 4 competitors you will be sure to uncover some valuable link opportunities, some quick wins, and a number of cool ideas you can use in your own link building campaigns.
Oh, and if you don't currently have an Ahrefs account, you can sign up for a 7-day trial and get instant access to the Intersect tool + the full suite of Ahrefs link and content analysis tools.
So why not try this strategy out for yourself?
As always, any questions or comments please leave them below 🙂