Let's assume that only a tiny percentage (0.01%?) of these published posts are marketing-related; that's 12,000+ new marketing articles going live every month.
(I bet even Johnny-Five would struggle with that amount of reading)
It's, therefore, hardly surprising that there's significant demand for curated lists of "marketing articles" (at least that's what we found when doing keyword research).
The problem? None of the top search results are particularly great.
So, we decided to tackle this problem head-on by putting together our own curated list of the best marketing articles ever.
The challenge + our methodology
Most existing curated lists of the "best marketing articles" fail for one simple reason:
They're too subjective.
We realised early-on in this process that should we go down the route of simply picking our own personal favourites, we'd fall into the same trap; here's how we compiled our initial list of blog posts:
We created a list of 12 subtopics falling under the general "marketing" umbrella (e.g. SEO, copywriting, etc);
We used Content Explorer to find popular posts within each of those subtopics;
We manually sifted through the list of posts and plucked out the best of the best.
This resulted in a nice list of initial posts.

We then reached out to a couple hundred "experts" and asked them to share their favorite marketing-related posts of all time. The idea here was to crowdsource a list of the best marketing posts directly from industry influencers.
This didn't work too well.
Why? Because many people seemed to be suggesting their own content (it seemed like a lot of them viewed this as yet another "expert roundup" post).
Still, we added any genuine suggestions to our initial list of blog posts under the appropriate category.
We now had a huge list of 200+ blog posts, but we wanted to refine this further into a much smaller list.
We didn't want to do by hand as we felt this would add bias to the final list.
So, we decided to create a survey and leave it up to the marketing community to vote for their favourites.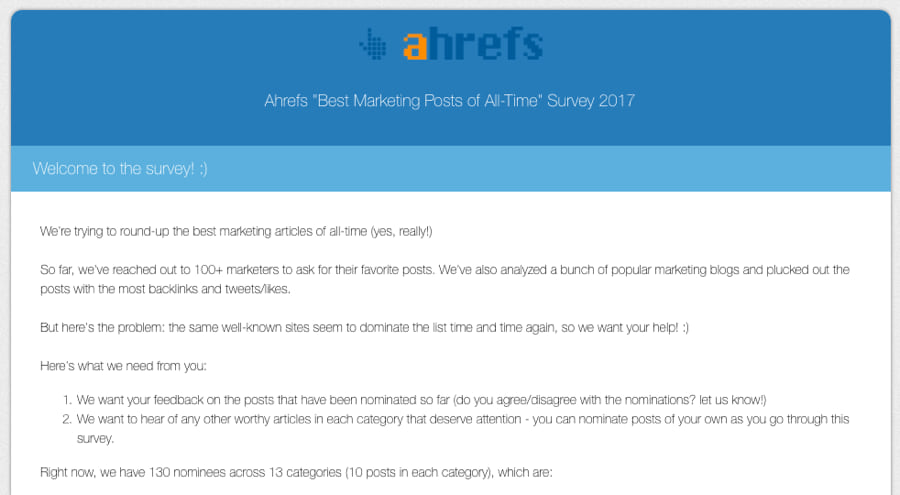 We sent the survey out to our subscriber base of 47K+ people, posted it on Reddit (in /r/bigSEO), Inbound.org, and also promoted it via Facebook ads.
248 of you completed the survey.

Sidenote.
10x more people started filling in the survey but didn't finish because it was rather long.
Lastly, we sifted through all the data and compiled the list you see below.
65 best marketing articles of all time (as of 2017)
Below, we have a total of 65 marketing articles under the following 12 categories:
Sidenote.
These aren't ranked by any particular level of awesomeness; they're all equally awesome.
It's worth noting that, rather flatteringly, many people were raving about content from Ahrefs Blog. We're very proud of this, but we tried to put the spotlight on articles from other sources when compiling this list.
If you want to read the best from Ahrefs blog, you can always find an updated list on the blog homepage.
It's also worth noting that this list is aimed primarily at marketing newbies, as it will help you to quickly learn the best from the best. However, a lot of marketers today are "generalists", so if you feel your knowledge is lacking in a specific area (e.g. PPC), it'll be well worth checking our article suggestions under that category.
General Search Engine Optimization (SEO)
SEO is a confusing topic.
I remember when I first started learning about SEO, I felt like one blog post would say one thing, only to be contradicted five minutes later by the next post I read.
This makes for a very steep learning curve, especially for SEO "newbies".
Here are the five best SEO articles voted for by you. There's something for everyone here, regardless of your current level of knowledge.
We didn't include these in the top five list above (as we wanted our list to be as unbiased as possible and there were quite a few Ahrefs fans among the voters), but David McSweeney's list of 200+ Actionable SEO Tips and Tim Soulo's on-page SEO analysis (of 2M keywords) were actually ranked no.1 and no.5 respectively.
It would also be fair to point out that "Google's 200 Ranking Factors" article might not be entirely accurate, so we thought we should also include a different view at Google's ranking factors: The Myth of Google's 200 Ranking Factors.
Link Building
Many people struggle with link building, especially when it comes to using outreach-based strategies (note: almost all worthwhile links will be built via outreach).
Again, it's not so much that link-building is particularly difficult; there's just a lot of shady, lazy advice scattered across the web.
This can quickly lead to confusion.
Here are five of the best link-building articles on the web (note: these five posts alone contain hundreds of amazing strategies):
David McSweeney's "Noob Guide to Link Building" was actually ranked no.2. But adding it on a list above would not be very objective, as I wrote before.

Keyword Research + "Technical" SEO
It's difficult to overstate the importance of proper keyword research, yet very few people give it the time and attention it deserves.
This is true for both "newbies" and seasoned SEOs alike.
It's the same story for anything that falls under the "technical SEO" umbrella; people generally underestimate its importance and instead invest all their time, energy and resources almost entirely into link building.
This is a BIG mistake.
Here are the five articles (with the highest number of votes) relating to both KW research and technical SEO:
And of course we couldn't leave that section without a mention of our own in-depth guide to keyword research: How To Do Keyword Research in 2017.
Outreach
Most bloggers receive hundreds of outreach emails every week.
This makes cutting through the noise a fairly difficult task (even if you have genuinely good intentions).
Right now, my own personal blog is far from popular, but I still receive 10-20 outreach emails every week and, honestly, most of them suck.
These 5 articles will be sure help you up your outreach game and cut through the noise:
Again, not to blow our own trumpet, but Tim Soulo's email outreach post (this is definitely worth a read) was actually ranked no.1 before we excluded it.

Analytics
Nothing is more important in marketing than analytics.
Without analytics, there's no knowing whether or not your marketing efforts are generating ROI (or even leading to an increase in traffic).
Google Analytics, of course, is the go-to analytics suite for most marketers, but it's also important to have a solid understand of analytics terminology (e.g. KPI's).
Here are the five top-voted analytics articles covering Google Analytics and more:
Content Marketing
Content marketing is more than just a buzzword.
It's a way to build trust, build authority (amongst your target customers), and ultimately, drive more sales without resorting to traditional "hard sell" tactics.
And if you're wondering exactly how you do this, it's simple:
You create content that appeals to and engages with your target market;
You find a way to get it in front of them.
Here are the five best content marketing-related articles with the most votes:
My previous article, "I Asked 235 People to Tweet My Article and All I Got Is This Cheerless Case Study" (from the Ahrefs' blog) was actually ranked #2. If you haven't read it already, it's well worth a read.

Copywriting
Copywriting is essentially moving words around to sell better
So, let's assume you have a sales page whereby, on average, you make 1 sale per 100 visitors (i.e. 1% CR).
It may be the case that by rewriting, restructuring, and/or adding/removing content from that sales page, you're able to make 2 sales per 100 visitors, effectively doubling your conversion rate.
This is the job of a copywriter.
Remember, attracting a ton of traffic is all well and good but if you can't convert that traffic into paying customers, well, you have no business.
Here are our top five copywriting-related posts:
Pay-Per-Click (PPC)
Pay-Per-Click is a form of paid advertising where you pay a small fee every time someone clicks your ad.
Because you don't pay a penny until someone clicks your ad, you're only paying for results (i.e. traffic).
Google Adwords, Facebook Ads, and many other platforms offer this form of advertising.
However, creating a profitable PPC campaign is easier said than done, as you need to know your numbers (i.e. CR, LTV, etc) like the back of your hand.
Here are five PPC-related articles to get you started:
Blogging
Blogging (successfully) really only requires three ingredients: content; traffic; and a monetisation method.
Here are five posts that will see you well on your way to making your blogging dream a reality:
Social Media Marketing (SMM)
Social media marketing is about more than scheduling a few tweets with Buffer.
It's about smart audience targeting, building trust, and ultimately, pulling leads further down your sales funnel.
In order to do this, you need to know: who your customers are; what they want; and when they want it.
Here are our five best posts (i.e. with the most votes) to get you started:
Conversion Rate Optimization (CRO)
Most marketers are obsessed with getting more traffic.
More traffic = more revenue, right?
Sure, this is generally true, but there is a way to increase revenue without attracting any more traffic: increase your conversion rate.
Let's assume that you sell a $100 product and, right now, your conversion rate is 2% (i.e. 1 in 50 visitors buy your product).
If you have 1K visitors per month, that's $2K revenue.
But, if you could somehow increase your conversion rate to 3%, your monthly revenue would jump from $2K to $3K per month (without any increase in traffic).
Here are a few great CRO posts (as voted for by the marketing community):
Holy Grail of eCommerce Conversion Optimization - 91 Point Checklist and Infographic by Pancham Prashar for Moz;
6 Proven Ways to Boost the Conversion Rates of Your Call-to-Action Buttons by Joanna Wiebe for Copyblogger;
Speed Is A Killer – Why Decreasing Page Load Time Can Drastically Increase Conversions by Sherice Jacob for KISSmetrics;
Miscellaneous
Marketing is an extremely broad subject.
While we did our best to break this topic into subtopics (e.g. SEO, PPC, etc.), there were a handful of articles that didn't neatly fit into any of these categories.
So, here are the top 10 most popular articles in the "miscellaneous" category:
The Complete Guide to Understanding Consumer Psychology by Neil Patel & Ritika Puri for QuickSprout;
What I Learned From Developing Branding for Airbnb, Dropbox and Thumbtack by Julie Supan for First Round Review;
We NEED your help to make this list even better…
If you've reached this section thinking "great, but why the hell wasn't [INSERT NEGLECTED MARKETING ARTICLE HERE] included on this list!?", this is your chance to nominate it.
Clicking this link will take you to a new survey where you can nominate marketing articles that you feel should be added to our list.
We will only accept your nomination if you fill in all of the required fields (seriously, we don't want any spam!).