In 1984, Nike collaborated with Michael Jordan to create an exclusive sneaker line, the Air Jordans.
It was a hit. In just 12 months, the Air Jordan 1 sneakers racked up more than $100 million in sales. In 2020, an original pair—worn and signed by Jordan himself—sold for $560,000.
Michael Jordan, the superstar basketball player, catapulted Nike into the household name we know today.
This is an example of influencer marketing.
In this guide, you'll learn:
Influencers are people who have an active, sizable audience (usually on social media) and the ability to influence their audience to do something.
Influencer marketing is the practice of working with influencers to promote your brand's message, products or services.
There are a few reasons why you should do influencer marketing.
1. Persuade their audience to take action
Influencers hold sway over your target audience. It's in the name itself—they influence. That means they're able to inspire their following to take action. Most importantly, to buy.
It means things like selling out sardines after a mention in a podcast episode.
We see this at Ahrefs too. Even though we've never run an influencer marketing campaign, we see that a strong recommendation from a trusted influencer can lead to a significant boost in sign-ups: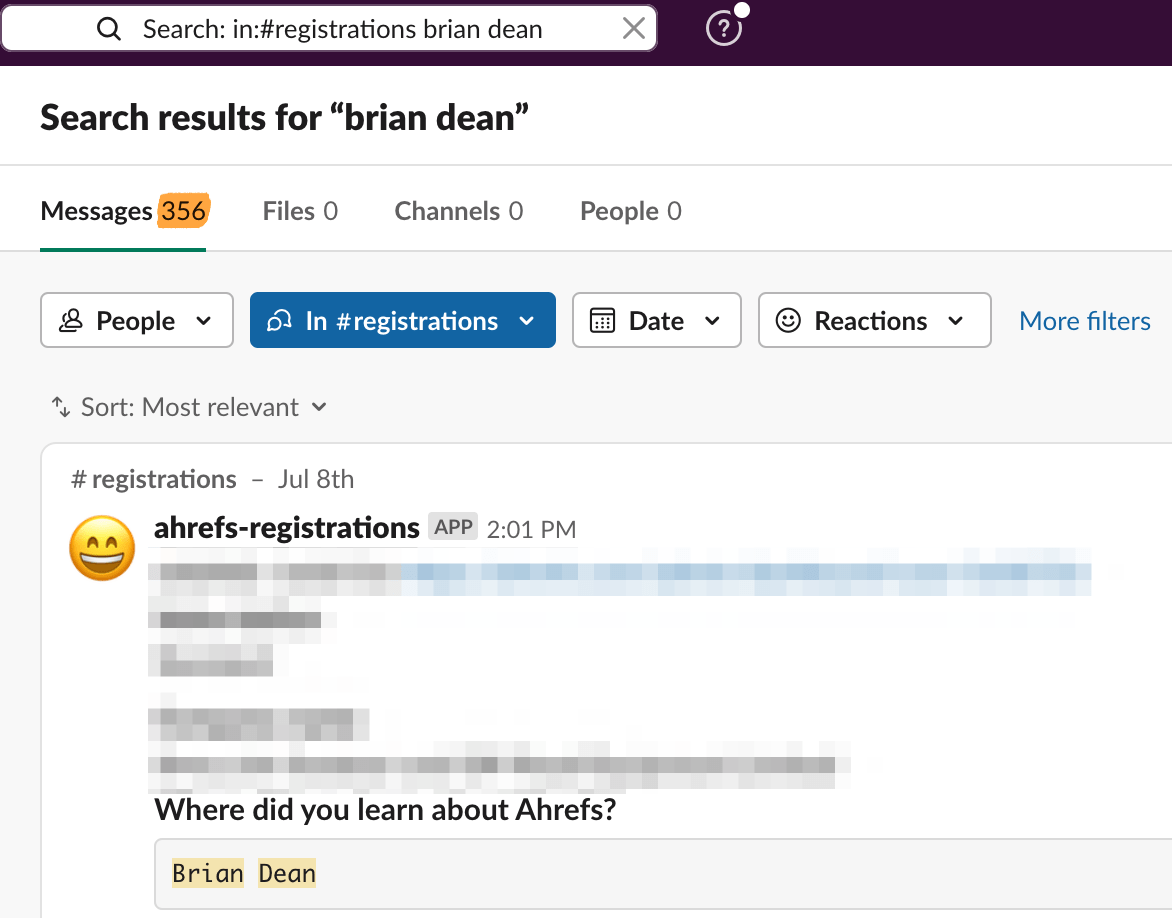 2. Build trust in your brand
Influencer marketing isn't always about sales. It is also about brand awareness and trustworthiness.
The right influencer carefully curates the type of products they recommend. They don't shill everything that lands on their lap. Even if they're being paid, they have high standards. They take their community's trust in them seriously. Trust is difficult to build and easy to lose. In return, their fans say things like this: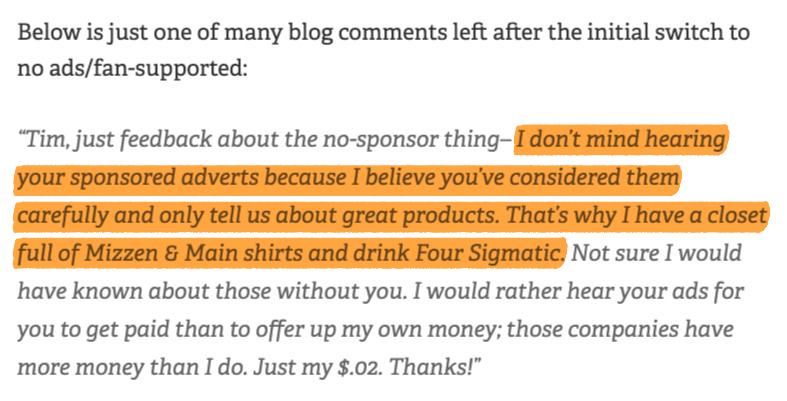 So, when an influencer recommends your product over the rest, they're vouching for you, your product's quality and your company's reputation. You are, in essence, borrowing "trust" from that influencer. You don't have to build it from scratch—they trust the influencer and by extension, you.
Think back to Nike. In 1984, they were unknown in the basketball world. No basketball fan was dying to purchase a pair of Nike shoes. But Jordan's endorsement led to their acceptance.
And Nike went from being unknown in basketball to global dominance.
Generally speaking, there are five types of influencers. They are grouped based on the size of their audience.
Knowing the different types of influencers will help you plan your budget and strategy. Here's the breakdown: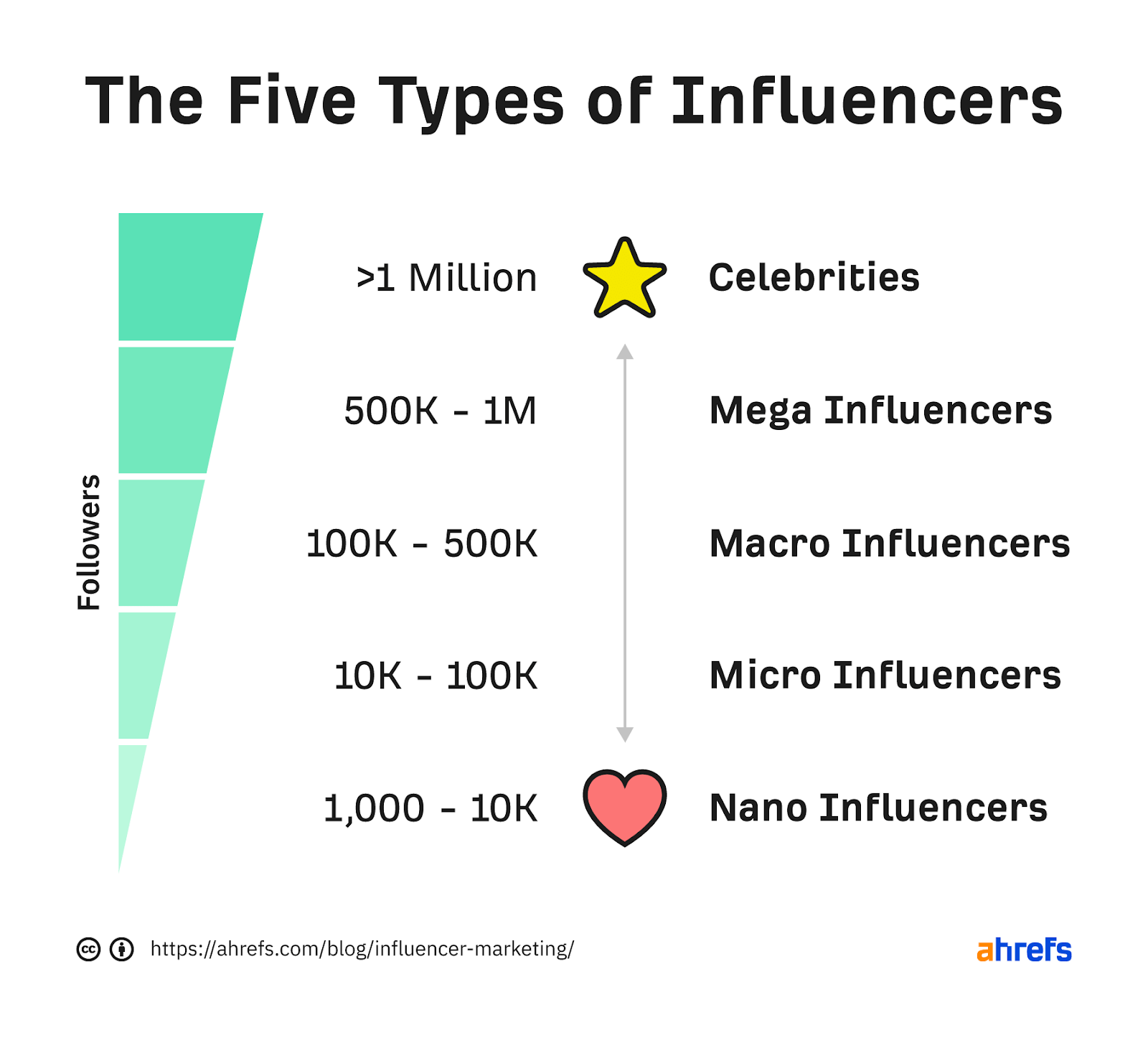 1. Celebrities
These are influencers with over one million followers.
Examples:
2. Mega-influencers
These are influencers with 500,000 to one million followers.
Examples:
3. Macro-influencers
These are influencers with 100,000 to 500,000 followers.
Examples:
4. Micro-influencers
These are influencers with 10,000 to 100,000 followers.
Examples:
5. Nano-influencers
These are influencers with 1,000 to 10,000 followers.
Examples:
Sidenote.
There is no universal standardization for these terms nor their audience sizes. You might find that they differ from other books and articles.
Before you even begin looking for influencers and working with them, you need to have a strategy. After all, the goal isn't to work with every influencer under the sun, but the ones that can make an impact.
A strategy will guide you in the right direction.
1. Define your target audience
It may seem cool to have Justin Bieber shout about us to his fans, but what's the point? There is little to no overlap between fans of Justin Bieber and people who want SEO tools. Even if we could afford his asking fee, it wouldn't make sense to work with him.
So, the first step of any marketing plan is to know who you want to reach.
If you already have an existing marketing strategy that defines your customer personas, then you're all set. You already have a solid idea of who your target audience is.
For example, if you're a financial planner in Singapore, it might be something like:
Millennials (23-30) in Singapore who want to begin investing.
If you don't have a concrete customer persona statement like this, don't worry. There are tons of guides, templates and even tools you can use to create one.
Recommended reading: How to Create Detailed Buyer Personas for Your Business [Free Persona Template]
2. Set your objective
Now that you know who you're targeting, we need to figure out why you're doing influencer marketing.
What's your goal?
Generally speaking, there are three objectives:
Increase brand awareness and introduce your brand to potential customers.
Create interest and desire by teaching potential customers more about their problems and how your product or service can solve them.
Entice the purchase by further educating potential customers about your product or service and why it's the best solution for them.
You'll need to know your objectives in order to measure if your campaign is successful.
Recommended reading: Marketing Objectives: How to Set Them Right (with Examples)
3. Figure out your budget
The amount you're willing to spend will determine the type of influencer you can work with and the type of content you can create.
Knowing your budget beforehand will make the search for influencers easier.
4. Establish your KPIs
It's not always easy to measure the absolute ROI of influencer marketing campaigns, but you can measure relative ROI using Key Performance Indicators (KPIs).
KPIs allow you to measure progress towards your objectives. If you've already set your objectives, then you'll know what these KPIs are. For example, if you're tracking the number of sales, you could give the influencer a discount code with their name.

Recommended reading: 7 Marketing KPIs Actually Worth Tracking
Finding the macro, mega and celeb-level influencers is easy. It's likely at the top of your mind. Even the most disinterested person would have heard of Cristiano Ronaldo. But not every company has the budget to work at those levels.
What if you need to find micro or nano-influencers? How do you seek them out?
Here are some options:
1. Employees
Most brands begin their search for influencers outside. In doing so, they're missing out on a potential pool of influencers who are right in front of their noses—their own employees.
Your employees work for you and likely use your product. (If they don't, something's seriously wrong.) They're in the best position to promote your brand. Some of them might have even cultivated an audience on their own.
Take Ahrefs as an example. Most of us in the marketing team can be considered nano or micro influencers on Twitter:
Together, we can easily amplify the content we publish or the features we release. And we do.
Bounce Rate

One of the most misunderstood Google Analytics metrics.

9 things you might not have known.

🦘

//THREAD//

— Michal Pecánek (@michalpecanek) December 2, 2020
2. Customers
We're turning the search for influencers on its head. Start by looking for the people who already love your brand.
Your employees aren't the only people who love your brand. Your customers love it too. We discovered this ourselves when we started sponsoring podcasts. The ones where we got the most high-quality mentions and sign-ups were from podcast hosts who already loved our product.
Like your employees, some of your customers are probably influencers—and they're also likely to be responsive to your pitch.
For example, Ed Sheeran is a huge fan of Heinz ketchup. He even has a tattoo of their bottle on his arm. It was a no-brainer for Heinz to work with him:
https://www.youtube.com/watch?v=keOaQm6RpBg
While you might not have an Ed Sheeran-level influencer as your customer, you'll probably have one or two who are influential to your target audience. Find them in your customer relationship management (CRM) tool or whatever you use to track your customers. Reach out and see if they'd like to work with you to promote your brand.
Sidenote.
You can also ask your customers which influencers they're following on social media.
3. Followers
Your followers on social media already know about and like your brand—and some of them will likely be influencers. Look through your followers to find them.
4. Google
Simply go to Google and enter this search query: top [your niche] influencers.
You'll find a ton of nicely compiled lists.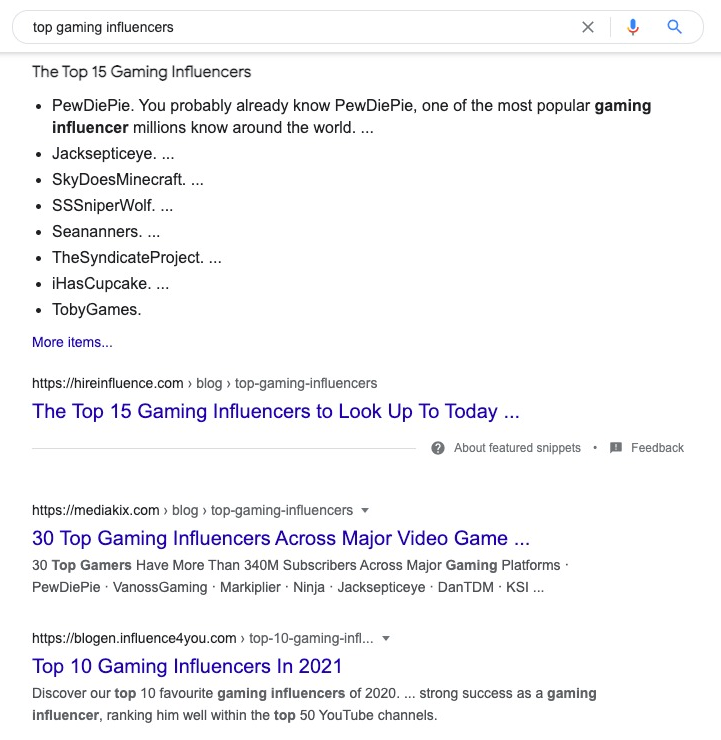 5. Social media
If you're looking for influencers on a platform, then there's no better place to start than looking on the platform itself.
Like Google, you can search for keywords on these platforms and see who appears. Native, curated lists (like Twitter lists) are a good option if they exist on your target platform.
If you're already following some of these influencers in your niche, then checking out the "Explore" page (or similar) will also help surface other influencers.
Sidenote.
A potential idea is to create a completely new account, follow/subscribe to these influencers and see what the platform suggests on your 'Explore' page.
Alternatively, you can simply look at who these influencers are already following. Chances are they're following other similar-sized influencers too. Some platforms (like Instagram and Twitter) will also suggest similar accounts on these pages: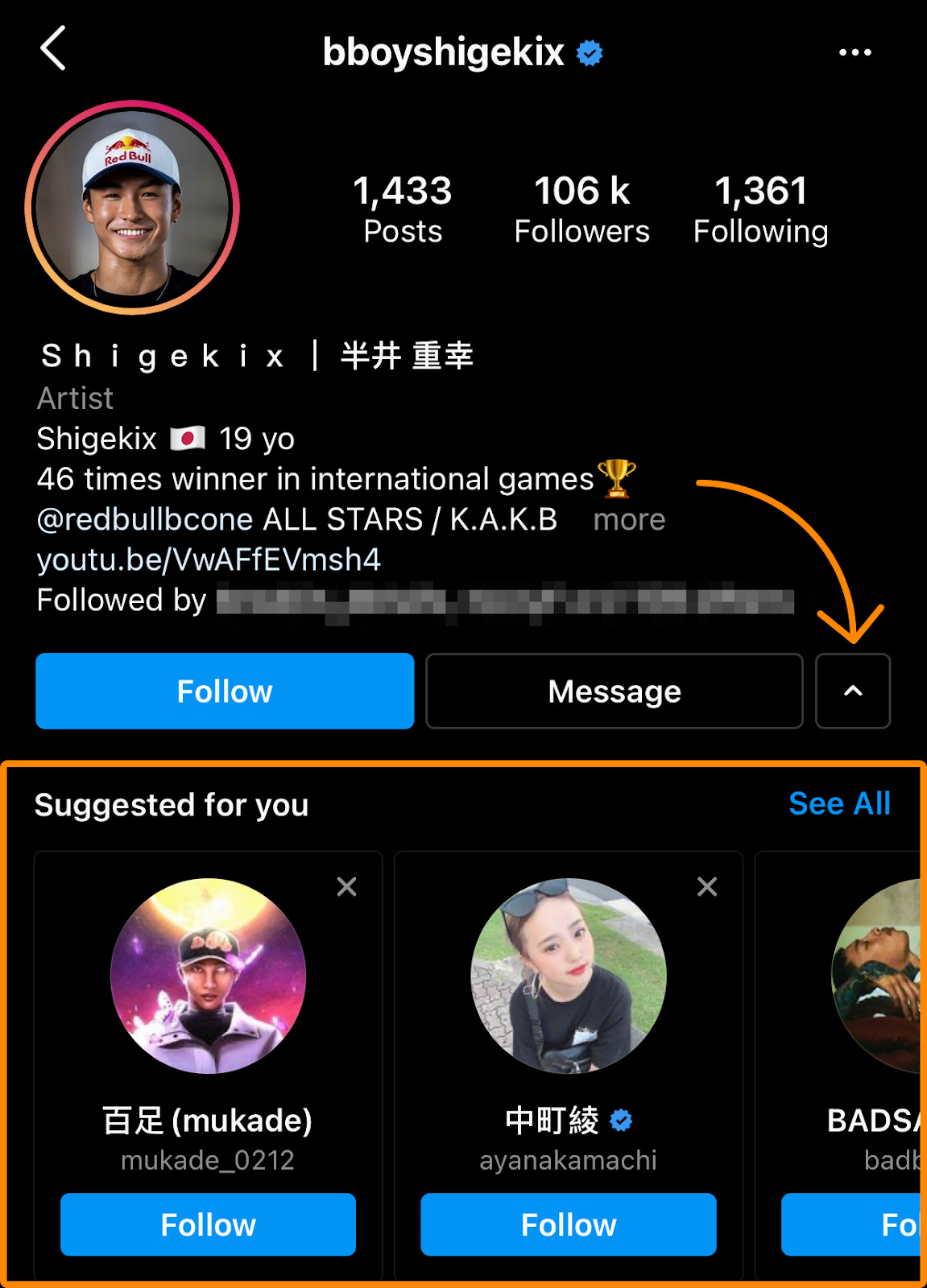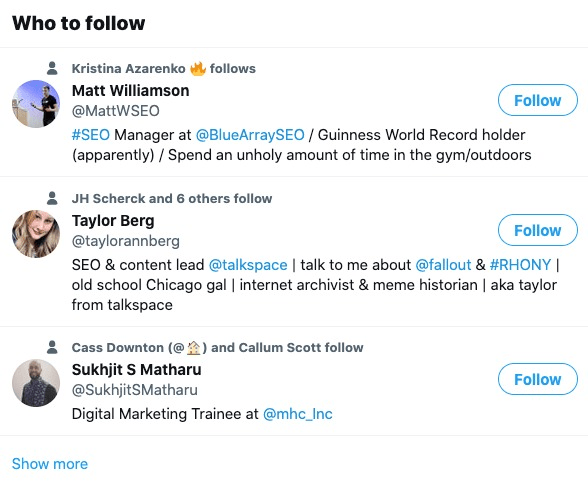 Finally, another way to find influencers is via hashtags. But not just any hashtag—use your competitors. If your competitors have executed an influencer marketing campaign before, there's a high chance that they either:
Requested the influencer to add a unique hashtag for the campaign, or
Requested the influencer to add their company hashtag.
Here's an example of an influencer tagging the food delivery company, FoodPanda: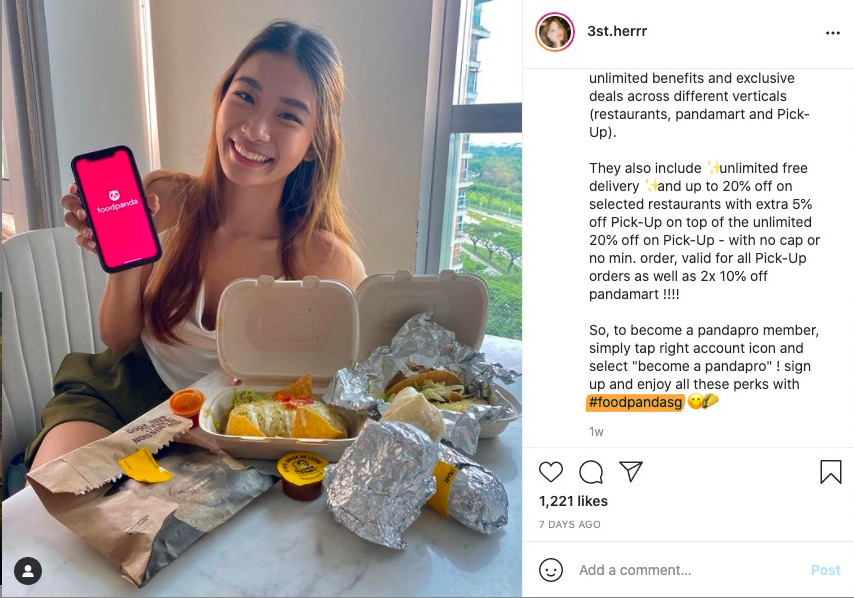 Click through to the hashtag and you'll see that a ton of influencers have already promoted something similar: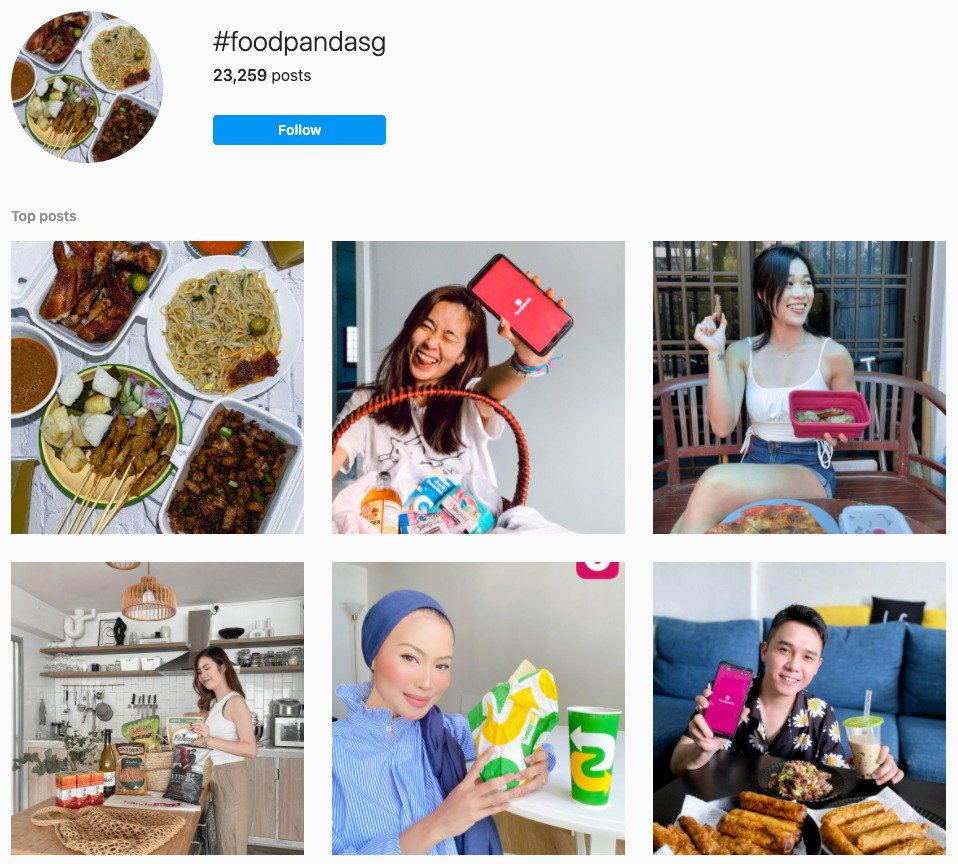 If you're operating in the same space, these could all be potential influencers you could work with.
6. Platforms and marketplaces
Even with all the tactics I've suggested so far, finding influencers can be really time-consuming. A "faster" alternative would simply be to look for them on a dedicated third-party platform.
We have a list of these platforms in another article, so look through them for your desired influencer for your target platform.
Recommended reading: Find Influencers: 6 Easy Steps to Choose the Right Ones
7. Content Explorer
Since influencers often have blogs, another way to find them is to look for popular authors of posts about topics related to your brand. You can do this in Ahrefs' Content Explorer, a searchable database of 5 billion pages.
Here's the process:
Open Content Explorer
Enter a relevant topic (e.g., link building)
Select in title from the dropdown
Hit search
Go to the Authors tab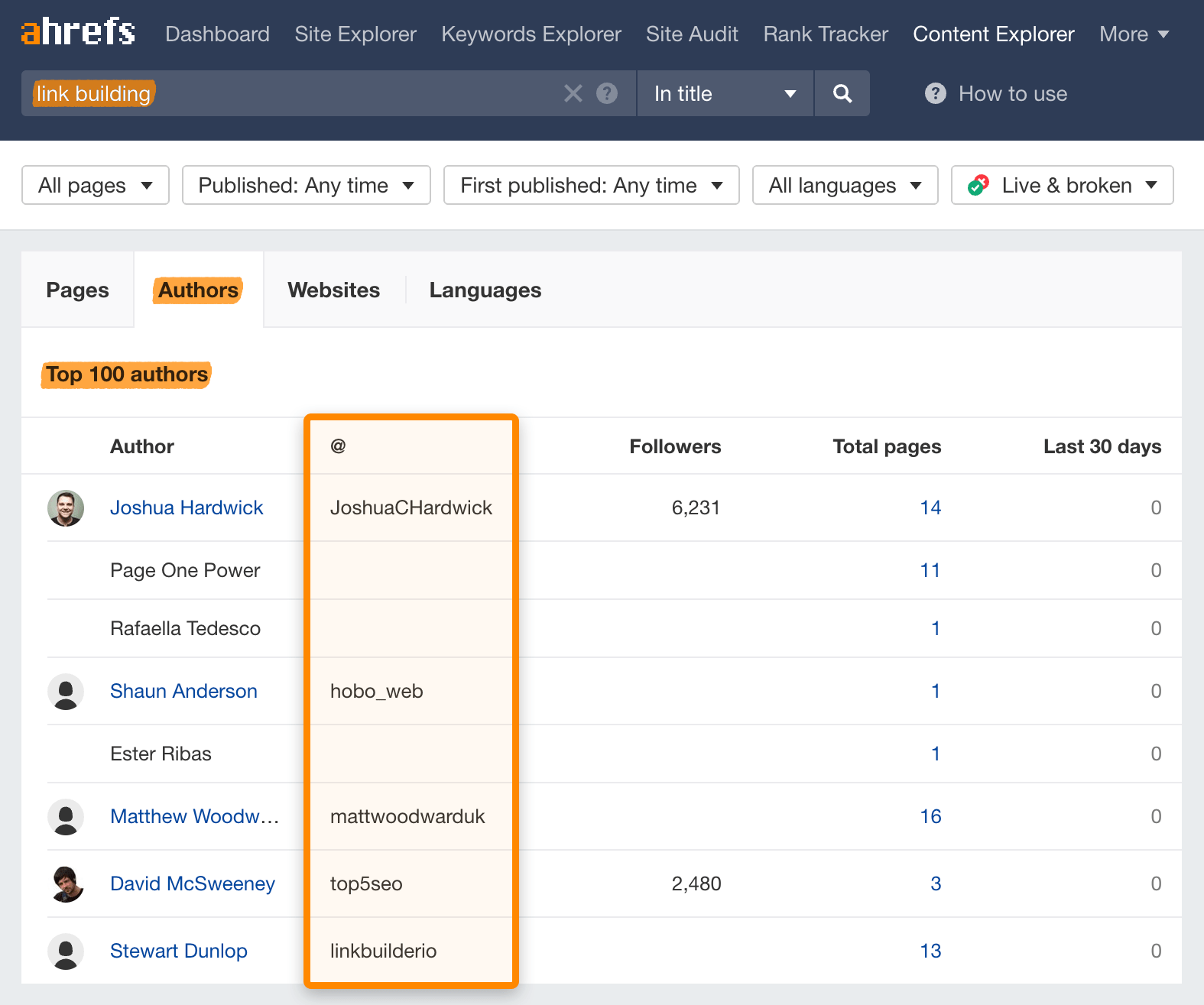 Here you'll see a list of folks who've written about your topic, how many posts they've written, and how many followers they have on Twitter.
8. Agencies
If you'd prefer everything done for you, then you can always work with influencer marketing agencies. They'll do everything for you, including the campaign set-up.
In fact, for macro-influencers and above, it is likely that you'll have to work with one anyway. Most of them are akin to real celebrities and you'll have to work with their manager or agency to get a campaign done. Make sure you're aware of that.
Just because someone has a million followers, doesn't mean your campaign will be successful. They might have a large following, but can they influence their audience to do something, like leave a comment, participate in a giveaway, or even buy?
Taking a step back, we need to ask: are the million followers even real? Fake influencers are aplenty. We don't want to waste our money on campaigns that get no returns.
This is why we need to evaluate the list we've just created. Before we even do any outreach, we need to make sure that these are the influencers we really want to work with. That they represent our brand well, can create the type of content we want, and actually have the ability to help us achieve the KPIs we've set.
In The Influence Code, Amanda Russell—an influencer and influencer marketing expert—suggests evaluating five Rs:
Reach
Recognition
Reference
Relevance
Resonance
1. Reach
This is the total size of the influencer's followings across all platforms.
Most businesses make the mistake of focusing only on this metric. It's understandable as this is the most publicly available metric. But treat this as a starting point.
Not only is this number easy to 'manufacture', the number of followers doesn't equate to actual reach either.
Spotting fake reach
Reach is the easiest metric to fake. Go to sites like Fiverr and you'll see services that promise to get you X number of followers overnight. The New York Times even wrote an article in 2018 about the black market of fake followers.
Always make sure you look carefully into an influencer's following.
Do their followers have weird usernames, like a long list of numbers?
Do their followers have an empty display picture?
Do their followers have any posts?
Do their followers have zero followers themselves, yet follow a lot of other people?
These are all red flags. Here's an example:

Now, just because an influencer has fake followers, doesn't mean they bought them. As an account grows in size, it becomes impossible to avoid fake followers and social media bots. Just make sure it is not a significant percentage of their followers. A quick way to check could be to use a tool like SparkToro's Fake Followers Audit (Twitter only) or HypeAuditor's Instagram Audit.
2. Recognition
This is how 'known' or 'recognizable' the influencer is in the niche.
They don't have to be on a Hollywood actor's fame level, but they should be known to your target audience. Even if they're not so well-known, are their expertise, credentials or accolades recognizable?
3. Reference
Is the influencer or their work being referenced or cited by people in their niche (or outside of it)? Have they been featured on a list of experts by a credible/well-known publication or website?
4. Relevance
This is how closely associated an influencer is with a particular topic or niche.
You'd want to make sure that the influencer you're working with talks about a topic your brand wants to be associated with. If you're a vegan brand, for example, you might not want to work with a paleo influencer, even if both topics are about "diet/nutrition."
Relevance is also about how closely an influencer's audience aligns with your brand's target audience. A female influencer that regularly promotes swimwear might not have a female audience; a male influencer that regularly promotes home workouts might not have a male audience.
You'll have to dig deeper.
For example, Kate Upton worked with American cosmetics brand Bobbi Brown to promote their products. While it makes sense for Bobbi Brown to work with a famous model, it turns out that 90% of her online audience were males interested in sports and video games.
5. Resonance
This is the amount of engagement (comments, shares, views, retweets, mentions, etc.) that the influencer gets whenever they post content.
Spotting fake resonance
Unfortunately, like reach, resonance can be bought. So, rather than looking at the absolute number of likes, comments, retweets, etc., look at their quality. They should be genuine comments or conversations.
Here's a quick checklist to run through:
Are they all emoji-only comments?
Are they all short comments with no meaning or context, like "Wow!", "Amazing!", "Nice!"?
Are they all repeated comments by the same user?
Here's an example:
Other metrics
Here are some other metrics you can look out for:
Offline. Real people turning up for events means the influencer has an actual engaged audience. Find out what the turnout was at their previous in-person events.
Testimonials, reviews and case studies. Ask your influencer for information about previous campaigns. But do note that micro and nano-influencers may not have them.
Reputation. An influencer's controversy can also hurt your brand. Check through the influencer's content to see if they've not been embroiled in recent scandals or have strong views that don't align with your brand.
With your list narrowed down, it's time to reach out and see if a successful collaboration can be made.
However, it does not mean you can send the same email to everyone. You'll have to treat each group differently.
After all, outreach is a game of brand perception—yours vs the influencer's.
For example, if you're Louis Vuitton, even the most famous celebrities would have a difficult time saying no to a collaboration. But if you're a small ecommerce store trying to get Chiara Ferragni to give you a shoutout, chances are your email will be ignored.
It may sound annoying, but there's a reason for this. Influencers need to protect their own brand too. The reason why you think they're a good fit is precisely because they don't promote every single thing that falls on their lap. If they did, they'll be seen as a sellout—their brand will be diluted and their audience eager to leave. Plus, I'm sure you wouldn't want to be just one of many products they promote.
So, before you reach out, make sure you have an appropriate strategy for each type of influencer.
Sidenote.
For big influencers, you'll have to reach out via their agencies or managers. You can likely reach out to nano and micro influencers directly.
There are many ways to collaborate with influencers. They include:
Giving away swag or free products (in the hope the influencer will give a shoutout)
A paid product shoutout
Running a giveaway
Recruiting influencers into their affiliate or referral programs
Giving the influencers a promotion code/discount (for direct sales)
Creating content together with the influencer
Inviting influencers for their events
Product collaborations
And more.
There are virtually infinite ways to work with them, and the exact way you choose will depend on your goal and the content that will work best for the influencer's audience.
Beyond that, there are some things you should take note when working with an influencer:
1. Develop an influencer agreement beforehand
This is a business partnership. It may seem like a hassle, but a signed agreement can be helpful in protecting both parties from a legal perspective. It also provides a document that both of you can refer to in the event of any disagreements or misunderstandings.
There are online templates available, but it's best to consult a lawyer. Some items you might want to consider including are:
The duration of the partnership
Exclusivity—can the influencer work with other similar/competing brands?
Specific type of content you're looking to create
Specific messages you want to include
What the influencer can or cannot do and say during the campaign duration
How long the influencer should leave the content up
Where they should be posting the content (important if the influencer works on multiple channels)
Who the content will belong to
Amount and terms of compensation
Specific tracking method
Recommended reading: How to Create a Flawless Social Media Influencer Contract
2. Collaborate, don't control
Plenty of brands make the mistake of dictating what an influencer should or shouldn't say. This results in an inauthentic ad that doesn't convince their audience.
The influencer's audience is theirs—they know what their audience wants. As a brand, you're there to provide direction, key messages/pointers, and your brand guidelines. Don't micromanage the content. Trust the influencer to come up with something that'll be irresistible and promotes your brand well. Even better: give a tour of your product or teach them how to use it so they can talk about it naturally.
That said, don't be afraid to ask the influencer for the first draft and a few rounds of edits. You'd want to make sure you are able to correct any errors before the content goes live.
3. Follow regulatory guidelines
Depending on the country you and your influencer are working in, you may have to disclose that the content created is an ad. For example, the Federal Trade Commission in the U.S requires all influencers to disclose publicly and in an easy-to-spot place that they've been paid to promote the product.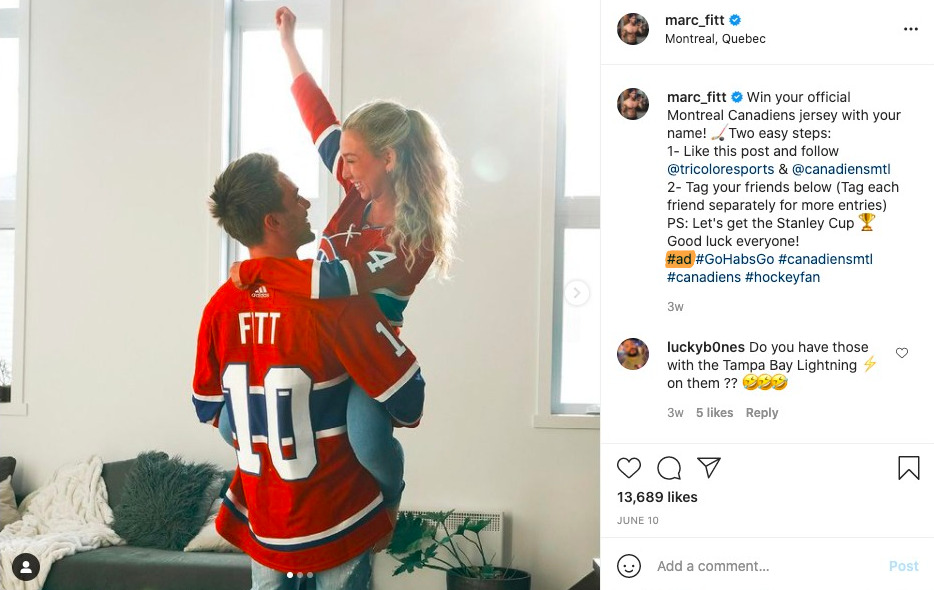 Most influencer marketing campaigns are one-off campaigns. But if you truly enjoyed working with an influencer and are happy with the results, then you could hire them into brand ambassadors.
Whether you call them ambassadors or evangelists, these are the people who continue to advocate for a particular brand exclusively for a long period of time. In return, the brand supports them in a variety of ways: free products, sponsorships, insider access, and commissions.
They're not new—the fashion, cosmetics and sports world have used them extensively.

In fact, we even have our own evangelist here at Ahrefs—Patrick.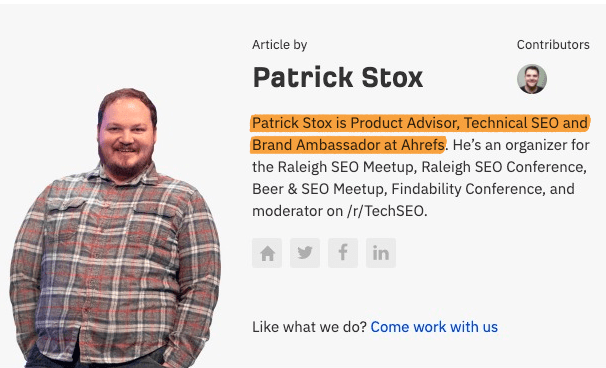 Like Patrick, brand ambassadors are mostly experts within the niche and can also provide advice and ideas on how to improve your product.
Recommended reading: 9 Great Public Relations Tactics with Campaign Examples
Here are some examples of successful influencer marketing campaigns.
1. Ahrefs—employee influencers
Tim is our Chief Marketing Officer. He's also one of Ahrefs' biggest evangelists. Even though our brand Twitter account has 3x more followers, his tweets consistently get more engagement.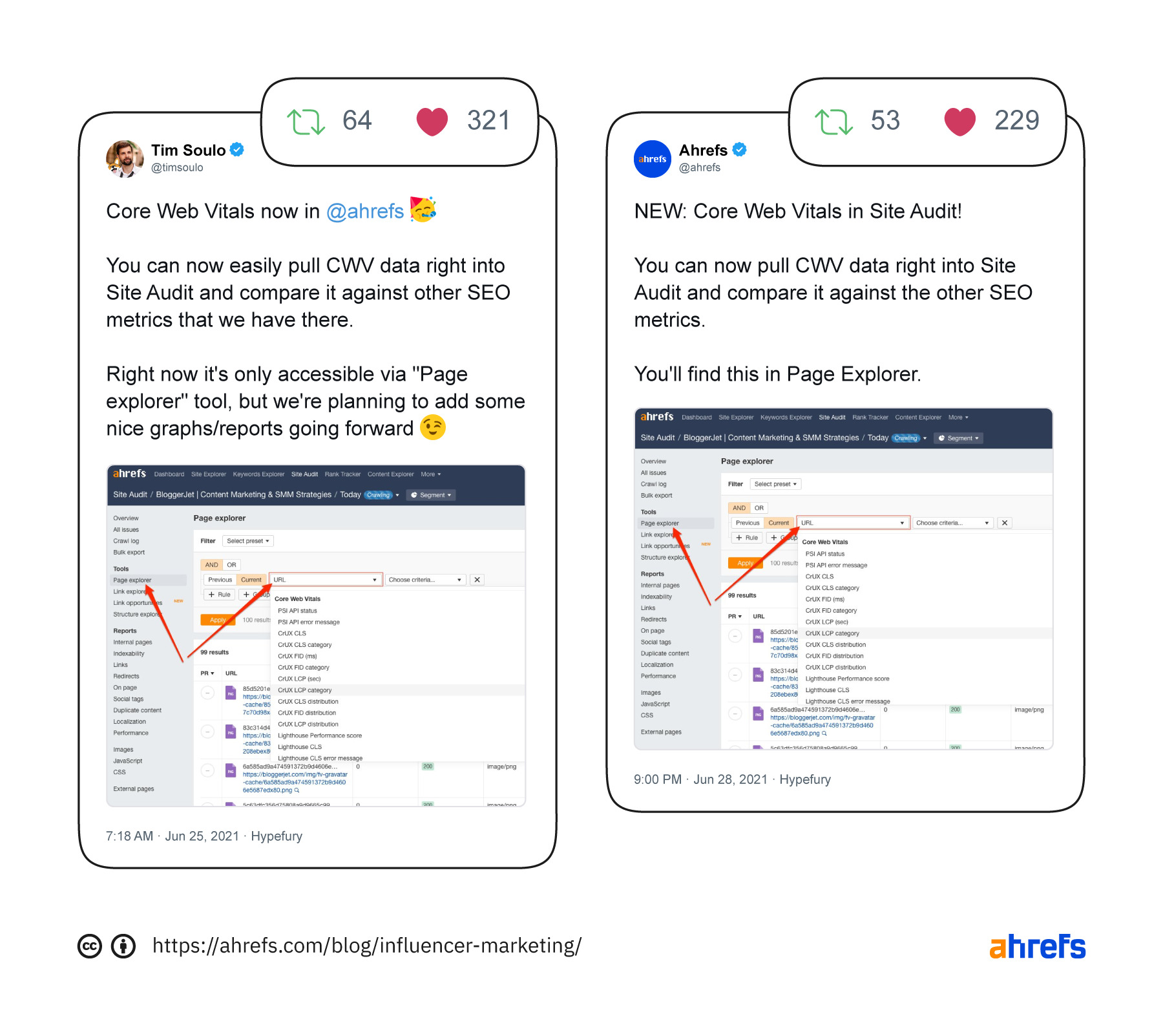 It's not all about engagement either. Tim gets us customers:
It's not just Tim. I mentioned earlier that the Ahrefs marketing team are all nano and micro-influencers ourselves. We help to drive customers too, like Sam: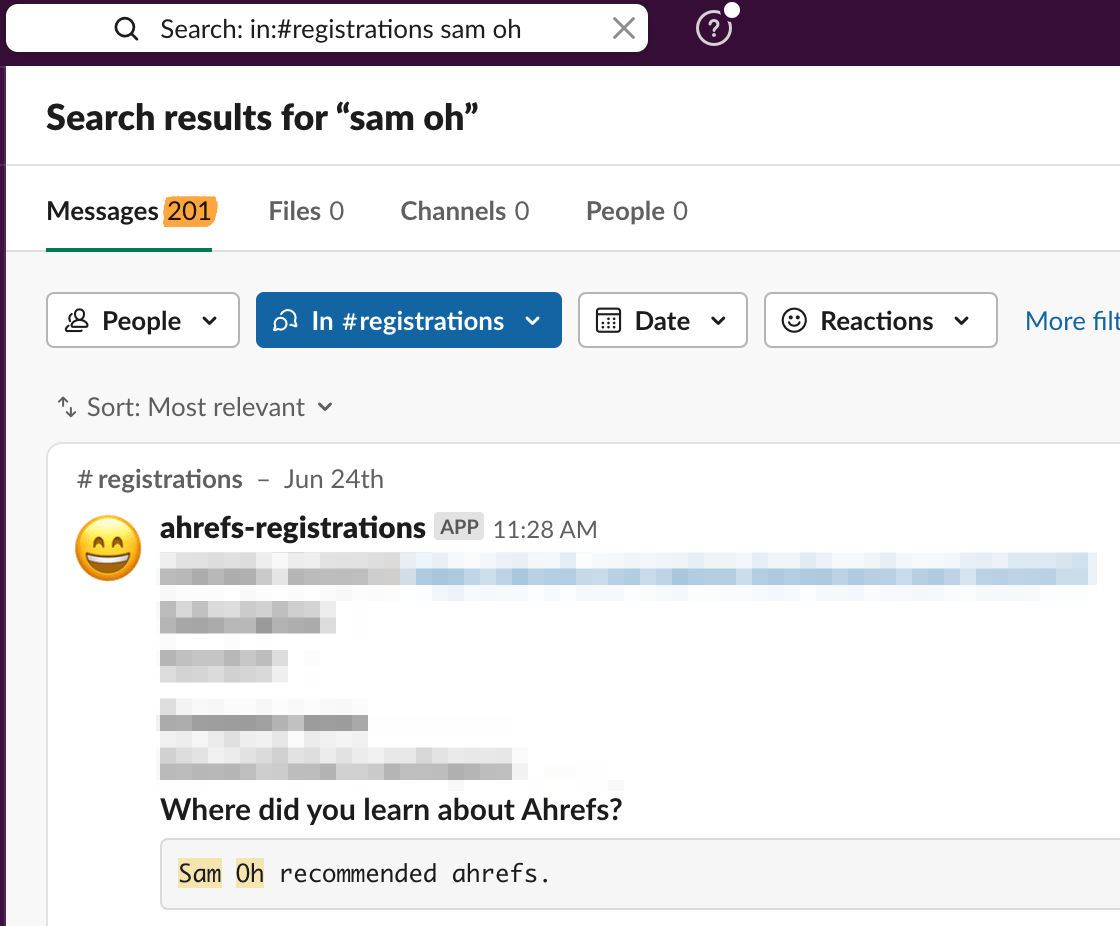 Even I managed to drive a few: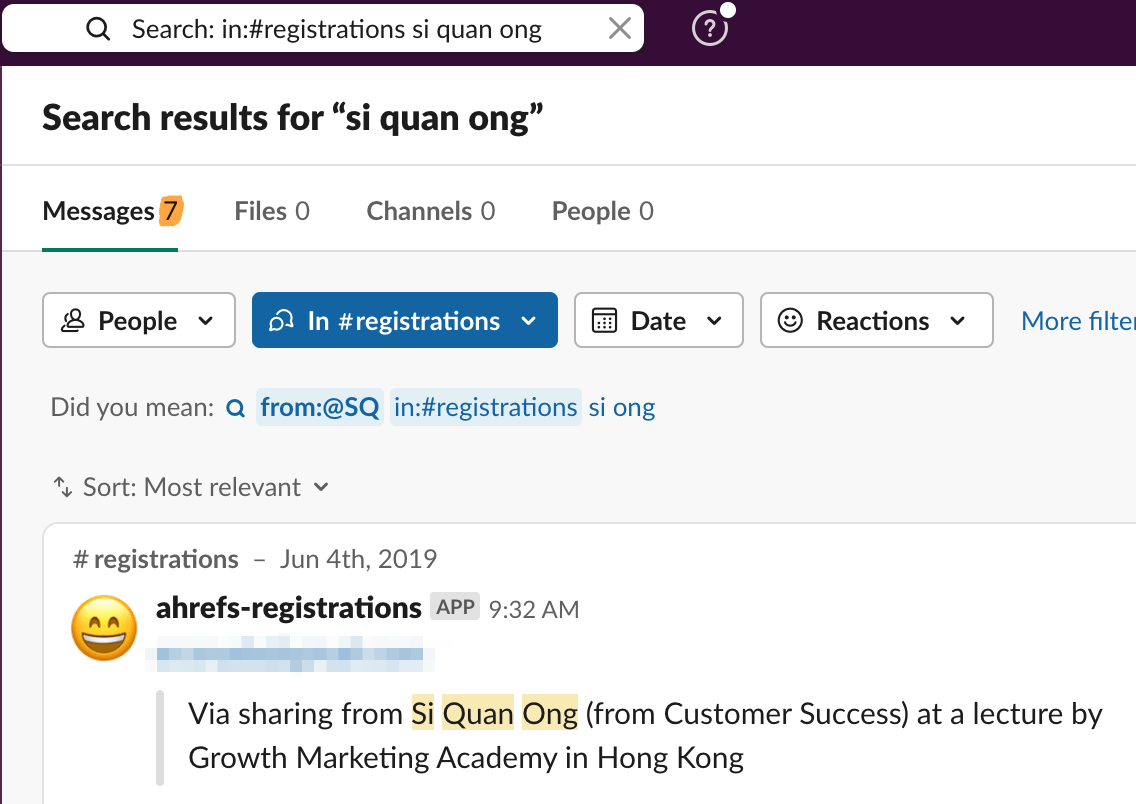 2. Instagram—high-profile thought leaders
Let's get meta here. Instagram is the platform of choice for most influencers. But did you know Instagram became popular because of influencers too?
Thanks to influencers like Jack Dorsey, the founder of Twitter, Instagram hit 25,000 users within the first day and 100,000 users within the first week.
Sarah Frier writes in No Filter:
Everything he (Dorsey) posted on Instagram would immediately cross-post to Twitter, reaching his 1.6 million followers there. He told the world it was his favorite new iPhone app, and they listened. When Instagram launched to the public on October 6, 2010, it immediately went viral thanks to shares from people like Dorsey. It reached number one in camera applications in the Apple app store.
One of my favorite new apps for the iPhone is now available for download: @Instagram. Gorgeous photos.

— jack (@jack) October 6, 2010
3. Daniel Wellington—Instagram influencers
Daniel Wellington is a Swedish watch brand. Known for their changeable watch straps, they made $230 million in revenue in 2016 and have sold over 6 million watches.
You've probably seen them on Instagram. No, scratch that. You've definitely seen them on Instagram.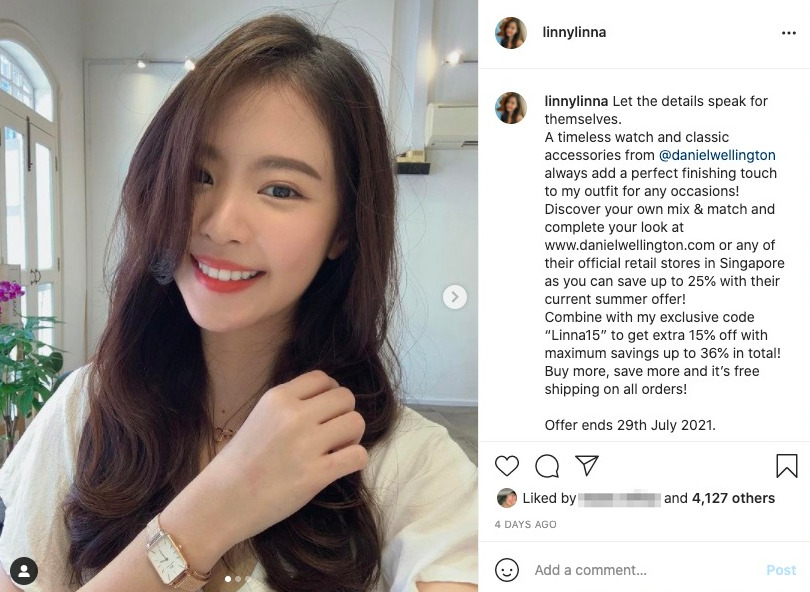 Daniel Wellington grew entirely through influencer marketing. They inundated Instagram—first by giving away free watches to thousands of influencers, and then driving sales by asking these influencers to share special coupon codes.
This established themselves as a must-have consumer brand for millennials and zoomers—both demographics are big on Instagram. Needless to say, this transformed what was merely an initial $15,000 investment into a well-known watch brand.
Final thoughts
I hope that this guide has served as a good primer for understanding and executing influencer marketing. It should be a decent foundation for learning more about the topic.
For this guide, I'd like to give credit to two books I've read:
I'd also like to thank these people for fielding my questions about influencer marketing:
Did I miss out on anything important about influencer marketing? Let me know on Twitter.