What is cornerstone content?
Cornerstone content is the collection of articles on your website that you most want to rank for in search engines. Typically, each piece of cornerstone content acts as both an entry point and ultimate resource to a topic with high search volume.
Why is cornerstone content important?
Cornerstone content is important because it helps you to rank for competitive topics with high search volumes. Normally, "ordinary" articles will not work. Instead, you'll need to pull out all the stops to create a comprehensive and authoritative resource that visitors are likely to share, recommend, and link to.
Cornerstone content also helps users find additional, relevant content on your website more easily, as it functions as a sort of "central hub" for each major topic.
Best practices for cornerstone content
To implement a successful cornerstone content strategy on your website, you should bear in mind these four best practices.
1. Make it comprehensive
Think of each piece of cornerstone content as an "ultimate resource" for its respective topic. You should aim to cover everything that people might want to know about the subject within each cornerstone article.
So how can you gauge whether you've created a comprehensive resource? Start by putting together a list of questions that your target reader is likely to have about the topic.
If you're struggling to come up with ideas, try running a content gap analysis on the current top-ranking pages for your target keywords using Ahrefs' Content Gap tool. This feature will show you the relevant keywords that one or more of your competitors' pages are ranking for. It's a great way to spark ideas.
Here's how to do it in Ahrefs:
Go to Site Explorer and enter your domain:

Navigate to the Content Gap report in the sidebar, then enter the URLs of two to three top-ranking pages for your target keyword in the input fields:

Remove your site from the field at the bottom:
Hit the "Show keywords" button to see the results.
Once you've done this, you'll get a nice list of keywords and phrases that can help you identify subtopics to cover.
For example, if we complete a content gap analysis using a few top-ranking pages for the phrase "cornerstone content," we see a few keywords that relate to the following subtopics:
What cornerstone content is ("what is cornerstone content")
Why cornerstone content is important ("importance of cornerstone")
Examples of cornerstone content ("cornerstone content examples")
How to create/tag cornerstone content in WordPress ("cornerstone content wordpress")
Managing cornerstone content inside the Yoast SEO plugin ("yoast cornerstone content")
Internal linking strategy for cornerstone content ("internal linking strategy")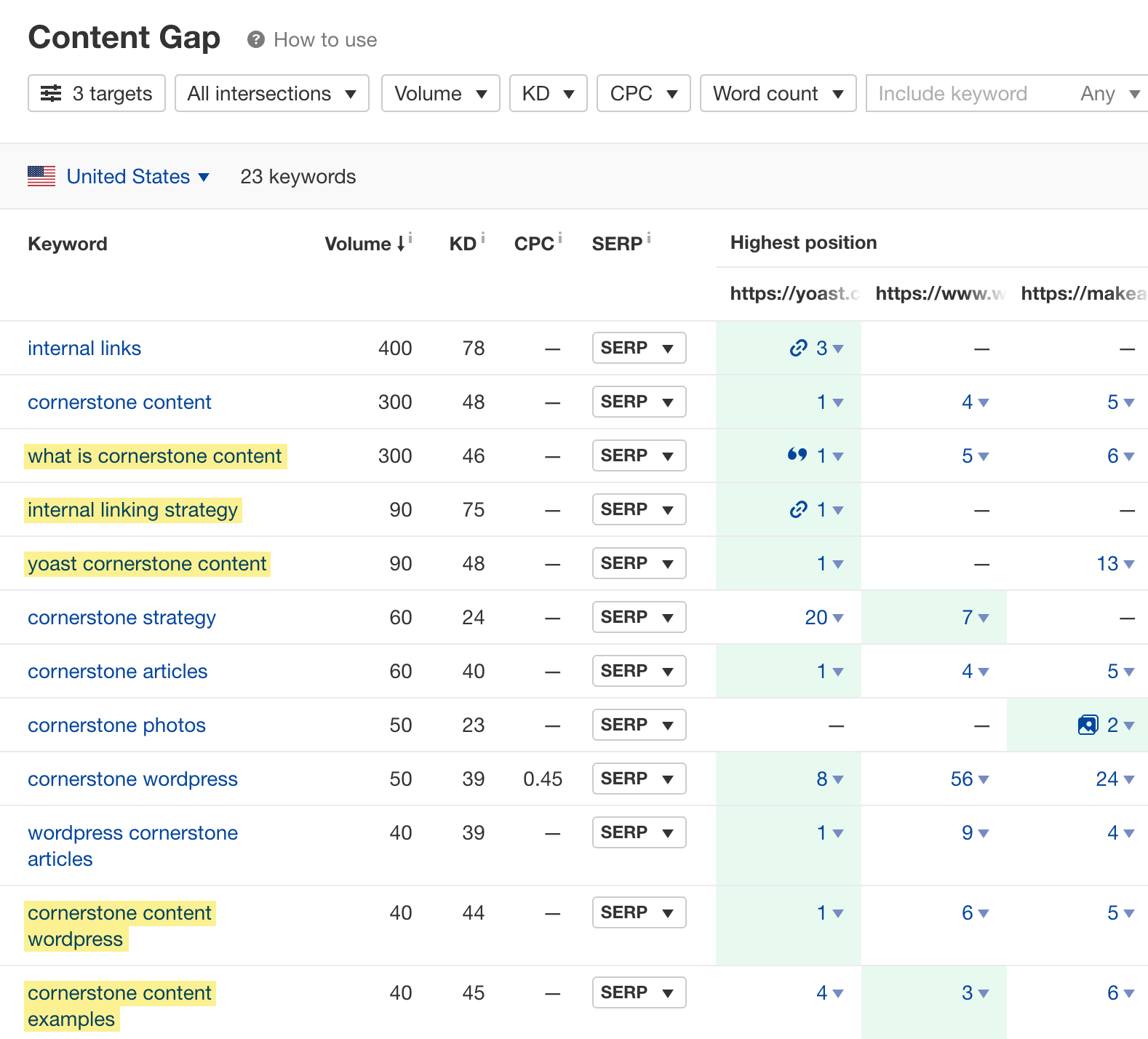 This brief set of keywords provides valuable insights into what people searching for the target keyword, "cornerstone content," may want and expect to see in your article.
You may also have noticed that even though we don't class this very article you're reading as a "cornerstone article," we still included many of these subtopics here because it's an SEO best practice.
2. Make it easy to find
Because cornerstone articles act as a gateway to a topic, you should make sure they're easy for visitors to find on your site. That means not burying them in your site architecture.
There are a few ways to make sure your cornerstone content is easier to find.
First, you can add the cornerstone articles to your website's navigation menu. For an example of this, check out our beginner's guide to SEO—it has an obvious link in our blog menu:
Secondly, you can link to cornerstone content from related articles that get high organic traffic. If you want to find these easily, you can use Ahrefs' Site Explorer.
Just enter your domain, go to the Top Pages report, and search for relevant pages within the results.
For example, suppose we created a piece of cornerstone content about link building (which we actually have). We could search our Top Pages report for any URLs with the word "link" in them—this is a quick way to find not only relevant content but also relevant content that gets the most organic traffic.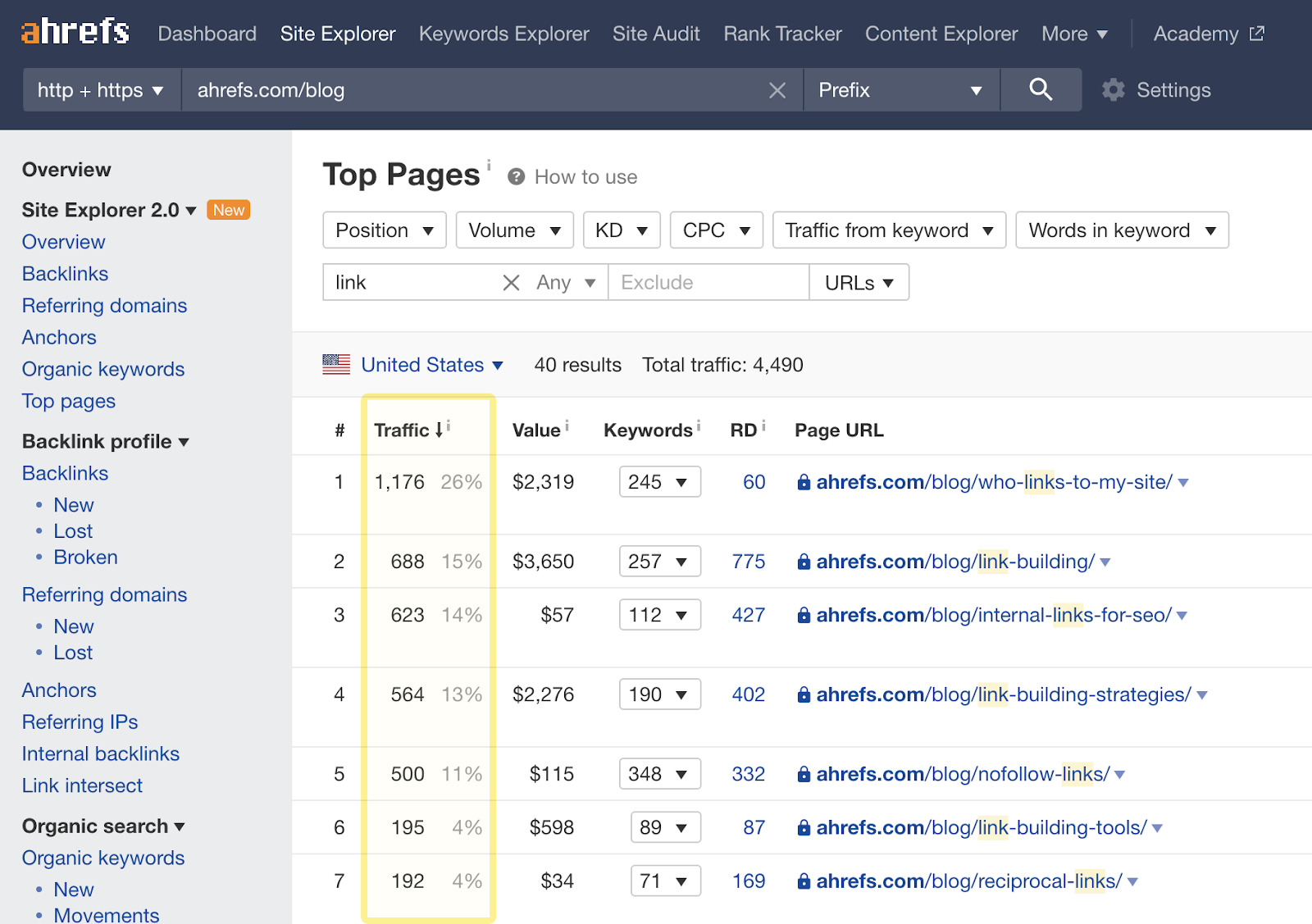 As an alternative, you can use the Link Opportunities report within Ahrefs' Site Audit. To learn more about this option, check out this video.
3. Publish and interlink related pieces
One of the key features of cornerstone content is that it has to cover a lot of ground. In other words, these pieces are more like an overview, so it's rarely possible to go into as much detail as you'd like about every subtopic within a single post.
That's why it's usually better to keep the details lighter within a cornerstone article, then write other dedicated articles with more details on each subtopic.
For example, our beginners guide to link building covers a lot of ground, including:
How to get backlinks.
Link building strategies.
Link building tools.
All of these are complicated topics in their own right, which means we can't possibly cover everything about them in one article. That's why we wrote dedicated articles on each of these subtopics. [You can find them here, here, and here.]
When you do it this way, you're not just left with stand-alone articles. Instead, you can create internal links between each of them and your cornerstone article.
For an example of this, see below the internal link to our "link building tools" post from our "link building" cornerstone content.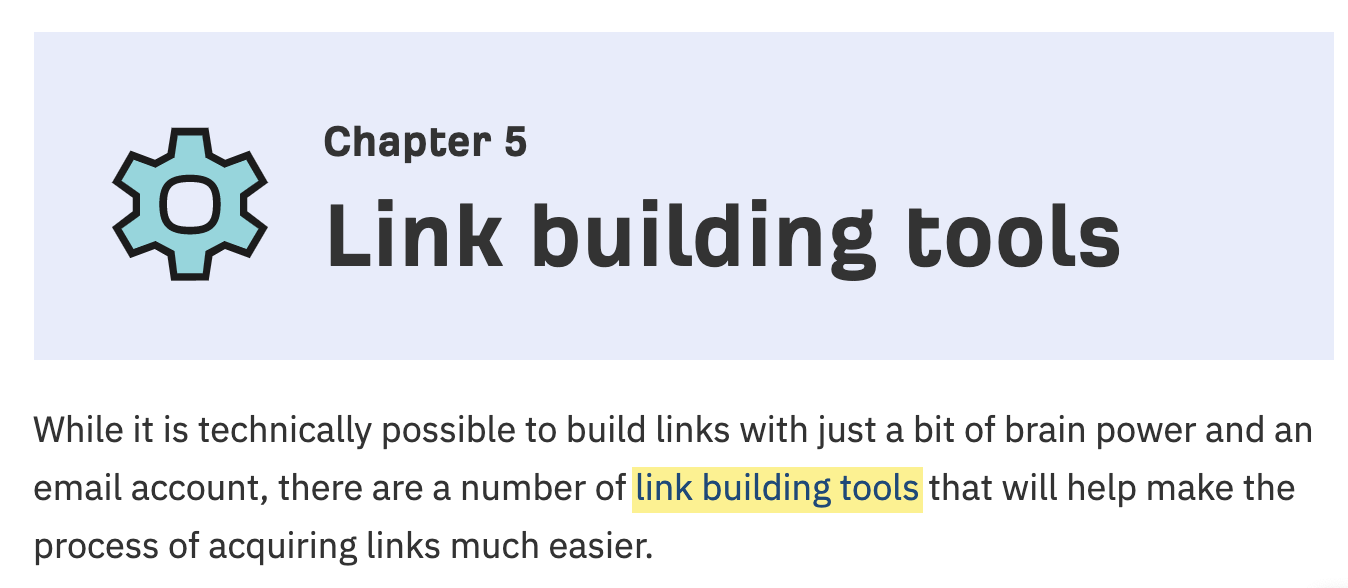 In the SEO industry, creating interlinked cornerstone content with related posts is often referred to as a content hub-and-spoke model (with the cornerstone content as a hub and the stand-alone articles as individual spokes).
You can learn more about creating one for yourself in our guide to content hubs.
4. Update it frequently
Your cornerstone content may not always need frequent updates. But for fast-moving and ever-changing topics, updating them is a good idea.
For example, we have to update many of our cornerstone articles (and other posts) often because the SEO industry moves fast and people want accurate and up-to-date content. Other fast-paced industries and topics may include technology, finance, gaming, entertainment, and politics.
But if your site is about something that doesn't change as much over time, such as cooking, then you probably don't need to update your content as frequently. Just keep an eye on your content to make sure it doesn't become obsolete.
Of course, it can be hard to track every article on your site to figure out which ones need a refresh. One of the best ways to detect if and when a piece of cornerstone content needs updating is to track its performance in organic search. If the article's organic traffic starts to decline, then that's a sign it may need an update.
You can see the traffic trend for any webpage in Ahrefs' Site Explorer: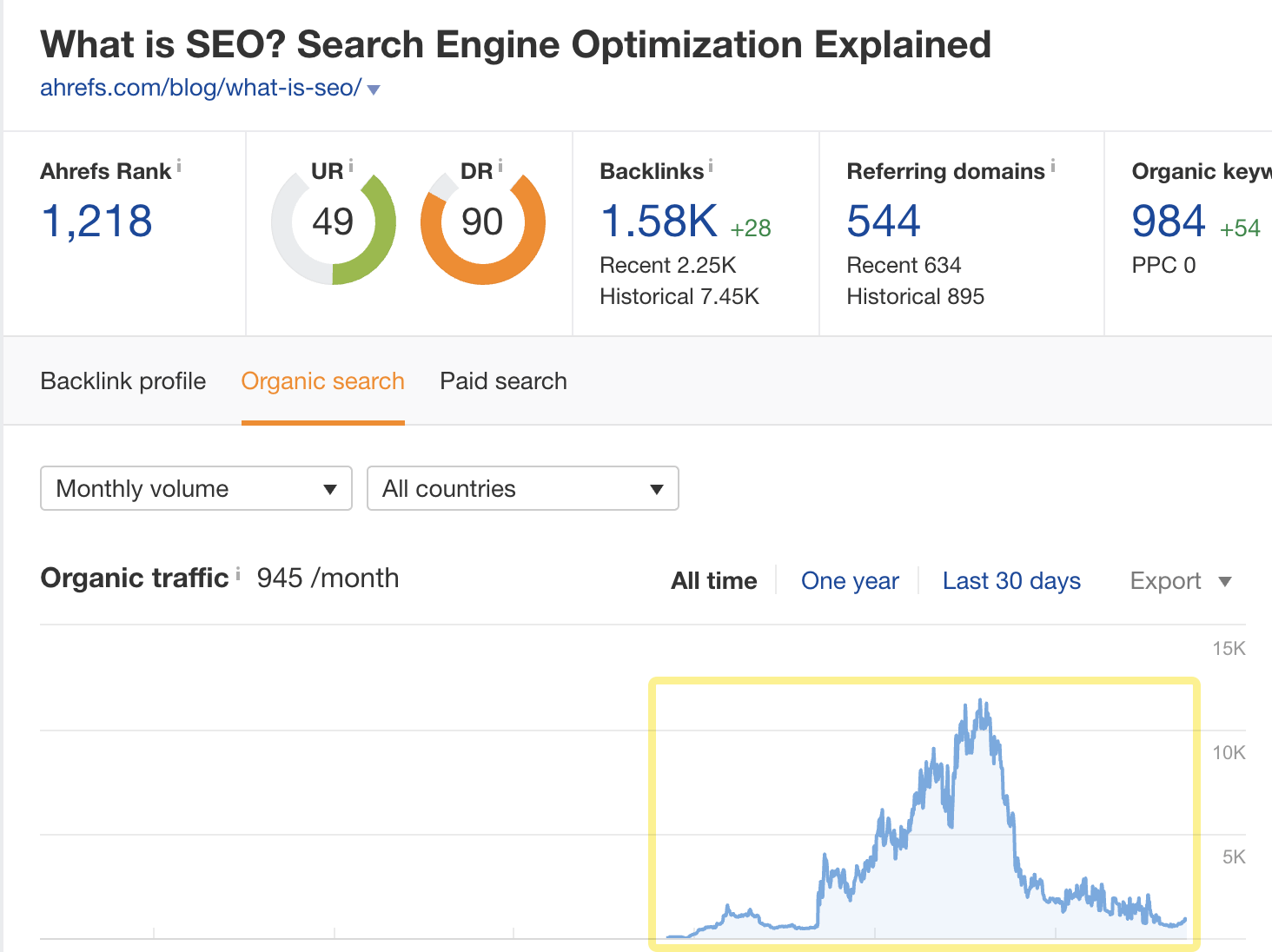 For example, we noticed that traffic to our cornerstone on-page SEO guide was starting to dwindle a few years ago. As a result, we rewrote and republished the post. Its keyword rankings and organic traffic shot up shortly after the content update.
You can learn more about if, when, and how to update and republish content in our guide to republishing content.
FAQs
How many cornerstone content pages should I have?
This is entirely up to you and your content strategy. If you do keyword research, this will help you understand how many topics you need to create comprehensive "central hubs" for.
How should I categorize cornerstone content in WordPress?
If you're using Yoast SEO, it's easy to toggle the switch and mark any WordPress page or post as cornerstone content. Keep in mind that this has no SEO benefit, but it does make it easier to keep track of your most important posts and pages. You'll see an option to view all your cornerstone articles on the post or page manager.