Few marketers "get" SEO. Even fewer succeed at it.
It's easy to understand why: to outsiders, SEO sounds more magic than science. It seems to follow few rules and there is often no clear link between effort and reward.
(SEOs, of course, know otherwise).
It doesn't help that unlike PPC or email marketers, SEOs have to basically guess what Google wants based on unreliable data and occasional leaks from Google itself.
Yet, there is a lot marketers can learn from SEO. Whether it's brainstorming new ideas for a content marketing campaign, predicting future market trends, or creating more likable content, an understanding of SEO will help you become a more effective marketer.
In this post, I'll show you 6 SEO secrets you can use right now to run a better marketing campaign.
1. Keyword Data Can Help Map Your Buyer's Journey
Ah, the buyer's journey.
I've harped on this before, (where I was maybe a bit too critical), but for inbound marketers, the buyer's journey is close to gospel.
This is the document that tells you what your customers are looking for, where they search for it, and how they buy it.
Quick recap: a buyer's journey can be divided into three distinct stages:
Awareness: In this stage, the customer first comes to know that he has a problem and that it has a possible solution.
Consideration: Here, the customer starts evaluating solutions to his problems.
Decision: The customer settles on a solution and starts looking for the best ways to buy it.
Mapping out this journey is hard. Real hard. For most businesses, it means spending thousands of dollars and countless hours interviewing buyers, conducting surveys and collecting demographic data.
Here's an example of a buyer's journey from Forrester's Lori Wazdo: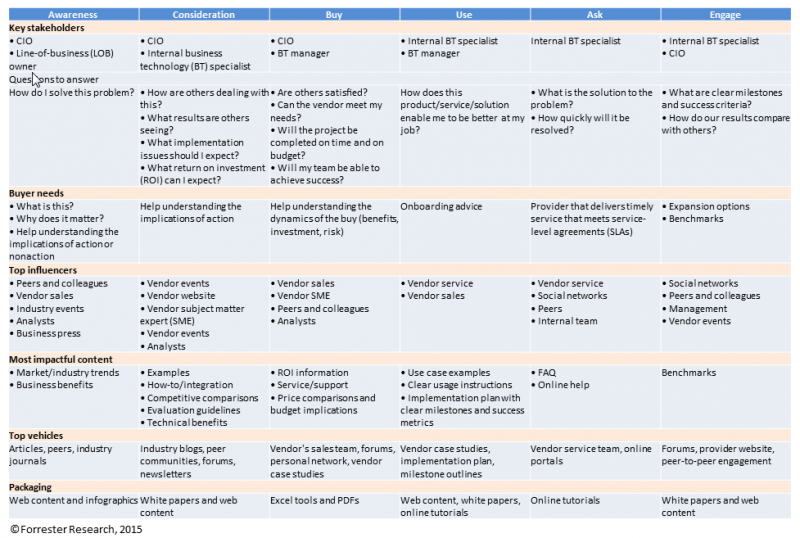 Complicated, right?
Most small businesses simply don't have the resources or the time to pull off something this complex. After all, as invespcro points out, 84% of small businesses are doing their digital marketing by themselves, or don't have the resources to invest in digital marketing at all.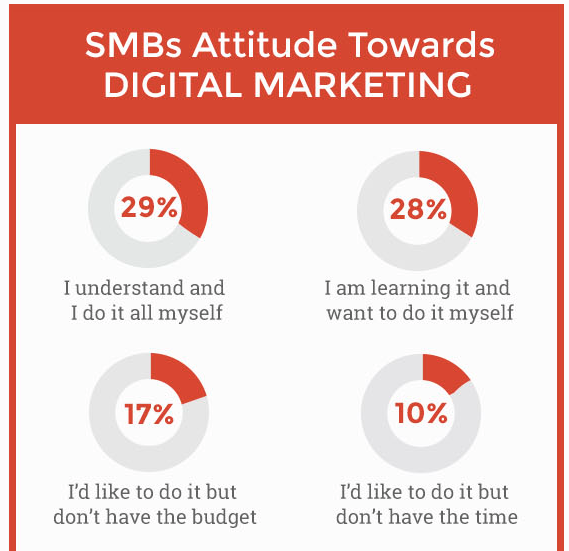 However, there is a much, much faster way to create a buyer's journey: through your keyword data.
Your keyword data can give you a world of insight into your customers (more on that below). It can also help you figure out what your customers are thinking of during different stages in the buyer's journey.
For example, if you were selling social media marketing software, your customers might ask the following questions in different stages of the buyer's journey:
Awareness stage: "What exactly is social media marketing and how can it benefit me?"
Consideration stage: "What are some popular social media marketing tools? What are their different features?"
Decision stage: "Which social media tools should I buy? Where can I find reviews for these tools?"
Digging through keyword data, you'll find that each of these questions is reflected in different keywords: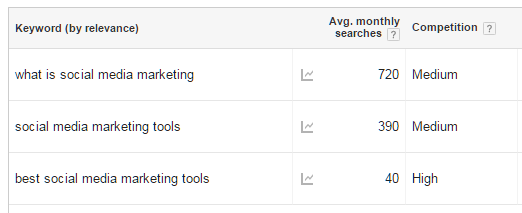 By creating content for each of these keywords, you'll not only get plenty of search traffic, but also capture traffic at different stages in the buyer's journey. I've already covered how HubSpot does this in my previous article.
Here's my quick 3‐step method to map out the buyer's journey with keywords:
1. Create a list of keywords
Use your favorite keyword tool to come up with a list of keywords. Don't fret about the total searches or the competition for now — just get these keywords into a spreadsheet.
For example, here are a bunch of keywords for "social media marketing":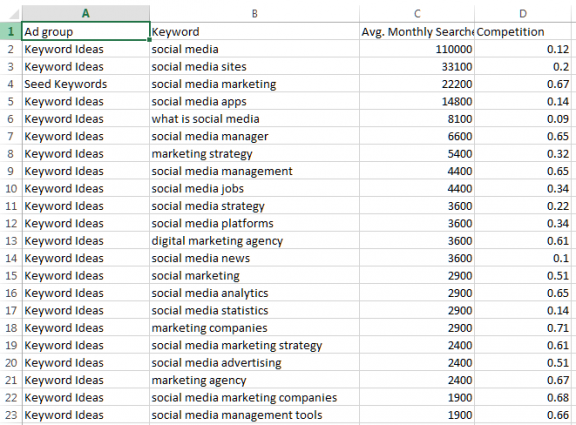 2. Segregate each keyword into different categories depending on its position in the buyer's journey
Once you have a list of keywords, tag it as Awareness, Consideration or Decision based on the fundamental question it asks.
For example, a keyword such as "social media marketing tools" shows that the searcher has at least some knowledge of social media marketing. This would make it a Consideration stage keyword.
Similarly, a keyword like "Hootsuite discount" shows that the searcher wants to buy HootSuite and needs help making the decision. This would make it a Decision stage keyword.
Once you're through, your spreadsheet should look something like this: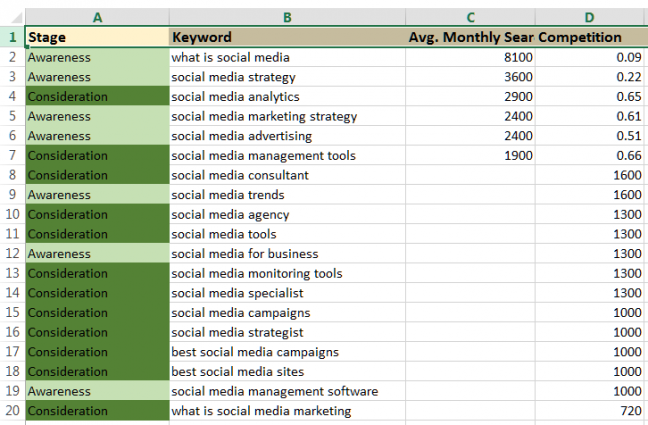 3. Create your buyer's journey with top keywords from this list
For each stage in the journey, remove keywords with low traffic and commercial intent. The remaining would form the foundation of your buyer's journey.
All I need to do now is to create content for these keywords to reach the 94% of shoppers who use search engines to research their purchases.
Bonus Tip: Find Great Keyword Ideas From Your Existing Rankings
Sometimes the best keyword ideas are to be found by analysing your existing rankings.
As an example, let's take a look at the keywords which Ahrefs homepage currently ranks for.
We'll start by entering the domain into Site Explorer and setting the search parameter to "URL".

From the overview page we select "Organic keywords".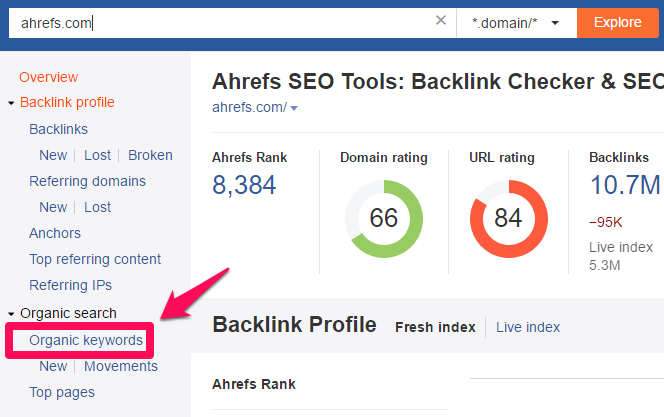 And if we sort the report by volume, there are 4 keywords that instantly leap out: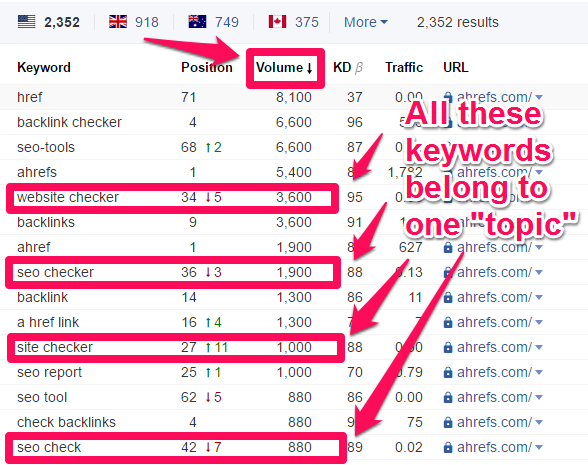 Why?
a) Our rankings are less than impressive (page 3+)
b) They all belong to one topic (checking your website)
c) They are likely to be either consideration or decision stage queries
And most importantly:
d) Our Domain Health report is a great fit for all 4 of them!
The Domain Health report — accessible from Ahrefs dashboard — reports on issues that are likely to affect your website's performance in search: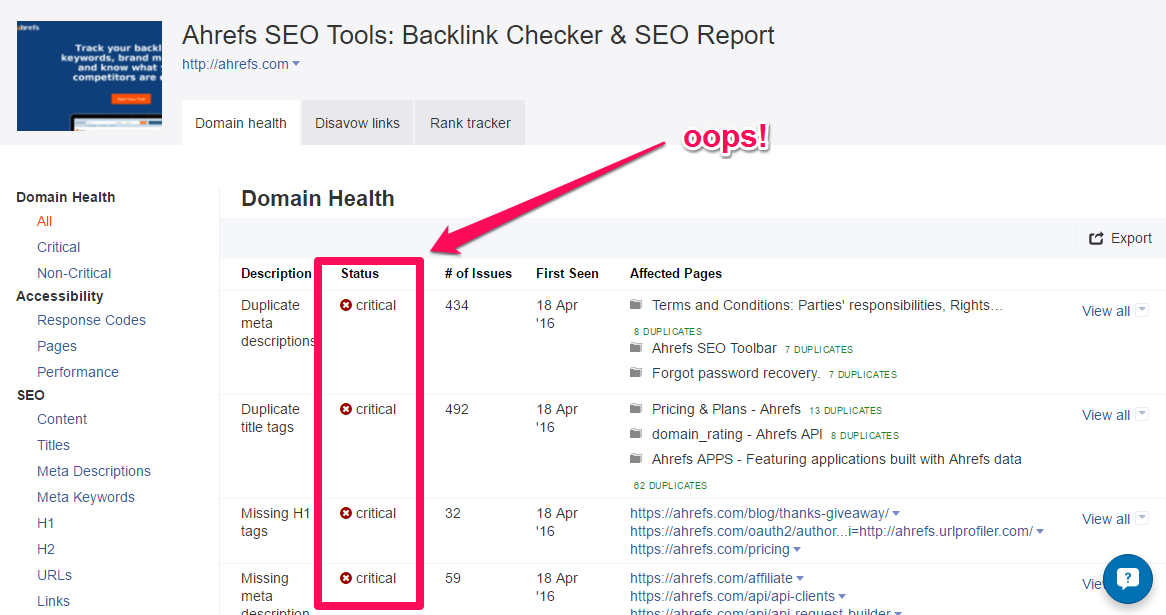 Which means that searchers finding Ahrefs through those queries are highly likely to convert into new clients/leads.
So what should we do about it?
As this is a topic, we can target all 4 of these queries with one great piece of content. Google is smart enough to know that these keywords are all very closely related.
So creating something like:
"The Ultimate Guide To Checking Your Website For SEO Issues"
would give us a shot at ranking for them all.
Watch this space 😉
2. SEO Outreach Will Make You a Cold Email Ninja
If you run a business or work in a marketing/sales role, you will have to send cold emails.
Guess who else is great at sending cold emails?
That's right — SEOs!
Email outreach is a critical skill for SEOs. The best SEOs are often successful because of their cold emailing skills, not just because they can spot link building opportunities.
Since SEOs often have to send out hundreds of emails a day, their cold emails tend to be especially succinct and persuasive.
For example, here's a broken link building email template from Neil Patel: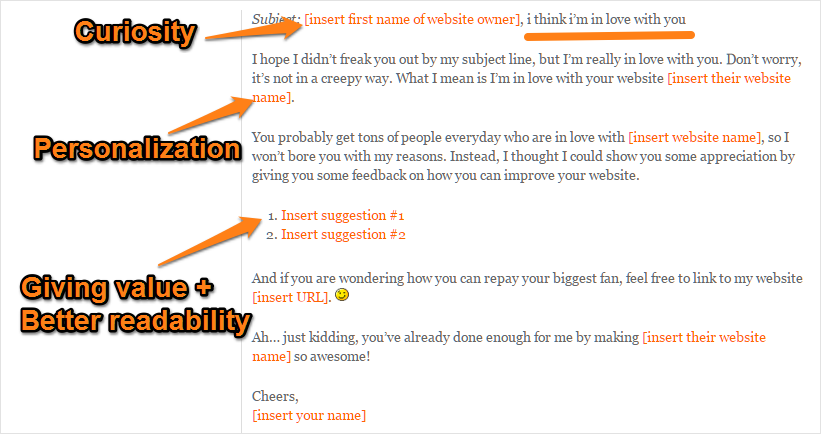 This email has tons of things going for it:
Attention grabbing headline: "I love you", along with the recipient's name would immediately grab attention in the inbox.
Personalized: The email content is heavily personalized, which shows that it's not just another copy‐pasted template.
Gives value: Instead of demanding a link, the email gives value first before asking for something in return.
Here's one more template from Moz that was used in an actual guest post request: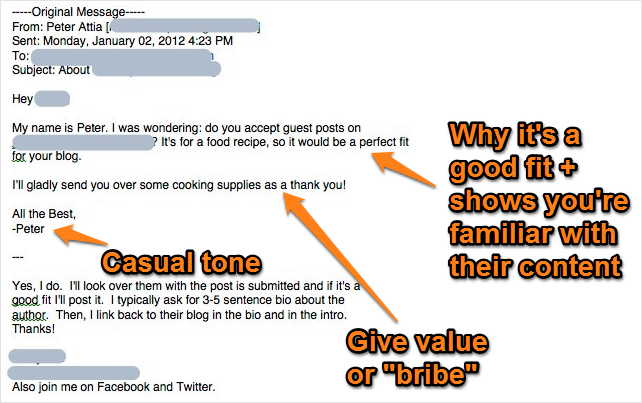 This works because:
Length: The email is short and easy to read at just two paragraphs
Conversational: The informal tone and casual signature makes it sound more like a conversation and less like a spammy link request
Focuses on the 'why': The email emphasizes that the post would be a "good fit" for the blog — which shows that you're familiar with the blog content and gives the editor a reason to accept your post.
Here's another email for a link request from Brian Dean: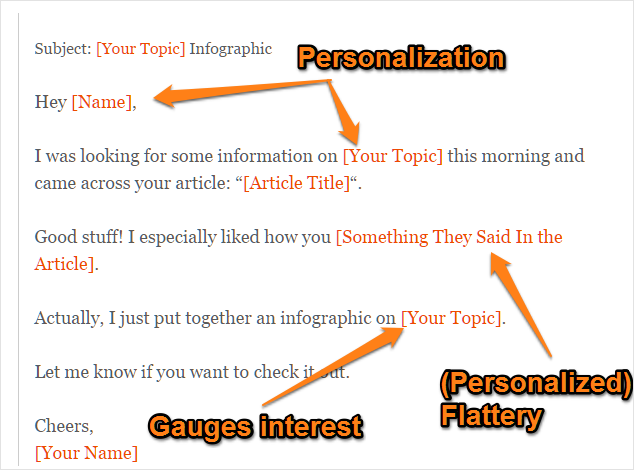 This one is also short, to the point and personalized enough to not sound like a template. Plus it offers personalized flattery by quoting something they said in the article (and flattery always works). It also doesn't push a link on them — it just asks if they "want to check it out", minus the pressure.
If you're sending a cold email to close a new deal, get funding, or pitch a product, you can learn a lot by following the email outreach practices of top SEOs.
See Tim Soulo's guide to effective outreach for more cold outreach tips.
3. Long Tail Keywords Can Tell you What Your Buyers Want
If you're completely new to SEO, here's a quick definition:
Long tail keywords are keywords with three or more words that are extremely specific to what you are selling.
Think of keywords like these: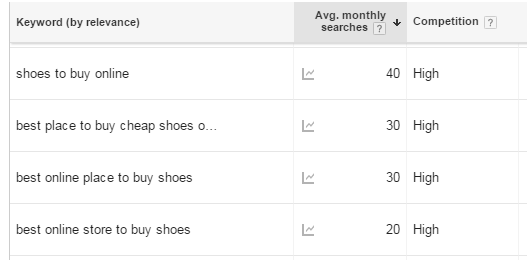 They don't get a lot of searches per month, but whatever traffic they do attract is highly targeted.
That is, someone searching for "shoes" might be just browsing for pictures of shoes. But someone searching for "buy men's leather shoes online" is looking to find an online store to buy shoes from.
Besides better conversions, long tail keywords also give you a world of insight about your customers.
For example, a search like "buy men's leather shoes online" tells you the following about the customer:
The customer is looking for men's shoes (and not kid's or women's shoes).
The customer is looking to buy shoes (and not just browse for pictures).
The customer wants to buy leather shoes (and not suede or canvas shoes).
The customer wants to buy shoes online (and not in a physical store).
Each word in the long tail keyword tells you something about the customer.
Armed with this insight, you can create a highly targeted offer that gives the customer exactly what he wants.
Combined, insight from long tail keywords can help you create a customer "desire map". This is not only useful for creating a better customer experience, but also coming up with proven product ideas.
Let's look at this in more detail.
The Customer Desire Map
Suppose I'm starting a new online furniture retailing business and I want to know what to sell to my customers.
With the help of a keyword tool, I've come up with a list of long‐tail keywords for my company: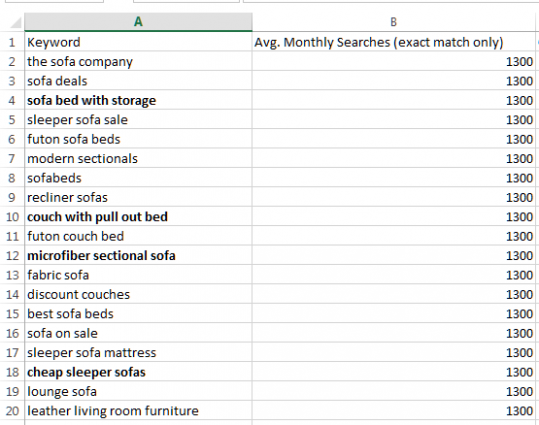 These keywords tell me a lot about what my customers want. I can see that more customers want contemporary designs than antique designs.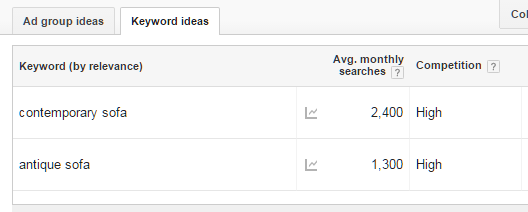 I can also see what particular colors are the most in‐demand: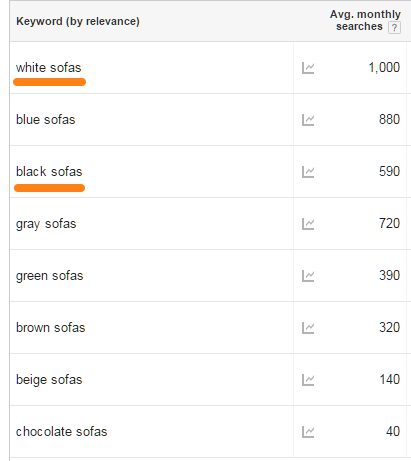 Drilling further, I can see that each keyword is associated with different customer requirements (or "desires"):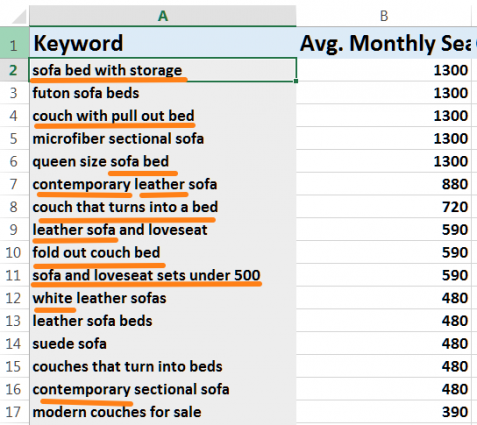 With this data, I can create a "desire map" of what my customers want as follows:
Sofa Style: Contemporary, Modern
Sofa Material: Leather, Microfiber
Sofa Type: Pull‐out couch bed
Sofa Colors: White, Brown
If I were to stock my furniture store, this list would give me better insight than an expensive customer research campaign.
Understand that this isn't something new — Chris Anderson, editor‐in‐chief of Wired, called this the "Long Tail Effect".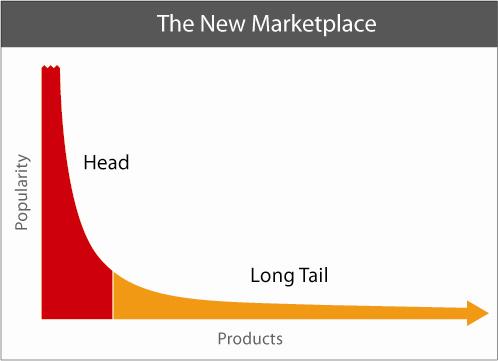 According to this effect, the long tail of customer desires has lower demand, but very hungry buyers. By targeting this long tail, companies can create and stock products customers want.
(This, by the way, is one of the biggest reasons for Amazon's success)
Bonus Tip: Use Ad Data To Find Profitable Keywords
Another good indicator of how valuable a keyword is likely to be is how much advertisers are willing to pay for the click.
We can find this out using CPC data from Ahrefs Keywords Explorer.
Let's use Puranjay's example and start by using the seed keyword "sofa bed with storage".

The third result "convertible sofa bed with storage" has less volume, but a higher CPC ($2.08) than the other results.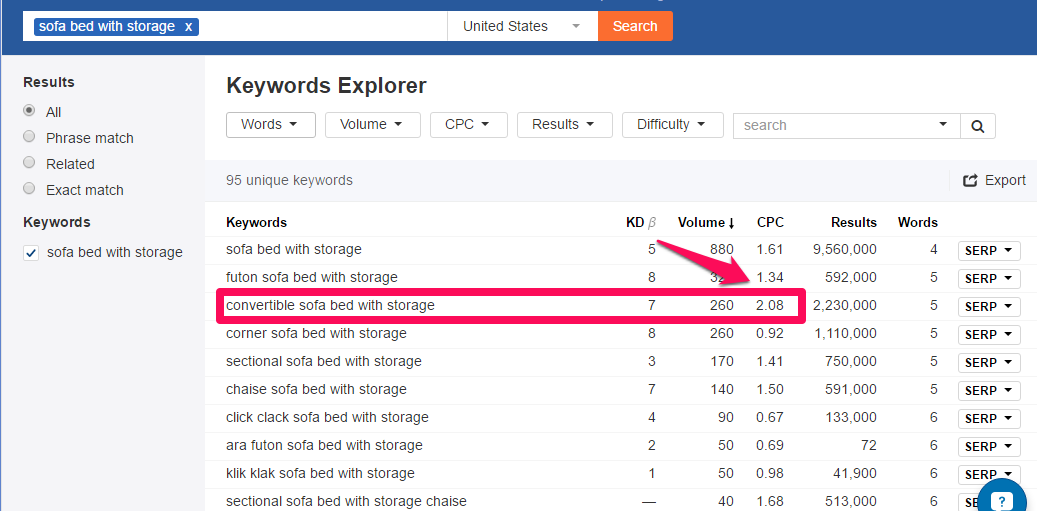 If advertisers are willing to pay more for the click, this suggests that the keyword is:
a) profitable
b) likely to convert into a sale
As a bonus, we can see that this keyword has a very low difficulty score of 7/100.
Which means with the right offer or content we should be able to rank for it.
4. Google's Algorithm Updates Can Help Predict Future Market Trends
If you're a SEO, following Google's updates is crucial for survival. A single change in the algorithm, a video about a link‐building tactic, or a blog post about Google's traffic can mean a complete overhaul in rankings and SEO strategy.
This is why SearchEngineLand has a separate page just to keep track of Google's market trends:

As it turns out, this also makes SEOs extremely effective at predicting future market trends before anyone else.
Take Google's recent decision to promote mobile‐friendly websites in search results as an example.
This move caught many marketers by surprise and sent them scrambling to fix their mobile websites. Which is why marketers dubbed it the "mobilegeddon".
SEOs, however, had seen this update coming for a long time. They knew that mobile traffic exceeded web traffic by early 2014. Looking at Google's Q3 2014 earnings report, they also knew that Google's own mobile traffic was up 14% YoY.
Given such stats, it was easy to predict that Google would eventually start emphasizing mobile‐friendly websites in search results. Consequently, SEO‐focused marketers were well ahead of their peers in making the switch to mobile.
Similarly, SEO‐focused marketers who had seen the effects of the Panda and Penguin algorithm updates knew that in‐depth, high‐quality content was the future of marketing.
It is no accident that as per Google Trends, interest in content marketing spiked after the Google Panda update.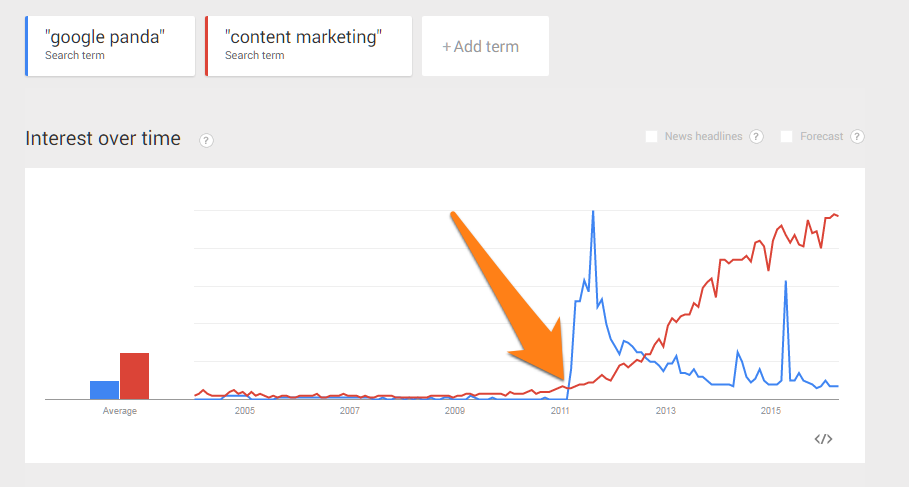 In the same way, Google and Bing both admitted to counting social signals as a ranking factor way back in 2010. Moz ran the numbers and concluded that there was significant overlap between shares and rankings.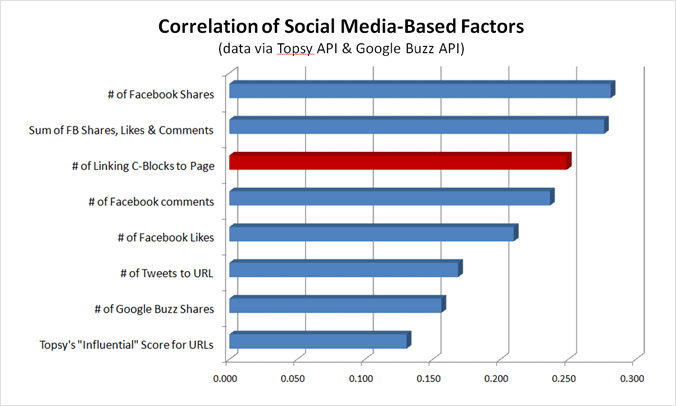 This was in December 2010, when Pinterest was barely a year old and Snapchat was a year away from being founded.
Yet, by following Google's lead, SEOs could predict that social networks were going to be more and more important in the next few years. This way, they could change their marketing tactics to focus more on social media.
Today, social has surpassed search as the top source of referral traffic — a move SEOs would have predicted months earlier.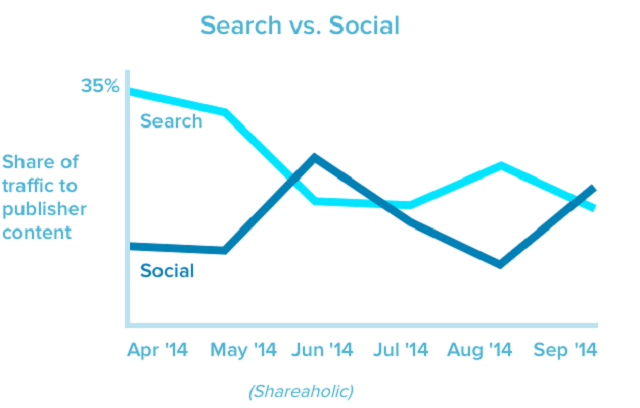 The lesson here is clear: if you want to know what marketing tactics will be effective in the future, do what SEOs do and follow Google. You'll then be able to predict market movements months, even years ahead.
5. Focusing on Speed, Engagement and Trustworthiness Can Improve Your Content Marketing
There is a simple maxim I like to follow: what's good for SEO is also good for marketing.
For example, as per Moz, site speed, engagement and trustworthiness are among the 5 most important ranking factors.
Incidentally, these are all factors you need in any successful content marketing campaign.
For example, there is a direct relation between content length and search engine rankings: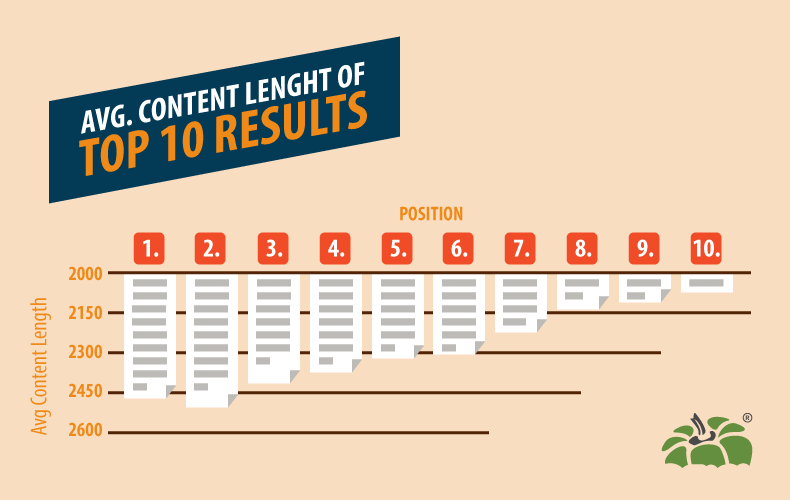 However, this relationship also holds when looking at content length and social shares: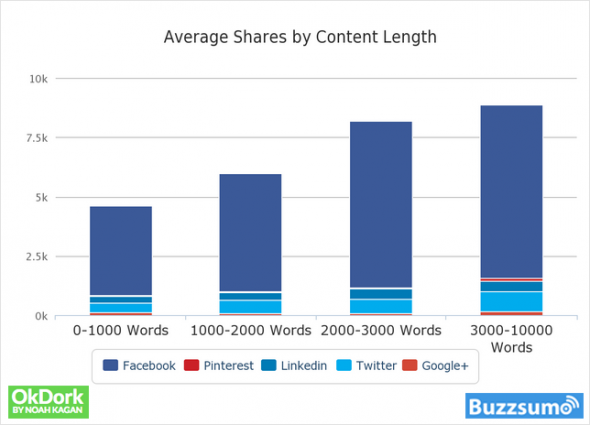 Another report on content trustworthiness online concludes that longer content equals more trust.
Which is to say, if you were to create longer content — like SEOs do — you would not only get better rankings, but also more shares and more trust.
Similarly, SEOs spend a lot of their time making their content more engaging and readable. One way they do this is by using plenty of images in their content..
For example, on Backlinko.com, you'll see highly readable content with short paragraphs and dozens of images on each blog post.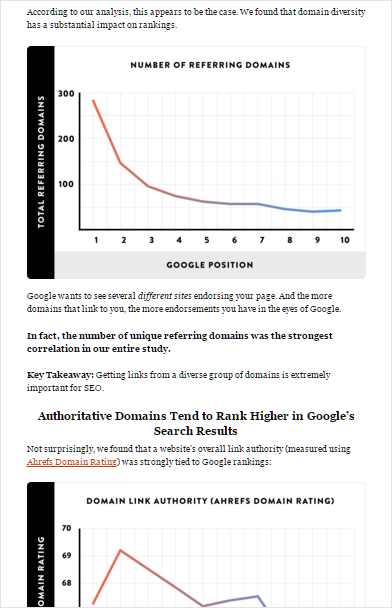 Coincidentally, including more images in your content also leads to more social shares: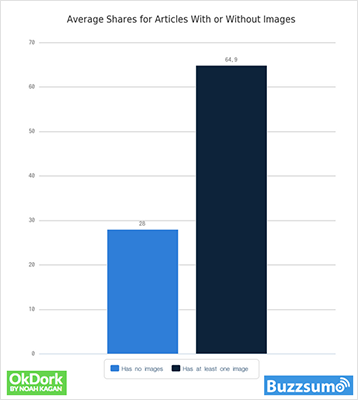 In the same way, SEOs tend to focus on site speed ever since Google announced in 2010 that it would make loading time a factor in search engine rankings.
As any CRO will tell you, site speed is also crucial for maximizing conversion rates. As per an Akamai study, 40% of users will abandon a page that takes more than 3 seconds to load. 52% of shoppers also say that site loading time is important for their loyalty to a site.
The lesson? Focus on engagement and speed like SEOs and you'll not only see better rankings, but also more shares and higher conversions.
6. SEO Can Help You Create Better Article/Guide/Course Structure
If you've ever created any long piece of content — an article longer than 4,000 words, a downloadable guide, or an online course — you know that one of the hardest things to come up with is a structure for your content
You always end up asking yourself: Which chapter should I put first? What kind of sub‐headers should I use? What kind of keywords should I add to each chapter title?
I've found that there's an easy way to figure this out: SEO courses and guides.
When SEOs create a course or a guide, they choose a structure that maximizes the search engine impact. This means they focus on keyword rich titles, use SEO‐optimized URLs, and emphasize readability and engagement.
Let me show you with an example.
Neil Patel has a number of marketing guides on his blog at Quicksprout.com.
Since Neil is a content marketer known for his in‐depth SEO knowledge, there are two things you can count on:
That the guides will have in‐depth, useful content
That they will be structured for maximum SEO impact
For example, on his advanced guide to content marketing, you see a few things:
1. Neil uses a simple, SEO‐optimized URL.

2. Every guide has a section telling readers who the guide is for.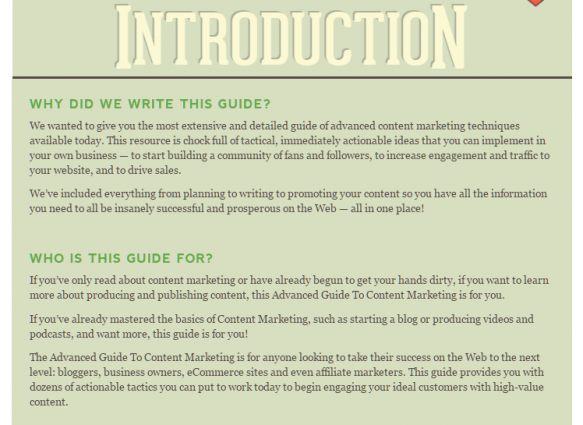 3. Chapters build up incrementally, starting with a "foundation".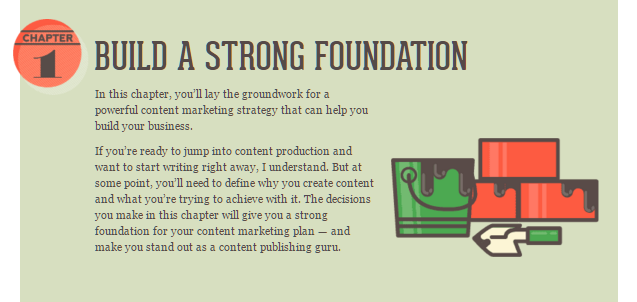 4. Most chapters focus on a "how‐to".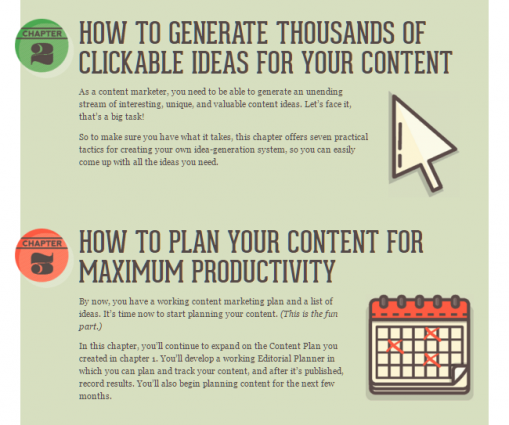 This has strong SEO‐benefits (since there are a lot of 'how to' queries) and is easy to understand for readers.
5. Each chapter is broken down into multiple sections.
These, in turn, are broken into easy‐to‐follow steps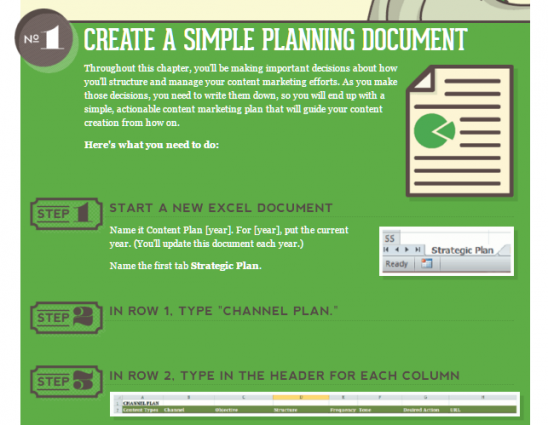 If you were creating a similar course in your industry, this structure would be worth copying:
Choose a SEO‐optimized title and URL
Identify target readers clearly, both in the title ("Beginner/Intermediate/Advanced") and the course content.
Focus on "how‐to" since that's what most people are looking for in long‐content.
Break down every section into sub‐sections, and each sub‐section into small steps
Over to You
Most marketers tend to see SEO at face value — as a way to get more traffic from search engines.
The truth is that lessons you learn from SEO are applicable across marketing fields. Whether it is finding new ideas for a content marketing campaign, getting better CTRs from search engine results, or figuring out what your customers truly want, SEO can help you understand, evaluate and sell to your customers better.
Here's what you should takeaway from this post:
Your keyword data can give you immense insight into your buyer's journey.
To predict future marketing trends, track what Google does and follow along.
A focus on readability, engagement and site speed will get your more organic traffic and social shares.
Dig through keyword data to come up with innovative product ideas that your customers truly want