Or perhaps you're already in the industry, but want to extend your knowledge and find some fresh tips and insights?
Of course, a good place to start is right here on Ahrefs blog, where we regularly share advice and case studies on link building, keyword research, technical SEO and more.
But many heads are better than one right? So to help you on your journey to becoming an SEO guru, we've put together a list of some of our favourite SEO and marketing blogs.
We've also given a little bit of background on each of them, so you can get to know the guy (or gal) behind the blog.
So, in no particular order… here are 22 SEO blogs you SHOULD be following and why.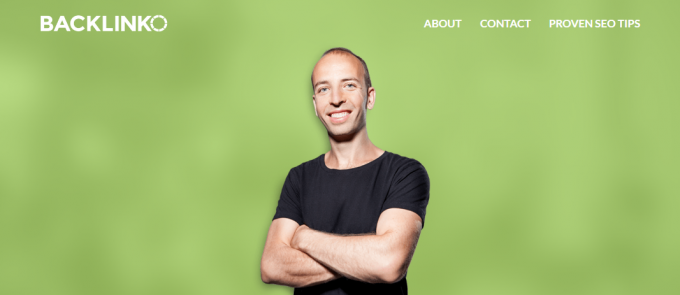 Brian Dean, founder of Backlinko.com, is justifiably considered one of the world's foremost experts on SEO.
Brian's Skyscraper technique and extensive use of best SEO practices, have earned him a HUGE reputation in the inbound marketing community.
He publishes less than 10 blog posts per year, but for each of those posts, at least 50h of work have been invested in research and writing. Countless more on promoting the content.
Quite simply, Brian Dean and the team at Backlinko are a content marketing powerhouse.
Backlinko will help you learn anything from link building to guest blogging, or even "how to get a Nr. 1 ranking". Everything packed in detailed, in-depth and actionable blog posts which changed the life of thousands of SEO professionals. Including my own.
Favourite Blog post: The Skyscraper technique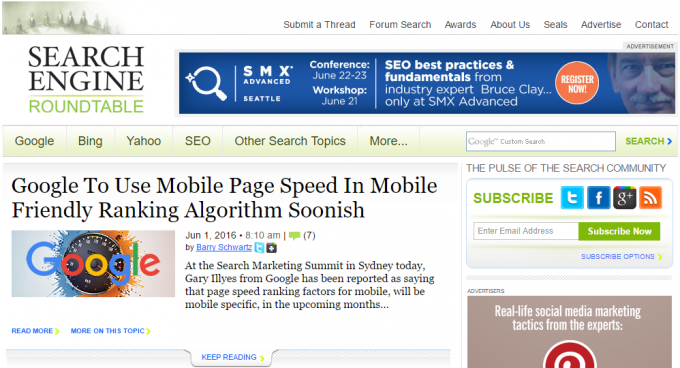 Barry Schwartz is an icon of the SEM world.
SEroundtable.com was founded in 2003 to act as a central hub for reporting on the most interesting discussions and news from the web's numerous SEM forums and portals.
Over the years, Barry Schwartz has:
Written a staggering 18.700 articles for SERoundtable.com
Published over 6000 blog posts for Danny Sullivans, SearchEngineLand
He also found the time to record 30 youtube videos in the past 5 months for his Rustybrick channel.
SERoundtable.com is the place to be to keep up to date with daily news and updates of everything that's happening in SEO.
Keep the website bookmarked and check it at least once a day to avoid being left in the dark about the latest goings on in the world of search engines.
It is hard to pinpoint one favourite blog post from the massive volume of content on SERoundtable.com, but this surely comes close: Best SERoundtable.com articles in 2015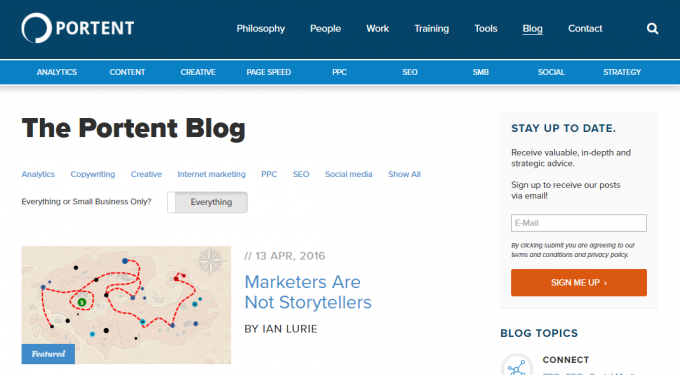 20 years in marketing — from copywriter to agency owner — and still kicking ass like never before.
I must admit, I am a fan of Ian Lurie, and this list would not be complete without including him.
He is a marketing geek, a strategist, and employs an edgy, entertaining writing style which makes me laugh while I learn new things. For example, this quote from his latest blog post:
Using the latest marketing how-to is a lot like sex. Know the risks or bad things happen and bits fall off. Exercise proper precautions and the worst case is things go wrong and you learn something.
I should point out that the Portent blog is not only SEO focused:
SEO has become a broad field and it's increasingly important to know more about other aspects of marketing to implement a successful SEO campaign.
Reading this blog will teach you about PPC, Content Marketing, Budgeting, Copywriting and anything else inbound marketing related.
If I had to pick one favourite blog post from portent.com it would be: "How to beat marketing survivorship bias"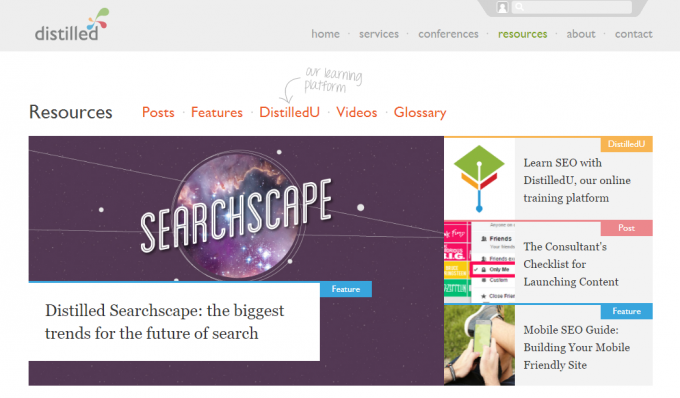 Will Critchlow is someone who loves to share his knowledge.
Whether it's through his regular contributions at MOZ, on his personal blog "Life, Distilled", or on the Distilled blog itself, he is someone who seems to genuinely enjoy educating others and sharing everything he learns.
The topics he covers range from everything SEO, to inbound marketing topics, all the way to life lessons learned during his life and career.
He founded distilled in 2005 together with Duncan Morris, and in the past 11 years, Distilled became a lot more than just a marketing / SEO Agency. It became a synonym for client success and education in the SEO sector ( DistilledU )
Besides the valuable original content revolving around SEO, PPC, and new technologies, the Distilled blog also offers a monthly roundup of curated content from the marketing industry in the form of regular "What we learned in…." blog posts.
Favorite blog post: What The Block? An Exploration of the Future of Digital Advertising in an Ad Block Climate
In just a little over 3 years in the marketing industry, Jon Cooper has managed to generate strong ripples around his person and the company he is building.
At one point or another, every growing inbound marketer will end up not just reading, but learning from the "Point Blank SEO" blog, which is quite an achievement considering how many marketing related blogs are currently "out there".
Jon Cooper is polarizing with his obvious passion for white hat SEO, sustainable growth and organic linkbuilding.
Other than the content he and his team deliver on the company blog, his twitter feed is also worth keeping a keen eye on, due to the overall high quality of the curated content.
In the past 3 years, PointBlankSEO has grown from a one man show to a company with 10 full time linkbuilders from all over the world.
It will be interesting to keep an eye on Jon and his company to see where the road will lead them in the future.
Favorite Blog post: Social Influencer Prospecting with Co-Citations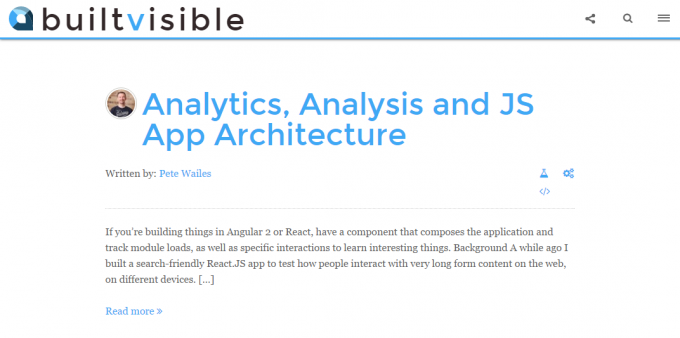 If you are looking for to learn from someone who is passionate about delivering valuable content to their audience, then you should check out the work of Richard Baxter.
With over 10 years in SEO and digital marketing he definitely has some tricks up his sleeve. A lot of these are part of his "Ideas that work in content" series, which is a semi-regular part of the Built Visible blog.
With over 290 articles under his belt on the company blog he writes about tips and tricks for technical SEO, content marketing strategies and tactics, and new, interesting ways of utilizing tools for better and more effective results. Like in this post: How to build the MOZ keyword difficulty tool in Excel with Moz and SEMrush
Another interesting resource created by Richard Baxter, which will most probably be helpful for some of you is his slideshare account. There are over 30 slide decks related to SEO and marketing + one about "How to make salted caramel brownies". Salted caramel brownies and SEO. What's not to like?
My favourite blog post by Built Visible: The Web Marketers Guide to Reddit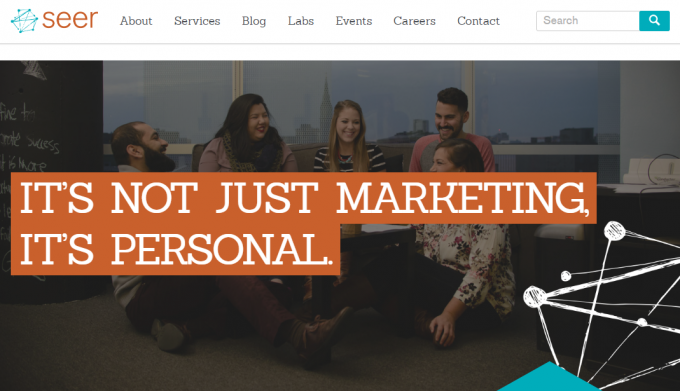 Wil Reynolds dipped his toes into digital marketing as early as 1999, driving traffic to Fortune 500 companies as the SEO hero of a web agency.
His passion for growing search traffic and analyzing the impact of this traffic on the companies helped partially shape the SEO world.
Known not only as one of the best in the business, but also as one of the greatest humanitarians of the marketing world, Will sits on the board of the "Covenant House" and raises money and awareness for the organization by sleeping rough once every November on the streets of New York.
Temps are dropping a bit, but I'm not numb this year, thankful for that #CHSleepout — still taking donations BTW pic.twitter.com/2qOsDB4e4r

— Wil Reynolds (@wilreynolds) November 20, 2015
Seer was founded in 2002. The declared focus of the company is to "Do great things for our clients, our team and the community at large", and with over 100 employees it seems to work out.
The Seer Interactive blog publishes 2 — 3 blog posts a month, with topics revolving around all things marketing — from case studies to funny search queries. It is a blog which will allow you to learn marketing on a broader scale while still educating you about SEO.
One of my favourites, and also one of the most recent blog posts I would like to feature here is: Our Client Tried Bing Ads & Earned $461,159 in Revenue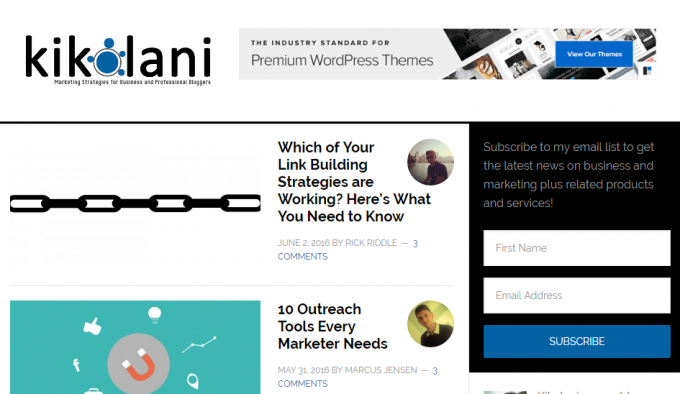 SEO and content are more and more joining in a symbiotic relationship, so as an SEO professional you have to be able to create valuable content for your readers.
Engaging and valuable content, helps to generate strong user experience signals, including; increased time on page, a lower bounce rate and more social mentions. These will all help with your rankings.
Kristi Hines is one of the best-known writers in the marketing world. She has been featured in publications like MOZ, CrazyEgg, HubSpot and more, and is one of the best people in the business to learn from.
Kristi's blog, Kikolani (which started as a personal blog), has become a gathering place for great contributors, who share knowledge and their experience about all things copywriting, SEO and inbound marketing.
Favorite blog post: The Ultimate Guide to 160+ Business and Marketing Conferences in 2016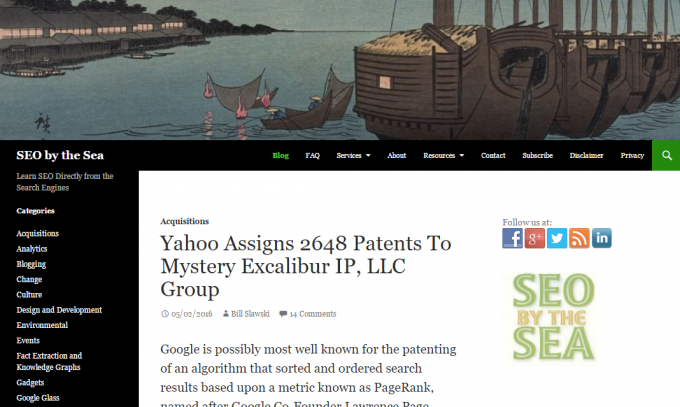 Bill Slawski is one of the rare people in the world, who can truthfully claim to have 20+ years of professional experience in SEO.
His first contact with online marketing was as early as 1990 while working on a friend's business website and he continued to increase its visibility over the following decade.
In 1996, Bill started working on other client projects, both as a 'hands-on' SEO and as a consultant.
He is known for basing most of his predictions and assumptions on patent filings and whitepapers. This makes his blog a great place to start a search for future proof SEO strategies, and to get early warning about possible upcoming nasty surprises by the search engines.
SEO by the Sea was founded in 2005 and has become the place to go for impartial observations of developments in the SEO industry.
Favorite blog post: Driving directions vs Reviews as Ranking Signals for Google Maps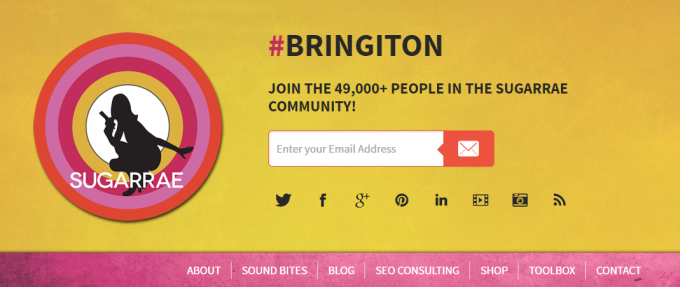 If you ever feel lazy, de-motivated, burned out, or exhausted, just visit Rae Hoffmans "about me" page
Learning to know the person, her story, her life, will make you humble and motivated at the same time. Even while writing about her, all I can think of is "Till I Collapse" by Eminem and Nate Dogg.
In the past 14+ years, Rae busted her A** and is probably still grinding harder than anyone else in the business.
She built a multi-million dollar business out of nothing, with her own strength, intelligence, integrity, perseverance and rock solid determination.
Today, she is one of the most respected online marketing professionals in the world, with world class knowledge and experience in multiple marketing disciplines.
The best thing though:
She shares her "out of the trenches / No Bullsh…." experience for free on her blog, with no regular posting schedule.
Whenever she writes, be sure that you have pen and paper handy to take notes.
So go, subscribe to her mailing list. Right now!
No excuses, just do it already.
You will thank me later.
One of my favourite blog posts (and god knows there are many): How to Find Out Which Social Media Networks Are Driving Your Revenue

The marketing landscape is constantly changing. Tactics and strategies which were previously successful, soon become subject to the "Law of Shitty Clickthroughs".
A perfect marketer is fast to understand new concepts, develop new solutions for old goals, and think outside of the box on a daily basis.
Meet Garret French.
If this is the first time you are hearing his name, than you have been sleeping under a rock for the past decade and a half.
He was one of the first to see and use the connection between high value content and conversions (during his time at WebProNews), and one of the first to write about local SEO and to develop unique strategies for local SEO optimization. Most of these strategies are still widely used today.
I love reading Garret's blog posts because even the most complex strategies are torn apart and presented in simple to understand chunks, so that there are no open questions after reading.
This seems to be one of the guidelines for every author on the citationlabs blog, which makes it even more valuable for all readers.
My favourite blog post: Local Marketing Engagement Guide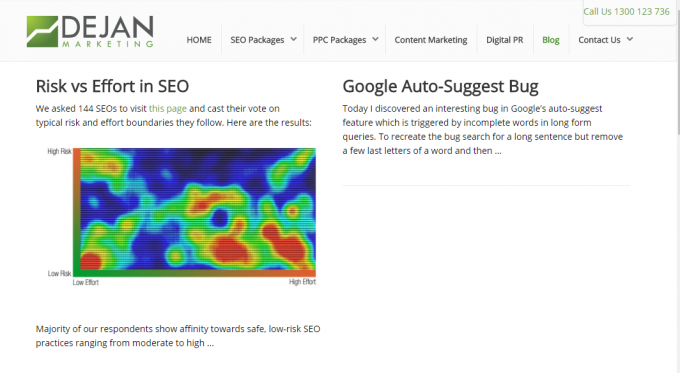 In 1999 Dan Petrovic wanted just to increase the visibility of his own music website. What started as an experiment turned fast to a hobby, and 2 years later he landed his first SEO job.
Fast forward a couple years, and a couple agencies later, Dan decided that it was time to run his own company and do things his way.
His agency, DejanSEO soon became a major Australian SEO brand and one of the top SEO agencies worldwide.
Dan continued to grow in the online marketing field and earned global recognition as a thought leader in the SEO industry.
The DejanSEO blog reflects his thirst for knowledge about "How search engines work". The articles are fully SEO focused and provide news, experiments and practical guides for advanced SEO techniques.
Favorite blog post: The Dangers of Hidden Content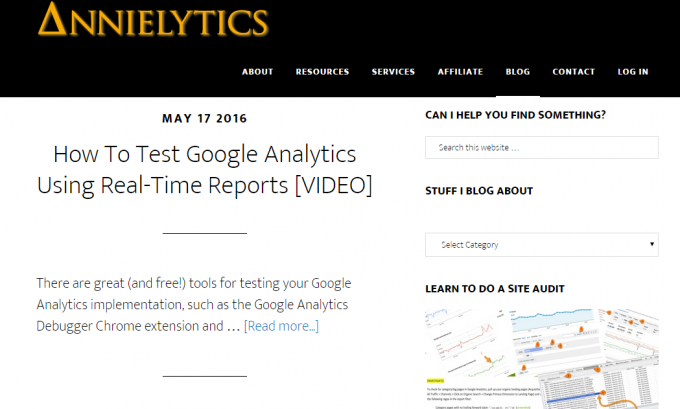 Being a "Data Driven Marketer" is already a tautology in itself.
If you don't use data in your marketing tactics and strategies, it means you are not testing and only following your experience and gut-feeling. This is prone to failure in the long run.
In SEO, having the right data and knowing how to read it allows you to plan in advance. It allows you to repeat processes which helped you improve rankings or unlock new keyword verticals. It also allows you to calculate the expenses (time, money) necessary for a certain result (i.e: "How many emails do I have to send in average to get 50 backlinks", "What channel is giving the best ROI for content distribution?", etc.)
So, data is important, interpreting data is importanter,… M'kay?
If you expect, that articles about data are bound to be dry and boring, then you probably never read one blog post on Annielytics.
Annie Cushing "makes data sexy", as she proclaims herself, and a quick glimpse over her blog proves her right.
Besides making a living with her Annielytics blog, she is also "Senior SEO" at Seer Interactive, and a valuable contributor for search engine land.
If you still dont believe that data related content can be engaging and entertaining, please read: Why The Multi-Channel Funnels And Acquisition Reports Don't Get Along and tell me in the comments what you think about it.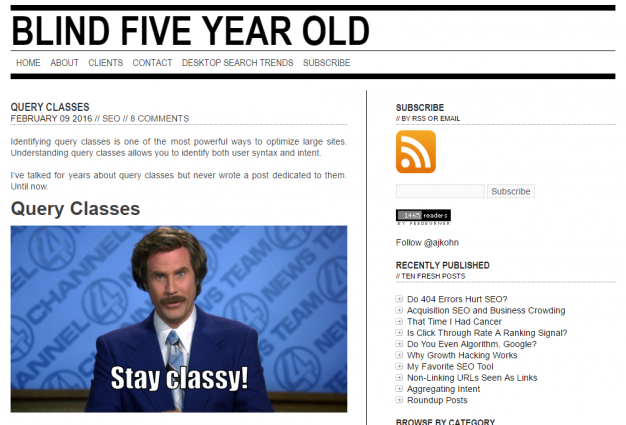 You might find the name of AJ Kohns blog a bit disturbing, but, there is a bit of a backstory to it.
In the early days of SEO, there was a shared opinion, or rather philosophy, which stated:
You should treat a search engine like a blind five year old
And thus the name…
AJ's experience spans two decades. His articles have massive value for every reader interested in SEO, and they are written in a form which makes them simple to digest — regardless of your personal experience or skills in the field.
The blog is a great resource for beginners and experts alike, due to the sheer amount of experience and knowledge which is infused into every one of his blog posts.
In the past 20 years AJ Kohn has earned the recognition and respect of the whole SEO community.
Until 2013 he was also a curator and columnist at Marketing Land. In 2011 he was back to back panelist for SEO Moz ranking factors and Google News ranking factors. He is a self described fan of "Data & Numbers", a family man and a big supporter and fan of Google+.
My favourite blog post by AJ Kohn gives us a deep insight into the man behind the business: That Time I had Cancer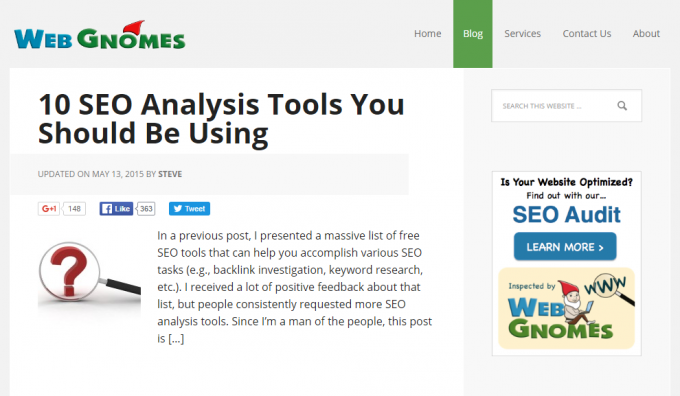 I wasn't really sure I should put Web Gnomes on this list, the reason being that Steve Webb didn't publish there for a year now.…
Also… If you wanted to learn anything about marketing, would you really read the blog of an Ex-Google employee with a Ph. D in computer science ( Dissertation: Automatically identifying and removing low quality information from online information-rich environments ) ?
But this was his "prior life".
Today his professional life consists of two words: "SEO" and "Audits"
He wrote the best guide ever on Moz about SEO audits. On his blog "Web Gnomes" he offers free SEO audits. And the only products he sells are SEO Audits. They do start at a rather lofty price of 3.000 USD, though he does claim that the price will get you the "Best SEO Audit" in the world.
Even though there is no published blog post in over a year, the web gnomes blog has 130+ blog posts packed full of actionable knowledge which can be used by any marketer for almost any business.
So not adding Steve Webb and Web Gnomes to this list would be a major loss for all of us.
Thus, here it is.
In case you are still not convinced that Web Gnomes is the right blog for you, you should probably read: The Most Actionable SEO Tips Ever!
If you are looking for an example of an all round talent, then you just have to google Mike King.
He could have picked between being a developer, a published rapper, a public speaker, a consultant, an SEO, or a marketing expert. And he would have been awesome in any of these fields. So which did he choose? The answer is, all of them!
If you dont believe me, here is Michael / Mike King aka "Mic King" aka "MyCool King" Freestyling with Phil Notthingham
Mike is a charismatic and powerful personality with a client portfolio many of us would kill for, including:
American Express
Razorfish
General Mills
Besides being the managing director and founder of "I Pull Rank" he is also a regular contributor on the company blog and a power contributor in the Moz community.
His background in software development gives him a strong foundation for technical marketing. Which makes him a must follow, as there are not many sources you can learn technical marketing from.
An example of his work, and my favorite blog post on IPullRank would be: How I Sped Up My Site 68.35% With One Line of Code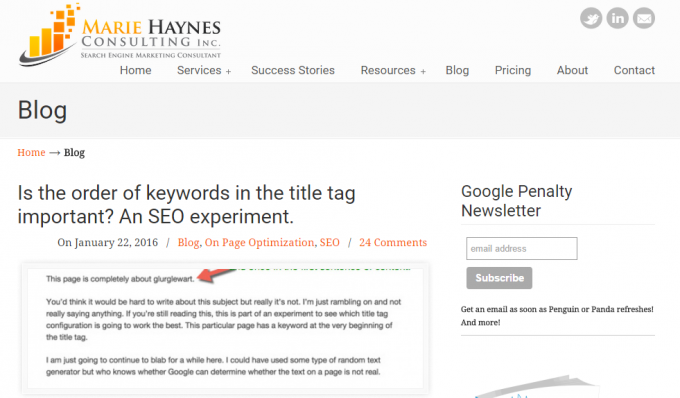 Today, there is no SEO knowledge without the knowledge of Google penalties and how to recover from them.
Especially since the takedown of PBNs, and Google's various animal themed algorithms, you need to be aware that shortcuts to ranking will not generally be viable in the long term.
But they are still so tempting…
So, if the literal hits the fan, and you find yourself under penalty, you will be more than thankful that you stumbled across Marie Haynes in this list (and followed her blog of course!).
There is an odd thing about Marie though, she used to be a vet! So what turn of events would make you change your career from Veterinarian to SEO professional, like Dr. Marie Haynes did?
The answer is simple: Curiosity -the hunger and need to understand the processes behind Google rankings.
Once she started giving advice on public SEO forums, people were very fast to catch up and ask her to take a look at their websites.
Soon enough it became a full time job. And due to ever rising demand she had to increase her prices, so it became a well paying full time job!
Fast forward a couple years and Marie Haynes made the full transition from Veterinarian to accredited SEO expert, with publications for industry giants like MOZ and Search Engine Journal, and probably more work than she can handle.
Before you bookmark her blog make sure to take a look at her Success Stories. A picture says more than a thousand words, and if your traffic graph is looking anything like the ones she recovered you are probably suffering an Google penalty.
My Favorite blog post from MarieHaynes.com is not a regular blog post, but rather a living document about Google algorithm changes which you really cant afford to miss out on: A Complete List of Changes Which Might Affect Your Websites Traffic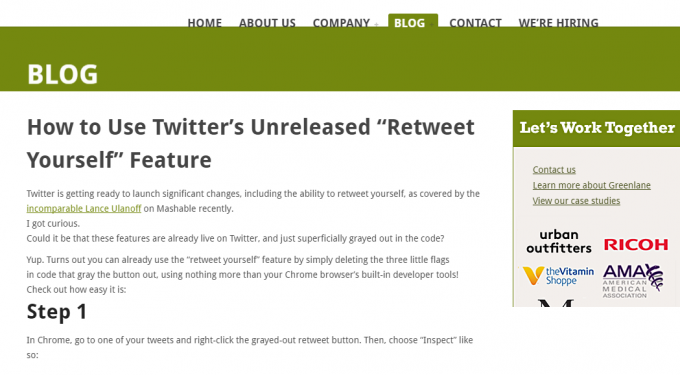 Bil Sebald, best known as an SEO with over 20 years of professional experience and a humongous portfolio, is also a:
Web Designer
Blogger
Photographer
Guitar Player
Song Writer
Photoshop Addict
Biker
Loving Husband and Father
…and this is just the short version.
Picking some gems from his professional portfolio I will mention just the following four:
NFL
Levi's
Calvin Klein
Toys'R'Us
So where do you start describing a guy like him?
You actually don't.
Best thing I can do here is to lead you to his author profile on his company blog and let you enjoy his work while you learn from it.
The Green Lane SEO blog will help you learn a lot about linkbuilding, how to use common tools for uncommon purposes, and generally how to get the most out of contemporary marketing techniques, technologies and strategies.
Favorite blog post: Schedule Your Screeming Frog Crawls With Punctual Frog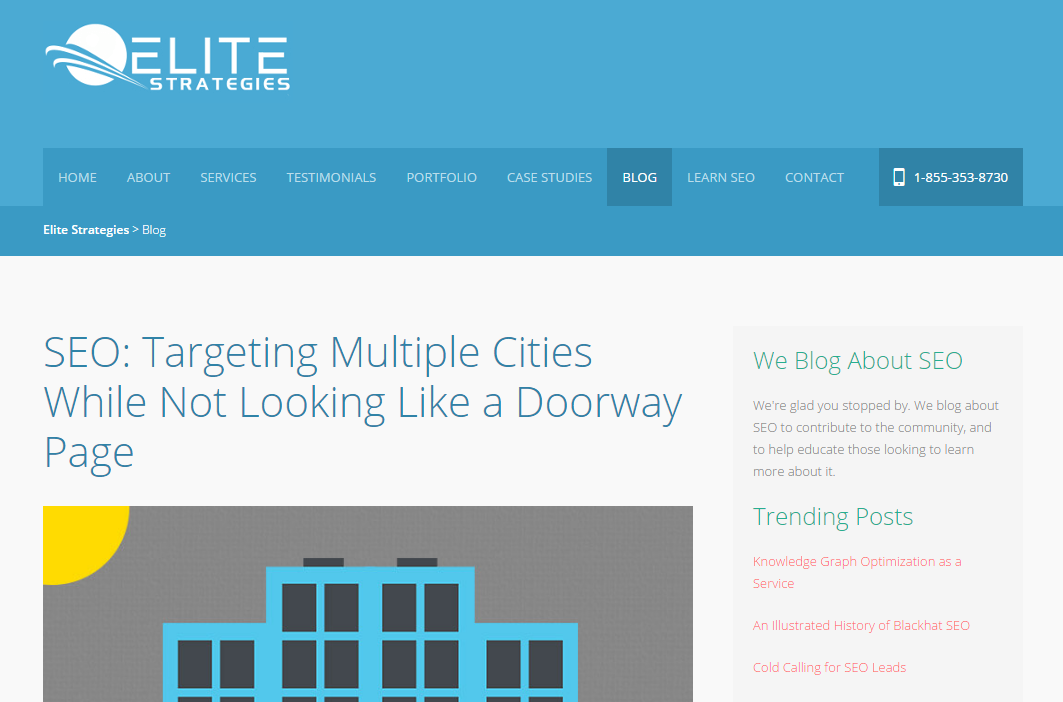 For me, Patrick Coombe will always be the Godfather of Technical SEO.
Bold statement?
Well,… you should just check his case study about "Un-SEOing a horribly mis-managed website" and you'll see why.
In addition to writing awesome content on both his personal blog and the Elite Strategies company blog, he is also one of the top members (Nr. 4) and a moderator of the inbound.org community.
Patrick is a serial entrepreneur and a family man, who has dedicated his professional life to providing growth with value to over 200 clients.
I have a lot of respect for Patrick and his work, plus a personal friendship, so granted my opinion might be a little biased. So I invite you to check out his blog for yourself and I'm sure you will agree he is more than worthy of a place on this list.
My favorite blog post: Inside a hacked SEO backlink network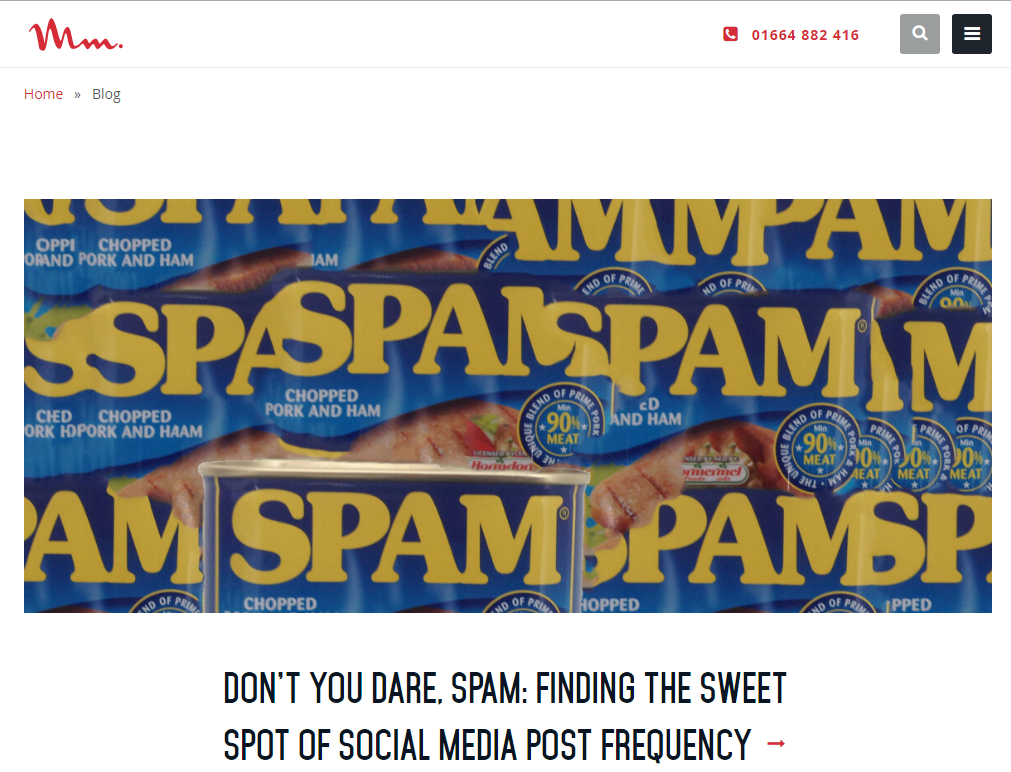 I dont think anyone in the industry (other than Gary Vaynerchuk) is playing the personal branding and social media game stronger than Ed Leake.
We are talking about a guy who created the outline for one of the best performing Inbound Originals in 2015 while sitting on the toilet and answering a question in the community (read the comments in the outline).
And from everything else I've seen from Ed in the past year, I can only say he lives and breathes digital marketing and entrepreneurship every day of his life.
With over 10 years of experience in the marketing industry — half of it as an agency founder and managing director — he still finds time to write semi-regularly, sharing his knowledge and opinions on relevant topics.
He even found the time to write a guest post for Ahrefs, which you can find here.
Ed's writing is edgy, educative and often includes just the right amount of humor. On that note, here is my favorite blog post from MidasMedia.co.uk SEO Starter Guide: Destroy Your New Website in 3 Actionable Steps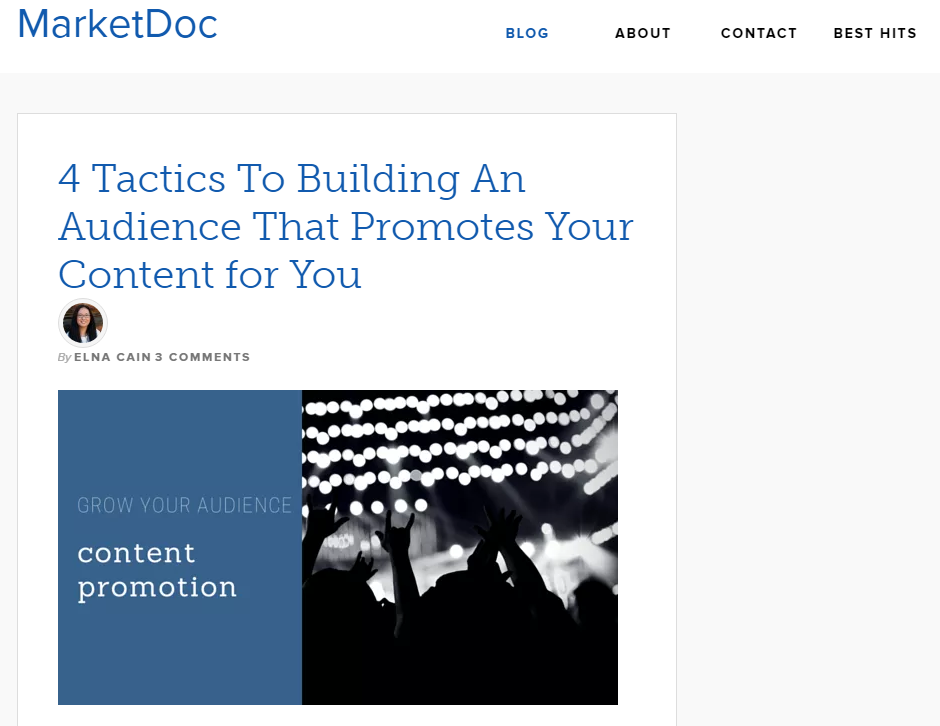 How many of you can say that they have heard of MarketDoc or Cody Lister?
Not many for now I guess.
But, in 1–2 years, if he continues the way he's going that's sure to change.
Cody Lister has taken the best industry practices, nailed them down, and grows his website and mailing list with a meticulous discipline and strong focus on providing value.
When I first discovered his content, I was so impressed by the way he took a topic, wrote about it, distributed it, and owned every step of content maketing.
Which is why I chose to include him on this list.
Cody started in digital marketing 8 years ago, during his sophomore year of college, while helping a commercial real estate developer with their hotels' marketing.
Hooked and keen on learning he became a regular contributor on SEMRush and also contributed some of his work to major paywalled financial news publications.
MarketDoc publishes long-form case studies and how-to posts 1 to 2 times per month.
The posts range from 3,000 to 6,000 words, and are written with a great love for detail.
On MarketDoc you will mostly find articles about: content promotion strategies, product launching, and step-by-step marketing advice for solopreneurs, small business owners and full-time bloggers.
My favorite blog post is: The "Michael Buffer Formula": How to make $154,843 from one blog post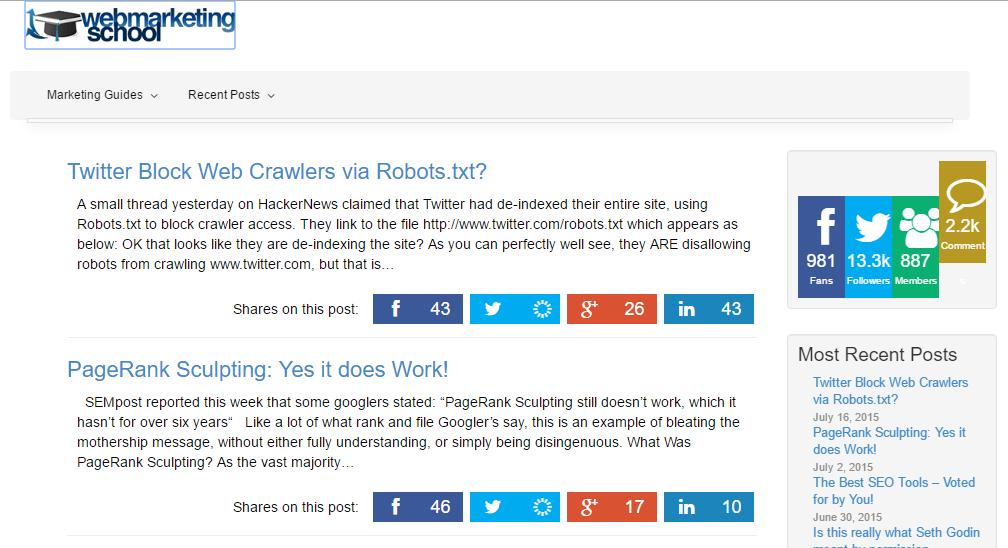 There is surely a lot that you can learn from a person who got endorsed by Rand Fishkin as "one of the best organic SEO experts". A guy who created campaigns for giants like McDonalds, PepsiCo, Expedia and Virgin.
In his 15+ years in business Martin MacDonald has been invited to 40+ marketing conferences around the world as a keynote speaker.
He is currently the head of SEO for Orbitz Worldwide Inc. and a regular contributor to Forbes and Huffington Post.
His blog "Web Marketing School" is not frequently updated, but even so, he deserves his spot on this list for the sheer quality of his writing and the simplicity in which he explains even complex SEO concepts.
Favorite blog post: PageRank sculpting: Yes it does work!
Some Notable Omissions…
You may have noticed that there are a few big hitters missing from this list. That's because I figured you would (probably) already be aware of them. But just in case (and for completeness) you should also check out:
And a special mention for Tim's Blogger Jet, and David's Top 5 SEO — neither of which are updated regularly at the moment as they are so busy with Ahrefs!
Finally…
It's Your Turn!
First…
Vote in the poll below to let us know which are your favorite SEO blogs on our list. You can select up to 3.
Then…
Let us know any cool SEO blogs we've missed (and why they are cool) by leaving a comment below!