A couple of months ago, I started receiving hundreds of unexpected dofollow backlinks from the profile signature of a forum I was participating to.
I did not really care until I decided to clean them up. I noticed a rise in search result impressions, as reported in Google Webmaster Tools.
Why You Should Watch Your Backlinks Closely
Last year, I was working on the development of an ethical content exchange platform called Ligatures.net. I decided to register to several SEO forums, hoping I could include a link in my profile signature here and there.
One of them was WebsiteBabble. So, I joined it and added a backlink to my site in my profile. I carried on participating to the forum and created a total of about 50 posts.
From time to time, I was checking my backlinks using both Google Webmaster Tools (GWT) and Ahrefs.
Once you have registered your website in GWT, a subset of links to your website is progressively displayed in the Search Traffic > Links To Your Site menu.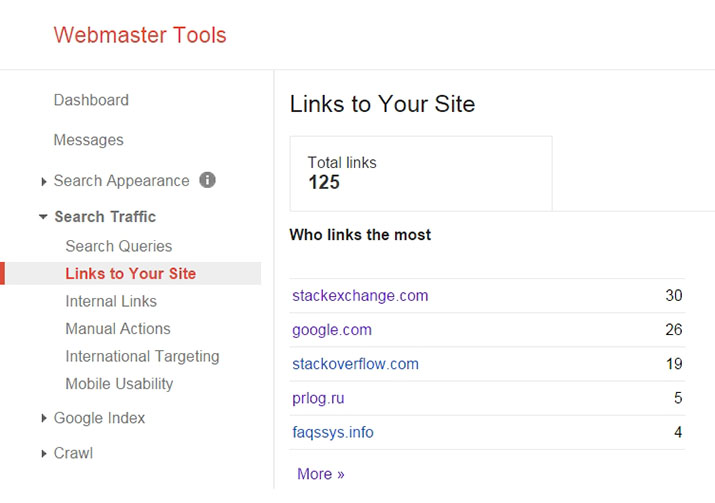 GWT provides good feedback, but it does not provide as much statistics as Ahrefs Site Explorer.
For example, it does not break down link counts into dofollow and nofollow. It does not provide a graph of the backlink count too.
Such information is available from Ahrefs simply by entering the URL of your website in the Site Explorer.
Within days, I noticed a huge increase in dofollow backlinks at Ahrefs: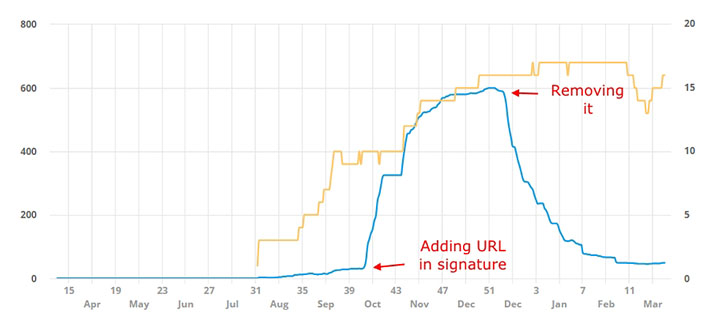 From less than 50 backlinks, I reached 600 within 3 months, most of them coming from WebsiteBabble.
Surprisingly, GWT only reported less than a fifth of them.
I was a bit worried about such backlinks, but decided to deal with this issue later. I was also wondering whether I would get some benefits too.
GWT was reporting around 16 impressions per day then, which is a very low number. However, I did not expect more since my site did not have much content and since it was in a very competitive niche. I was still working on my platform.
Around mid-November, I posted a couple of articles on my site. I was expecting the number of impressions to rise, but nothing happened. I was wondering whether I was suffering from an algorithmic penalty since I there was no manual penalty in GWT.
I resorted to ask questions about forum profile backlinks in two SEO forums: V7N and WebsiteBabble. I received the following answers:
"If you encounter issues, remove some keywords from the signature;"
"If you only have forum backlinks, it can hurt your rankings;"
"We have more than 20 000 backlinks from forums and we are still ranking on top 3 positions;"
"There is no manual penalty for this, but your IP address may be blacklisted;"
"Forum signature links will be slaughtered with the next Penguin update;"
"If you get a link to your site from your lawful and honest participation in a web forum, you do not have anything to be concerned about, even if you use a custom anchor text."
About the "forum signature links being slaughtered with the next Penguin update" comment — it did not happen.
But in my case, there was a significant volume of links created automatically in a short period of time. I did not stuff my signature with keywords and a large part of my links were coming from the same source (i.e., a big skew).
Google's Policies On Forum Profile Backlinks
Here's what Google says:
Forum profile links should not be optimized with keywords or they would be considered unnatural;
Creating links that weren't editorially placed or vouched for by the site's owner on a page, otherwise known as unnatural links, can be considered a violation of [their] guidelines;
Automatic link generation can negatively impact a site's ranking in search results.
My links were created automatically and they were not editorially placed, but I had some control on it.
Yet, 600 links for 50 posts was obviously not a normal ratio. I could not find more official information and was left without clear-cut answers to my questions.
Removing Forum Signature Backlinks
In early December, I decided to remove my dofollow link from my WebsiteBabble profile.
Unfortunately, it was not possible to set a nofollow attribute, otherwise, I would have tried it. I used plain text instead.
The number of links reported in GWT and Ahrefs started to decline. I did not see any positive impact on impressions until the beginning of January. By the beginning of February, I noticed an average of about 30 impressions per day. I had reached a plateau.
In the meantime, I had not modified the content of my website or performed any other actions that could have impacted this metric. An upward trend in search result impressions clearly began once search engines had removed about 60% of my profile signature backlinks.
Conclusions
In the Google Webmaster Help videos, John Muller has often repeated the following:
Google removes the value of unnatural links, they don't pass PageRank;
In competitive niches, you need to show a lot of strong signals to beat existing competition;
Algorithms do not have metrics and signals for new websites, so they make early estimations;
Backlinks are taken into account to compute trust;
The ratio of good content versus bad content is influencing ranking;
Algorithms automatically pick up changes made on web pages;
A lot of positive signals can override a couple of negative signals.
Since my website was new and did not have much content and backlinks, it is very likely that algorithms did not really know whether they could trust my content or not.
In addition, getting hundreds of unnatural links from the same source surely did not help building trust. However, after I fixed this issue, algorithms changed their mind. It seems like first impressions matter, but they are not fatal.
Those who claim had 20 000 forum profile backlinks, while still ranking, could probably rank even better if they removed these. A lot of forum profile backlinks does have a negative impact.
Guest article by: Jérôme Verstrynge (Twitter; Google+)
Jérôme Verstrynge is currently operating as an IT entrepreneur working on an ethical content exchange platform called Ligatures.Net.