You want to increase traffic to your website from the search engines right? So how do you go about it?
Well…
Building links and increasing your domain rating is one way to do it.
Adding new content is another.
But… it's also possible to increase your search traffic without having to do either.
Today, I'm going to show you how with 3 case studies:
How we Increased search traffic 51% using 'The Merger Method'
How David Attard increased his search traffic by filling gaps in existing content
How I increased search traffic 54% by switching 'main' keywords
Let's get started!
Case Study 1: How We Increased Search Traffic 51% Using 'The Merger Method'
You might have heard the phrase 'keyword cannibalisation'.
Basically it means multiple pages on your site are targeting the same keyword.
It's not the end of the world, but it's far from ideal SEO wise.
It can confuse Google (which page should they rank?) and splits link equity across multiple pieces of content.
The Merger Method is a way to solve your keyword cannibalisation issues and boost your search traffic in the process.
The Merger Method is one of the best tactics to capture quick organic traffic gains. I've been using it a lot lately for client content audits. By merging competing pieces of content into one asset you avoid keyword cannabilization and centralize all the authority in one place. This often results in almost immediate rankings and organic traffic gains.
Here's how to do it.
Implementing The Merger Method On Our Anchor Text Posts
At Ahrefs we had 3 posts on the blog targeting the same keyword: 'anchor text'.
Back in June, they received a combined total of 1,093 visits from Google.


The first post (which received the most Google traffic) was a guide.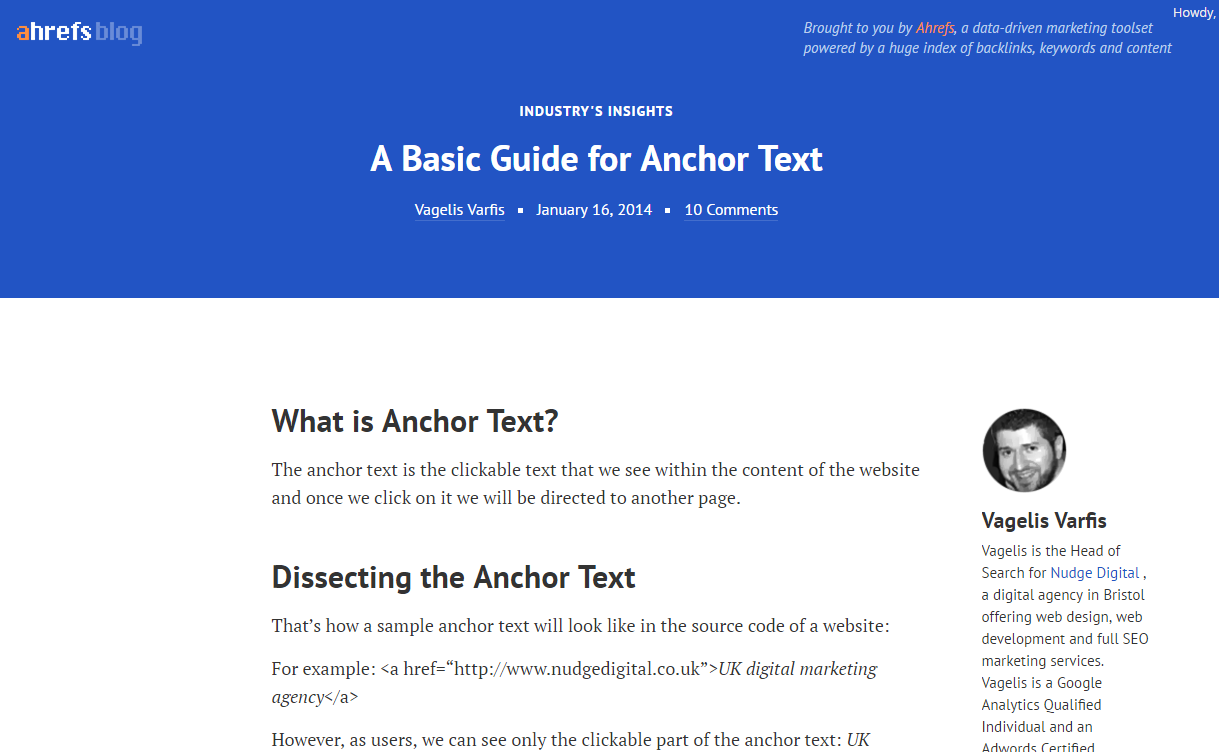 The other 2 posts were data driven studies of anchor text influence on search results.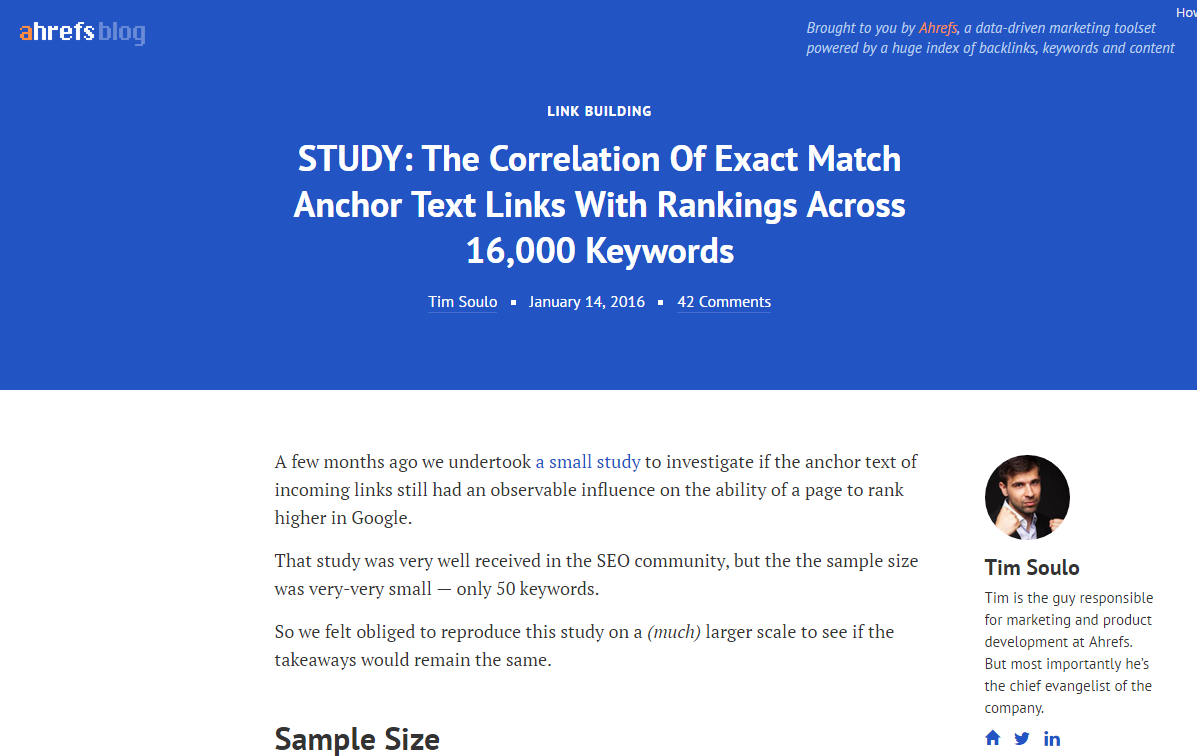 The studies had some really cool data, but there was a problem:
The guide post was gobbling up all the search traffic so hardly anyone was getting to see them!
As for the guide itself, it was reasonable quality, but probably not worthy of a top ranking.
So here's what we did.
Combining 3 Posts Into 1 Mega Guide
We figured that if we:
a) rewrote the guide from scratch
b) added our unique data
We would truly have the best content for the keyword.
And that's the crux of The Merger Method.
Combining multiple pieces of 'so‐so' content and creating the best possible resource on the web for your keyword.
Here's what we ended up with.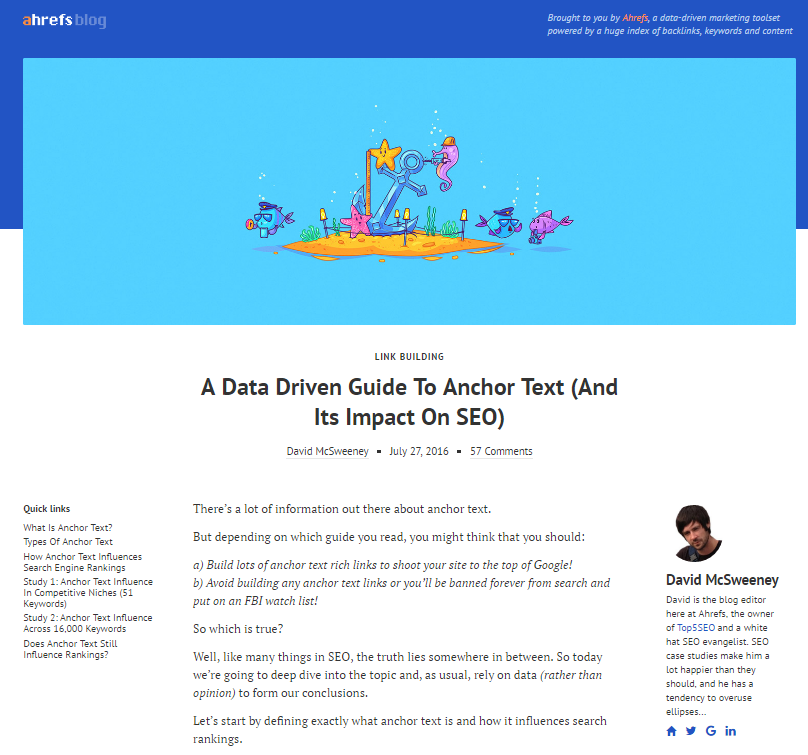 If I zoom in on the menu, we can see that we have the rewritten guide, followed by the data from the other 2 posts.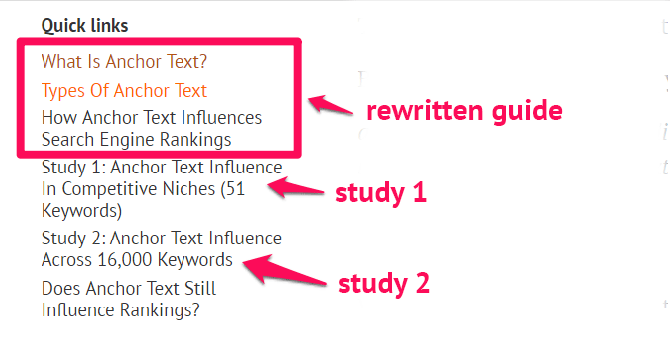 To nail our keyword targeting, we published the new guide under the URL 'anchor‐text'.
Redirect The Old URLs
The final step (yes, this is a super simple process!) was to 301 redirect the old posts to the new URL.
I'm sure you already know that that's SEO best practice.
But here's what's super cool:
All 3 pages had already acquired some backlinks. Which means that before The Merger Method, the link equity was split three ways.
After combing the posts…
All those links were pointing at 1 piece of content — effectively supercharging it!
Pretty sweet right?
The Results
Firstly, we had a nice burst of traffic to the new guide as we ran through our regular promotion strategy.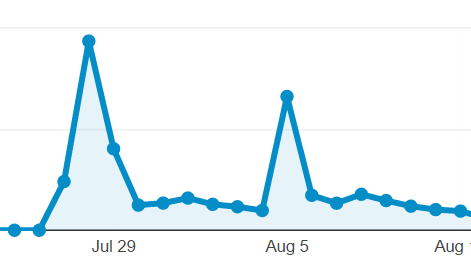 The guide was featured in the Moz Top 10.


We picked up a load of social shares and fresh links (data from Ahrefs Content Explorer).


And most importantly…
The Merger Method has boosted organic search traffic by 51% (compared to original posts).
Here's a recap on the June search traffic for the original posts.


And here's the organic traffic for September.


A pretty nice increase!
When To Use The Merger Method
If you have multiple pages on your site targeting the same keyword, then consider combining them into one piece of mega content.
When you're done, make sure you 301 redirect the old URLs to consolidate all that lovely link equity in one place!
As you can see it's a simple process and highly effective.
For the next case study I'm going to hand you over to David Attard (yes, another David) of Dart Creations (now CollectiveRay).
Case Study 2: How David Attard Increased His Search Traffic by Filling Gaps In Existing Content
Editor's note


This case study was provided by David Attard of
CollectiveRay
(former Dart Creations), a site specialising in WordPress, Joomla and web design tips. Follow David on Twitter
here
.
We go to such lengths to get more traffic to our website.
I know I've written thousands of words, and hundreds of outreach emails with the intent of getting more backlinks and boosting my organic search traffic.
Yet sometimes we forgot that traffic to new content isn't the only traffic that's available.
Here is a simple trick I've used many times to increase the traffic to existing pages on my website.
The good news is, there's ZERO link building required.
The Results
To demonstrate I'll be using a recent success story we had for the keywords "Joomla SEO".
At the beginning of 2016 we ranked at position 40+ and were getting little to no traffic. This process has pushed up the organic traffic significantly.


Here are the steps I took to increase the page's traffic:
Step 1: Identify Existing Keyword Rankings
The first step is to identify which keywords the page is currently ranking for (and the positions it ranks at).
I'll start by entering the URL of the page into Ahrefs Site Explorer and running the "Organic Keywords" report.
Site Explorer > Enter URL > Explore > Organic search > Organic keywords
Ahrefs will return a list of all keywords where the page currently ranks in the top 100 results.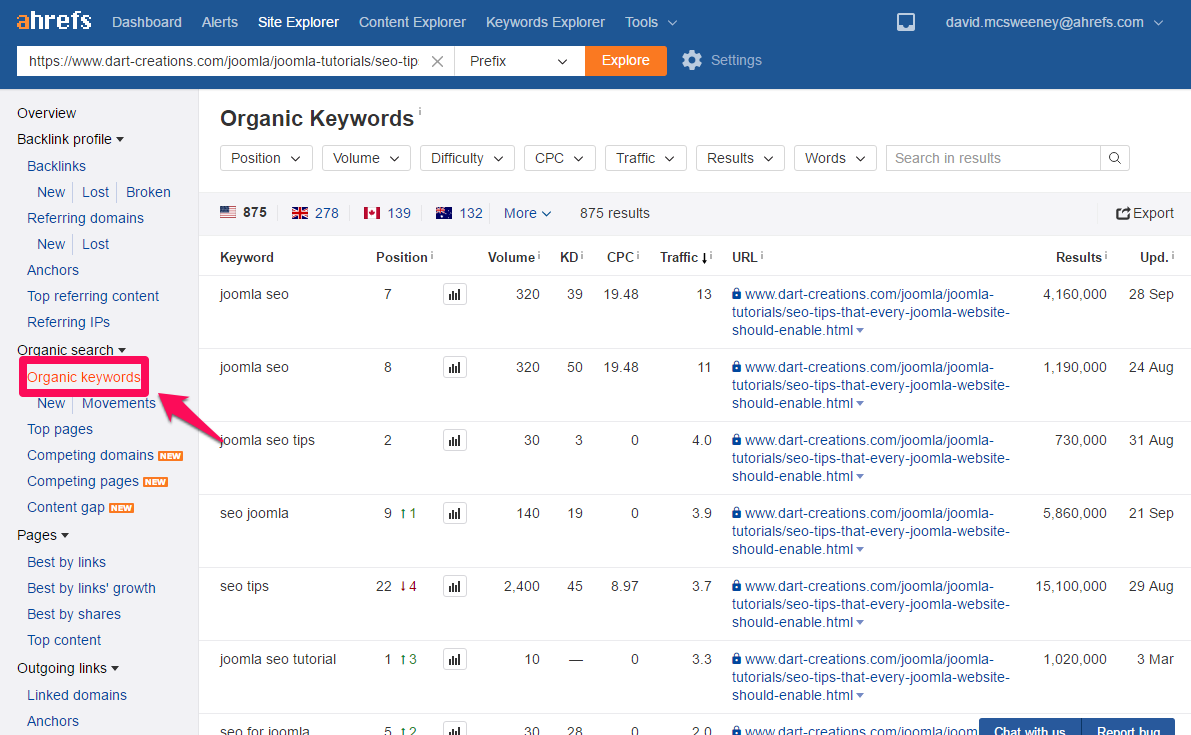 Looking at the results, we can see that users are searching for:
Joomla seo tutorials
Joomla seo tips
seo tips for joomla
joomla google optimization
seo for joomla sites
etc
It is evident that our user's search intent is optimizing a Joomla based website for search engines.
Now, our article was already pretty much focused on Joomla SEO.
But even though our content was good, it just wasn't ranking high enough. Critically looking at it, we saw that there was much potential for improvement.
And now we had a card up our sleeve:
We knew which keywords and keyphrases the article was already ranking for. I'll show you how we used that information in a moment.
Step 2: Identify The Competition
Before we go and start updating our content, we have to know what we are up against.
If you're not ranking in the top spots, the chances are there is content out there which is doing a better job than yours.
Do a Google search for your target keyword:

Visit ALL of the pages in the top 10 results.
For each page you'll need to make an intelligent judgement call on which parts of the content are better than yours.
The following are some guidelines you can use:
Make an educated (non‐biased) judgement: Is your content's quality "worse" than this content?
Do you cover the topic in enough length and sufficiently in‐depth?
Which aspects of this content is your page not covering completely?
Which "user intent" queries is your content not answering?
How can you make your content better?
Can you use any great imagery or diagrams to supplement your content?
Are there any YouTube or other videos which can add value to your content.
Iterate and do the above for all of the pages which are outranking yours. The first few are going to be the hardest — it's likely that the rest will follow a similar pattern.
There are no short cuts. You'll have to review all the pages which are outranking you to ensure you leave no gaps.
Step 3: Update Your Content To Fully Answer The User Search Query
Once you've seen what you are up against, you need to update your content.
To put it simply, your content needs to be better than the competition. It also needs to fully answer the user search intent which we have identified previously.
Make it the BEST content out there.
Given that you've already analysed your competitors' content, you should have a pretty good idea of what your content is missing.
Supplement your existing content with that additional content, but
Don't rewrite it completely. You'll likely lose the precious content that Google was ranking you for.
Don't write a new post with the hope that this will rank better. It's a much longer and harder journey than pushing up your already existing content.
Of course, don't change the URL.
As Benjamin Brandall discovered in his recent 468% traffic increase case study, Google will reward you for your efforts.
Use the judgement calls from your competitive research to plan what needs to be added or updated.
Enhance it with any missing content
Whilst looking at the organic keywords which you are ranking for you might come across user search intent keywords for which you have no content.
Let's say for example, your content discusses enabling Joomla SEF urls.
If in your research you find that you are ranking for "disabling Joomla SEF urls", make sure that your refreshed content answers that query also.
These queries are pure gold — make sure you are answering them.
Don't be a fool. Keywords still rule.
You might have recently been reading a LOT about user search intent. There's so much talk about user intent, that you might be tempted into thinking that keywords are no longer relevant.
Well, think again.
Keywords are still key for Google to understand what your content is all about, and WILL be used to rank it. Ranking signals of course have increased, but don't for a moment think that keywords are not relevant.
Use (more) the keywords which you are already ranking for
This of course should be pretty obvious. In your content use keywords which you are ranking for, but for which you have not yet achieved the top spaces.
If it makes sense for the content (and without keyword stuffing), use the keywords in headings and subheadings.
If using them in headings makes the content feel spammy, use them in the content.
Of course, the lengthier and more in‐depth the updated content, the easier it will be for you to include plenty of the organic keywords you've seen above.
Add Engagement Content
Dwell time (or 'the long click') is a ranking factor which is becoming increasingly important to Google.
It makes sense that Google would want to rank higher the pages which users appear to be more engaged with. One way they can measure this engagement is by recording the time spent on‐site.
For Google that would be the time between a user clicking a search result and returning to the search page.
So what can you do to increase a visitor's time on page/site?
Here are some pointers:
Content length — clearly longer form content (which remains engaging) will result in a longer time on page. Numerous studies (including Ahrefs' 2m keyword study) have shown that longer content correlates with rankings.
Embedded media — embedding youtube videos related to your content can help to increase time on page and also make your content more engaging.
Interlinking — linking to other articles and encouraging exploration will help to increase time on site.
Step 4: Give Your Content An Extra Kick
Here are some ways you can help your content climb those extra few positions:
Write an enticing search title that encourages click‐throughs — Google will reward your page with higher rankings if you have a solid click‐through rate from the search results.
Give the content some internal link love — Internal links are so much easier to obtain than external links. You're also in total control of the anchor keywords you want to use.
Get some fresh eyeballs on your content — Use social media marketing, email blasts and other methods of promotion. This will send good signals to Google.
When To Use This Strategy
We've used this tactic successfully to boost several content pages on our site. It's especially useful for content which focuses on advice, tutorials or other educational content.
Carry out this exercise on a regular basis and you'll see a marked improvement in your organic search results… which of course means more traffic to your website!
Thanks to David Attard of Dart Creations for this case study.
Case Study 3: How I Increased Search Traffic 54% by Switching 'Main' Keywords On Existing Content
As David (the other one!) detailed above, analysing your existing rankings and filling in gaps in your content can be a great way to boost your traffic.
But sometimes you might want to take things even further.
I recently ran an an audit on one of my own sites and decided to completely switch out the main target keywords for some of the old articles.
In many cases this also included changing the URL.
The result: a 54% increase in organic search traffic.


First I'll explain the 'why', then I'll get on to the 'how'.
Background (The Why)
I run a reasonably high traffic, viral type site. I've previously mentioned it here and here, so I won't go into specifics.
The site is multi‐author and, as the majority of its traffic comes from social media, keyword research has been a little neglected.
Which means that traffic was being left on the table.
I figured it was time to right that wrong!
The Process
In total I changed the targeting for around 40 existing pages. While the search volumes on their own aren't huge, cumulatively this has lead to a nice bump in traffic.
Here are a couple of examples.
Switching the target keyword and URL for this page lead to a 108% increase: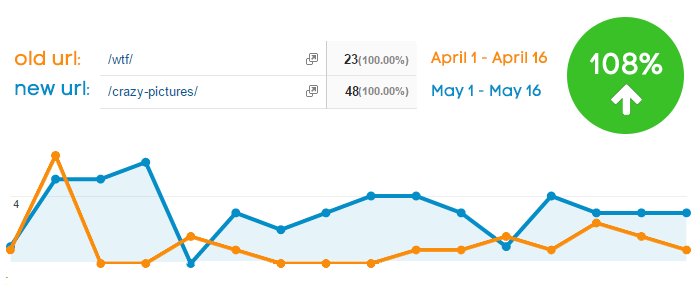 While this one saw an increase of 162% (don't worry, it's clean!):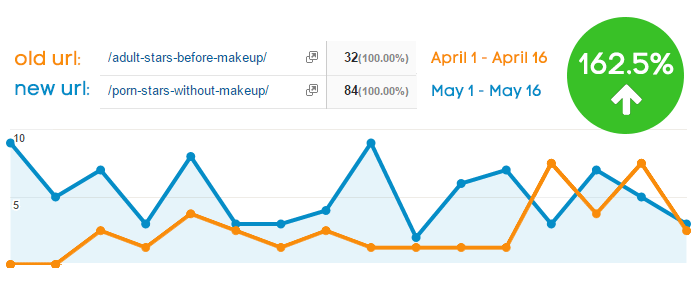 In this case I kept the URL the same, but changed the on‐page to target a different keyword: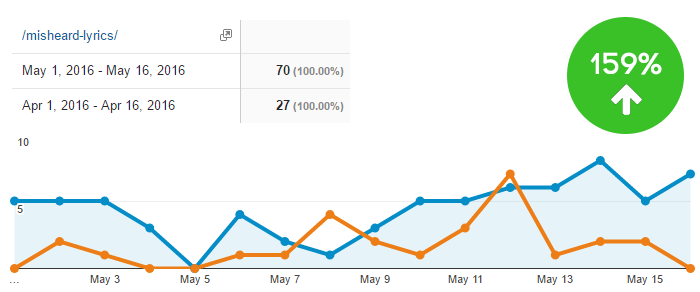 As I said, multiply this over a number of pages and it soon adds up.
And traffic should continue to increase as the pages age and move up the rankings for the new keywords.
Even better:
Using keyword data from Ahrefs, the whole process took around 2 hours.
To illustrate the process, I ran an experiment for a page right here on Ahrefs blog.
Step 1: Analyse Existing Keywords
The first stage in the process is exactly the same as in David's example — only this time we're looking for keywords for which a page already ranks (somewhere) with higher search volume than existing targeting.
I decided to use the method on this article on selecting a username for Twitter: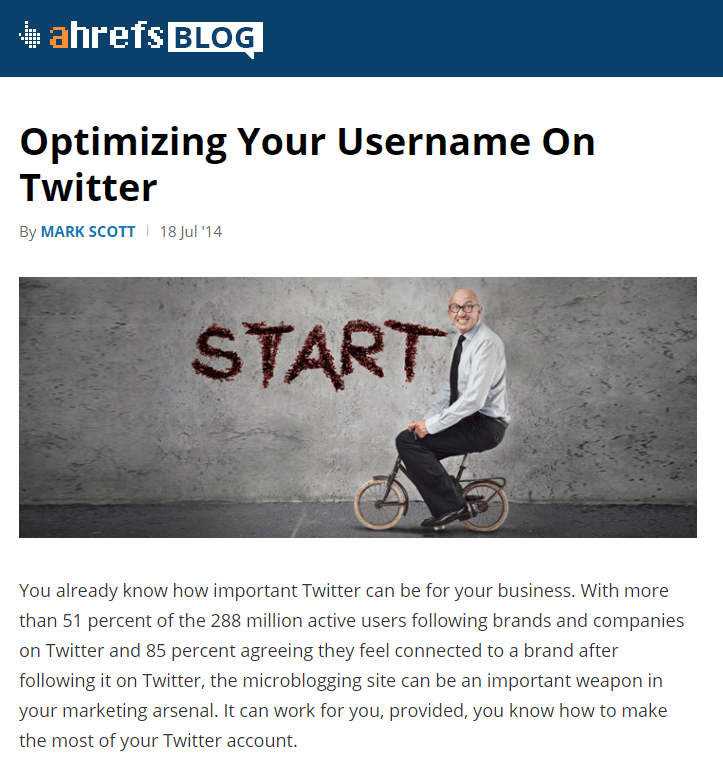 In April, the page received 69 visits from Google.


Here is a list of keywords the page was ranking for back in April.
Ahrefs Site Explorer > Enter URL > Organic search > Organic keywords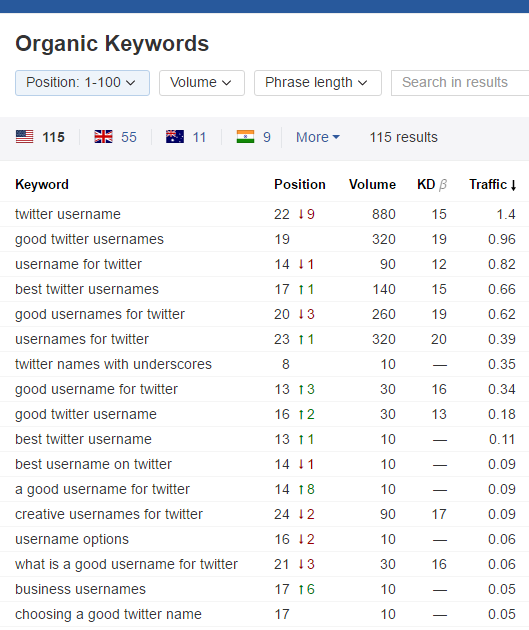 The good news was that the post was hovering on page 2/3 for quite a lot of keywords with decent volume, so there's was definitely potential for improvement.
Step 2: Select A Potential New 'Main' Keyword
The page was targeted to the keyword 'Optimize Twitter username'.
Which if we run a check on Ahrefs Keywords Explorer (using phrase match) we can see is a poor choice:

From the keyword analysis in step 1 it seemed clear to me that 'Good Twitter Username' would be a much better keyword to target:
Ordering the report by keyword volume and filtering to results including 'good' confirms this: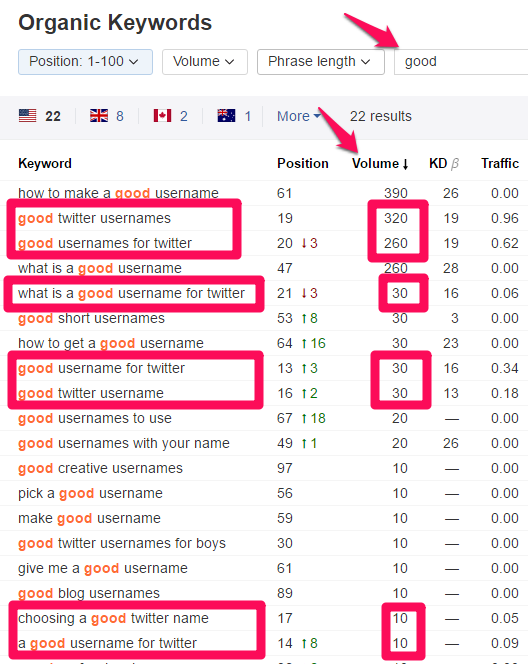 If we add up the 7 highlighted keywords, there's a combined volume of 690 US searches per month.
But wait…
Is 'username' the best keyword here?
Step 3: Conduct Some Keyword Research To Find Out If There Might Be A Better Option
This is where you'll need to get your thinking cap on a bit.
Why?
Because we might have been way off track with our initial targeting.
In this example, is 'Twitter username' the keyword that searchers are most likely to use? How about 'Twitter name' or 'Twitter handle'.
Let's check the volumes in Ahrefs Keywords Explorer. I have put them together into one screenshot:


Woah!
As we can see, turns out way more people search for 'Twitter handle' than 'Twitter username'.
So, we might be tempted to switch our keyword targeting to 'Twitter handle'.
But actually, in this case I made the decision to stick with twitter username. Here's why: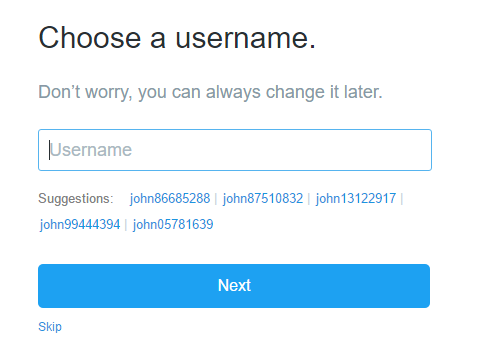 I made a judgement call that many people who that article would be a good fit for will conduct their search while signing up for Twitter.
And as Twitter calls it a 'username' I think that's what they are most likely to search for.
Although, perhaps we can use both…
Step 4: Optimise Your Article For New Keyword
To really rock this 100% we should combine this process with David's process from the first case study. Fill in the blanks and make it the best possible article for the keyword.
But for purposes of this experiment, I simply switched the target keyword.
Here's the process.
Change the post title and URL
Before:


After:


As you can see, I couldn't resist putting 'handle' in there too 😉
Change the SEO settings
Before:


Notwithstanding what we are doing in this process… that meta description sucks!
After: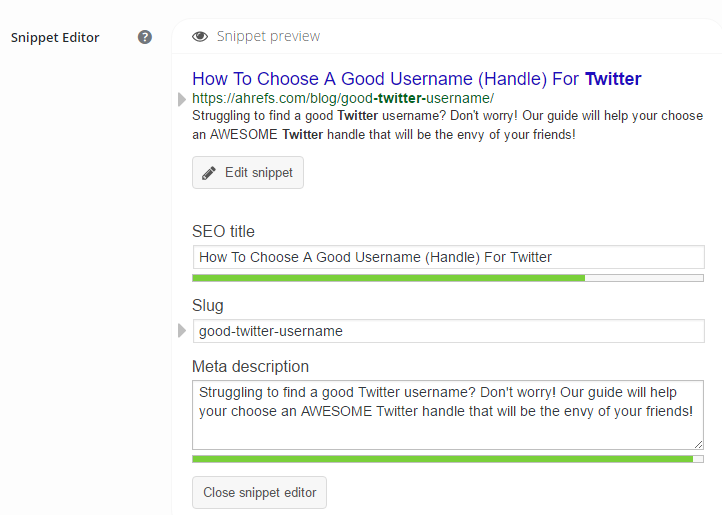 Much better right?
Step 6: Setup A 301 Redirect
If you change the URL, don't forget to 301 redirect the old address to the new one.
At Ahrefs we use a cool free plugin called 'Redirection' to manage redirects.
Just enter the old URL, set the new target URL and you're done.


Step 7: Force Google To Re‐Crawl The Page
You could wait for Google to re‐index the page naturally, but to expedite the process just use fetch as Google > submit to index in Search Console.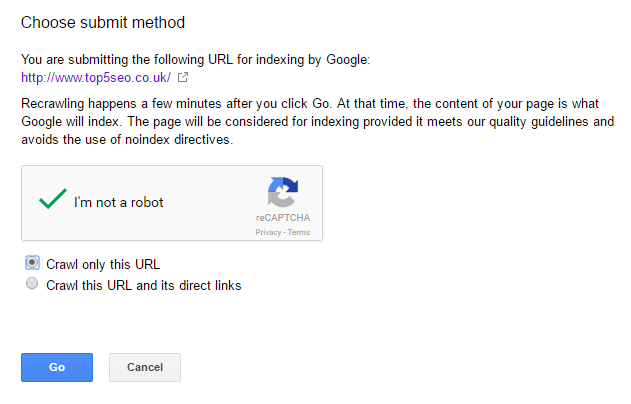 And, we're done! The post is now optimised for the new keyword.
So let's see how the results. How did the post perform in August?
The Results
To recap, the page with original targeting received 69 visits from Google in April.


Here's the organic traffic for August.


Which means we have more than doubled the page's search traffic, simply by switching the keyword targeting.
In exact terms, it's up by 114%.
I'm calling that a win!
When To Use This Strategy
This process is great for pulling in extra traffic to pages that are not currently performing in search.
When you implement it on multiple pages it can quickly lead to a tangible lift in search traffic — particularly on large sites.
When Not To Use This Strategy
It's not exactly a high risk strategy, but if a page is already performing well in search, then I would stick to the process in case study 2.
Increase Your Website Traffic By Implementing These Strategies
So that's 3 strategies you can use to increase traffic to your website without building links or adding new pages.
Audit your content regularly and look for opportunities to improve your existing rankings.
If you don't, then you're leaving traffic on the table!
Over To You
Have you used these strategies on your own site? Any questions,or insights you would like to share? As always, all feedback is welcome, so please leave a comment below!