It's estimated that there are
over 2 million podcasts
. This means no matter what industry you're in, there are almost certainly dozens of relevant podcasts where you could be a guest.
Many of these podcasts also represent great link building opportunities.
In this guide, you'll learn how to utilize podcasts to build more links to your website:
Podcast link building is where you pitch yourself as a guest on industry podcasts and receive a link from an episode page.
For example, I was a guest on the Mastermind.fm podcast a while ago, and there's a link back to Ahrefs on my episode page: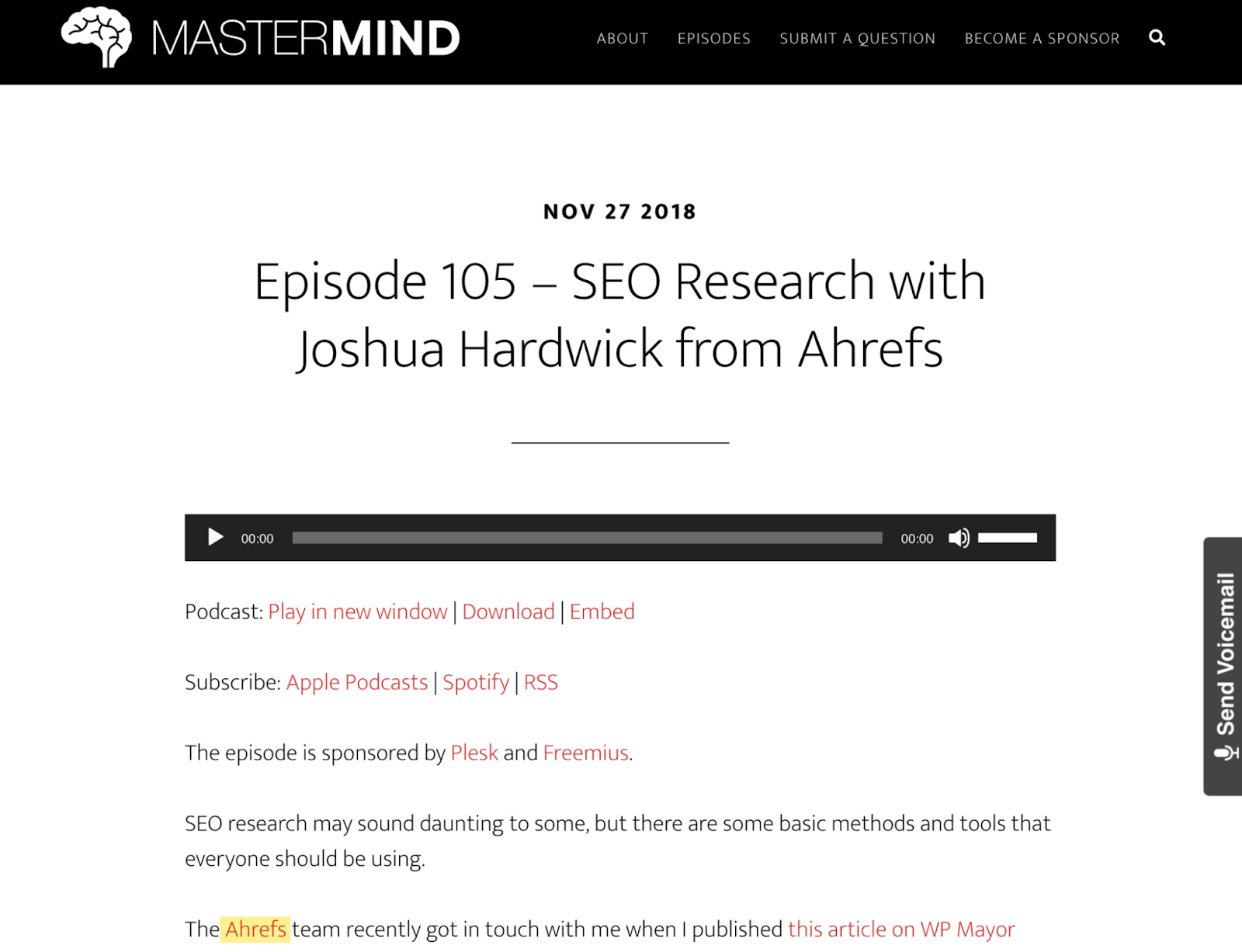 As long as you choose podcasts to pitch to wisely, you're pretty much guaranteed a link from them.
Podcast link building has three main benefits:
Each episode only takes around 60 minutes.
It's a great way to build homepage links and build up site authority.
You can promote your brand and content to a new audience.
Podcast link building is pretty straightforward and involves four steps:
Find industry podcasts
Vet the shows
Pitch them
Record your episode
Let's go through these step by step.
1. Find industry podcasts
Your first port of call is to build a big list of potential podcasts. There are a few ways to do this. I recommend creating a blank spreadsheet, running through all of these tactics, and adding podcasts to the sheet as you go.
Search Google
Google is your best friend when it comes to finding podcasts in your niche. Just search for the best industry podcasts, and you should see plenty of listicles. You may also see a podcast carousel in the search results.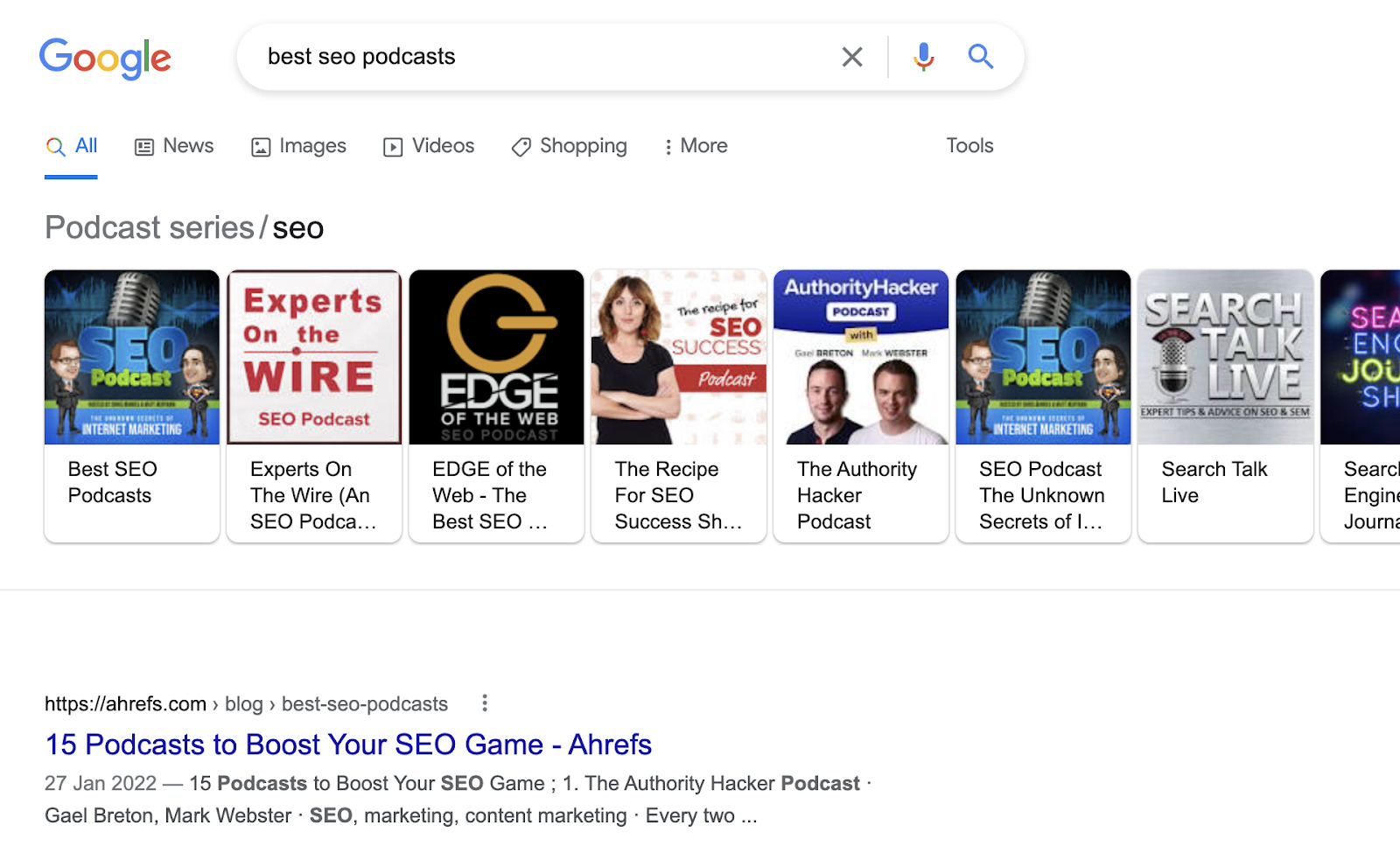 If you see a podcast that looks promising, add it to your sheet. Note down the name of the podcast and its website.

Search Apple Podcasts
Open the Apple Podcasts app and search for your topic. Hit "see all" on the shows to see all the podcasts related to your topic.

Note down any promising podcasts in your sheet.
Reverse engineer prolific podcasters
If you know a prolific podcast guest in your industry, plug their website's homepage into Ahrefs' Site Explorer. Then choose the "Exact URL" mode from the dropdown, go to the Backlinks report, and filter for results with "episode" in the referring page title.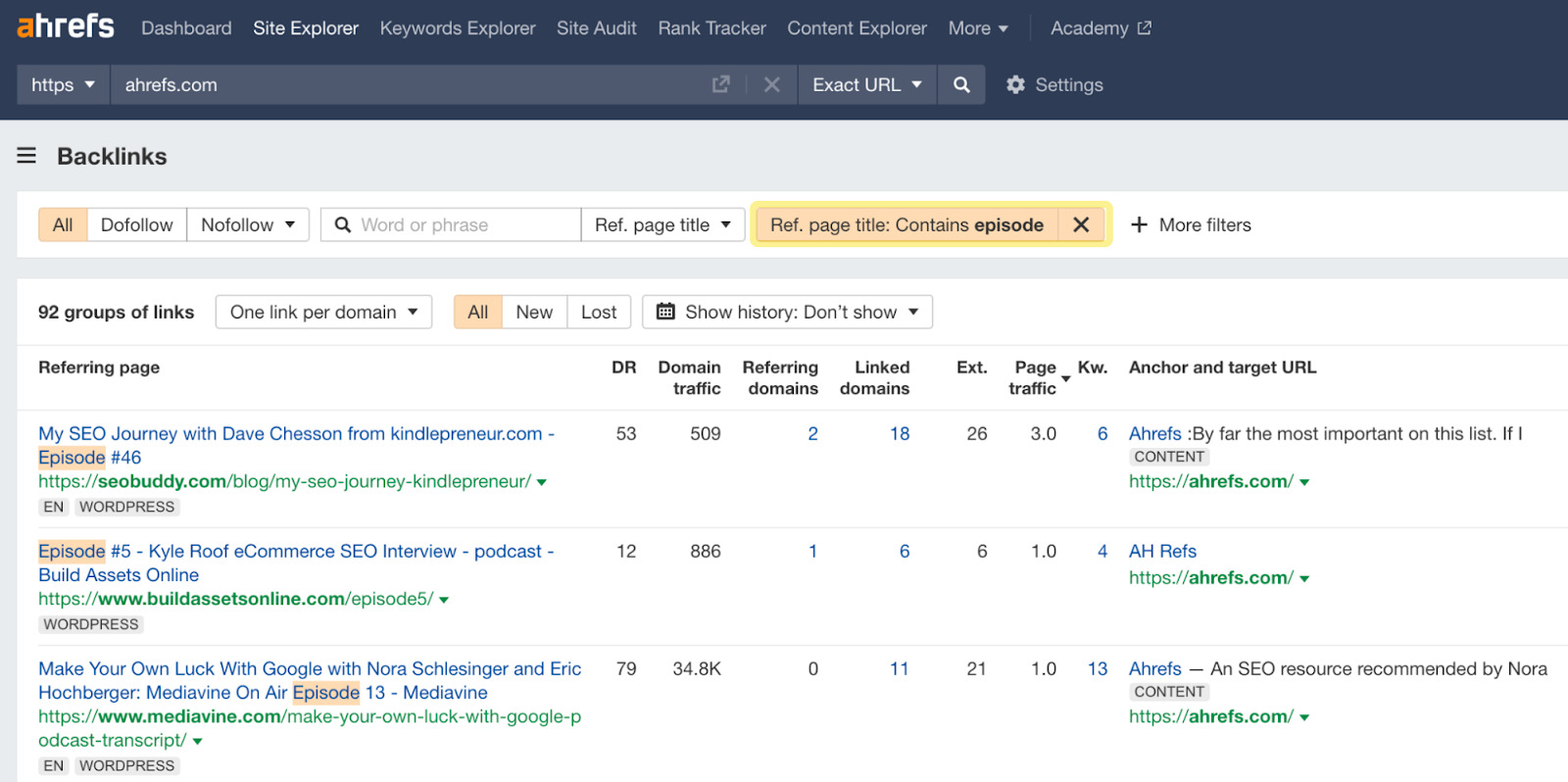 Look through the results and add any relevant podcasts to your spreadsheet.
2. Vet the shows
Not all of the podcasts on your list will be worth pitching to, and some will be more of a priority than others. This is why vetting is so crucial, as you don't want to waste your time pitching the wrong shows.
Here's a simple process for vetting:
It's best to start with the link data, as you can automate that process using Ahrefs' Batch Analysis tool. Just paste in the websites from your list, export the data, then copy and paste the Domain Rating (DR) data and merge that with your existing list.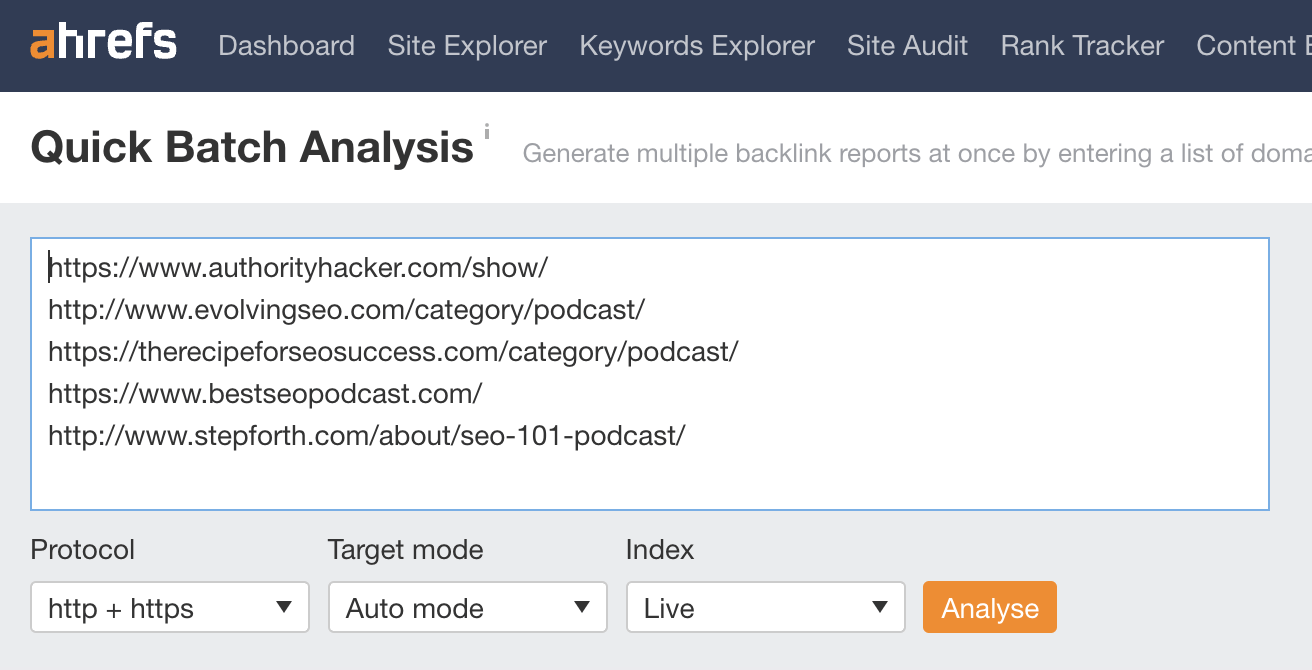 DR shows the relative strength of a website's backlink profile compared to other sites in our database. As such, links from pages on high DR websites tend to pass more "authority."
There's no need to exclude podcasts with low DR websites from your list, but it's usually better to prioritize those with high DR websites if links are your priority. To do that, sort your list by DR from highest to lowest.

Now it's simply a case of working your way through the list to check whether the podcast:
Links to guests.
Is still running.
Sidenote.
You'll already know the answer to the first question for podcasts you found using Ahrefs'
Site Explorer
.
If both of these things are true, keep the podcast on your list. If not, remove it.
NOTE
Remember that links aren't the only benefit of being a guest on a podcast. If you come across one that doesn't link to guests but has a huge audience, it may be worth pitching to—simply for exposure.
3. Pitch the shows
Pitching to a show is quite straightforward. You either follow its application process or reach out by email and pitch yourself as a guest.
Always follow the application process if the show has one, as whoever's reading the pitch will probably ignore pitches from those who can't follow simple instructions.
For example, the TechSEO podcast has a guest submission form: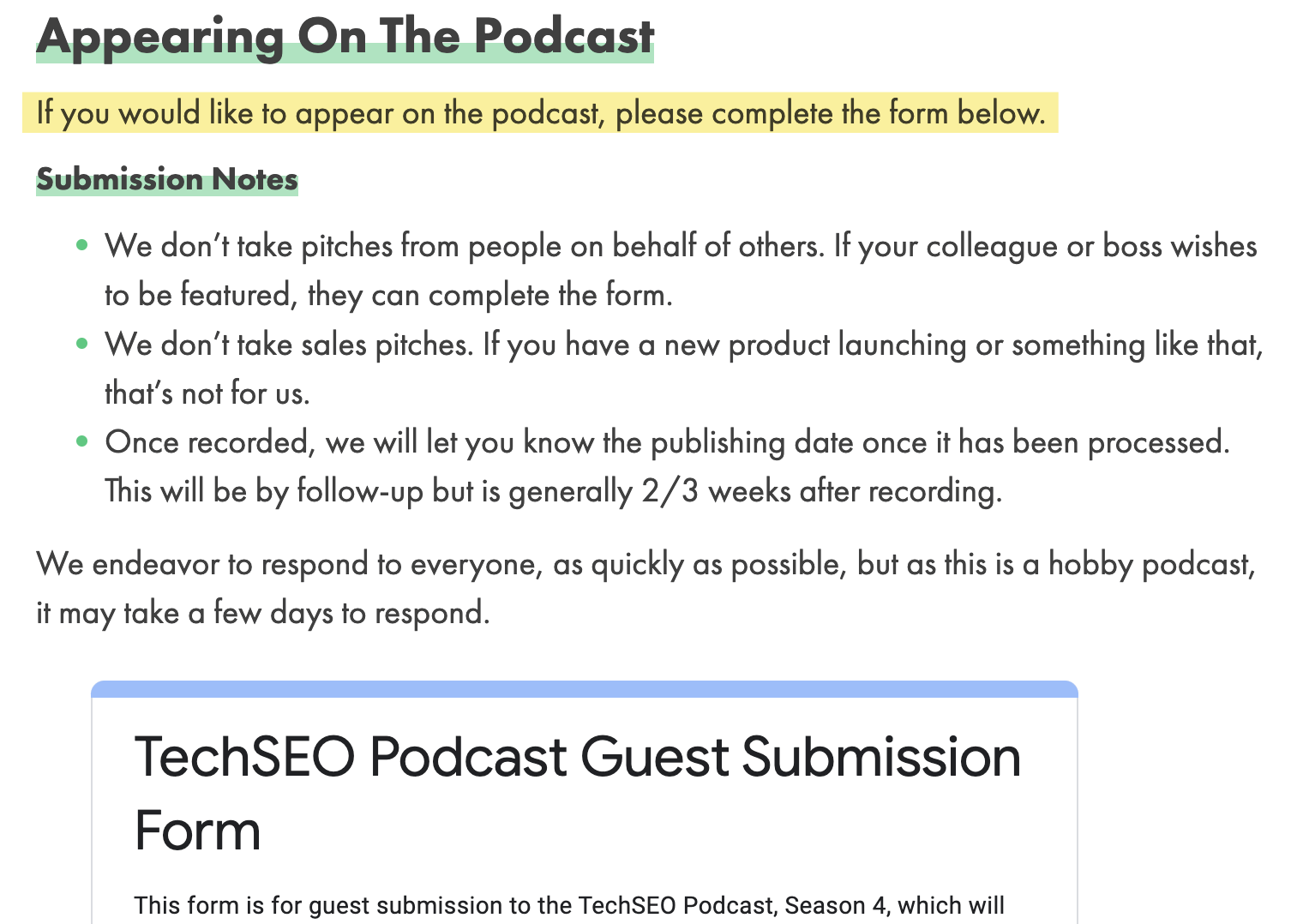 It won't make much sense to reach out to Dan (the podcast co-host) by email here because he clearly doesn't want to receive pitches that way—and he's unlikely to want a guest who can't follow basic instructions.
If the podcast doesn't have an application process, you'll need to hunt down the host's email and contact them that way (here are six ways to find email addresses).
As for the pitch itself, everyone's advice here will be slightly different. But generally speaking, you're going to want to cover the three Ws:
Who? Explain who you are, who you work for, etc.
Why? Explain why you'd be a good podcast guest. Sell yourself.
What? Explain what you want to talk about.
Don't pluck your "what" out of thin air. It should be something that's likely to appeal to the show's audience, hasn't been covered before, and aligns with your expertise.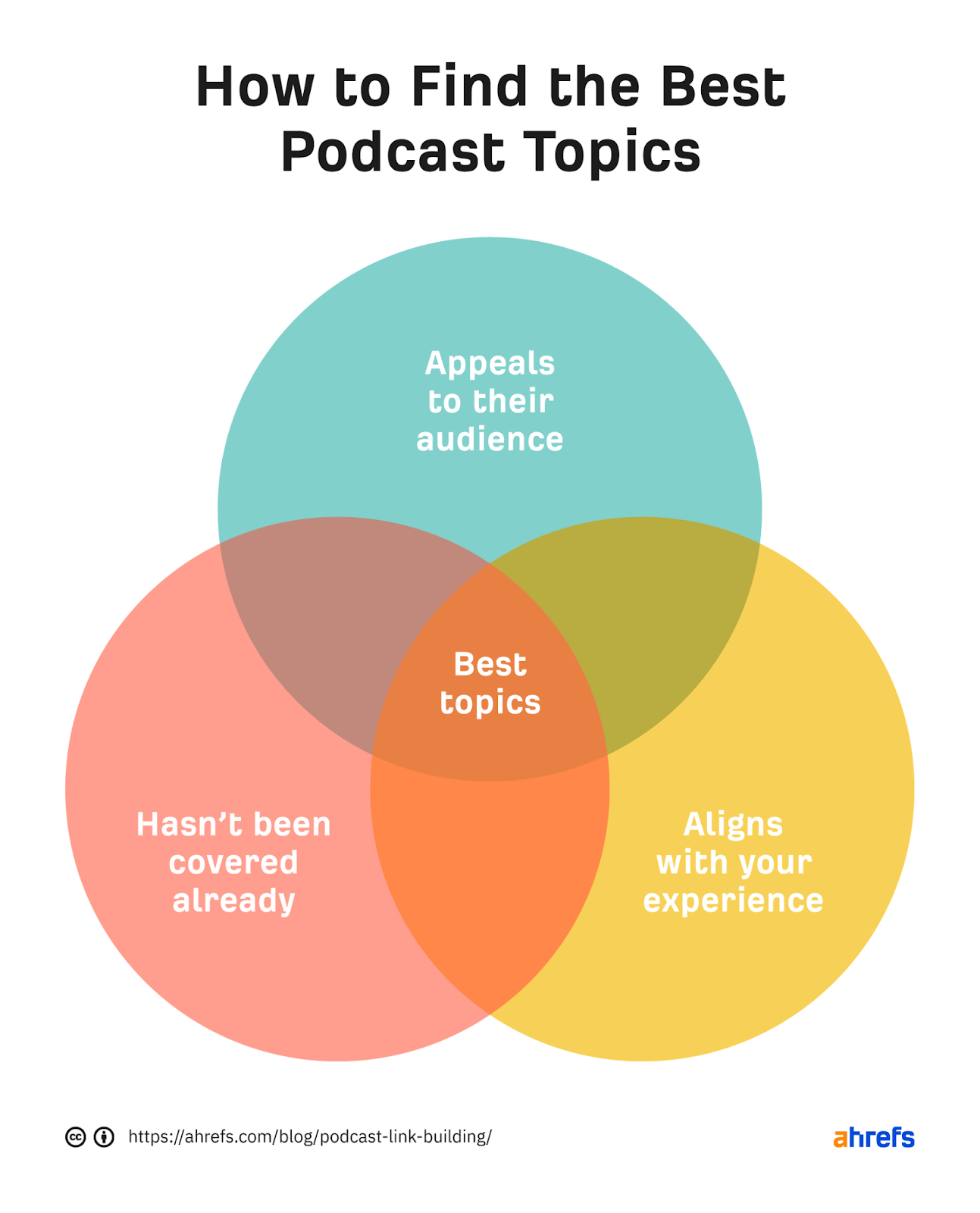 If possible, pitch something you've written or talked about before. You can then use that as your notes for the podcast episode.
For example, if I were reaching out to the TechSEO podcast, it would make sense for me to pitch an episode about duplicate content. This is because the topic clearly appeals to the show's audience and is something I've written about already.
And while looking through its episode history, I realized the show has seemingly yet to cover this topic: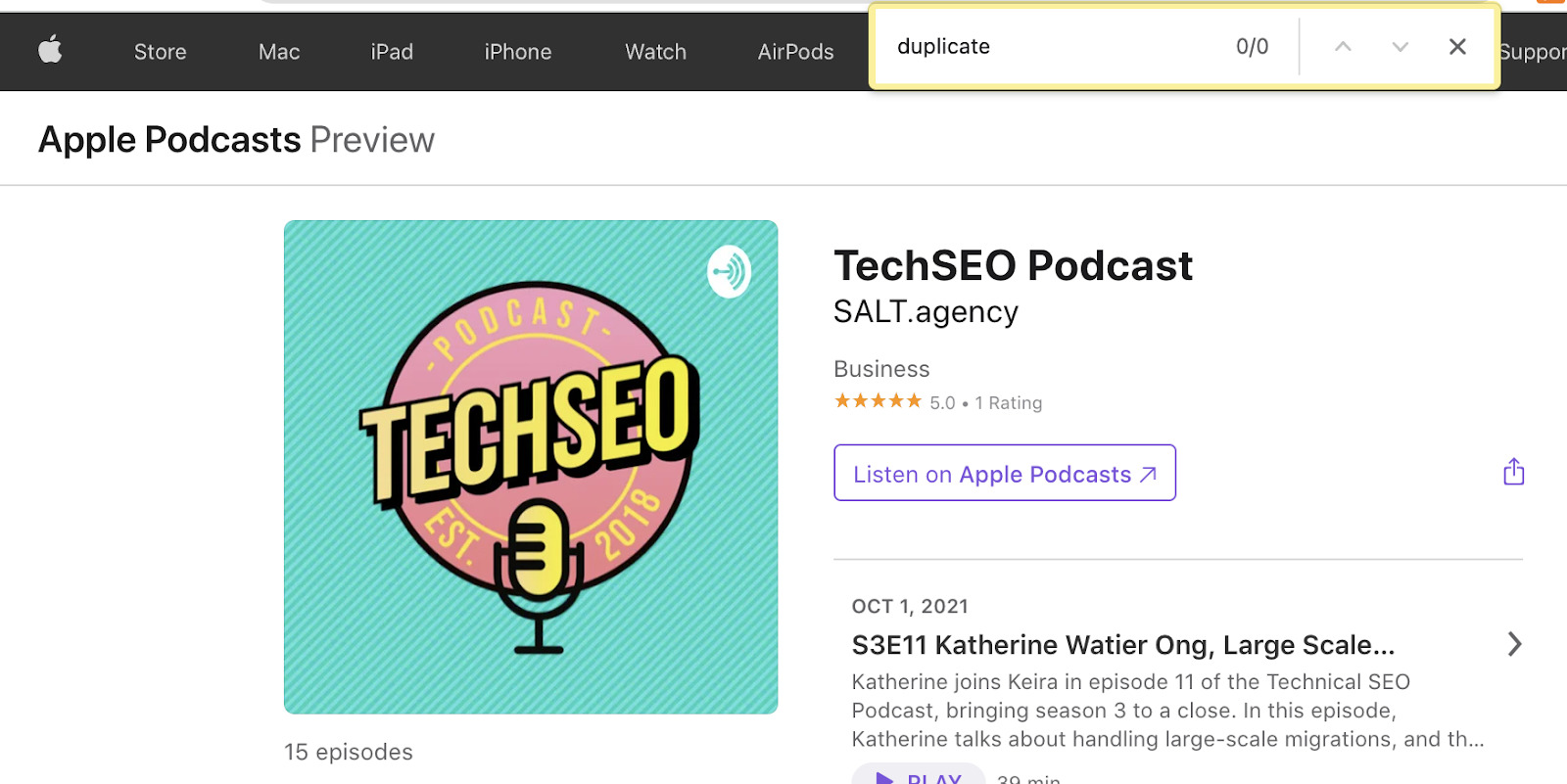 PRO TIP
Send pitches in batches, as most hosts won't respond. If you can send five to 10 per week, then you should be able to build up a pretty consistent flow of podcast appearances.
4. Record the podcast
Recording your podcast is the easy part because the host typically handles most of the heavy lifting. You just need to show up on time and answer their questions.
Here are a few tips to make sure things go smoothly:
Invest in a decent microphone
Make sure you have a stable internet connection
Find a quiet place (no coffee shops)
Usually, it'll be a few weeks before your episode goes live. The host will likely notify you when it does.
Yes. Podcasts often attract links from listeners who reference guests in their own content. This makes hosting a podcast another way to potentially attract backlinks.
For example, if we plug Authority Hackers into Site Explorer, go to the Best by Links report, and filter for pages with "#" in the titles, we see that quite a few of its podcast episodes attracted backlinks.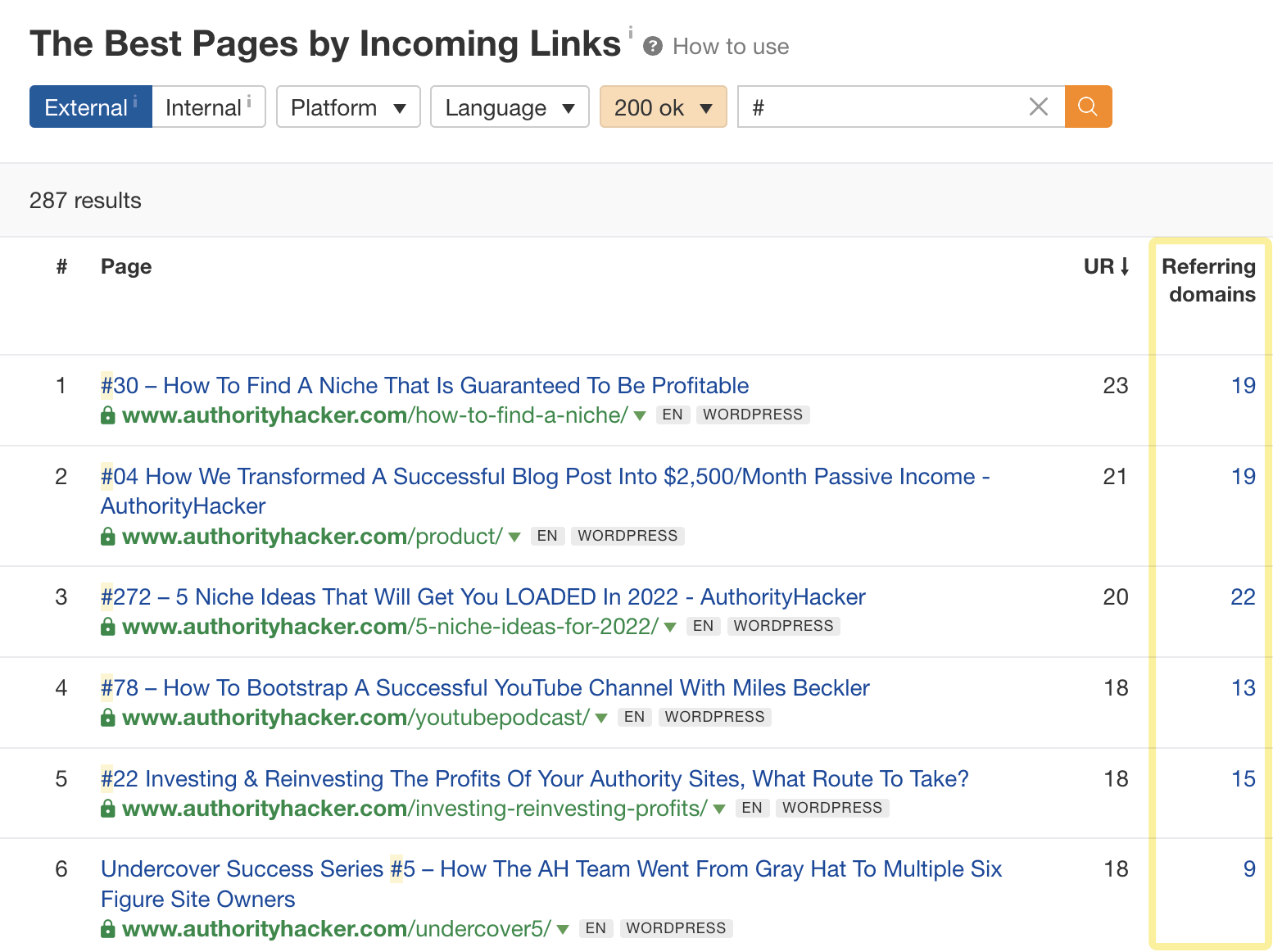 Sidenote.
We're using "#" as a footprint because Authority Hacker uses the #000 format for the episode number in the page title.
However, hosting a podcast is a lot of work, so it's not something we recommend doing solely for link building purposes. Links are more of an additional benefit.
Final thoughts
Podcasts are a great way to get more links and exposure for your brand. You can also mention other relevant content during the podcast to expose it to a wider audience, and that may lead to even more backlinks.
Got questions? Ping me on Twitter.