You will never get enough traffic on your website. That's the human nature. We always strive for more.
And that's actually amazing. It is the primary factor pushing the progress and development in many fields of our lives.
When it comes to website traffic, more is not always better.
Let me ask you one simple question:
Why do you need to generate more traffic to your website?
Obviously, you want to make more money.
If there's one thing I learned working with our head of marketing, it's this:
So in this post, I want to share a few tips to grow quality traffic to your website and increase your income accordingly.
https://www.youtube.com/watch?v=i3nLJfZ8ZU4
The myth of free and fast traffic
No matter what you've read or learned before, I want you to understand that there's no such thing as free traffic.
Organic (search) traffic is no exception. To get traffic from Google, you have to invest your time and money. And that's always a long-time investment.
And forget about the services, software, and agencies that promise you loads of instant traffic at almost no cost. You'll never get quality traffic this way.
That's why most tips here are about the organic traffic growth. But you will also find some ideas about the advertisements.
Also, I did my best to illustrate the tips with some good examples.
And I would not call any of the advice below "growth hacks." No hacking. They all require consistent work and/or investments.
Here we go!
1. Choose the right words to target in your SEO campaigns to increase traffic quality
As I've already mentioned above, you don't just need any traffic to your website. You need relevant traffic that will convert into sales, either directly or indirectly.
Let me show you one example we use quite often here at Ahrefs.
Guess what keyword is bringing maximum traffic to the HubSpot blog?
It is "how to make a gif" from the blog post "How to Make an Animated GIF in Photoshop [Tutorial]."
If you look at the Top Pages report for the HubSpot blog in Organic Search section of Ahrefs Site Explorer, the #1 page is getting over 78,000 visits from search, ranking for almost 6,000 keywords in the US (146k visits and 16k keywords worldwide).


Will those who look for a way to create a GIF buy inbound marketing and sales software? I rather doubt that.
It does not mean that HubSpot's content strategy sucks! They created a really cool guide for their colossal audience who could make use of GIFs in their blog posts and emails. HubSpot can afford it.
Besides some of the website visitors will also want an opt-in bribe and thus become HubSpot's email subscribers. From there, it's up to a huge professional team of sales and lead conversion experts to turn a subscriber into a customer.
A takeaway for you here is to target relevant keywords with searcher's intent in mind. And if you offer, say, web design services, you should create content around "restaurant website design" rather than post a collection of "photoshop brushes" that will actually target your competitors.


2. Make a good use of your competitors' keywords
Keyword research is a challenging task. If you want to master all of its aspects, this guide will help you.
But I want to emphasize my favorite keyword research tip: find the keywords your competitors rank for (and you don't… yet).
Let's imagine for a moment that you're obsessed with archery and you want to monetize your hobby. You decide to start an online shop that would sell archery equipment. What keywords are you going to target apart from "buy archery equipment"?
Analyse your competitors to get some great ideas in just a few minutes.
Lancaster Archery Supply looks like the top archery online store. Let's run their website through Ahrefs Site Explorer to see what keywords bring them the most organic traffic.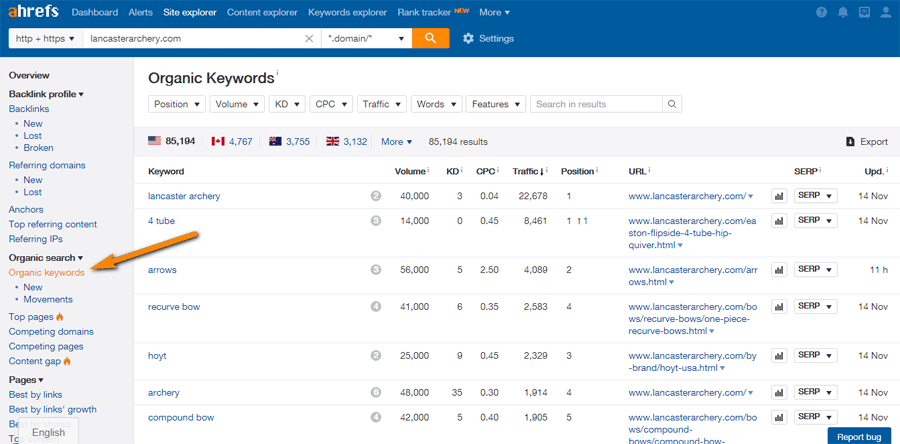 In just about a few minutes I came up with the following list:


A bunch of keywords with high search volumes and a low keyword difficulty.
But Lancaster Archery also runs a blog. Here's a very quick list of keywords I could pull from it:


Analyse at least 2 websites of your top competitors, and you will have tons of promising keyword ideas for your content.
3. Answer the questions of your potential customers
Your content can bring you loads of quality search traffic if it answers the questions of your potential customers, while your products or services must solve their problems.
In fact, this is a part of our own content strategy here at Ahrefs. Let me show you the Top Pages report for our blog from the Site Explorer tool.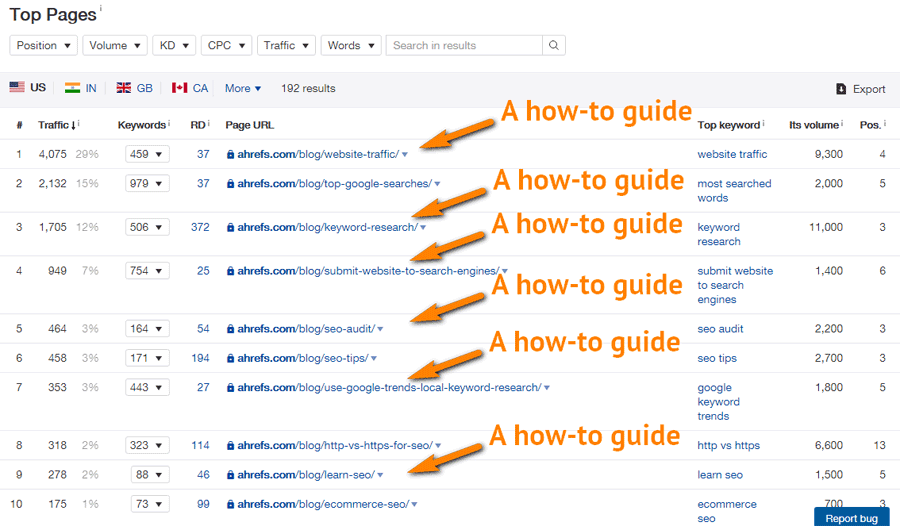 Six of the best ten pages on our blog are comprehensive 'how-to' guides.
How do you find the questions to answer?
I will show you one not really obvious trick you can do with our Keyword Generator. It does not have such feature as 'questions', but you can still easily get them.
Let's imagine you provide dog training services.
Put your seed keyword into the Keywords Explorer and go to either Phrase match or Having same terms reports.
There, you can narrow down the enormous list of keyword suggestions to questions. Just put the words a question would start with in the Include filter box.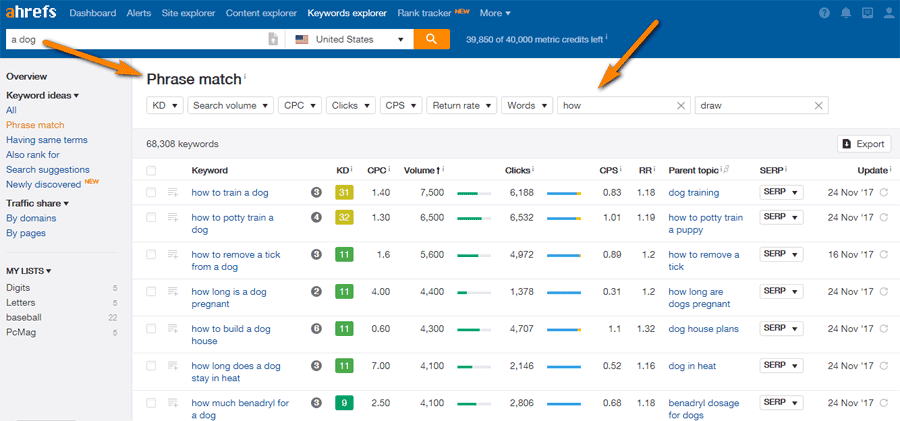 68k suggestions for a combination of "how" and "a dog"! Not bad, huh?
Filter this list by the search volume, keyword difficulty and clicks to find the gems.
4. Go long-tail and forget keyword stuffing
Actually, many of the questions you can find if you follow the pattern in the previous section will be long-tail queries with a relatively small search volume.
We have a detailed guide on long-tail keywords here: Long Tail Keywords: how to get TONS of traffic from 'unpopular' search queries
But I will rehash my favorite part:
Optimize your content around a topic, not around a single keyword
Google is smart enough to group individual keywords into topics and subtopics and understand the synonyms. That is why a single page can rank for hundreds and even thousands of long-tail keywords.
Our study has shown that a single page can easily rank for thousands of long-tail keywords. But you have to create an in-depth content on that topic.
You can find tons of great long-tail keyword ideas in "Related searches" of Google's results, "Related Queries" in Google Trends or in "Search suggestions" and "Also rank for" reports of Ahrefs Keywords Explorer.
Make a list of long-tail keywords relevant to the topic you want to cover and write your story, naturally embedding these words into it, as if you tell it to another person.
Also, try to use the best keywords or their close variations in h2's and h3's of your copy.
Here's an example.
A while ago we wrote an in-depth guide to finding email addresses.
Today it ranks for more than 1k keywords in the US alone.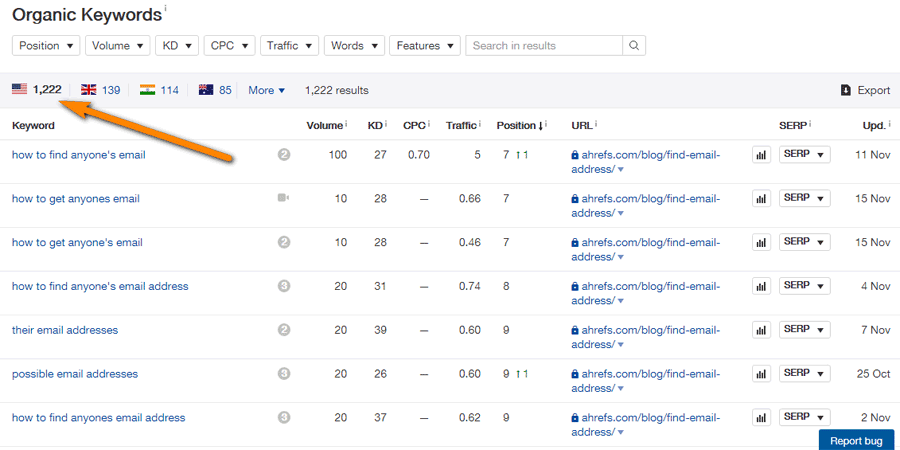 You should take a note that the number of keywords your content ranks for will probably be growing quite slowly.


And, as trivial as it sounds, your content needs backlinks to rank high.
5. Revise your old content and update it
This tactic is opposed to a popular (but not really actionable) "publish content more often" advice.
What's the point in posting more and more articles on your blog if no one will ever see them?
Instead, you should find the pages on your website that already bring you some traffic and see if they can use some improvement and refreshing for traffic growth.
As per our observations, Google loves the updated content and will rank it higher. I can see this tactic used by more and more websites. But not many of them will share their secret 😉
There was an old guide to analyzing competitor websites on our blog. It was getting like 50 visits from Google per month.
We decided to give it a new life. We added even more actionable advice to it, got rid of all the outdated data and images and added a section with the best tools for competitive analysis.
Result?

Today it gets 4x times more traffic from search, even with no link-building.
6. Get some paid social media promotion
Your choice of a social media network to bid on depends on your niche and your budget.
Pinterest will be the best choice for visual-related businesses, designs, DIYs, accessory stores, etc.
LinkedIn is a place to target business professionals and experts in many niches. You will hardly get a high ROI of promoting knitting classes there.
Facebook and Twitter are more niche-neutral and cover almost every audience.
Advertising on the social networks will generally still be cheaper than the PPC campaigns you can run on Google. And the essential part of ads you can run on social media is that you can set up very focused audiences based on the interests and locations.
There are different types of advertising options available on these social media networks. Since you probably already have content on your website or blog that can convert readers into clients, you can promote your posts, and not your products or a brand in general.
From my previous experience outside Ahrefs, I can tell you that a well optimized promoted post on Facebook can get around 30k reach, 2k engagements for as much as 100 USD.
7. Don't blindly follow every advice about website traffic you can find online
Don't get me wrong. I'm not questioning the expert advice and case studies on traffic generation you can find online.
If a single tactic or strategy works like a charm in one niche, it can easily fail in another.
You have to A/B test and adapt things for your own.
And always keep in mind the difference between 'any traffic' and 'quality traffic'.
Summary
Now I think you understand why I had to start this article with things like "quality above quantity" and "the free traffic myth."
If you want to get loads of quality traffic to your website you have to work a lot or invest a lot.
And what would you recommend to grow website traffic? I'd really like to learn from you so let's start a good discussion in the comments below 😉