I know you hate losses.
Most studies suggest that losses are twice as powerful, psychologically, as gains.
That thing even has a name — "loss aversion".
Well, if you're an Ahrefs user I'm afraid you're losing something. Regularly.
I'm talking about all these new features we add to our tool every week!
I mean every single week you get more value from us, but you're unaware of that!
That has to change!
So from now on I'll be releasing quick articles about any new features that we add to Ahrefs toolset, so that you could always stay on top of your marketing game!
And this week I'm proud to present…
"

Find Influencers" feature in Content Explorer

As you already know, Content Explorer will help you find content that got tons of traction on Social Media.

Put any keyword into the search bar and the tool will show you a list of articles ranked by the number of shares they got.

Here's what we have for "copywriting":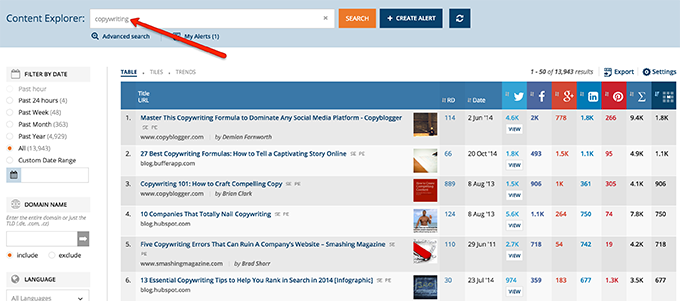 This tool is invaluable if you need to come up with viral content ideas.
And here's what we've just added to it:

If you take a closer look at the "Tweets" column, you'll see a "View" button right below the number of tweets that this article has.
Here's what you'll see after you click this button: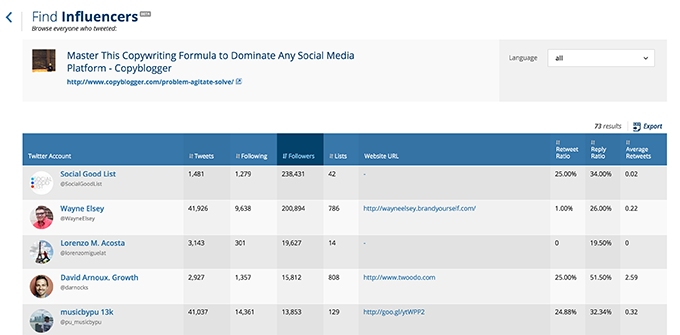 Yep! That is a list of all twitter accounts who tweeted this article!
How cool is that?
NOTE: Well.. to be 100% honest, these won't be ALL twitter accounts, because we just started collecting data and the tool still has "beta" icon attached to it.
Use Case
Here's the most common use case for this new feature:
After creating a piece of content you might want to check for other similar content that got a ton of traction in social media.
Once you find these articles, it makes sense to check the influencers who helped spread the word about that piece and reach out to them to shown your own take on the same subject.
Actually this use case is pretty well known and it even has a name — Skyscraper Technique.
Hopefully with this new Ahrefs feature you'll be able to get better results executing this popular marketing technique.
La Fin
This is it! I wasn't going to ramble about this new feature for too long.
But what I'm really interested in (as well as our whole Ahrefs team) — is your feedback on this new feature!
Let me know in comments what you think about it and what other use cases you see for it!