Here's the secret to ranking for any keyword in any niche:
If you can get the same backlinks that your competitor's have, you're on the fast lane to the top of Google's search results.
Easier said than done, right?
Because if you've ever sat down to reverse engineer your competition's links, you've probably run into a few roadblocks, like:
How do you know which sites to reverse engineer?
Which of their links are viable for your site?
Could any of their manufactured links put you in danger of a Google penalty?
In this guide I'll walk you through the exact steps to find, identify and land your competitor's best backlinks.
Step #1: Find Your Targets
The first step is to find niche-relevant sites to reverse engineer.
To do that, search for a few of your target keywords in Google:
And take a look at the top 10.
Your first batch of sites should be made up of smaller sites…not massive authority sites like Wikipedia or .gov sites.
While you may be able to get some of the same links that authority sites have — without a lot of brand recognition — it's not going to be easy. You're much better off reverse engineering "mortal" sites first. When you've run out of link opportunities from these smaller sites, move onto the authority sites that are ranking for your target keywords.
Add any site or page in the top 20–30 results that look promising to a Google Doc:
When you've run out of keywords, search for some of your target keywords again. Then scroll to the bottom and take a look at the "related searches" that Google shows you:
Then search for these as well.
Remember: you want to cast a VERY wide net at the beginning. You can sometimes find an unbelievable link building opportunity from a site ranking on the 3rd page for a long tail keyword. So don't be afraid to include sites that have low or medium authority.
Going Outside of Your Niche
If you want even more incredible link opportunities, search outside of your niche. For example, if you were trying to rank for "nursing degrees", you'd start off by searching for "nursing degree programs", "best nursing degrees", "online nursing degrees" etc.
But you should also search for super-competitive keywords that are outside of your niche AND tend to use white hat strategies (which means no payday loan or pharmacy-related keywords).
For example, if you search for "best shared hosting", "SEO services" and "buy flowers online", you'll usually find a handful of high-quality link opportunities: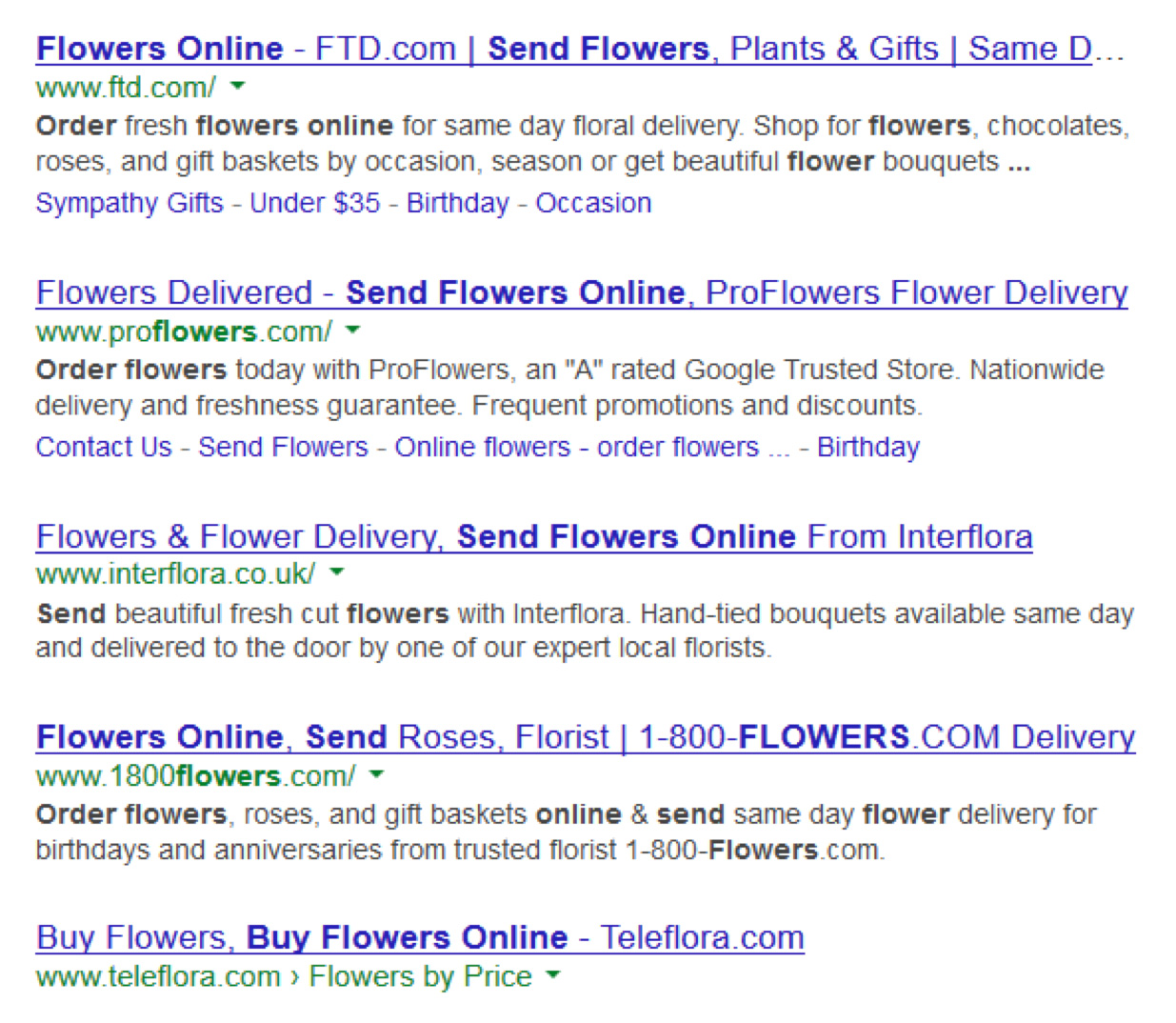 These probably won't net you any niche-relevant links, but you can sometimes find general authority sites or news sites (like The Huffington Post) that accept guest posts or monthly columns.
Step #2: Filter Out Black Hat Results
Your next step is to filer out any results with a shady link profile.
Remember: even if a site is ranking today using black hat strategies, doesn't mean they'll be there tomorrow. You only want to reverse engineer link profiles that are going to stand the test of time.
Fortunately, you can easily separate the white from the black by pulling a play out of Google's own playbook: anchor text distribution.
First, put one of your target sites into Ahrefs Site Explorer:
Then go to "Anchors" section: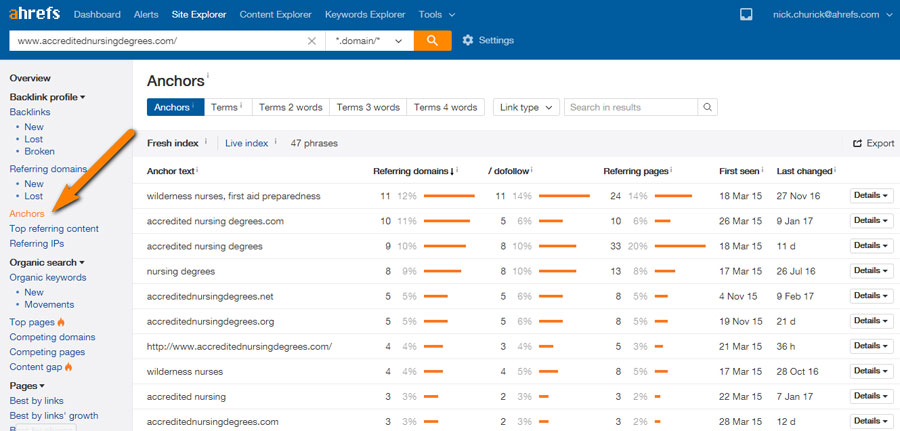 You want to see a natural-looking anchor text distribution, which means very little exact match anchor text. In the example above, you can see that there's a bit of unnatural anchor text going on, but nothing major.
Repeat the process until you've gone through your target list and deleted any black hat sites.
Step #3: Check Out Their Links
Now it's time for the fun part: spying on your competitor's links.
Put a site into the Site Explorer, and jump to "backlinks" section: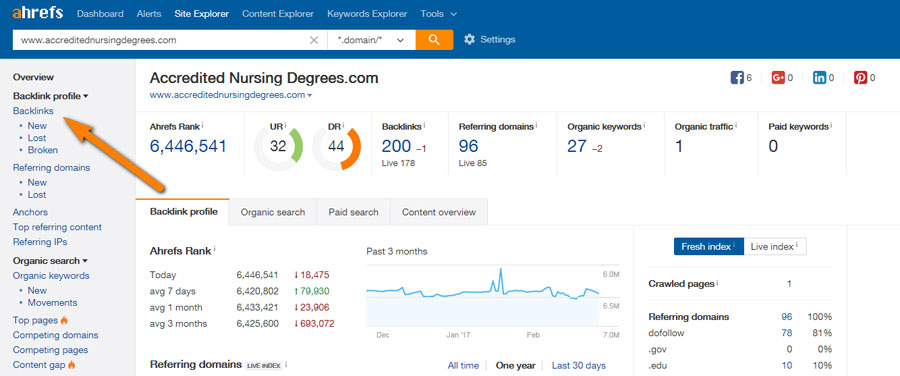 Then click, "One link per Domain" button. This makes the results easier to read and use:

Now's a good time to give their link profile a once-over to double check that they're not ranking with spammy or black hat links.
If you see lots of directory links, forum links or links from unrelated sites like this…
…It's probably best to move onto the next site on your list.
Otherwise, it's time to start digging.
If you want to outsource this process or keep track of which link opportunities you've already pursued, you can export the links as a .csv file…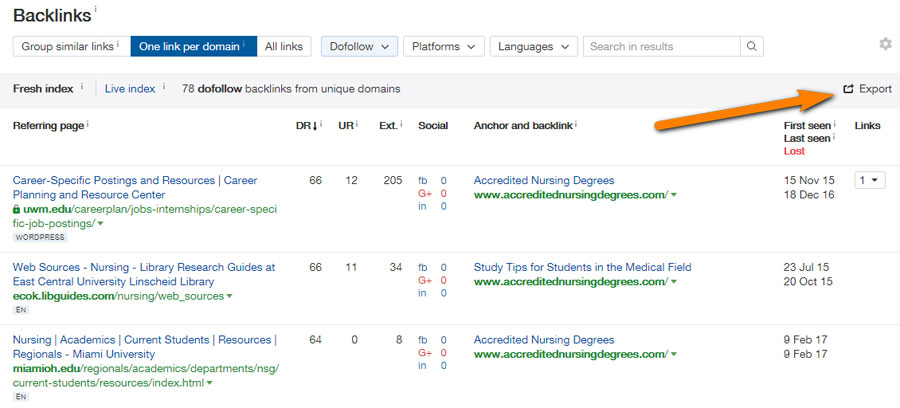 …And use a spreadsheet to keep track of everything.
I prefer to work within Ahrefs because — unless there are hundreds of link opportunities — you can usually get through a site's link profile in an hour or two.
Step #4: Find Good Fits
Finally, it's time to grab some of your competition's backlinks.
In general, your competitor's backlinks will fall into one of three categories:
Links you can probably get: Niche-relevant resource pages and most guest post links.
Links you probably won't be able to get: Links where they had to do something special to get a link, like build a relationship with a webmaster or use broken link building to get their link.
Links you definitely won't be able to get: Links that are part of a blog network or an obvious paid link (these are links that you probably don't want anyway).
The only way to know which of these three options your competitor's backlinks fall under is to actually look at each result in the list one-by-one. This is VERY time-consuming at first. But once you get the hang of it, you'll learn how to categorize each link in seconds…sometimes without even having to visit the page.
Let's take a look at some of the link opportunities from our example above:
#1: www.thetallestman.com/igorvovkovinskiy.htm
At first, this looks like a legit site about tall people. But when you look at the link itself, it's obviously forced in there. It's a site either owned by the same owner or a paid link:
#2: inter.scoutnet.org/skills.html
This is a resource page on a site about the Boy Scouts…linking to a site about nursing degrees. Sounds fishy. But when you look at the link itself, it actually makes sense:
It's linking to content related to first aid preparedness and "wilderness nurses", which fits the theme of the page. I'm 99% sure that the nursing site emailed this guy to add their link, but it's still a white hat link.
#3: libraryguides.quinnipiac.edu/nursing
Here's a nice .edu resource page backlink (an untapped strategy that can land you some seriously authoritative backlinks) As you can see, the .edu site is linking to a "Study Tips for Nursing Students" resource:
All you'd need to do is create a great piece of content that .edu sites would want to share on a resource page like this. Then email the webmasters to let them know about your awesome resource.
That's It!
If you're looking for a scalable, effective way to build authority links with ease, it's hard to top reverse engineering. Like any link building strategy, it takes work. But you can usually grab backlinks that you'd otherwise never find using tried-and-true search strings, like "keyword" + "write for us" and "keyword" + "helpful resources".